Jeans are a big part of women's lives nowadays. From fashion trends to jean styles, jean colour, or your own style, your body shape, the occasion you are dressing up for are all key things that have to be taken into consideration for a perfect jean outfit.
We all have our favourite jeans at home. The favourite go-to item in our wardrobe that you know you can style with everything. However, here's the trap – you always style them with the same clothes by default. I am here to put an end to this. Yes, styling jeans can always be a bit overwhelming, but it really doesn't have to be that way. Throw your old T-Shirt away and get ready for our ultimate jean guide. We're here to discuss professional, casual, stylish and sexy.
The Smart Casual Blazer Look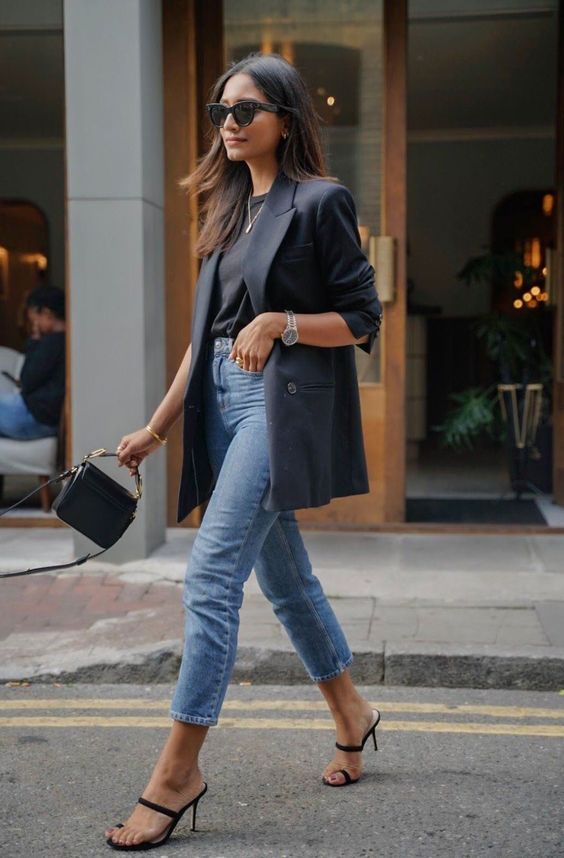 The smart-casual jean outfit is the perfect combination of everything casual and formal into one. Whether you're on your way to work or an afterword drink with friends, this is a timeless option for any situation where you want to make an impression. Put on classic blue denim, with a casual black T-Shirt and a black blazer and some fancy high heels and you are good to go.
Jeans and White T-Shirt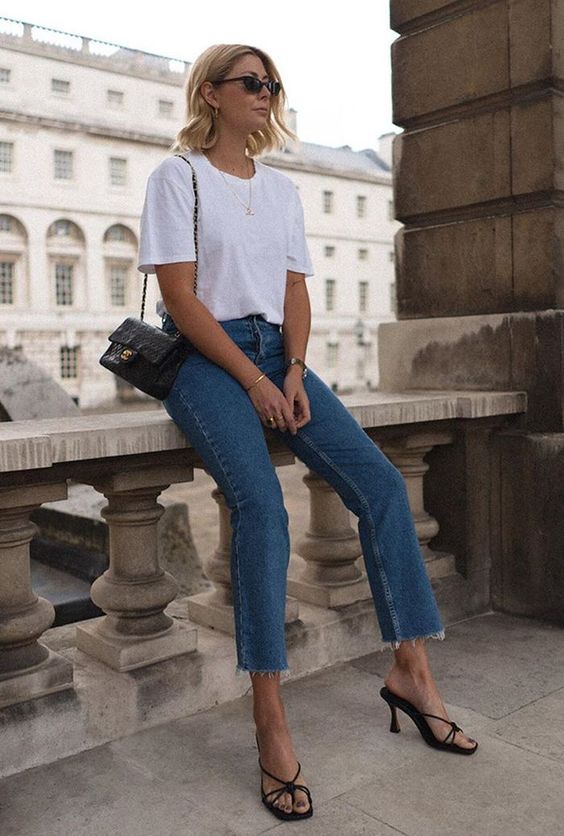 You can never go wrong with a white t-shirt. However, it is best to pair this with high-waisted jeans for a more flattering look. You have to make sure that you're comfortable in the t-shirt and the jeans. You don't want the t-shirt to be too tight on you. It's also important to wear nude underwear underneath it because white T-shirts can be a little bit see-through. What's also great about this style is that you can put on whatever shoes you want, they all go perfectly well with jeans and a white t-shirt.
Wide Leg Jeans with a Crop Top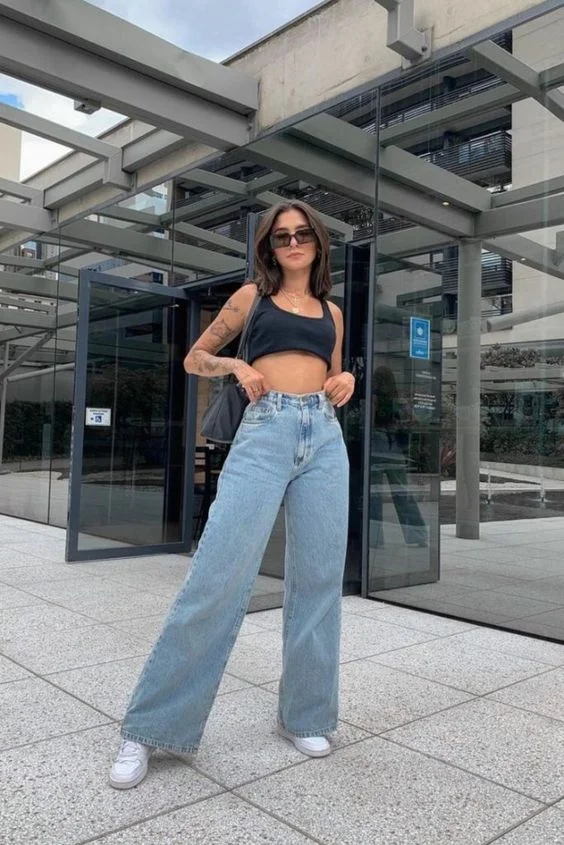 The number one trending outfit for 2021 is here! Аt a time when wide-leg jeans are at the peak of fashion, combine them with a crop top and casual sneakers. Wide-leg jeans are flattering for any body type. They make your waist look slimmer, and combined with a cropped shirt, you will get a perfect hourglass figure. The perfect combination to slay a streetwear look.
White French Style Jeans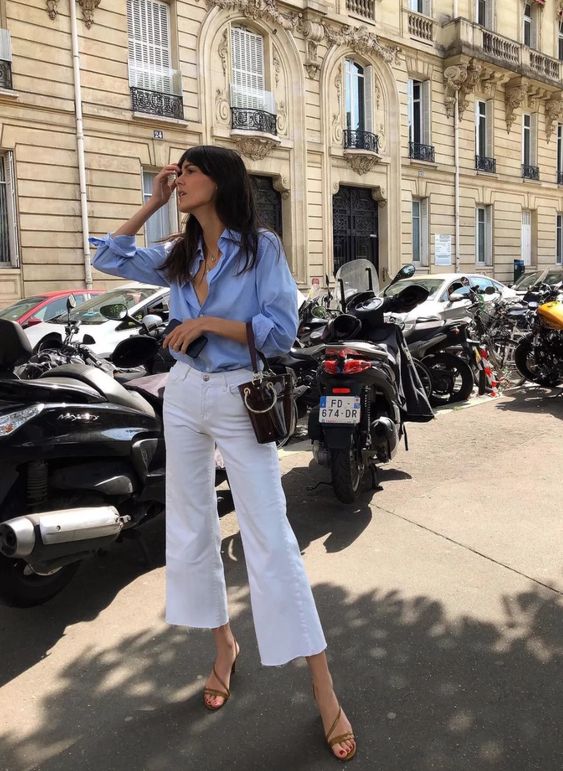 If you want to add a French note to your style, the key is the white jeans. The French style is all about looking "décontracté" (casual in English), but look effortless and chic at the same time. To achieve this look, we suggest you wear a neutral tone top, like an oversized button-down blue shirt and high heels or sandals of your choice.
The All Black Look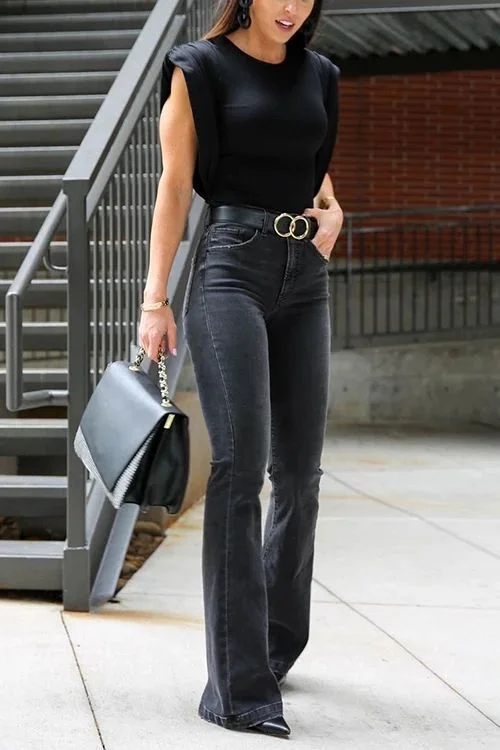 If you are one of those for whom black is their religion, here's a way how to stylishly dress all black in jeans. Since you wear one colour from head to heels, playing with the silhouette is the key. Putting on black high waisted flared jeans and a tucked-in top with a black belt is the ultimate all-black outfit. You will achieve an edgy, elegant and classy Catwoman-like look.
Silky Night-Out Outfit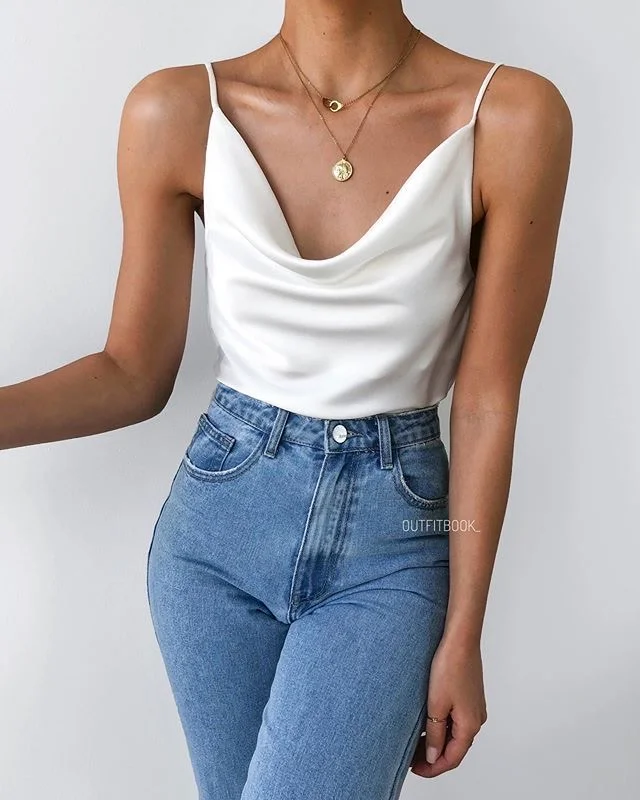 Yes, jeans are for a night out. A combination of a sexy silky cowl neck top and high waisted skinny jeans is the right fit for a clubbing night out. Since the materials are predetermined, you can play with colours. This means that the colour of the top can be of any colour as long as it goes perfectly well with the colour of your jeans. To be on the safe side, put on light wash jeans. A silky top in almost any colour will suit these jeans.
Oversized Everything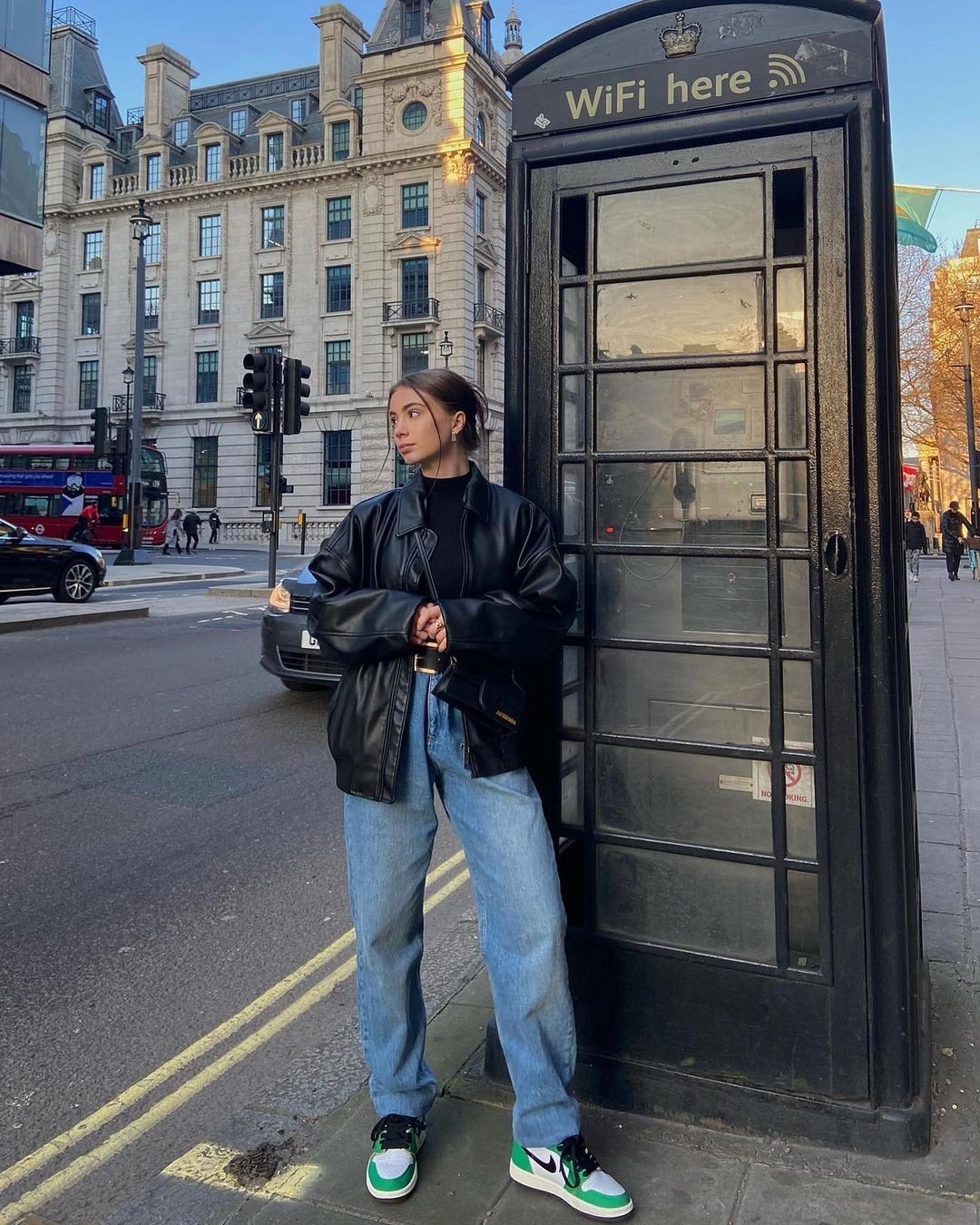 Yes, you can wear jeans and be super comfortable and that means putting on an oversized outfit. However, the tricky part is to not look schlumpy and shapeless. The thing here is to put on the right type of jeans and for this look, boyfriend jeans will do the best. For the upper part, an oversized jacket will do the part. In order to keep some structure, tuck in the front of the top you're wearing and take a bag that will stand out a little bit.
Colour Blocking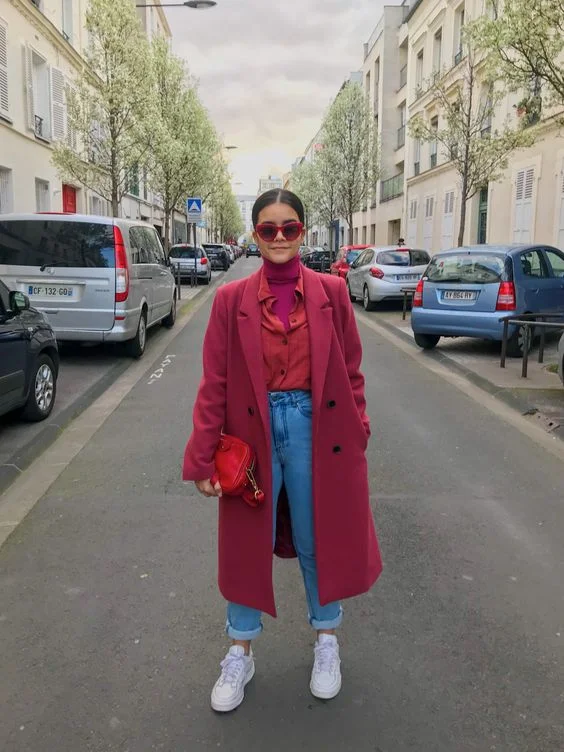 Colour blocking means the use of contrasting blocks or panels of solid colours. This means that your whole outfit can be colour-blocked with different single-colour items, or you can have one item that will be colour blocked with panels of different colours. The way you can colour block with jeans is to use regular blue jeans with a bright Fuschia top and jacket, or you can put on coloured jeans and combine them with a top in a suitable colour block.
Jeans and Oversized Sweater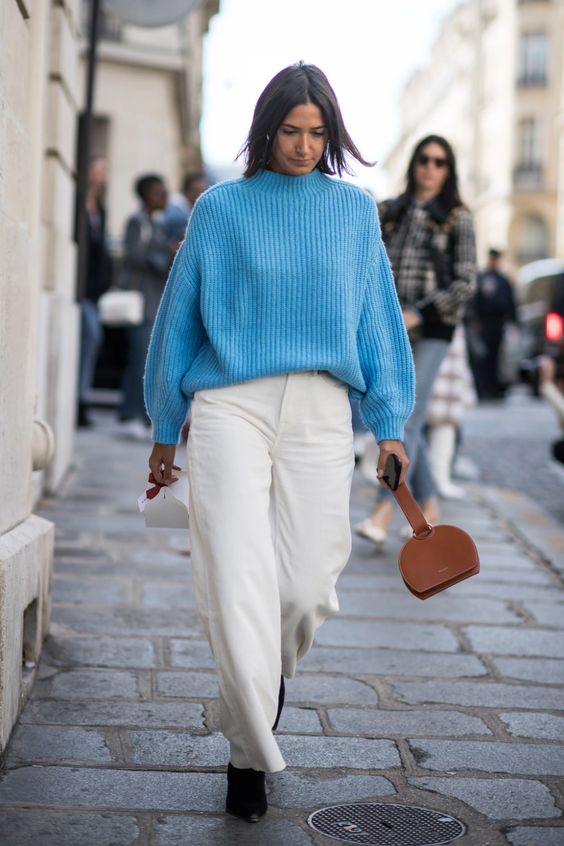 Jeans and sweaters will never go out of fashion. Mix white or yellow-white jeans with a bright blue or navy blue sweater and a brown bag, like a go-to classy and chic look suitable for every occasion.
The Biker Jacket Look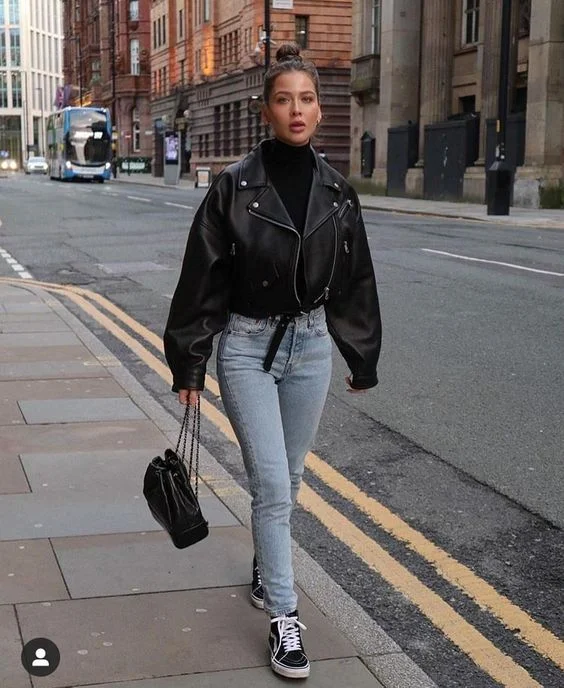 Here's another outfit that will never go out of style – jeans and a motorcycle jacket. In this outfit, it is important to wear a jacket that is in trend and that will fit your figure, although even if you take an oversized jacket, you will not make a mistake. Something that is also important for this outfit is to put on a thick black belt and a top that is neutral in colour. Bring back that motorcycle look in your style.
The All Denim Look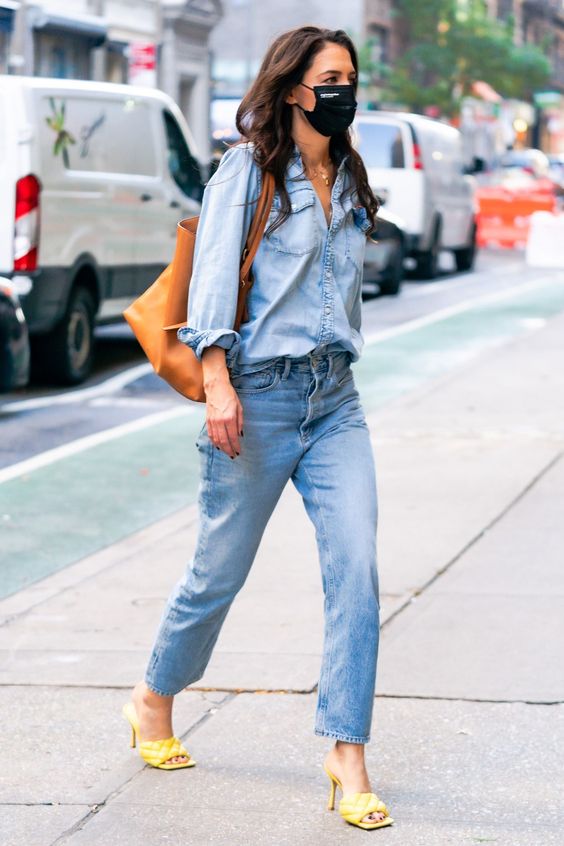 Similar to the all-black outfit, with this one too you should pay attention to the silhouette. To be on the safe side, you can put on a shrunken denim shirt as a top. However, since you are putting denim on top, make sure your jeans are in proportion with the top so it won't look like it's too much. Make sure to choose similar washes and add some fun accessories to bring life to the outfit. You can also put on bright-coloured shoes that pop out.
Jeans and Overshirt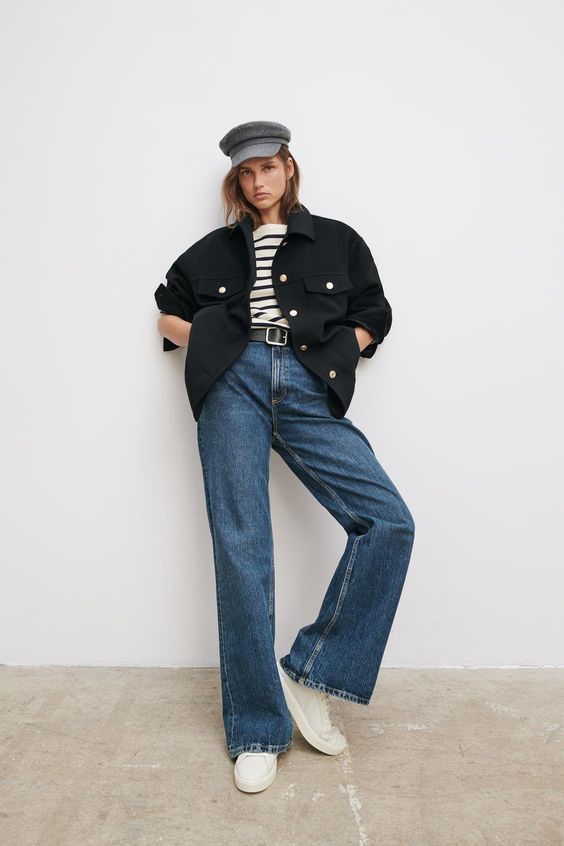 This outfit looks the best with old fashioned jeans style, like mom jeans or straight legs jeans. Since an overshirt is a kind of wanna-be jacket, this outfit is the best for cool autumn days. You can wear the overshirt it open or closed. When open, the key is to wear a top that is colour-contrasted to the overshirt, such as a light t-shirt and black overshirt. Also, since the overshirt fabrics are thicker than a regular shirt, you should avoid tucking the overshirt in your jeans.
The 70s Look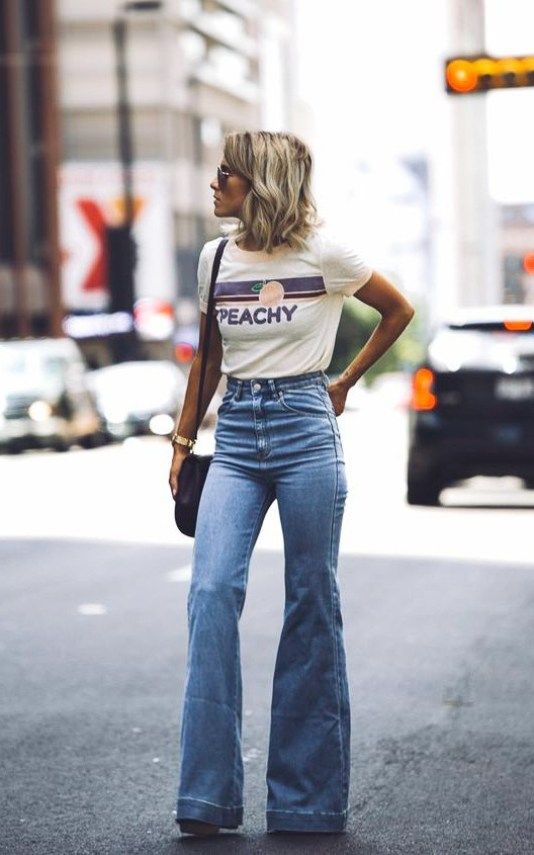 The 70s formula is: a graphic tee, flared jeans and some boots. This iconic look is back in fashion, and you have to try it if you want to dress up a little different. Mind you, this is a casual look, although you can repurpose it by adding a button-down shirt and a cute blazer.
Crop-Top and Skinny Jeans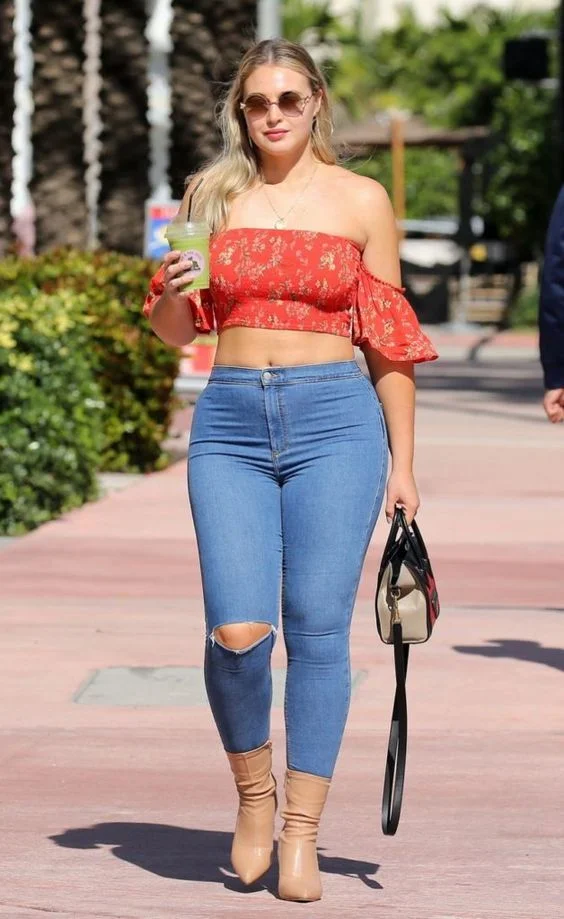 This is the ideal plus size look. Why? Because it emphasizes your figure making it look hour glassy. There is no one who fits skinny jeans better than a woman with curves. Make sure they are high-waisted, otherwise you will get that funny long-torso 00s look, which is a no-no for curvier women. Skinny jeans are stretchy and very comfortable to wear. When you add a crop-top to them, you will look even sexier.
The Hepburn Look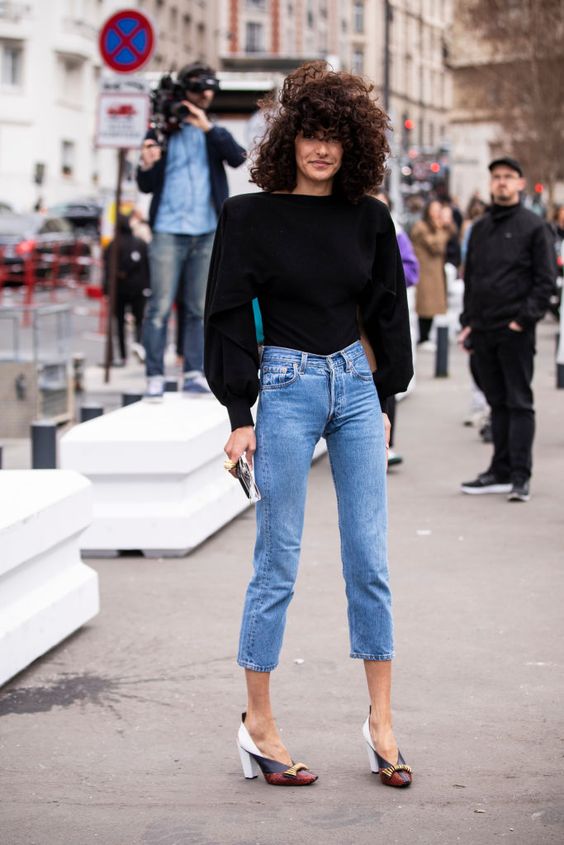 The Hepburn DL1961 jeans are high-rise, ankle-length jeans. They are fitted through the waist and your butt. The classic Audrey Hepburn jean look consists of adding a black top to these jeans, whether it be a turtle neck, puffed sleeve blouse, or a simple black, long-sleeve crewneck. Just make sure it's not oversized. This outfit has a vintage feel and looks edgy at the same time. A classic look suitable for every occasion.
There you have it, the ultimate jean styling guide. All 15 outfits that are presented here will definitely never go out of style and each one of them is suited for a certain occasion. The best thing about these outfits is that you can even put on the same jeans you have at home to every look above and you'll still make it look perfect. However, you can experiment and try on different types of jeans that you haven't tried before because you were certain that you will look bad in them. Maybe you'll be surprised at how good they look on you when combined appropriately.
What are your favourite jeans? How do you style them? Feel free to leave a comment down below with more jean styling ideas!