Formal attire ranges from ensembles you wear at work to business dress and formal social events – weddings, dinners, etc. Let's look at styles, from business to white tie, where the latest is the most official. Business official attire usually consists of a suit jacket with matching pants or a skirt, the darker, the more formal. It includes a suit, business-style dress, dress with a blazer, and heels. Black tie is the most common official dress code for weddings, proms, formal dinners, and theatre. A floor-length evening gown, cocktail dress, or your best "little black dress" is what you are supposed to wear. Then the choice for holiday or New Year's parties: cocktail dress, long skirt, and a top. We come to the most formal – white tie, which allows evening dress, such as a full-length ball dress with long evening gloves as an option. The invitation usually specifies the dress code.
Formal business attire will enhance your professional image in your working environment. It is a way to develop your brand. Wear formal attire and do your best to look crisp, neat, and pressed. Wrinkled, torn, dirty, or unmatched clothing is not an option. Consider dress pants or skirts and a matching jacket with full length, three-quarter length, or short sleeves. Skirts should be at knee length. Preferably wear a collared blouse. Put the top tucked in. Tops must never hang below the hem or be too short. Avoid situations to show your stomach. Nothing too revealing. During colder seasons, you can wear darker tights with your skirt. To summarize the formal business outfit concept: wear a business skirt, skirt suit, pants suit, blouses, and dress shirts.
The most common formal dress code requires classic and sophisticated apparel – an evening gown, nothing short, revealing, or bright and bold colors. Keep it minimalistic and fit with good fabric quality. Those outfits are typical for formal events at night. A sophisticated cocktail dress can also be a fine choice, especially if you don't feel comfortable enough in a full-length gown. Take care to fit the event you're attending, so keep it elegant and at the knees. Another good idea is to stick to black and wear sophisticated jewelry, accessories, and heels. Invest in a good fabric quality dress with an enduring charm. No cheap designs or crazy trends! Limit to classic silhouettes and styles. For gala events, opt for a floor-length gown. Black will never navigate you erroneously. White, red, or metallic are also options. Choose a full-length dress or a formal cocktail frock, and avoid black and white for wedding parties.
Showing is always better than telling, so we've selected 15 formal outfits for your consideration in planning your ensemble for your following official events and business environment. Enjoy!
Deep Blue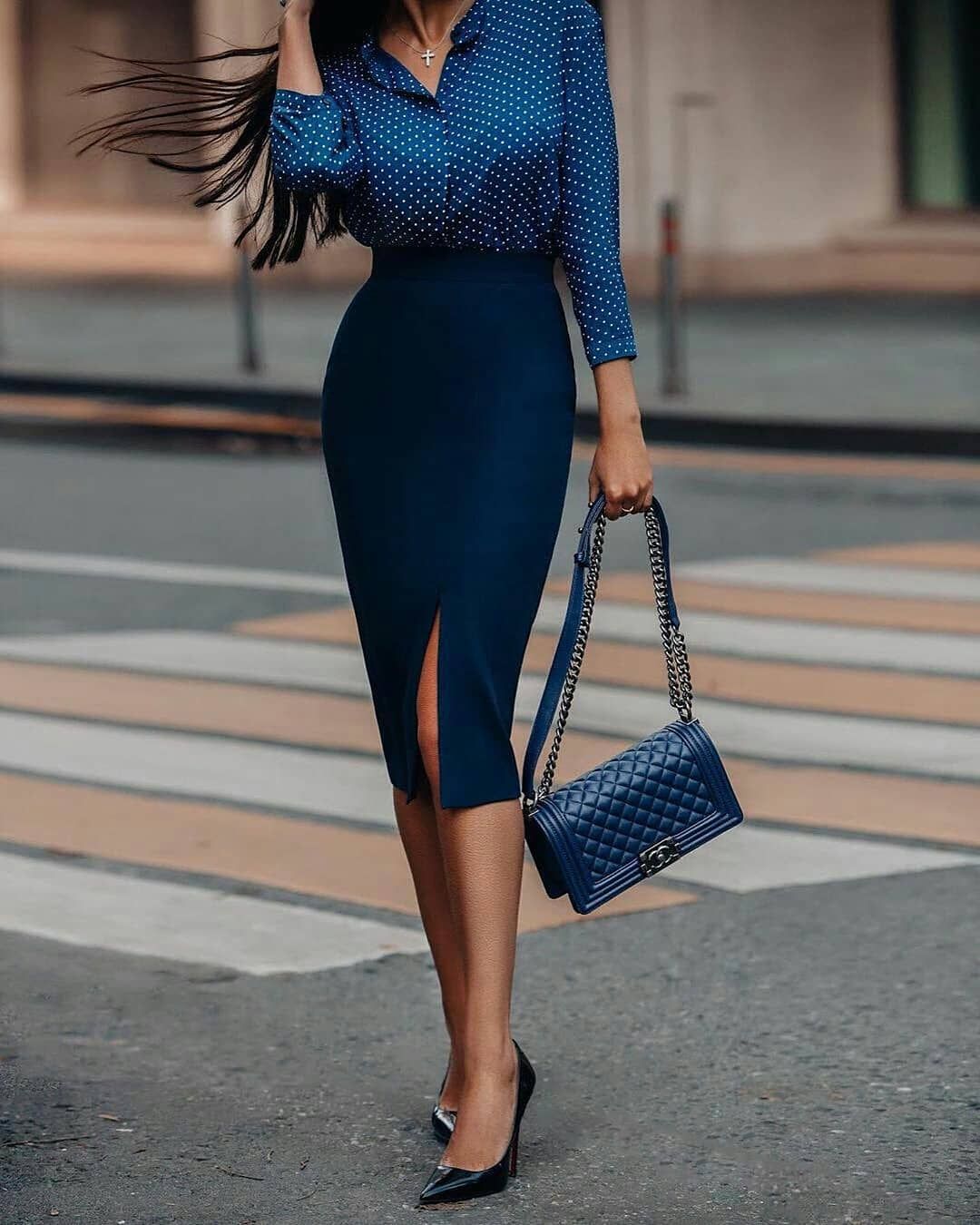 This business formal wear ensemble is a classy option for work – a front slit A-line dark blue skirt and a dark blue shirt with white polka dots are simple and elegant. The look finishes with black stilettoes and a matching dark blue baguette bag.
Wedding Guest Dress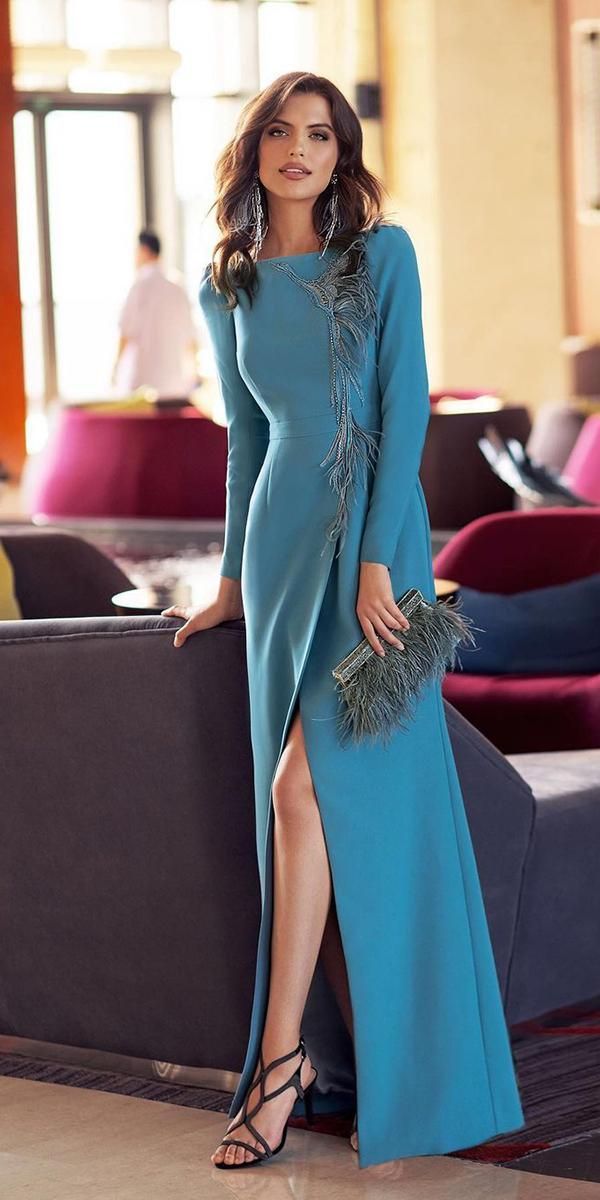 This solid color full-length semi formal wedding attire dress with a knee-high front slit, richly embellished in coordination with the accessories – the purse and the earrings, looks simply amazing. The unique leather caged stiletto heels are chic.
On The Pink Carpet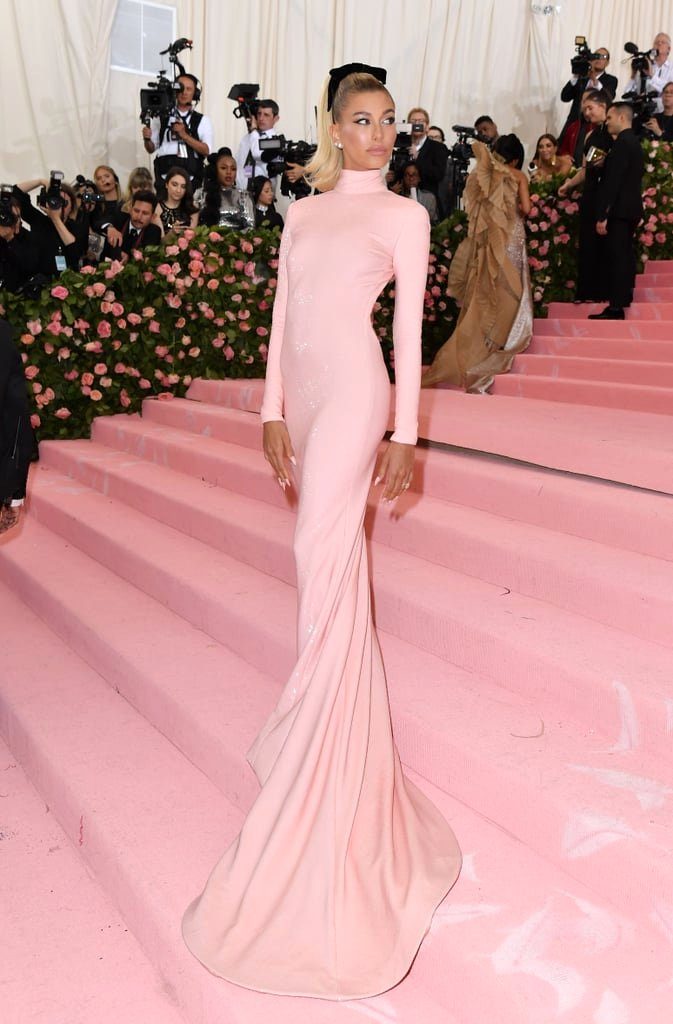 Pink dress on the pink carpet – the model dazzles with her long-sleeved gown. The cocktail attire finishes with a black bow in her hair.
Black Suit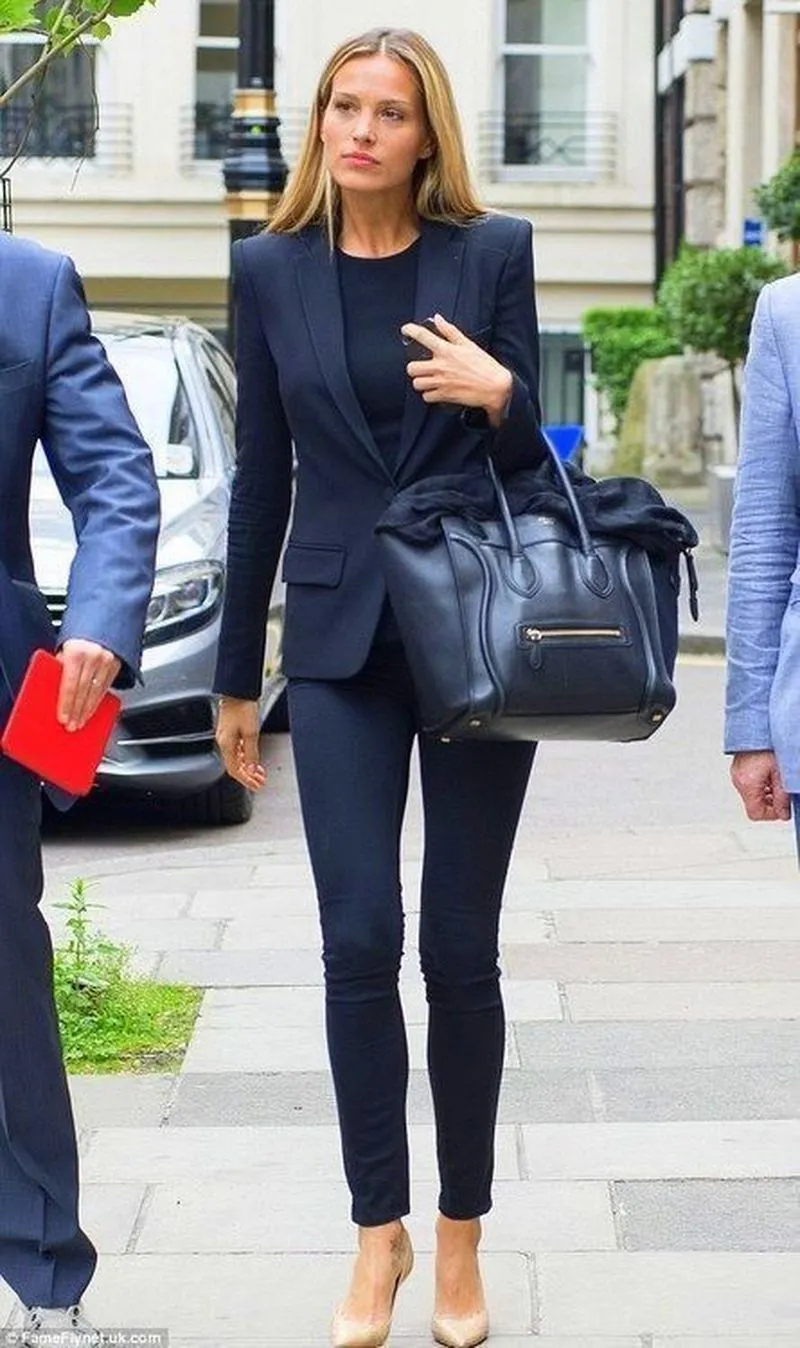 The suits are so elegant, and there's something special about them. This black ensemble is ideal for your daily business environment, but rich dark fabrics look great also for evening occasions. Instead of a black top, wear it with a crisp white shirt to look sharp.
When it comes to wearing business formal attire, you can never go wrong with a black suit.
Black-tie Event Ball Gown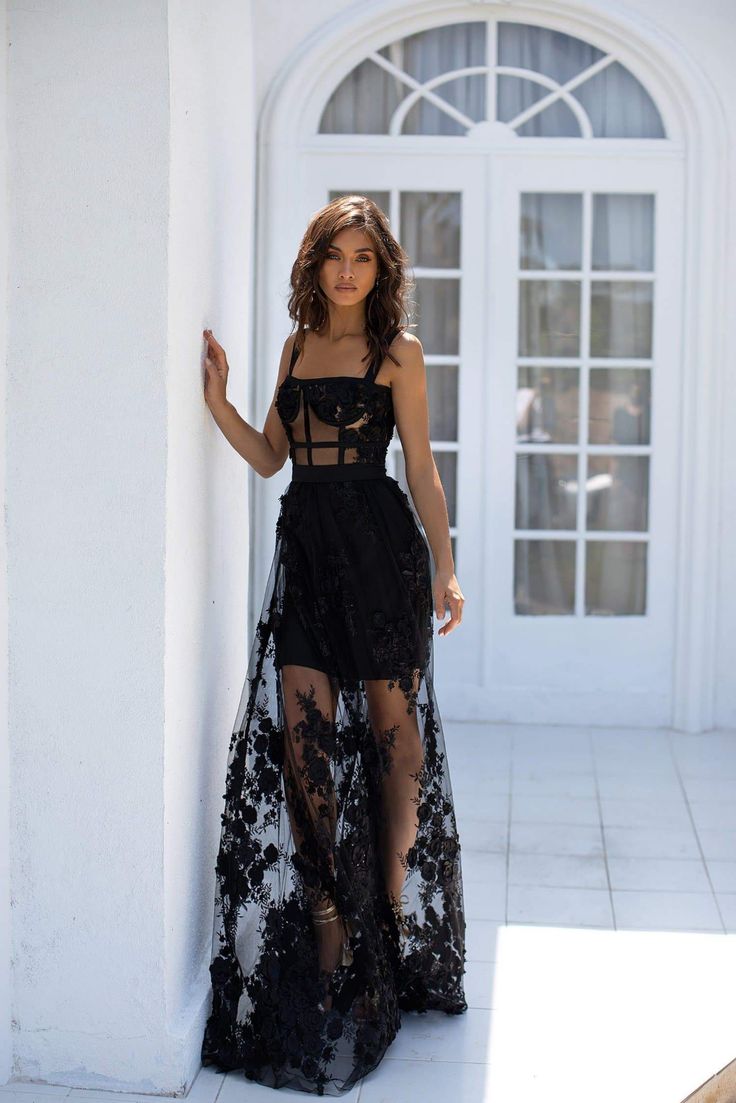 Some gowns have outlasted their wearers and established certain women as icons. In the pic, you don't see just a regular ball gown. This black lace corset gown is beyond this time. It is an amazing formal dress for a special occasion.
Strapless Champagne Gown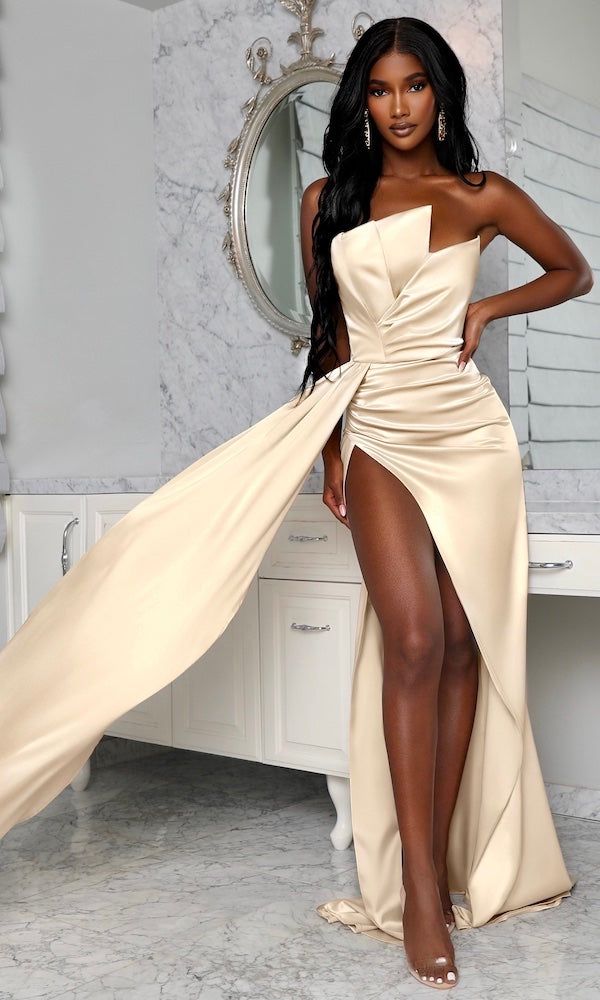 Stand out for a festive semi formal event with this chic, sexy and sophisticated gown with a side sash and high leg slit on the side. The strapless bodice has built-in boning, accentuating the waist and making an hourglass shape.
Black Satin Dress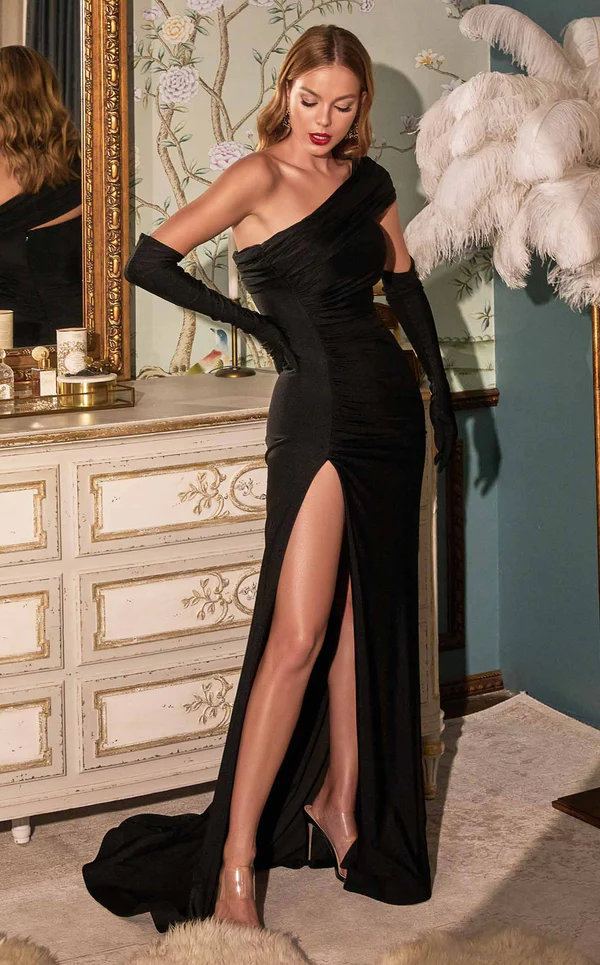 One-shoulder fitted gown with front slit and ruched at the top, with long gloves for a sexy and glamorous look during a festive party.
She Wears A Blue Velvet Dress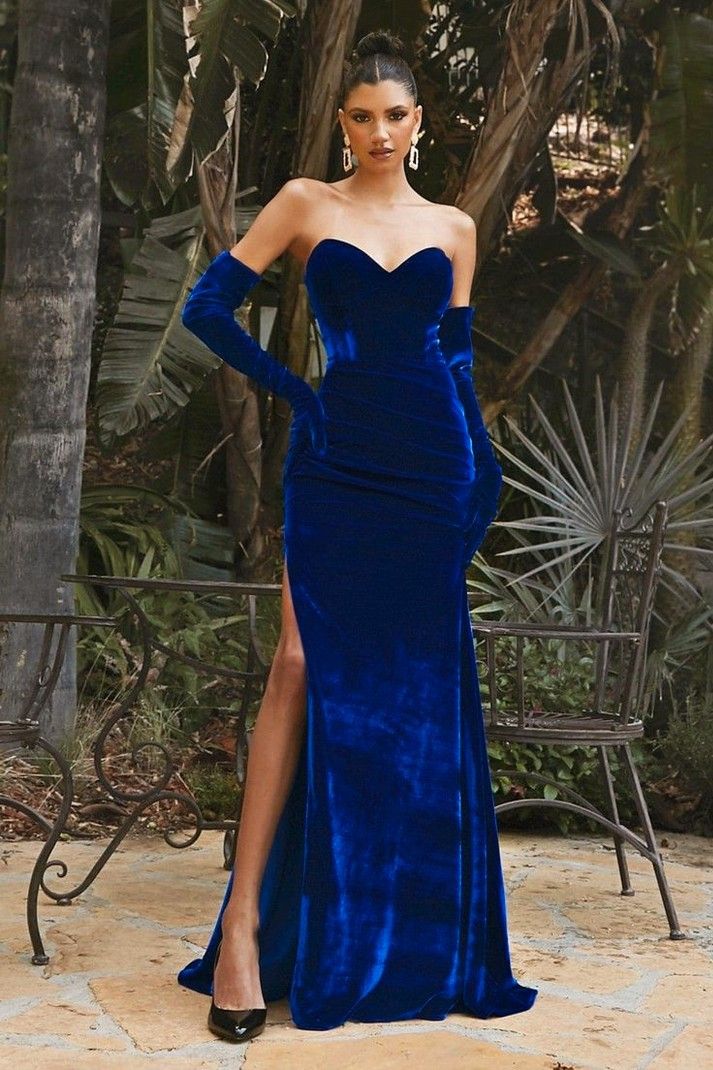 This blue velvet strapless dress with a high side slit and long gloves looks elegant and a good idea for a night party. If the occasion is more formal, you can always put on the shoulders a matching bolero. That will complete your semi formal dress.
Beautiful In The Office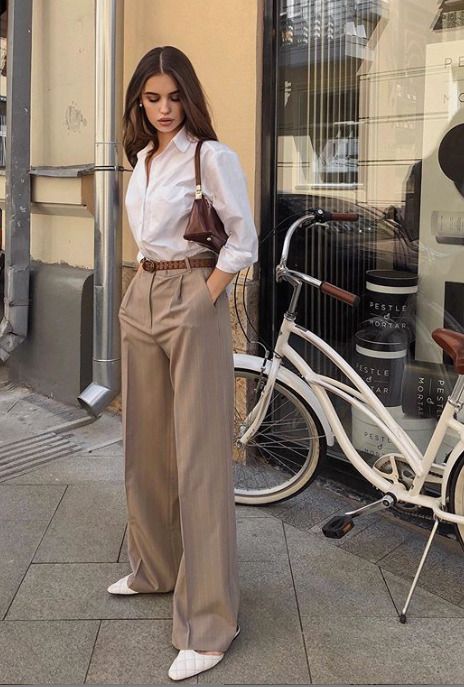 Simple very often is the most beautiful ensemble. In the office, always go minimalistic and formal. High-waisted regular-fit beige pants and a crisp white shirt finished with high heels will give you that professional look.
Perfect semi formal attire for your business casual look.
Dress And Blazer Suit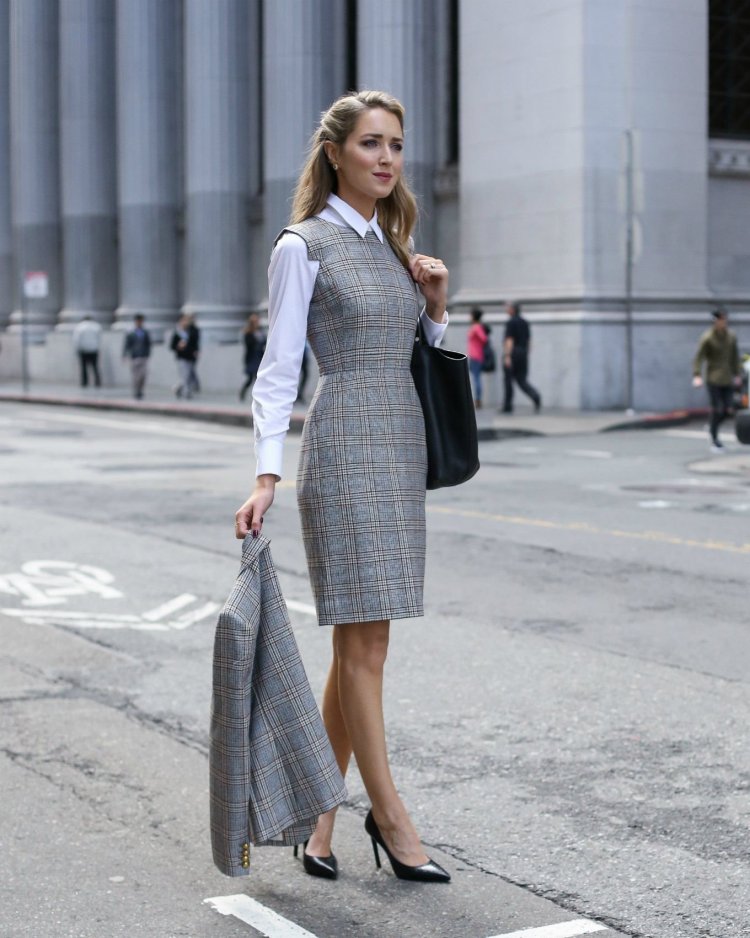 This ensemble might look vintage but still classic for the workplace: white shirt and plaid suit, black bag, and stiletto heels. Combining midi dress with a shirt is always a good idea.
Burgundy Suit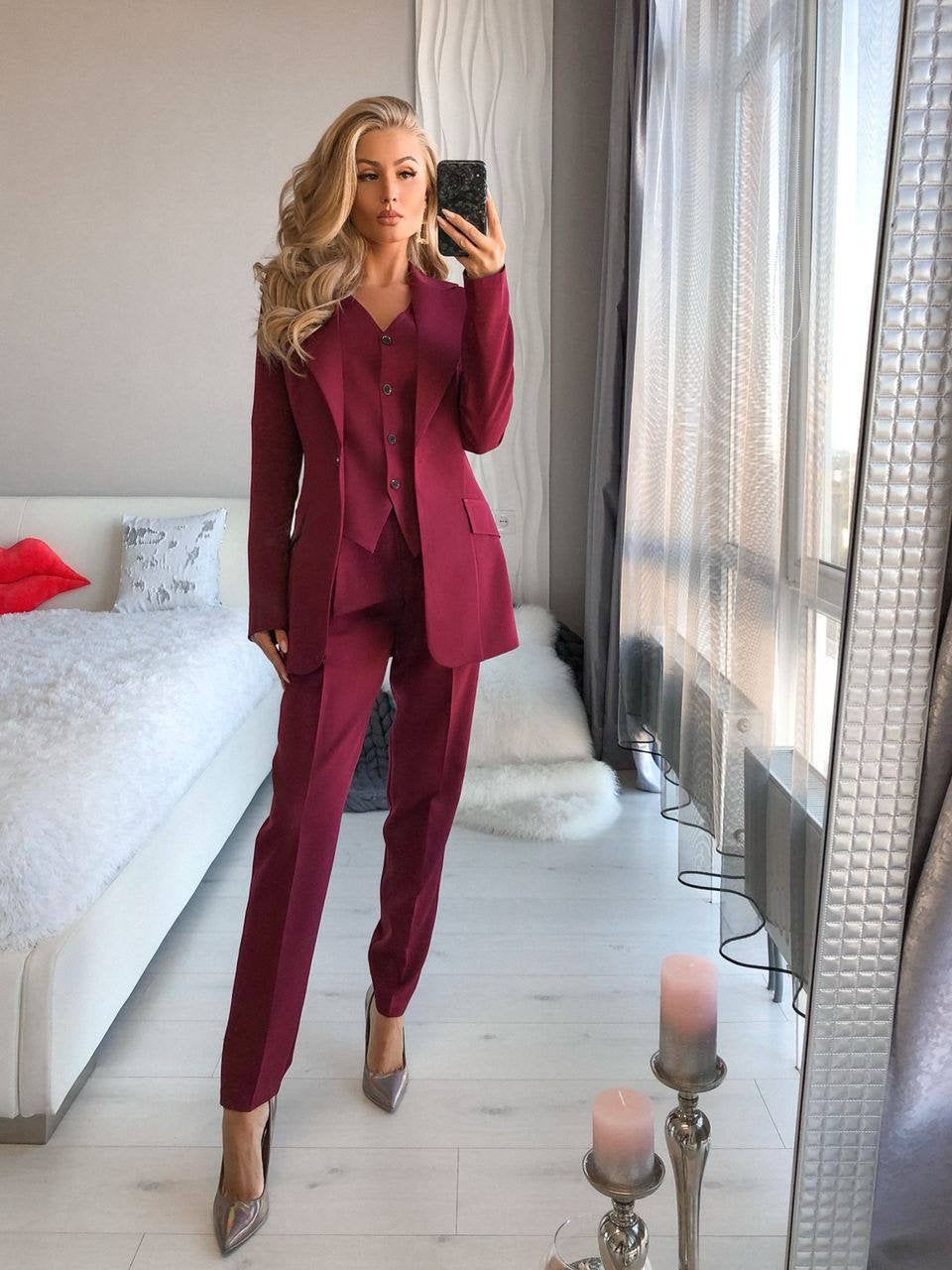 This suite consisted of a single-breasted blazer, slim-fit trousers, and a vest looks gorgeous and well crafted. Burgundy is a beautiful color for this blondie. No matter, try how it fits you.
Suit Up For Success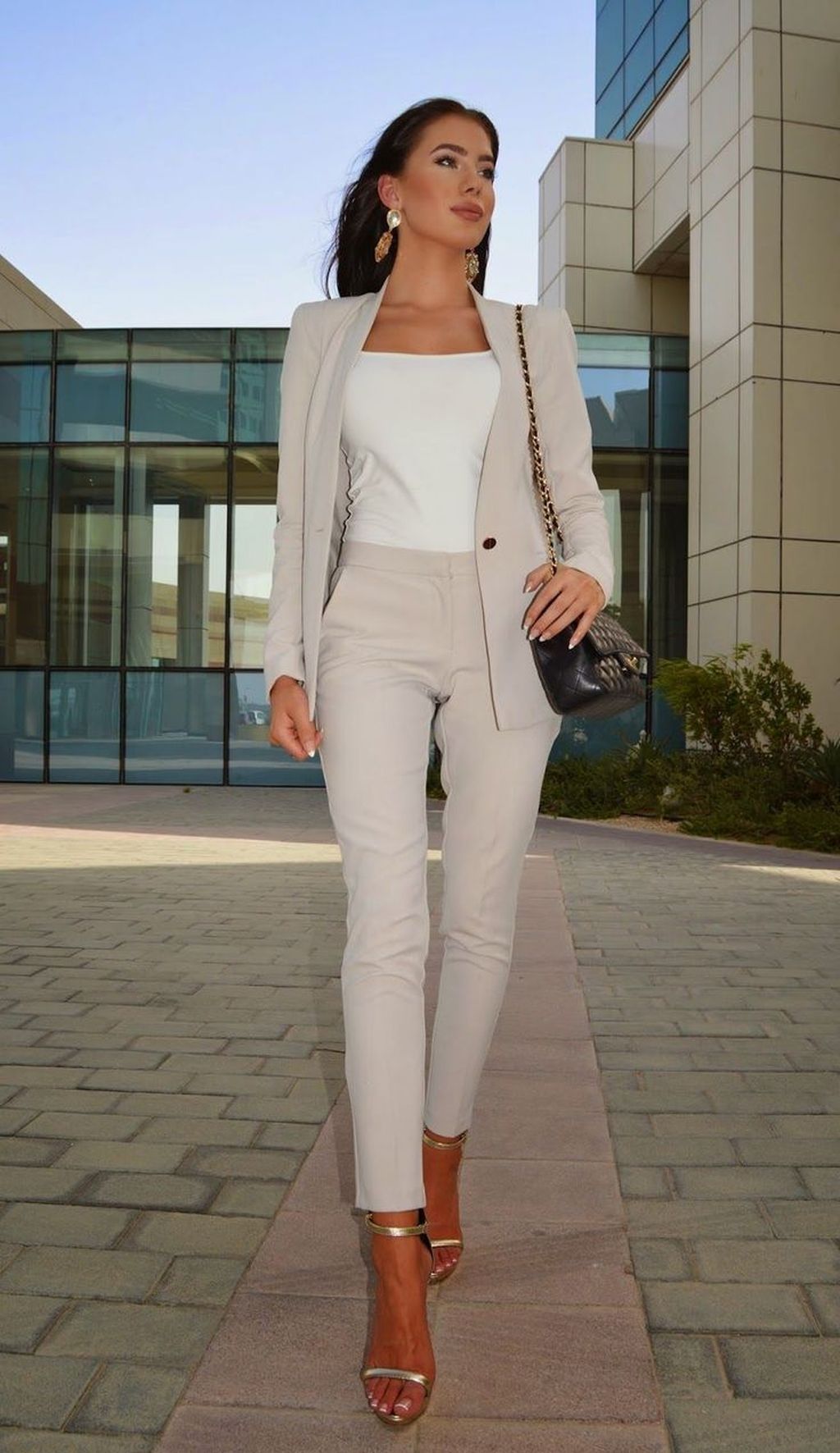 Good fabric, elegant suit and white top, finishing with high heel sandals. Perfect for a summer day at work. A professional semi formal wear look that gives you additional confidence in your way to success.
For Classy Young Women In Business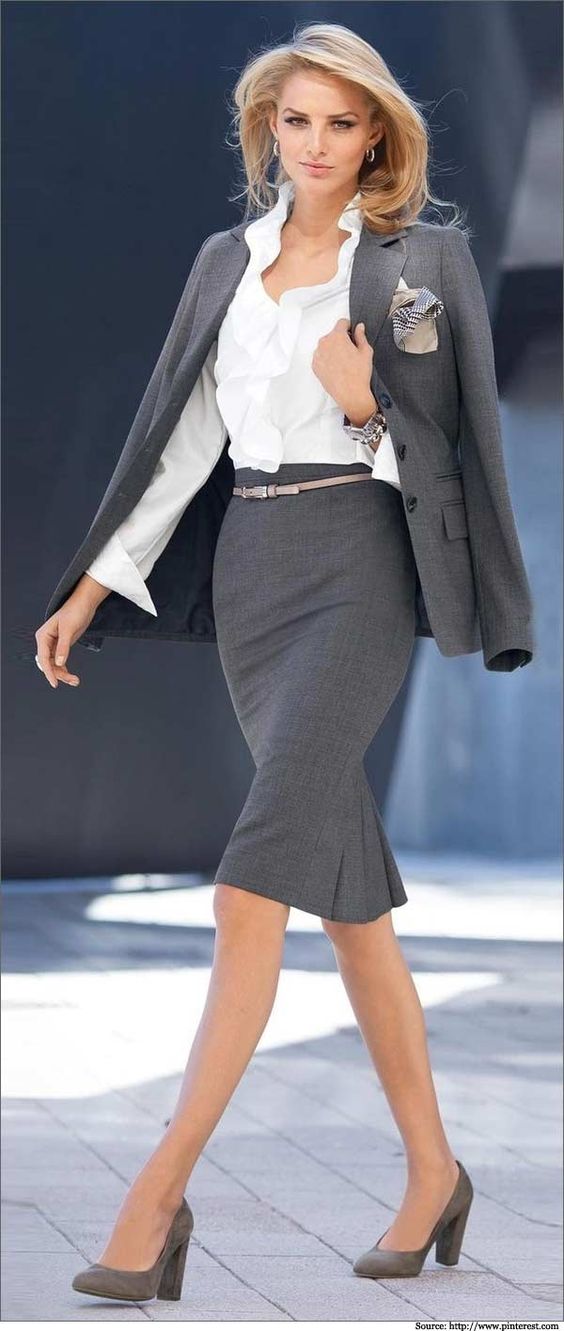 A grey suit with a midi skirt and a jacket. The white shirt is classic, but the small details make the outfit unique.
Shiny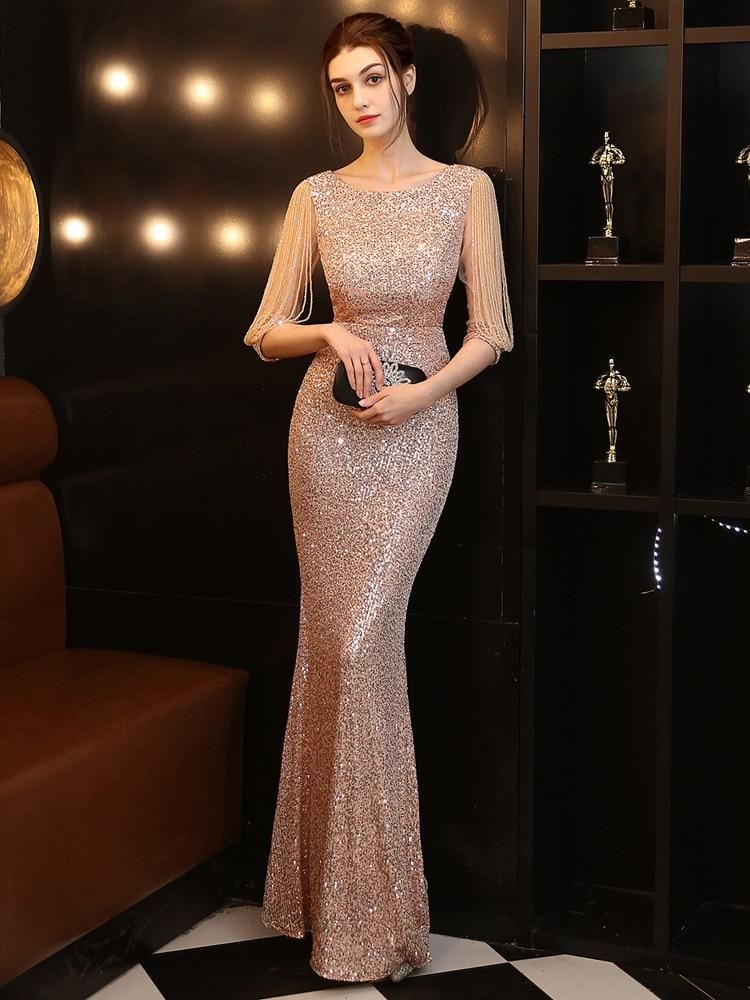 This maxi dress with golden sequins is elegantly showing your mermaid silhouette. Add some rich jewelry, put your smile on, and you'll be the star.
Plaid Jumpsuit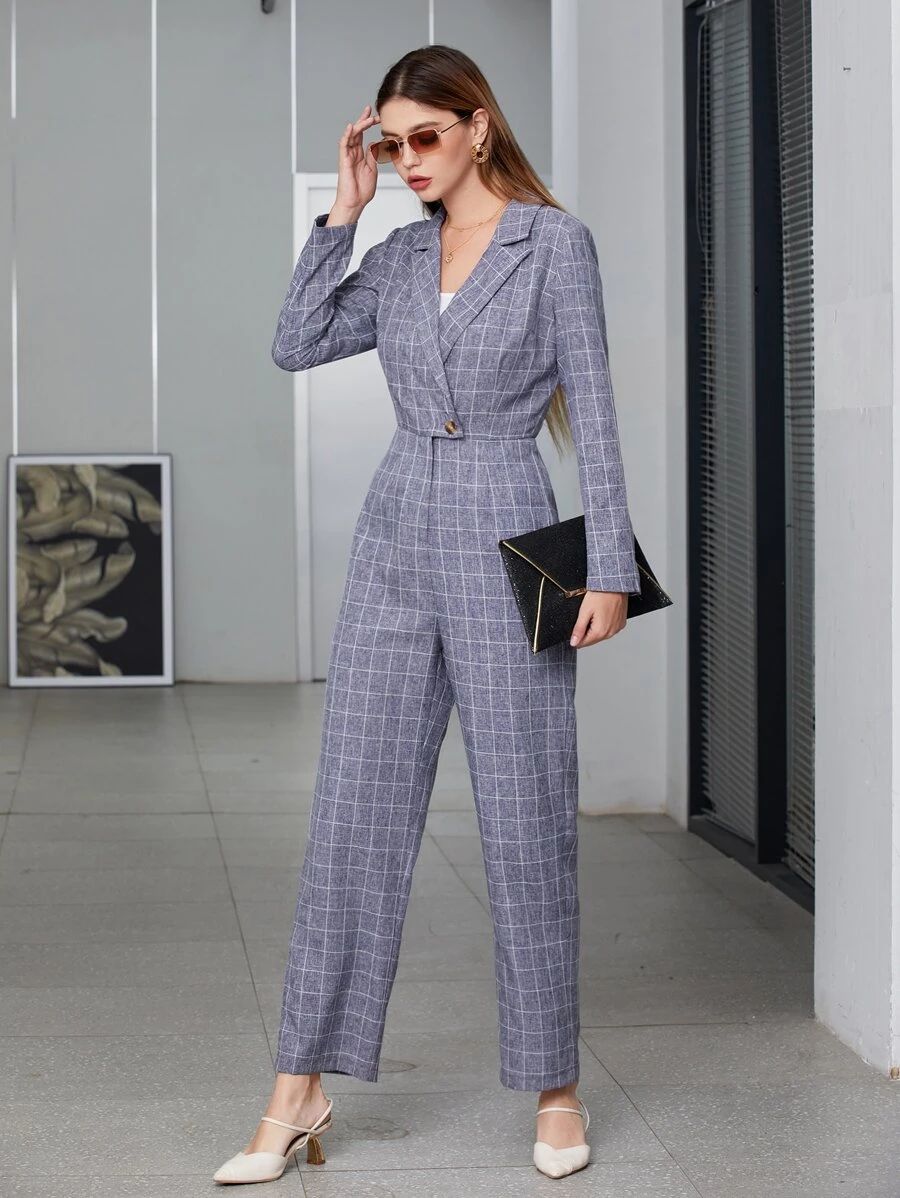 This lapel neck, straight leg grey jumpsuit is an easy choice for an everyday working environment. Complemented with high heels and some accessories, you can cross one day in the calendar as a solved day what to wear.
Learn the rules of official dressing well. When you master them, you'll be able to break them and put a personal touch on your outfit. Bear in mind that your clothes must fit well, not too loose, not too tight. If you're in a position to have your clothes sewed according to your measurements, do it. A tailored outfit is a perfect option. Try to avoid buying in the same store as other women. Don't be boring. Make your unique style. Customize your suit, and you'll stand out from the crowd. People will notice you, so use your dressing skill as part of your overall personal and professional brand. We would be glad to hear from you whether you found some idea from our article and what's your story regarding formal attire.