As the weather cools down, we have more and more different accessories to put on to warm ourselves. One of the most important ones is, of course, the beanie. The beanie has gradually become a must-have for cool autumn and winter days. It's a very useful, cosy little thing.
There are lots of types of beanies to choose from: cuffless beanie, cuffed beanie, hipster beanie, slouchy beanie, knitted beanie, high top beanie, the choice is endless. However, you have to be careful about how you style your beanie with your clothes and shoes and I decided to give you 22 amazing ideas of stylish, autumn and winter beanie outfits. I am here to make sure you feel warm and cute at the same time.
Without further ado, hop on and try all of them and see which outfit suits you the best.
College Beanie Outfit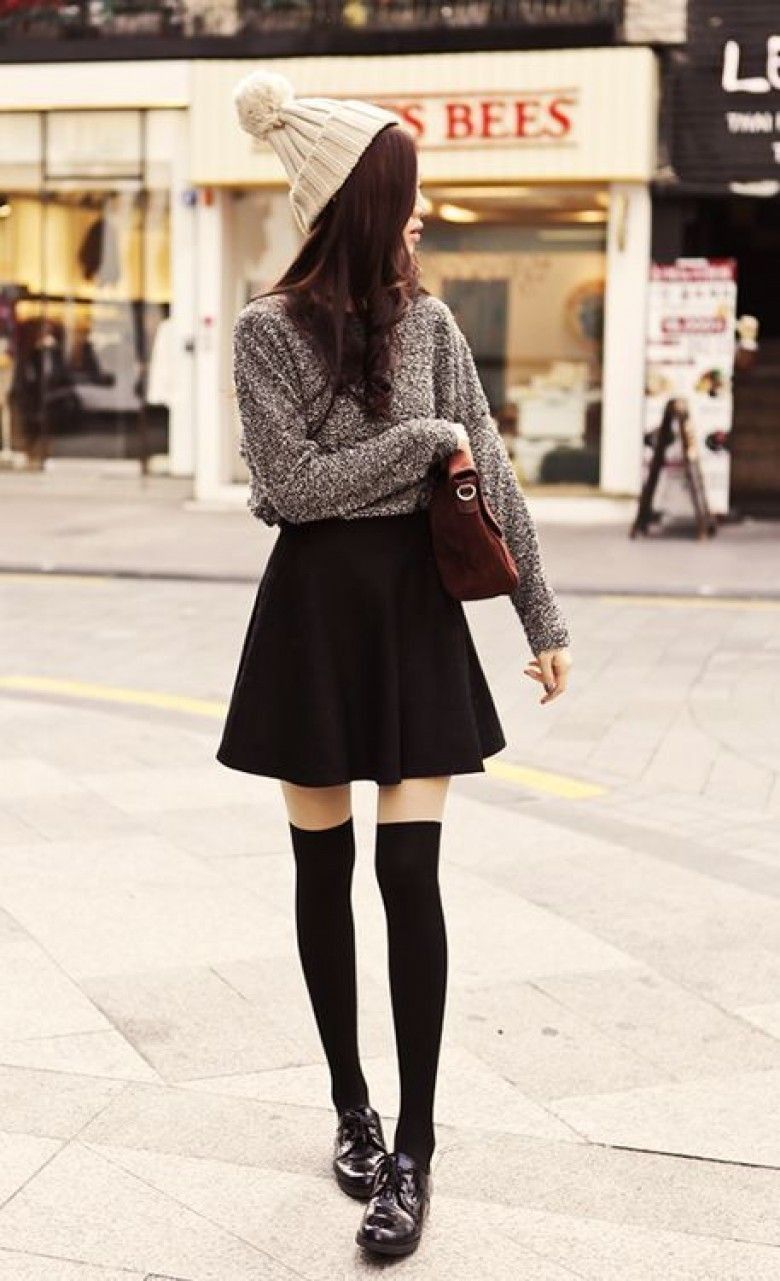 Let's start with the students first. Going to class means putting on a cool but casual outfit. High school and college years are the best for experimenting with clothes and styles because there usually isn't a strict dress code. Plus, the best years are when you can wear high-knee socks everywhere you want. So, I've decided to show you this beanie outfit: high-knee socks, a short skirt, a sweater and a pom-pom beanie. Isn't it the cutest?
Casual Beanie Outfit
Here's a very cool street style casual beanie outfit. As you can notice, the beanie is cuffless and the colours of the outfit are sort of colour-blocked. We have a brick-red beanie, an emerald-green bag and blueish-grey clothes. A very unusual combination of colours but look how they complete each other. This outfit is great for daytime activities like going to the mall, having brunch or just having a walk in the park.
Autumn-Colored Beanie Outfit
Why not wear the golden colours of autumn? You will look absolutely wonderful with this outfit because it's so elegant yet casual. Here we have brown high-knee boots, denim, a yellow sweater and the cutest slouchy beanie! A perfect outfit for women in their 30s or 40s although, of course, your age shouldn't limit your style, nor wearing a cute beanie!
Winter Beanie Outfit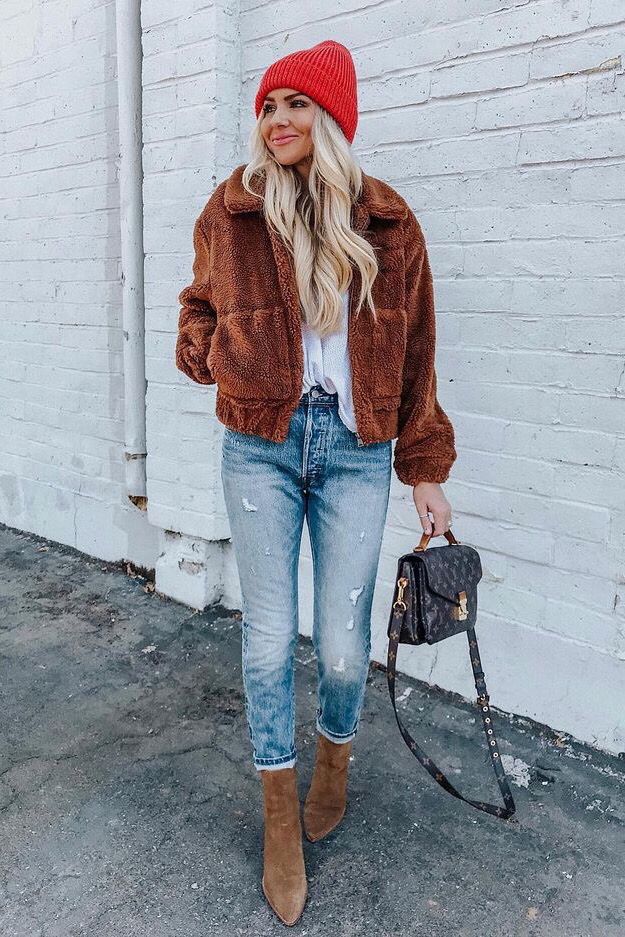 A beanie with a cosy fur jacket combined with heeled boots? Can it be any more stylish than this?! To add balance to the outfit, denim jeans is the best choice although you can put on anything you want depending on the reason for dressing up.
Casual Black and White Beanie Outfit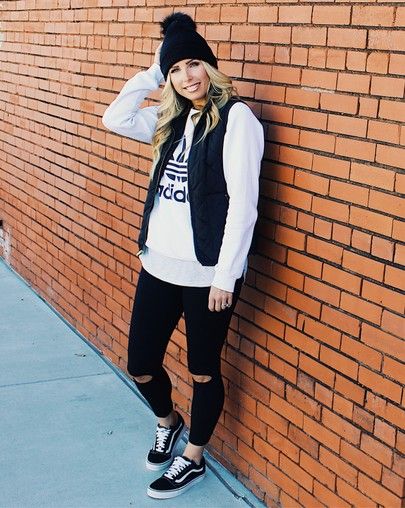 Want a more Brooklyn hipster style? Here's an interesting black and white hipster outfit. We have vans oldskool sneakers, black ripped jeans, a hoodie with a vest and a black pom-pom beanie.
Casual Pom-Pom Beanie Outfit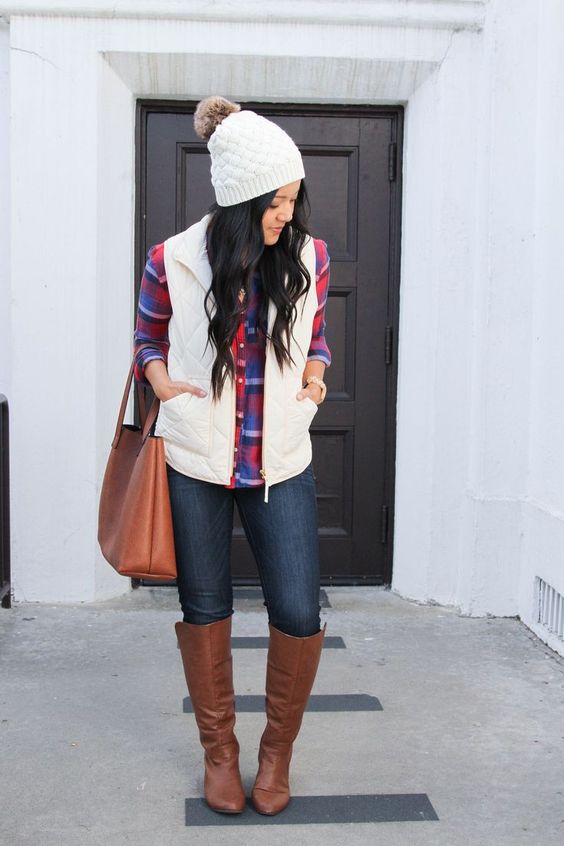 There are women who care about their style everywhere they go. And this outfit is meant for you. An outfit that you can wear to the supermarket when picking up your kids from school, or even going to lunch. As you can see it has casual details with the vest and jeans, but the brown leather boots and the shirt make it more outgoing.
Smart Casual Beanie Outfit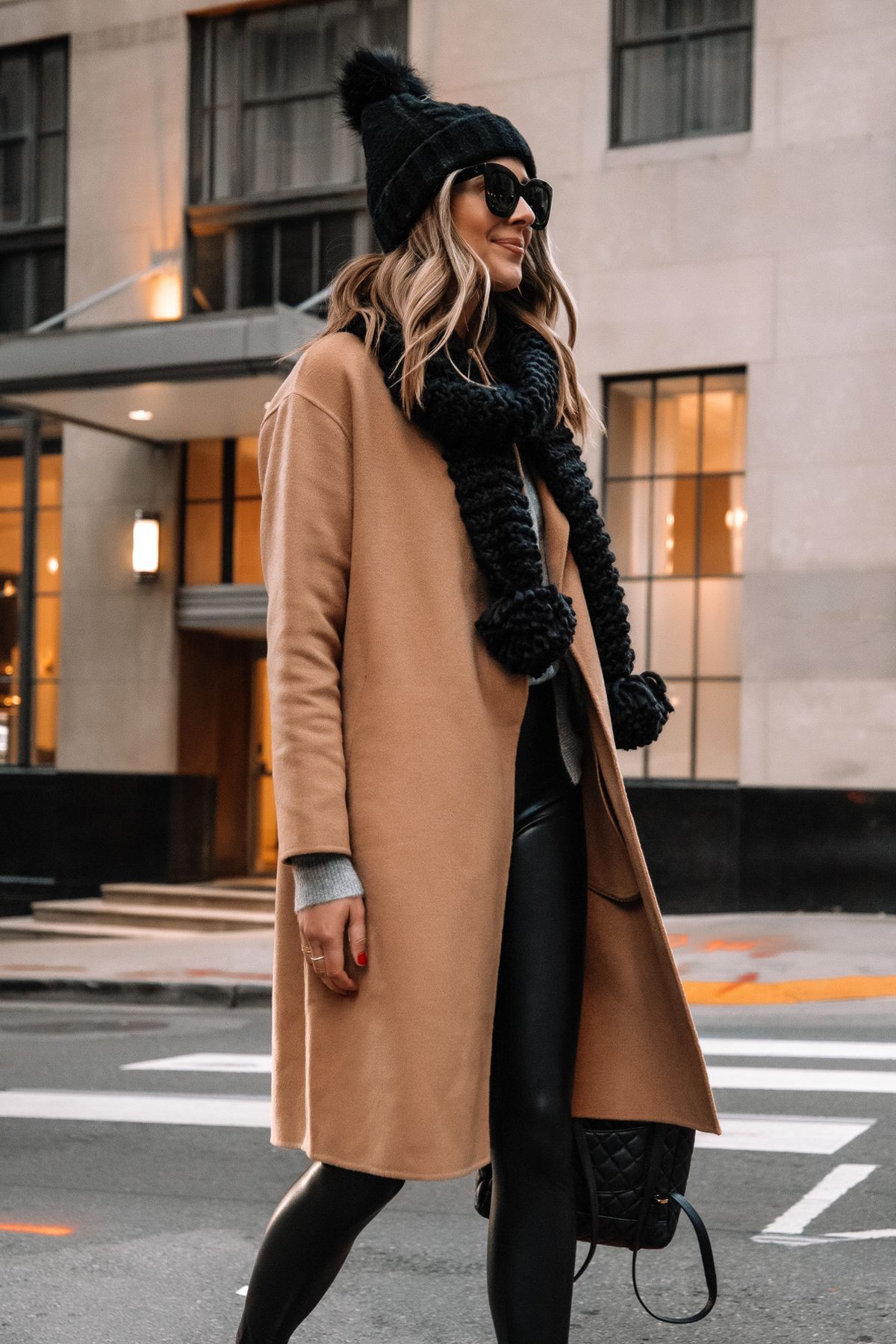 The ultimate smart-casual beanie outfit for all the elegant women out there, this one is for you. The brown coat, the leather pants, combined with knitted beanie and scarf will make you look so cute and flattering!
Winter Sweater and Beanie Outfit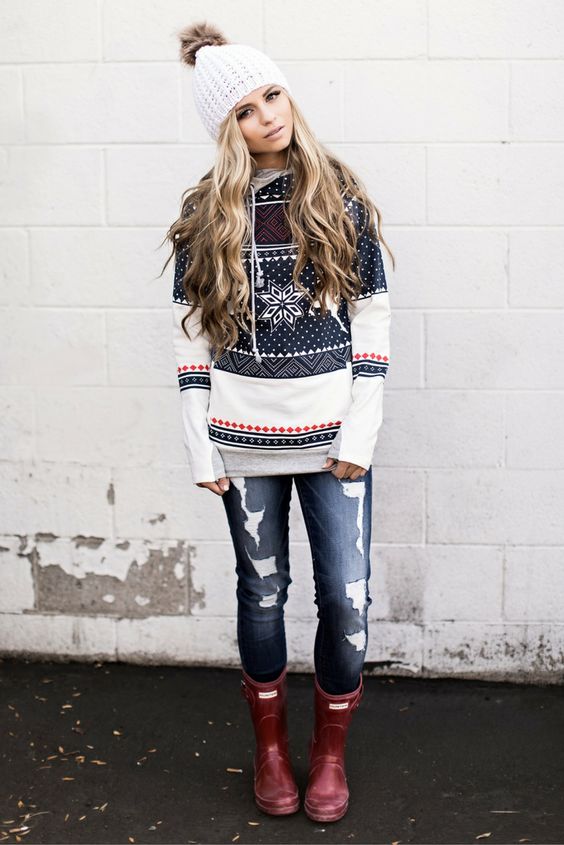 Here's a very cute navy blue and red outfit combined with a cute white beanie. The sweater is Christmas themed to add more cuteness to the outfit.
Beanie and Denim Jumpsuit
Denim overalls go perfectly well with a beanie. But choose the colors carefully. Here we have a white beanie with a white sweater, denim overalls and brown boots and a brown bag. The colours go so perfectly well. This outfit would suit pregnant women as well.
Beanie and Leather Jacket
You can always combine anything with a leather jacket and it looks great with a beanie. Combine it with mom jeans and a casual hoodie and casual sneakers and you have a great daytime outfit.
Cute Beanie Outfit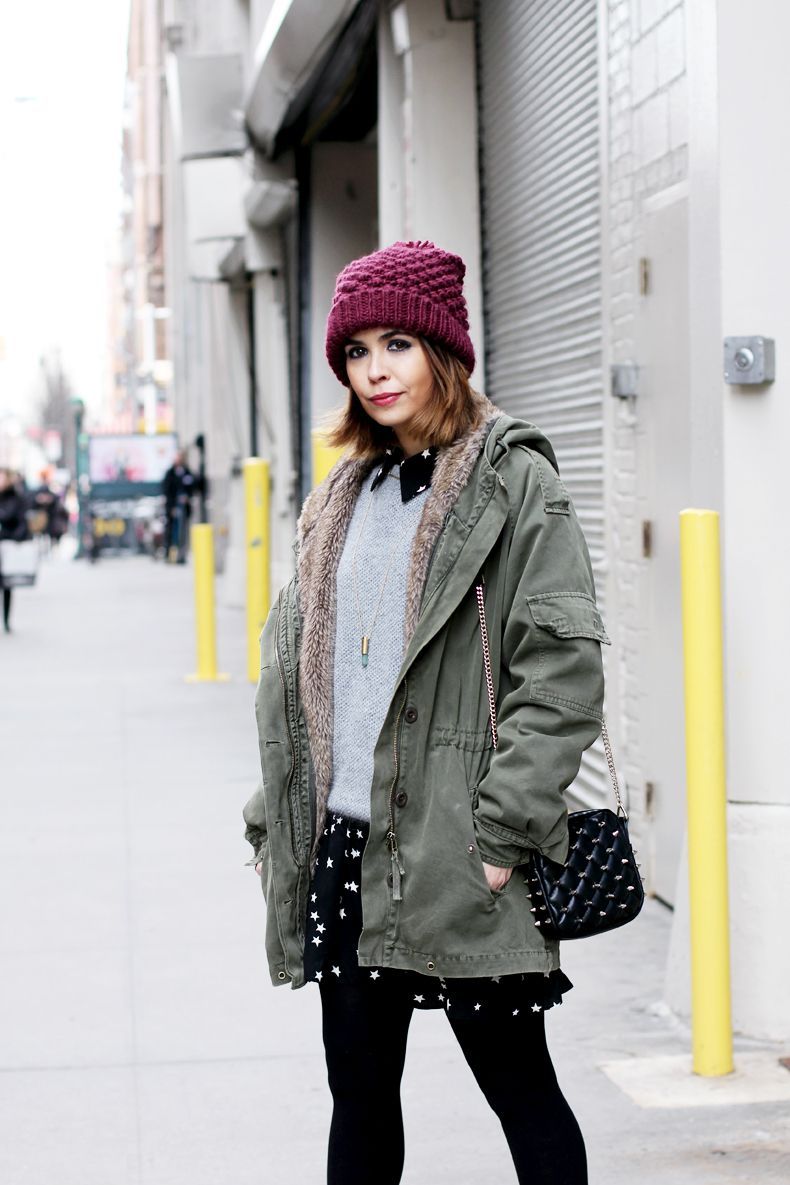 I wanted to suggest to you a kind of a nerd, book worm outfit. It may not be called a style, but I've always loved that aesthetic. You may ask yourself what do I mean by this? I mean a cute short skirt or a dress with a sweater on top, a cute jacket and, of course, a beanie! So cute!
Unusually Stylish Beanie Outfit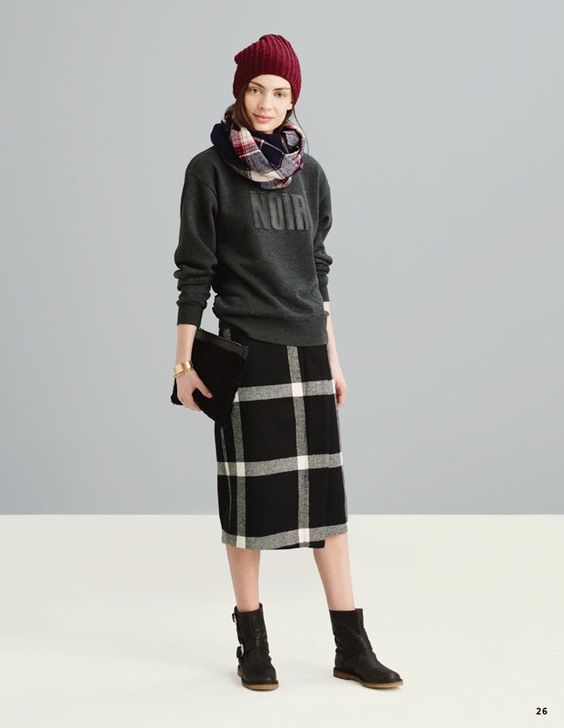 Here's an outfit to spice things up. Have you ever thought that a pencil skirt would fit so well with a blouse? Here as well, the colors match because we have grey and dark red. This is a cool outfit you can wear to work.
Work-Style Beanie outfit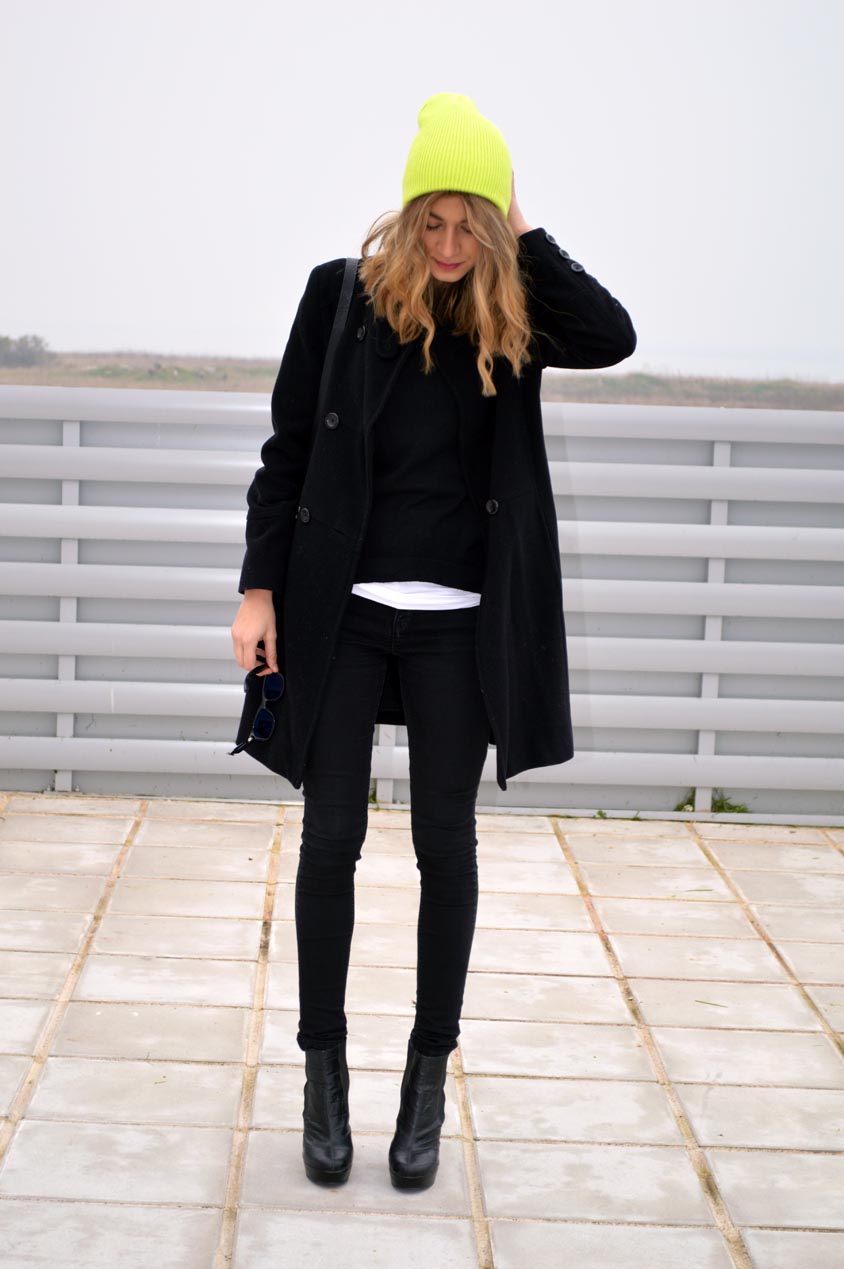 It's winter and you need something to put on for work and you have no idea what to wear? Here's an all black outfit with a lemon-yellow beanie. The outfit is all black because it's the easiest colour for combining pieces of clothing to look great if you don't have time. The yellow beanie is here to break the monotony.
Streetwear Beanie outfit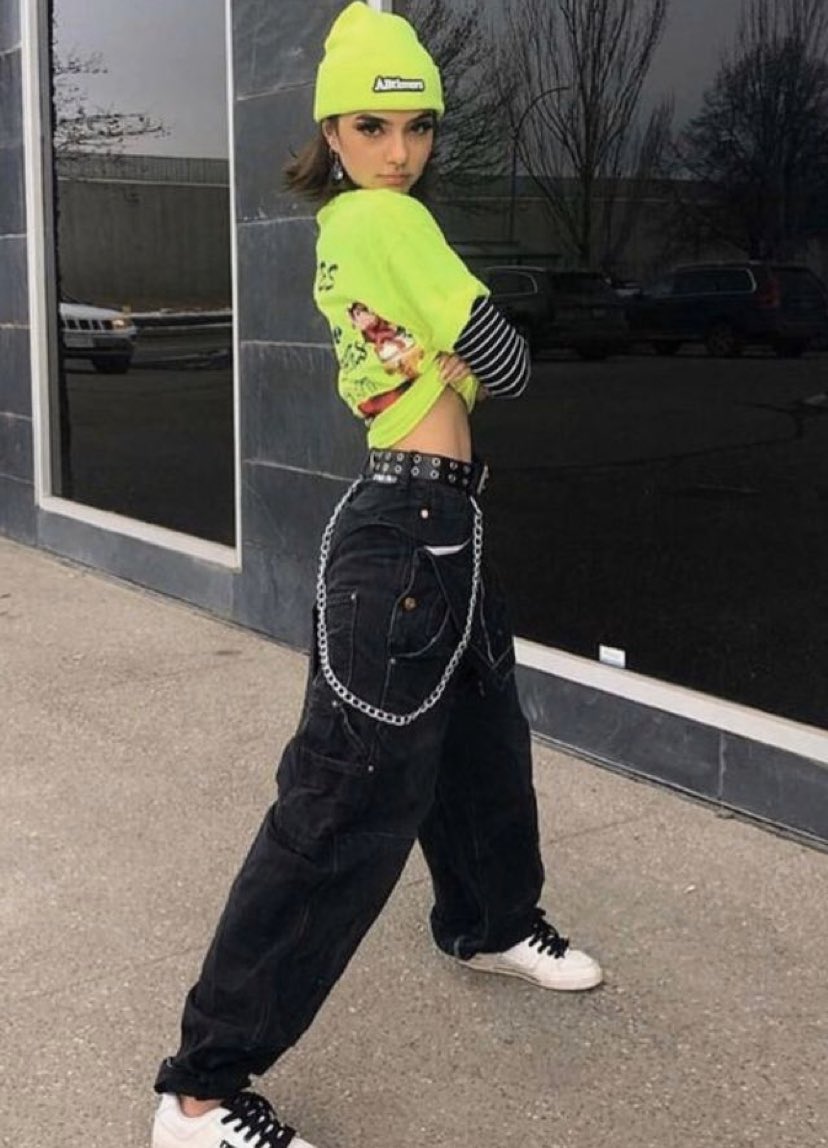 We shouldn't omit the teens here, right? I thought so much about how would a teen wear a beanie nowadays. At first, I thought they think it's already out of style for them but here it is! This is streetwear and an e-girl-like outfit that you will love so much. It has wide-leg jeans and sneakers and a hole belt… You can totally slay this style.
Grunge Beanie Outfit
This is more of an alternative, grunge outfit that is so, so sexy. Shorts in autumn? Why not? For this outfit, a slouchy beanie would be a better idea than any other beanie, although the choice is yours.
Back to School Beanie Outfit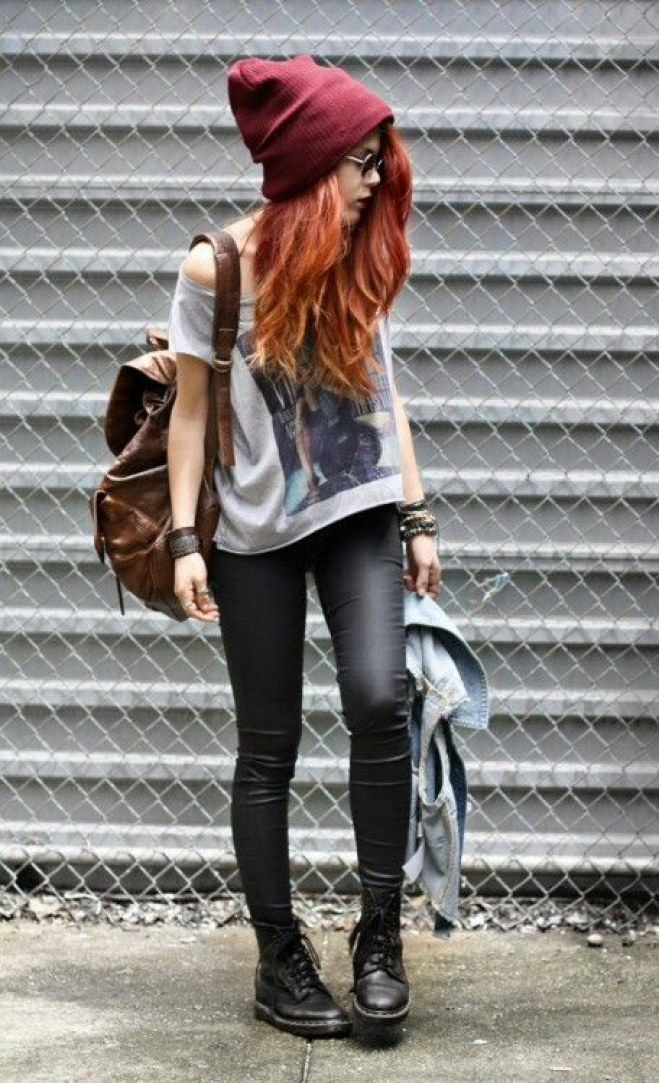 Another school outfit, because, why not? Here we have another cool, alternative style outfit. But this one is a little bit hipster. I wanted to combine both things together.
Slouchy Beanie Outfit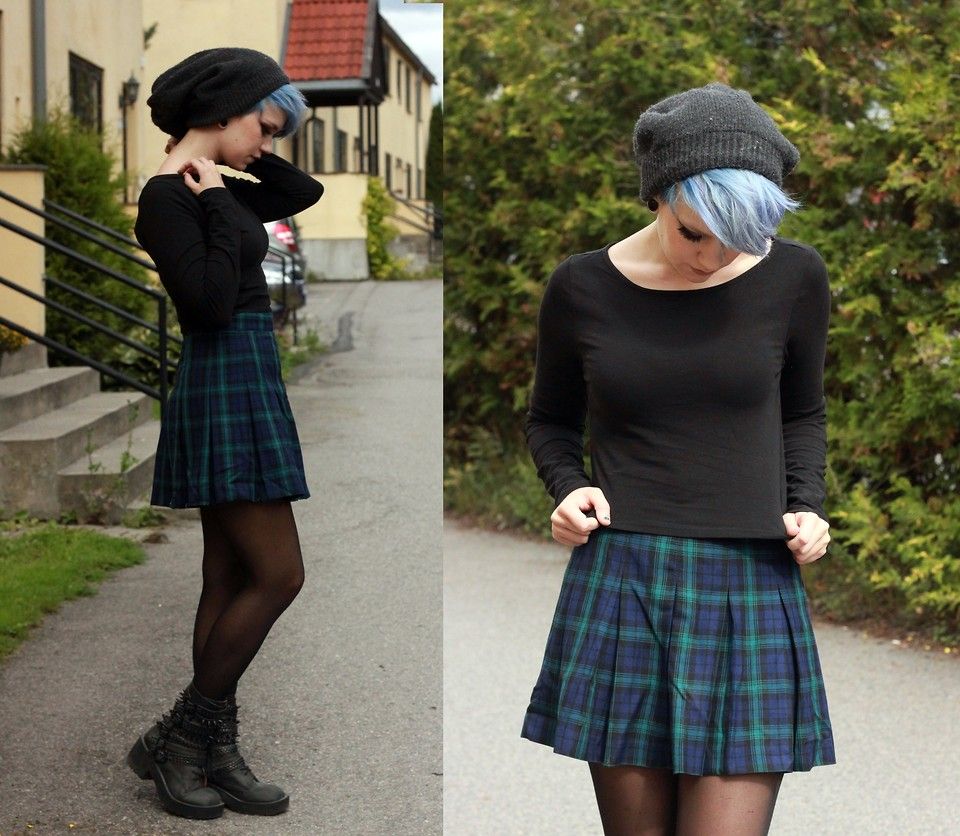 Another cute autumn outfit where the beanie and the short skirt meet together. A great outfit for school or going out with friends.
Soft Girl Beanie Outfit
A beanie with a cute button-down crop-top sweater and beige pants are a great idea if you follow the soft-girl aesthetic.
Grey Beanie Sweatpants Outfit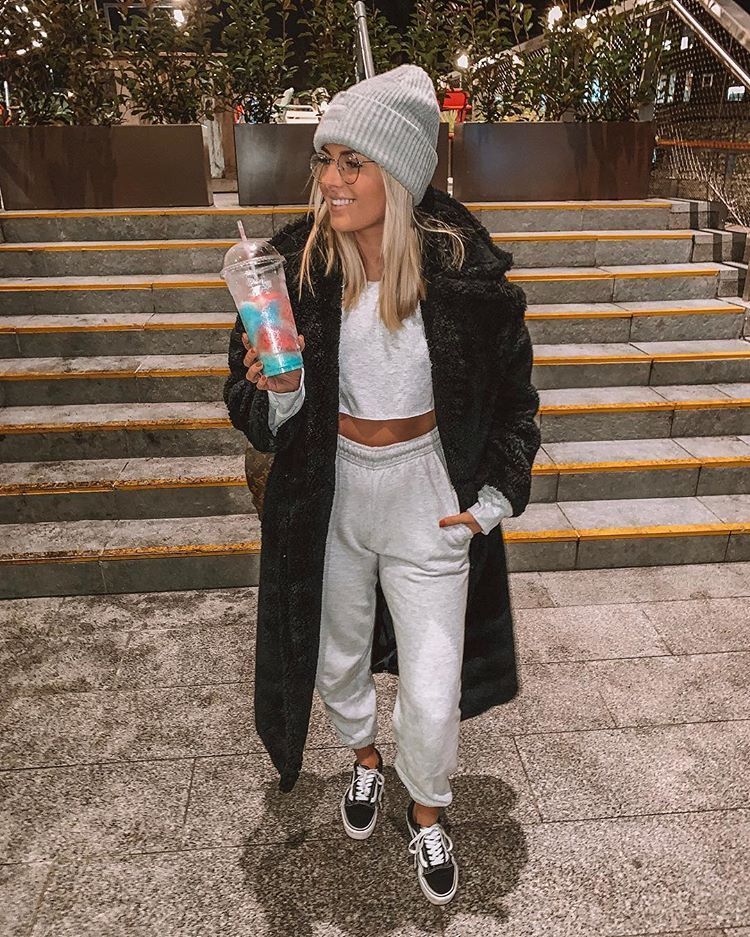 Sweatpants are the new going-out casual nowadays. Why not put a beanie on top of this outfit? Along with a furry coat, it looks very trendy.
Night-Out Beanie Outfit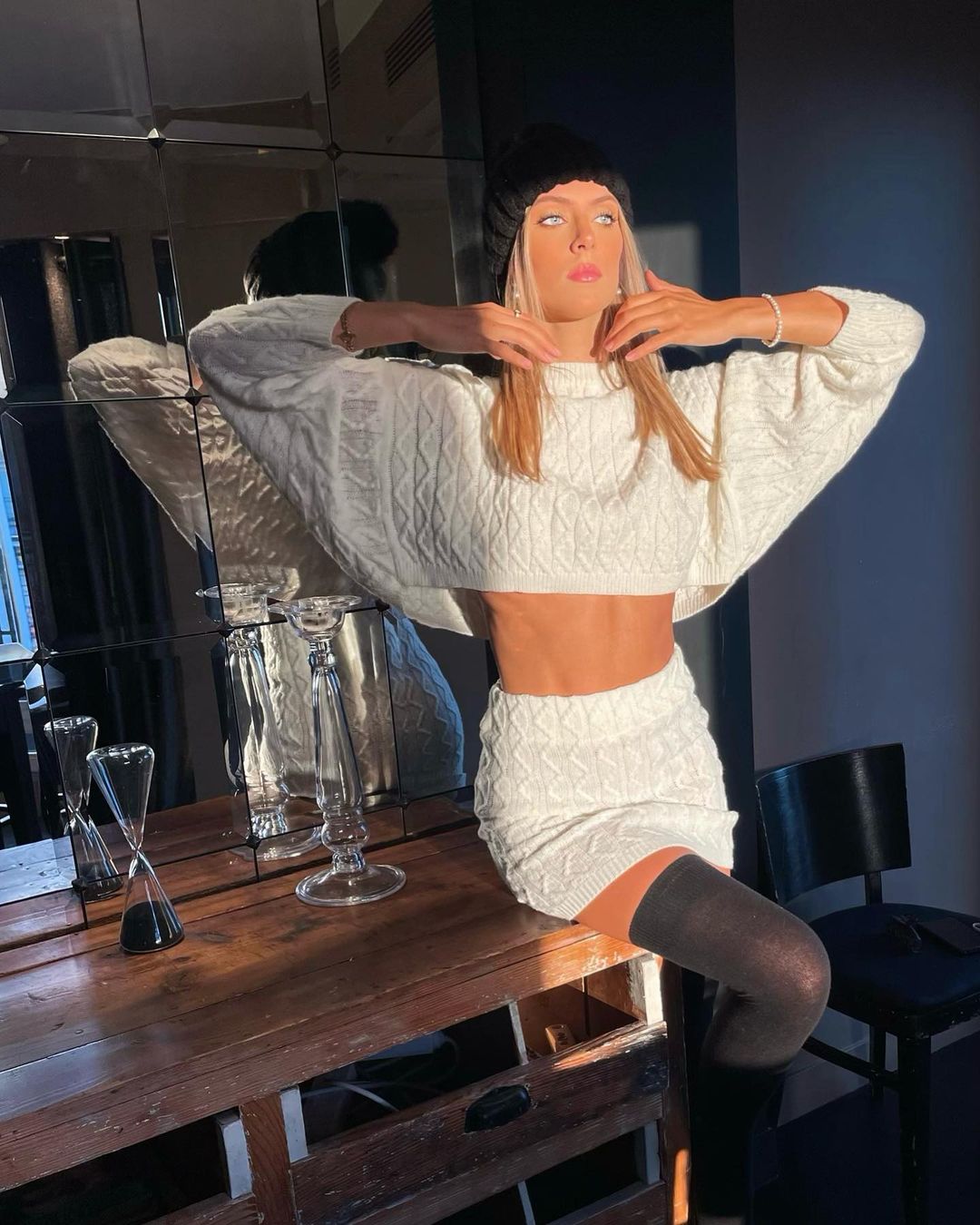 And the last outfit from this list is the night-out outfit. Who would've thought that a beanie would go so well with a sexy night out outfit? The key thing here is that the outfit is all knitted and sexy.
That's all I have for cute, trendy and sexy beanie outfits that you can try on. I am sure that you'll love it. I always pay attention to include outfits for women of different ages, styles and sizes each one of you will find an outfit that would inspire you to go now and buy a new cute beanie.