For those of you who wear black pencil skirts to the office almost all the time, have you thought about making your work outfits lighter and more refreshing by replacing your black skirt with a white mini skirt? I'll tell you several secrets if you want to wear your mini skirt in the right way, and how you can style it in a refreshing and elegant way. Not only that you will see some nice casual outfit ideas, but I will also cover a short skirt for every season.
I think you all know that minis are back in trend again, that's why many shops and brands offer us, various models, to choose from. In this compilation, we are going to explore various ways of wearing them. It's a fun piece that can be worn with pretty shirts, tops, and accessories. Pleated skirts, denim skirts, suede skirts, floral skirts and so many more. Are you ready to see how simple magical the white mini skirt is? Let's jump right in now.
The Classic Black
Planning what to wear with black skirts is not a difficult task at all. I believe that a black skirt is essential in everyone's wardrobe. It's one of the most versatile and classic pieces of clothing that comes close to a pair of jeans. Black skirts are suitable for almost every occasion and can be worn in your choice of style and length. And this all-black combo is on point.
Business Casual
This one is one of my favorite short skirt inspirations. It's business casual and also perfect for any occasion. I love the printed skirt with dark blue tones that match perfectly the dark blue suit and the soft white sweater underneath. You can also notice the cream details on the skirt that match the cream ankle-high boots. Perfection indeed!
Winter Short Skirt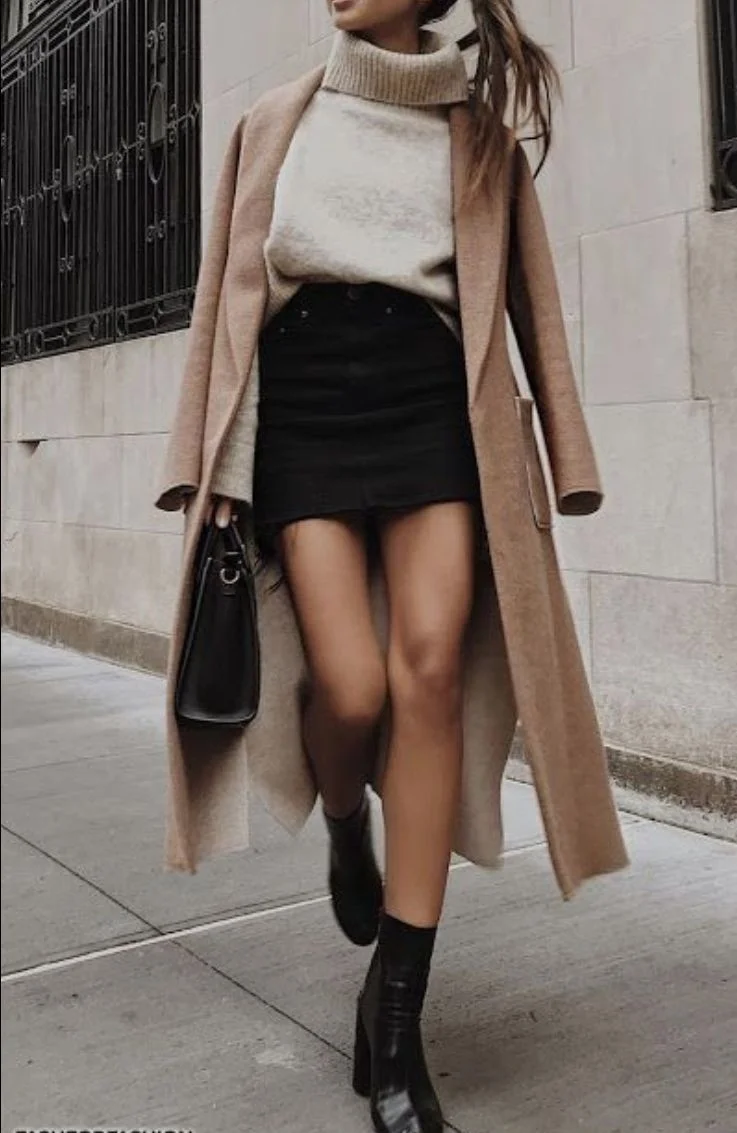 This black denim skirt could be worn with almost everything and anything on cold days. In this case with a turtle neck beige sweater and black boots and the creamy coat to top it all of.
Classic Denim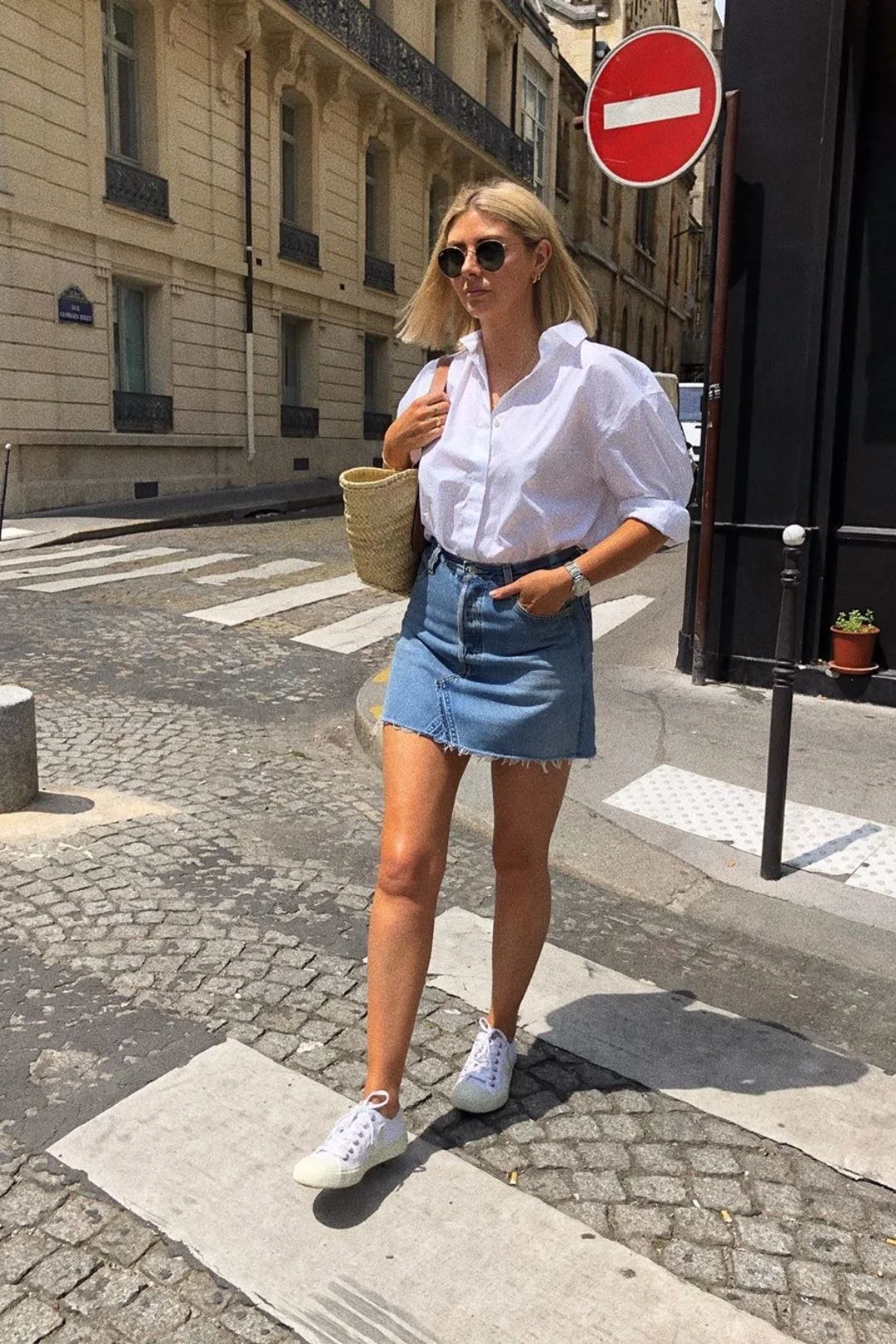 Personally, I think this one will never get out of fashion. The good old denim skirt inspires endless outfit combinations. For this casual warm day outfit, I suggest a white shirt and white sneakers and the accessories I leave to you. A bag, a belt, jewellery, sunglasses. Mix and match girl, and enjoy it!
Floral Magic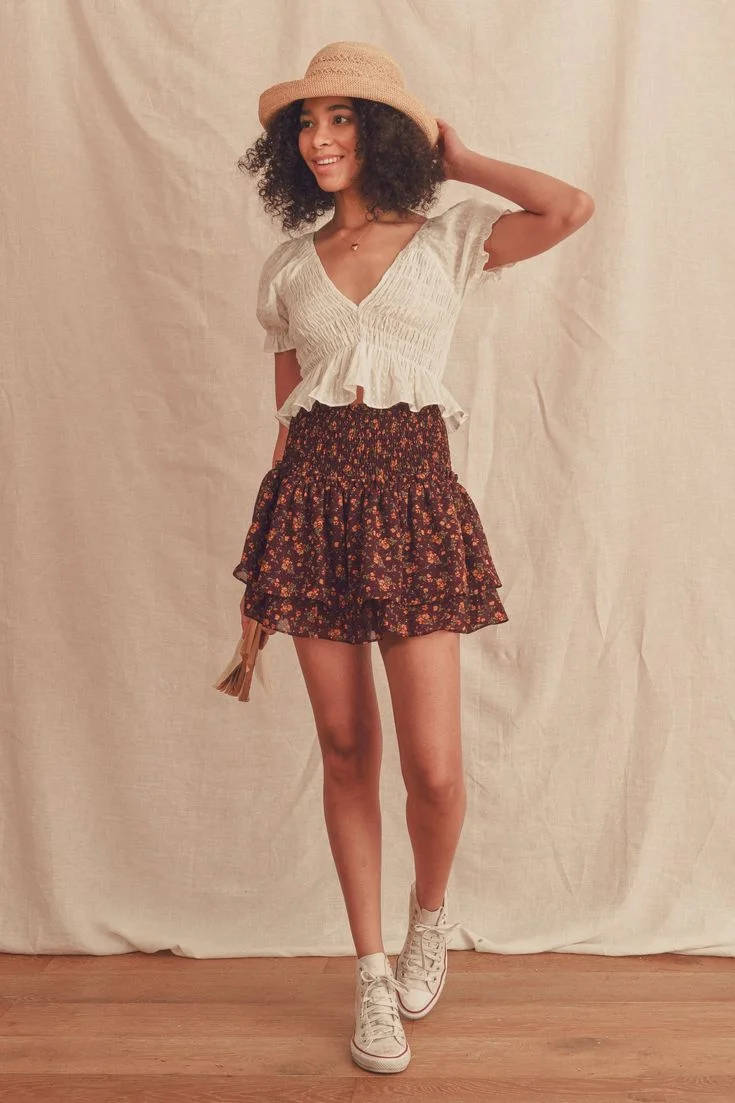 This outfit is for those warm summer days. I love how it looks so light, and simple, and enjoyable. The fluffy floral skirt and the white wrinkled skirt are combined perfectly, and the All-stars sneakers and the summer hat just make it look amazing and ready for the sun.
Light and White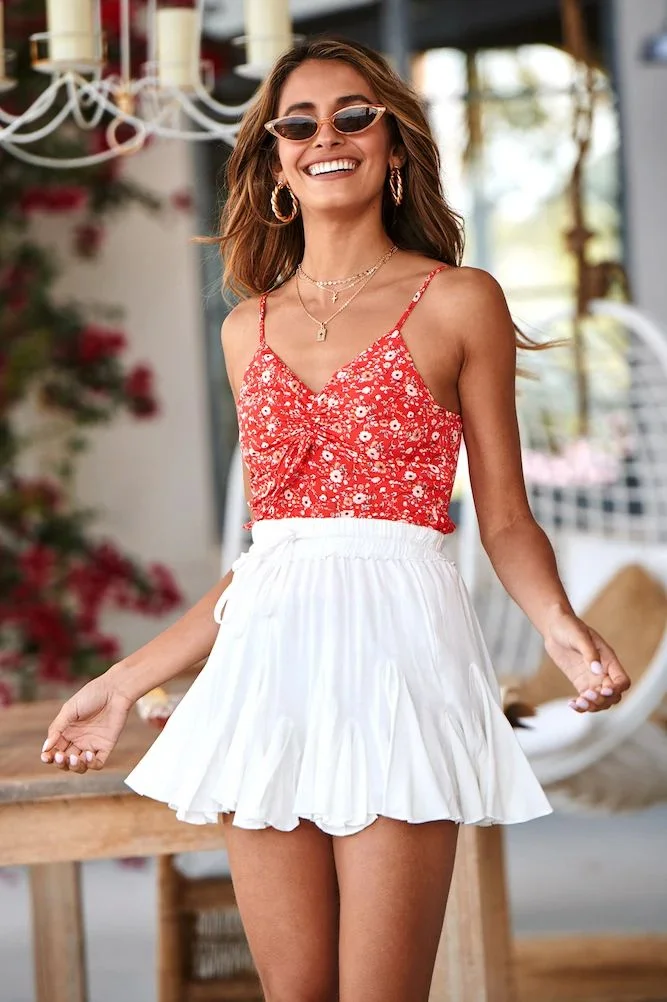 This light and white combination is another summer short skirt inspiration, only this one has the white skirt, and a fun floral top. It's perfect for the beach, or any given summer day. Fun, fluffy and flirty.
Cool Checkered Skirt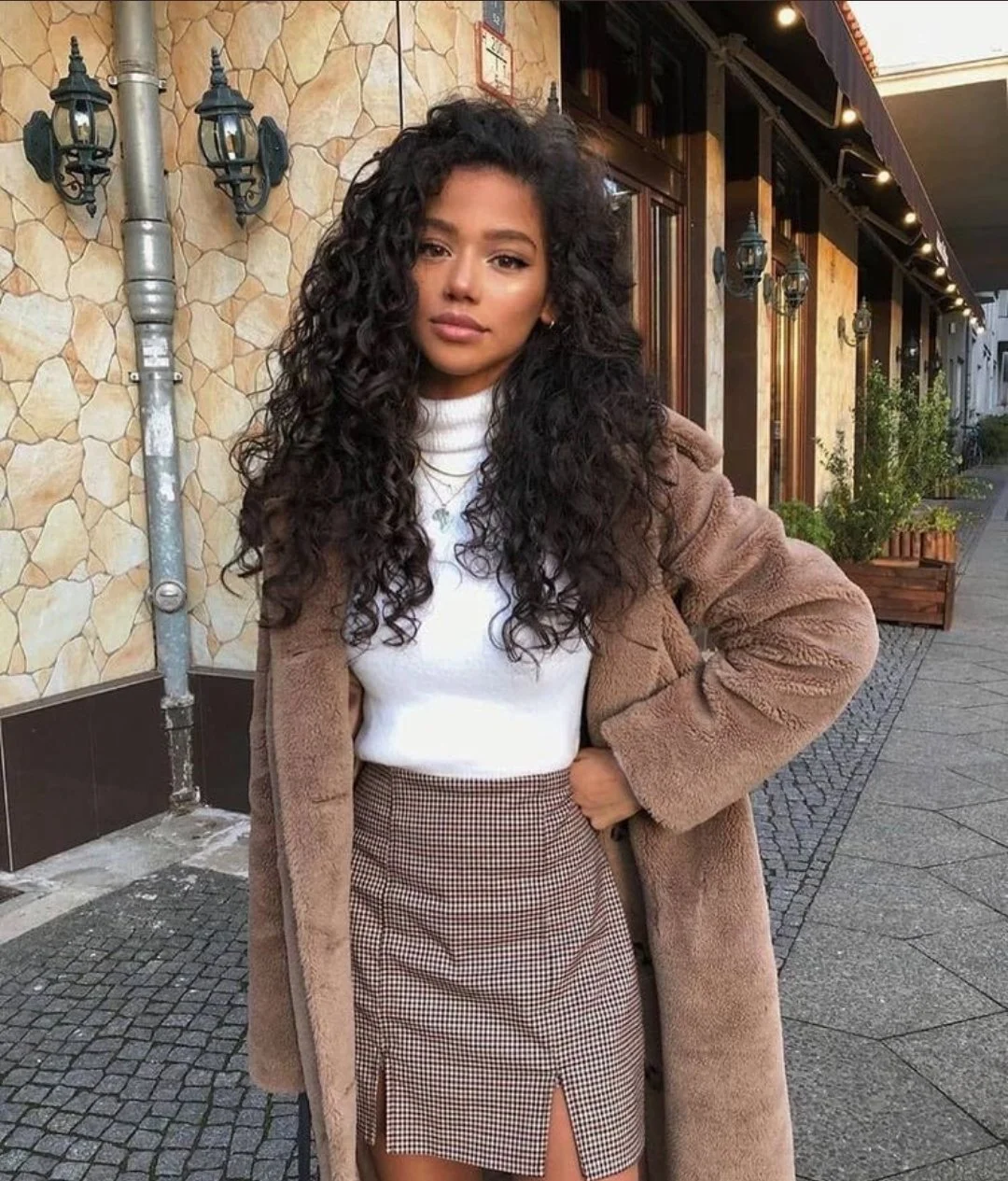 For all of you who enjoy winter and wearing short skirts, this is the combination to have. This cool checkered skirt is topped with a white turtle neck sweater and a teddy bear coat. The colours are suitable for autumn s well as for winter.
Pink Velvet
One of the more fun and inspiring outfits is always the pink pieces of clothing. So, find the perfect pink velvet skirt, top it with a black blouse, and put on high black boots, and you're done. You'll look amazing.
Brown and Flannel
This is a very chic outfit inspiration. I love that the skirt is used as a colour base and the flannel shirt defines the whole outfit. The boots are matching as well, and if you choose this short skirt inspiration, you live an impression wherever you go.
Animal Print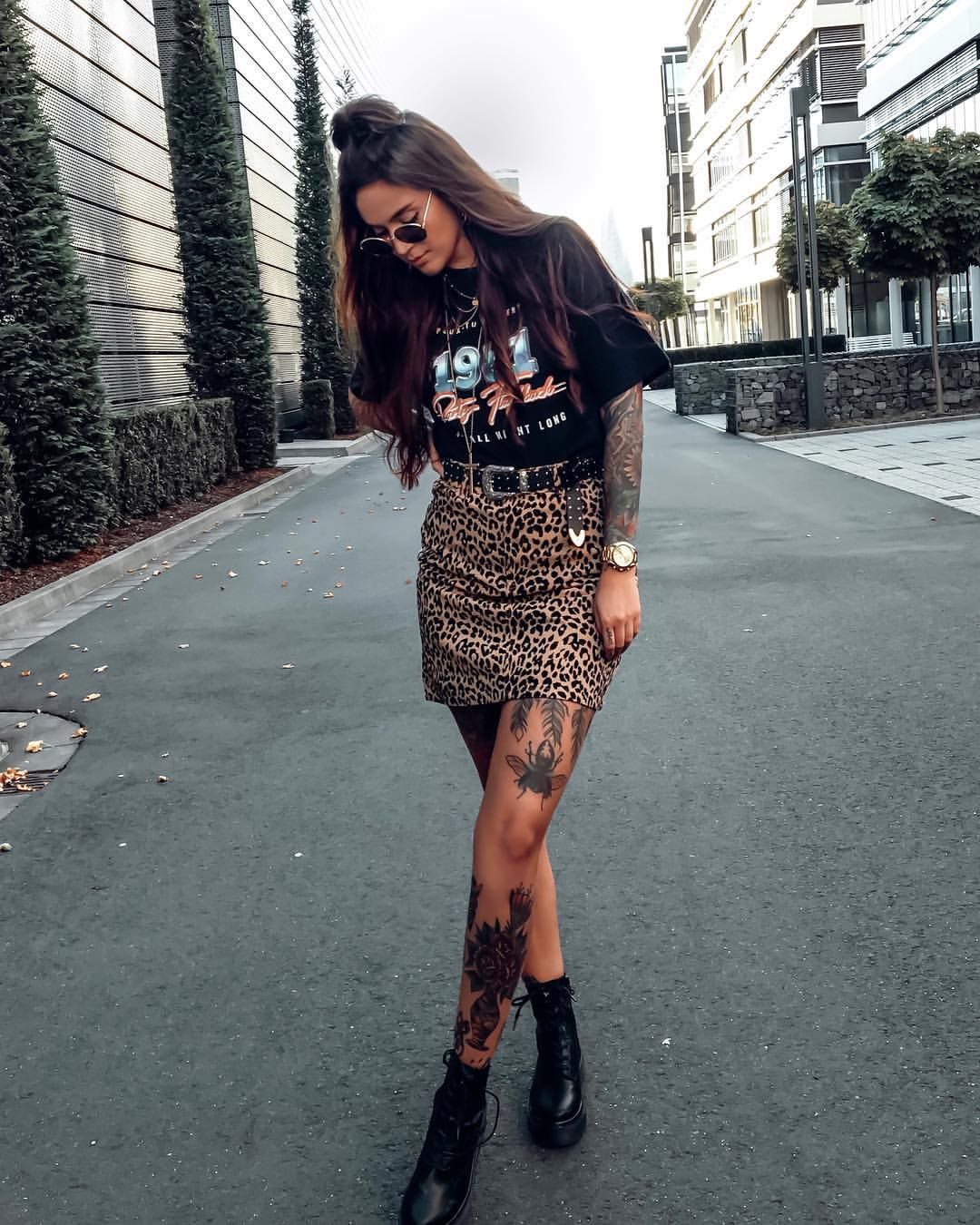 For all animal print lovers, you can enjoy this street-inspired style. I love the leopard skirt combined with a short-sleeved black t-shit. It gives all the wild vibes and looks fashionable as heck.
Suede All The Way
One of the more classy outfits includes this gorgeous suede brown skirt that is just the perfect match with the emerald grind and detailed shirt. No matter what kind of foot ware you choose or whatever accessorize you decide to put on, this is the combination to wear on those colder days.
Black Leather Baby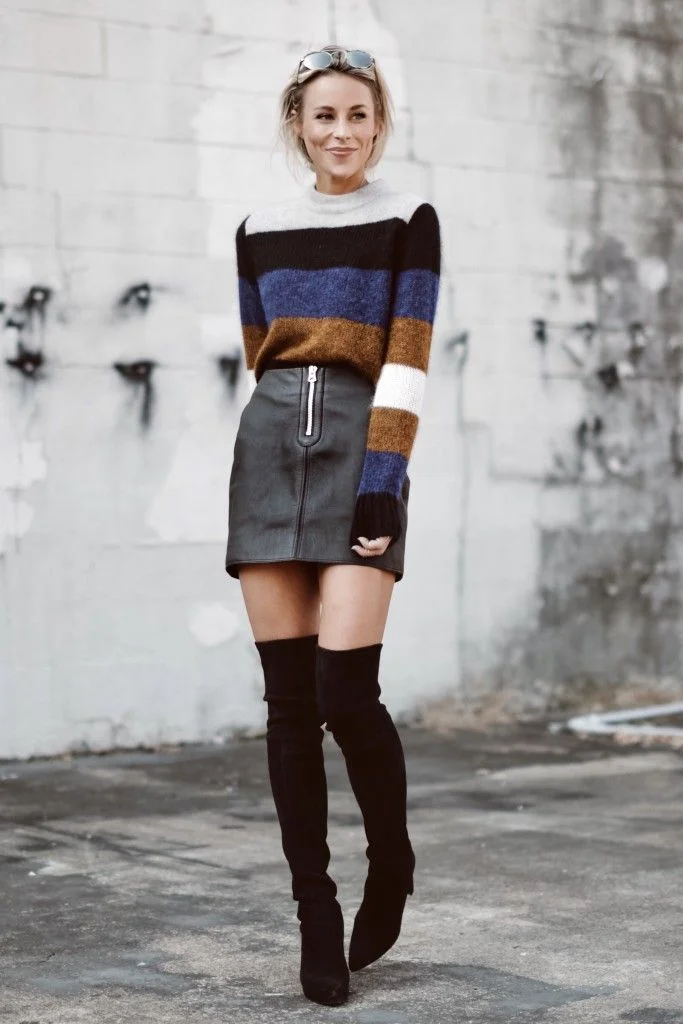 The good old leather skirt is always in fashion, am I right? Especially for the autumn and winter days. Top it off with an interesting sweater and there you go. Oh, let's not forget the high black boots as well. Cool, very cool outfit.
The Perfect Combo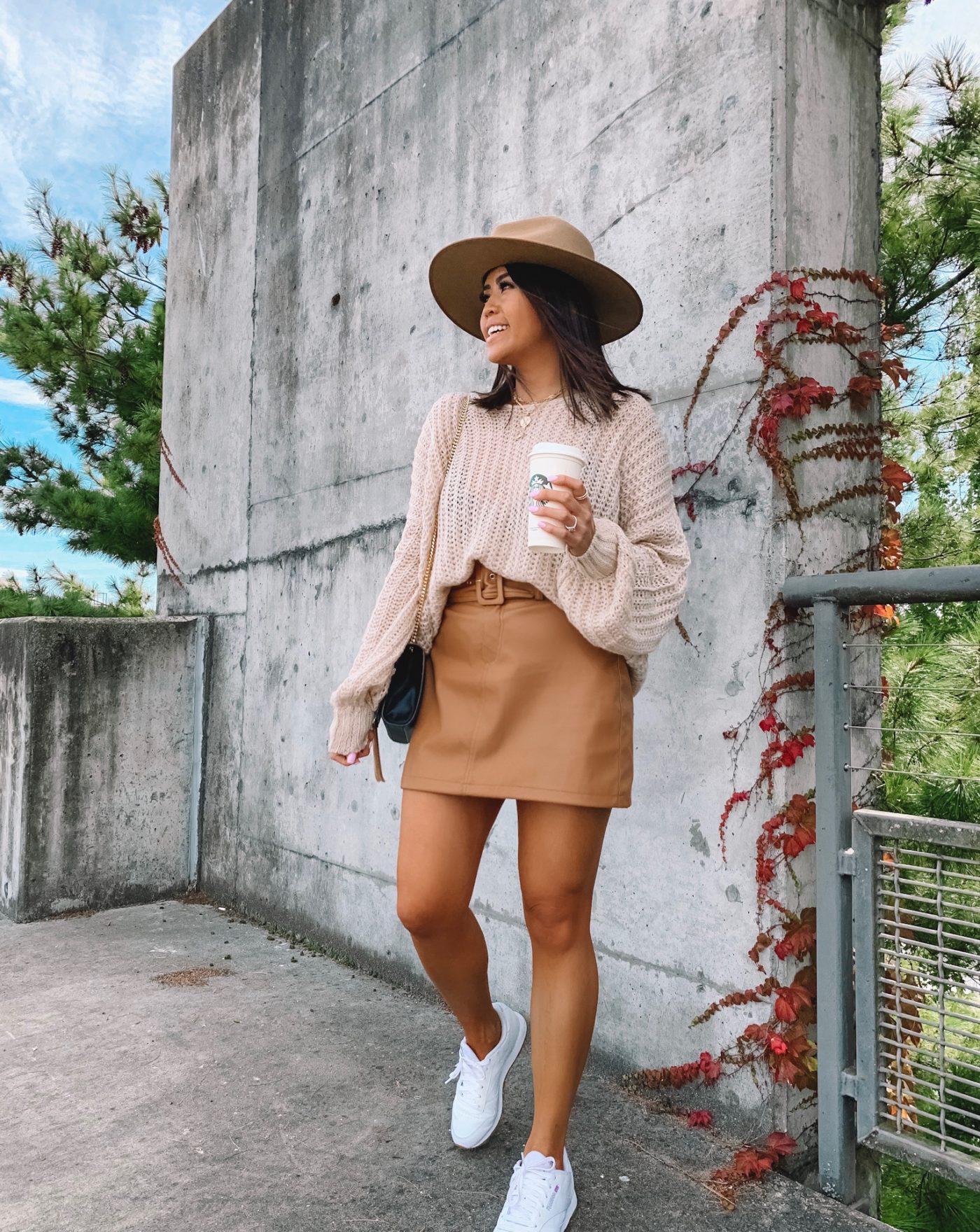 Ok, does this outfit give autumn vibes or what? Starting with the colour of the skirt (black leather is cool) but this brown leather skirt is for the win. I love the creamy sweater and the matching hat, but most of all, I love that it goes so well with the white sneakers. Don't you?
Plaid Short Skirt Suit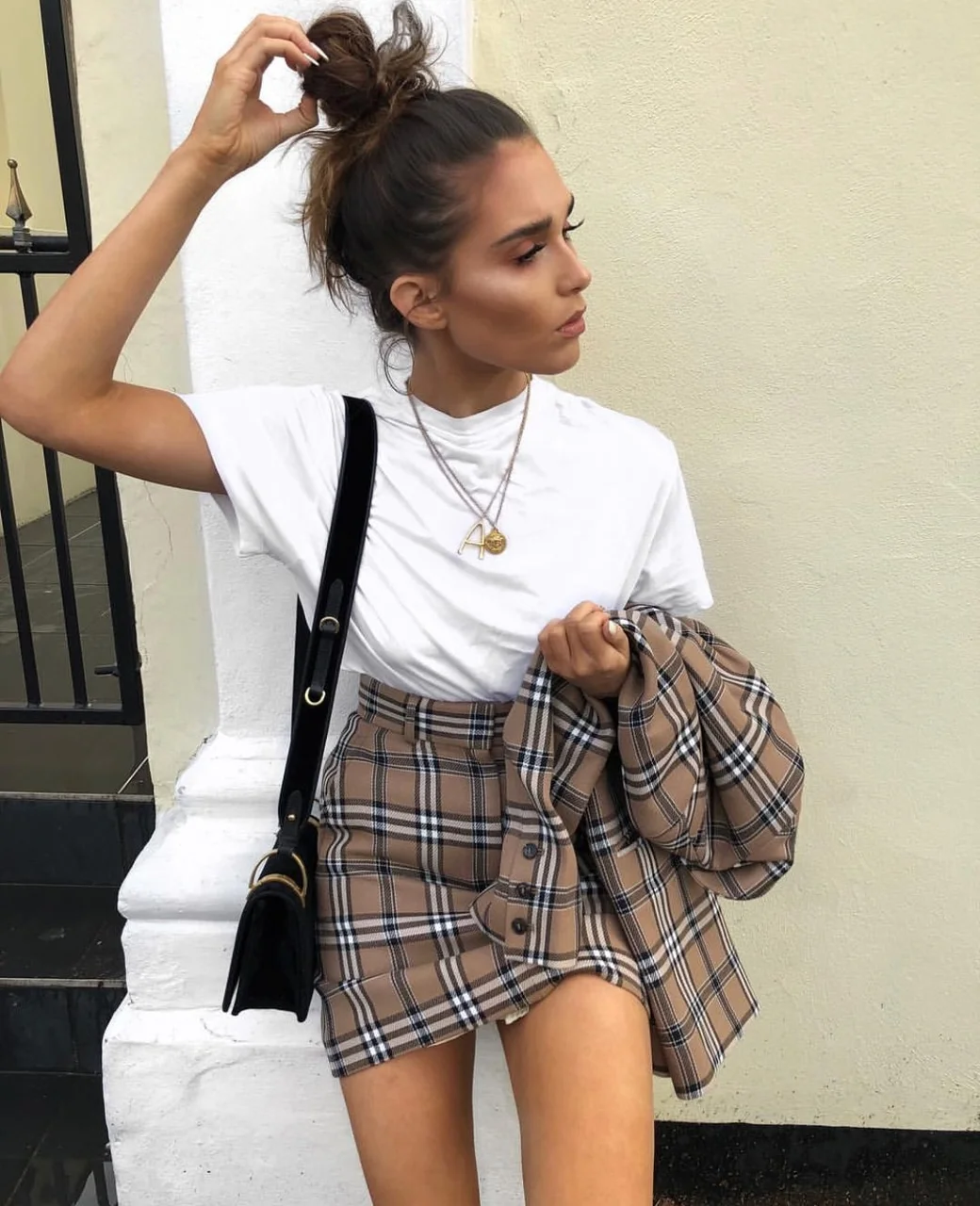 You can wear a short skirt suit and still look classy as well. This plaid suit looks amazing with a simple white shirt and you'll probably feel so much comfortable. And look classy, and amazing, and attractive as you should.
Knitted Short Mini Skirt Dress
Lovely! Just a lovely outfit inspiration. This knitted short skirt dress is more than an outfit inspiration It's a statement piece! Combined with the white ankle boots, just pure perfection!
Blue Snake Skirt
Now, this is some next-level fashion inspo. This all-blue outfit is more just a blue outfit. Let's start with the most impressionable piece the snake skirt, actually the blu snake skirt. Topped with a sheer blue blouse and a different shade of blue jacket is magical. To break it off, the white boots are as amazing as well.
Black And White Lines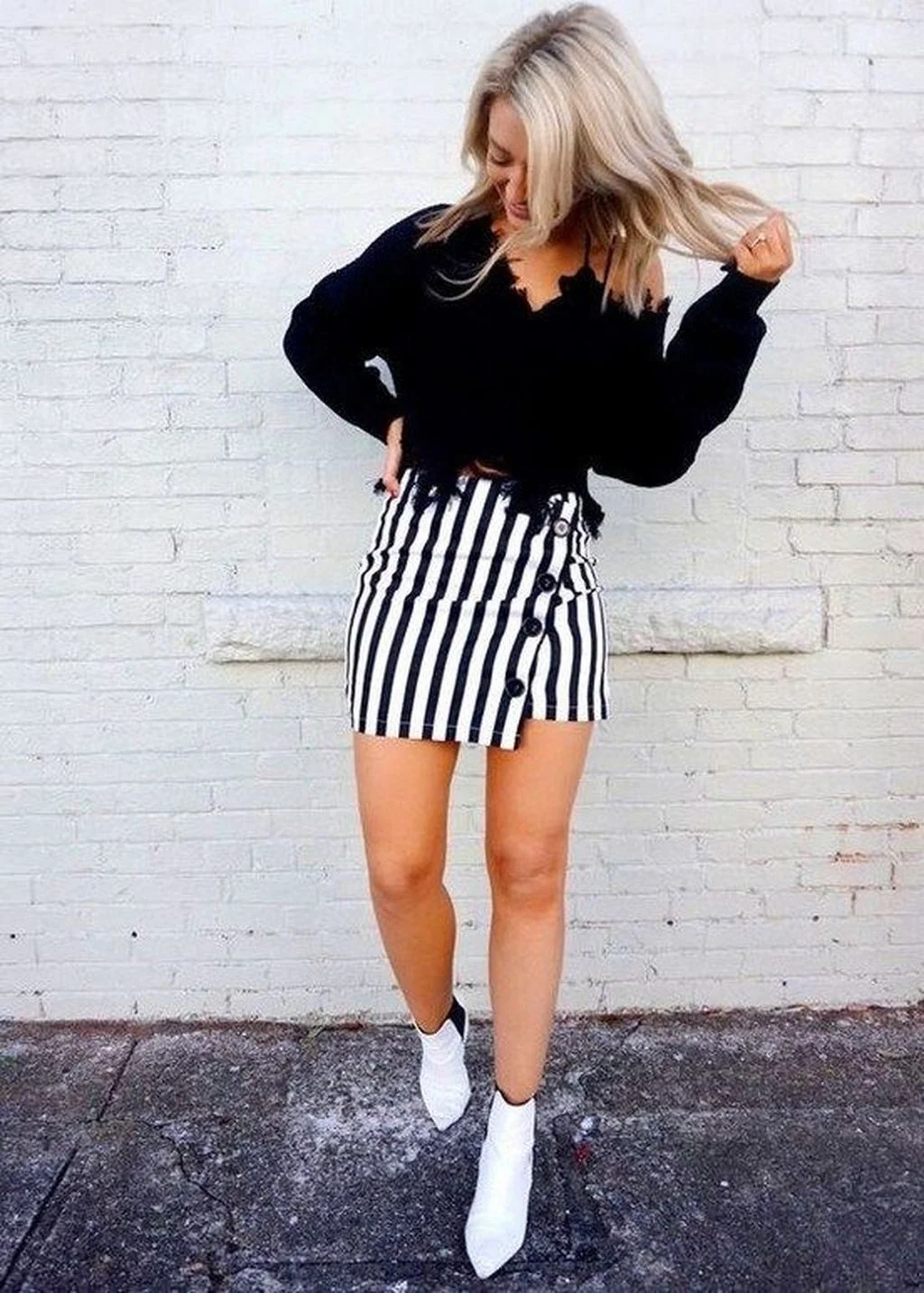 Simple yet beautiful. For this outfit inspiration, I suggest a black ripped sweater and a short skirt with black and white vertical lines. You can wear it with white or black boots, or maybe add some extra details for some character, Anyway, it looks fun and very chic.
Yellow Inspiration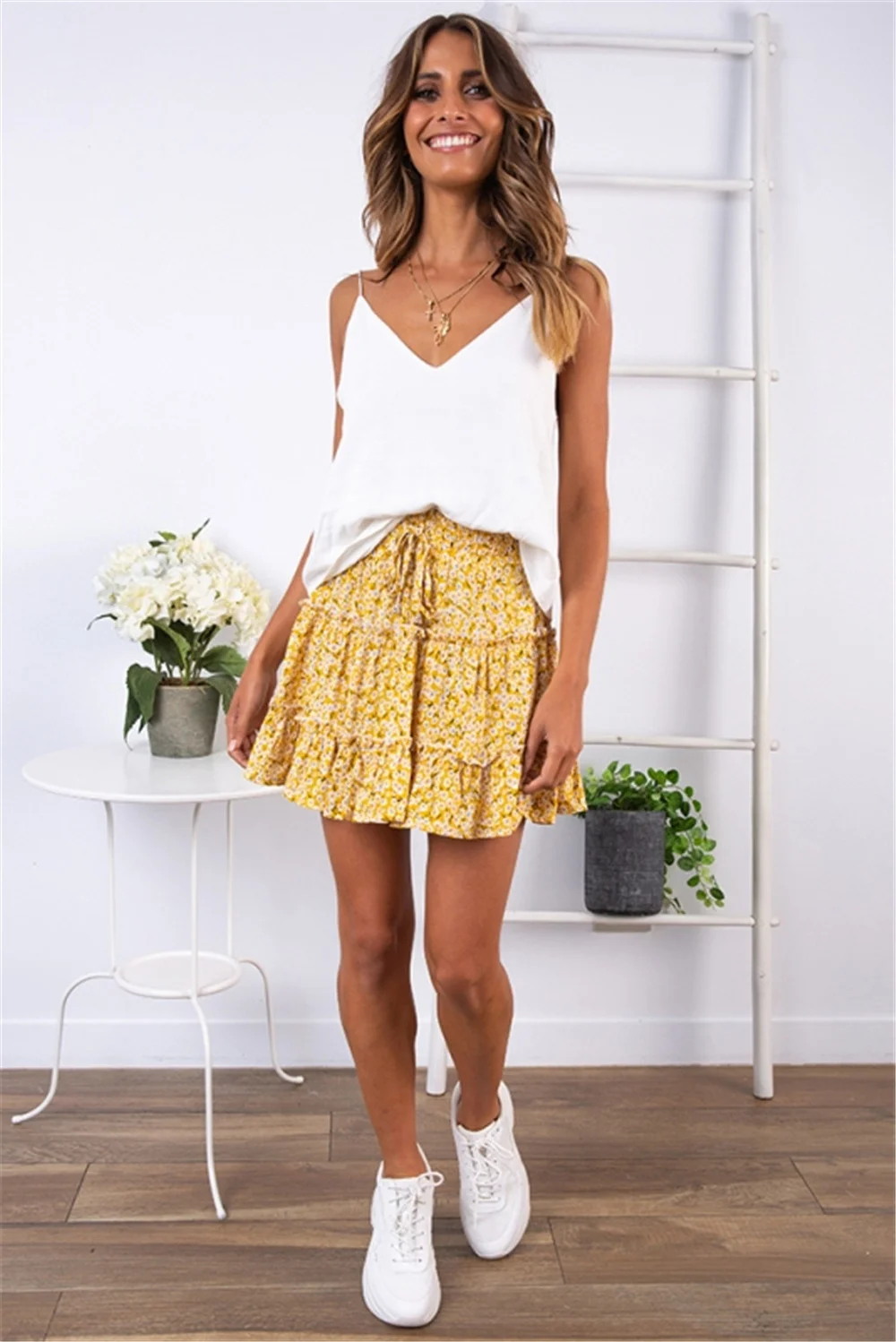 When you want to feel comfortable and look amazing, just pick a light white sleeveless shirt and a yellow or yellow flowers short skit and put on your favourite white sneakers, and there you go. Looking good, feeling good, living good.
Mint Friends Forever
Bestie matching short skirt inspo! If you and your friend want to look amazing and match your styles, this mint short skirt is more than inspiration on those summer days. You can wear them with a white or themed t-shirt, water, sweater, white sneakers and be ready for some compliments.
When it comes to styling, and what to wear with short skirts, the possibilities are endless. I've offered different ways you can wear a short skirt and get inspiration for short skirt outfit ideas. There you have it! 20 ways and outfit ideas on how to style a short skirt for summer, winter, fall, and spring. With tons of mini-skirt outfits ideas for styling inspiration!
I really hope you liked some of them and I've inspired you the mix and match ideas for wearing short skirts any season. Hope you leave a comment down below or maybe a photo of your favourite mini-skirt combination. Like and share!