Is it just a bunch of hocus-pocus? It's October, and you know what that means. It means we're officially ready for Halloween! My love for Halloween and clothes have something in common. I'm obsessed with both! That's why I wanted to give you outfit inspirations that are not costumes and you can only wear them at costume parties or just on Halloween, but I wanted you to have inspiration thought the whole month. Pumpkins, skeletons, brooms, mummies, cats, witches, and bats, you name it. We can celebrate this whole month looking fabulous and feeling festive.
I've picked some ideas that include your favourite sweaters, pJ's, pants, dresses, t-shirt, and everything Halloween inspired and let's get started. Here are 20 Halloween inspired everyday outfits that you can wear this month:
Black And Spooky
This whole picture is an inspiration by itself but, the all-black outfit is just what you need for numerous occasions. The black leather short skirt gives witchy vibes, but the look is completed by this black sweater with ghosts and spiderwebs. You don't have to carry the broom with you, of course, but hey… if the moment allows it, why not? You'll be the best-looking witch of them all.
Comfy Halloween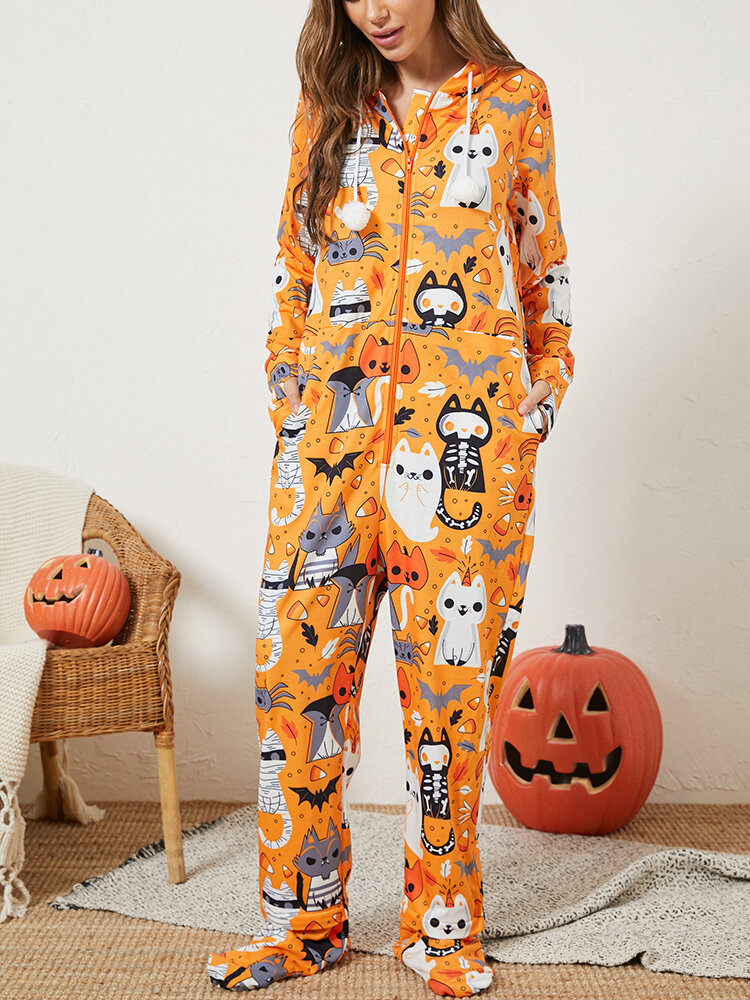 These one-piece PJs are some of the essentials this Halloween. The synonym of comfy, cozy, and comfortable outfit. Besides, the design is so cute, you can wear them all day long. Imagine a girls' day spent at home, sitting by the fireplace, drinking hot cocoa, talking, and enjoying your time together. And looking great, of course!
Bat Dress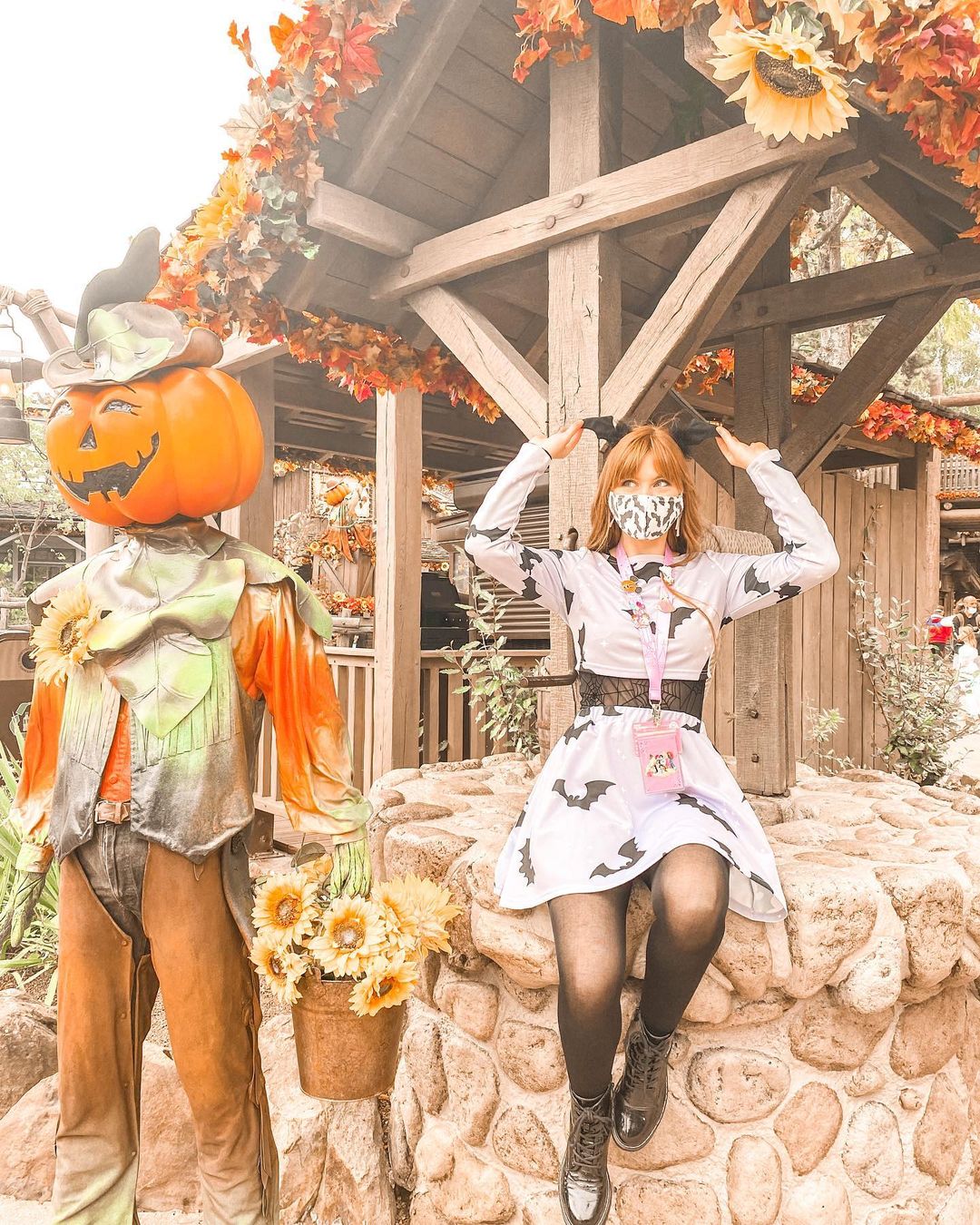 This outfit is totally something you can wear going out. Going to lunch, brunch, or just a cup of coffee with friends, and spreading the Halloween spirit wherever you go. And you'll be looking awesome as well. Also, feel free to match your mask and maybe wear the bat ears to complete your look.
Scary Disney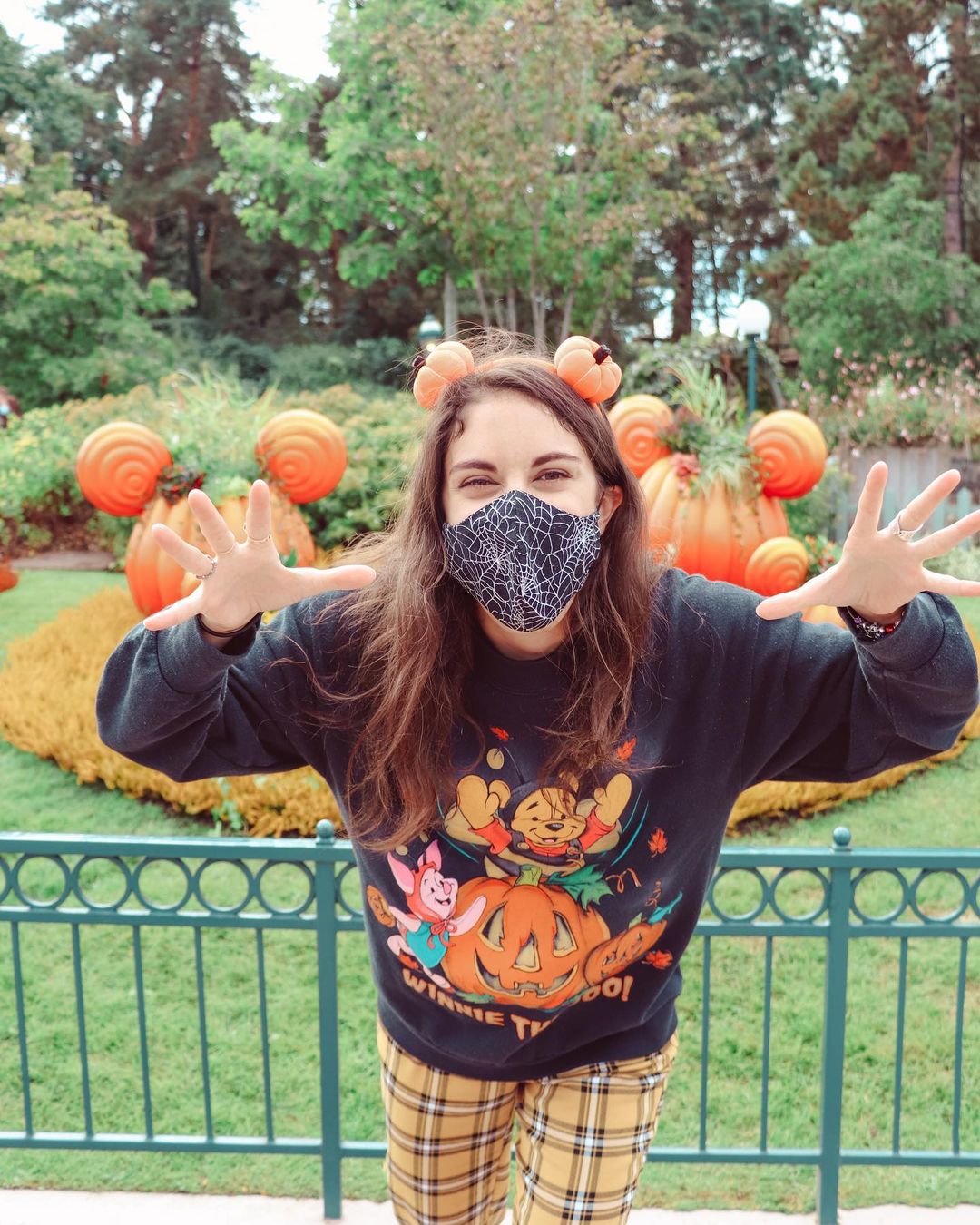 Disney is fun all year long, but there's something super special about Halloween. All your favourite characters looking scary and inspiring in this Winnie Pooh outfit. The orange plaid pants could be worn as the base of the whole outfit. But the sweater is what makes it special. Pumpkins, bears, mouses and scary stories. Yes, please add the spiderweb mask and the little pumpkins on the head.
Orange Is The New Black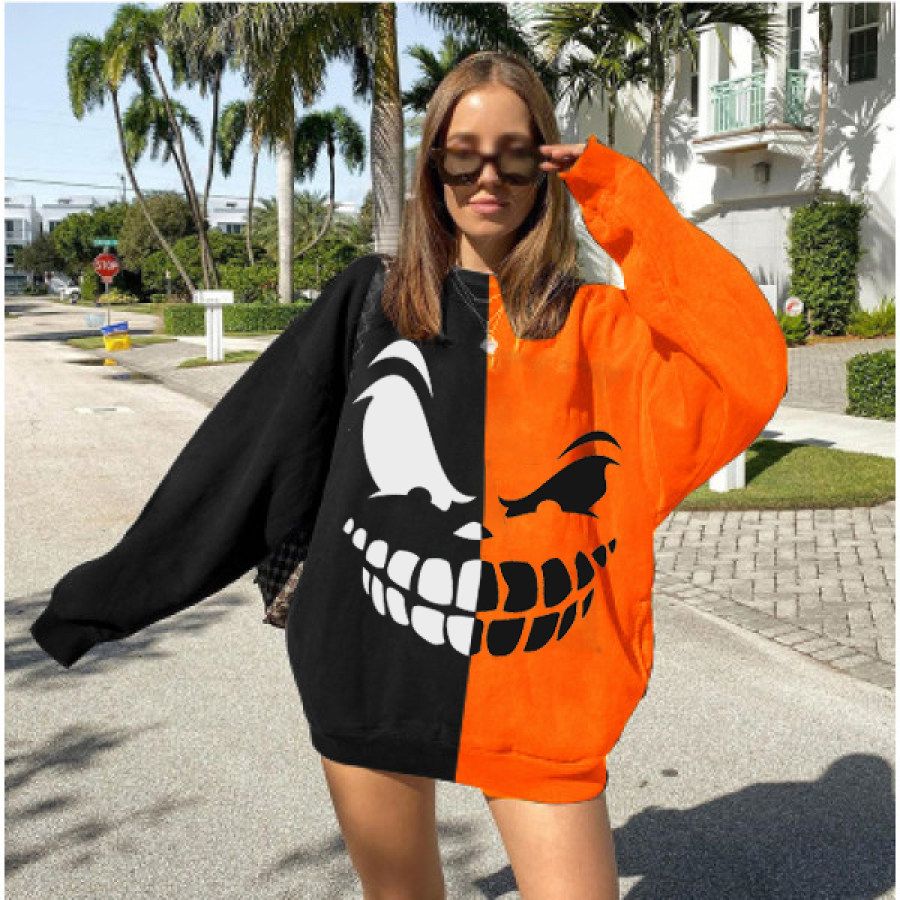 Or you can wear them both with scary faces all over the sweatshirt. This oversized sweater is so cool and modern and very brave. Yes so seasonal and perfect for Halloween. I dare you to try this outfit on.
Your Basic Witch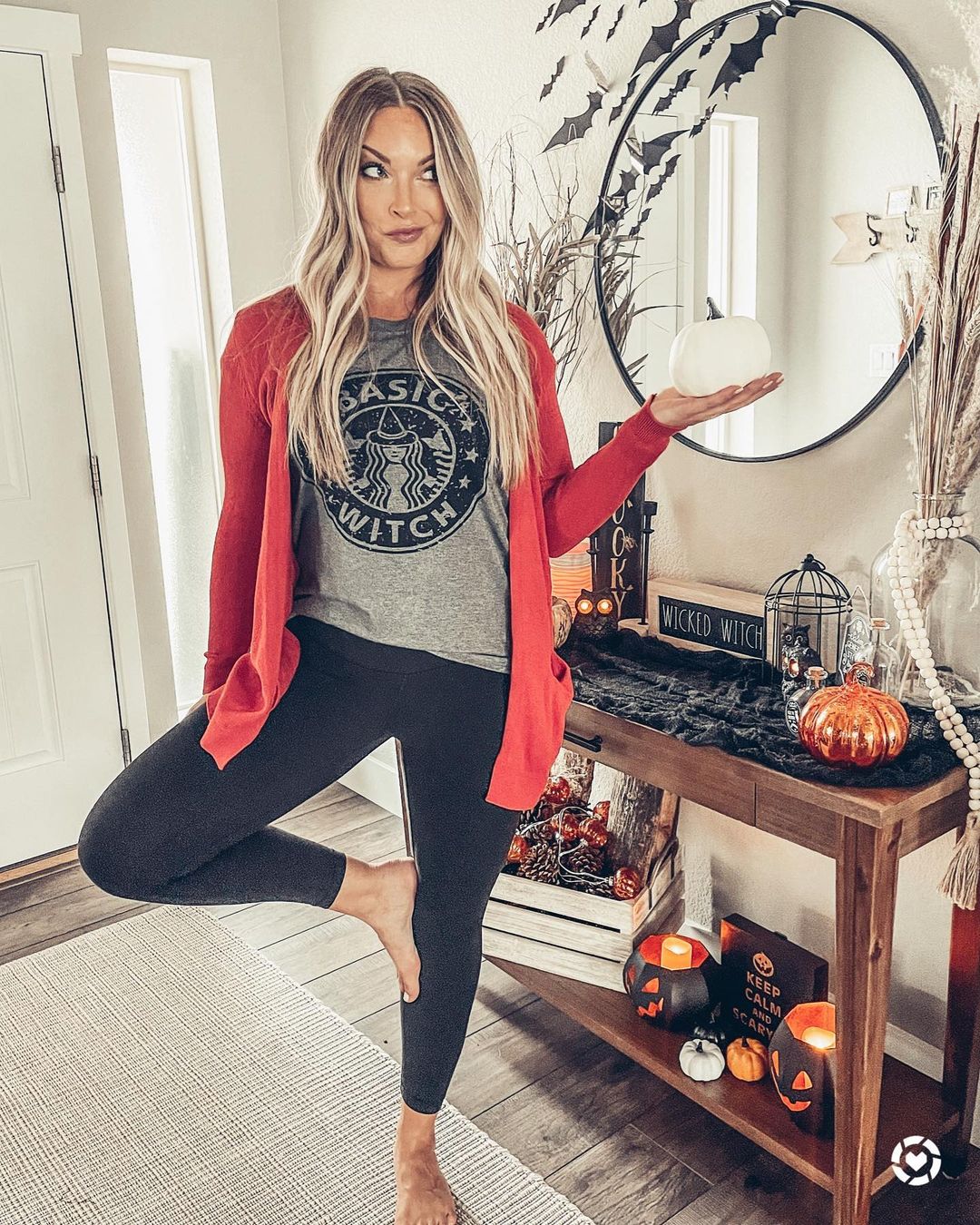 Your basic witch outfit inspiration is for all of you ladies that love your leggings and t-shirts. I know many of you are wearing this right now, but if you want to top it off just a little bit, put on a fun-coloured sweater, maybe some play with your makeup a little bit and you can look super ready for Halloween. Isn't every October day a celebration while Halloween arrives?
Boo To You Too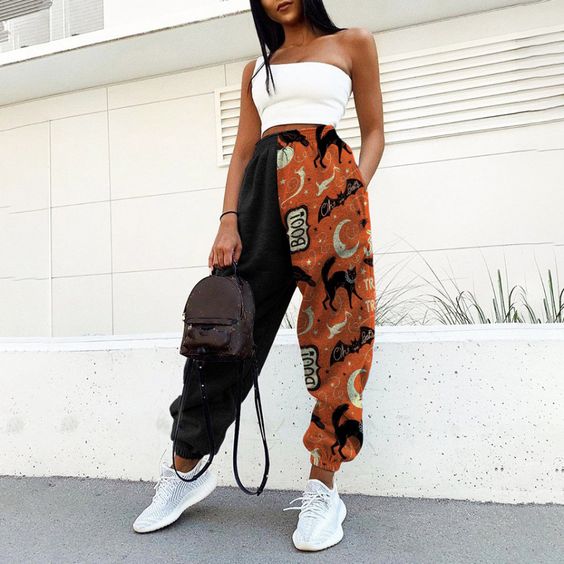 I love that baggy pants and sweaters are back in style and very popular. This is a very simple yet fun outfit inspiration that consists of a white tank top and the coolest Halloween-themed sweatpants. I need a pair of these, actually. Love that one site is totally black and the other one has the cats, ghost, and bats. Simply love it!
Pumpkin Mood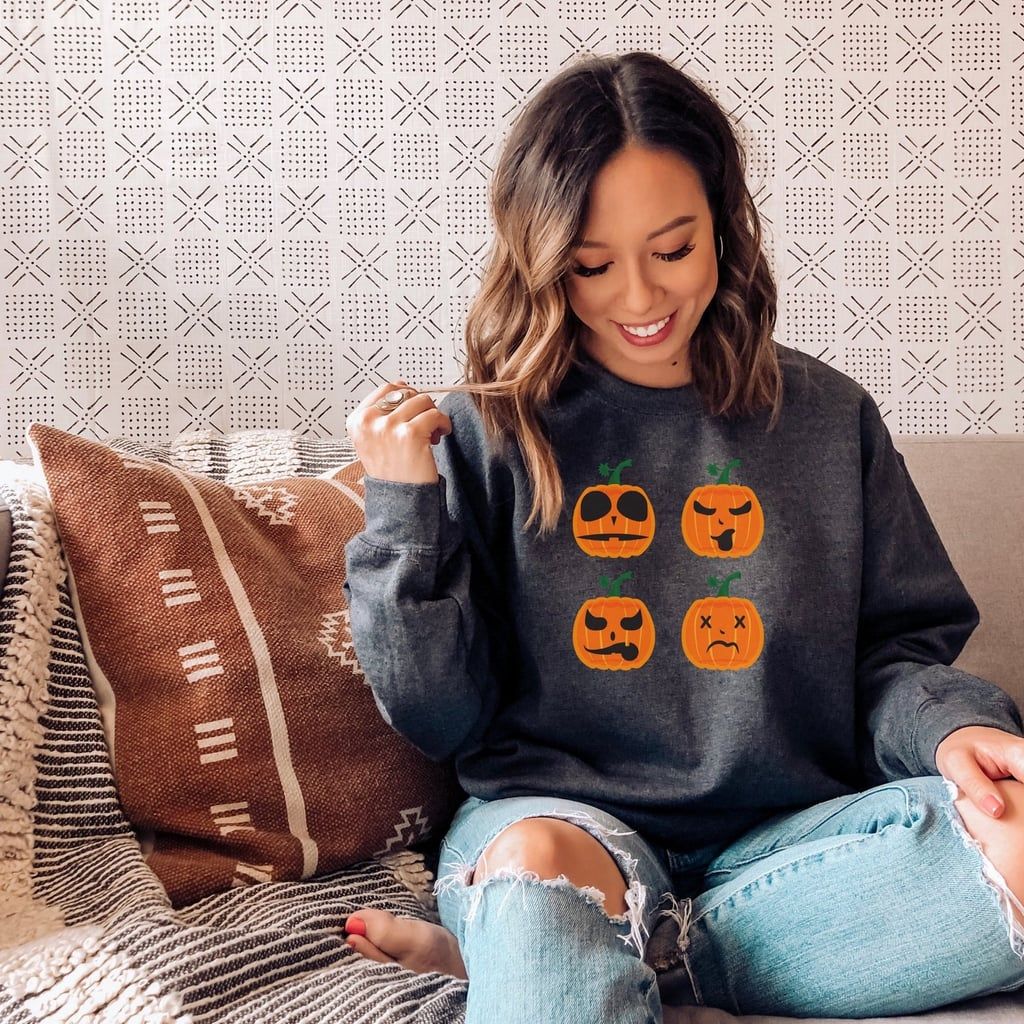 If you're not into dressing up too much, this is the perfect combination for you. Ripped pair of jeans and the cutest long-sleeved shirt with the pumpkin faces. For every mood, every day, be ready for the holiday. Halloween casual for the win.
The Witch Is Back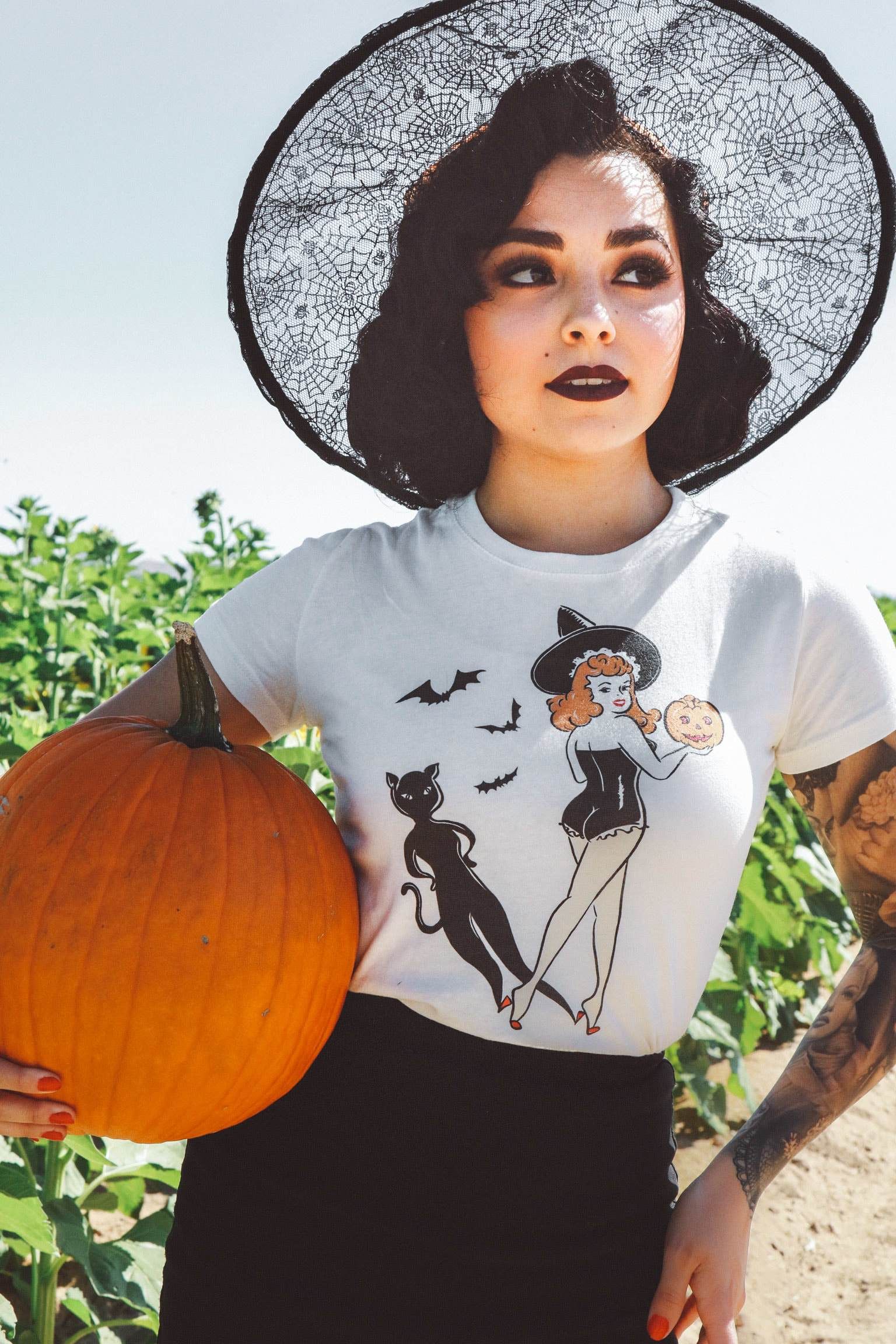 I love this one! Gives me real witch vibes. A black pencil skirt, a very cool Halloween shirt, and the amazing spiderweb hat. For this look, dark makeup is a must, and I'm assuming black stilettoes or just a pair of the one and only white sneakers. One really trendy witch if you ask me.
Foxy
This gives me all the autumn vibes, including Halloween. The skirt is absolutely gorgeous, and the green turtle neck sweater brings out the hidden notes in this whole outfit. Also, the high brown suede boots are pure perfection for this combination. The cherry on top is the beautiful velvet headband. Foxy, sexy, and ready for Halloween.
Skeleton Bride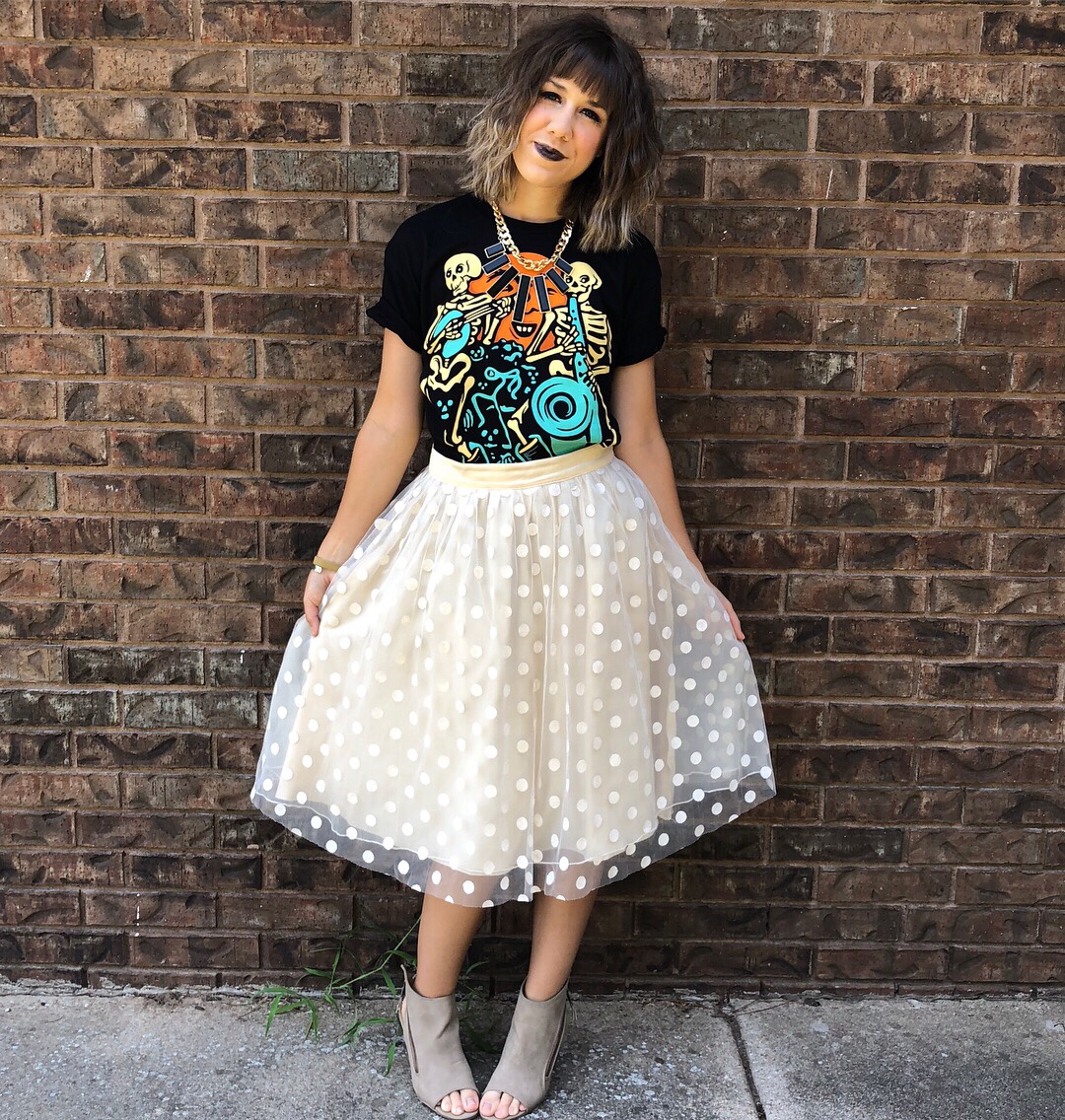 Who else feels the '80 vibes? Maybe a modern skeleton bide? The white polka dot skirt totally covers the bride part, but the black t-shirt with the skeletons brings all the magic to this outfit. The black lipstick as well. The hairstyle in on point as well, and this is how you get the whole skeleton bride outfit you can wear every day.
Ghostly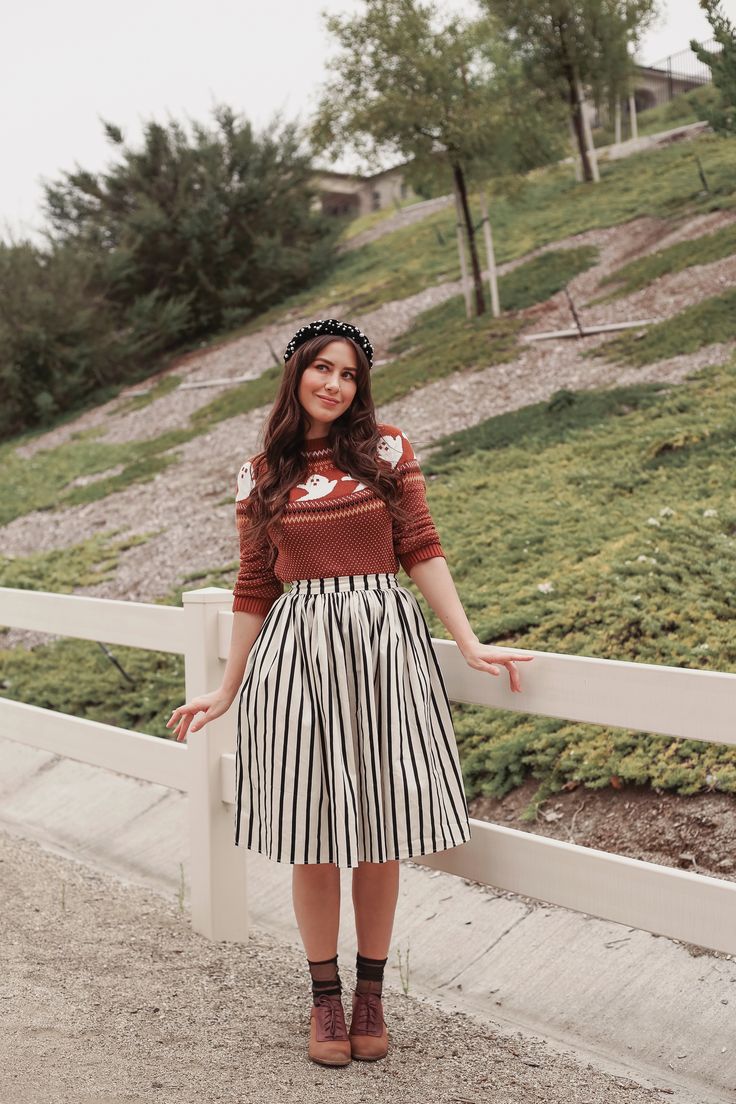 How much does it take to become a Halloween doll? Not much, I promise! This outfit is a total inspiration for that. First of all, I suggest a white skirt with black vertical lines. Then this amazing brown sweater with a few ghosts and decorate those legs with sheer black socks and brown shoes. Also, you can accessorize with a matching scarf, a headband, or a purse if you want to.
Everyday Magic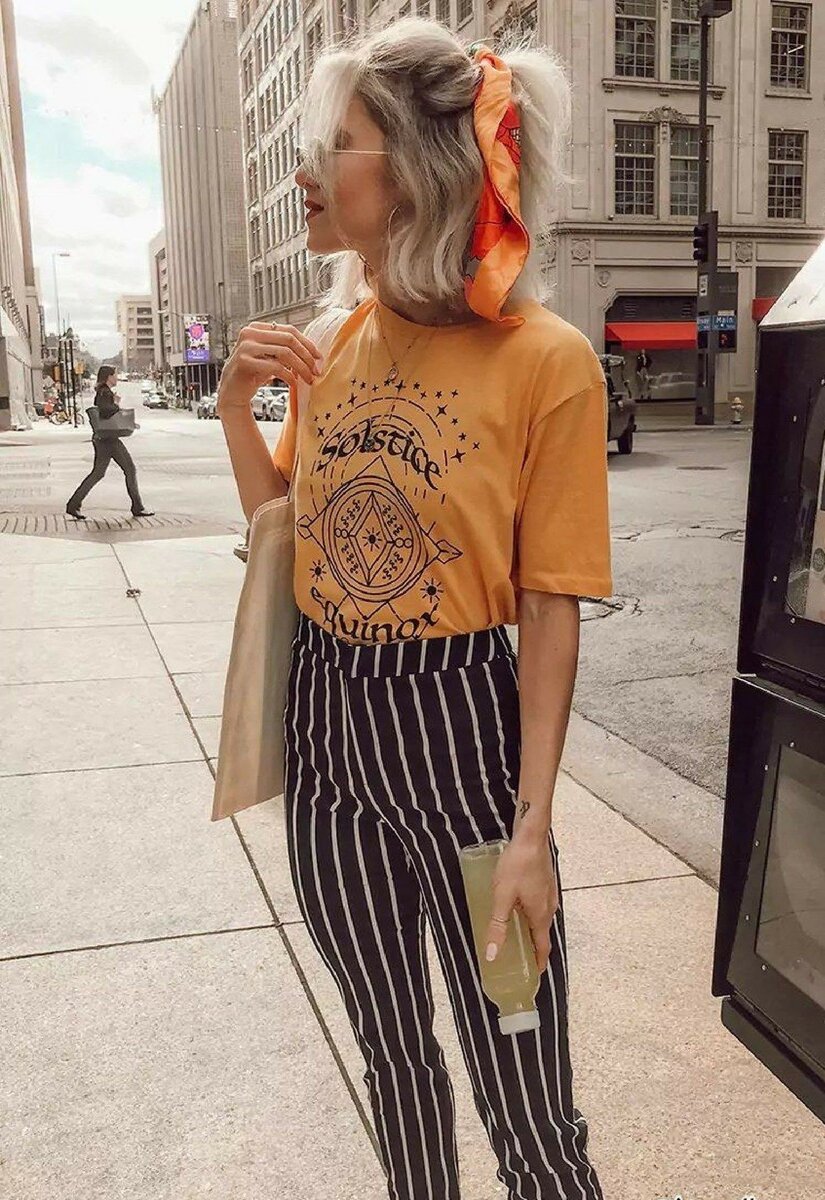 I promised you outfits for every day, for everywhere and anywhere, didn't I? This street style is one of the cutest Haloween inspirations. The black pants with white stripes give Jack Skeleton vibes and the orange t-shirt is absolutely magical. That's all you need girl to look so good this October.
Pumpkin Sweater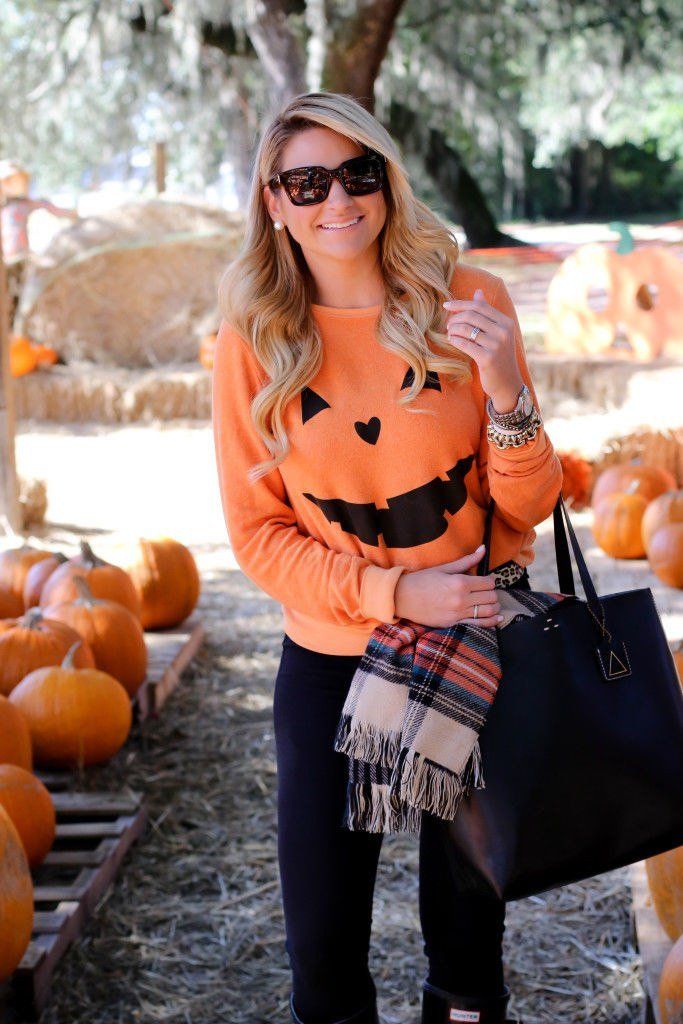 Can I say this is one of my favourites? I can't help it, I love simple, yet inspiring enough to make sure I celebrate Halloween all month long. You, as well, can wear this outfit at home, while visiting relatives, going grocery shopping, at the pumpkin patch, maybe while having brunch with your friends. Just put on a black pair of pants or your favourite black jeans and this cute orange pumpkin sweater, get on your Hunter boots, take your bag, and yes, wear that plaid scarf or shawl and get your sunglasses on.
Black Cats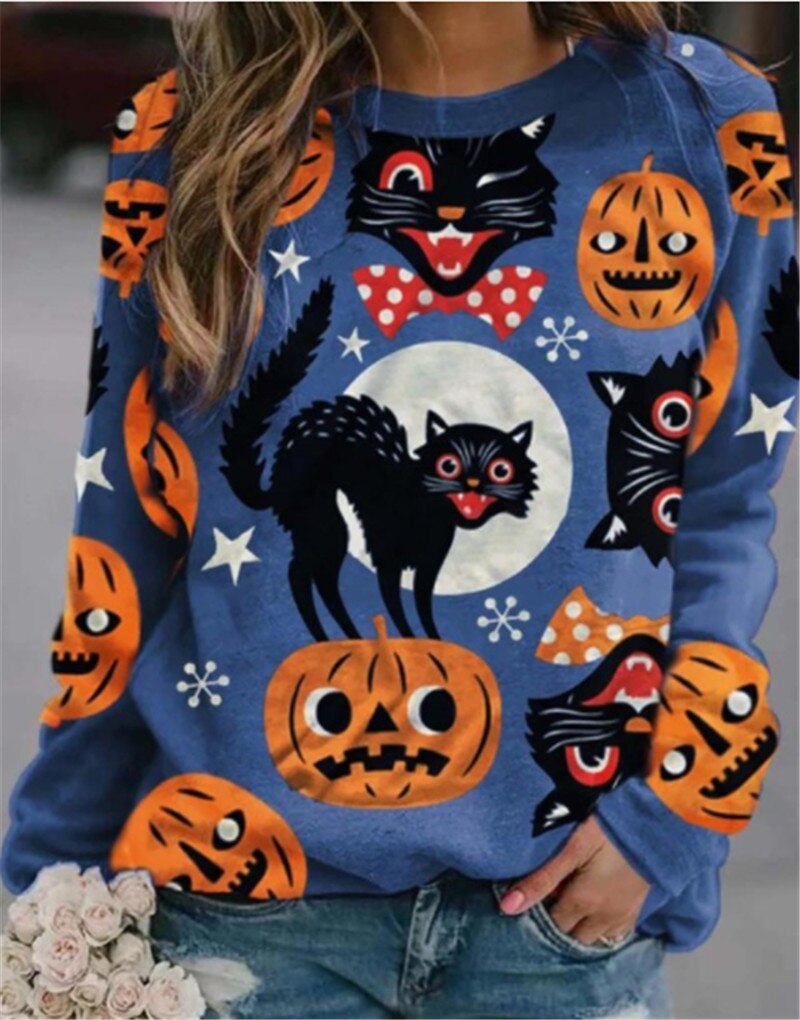 If you find the right sweater for this occasion, you will solve a lot of problems regarding Halloween-inspired outfits this season. Just make sure they're really cute just like this one, and pick a few for the month of October. I absolutely love this one. Purple, orange, and black. Not enough? How about themed with cats and pumpkins? Yup, that sounds right. And a pair of jeans, of course, You can wear them with a pair of sneakers, boots or whatever you feel like. You're still going to look amazing.
Candy Corn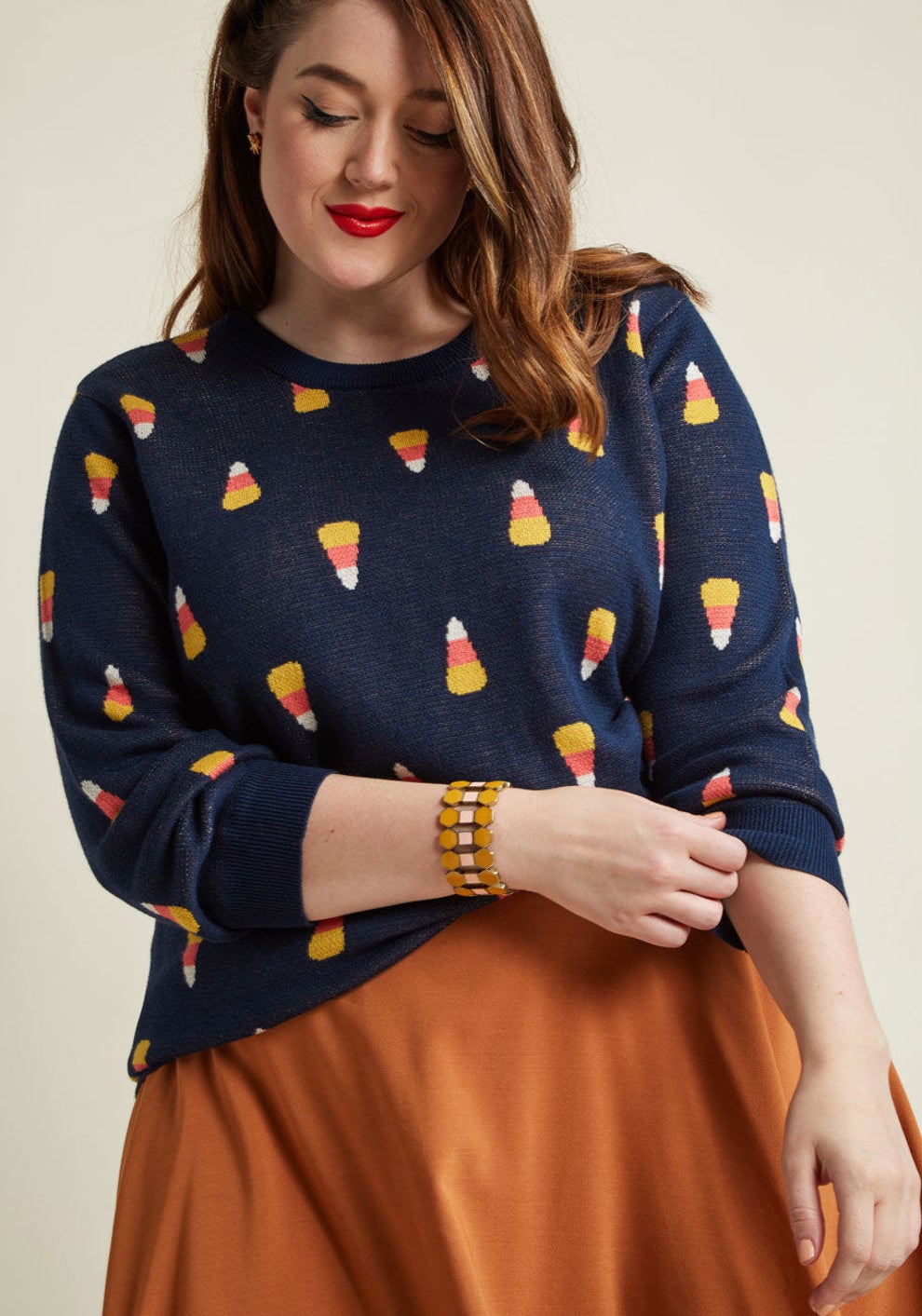 Speaking of amazing sweaters. I'm really into how simple this outfit is, and so elegant at the same time. The silk orange skirt is more than lovely and it matched the colour of the candy corn perfectly. Let's not ignore the fact that navy blue and orange go hand in hand and make the perfect combination. And what says Halloween better than candy. Candy corn!
Halloween Besties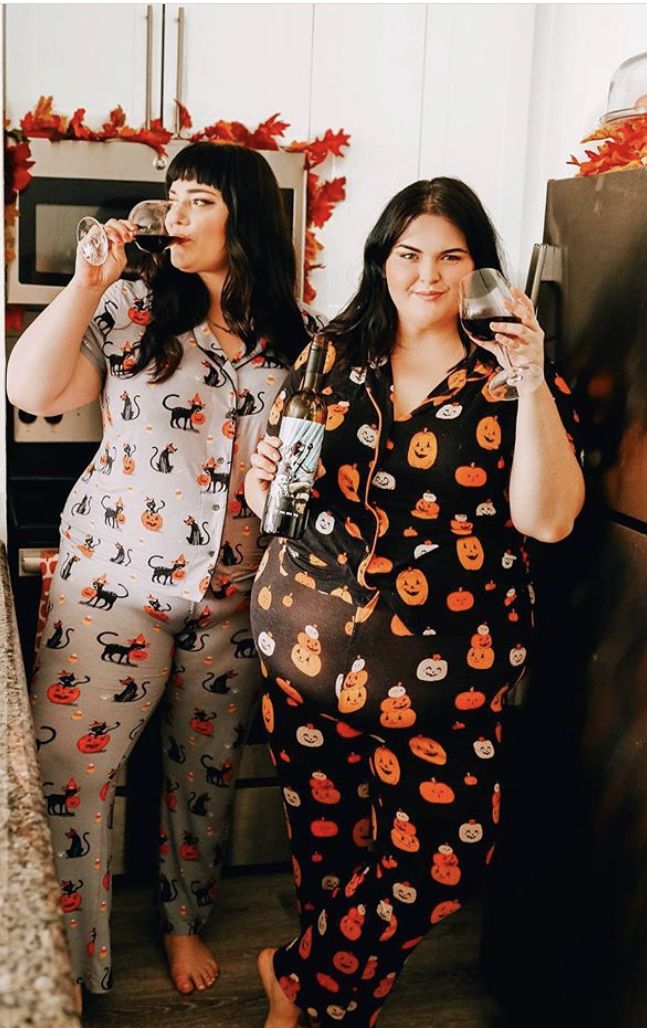 Let's be honest, we've spent too much time at home during quarantine, but if you're an introvert or just want to spend some time with your bestie at home watching scary movies, you have to have the matching Halloween PJ's. I'll let you choose if they're gonna be with pumpkins, or cats, or ghosts, just remember to prepare the vine the snacks and enjoy!
Spiderweb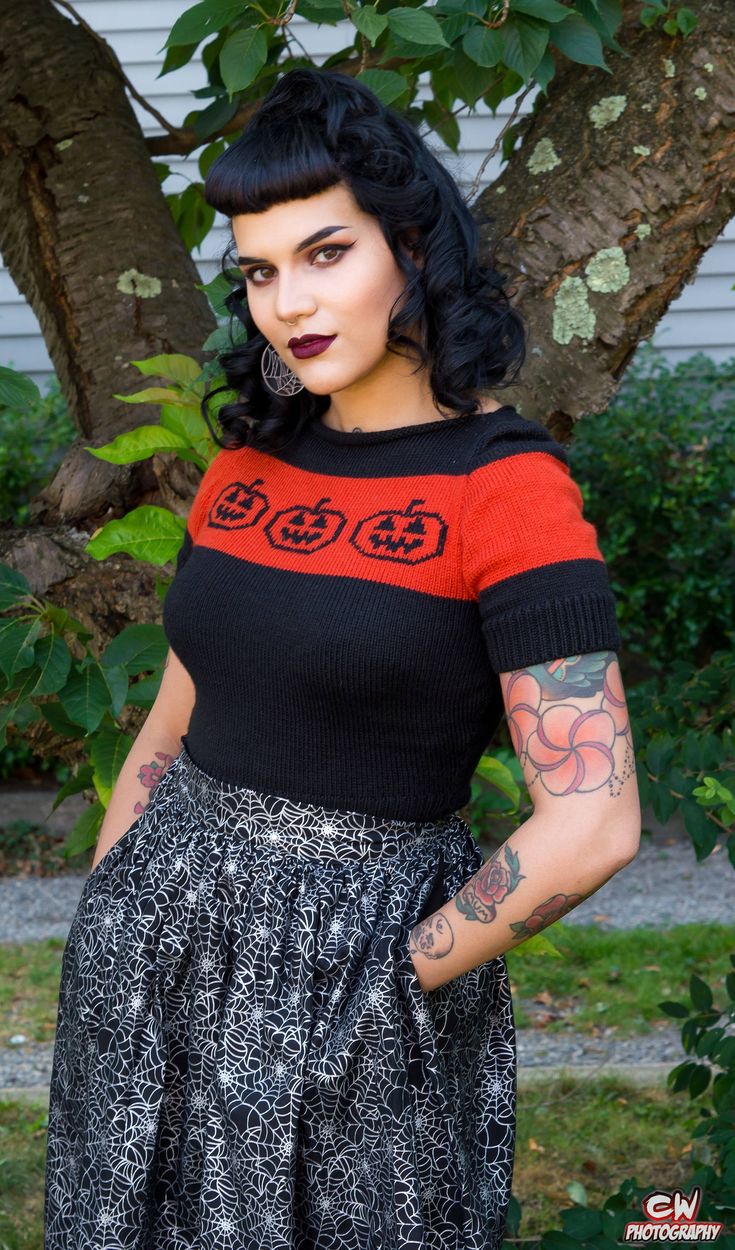 Spiders, spiderwebs, and spiderweb chronicals. The skirt is an extraordinary piece of clothing that you can wear with an all-black or all-white top, but this black short-sleeved sweater with the pumpkins is maybe the ideal combination. Of course, you can play with the hairstyle and the make-up, but I strongly suggest the deep red or darker coloured lipstick. Have a witchy day!
Trick Or Treat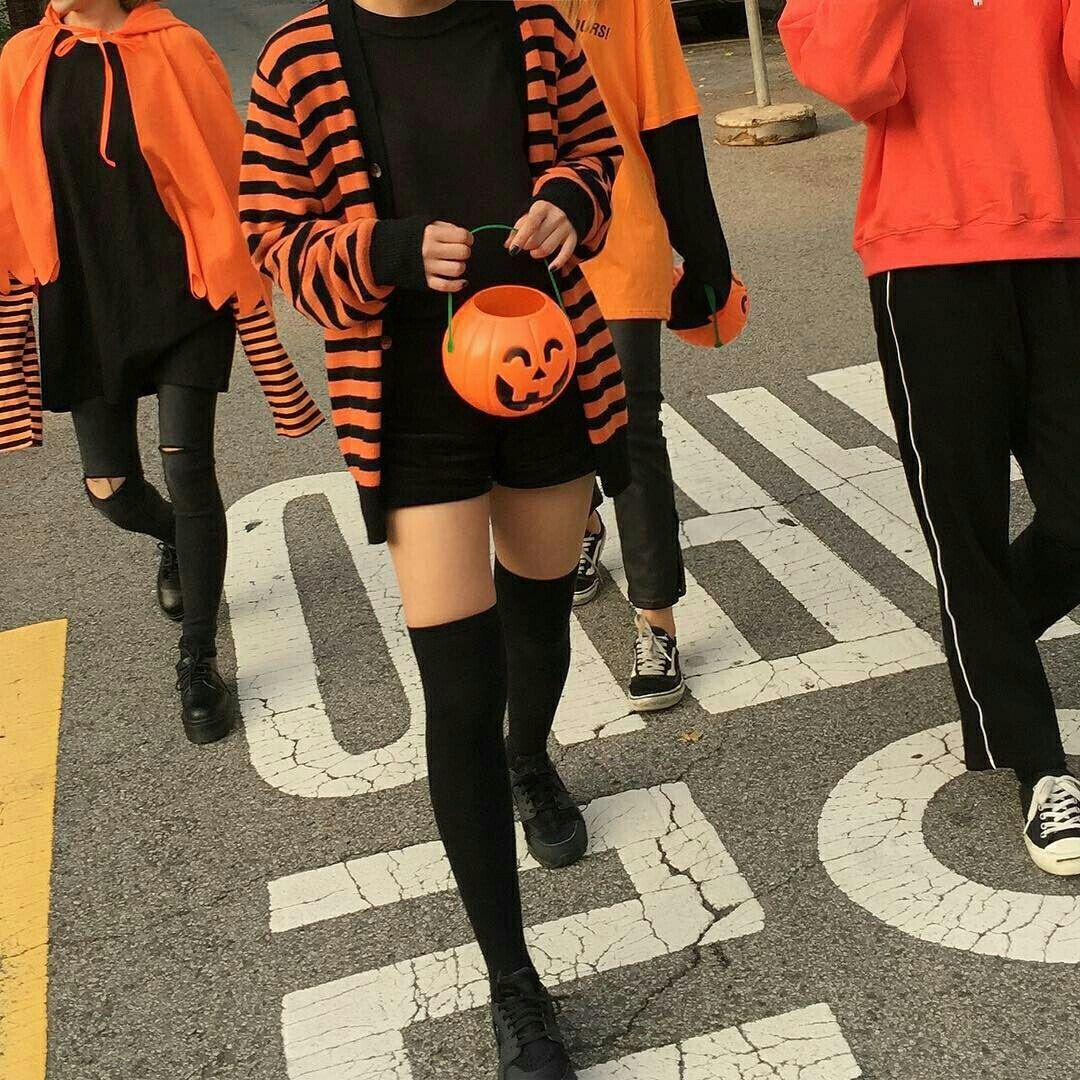 I don't know if you're going trick or treating this year, but that doesn't mean you can't be dressed for the occasion. Black and orange clothing, that's all you'll need. Black pants, black shorts, black high socks, orange sweaters, orange t-shirts, and yes, feel free to combine the black and orange stripes blazers and caps. Be creative.
Frankenstein And Friends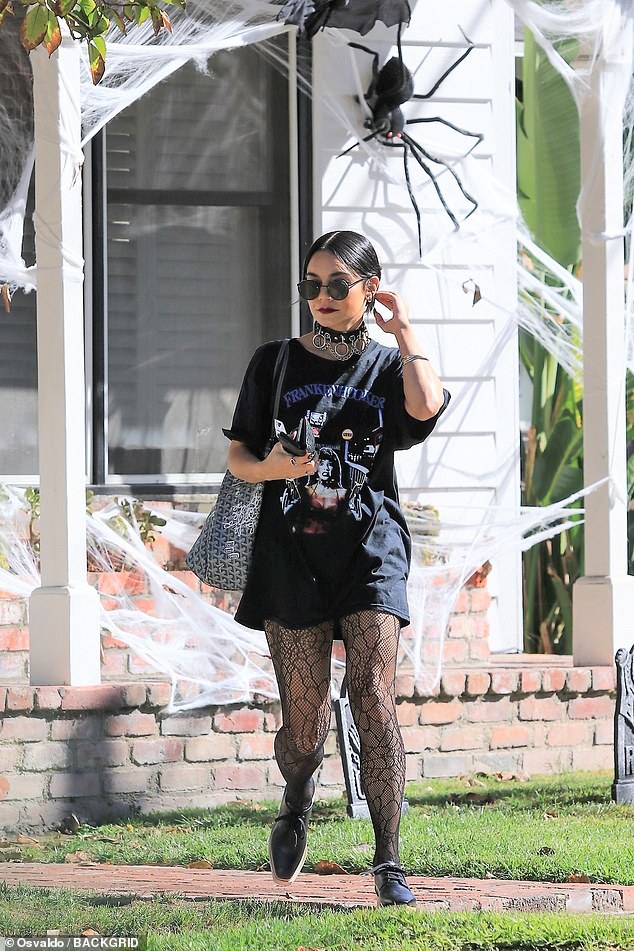 This dark Vanessa Hudgens outfit is one for the books. The spiderweb tights and the black Frankestain t-shirt are great for this occasion. The choker is really optional, though you must admit it looks cool with the outfit. You can pick and play with your shoes, just make sure they're black as well.
I guess there'll be so many Halloween outfits online, but I really thought that you'll need something different this time around. We can feel the Halloween spirit thought the whole month of October and enjoy every single day by looking amazing and feeling that way too. I hope this was enough inspiration for you to choose from, to find an outfit for almost every occasion, and please like, comment, and share with your friends. Give us the thumb up, maybe even share some of your outfits. Take care and have a very HAPPY HALLOWEEN!!!