Sweatpants have evolved from being a mere loungewear staple to becoming an essential component of modern fashion. The rise of athleisure and work-from-home trends has solidified their popularity within the fashion world. Combining comfort with style, sweatpants are now available in various designs, materials, and fits, making them a versatile addition to any wardrobe.
In this article, we will share some creative outfit ideas that highlight the runway-worthy potential of sweatpants. Each outfit combination aims to showcase the perfect balance between cozy and chic, empowering you to confidently rock your sweatpants both indoors and outdoors. So, let's dive into the exciting world of sweatpant outfits and elevate your wardrobe game.
Zipper Hoodie & Cuffed Sweatpants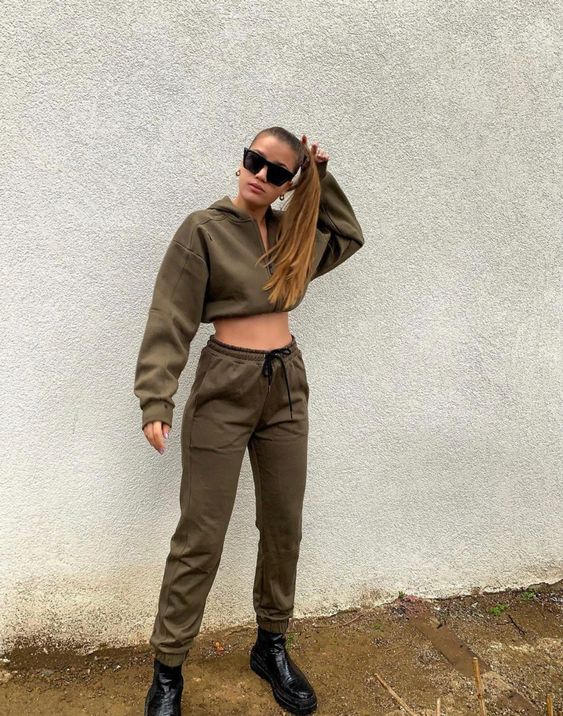 In the world of sweatpants outfits, we present a stylish and trendy combination: the zipper hoodie and cuffed sweatpants. This fashion set effortlessly combines comfort, functionality, and an unmistakable street style appeal. Here's why we consider this pairing a fashion statement:
Versatility: The zipper hoodie allows for easy layering, making it perfect for transitional weather. Cuffed sweatpants provide a modern and tailored silhouette, elevating the casual look.
Mix and Match: Both hoodies and sweatpants come in various colors, patterns, and materials, giving us endless options to create our own unique combinations.
Accessorizing: We can further enhance our ensemble by adding statement accessories, such as sneakers, hats, or bags.
With the perfect blend of style and comfort, the zipper hoodie and cuffed sweatpants outfit is a go-to for those looking to make a fashionable impact in the world of casual wear. So, let's embrace this fashion-forward pairing and confidently strut our street style.
Tucked-In Sleeveless Shirt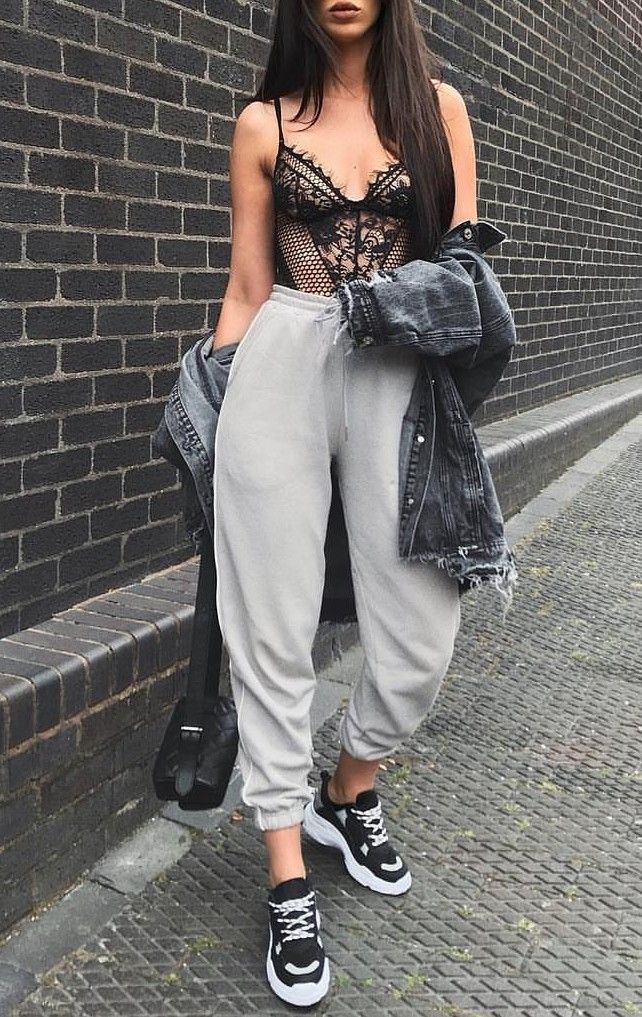 One stylish approach to sweatpants outfits is to pair them with a tucked-in sleeveless shirt. This combination creates a comfortable and casual look while still appearing put-together. To achieve this outfit, follow these simple steps:
Choose the right sweatpants: Opt for sweatpants with a flattering fit and a neutral color, like black or gray. Pay attention to the waistband – elastic or drawstring waistbands work well for tucking in shirts.
Select a sleeveless shirt: Go for a sleeveless shirt in a complementary color. Make sure it's not too tight or too loose – a well-fitted shirt will provide the best overall look.
Tuck in the shirt: Gently tuck the shirt into the waistband of the sweatpants, adjusting as needed to ensure an even and secure tuck. It's essential to keep the tuck neat without bulking up the fabric or causing wrinkles.
Accessorize: Complete the look with a few simple accessories, like a minimalist necklace, a pair of sneakers, and a crossbody bag.
By combining a tucked-in sleeveless shirt with sweatpants, we can achieve a relaxed yet fashionable outfit perfect for various casual occasions, from running errands to meeting friends for lunch.
High-Waisted Slim Fit Sweatpants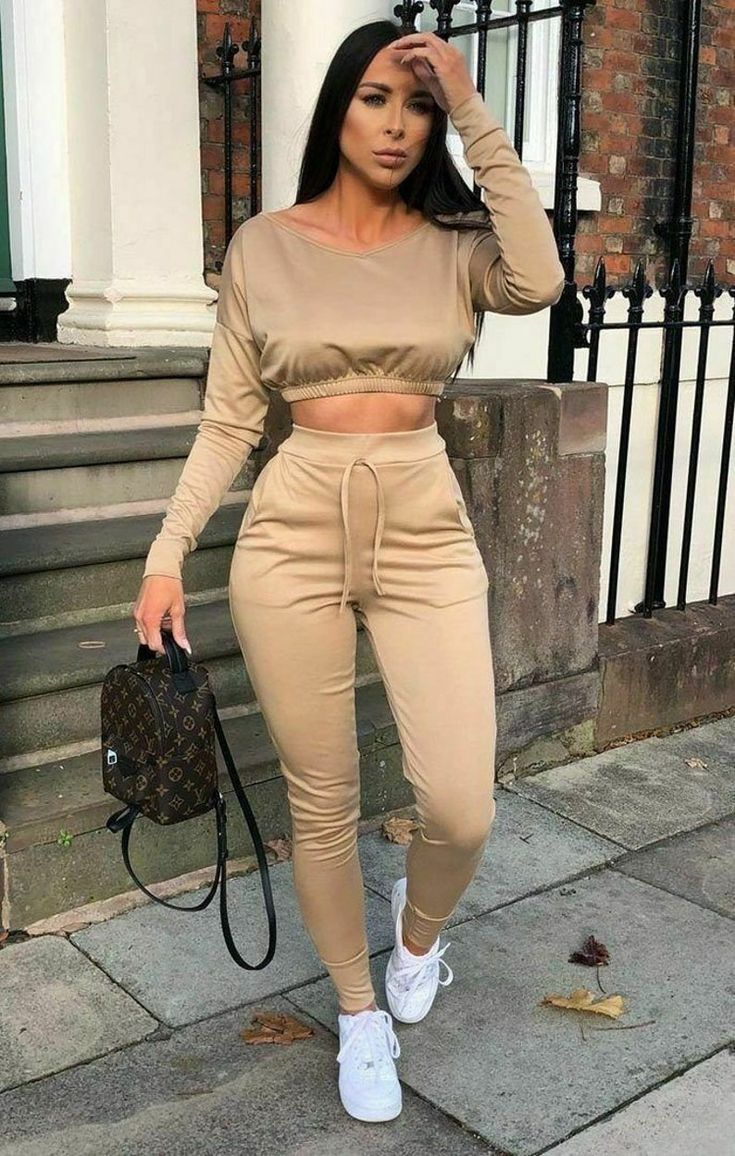 When it comes to sweatpants outfits, incorporating high-waisted slim fit sweatpants can be a game-changer. We love these versatile sweatpants, as they offer a figure-flattering look without compromising on comfort. Here are some stylish ways to wear high-waisted slim fit sweatpants:
Pair with a crop top: Showing a bit of your midsection creates a balanced, proportional look, as the high-waisted sweatpants elongate the legs.
Layer with an oversized sweater or hoodie: This combination achieves ultimate coziness and provides a visually appealing contrast between the fitted sweatpants and the oversized top.
Add a denim jacket: Throwing on a denim jacket over a T-shirt or tank top adds a sense of casual chicness to the outfit, making it perfect for a day out.
Combine with a blouse or blazer: Elevate the sweatpants look by pairing them with a sophisticated blouse or blazer. This outfit strikes the perfect balance between comfort and style.
Not to forget, leggings can also be incorporated into these outfit ideas. However, keep in mind that leggings may offer a tighter fit compared to high-waisted slim fit sweatpants, which have a more relaxed and comfortable feel.
Baggy Outfit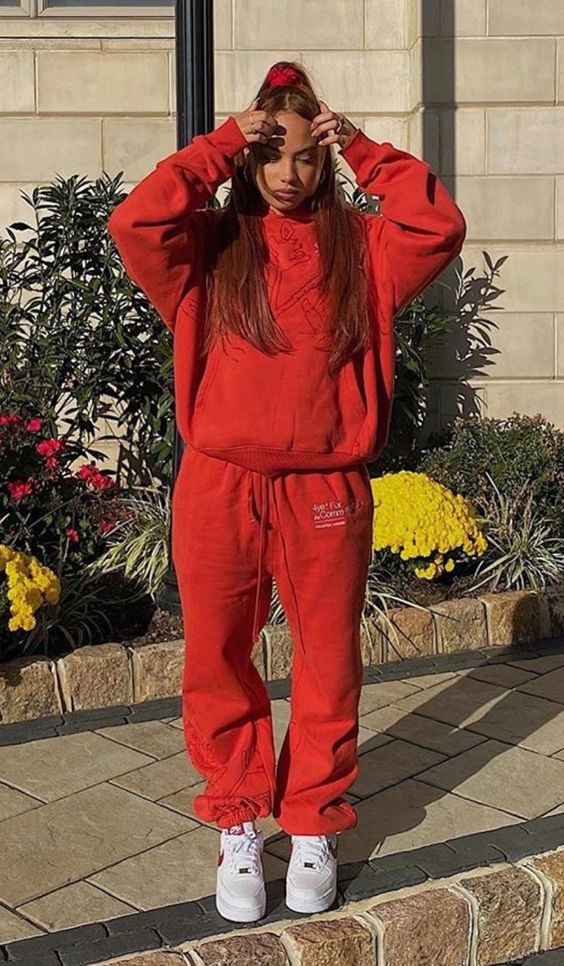 We all know that comfort is key when it comes to choosing an outfit, and baggy outfits often provide the optimum level of coziness. Sweats and sweatsuits are some of the most popular choices for those wanting a relaxed and stylish look. Nowadays, there are numerous ways to create a fashionable ensemble using sweatpants as the centerpiece. In this section, we will focus on how to create a chic yet comfortable baggy outfit using sweatpants.
Color Coordination: Choose sweats and sweatsuits in complementary colors to create a cohesive appearance. By doing this, we can achieve a polished and trendy look, even with a baggy outfit.
Layering: To add depth and dimension to our outfit, we can layer our sweats with other pieces. For example, a graphic tee under an oversized hoodie or a long coat over our sweatpants can elevate the overall look.
Accessorizing: Adding trendy accessories to our outfit, such as stylish sneakers, a statement hat, or a crossbody bag, can bring a more put-together feel to our baggy attire. Be mindful of selecting accessories that don't clash with the rest of the ensemble.
Fit and Proportions: While we're aiming for a baggy outfit, paying attention to the fit of our sweatpants is essential. Opt for well-fitted waistbands that sit comfortably on our hips, and avoid pants that are excessively long or wide, as they may appear sloppy.
By skillfully coordinating colors, layering pieces, accessorizing, and ensuring a proper fit, we can create a fashionable and comfortable baggy outfit with sweatpants, combining the best of both worlds.
Heels On Sweatpants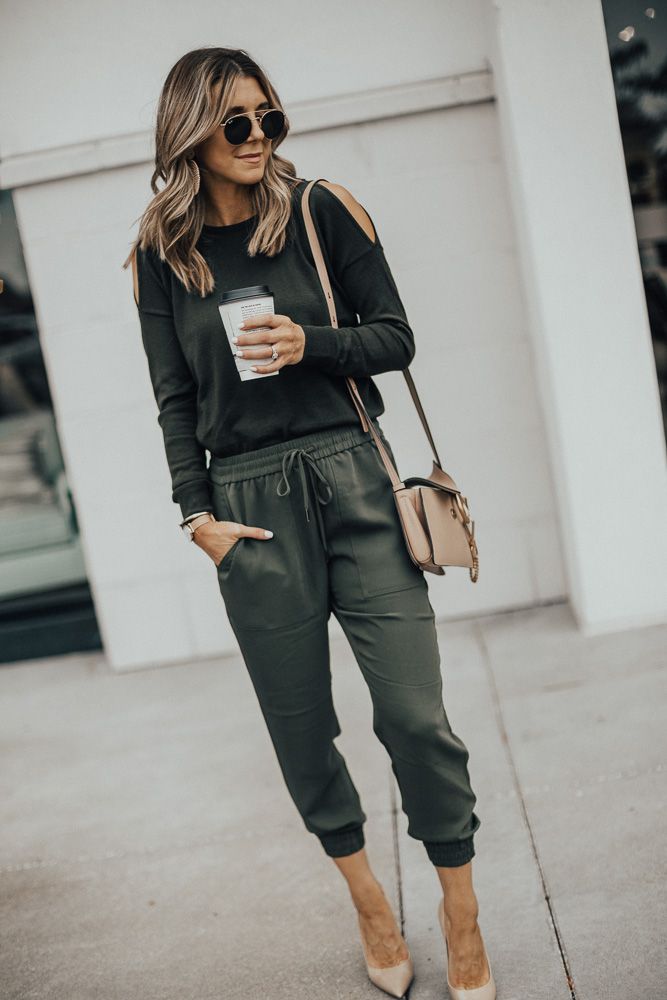 When we want to add a touch of chic to our sweatpants outfits, incorporating heels is a stylish choice. It might seem like a surprising combination, but trust us, it works!
Here's how we can elevate our sweatpants outfits using heels:
Choose the right sweatpants: Opt for a pair with a tapered ankle or cuffed hem. This allows the heels to stand out and maintain a clean silhouette.
Balance with a fitted top: Pair the sweatpants with a fitted shirt, bodysuit, or crop top to create visual balance between the comfortable bottoms and sophisticated footwear.
Go for a statement heel: Bold heels such as stilettos or strappy sandals can effortlessly dress up the most casual sweatpants look.
Coordinate colors: Stick to a cohesive color palette to create a more polished outfit. Matching the color of the heels with a top, accessories, or even the sweatpants creates a refined touch.
Here are some outfit ideas combining sweatpants and heels:
Grey sweatpants, black fitted turtleneck, and black ankle-strap heels.
Black sweatpants, white cropped tank top, and red stiletto pumps.
Olive sweatpants, beige bodysuit, and beige strappy sandals.
By pairing heels on sweatpants, we can easily transform a cozy, casual outfit into a fashionable ensemble that's both comfortable and chic.
High-Waisted Retro Satin Sweatpants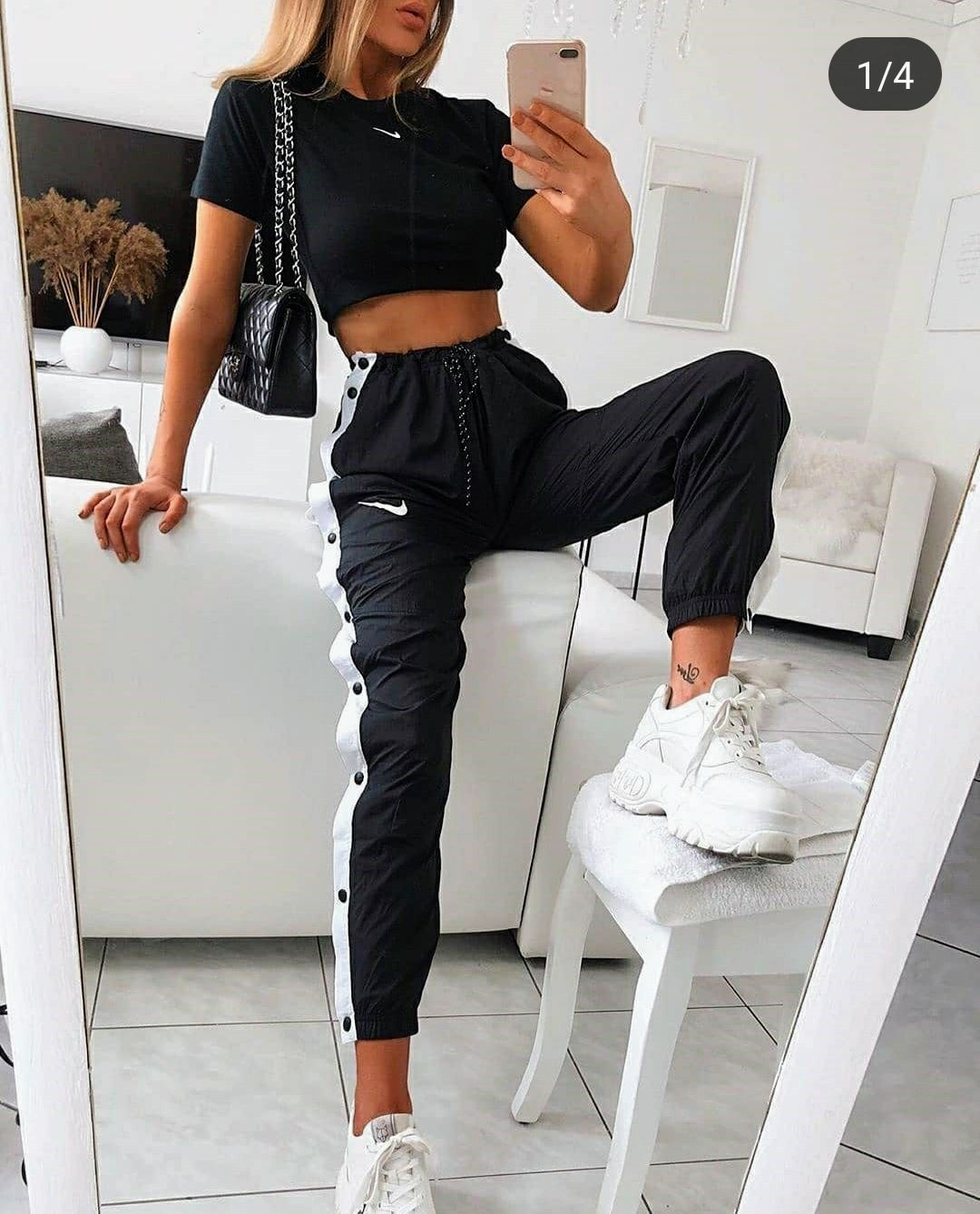 Incorporating high-waisted retro satin sweatpants into our sweatpants outfits can add a touch of elegance and nostalgia. These stylish pants feature a high waistband and a smooth satin finish, making them both comfortable and chic.
Here are some ways we can effortlessly style high-waisted retro satin sweatpants:
Pair with a cropped top: This combination accentuates the high waist and creates a balanced, trendy look.
Wear with a tucked-in graphic tee: This casual outfit can be dressed up with statement jewelry or a fashionable jacket.
Combine with a tailored blazer: For a sophisticated, business-casual approach, match the sweatpants with a tailored blazer and a simple top.
Accessorize with sneakers or heels: Depending on the occasion, we can opt for sneakers for a laid-back style or switch to heels for a more polished look.
Remember, the key to pulling off a successful sweatpants outfit is to mix and match various elements, producing an ensemble that reflects our unique style and personality.
Naked Ankles On Elastic Cuff Sweatpants Look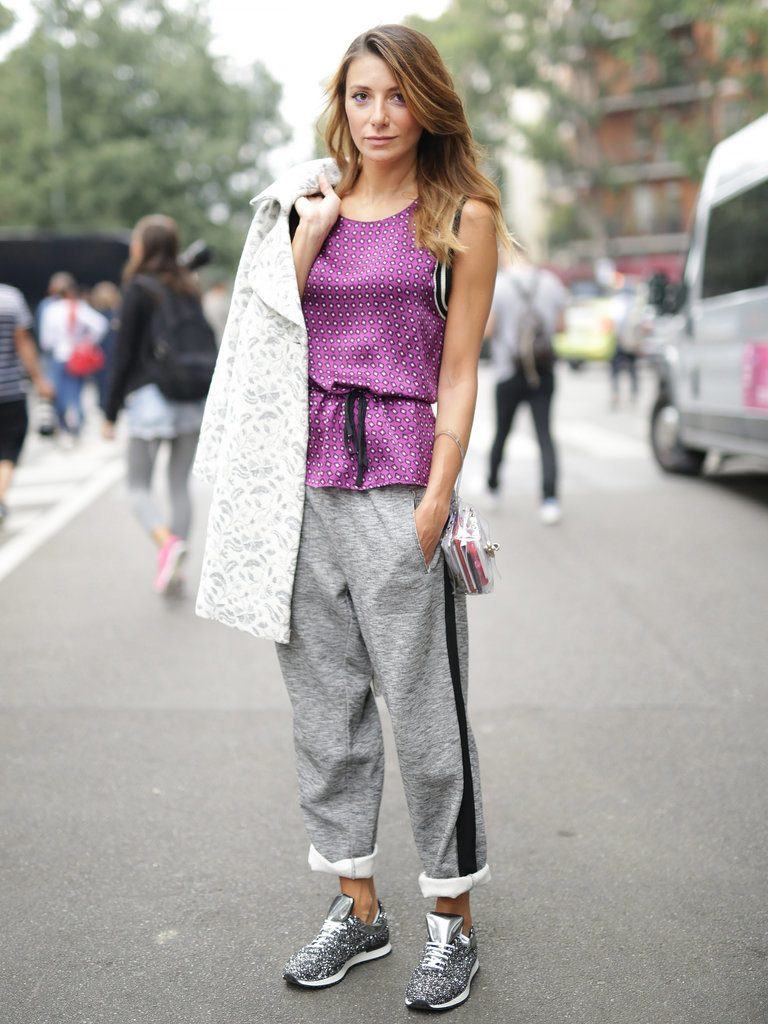 One popular way to style sweatpants outfits is to display naked ankles with elastic cuff sweatpants. This trendy look can be achieved using the following:
Selecting a pair of sweatpants with an elastic cuff: This ensures that the sweatpants stay in place and create a clean, tapered look around the ankles.
Rolling up the cuffs: Slightly rolling up the elastic cuffs exposes the naked ankles and adds a casual touch to the overall look.
Pairing with suitable footwear: Low-top sneakers, slides, or loafers work well with this look. Make sure the footwear complements the colors of the sweatpants.
Choosing appropriate top-wear: Balance the relaxed fit of sweatpants with tighter tops such as fitted t-shirts, cropped tops, or snug sweaters.
Remember, incorporating these tips while dressing up in sweatpants outfits not only offers comfort but also elevates your style game. Besides, naked ankles can be an excellent way to show off any ankle accessories or minimalist tattoos!
Loose Sweater Outfit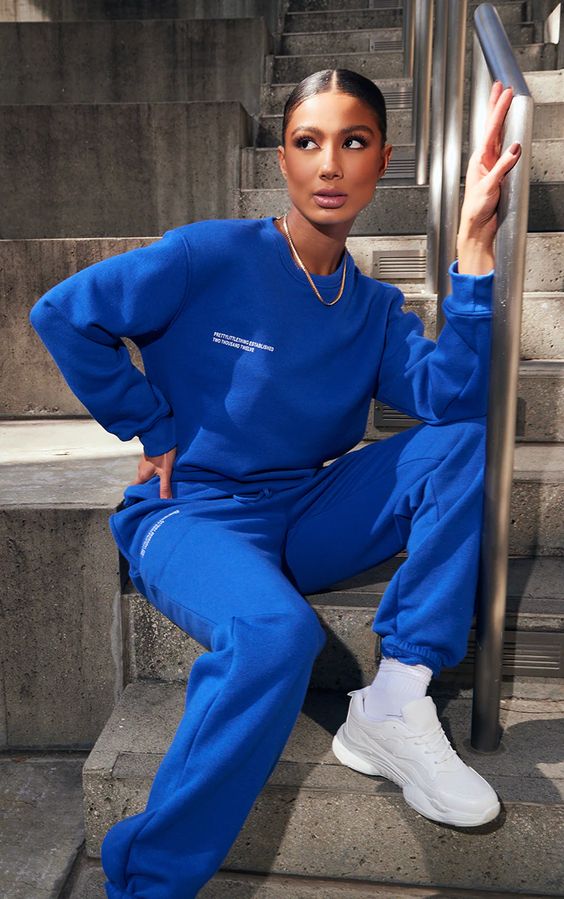 When it comes to sweatpants outfits, choosing a loose sweater as a top can elevate the overall look while ensuring ultimate comfort. Combining a cozy, oversized sweater with a pair of stylish sweatpants creates a casual yet fashionable outfit perfect for various occasions.
Here are some elements to consider when creating a loose sweater outfit with sweatpants:
Sweater Material: Opt for soft and warm materials like wool, cashmere, or cotton blends for a comfortable, high-quality feel.
Colors: Pick complementary colors for the sweater and sweatpants for a cohesive and visually appealing look.
Layering: Consider adding a shirt or blouse under the sweater, creating versatility and additional warmth. You can also top off the look with a light jacket or an oversized coat.
Accessories: Include simple, understated accessories like minimalistic jewelry, a beanie, or a scarf to complete the outfit.
Understanding how to mix and match these elements will help us create a loose sweater outfit with sweatpants that showcases both comfort and style.
All-White Combo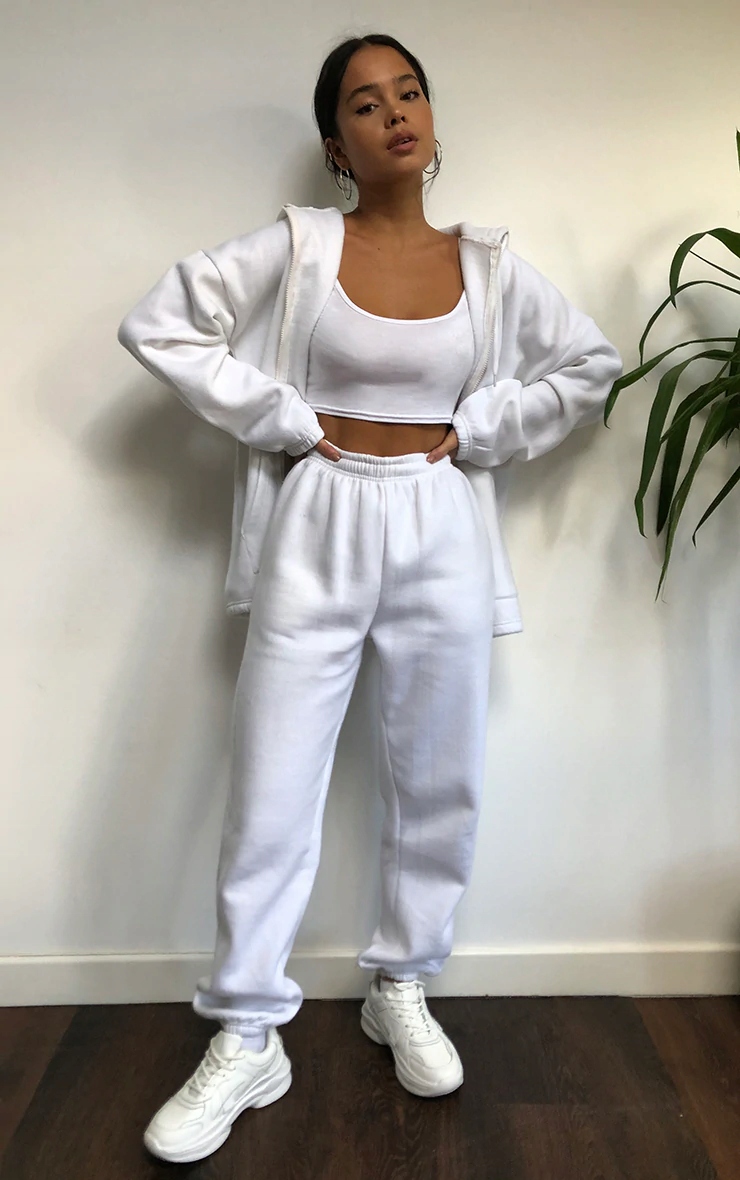 When it comes to sweatpants outfits, an all-white ensemble can make a bold and fashionable statement. By pairing white sweatpants with a white top, we can create a chic and comfortable look that is perfect for casual outings or lounging at home.
To achieve an all-white combo, consider the following elements:
White Sweatpants: Opt for a pair with a comfortable fit and quality fabric, such as cotton or a cotton blend. Look for features like adjustable waistbands and pockets for added convenience.
White Top: Choose a top that complements the style of the sweatpants, such as a white oversized hoodie or a white crop top.
Accessories: Elevate the outfit by adding some subtle accessories, like dainty gold or silver jewelry, a white cap, or white sneakers.
Layering: Depending on the weather, add a white denim jacket or a white cardigan for some extra warmth and style.
By carefully selecting each piece and combining them, we can create a cohesive and eye-catching all-white sweatpants outfit.
Pastel Aesthetic Outfit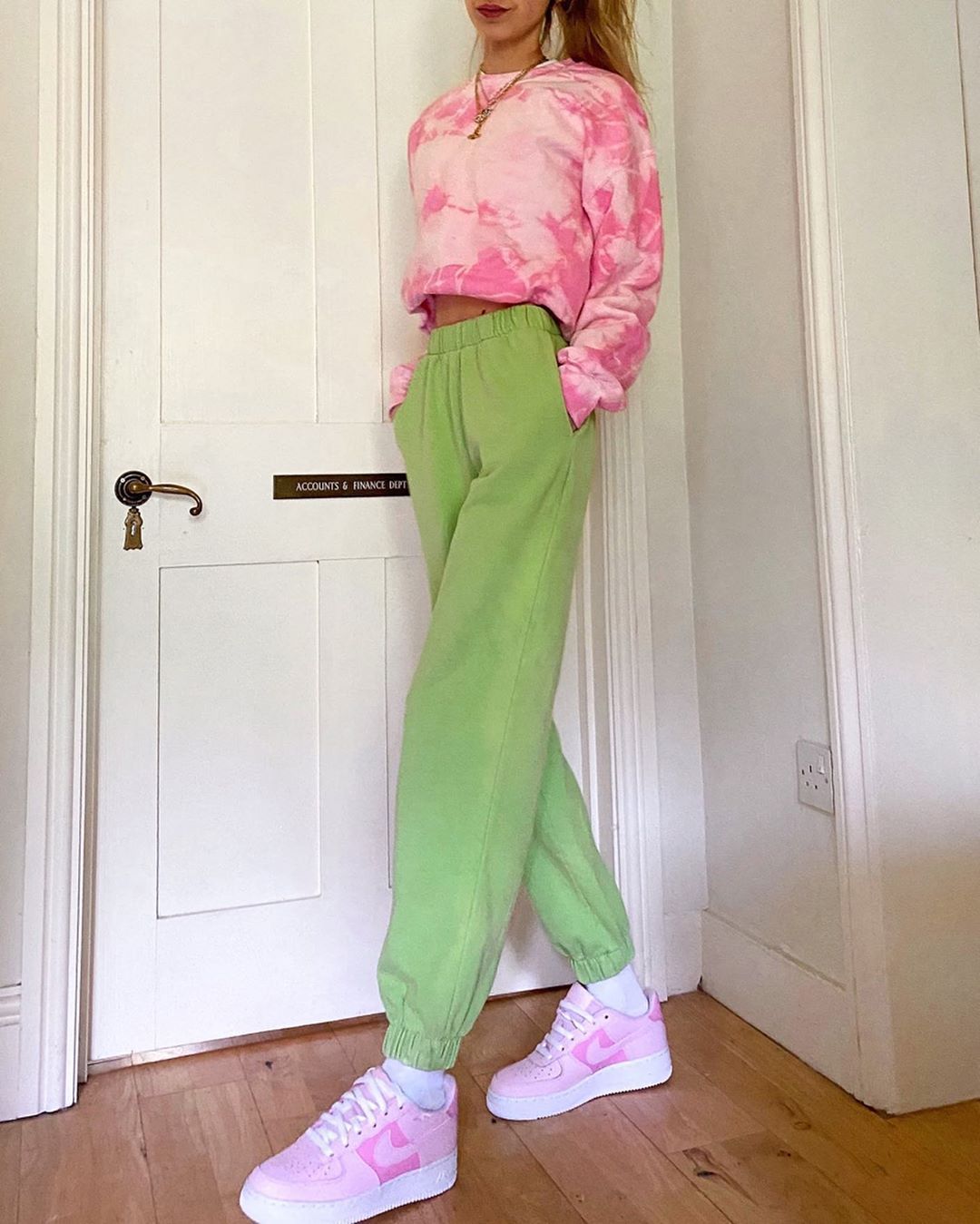 When it comes to sweatpants outfits, a pastel aesthetic can be a stylish and comfortable choice. Let's explore some key elements that can help you achieve this look:
Color Palette: Soft and subdued shades like baby pinks, lavenders, mint greens, and light yellows are perfect for a pastel aesthetic. Mix and match these colors in your outfit for a whimsical vibe.
Sweatpants: Opt for pastel-colored sweatpants made from soft, high-quality fabrics like cotton or fleece. Loose or fitted silhouettes can work well, depending on the desired look.
Top: Pair your pastel sweatpants with a cozy sweatshirt, hoodie, or crop top in a complementary pastel shade. Don't be afraid to experiment with different textures, such as ribbed or fuzzy materials.
Outerwear: If it's chilly outside, consider layering with a pastel denim jacket, bomber, or oversized cardigan to add some dimension to your outfit.
Accessories: Accessories can elevate your pastel aesthetic. Think about incorporating pastel-colored scarves, socks, beanies, or sneakers. Additionally, layered necklaces or dainty earrings can add a subtle touch of elegance.
Makeup & Hairstyles: Complete your look with a natural, minimalistic makeup application and soft, effortless hairstyles like loose waves or a messy bun.
Bumbag On Sweatpants Look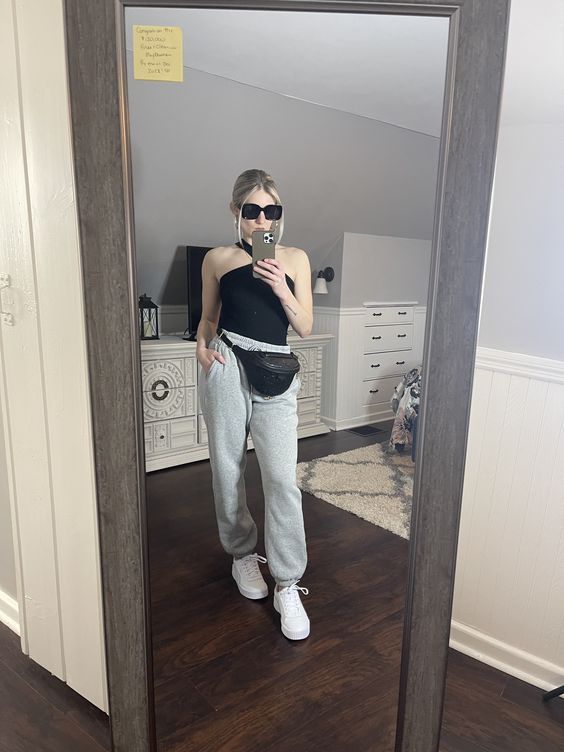 We've seen the bumbag on sweatpants style gain popularity in recent years. This trend offers both comfort and fashion, and it's a versatile look that can be worn during a casual day out or even to a more relaxed social gathering. Here are some tips to help you master this style:
Choose the right bumbag: Opt for a bumbag that complements your sweatpants, both in color and size. Smaller-sized bum bags are less bulky and can add a subtle touch to your outfit while larger ones can make a statement.
Experiment with placement: The bumbag can be worn in various ways – around your waist, slung over your shoulder, or even across your chest. Experiment with different placements to find the one that suits you best.
Pair with a stylish top: To complete your outfit, pick a top that goes well with both the sweatpants and the bumbag. Simple but chic pieces, such as a graphic tee or an oversized sweater, work well with this look.
Remember, the goal of the bumbag on sweatpants look is to be stylish yet comfortable. Don't be afraid to mix and match different colors and patterns to create a unique outfit that reflects your personal style.
Joggers & Cardigan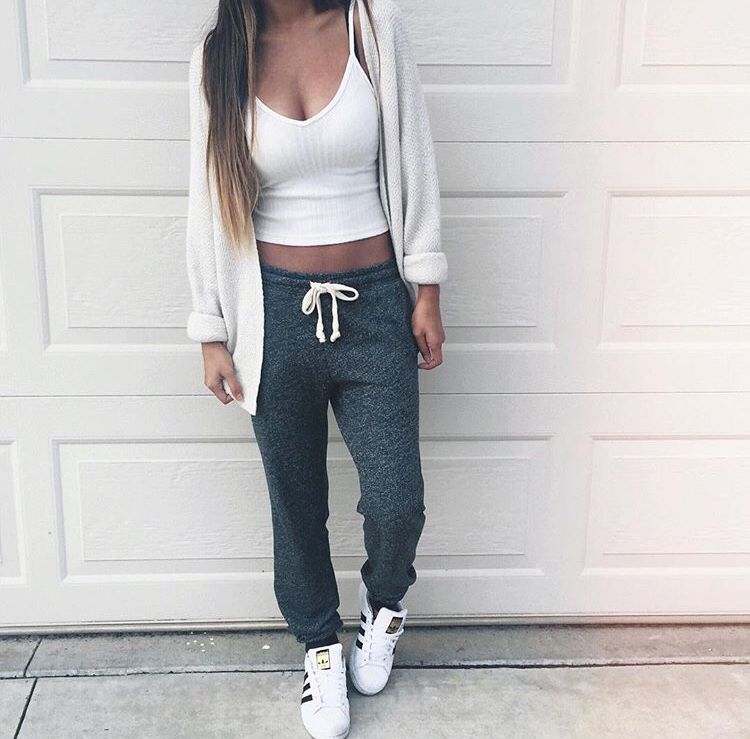 We love pairing joggers with cardigans for a comfortable and stylish sweatpants outfit. This combination allows for versatility and effortless coordination, whether you're dressing up or down. Here are a few tips for styling joggers and cardigans in your wardrobe:
Choose complementary colors: Stick to a cohesive color palette that brings out the best in both the joggers and the cardigan. Neutral shades usually work well together, while contrasting colors create a bold statement.
Consider the fabric: Some joggers come in lighter materials like cotton or linen, while others are made from heavier materials like fleece or wool. Make sure your cardigan complements the texture and weight of your joggers to ensure a balanced look.
Layer with style: Pair your joggers and cardigan with a basic tee, a stylish blouse, or even a lightweight turtleneck to create more depth in your outfit. This allows for various looks suitable for different occasions.
Accessorize wisely: Enhance your joggers and cardigan outfit with simple accessories like a statement necklace or a belt. Functional additions like comfortable sneakers or a chic tote bag can contribute to achieving the perfect sweatpants ensemble.
By incorporating these tips, we can effortlessly create a fashionable and comfortable sweatpants outfit using joggers and cardigans, making it the perfect go-to option for various occasions.
Boots Combo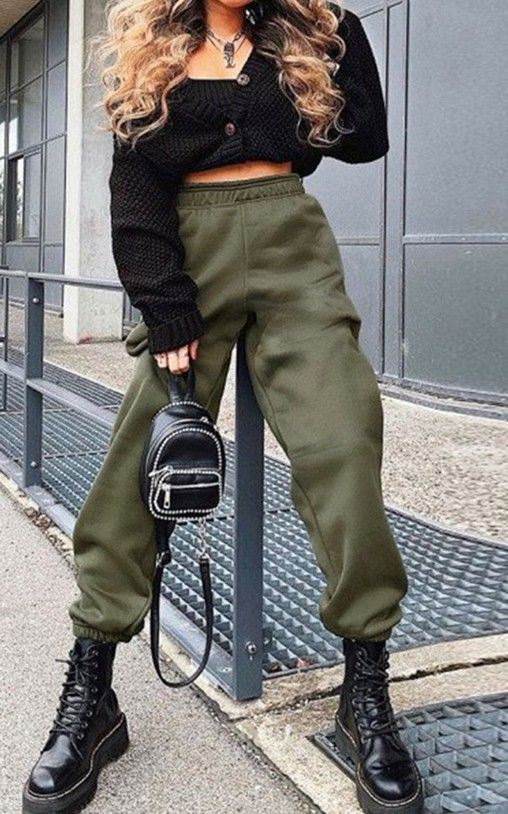 When we're talking about sweatpants outfits, it's impossible not to mention the stylish combination with combat boots. The blend of comfort and edgy aesthetics makes this outfit perfect for various occasions. Let's discuss some ways to incorporate combat boots into your sweatpants outfits.
Tucked-In Look: Tuck your sweatpants into your combat boots to accentuate your boots and create a streamlined silhouette. This look works great with oversized sweaters or hoodies.
Cuffed Sweatpants: Roll or cuff your sweatpants just above the boots to show off the boot detailing and play with proportions. Pair this style with a fitted top to balance the look.
Monochromatic Theme: Choose matching colors for your sweatpants and combat boots to create a cohesive and visually appealing outfit. This style works exceptionally well for streetwear-inspired looks.
Layering: Utilize different layers, such as a denim jacket or an overcoat, to complement the combo of combat boots with sweatpants. This approach can elevate your outfit to a more versatile, all-season wear.
Remember, confidence is key when experimenting with bold fashion choices like combat boots and sweatpants outfits. Embrace the mixture of comfort and attitude that this pairing offers, and incorporate it into your personal style.
Leather Jacked Winter Combo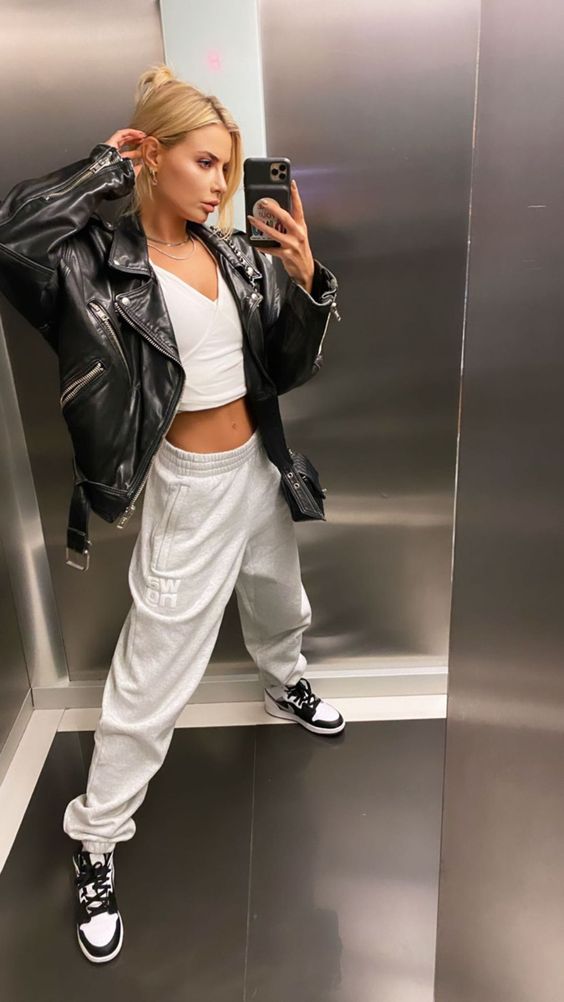 During the winter season, it's essential to stay warm while looking stylish. One way to achieve this is by pairing a leather jacket with sweatpants. This combination not only keeps us cozy but also adds a touch of edginess and sophistication to an otherwise casual outfit.
To create a perfect leather jacket and sweatpants winter combo, consider the following elements:
Leather Jacket: Choose a high-quality, well-fitted leather jacket. Leather jackets come in various styles, such as biker, bomber, or double rider. Pick one that complements your wardrobe and personal taste.
Sweatpants: Opt for a pair of fashionable sweatpants that are comfortable and cozy. Slim-fit or tapered sweatpants with a supportive waistband and well-constructed pockets work well.
Layering: Layering is key for staying warm in the winter. Wear a fitted long sleeve shirt or a turtleneck sweater under the leather jacket. This adds extra insulation and prevents you from feeling cold.
Footwear: Complete the outfit with a suitable footwear option. Sneakers, ankle boots, or combat boots can be excellent choices for this combination.
Accessories: Minimal accessories, such as a beanie, scarf, or a cool pair of sunglasses, can elevate the overall look without making it feel too overbearing.
This leather jacket and sweatpants combo will keep us warm and looking fashionable throughout the winter season. It's a great way to mix casual and stylish elements for a fresh and modern look.
Trench Coat Combo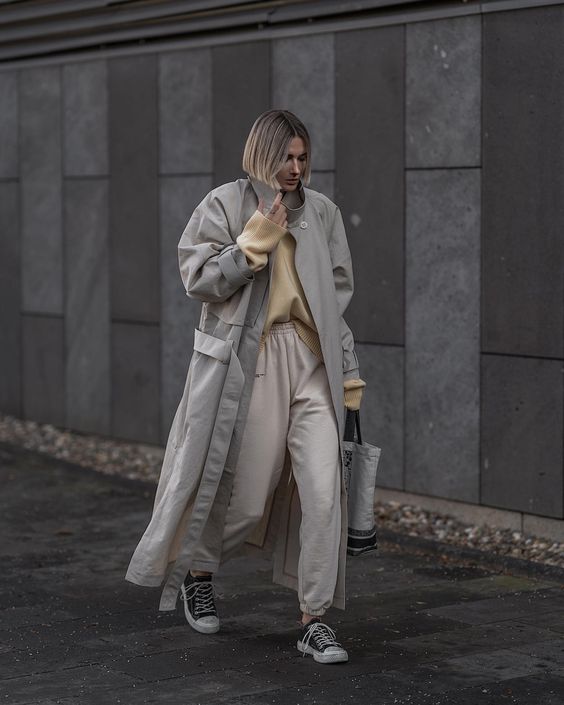 We know that pairing a trench coat with sweatpants can elevate a casual outfit while maintaining comfort and style. Here are some ideas to style sweatpants and a trench coat together:
Color coordination: Match the shades of sweatpants and the trench coat for a cohesive look. For example, choose beige sweatpants and a beige trench coat, or go for neutral tones like black or gray.
Footwear: Opt for sneakers, ankle boots, or loafers to complete the outfit. These choices blend comfort with style and work well with the trench coat-sweatpants combo.
Accessories: Add a scarf or minimal jewelry to accentuate the look without overpowering the simplicity of the outfit.
Top: Wear a plain white or black t-shirt, a cozy sweater, or a light turtleneck to complement the overall ensemble.
Incorporating these elements will help create a balanced and fashionable outfit, showcasing the versatility of sweatpants and a trench coat.