After decades of crawling around and sneaking into some minor fashion trends, sweatpants have finally gotten their rightly deserved attention. With the popularization of comfy outdoor looks and work-from-home trends, it's no surprise that athleisure has been one of the biggest fashion hypes in the past few years. But unlike the soft sweats in the early 2000s, modern sweatpants' outfits look like they're here to stay.
Now the only thing left to master is: how do you pull this trend off without looking like you got caught with an empty wardrobe mid-laundry day? Sweatpants come in many different styles, shapes, and colors. There are your classic cuffed sweats, the loose baggy models, the slim joggers, and hundreds of other fits made of cotton, nylon, polyester, silk, and other materials. Being able to combine each of them well is essential to staying at the top of your clothing game.
In this article, we've rounded up some of the freshest sweatpants outfit combos you can use to take your athleisure apparel to the next level.
Zipper Hoodie & Cuffed Sweatpants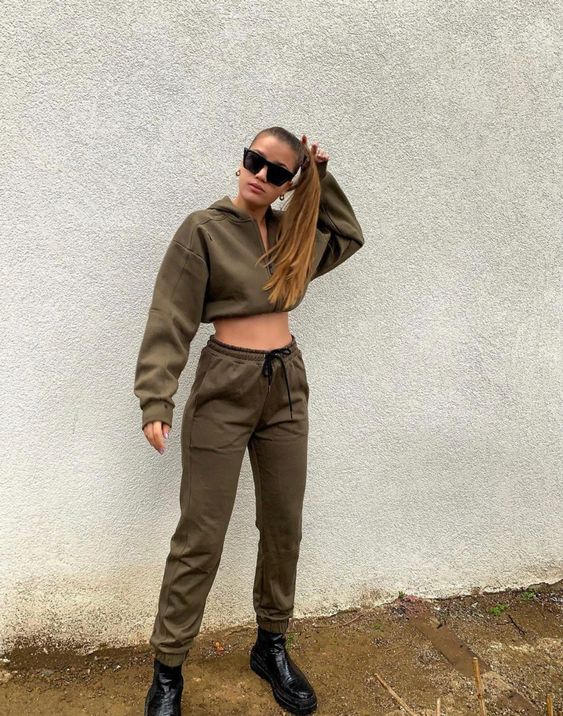 The most classic look of them all. Everyone, no matter their clothing style, owns at least one zipper hoodie in their wardrobe. It is one of the most versatile clothing pieces there is. You can combine it with any type of sweatpants, but standard-sized cuffed sweatpants are our favorite. Matching colors are the way to go here but don't be afraid to experiment with some contrasting combinations too.
Tucked-In Sleeveless Shirt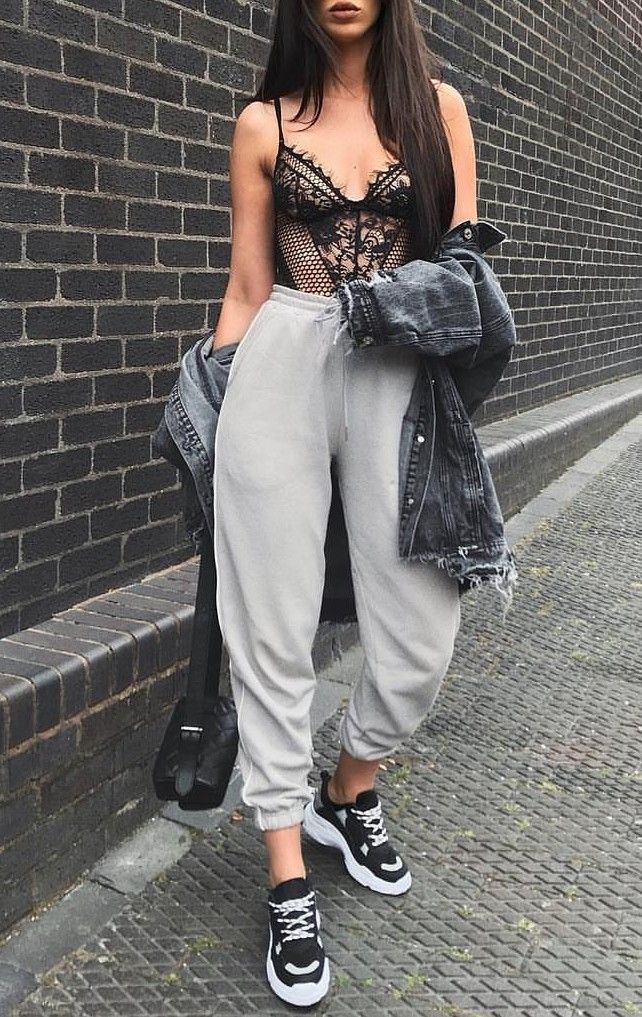 A signature summer look. You can never go wrong with a standard-length tank top tucked in cuffed sweatpants. This outfit gives you great freedom to go for various accessories and color combinations. A cute necklace, a bracelet, a matching bag, or even some sunglasses could all be a great addition. After all, there are hardly any rules for this super casual combination.
High-Waisted Slim Fit Sweatpants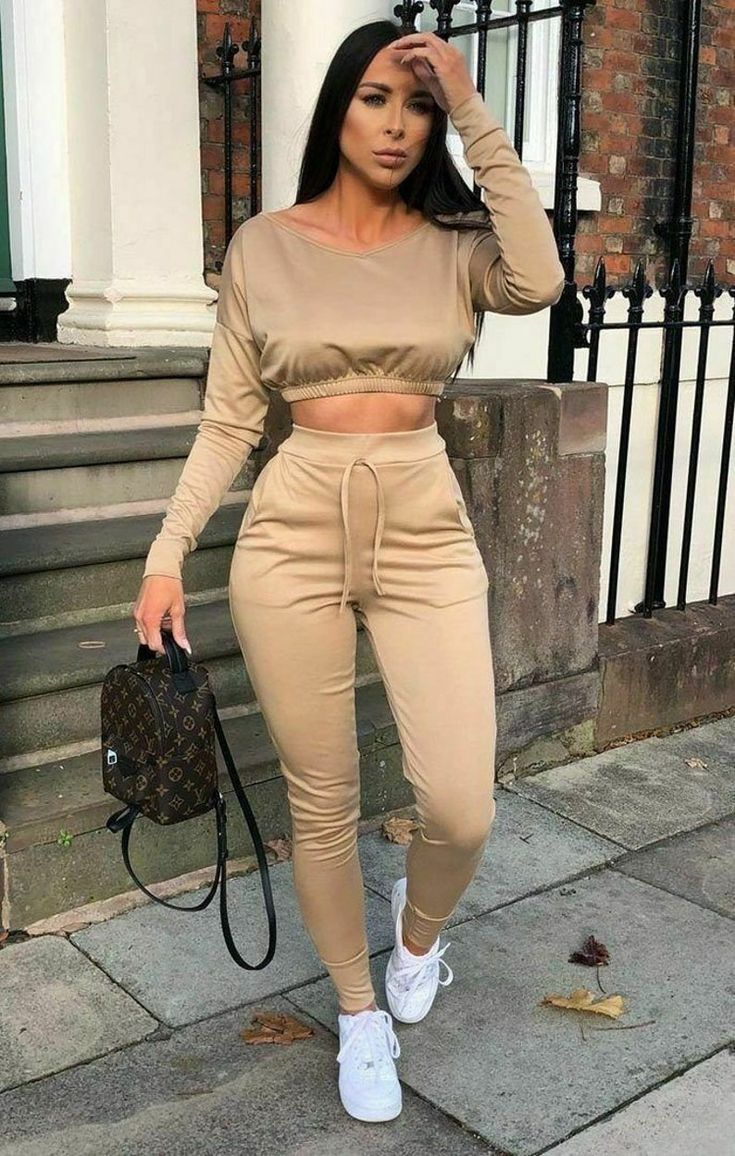 Who said sweatpants had to hang around your body like a cloak? There is no reason for you to be afraid to show off your body in a tight fit. High-waisted slim sweatpants are one of our top picks for this summer, and a couple of reasons too. Firstly, they look great on literally anybody. But more importantly, slim fits can be combined with various types of tops – a regular t-shirt, a crop top, and even a hoodie.
Baggy Outfit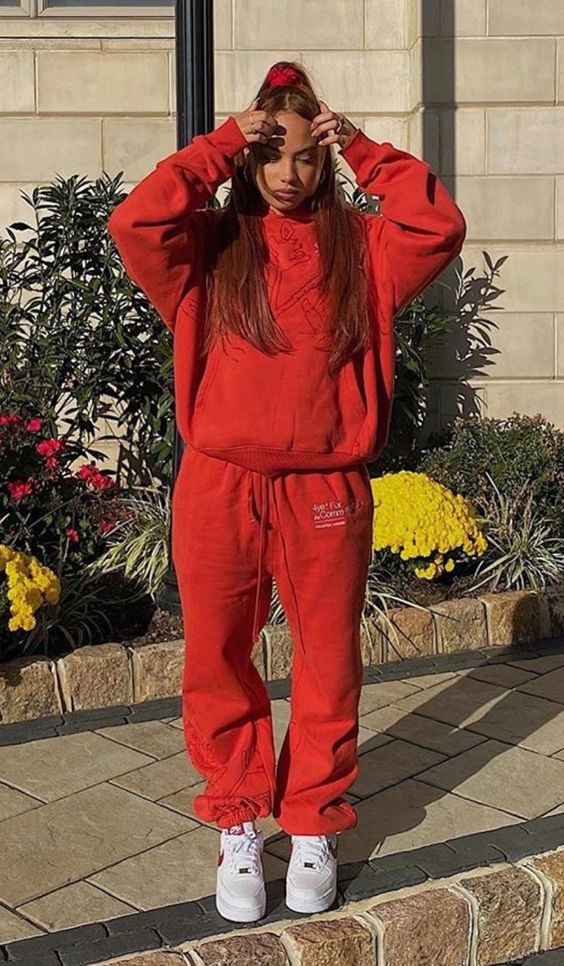 Loose-fit baggy looks are a lazy day's best companion. What was once thought of as a misfit's apparel is now a perfect outfit to pull off on a slow weekend. Almost every brand is releasing baggy hoodies each season as well, so you have plenty of options to choose from. The norm here is to go with some darker colors and sneakers, but don't be afraid to throw on a pink or light blue hoodie now and then.
Heels On Sweatpants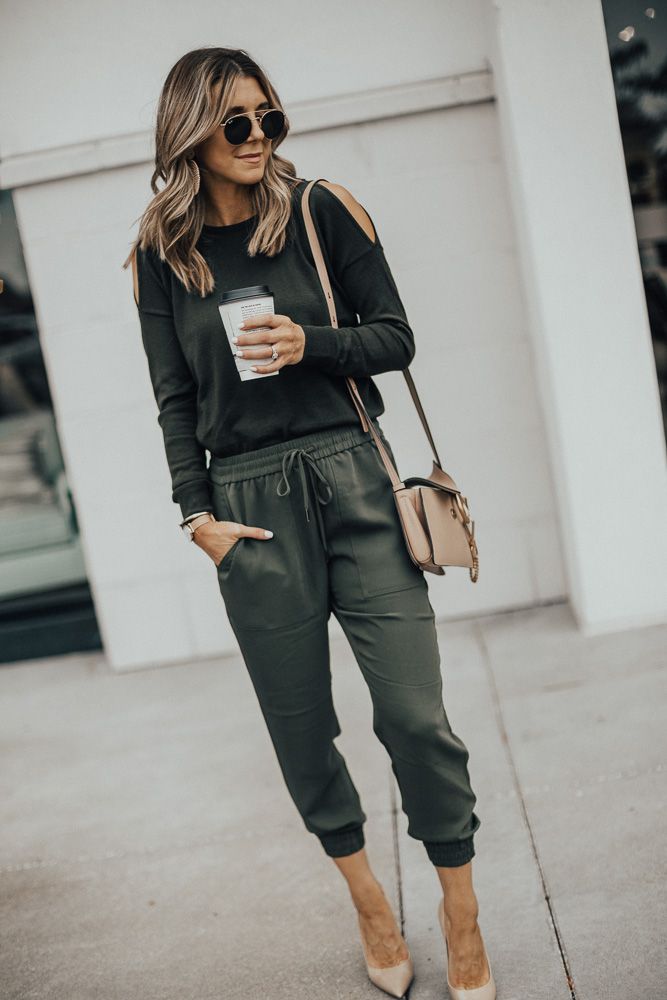 Ignore the chatter, heels on sweats are most definitely a match. Opting for slim-fit joggers or satin sweatpants with naked ankles is the way to go here. As for the heels, high heel Stiletto's or even Cone heels with an open design would match this outfit the best.
High-Waisted Retro Satin Sweatpants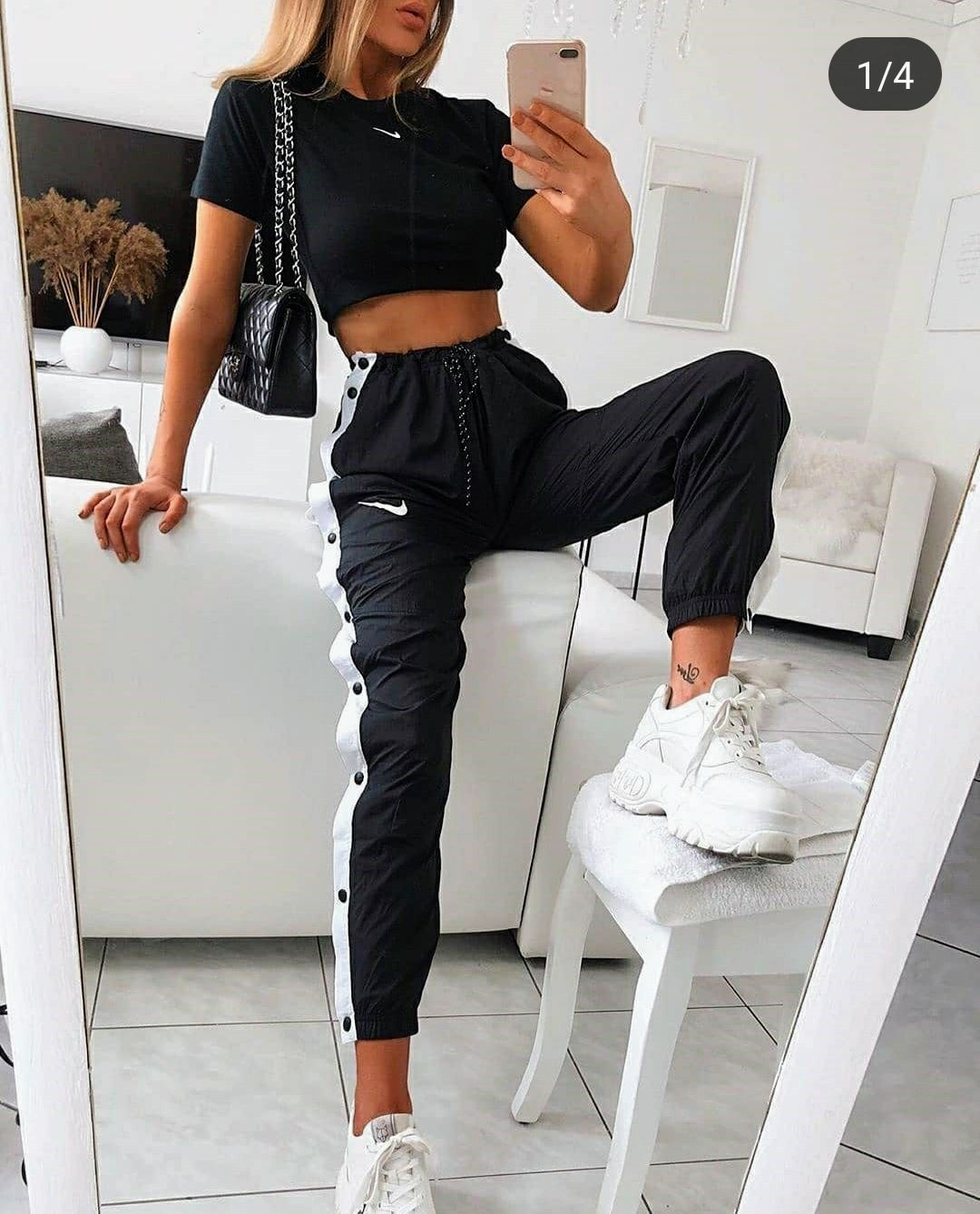 The retro fashion comeback is one of the best things to happen to the industry. It has inspired so many new takes on some of the good old-fashioned clothing pieces and redefined the way we see them. These side-buttoned satin sweatpants quickly rose to the top of the streetwear ladder. You can pull them off with a crop top, a tracksuit jacket, or a cropped hoodie that would expose the stylish high waist.
Naked Ankles On Elastic Cuff Sweatpants Look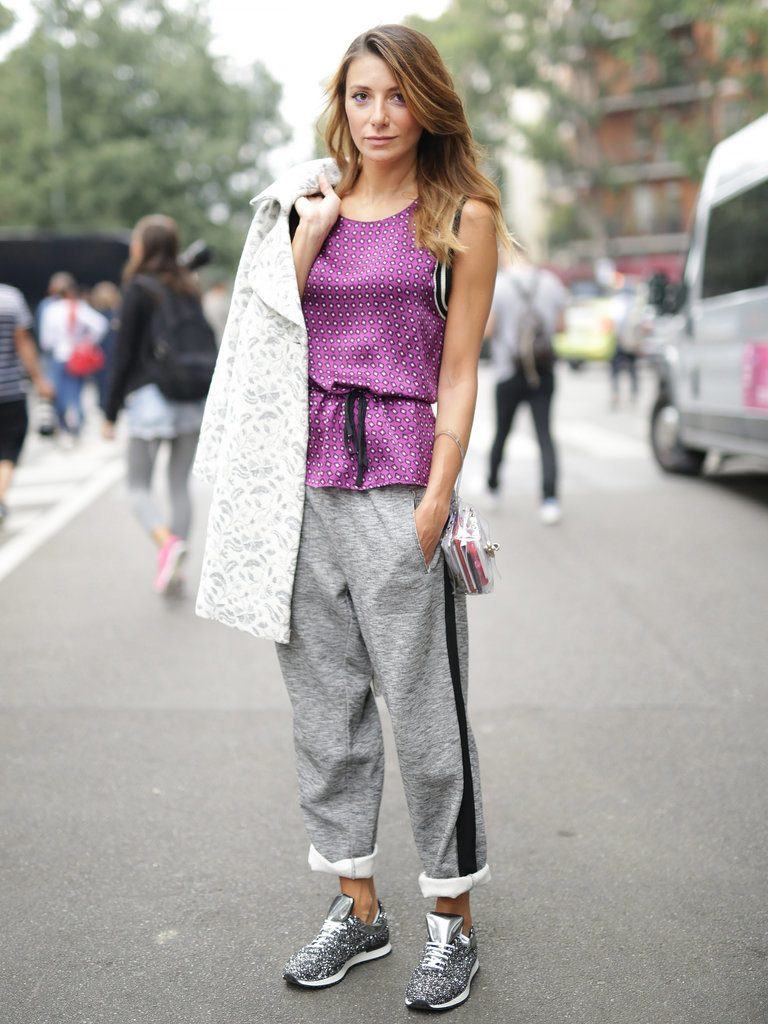 Probably the most fitting sweatpants outfit out there. There's hardly any need to make a special shout-out for elastic cuff sweatpants since they are everpresent, but this naked-ankles-sporty-sneakers look got stuck in our head from the moment we saw it. Match it with an oversized sweater for a comfy summer look, or a light jacket for those late-night walks in the fall.
Loose Sweater Outfit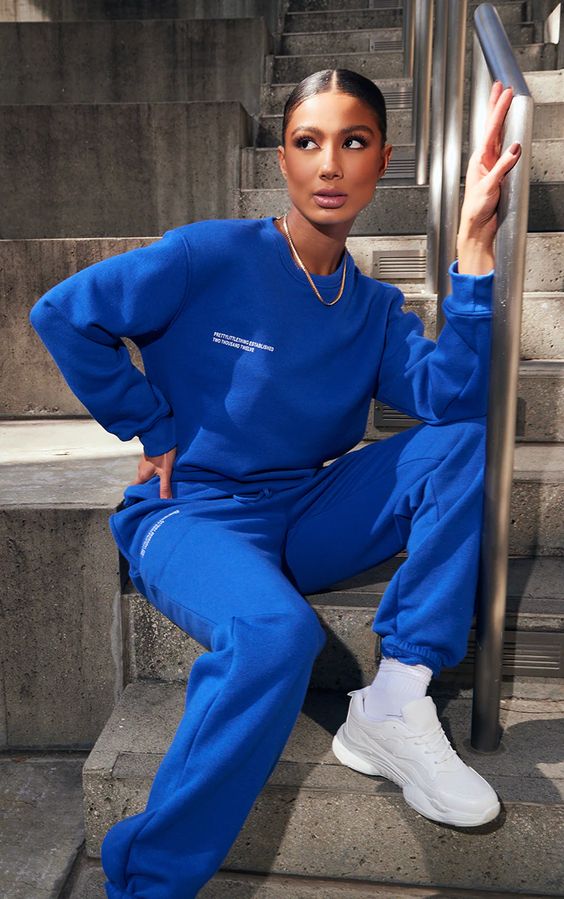 From light colors and floral designs, all the way to shaded gloomy blueprints – casual sweatpants go with almost any kind of loosely fitting sweater. Embrace the lazy evening by popping on the very first sweater you grab from your closet without tinkering too much.
All-White Combo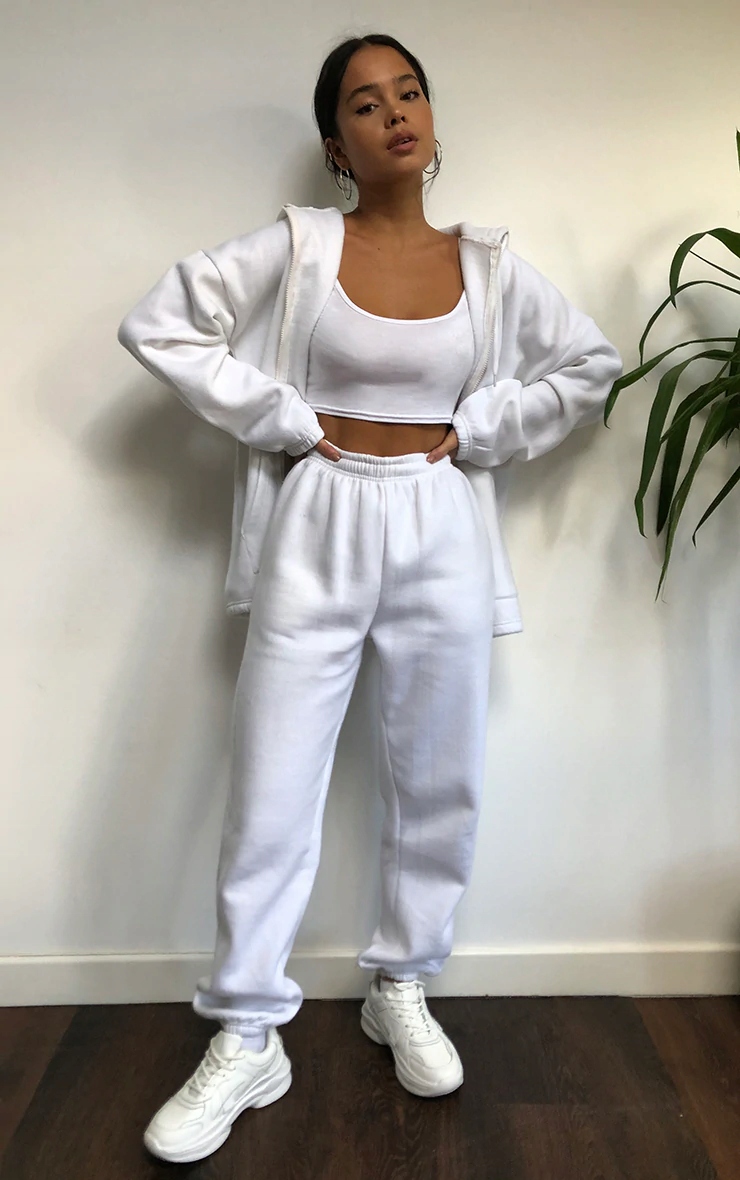 Stop poling on black and grey sweatpants – white sweatpants are all you need to stay fresh this summer. Embrace your beach tan by combining your classic white joggers with a white crop top, and some retro white sneakers. Cotton sweatpants are your best choice for this outfit, although you can mix and match between a slim and loose fit.
Pastel Aesthetic Outfit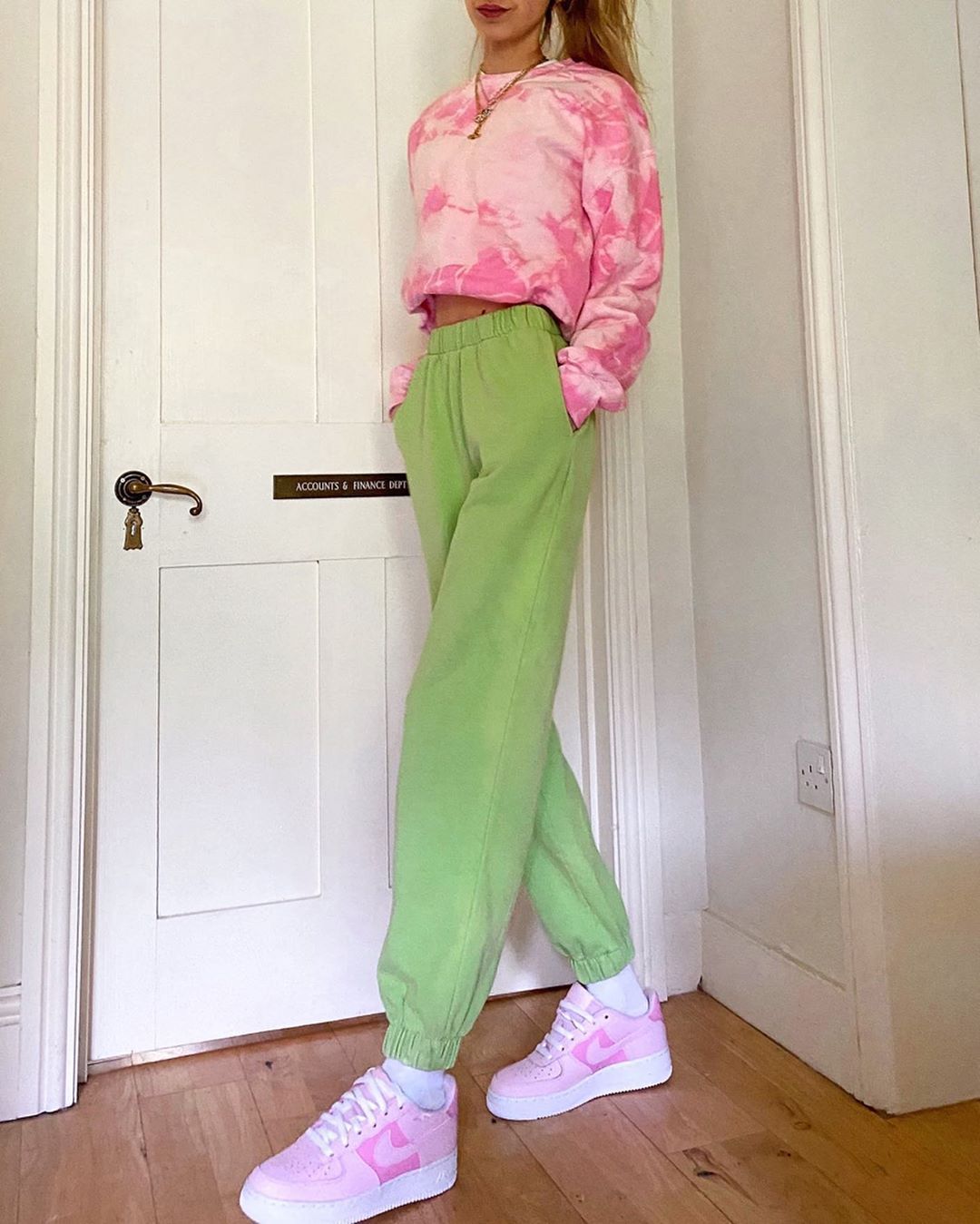 Trying out a pastel-colored sweatpants outfit is always a great idea, especially if you are a fan of soft colors. The beauty of pastel colors is their versatility and infinite matching possibilities. If you are new to these colors, I would advise going for a more natural laid-back palette. White, blue, and baby pink are great starting points. If you feel a bit more experimental, you can always throw in some lemon yellow or salmon pink to add a little tone to your look.
Bumbag On Sweatpants Look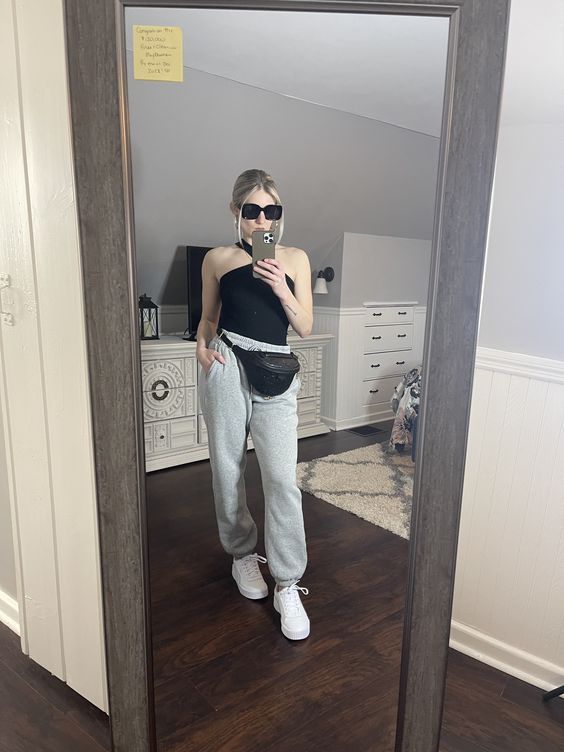 Who could have predicted that the notorious 90s bumbag would become a staple fashion accessory 30 years later? You can pull this look off by tying the bumbag around your waist, or just hanging it over your shoulder. And don't worry at all about the colors or outlooks as these bags come in thousand of different designs you can experiment with.
Joggers & Cardigan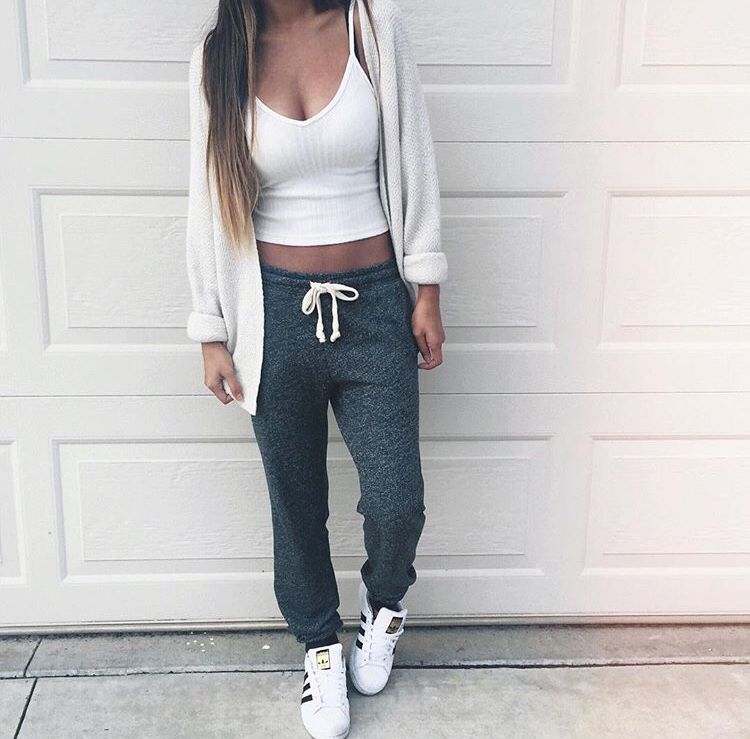 Is there anything cozier than putting on a silky soft cardigan to match the rest of your afternoon loungewear? This universal piece lets you keep your classy looks perfectly complimenting any type of casual sweatpants while making you feel as comfortable as possible.
Boots Combo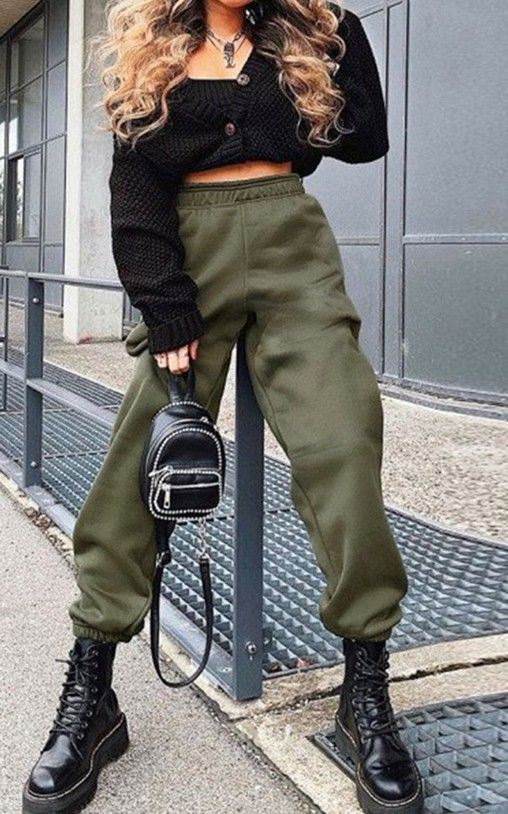 Boots and sweatpants are absolutely a match and you can rock them whenever you feel like it. This controversial combo is a bit tougher to pull off, but the results are worth
it. Satin sweatpants combined with beige Dr. Martens are an instant classic, or you can go with a more casual bland of joggers with work boots or Timberlands.
Leather Jacked Winter Combo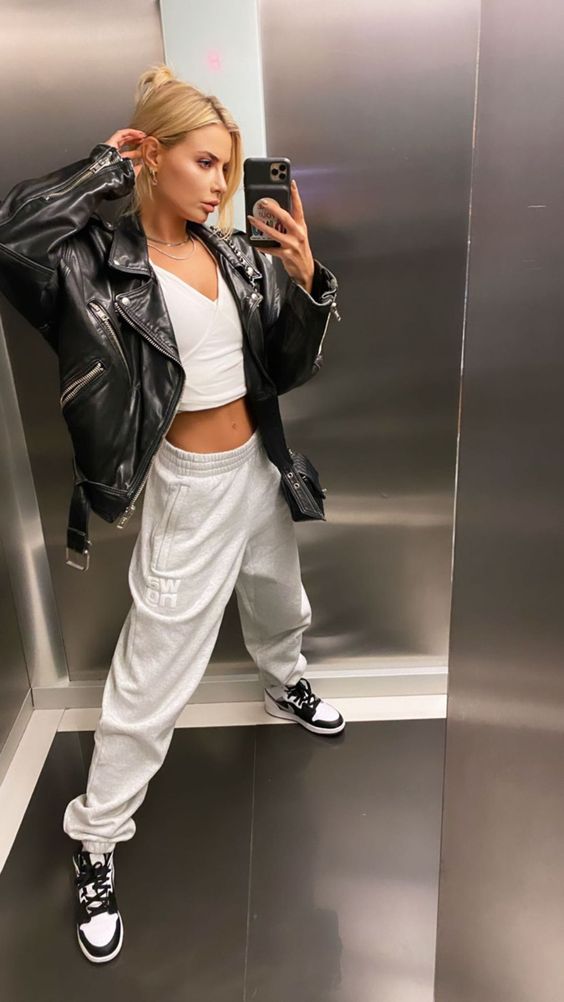 Choosing the right sweatpants for this winter is the easy part, but combining them with the right jacket is where it gets tricky. Opting for a black leather jacket is our top pick for the following winter season. You can wear it with any type of slim, loose, cotton, or satin pants without regard to their color.
Trench Coat Combo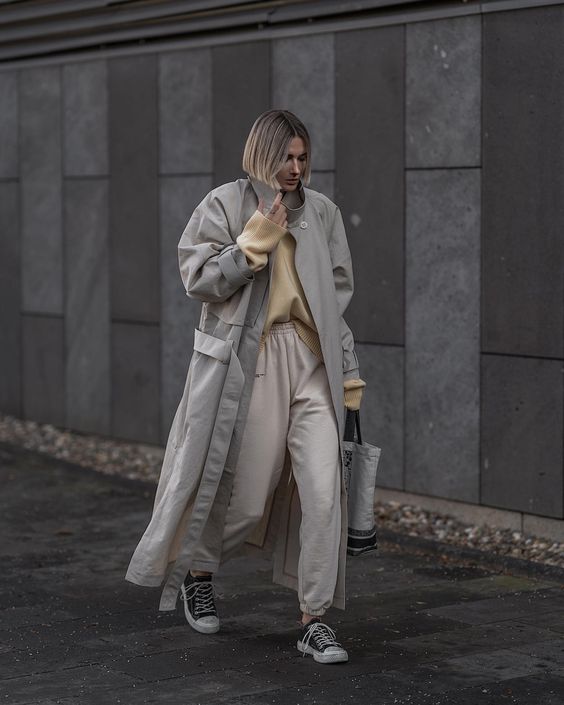 If you never fancied the leather jacket look, opting for a long-sized trench coat is an equally great alternative. The trick for pulling this look off is to keep it simple: light monochromatic color, slim fits, and a hard abidance to the three-piece rule. Slim sweatpants, a light sweater, and a matching coat are all you will need and nothing more.
The days of hiding your sweatpants at home are over. Athleisure outfits are on the rise for years now, and it's the perfect chance to experiment with those clothing pieces you've only worn at home. Putting together a casual sweatpants outfit is very easy after all. Just pile up on a pair of hoodies, a pair of tank tops, and some matching t-shirts, and let your imagination take the wheel.