Festivals have existed for centuries, offering a way to celebrate various meaningful religious, sociable, or cultural events, to involve and bring the community together develop good relations and provide a fun gathering that has a communal purpose and provides entertainment for the people of the community. What do we mean when we say "festival" today?  Modern festivals are still tuned to the spirit of their origins and the most widespread among them are various music festivals.
These annual music festivals attract people from every corner of the world, bringing together a wonderful mixture of all examples of humanity. Most festival-goers enjoy the camaraderie these events provide, wanting to connect with people from different parts of the world that share common interests. Festivals do have certain themes, meaning they can be musical, with Coachella and Burning Man, or celebratory, like Mardi Gras and Carnival. Festivals are inclusive events, always open to newcomers, wanting and willing to share what they hold dear with others. That is one of the beauties and appeals of the music festivals: everyone is welcomed, and all who attend the festival just want to let loose, have fun and explore what the festival has to offer during the day or days that are being held.
Given all that, let's talk fashion. At festivals, you might say that everything goes. You can go as wild or as regular as you like, you can not go wrong. But to truly get emersed into the festival, it won't hurt to at least follow the theme and spirit of the festival. For example, you can't say you've been to Mardi Gras if you don't get some colorful bead necklaces and wear something purple gold, and green, or not wear red for the Chinese New Year Festival, or not show off some skin at Coachella, to name but a few.
With that, if you're looking for a rundown of guidelines on how to dress for a specific festival, this would be a novel, not an article because of the vast diversity of what is acceptable for a festival. Stating with the basics: jacket, shorts, jeans, shirts, and tops are clothes you'll encounter at almost any festival in various styles. At summer festivals you'll normally find various short and maxi skirts, mesh attire like blouses, throw-on, and anything that might be considered boho fashion, with crochet clothing being more popular in recent years, and don't forget the hats. Then you have the eye-catching sequined clothes, tasseled and shiny leather clothing that are borderline costumes. As for footwear, you should wear anything that's most comfortable for you since the festival can last all day, if not days, but don't be surprised to see women wearing knee-length high-heel boots or platform shoes. As for the color of the clothes, you're sure to see people wearing from all-black attires to holographic sequins or anything from neon colors to earthy tones.
When you go to a festival you have the unique chance to express your sense of fashion as you've never had before, without judgment. And to prove it, checked out or list various festival outfits.
Bejeweled Bikini With Delicate Chains And Skirt Cover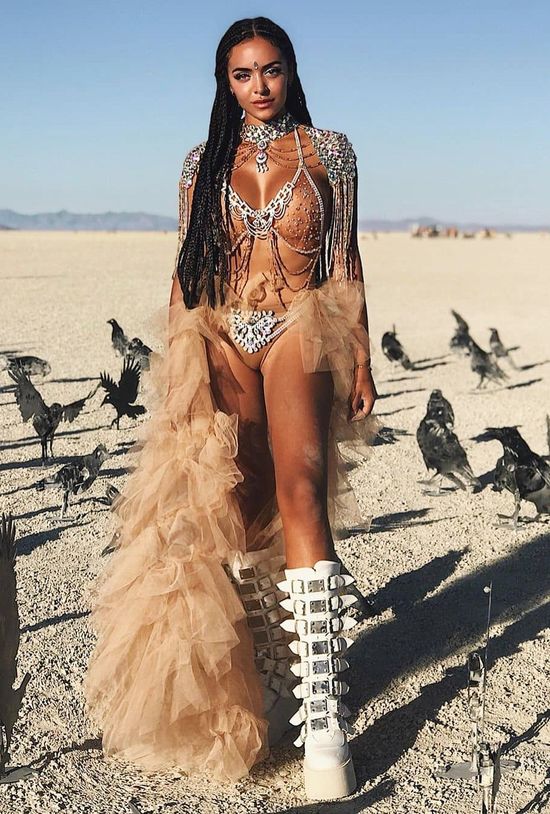 If there ever was a chance to wear a bejeweled bra and panties out in the open without getting weird looks, that would be at a music festival. Cover it all up with a fancy mesh cover wrapped around your waist, put some chains and jewelry around your neck and shoulders to bring your inner Vegas showgirl outfit out, and dance the night away.
70s Vibe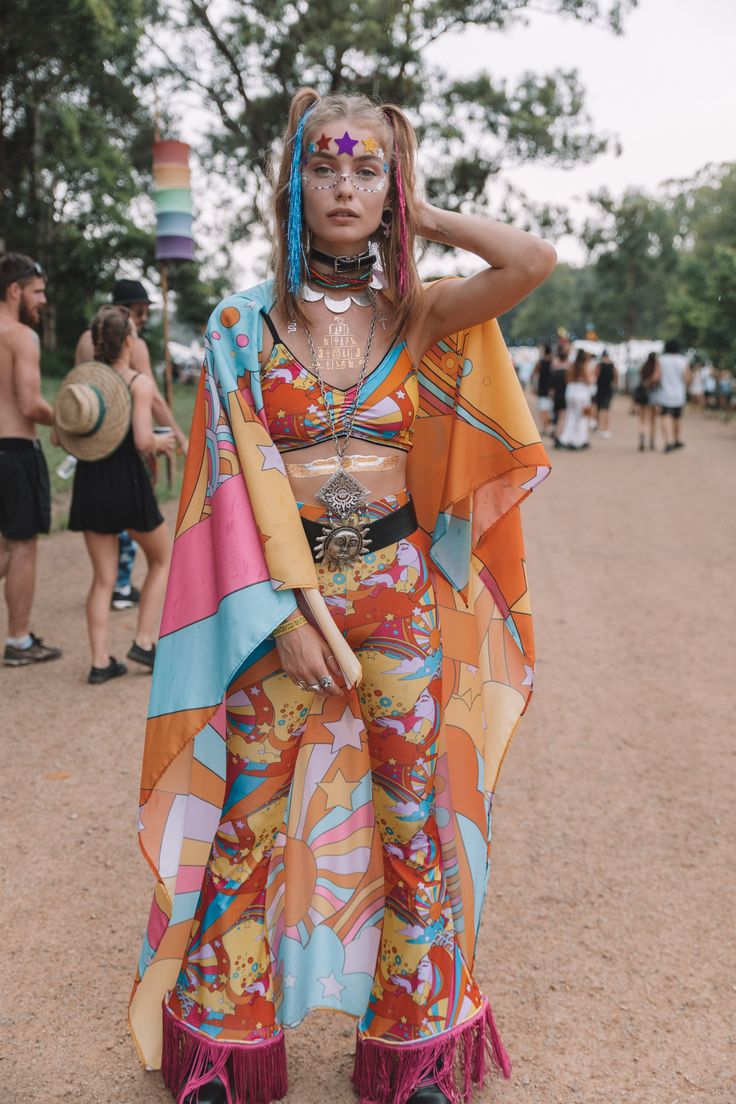 The bright colorful pattern popular in the 70s might be too much for an everyday outfit, however, if you're craving that psychedelic groove and style, put on your craziest bellbottom pants and a matching sports bra for the next summer festival and get lost in the sea of endless color and love.
Leather And Jeans Rock Look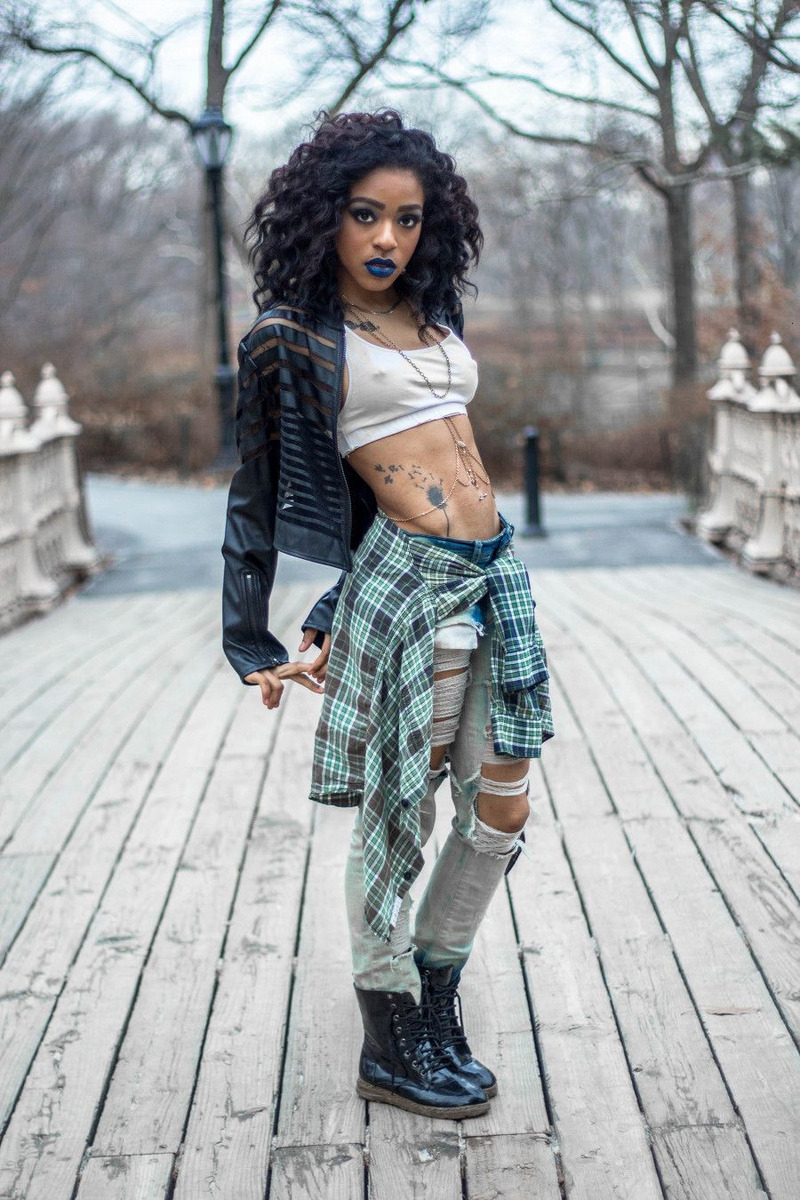 Those who think that there isn't much style at a rock festival, they're wrong. A crop top, stylish leather jacket with mesh pieces ripped jeans, and a plaid shirt wrapped around the waist give out those rock vibes to the max while you're rocking it out in comfort.
Crocheted Rainbow Two Piece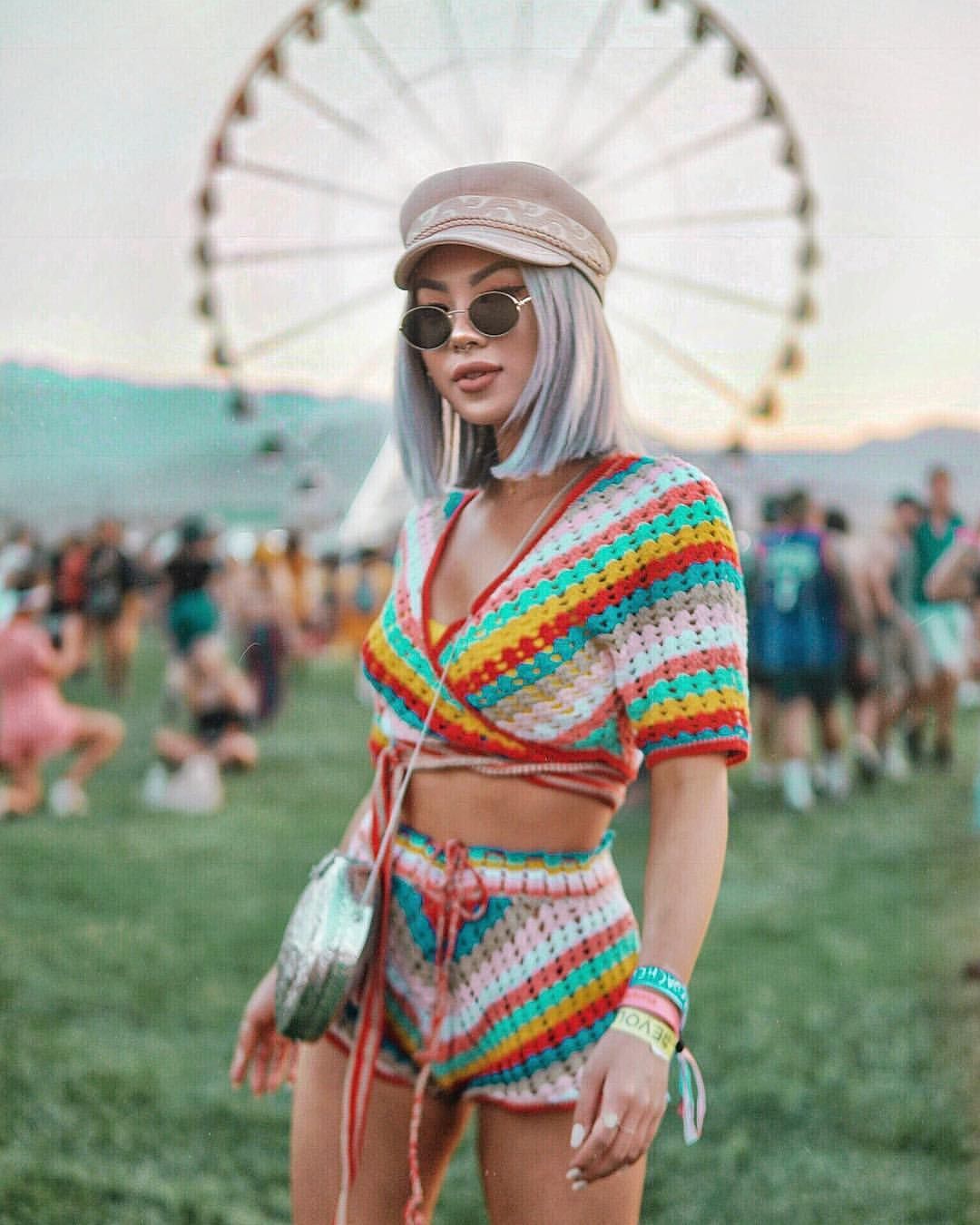 Crochet clothes are making a huge comeback. The variety of texture and color achieved with this craft gives you a unique look, and the yarn is so airy and comfy, that you won't even break a sweat while dancing at the festival.
Mardi Gras Street Look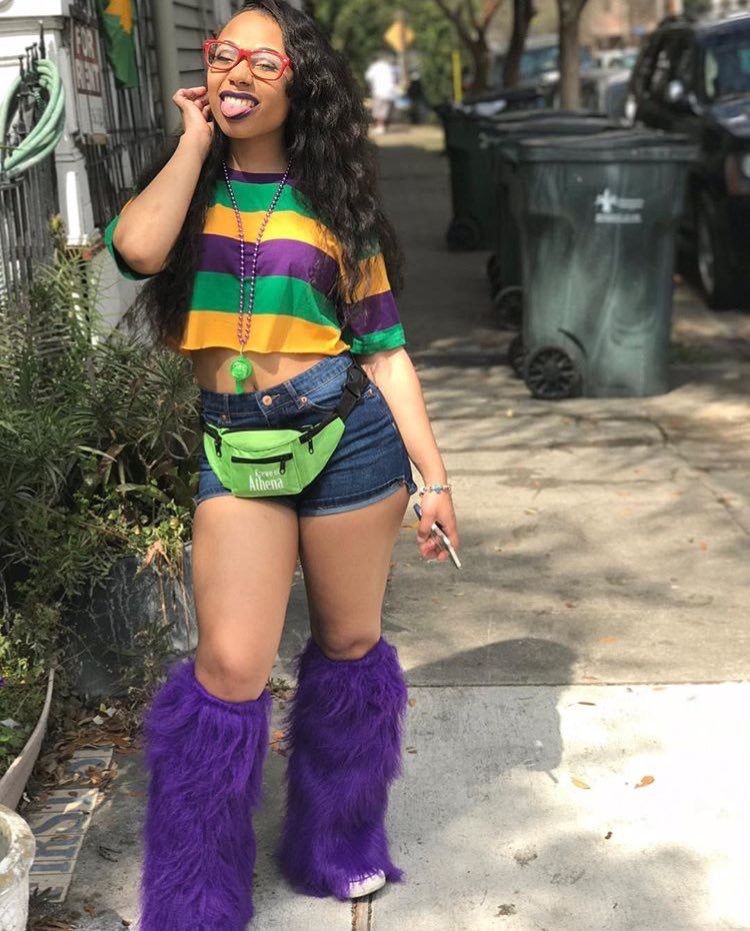 The New Orleans festival is quite popular in the US and known around the world for its mask and costumes during the weeks that it is celebrated.  When you're not in the mood for a full-on mask, just dawn the green, purple and gold colors of the festival and add something quirky to the outfits, like a pair of furry knee-high boots.
Chain Mail And Mirrored Star Two PIadornedo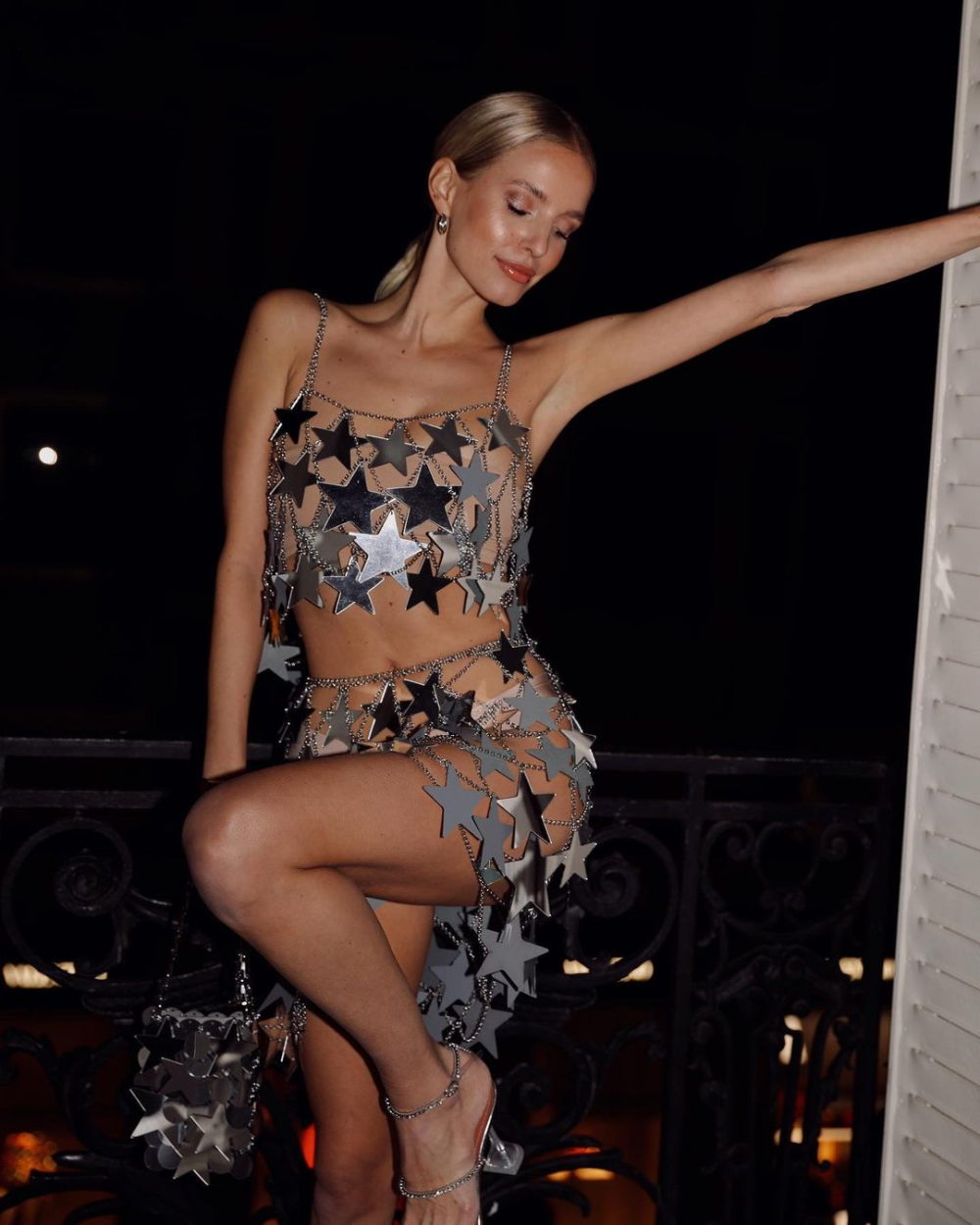 At these festivals, you are sure to encounter a lot of sparkly and shiny outfits, like this one. A complete chain-mail top and skirt adorned with large mirror stars cab be prickly, but it is dazzling,
Leather Formula Jumpsuit With Detached Leggings
Don't be surprised if you see some avant-garde or unusual outfits during a festival. After all, this is the time to fulfill your fashion desires. A red leather jumpsuit with leggings that can be detached, is an edgy look for those chilly festival nights,
Wrap Top And Colorful Trousers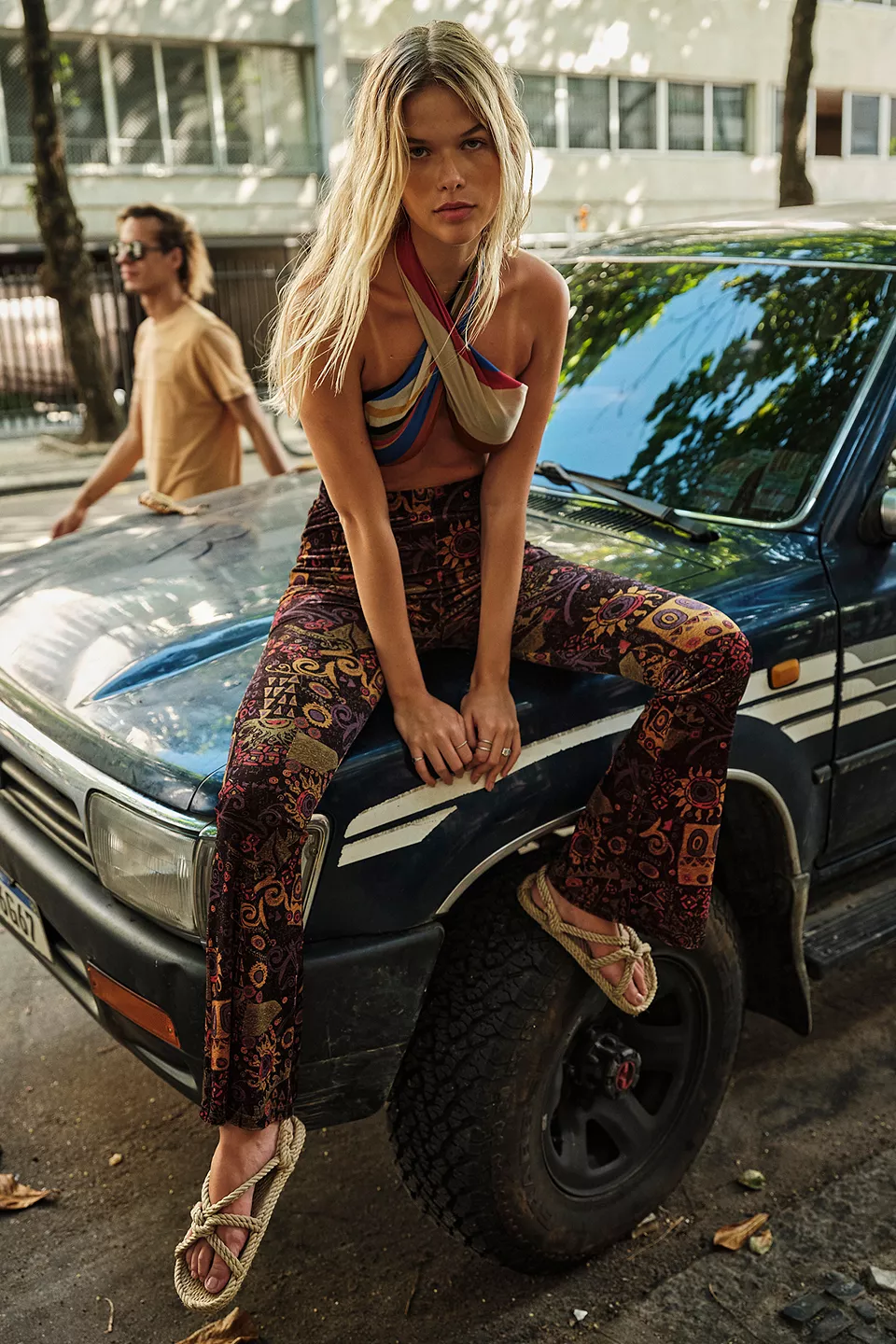 Boho style is all about pieces of cloth that provide that flow, comfort, and earthy colors that are not too revealing. This outfit is on the edge of a classic boho look with a sexy wrap top going around the breasts crossing over the front and ending behind the neck. You can even make it from a scarf. Complete the look with bell-bottom pants and jute sandals.
Flowy Boho Look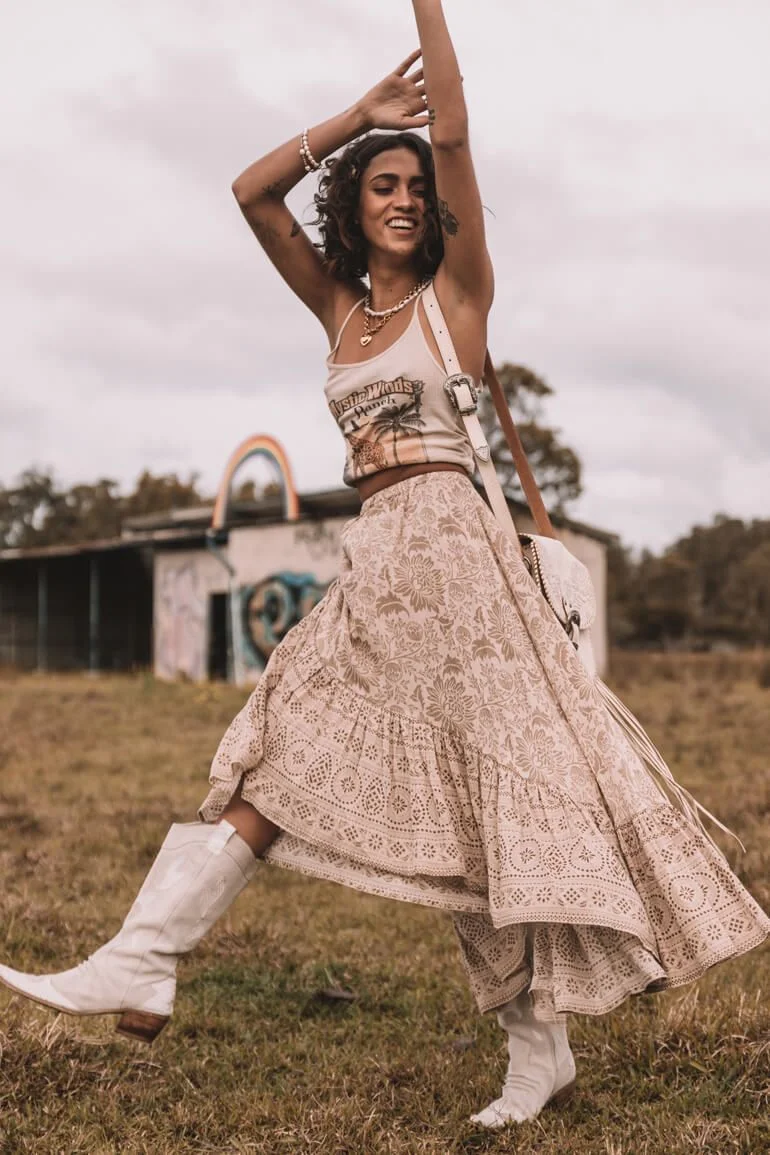 Cowboy boots, flowy maxi skirt, and spaghetti-strap to, the most comfortable and casual combo for a festival.
Bright Neons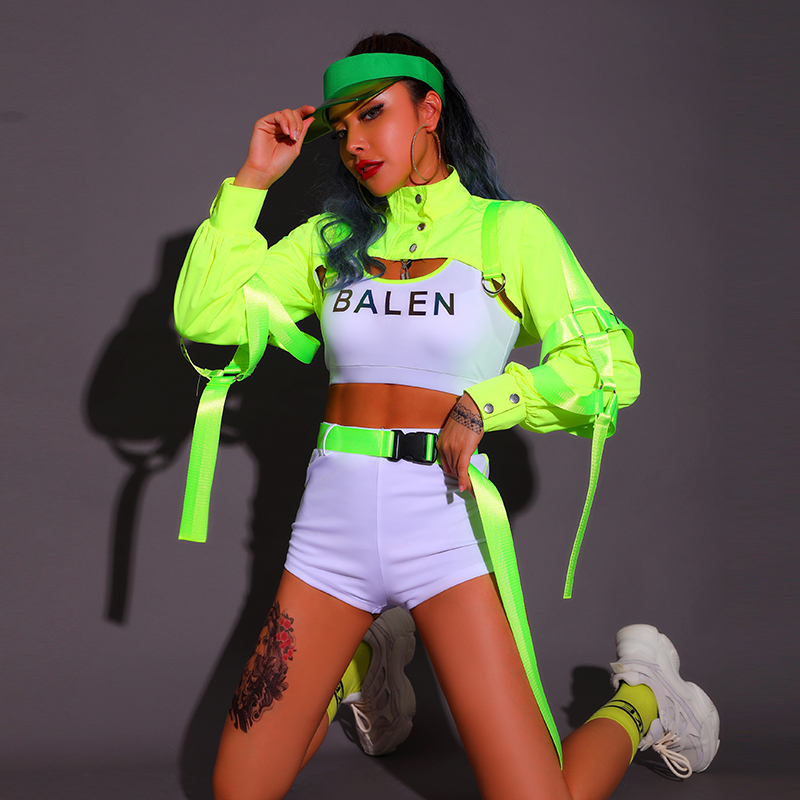 If you're going to a rave festival, neon colors are an absolute must. In a green neon long-sleeved turtle neck bolero jacket with silky green straps over a white crop top and shorts, you'll be shining and raving like never be.
Mesh Coverall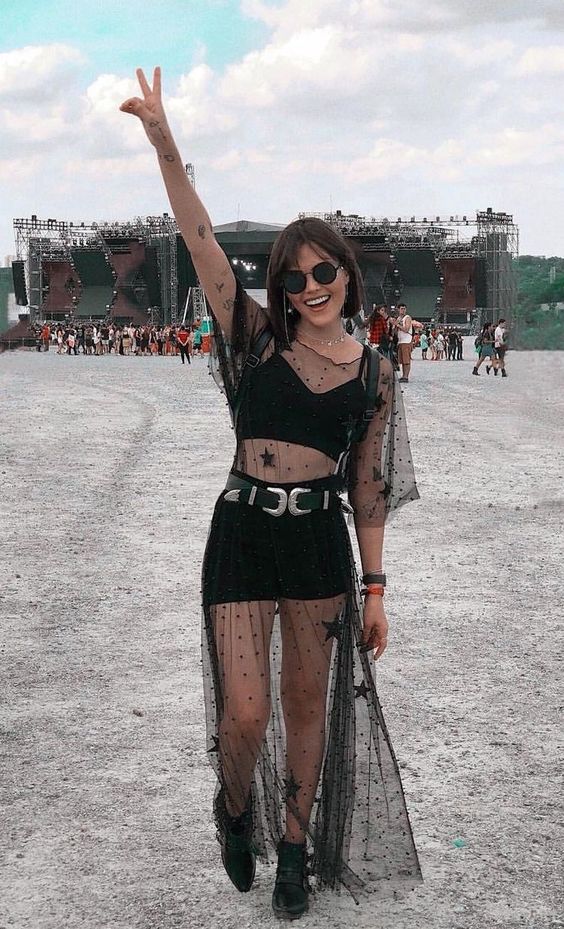 Mesh covers are very popular at festivals. It is a layer of clothing that provides coverage without adding extra heat, which is something you don't want when you're dancing non-stop. It is sexy, flirty, and fun.
Chinese New Year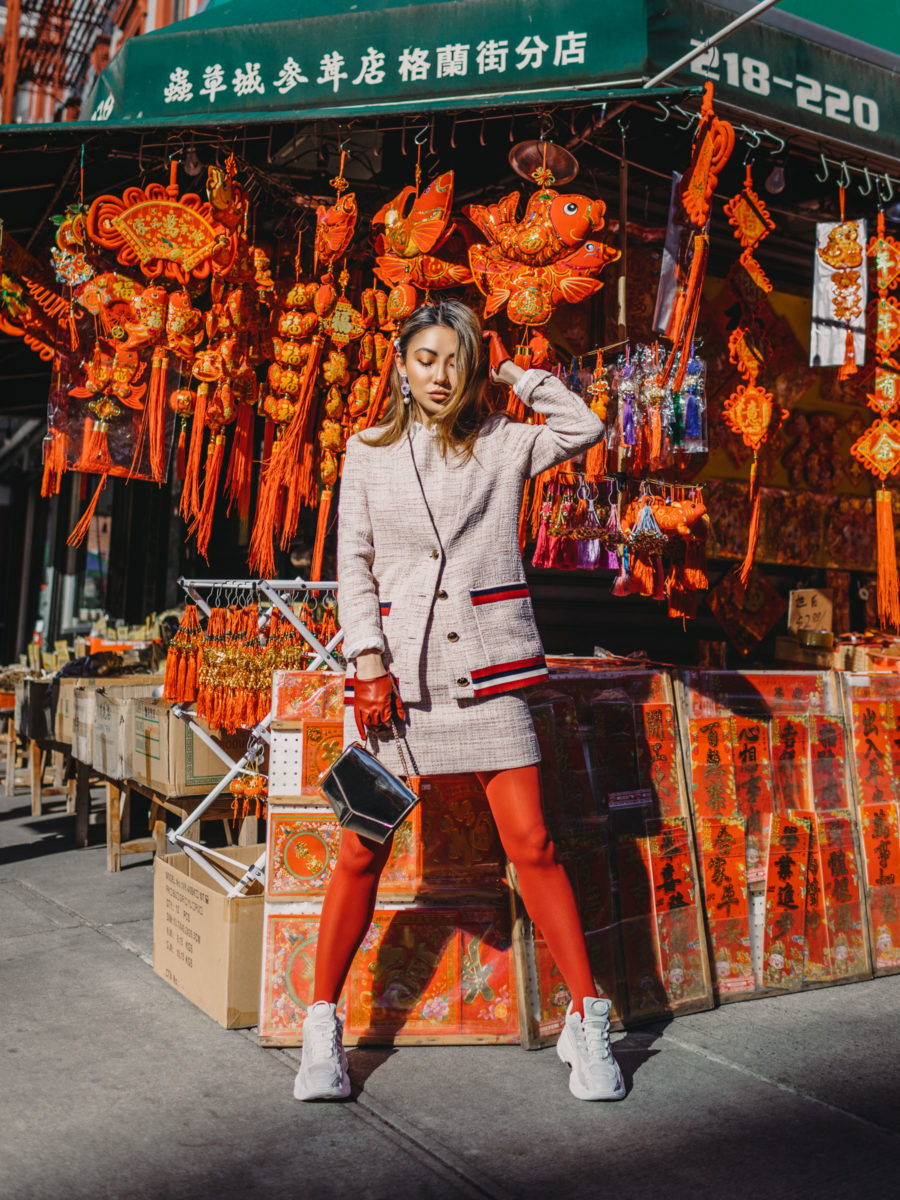 For a Chinese New Year festival, the dress code might be a bit more modest than your typical summer festival, which doesn't mean you can't be stylish, If you haven't chosen to wear some of the traditional Chinese clothes, you can go with a classy jacket and skirt, with red pantyhose and red gloves. After all, red is a must at this celebration.
Faux Holographic Dress
Tight cocktail dresses never go out of style, and a run-of-the-mill mini dress just won't do for a festival. For an extra special outfit that truly comes to life under fluorescent lights, you must get yourself a stunning dress like this. Just imagine how this pattern will change and dance once you start moving.
Short Overalls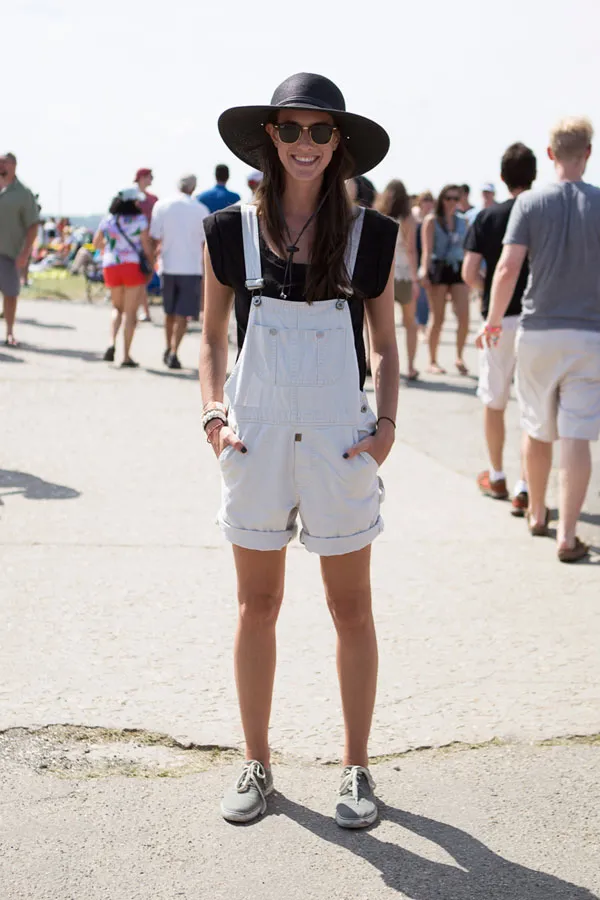 Country festivals might be tamer than music festivals like Lollapalooza or Coachella, so you can have more downtime to just stroll around and explore. Keeping with the country theme, short overalls with your favorite T-shirt and comfy shoes will make you look and feel right at home. And don't forget a nice hat to keep that hot sun at bay.
Pearl Studded Combo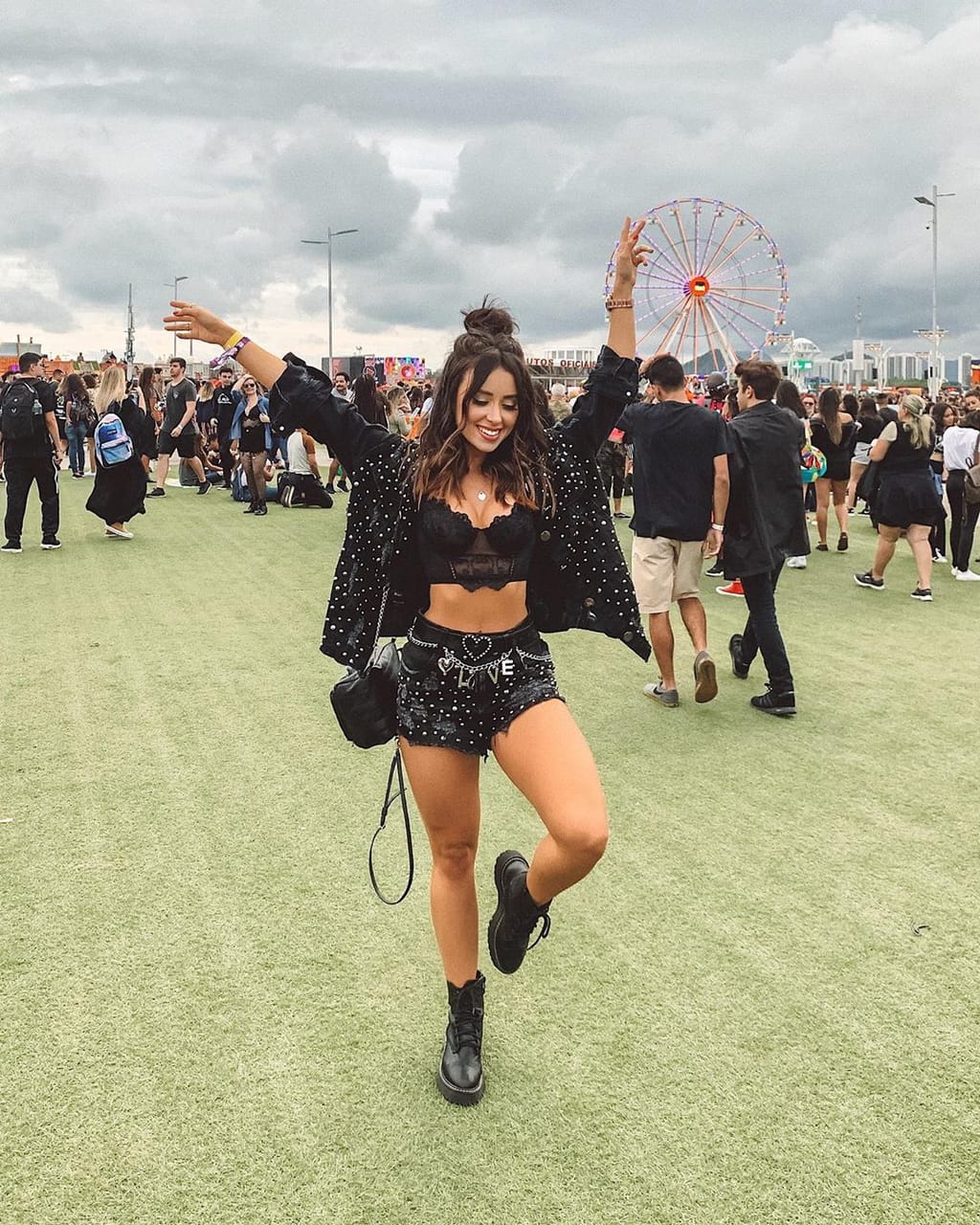 Shine like a black pearl with this combo. With black shorts, a lace corset crop top, a black leather jacket, and DMs, all studded with pearls, you will be a hot rockstar at the festival.
Afropunk Style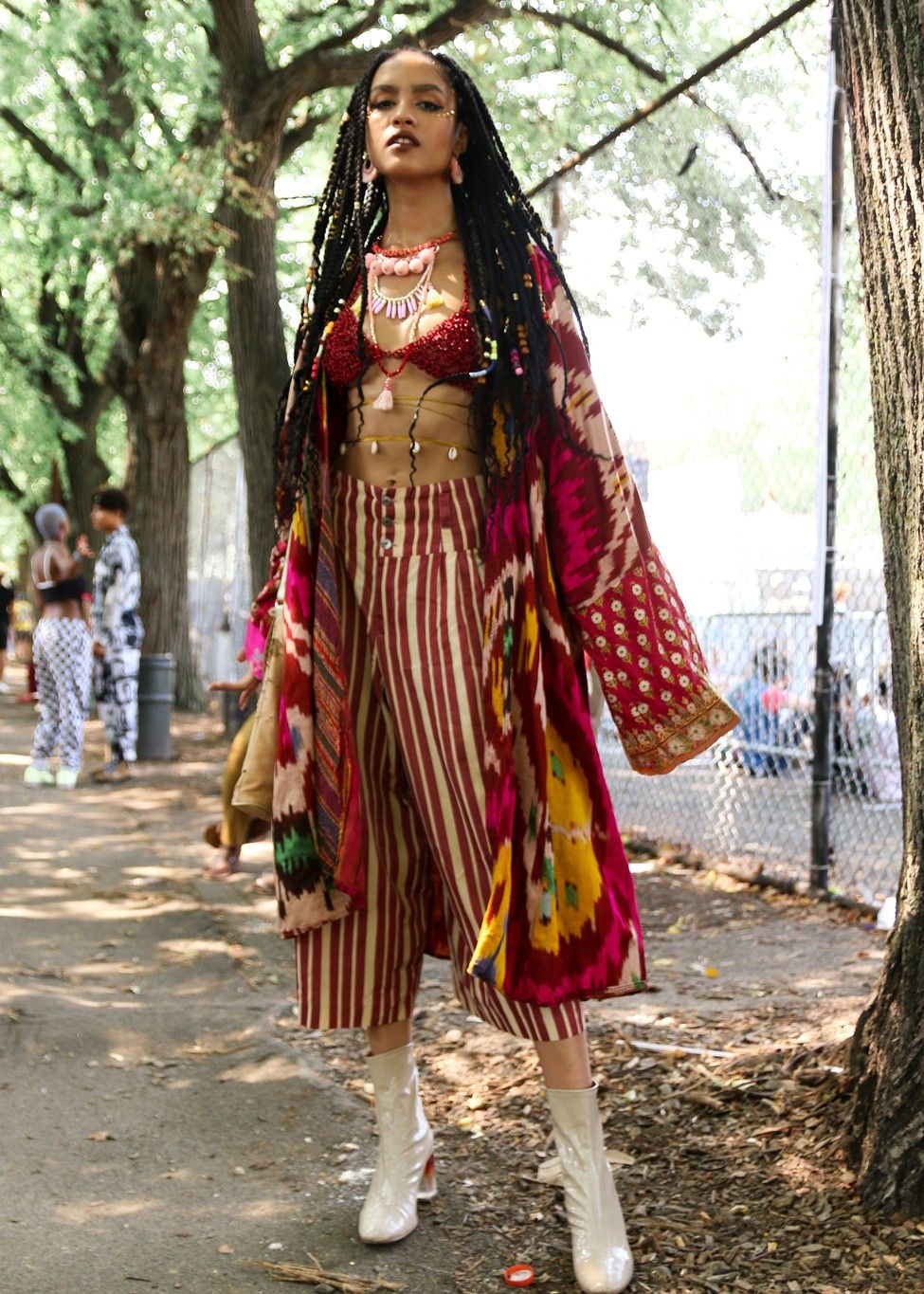 The Afropunk festival is a true statement of how alternative thinkers and cultural heritages can coexist and mix. What started as a festival for African-American punks, has grown into a celebration of alternative thinkers and feature artists, fashion designers, and musicians of the black community. As you can see, the dress code is punk style with touches of African heritage, resulting in edgy outfits incorporated with traditional African colors and patterns.
Classic Rock Outfits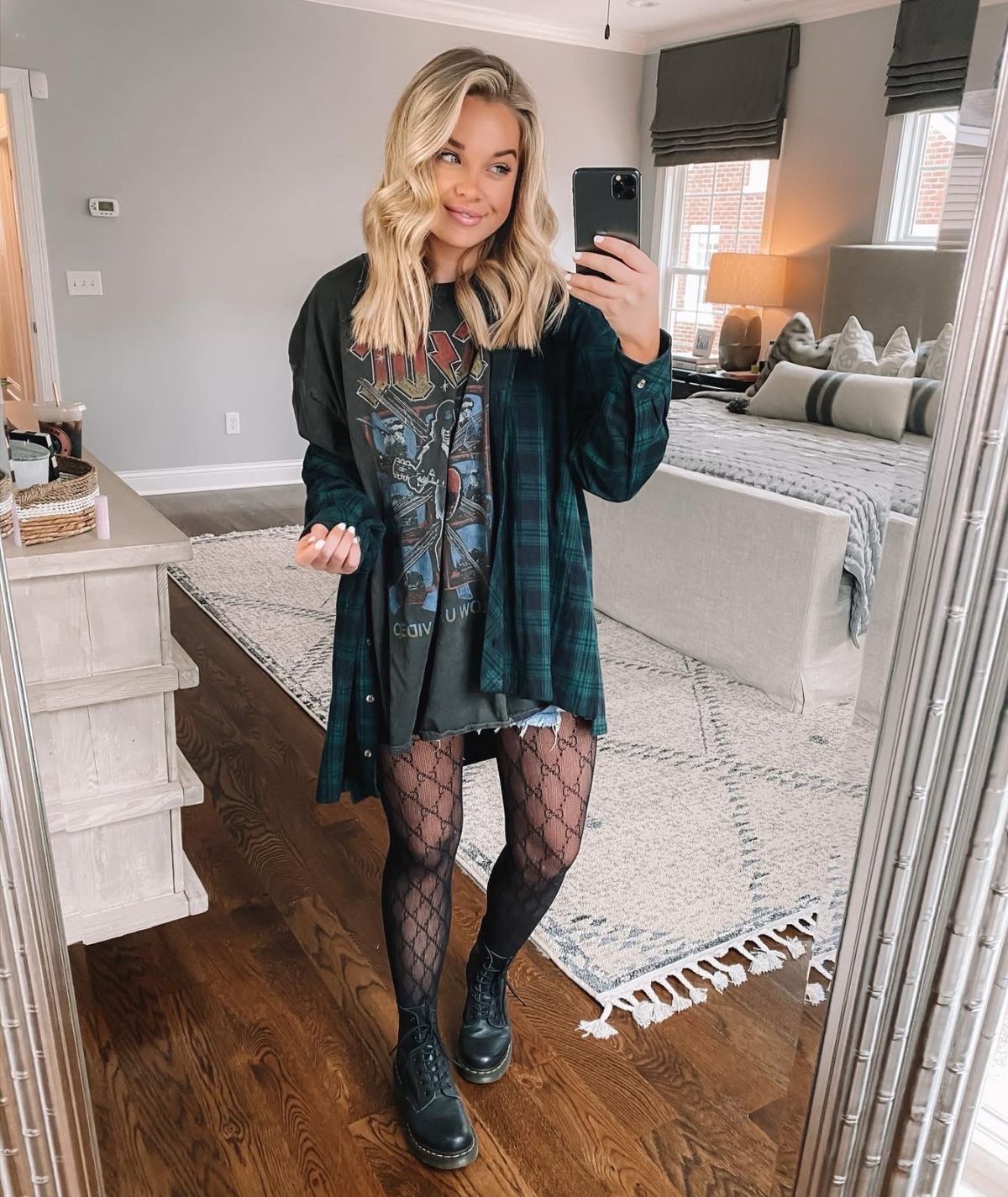 Rock and metal go hand in hand, so you're more than likely going to hear some metal music during your rock festival. To step your rock game up a notch, wear patterned pantyhose, extra short denim shorts, and a black large T-shirt with a band print. And don't forget the plaid shirt that will probably stay tried at your waist most of the time.
Denim And Leather Patchwork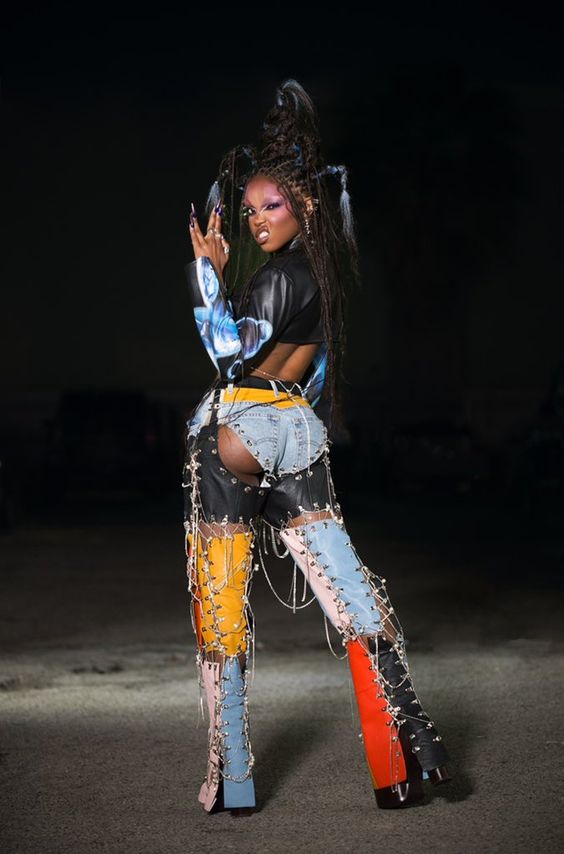 This is another signature look for the larger music festivals: a patchwork of pieces of clothing. These pants constructed from various pieces of materials, held together by chains and bobby pins, might look like they'll fall off any moment, but seeing such pieces of fashion art is one of those things that make going to these festivals worth it even more.
Animal-Print Midi Dress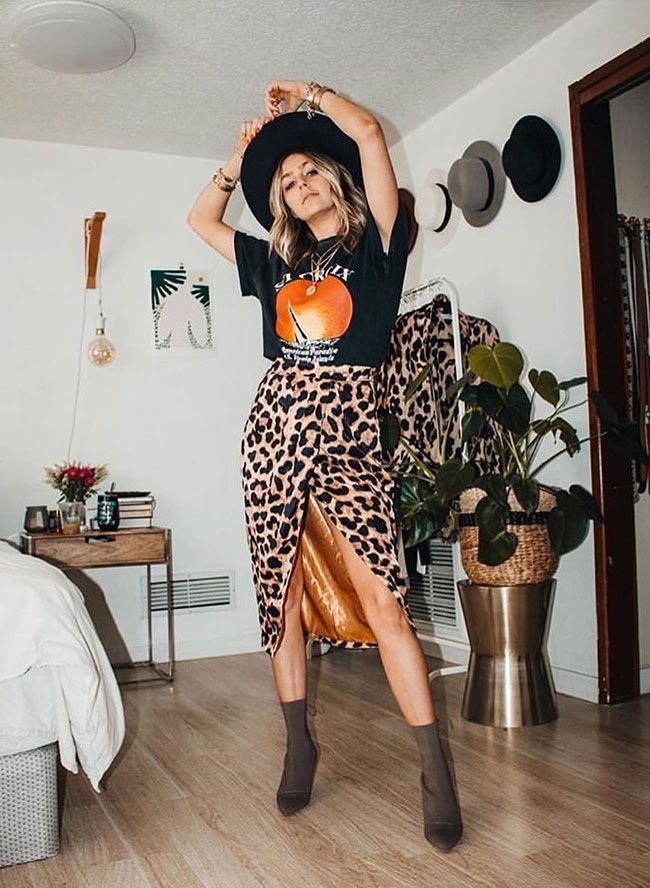 Animal prints never seem to completely go out of style, making a fashionable return every few seasons. When you're at a festival, you can't miss the chance of finally wearing that gorgeous leopard print skirt with golden lining paired with a casual print T-shirt. Top it all off with a wide-brimmed hat.
Country Festival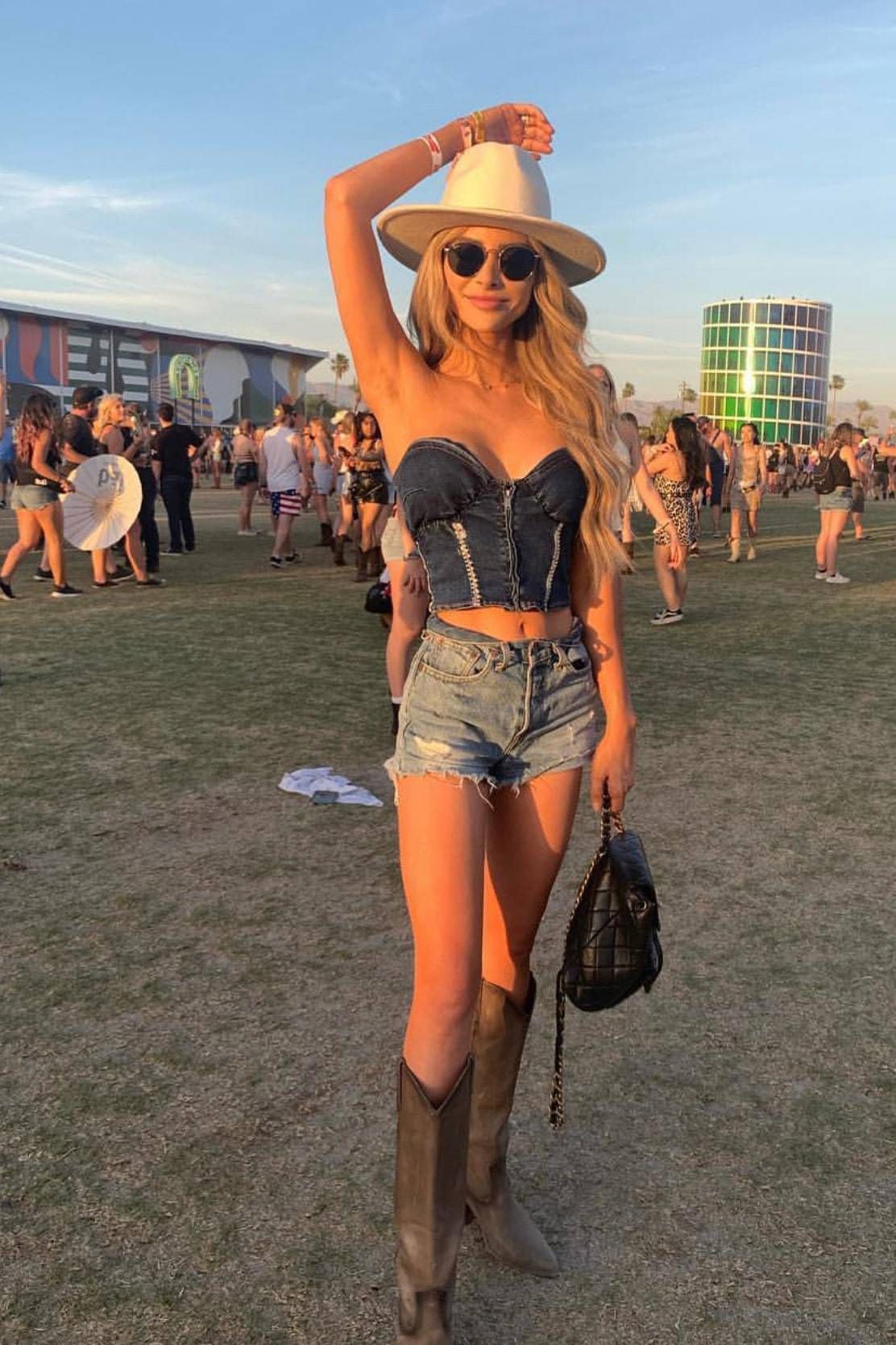 Let's end the list with a classic that's an all-time favorite. An all-denim outfit can be a bit stiff because of the material, but people who love it feel the most comfortable wearing it. Mini skirt, denim heart-shaped corset, cowboy boots, and cowboy hat for an outfit you'll have the best time in at any festival.
With the state of today's world, people tend to forget to take pleasure in the simple things and find time in their overly busy schedule for some fun and letting loose. Festivals offer a sense of belonging. After spending some days having fun with people you never thought you'll be friends with, your faith in humanity will be renewed and you'll be reminded that people are inherently good. So, what's your take on festival fashion? Share your thought and comments below.