Michelle Obama, one of the most well-regarded First Ladies in modern US history, has consistently captivated the public with her intelligence, dedication, and warmth. In addition to her work on social issues and her ongoing commitment to making a difference, she has become a style icon in her own right. Elegant and fashionable, she has set trends and inspired countless women with her impeccable taste and graceful presence.
Throughout her time in the public eye, Michelle has demonstrated a keen sense of style, effortlessly blending both high-end designers and affordable brands to create sophisticated and accessible looks. From formal events to casual outings, her style has evolved and matured, garnering her a reputation as a true fashion icon. As we explore some of Michelle Obama's most memorable fashion moments, it is clear that her impact on the world goes beyond policy and into the realm of personal expression and inspiration.
Business Look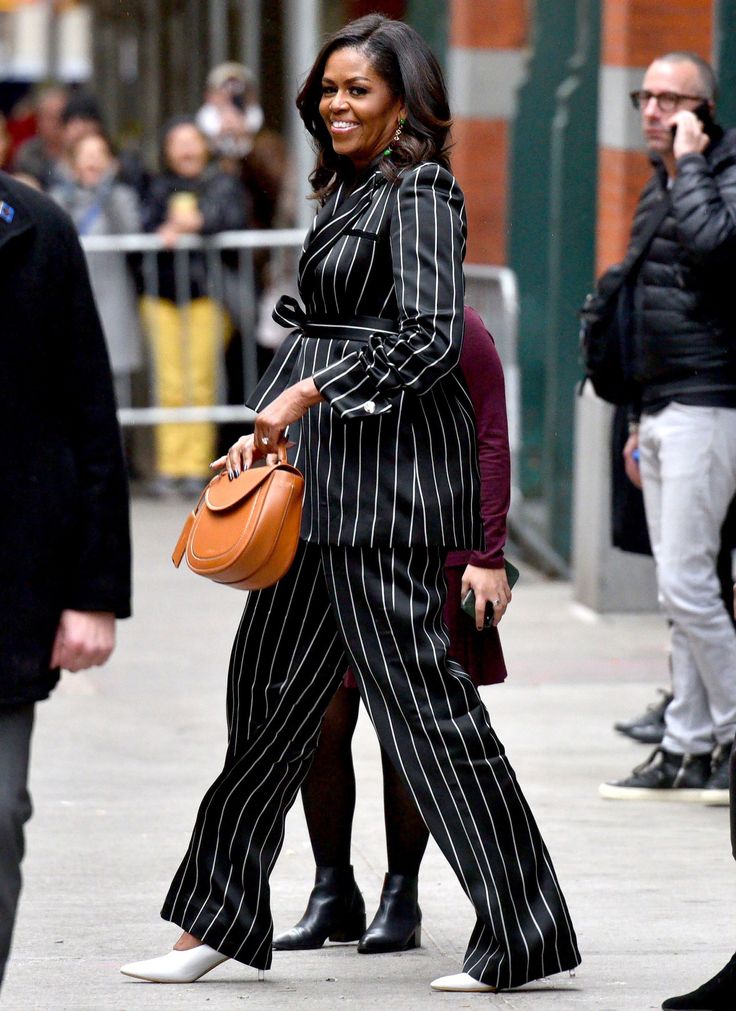 As admirers of Michelle Obama's style, we can't help but notice her impeccable fashion choices, especially when it comes to business attire. Let's take a closer look at her go-to elements for a professional and polished look:
Tailored Suits: Michelle often opts for structured suits, displaying her confidence and authority. Her choices include both skirt suits and pant suits, in a variety of colors ranging from classic black to bold reds and blues.
Classic Silhouettes: Timeless shapes like A-line dresses and pencil skirts are staples in her wardrobe. They provide a flattering fit and make for an effortlessly polished ensemble.
Bold Patterns and Colors: While sticking to classic silhouettes, Michelle isn't afraid to make a statement with vibrant colors and striking patterns. She successfully adds a touch of fun and personality to her otherwise formal business attire.
Statement Jewelry: Refined and tasteful accessories play a crucial role in completing her look. Michelle often opts for bold necklaces or earrings to add a unique twist to a simple outfit.
High-Quality Fabrics: We observe that Michelle values quality over quantity, opting for luxurious fabrics like silk and wool, which not only look great but also ensure comfort throughout long working hours.
By paying attention to these essential elements, we can all elevate our wardrobe and be inspired by Michelle Obama's iconic business looks.
Detail-Oriented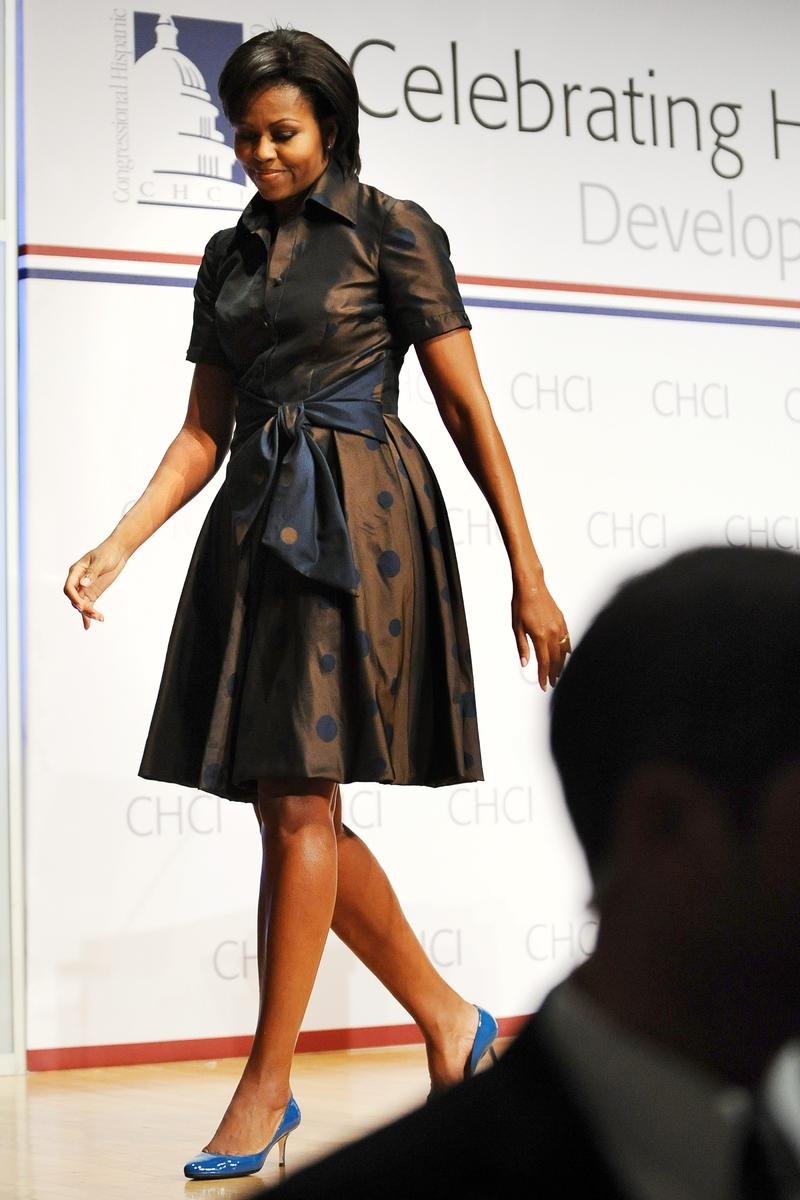 As we delve into an analysis of Michelle Obama's outfits, we notice that she has displayed an incredible sense of style and elegance during her time as the First Lady. Her fashion choices reflect her confidence, sophistication, and unique personality.
Mrs. Obama collaborated with numerous world-renowned designers, including, Vera Wang, Michael Kors, Oscar de la Renta, Versace. Zac Posen and many more.
Some of her most iconic looks include a stunning Versace dress for her last state dinner and a graceful Azzedine Alaïa ensemble for a NATO event in Brussels.
We've observed that Michelle Obama is detail-oriented with her outfits, often opting for intricate patterns, bold colors, and well-constructed silhouettes.
Off-shoulders Sheath Dress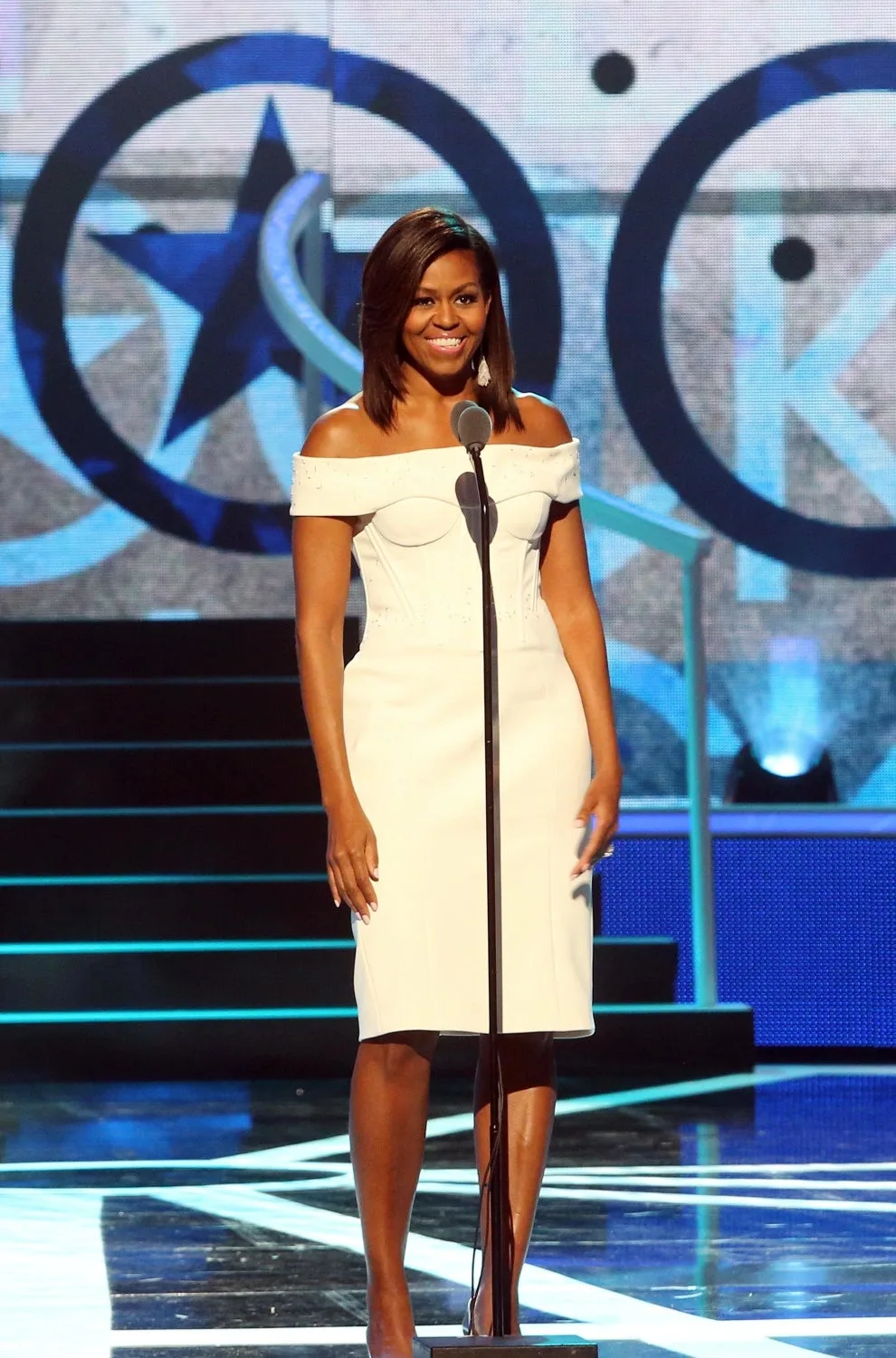 Off-shoulders Sheath Dress
We've seen Michelle Obama grace various events in her elegant off-shoulder sheath dresses. Some of the fashion designers behind these chic outfits include Jason Wu, Narciso Rodriguez, and Balenciaga. Known for their sophistication and timeless appeal, off-the-shoulder dresses highlight the First Lady's poise and confidence.
Here are some memorable moments where Michelle donned off-shoulder dresses paired with renowned brands:
At a state dinner, she wore a stunning Cushnie dress, showcasing her toned shoulders and striking a balance between elegance and modernity.
During another event, she wore an exquisite Atelier Versace gown which swept everyone off their feet, paired perfectly with Jimmy Choo shoes.
In a reception honoring the Special Olympics, she chose a flattering Thakoon off-shoulder dress, radiating poise and grace.
When it comes to accessories, Michelle stays true to her style. She has been spotted wearing jewelry from brands like Stine Goya, Stella McCartney, and Alice + Olivia. From Peter Dundas to Thom Browne, Michelle incorporates various designers into her outfits, creating a unique and personal touch.
Whether she's attending a formal state dinner or a casual event, Michelle Obama's off-shoulder sheath dresses embody her confidence, knowledge, and clarity in style. It's no wonder that designers like Doo-Ri Chung, Christian Siriano, and Cushnie et Ochs are just a few of the names associated with crafting her impeccable ensembles.
Floral Design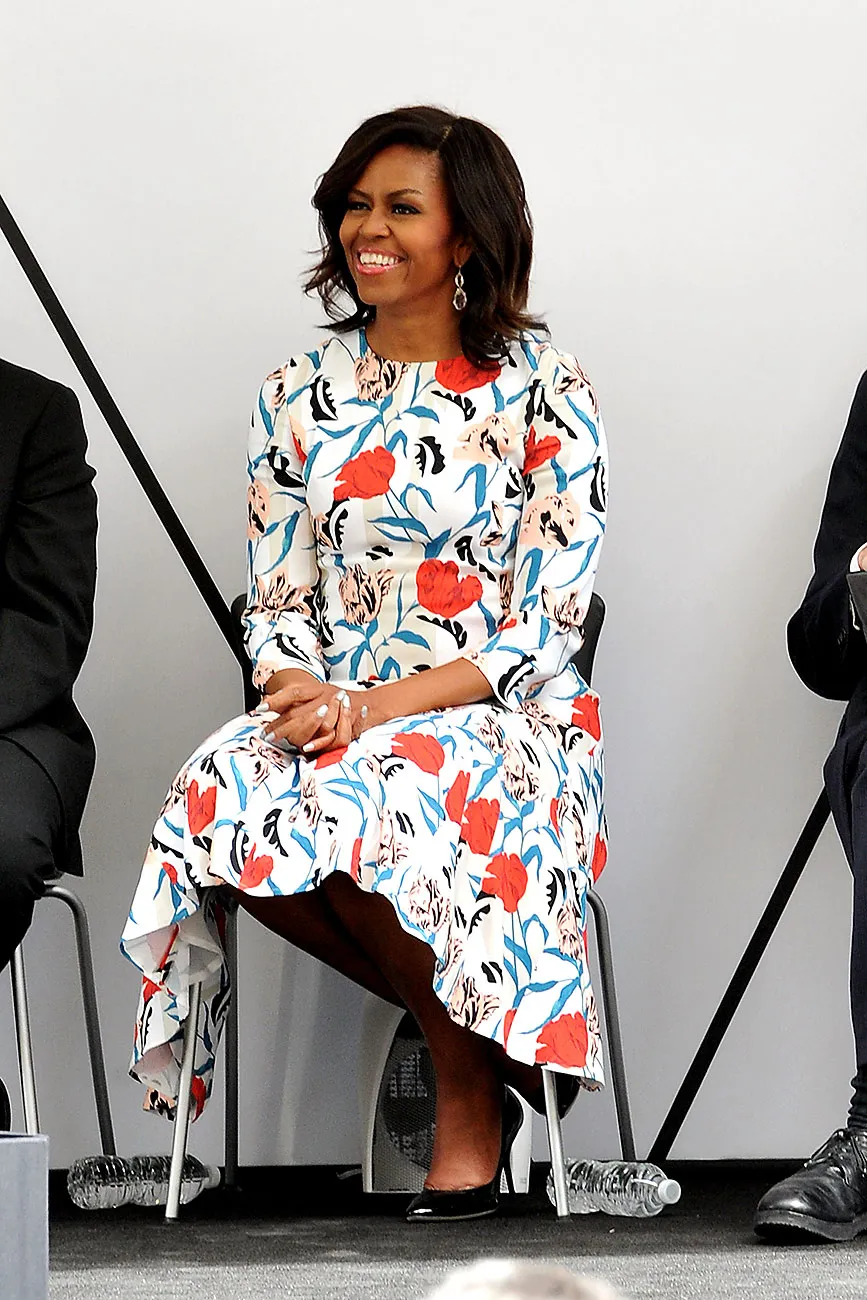 In our article about Michelle Obama's outfits, we should not forget to mention her exceptional taste in floral design. As a former FLOTUS, she has not only influenced policy but also fashion. One memorable moment showcasing her love for floral design was at a state dinner, where she wore a breathtaking dress by Naeem Khan.
Another instance where her fondness for floral patterns shined was on The Tonight Show, where Michelle donned an elegant Dundas dress. Moreover, Michelle's selection for daytime events includes pieces like the Stella McCartney jumpsuit with its subtle floral accents.
Some notable outfits that deserve a mention are:
Striped Balmain suit: A distinctive look for her Marie Claire appearance, which was both bold and stylish.
Purple pantsuit: Worn during her conversation with Tracee Ellis Ross, this ensemble exuded professionalism and grace.
Denim suit: A more casual look seen at an event with Oprah, reflecting her ability to stay stylish in every situation.
Tadashi Shoji dress: The delicate floral patterns on this dress showcased her elegance and love for intricate designs.
Michael Kors dress: This timeless piece was a combination of simplicity and sophistication, making it a classic choice for the former First Lady.
In conclusion, Michelle Obama's wardrobe offers an inspiring range of floral designs, creating a unique and unforgettable fashion statement.
Business Glitter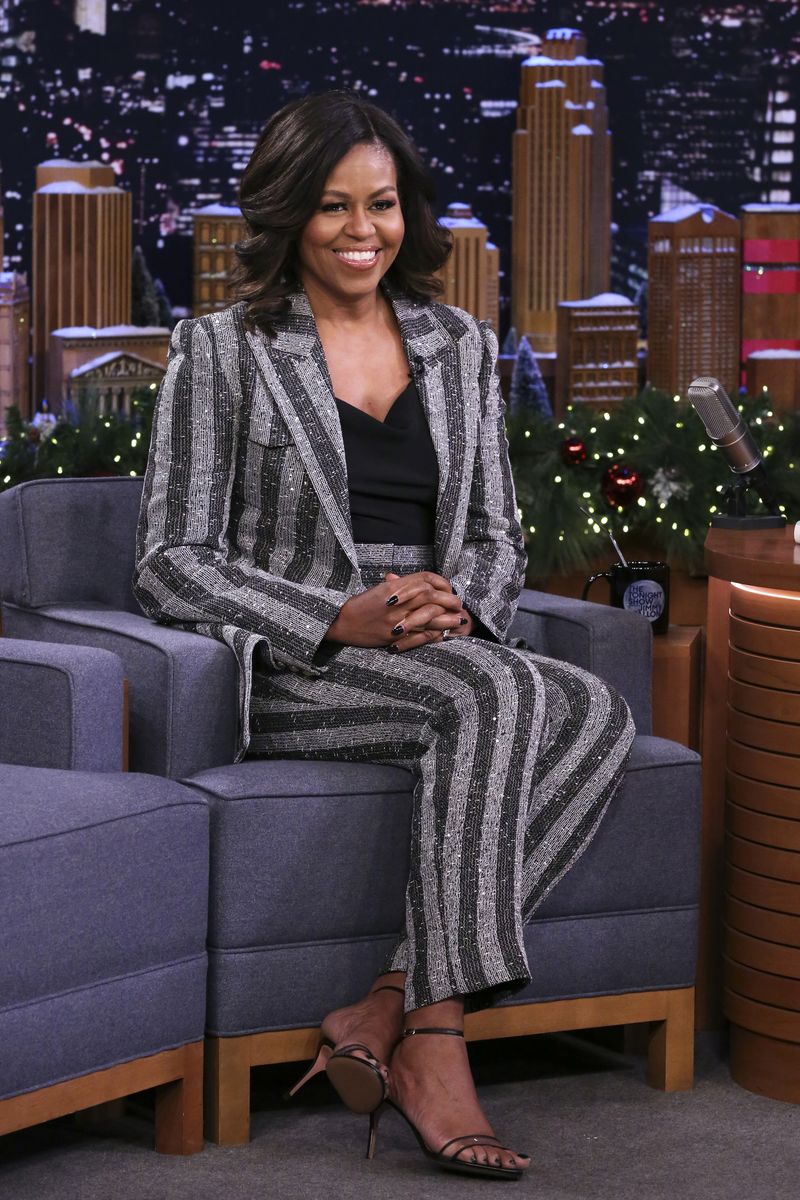 In the world of fashion, Michelle Obama has always made a statement with her outfits. One unforgettable moment during her time as First Lady was at the inaugural ball, where she elegantly embraced the spotlight.
We recall her presence at the Democratic National Convention, where she addressed the attendees with poise and grace, while looking effortlessly stylish. Michelle Obama has consistently showcased her keen eye for fashion and the art of making bold choices.
A prime example of this is her daring choice of Balenciaga boots. The studded, thigh-high boots perfectly complemented her attire, adding a touch of glamour and edge to her overall look, making it an iconic fashion moment. These eye-catching boots not only turned heads but also set the standard for powerful, fashion-forward women in the public eye.
In summary, the Michelle Obama outfits we highlighted demonstrated how she skillfully combined confidence, knowledge, and a clear sense of style to make a lasting impression.
Ready For Party
We must admit, Michelle Obama has always managed to make a statement with her impeccable fashion sense. Let's talk about the time she appeared at a party with Sarah Jessica Parker, Jimmy Kimmel, and Vice President Kamala Harris. The event took place at United Center and her outfit surely turned heads.
On that special evening, Michelle donned an elegant gown in a shade of midnight blue. She paired it with dazzling accessories, showcasing her keen eye for detail. A key aspect of her ensemble was the bold, statement necklace – a piece she's often seen wearing on "The Late Show with Stephen Colbert" and other talk shows. The result? A party look that exuded confidence, grace, and sophistication – true to Michelle Obama's style!
Made For Her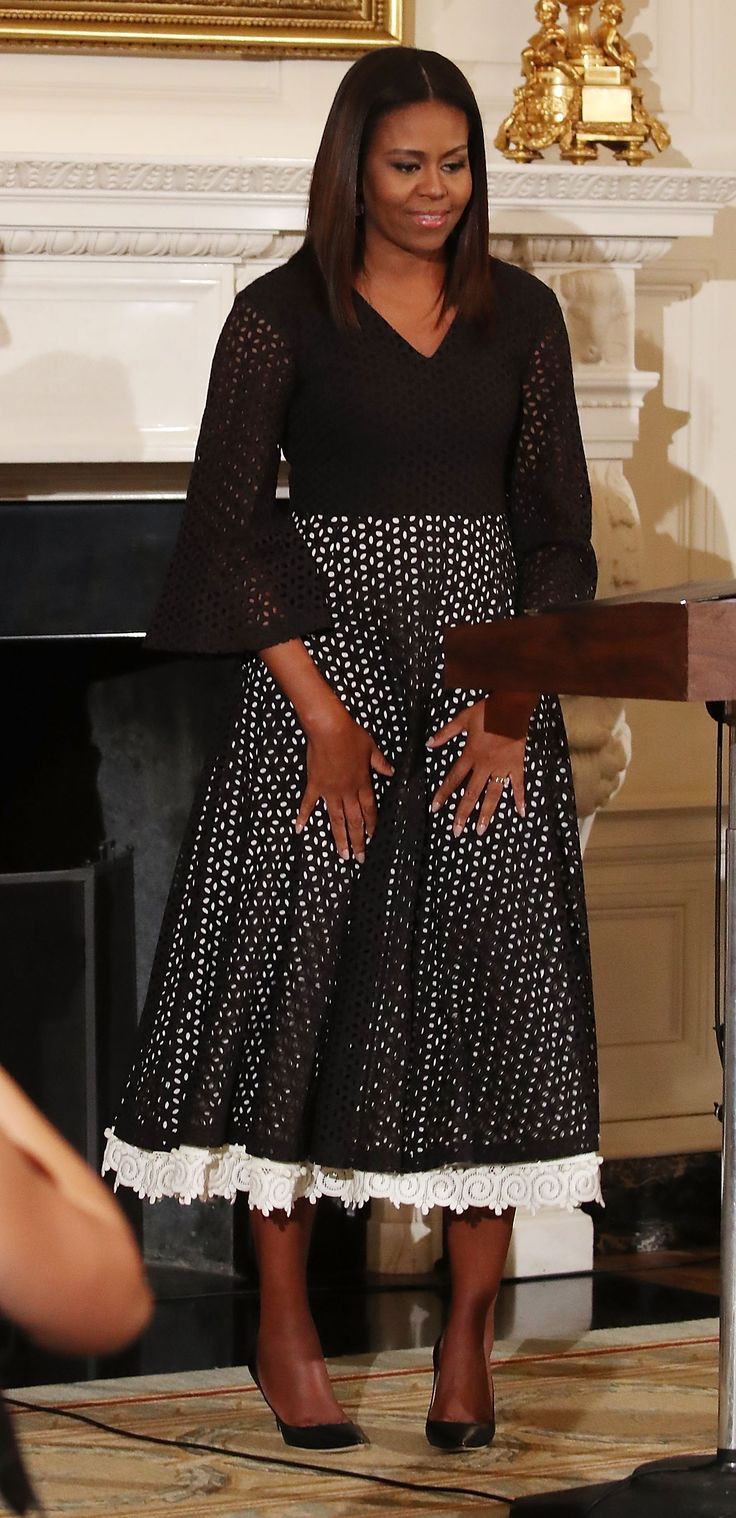 When it comes to Michelle Obama's style during her time as the First Lady and beyond, we can see a clear emphasis on promoting education and girls' empowerment. Throughout various events, such as the Essence Festival, and her Becoming book tour, Michelle has donned outfits that embody her values and celebrate her role as a strong, educated woman.
During her book tour, Michelle often chose outfits that reflected her personality, combining elegance with a casual touch, making her more relatable to the audience. The Becoming book tour aimed to connect with readers and share her experiences, including the importance of education in her life. Her style choices elegantly conveyed this message, inspiring countless young girls to pursue their dreams.
Not only did her outfits enhance the message, but they also brought attention to important causes, such as girls' education. For instance, when she attended the Essence Festival, her stunning outfit was crafted with a purpose in mind, symbolizing the power of female education and the need to uplift young girls. This attention to detail showcases her passion for both fashion and activism, positioning her as a role model for girls and women alike.
In conclusion, through her wardrobe choices in events surrounding education and girls' empowerment, Michelle Obama has become synonymous with the term "made for her." Her effortlessly graceful style partnered with her dedication to important causes have made her an icon both in the fashion world and beyond.
Classic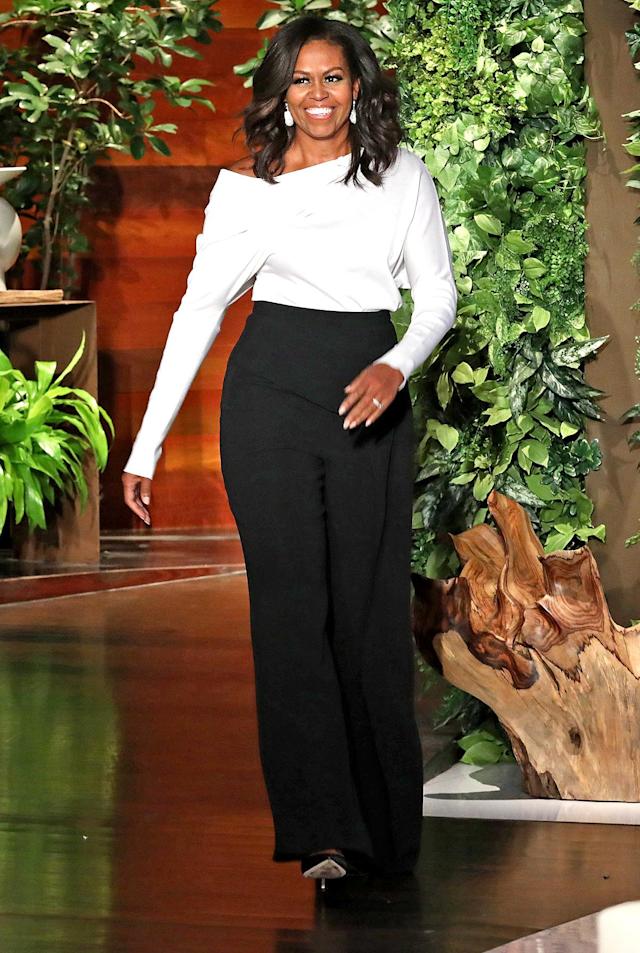 As we explore Michelle Obama's iconic outfits, we can't overlook the classic styles she has donned over the years. Some of our favorites include:
Fairytale Dress: Michelle Obama captivated the world in an off-shoulders sheath dress with a delicate floral design, perfect for a dreamy state dinner.
Business Look: Taking detail-oriented to a new level, Michelle has shown us that a girl in a cardigan can both be professional and stylish in her choice of sharp blazers and well-tailored pants.
Lady in Red: Michelle made quite a statement in a stunning magenta silk dress, exuding confidence and elegance.
Chic Black and White: With a nod to the classic and evergreen style, she gracefully pulled off a black and white ensemble that reinforced her status as a fashion icon.
In every setting, from glamorous galas to daily routines, Michelle Obama showcases her keen eye for fashion, beautifully blending classic designs with a modern twist. We love how she's always ready for a party, with outfits effortlessly made for her, from shimmering business glitter to head-turning red carpet gowns.
Fairytale Dress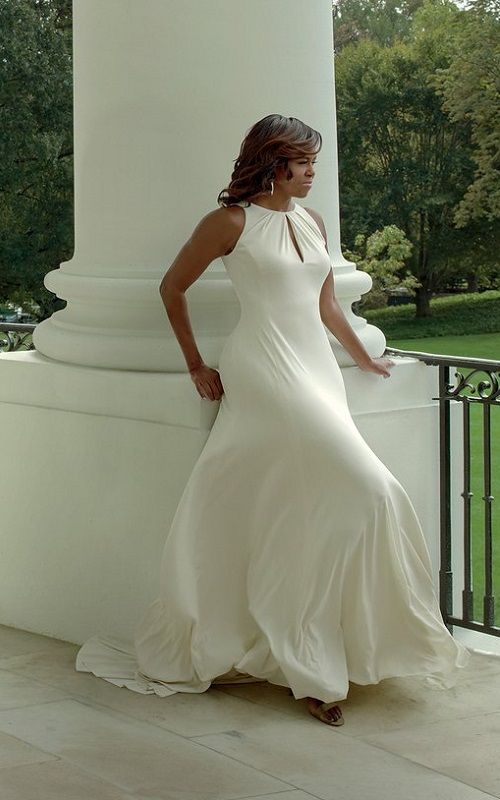 In Michelle Obama's stunning outfit collection, we can't ignore the enchanting "Fairytale Dress" which features an elegant and more floral design. This dress perfectly showcases her refined sense of style and love for vibrant colors. Let us dive into some of the remarkable aspects of this iconic dress:
Fabric: The Fairytale Dress is crafted from lightweight, flowy materials that give it a dreamy, ethereal appearance. It often incorporates airy chiffons and delicate lace to create a whimsical, romantic look.
Colors: Michelle Obama's Fairytale Dress exhibits a tasteful and refreshing mix of colors, with an emphasis on more floral shades. Blooming hues like soft pinks, bold blues, and sunny yellows characterize this stunning piece.
Details: The dress boasts intricate embroidery, beading, and appliqué work, showcasing masterful craftsmanship and attention to detail. These exquisite embellishments contribute to the overall allure of the Fairytale Dress.
Pairings: We often observe Michelle complementing her Fairytale Dress with understated yet sophisticated accessories, such as classic pearl earrings or a delicate bracelet. Her choice to let the dress take center stage speaks to her innate fashion sense.
Overall, the captivating Fairytale Dress has become a symbol of Michelle Obama's elegant and gracious sense of style. By incorporating delightful floral elements and enchanting details, this dress stands out as an unforgettable part of her fashion legacy.
Magenta Silk Dress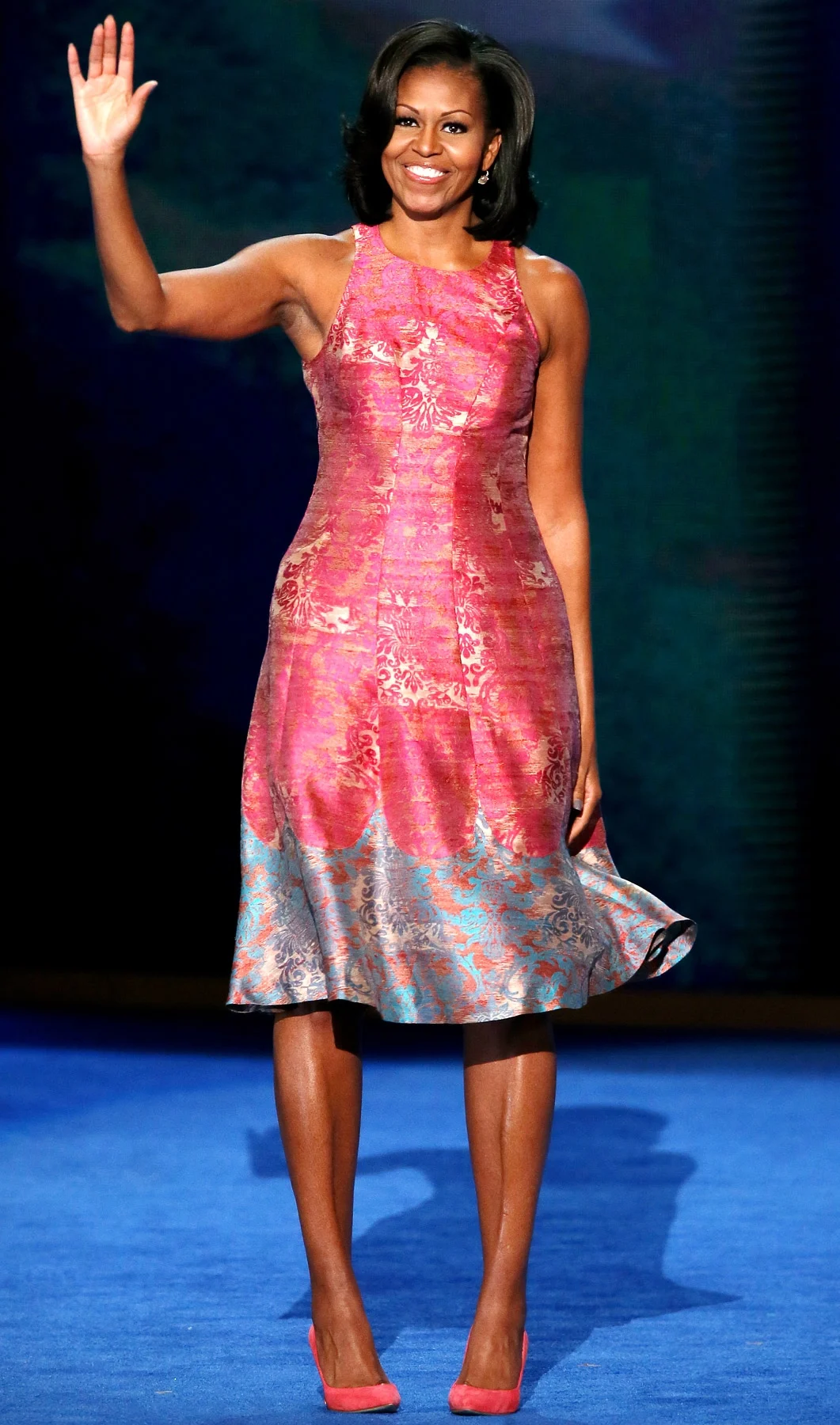 When Michelle Obama appeared wearing this vivid violet-magenta silk dress, we couldn't help but admire her exquisite taste in fashion. The rich color and elegant design truly showcased her unique sense of style. As usual, she made a strong statement with her outfit choice, leaving a lasting impression on us all.
We can't forget the subtle yet intricate details that enhanced the look of this dress, making it truly a gem in her wardrobe:
The bold color choice of vivid violet, which is both eye-catching and stylish, really accentuated her confidence and poise.
The luxurious silk fabric provided not only a smooth and vibrant look but also added an extra layer of sophistication.
The flattering silhouette of the dress perfectly complemented her figure, creating a beautiful and harmonious balance.
Michelle Obama's magenta silk dress is just one example of how her outfits always manage to be memorable and breathtaking.
Girl In A Cardigan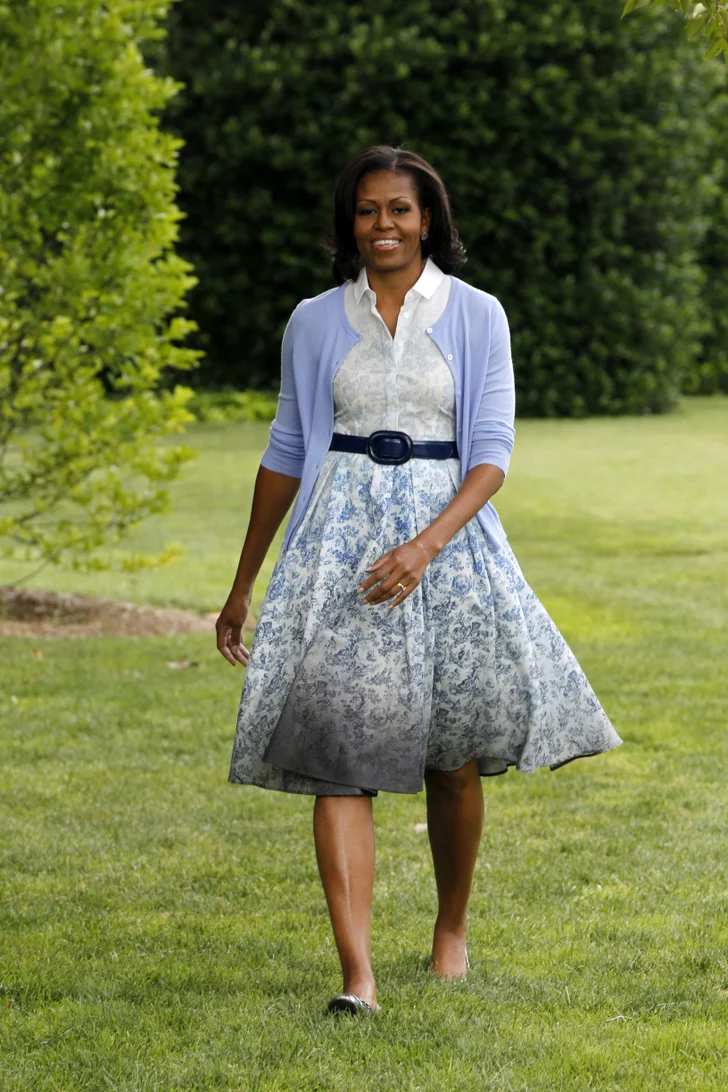 When it comes to Michelle Obama's outfits, we can't forget the instance when she embraced an effortlessly chic style by wearing a simple cardigan. In this look, she displayed a perfect balance of elegance and comfort, which many of us appreciate in our everyday lives.
The outfit we're talking about consists of a soft, neutral-toned cardigan that drapes elegantly over her shoulders, showcasing a classic piece from her wardrobe. She paired it with a complementary dress inspired by the beauty of Mother Nature, elevating the simplicity of the cardigan and creating a sophisticated ensemble.
As we can see from Michelle Obama's choice of outfits over the years, she has a unique ability to make an impact on fashion trends. The "Girl In A Cardigan" look not only exemplifies her ability to be stylish and graceful, but it also highlights how she values comfort and simplicity as essential aspects of her personal style.
Lady In Red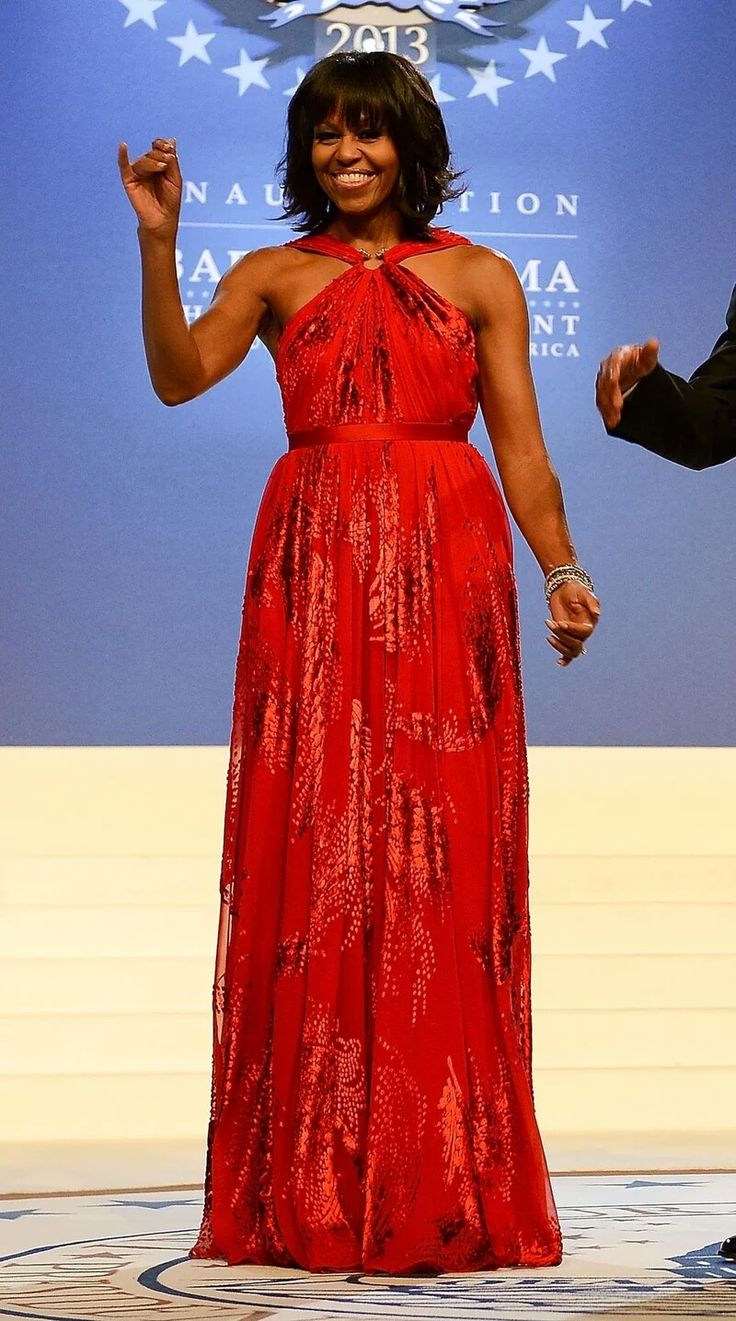 One of the most memorable Michelle Obama outfits is her stunning red gown at the 2013 Inaugural Ball. This dress showcased her impeccable style and solidified her status as a fashion icon. Let's take a closer look at the elements that made this look an unforgettable one:
Designer: The mesmerizing red gown was designed by the talented Jason Wu, who also created her 2009 Inaugural Ball dress. Wu, known for his elegant and feminine designs, has become a go-to choice for many high-profile women.
Details:
The gown featured a halter neckline accentuating her toned arms and shoulders.
It was crafted from luxurious silk chiffon, giving it an elegant and flowy appearance.
The gown also had a custom diamond ring-shaped embellishment at the waist, adding a touch of sparkle.
Shoes:
Michelle Obama chose to pair her gown with red suede Jimmy Choo pumps, perfectly complementing the color and style of her ensemble.
Accessories:
Simple yet elegant jewelry was the perfect choice to accompany her spectacular gown. She wore a diamond-studded bangle and small diamond earrings to add some sparkle without overpowering the dress.
This iconic Lady In Red look epitomizes Michelle Obama's impeccable style and continues to inspire fashion lovers worldwide. We can't wait to see what other fabulous outfits she will wear in the future.
Chick Black And White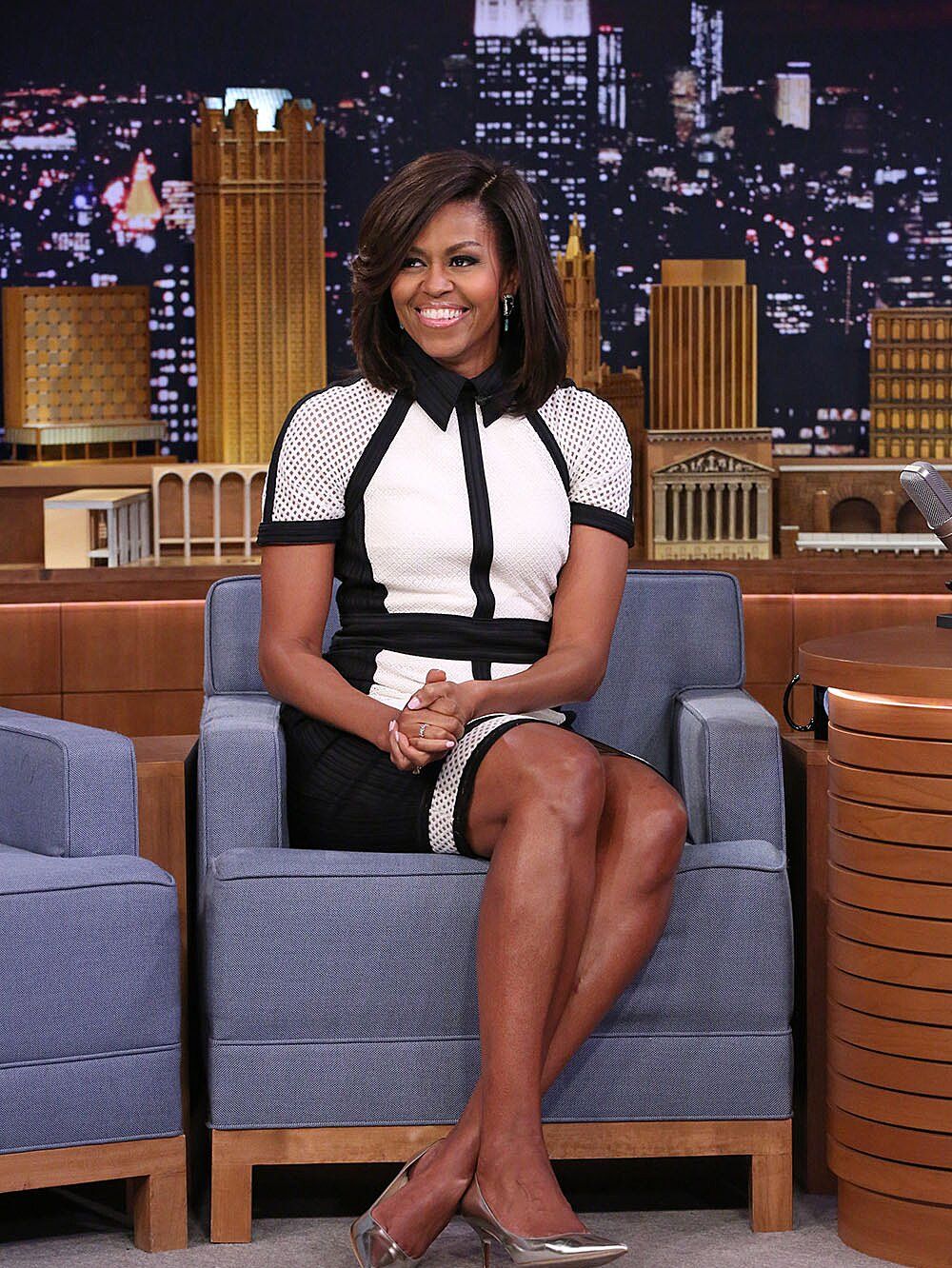 We present a stunning example of Michelle Obama's fashion sense with her choice of black and white outfits. During her time as First Lady, she elegantly combined the colors black and white in various ensembles, proving her ability to create timeless looks.
Classic monochrome dress: Michelle Obama wore a beautiful black-and-white dress at a State Dinner in 2011. The crisp white top and black bottom with the waist-cinching belt created a chic and sophisticated silhouette.
Statement coat: Staying warm and stylish, Michelle was seen in a black-and-white houndstooth coat during the 2013 Inauguration. Its bold pattern was well-balanced with a subtle black belt and matching gloves.
Striking gown: At the 2014 White House Correspondents' Dinner, Michelle chose a stunning black-and-white gown with delicate floral patterns. The one-shoulder design and classy details showcased her confidence and grace.
Bold color blocking: Michelle displayed her fashion-forward approach with a black-and-white color-blocked dress during a 2015 event. The clean lines and contrasting panels made a strong but elegant statement.
These examples demonstrate Michelle Obama's impeccable taste in fashion, and how she skillfully uses black and white to create iconic looks.
More Floral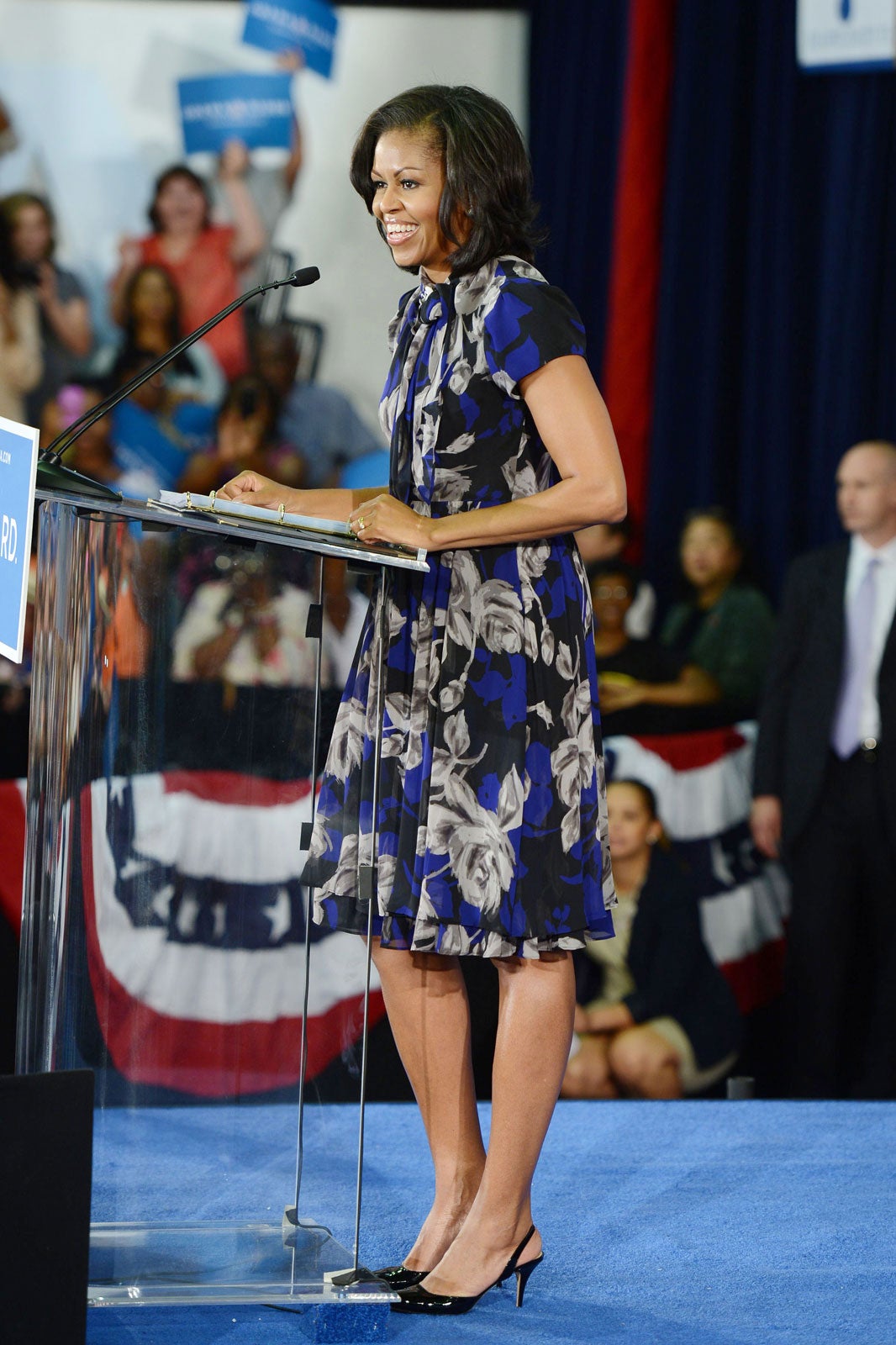 In Michelle Obama's wardrobe, we can often spot a preference for floral patterns. These patterns add a touch of freshness and elegance to her outfits. Let's explore some iconic floral outfits worn by the former First Lady:
At the 2016 White House Correspondents' Dinner, Michelle wore a stunning Givenchy gown with a gold sequin floral design. This dress showcases her ability to pair bold patterns with a touch of glamour.
During a visit to Cuba in 2016, she chose a beautiful Naeem Khan dress with a bright floral print and flared silhouette. The outfit perfectly complemented the vibrant atmosphere of Havana.
For a state dinner with Canadian Prime Minister Justin Trudeau, Michelle opted for a strapless Jason Wu gown featuring a delicate blue floral pattern against a dark background. The dress elegantly combined sophistication with a touch of whimsy.
On her visit to Japan in 2015, Michelle donned a vibrant Altuzarra floral skirt suit. The bold print reflected the energy of the city, while still maintaining a polished and professional appearance.
These are just a few examples of the many instances where Michelle Obama embraced floral patterns in her wardrobe. By doing so, she has consistently showcased her natural grace, style, and appreciation for the beauty to be found in the natural world.
Vivid Violet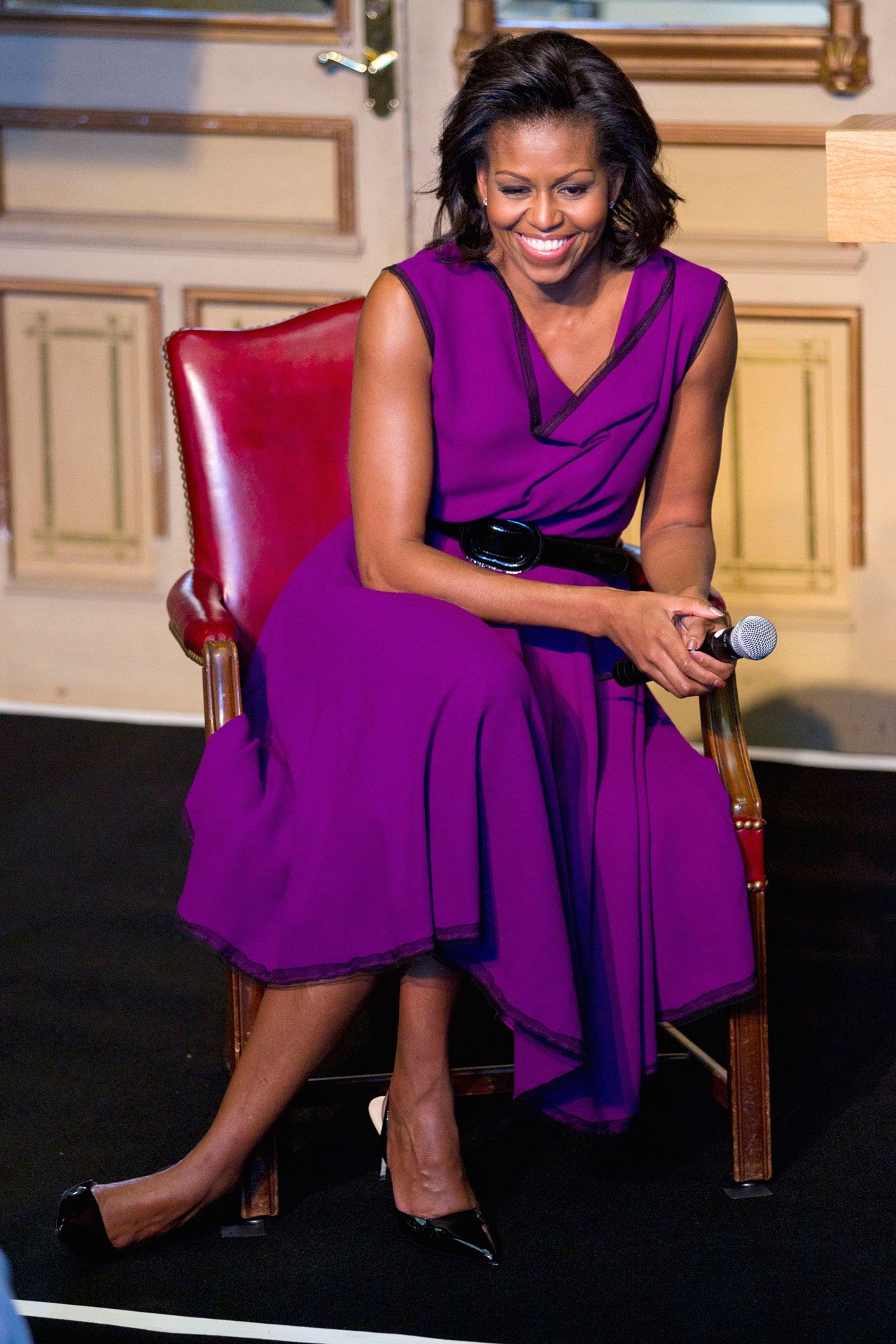 We can't forget the stunning outfit Michelle Obama wore at a past event, showcasing a gorgeous vivid violet dress. The silhouette was both flattering and comfortable, and the bright color caught everyone's attention. Here are a few key aspects of this remarkable outfit:
Dress: The vivid violet dress featured a tasteful knee-length cut, making it suitable for various occasions. The dress gracefully draped over the former First Lady's figure.
Accessories: Michelle Obama opted for a minimalistic approach, tastefully accessorizing the look with a pair of pointed-toe pumps in a complementary shade of violet. A simple yet elegant necklace completed the ensemble.
Hairstyle: To emphasize the dress's unique neckline, she kept her hair up, with soft curls framing her face. The hairstyle accentuated her expressive features and allowed the overall look to shine.
Overall Impact: This vivid violet outfit showcased Michelle Obama's keen fashion sense and her ability to combine both style and elegance.
It's always inspiring to see how Michelle Obama continues to captivate, making bold choices and exuding confidence in her outfits.
Mother Nature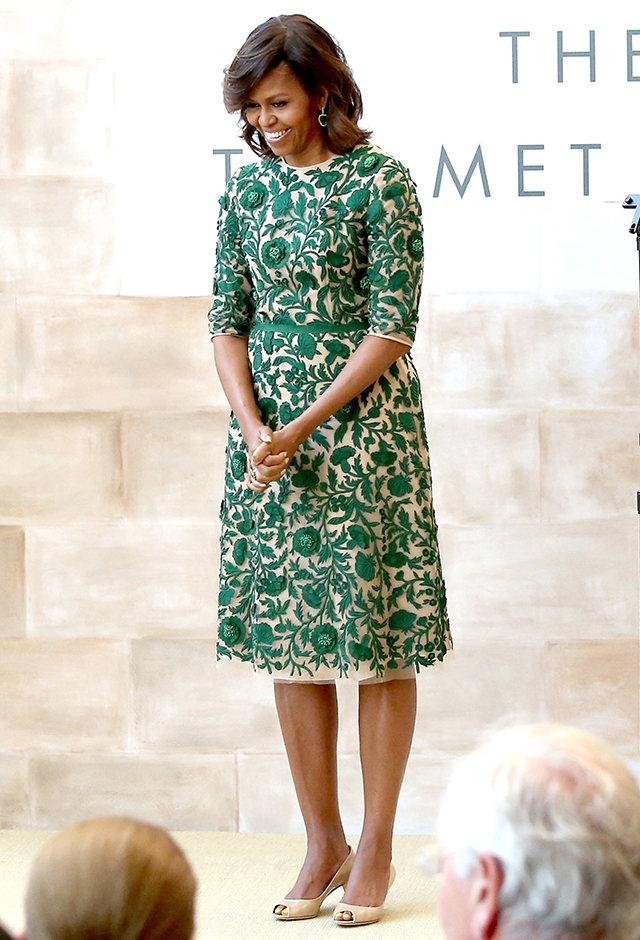 As admirers of Michelle Obama's fashion choices, we can't help but notice her stunning outfits inspired by Mother Nature. Over the years, we've seen her grace various events with her eco-conscious apparel, proving that style and sustainability can beautifully coexist. Here are a few examples of her nature-inspired fashion statements:
Floral print dresses: We frequently spotted Michelle Obama wearing vibrant floral print dresses, embodying the spirit of Mother Nature. These prints are not only eye-catching but also evoke a feeling of freshness and vitality.
Organic fabrics: Michelle Obama has been known to wear outfits made from organic fabrics like eco-friendly cotton, hemp, or bamboo. Choosing garments from sustainable sources directly contributes to the well-being of our environment.
Recycled materials: We have seen her support designers who upcycle or incorporate recycled materials into their creations. This practice helps reduce waste and promote a circular fashion economy.
In summary, Michelle Obama's fashion choices reflect her love for Mother Nature and support the need for sustainable practices. By doing so, she sets an excellent example for others to follow in making eco-friendly choices in their wardrobe.
Impeccable Goddess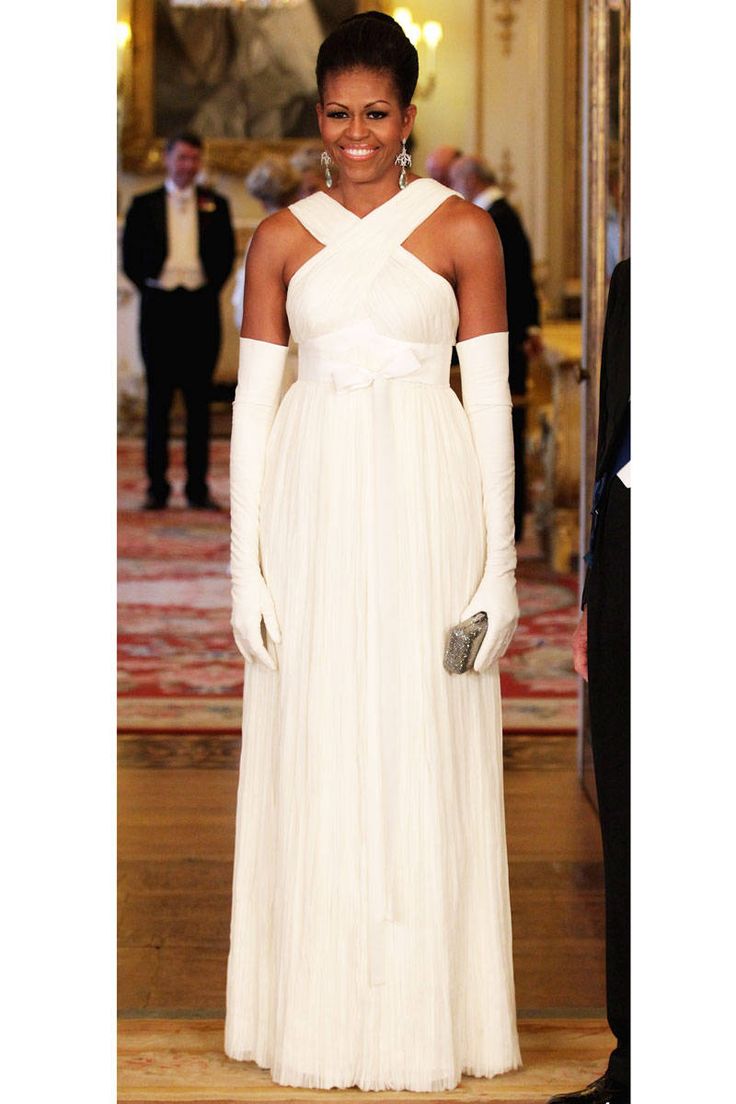 We have always admired Michelle Obama's exceptional fashion sense, which reflects both confidence and sophistication. Here, we shed light on some of her iconic outfit choices that have left an indelible mark in the fashion world.
Inauguration Day 2009: In a stunning, yellow-gold sheath dress designed by Isabel Toledo, Michelle showcased her eye for tasteful, elegant fashion. The matching coat perfectly accentuated the outfit, making a strong first impression as the First Lady.
Inauguration Day 2013: Donning a beautifully structured Thom Browne coat with distinct checks, Michelle was a true vision on her husband's second inauguration day. She completed the look with a bejeweled J.Crew belt that added a touch of sparkle.
State Dinner 2016: At the White House state dinner honoring Canadian Prime Minister Justin Trudeau, Michelle dazzled in a strapless Jason Wu gown adorned with floral appliqué. The dress's striking colors symbolized her bold and empowering style.
Democratic National Convention 2016: Michelle opted for a Christian Siriano cobalt blue dress, exemplifying both simplicity and grace. The capped sleeves combined with the perfectly tailored silhouette exuded power and remained timeless.
We will continue to be inspired by Michelle Obama's remarkable fashion choices, as they undoubtedly have made a significant impact on the world of style.