It is probably safe to say that Michelle Obama is one of the most popular US First Ladies of modern time. Born on January 17th, 1964 in Chicago, Illinois, after finishing law school she became an associate at the Chicago office of the law firm Sidley & Austin. It was where she met Barack Obama, her future husband and the 44th president of the United States. They were married in 1992, and a few years later the couple became parents of two girls – Malia Ann, born in 1998, and Natasha, born in 2001.
Michelle was the First lady of the US from 2009 until 2017. She was never involved in major scandals, was warmly accepted, respected, and beloved by many, always representing the country in the best light. Her project as a First Lady, "Let's Move", a program to help children be more active and fight obesity, shows just how much she cares about the health of the future of the country. Her autobiography, "Becoming", was released in 2018 with 11.5 million copies sold by November 2019. In 2020 "Becoming" was also turned into a Netflix documentary and that same year Michelle released her very own podcast, "The Michelle Obama Podcast". As First Lady, she focused her energy on many social issues such as fighting poverty, making healthy living a priority, and speaking about the importance of education. Although she is still active, the former first lady now spends more time with her family.
Michelle Obama is not only intelligent, passionate, down-to-earth, and caring, but she definitely knows what it takes to look good as well. The first African-American First Lady is the epitome of elegance and good taste. She always chooses the best outfits and knows how to wear them in style. And is not only the clothes, Michelle's hair and make are flawless too. No matter where she goes or what she does this fine lady is an example of how a woman should look and behave in public.
Let's see some of her best looks throughout the years:
Business Look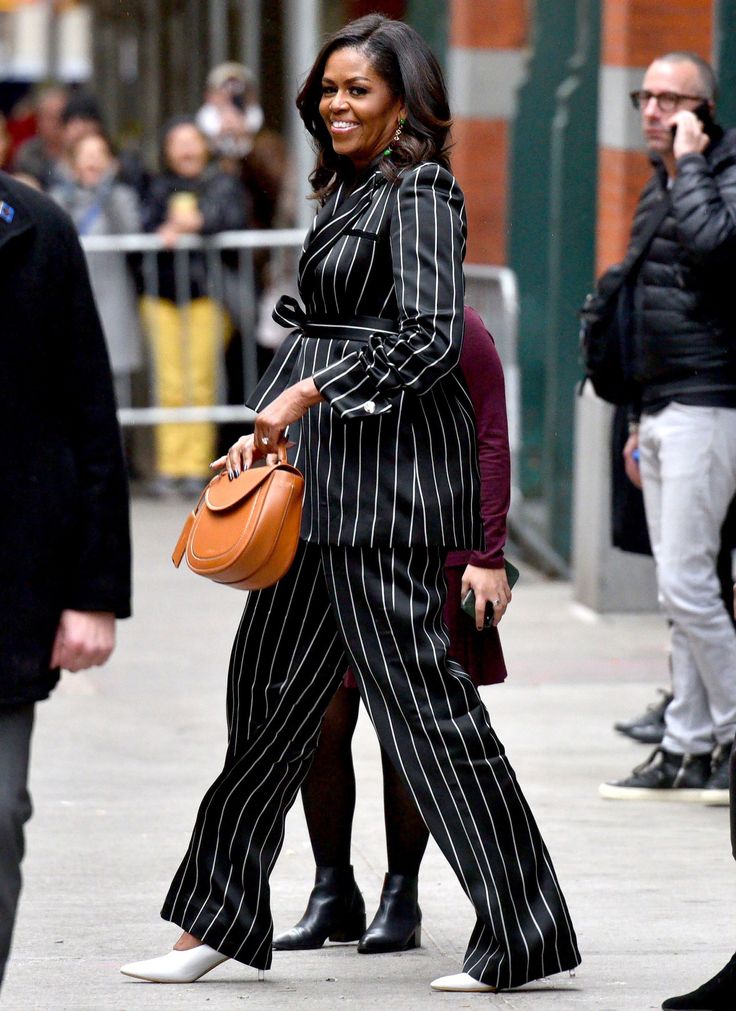 This is one fine example of a casual business look. Matching wide pants and jacket make Michelle look classy without trying too much. Her hairdo in this photo is also perfect.
Detail-Oriented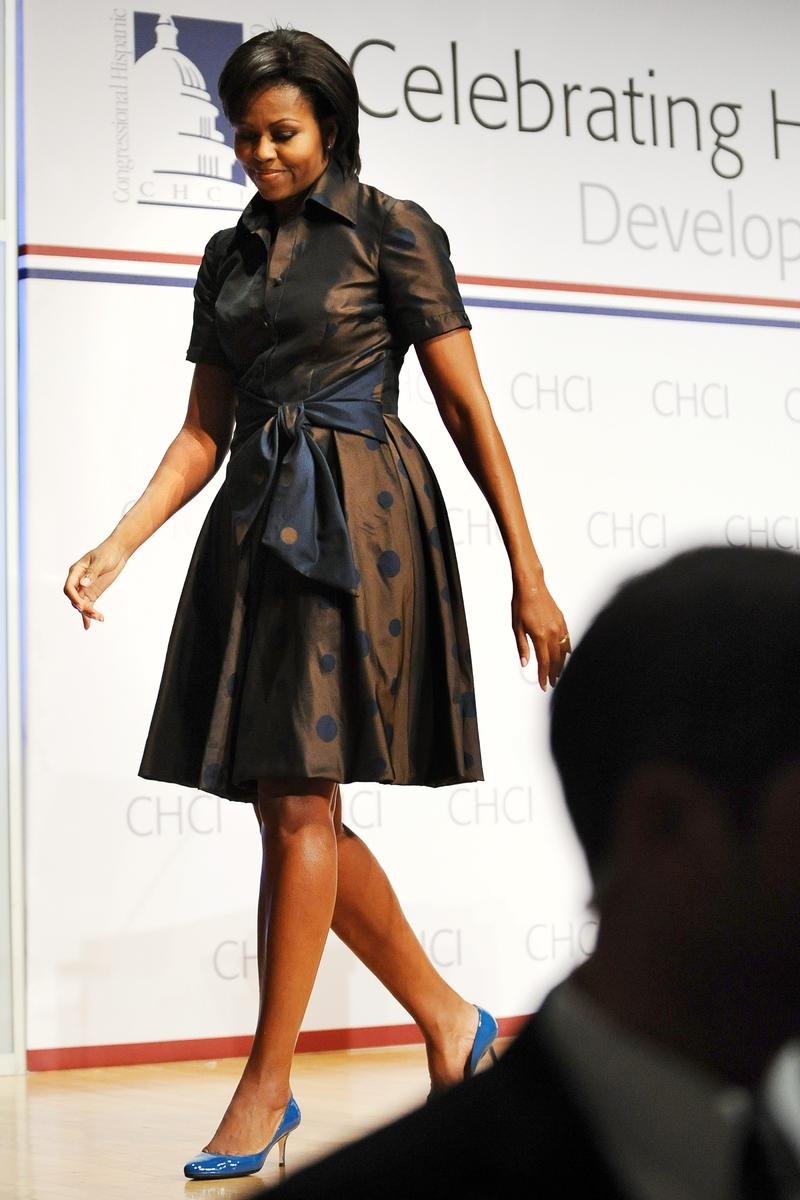 Michelle is quite often detail-oriented. You simply cannot miss the elegant bow on her waist. That particular detail makes this short dress unique. Not to forget the shiny blue heels which give even more elegance to the whole outfit.
Off-shoulders Sheath Dress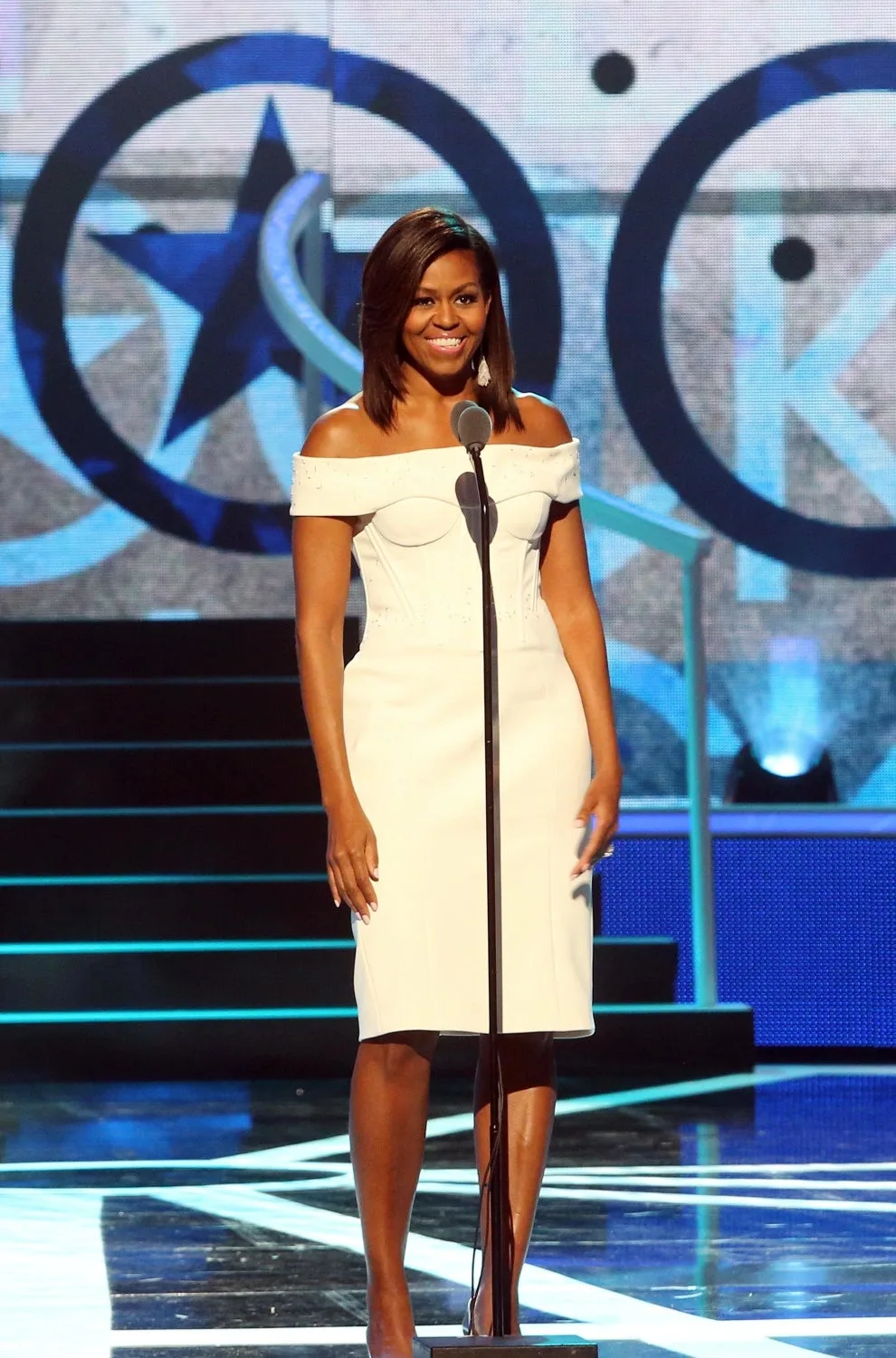 One more time Michelle shows the world what style looks like. True former first lady in white, off-shoulder, sheath dress makes a fashion statement.
Floral Design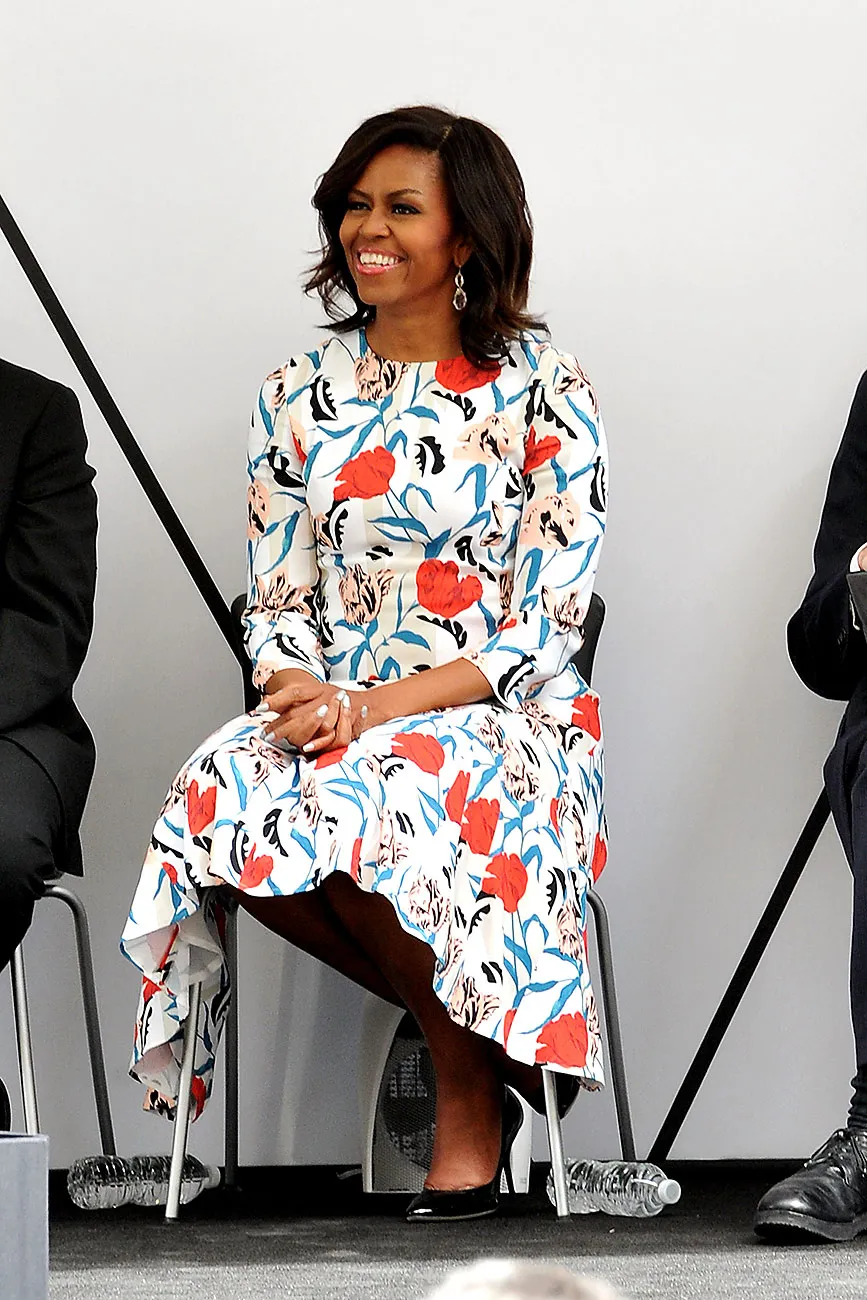 Mrs. Obama looks radiant in a knee-length, floral dress. She certainly feels comfy in this spring outfit. Just look at her smile and body language.
Business Glitter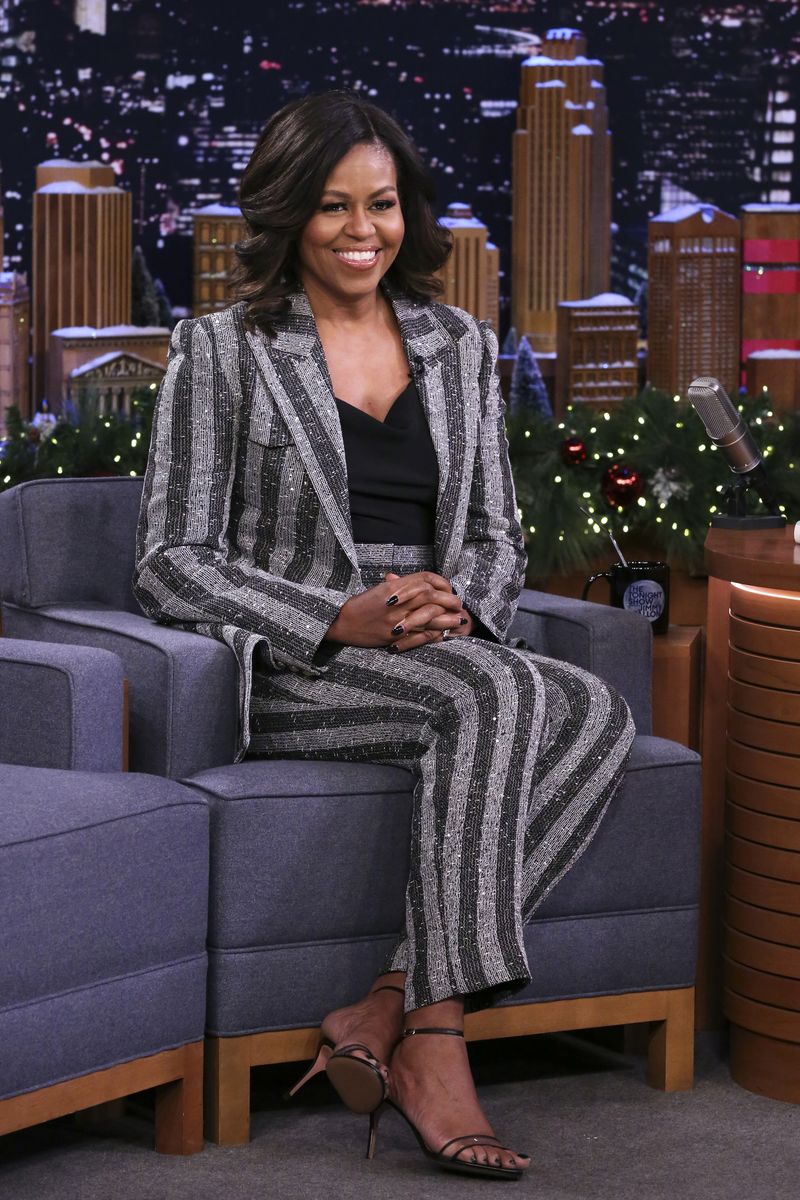 Sparkly clothes are not at all common in official business attire, yet Michelle manages to make the glittery power suit work. With this matching grey jacket and pants, Michelle has done the right job-being festive and classy at the same time.
Ready For Party
This emerald green dress looks like a jewel, and it's one of Michelle's best fashion choices. A very sophisticated piece of clothing combined with elegant silver shoes.
Made For Her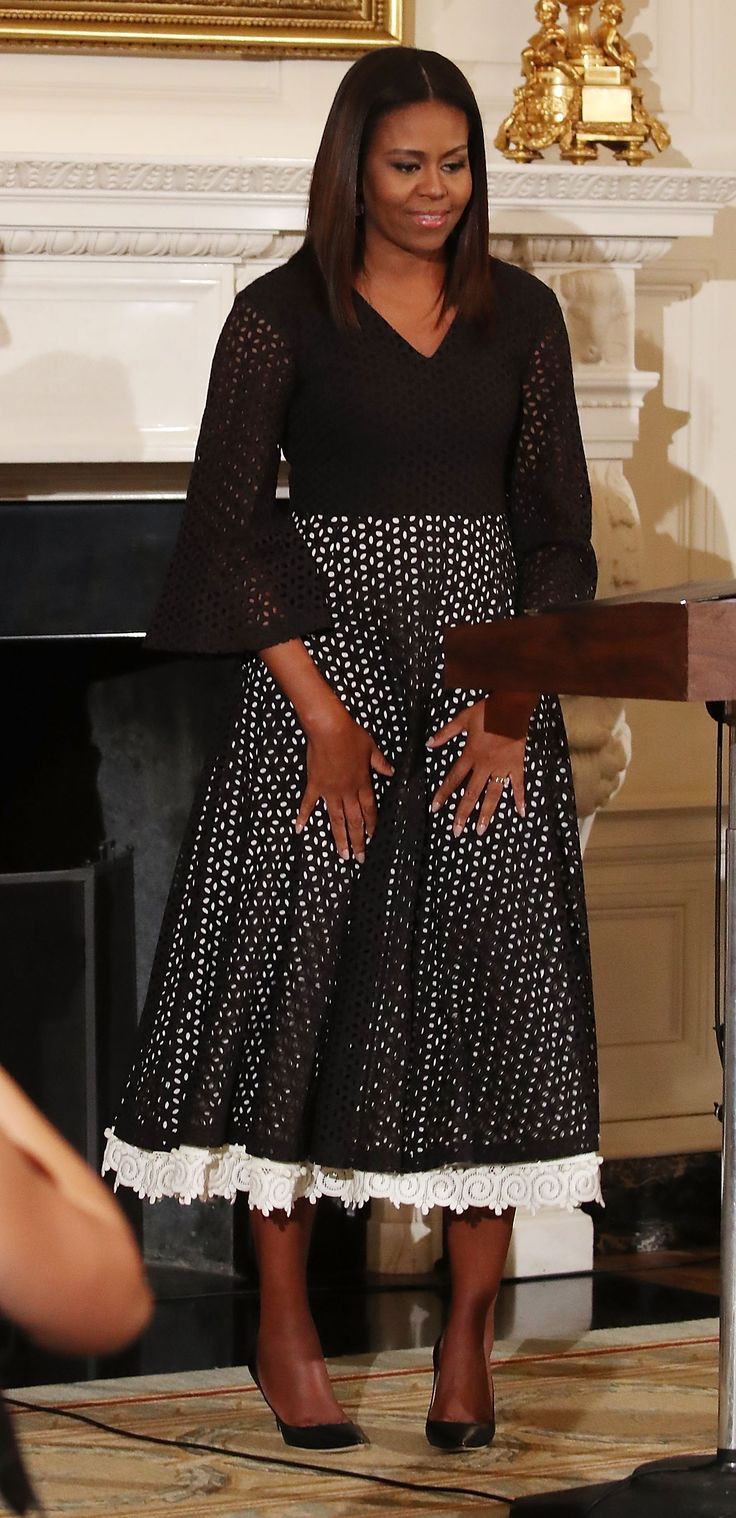 The next outfit is custom-made for Michelle Obama. This long-sleeved, lace dress emphasizes her beauty and outgoing character.
Classic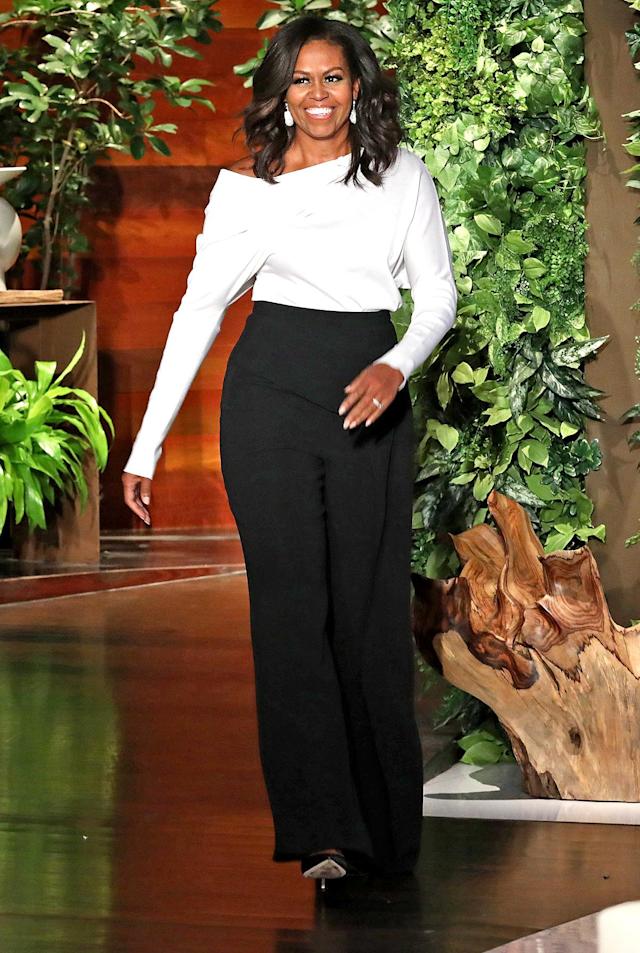 You can never go wrong with the black and white ensemble. With these wide-leg pants and slightly asymmetric blouse Michelle proves that she is one of the most fashionable first ladies ever.
Fairytale Dress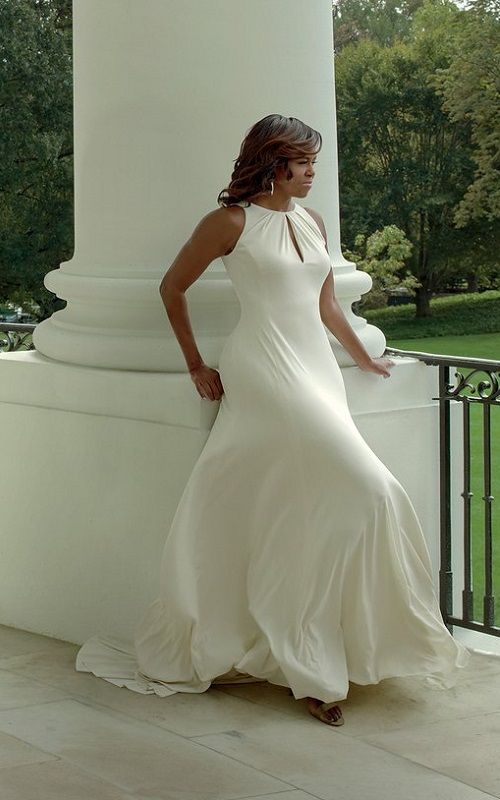 Just like a fairytale princess in a gorgeous white gown, she leaves us breathless in this photo. It is not only her dress, but the way she poses also makes Michelle a style icon.
Magenta Silk Dress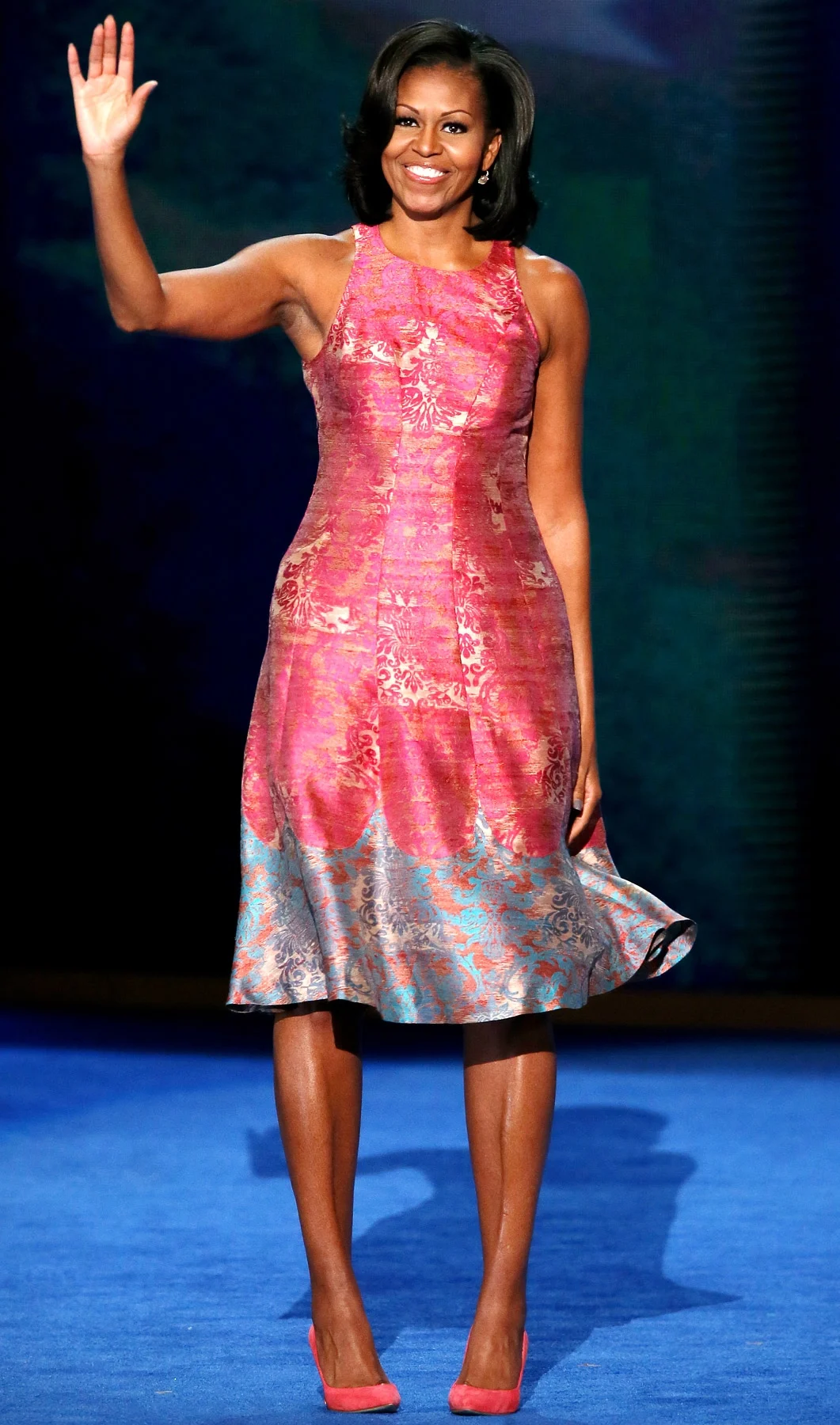 This magenta silk dress is nicely paired with magenta stilettos. Michelle wore this combination when her husband was re-elected for president in November 2012.
Girl In A Cardigan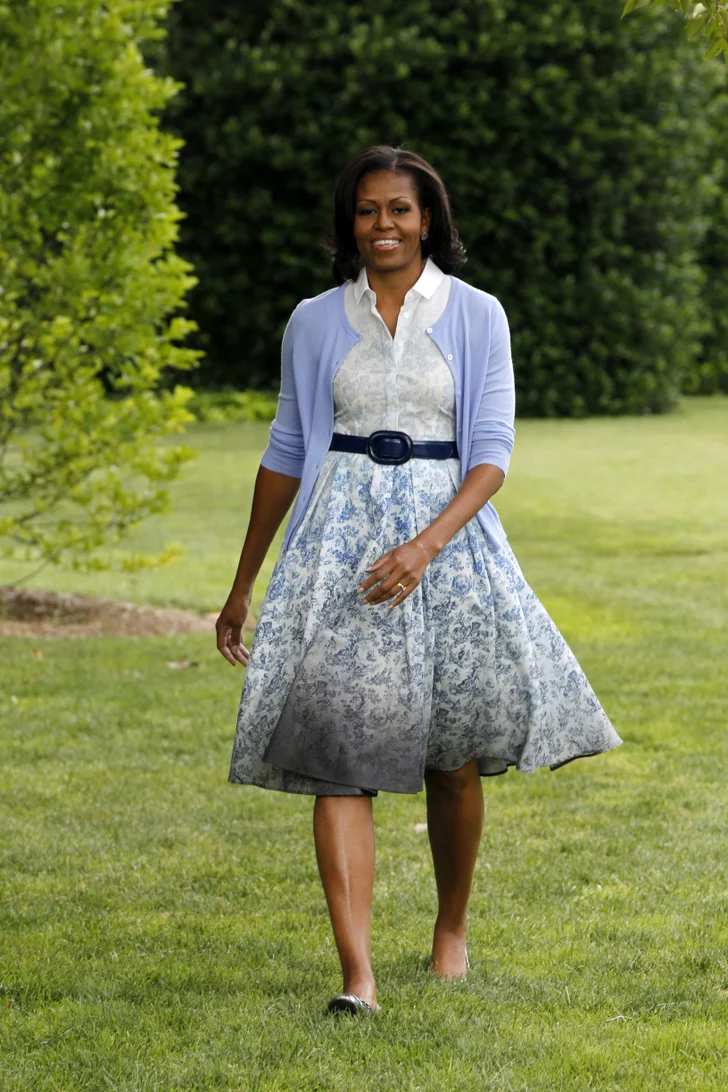 Little more casual outfit – a baby blue cardigan and knee-length, collar dress is Michelle's choice for a stroll in the park.
Lady In Red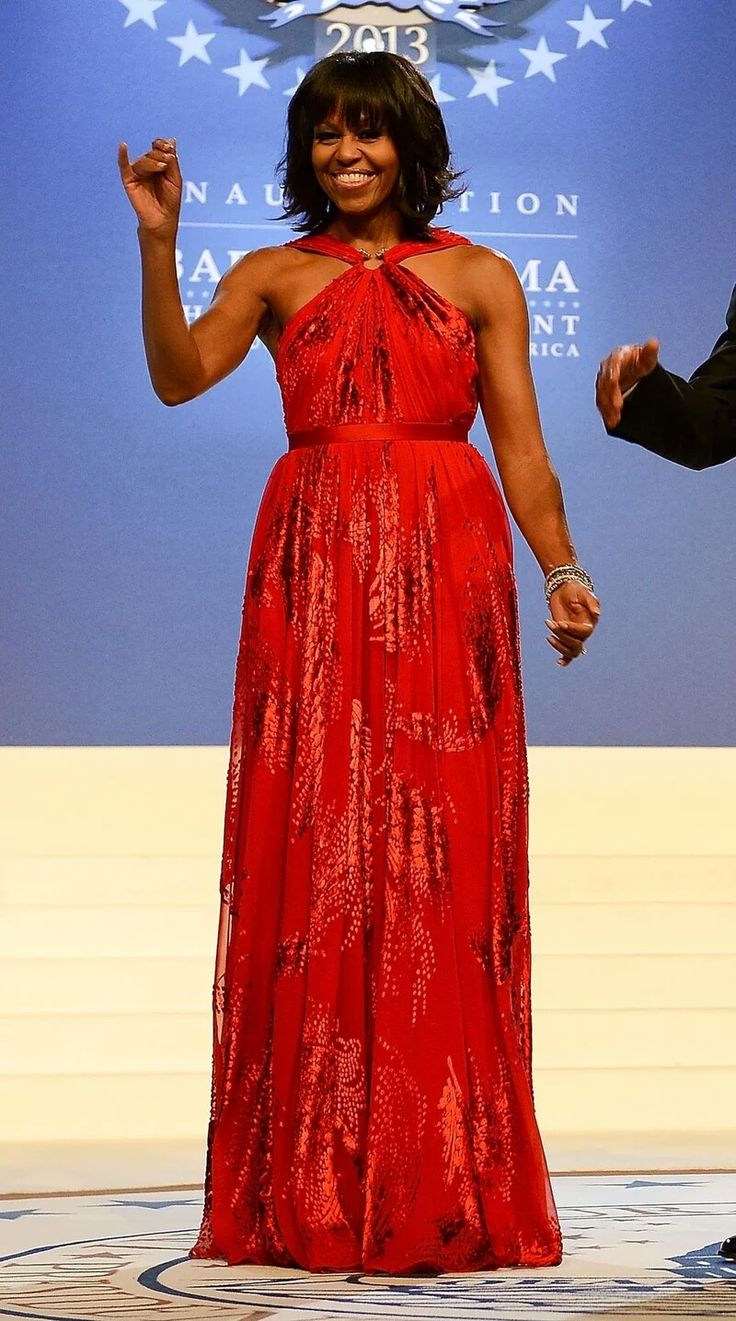 Mrs. Obama is a definition of elegance in this crimson red, floor-sweeping gown. She looks flawless and her smile confirms that.
Chick Black And White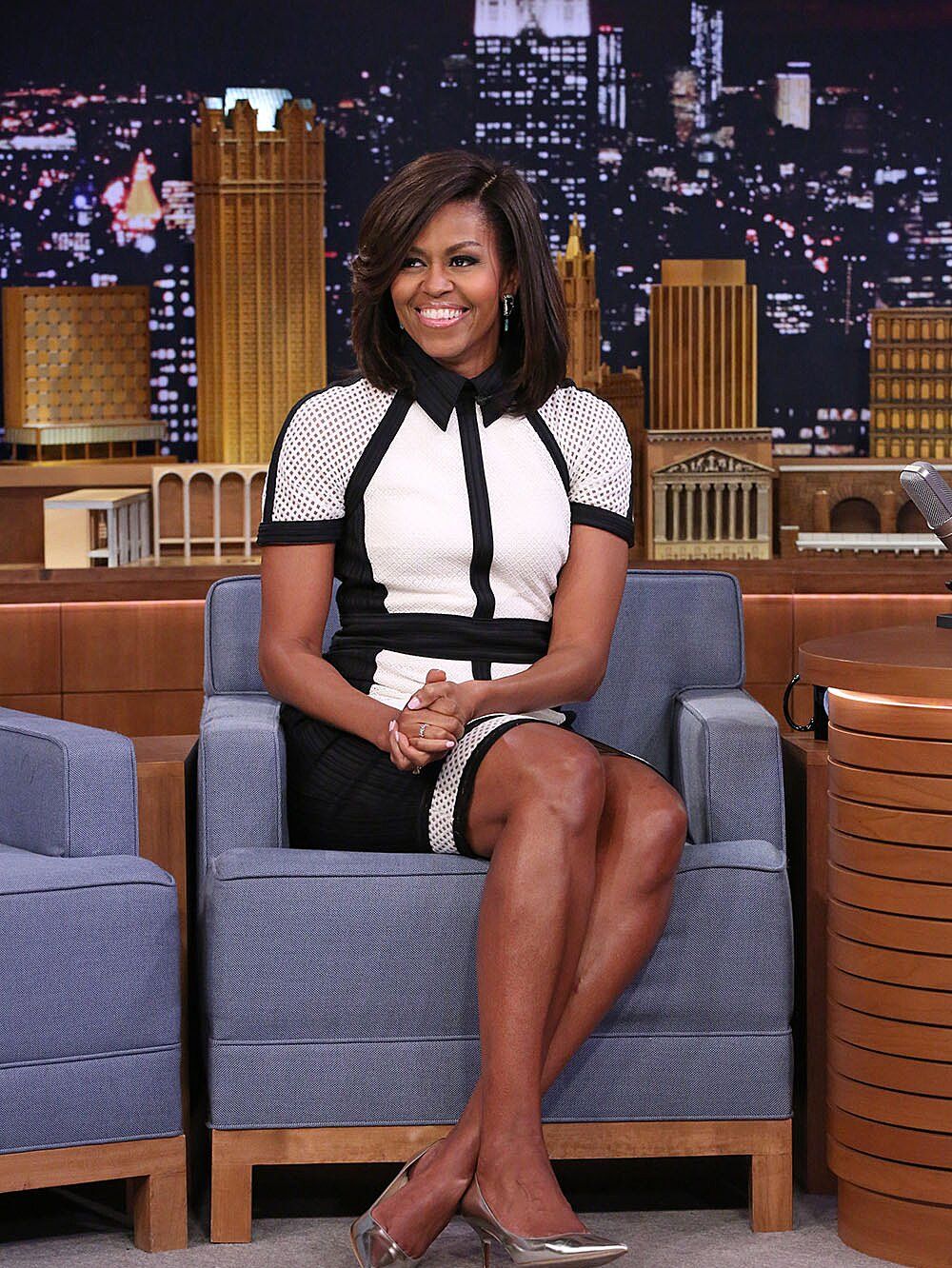 The combination that is always approved – is black and white. We see Michelle in a chick, black and white dress featuring a black collar and cutouts on the shoulders.
More Floral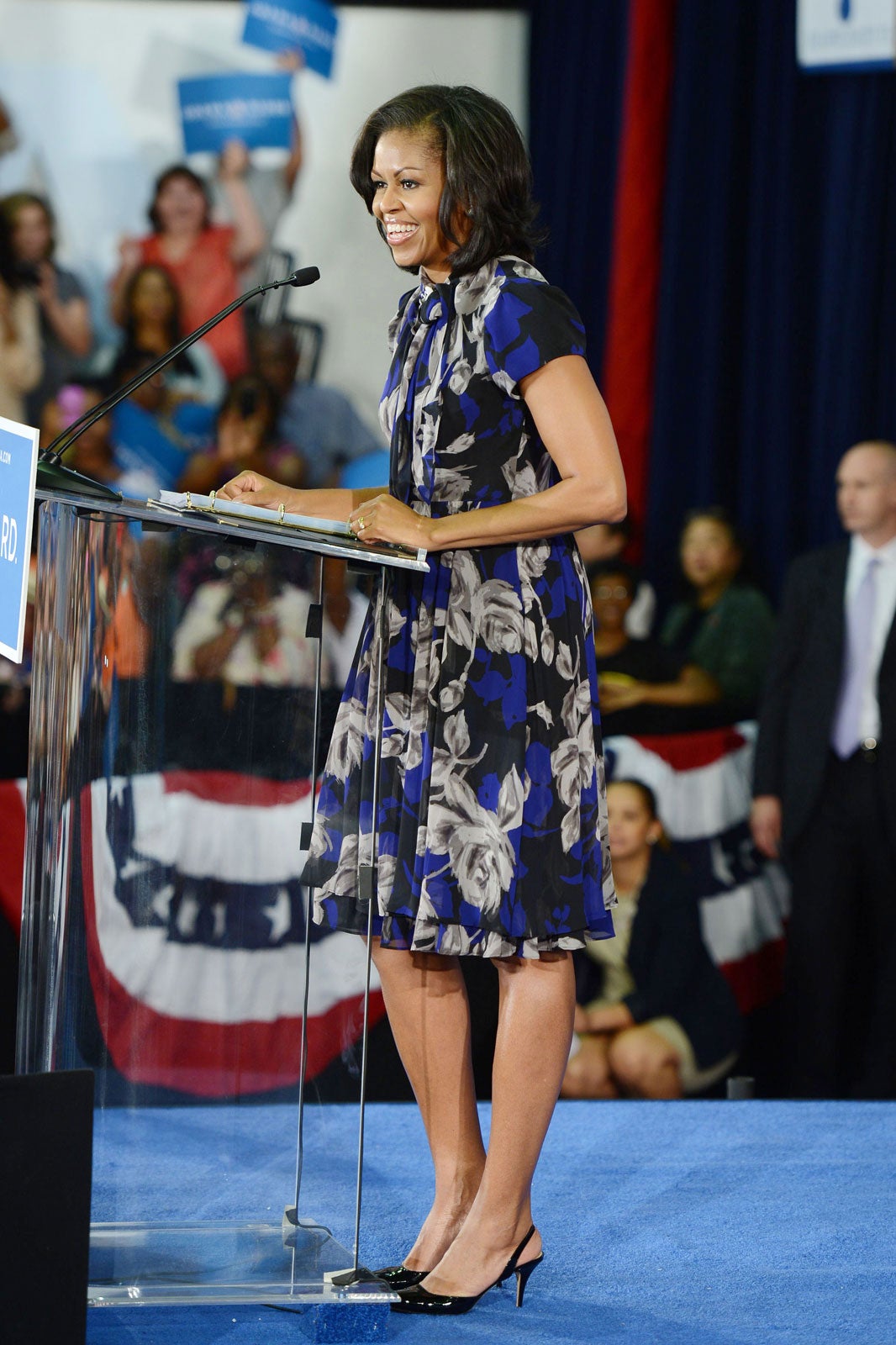 The former first lady now and then opts for floral designs, like this piece here, which makes her look more vibrant.
Vivid Violet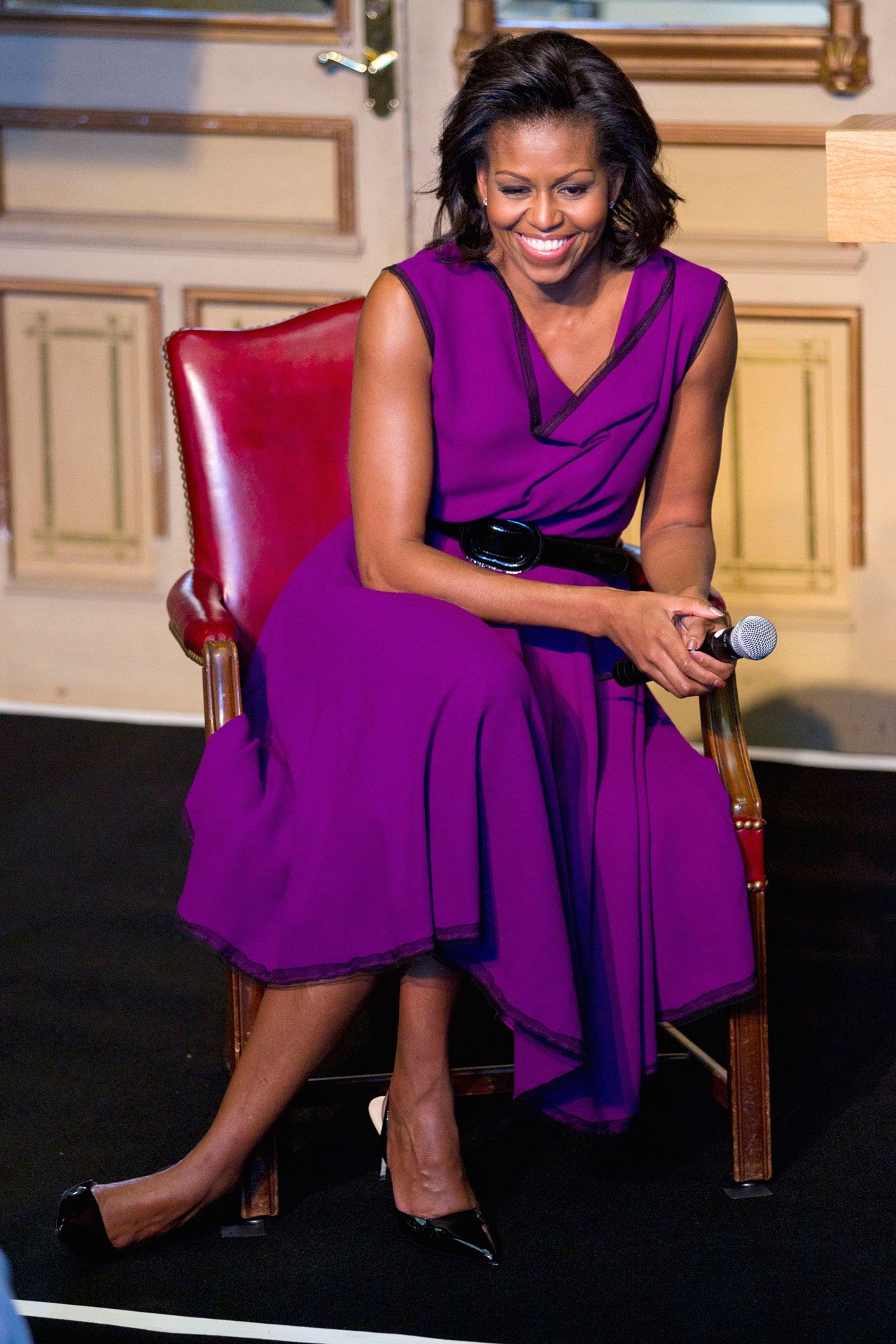 Choosing the right color for your clothes can be sometimes tricky. But, for this stylish lady that is never a problem. Just look how gorgeous she looks in this purple number.
Mother Nature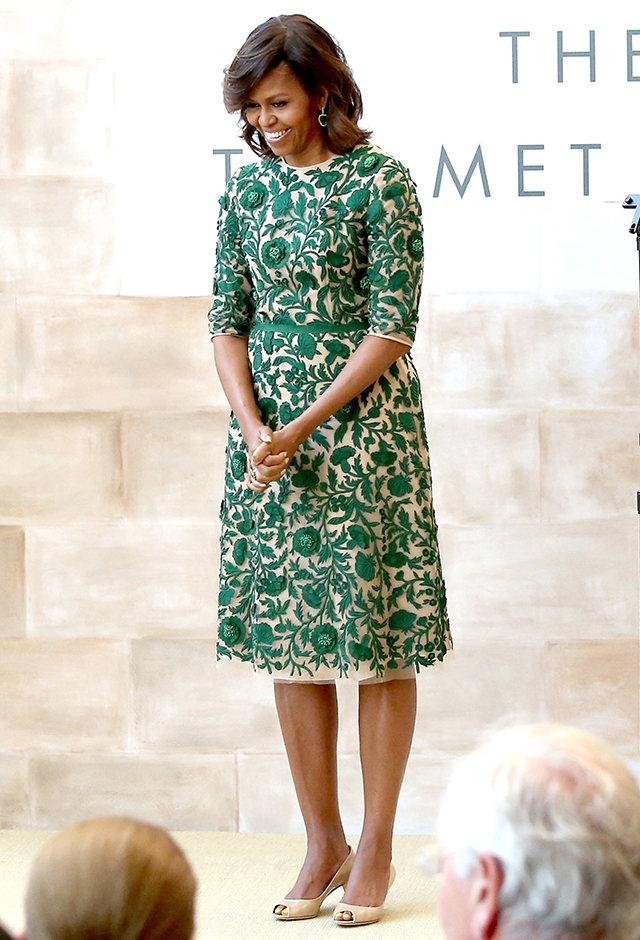 With this green lace dress and her nurturing smile, Michelle here looks like Mother Nature. The beige, peep-toe heels are just what this piece needs to look perfect.
Impeccable Goddess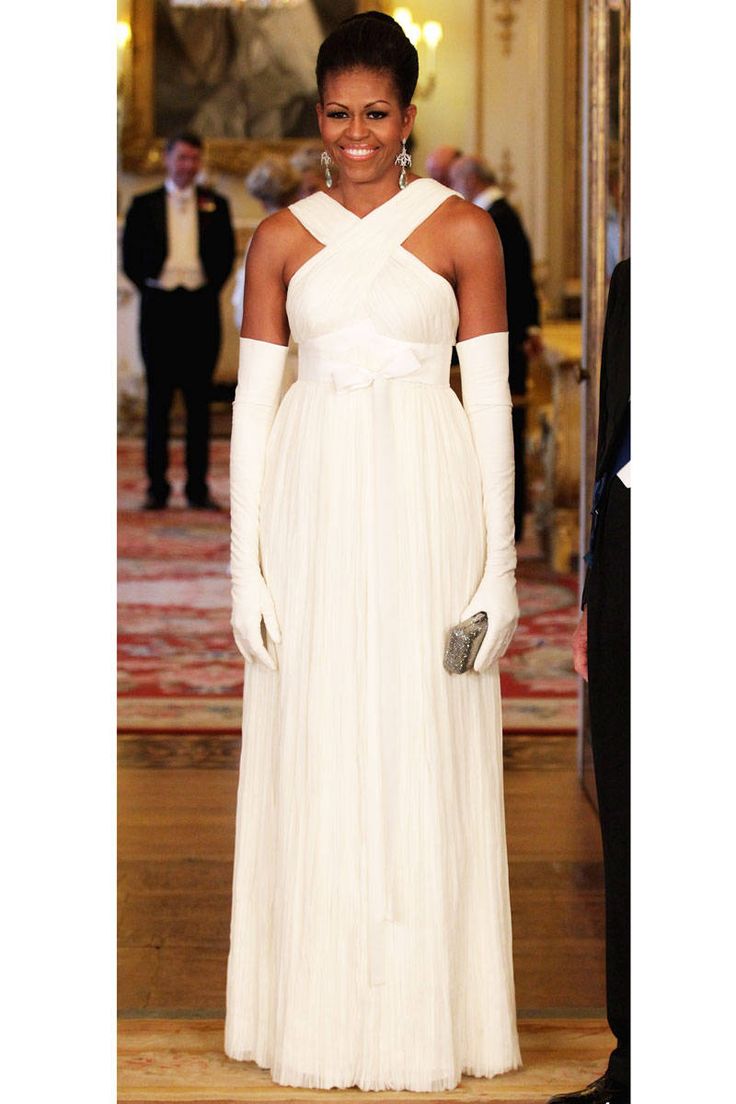 This white regal gown complemented with evening gloves is maybe one of the best dresses ever worn by a first lady. Mrs. Obama looks like a goddess in this remarkable piece, proving once more that she will always be a style icon.
These are some of the most impressive outfits Michelle Obama has worn throughout the years. From ballrooms, and formal evenings to casual outings and family holidays, her style is nothing but impressive. From the day she became the FLOTUS, Michelle was (and still is) a role model for women everywhere. We can all learn from her – it is not just the clothes that make women memorable it also takes a lot of courage, kindness, loyalty, empathy, and discipline. Michelle Obama always used her style and influence to make a positive statement, and she still inspires many young girls and women to believe in themselves. The former first lady proves that every outfit can look good on you when you know how to wear it.