Grunge, a movement that emerged in the 1990s, left a significant impact not only on the music scene but also on fashion. Bands like Nirvana and Pearl Jam led the revolution and contributed to a new, liberating clothing style, especially for women. The grunge aesthetic allowed individuals to break away from traditional expectations and express themselves in a more authentic and powerful manner.
As grunge became mainstream, it also democratized fashion, enabling people from various social-economic backgrounds to influence trends. Even as high-end designers attempted to commercialize the style, the essence of grunge remained rooted in accessible clothing items such as worn jeans, simple t-shirts, Converse All-Stars, Doc Martens, plaid shirts, and leather jackets. Interestingly, grunge outfits transcended gender boundaries and paved the way for a new generation of women to boldly embrace their unique style. The enduring relevance of grunge fashion remains as a testament to its powerful impact on self-expression and creativity.
Jeans and Leather Jacket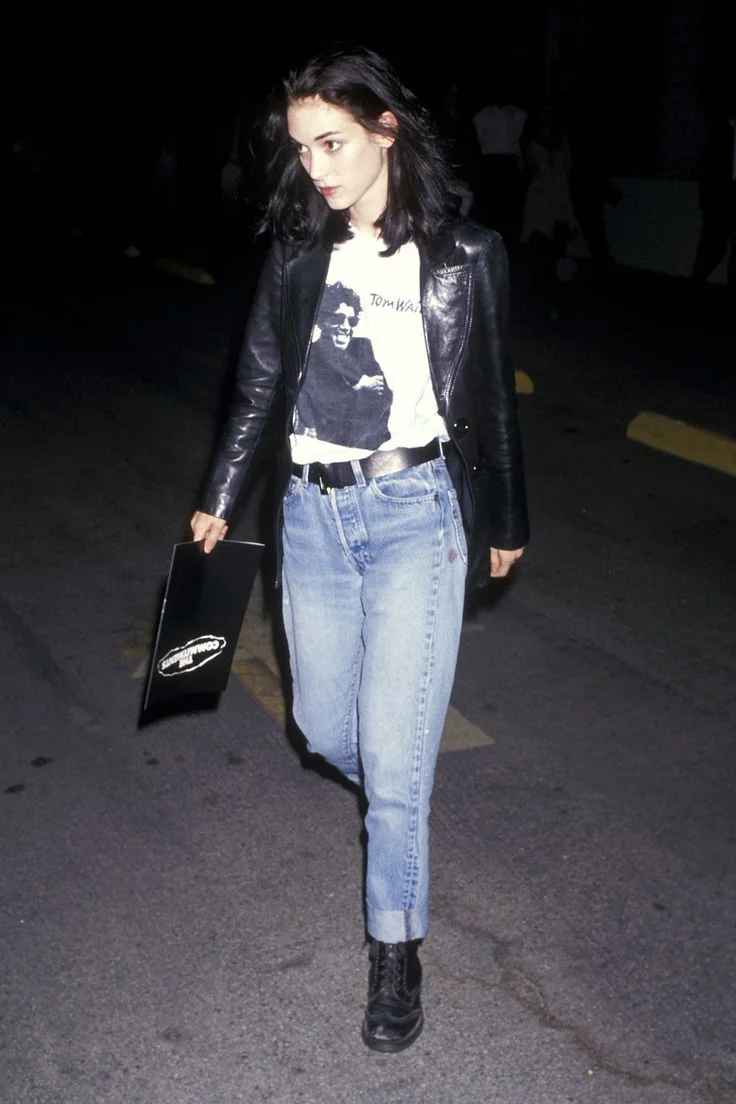 Incorporating jeans and leather jackets into our grunge outfits is a combination that never goes out of style. We can create a variety of versatile looks using just a few key pieces:
Denim: A staple in grunge fashion, distressed jeans with visible wear and tear add an edgy vibe to our outfit. Opt for a relaxed or loose fit for a more authentic feel.
Leather Jacket: No grunge outfit is complete without a genuine or faux leather jacket. It not only adds an extra layer of warmth but also gives us that effortlessly cool aesthetic.
Denim Jacket: For a more laid-back look, switch out the leather jacket for a casual denim jacket. The combination of denim on denim with distressed jeans is a grunge classic.
Accessorizing: Incorporate accessories like layered necklaces, chunky bracelets, and black combat boots to emphasize the grunge look.
Remember to mix and match these elements and experiment with different textures and colors to perfect our grunge outfits.
Oversized Plaid Shirt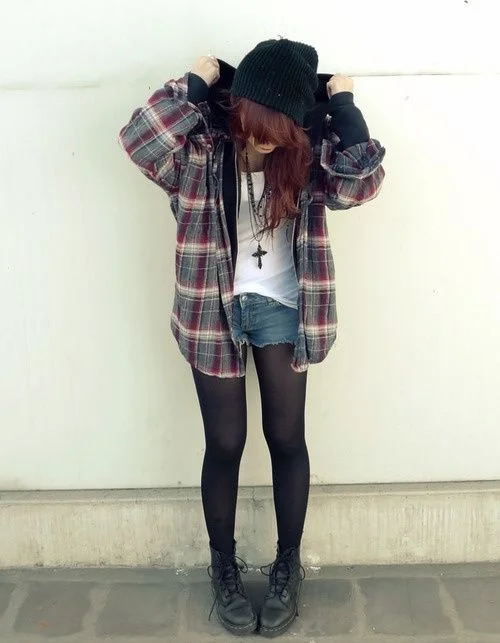 When it comes to grunge outfits, we would be remiss not to mention the importance of the oversized plaid shirt. Often made from flannel, this iconic piece is not only comfortable and practical but also adds a distinctly casual and rebellious touch to any outfit.
Donning an oversized plaid shirt with a simple oversized tee underneath can effortlessly create that laid-back, grunge-inspired look. We've seen this style sported by 90s icons like Kurt Cobain, and it remains popular today.
Here are some pointers for rocking an oversized plaid shirt in true grunge fashion:
Colors: Stick to darker, earthy tones like reds, blacks, greens, and blues. Neutral shades work well too, such as beige or grey.
Patterns: Plaid is the go-to pattern, but feel free to experiment with other patterns like stripes or checks for a unique twist.
Layering: Wear it unbuttoned over a graphic tee or even thrown over the shoulders as an accent piece. Tie it around your waist for added texture and dimension.
Bottoms: Pair your oversized plaid shirt with ripped jeans, leggings, or even a skirt for a versatile grunge look.
Footwear: Grunge outfits are often completed with combat boots, sneakers, or worn-out Converse for that final touch.
In summary, incorporating an oversized plaid shirt into our grunge outfits adds a touch of authenticity, classic appeal, and timeless style. With this essential piece, we can channel our inner 90s rockstar and confidently embrace our rebellious side.
Baggy Band T-shirt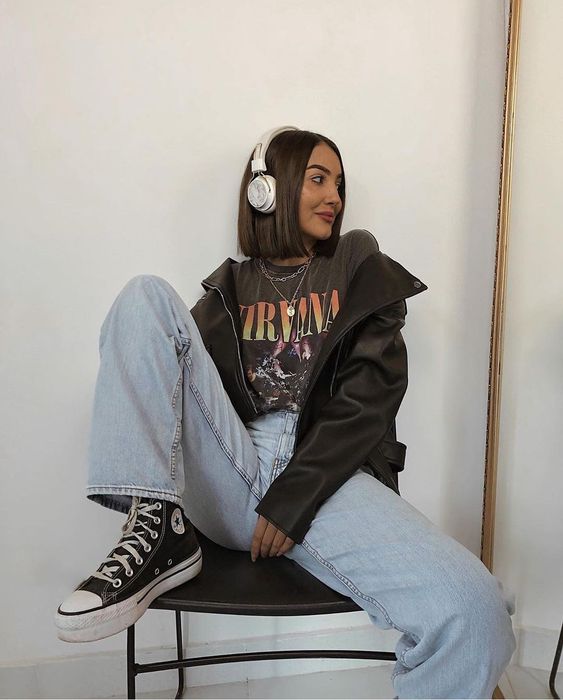 When it comes to grunge outfits, we can't ignore the importance of baggy band t-shirts. These graphic tees not only showcase our favorite bands but also contribute to the overall laid-back vibe of the grunge style. Here's what makes these t-shirts a staple in the world of grunge fashion:
Baggy fit: The oversized, loose-fitting nature of band t-shirts adds an element of nonchalance to our outfits, aligning with the grunge philosophy of effortlessly rocking our look.
Graphic designs: Bold and eye-catching graphics featuring band logos, album covers, and song lyrics give our ensemble a sense of personality and artistic flair, further defining the grunge aesthetic.
Variety: There are countless band t-shirts to choose from, representing a wide array of musical artists and genres, giving us the freedom to express our individuality and showcase our music preferences.
Pairings: These graphic tees can be effortlessly paired with ripped jeans, flannel shirts, and worn-out sneakers or combat boots to complete a grunge-inspired outfit.
So, next time we're putting together a grunge outfit, let's incorporate a baggy band t-shirt as the centerpiece, showcasing our love for music and embodying the grunge ethos.
Denim on Denim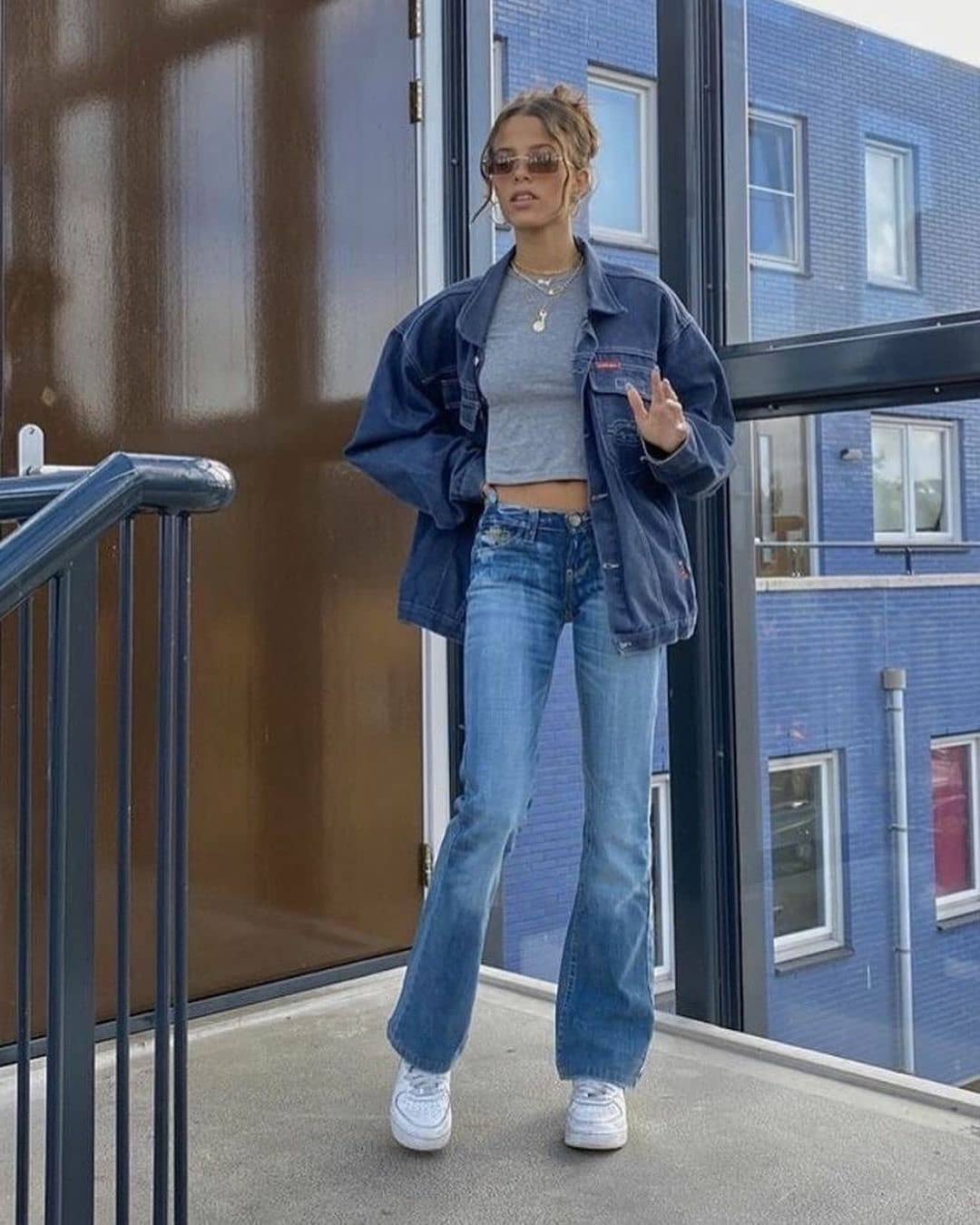 When it comes to grunge outfits, we can't ignore the classic denim on denim look. This timeless combination adds a rugged and cool vibe to our grunge aesthetic. Here's how we can rock this look:
Denim Jacket: A slightly oversized denim jacket can be layered over a graphic tee or a flannel shirt. Look for jackets with a bit of distressing or fading to enhance the grunge feel.
Denim Jeans: Pair our jacket with slim or straight-leg jeans, preferably featuring a similar level of distressing or fading. Don't be afraid to mix different shades of denim; contrast often adds interest to the overall look.
Accessories: Complete the denim on denim ensemble with some essential grunge accessories. Consider adding a black leather belt, a chunky watch or bracelets, and a pair of worn-in combat boots or sneakers.
Extra Layers: For a more layered look, we can wear a flannel shirt under the denim jacket and let the sleeves and hem peek out. This not only adds an extra touch of grunge but also provides warmth during colder months.
Remember, the key to nailing the denim on denim grunge look is to find the right balance between style and comfort. Embrace the worn-in and rugged appeal, but most importantly, have fun exploring our unique grunge style.
Slip Dress and White Tee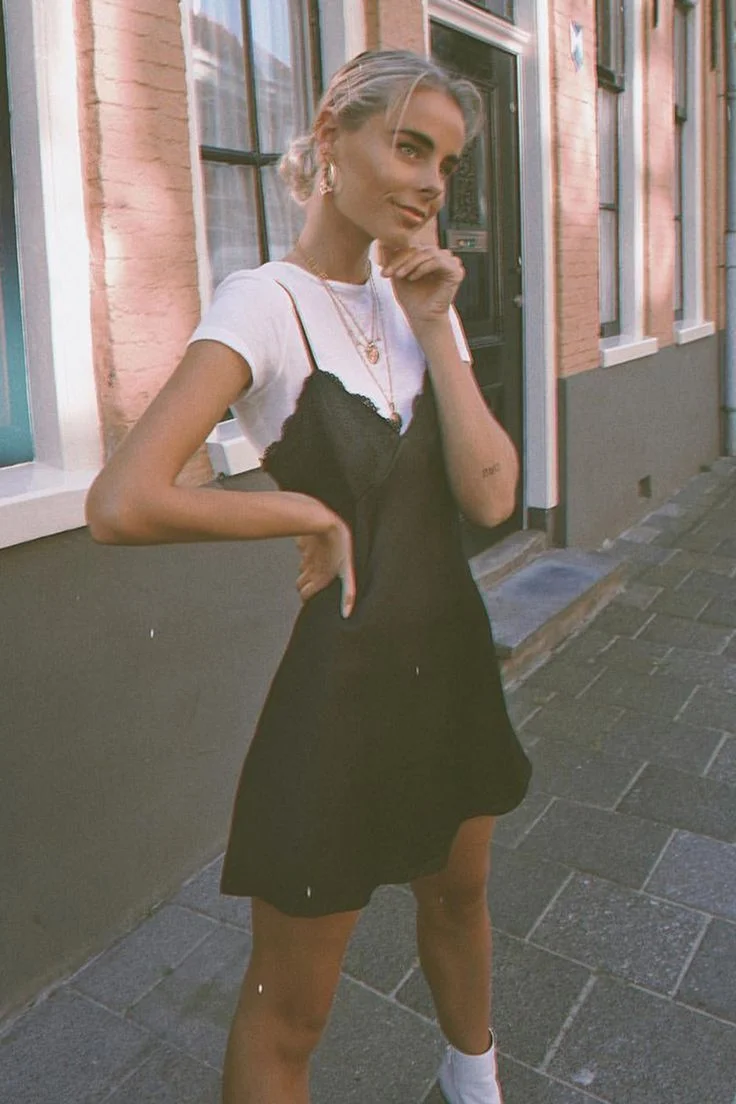 We all know that a classic grunge outfit stands out with its effortlessly cool vibe. Incorporating a slip dress and white tee into our wardrobe can easily help us achieve that look. First, let's break down the components of this iconic pairing:
Slip Dress: A slip dress is typically made of smooth and silky materials like satin. It may have spaghetti straps or a low neckline, mimicking the appearance of an undergarment. Choose a slip dress with a looser fit and a longer hem for a more grunge-inspired effect.
White Tee: A crisp white tee serves as a perfect base layer for a slip dress. To capture that grunge style, opt for a slightly oversized or distressed tee with a casual fit. Layering these two pieces together creates an iconic look that's both stylish and comfortable.
When styling a slip dress and white tee, consider these accessorising tips to complete the ensemble:
Footwear: Pair the outfit with combat boots or worn-out sneakers for an edgy touch.
Outerwear: Add a flannel shirt, denim jacket, or an oversized cardigan for additional grunge appeal.
Accessories: Incorporate layered necklaces, a choker, or a beanie to further enhance the 90s grunge vibe.
With these elements in mind, we can confidently create a slip dress and white tee outfit that perfectly captures the essence of grunge style.
Plaid Slip Dress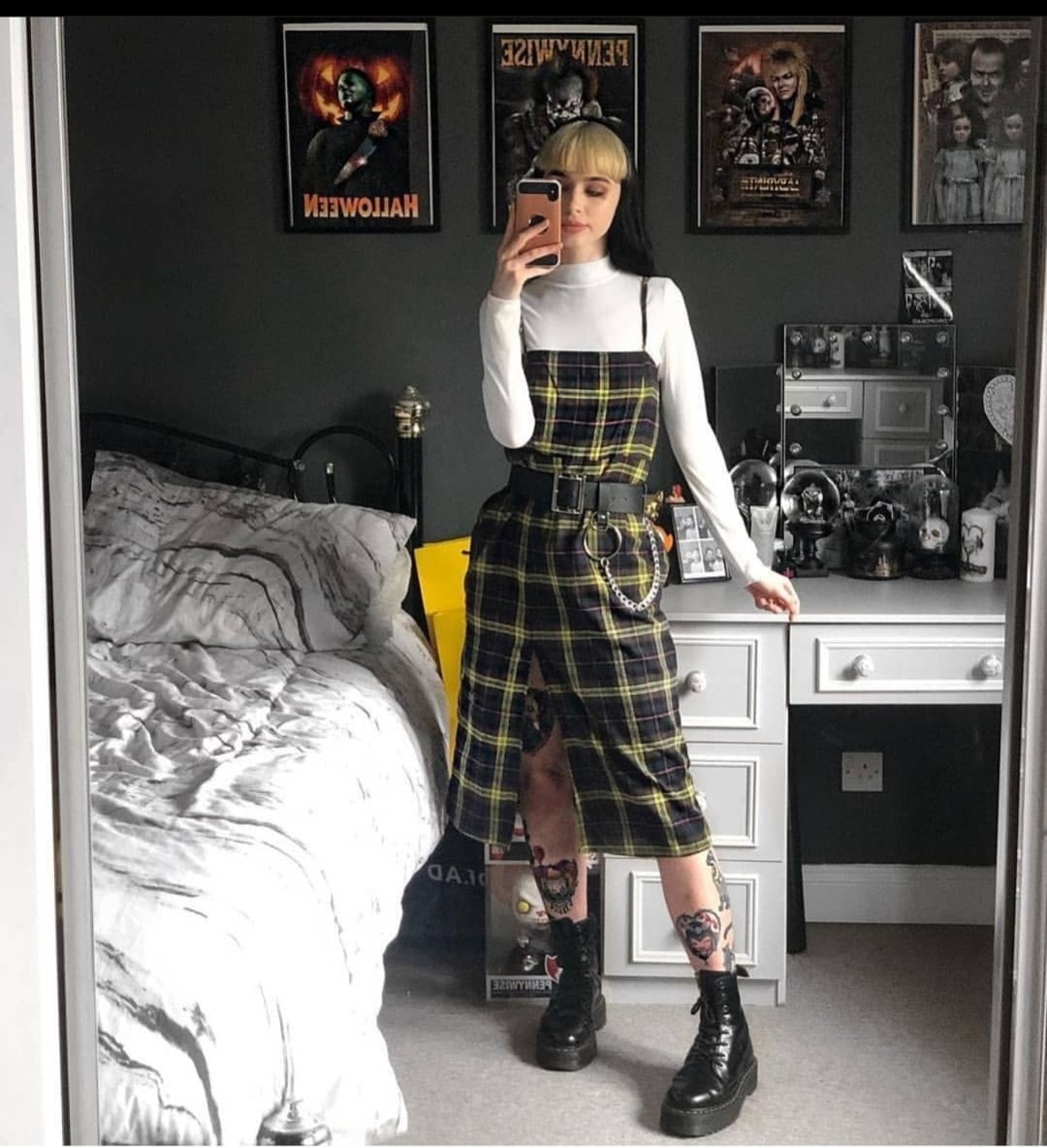 A plaid slip dress is a classic piece when it comes to grunge outfits. We believe it embodies the essence of the grunge style with its combination of casual and edgy elements. Here are some features of a plaid slip dress and how to style it:
Fabric: Plaid slip dresses typically come in a lightweight, flowy fabric like silk or satin for a comfortable and relaxed fit.
Pattern: The signature plaid pattern adds a touch of edginess and attitude to the feminine silhouette of a slip dress.
Layering: To achieve the perfect grunge look, you can layer your plaid slip dress with an oversized cardigan, denim jacket or a flannel shirt tied around your waist.
Accessories: Add a pair of chunky combat boots, fishnet stockings, or a choker to emphasize the grunge aesthetic.
Remember, the key to a great grunge outfit is the effortless combination of different elements. So, feel free to get creative with your plaid slip dress and let your personal style shine through.
Overalls Outfit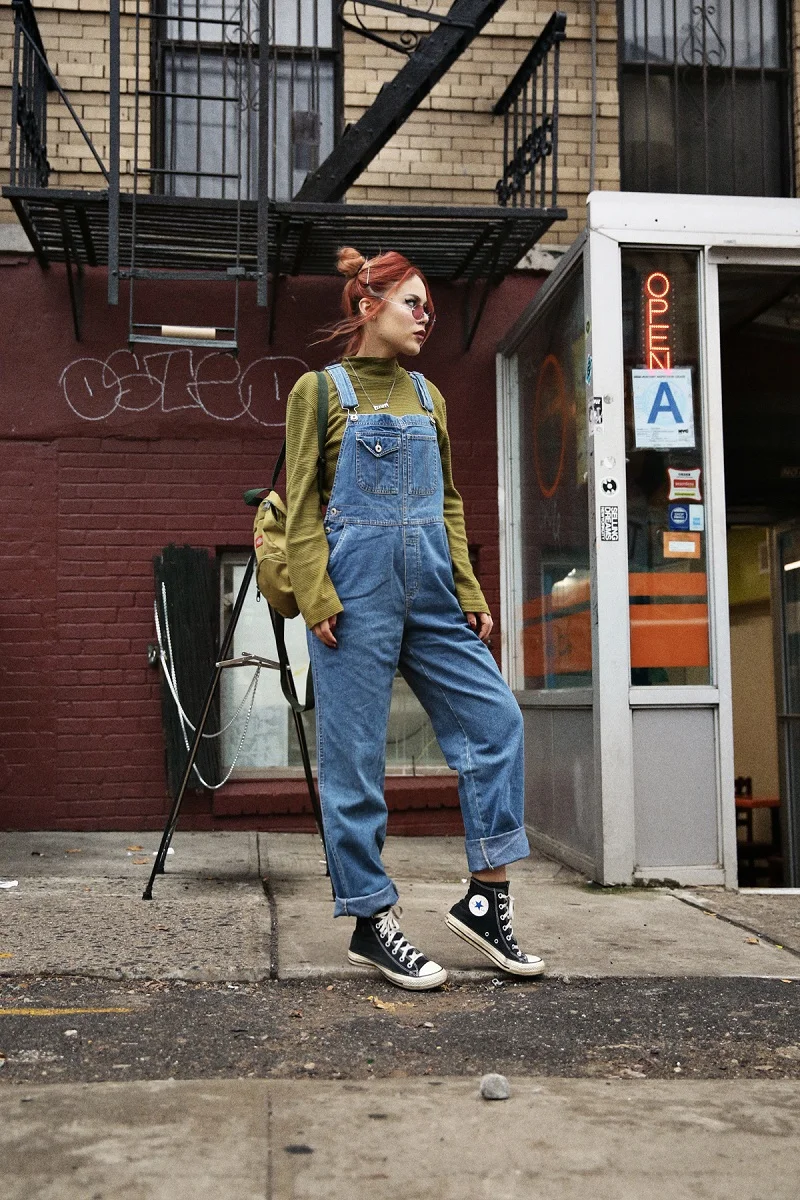 We love incorporating overalls into our grunge outfits due to their loose fit and versatility. For a stylish grunge look, we suggest pairing distressed, denim overalls with a simple underlayer such as a striped or plaid shirt. Don't forget your trusty pair of combat boots to complete the ensemble.
Additionally, we can accessorize our overalls outfit with:
Backpack: A well-worn, brown, leather backpack adds to the grunge aesthetic.
Beanie: A slouchy beanie in a neutral color balances the outfit.
Layered chains: Silver or brass layered chains around the neck enhance the grunge appeal.
Remember that the key to perfecting a grunge outfit is blending comfortable, loose-fitting pieces with bold, edgy accessories. Have fun experimenting and making this look your own!
Colorful Outfit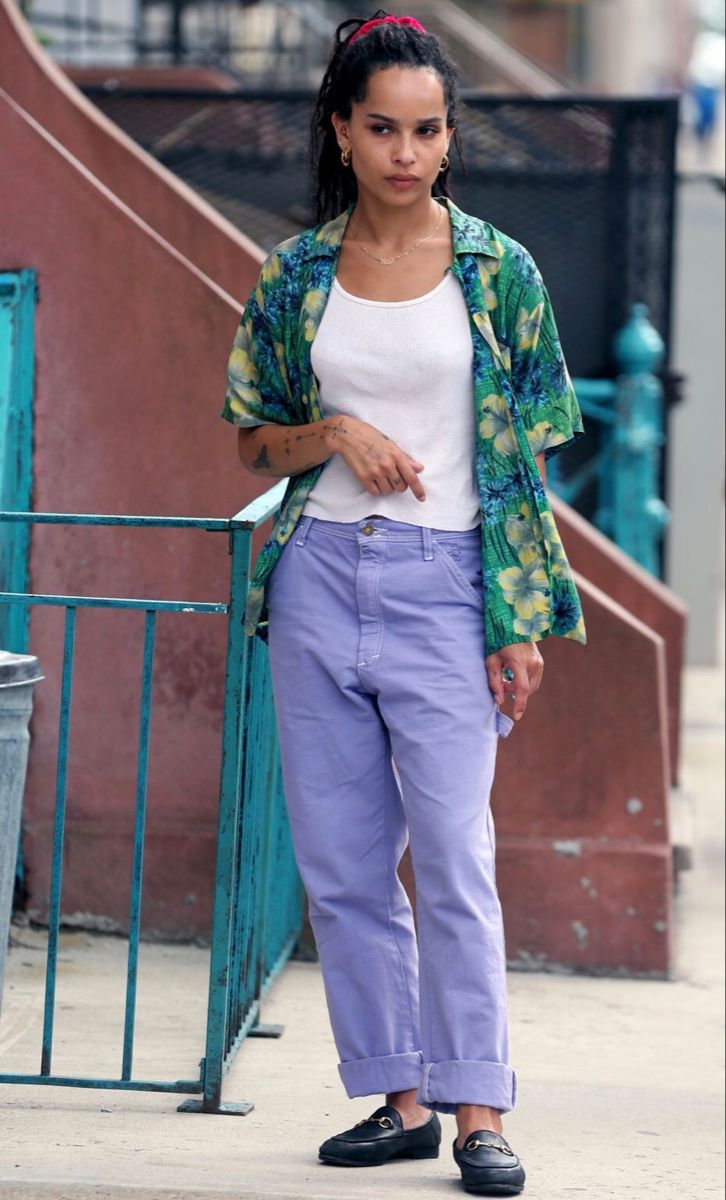 When it comes to grunge outfits, we can't forget about adding a pop of color to our ensemble. A colorful outfit can still maintain the grunge aesthetic while bringing some vibrancy to our look.
To achieve this, we can try incorporating some bold prints or statement pieces. For instance, a flannel shirt with bright colors or tie-dye tees can work wonders in livening up our grunge attire. Additionally, we can experiment with colorful accessories, such as:
Beanies: Brightly colored or patterned beanies are both functional and fashionable for a grunge look.
Baggy Pants: Wide-legged pants in bold, unconventional colors or prints can add an unexpected twist to our outfit.
Layers: Layering different textures and colors, like oversized denim jackets over colorful hoodies, can contribute to a dynamic and attention-grabbing grunge look.
Lastly, we shouldn't forget to pair our colorful outfit with some chunky shoes. These shoes not only provide a sense of rebellion and nonconformity but also perfectly complement the grunge aesthetic. Look for styles like:
Platform Boots: Leather or suede platform boots can add height and attitude to our outfit, giving off that quintessential grunge vibe.
Combat Boots: Rugged and functional, combat boots in bold colors or designs can bring an edgy touch to our colorful ensemble.
Chunky Sneakers: These provide a comfortable and modern twist on the grunge look, great for a casual day out.
By incorporating these elements, we can create a colorful and unique grunge outfit that stays true to the rebellious spirit of the trend while showcasing our personal tastes and style preferences.
High Rise Jeans and Crop Top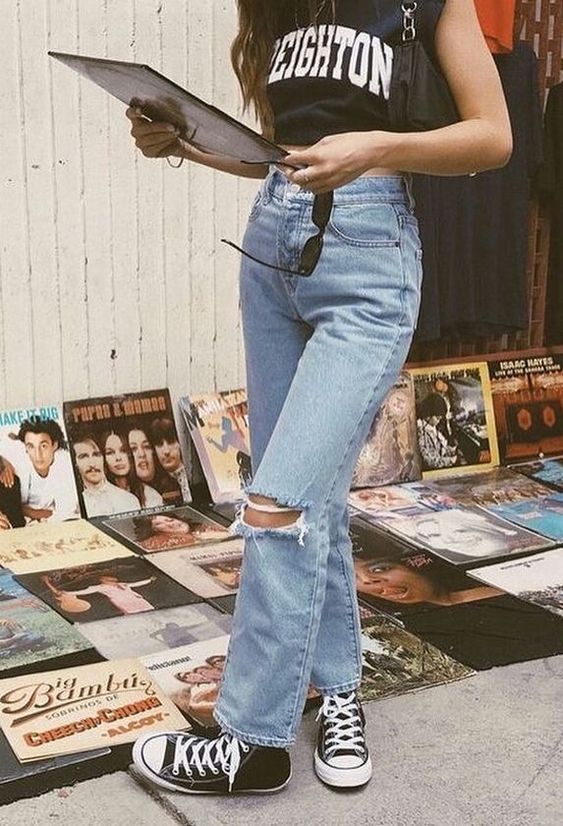 When it comes to grunge outfits, pairing high rise jeans with crop tops is a classic and versatile choice. Here's why this combo works so well:
High rise jeans: These jeans sit at your natural waist, providing a comfortable and flattering fit. They're perfect for a casual, laid-back look and can be styled with various types of footwear such as sneakers, boots, or even heels.
Crop tops: A grunge staple, crop tops can range from fitted to oversized, and they pair perfectly with high-waisted bottoms. Choosing a graphic tee, distressed tank top, or a long-sleeve crop top will instantly give your outfit a grunge vibe.
Sneakers: To complete the look, add a pair of sneakers for a casual, street style touch. Opt for retro or worn-in sneakers to enhance the carefree grunge aesthetic.
Together, high rise jeans and crop tops create a balanced silhouette, and they can be mixed and matched to suit different occasions. So, go ahead and explore various combinations to create your own unique grunge outfits with high rise jeans and crop tops.
Summer Outfit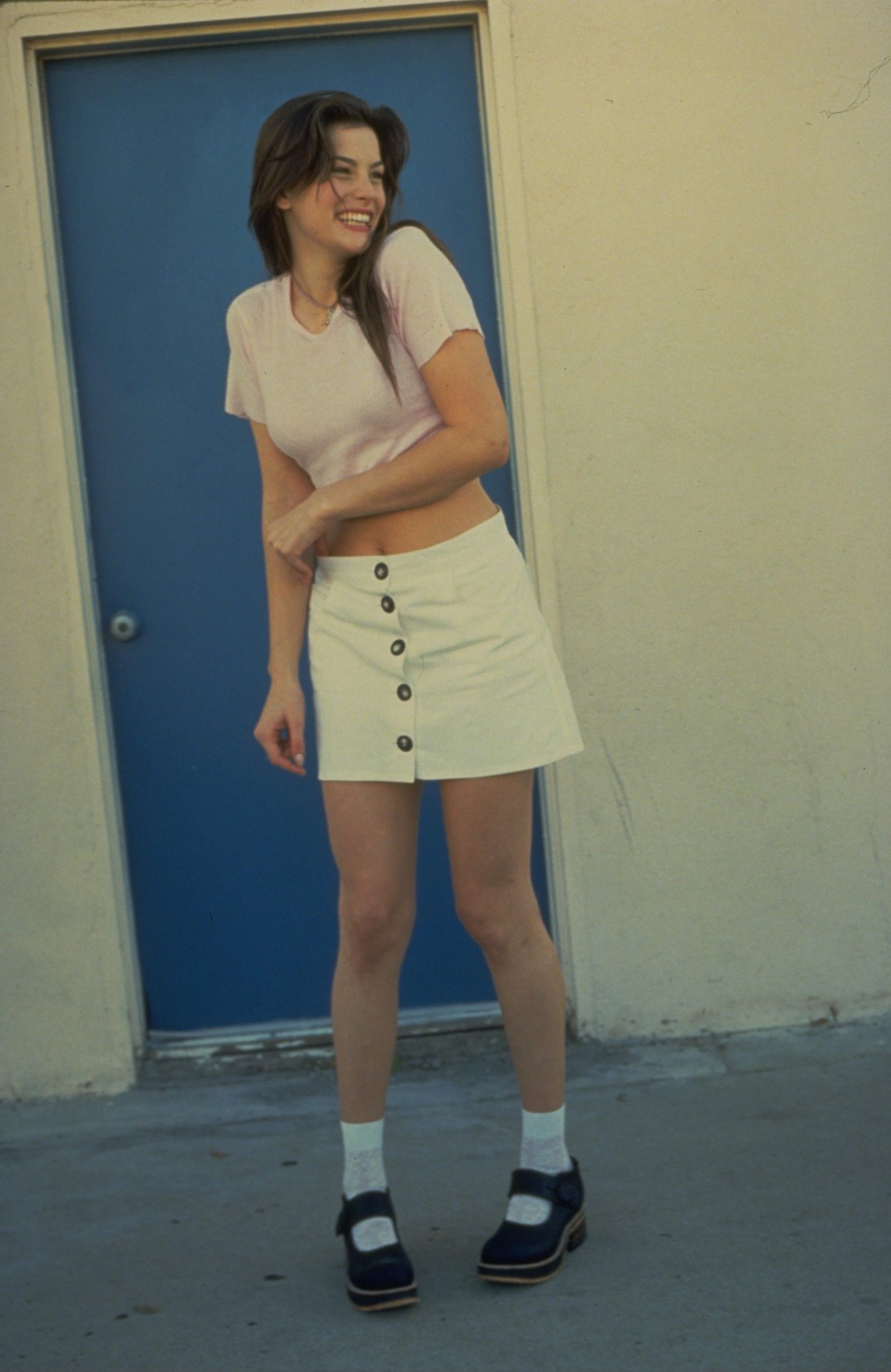 When it comes to grunge outfits for summer, we recommend incorporating lightweight layers and fabrics while maintaining the essence of the grunge style. One way to do this is by pairing distressed denim shorts with a vintage band tee and an open plaid shirt. Don't forget to accessorize with some chunky jewelry and a pair of heeled boots to complete the look.
Here's a quick rundown of summer grunge essentials:
Denim shorts: Distressed, frayed, or high-waisted for that carefree vibe.
Band tees: Vintage or worn-looking on purpose. The more faded and distressed, the better.
Open plaid shirts: Opt for lightweight fabrics like cotton or linen to stay cool in the heat.
Heeled boots: Ankle-height or higher, they add a dash of edge while elevating the outfit.
Accessories: Chunky necklaces, rings, and bracelets complete the grunge aesthetic.
Remember to choose breathable materials that help you stay comfortable during the warmer months while staying true to the grunge style. Most importantly, wear each piece with confidence and let your personality shine through.
Low Rise Denim and T-Shirt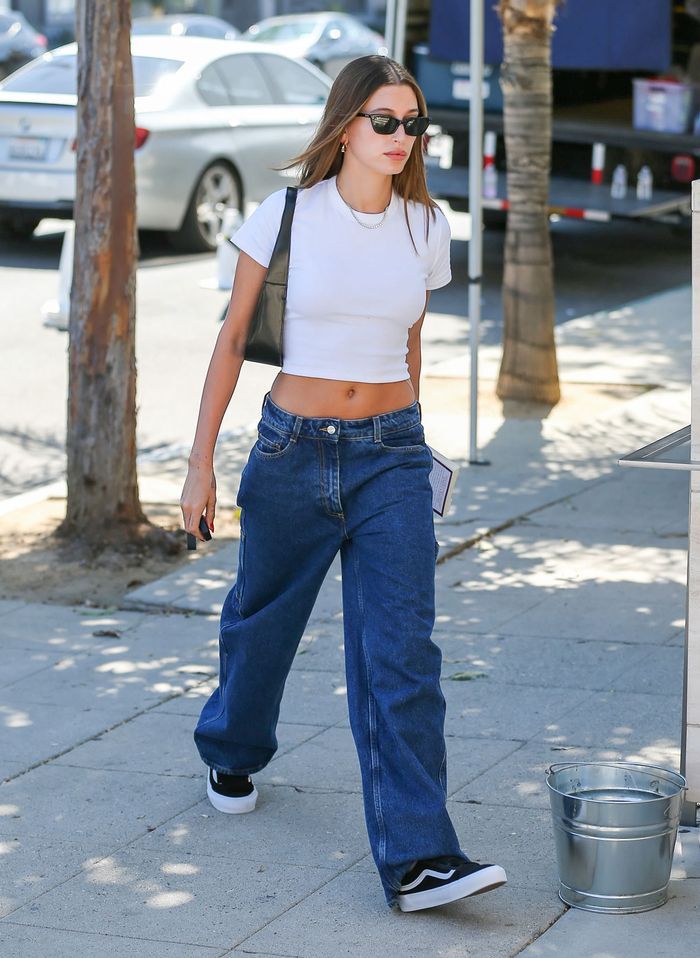 When it comes to styling grunge outfits, we cannot overlook the versatility and comfort of low-rise denim and a simple T-shirt. A staple of the grunge era, these two pieces effortlessly create a casual and laid-back vibe, perfect for anyone looking to embrace the grunge aesthetic.
For a truly grunge-inspired look, we recommend opting for distressed or slightly oversized low-rise jeans. Pair them with a graphic or band T-shirt, adding to the authentic 90s feel. Don't forget to throw on some layers, such as a flannel shirt or a vintage denim jacket, to keep the look cohesive and true to the grunge style.
Here are some tips for perfecting your low-rise denim and T-shirt grunge outfit:
Jeans: Select distressed or slightly oversized low-rise jeans with a relaxed fit.
T-shirt: Choose graphic or band T-shirts to embody the grunge spirit.
Layers: Add a flannel shirt or vintage denim jacket for an extra touch of 90s flair.
Accessories: Incorporate edgy elements like chokers, layered necklaces, and combat boots to complete the look.
Incorporating mom jeans into your grunge wardrobe is another fantastic option. With their high waist and fuller fit, they provide an alternative silhouette while staying true to the grunge aesthetic. Simply swap out the low-rise jeans for a pair of mom jeans and follow the same suggestions for T-shirts, layers, and accessories listed above.
Ripped Tights Outfit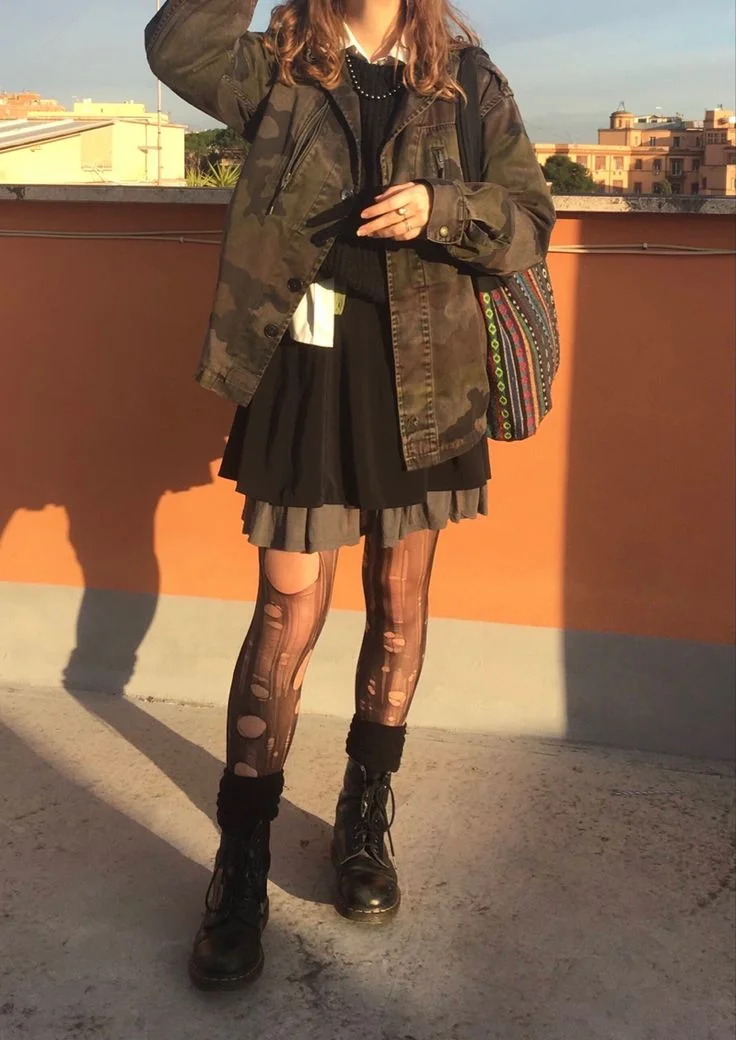 When it comes to grunge outfits, adding ripped tights is a classic choice that we can easily incorporate in our look. They can be worn with denim shorts, mini skirts, or even under distressed jeans for a trendy layered appearance. Let's explore some of the elements that can give your outfit a grunge twist with ripped tights:
Stockings: Pairing ripped stockings with oversized sweaters or band tees creates an instantly recognizable grunge vibe. The intentional disheveled appearance of ripped stockings adds a bold and rebellious touch.
Fishnet: Fishnet stockings are another iconic choice for grunge styling. Either slightly torn or heavily ripped, they look great with distressed denim or under skirts and dresses. You can even try layering them under ripped jeans for added texture.
Mesh: Mesh tights in different patterns and colors can also complement a grunge outfit. Look for styles with intentional rips and snags to emphasize the edgy aesthetic.
To enhance your ripped tights outfit, consider these accompanying items:
Layering: We recommend layering your outfit with oversized pieces like flannels, denim jackets, or hoodies. It adds the relaxed and carefree essence of grunge fashion.
Footwear: To complete the look, opt for chunky shoes like combat boots, Dr. Martens, or platform sneakers. These will lend an unmistakable grunge attitude to your outfit.
Remember, grunge is all about being expressive and unapologetically true to your style.
All Leather Outfit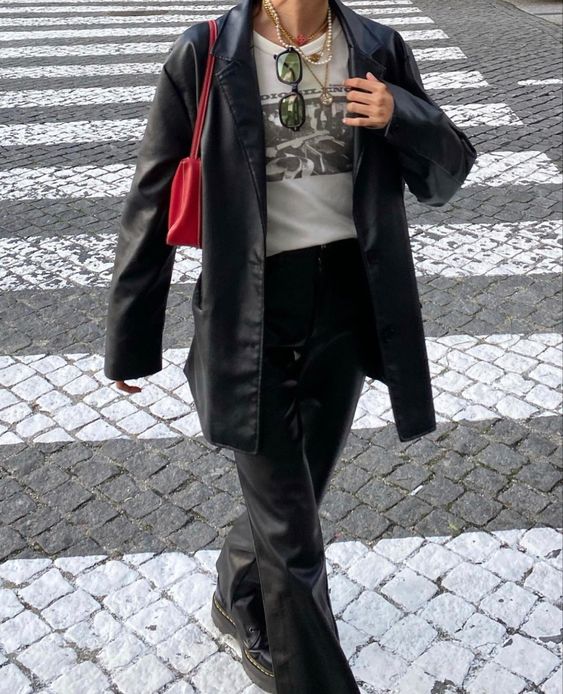 As we explore grunge outfits, an all-leather ensemble definitely deserves attention. Combining leather with iconic pieces like Doc Martens boots creates an unmistakable grunge look. Here are some essential items for an all-leather outfit:
Leather jackets: A classic choice, available in various cuts, lengths, and colors. They add an edgy touch to any outfit.
Leather pants: Skinny or straight-leg jeans paired with our favorite worn-out t-shirts channel the perfect grunge vibe.
Leather skirts: A mini or midi length brings a feminine twist to a grunge outfit.
Doc Martens boots: The epitome of grunge footwear, these robust leather boots add a rebellious touch to any outfit.
Leather accessories: A studded belt, bracelet, choker, or gloves can accentuate the leather theme without going overboard.
Remember, when putting together an all-leather outfit, it's essential to find a balance between each piece. Mixing textures and layering will keep the look interesting and true to the grunge style.
Long Skirt Outfit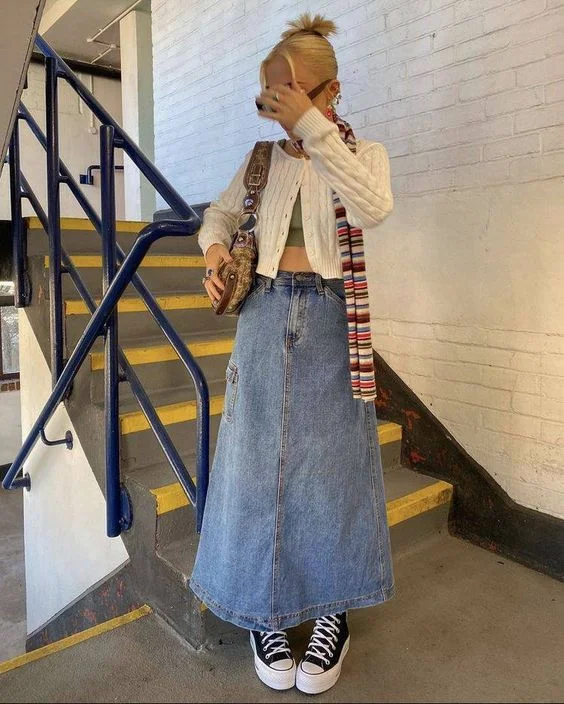 Incorporating a long skirt into our grunge outfit can create a unique, stylish look. To achieve the perfect balance, we can follow these steps:
Choose the right skirt: Opt for a long skirt with a dark, earthy tone or a bold pattern such as plaid or tartan. It should be made from a slightly heavy or textured fabric, like denim, corduroy, or wool blend.
Pair with an oversized top: To maintain a grunge aesthetic, select a loose-fitting graphic tee, band t-shirt, or flannel shirt. Layering with a distressed denim jacket or oversized sweater also works.
Accessorize with attitude: Complete the grunge look by adding edgy accessories such as a choker necklace, oversized rings, and a beanie or wide-brimmed hat.
Footwear selection: Opt for combat boots, chunky platform shoes, or even high-top sneakers.
Makeup: Complement the outfit with a defined grunge makeup look. Focus on smoky eyes with dark eyeshadow and eyeliner, a touch of mascara, and muted or dark lip colors like berry, brown, or even black.
By following these tips, we can create a flawless long skirt grunge outfit that stays true to the rebellious, non-conformist style.
Olive Green Outfit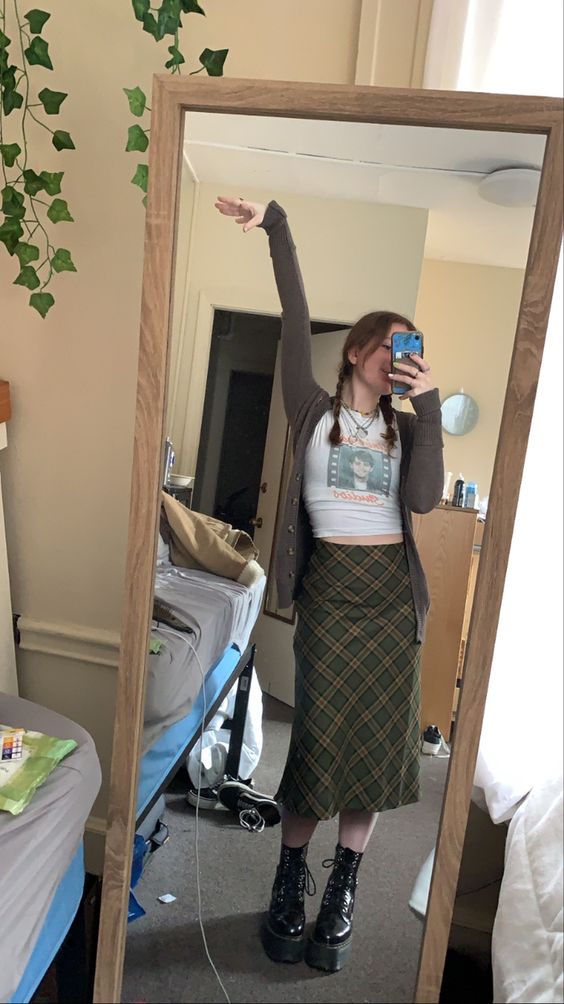 In this section, we will discuss the olive green outfit as part of our grunge outfits article. Olive green is a versatile color often associated with military clothing and nature, which fits well within the grunge aesthetics. To create a perfect olive green grunge outfit, we recommend taking note of the following:
Clothing: A classic olive green military jacket can be a go-to essential for any grunge outfit. Pair it with ripped black jeans or distressed denim shorts, and add a flannel shirt tied around your waist for layering.
Footwear: Black combat boots are a must-have for completing your olive green grunge outfit. They not only provide a rugged look but also complement the military vibe of the ensemble.
Jewelry: Minimal and statement jewelry can both be incorporated within an olive green grunge outfit. For example, consider layering multiple silver or black necklaces, adding an edgy choker, or wearing a statement ring.
Makeup: For an authentic grunge look, opt for a smoky eye or bold black eyeliner with a neutral or dark lip color.
Incorporating these elements into your olive green outfit will give you a stylish and trendy grunge look. Be adventurous with your choices and make sure to express your individuality through your outfit.
Edgy Outfit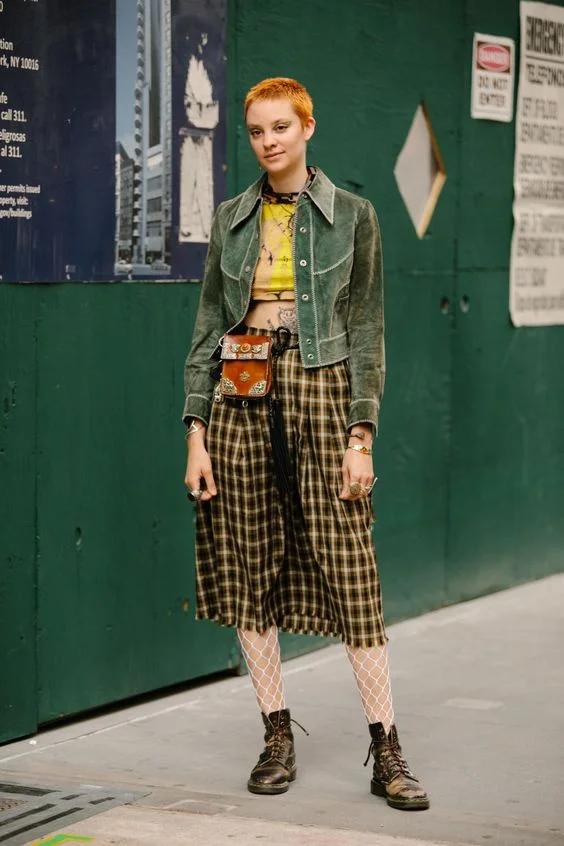 When it comes to grunge outfits, incorporating elements such as chains and studs can make a significant impact. We'll show you how to put together an edgy outfit that highlights these accessories.
Chains: Adding chains to our outfit can elevate the grunge aesthetic. We can consider layering chain necklaces of varying lengths or attaching a chain to our pants or belt loops.
Studs: Integrating studs into our ensemble adds a touch of punk rock flair. We can look for clothing items adorned with studs, such as jackets, belts, or shoes.
Remember that the key to a successful grunge outfit is to strike the right balance between casual and edgy. Combining distressed denim, oversized flannels, and graphic tees with chains and studs will create an effortlessly cool and edgy grunge look.
Tomboy Outfit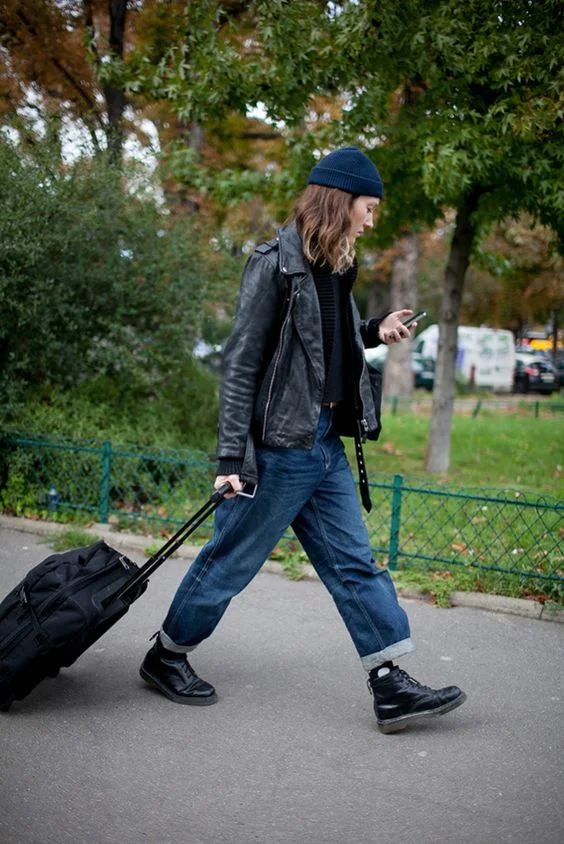 In our journey through grunge outfits, let's explore the Tomboy look, which is characterized by elements traditionally considered masculine. This style embraces an edgy, rebellious appearance that is comfortable yet fashionable.
For a perfect Tomboy outfit, start with a beanie hat. Beanies are essential, adding a casual and grunge-inspired touch to any ensemble. They come in various styles, materials, and colors, so finding the perfect one to match your outfit is easy.
Next, consider these clothing items for a complete Tomboy outfit:
Oversized flannel shirts: Layer over a simple graphic tee for a classic grunge aesthetic.
Loose-fitting jeans or cargo pants: Comfortable and versatile, pair well with combat boots or sneakers.
Leather or denim jackets: A staple for cool weather, add an extra layer of grunge attitude.
Graphic tees: Choose designs featuring bands, slogans, or iconic grunge symbols.
Accessories can also add personality to your Tomboy look:
Choker necklaces: A quintessential '90s grunge accessory.
Combat boots or sneakers: Practical and stylish, they complete the outfit with a rugged edge.
Layered bracelets or wristbands: Mix-and-match materials like leather, beads, and metal for a unique touch.
By combining these elements, we have crafted a stylish and authentic Tomboy look, while staying true to the grunge essence.
Layered Outfit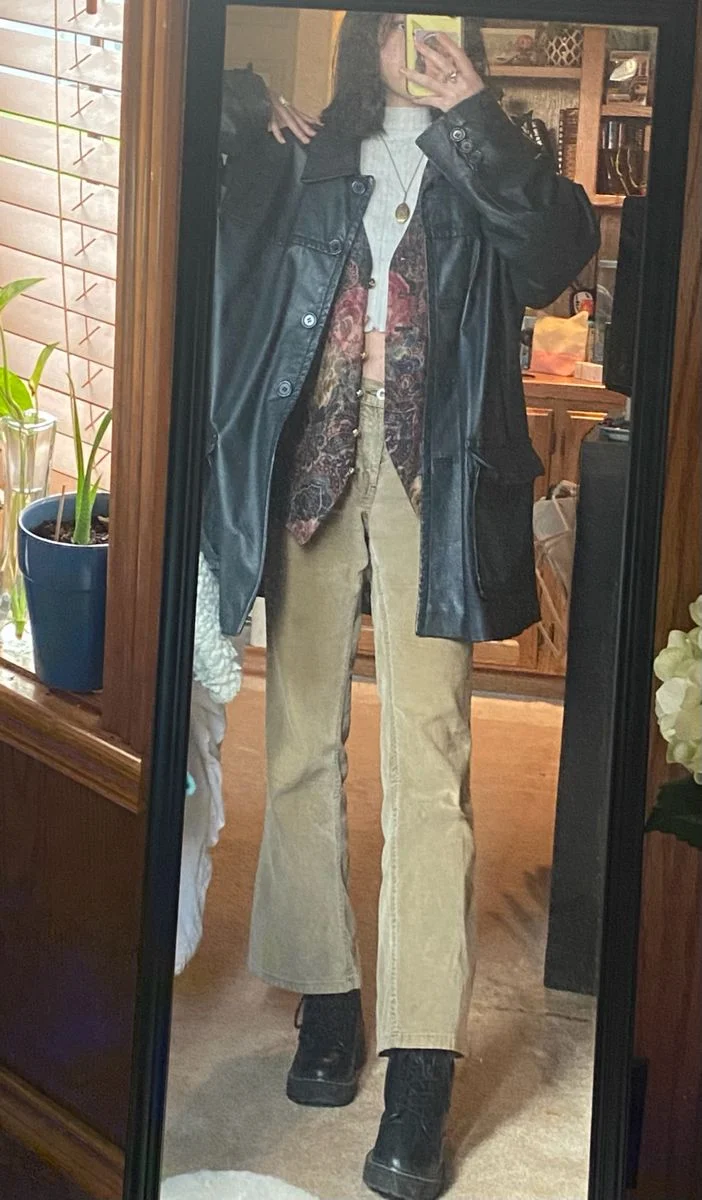 When creating grunge outfits, we recommend incorporating layering for a comfortable and versatile look. Layering adds dimension and contrast to an ensemble, making it visually appealing. Here are some useful tips for creating a stylish layered outfit:
Start with a base layer: Choose a simple, lightweight piece, like a plain T-shirt or tank top, as the foundation of your outfit. This ensures a comfortable and breathable fit.
Add an outer layer: Experiment with different textures and patterns. Consider flannel shirts, denim jackets, or cozy cardigans for an authentic grunge vibe. Mixing and matching outerwear can add depth to your look.
Incorporate bottom layers: Complement your top layers by pairing them with distressed jeans, skirts, or leggings. Wearing tights or leg warmers under your bottoms will enhance the layered look further.
Accessorize purposefully: Accessories like scarves, beanies, and belts can elevate your outfit and add a personal touch. Stick to neutral or muted colors that blend well with your other layers.
Remember, balance is key when layering in a grunge outfit. Blend different fabrics and textures to create a cohesive look that stays true to your personal style. Stay confidently fashionable with these layering tips and create standout grunge outfits.