Grunge emerged in the 1990s as a successor to the punk style that had previously been dominant in alternative circles. Those were the years when Nirvana and Pearl Jam made a real revolution in the music industry, and the consequences hinted at a new trend in fashion as well. The 1990s was a time when women could express sarcasm in a sophisticated way for the first time through their clothing style. The style was not intended for people who still lived in the traditional beliefs that a girl must be a reflection of femininity and sexiness, but a way to tell the world that you can be whatever you want and live life the way you want, and not according to the set social norms.
With the grunge style becoming mainstream, for the first time, the middle and lower-class people dictated the fashion trends. On top of that, the most contradictory was the fact that the designers tried to incorporate grunge style on the catwalks by creating collections that were sold at prices more expensive than what the style itself imposed. No grunge fan could ever afford to buy a fashion brand, instead of the worn jeans and simple t-shirts, Converse all-stars, Doc Martens, plaid shirts, leather jackets, chains, and all the fashion accessories that gave their mark.
Perhaps the biggest phenomenon on the fashion scene was the fact that the male dominance was replaced by a new generation of girls who flaunted their unique style, a look inspired precisely by the music they listened. It seems that this style never got out of fashion because it still represents an alternative style of dressing. So if this is your preferred style, let's see how to get the grunge look.
Jeans and Leather Jacket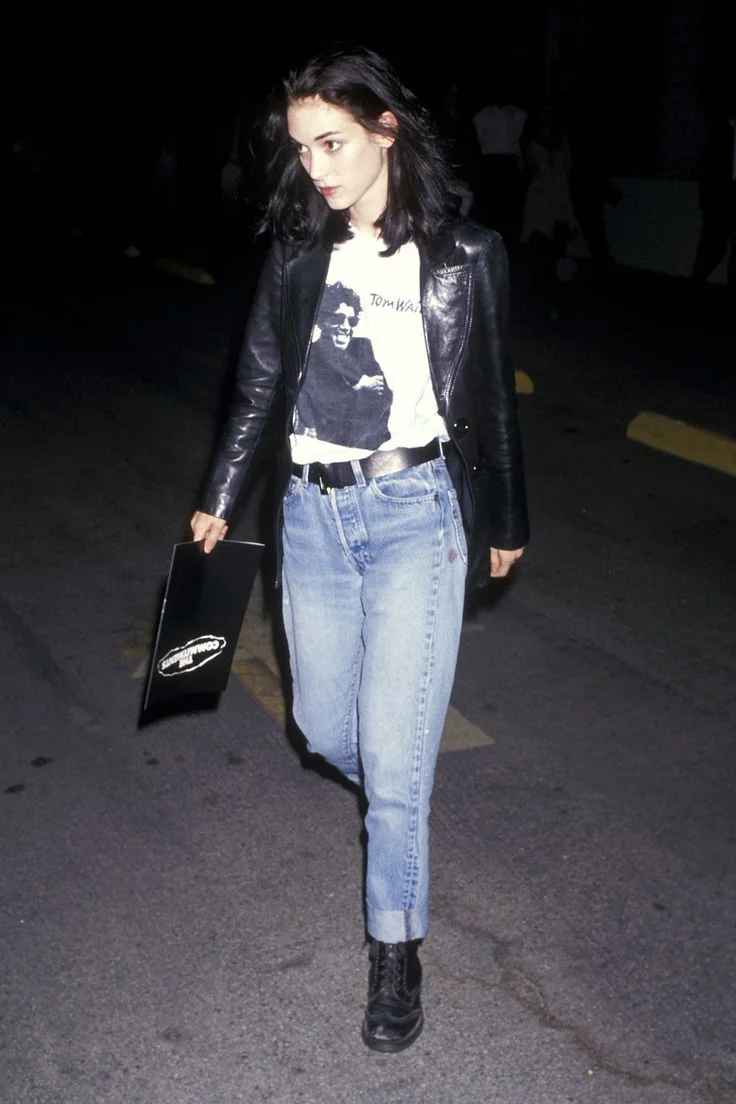 It's better to learn from the best, right? Winona Ryder rocked the grunge style in the 1990s and this is her most popular outfit. It is so simple, yet so cool. She wears black boots, jeans with a black belt, a Tom Waits t-shirt (fun fact: he gave her the t-shirt himself) and a black leather jacket. She wears her hair loose and has no makeup.
Oversized Plaid Shirt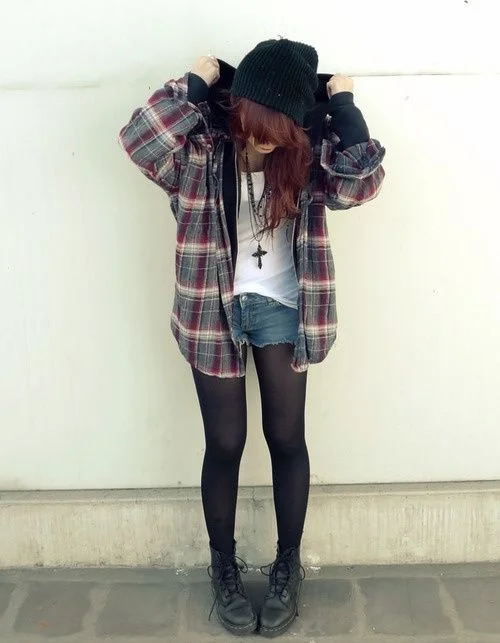 Probably the first thing that springs to mind when you consider grunge fashion is flannel. Pair your plaid shirt with a short denim skirt and a plain T-Shirt.
Baggy Band T-shirt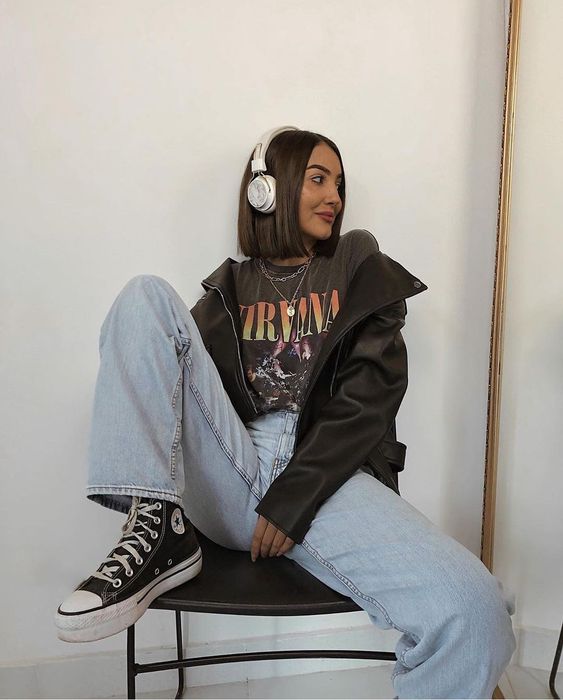 The simplest way to express your passion for a band is with a band t-shirt, and these ensembles are currently in style thanks to the comeback of band tees such as Nirvana, Pearl Jam, Dinosaur Jr, etc. Put on your favorite band's t-shirt and baggy jeans for the baggy look that characterized the grunge fashion era. Put on a loose-fitting leather jacket.
Denim on Denim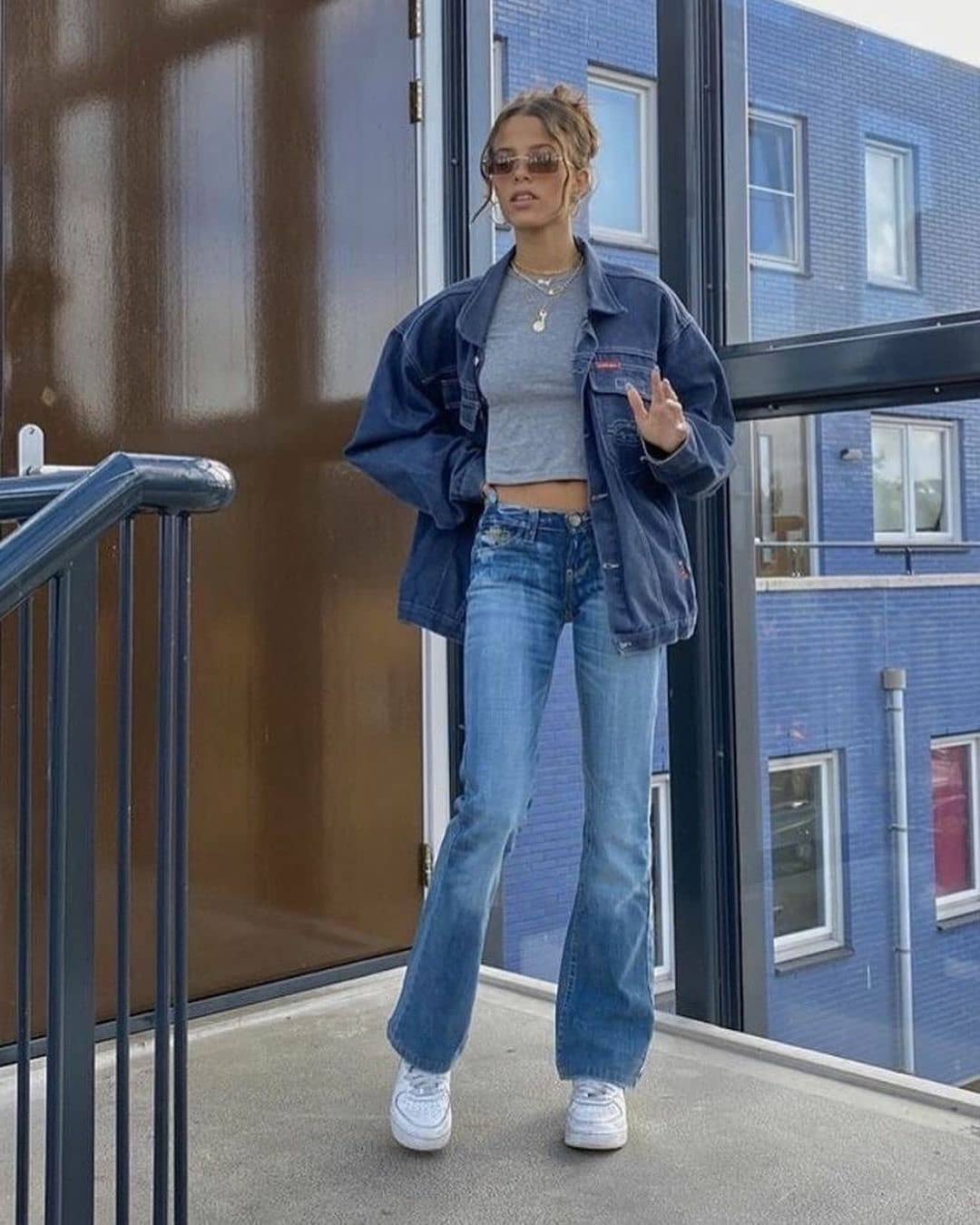 Denim on denim ensembles, often known as Canadian Tuxedos, have cemented their place as one of our favorite effortless, everyday styles. It's essentially as simple as mixing or matching any pair of jeans you own with a denim top.
Slip Dress and White Tee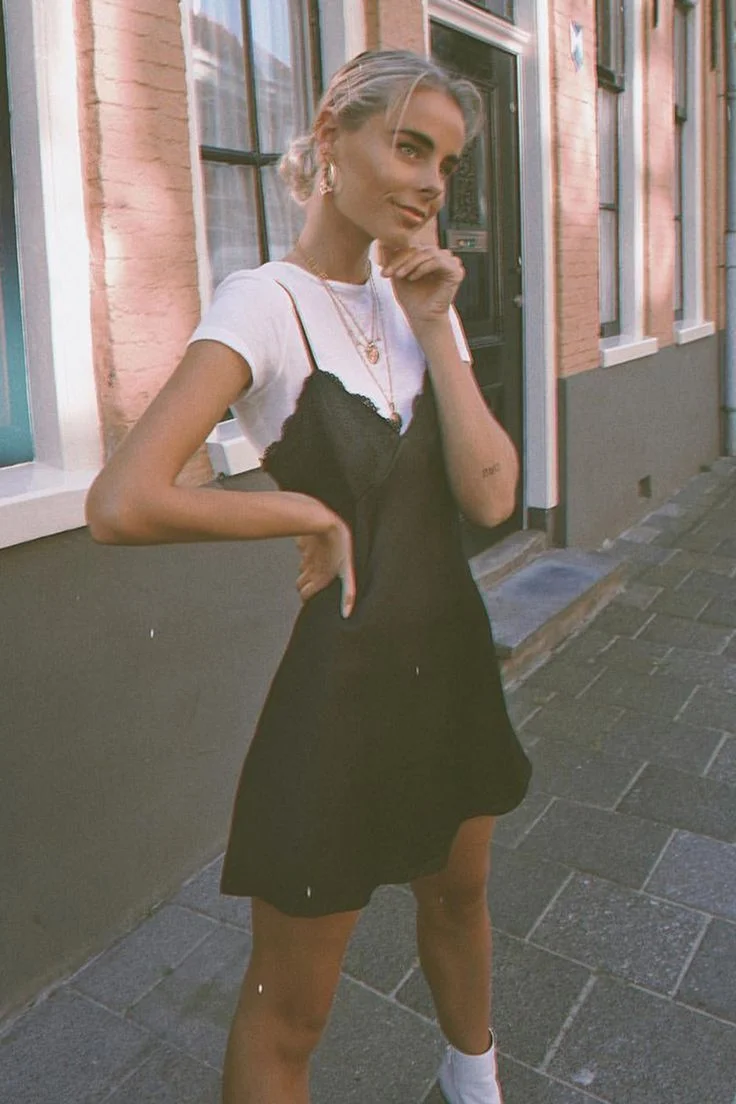 Choose a black slip dress if you want to dress up a little, combined with a white tee and ankle boots. It can be very casual and grungy at the same time.
Plaid Slip Dress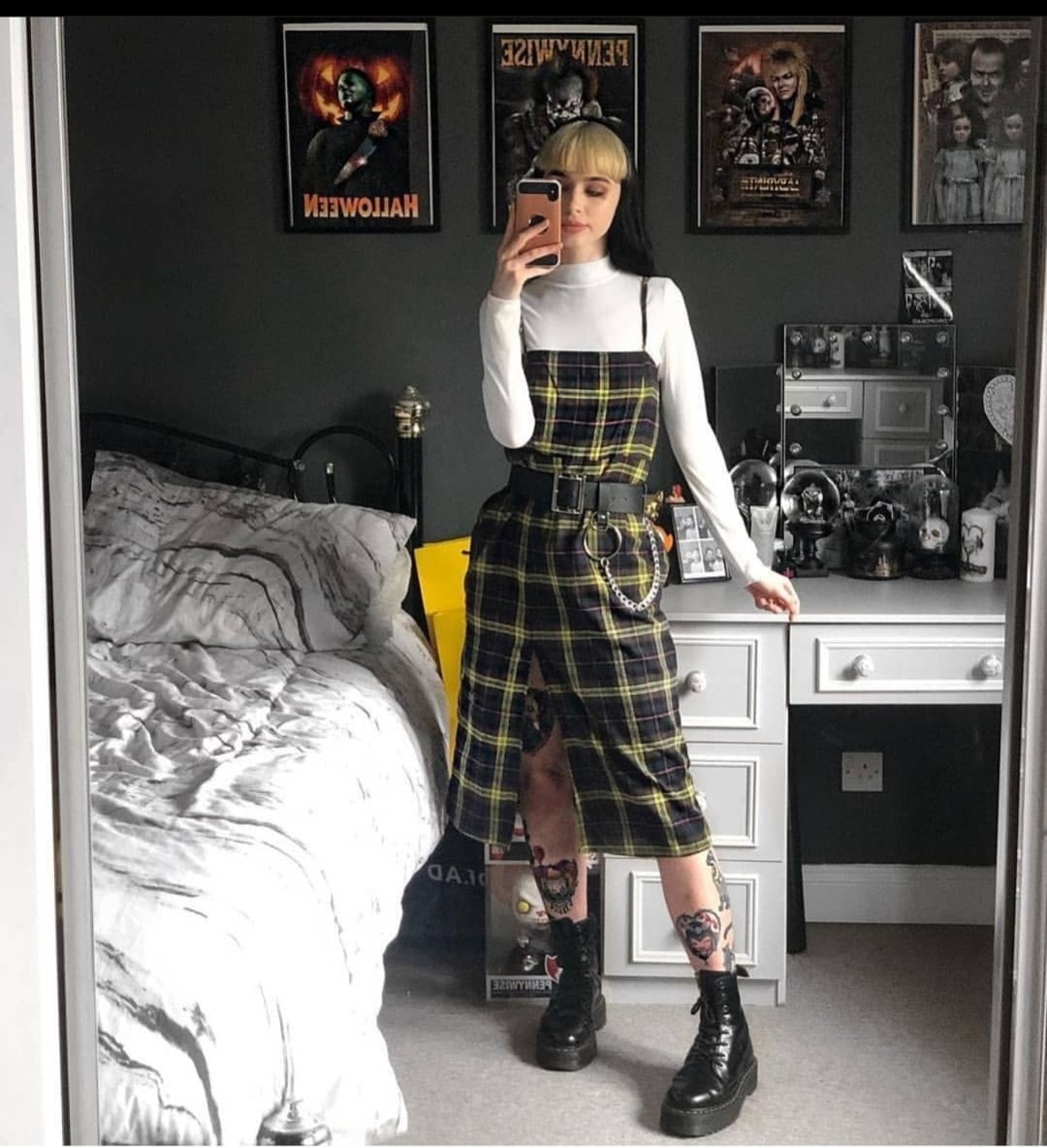 А plaid slip dress is great for winter days and nights out. Add black and ripped tights or fishnet stockings with it. To finish the look, add a black leather shoulder bag and ankle boots to the outfit.
Overalls Outfit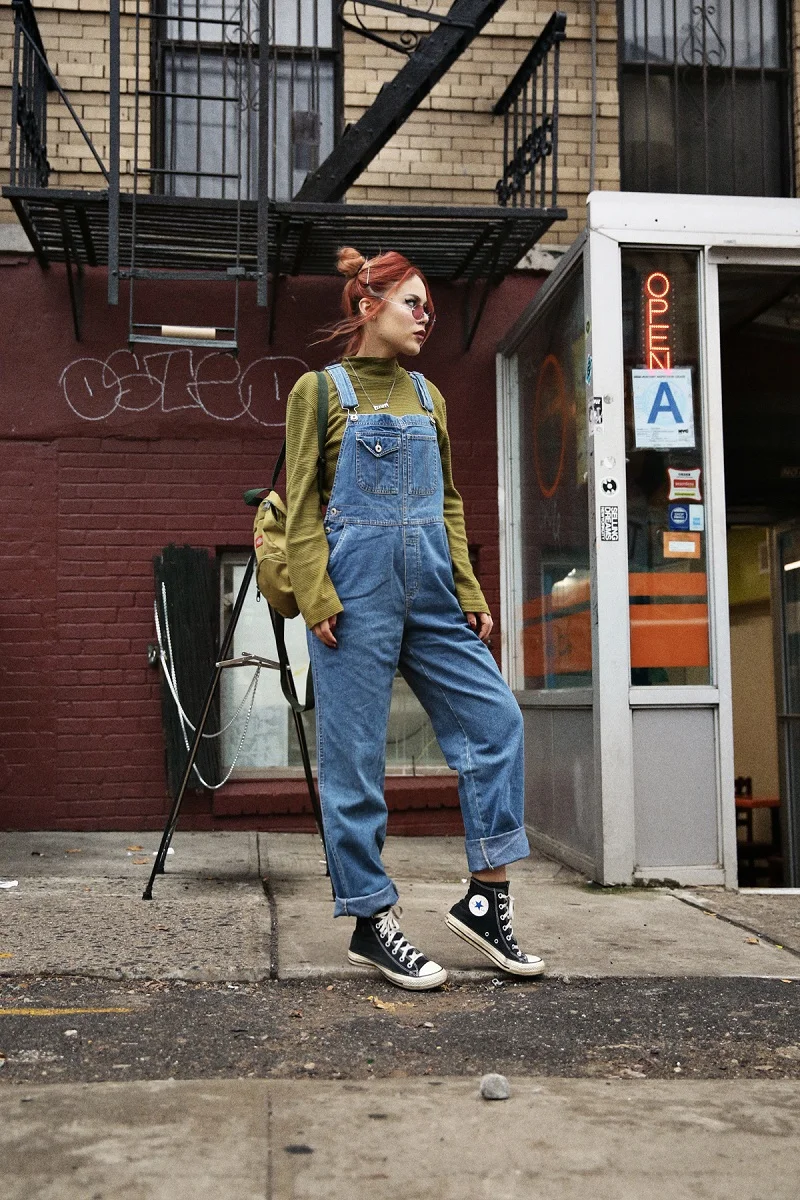 Overalls are hugely popular and they never go out of style. Like jeans, denim overalls are simple to wear, but because of their distinctive, unorthodox appearance, styling them can seem difficult. Denim overalls are a go-to casual yet trendy alternative for a cool fall or spring day when paired with a comfortable sweater and a pair of sneakers.
Colorful Outfit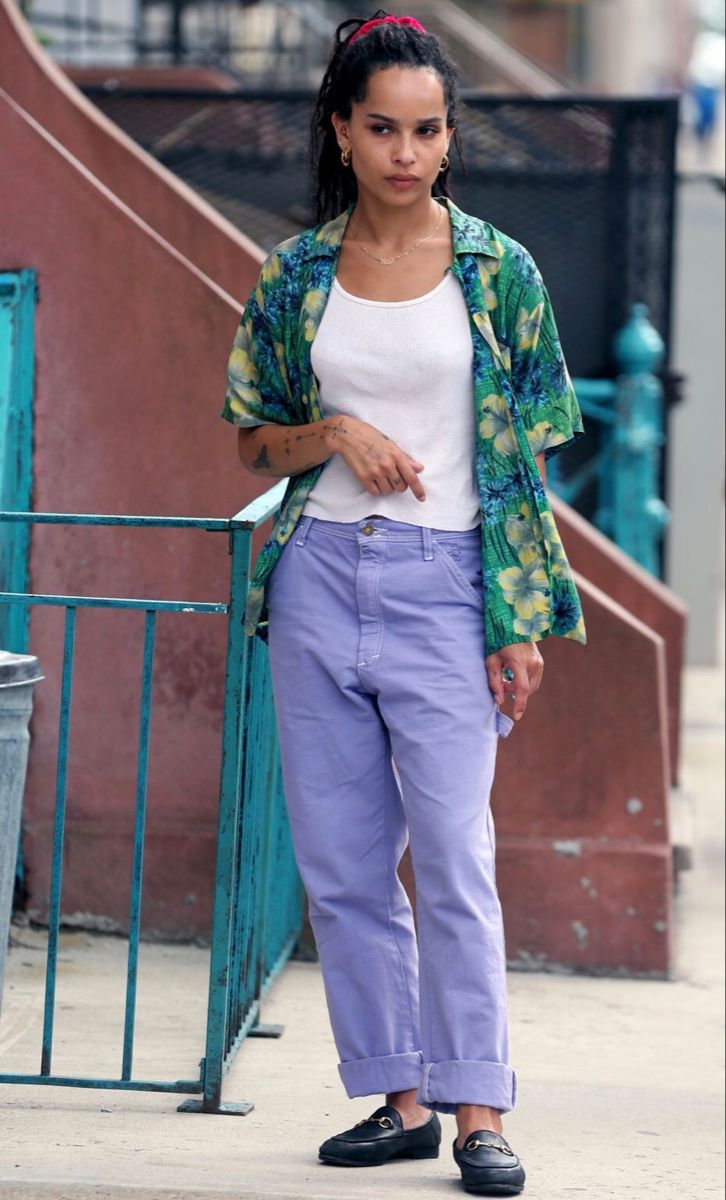 Yes, you can play with the colors, as long as you keep the style. So here we have loose pink jeans, a white t-shirt, and a colorful oversized shirt.
High Rise Jeans and Crop Top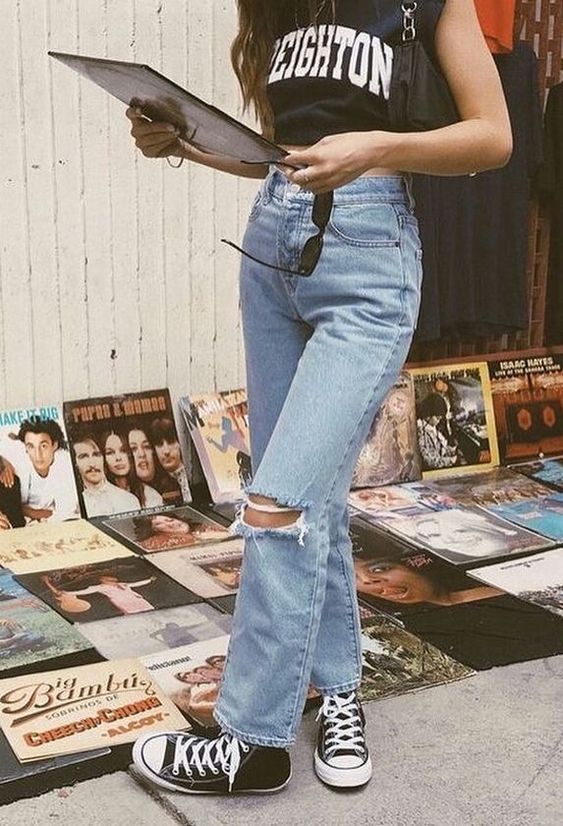 This is the most popular grunge outfit: Converse All Star sneakers, mom jeans, a crop top, or any t-shirt of your choice. You can wear this outfit literally everywhere. To make the outfit more interesting, wear a statement t-shirt.
Summer Outfit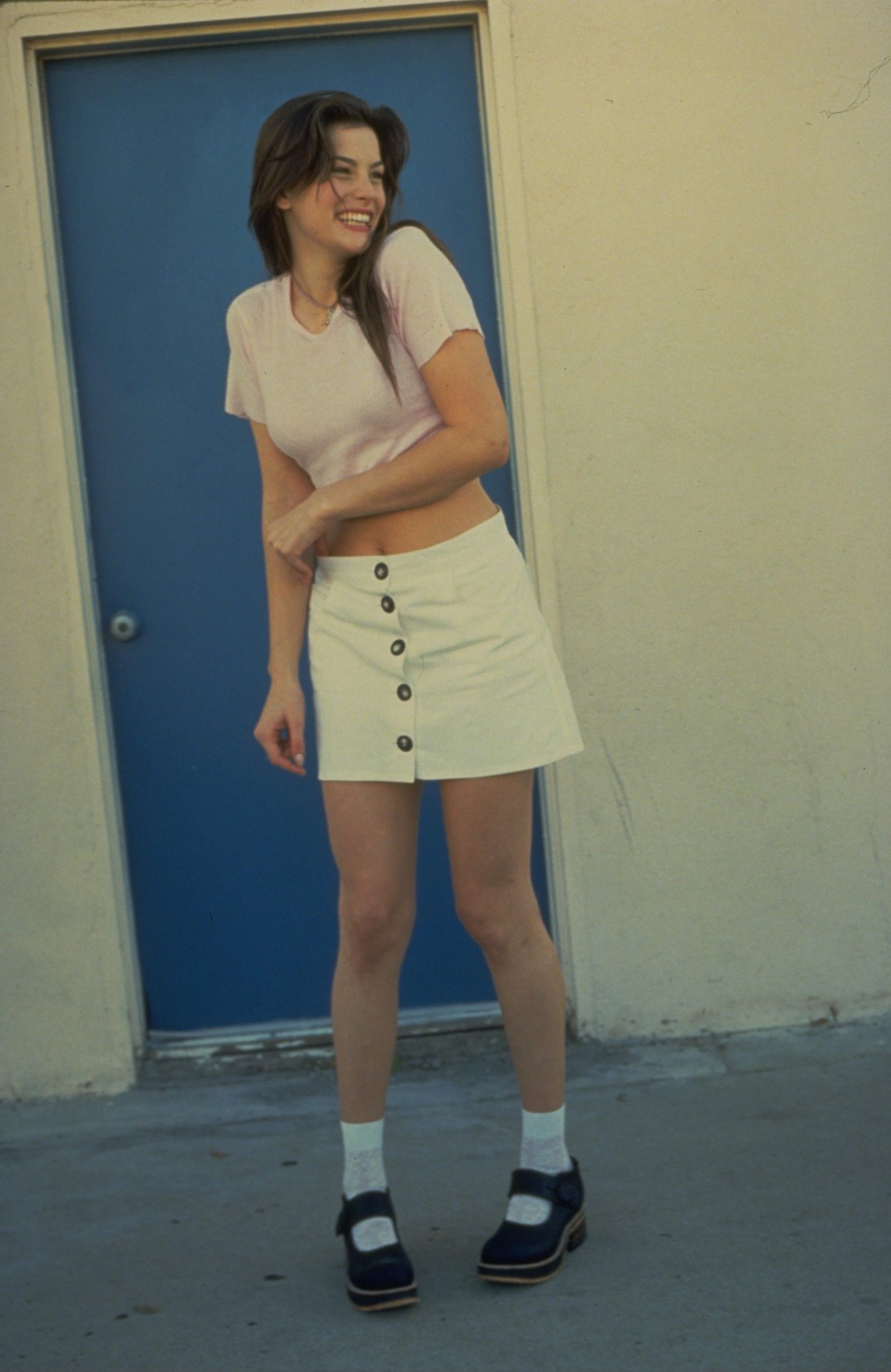 Yes, when it's summer of course you don't want to wear dark and baggy clothes. Well, not everybody. So I recommend you a more cheerful and simple outfit – a white mini skirt and a pink crop top.
Low Rise Denim and T-Shirt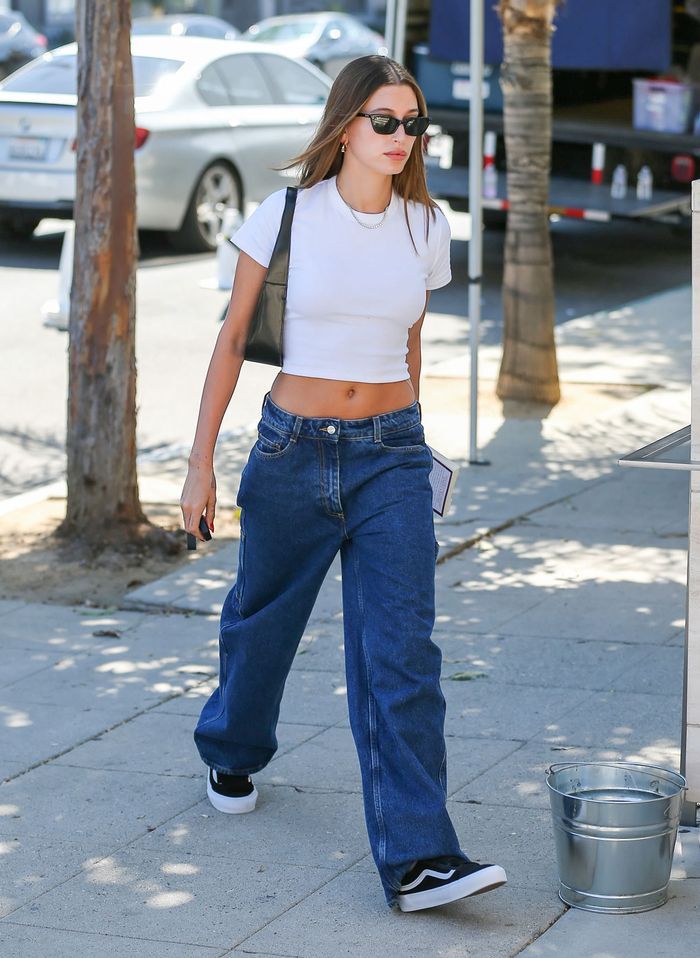 Low-rise jeans were worn by the end of the 1990s, it seems like everybody wore only low-rise jeans, no matter the style. To be more grunge, combine them with a crop top and casual sneakers. It is actually a very sexy girl-next-door outfit.
Ripped Tights Outfit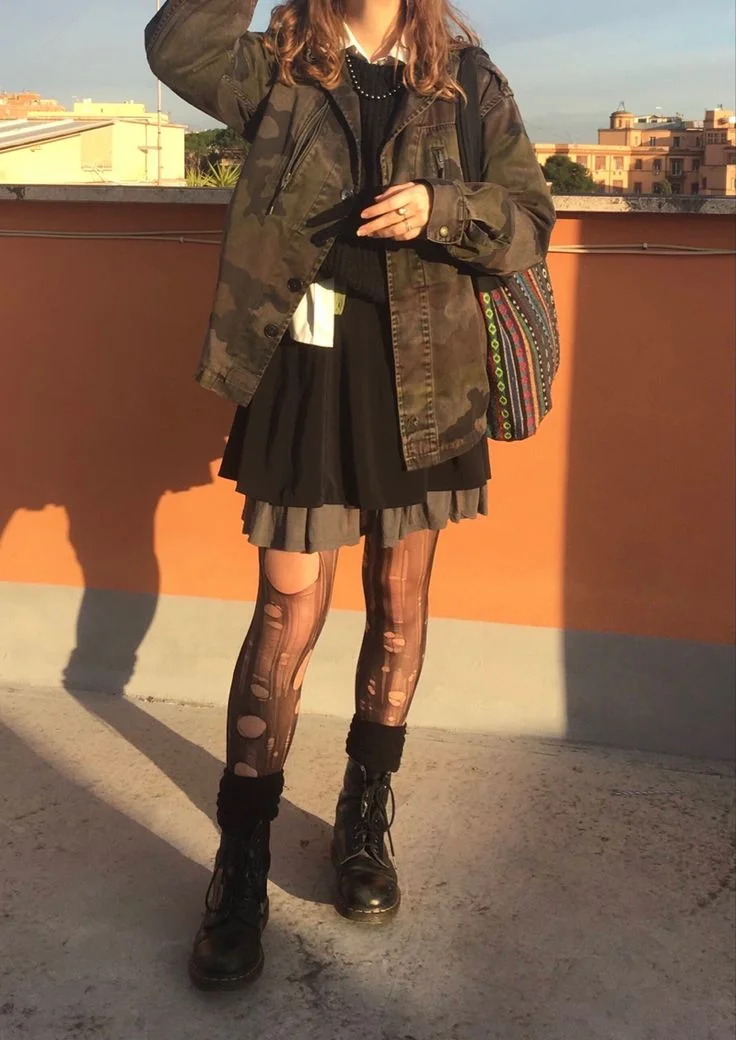 Ripped tights were very fashionable in the 1990s, like ripped jeans and ripped jackets and t-shirts, but they are still trendy now, as evidenced by famous fashion houses that sell ripped tights for very high prices. In the 1990s, but still, today, if you're grunge it means you wear ripped tights because you support the lifestyle and it's kind of antithetical.
All Leather Outfit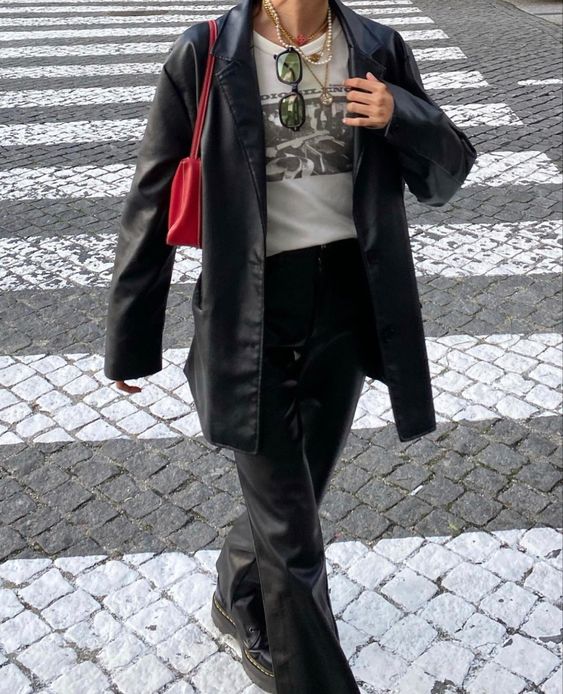 All leather outfit screams grunge! Combine a leather blazer with leather pants and a plain tee or a band tee. It is a very simple outfit and very cool and I know you can get very tired of wearing this combination with jeans and a jacket.
Long Skirt Outfit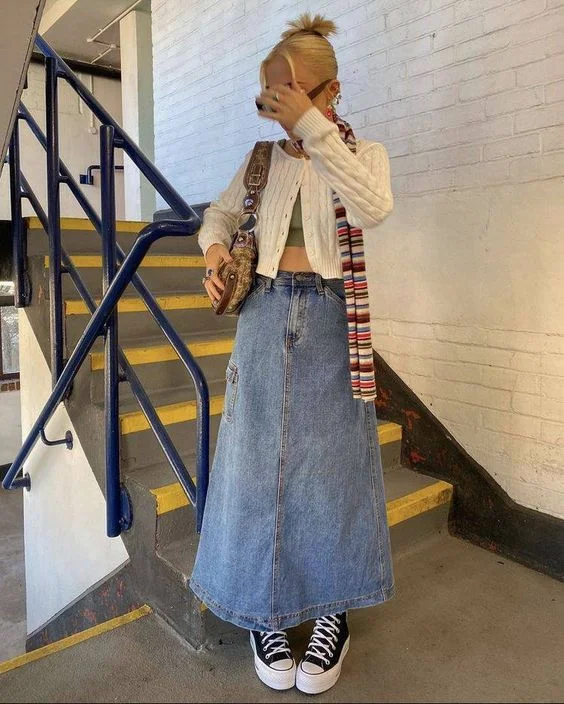 Oh, long denim skirts are so cool! They appear to be very unusual because you don't see every girl outside wearing one. So use it as a form of statement and make a cute grunge outfit.
Olive Green Outfit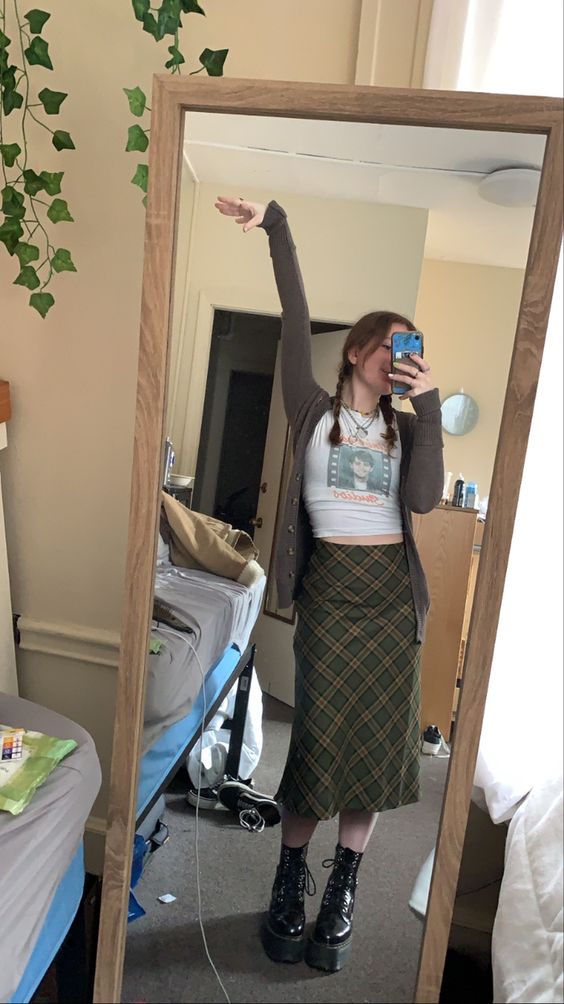 When you want to be grunge, you would want to wear darker clothes, and olive green is an excellent choice if you don't want to wear black. This is a very cute 90s-style skirt, combined with a crop top. It is very feminine, yet very cool.
Edgy Outfit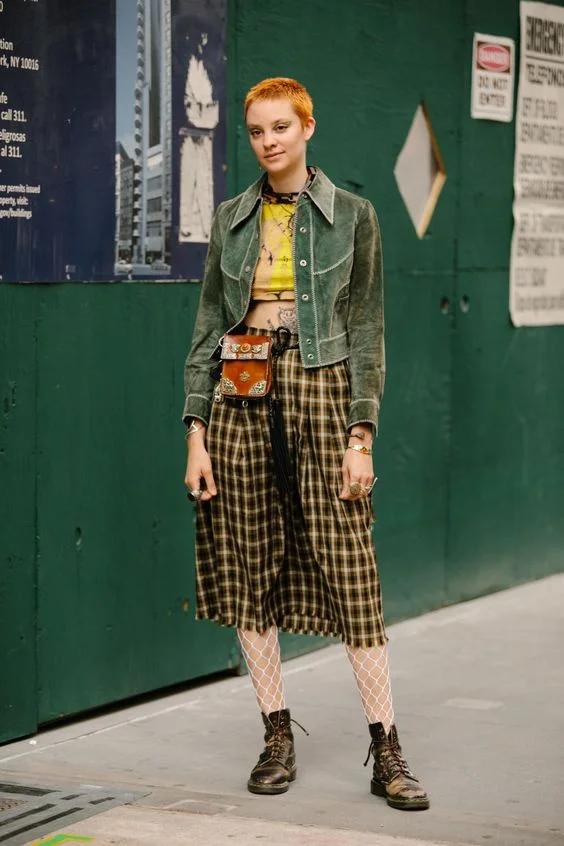 If you want something over to the edge, then dressing grunge, with a little tinge of punk will suit you the best. Modern street punks typically dress in leather, denim, metal spikes or studs, chains, and boots with military-inspired styling. They frequently don bondage pants and Kutten vests, two early punk fashion staples.
Tomboy Outfit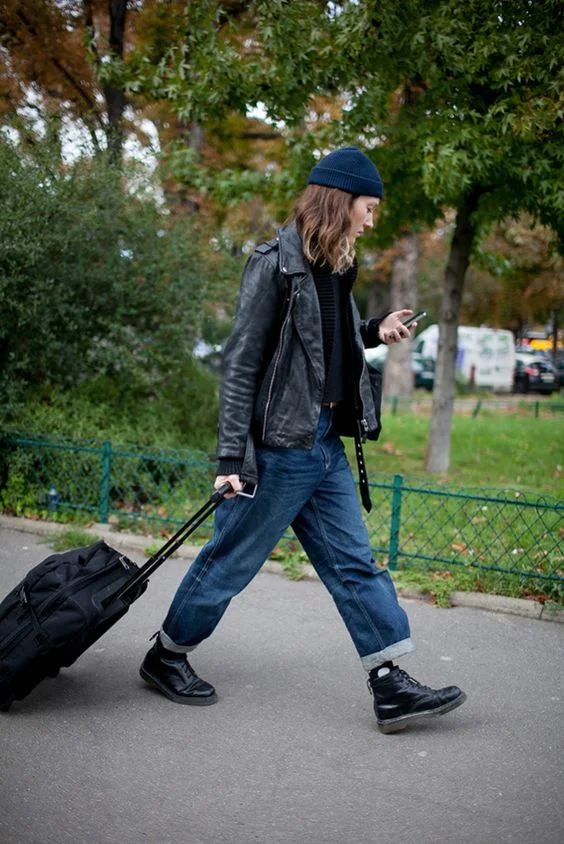 You might want to try the tomboy style if you're a female who prefers to keep things simple over hot outfits and loads of makeup. Since most of us aren't completely tomboys, we occasionally worry that if we try this style, we'll come out as too boyish. Nevertheless, tomboy clothing can sometimes be quite feminine. A tomboy outfit will undoubtedly make you look cool.
Layered Outfit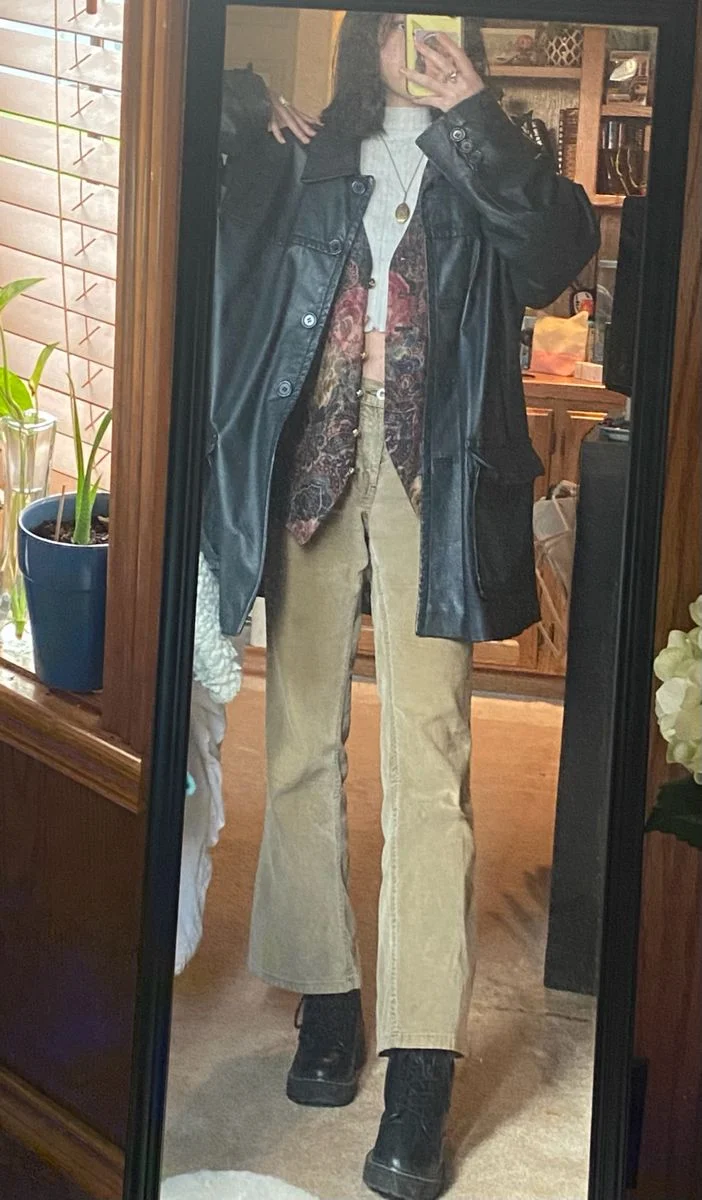 This is a crucial component of grunge fashion. If you have three favorite outfits, for example, you can wear them all together in this way as long as they are all in muted hues and are worn with attitude.
I hope you liked these grunge outfits that takes us back to the 1990s but are also very trendy 30 years later. But, don't forget, whatever your style is, just wear it with confidence, and we're always here to inspire you with new trends and styles. Don't forget to share which combination you liked the most n the comments section below.