Used a lot in the 1950s, cardigans and sweaters are important items that everyone should have in their closets. You can dress them up or down however you want, whether you're going to brunch with friends or just want a lazy Sunday at home.
One of the most useful pieces of clothing in your closet is the simple cardigan. It can change your look from summer to winter, no matter where you're going. As one of the most classic layers, it can be worn in a lot of different ways. Celebrities and models love this knitwear, so here's how to wear a cardigan sweater like a street style star. Coco Chanel made cardigans popular because "she hated how tight-necked men's sweaters messed up her hair when she pulled them over her head." Today, those simple sweaters and cardigans of the 1930s have been turned into button-up cardigans and oversized knit sweaters with all kinds of cuts, sleeves, or materials to fit today's fashion trends. Add these cozy accessories to your closet to make any outfit look chic while making you feel cozy and at ease. Pick your favorite style, and your clothes will blow everyone away.
You can find many sweaters or cardigans in any clothing store or in your closet. But since styles change so quickly, it's hard to know how to put them together. In the world of fast fashion, a well-fitted pair of jeans, whether they are mom jeans, straight, skinny, flared, etc., is your best friend.
And here are some of the cutest cardigan outfits we have for you today!
White Blouse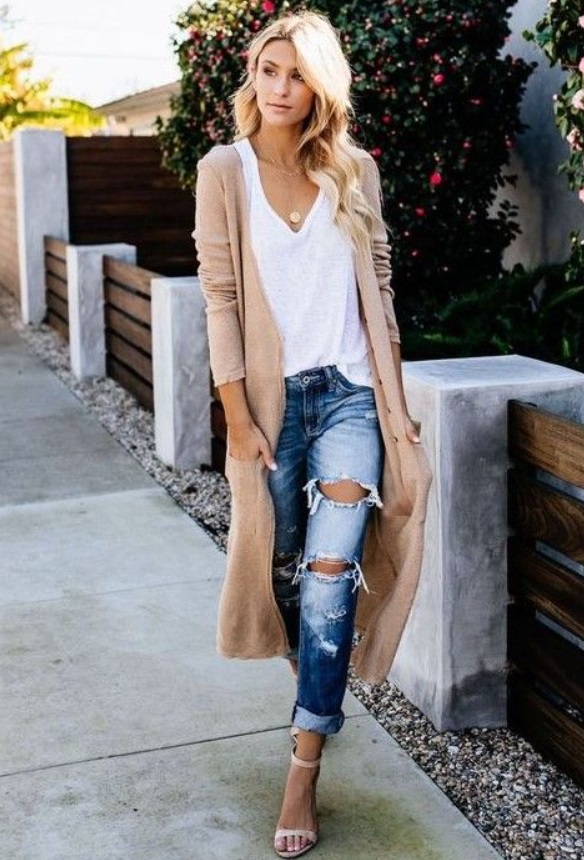 To get this cool and casual look, wear a light brown midi sweater cardigan over a white loose-fitting chiffon blouse. Wear them with a pair of light blue boyfriend jeans with ripped cuffs. You can look slim and elegant by wearing a pair of pale pink heels.
Cardigan With Leather Pants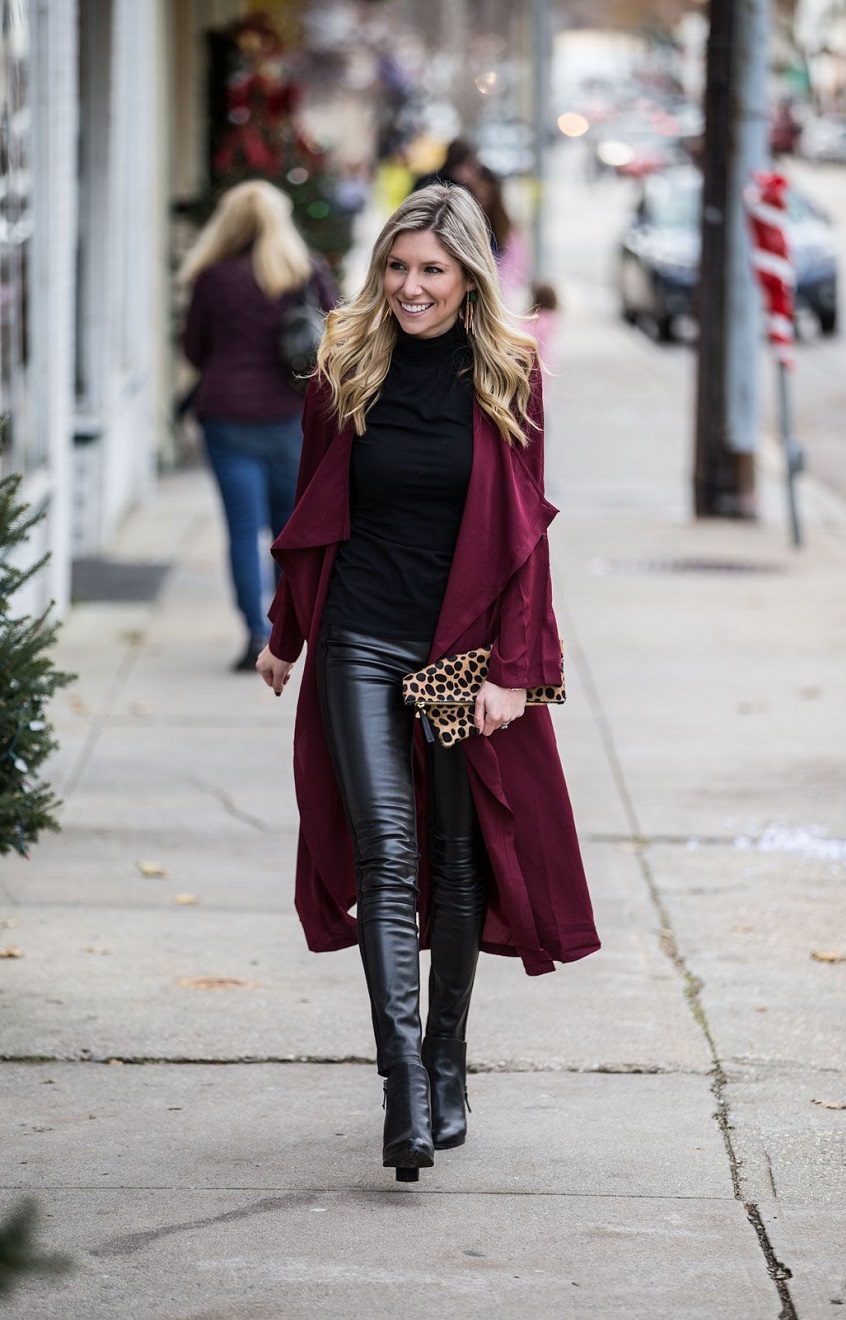 Choose a cardigan with a shawl collar to make it stand out from the rest. The draping is an easy way to dress up a casual outfit without looking too dressed up, and you can wear it almost anywhere. Pair this outerwear with leather pants and a black roll-neck to keep things simple. This is a piece that can be worn by people of all ages and in any season.
Short-Sleeve Cardigan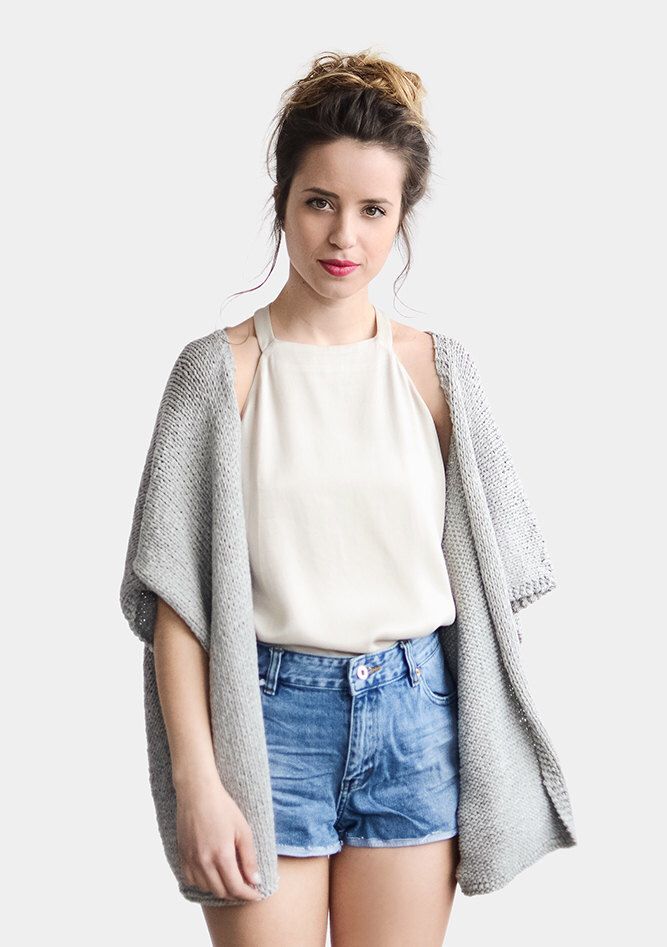 Who says that cardigans can only be worn in the winter? Knitwear with short sleeves is a great way to show off your arms and get compliments. By buttoning up the middle and adding a pair of mom jeans, you can make the layer into a whole outfit. Pair the cardigan with short jeans for a flirty look, and you're ready for a picnic or a date at the movies.
Cropped Cardigan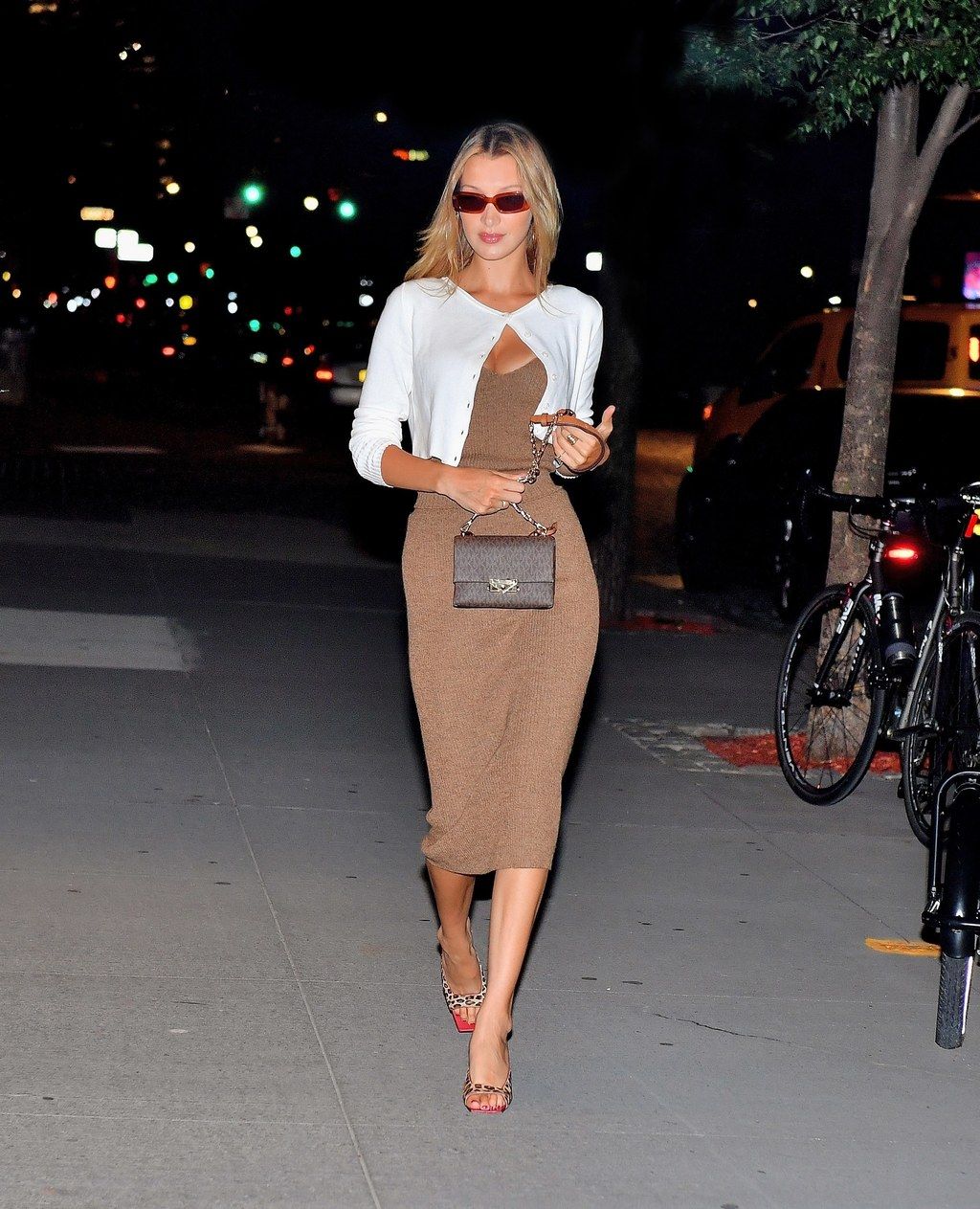 Take a page from Bella Hadid's book and wear a cropped cardigan sweater with straight-leg jeans and sneakers, as she does. Instead, a button-down jumper tucked into a pencil skirt or high-waisted palazzo pants is an easy way to look chic without wearing too much. This is a great choice for people who are going from work to a party or just want to change up their style.
Wrapped Cardigan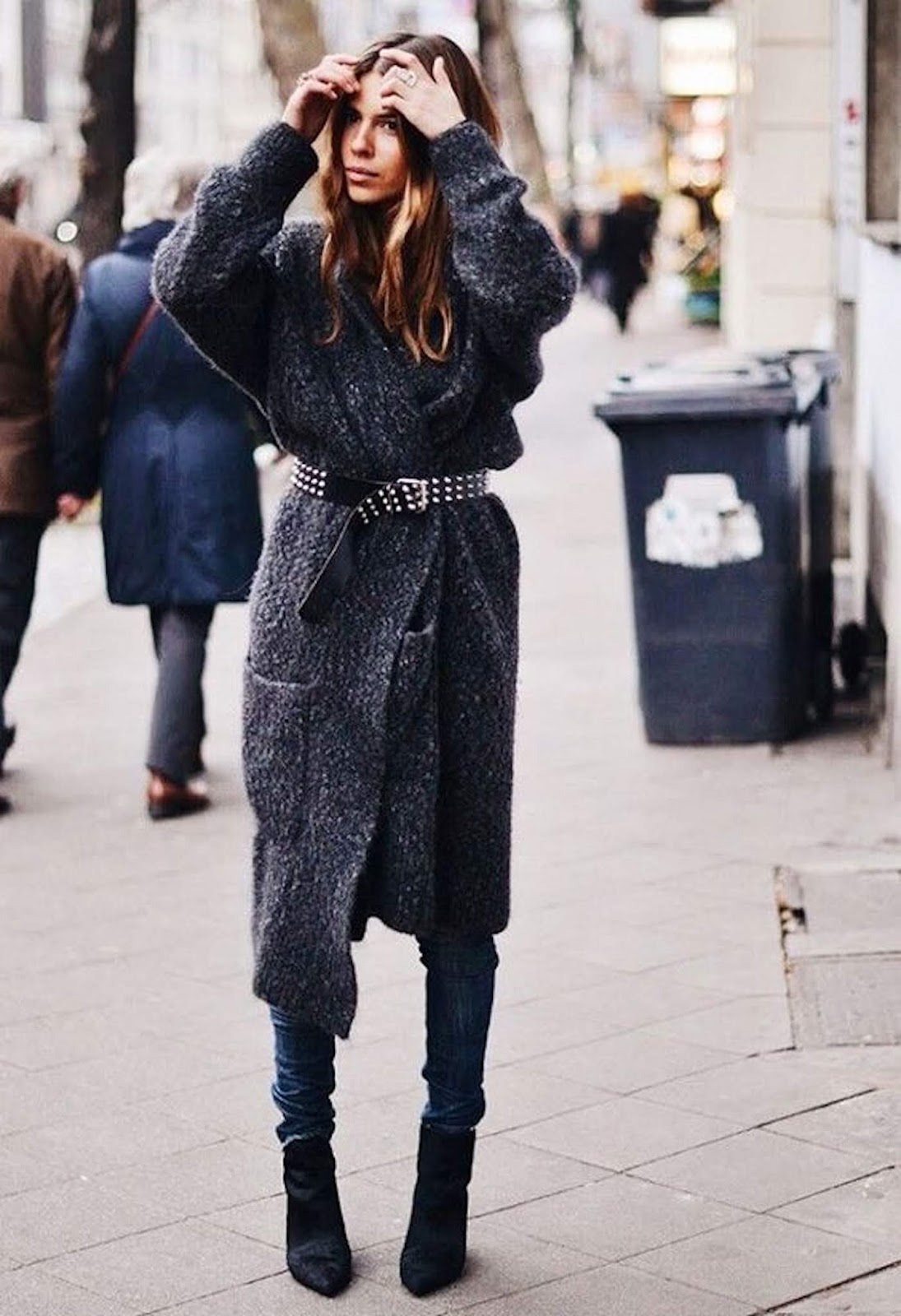 When it's really cold, a wrap cardigan will keep you warm and cozy. This is a classic piece of outerwear that dancers often wear. It keeps them warm but gives them plenty of room for maneuver. You can pair it with a belt like this one, or without, it is a very useful piece of clothing.
Plus-sized Cardigan
With a stylish cardigan, you can take your outfit to the next level. It's up to you if you want something long or short, but this knitwear will make any outfit look great. You can wear it with or without buttons, and wearing only one color is an easy way to look stylish right away. You can wear it with a shawl collar to make yourself look even more stylish.
Plaid Shirt & Cardigan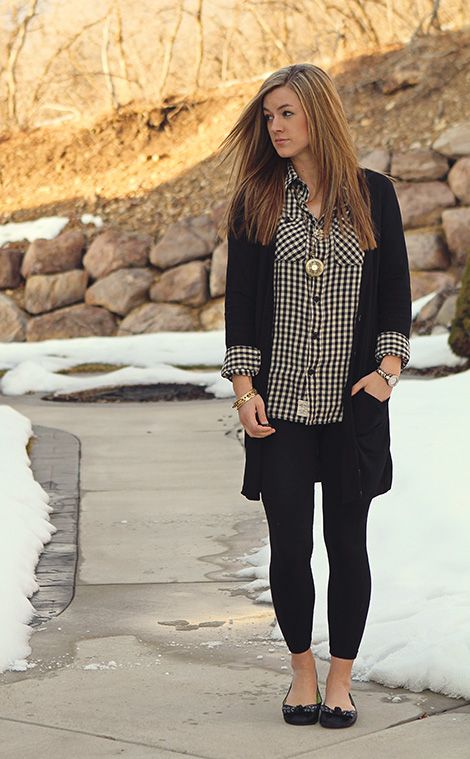 This is a simple, casual street outfit that is great for hanging out or going to the store. You can get this look by wearing a grey and white boyfriend shirt with a longline blush pink cardigan. Add a touch of femininity to the outfit by wearing them with grey skinny jeans and pale pink heels.
Cardigan & Denim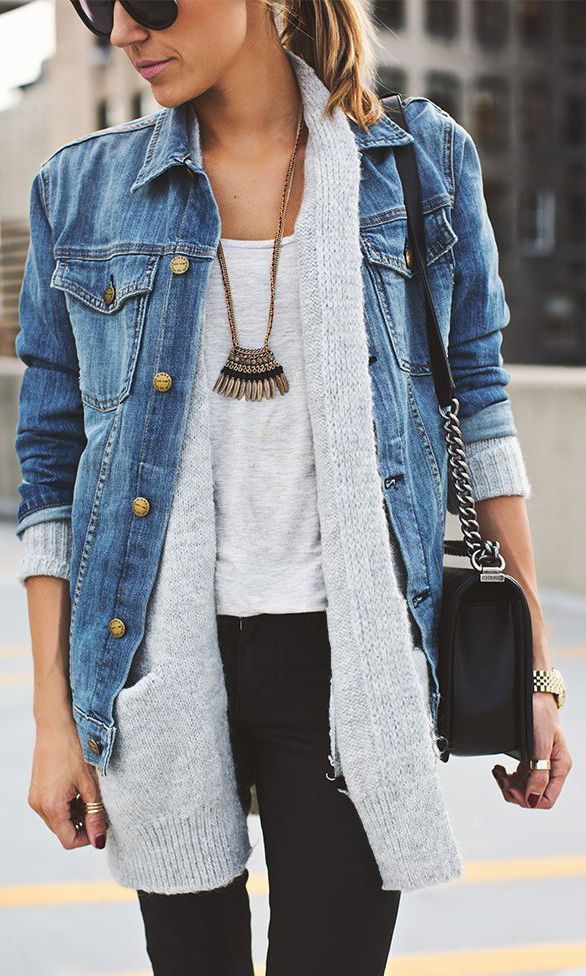 This is one of our favorite looks because it's so cute and classy. When worn together, a blue denim shirt and black pants look great. This white cardigan is so pretty, and the length is just right. You can wear glasses, a bag, and cool, comfortable sneakers.
Chartreuse Cardigan
What an unbelievable color! Cute, bright, and stylish. This cardigan would look great with light blue jeans and a white top. Let the cardigan do the talking, and keep the rest of the outfit simple.
Cozy Autumn Outfit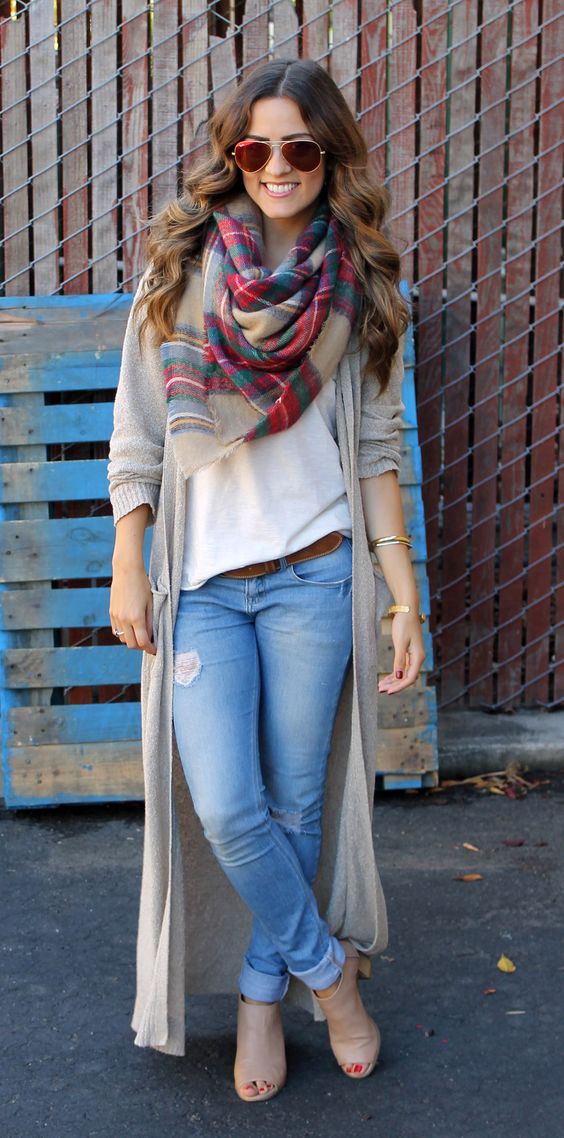 This is a cozy outfit with layers that you can wear to work, especially in the fall. For the top, you can wear a red and green plaid fringe knit scarf with a white pullover sweater. Complete the look with slim-fit, ripped jeans and beige boots.
Strong Red Cardigan Outfit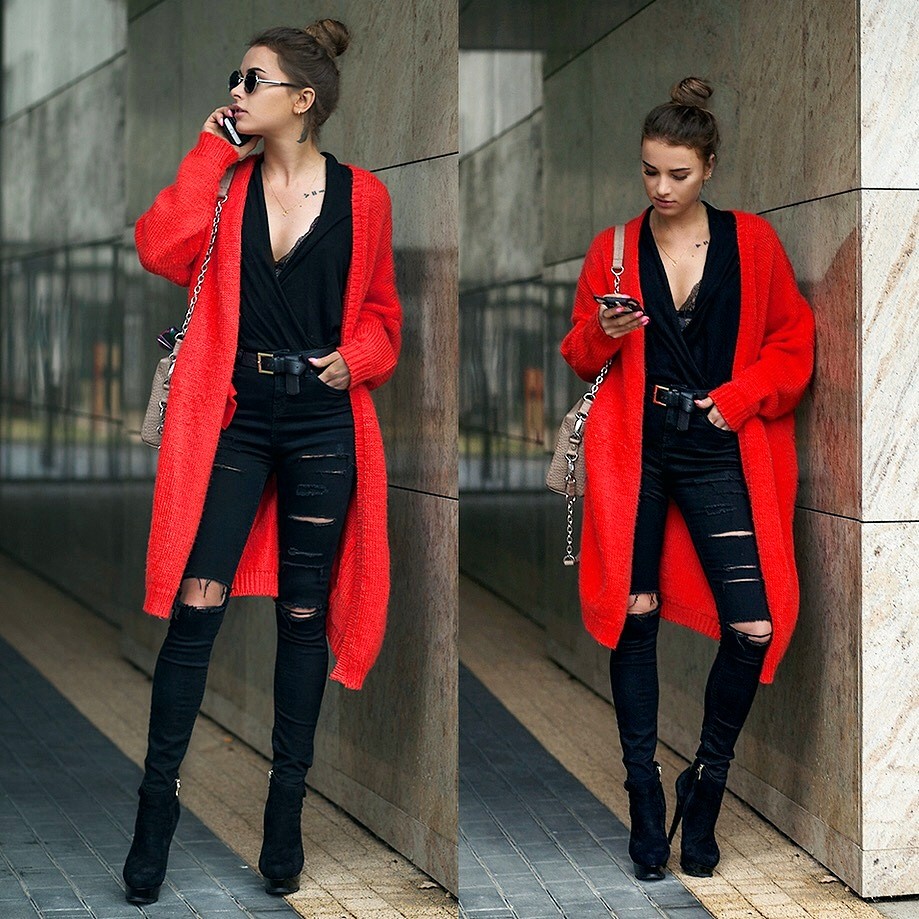 Those of you who want to draw more attention to yourself should often wear something shocking red. To get this particular red and black look, you can wear a black slim-fit tank top with a red knit cardigan to look sharp and lovely. Finish off the cool look with a pair of black ripped skinny jeans and black heeled boots.
Beige Set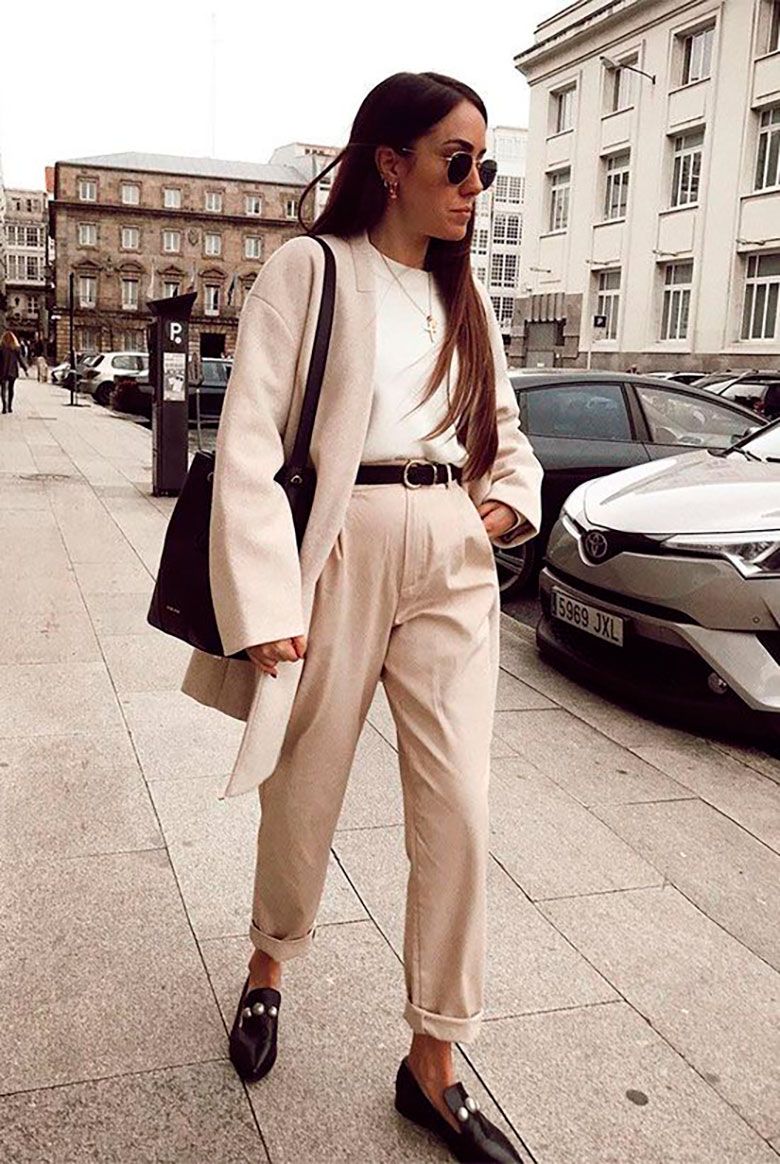 This beige look is perfect for the autumn months. The cardigan fits perfectly with the pants and the white shirt also goes well with the beige color due to its similarity. Add a bag and some sunglasses and you're sure to look stylish.
Brown Comfy Cardigan Outfit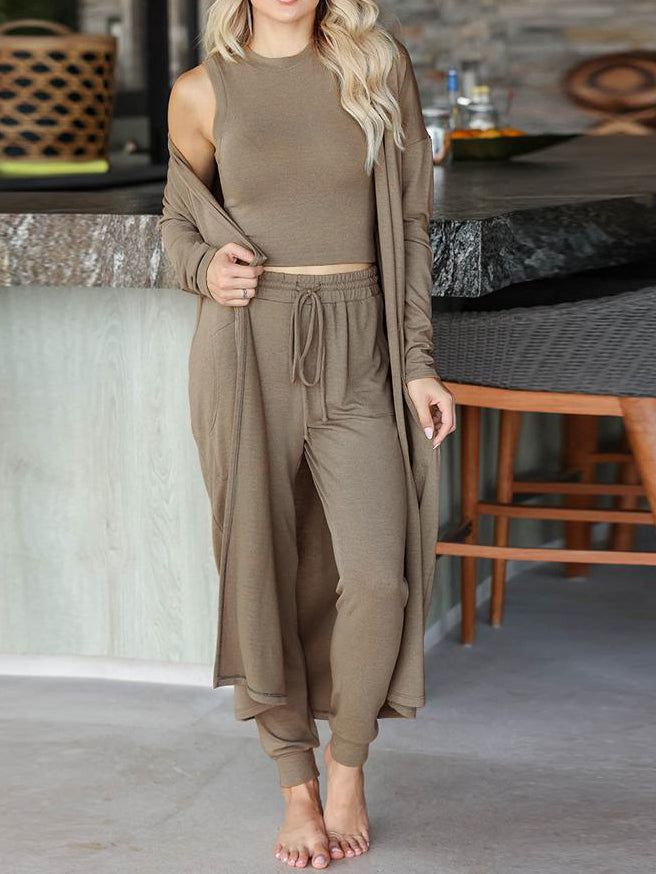 This 3-piece brown set is ideal for use in the gym, like sportswear, for yoga and other forms of exercise, as well as at home, in the bedroom, and for lazy days around the house. It's very lightweight and comfortable.
Cardigan With Shorts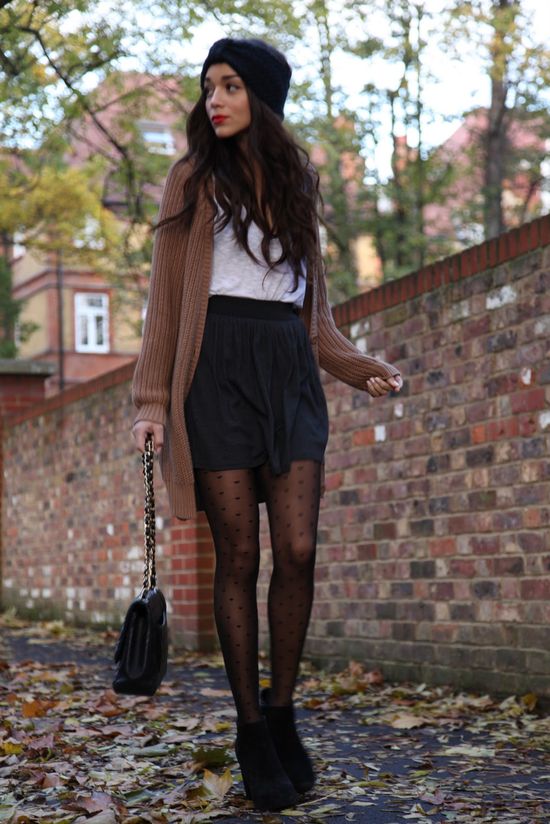 Jeans, a sweatshirt, and a cardigan are indeed the easiest outfit to put together, particularly for school and other informal events, but that doesn't mean that you shouldn't combine a cardigan with something else. Shorts and tights make a stunningly stylish combination, and if you're also looking for something a little bit unusual, you should give them a shot. Add a pair of boots and a beanie, complete the look with a bag and you're good to go!
V-neck Cardigan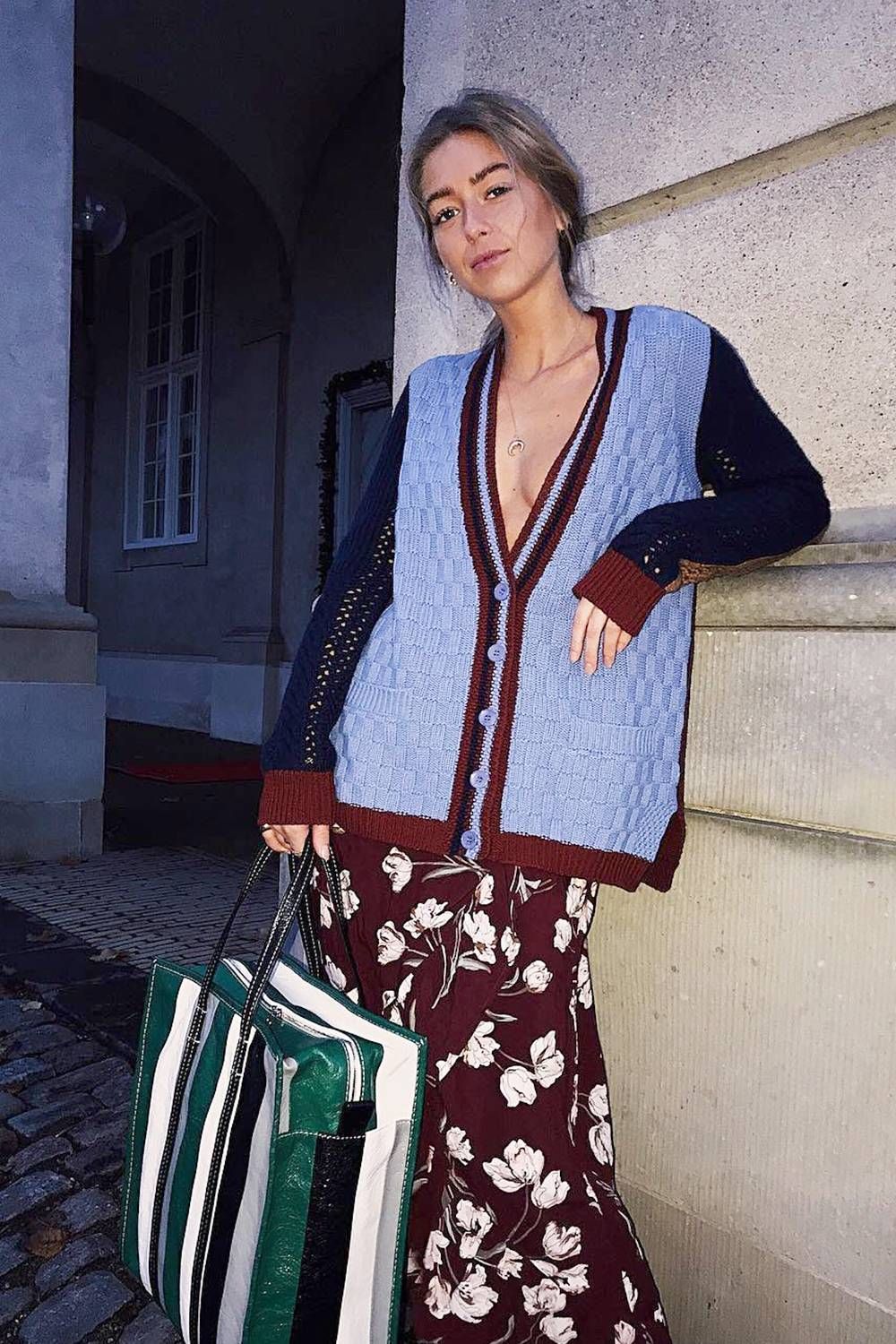 This knitted cardigan is perfect for the winter months. This example demonstrates that a cardigan with a V-neck may be worn for a variety of occasions, including the evening. It also bodes well with all sorts of other clothing pieces.
Dress & Cardigan
Cardigans are one of the most versatile pieces of clothing out there. You can combine them with pretty much everything and in all types of weather, and they will fit perfectly. Another very stylish instance is with a dress during the autumn. You may stay warm by donning a pair of leggings and knee-high boots as the weather begins to get chilly, and you can add a piece of jewelry as well!
Old-school Look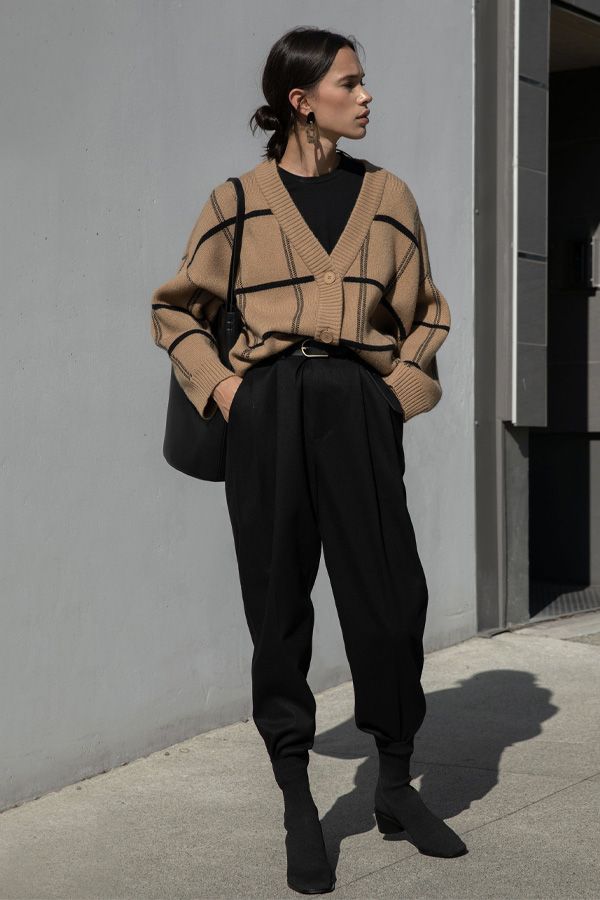 If you thought grandma's classic piece would be off this list, you were wrong. One of the biggest hits for the coming season, this old-school cardigan has already started to rise to stardom for its street style looks and promises to be one of the main attractions in the fashion world.
Sports Bra & Cardigan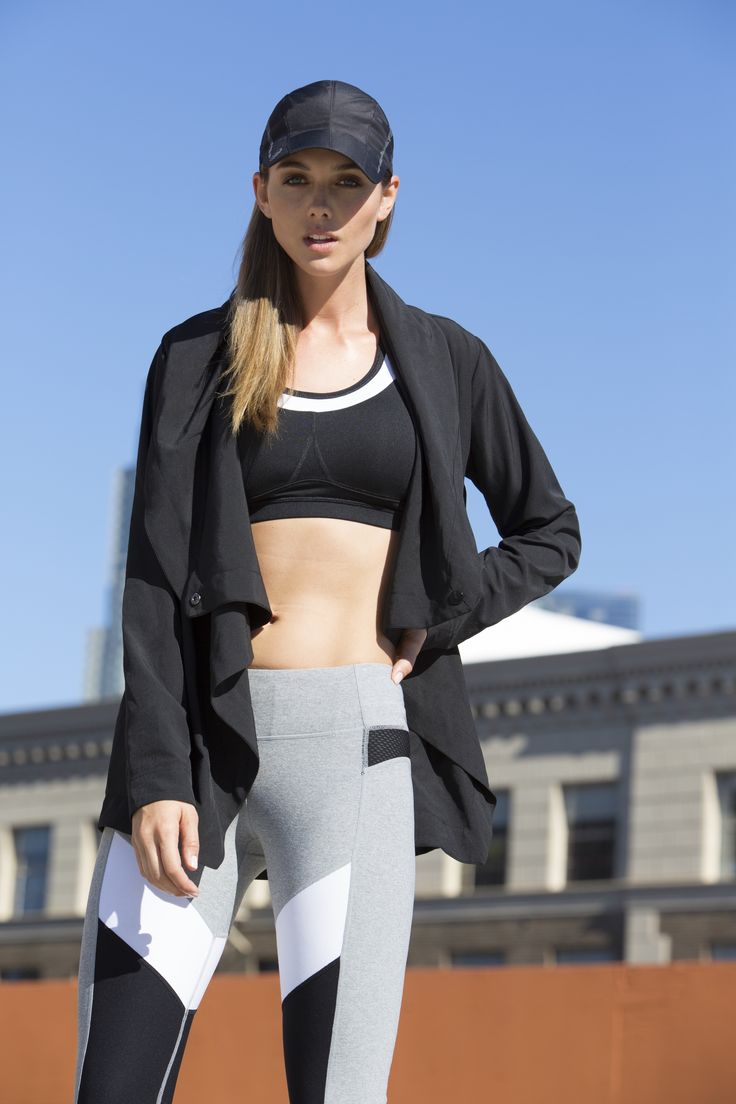 For all those sporty girls, this is the perfect cardigan outfit for you. The comfortable leggings and sports bra make for a very sporty look, and the cardigan as usual, just adds to the aesthetic. Add a cap and you're ready to conquer the gym or the jogging goals.
Everyone you see is wearing a cute sweater or cardigan, from famous people to your next-door neighbor. Cardigans and sweaters will always be in style, just like you. Fashion has no age limit; if you follow the latest trends we showed you in 2022, you can always look easy and young.
Let us know your thoughts and comments about this type of clothing, and if you like it or not.