Flannel clothes have been around for ages, so are they still in style this year? Yeah, obviously. Like jeans, these soft woollen clothes with their plaid and checkered patterns seem to never go out of style. Their styling might change, but the flannel sticks around, like it or not.
Seen as a very easygoing sort of attire, maybe a seen like manly or a bit of country, yet we all have, or at one point had, that cosy flannel shirt that we were reluctant to get rid of. How can we? They're so comfy and can be combined with just about anything. You can style it in different ways, wear it as a regular shirt, a covering layer, or just tie it up around the waist to add some colour and texture to your outfit. It's all up to you.
Most common of the flannel clothing is the ever-popular flannel shirt, but you can find lovely flannel skirts, pants and even scarfs you can combine to create a great variety of stylish outfits. Since the flannel comes out of its hibernation usually in the fall, I've decided to share a few of the ways you can wear, style and enjoy your favourite plaid flannel outfit for the season.
Let's dive in.
The Well-Liked Country Flannel Look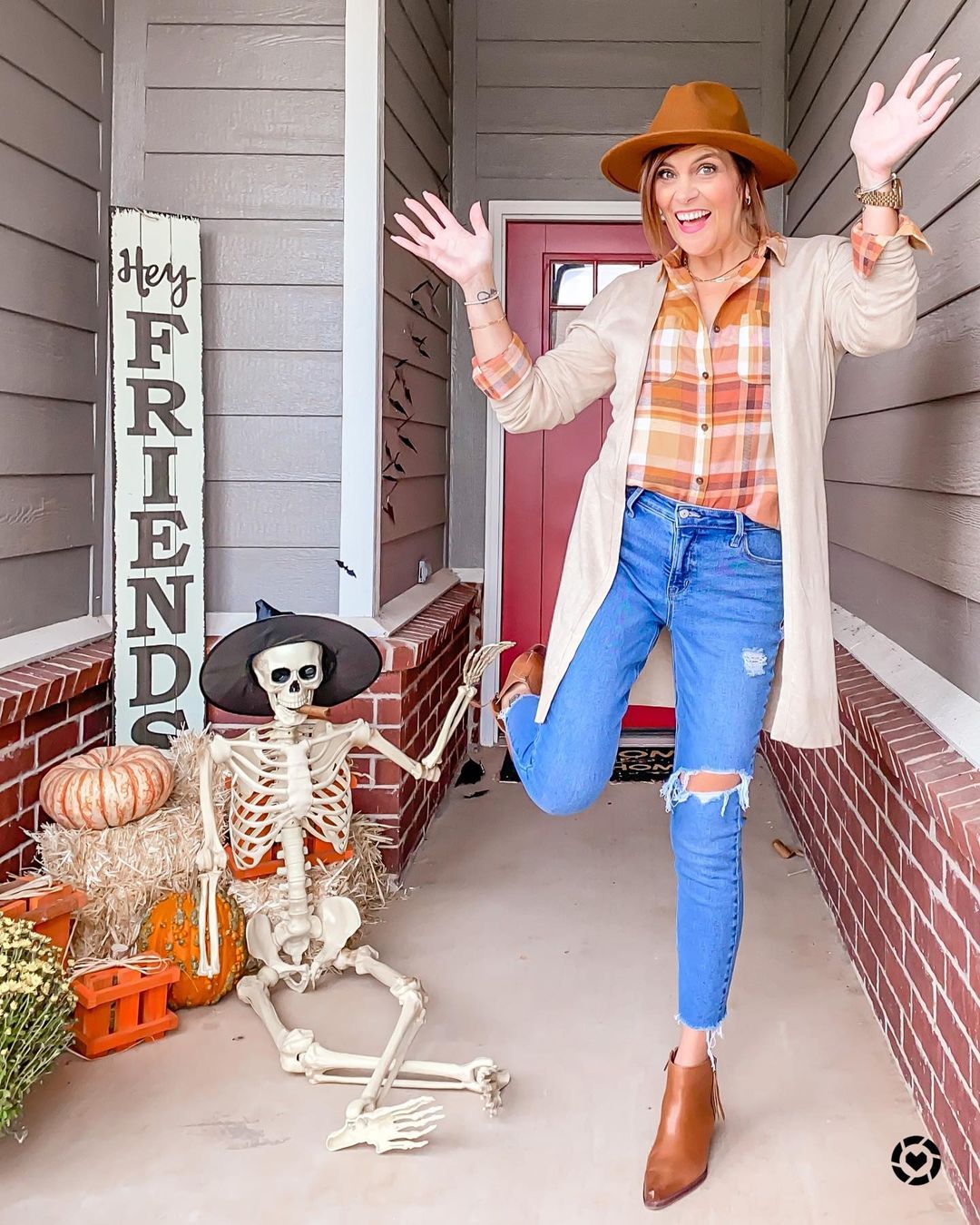 The plaid flannel is most commonly associated with the country-western style, so I'm gonna kick off with that. Short boots, torn jeans, a plaid orange flannel and a light cardigan on top, is a little modern upgrade to the classic cowboy style. But you can't complete this fall look without a little cheeky fedora hat.
Checkered Flannel With A Personal Touch
The most common classic pattern for a flannel outfit is the plaid or checkered pattern in various sizes. Here we have two of the large checkered shirt variety in different colours, which is pretty normal until you see the back. Putting prints or words on the back of flannel shirts is unmistakably one way to make your plain flannel shirt stand out.
Peachy Cream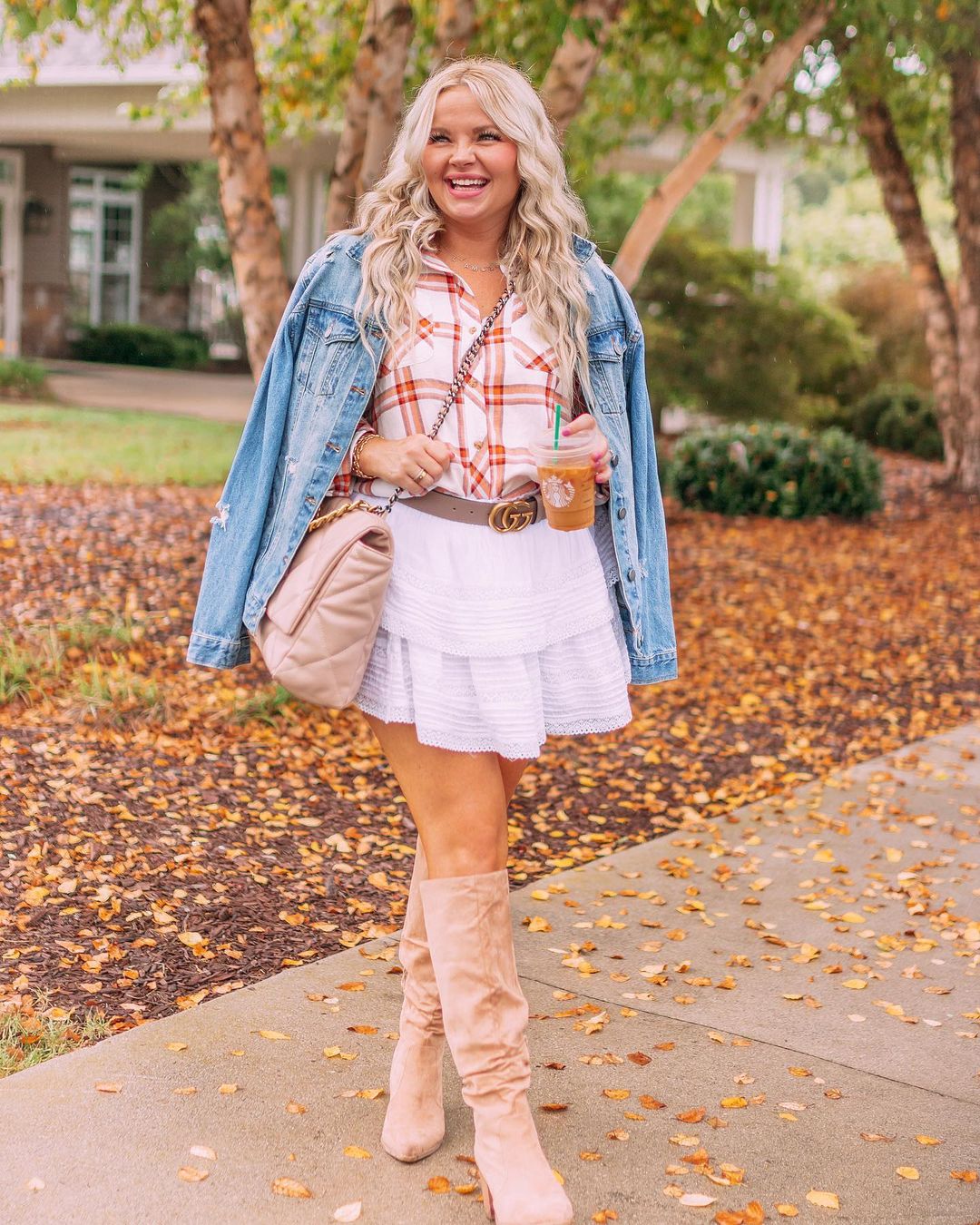 Country-western style? This modern cowgirl is the perfect example of how to look cute, but not too childish. The combination of bright warm colours and textures in this fall look for this utterly sweet look.
Short Flannel On Skinny Dress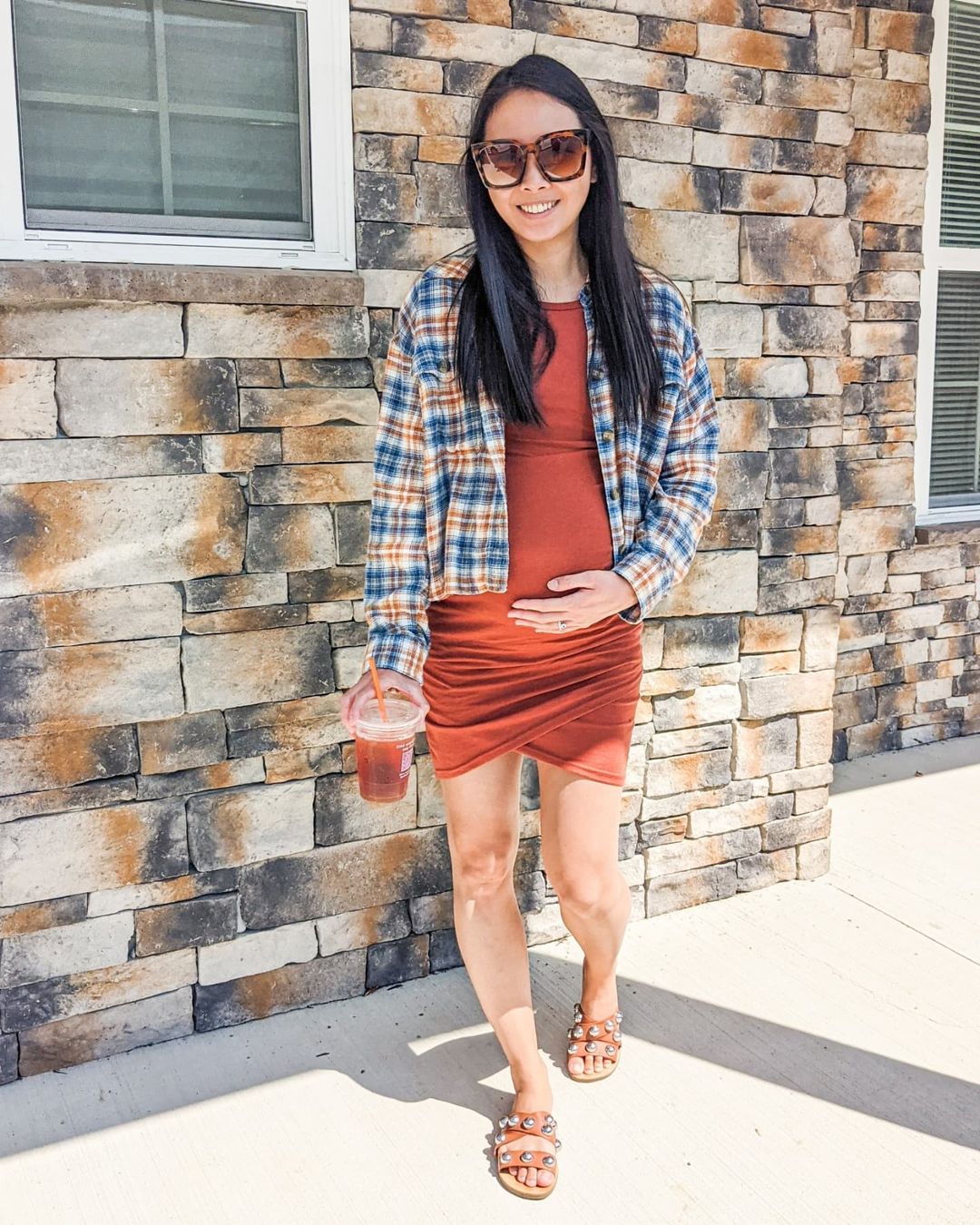 Not all of us have the confidence to wear a skin-tight mini dress, but we really want to because it looks so good… So, one way to solve this dilemma is by wearing something to help you cover up a bit, for those parts you feel insecure about. A flannel jacket or shirt in the complementary colour to your dress will do just the trick, and you'll still look amazing.
Paisley Rimmed Green Flannel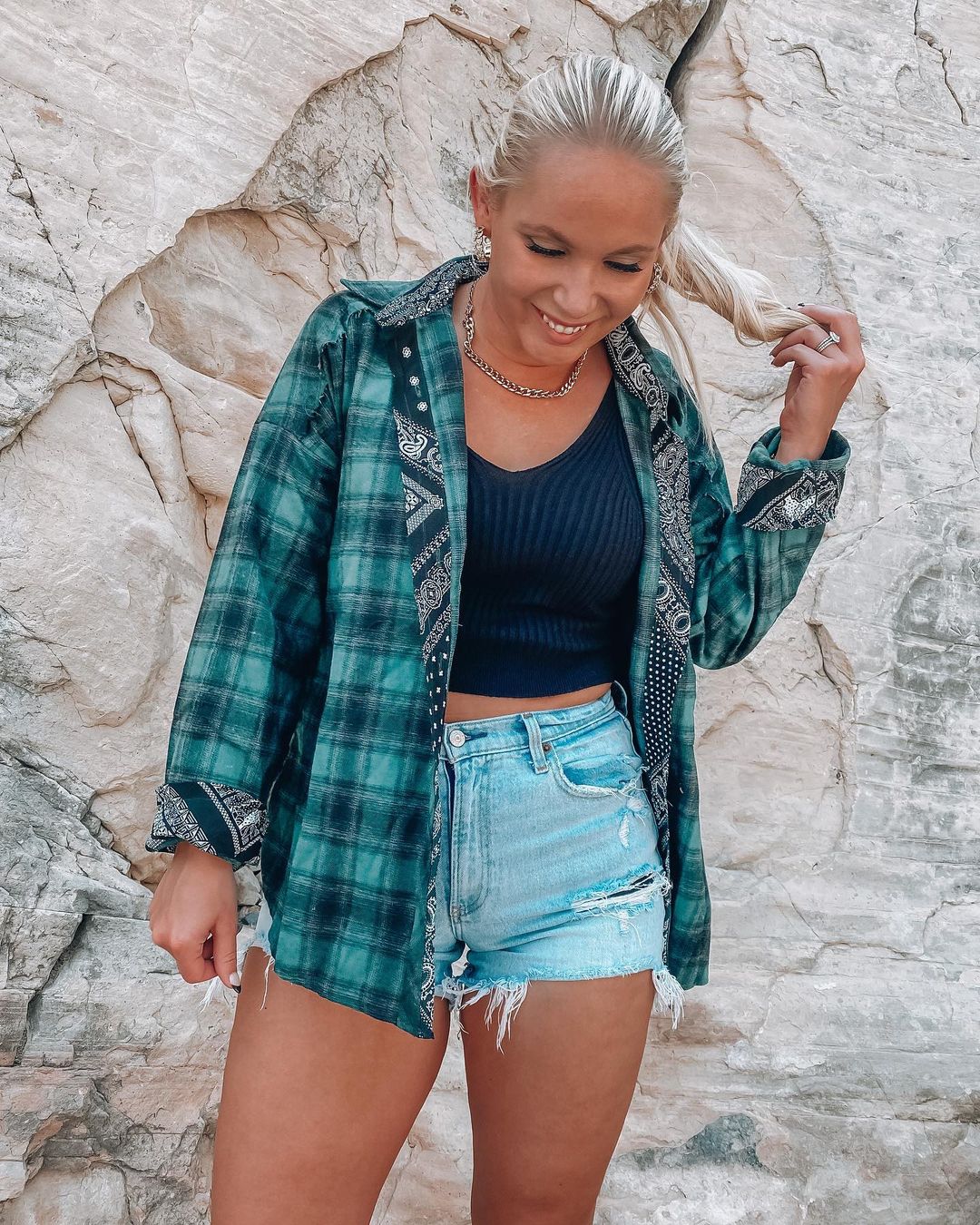 For this year, I've noticed that when it comes to the flannel trend, it's more about changes in the classic plaid piece of clothing, than the actual styling of it, and that's not a bad thing at all. Here is a good example of adding a new touch to the classic, and you can even use this as an inspiration for your next refashioning project: flannel shirt with paisley pattern edges.
Long Plaid Skirt And A Fringe Sleeved Shirt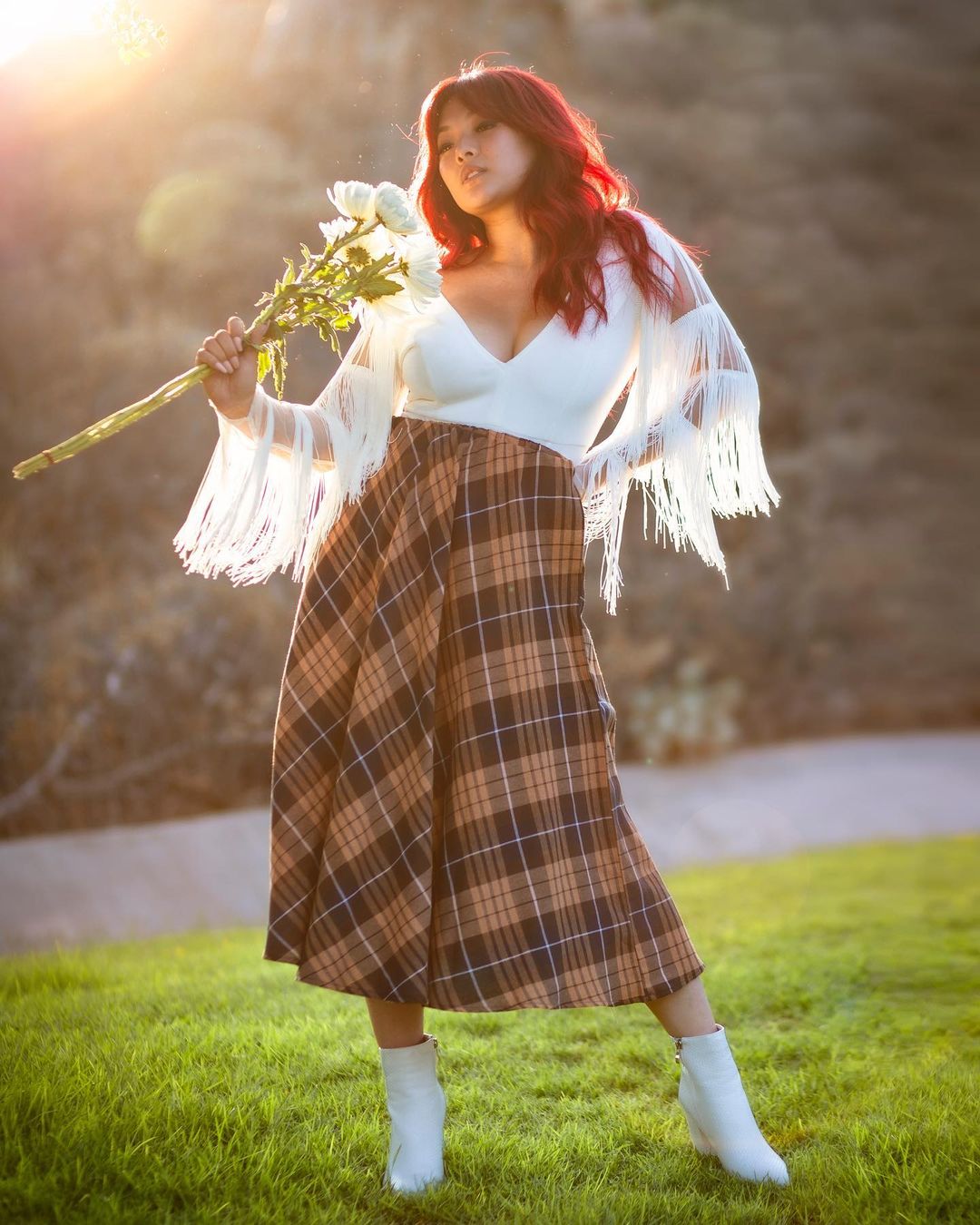 Shirts are not the only flannel clothing for women. There are skirts as well, and this one is a very lovely and elegant long A-line skirt in brownish tones, that pop out even more by the white ankle length boots and funky white fringe shirt.
Red Flannel Shancket And Long Pleat Skirt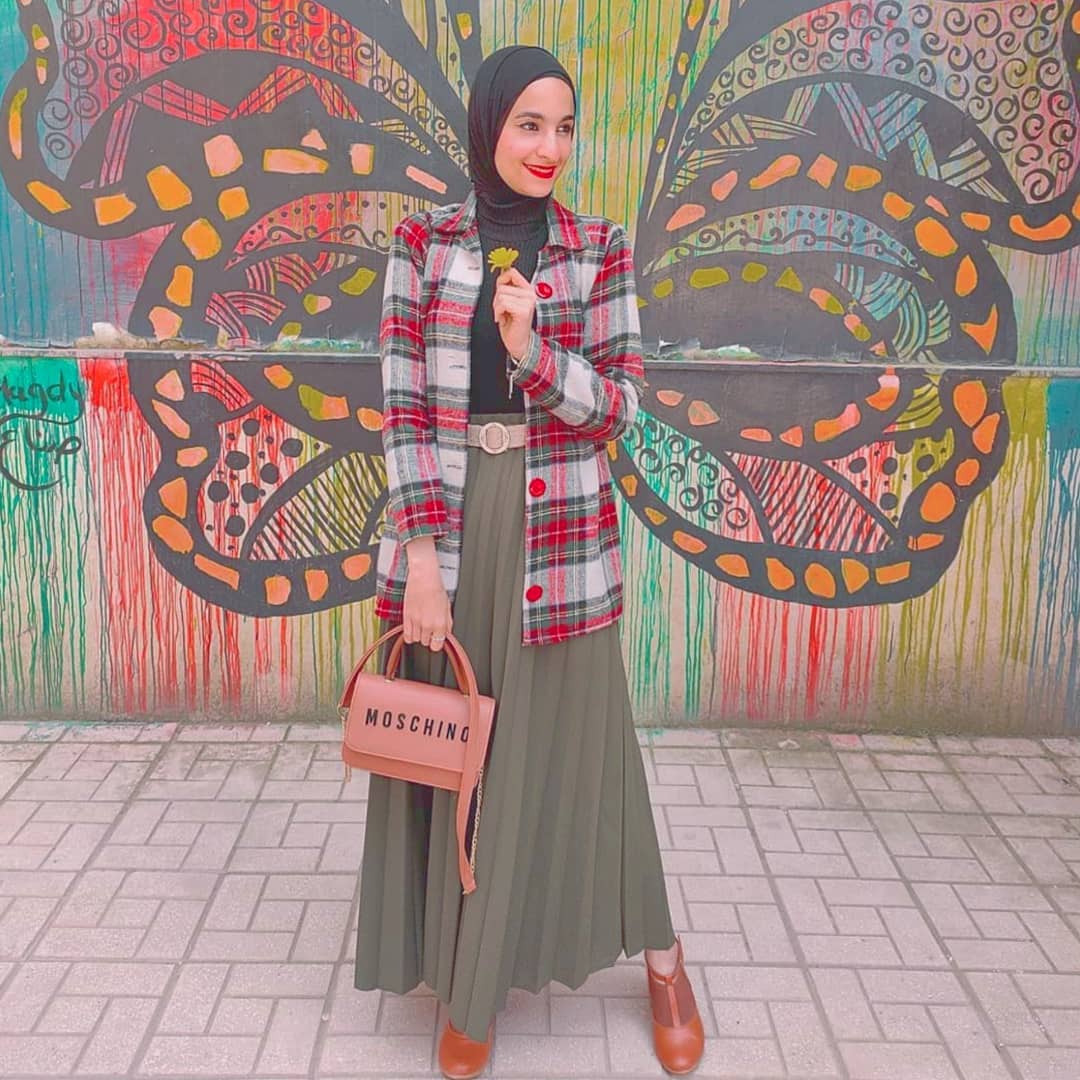 This woollen fabric comes in different thicknesses, and the thickest is great for creating light, yet warm coats. This stunning red, green and white plaid flannel coat is a truly fashionable piece you'll want to have. It is a classy piece that you can easily style up or down with some flowy skirt or pants, and it offers great coverage without looking too closed off.
Blue Flannel On Summer Black Outfit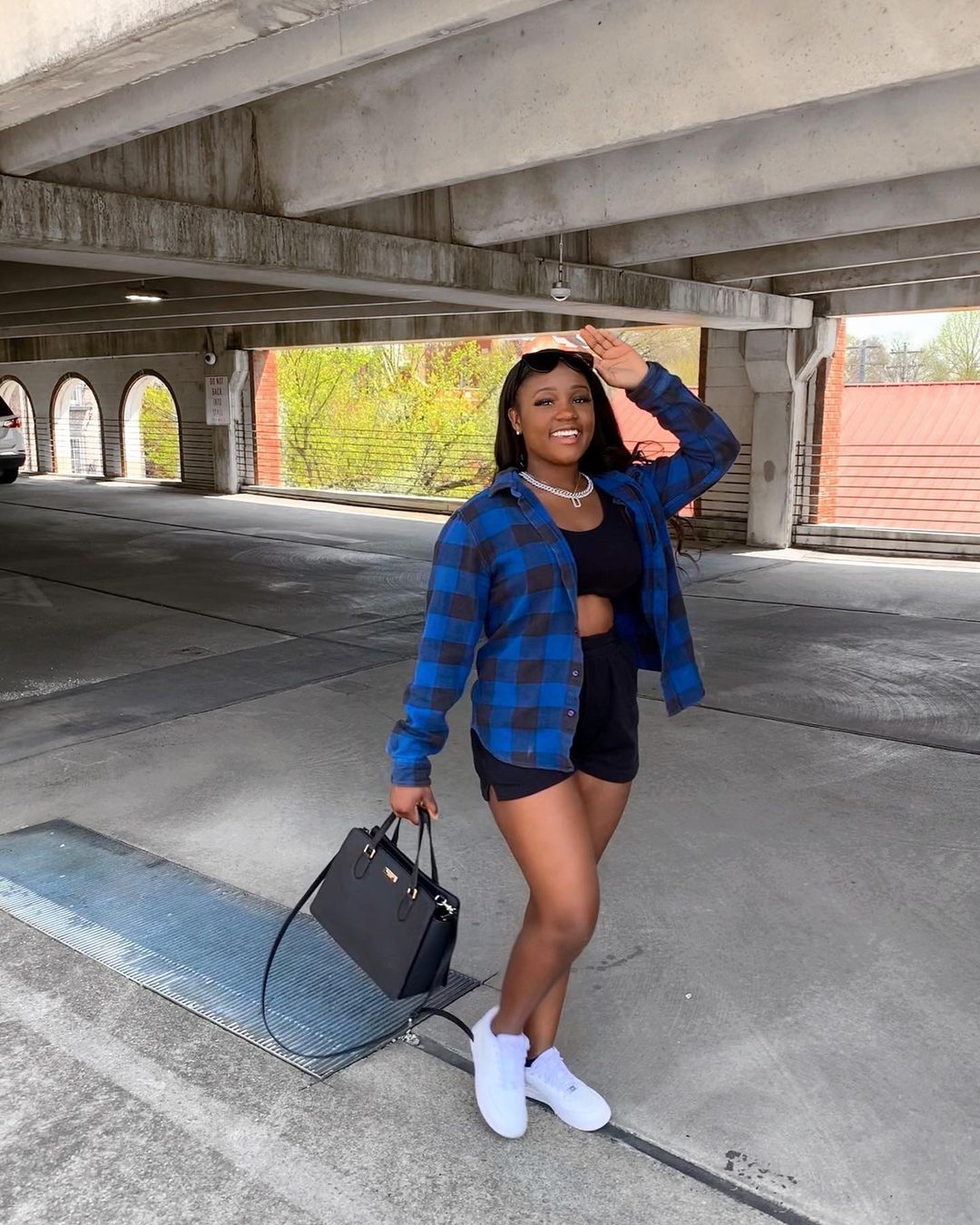 The plaid pattern is a great way to break up a dull monochrome outfit and provide cover for revealing outfits, like your gym outfit.
Winter Fun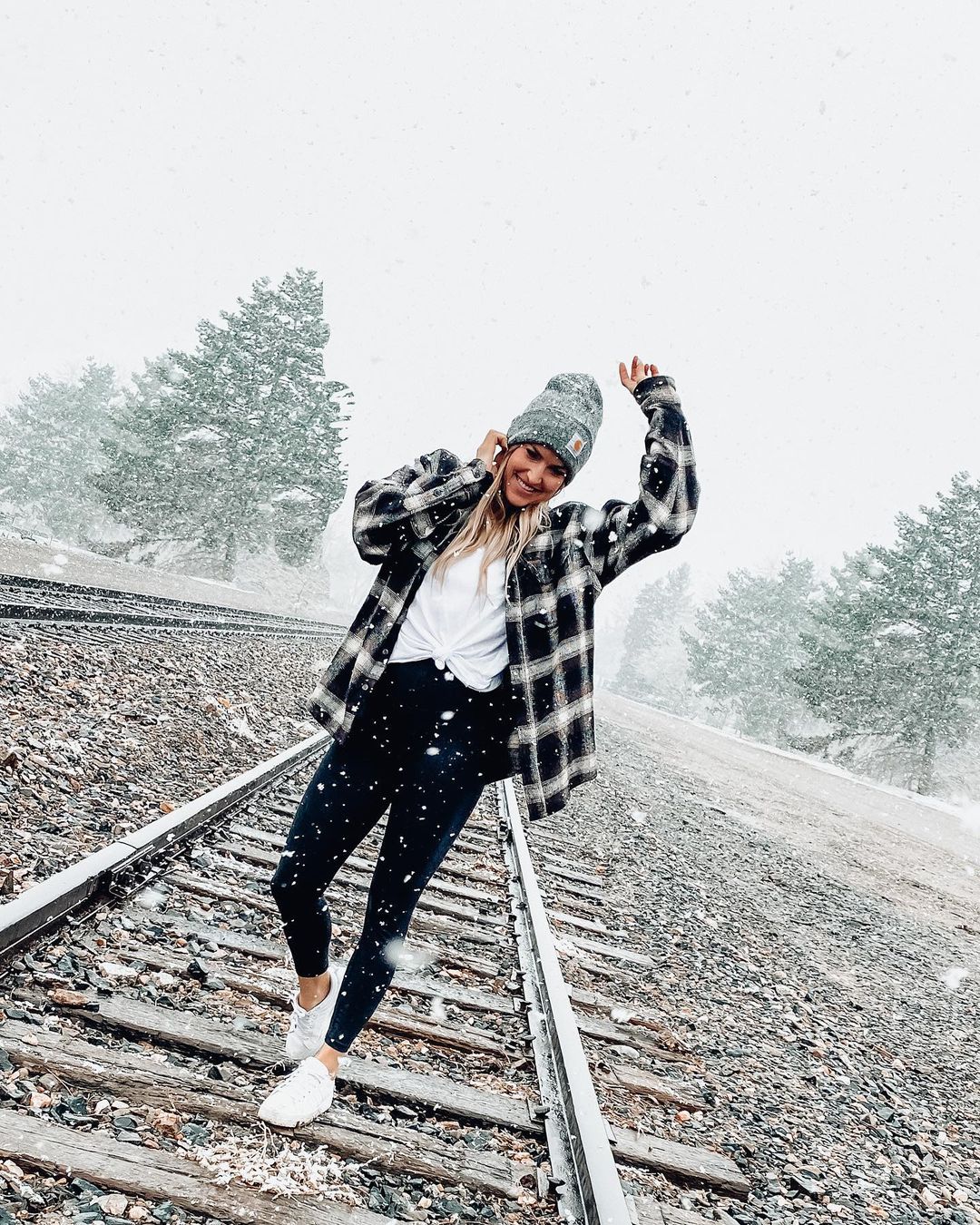 Flannel is not only for the fall but for warmer winter days as well, so break up the dull winter monotone with a flannel jacket.
Maxi Flannel Fall Skirt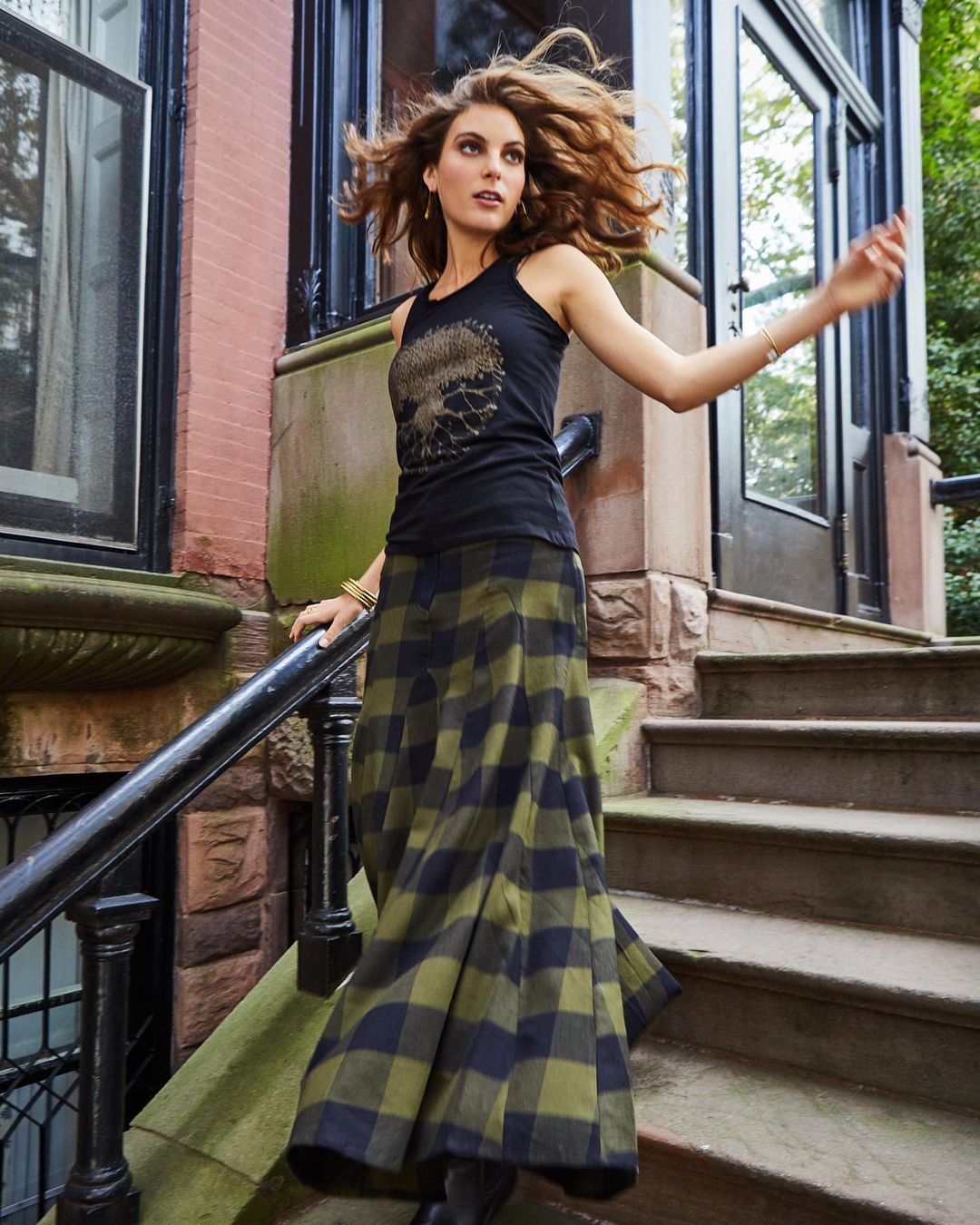 Maxi skirts are so flowy and fun, feminine, yet modest, and they're an excellent skirt choice for colder weather, especially when they're flannel.
Blue-Pink And Jeans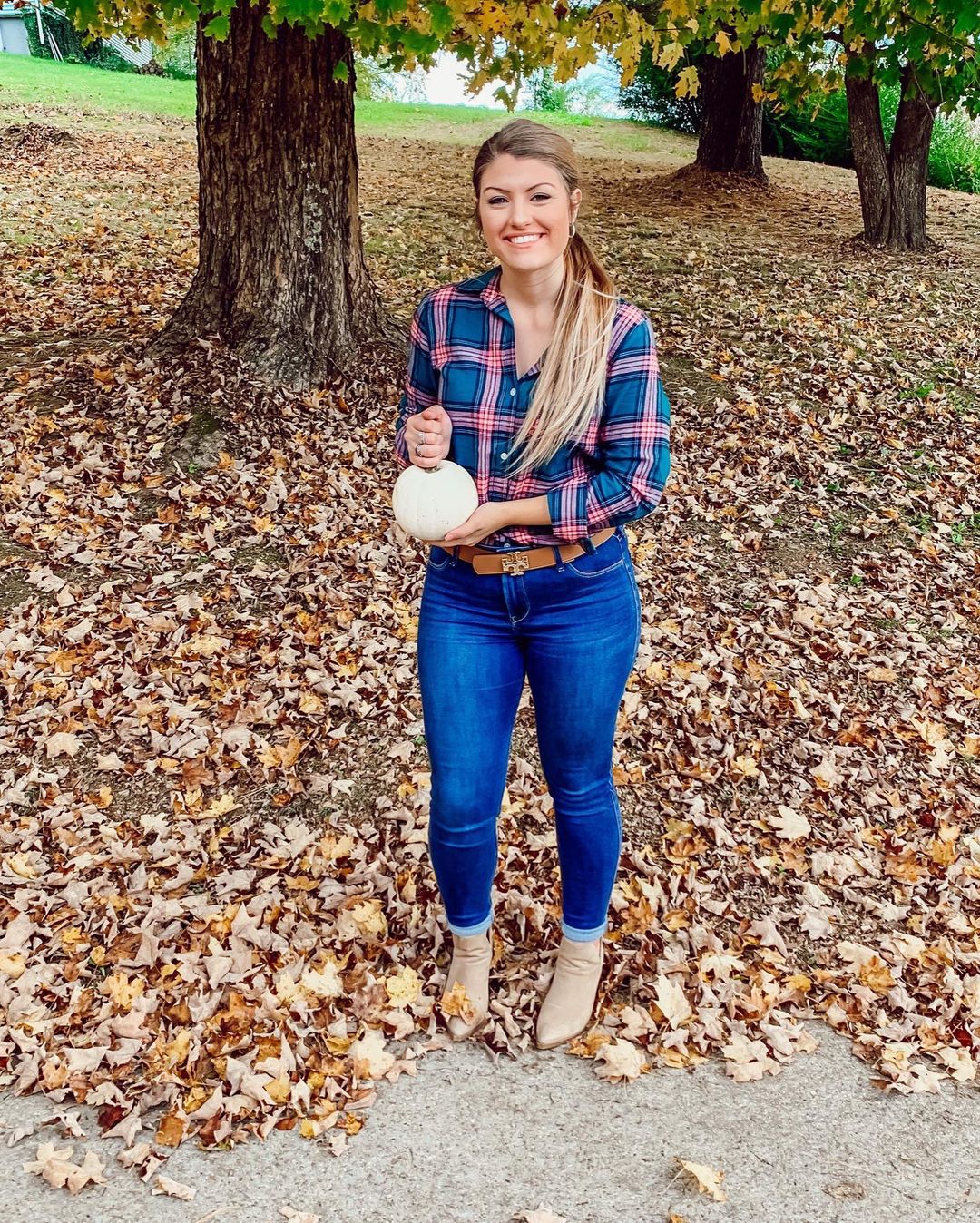 Another great development that has occurred in the flannel fashion is that now we have a much greater variety of colour combinations than before. And if you're tired of the regular earthy tones or reds and blacks, you can try a blue and pink plaid to complete the casual look with your skinny dark jeans.
Comfy Flannel Scarf/Poncho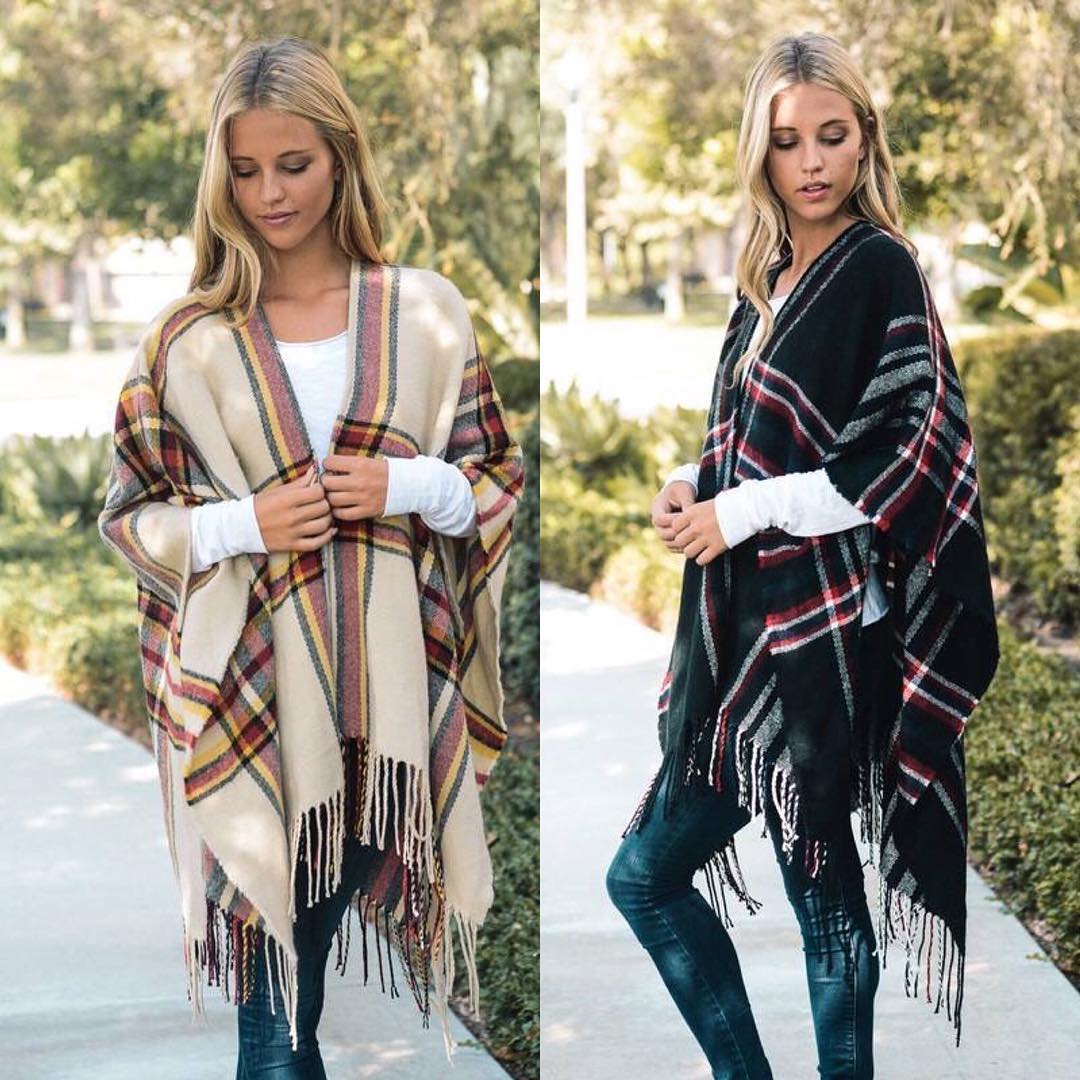 Flannels are also available as a throw blanket or large scarfs, and you can't wear a throw blanket. A large flannel scarf or even a poncho is comfy and warm accessories to your outfit making you look stylish effortlessly.
Classy, Yet Casual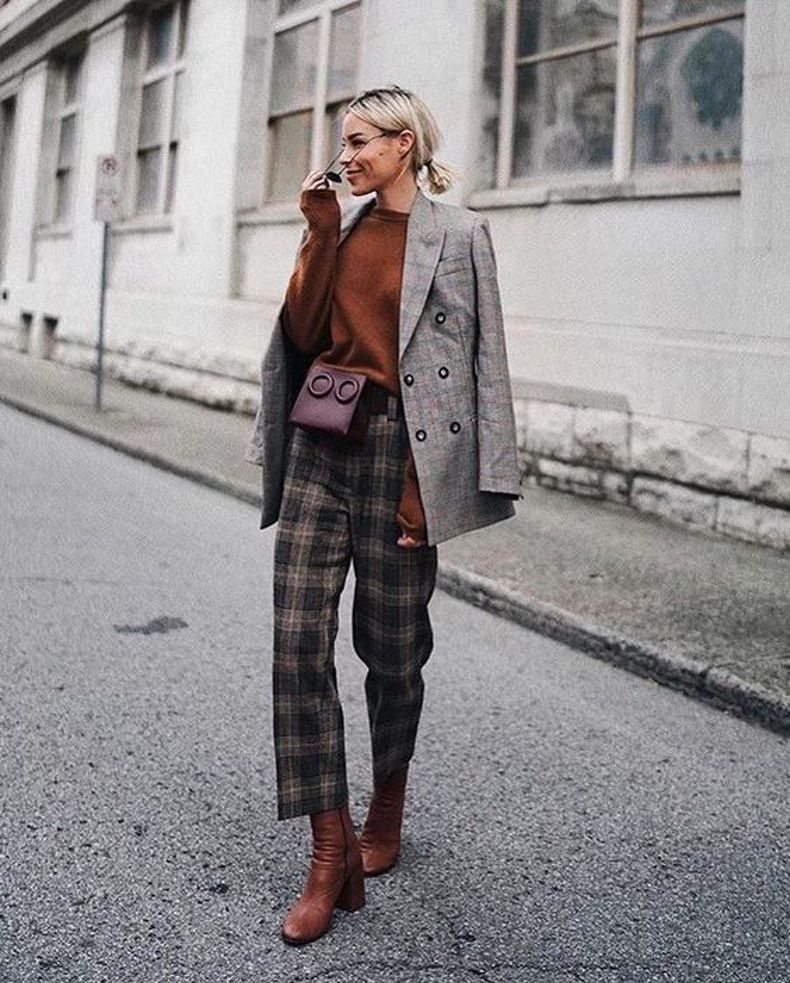 There is a way to incorporate flannel in a more professional environment without looking laid-back and messy. And this pairing of knee-length flannel pants and boots, sweater and the fitted jacket is an excellent way to accomplish that.
Dressing Up A Flannel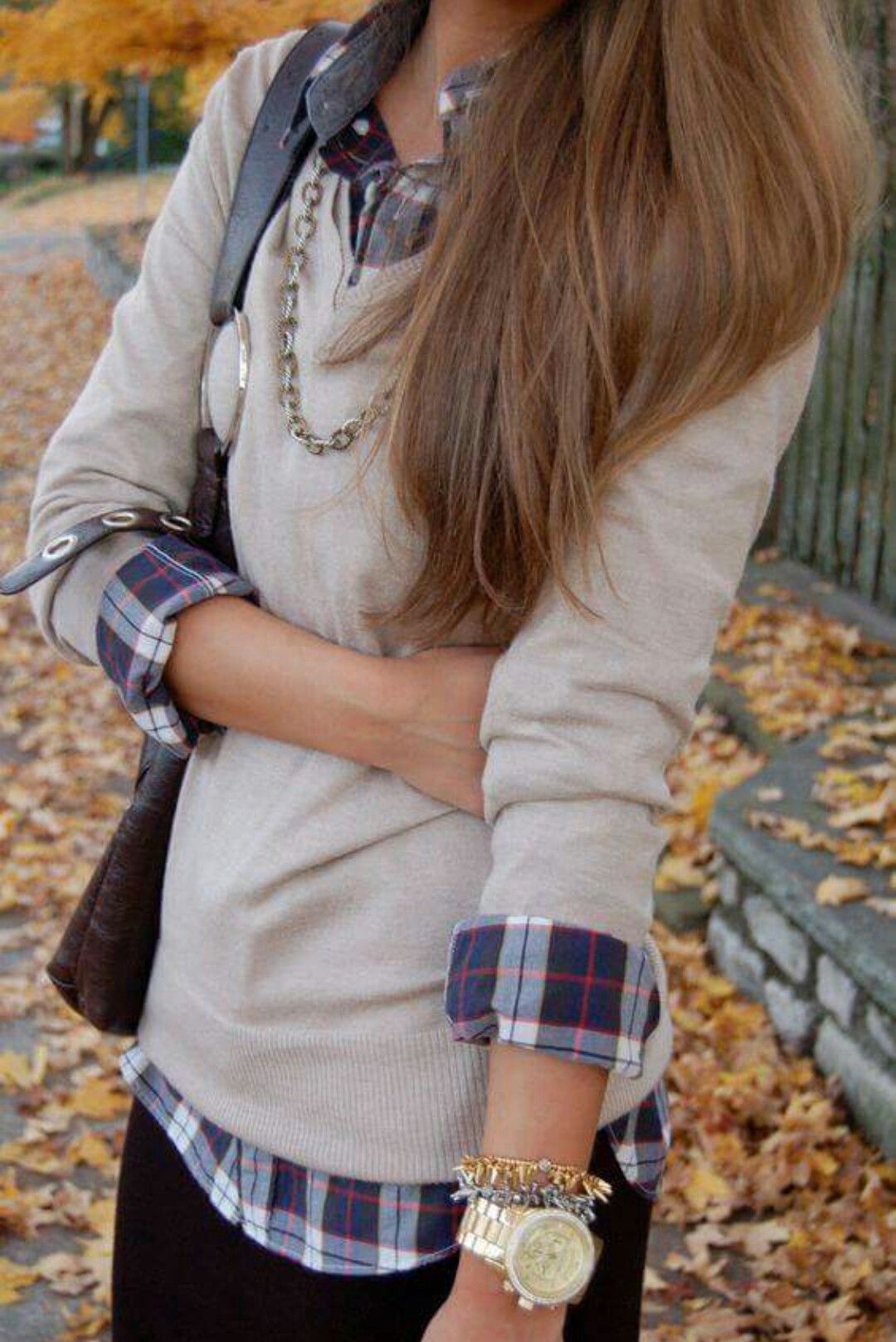 Another way to look more responsible and professional in a flannel shirt is by doing the sweater over the dress shirt style. This combo is probably most commonly known as the teacher's outfit, yet on women, it looks stylish, professional and it's great for both students and teachers, and all who love this look.
Wrapped In Earthy Tones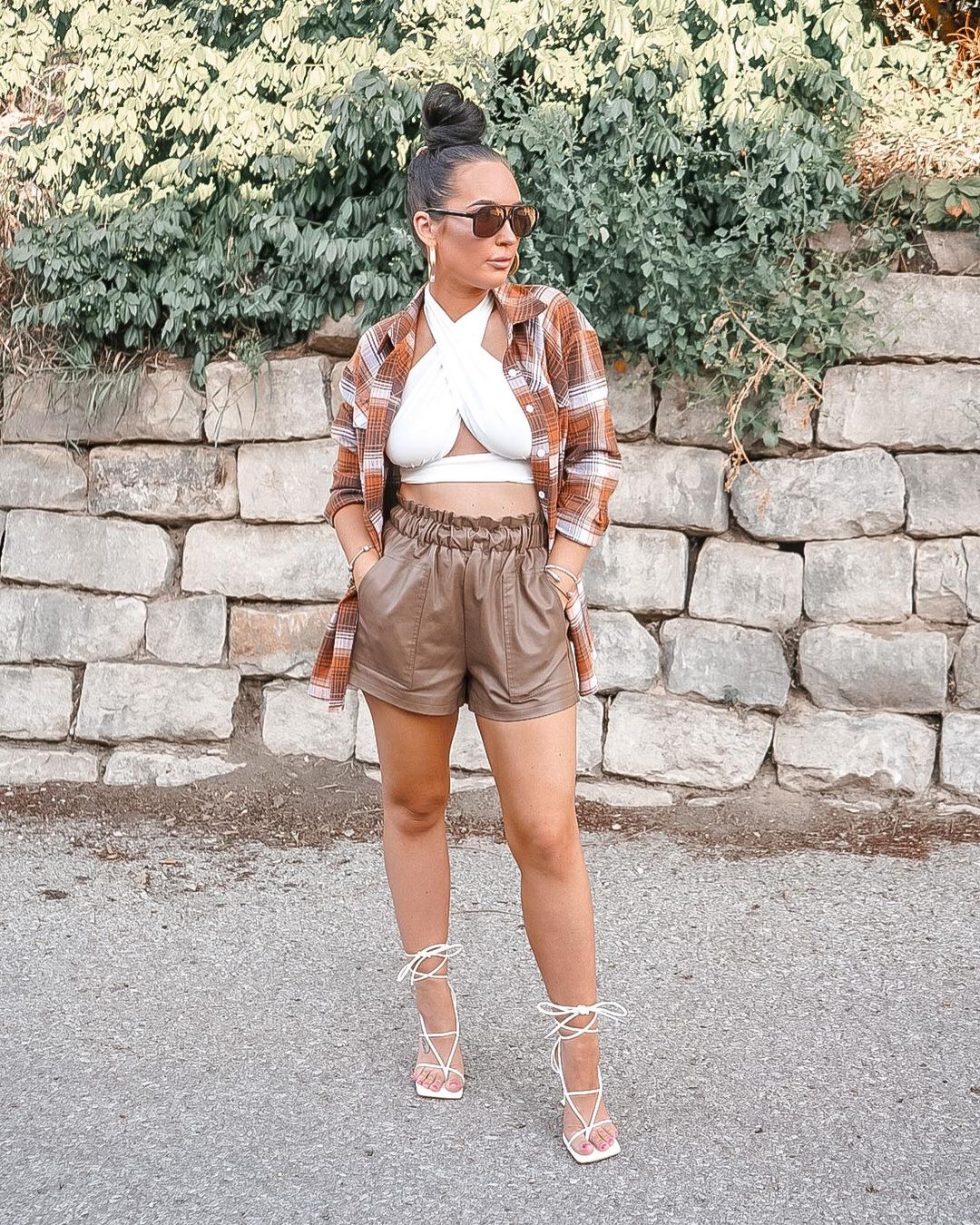 Can flannel be sexy? Oh, yes it can. Sometimes that which is covered is more attractive than that which is revealed, and it this case certainly rings true. Without the flannel shirt, this look might look a bit trashy, but with it on it looks sexy.
Dress Or Coat?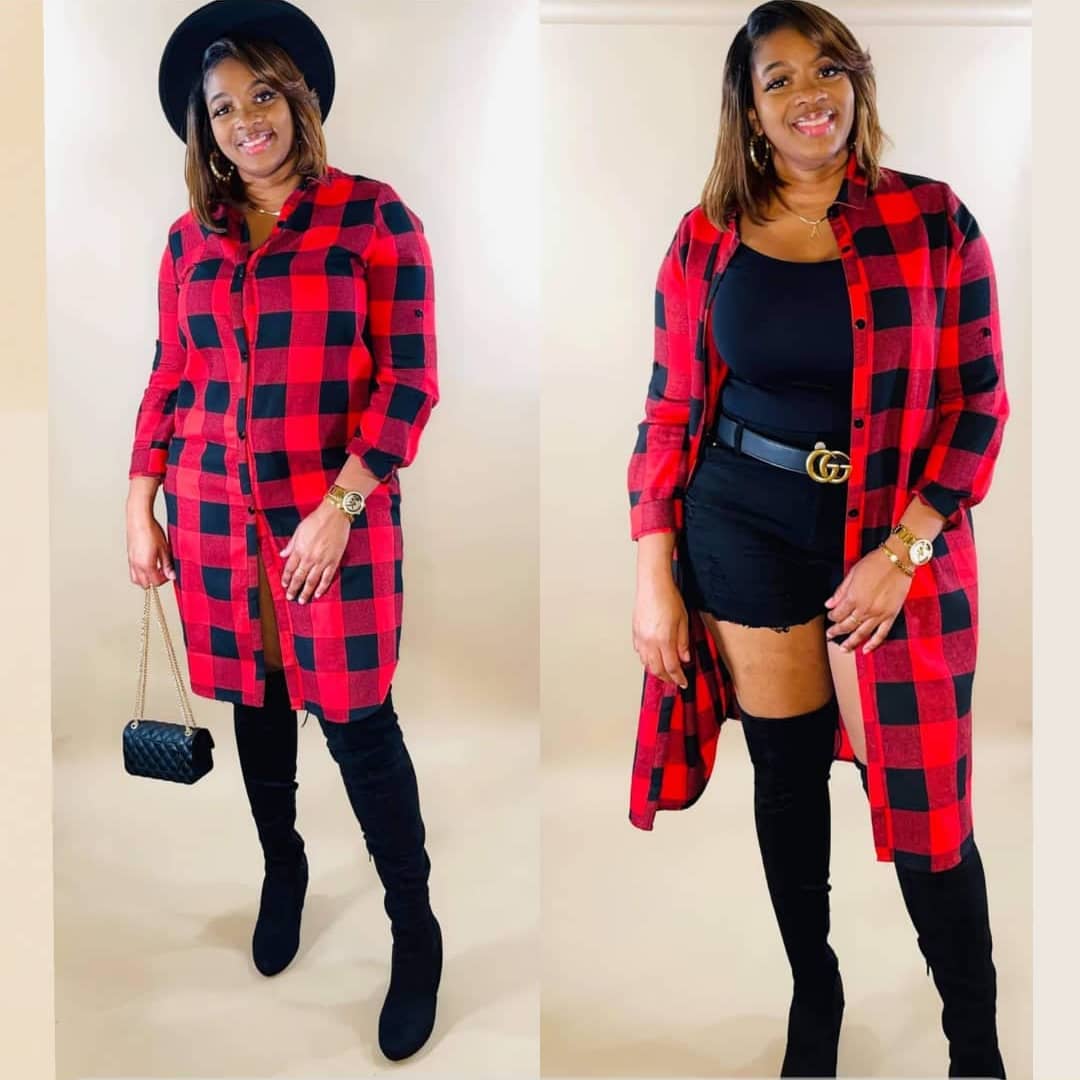 Don't you just love those clothes that can effortlessly transform your look from one style to another? They're so convenient and for a busy person like myself, this coat to dress flannel s something I absolutely would love in my closet.
Fadeout Flannel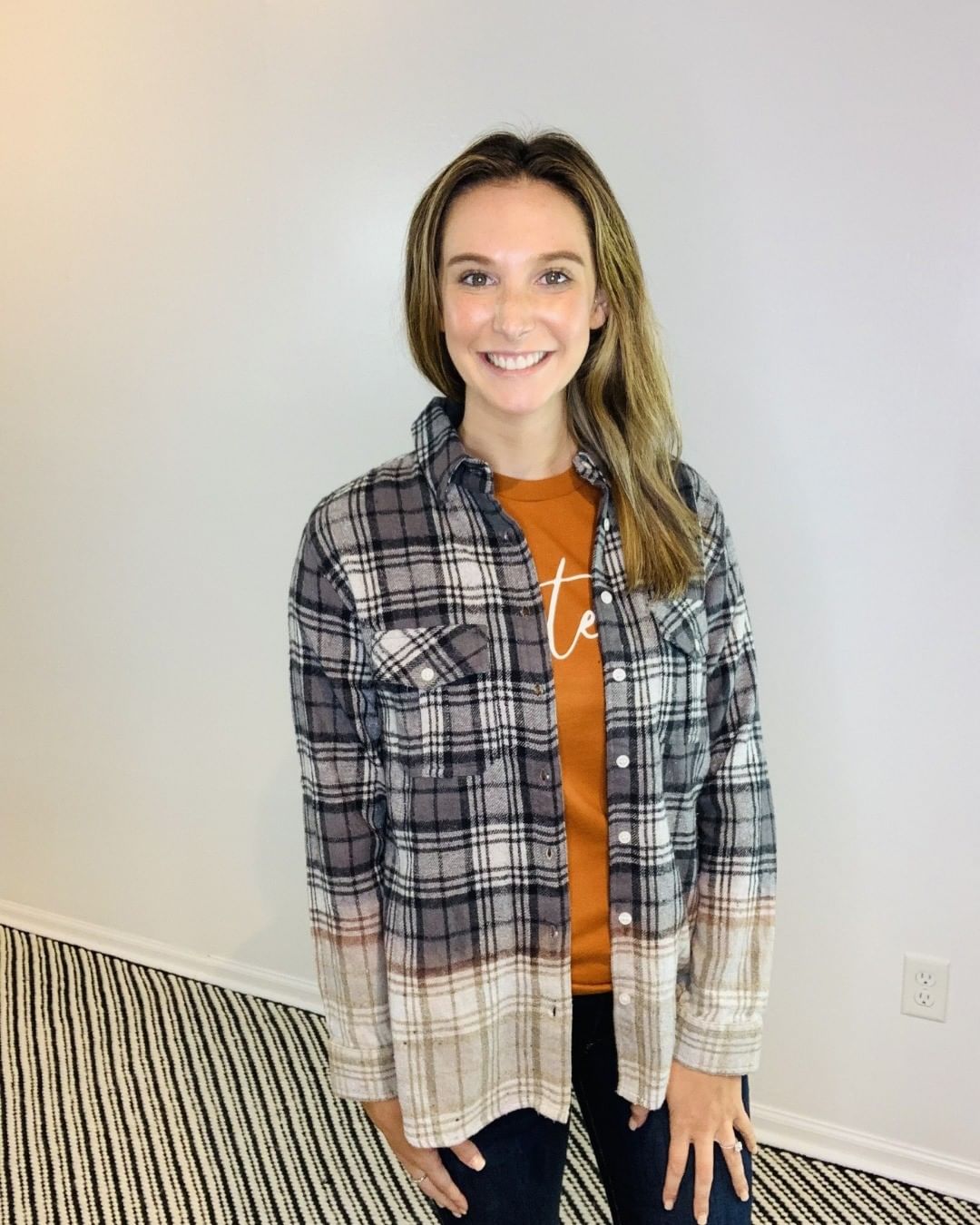 Ombre or fadeout trends have been all the rage these past years, so it should come as no surprise that it finally reached the flannel shirts as well. And you have to admit, it does look good.
Print T-shirt And Waist Tie Flannel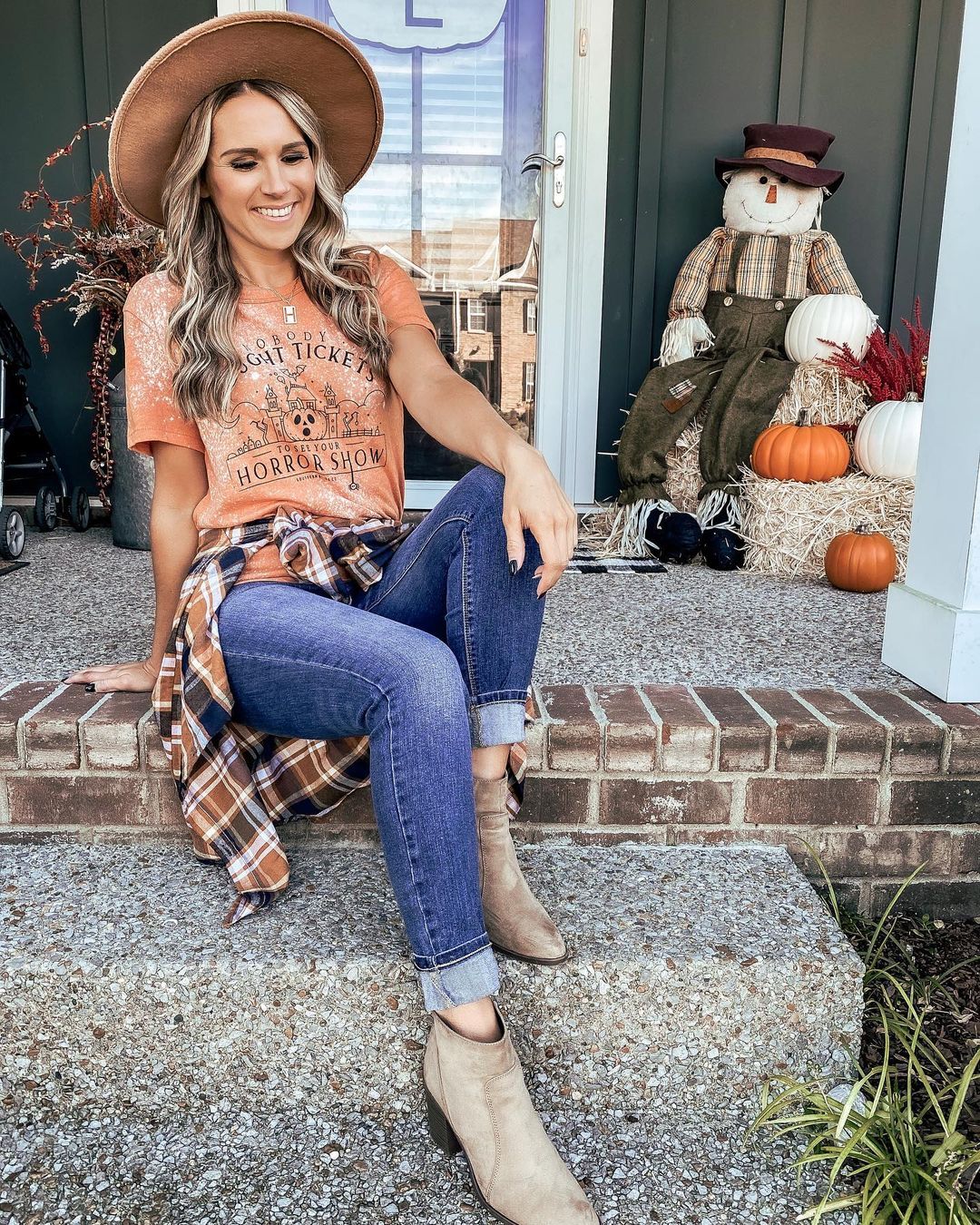 Just a little reminder that the flannel shirt can go with both classy and the most casual of looks, like jeans and a T-shirt with a print. And it works so well.
Cute Flannel Dress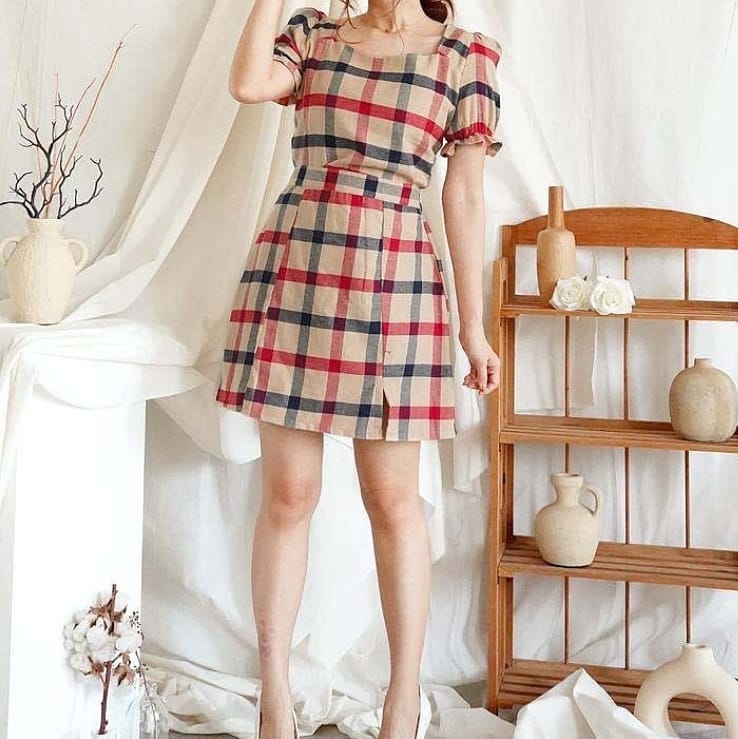 We covered flannel shirts, coats, skirts and pants, so why not dresses? This sweet flannel dress is both sweet and elegant, with a cut that will suit everyone.
The Moody Artsy Look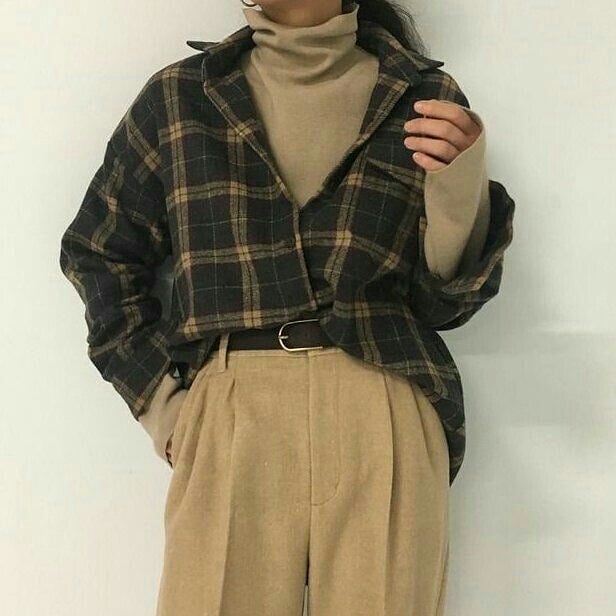 Do you have that old, worn baggy flannel shirt that you can't seem to wear it anywhere but at home? It's all about styling. Combine it with oversized pants, a turtle neck, and tuck the shirt in, and you have a baggy normcore look.
Flannel And Leather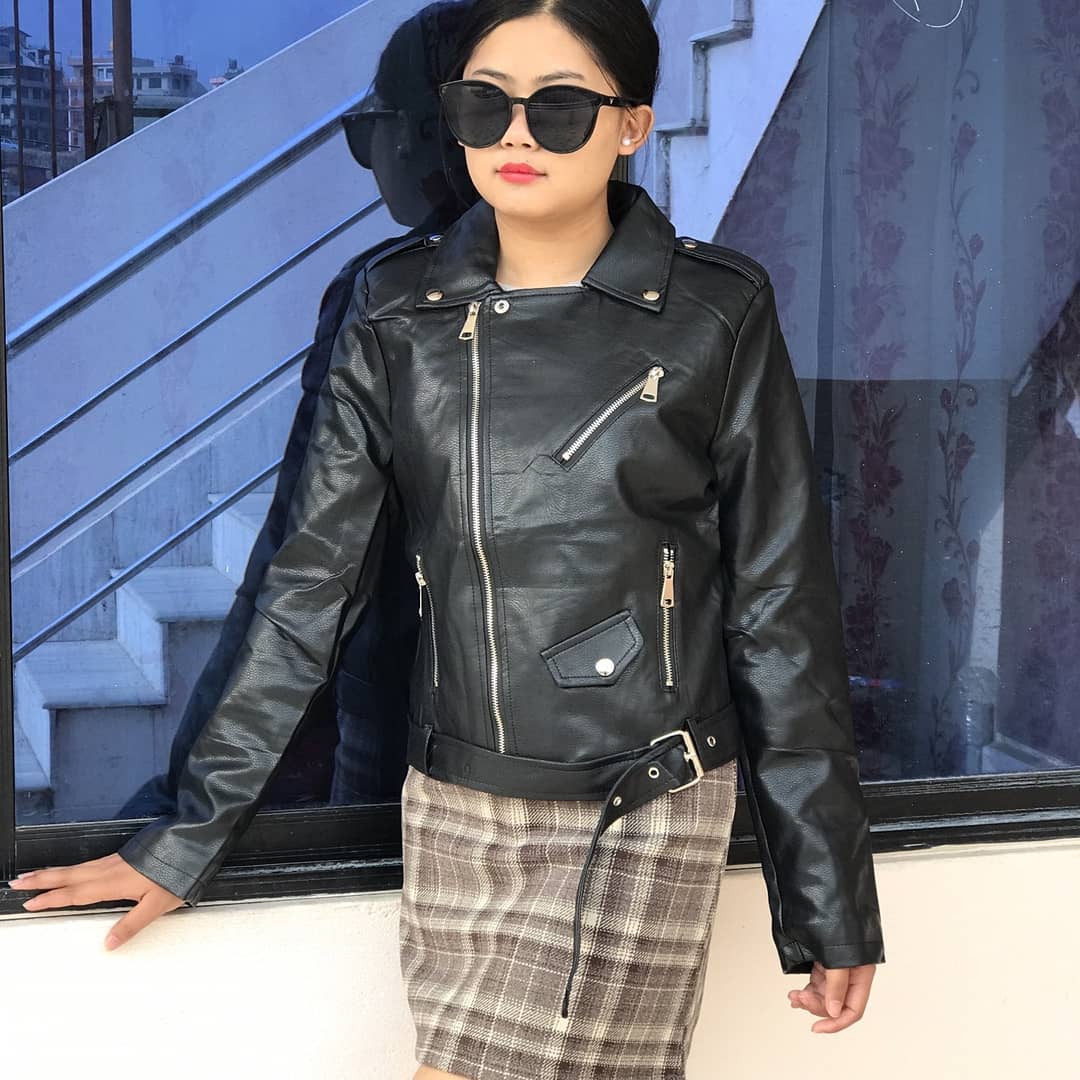 Combining flannel with leather might not sound like it'll fit, but guess what? It does. A flannel miniskirt with a monochrome spaghetti strap and a leather jacket on top. Cool.
Winter Street Look Flannel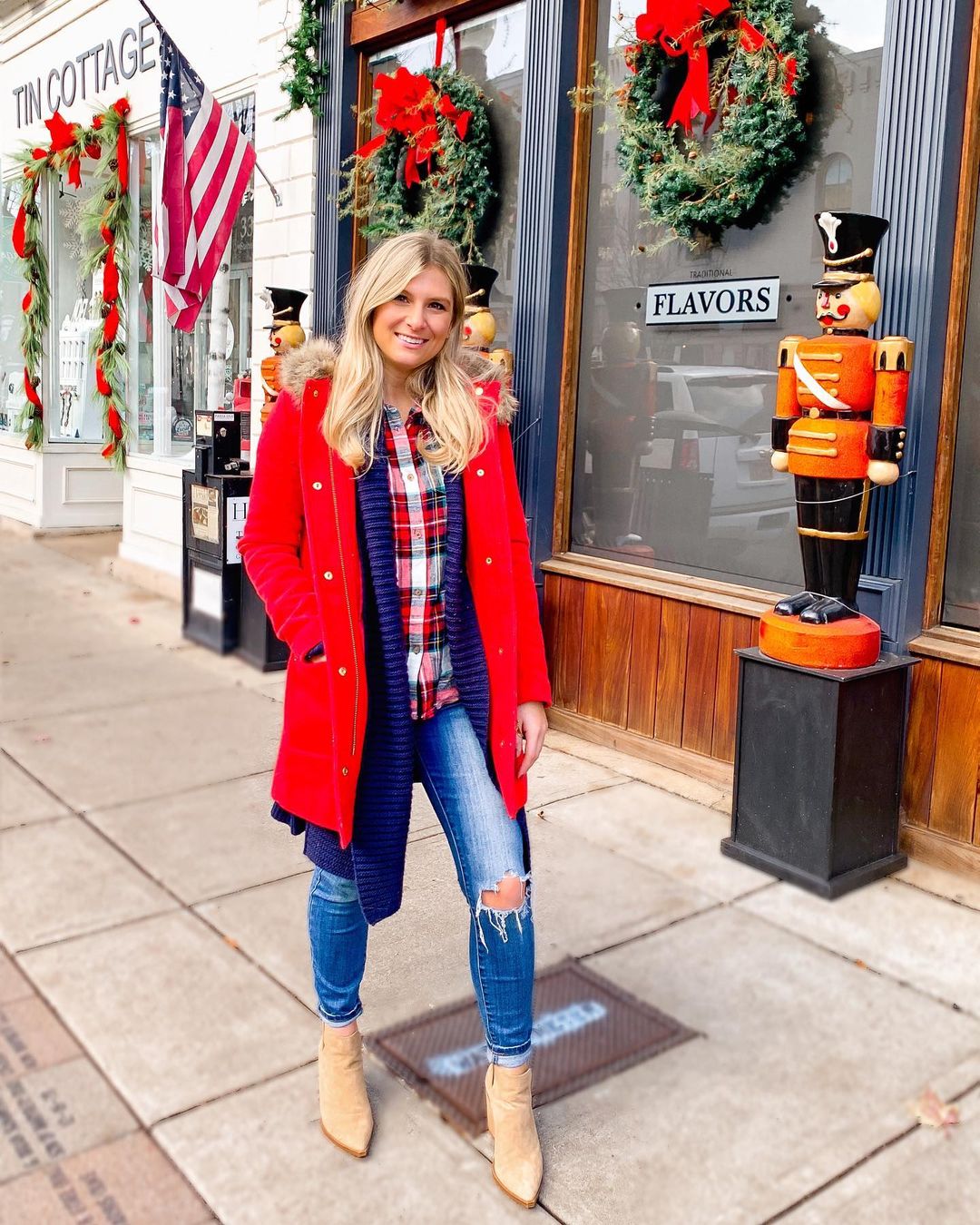 Winter outfits are fun because you can do so much with layering, but you have to know how to do it. Find a balance, like this street style outfit, with jeans, a warm red winter coat, a cardigan and a flannel shirt to spice things up.
Asymmetrical Flannel Skirt And Tie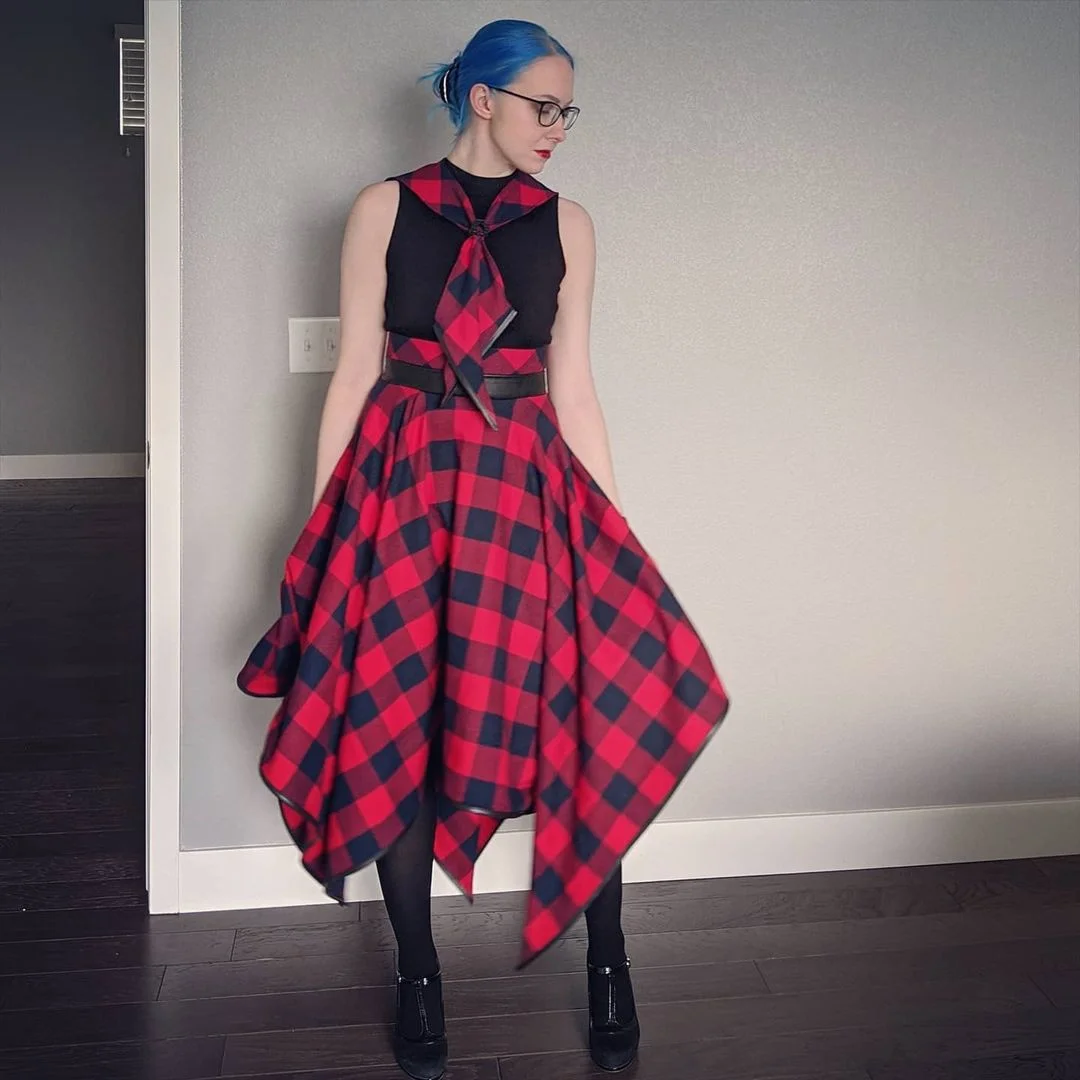 Pattern outfits are the best way to break up a dull outfit, however, you still have to be careful with the colour and texture matches. Sometimes something small will do the job, like a same pattern scarf, which tied and completed this outfit perfectly.
The Business Flannel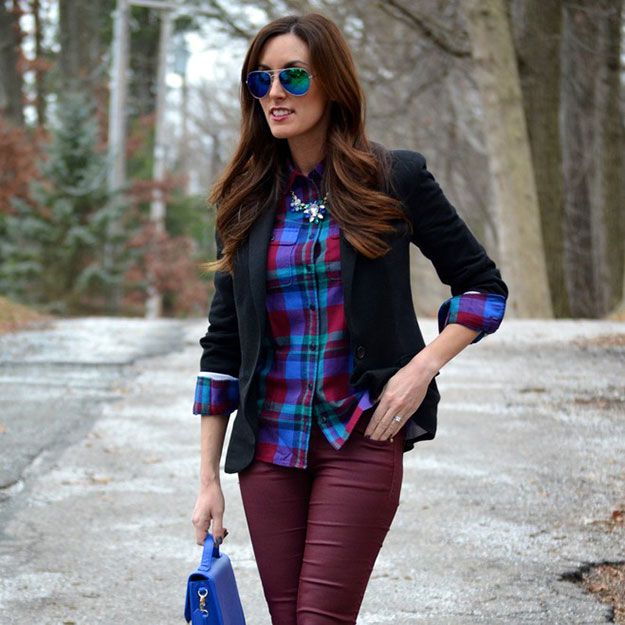 Businesswear or outfits for professional settings don't have to be boring and straight cut. If your job allows it, you can still follow the businesswear rules, like pants, dress shirt, jacket etc, but look stylish and glamorous while doing it, like whit this one.
Flannel And Puffer Vest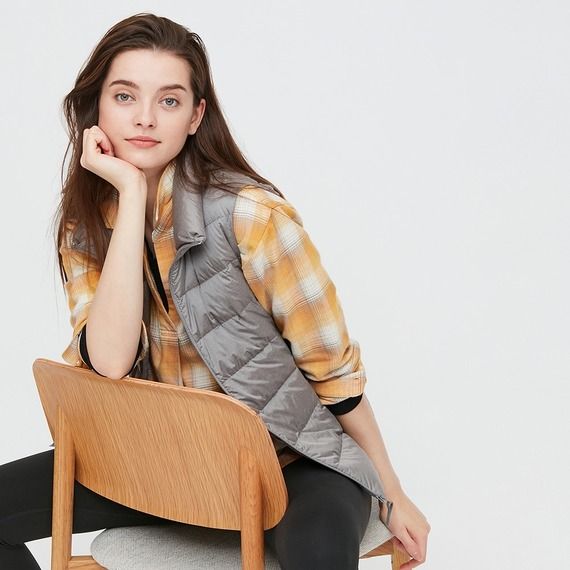 We can't have a complete list, without at least mentioning the classic looks. I covered some of them already, but I couldn't leave it the flannel and puffer vest combo. It is just so laid back, comfy and cosy, a great everyday outfit for chilly fall days.
Reptile Leather Print And Flannel Plaid? Why Not?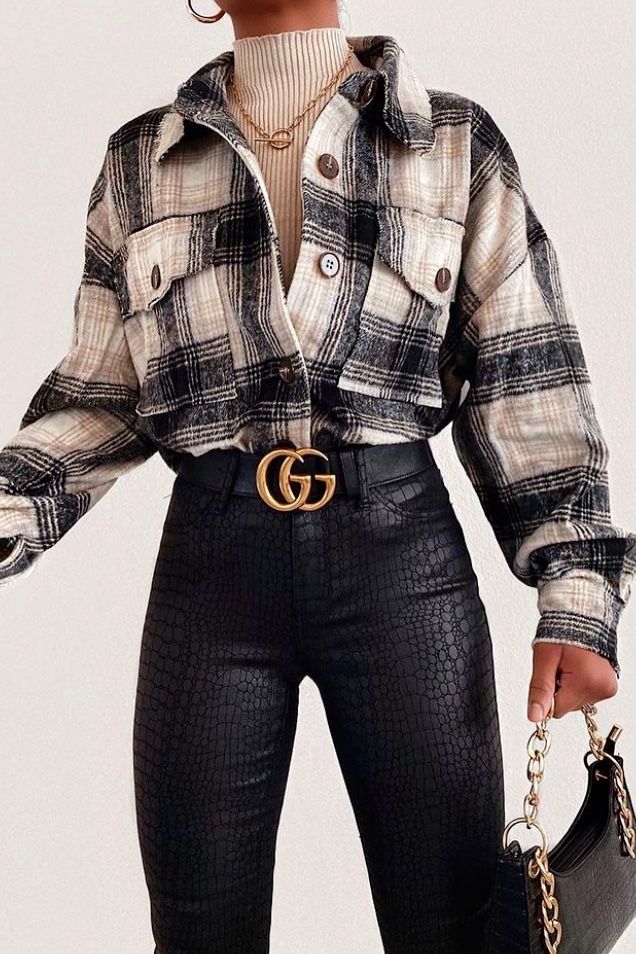 You have to be careful when you combine various materials, textures and colours, or you might end up looking a bit messy. Keep that in mind and try to have complimentary or matching pieces in your outfit that will tie the look together. Reptile leather pants are considered too sexy, while plaid shirts are too casual, but when they are of matching colour and have something in between like an accessory to breach that gap, you get a well-put-together look like this one.
Oversized Flannel Shirt? No, It's A Dress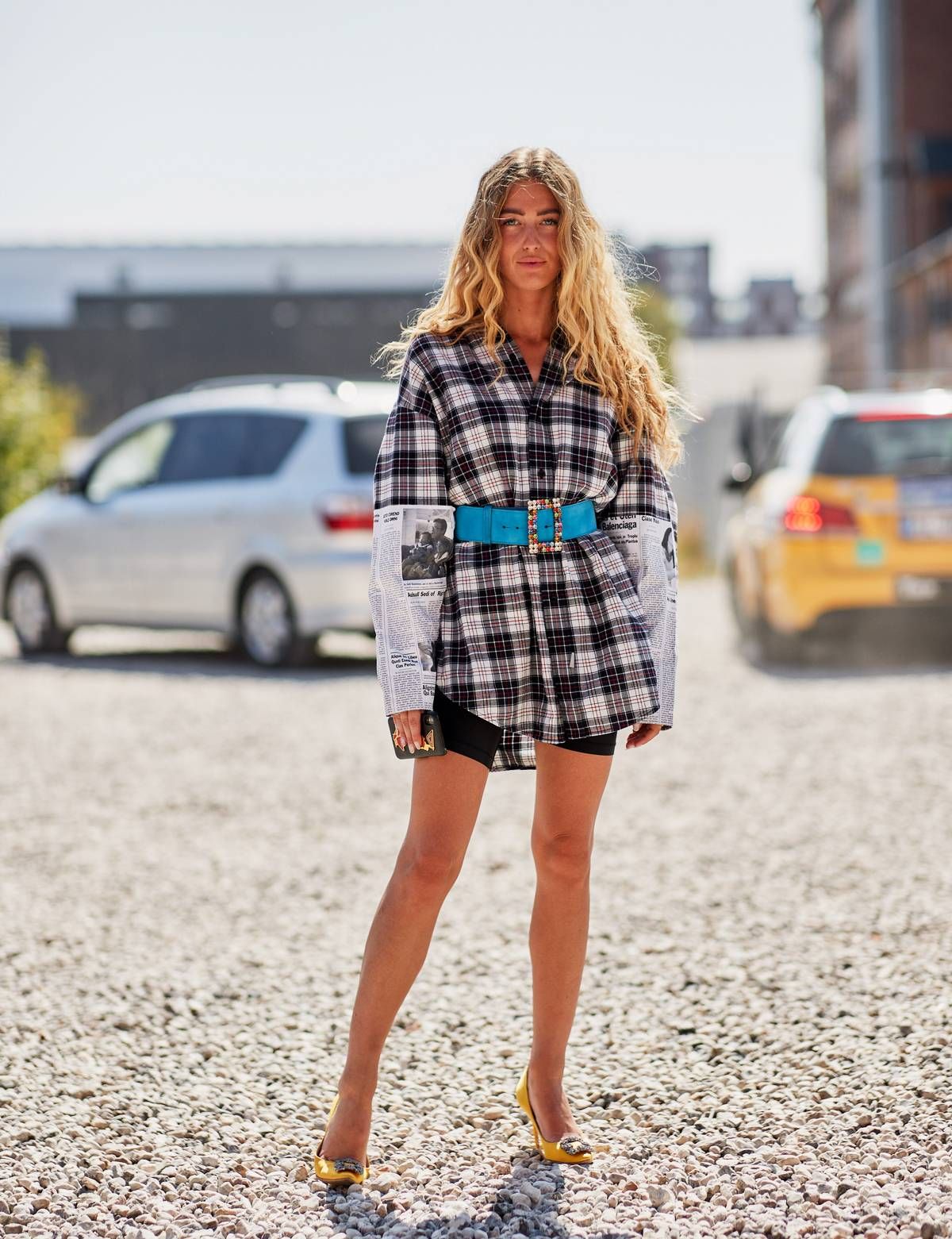 Time to transform that oversized thigh-length flannel shirt into an eye-catcher. And you don't need a sewing machine to do it, just one big stylish belt, to give accentuate the shape and form, and give you that little bit "extra" for a unique look.
Flannel Shacket For A Leisurely Night Out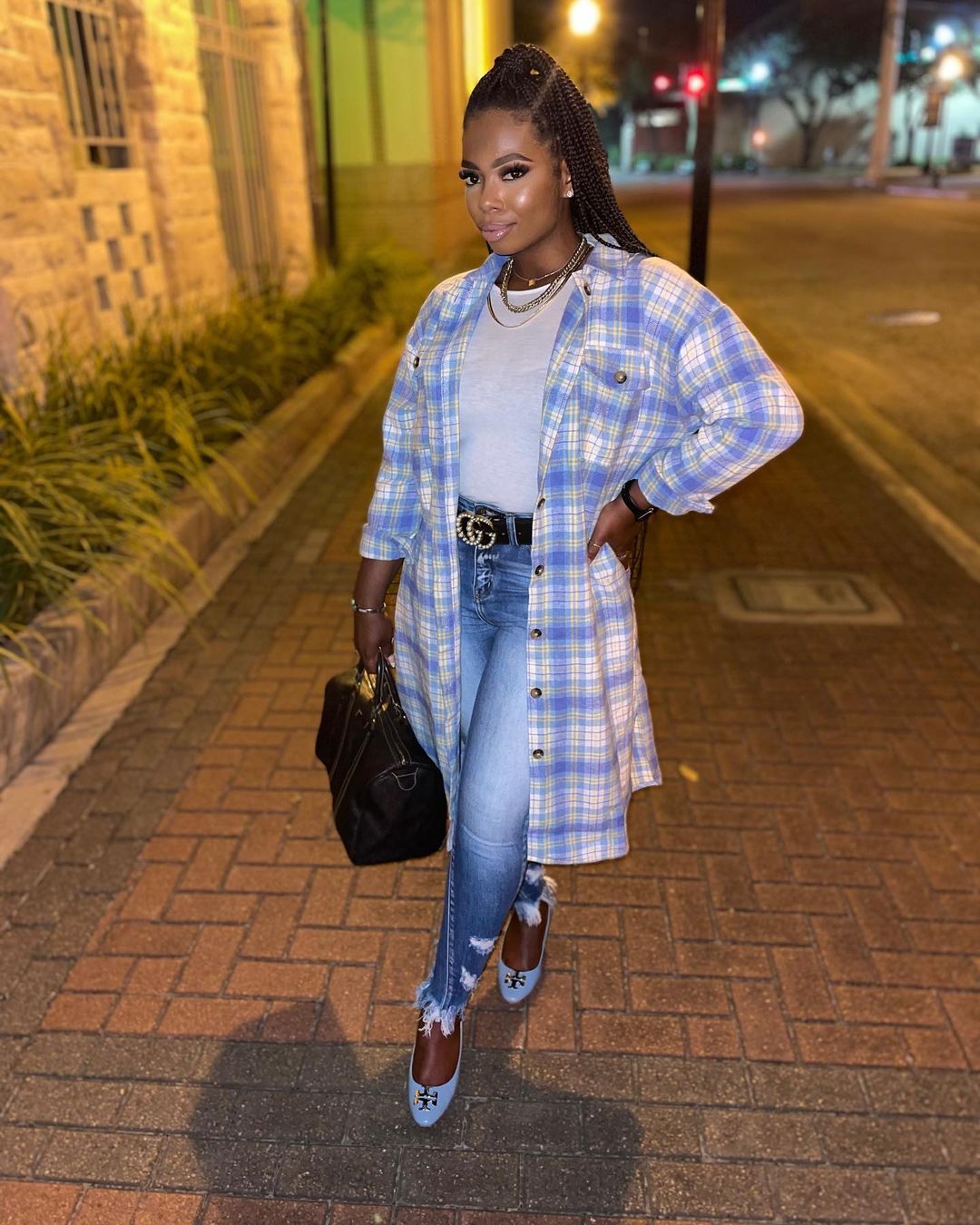 When it's time to hang out with friends on a night out, and you're not planning on clubbing, a more easygoing styling might be in order. Jeans, blues, a long flannel shirt or coat, some accessories and heels and you're ready to hit the town.
Let's end the list there. Did you get that flannel fever by looking at these outfits? Well, since the weather is getting chilly, I hope you do, and you'll try out some of these looks yourself. Who knows? That old flannel shirt you keep around could become your preferred clothing piece this fall.