Cowgirls have long been admired for breaking down barriers and boldly embracing their unique sense of style. Symbolized by signature elements like boots, hats, and fringes, cowgirl fashion effortlessly combines the allure of country life with functionality for working the land. Women and girls can easily adopt this iconic style by incorporating classic cowgirl essentials into their Western wardrobe, making a bold statement in both casual and formal settings.
Cowgirl outfit ideas have surged in popularity as this distinctive and versatile look caters to a wide range of tastes and emotions. Bold yet elegant, cowgirl ensembles can add a touch of rebellious elegance to any occasion. Suitable for nearly any event, cowgirl attire offers infinite possibilities for customization and self-expression. As you explore these 15 cowgirl outfit ideas, let your creativity run wild and embrace the transformative power of cowgirl fashion to liven up your wardrobe this season.
Elegant Cowgirl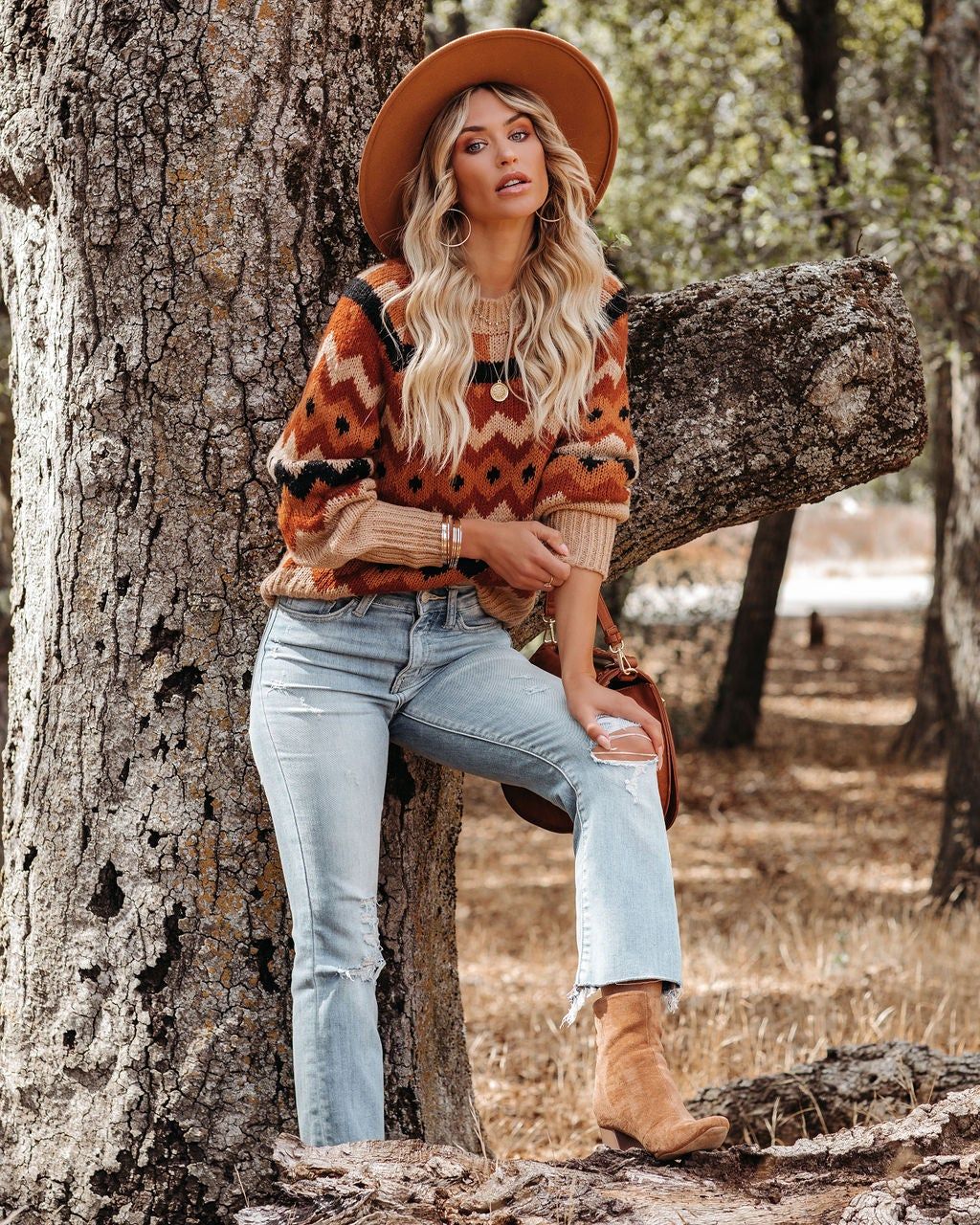 Incorporating vintage elements into our cowgirl outfits adds a touch of elegance and sophistication. A key staple of an elegant cowgirl look is fitted jeans, which emphasize our feminine silhouette while maintaining comfort and functionality. Pairing fitted jeans with a stylish leather jacket creates a timeless, chic appearance that elevates the classic cowgirl aesthetic.
To achieve an elegant cowgirl look, consider the following suggestions:
Vintage accents: Select pieces with a vintage flair, such as intricate lace or delicate embroidery, to incorporate into your outfit.
Fitted jeans: Opt for jeans that hug our curves comfortably, accentuating our shape while providing ease of movement.
Leather jackets: Choose a high-quality, fitted leather jacket in a neutral color, such as brown or black, to layer over your outfit.
Accessories: Complete the look with cowboy boots, a stylish belt, and tasteful jewelry that enhances our outfit without overpowering it.
By carefully balancing these elements, we can create an elegant cowgirl ensemble that exudes confidence, knowledge, and understated style.
Cowgirl Dress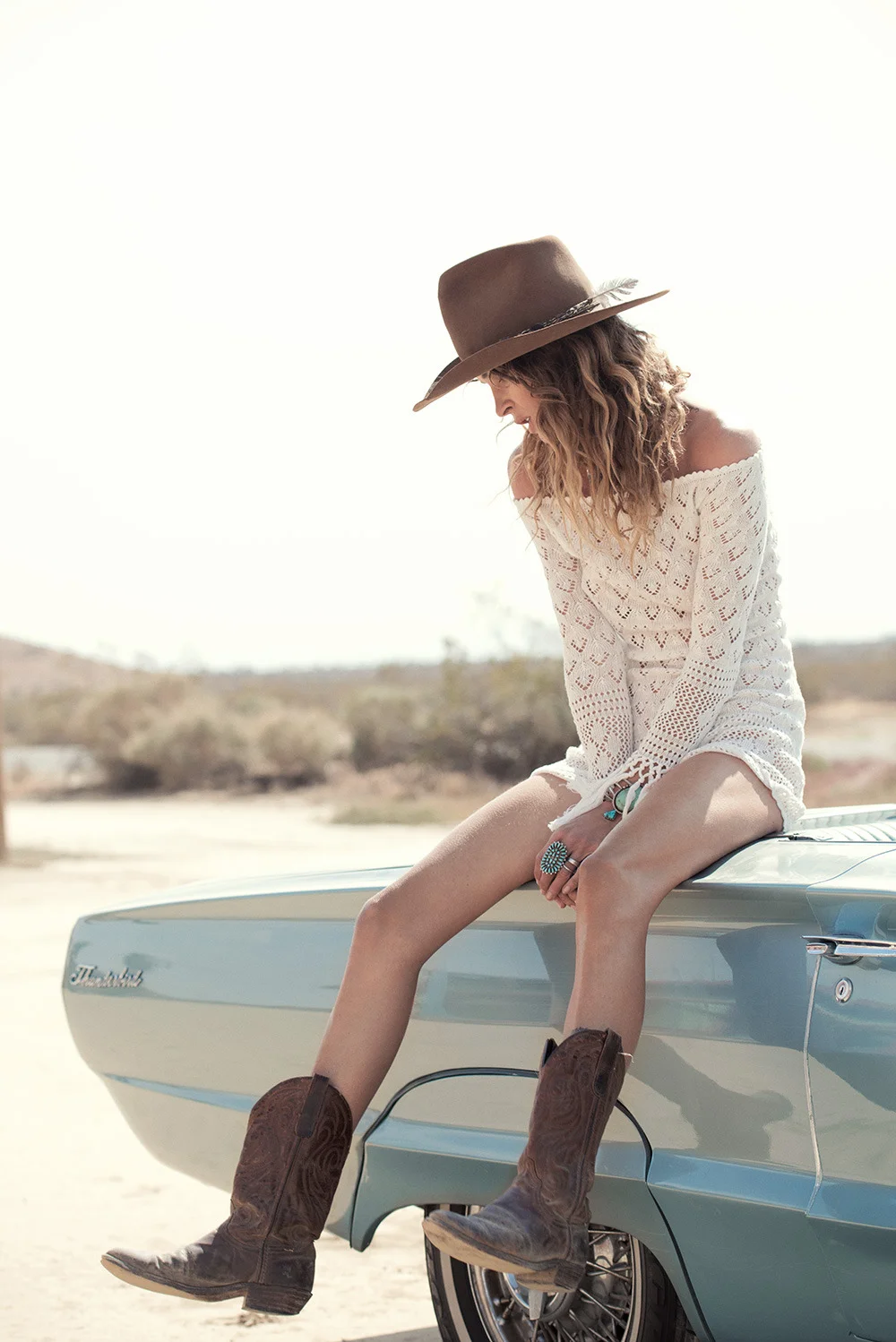 In our cowgirl outfits, we include various pieces made from denim that help to create an authentic and stylish look. Here are some essential elements you can incorporate in your ensemble:
Denim Dresses: A classic and versatile choice for any cowgirl outfit, these dresses can range from form-fitting to flowy, and can be paired with cowgirl boots for a complete look.
Denim Skirts: Another fabulous option for cowgirls, denim skirts come in varying lengths and styles, from mini to maxi. Pair them with boots and a western blouse for a stylish and comfortable outfit.
Denim Shorts: For a more casual cowgirl look, denim shorts are a great choice. Opt for high-waisted or distressed styles to make a statement, and pair them with a western shirt or classic tee.
Denim Shirt: A denim shirt can be worn with skirts, shorts, or even denim jeans (if you're daring enough to go for the double denim look). Embellishments, embroidery, or vintage-inspired cuts can add a unique touch to your cowgirl outfit.
Denim Jacket: A must-have for any cowgirl wardrobe, the denim jacket can be worn over dresses, tees, or even as a layering piece. Choose a fitted or oversized style to suit your preference.
To complete your cowgirl outfit, consider adding accessories like cowgirl hats, belts with large buckles, and stylish cowboy boots.
Country Music Concert Attire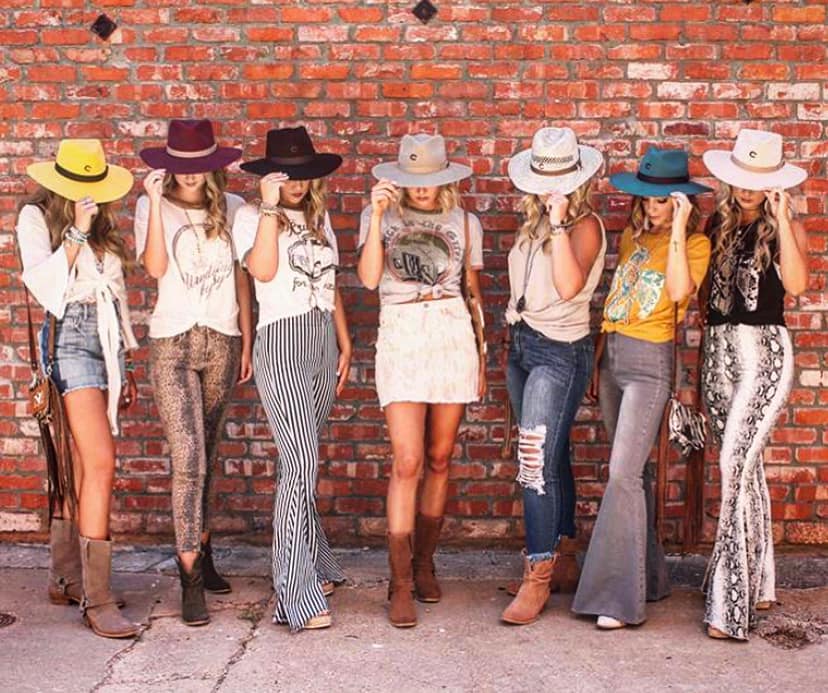 When attending a country music concert, it's essential to dress the part. By combining elements of rodeo and cowboys, we can create the perfect cowgirl outfit. Here are some ideas to help you achieve that ideal country look:
Cowboy boots: The ultimate choice for any country event. Choose a pair with intricate designs or go for a classic look with solid colors.
Denim: A staple in the world of cowgirls. Choosing denim jeans or a denim skirt complements the overall cowgirl theme.
Plaid tops: These classic western-style shirts with colorful patterns work well with denim bottoms and create a look that is both timeless and comfortable.
Cowgirl hats: Top off your outfit with a cowgirl hat, preferably one that matches your chosen color scheme for a cohesive look.
Accessorize thoughtfully to elevate your cowgirl outfit further:
Statement belt: A big, bold belt buckle adds a touch of personality to your ensemble. Look for styles with western designs or silver detailing.
Turquoise jewelry: Turquoise necklaces, earrings, or bracelets add a touch of color and sophistication to your look, reflecting the spirit of the West.
Bandanas: Tie them around your neck or wrist as an additional accessory that invokes a sense of ruggedness and cowgirl charm.
Now that you have these suggestions, you're ready to put together the perfect cowgirl outfit for your next country music concert. Have fun and embrace the spirit of the country!
Beaded Cowgirl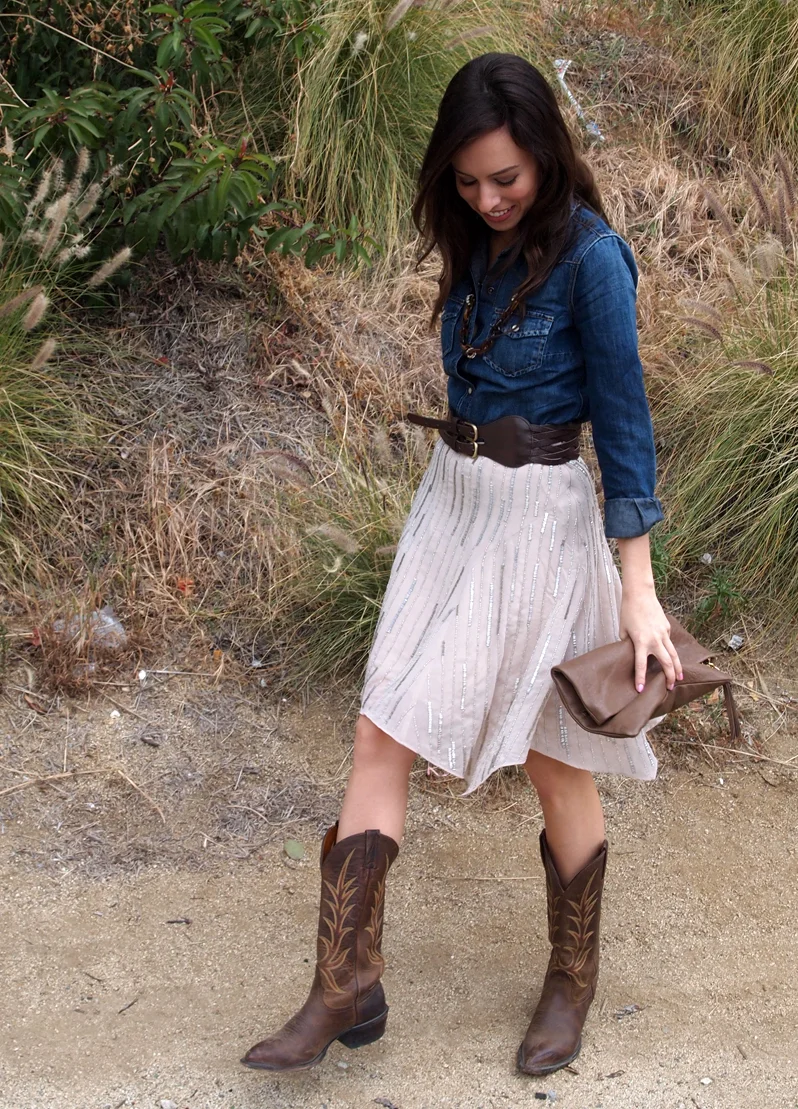 When it comes to cowgirl outfits, we understand the importance of incorporating various materials and embellishments to achieve the perfect look. In this section, we will focus on the "Beaded Cowgirl" style, highlighting various components such as leather, suede, fringe, and rhinestones.
Leather and Suede: Key fabrics in the creation of cowgirl outfits, both leather and suede provide durability and style. We often use these materials for jackets, belts, and boots, ensuring a highly tailored look that withstands the test of time.
Fringe: A quintessential component of a cowgirl outfit, fringes can be found on jackets, skirts, and boots. They not only add movement and flair, but also help achieve an authentic Western aesthetic.
Rhinestones: For a touch of glamour, we love incorporating rhinestones into our beaded cowgirl outfits. These sparkling embellishments can be added to various accessories, such as belts, hats, and jewelry, giving your look an extra dose of shine.
To achieve the beaded cowgirl style, consider the following tips:
Mix and match leather and suede pieces for added depth and texture.
Add fringe to key pieces, such as jackets and boots, to bring your outfit to life.
Use rhinestones sparingly to subtly accentuate your look without overwhelming it.
By incorporating these elements into our cowgirl outfits, we can create a truly unique and stylish beaded ensemble that's sure to impress.
Cowgirl Hat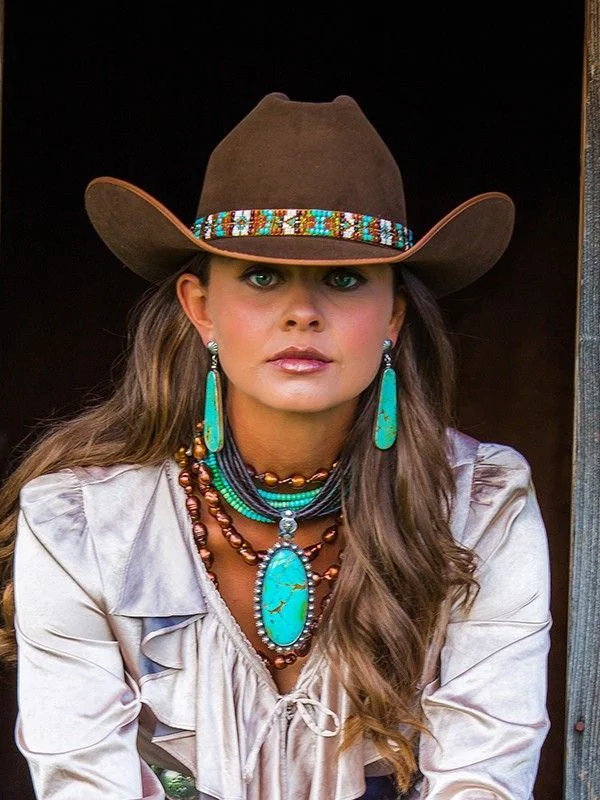 When it comes to cowgirl outfits, we can't ignore the importance of the iconic cowgirl hat. This essential accessory not only serves a practical purpose in protecting us from the sun, but also adds a touch of style and individuality to our look.
There's a variety of cowgirl hat styles to choose from, including:
Felt hats: These traditionally offer more warmth and are well suited for colder months.
Straw hats: Lightweight and breathable, straw hats are perfect for hotter seasons.
Fashion hats: These options prioritize style over practicality and can come in diverse materials, colors, and shapes.
Of course, a proper cowgirl outfit isn't complete without coordinating footwear. Here's a list of the most popular types of cowgirl boots:
Traditional cowboy boots: Characterized by their classic shape and design, these boots provide durability and style.
Riding boots: Designed for comfort while riding, these boots offer additional support and functionality.
Fashion boots: These boots emphasize fashionable designs and unique patterns when compared to traditional cowgirl boots.
Remember that, while hats and boots are essential components, other elements also play a key role in completing a cowgirl outfit. Items like fringed jackets and unique belts can help add a personal touch and express individual style.
By combining the right cowgirl hat with matching boots and complementary accessories, we can create a well-rounded, authentic cowgirl outfit that's both fashionable and functional.
Cowgirl Fashionista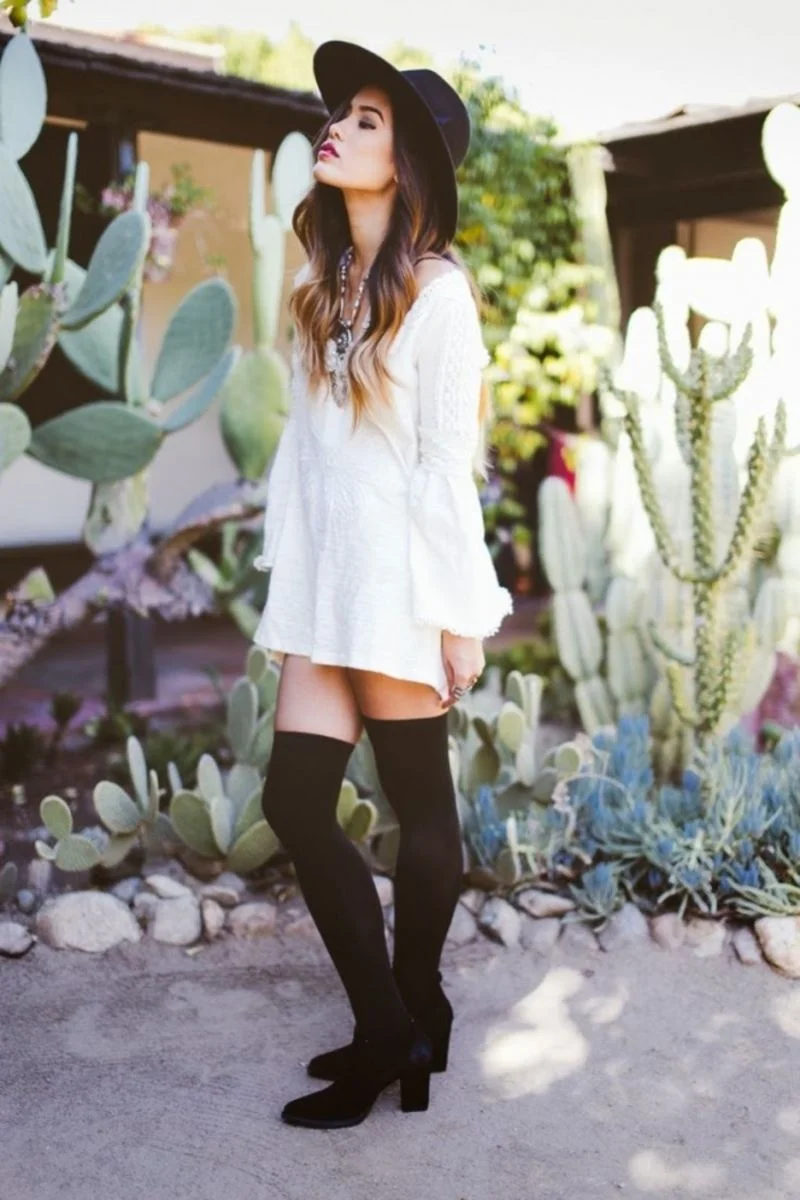 As we explore cowgirl outfits, we want to highlight some essential wardrobe pieces and styles that embody the cowgirl aesthetic. Let's dive into key items and ideas to help you create your perfect cowgirl style.
Cowboy boots: A staple in any cowgirl wardrobe, cowboy boots come in various designs and colors. Choose from classic brown or black, vibrant patterns, and even boots with intricate embroidery. Pair them with jeans, skirts, or dresses for a versatile and stylish statement.
Denim and plaid: These two fabrics are closely associated with the cowgirl style. Denim jeans, jackets, and shirts are perfect pieces to incorporate into your outfits. Additionally, plaid button-down shirts also add a touch of western charm.
Hats: A cowgirl hat is not only fashionable but also functional, protecting you from the sun and adding to your cowgirl persona. Choose from various materials like straw, leather, or felt, and find a brim size and shape that suits your personal style.
Accessories: To elevate your cowgirl outfits, consider adding accessories such as turquoise jewelry, leather belts with large buckles, and bandanas. These finishing touches can bring more authenticity and character to your look.
By combining these wardrobe essentials and styles, we can achieve that cowgirl aesthetic with confidence and ease. Mix and match different pieces to create your unique cowgirl fashionista ensembles and celebrate the rich heritage of the Old West.
Wide Boot Cut Pants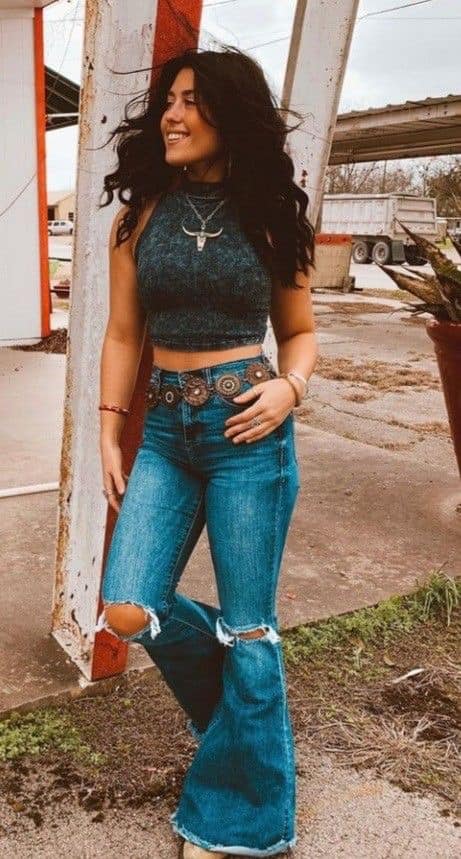 When it comes to cowgirl outfits, wide bootcut pants play an essential role in completing the look. These pants, often made from denim, have a distinct flare from the knee down, which is both functional and stylish. Here are a few reasons why they are a key element of cowgirl outfits:
Fit over boots: The widened leg opening is designed to accommodate cowgirl boots, allowing us to show off our favorite pair.
Comfort: The wide boot cut provides more room for movement, making it comfortable for horseback riding or dancing the night away at a country concert.
Versatility: Wide bootcut pants are versatile and easily paired with various tops, jackets, and accessories to achieve a chic cowgirl look. Pair them with a classic button-down shirt, a western-style belt, and a statement hat to complete the ensemble.
Timeless style: Jeans with wide boot cuts have been popular since the 19th century, and their appeal doesn't seem to fade. Their classic look transcends fashion trends, making them a staple in any cowgirl's wardrobe.
In conclusion, wide bootcut pants are an indispensable part of a cowgirl outfit, offering style, comfort, and versatility. When paired with the right pieces, these jeans can elevate our cowgirl look and showcase our western roots with confidence and flair.
Cowgirl Runway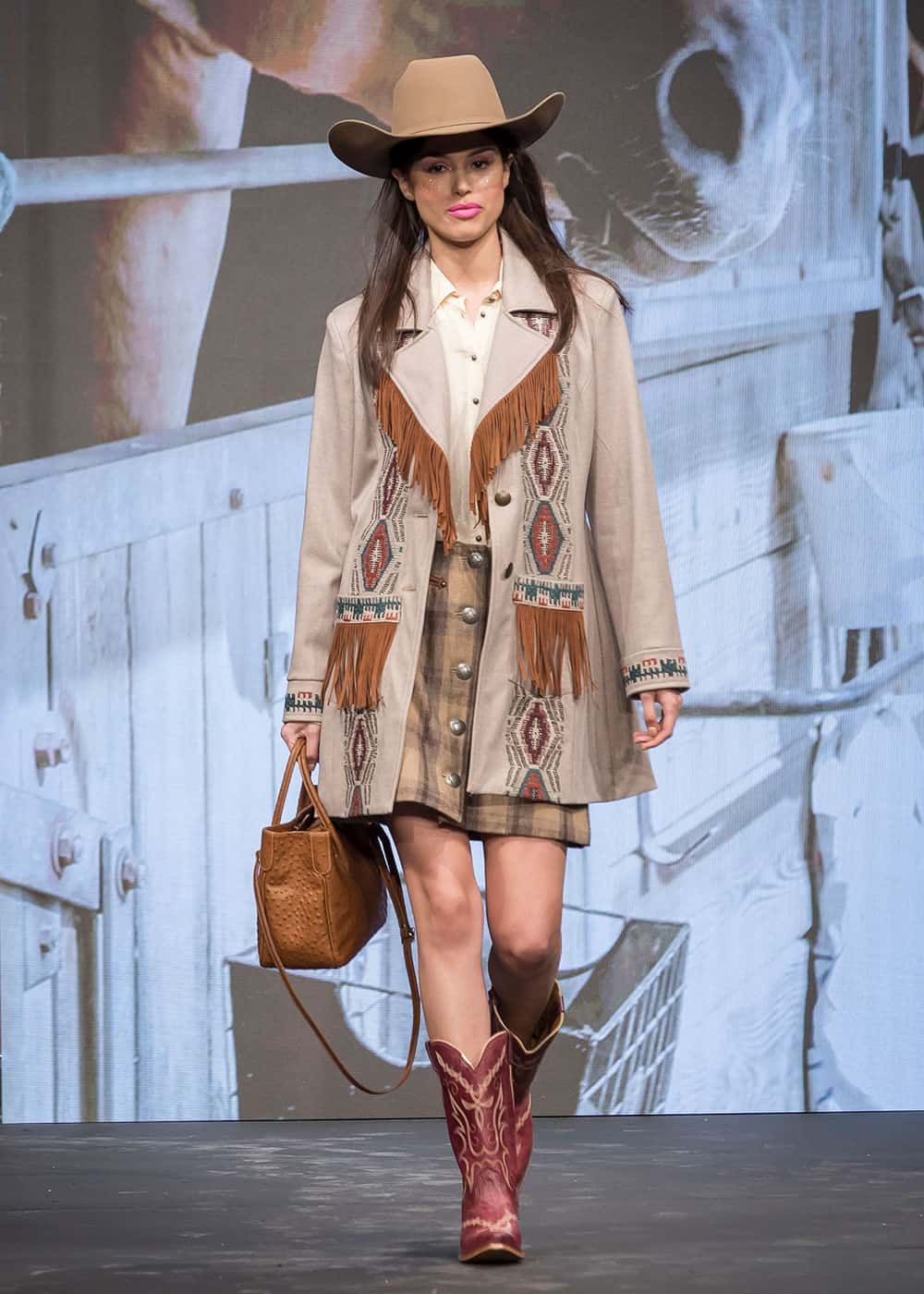 In our quest for the perfect cowgirl outfit, we've curated a list of some fashionable finds that celebrate the cowgirl style while incorporating modern trends. To help you achieve the perfect look, we've explored Etsy for some unique shopping and gift ideas.
Remember, shopping on Etsy allows you to support small businesses and independent creators while finding one-of-a-kind items you'll cherish. We hope our suggestions guide you in your pursuit of the perfect cowgirl outfit or inspire you for any gift ideas you may need.
Cool Accessories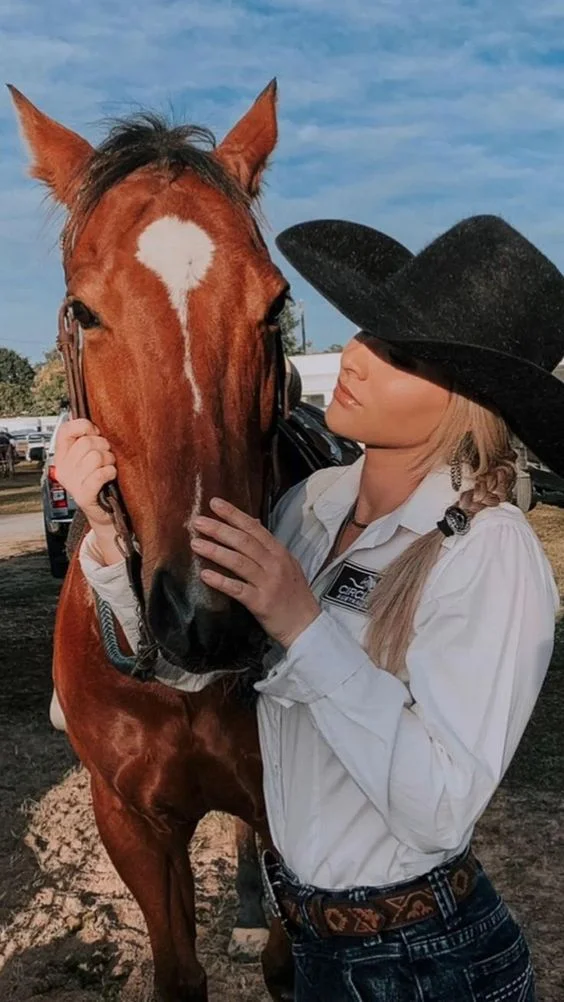 When it comes to cowgirl outfits, we know that accessories can make all the difference. Let's explore some of the top accessories that'll complete your look:
Belts: A stylish and functional addition to your cowgirl outfit, belts range from classic leather designs to those adorned with intricate metalwork and embellishments. Choose a belt with a bold buckle for that extra western flair.
Handbags and Purses: To carry your essentials in style, opt for a western-inspired handbag or purse. Look for designs featuring fringe, studs, or tooled leather to complement your cowgirl attire.
Cowgirl Jewelry: Complete your outfit with some cowgirl jewelry, such as turquoise earrings, necklaces, or bracelets. These pieces can add a pop of color and nod to the southwestern aesthetic.
Boot accessories: To enhance your cowgirl boots, consider adding a boot bracelet or chain, which can be a unique statement piece for your outfit.
Remember, the key to a successful cowgirl outfit is to mix and match these accessories to create a look that reflects your personal style. So, go ahead and experiment to find the perfect combination for your next western event.
Selena Gomez Look
Incorporating the cowgirl outfit trends, we can take inspiration from the stylish Selena Gomez, and even Kendall Jenner, to create stunning ensembles. Let's explore some noteworthy elements to include in our Selena Gomez-inspired cowgirl look:
Denim: Both Selena and Kendall have rocked denim jackets, jeans, and shorts that can be easily incorporated into a cowgirl outfit. Opt for distressed or frayed denim pieces for an edgy touch.
Plaid Shirts: Just like Selena and Kendall, we can pair our denim attire with classic plaid shirts. A simple button-up, tied at the waist or worn open over a simple white tee, adds that Western flair.
Leather Accessories: Borrowing from Kendall, we can elevate our cowgirl ensembles with leather belts, bags or even a leather jacket. Booties with chunky heels or classic cowboy boots are essential footwear options.
Hats & Scarves: Selena's hats can add a trendy touch to the cowgirl look. A wide-brimmed hat or even a simple bandana tied around the neck or head can give our outfits a finishing touch.
By incorporating these elements, we can successfully create a Selena Gomez-inspired cowgirl look that exudes confidence and style.
Maroon Plaid Frock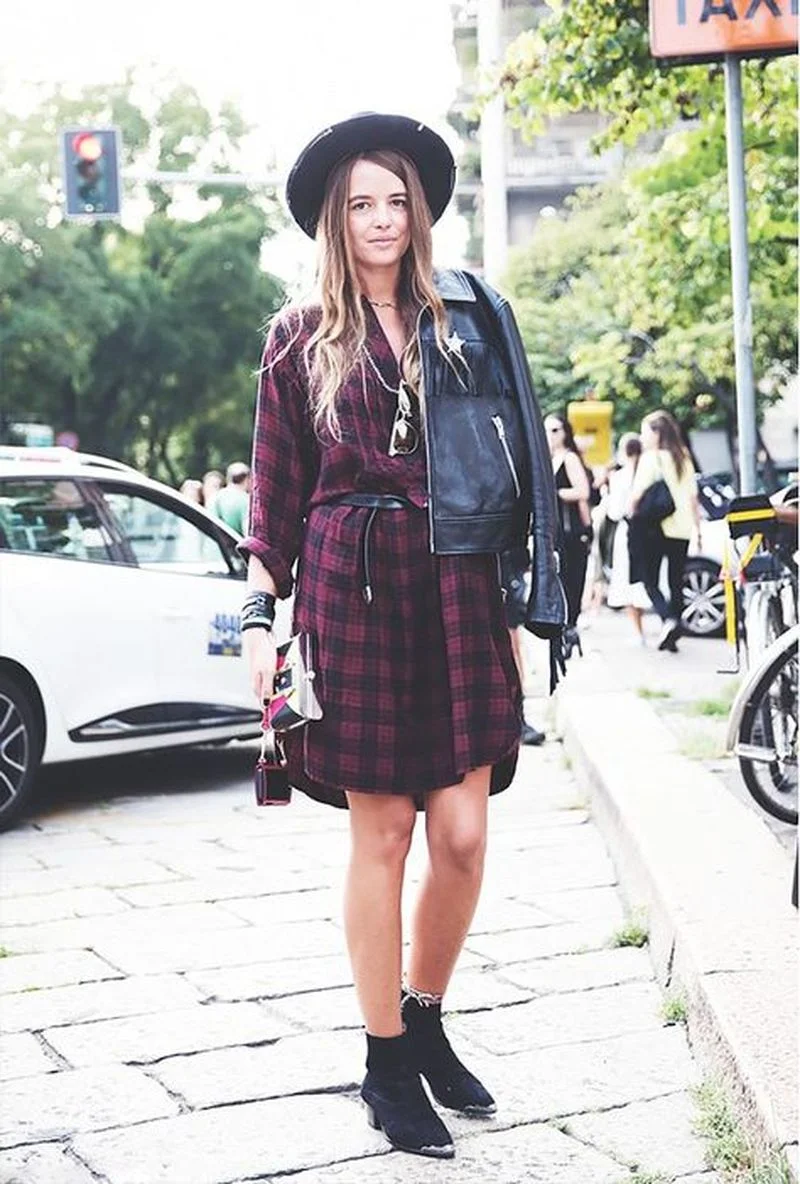 As part of our cowgirl outfits, we can't forget to include the maroon plaid frock. This stylish and classic piece gives off a distinct western vibe while remaining fashionable and feminine.
Here are a few elements that make the maroon plaid frock a great addition to our cowgirl outfits:
Color: The deep maroon shade adds a touch of sophistication and pairs well with various other colors and accessories.
Plaid pattern: The timeless plaid design ensures the frock remains on-trend and maintains its western appearance.
Flattering fit: The waist-cinching cut and flowing skirt of the frock flatter various body shapes and sizes.
To complete the look, consider pairing the maroon plaid frock with these items:
| Accessories | Shoes | Hair Styles |
| --- | --- | --- |
| Cowgirl Hat | Cowboy Boots | Loose Curls |
| Leather Waist Belt | Ankle Booties | Braids |
| Bandana Neck Scarf | Knee-High Boots | Ponytail |
With these options, we can create the perfect cowgirl outfit that showcases our unique style while remaining true to the traditional western theme.
Winter Casual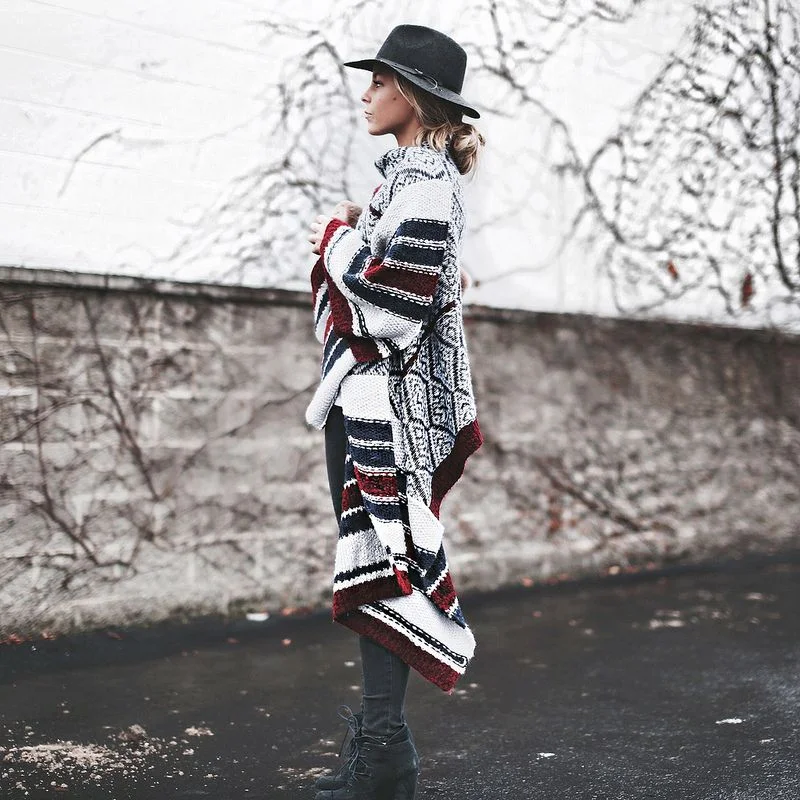 In the colder months, it's essential to stay warm while maintaining that cowgirl style. We've compiled a list of items to incorporate into your winter casual cowgirl outfits.
Layering: Start with a warm base layer, such as a thermal top, and add layers like flannel shirts, vests, or cardigans to keep the cold at bay.

Tip: Opt for materials like wool and fleece for added warmth.

Outerwear: A stylish and functional winter coat, preferably with a hood, is crucial. Consider a classic leather jacket or a more insulated option like a parka or down-filled coat.
Bottoms: Stick to denim jeans or thicker leggings to preserve that cowgirl look while staying warm. You can also wear thermal layers underneath for extra insulation.
Footwear: Swap out your regular cowboy boots for insulated or waterproof versions to protect your feet from the cold and moisture.
Accessories: Finish off your winter casual cowgirl outfit with accessories like warm hats, scarves, and gloves. Choose knit or wool materials for maximum warmth and comfort.

Consider a classic cowgirl hat made of felt for a stylish and warm option.
By mixing and matching these elements, you can create cozy and fashionable winter casual cowgirl outfits that keep you warm throughout the season.
Taylor Swift Look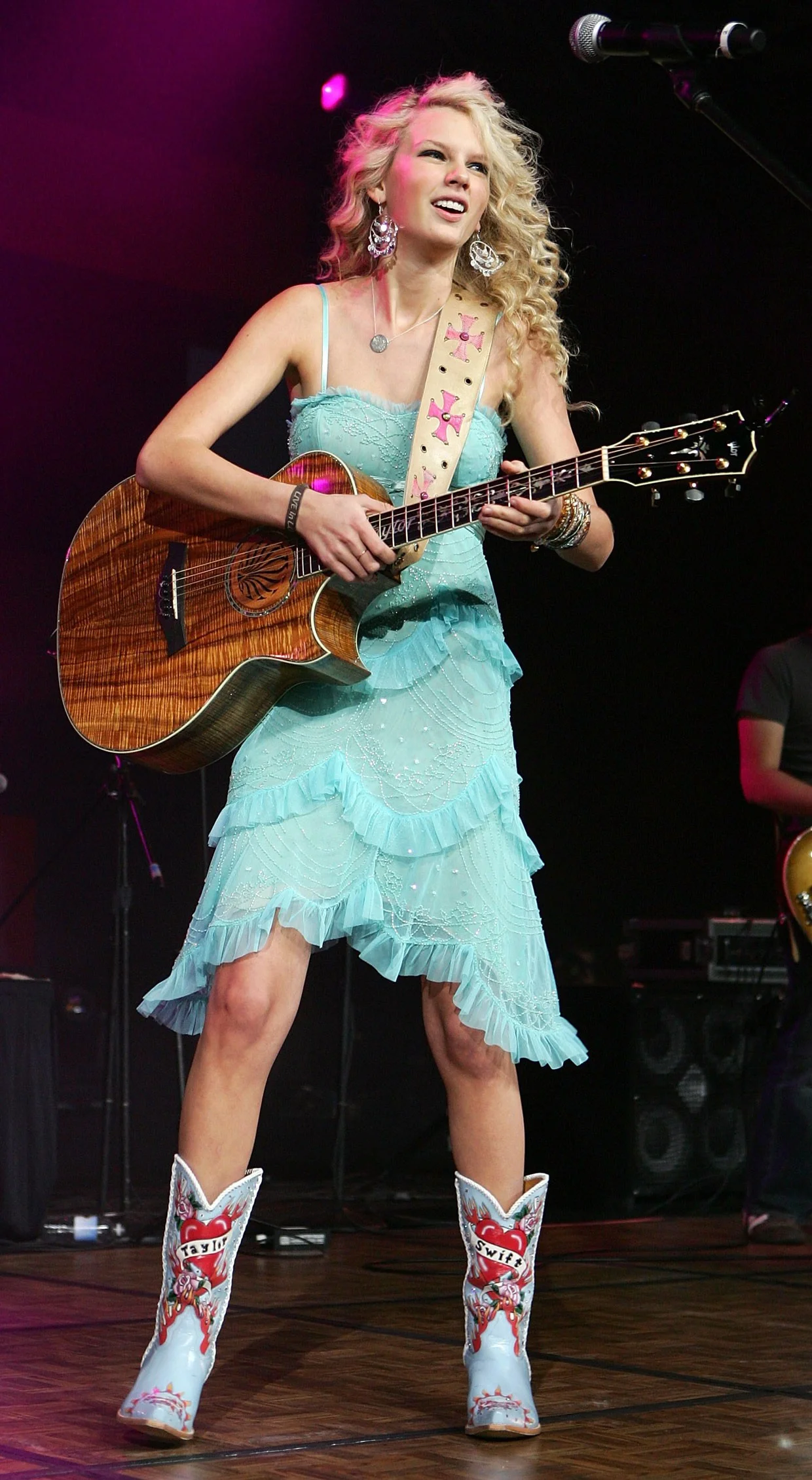 As we know, Taylor Swift has a signature style when it comes to cowgirl outfits. Her looks are often a blend of country charm and modern chic. Let's dive into some elements that create the iconic Taylor Swift cowgirl look:
Plaid shirts: Taylor often wears plaid shirts with cute denim shorts or jeans. These shirts add a down-to-earth cowgirl touch to her outfits and are essential for a Taylor-inspired look.
Denim: Whether it's high-waisted shorts, jeans, or a denim jacket, Taylor knows how to rock denim in various forms. Pairing denim with a cute top or a dress can instantly turn a simple outfit into a stylish cowgirl ensemble.
Cowboy boots: A key element in Taylor's cowgirl outfits is her trademark cowboy boots. She can be seen wearing either knee-high or ankle-length boots, often with intricate designs or embellishments.
Cowgirl Hats: On occasion, Taylor has been spotted wearing a classic cowgirl hat. This accessory adds a finishing touch to her cowgirl look and pulls the outfit together.
Here are a few go-to outfit combinations inspired by Taylor Swift's cowgirl style:
Plaid shirt + denim shorts + cowboy boots
Denim jacket + sundress + cowboy boots
Graphic tee + jeans + cowboy boots + cowgirl hat
Remember, when trying to emulate Taylor Swift's cowgirl look, incorporate elements like plaid, denim, and cowboy boots to achieve a confident, knowledgeable, and stylish country-inspired ensemble.
Sherif Look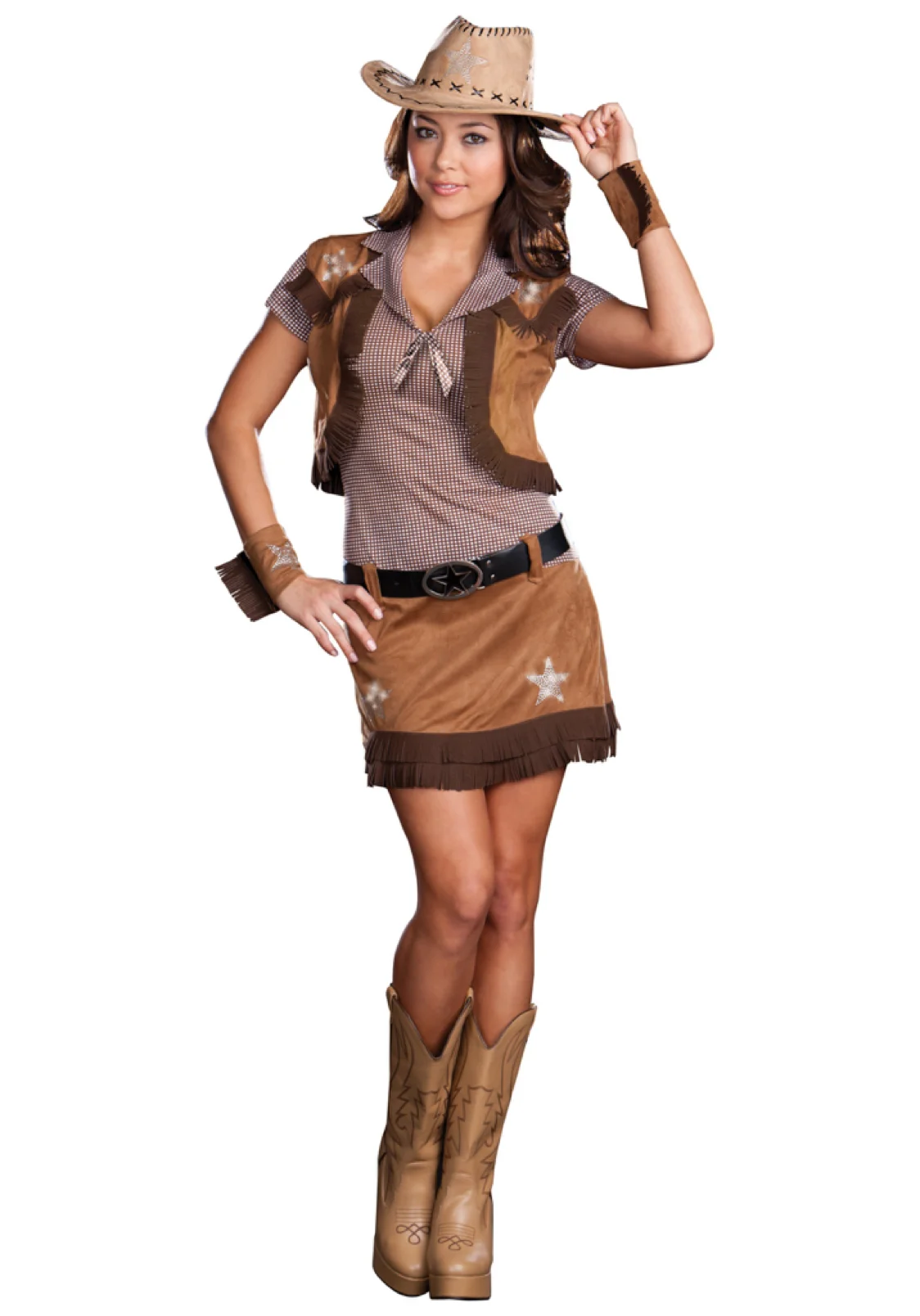 In our Sherif Look section, we dive into the timeless style of cowgirl outfits with a touch of authority and confidence. Here are the key elements:
Hat: A wide-brimmed hat symbolizes the unmistakable cowgirl look. Choose a felt or straw material in a neutral color to draw attention.
Shirt: Go for a classic plaid or checkered button-up shirt, with either long or short sleeves, and tuck it into your jeans or skirt.
Jeans: Opt for a well-fitted pair of jeans in dark or medium washes. The bootcut style allows your boots to be seen and highlights the cowgirl aesthetic.
Boots: Cowgirl boots with pointed toes and intricate stitching instantly evoke the Western spirit. Choose from various colors and materials to make a statement.
Belt & Buckle: A leather belt, featuring a large, eye-catching buckle, completes the look. Add some engraved or studded details to show off your style.
Accessories: Incorporate accessories like bandanas, bolo ties, and faux leather or fringed vests to elevate the overall look.
By incorporating these elements into our cowgirl outfits, we effortlessly achieve the Sherif Look, capturing the essence of the Western style.
Tribal Dress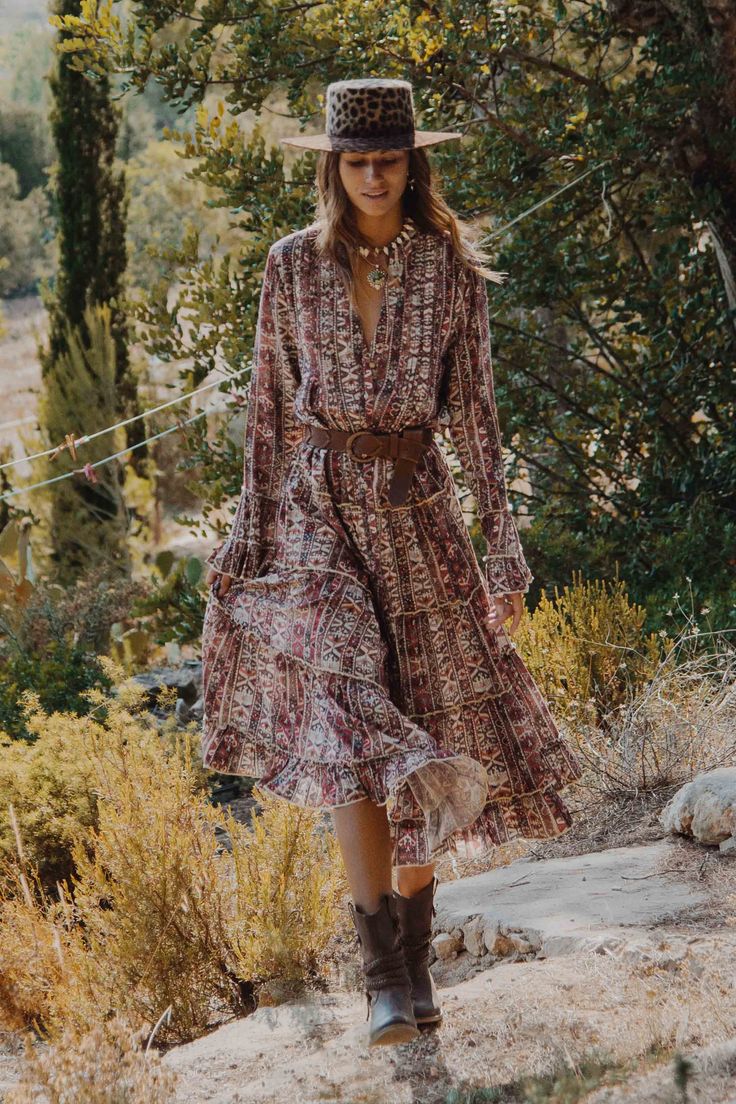 In our search for cowgirl outfits, we've come across some interesting tribal dress influences that have played a role in shaping modern cowgirl fashion. Some components that have been adapted from the tribal dress include:
Fringe: A common element in both cowgirl attire and Native American clothing, fringe adds a fun and free-flowing aspect to jackets, vests, skirts, and boots.
Turquoise jewelry: Worn by tribes in the American Southwest, turquoise jewelry is a staple in cowgirl outfits, adorning everything from necklaces and earrings to belts and bracelets.
Leather: Native American tribes relied heavily on animal hides for clothing, and this tradition extends to cowgirl outfits, with leather jackets, chaps, belts, and boots being essential components.
Feather accents: Incorporated as embellishments for hats, bags, and other accessories, feathers are a nod to the tribal dress influence in cowgirl fashion.
Beadwork: Intricate bead patterns are common in indigenous attire, and cowgirl clothing has adopted this detail in subtle ways, such as on belts, boots, and bags.
By understanding the tribal roots of some aspects of cowgirl outfits, we can appreciate the historical connections and blend of cultures in the fashion we see today. Incorporating these elements in your cowgirl style will not only make your outfit authentic, but it will also pay homage to the various traditions that have inspired modern Western wear.