April marks the time when fashion-forward individuals head to the California desert to attend America's most popular festival, Coachella. Music enthusiasts don their trendiest outfits, making the event an unofficial fashion week. Over the years, Coachella has become a breeding ground for fresh and innovative street fashion, with brands even launching Coachella-inspired collections.
In this article, we will explore the captivating boho style that permeates the atmosphere of Coachella, from casual combinations to the vibrant colors characteristic of this iconic festival. Celebrities and music-lovers alike embrace the ever-changing fashion trends, all while keeping comfort in mind for long days under the hot California sun. So, join us as we delve into the best Coachella trends this year, and find inspiration for your summer wardrobe or the next festival to come.
Crochet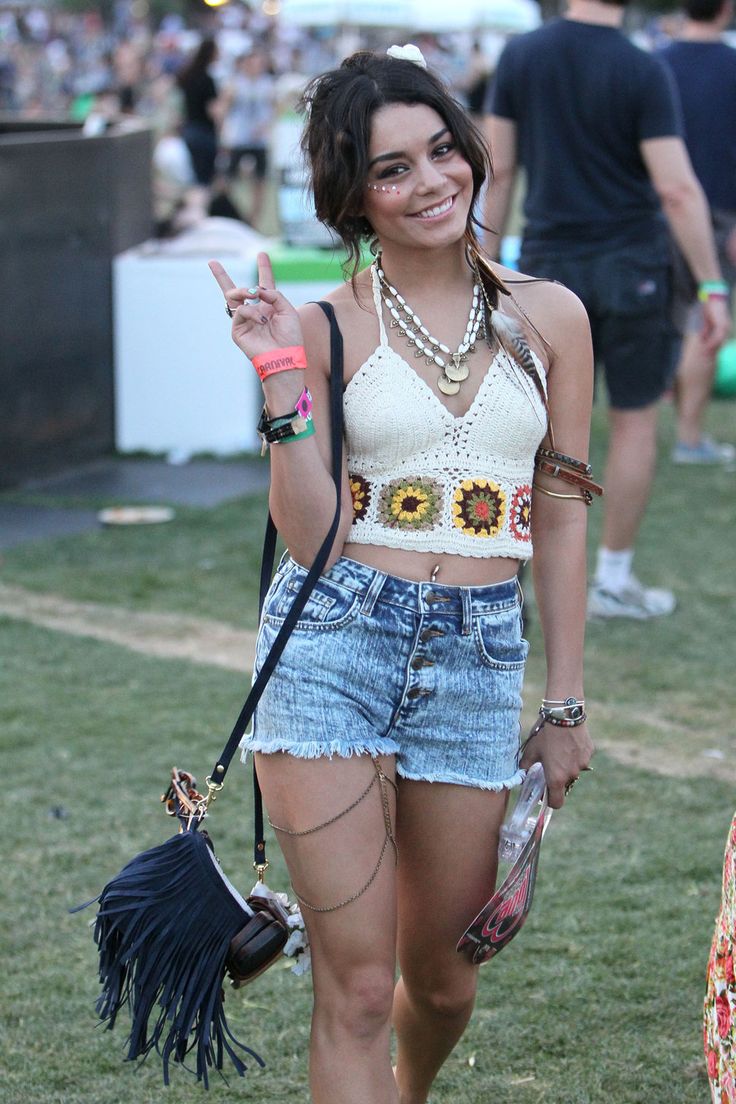 When it comes to Coachella outfits, one of our favorite materials to work with is crochet. The bohemian vibe it brings is perfect for the festival atmosphere. We often see festival-goers sporting crochet pieces, whether it be tops, dresses, or accessories.
Incorporating crochet into our Coachella outfits not only adds a touch of vintage charm but also allows us to experiment with various patterns and colors. Some popular crochet designs include:
Floral patterns: These add an effortlessly feminine touch to our outfits and are perfect for embracing the spring season.
Geometric designs: For a more modern twist on the bohemian look, we can opt for bold and intricate geometric patterns in our crochet pieces.
Fringe detailing: Including fringe on our crochet items adds movement and a sense of free-spiritedness to our Coachella ensembles.
To make our crochet outfits truly stand out, we can mix and match pieces with other textures and patterns, such as denim or tie-dye. Additionally, layering crochet over solid colors or even wearing it as a swimsuit cover-up can create a versatile look that embodies the spirit of Coachella.
Snakeskin Print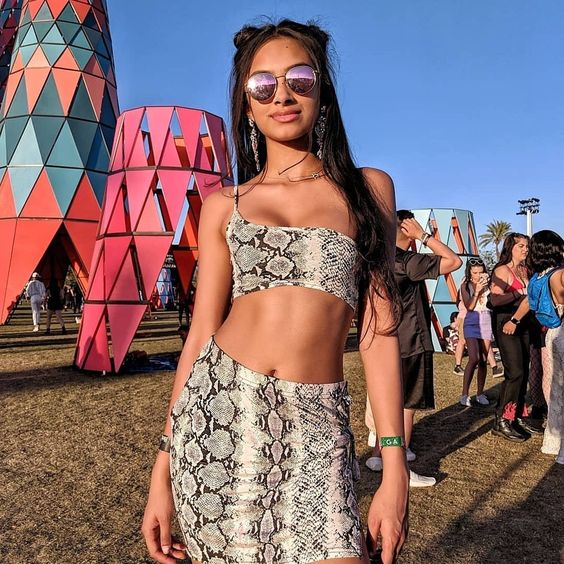 Snakeskin print has been a popular choice for Coachella outfits in recent years. When we think about creating a chic and stylish outfit that stands out, incorporating snakeskin print can elevate our look. Here are some ways to incorporate snakeskin print into our Coachella ensembles:
Footwear: Snakeskin boots or sandals can add a touch of edginess to our outfits while maintaining comfort for dancing and walking around the festival grounds.
Clothing: Snakeskin print dresses, skirts, and tops can make a statement on their own, or be a bold addition to a more basic ensemble.
Accessories: Snakeskin print bags, belts, or scarves can add a subtle hint of the pattern to our outfits without being overwhelming.
Layering: Snakeskin print jackets or kimonos can provide a stylish option for layering during cooler evenings at the festival.
Remember to balance these statement-making pieces with more understated items for a cohesive, fashionable Coachella outfit.
Matching Sets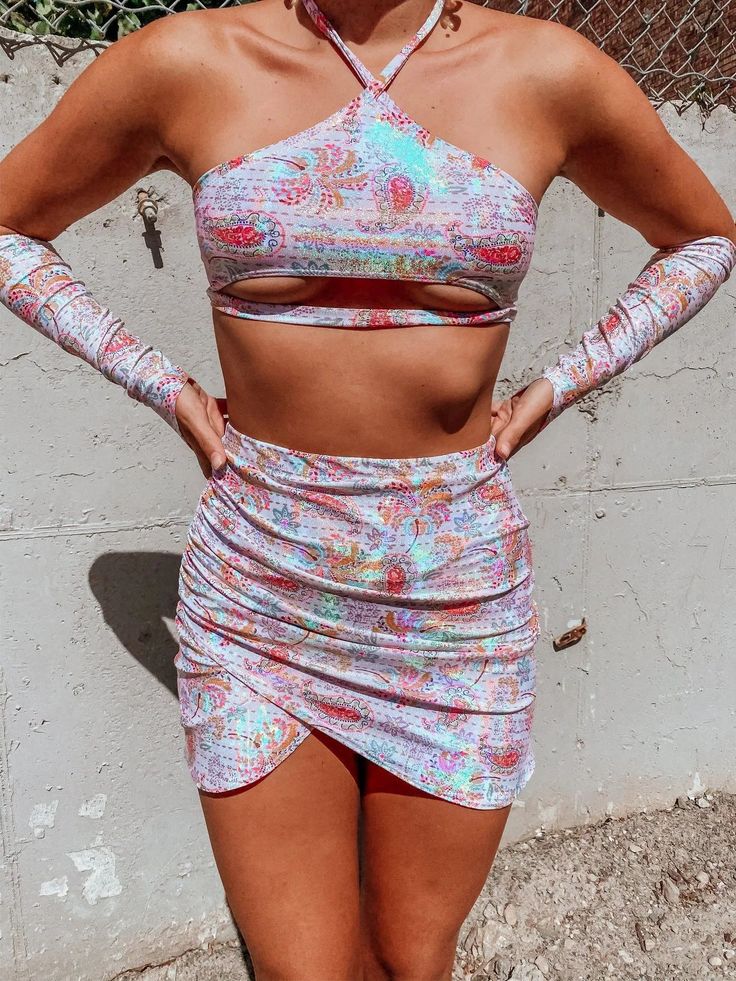 At Coachella, we often see festival-goers rocking stylish matching sets. These coordinated ensembles make a bold fashion statement and are perfect for the warm, sunny atmosphere. Here are some popular matching set trends for Coachella outfits:
Denim on Denim: A classic choice, a denim jacket paired with matching jeans or shorts creates an effortless, cool look. You can even add patches or distressed elements to personalize your outfit.
Bold Prints: Vibrant and eye-catching prints such as florals, stripes, or geometric patterns are fantastic for matching sets. You can choose a crop top and high-waisted shorts combo or opt for a flirty two-piece dress.
Separates with a Twist: Mixing and matching separates with complementary colors and patterns can be just as stylish as having a true matching set. Think a polka dot blouse with striped shorts or a colorful skirt and a patterned crop top.
Accessorize your matching sets with layered necklaces, oversized sunglasses, and comfortable shoes to elevate your Coachella outfit even further. By incorporating separates, matching sets, or denim jackets into your festival wardrobe, we're confident that you'll look and feel ready for an unforgettable experience.
Statement Pants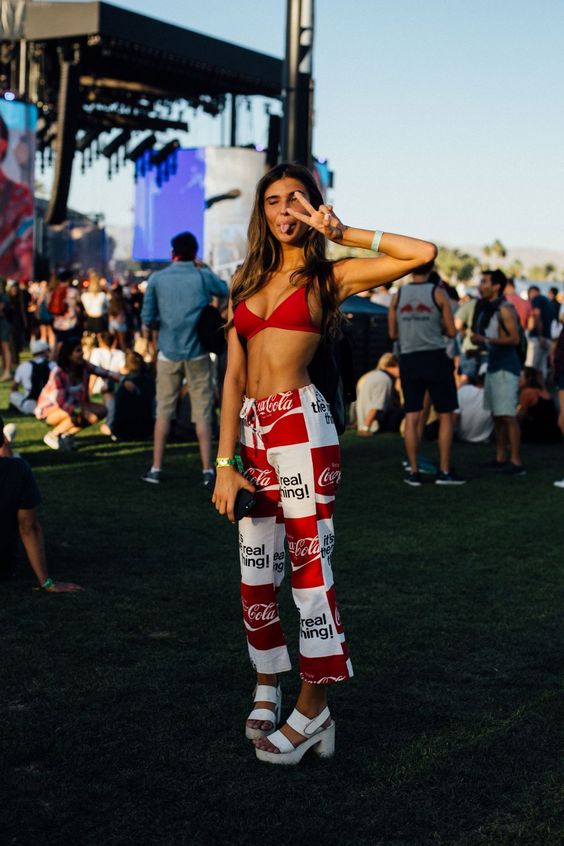 At Coachella, statement pants are a great way to stand out and showcase your unique style. We recommend incorporating these trendy options into your festival outfit:
Leather pants: While being bold and stylish, leather pants also provide durability and comfort for long hours of dancing and walking. Pair them with a simple top to maintain balance in your outfit.
Cargo pants: Opt for cargo pants if you're looking for something comfortable and functional. The multiple pockets are ideal for carrying essentials like keys, phone, and wallet without the need for a bag.
Baggy cargo pants: Combining the best of both worlds, baggy cargo pants provide extra comfort and freedom of movement while still offering the practicality of cargo pants. Pair them with a fitted tank or crop top for a balanced look.
Remember, confidence is key when rocking statement pants. So, embrace your choice and make a splash at Coachella with a distinct and fashionable outfit!
All About The Sparks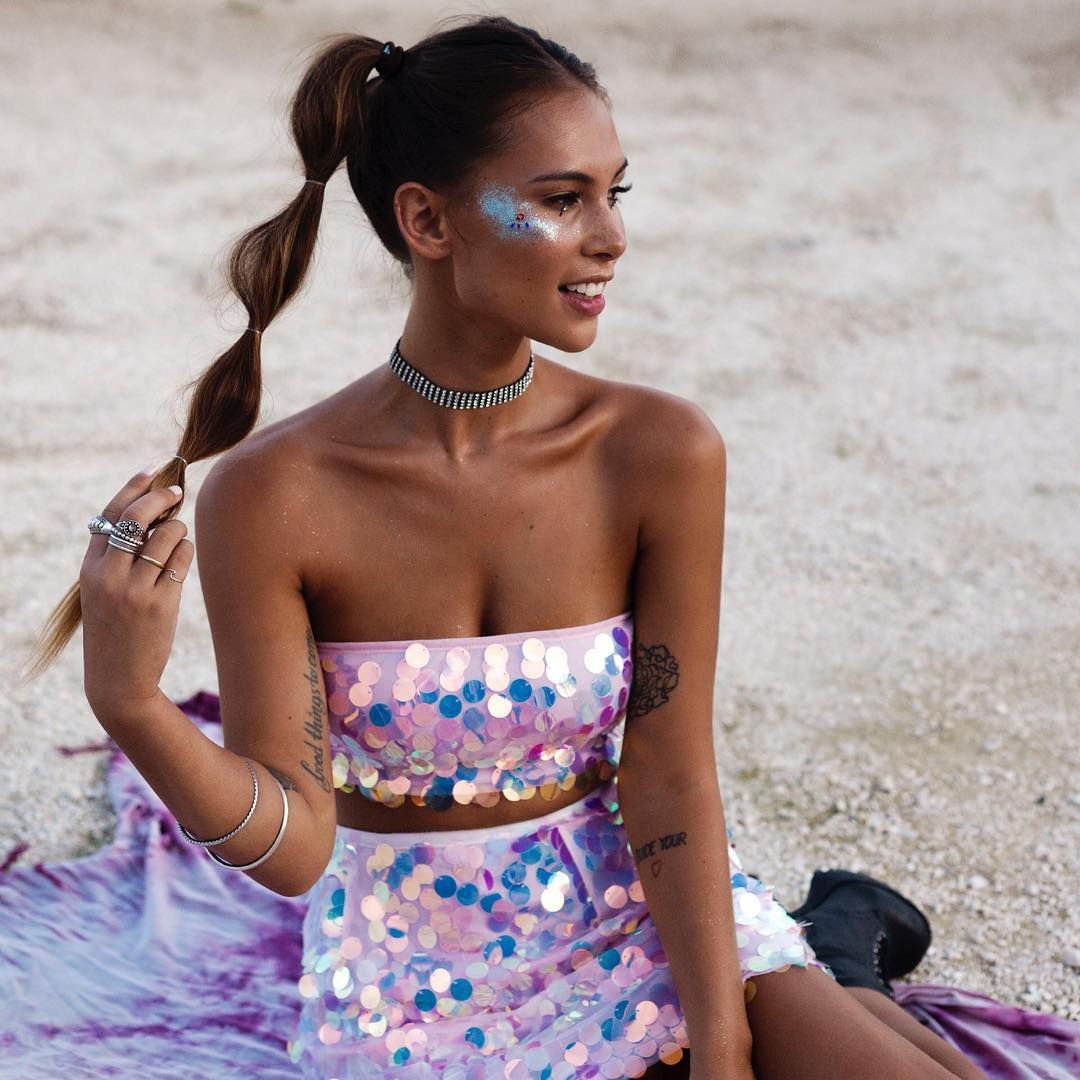 At Coachella, outfits play a significant role in expressing our personality and creativity. To help our fellow festival-goers stand out, we've compiled a list of eye-catching Coachella outfits that spark excitement and inspire conversation.
Bold patterns: Vibrant, colorful patterns are a Coachella staple. Consider incorporating mix-and-match prints like florals, Aztec, or tie-dye to make a statement.
Bohemian vibes: Embrace the boho-chic trend by flaunting flowy dresses, wide-brimmed hats, and fringe details.
| Outfit Type | Key Accessories |
| --- | --- |
| Off-shoulder crop tops | Layered necklaces |
| High-waisted shorts | Statement belt |
| Rompers and jumpsuits | Unique sunglasses |
| Maxi dresses and skirts | Glitter makeup |
Denim delight: Opt for distressed denim shorts and jackets, paired with statement-making graphic tees or cozy crochet tops.
All about layers: Coachella is known for its temperature fluctuations. Layering is essential -think lightweight cardigans, kimonos, and vests to effortlessly transition from day to night.
Remember, the key is to have fun with fashion while staying comfortable and true to our personal style. Happy festival season!
Orange Is The New Pink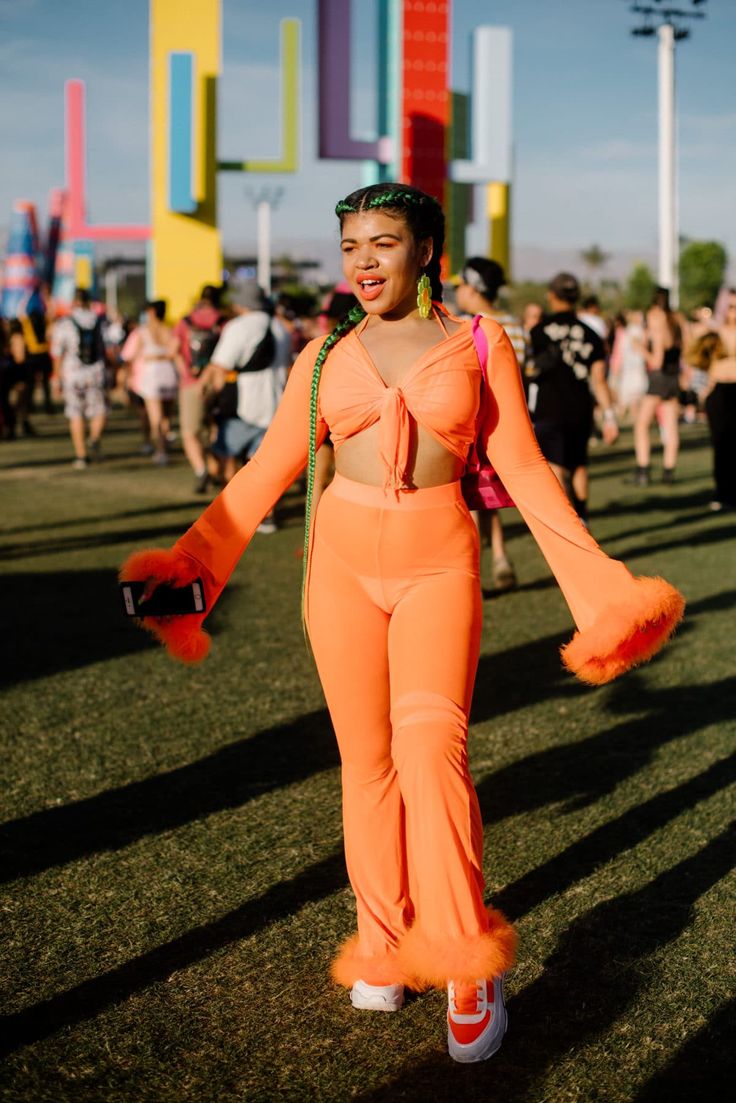 As we dive into Coachella outfits, we can't help but notice the rise in popularity of the color orange. It seems that orange has replaced pink as the go-to hue for fashionable festival-goers. Let's break down some of the top orange-themed Coachella outfit trends:
Bold monochrome: All-orange ensembles create a striking look that stands out from the crowd. Incorporate various shades and textures, such as sequins or mesh, to keep the outfit interesting.

Example: A flowing, floor-length dress in burnt orange

Color blocking: Pairing orange with other bold colors like blue, yellow, or even pink and use them to create distinct blocks of color in your outfit.

Example: A tangerine top with royal blue wide-leg pants

Prints and patterns: Search for pieces featuring patterns with prominent orange tones to inject some color into your outfit without going all-in on the monochrome look.

Example: A paisley-printed kimono with orange accents thrown over a simple white dress

Accessories: If you're not confident about incorporating too much orange in your clothing, start with smaller accessories such as scarves, hats, or sunglasses to ease into the trend.

Example: A stack of tangerine bangles and an orange-framed pair of sunglasses
Remember to prioritize comfort and practicality, as you'll be spending long hours moving, dancing, and enjoying the music. Experiment with these trends and make them your own – a touch of orange can add flair to any Coachella outfit.
All White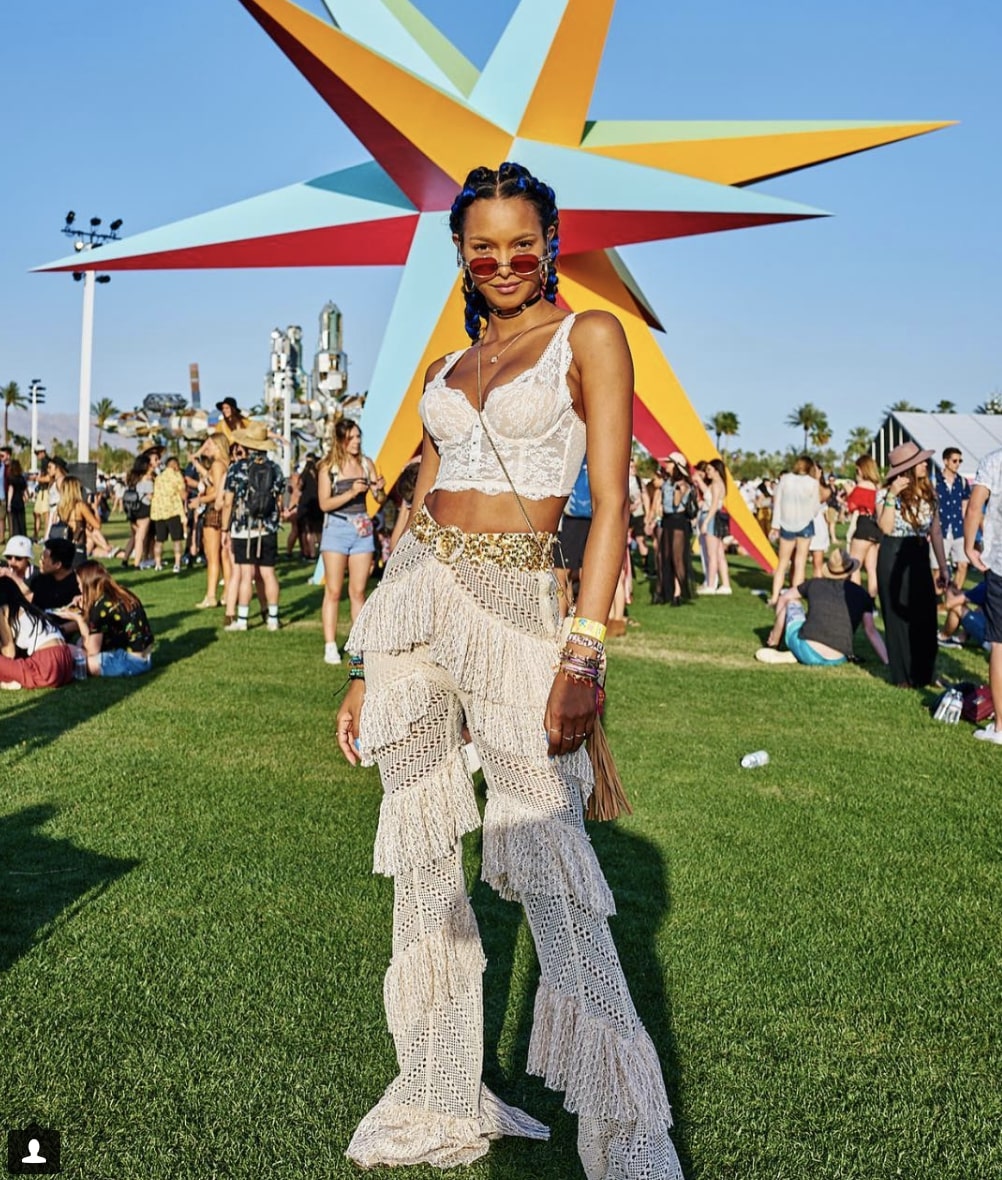 At Coachella, we love to make a statement with our outfits. One of the classic and chic styles we often see is the all-white ensemble. This monochromatic look is perfect for keeping cool in the desert heat while looking effortlessly stylish.
To elevate our all-white outfits, we can incorporate oval sunglasses as a key accessory. These sunglasses not only protect our eyes from the sun, but they also add a touch of sophistication to our overall look. Here are some ideas on how to style your all-white Coachella outfits with oval sunglasses:
Pair a loose, white flowing dress with oversized oval sunglasses for a bohemian and breezy look.
For a more edgy look, opt for a white cropped top, high-waisted shorts, and small oval sunglasses.
Accessorize with a stylish white hat and minimalist white sandals to complete the outfit.
So, when you're heading to Coachella, consider embracing the all-white trend for a refreshing and chic festival look. And don't forget to grab your favorite pair of oval sunglasses to complete the ensemble.
Neon Shades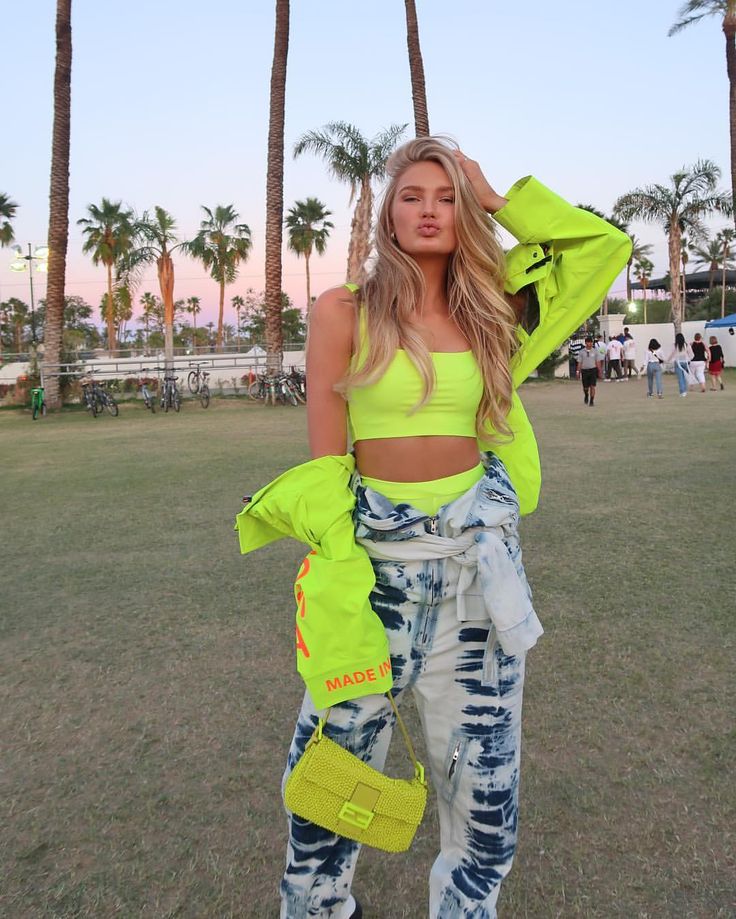 We can't talk about Coachella outfits without mentioning the vibrant and eye-catching neon shades. These colorful clothing pieces have become a signature look at the festival. Here are a few ways to incorporate neon shades into your Coachella outfit:
Neon Tops: A bold neon top is a great way to make a statement. Pair it with some denim shorts or a skirt for a fun and stylish look.
Neon Accessories: If you're not ready to commit to a full neon outfit, consider adding a pop of color to your ensemble with neon accessories, such as sunglasses, hats, or belts.
Neon Prints: Another way to embrace the neon trend is by choosing pieces with neon accents or patterns. This can be a more subtle way to include these bright shades in your Coachella wardrobe.
Neon Shoes: Don't forget your feet! A pair of neon sneakers, sandals, or boots can liven up any outfit and keep you comfortable while dancing the night away.
Remember, the key to pulling off a neon look at Coachella is to balance these bold shades with more neutral pieces and to wear them with confidence. Happy styling!
Cowgirl Style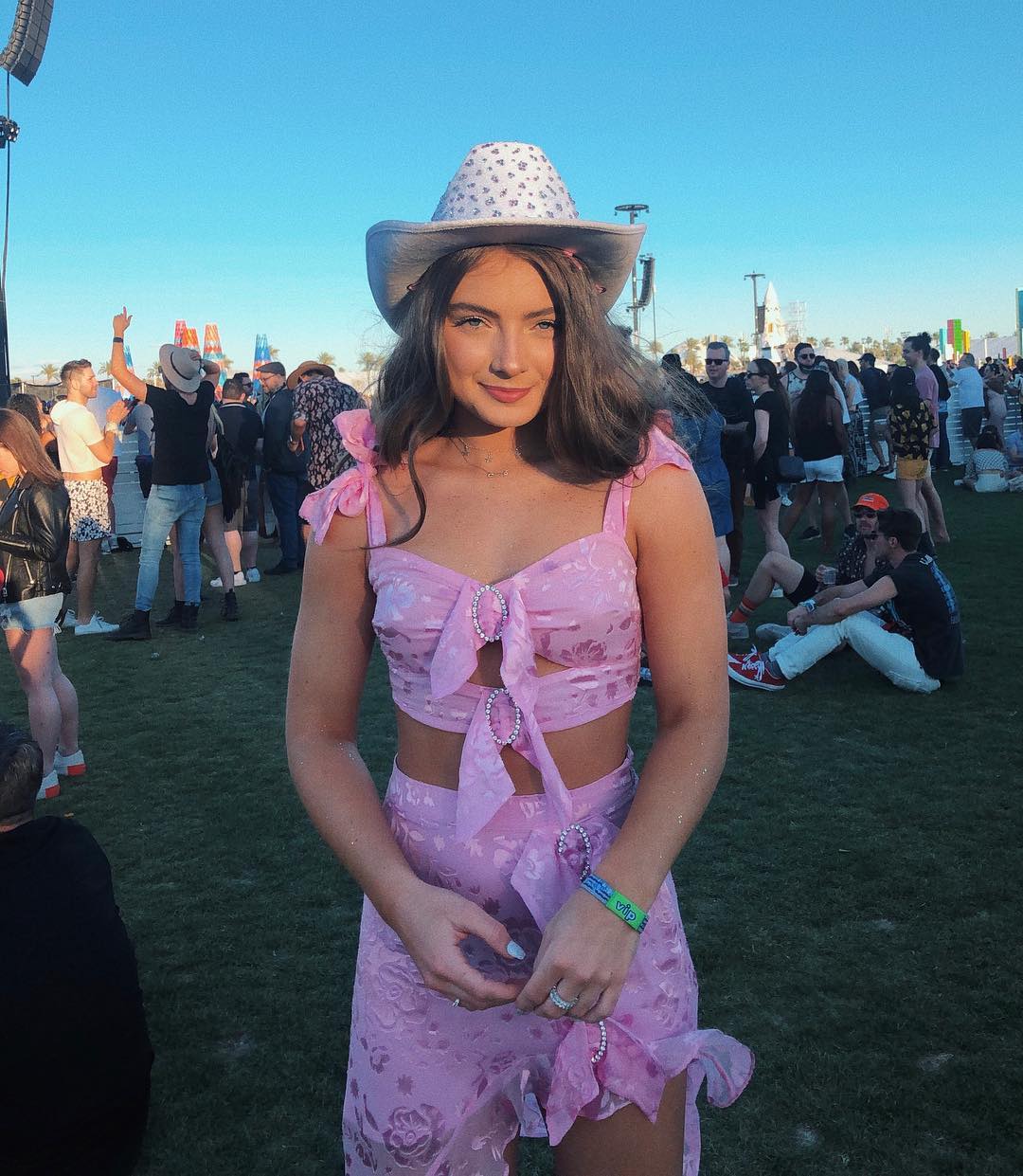 At Coachella, we enjoy embracing various styles, and one of our favorites is the Cowgirl Style. This trendy look is a fashionable approach to channeling our inner western spirit. Here's a quick guide to achieving this effortless style:
Cowboy boots: The quintessential cowgirl style staple. Pair these with denim shorts or a flowy boho dress to create a chic festival ensemble. Try classic leather or suede boots for an authentic western look.
Chunky boots: Don't want to commit fully to the cowboy look? Opt for some chunky boots as an alternative. They complement Coachella's carefree, fun atmosphere.
Suede boots: For added texture, choose suede boots over leather. They pair beautifully with fringed clothing items and work well with any outfit.
Fringe crossbody bag: Complete your cowgirl style with a fringe crossbody bag. This bag will not only hold your essentials at the festival but also add a touch of western flair to your outfit.
Remember, Coachella outfits are all about expressing your unique style. Don't be afraid to blend cowgirl elements with other trendy fashion pieces to create your perfect festival look.
Transparent Dresses
As we explore Coachella outfits, one trend that has caught our attention is transparent dresses. These daring fashion choices allow festival-goers to show off their unique style while staying cool in the desert heat. In recent years, we've noticed a variety of takes on this captivating trend, such as:
Lace or mesh overlays: By pairing a transparent lace or mesh dress with a swimsuit or bralette and shorts, attendees can achieve a stylish and breezy look.
Sheer maxis: These floor-length transparent dresses offer a touch of elegance while keeping the outfit festival-friendly. When paired with statement accessories and comfortable shoes, this look becomes a go-to choice for many.
Bold prints: Transparent dresses featuring bold patterns and prints create a stunning visual impact, especially when layered over contrasting colors.
Mixing and matching these styles and experimenting with various accessories – like statement jewelry, hats, and sunglasses – truly make a transparent dress a versatile and eye-catching option for Coachella outfits.
Flowy Everything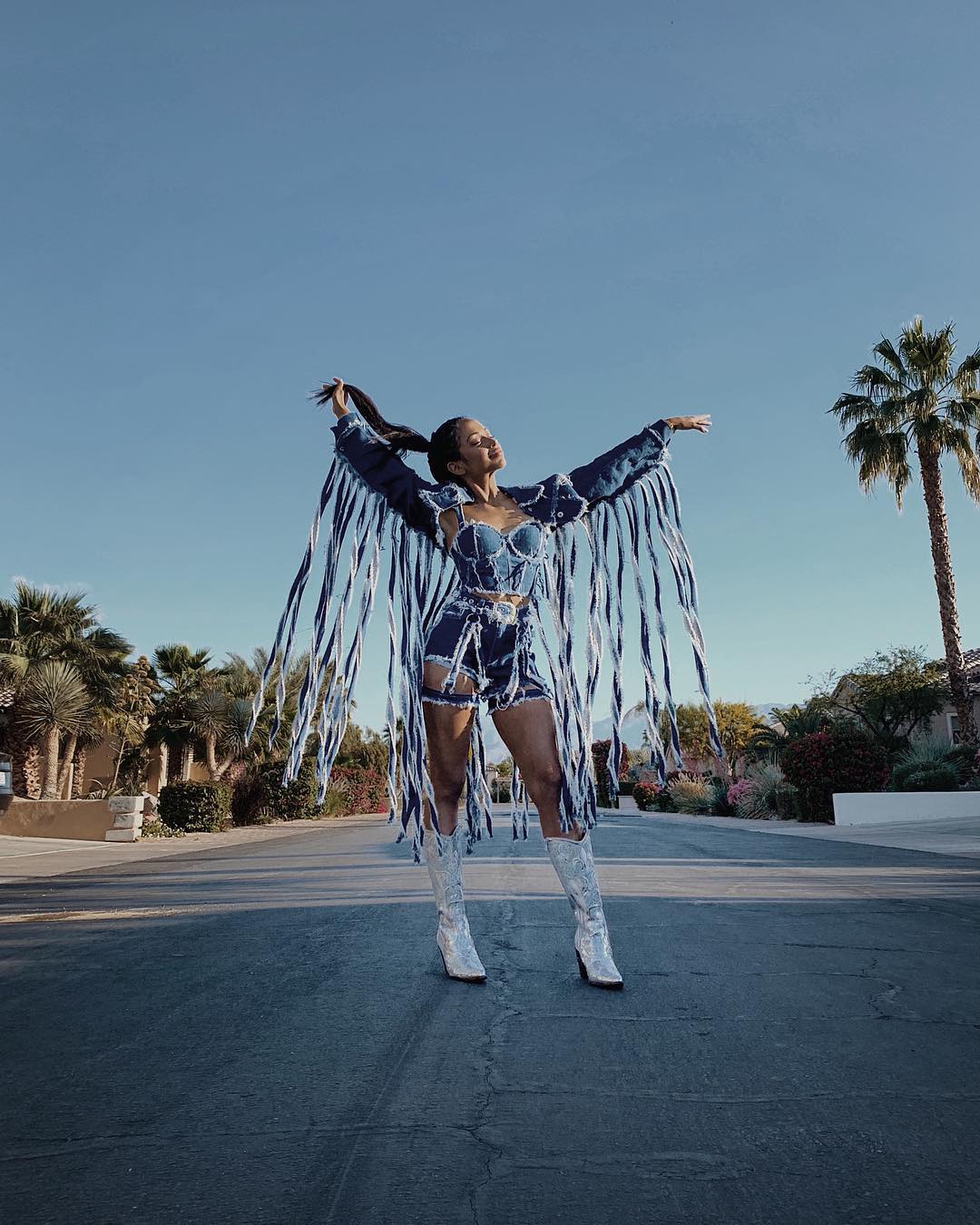 At Coachella, we see a wide variety of outfits that cater to the festival's atmosphere and the desert's warm climate. One of the most common and popular trends we have observed is the use of flowy materials in clothing.
Maxi dresses and skirts: These long, flowy pieces provide both style and comfort as they allow for air circulation and freedom of movement.
Kimonos and cover-ups: Lightweight and loose-fitting, these layering pieces add a touch of bohemian flair to any outfit while offering some sun protection.
Wide-leg pants: A great alternative to jeans and shorts, wide-leg pants offer a breezy and relaxed look that can be dressed up or down.
Off-the-shoulder tops: Exposing the shoulders gives off a carefree vibe, making these tops a staple for festival fashion.
Here are some tips to keep in mind when incorporating flowy elements into your Coachella outfit:
Accessorize: Accentuate your outfit with statement jewelry, belts, or hats to add a personal touch and prevent the outfit from looking too loose or shapeless.
Consider fabric: Opt for lightweight and breathable materials like cotton, linen, or chiffon to ensure comfort throughout the day.
Mix and match: Combine flowy pieces with more structured items, such as pairing a maxi skirt with a fitted crop top, to create a balanced silhouette.
Remember, the key is to feel comfortable and confident in your choice of outfit; after all, Coachella is a celebration of music, art, and self-expression.
Fishnet Tops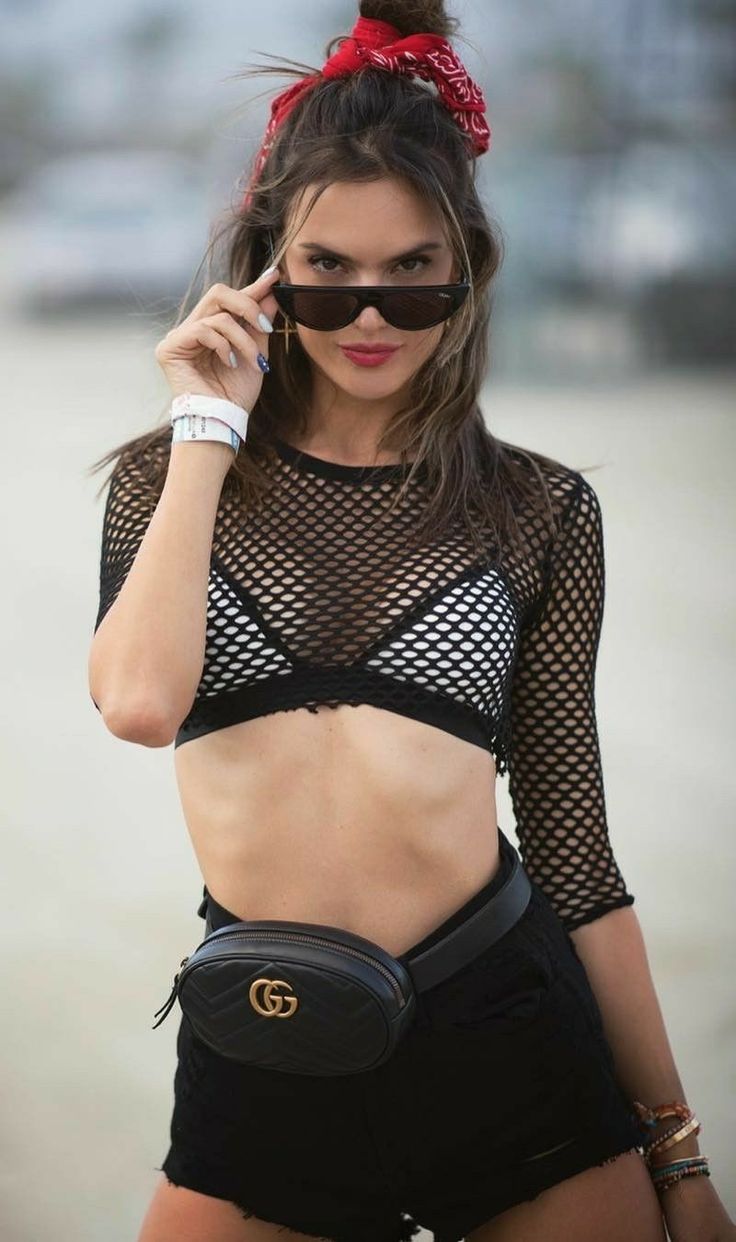 Fishnet tops are a popular choice for Coachella outfits, as they provide a stylish and edgy look with the perfect balance of comfort and breathability. We've seen them in various forms, from tank tops to t-shirts. Here are a few ways to incorporate fishnet tops into your Coachella ensemble:
Layering: Wearing a fishnet top over a colorful bralette or sports bra adds a hint of flair while keeping you cool throughout the day. Pair this with high-waisted denim shorts or a flowy skirt for a more bohemian vibe.
Color and Texture: Play around with different colors and textures like metallic, neon, or even embellished fishnet tops to make a bold statement. Accessorize with layered necklaces and bracelets to enhance the look.
Pairing: Fishnet tops work great when styled with ripped jeans, biker shorts, or even layered under a denim jacket for a more casual yet trendy look. Opt for sneakers or comfortable sandals to complete the ensemble.
Versatility: Both tank top and t-shirt styles of fishnet tops offer unique options for Coachella attendees. T-shirt styles can be knotted at the side, while tank top styles can be tied at the back for added visual interest.
Remember, the key to a memorable Coachella outfit is confidence and self-expression. So, don't be afraid to mix and match different styles and have fun experimenting with your fishnet top outfit.
Romper Outfit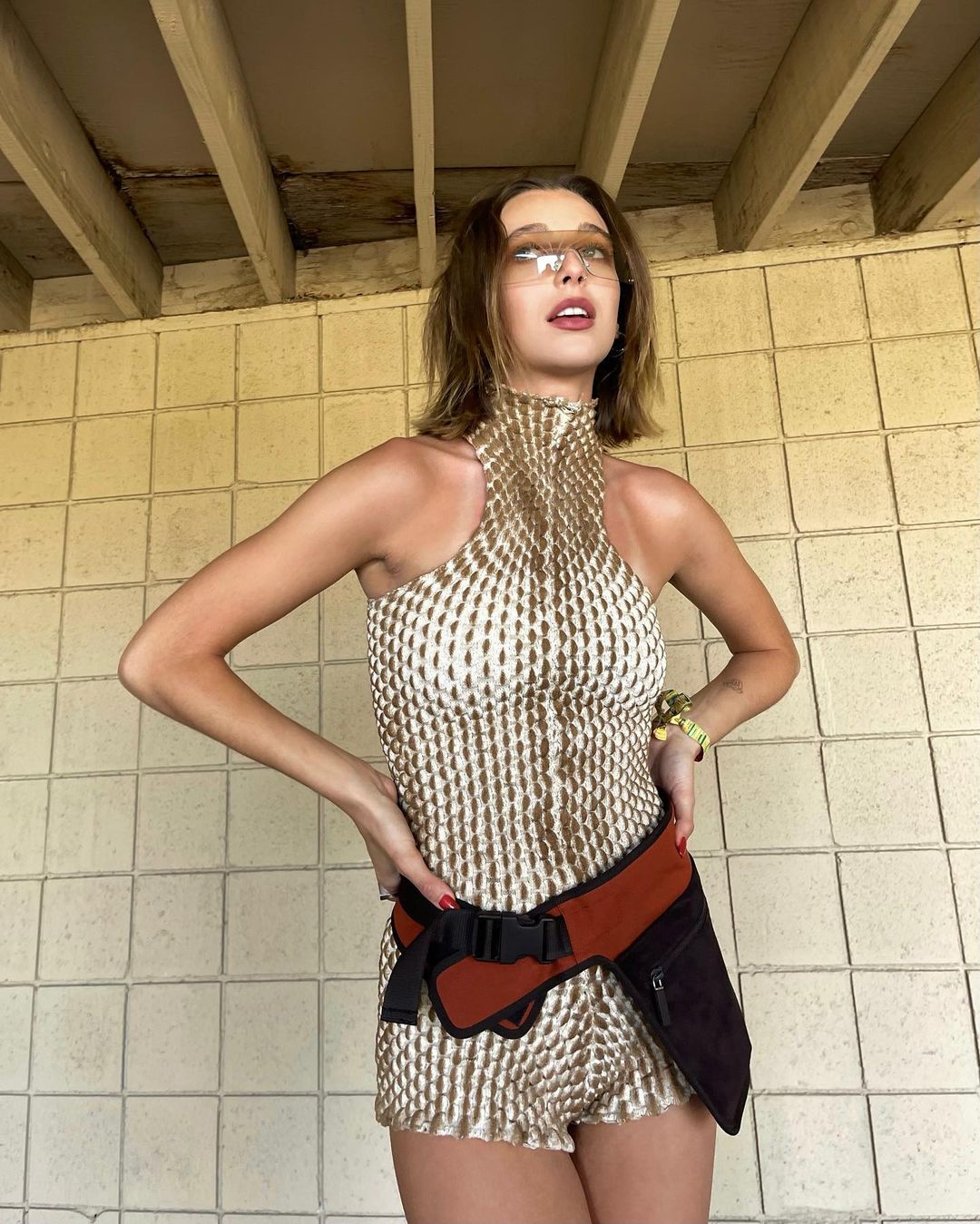 A romper outfit is a perfect choice for a fun and stylish Coachella look. The one-piece garment combines the comfort of shorts and the elegance of a dress. There are numerous romper styles that can work well for the festival, let's take a look at some options:
Floral prints: We can't go wrong with a touch of nature in our outfit. Floral prints not only catch the eye due to their vibrant colors, but they also give off a refreshing and relaxed vibe, perfect for this festival.
Bohemian-style patterns: Channeling our inner boho spirit is a must at Coachella. Donning a romper with rich textures and intricate patterns reminiscent of the bohemian style is a perfect balance of fashion and comfort.
Denim: A classic choice, denim rompers are edgy, chic, and have a timeless look. Pair it with some layered necklaces, bracelets, and a stylish pair of boots or sandals for a complete outfit.
Off-shoulder: A chic and feminine option, an off-shoulder romper adds a touch of playfulness to the outfit while also allowing us to showcase our favorite accessories like statement earrings or necklaces.
Lace and crochet details: Incorporating lace and crochet trims to a romper adds a dose of elegance and romance to the outfit. We can pair it with a chunky belt for a more defining silhouette.
Remember, we can easily personalize our romper outfit with the right accessories like hats, sunglasses, lightweight scarves, or even a stylish belt. So, let's not hesitate to explore different combinations that show off our unique style while enjoying Coachella to the fullest.
Mini Skirt Mini Everything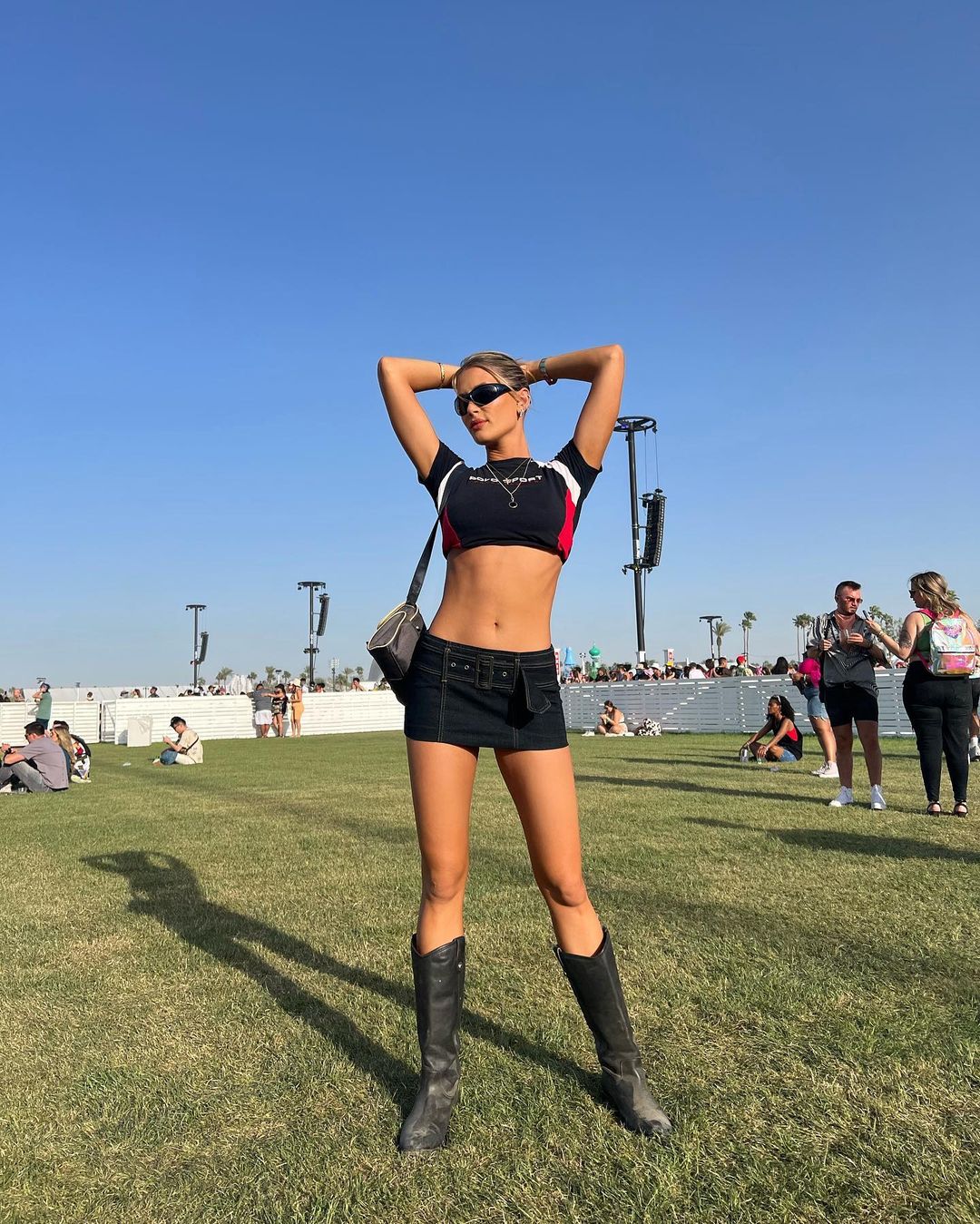 At Coachella, the iconic music festival, we often find attendees rocking stylish and daring outfits that embrace the sunny, carefree atmosphere. Among these trendy ensembles, mini skirts, shorts, and cutoffs have become a staple for many festival-goers.
When it comes to mini skirts, there are endless options to fit our unique style preferences. From classic denim skirts to chic leather designs, these tiny bottoms allow us to express our creativity and individuality while staying cool in the desert heat.
Shorts and cutoffs offer another great addition to our Coachella wardrobe, with vintage-inspired high-waisted shorts and distressed denim cutoffs reigning supreme. These versatile pieces can be easily dressed up or down with the right accessories, making them a must-have for layering and mixing textures in our festival outfits.
By incorporating mini skirts, shorts, and cutoffs into our Coachella looks, we can confidently showcase our stylish ensembles while staying comfortable and ready to dance the night away under the desert sky.
Bikini Outfit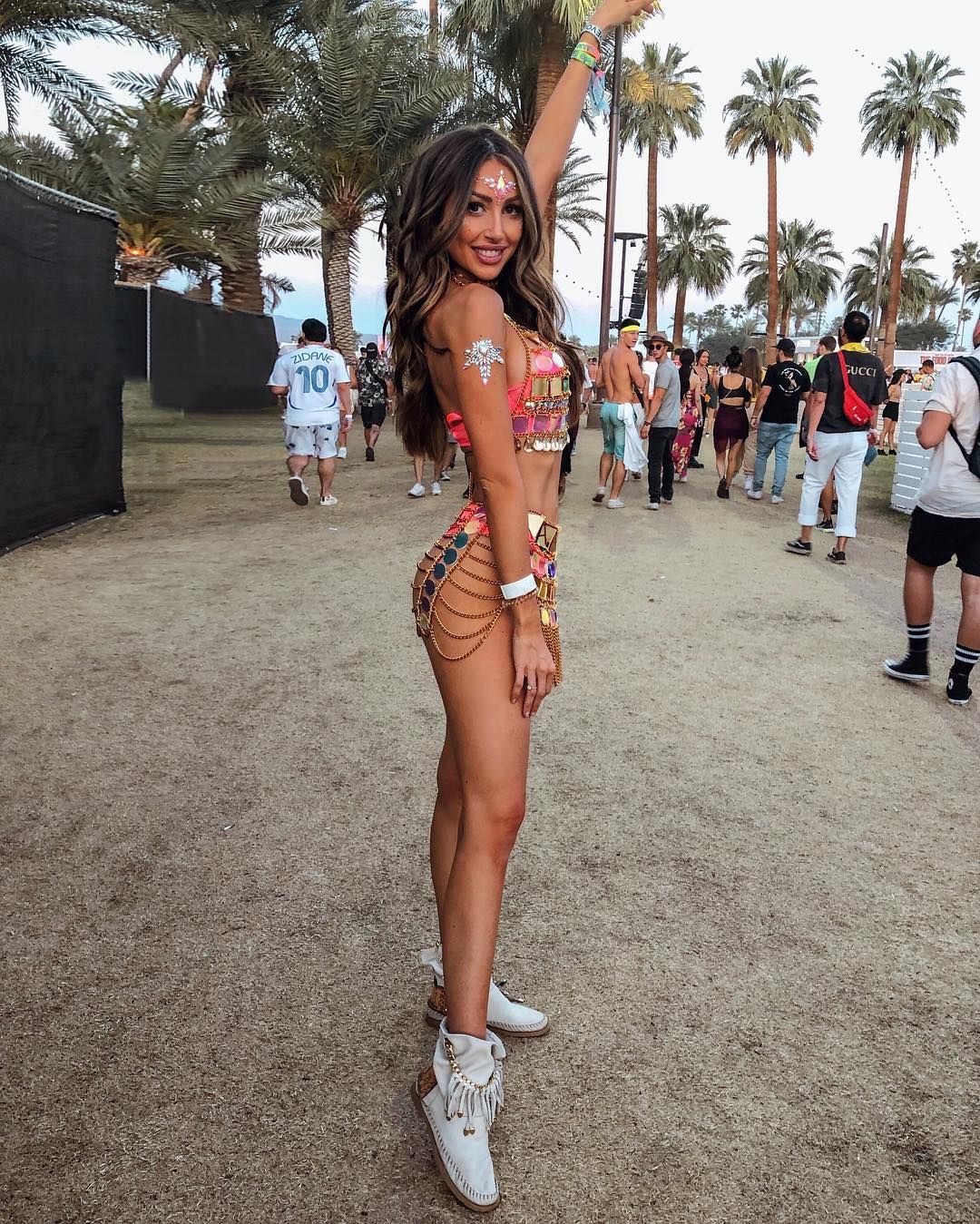 For a chic and fashionable Coachella outfit, consider a bikini ensemble. Bikinis provide the perfect balance of style, comfort, and functionality for the warm festival environment. When choosing a bikini outfit, keep in mind these tips to make the most out of your Coachella experience:
Comfort is key: Choose a bikini top and bottom that fit well and won't cause any discomfort throughout the day. Ensure that the bikini material is breathable and moisture-wicking, to keep you feeling fresh all day long.
Accessorize: Enhance your look by adding accessories such as a lightweight kimono, duster coat, or bohemian-inspired vest for a touch of flair. Don't forget your sunglasses and a wide-brimmed hat for extra sun protection.
Versatile footwear: Sandals and sneakers are both excellent choices for Coachella. Sandals provide an airy feel while sneakers offer more support for those planning to experience multiple concerts or dance for extended periods.

Sandals: Opt for gladiator sandals, embellished flip-flops, or even platform sandals for added height and style. Ensure that your chosen sandals are comfortable and secure on your feet.
Sneakers: Consider low-top sneakers in neutral colors or even high-top sneakers for a more edgy look. Make sure your sneakers are comfortable and broken-in to avoid blisters.

Layer up: Bring along a light jacket, shawl, or scarf to keep you warm in the evening when temperatures drop.
Remember, the key to a successful bikini outfit for Coachella is combining comfort, style, and functionality to allow you to enjoy the festival to its fullest.
Corset Tops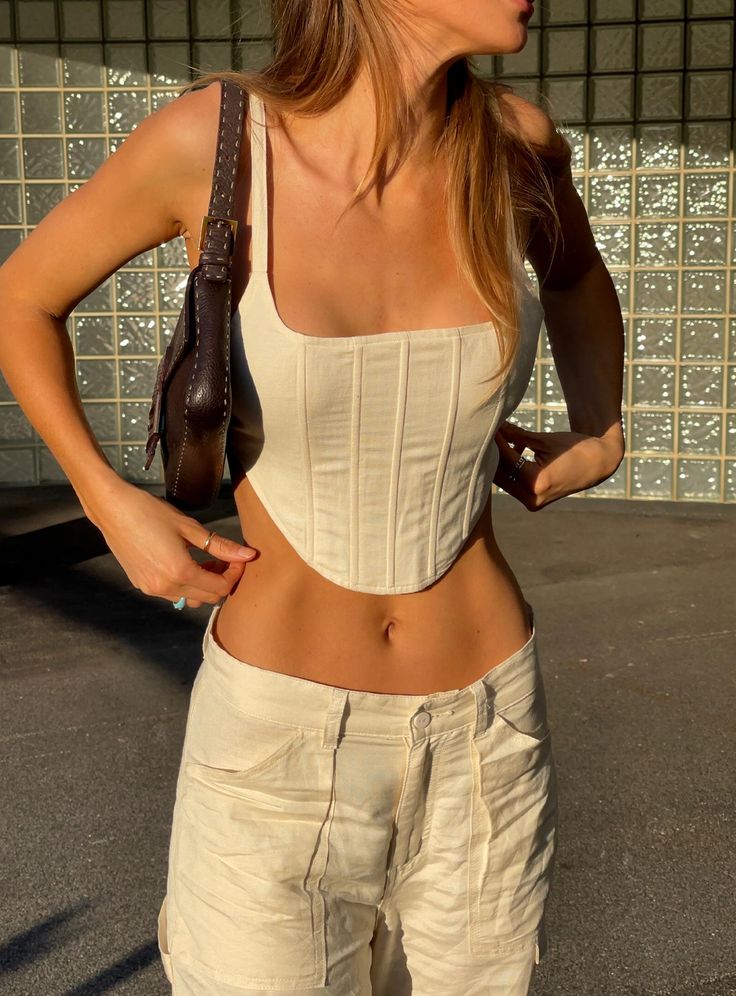 Corset tops are a stylish and daring option for our Coachella outfits. They come in various materials, such as leather, lace, and denim, and often feature intricate designs and patterns for extra flair. We can style these versatile pieces with high-waisted jeans, skirts, or even layered over flowing dresses. Pair them with statement-making accessories like chunky necklaces, wide-brimmed hats, and oversized sunglasses to create a unique and eye-catching festival look. Flaunting our feminine silhouette, a few ways to wear corset tops at Coachella include:
Leather Corset Top: Gives an edgy vibe when paired with distressed denim shorts and combat boots.
Lace Corset Top: Creates a delicate and romantic look when combined with flowy skirts or layered over maxi dresses.
Denim Corset Top: Provides a casual yet trendy feel, perfect for pairing with jeans or patterned pants.
No matter the style we choose, corset tops are an alluring and fashionable choice for our Coachella outfits that will ensure we stand out from the crowd.
Gingham Outfit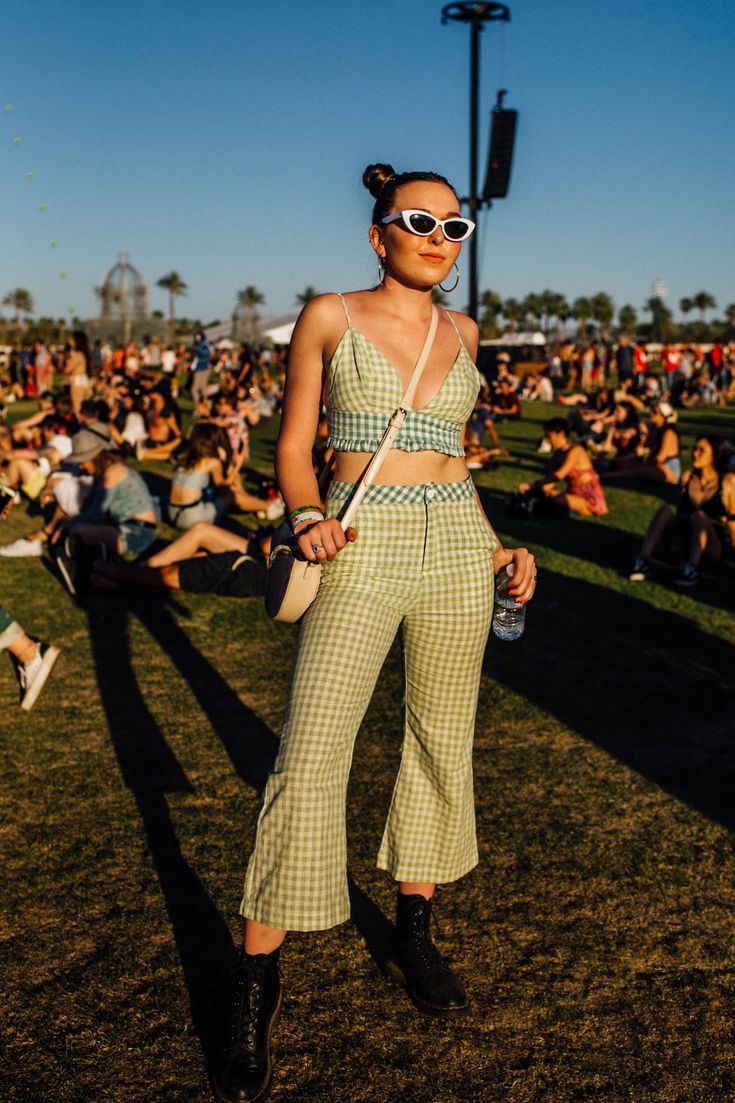 Gingham has been a popular pattern for festival outfits, especially at Coachella. We can create a stunning outfit that exudes confidence and style. Here's a short breakdown of how we can put together a gingham outfit for our Coachella look:
Gingham Dress: A light, flowy gingham dress can serve as the base of our outfit. Opt for pastel colors like pink, blue, or green to capture the essence of springtime.
Accessories: Pair the dress with a matching belt, a wide-brimmed hat, and some stylish sunglasses. Simple jewelry such as chain necklaces and delicate bracelets complete the look.
Footwear: Comfort is crucial for a festival like Coachella. We might choose flat sandals or ankle boots that compliment the gingham pattern and provide some additional flair.
Outerwear: In case temperatures cool down during the evening, we can carry a light jacket or cardigan that matches our outfit. Alternatively, an oversized denim jacket can give a more laid-back, casual vibe.
By incorporating these elements, we can create a lovely gingham outfit for a stylish and enjoyable Coachella experience.