Japan, once known for the elegant geishas and brave samurais and their extravagant outfits, Japan is now known for kawaii. The style was adopted by Japanese popular culture. But its story of origin is somewhat unusual. It is connected with the invention of the mechanical pencil in the early 1970s. Due to the difference with regular pencils, girls began to alter their writing style, with rounder strokes and childlike. This handwriting style spread to mangas and in advertising campaigns targeting young girls. Hello Kitty, with her oversized head, cuddly body, and pink bow, was the first kawaii character.
The word kawaii is a variation of several Japanese words meaning radiant face or lovable. Simpler said it means cute. Japanese use it as a term for many things, from small dogs to decorated cakes. It includes everything adorable. Nevertheless, when fashion is in question, it has a specific style. The outfits are complex, with layers, bright or pastel colors, embellished accessories, and exaggerated hair colors and styles. They're fun but carefully put together. It combines western and Japanese clothing with childhood items and vintage pieces added to the mix. Rooted in childhood nostalgia, in times when everything was much more brightly colored. The Kawaii Fashion grew into a fashion culture featuring those vibrant hues of bubblegum and big eyes that never blink.
Not only an aesthetic choice, but it also became a fashion point with many subcultures. Girls mix ultra-feminine pinks and frills with knee socks, playing with punk culture, and combat boots, but with playful and young colors. Genres like Lolita, Gothic-Lolita, Decora, and Fairy-Kei developed along with the original style. The style rejects the society norms, expressing originality outside the popular fashion trends. Unlike other nostalgic fashions that changed over the years, kawaii retained its link to childhood, bright colors, and fun combinations, sometimes including Cosplay elements. Although the style is pretty broad, there are some staple elements from its origin days: candy colors, frills, bows, and childhood items.
Harajuku district in Tokyo is the heart of Kawaii fashion. Some of the most famous kawaii brands are Milk, Honey and Cinnamon, and Pink- Latte. You don't need specialized brands. It is all about being unique and cute, a way to stand out among others. The key is in good layering. Funny colors on stockings, leggings, or tights are parts of this trend. Some pins, chains, and anything interesting you can attach to your bag. Think floral, childish but elegant designs, patterned overalls, balloon shorts, etc. Accessorize well! Make sure everything looks good together. You can take some old clothes and add lace or bows. You might add stickers to your white sneakers, lace to your regular skirt, etc. Use black gel or liquid eyeliner, pink cream blush, sparkly pink lip gloss, and light concealer for a clean and innocent makeup look. Nothing sexy in the makeup, such as smoky eye or something. Have your nails done: fake, long, and accessorized nails are the kawaii style, but just well-manicured ones with some stickers will do. Ensure your eyes look enormous. If not, there are more items as well. Kawaii hair means pigtails, side ponytails, and braids. Most importantly, have fun styling this way.
With its bright, candy-colored outfits with plenty of exaggerated accessories, kawaii's unique style became known worldwide. We selected 21 combinations to help you get inspired for your new look.
Emphasizing Thin Waist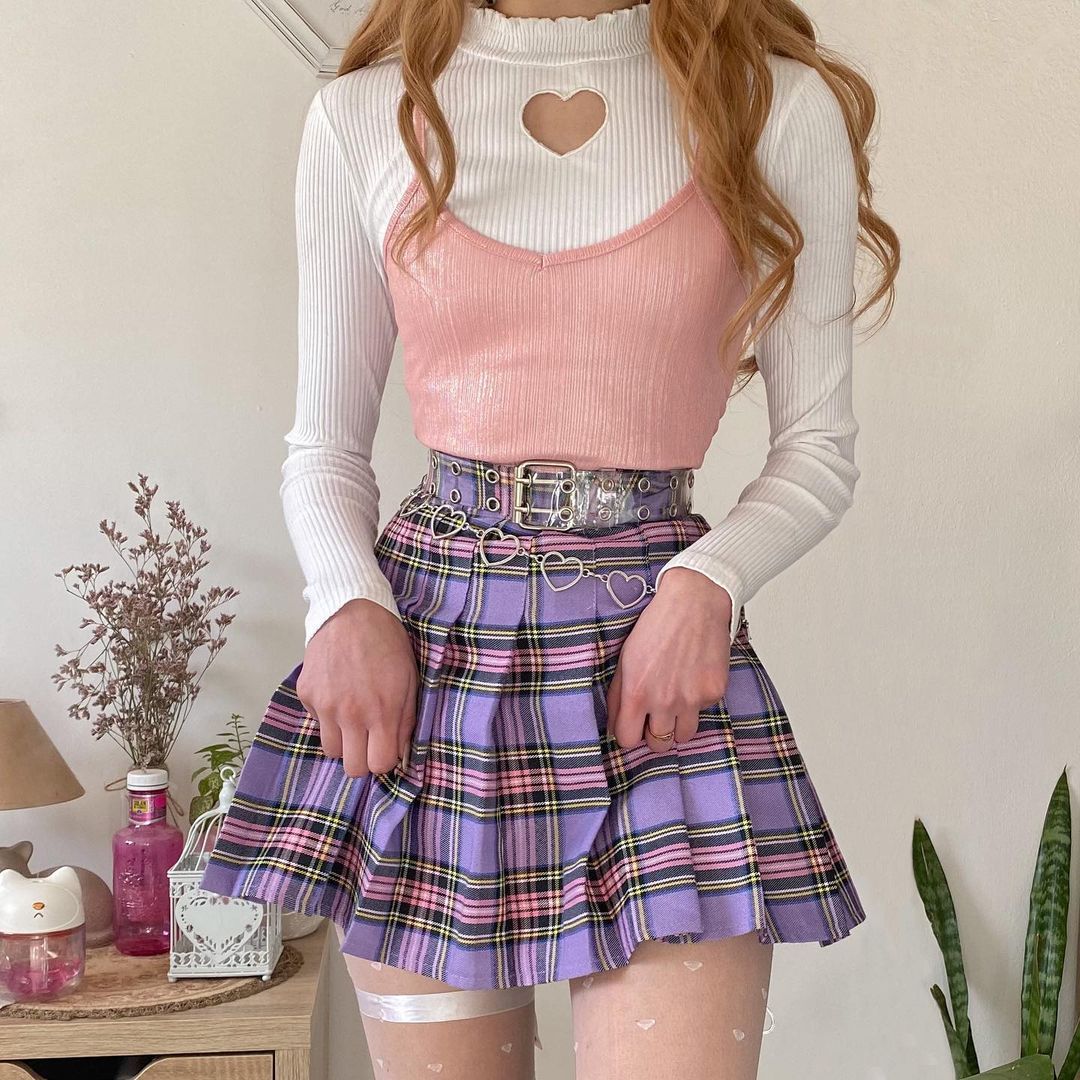 This three-colored plaid skirt with a belt emphasizing a thin waist is kawaii-inspired. White stockings and tops with pink layering look stylish and childlike. The mini has built-in shorts so that it can be easily cut out for a new look. The heart cutout on the blouse, lace on the collar, and chains of hearts are themed decorations.
Rabbit and Cat Hoodie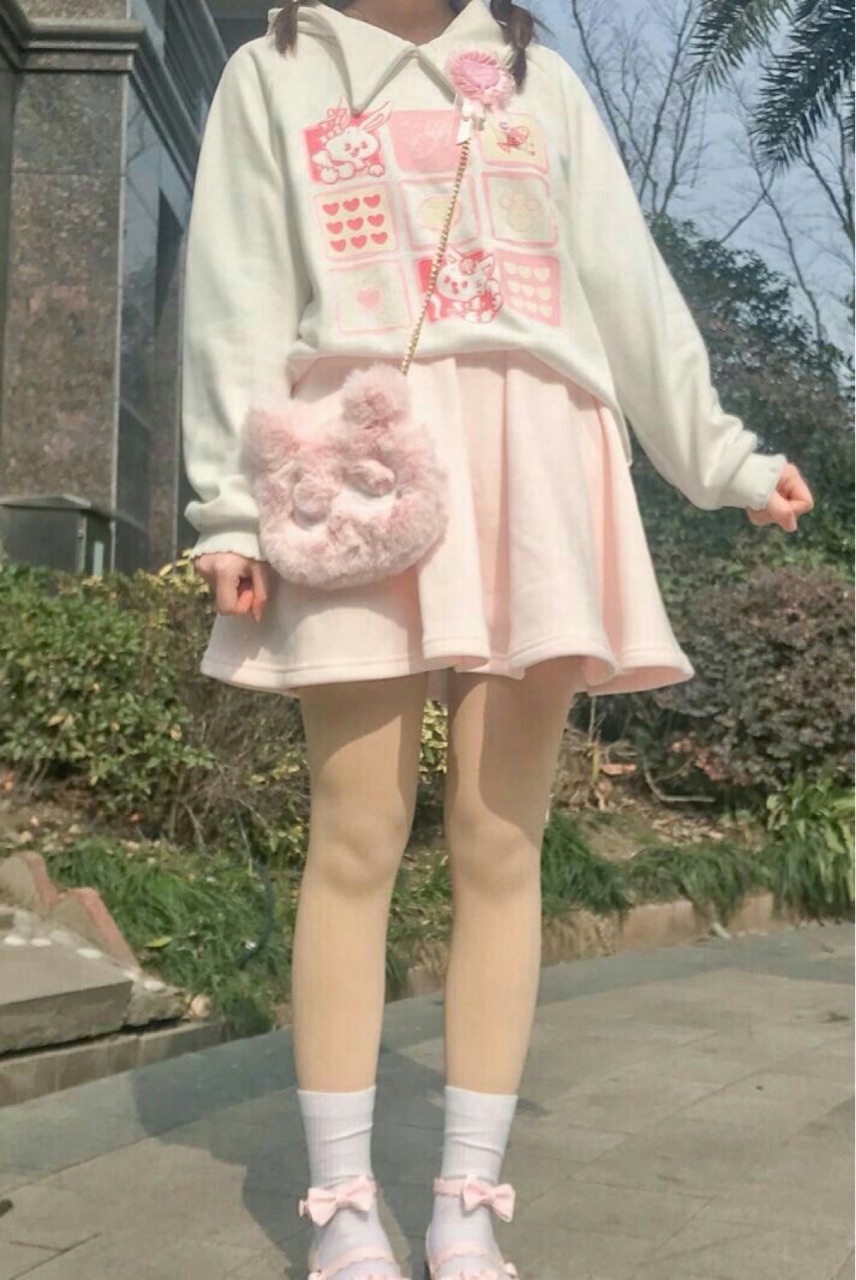 This rabbit and cat hoodie combined with a high waist mini skirt, white socks, and light pink shoes give that innocent girl look. Typically kawaii. Look at those cute pale pink ribbons above the ankles. Absolutely adorable.
Yami-kawaii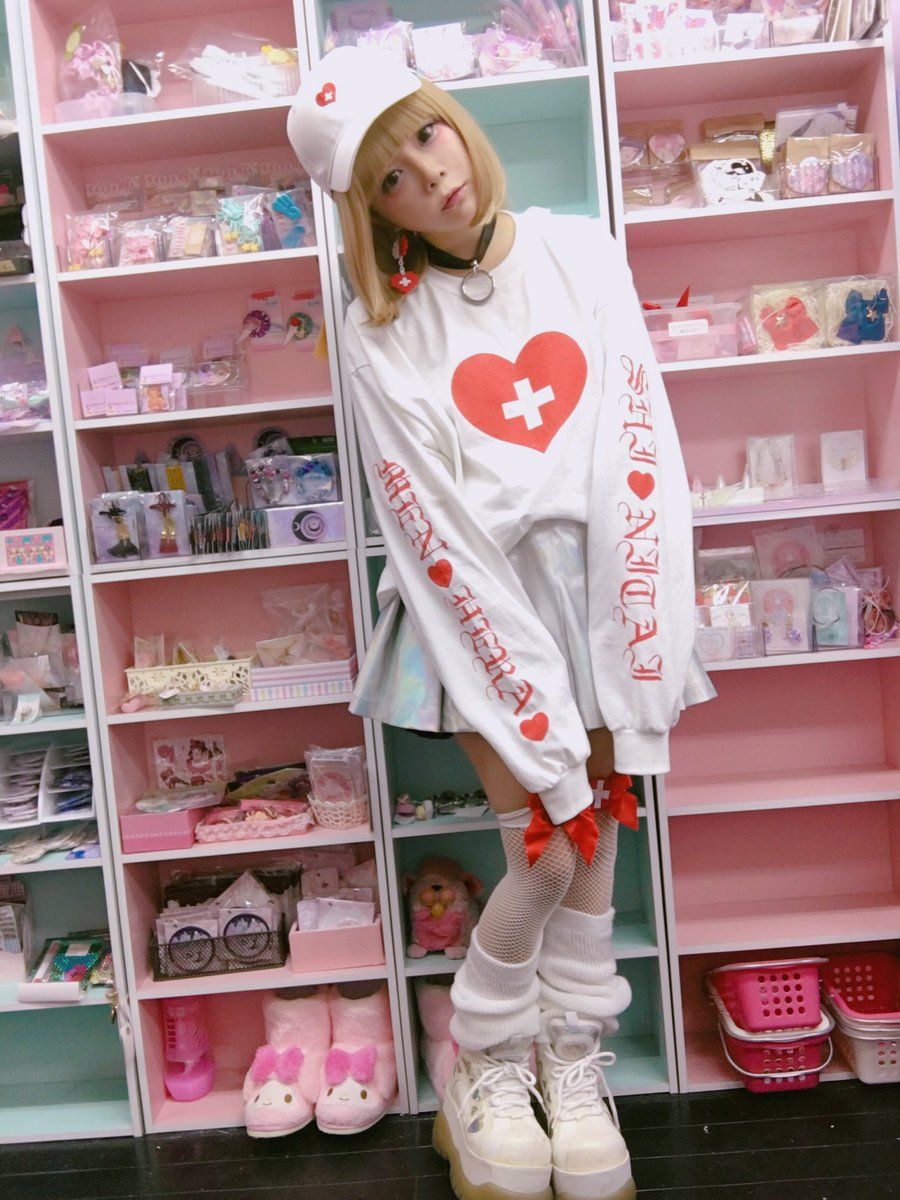 Kawaii is everywhere in Japan in everyday life. This outfit simply features an oversized sweater and a mini, just over-the-knee stockings with red ribbons, leg warmers, and large platform boots in pale pink. A nurse-like hat is in contrast to the black leather choker.
Soft And Delicate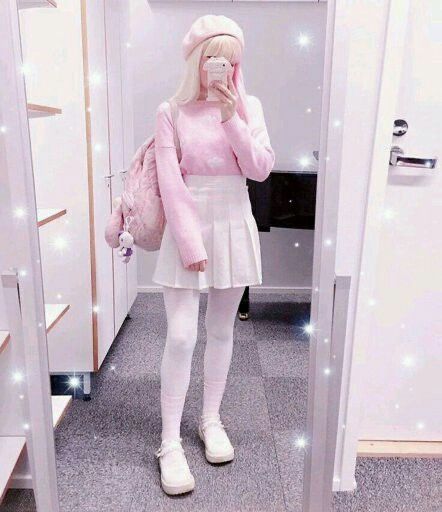 Pastel colors for an elegant kawaii look. The hat, blouse, and sneakers in pale pink and high waist mini skirt, and stockings in white. The soft furry bag is a typical kawaii accessory.
Faux Fur Hoodie Jacket, Soft & Sweet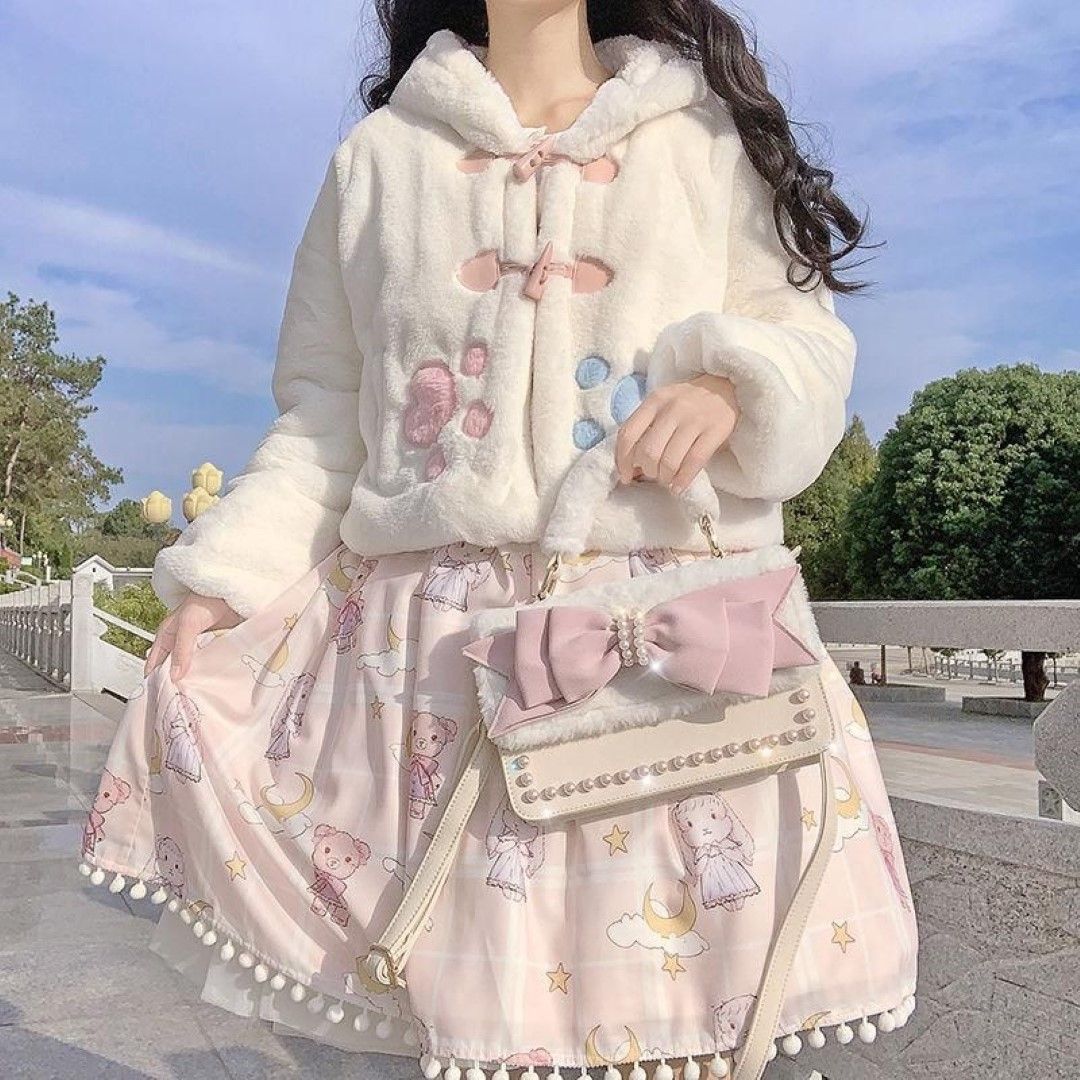 A white cropped hoodie jacket with bunny ears looks soft and warm. Perfect look for a Japanese Lolita look.
High Waist Blue Mini For School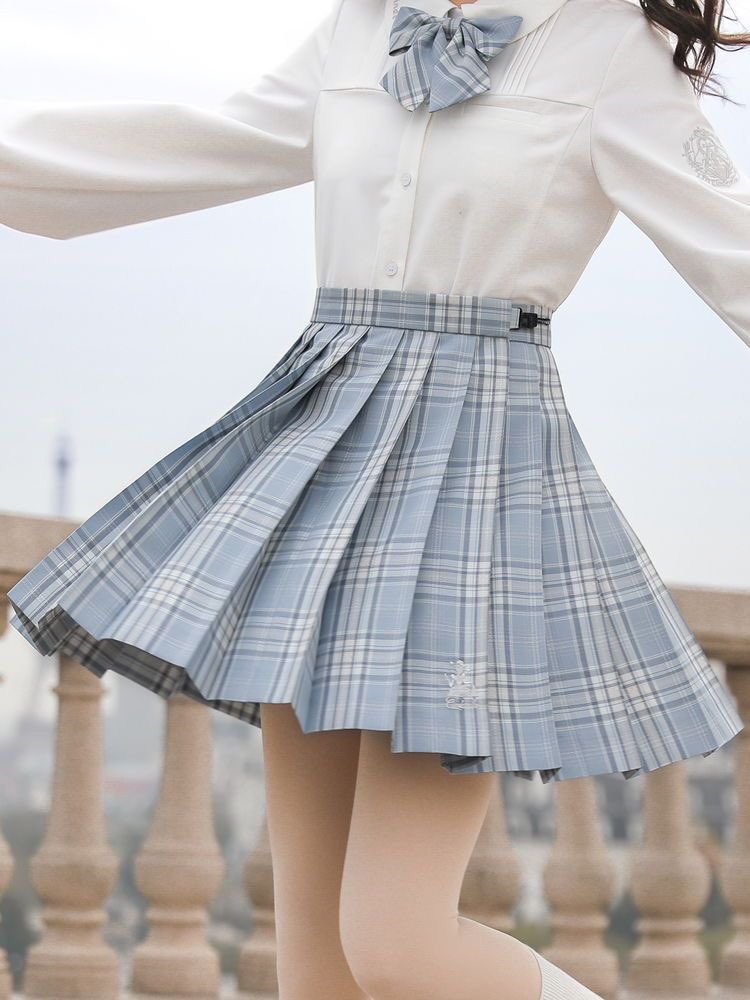 This might be an interesting uniform idea for school skirts, a Japanese Kawaii-inspired blue mini plaid skirt. The rest is a regular white shirt and stockings. The plaid ribbon bow tie matching the miniskirt looks nice.
Ripped Pink Denim Shorts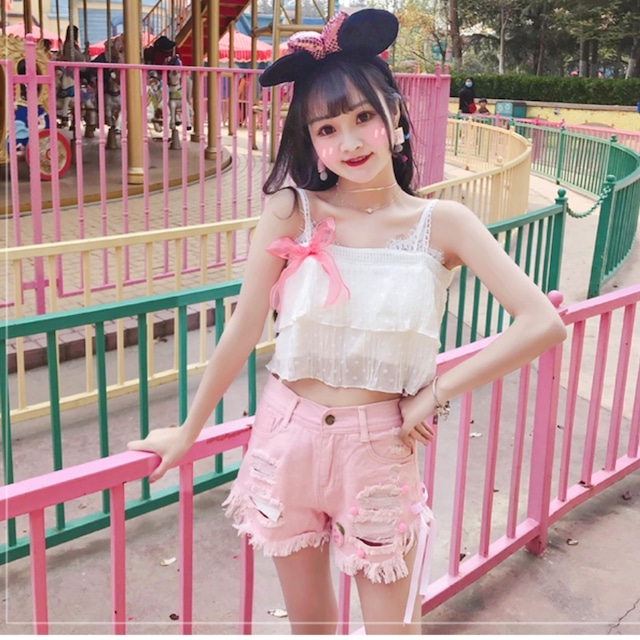 These adorable ripped denim shorts are perfect for warm summer days. In combo with a light material crop top, just chill.
Fresh Summer Look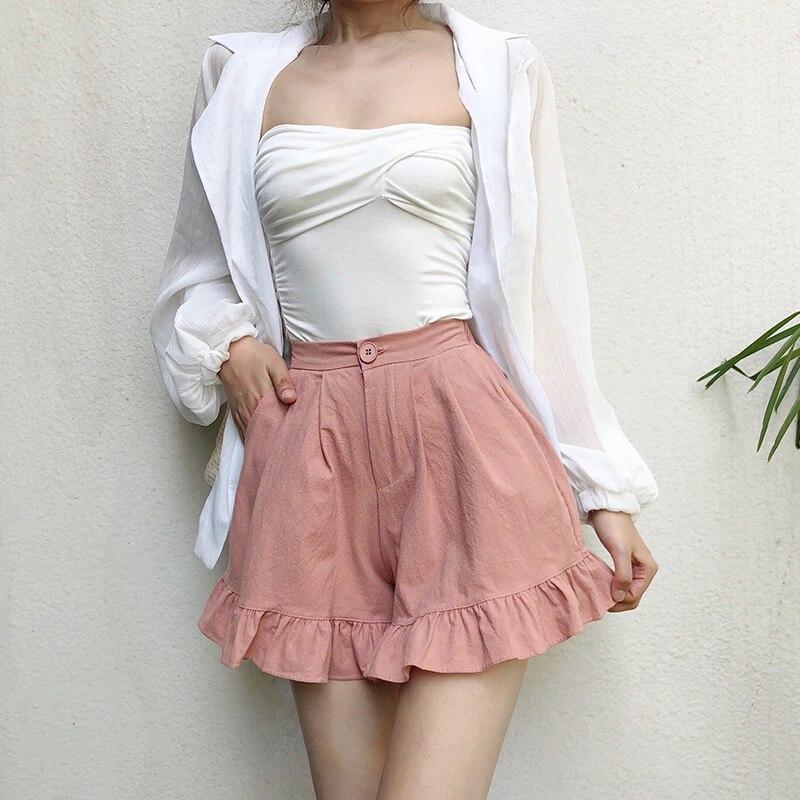 Pastel kawaii ruffle shorts and a white short-sleeved top. The apricot color looks refreshing.
A Jumpsuit Overall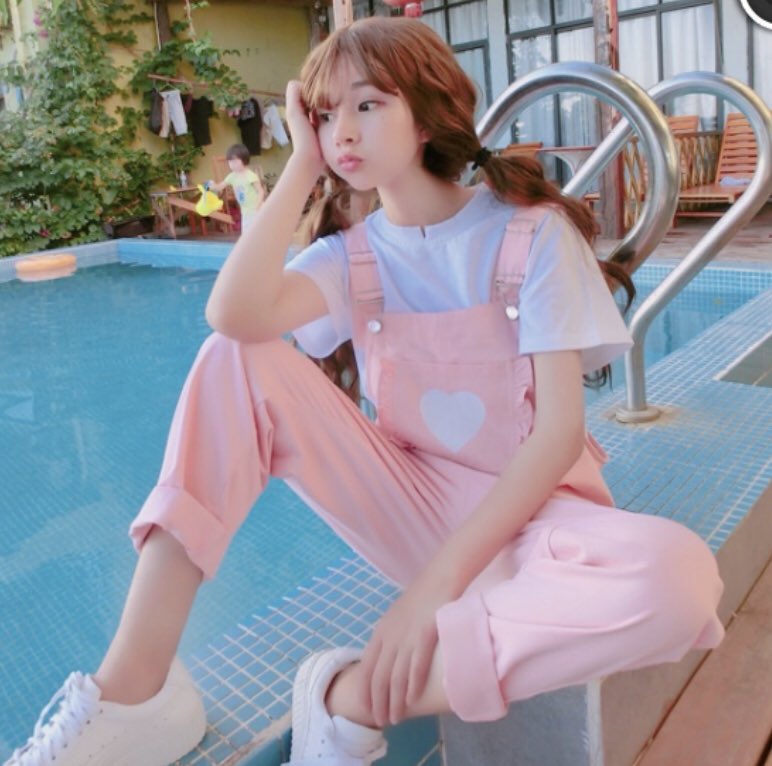 Cuffed pants look cute. Pastel light blue Tee and white sneakers, with the pale pink jumpsuit, are adorable for a young girl.
Lace Corset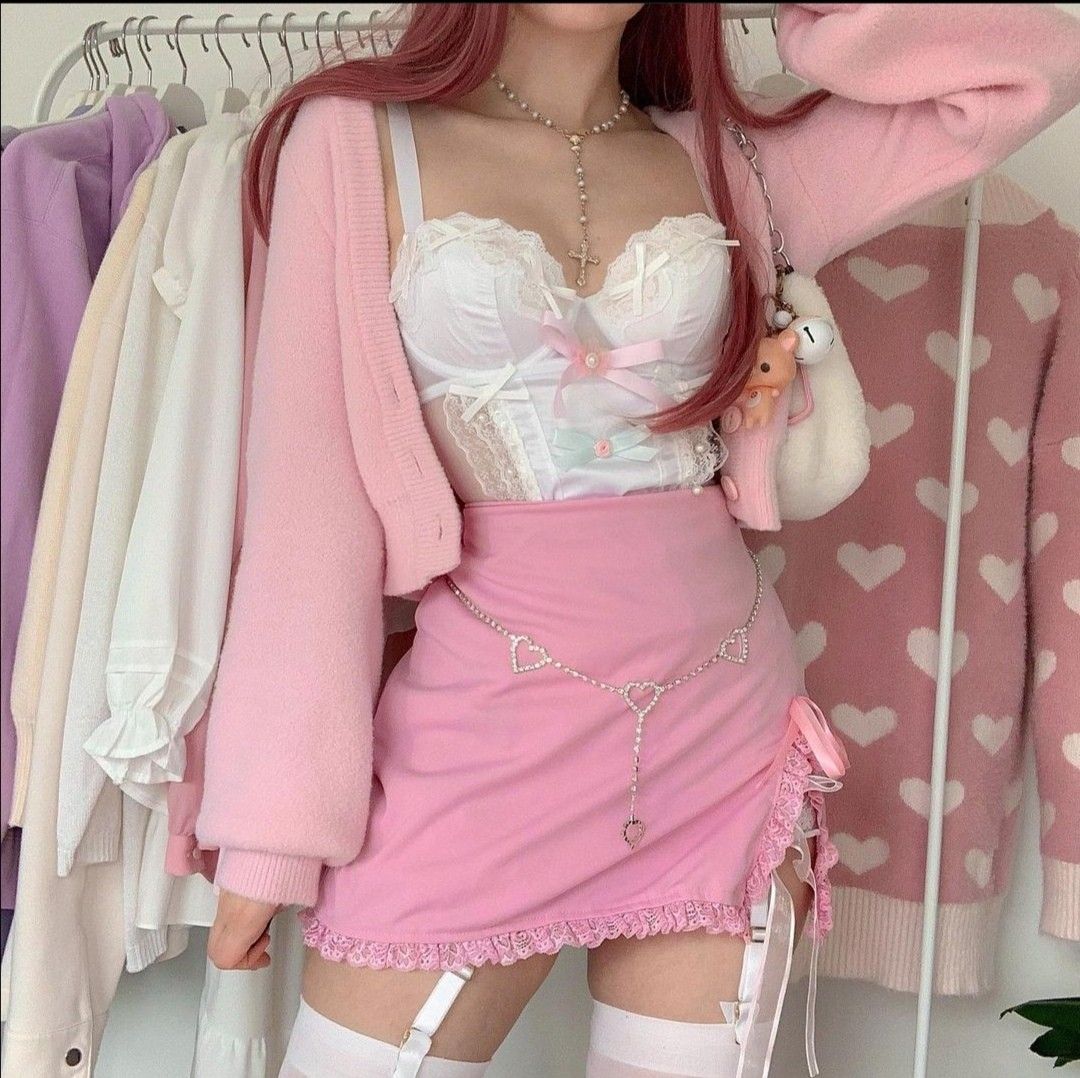 Kawaii lace corset of transparent mesh patchwork and slitted mini-skirt. A cozy crop top cardigan and the necklace with a pink star add to the look.
Beige Pants With Bears Patches On The Knees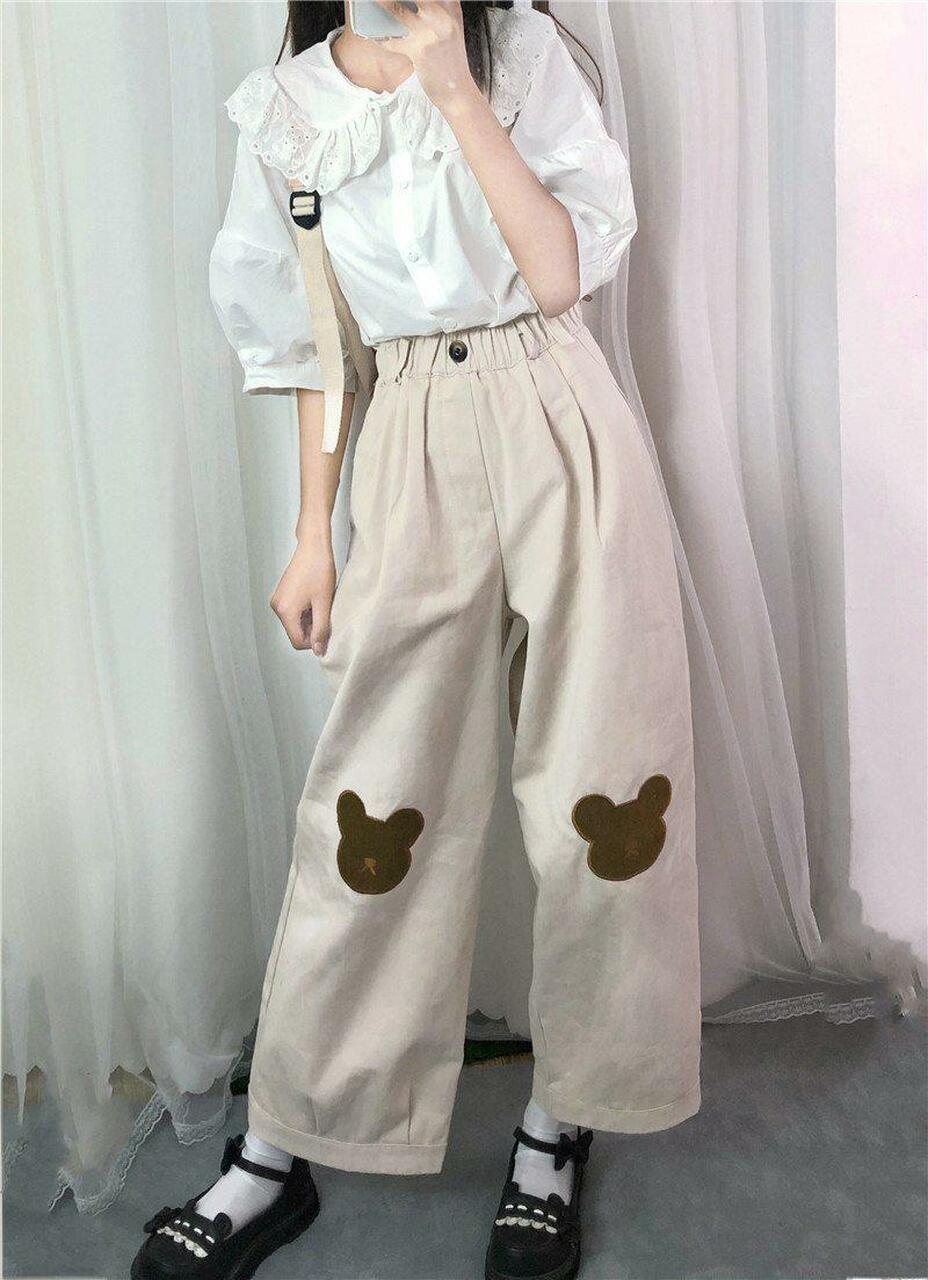 A platter collar top with elbow length sleeve, lace embellished, high waist bell bottom pants with 'bear' patches on the knees, finishing with funny sandals and white socks.
Funny T-shirt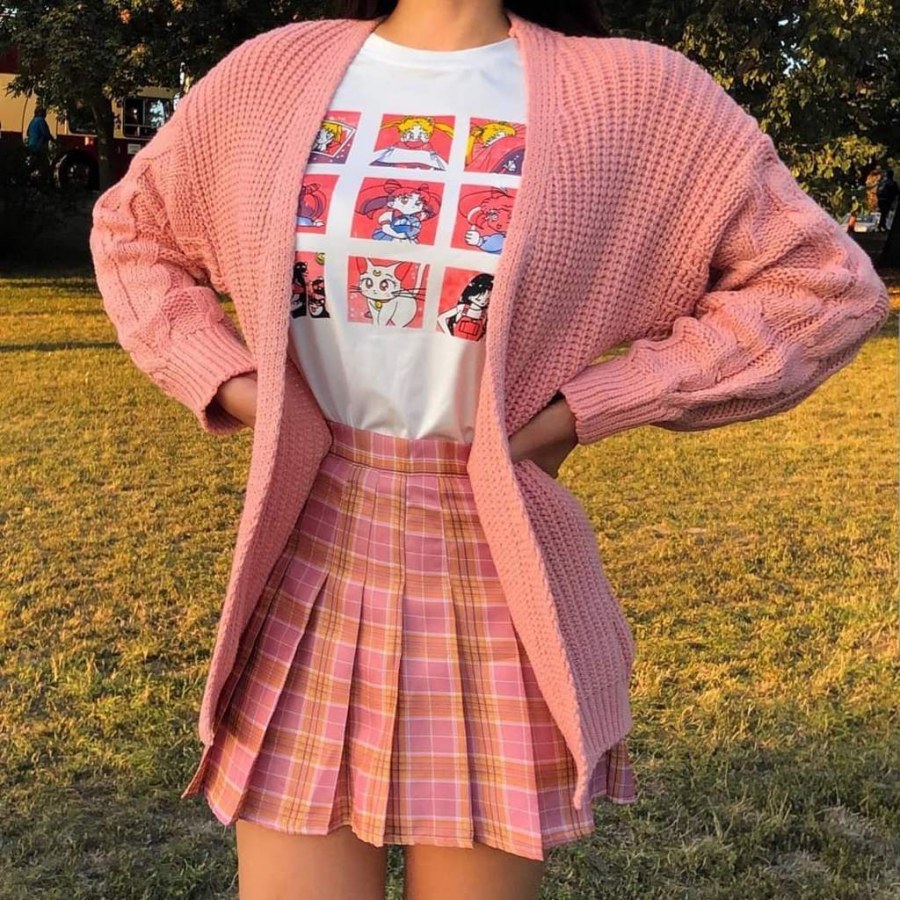 A pleated high waist mini, a funny Tee with pictures of kitties, girls, and fun stuff, and a knitted cardigan if you feel like warm seeking.
Come On, Barbie, Let's Have A Party!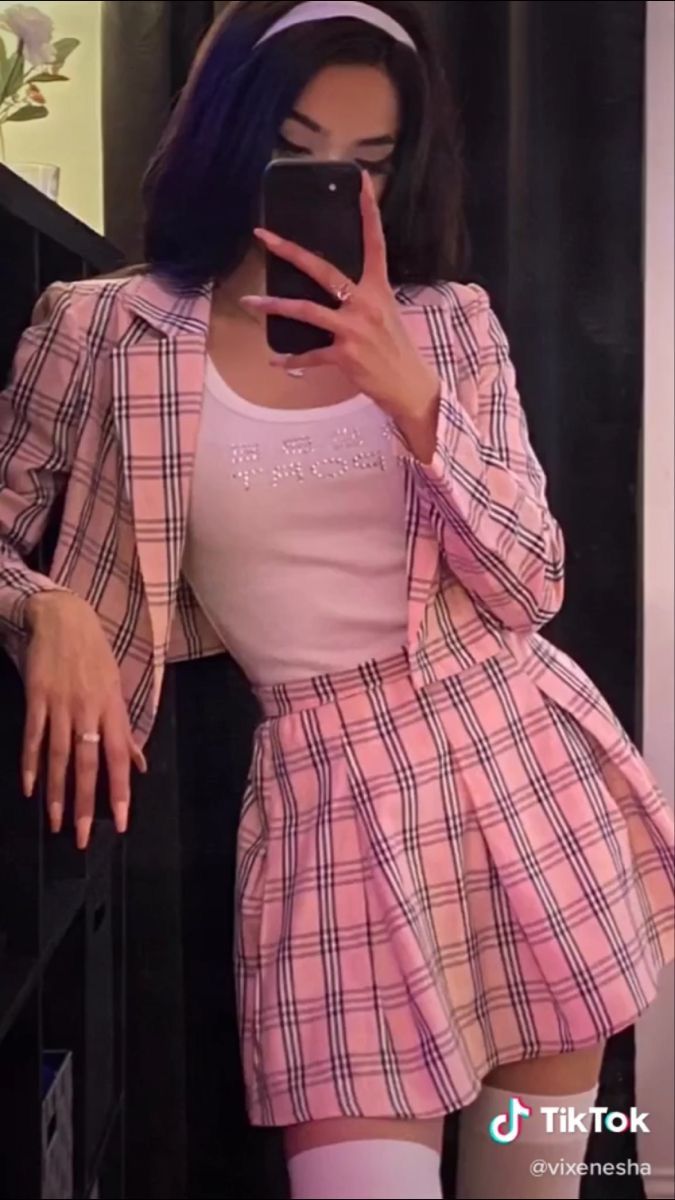 This is a beautiful set of a checked mini and a jacket with a T-shirt and stockings just below the skirt line.
Fluffy Lace-up Pink Skirt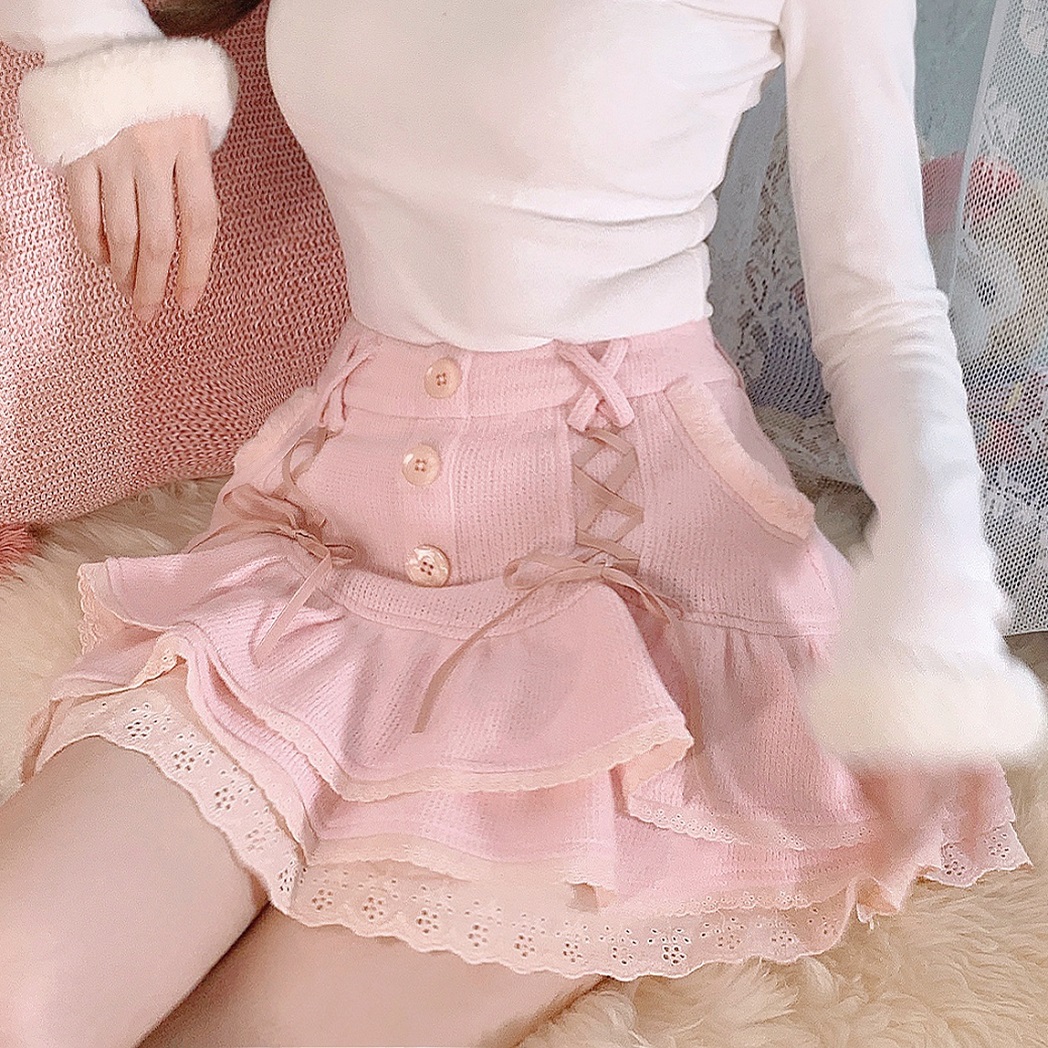 Kawaii style cute fluffy lace-up knitted cake skirt and pink knitted blouse with long sleeves.
Purple Mini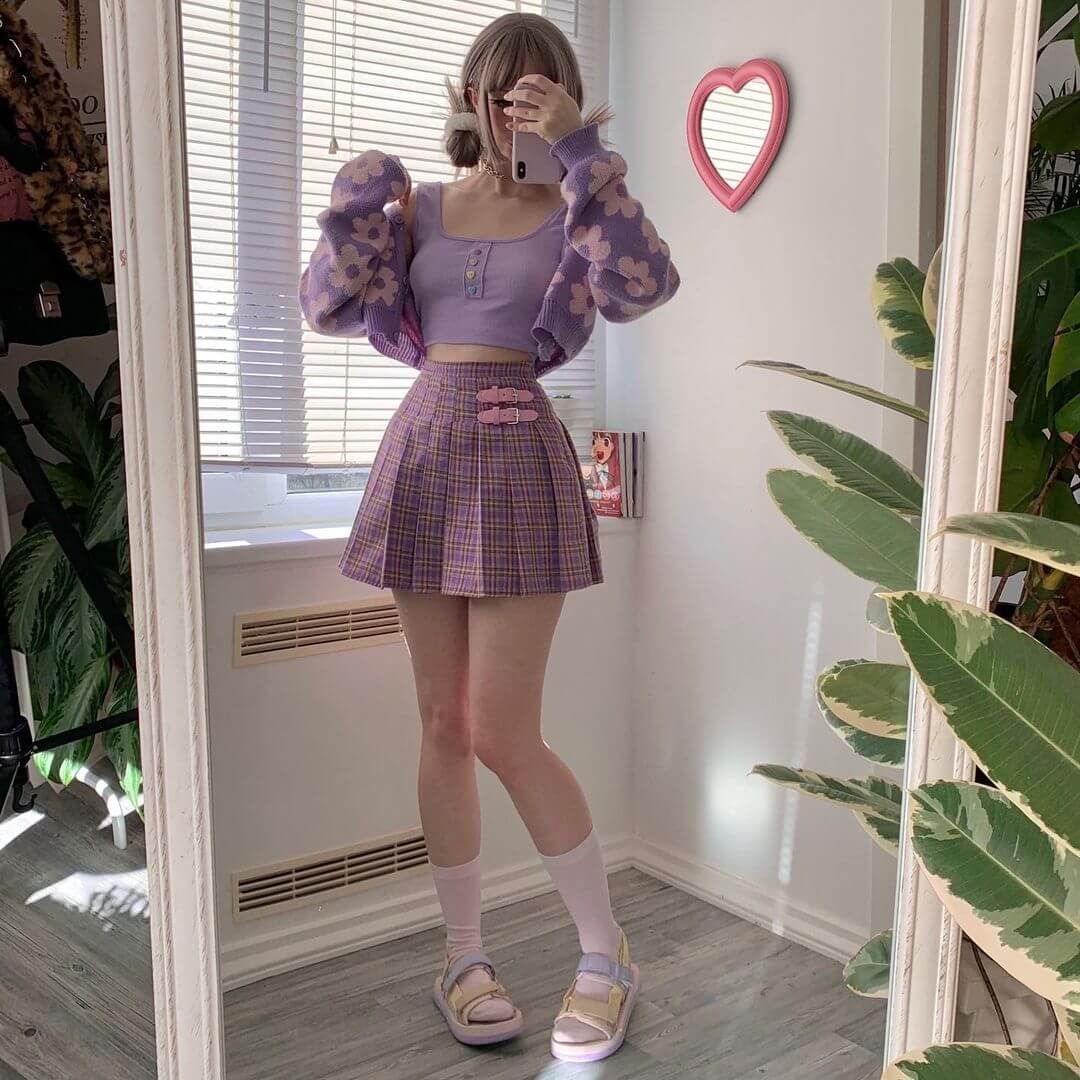 Comfortable and soft purple mini skirt, matching crop top, and a jacket over. White socks and sandals in lighter colors, perfectly matching the upper part of the outfit.
If You Like Cats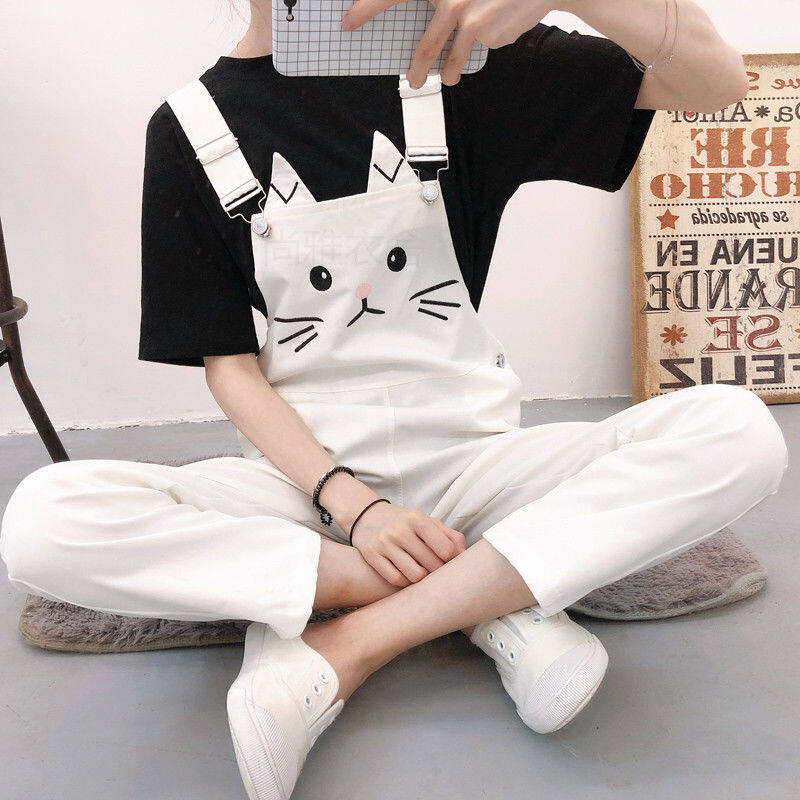 A beautiful Kawaii jumpsuit features cute cat face embroidery, suitable for all seasons. A white jumpsuit and flats contrast with a black T-shirt in this case, but you can experiment with different and more feminine hues.
Nicely Put Together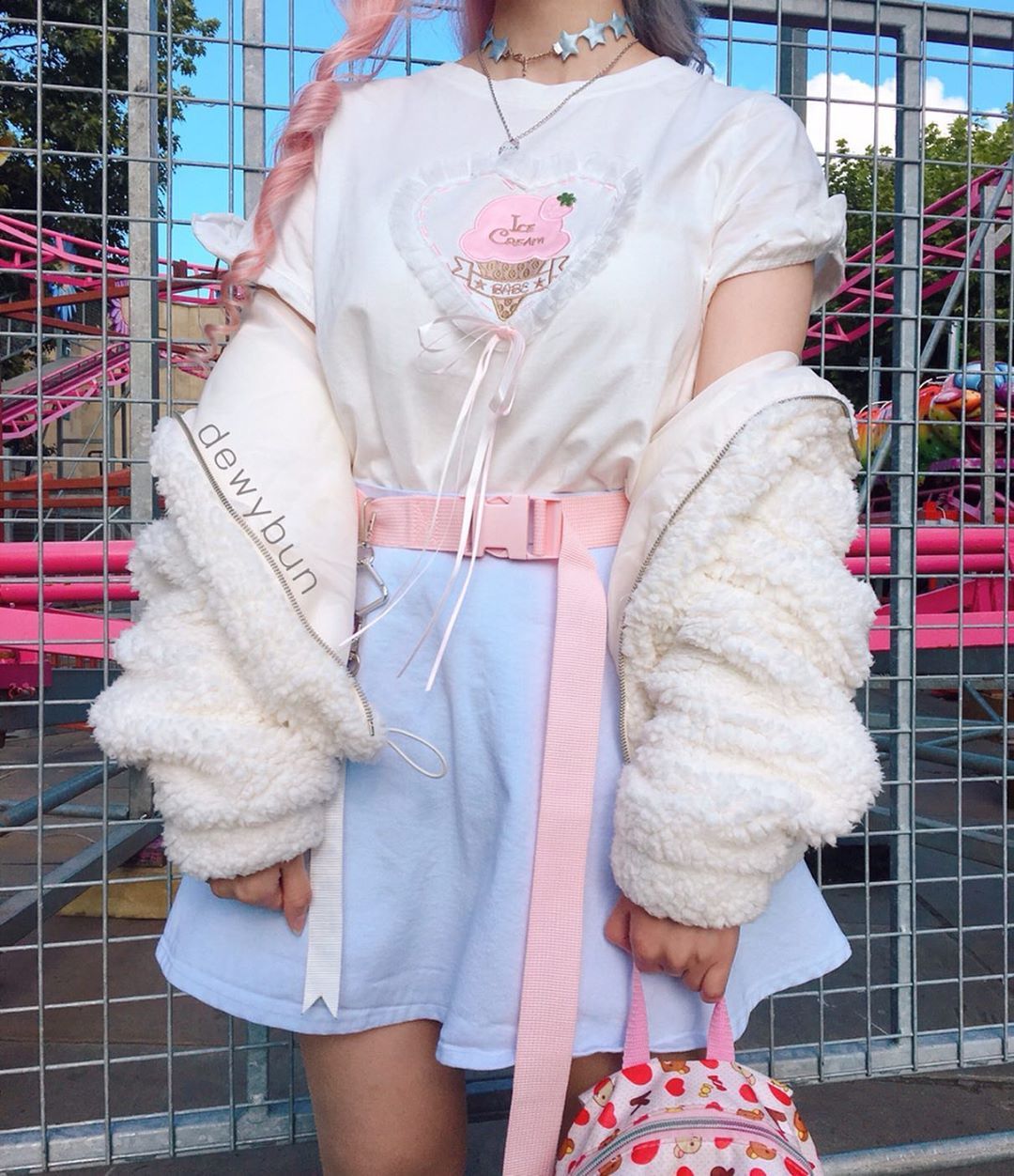 The stylish use of cute pastel colors throughout accentuates the fashionable look. All pieces are simple but put them together, and you get a fascinating outlook.
Not Overly Dramatic, But Simple And Nice-Looking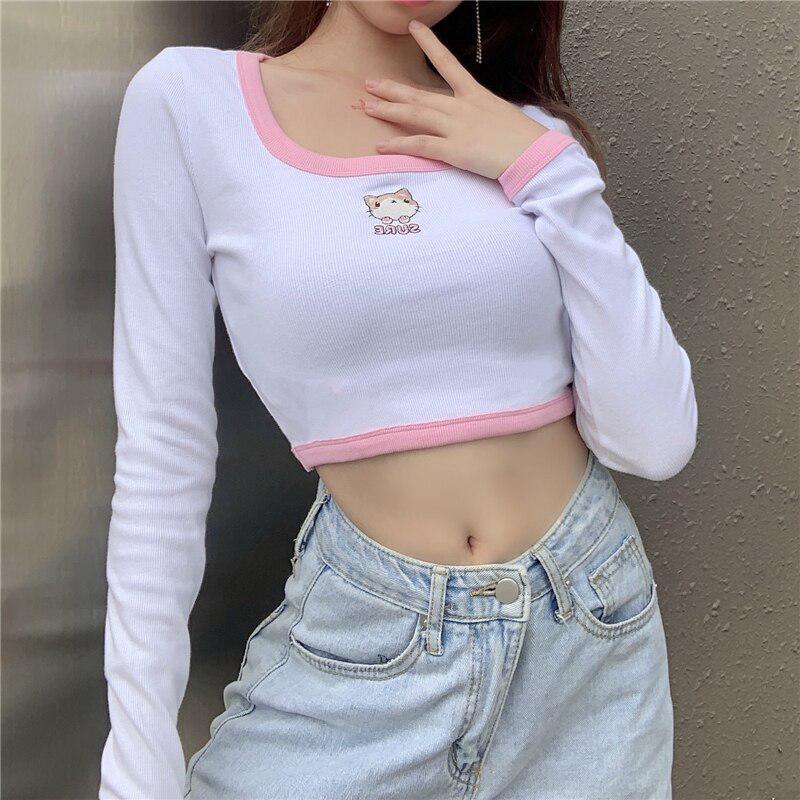 You can brighten up your attire with a kawaii crop-top, pair it with jeans or an aesthetic kawaii skirt and prepare to get noticed.
We trust you picked some great ideas from the selection above, whether new or already familiar with the fashion style. You can dress up with your present clothes or go out shopping for new adorable additions, or start a brand new Kawaii collection. Look for color and appeal. Don't take some items only because it is Kawaii. Choose what looks nice on you. And please leave your comments below!