Casual outfits have always been the go-to style for those who prioritize comfort and self-expression while making a great first impression. Incorporating pieces like jeans, t-shirts, sweaters, and denim jackets allows us to wear our personality on our sleeves, all while feeling at ease in any setting.
Looking good in casual wear might seem challenging at first, but it's all about mixing and matching for various occasions to find the perfect combination. Whether it's a hot summer day or a chilly winter night, our casual wardrobe has us covered, enabling us to rock that confident and stylish look effortlessly.
Those White Sneakers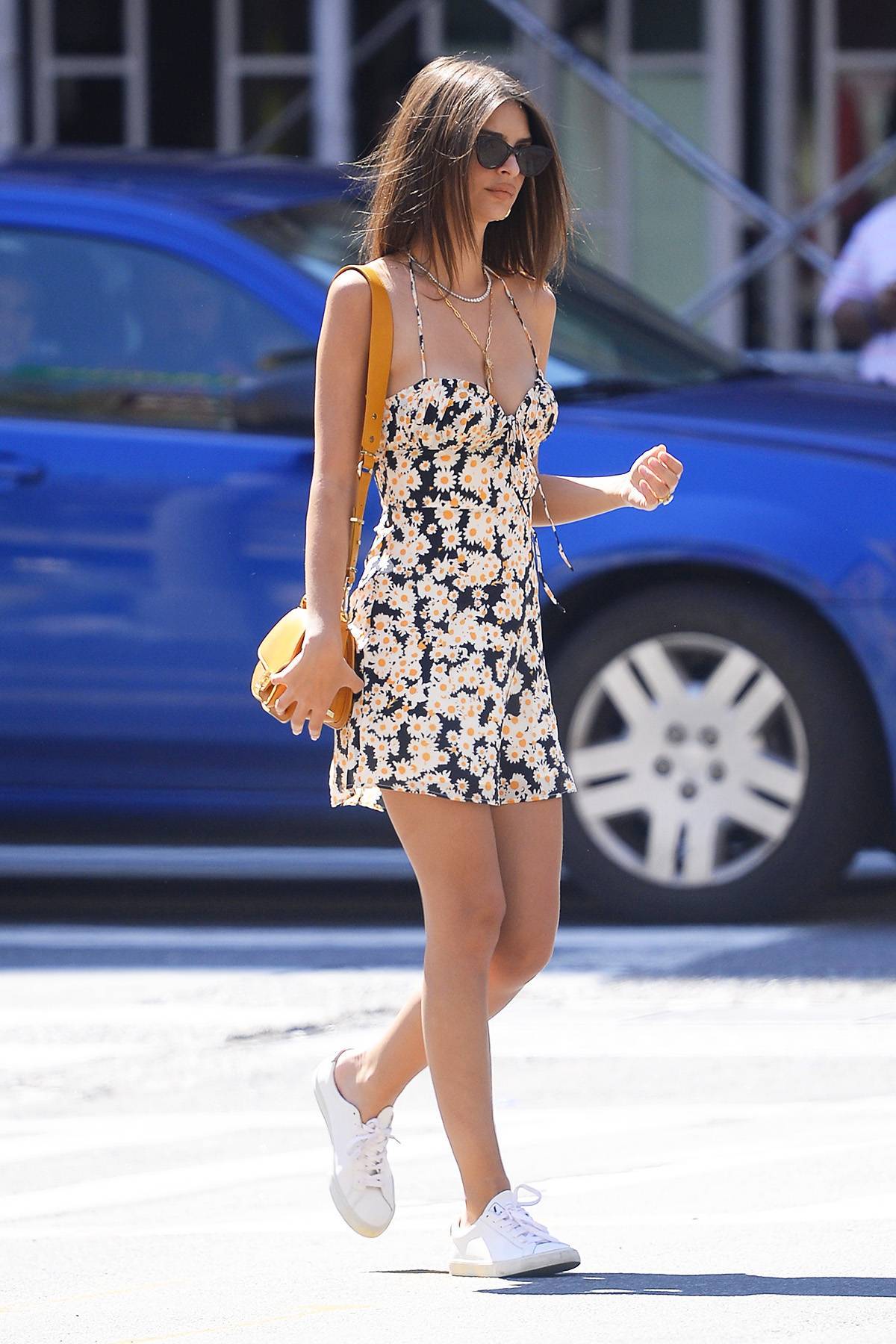 When it comes to casual outfits, there is nothing more classic and versatile than a pair of white sneakers. We love incorporating them into our everyday looks because they can seamlessly complement various styles and colors. Let's explore a few ways we can use white sneakers in our casual wardrobe:
Pairing with Jeans: Whether it's a skinny, straight, or relaxed fit, jeans and white sneakers are a match made in heaven. The combination can create a relaxed yet polished appearance, perfect for running errands or grabbing lunch with friends.
Elevate Casual Dresses: Adding white sneakers to a flowy summer dress or midi skirt creates a laid-back look. It's a perfect way to make the outfit more comfortable for all-day wear without sacrificing style.
Athleisure Attire: White sneakers work great with athleisure staples like leggings, joggers, and sweatpants. This combination is perfect for a gym-to-brunch transition, looking stylish while maintaining comfort.
Here are a few popular white sneaker options to consider:
Classic Canvas: Timeless brands like Converse Chuck Taylors and Vans Old Skool provide clean, simple designs that go well with virtually any casual outfit.
Leather Low-Tops: For a more polished and sophisticated touch, opt for a pair of leather sneakers, like the popular Adidas Stan Smith or Common Projects Original Achilles.
Platform Sneakers: A little extra height never hurts! Platform sneakers like the Superga 2790 Linea Up and Down can elongate your legs and add a fun twist to your casual look.
Overall, white sneakers are a must-have staple in any casual wardrobe. They provide endless styling possibilities, ensuring that our outfits always look fresh, relaxed, and on-trend.
Blue Jeans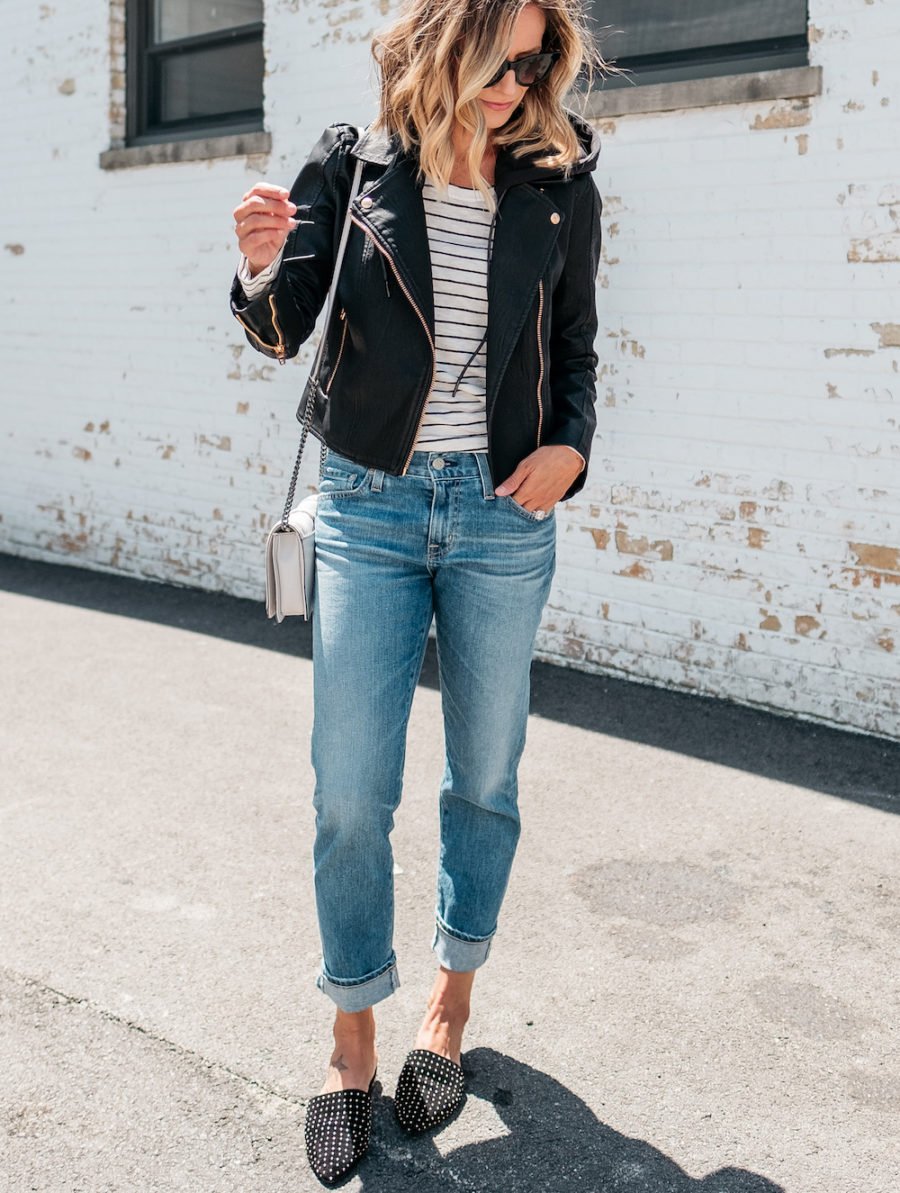 When it comes to casual outfits, blue jeans are a versatile and timeless staple in our wardrobes. They come in various styles, allowing us to mix and match with different tops and accessories for countless outfit combinations. Let's explore some of the popular styles of blue jeans and how they can fit into our casual outfit options.
Straight-leg jeans: These classic jeans have a consistent width from the waist to the ankle, providing a comfortable and relaxed fit. Pairing them with a simple t-shirt and sneakers creates an effortless everyday look. For a slightly dressier occasion, we can switch to a blouse and ankle boots.
Skinny jeans: Known for their tight fit and tapered leg, skinny jeans accentuate our curves and pair well with oversized tops or flowy blouses to balance the silhouette. To elongate our legs, we can add heels or wedged shoes to the mix.
Wide-leg jeans: A trendy option these days, wide-leg jeans offer a breezy, comfortable fit with a fashion-forward touch. Team them up with a tucked-in top or a cropped shirt to define our waist, and finish the look with platform sandals or sneakers.
Distressed jeans: For those who prefer an edgier vibe in their casual outfits, distressed jeans with frayed hems or tears can add some flair. Depending on the amount of distressing, we can pair them with various tops, from a tank top to a casual blazer, and preferred footwear.
To sum up, blue jeans are an essential element in casual outfits, and finding the right pair that suits our style and body type allows us to create endless fashion-forward looks. Whether it's a pair of straight-leg jeans for an everyday vibe or distressed jeans for a bolder statement, our outfit selections can be elevated with the right blue jeans choice.
Short Summer Dress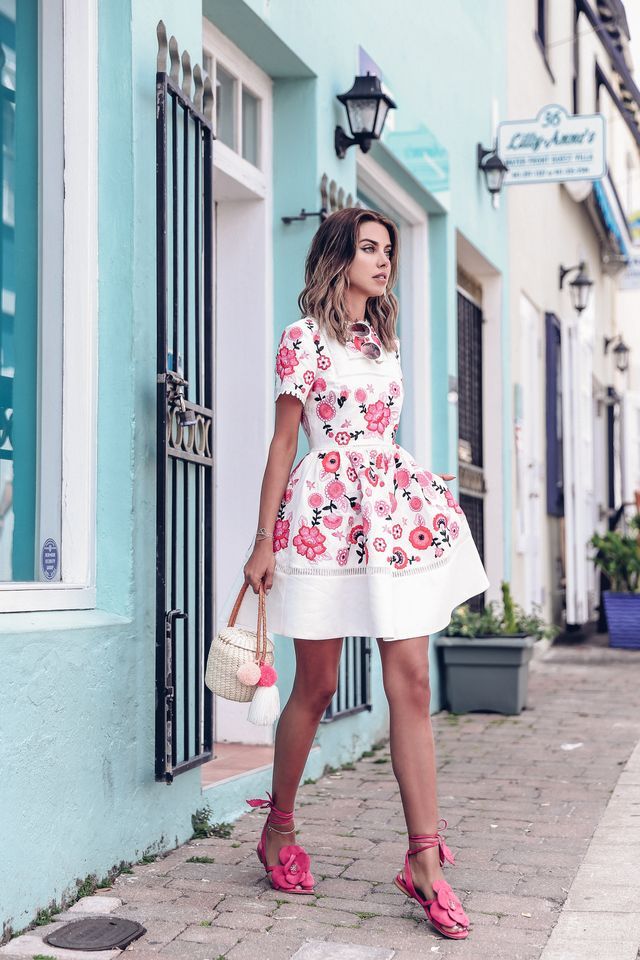 Summer is the perfect time to wear a short, stylish summer dress. We can choose from various materials, patterns, and colors to create a casual yet fashionable outfit. Here's a breakdown of what we might consider when selecting the perfect short summer dress:
Materials: Lightweight fabrics such as cotton, linen, and rayon would be ideal for hot weather. These materials breathe well, allowing air to circulate and keeping us cool.
Patterns and Colors: Floral prints, geometric shapes, polka dots, and stripes are all popular options for summer dresses. Bold colors like bright yellows, blues, and pinks can add a lively pop to our wardrobe.
Fit and Style: A relaxed, loose-fitting dress would be perfect for staying comfortable in the heat. Consider styles with thin straps, off-the-shoulder, or sleeveless cuts to maximize breathability.
Length: Short summer dresses typically range in length from mini to knee-length. Feel free to experiment with different lengths to find what suits our body type and personal preference.
Accessorizing: Complement the dress with casual accessories like flat sandals, a straw hat, and a simple crossbody bag to complete the look.
Remember, the key to crafting a casual summer outfit with a short dress is to keep it simple, comfortable, and stylish.
Simple T-shirt That Goes With Everything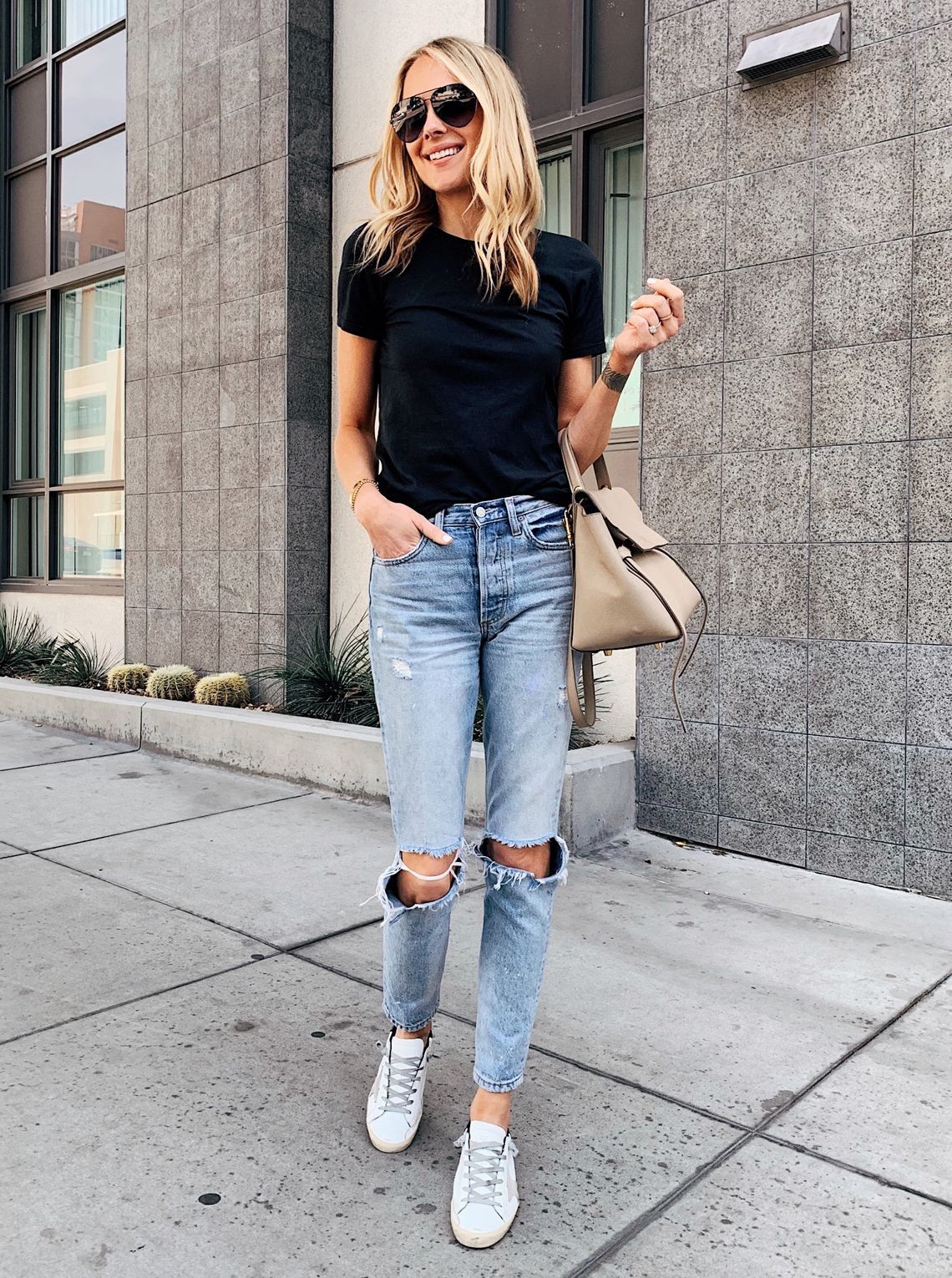 A simple t-shirt is a staple piece in any casual wardrobe. Here are a few reasons why:
Versatility: A plain t-shirt can be dressed up or down, making it suitable for various occasions.
Variety: T-shirts are available in a wide range of colors and styles to suit individual tastes.
Comfort: Made from soft, breathable materials, t-shirts provide a comfortable and relaxed fit.
To make the most of a simple t-shirt, consider the following tips:
Choose a classic color: Opt for neutral shades such as black, white, or gray, which can be easily paired with any bottoms or accessories.
Pay attention to the fit: A good fit is essential. Look for t-shirts that are not too tight or too loose.
Consider the fabric: High-quality materials ensure that your t-shirt maintains its shape and color over time.
In short, investing in a few simple t-shirts can greatly enhance your casual outfit options.
Knee-length Summer Dress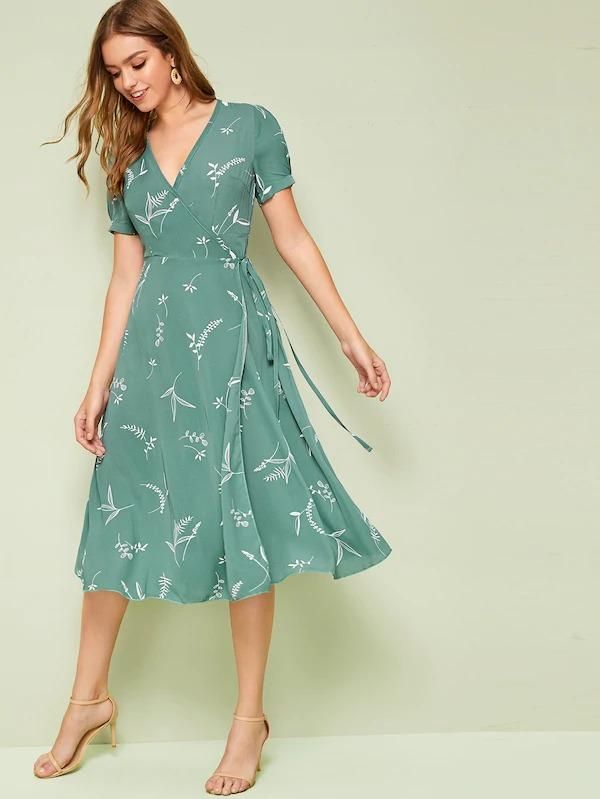 When it comes to casual outfits for summer, nothing beats the versatility and style of a knee-length summer dress. We can find a wide variety of styles, colors, and patterns to suit our personal taste and body type. The following are a few essential elements that make a knee-length summer dress an ideal choice for a casual outfit:
Fabrics: Lightweight, breathable materials like cotton, linen, and rayon are perfect for summer, as they keep us cool and comfortable on warm days.
Sleeve Styles: From sleeveless and spaghetti straps to short sleeves and flutter sleeves, the variety allows us to choose the best option for our comfort and preference.
Patterns and Colors: Floral prints, stripes, and bright or pastel colors are popular choices for a summery vibe that is both casual and fashionable.
Accessories: Pairing the dress with complementary accessories like sandals, sunglasses, and a sun hat can complete our casual summer look effortlessly.
Ultimately, a knee-length summer dress offers the ideal balance of elegance and comfort, making it a go-to choice for casual outings during the warm season.
Comfy Sweater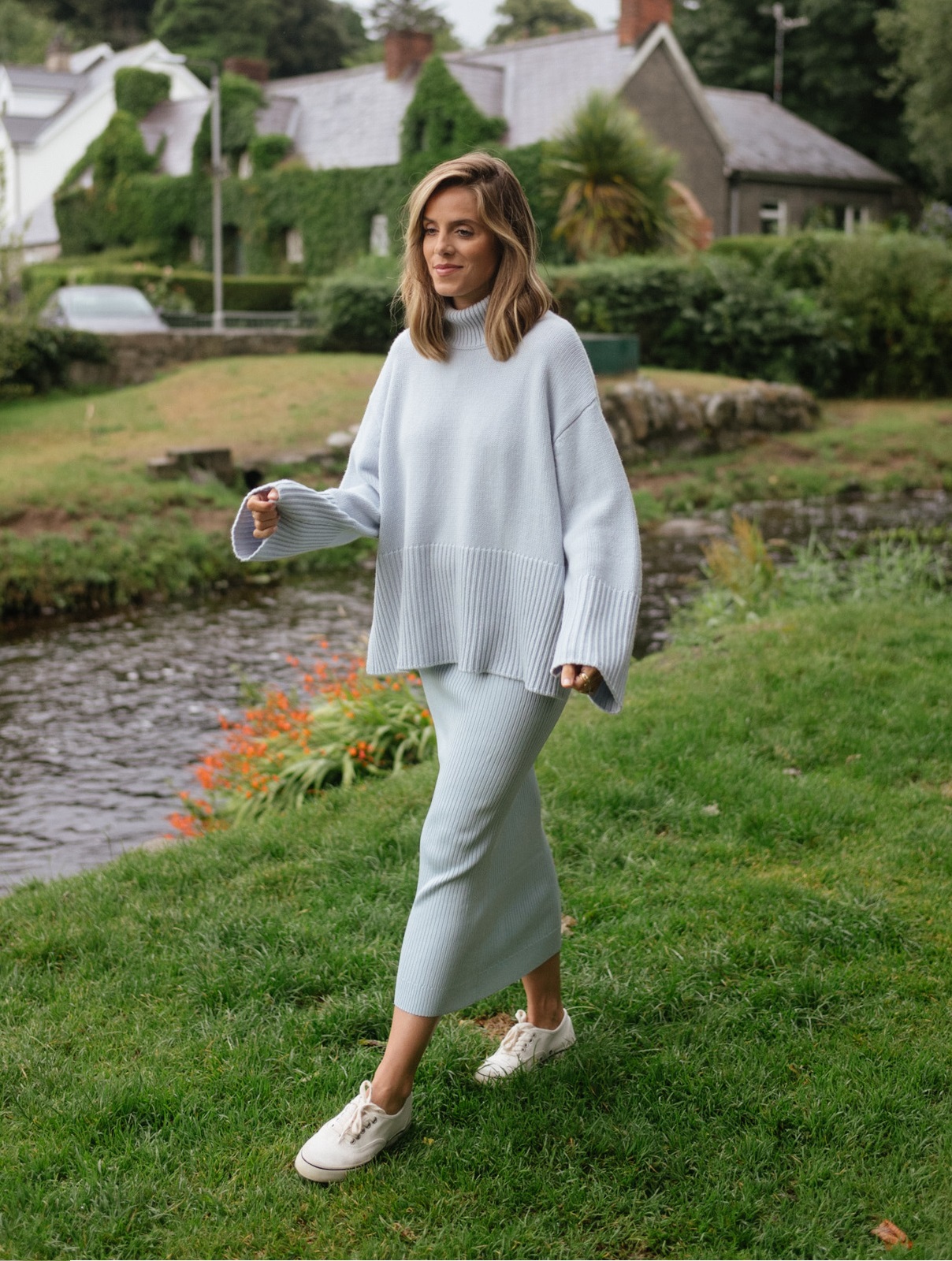 When it comes to casual outfits, a comfy sweater is a must-have item in our wardrobe. Not only does it provide warmth and comfort during chilly days, but it also offers versatility in styling. We can easily pair a sweater with jeans, leggings, or even skirts to create various looks suitable for different occasions. Some popular comfy sweater styles include:
Crewneck sweaters: This classic sweater style features a round, close-fitting neckline that complements various body types and offers a timeless, casual look.
V-neck sweaters: With their V-shaped neckline, these sweaters can be layered over shirts or worn on their own for a more polished appearance.
Turtlenecks: Ideal for colder weather, turtleneck sweaters offer extra warmth and a chic, sophisticated vibe.
Cardigans: Open-front cardigans allow for easy layering and can be dressed up or down depending on the occasion.
Oversized sweaters: These loose-fitting sweaters are perfect for a relaxed, cozy feel and can be worn over leggings or skinny jeans for a stylish yet comfortable outfit.
Accessorizing with a scarf, belt, or statement necklace can also add a touch of personal flair to any casual outfit involving a comfy sweater. Don't forget to consider the material of the sweater when making a selection—options like cotton, wool, and cashmere provide varying levels of warmth and softness.
Long Soft Cardigan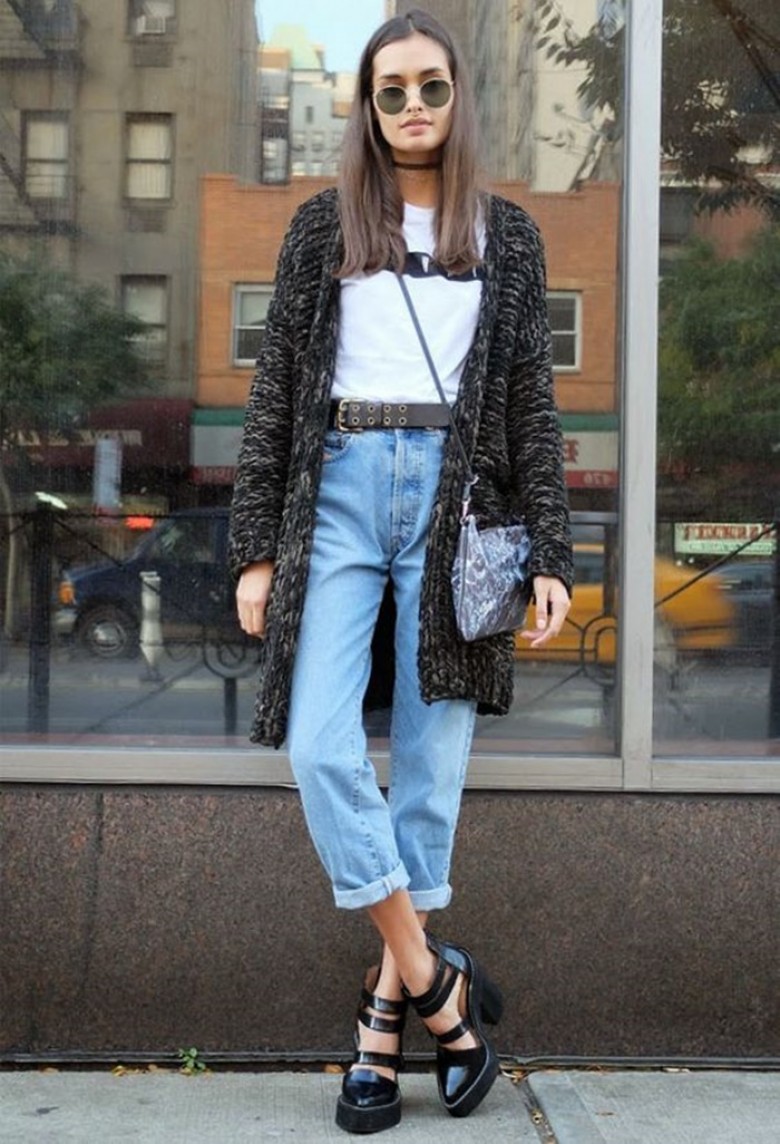 A long soft cardigan is a trendy and versatile piece that can effortlessly elevate any casual outfit. When paired with the right clothing items, we can create a comfortable and stylish look.
Fabric: Opt for lightweight materials such as cotton, linen, or a blend to ensure maximum comfort while lounging around or running errands.
Length: Choose a cardigan that falls below the hips or extends to the knees, providing ample coverage and added warmth.
Colors and Patterns: Experiment with solid colors, stripes, or subtle prints to find the perfect match for various outfits.
Layering: Wear the long soft cardigan over a simple t-shirt or tank top, and team it with jeans, leggings, or even a casual dress.
Accessorizing is also an essential part of creating a well-rounded casual outfit:
Footwear: Opt for comfortable options like sneakers, flats, or ankle boots for a relaxed yet chic look.
Jewelry: Keep it minimal with delicate necklaces, bracelets, or earrings, complementing the outfit without overpowering it.
Bags: Tote bags, crossbody bags, and backpacks are all practical and stylish choices for carrying essentials.
Remember, balance and comfort are key when styling a casual outfit with a long soft cardigan. By considering these tips, we can effortlessly create an ensemble that is both cozy and fashionable.
Cotton Pants
We believe that cotton pants are a fantastic addition to any casual outfit. These pants are not only comfortable but also versatile. They come in various styles, such as straight-leg, relaxed-fit, and wide-leg, allowing us to choose the perfect pair for our body shape and preference. Here are some key reasons why we love cotton pants in our casual outfits:
Breathability: Cotton is a naturally breathable fabric that helps regulate our body temperature, making it perfect for various weather conditions. It keeps us cool in warm weather and provides warmth in colder conditions.
Low Maintenance: Cotton pants are generally easy to care for, as they can be machine washed and dried. This makes them a convenient choice for everyday wear.
Style Options: There are numerous design options available, from classic khakis to trendy wide-leg pants, allowing us to find the perfect cotton pants for our casual outfit.
All-Day Comfort: Due to their soft and lightweight nature, cotton pants provide all-day comfort. This is particularly important when spending a day running errands or simply relaxing with friends.
To further enhance our casual outfits with cotton pants, we can consider the following suggestions:
Pair cotton pants with a simple t-shirt or a button-down shirt for a laid-back, effortless look.
For an extra touch of style, accessorize with sneakers, sandals, or trendy flats.
Experiment with different patterns, colors, and textures to create unique and personalized casual outfits.
In conclusion, cotton pants are a must-have item in our casual wardrobe. Their versatility, comfort, and ease of care make them a practical and stylish choice for everyday wear.
Polo-styled Shirts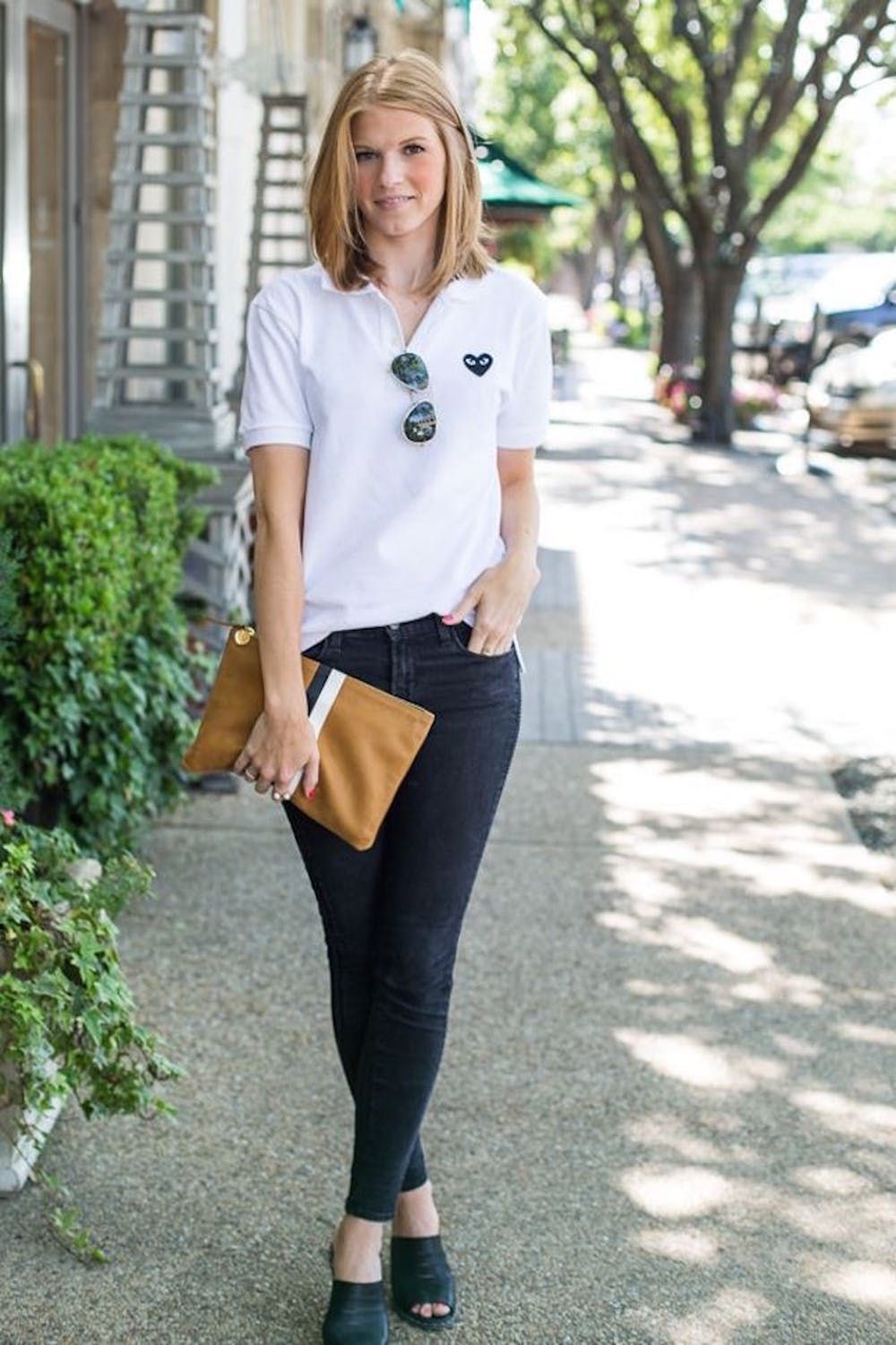 Polo-styled shirts are an essential component of casual outfits. They come in various colors and designs, providing a versatile and comfortable option for leisure wear. We would like to share some key features of polo-styled shirts:
Collar and Button Placket: The classic polo shirt features a collar and a button placket, typically with two or three buttons, allowing for a customized neckline.
Fabrics: Commonly made from cotton or cotton blend materials, these shirts offer breathability and comfort for everyday wear.
Short or Long Sleeves: Polo shirts come in both short and long sleeve versions, providing options for different seasons and preferences.
Patterns and Solids: Available in a wide array of color options and patterns, polo-styled shirts can easily complement other pieces in your wardrobe.
To create a casual outfit with a polo-styled shirt, simply pair it with your favorite jeans, chinos, or shorts. Finish the look by wearing comfortable shoes like sneakers, loafers, or boat shoes, depending on the occasion.
Silk And Cotton Blouses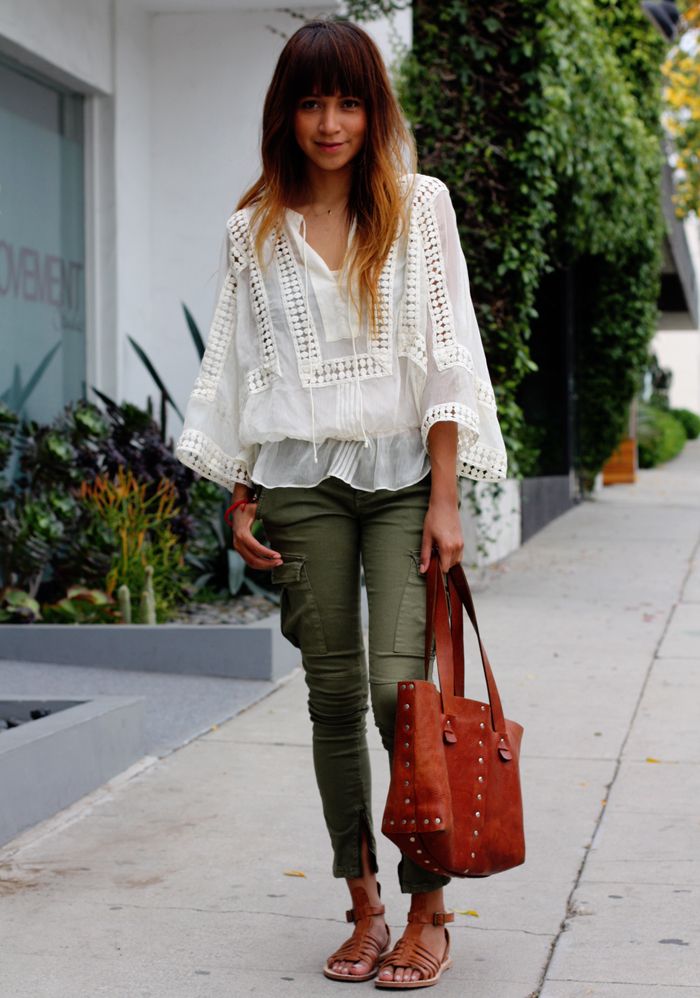 In casual outfits, we cannot overlook the importance of silk and cotton blouses. These types of blouses are not only stylish but also comfortable and versatile.
We often recommend silk blouses for their smooth and luxurious feel, which instantly adds a touch of sophistication to any outfit. Paired with jeans or wide-leg pants, a silk blouse can elevate a casual look to a chic ensemble.
Cotton blouses, on the other hand, offer exceptional breathability and comfort. They are perfect for those warmer days when we want to stay cool and stylish at the same time. With various patterns and cuts, cotton blouses can be dressed up or down, depending on our choice of bottoms and accessories.
While selecting silk and cotton blouses, consider the following:
Fabric: Choose high-quality, pure silk or cotton for maximum comfort and durability.
Fit: Opt for a blouse that fits well without being too tight or too loose, ensuring ease of movement.
Design: Experiment with different styles, such as button-down, off-shoulder, or wrap, to find the one that suits our personality and body type.
Color: Don't be afraid to incorporate vibrant colors and bold patterns to make a statement in our casual outfits.
In summary, silk and cotton blouses are essential components of casual outfits. Their flexibility, comfort, and style make them a versatile and fashionable choice for daily wear.
Wide Short Skirt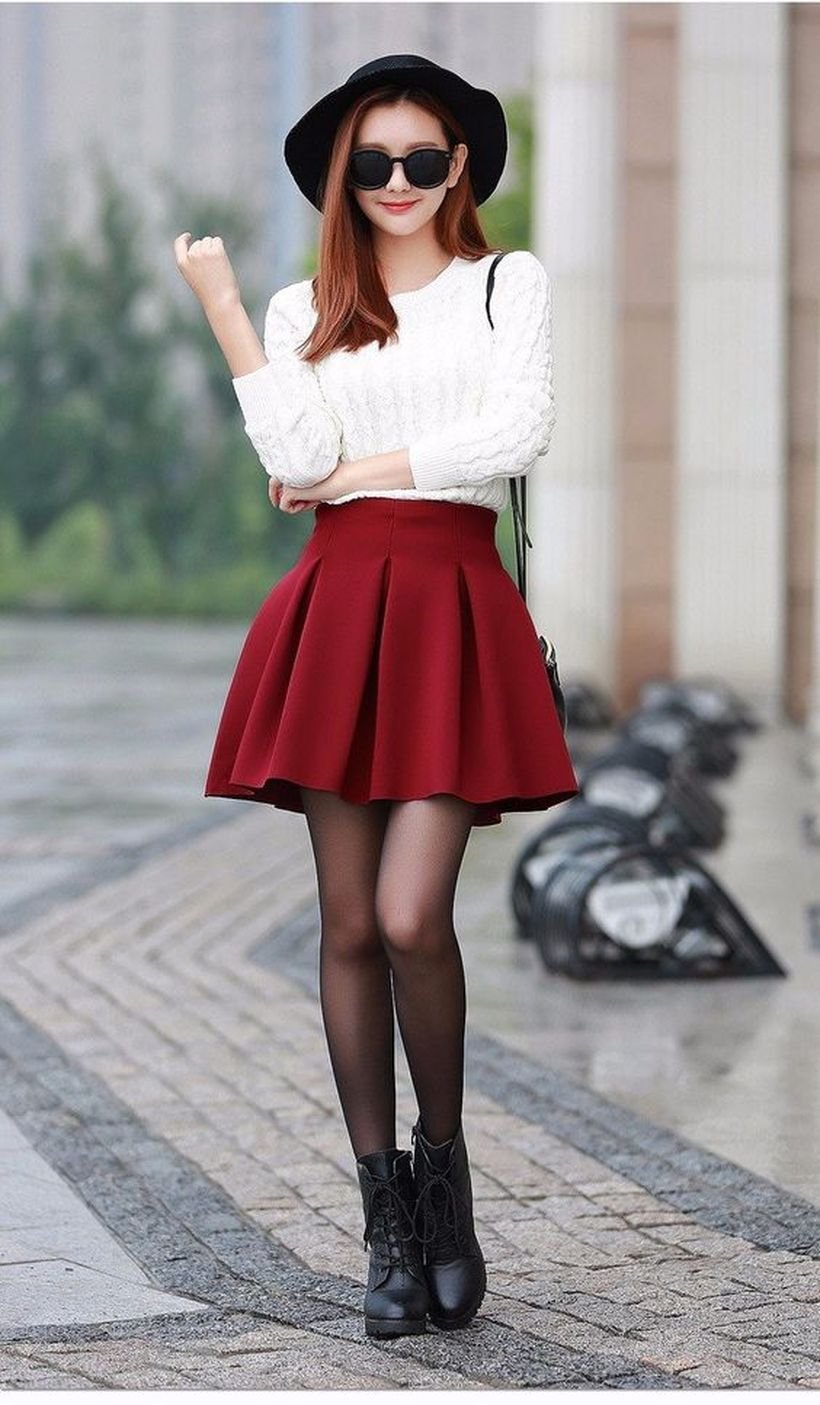 When putting together a casual outfit, one key piece to consider is the wide short skirt. This versatile item can be easily dressed up or down, making it perfect for various occasions. Let's explore some ways to incorporate a wide short skirt into our casual wardrobe:
Pair with a simple top: Combine the skirt with a basic T-shirt or tank top for an effortless and stylish look. Experiment with different colors and patterns to mix and match according to your taste.
Accessorize: Add a pop of personality by accessorizing your wide short skirt outfit with a statement necklace, a wide-brimmed hat, or a fashionable belt. These additions can elevate the overall appearance of your ensemble.
Layer with outerwear: For cooler days, throw on a denim jacket or a light cardigan to stay warm and still maintain a casual vibe.
Choose comfortable footwear: Complete your outfit with a pair of comfortable sneakers, sandals, or flats that complement the skirt's style. Avoid high heels or overly formal shoes to maintain the casual atmosphere.
By incorporating these tips into our styling approach, we can create numerous fashionable and casual outfits featuring the wide short skirt. This versatile item allows us to play with different combinations and accessories, ensuring that we always look chic and feel comfortable at the same time.
Pencil Skirt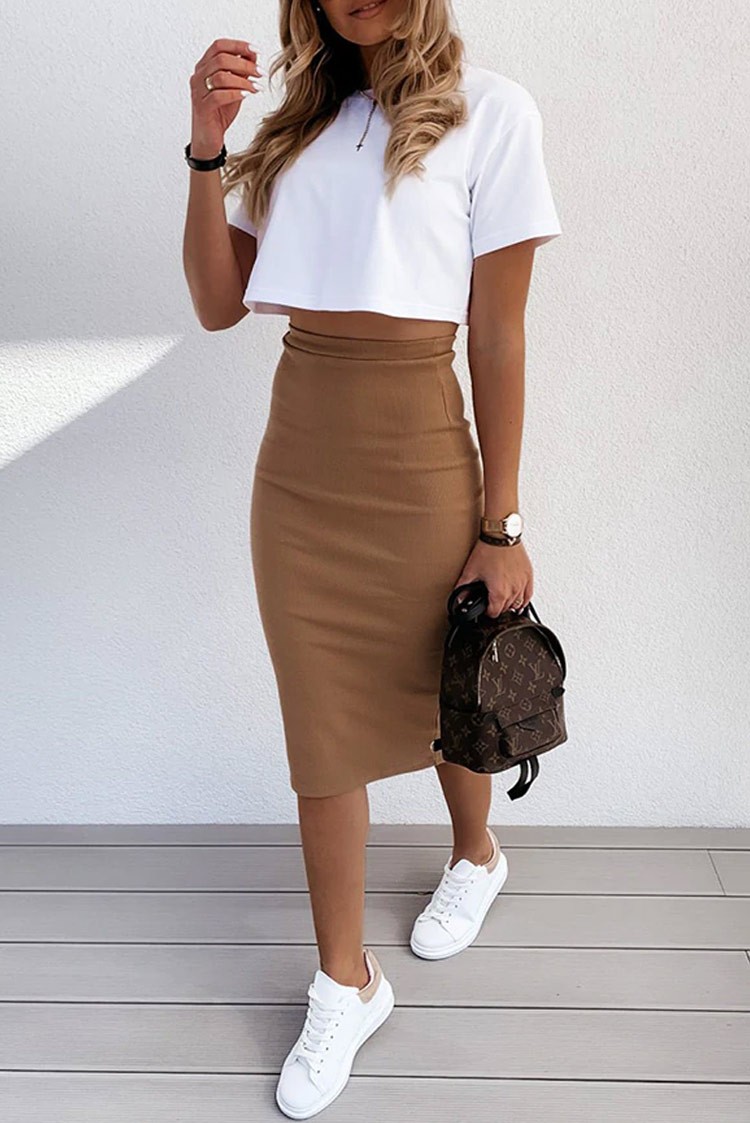 When it comes to casual outfits, one versatile piece that can easily be dressed down or up is the pencil skirt. We believe that having a pencil skirt in your wardrobe allows for endless styling possibilities. Here are a few ideas for incorporating this essential piece into your casual ensemble:
Color and pattern: To keep things casual, opt for a pencil skirt in neutral shades or with simple patterns. This makes it easy to pair with various tops and accessories.
Pair with a casual top: Balance the sophistication of a pencil skirt by teaming it up with a relaxed top, such as a cozy sweater, a T-shirt or a loose blouse.
Layer it: Add a denim jacket or a cardigan over the top to make the outfit appear even more laid-back.
Footwear: Keep your footwear casual by wearing sneakers, loafers, or flat sandals with your pencil skirt.
Remember, the key to achieving a successful casual outfit with a pencil skirt is to mix and match it with other laid-back pieces. This will create a look that is both stylish and comfortable for any casual occasion.
Tank Top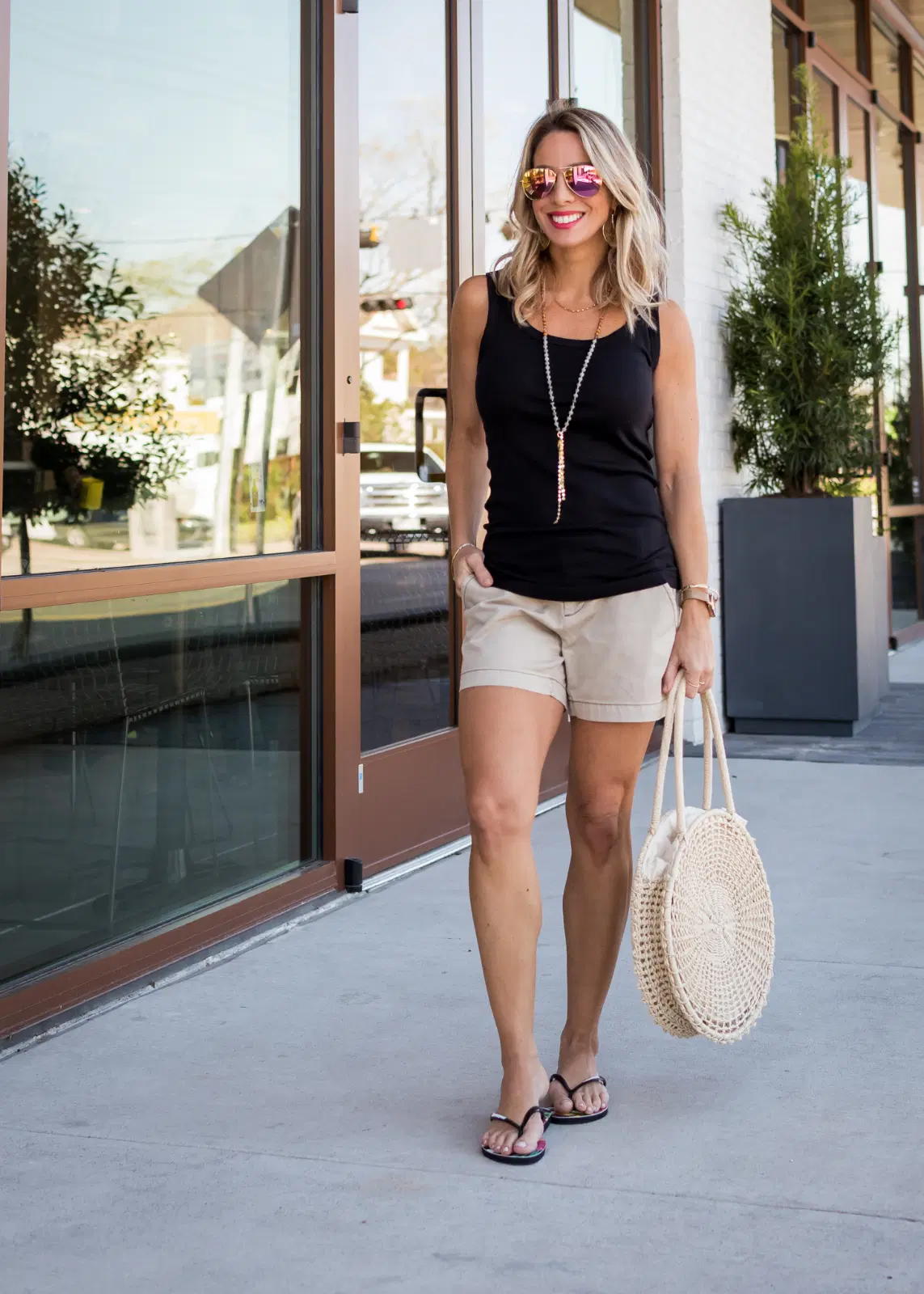 In the realm of casual outfits, we can't ignore the significance of a good tank top. Tank tops have become a staple in our wardrobes, and with their versatility and comfort, it's easy to see why. Let's dive into some styling ideas involving tank tops:
Layering: Tank tops are perfect for layering under shirts, jackets, and cardigans, providing both style and warmth.

Example: Pair a neutral-colored tank top under an open plaid shirt.

Sporty Look: Embrace athleisure by combining a tank top with sweatpants or joggers to achieve a sporty casual outfit.

Example: Pair a black tank top with gray joggers and white sneakers.

Tucked In: To elevate the tank top, try tucking it into high-waisted pants or skirts, creating a polished, yet casual look.

Example: Tuck a white tank top into high-waisted denim shorts, finishing the outfit with stylish sandals or sneakers.

Accessorize: Adding accessories is a great way to make a statement with your tank top, be it a long necklace or a fun pair of statement earrings.

Example: Complement a simple tank top with a bold, colorful necklace or stack of bangles.
Remember, there are no rules in fashion. Don't hesitate to mix and match different styles and experiment with your looks. Tank tops make for a great base to build a casual outfit, so get creative and enjoy the endless possibilities they offer.
Stylish Hoodie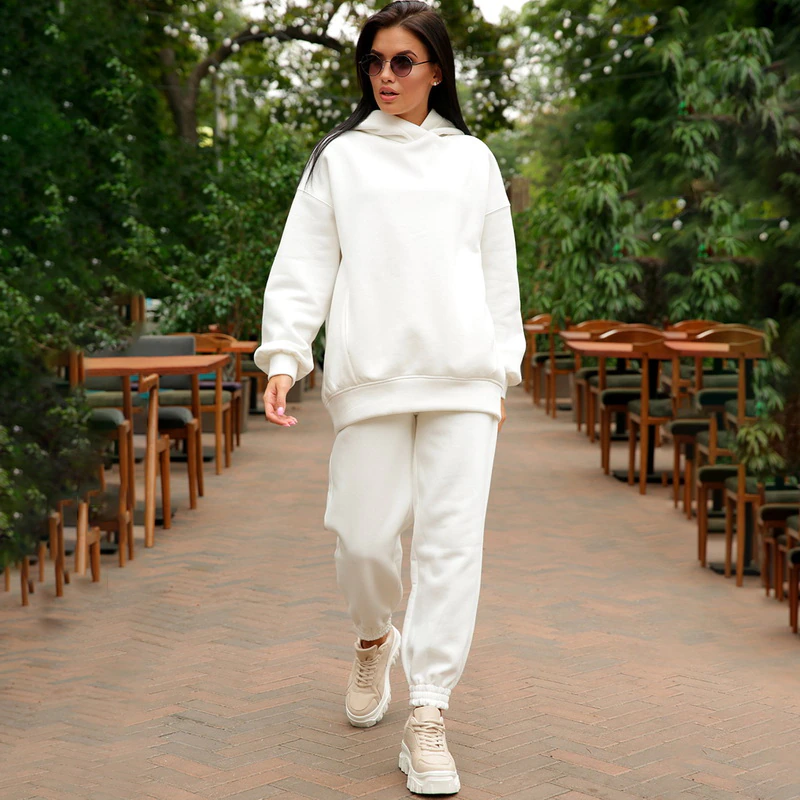 We understand the importance of hoodies in casual outfits. Hoodies add a layer of warmth and style to any look. They come in a variety of materials, colors, and designs to suit your personal taste.
Material: Cotton, fleece, and polyester are common materials used to make hoodies. They provide comfort and a cozy feeling during cool weather.
Color: From classic black and grey to vibrant colors and patterns, hoodies offer a wide range of options to match any outfit.
Design: You can choose from zip-up, pullover, or even hoodies with graphic prints to express your individual style.
Pairing a stylish hoodie with jeans, leggings, or shorts creates a comfortable and relaxed outfit perfect for everyday wear. To complete the look, accessorize with your favorite sneakers, boots, or casual shoes.
Loafers or Mules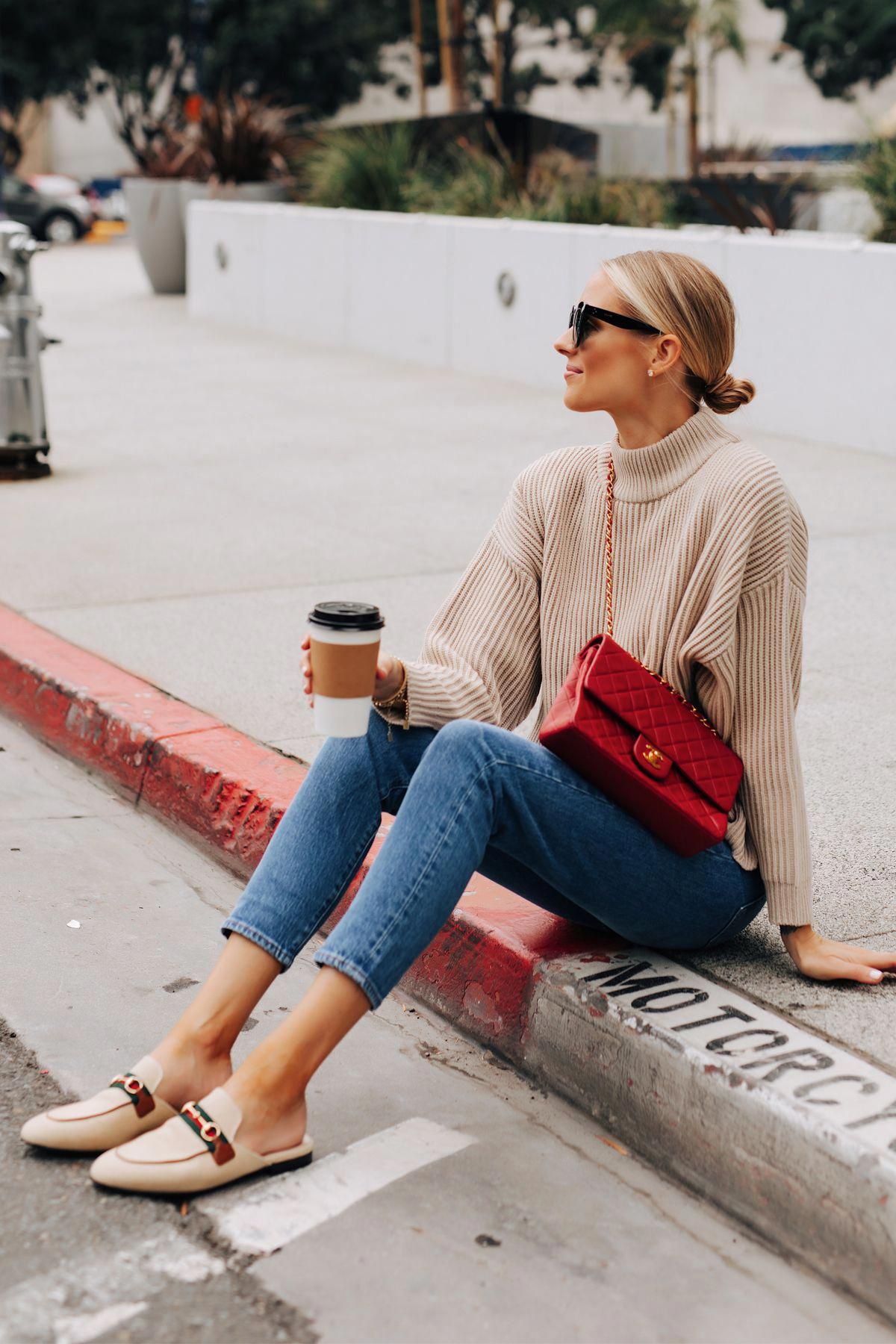 When it comes to casual outfits, we often face the choice between loafers and mules. Both footwear options offer a comfortable and stylish approach to everyday dressing, but they also have their unique attributes.
Loafers are classic slip-on shoes with a low profile and no back. They are typically made from leather or suede and can be worn with or without socks. Some popular styles include:
Penny loafers: Featuring a distinctive strap across the vamp with a slot for a coin.
Tassel loafers: Decorated with tassels on the top.
Horsebit loafers: Displaying a metal horsebit ornament on the vamp.
Mules are backless shoes that can be either open-toed or closed-toed, often with a chunky heel or no heel at all. They come in various materials like leather, suede, and fabric, as well as an array of designs and colors. Some mule styles are:
Flat mules: No heel, offering maximum comfort.
Heeled mules: Featuring heels of various heights for added sophistication.
Slide mules: With a wide top band, making them easy to slip on and off.
Choosing between loafers and mules for your casual outfits is subjective and depends on your personal taste, outfit, and occasion. If you're looking for a more traditional and polished style, opt for loafers. On the other hand, if you prefer a trendier and more relaxed look, mules might be your go-to choice. Ultimately, both loafers and mules serve as versatile additions to any casual wardrobe.
Sweater Dress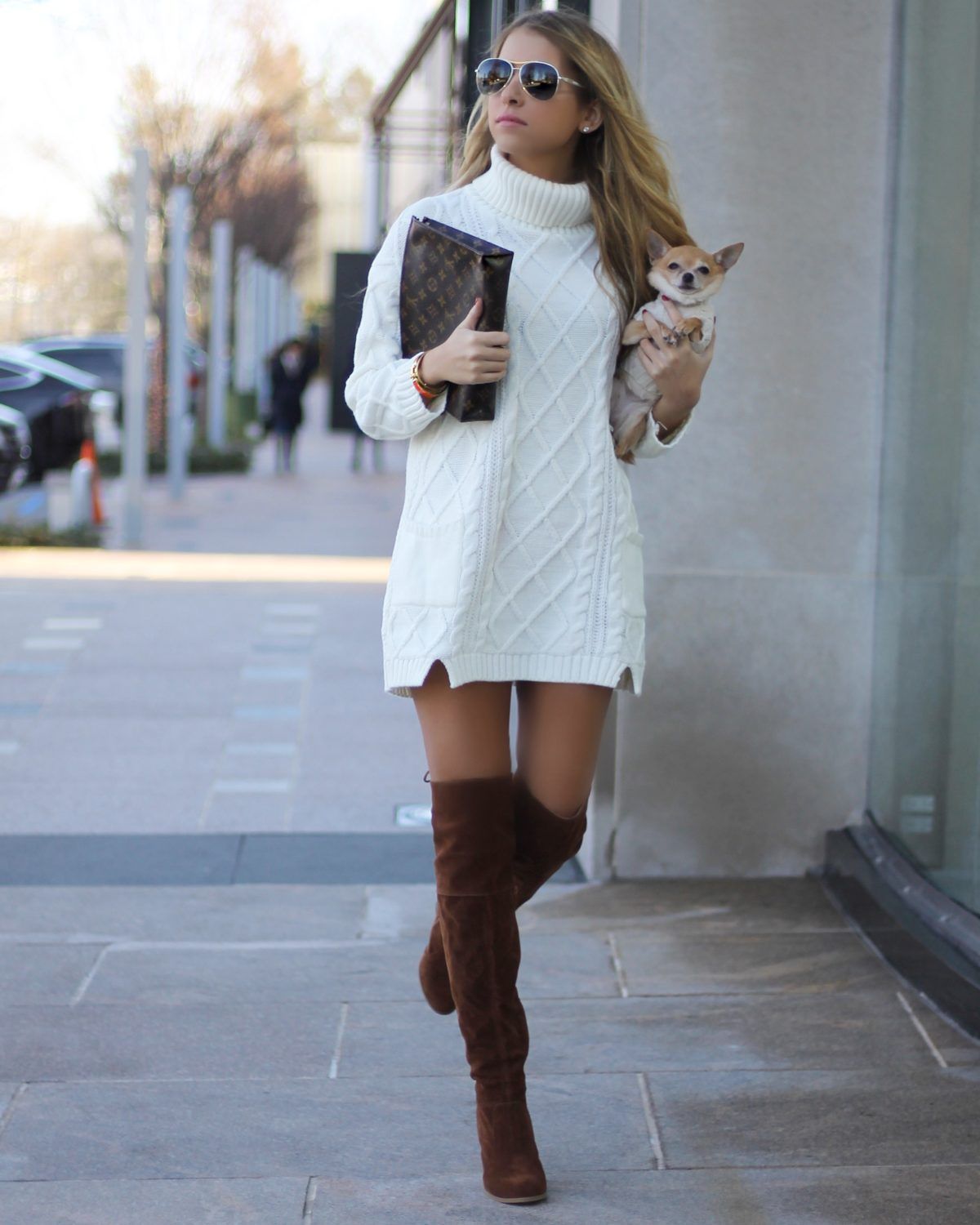 A sweater dress is an essential piece in our casual outfits repertoire, effortlessly combining style and comfort. These dresses are typically made from soft, cozy materials like wool or cashmere, making them perfect for colder days.
When it comes to styling a sweater dress, we have several options:
Monochrome look: Pair the sweater dress with tights or leggings and boots in the same color for a chic, streamlined look.
Layering: Add a denim jacket or light coat over the dress for added warmth and a casual touch.
Accessorizing: Enhance the outfit with a bold necklace, statement earrings, or a stylish belt to define the waist.
Footwear: Choose between ankle boots, knee-high boots, or even sneakers, depending on the dress length and occasion.
Remember, the key to achieving a fashionable casual look with a sweater dress is experimenting with colors, textures, and accessories.