"Emily in Paris" is currently one of the most popular TV shows on Netflix. The love drama, beautiful shots of Paris, and the bold fashion combinations instantly attracted many fans of Emily and Parisian fashion. Although the first season drew a lot of criticism, the fashion statements were remarkable by all the female characters in the TV Show.
The fashion expectations were high, but Emily's eclectic appearance did not delight everyone, however, beyond any doubt, Emily's outfits are bold and fashionable. Also, her friend in the series, Camille, is considered by many to be the epitome of the French style. In fact, the most applause goes in the direction of Camille's appearance, which is a true fashion inspiration. Emily's boss Sylvie, is a good example of a classic but sensual style with pencil skirts that enhance the silhouette, elegant long dresses, or pencil skirts with statement belts on the waist.
Emily's en vogue outfits are the creativity of American fashion designer Patricia Fields. The fashionable popular, "The Devil Wears Prada" and "Sex and the City"  both include clothes designed by the renowned stylist, many of which are among the greatest in movie history. Patricia Fields contributes her knowledge to the brand-new Netflix series by styling the audacious outfits that are so discussion starters and eye-catchy. We've gathered some of the most memorable fashion moments from the popular show, so keep scrolling. You'll see fashion items created by the top designer brands around the globe. Without further ado, let's look at the best, par excellence "Emily in Paris" outfits.
Chic Office Outfit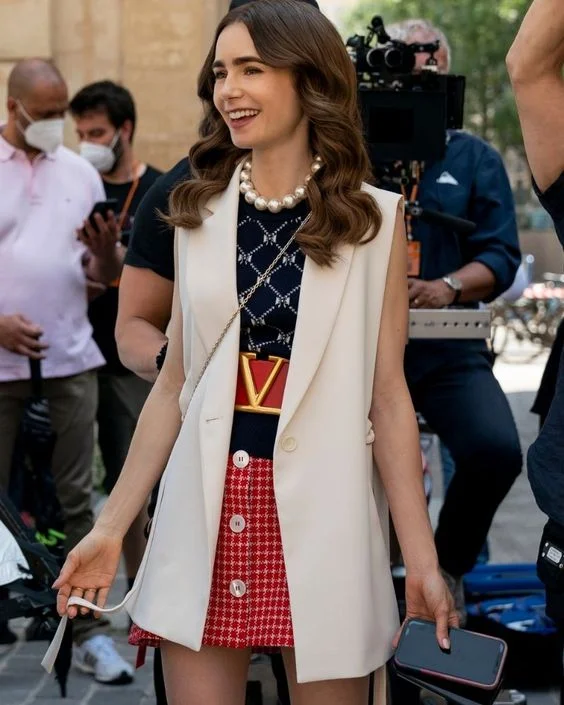 This is a very interesting and simple combination of white, navy, and red. With this triple colorway, you can never go wrong. Emily appears to have everything together as she rocks a sweet Maje sweater, a red button-up skirt, a Zara suit vest, a Valentino belt, and a big pearl necklace.
Fancy Parisian Outfit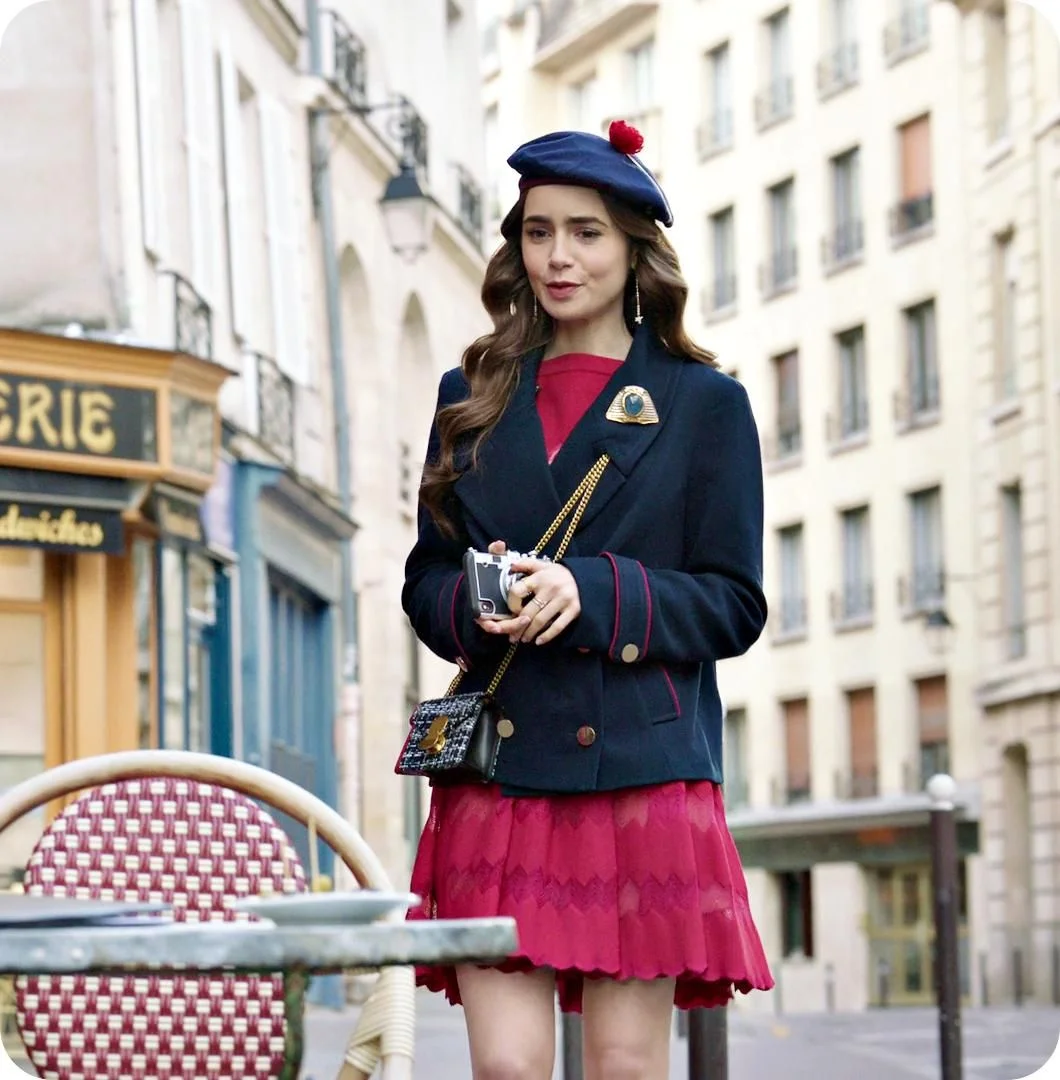 This is the cutest Emily french-inspired outfit. All the details are there: the beret, a very very classy but chic suit, and a red mini dress.
Coat-Dress Outfit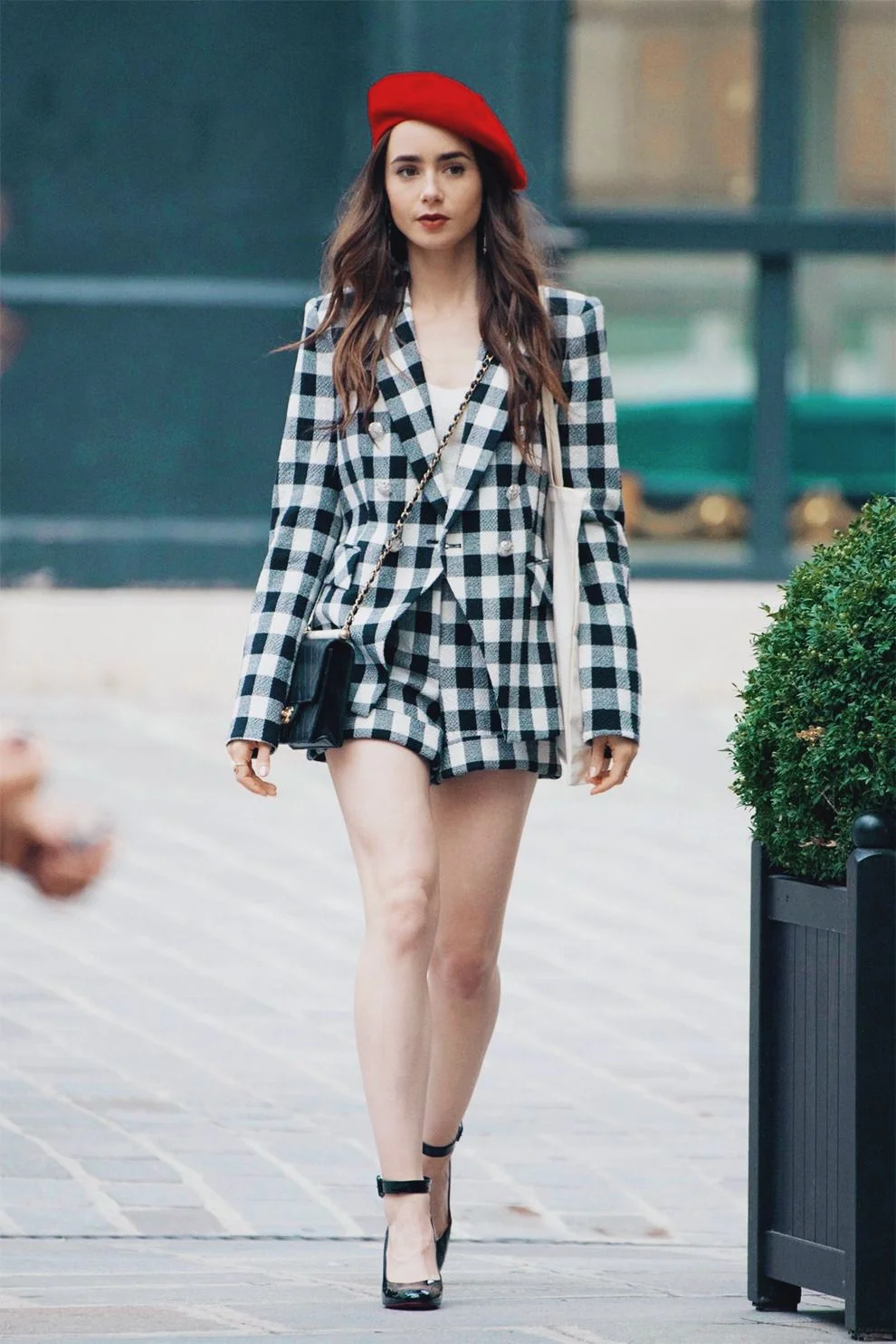 Another classy checkered suit with shorts, cute heels, and a red beret. This is a combination that everyone can afford and it's so simple yet modern. Ideal for brunch with the girls.
All Pink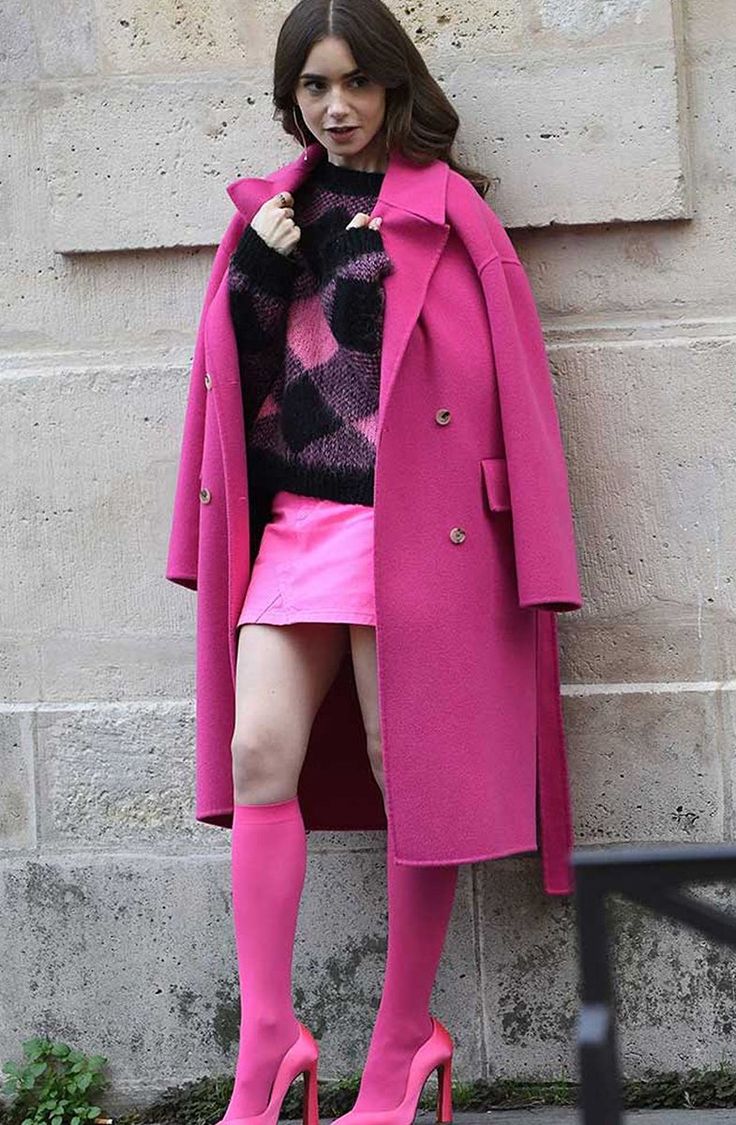 Emily's vivid pink coat is one item of clothing that has swiftly become recognized as the signature piece in her collection. In a scene, Emily rocks it with matching knee-high socks, an Argyle-inspired sweater, and satin Christian Louboutin heels, displaying her unwavering dedication to the attention-grabbing looks.
Elegant Black Dress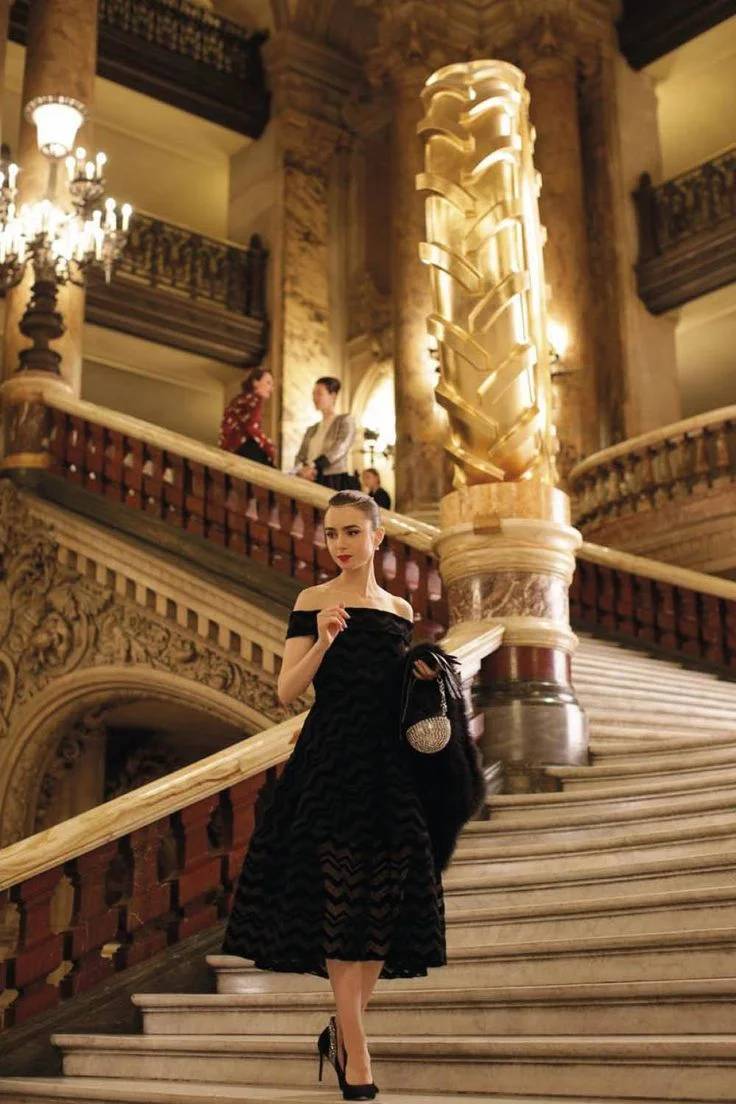 With a black dress and a stunning headpiece, Emily makes an homage to Audrey Hepburn in the movie "Funny Face" in episode six. What's more, the episode was shot at the Palais Garnier opera theater in Paris, which is where Hepburn's film was also shot.
Fabulous Bow Dress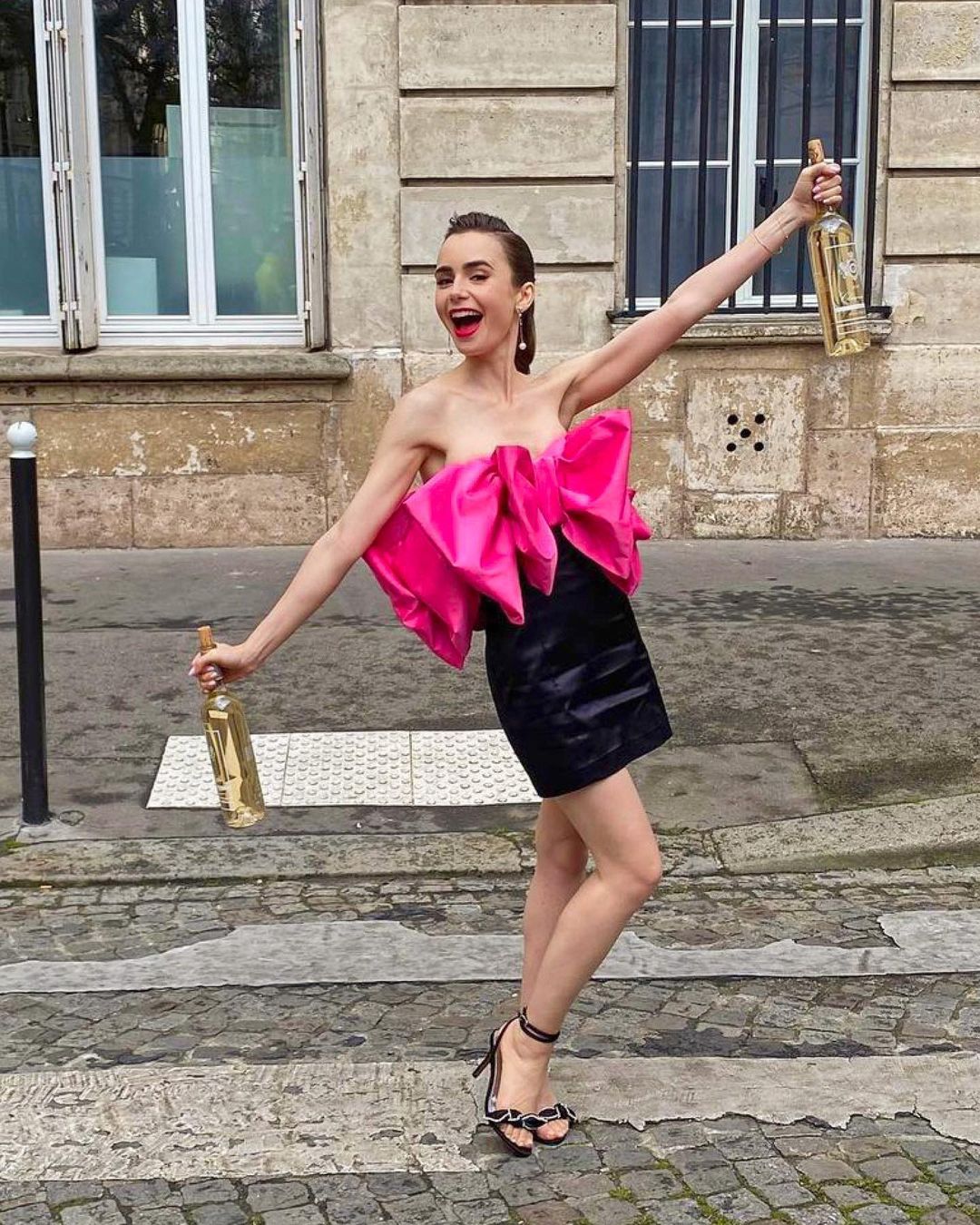 Emily hosts her first-ever French dinner party as part of her birthday celebration. For that occasion, she takes out a beautiful outfit with a large pink bow in the front to wear as the hostess of the celebration. Ideal for a birthday princess.
The Retro Look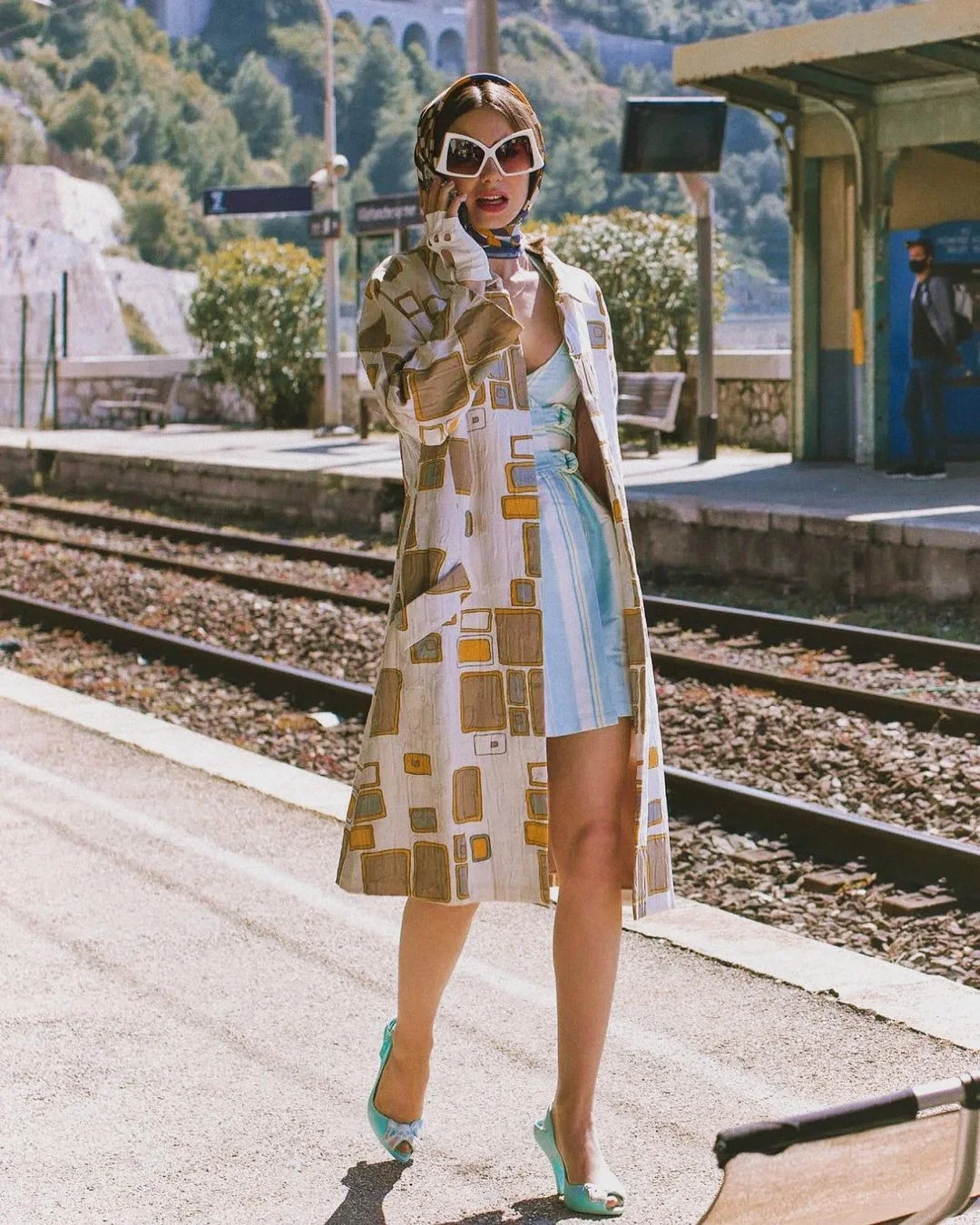 Emily is dressed in a lovely vintage dress in this photo. She is additionally donning a vintage scarf, Vivienne Westwood heels, Maison Fabre gloves, and a pair of distinctive Valentino sunglasses. It has a vintage Hollywood glam vibe.
Pretty in Purple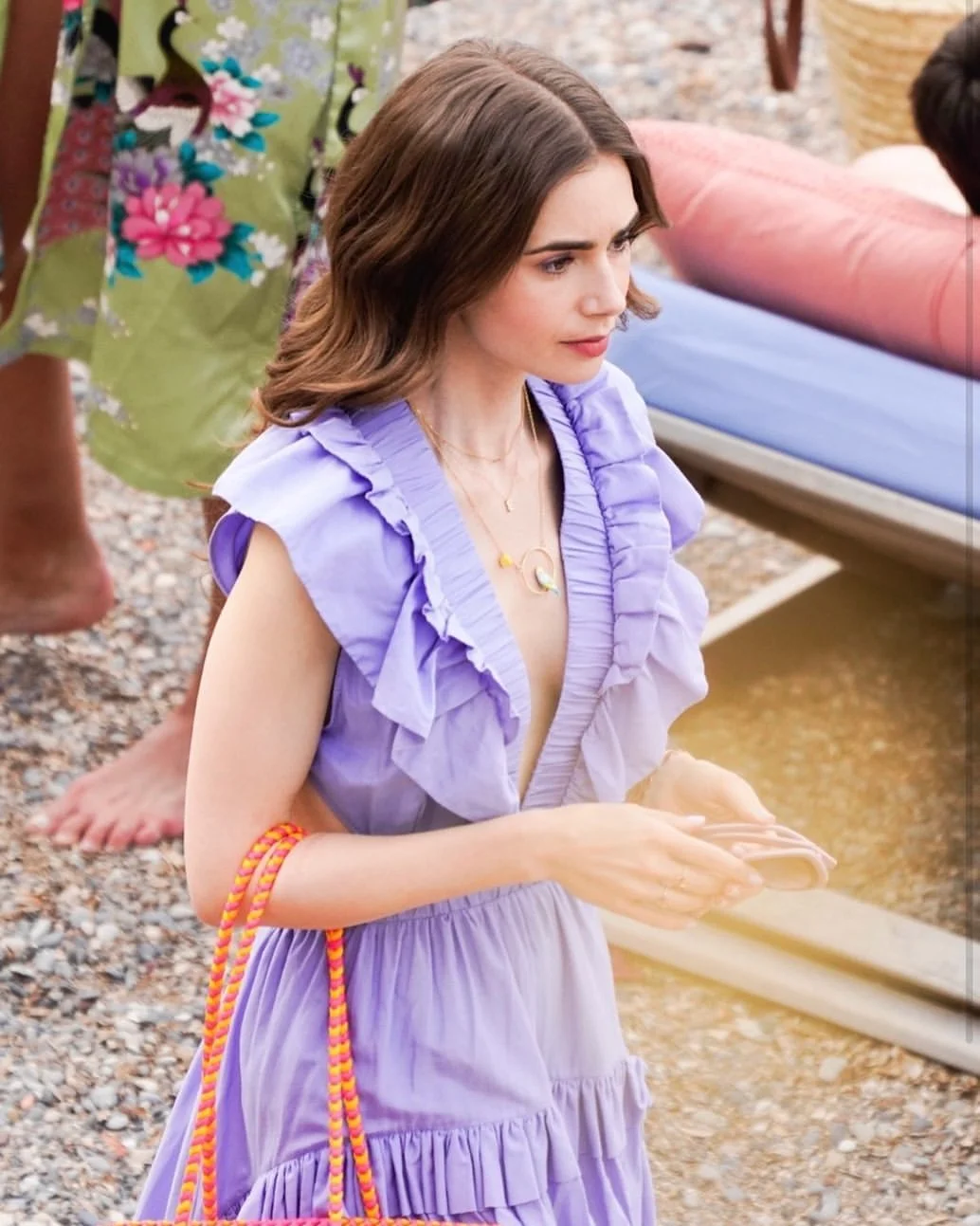 This high-low sundress is perfect for the summertime with all the ruffles, open back, and high-low skirts to combine a casual and fancy style.
The Yellow Outfit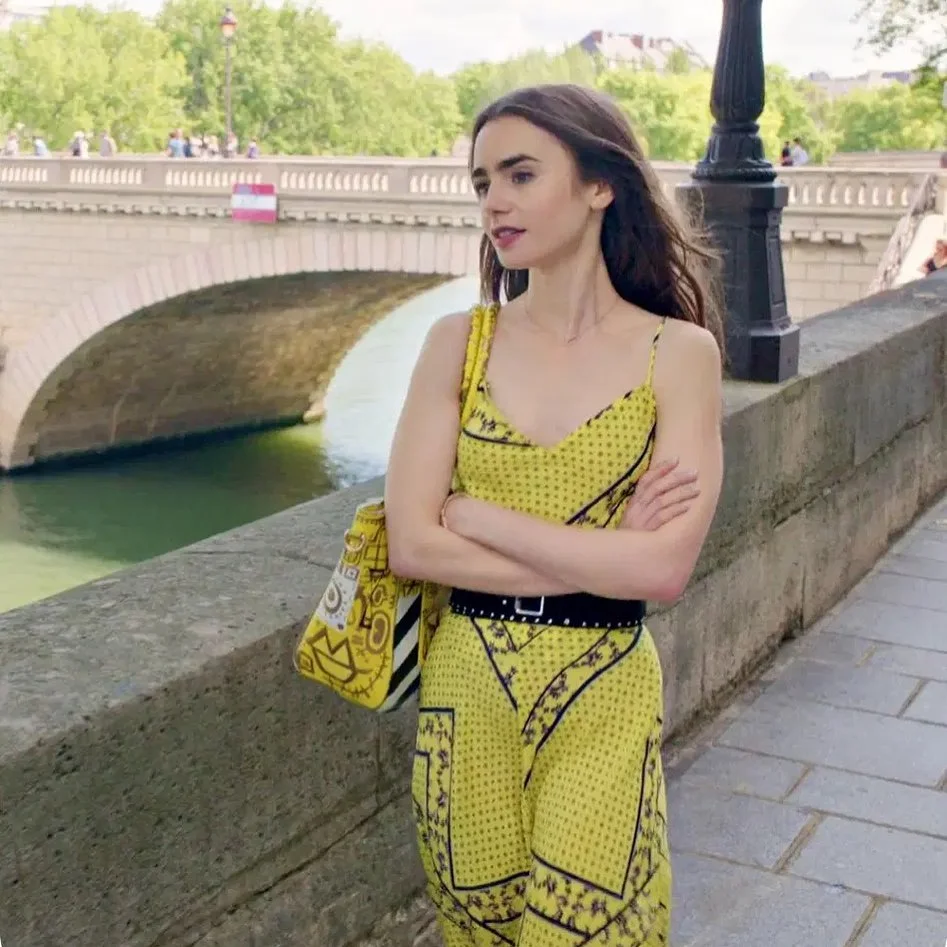 When Emily first meets Mindy in the park where she is watching the kids she nannies, she is dressed in this black and yellow cami and skirt, which is one of the most sought-after looks in the entire TV series.
Chic White Summer Dress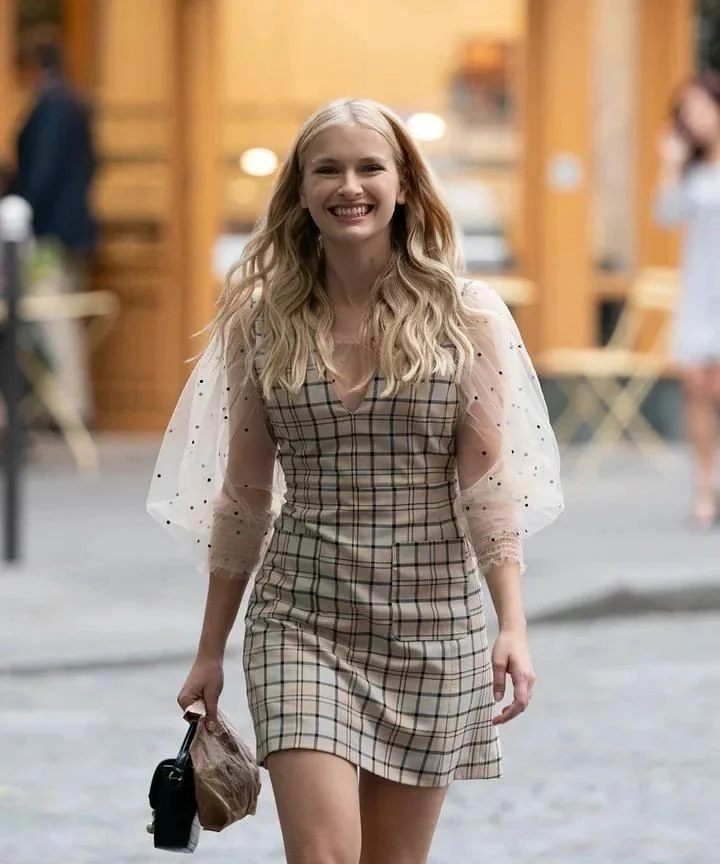 French women are better at it. Take it from Camille, the fashion queen of the show wearing this simple yet gorgeous white dress. Camille is known for rocking the neutral palette, unlike her friend Emily.
Classy Skirt Suit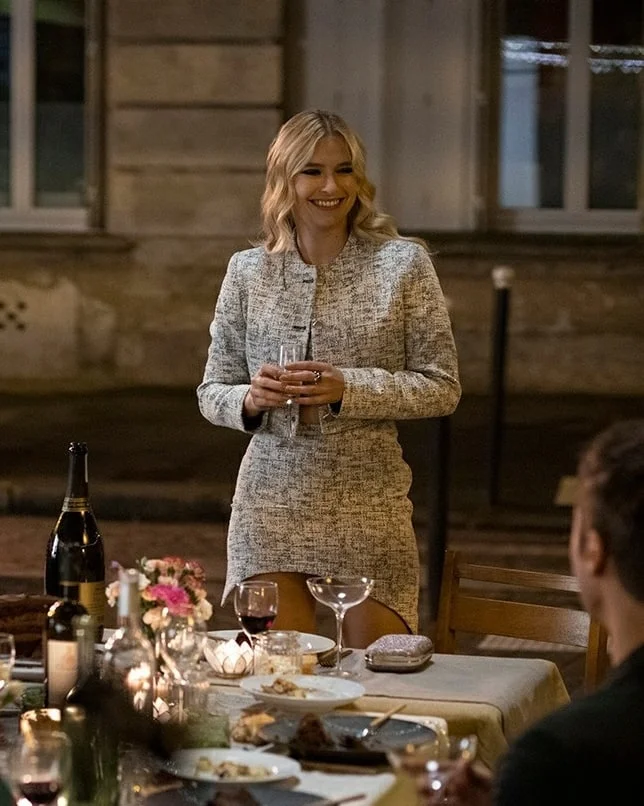 This royalty-like outfit is perfect for formal occasions, like for example, a french birthday party! It emphasizes the silhouette, since the top is cropped, and the skirt is moon-like cut at the front, elongating the legs.
French Sweater Crop Top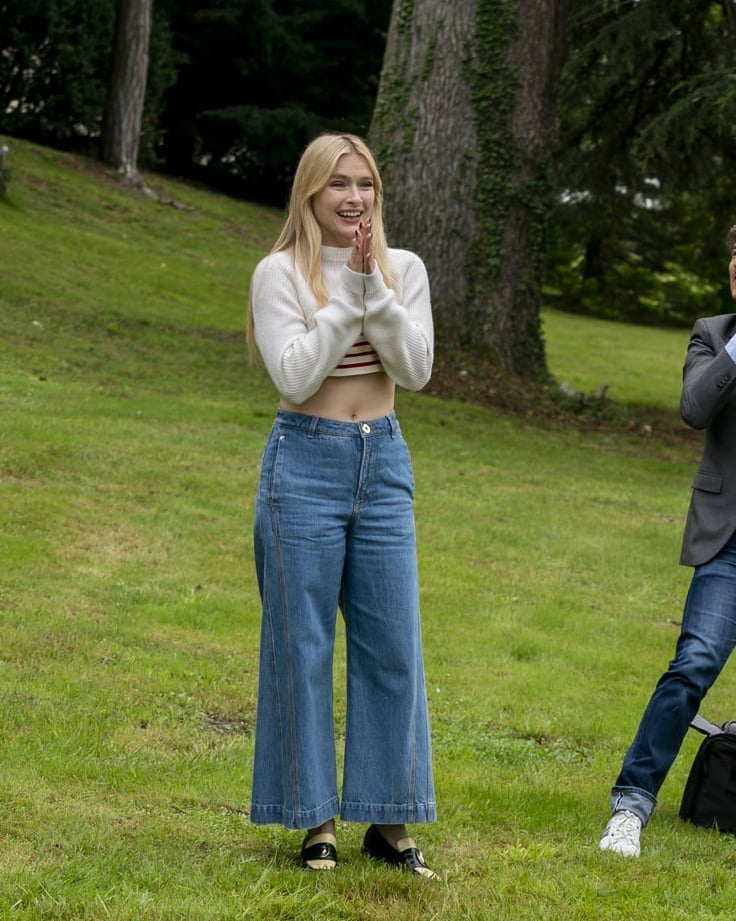 Camille is also known for her so casual but so cool Parisian outfits, like this one. We have wide-leg jeans, a stripped white-red shirt, and a bolero sweater. This is an example of how to make something so simple, and look very fashionable.
The Ultimate French Casual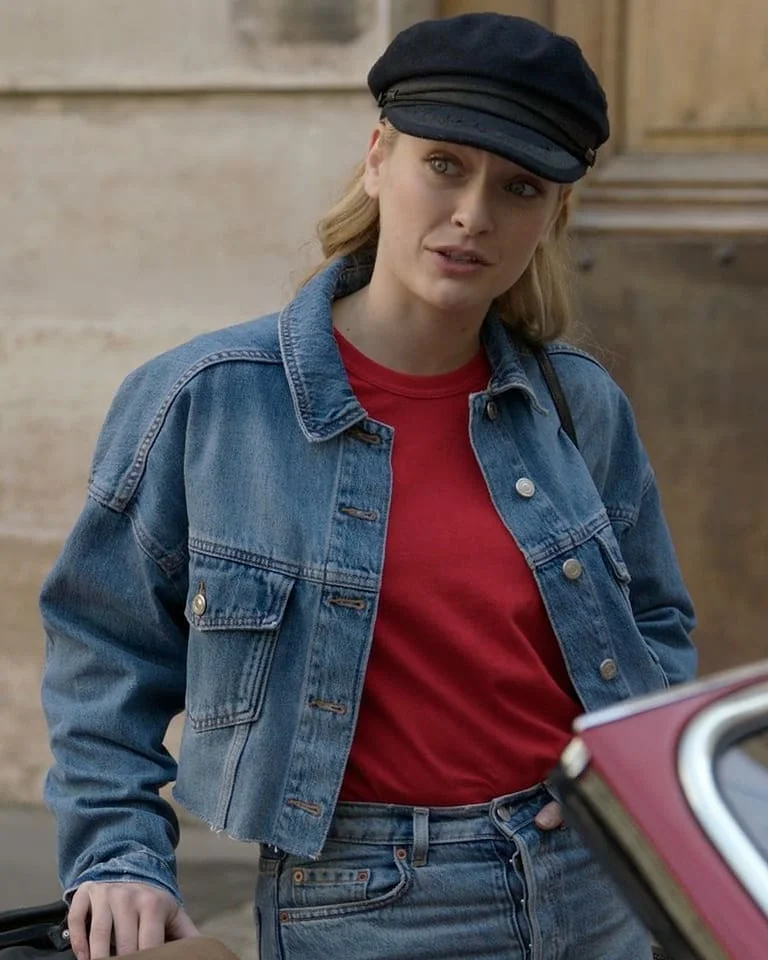 A very old-school Masculin-feminine Parisian style that you'll fall in love with. This is an all-denim outfit with a red T-shirt, which again shows the simplicity of Camille's outfits, yet they look so cool.
Casual French-American Mash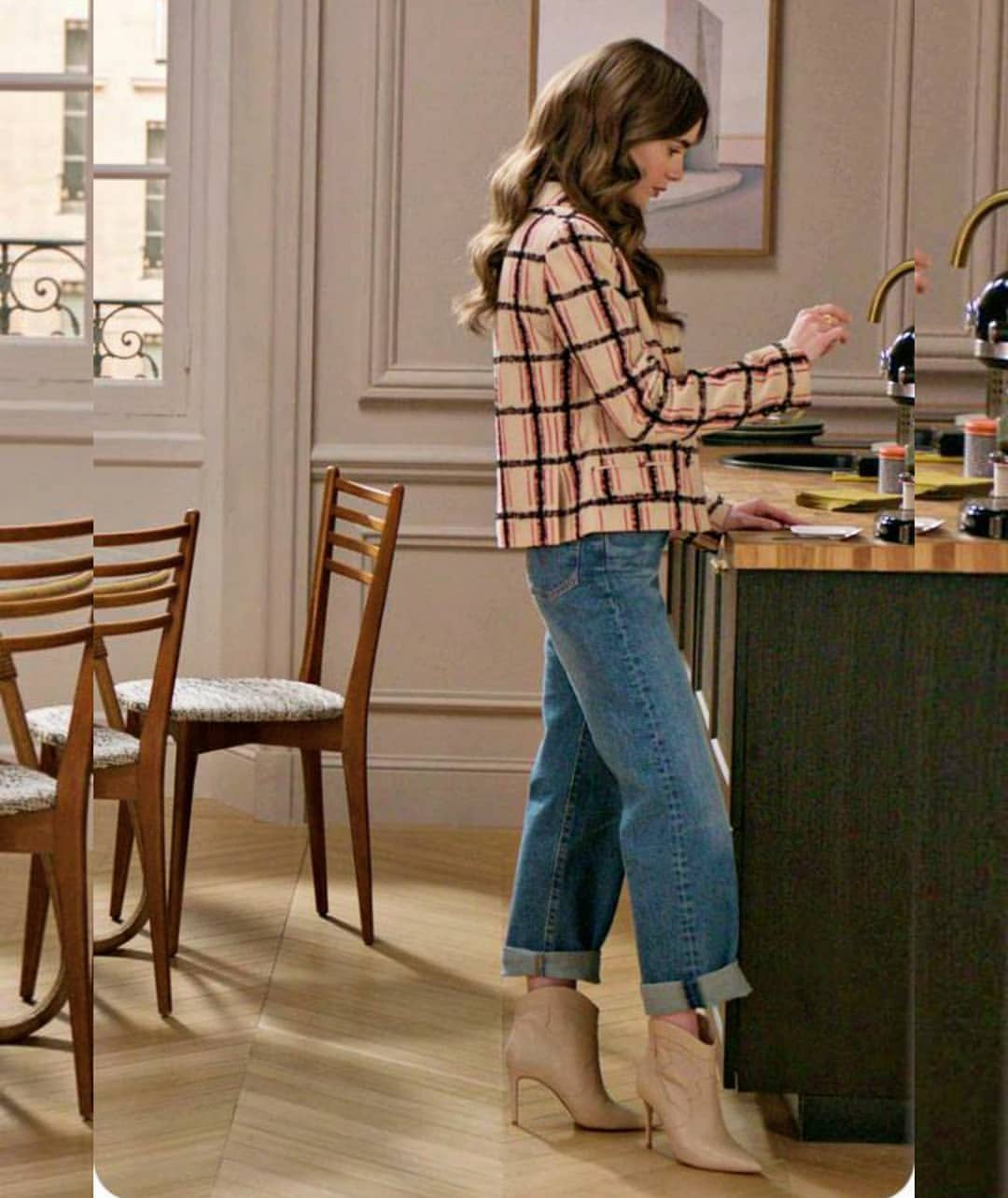 This is probably Emily's one and only work-casual outfit that blends the American style (the pleated oversized shirt) and French-style (the classic, but modern classic wide-leg jeans and the heeled boots).
Chic Floral Dress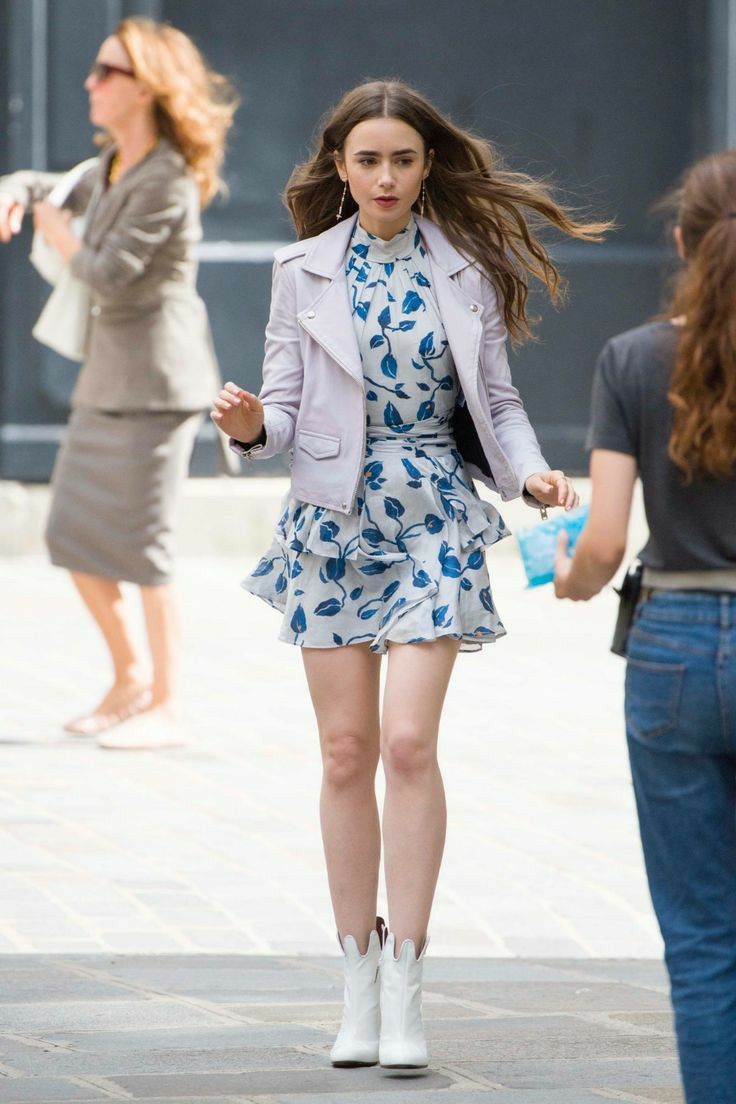 Such a cool Emily outfit consisted of a pastel purple leather jacket, a mini floral dress, and white ankle boots. This outfit is not as staggering as the other ones and is definitely very cute.
The Hearts Dress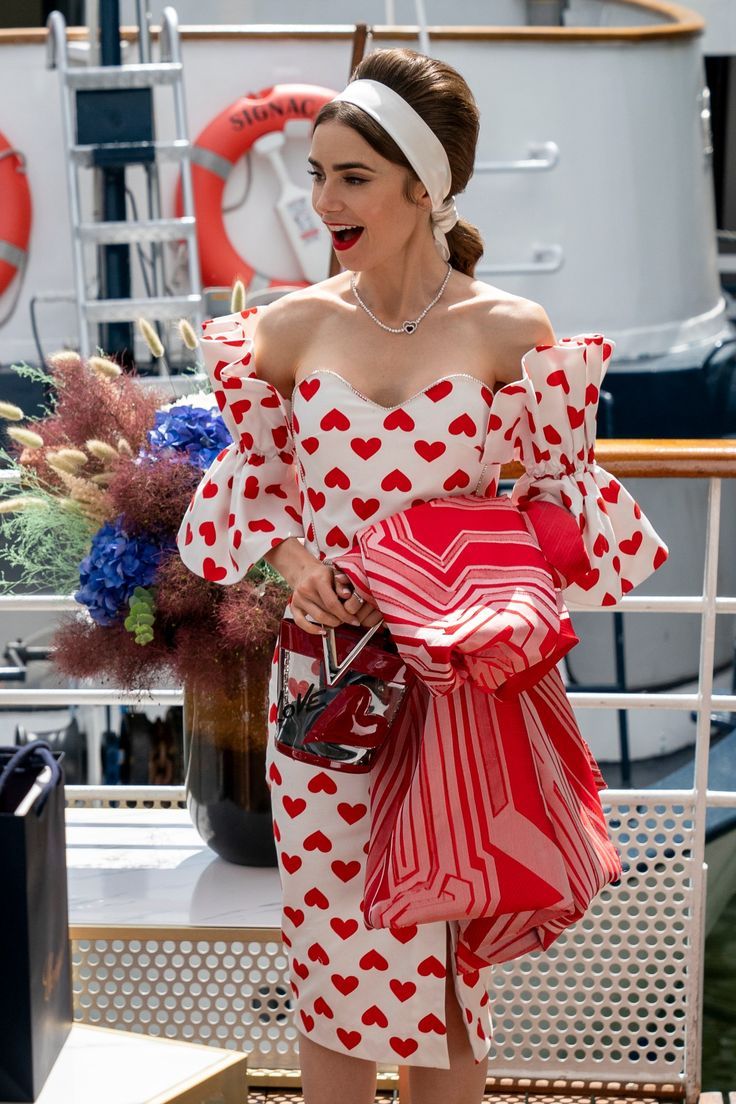 The heart print that Lily Collins wore could not go unnoticed during the broadcast of the new episodes, and Emily in a white midi dress, corset neckline, added puff sleeves and a print of bright red hearts resulted in a real fashion frenzy. The outfit is further enhanced with Emily's red lipstick, heart necklace, and vintage headband. Tres Bien!
Color-Blocked Summer Outfit

Mindy's style is as eclectic as Emily's. You can see this from this fancy vacation outfit. She wears a color-block combination of lilac shorts and a yellow top, combining it with a classy hat.
The Classy Sylvie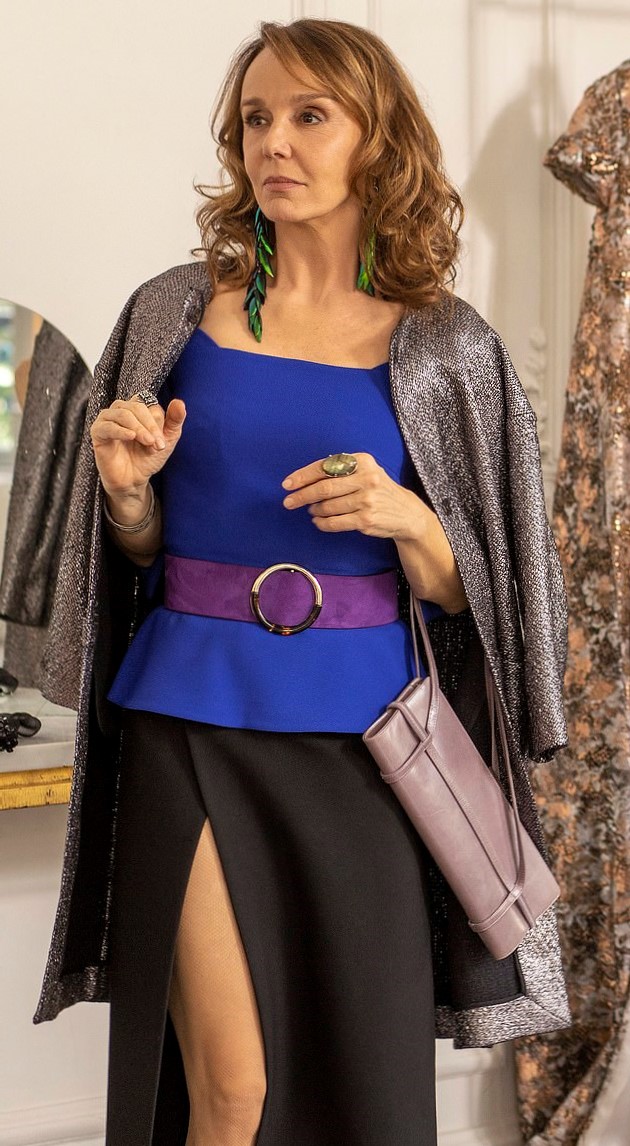 And we should finish off with the classy queen Sylvie. She is the epitome of classy Parisian fashion. Every one of her outfits is perfectly combined. This is our favorite one, Sylvie's blue top with a side slit skirt and the beautiful peacock earrings.
From so many versatile fashion outfits from the "Emily in Paris" TV series, we've picked our favorite ones. We hope you've been inspired to bring some bold, eclectic Parisian style into your wardrobe. Until then, we will see what crazy and trendy outfits the next season of the TV series will bring us. Don't forget to share your favorite "Emily in Paris" outfits in the comments.
Au revoir!