Unlike most alternative fashions, like punk, grudge, or lolita, steampunk is not a fashion style you'll encounter on a regular day while walking down the street… Unless there happens to be a sort of convention or gathering for steampunk followers. So what is steampunk?
Emerging from the literary works of the steampunk subgenre in the 1980s and 1990s literature steampunk fashion is aesthetic drawing inspiration from the industrialism of the slight unique modification of unique modifications. In this retro-futuristic setting, the world's technological advances are powered by steam and have a myriad of retro and futuristic devices, emphasizing the use of clockwork gears. This is reflected in the fashion, for while the baseline is heavily influenced by various Victorian-era clothing, the modifications are what make this style unique.
The most prominent features in the steampunk style are the dark earthy and metallic colored clothes, leather straps, corsets, burlesque dresses, garibaldi blouses, high boots, cylinder, and bowler hats, all adorned with cogs, gears, keys, chains, pocket watches, hats, aviator goggles, and so on.
There have been many developments in the steampunk culture, mainly influenced by its evolution in literature, movies, and video games, making the steampunk fashion much more diverse and with its own fashion subgenres with explosive popularity in the past decade. Let's look at some classic and gorgeous examples of the steampunk female aesthetic.
Corset and Mullet Skirt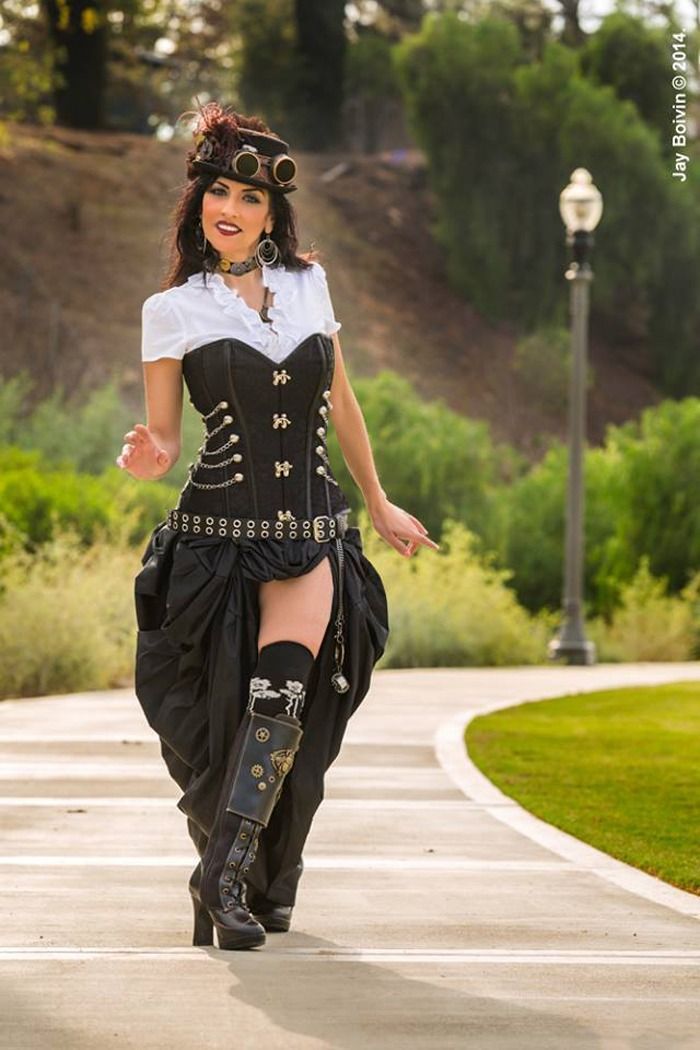 This is one of the most common steampunk looks you'll find. A long high-low Victorian skirt. showing off knee-high leather boots, and a corset atop a blouse. In the real Victorian era, corsets were considered undergarments for the high-class ladies, but in the steampunk version, they're considered a staple of regular attire.
Metallic Clothing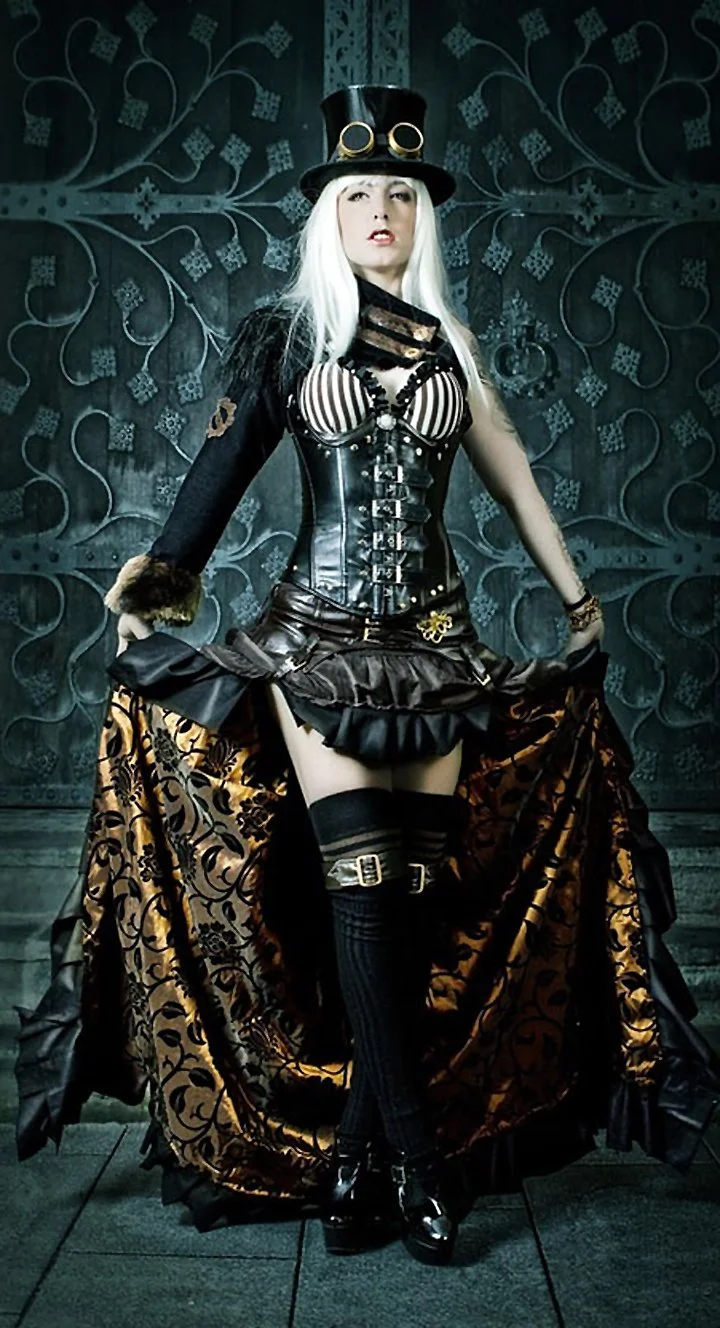 The color pallet of steampunk is usually black, brown, and beige with the occasional more bold reds and blues, with metallic accents nearly always added to the look. Most of the time they are in the form of accessories and gadgets, but sometimes the clothing itself sports some lovely metallic designs in brass, copper, and bronze, like this floral patterned dress lining.
Tomboyish Look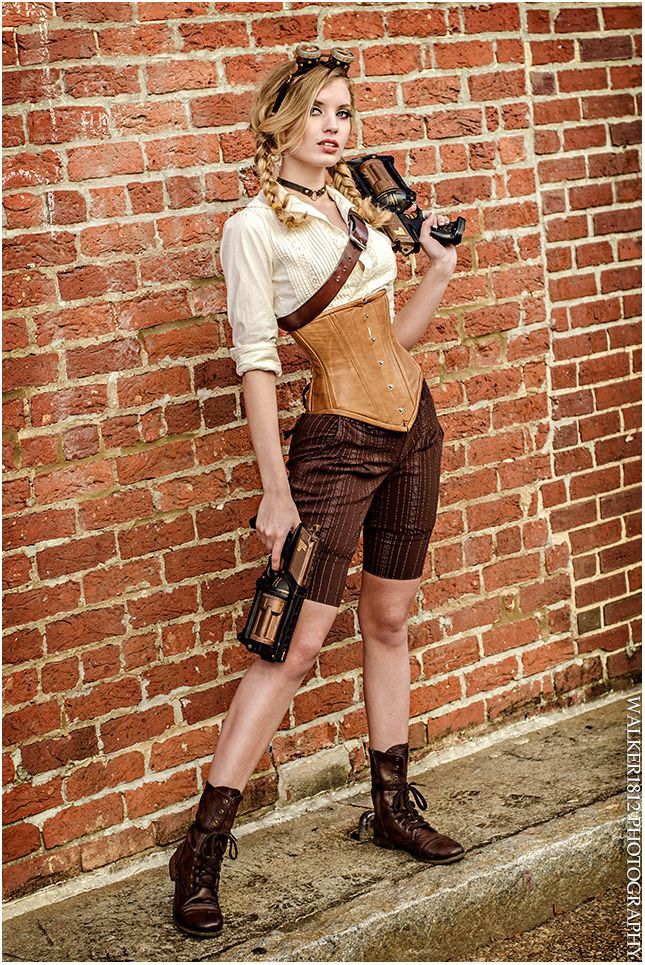 While in real Victorian times, women were not allowed to wear pants or male attire, in the steampunk version, women can wear what they want. Here you have a combo of boyish shorts with ankle leather boots, a leather half-corset, and a blouse, worn by a gun-wielding, google wearing steampunk lady.
Tastefully Sexy
Steampunk lingerie isn't a common choice, since there's still that Victorian sense of modesty present. But this one is tastefully sexy, with a navy blue long-sleeved mesh blouse, garters, and soft knee-high boots, topped with a lot of leather straps, gun holsters, and a pouch bag.
Steampunk Vampire Hunter
As mentioned before, steampunk has made its way into different similar styles, creating a beautiful mix of styles. Here we have a beautiful vampire hunter, with a corseted jacket, blood-red skirt showing off fishnet stockings, and a cylinder hat with the mandatory goggles.
Coursetless Look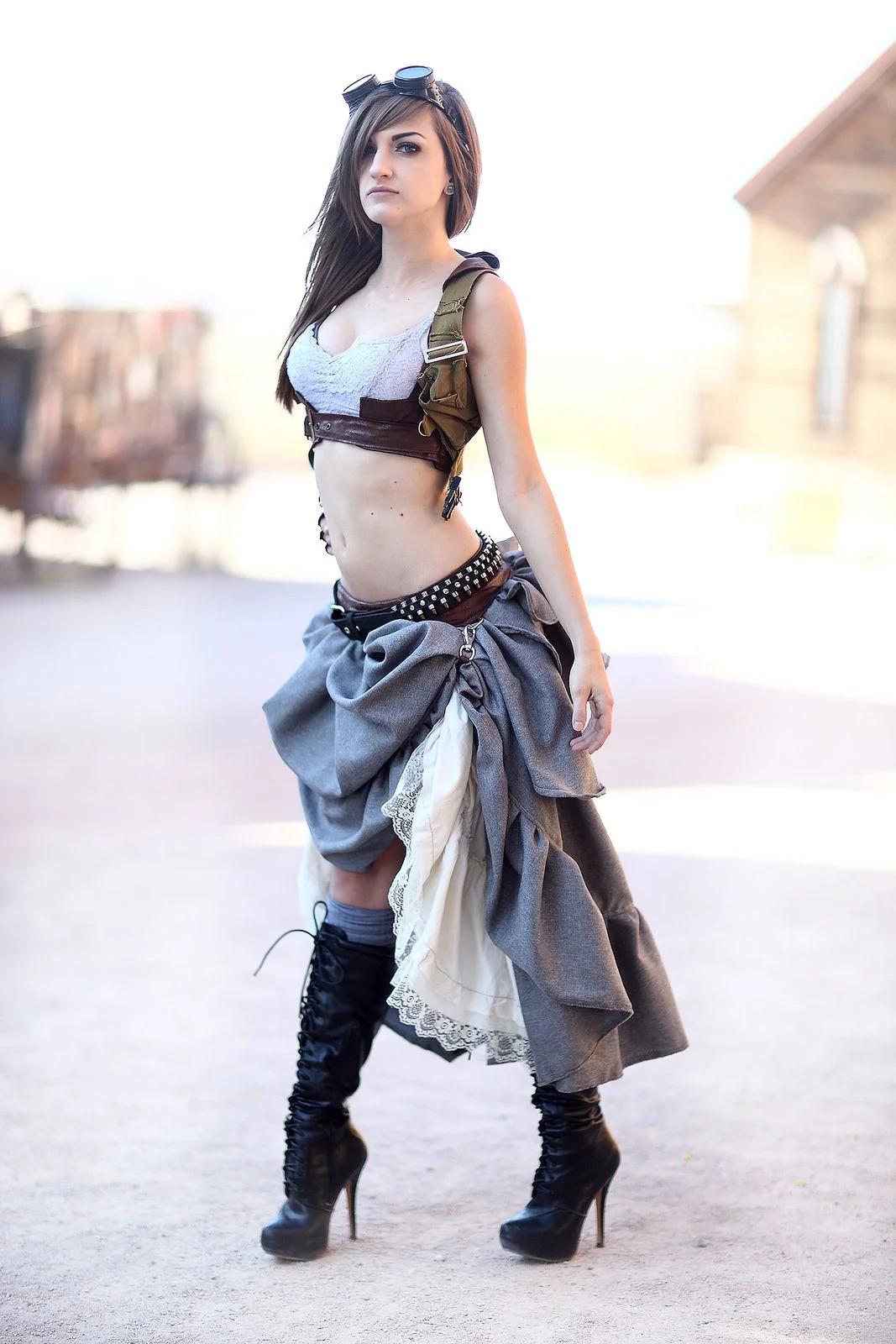 While corsets are a staple of the steampunk look, they do need some adjusting time, if you're now to the style. Luckily, there are a few options to choose from like a softer corset, or no corset at all. A sexy look with shoulder straps and the scooped-up skirt showing off those high boots.
Steampunk Faries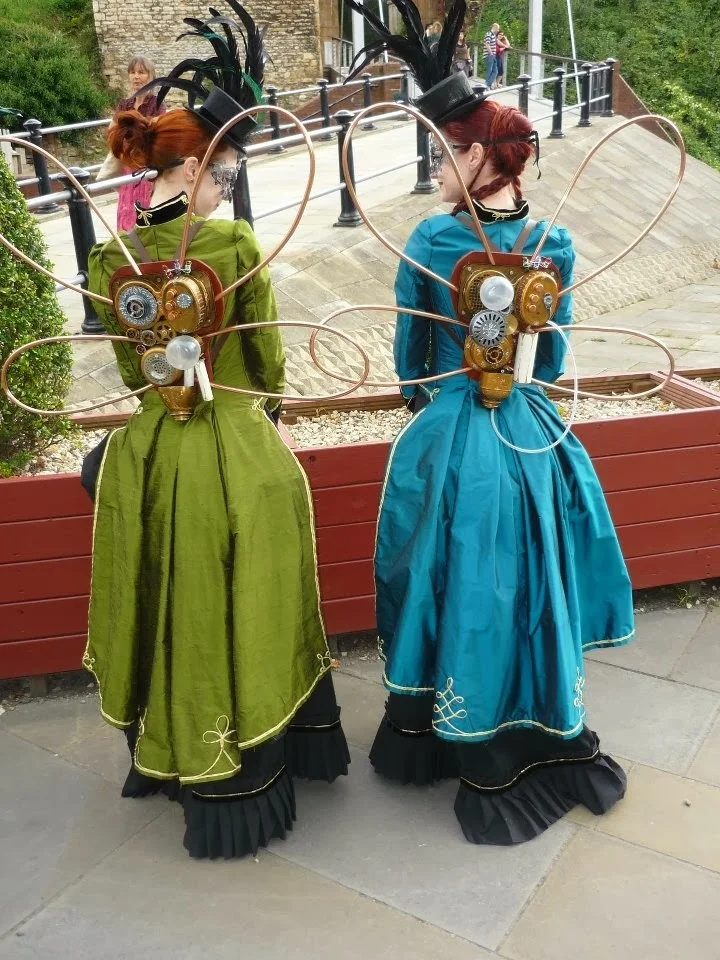 The fairies and fairy godmothers have been around for ages, and it is no wonder that they became an inspiration for many fashion styles and costume ideas. Steampunk is no different. Here is what a steampunk fairy godmother might look like. And the dream of flight is a recurring theme in the steampunk culture, so adding wings or other flight mechanisms to the attire is more common than you might think.
Leather Cage Dress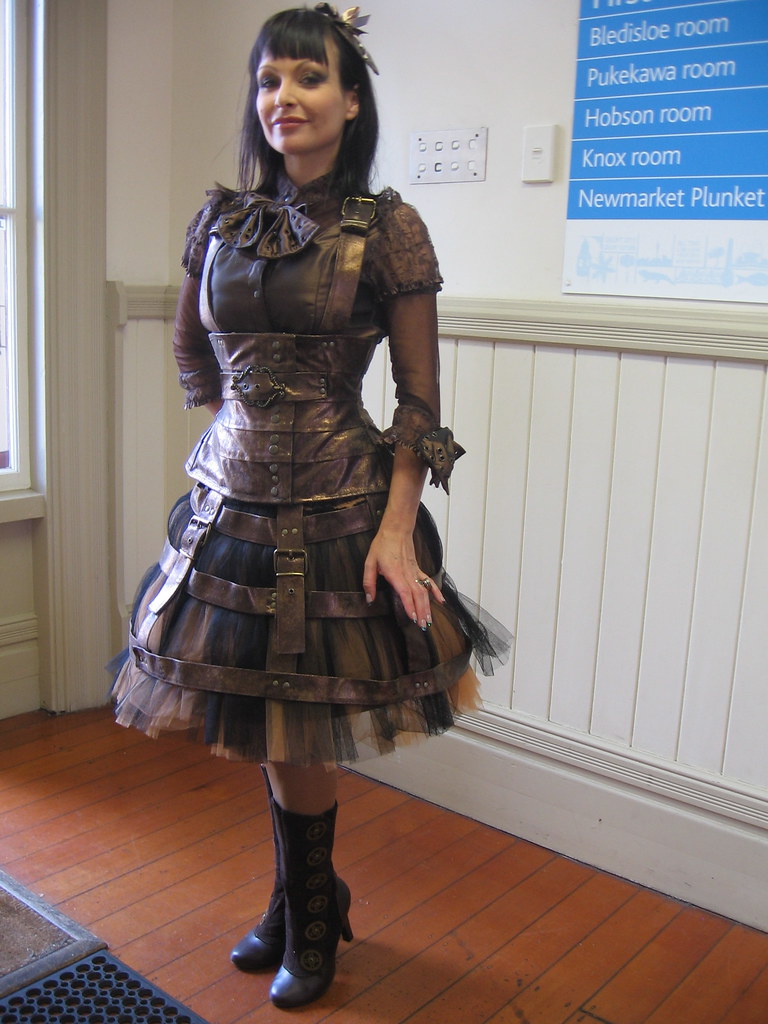 Hoop dresses were huge in Victorian time, literally and figuratively. The beauty standard for the upper class at that time was the bigger the skirt the better, and the crinoline cage worn beneath the skirt was all the rage. In the steampunk version, the crinoline cage takes on another life, worn exposed, completely or partially, and sometimes made from leather belts, like this gorgeous though-as-leather leather dress.
Classy Casual Steampunk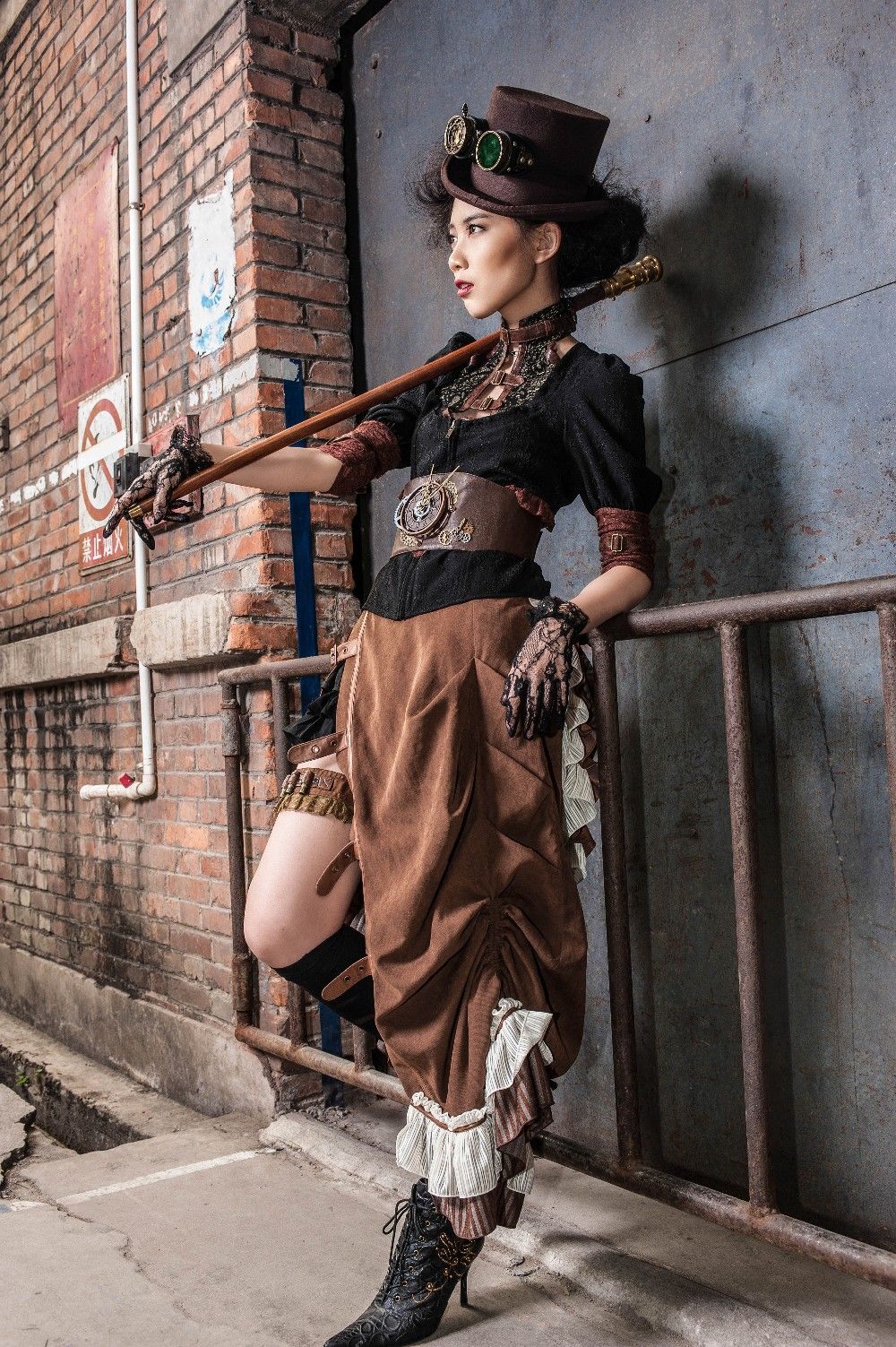 Let's go for a more classy casual look: a solid maxi skirt with lace ruffle hem and a slit high with straps along it, a wide belt with clockwork elements on it, with a collar adorned with strap and lace. A hat, cane, and lacy gloves to accessorize the look.
Steampunk Explorer/Adventurer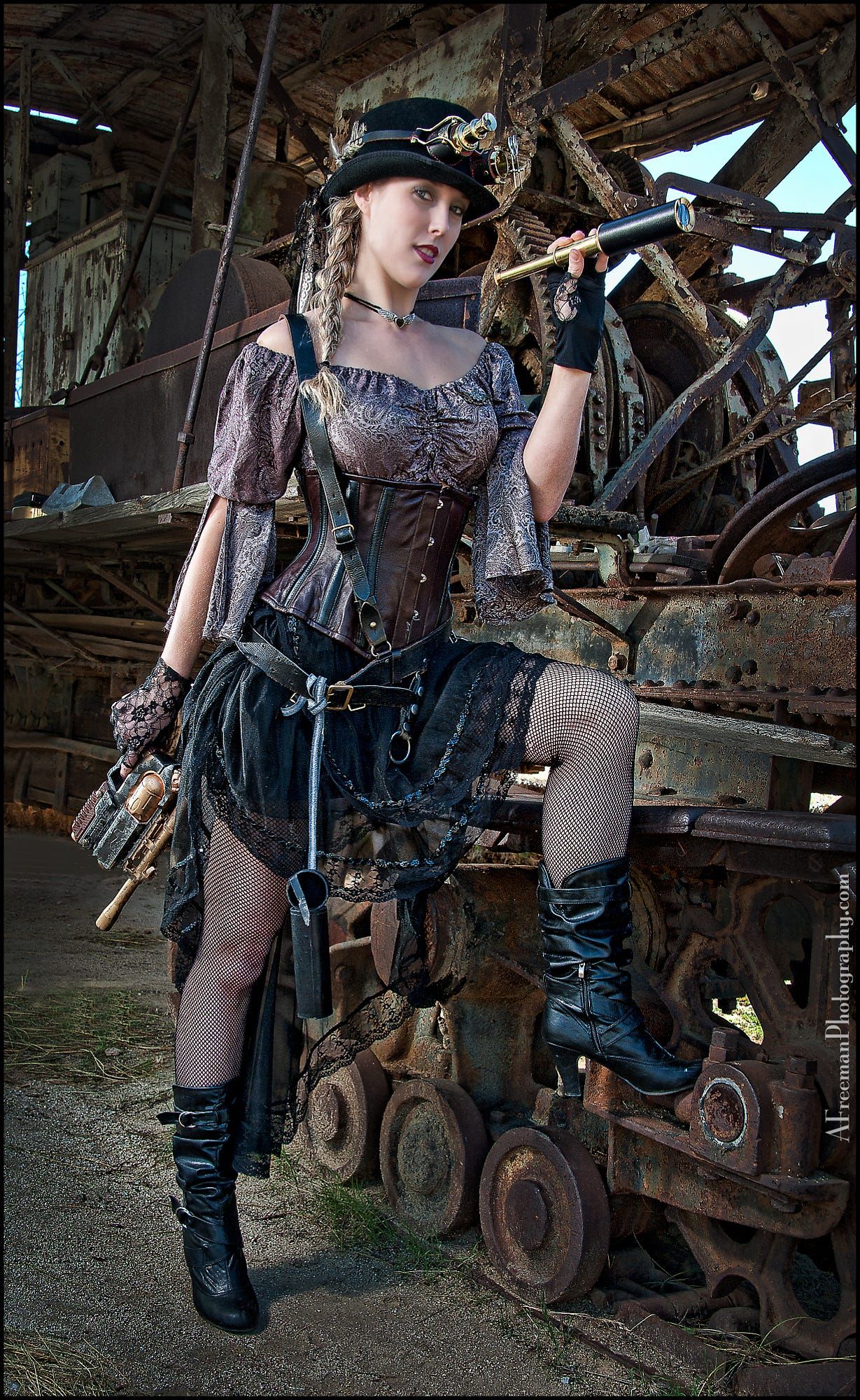 Traveling and exploring the world is a common theme in the adventurous side of steampunk. After all, the greatest world expeditions happened around the 18th and 19th centuries. This classy adventurer has her trusted telescope to spot danger and pistol to deal with it. A patterned gray shirt with a half-corset to blend in the background and a short lacy skirt for more movement.
Safari Steampunk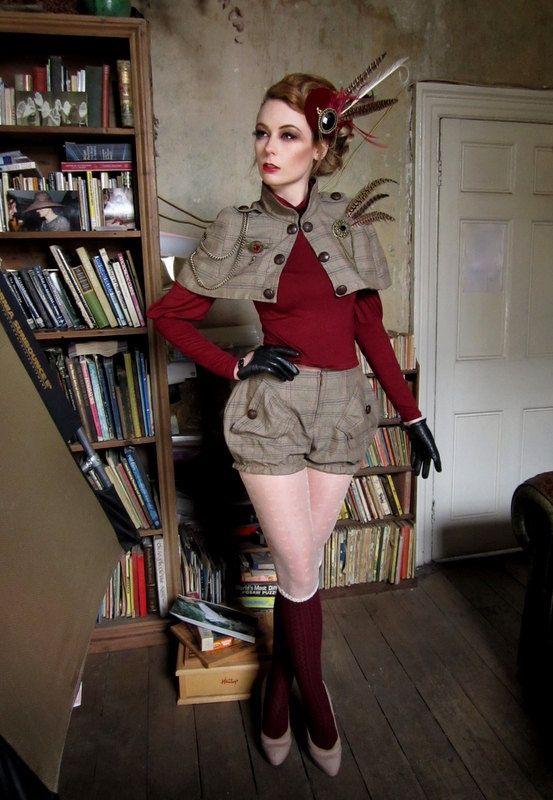 Steampunk attire doesn't always have to be leather and brass elements. Tweed shoulder cloak and matching bubble pants, with a red blouse, might not sound very steampunk or safari, yet with added accessories like small chains and broaches with bird feathers, it does manage to exude that subtle steampunk vibe.
Mechanical Hands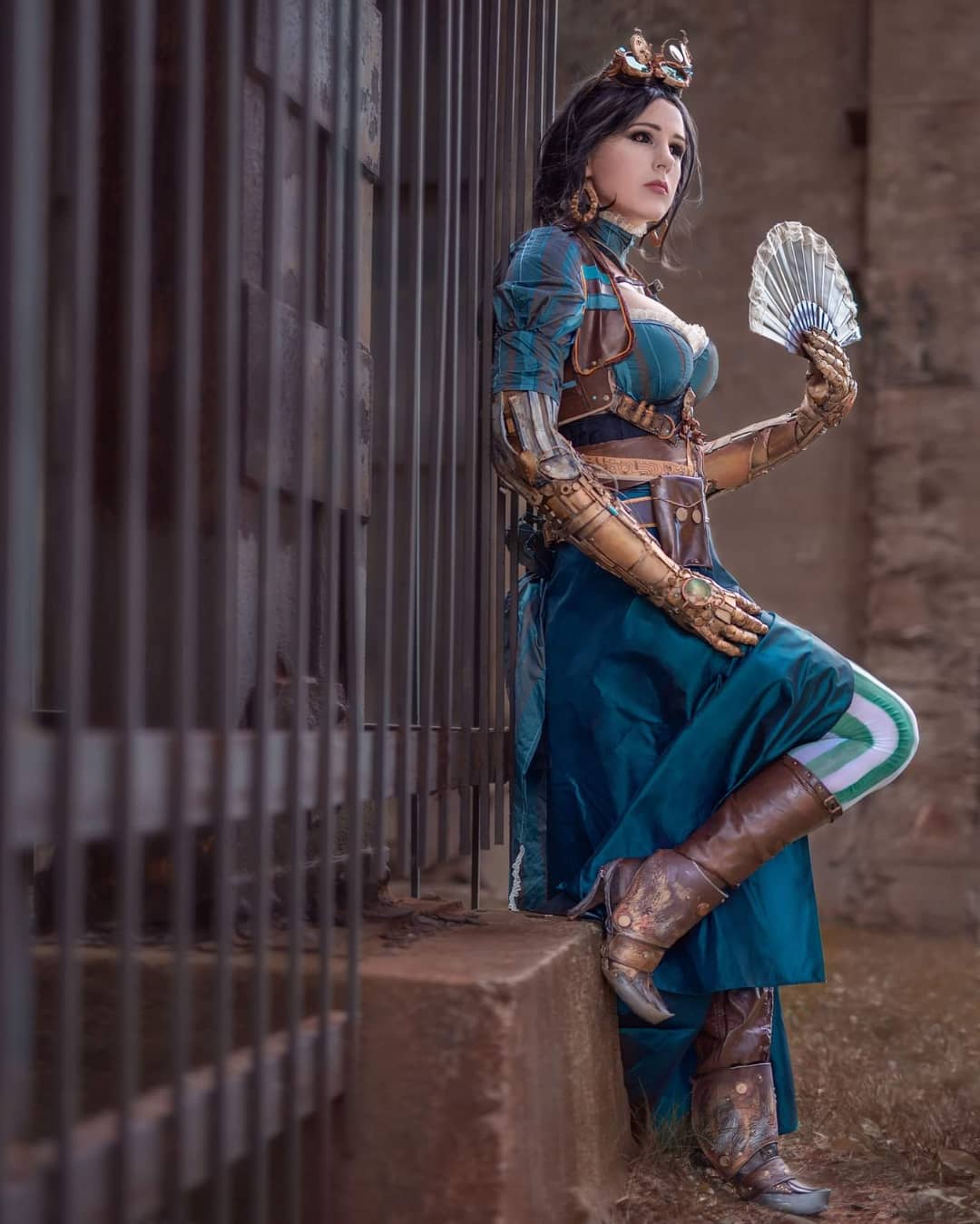 Different mechanical brass gadgets are a common theme in steampunk fashion, even fake appendages or modifications. The more hardcore steampunk members might create a lifelike prop from real brass and metal parts, but you can also find gloves with metal patterns. Combine them with a blue era-appropriate dress, corset, and some leather and you're good to go.
White Steampunk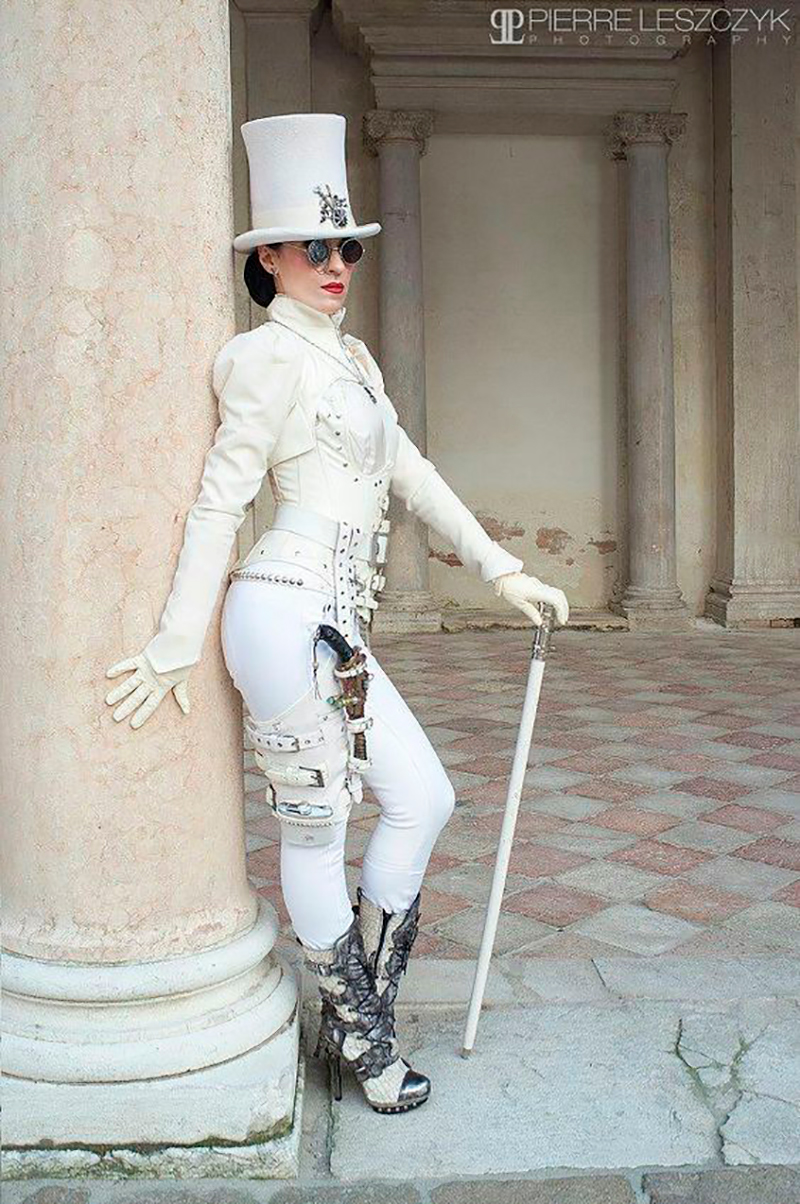 This is a rare sight in steampunk fashion, yet it's executed beautifully. A full white suit with tight leggings, thigh straps, gun holsters, corset, and cropped bolero jacket with few other details, makes this a truly unique steampunk suit.
Steampunk Pirate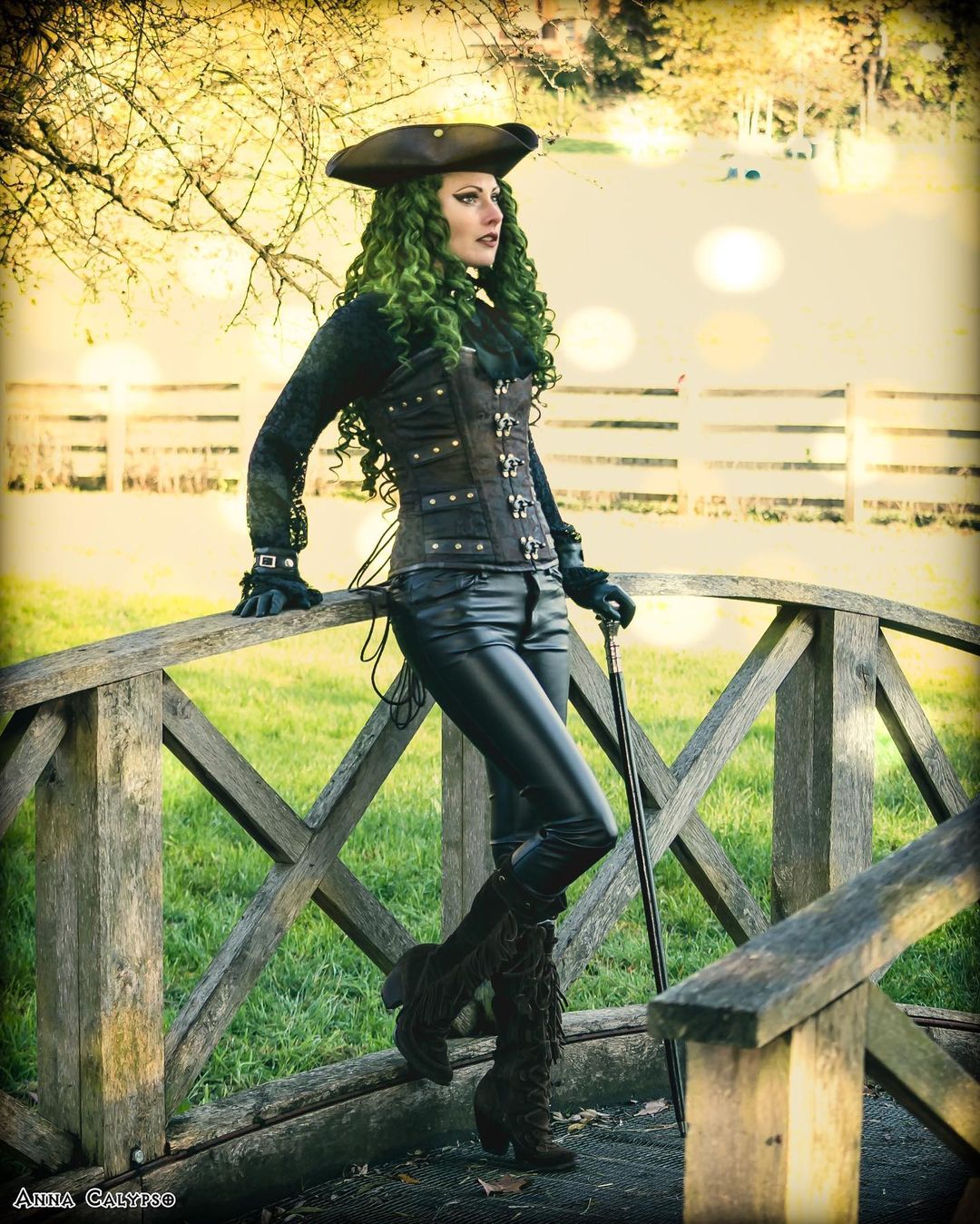 Pirates are one more romanticized culture from around the Victorian era, and the style easily fits into the steampunk ganre as well. This steampunk pirate might not have many chains and brass, but it has cool leather pants, a tight corset, and the frilly black shirt sure fits in with the theme.
Gentlewoman Steampunk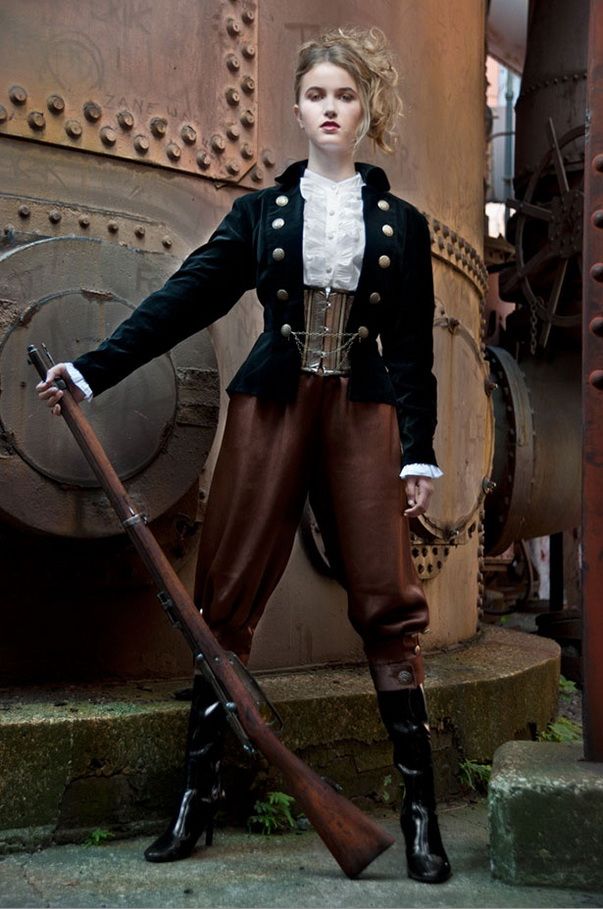 As mentioned before, you can expand your steampunk attire to more masculine outfits if you're not really into dresses. But the corset stays a must, unfortunately. To get this look go with a pair of brown victorian cargo trousers tucked into lacquered riding boots, a corset instead of suspenders, a white frilly shirt, and a black short frock coat with large buttons and some chains.
Village Steampunk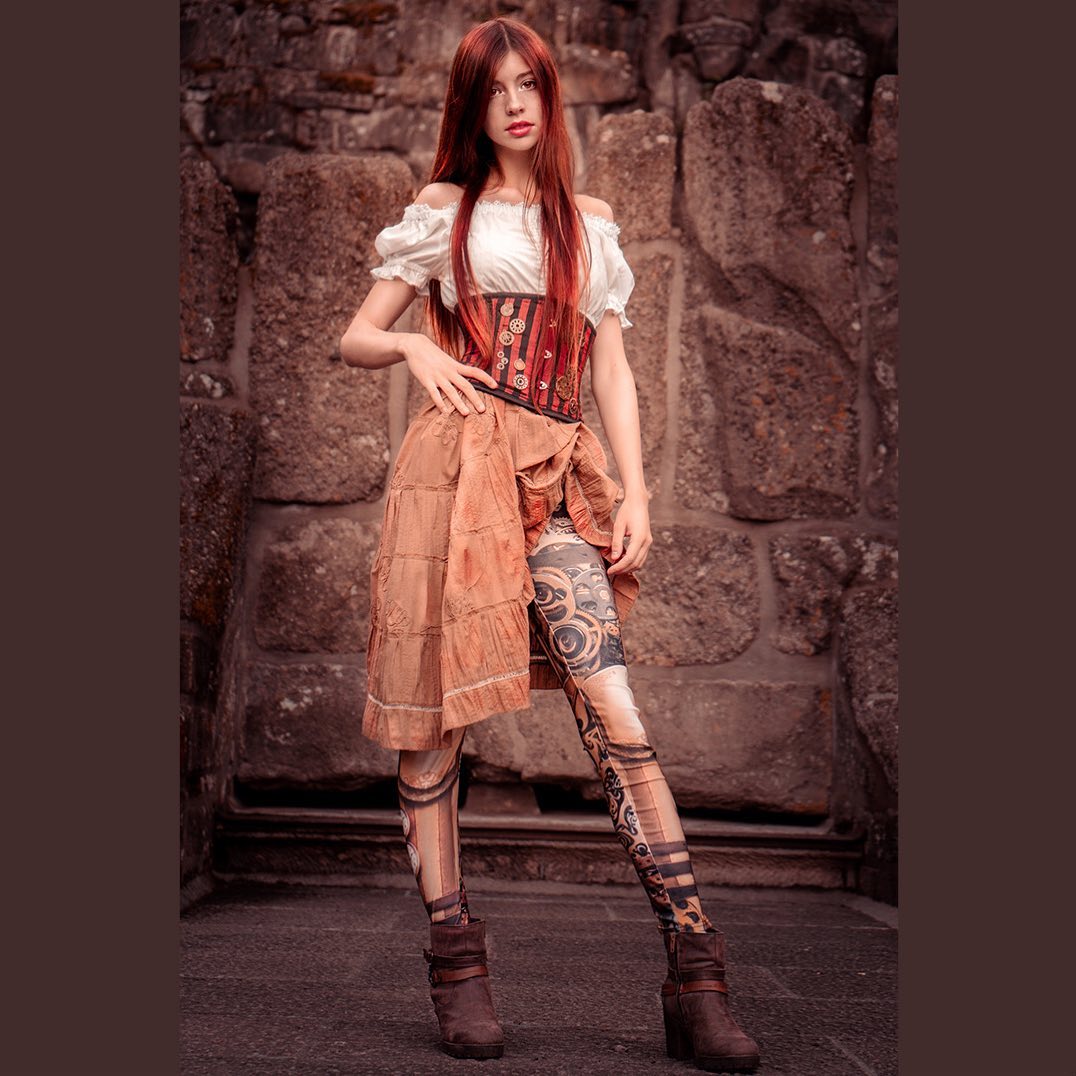 Steampunk reflects the fashion of all walks of life in the Victorian era, even the lower classes. This village-girl outfit has that cropped midi skirt, showing off some brass mechanical legs, a small red corset for the waist and a loose blouse to top it off.
Full Green Skirt and Neck Bolero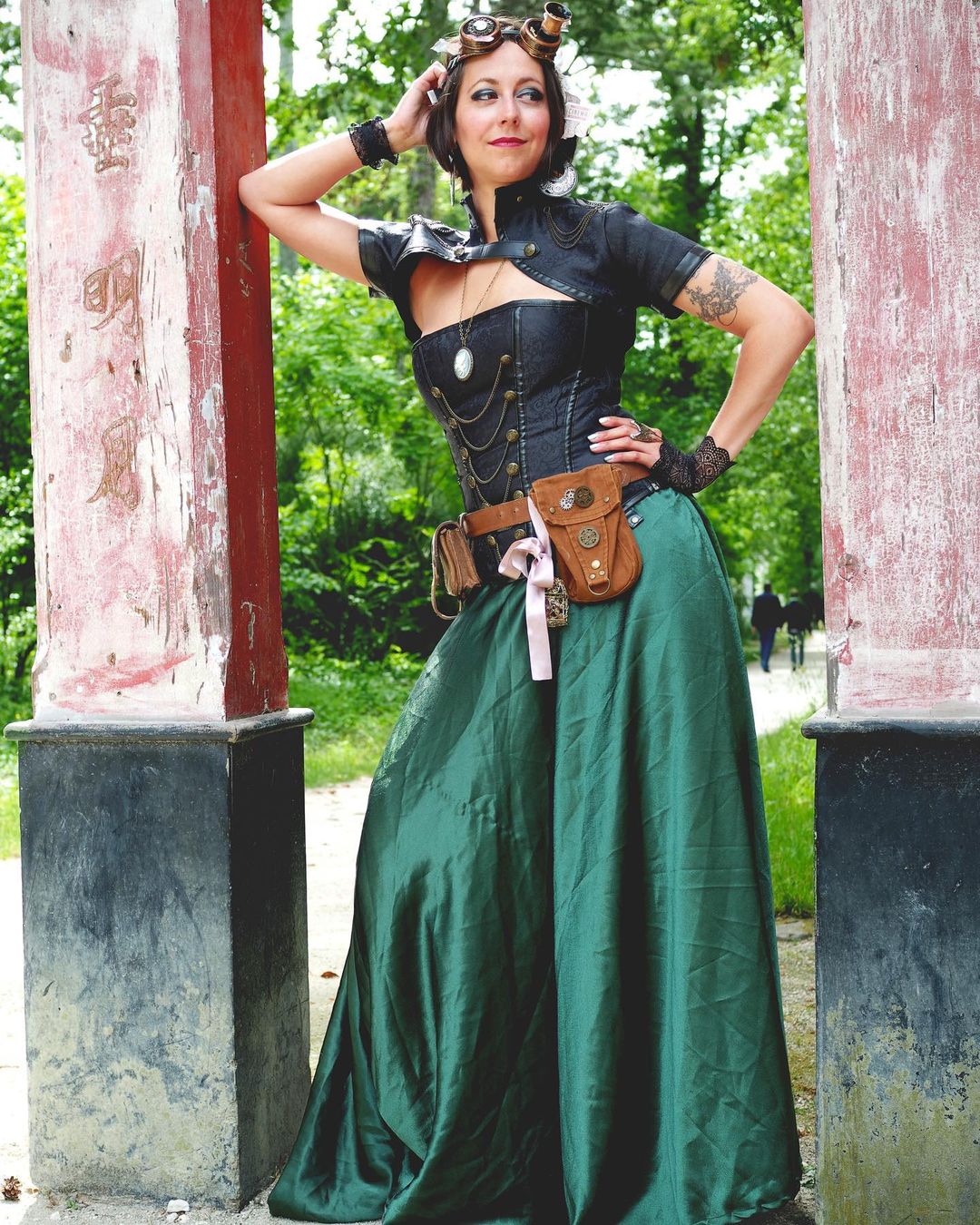 A full skirt without exposing your legs is just fine in steampunk fashion, as long as you add other key details. Here we have a long green silk skirt, with a lovely black leather corset with chains and instead of a shirt or blouse underneath, the modesty is preserved with some shoulder bolero tied at the collar with a leather strap. Don't forget the goggles.
Brown and Blue Clockwork Dress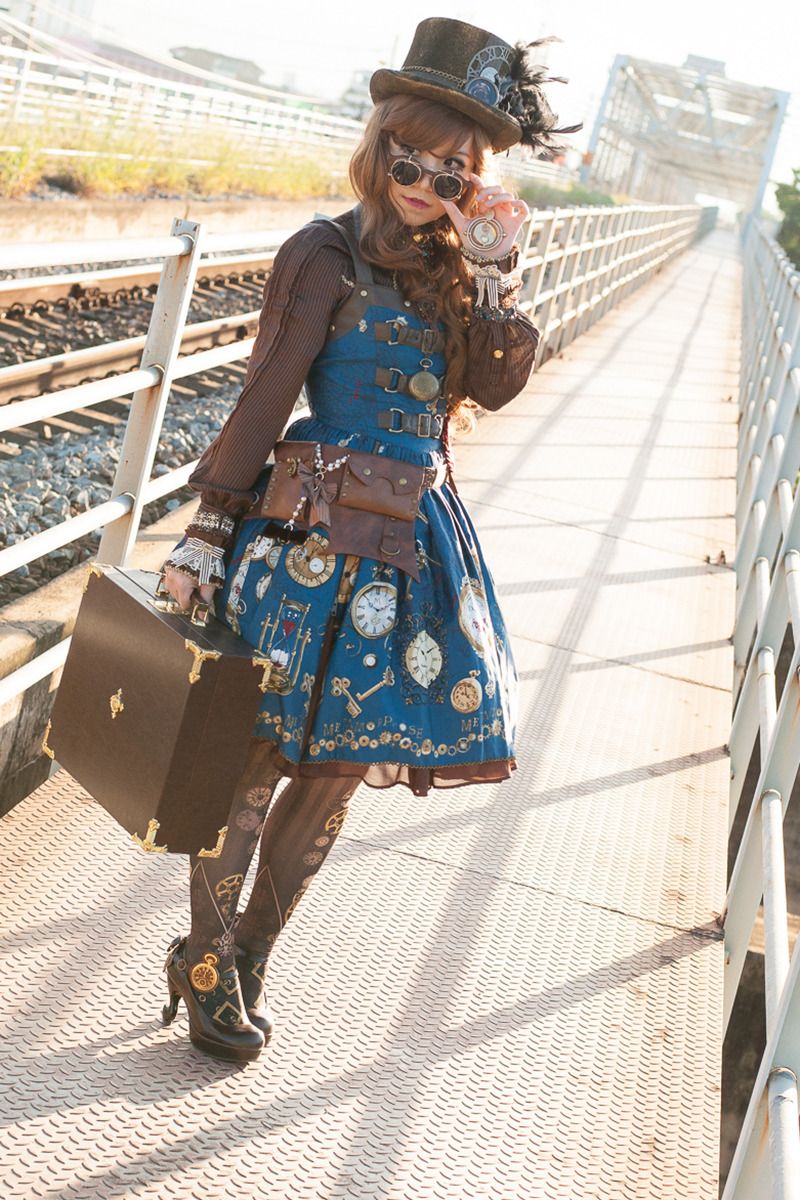 Gears, clockwork, and similar gadgets are an inseparable part of the steampunk style. This dress has a little something of everything. More of a lolita style for sure, it still projects that nostalgic steampunk vibe.
Winged Royal Steampunk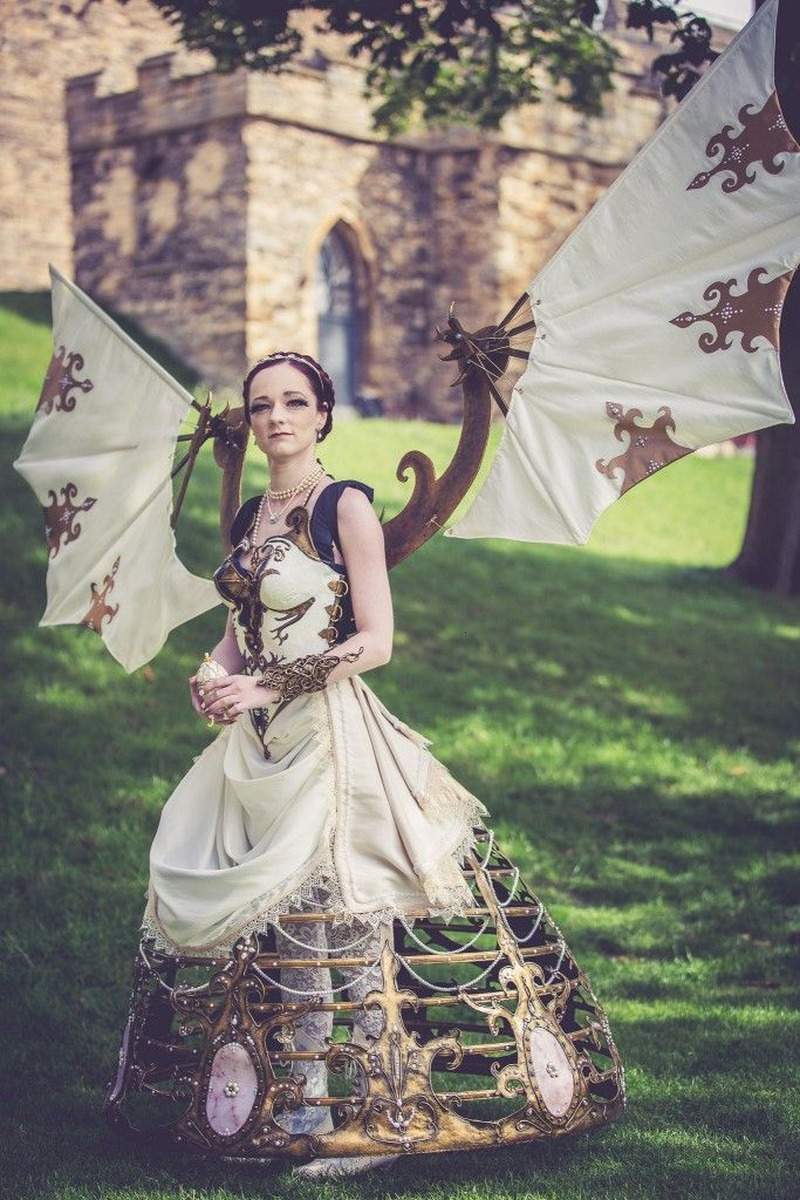 Royal Victorian attire is rare in steampunk fashion, going more for the fashion of the time from all the other classes. This gorgeous outfit worthy of a queen has that exposed full crinoline cage with metallic details along the bottom, and the wings are beyond awesome. We mentioned that the idea of singular flight is often depicted in steampunk, so these basic wings sure bring some wind under that notion.
Modern Victorian Steampunk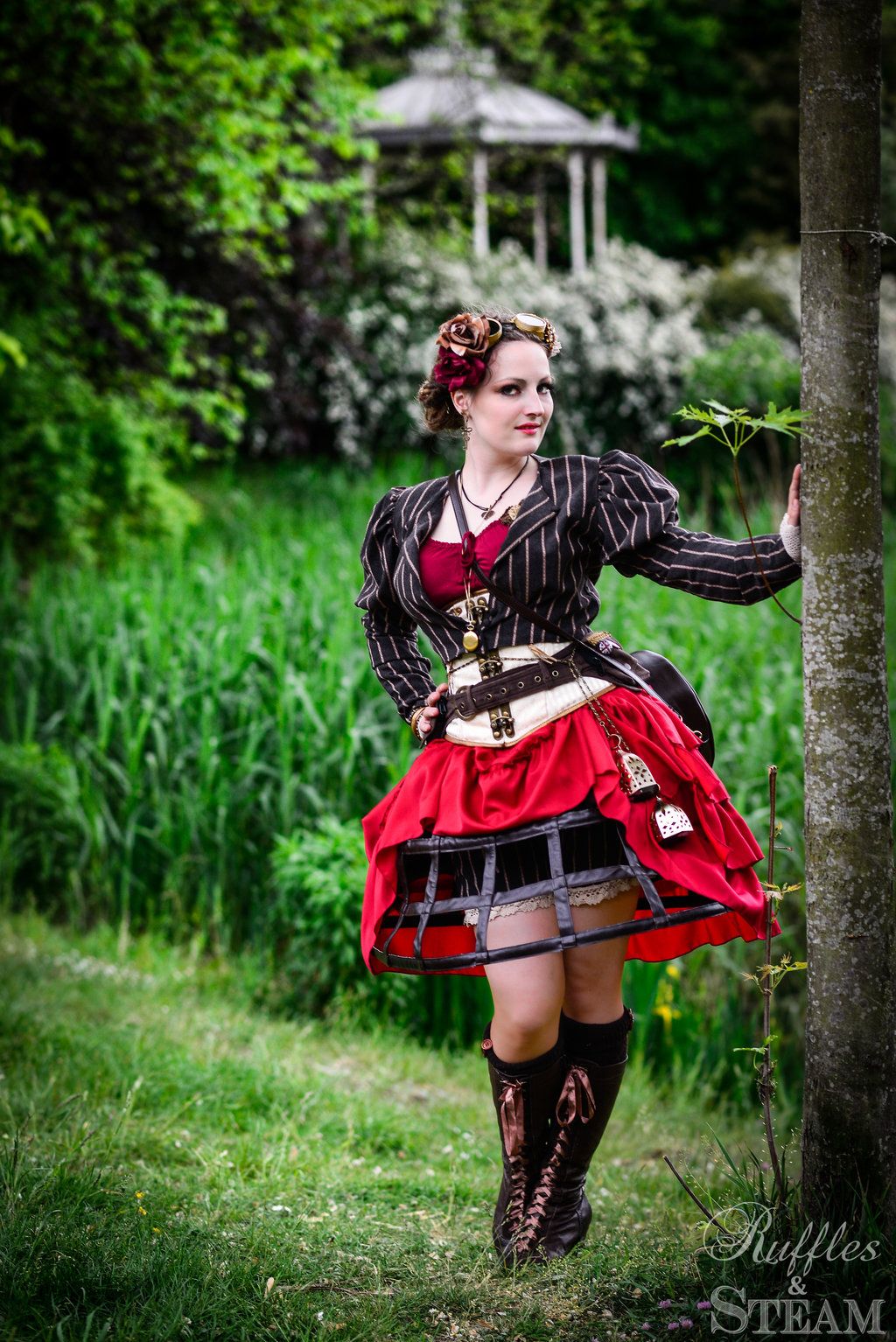 The cropped striped jacket over the half-corset goes beautifully with the mini victorian skirt exposing the crinoline cage underneath. Knee-high boots with silk ties complete the more modern victorian style.
Though Steampunk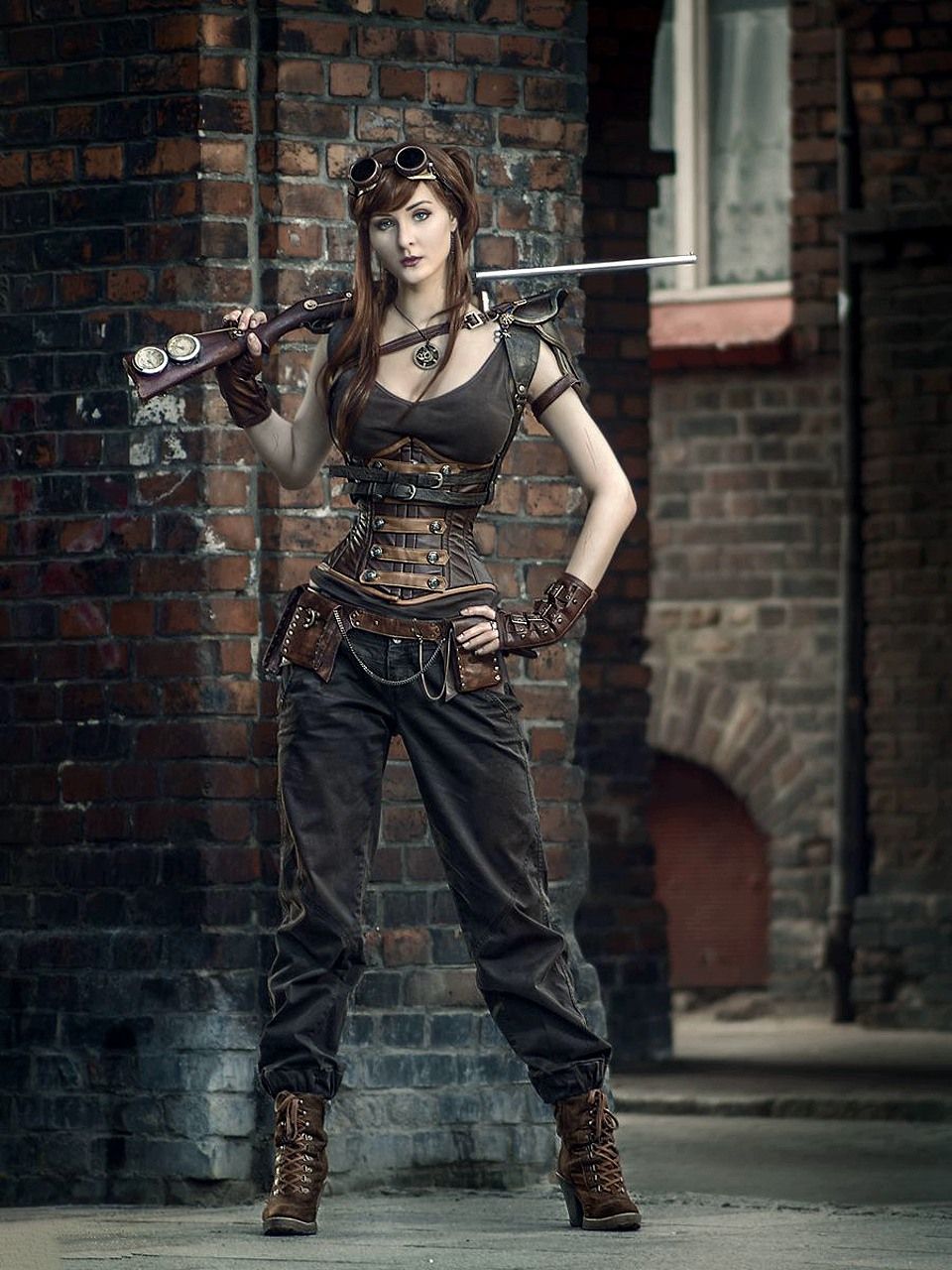 Finishing off with a warrior/worker steampunk outfit. Working classes in Victorian times often had to fend for themselves and they were tough as nails, and this outfit certainly reflects that. Wide trousers tucked in ankle boots, leather belt and pouches below a tough armored leader corset, sleeveless shirt, and the decked-up riffle show this steampunk lady means business.
The steampunk subculture continues to power on and gain more and more supporters as time passes. There is a certain romantic nostalgia of bygone times with a futuristic twist that appeals to many in modern times. So, do you approve of the steampunk style, and what would your chosen steampunk look entail? Share your thoughts and ideas in the comments below.