There's fun in wearing matching outfits for the whole family. And a special kind of bond is created. When you wear matching outfits, you think about your loved ones and feel closer. Going on a trip together, or playing together, or on some other occasion, wearing matching clothing is fun. At first, you might think that only odd people do this, but think again. This is a way family members show their feelings for one another and togetherness.
When the family does something together, matching outfits would be great. A matching attire is as effective in bonding as going on a trip, a weekend out, or some other activity for getting together. It is an imaginative way to get the family dressed up for particular events. It is part of the fun. Preparation for some event adds excitement to the whole experience. For example, when we see Star Wars, we all wear themed T-shirts: the boys' side of the family wears characters from the Dark Side, while the girls of Princess Lea or the Jedi girl. It also looks good on the pics of the event.
Many kids just love twinning. They like to look similar to their parents. Especially if you charge them the duty of coordination, you work on developing their natural leadership skills. Believe me, seeing a smaller version of yourself is fun. I guess you remember matching your parent or older siblings as a kid. Children love the bond and recognize they belong to a group. Their confidence grows with it.
A new trend started in South Korea of couples wearing matching outfits to show the world they belong to each other. They wear the same or co-ord clothing, called couple looks. Well, it's normal to coordinate when going out with your partner. This just brings your relationship to a higher level. Instead of asking your partner, what are you going to wear tonight, you ask, what are WE going to wear tonight. With matching, you get the feeling of togetherness typical for sports teams. Wearing the same uniform encourages unity in the army. Wearing the same dress makes players understand they're part of something bigger. It's the same with the family. The feeling of belonging is enhanced by wearing matching family outfits. Of course, you have to make happy all the family members. Matching should be a joint effort. Everyone has to be willing to do it. Enforcing would not work but would have the opposite effect.
In the States, not only partners or families but also friends are doing matching clothing. With the continuation of social connections around the globe, trends are moving borders faster. So, now, couples, families, and friends' groups show off their togetherness by matching clothes. It is also fun to share such pictures on social media. This is why we have selected 17 matching family outfits for you to get ideas.
Tropical Printed Swimsuits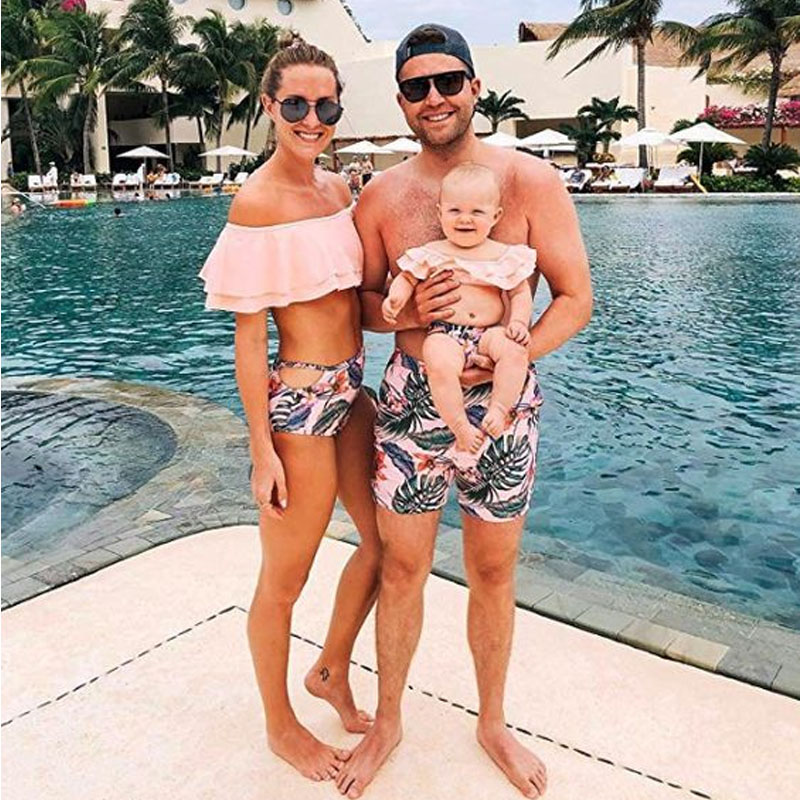 Tropical printed swimwear for the whole family, with a light pink ruffle top for Mummy and their daughter. Dad or brother can have matching swimming trunks.
Striped Tees And Skirts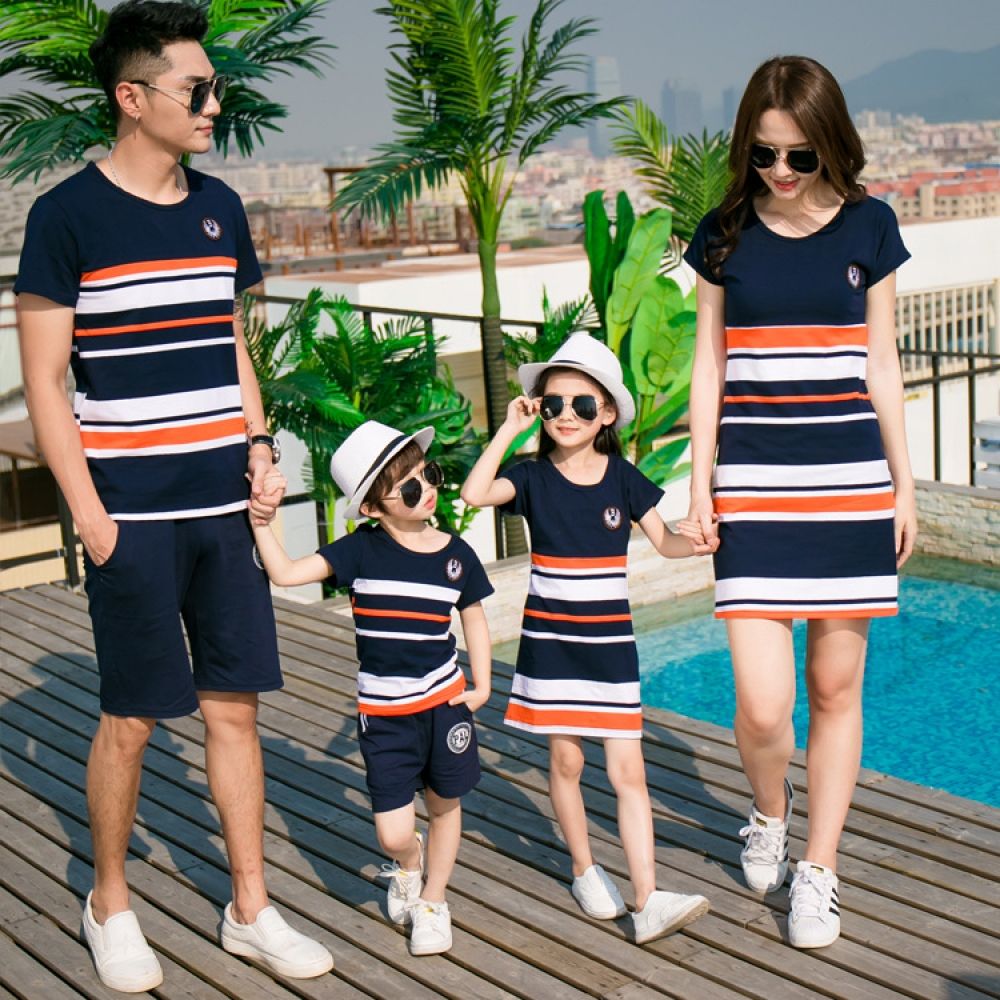 The dad and the boy wear striped dark blue T-shirts and shorts, while the girls dress. All wear white matching sneakers or espadrilles and the same style of sunglasses. The kids have additional shading with their hats.
Complex Patterns Matched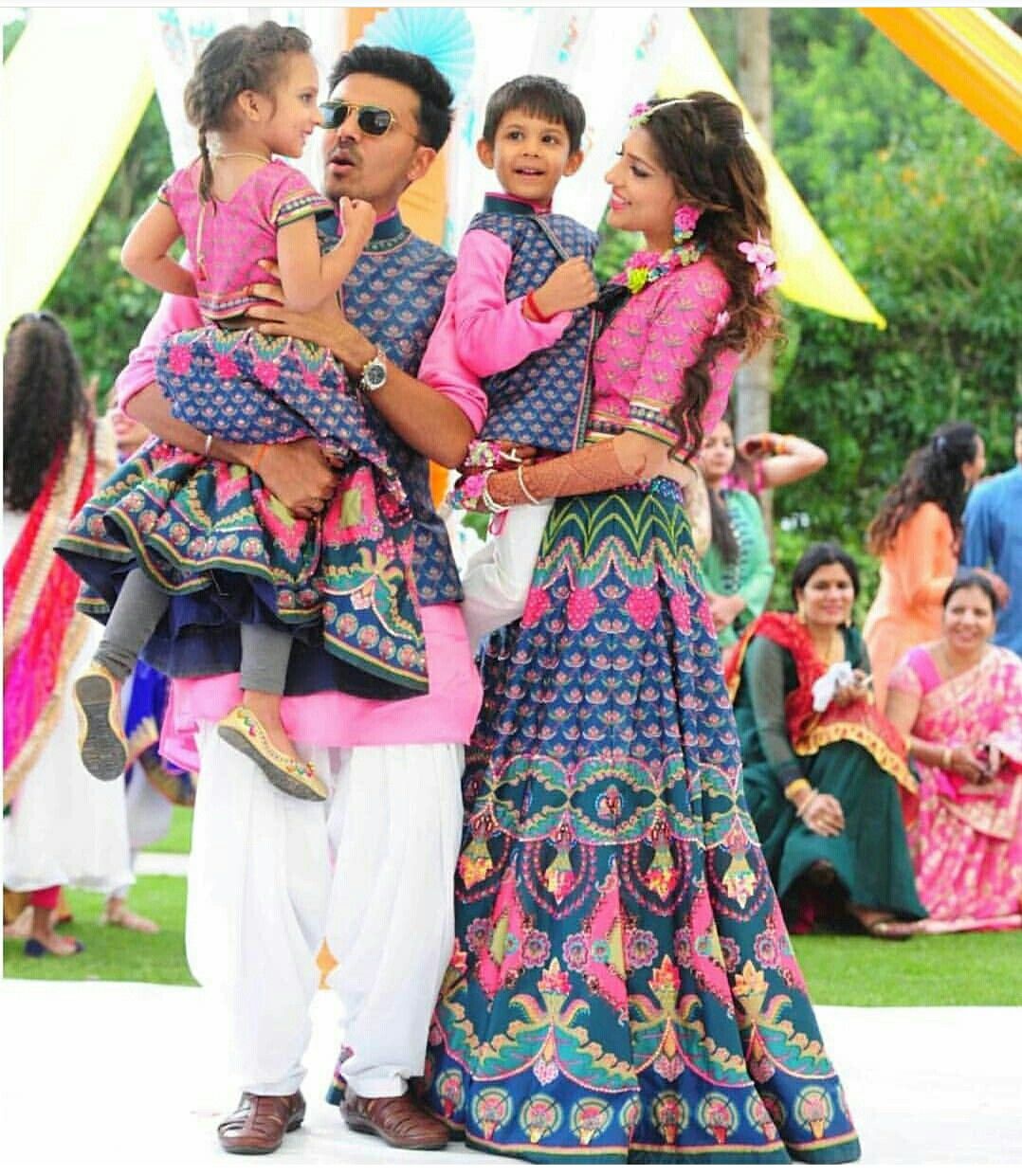 This family did fine matching with style: mother and daughter in same pattern skirts and tops, and father and son in white trousers and patterned vests. Altogether, this makes a pleasant mix of colors, with the white trousers relaxing the whole too colorful outfits of the girls.
Matching Shirts And Dresses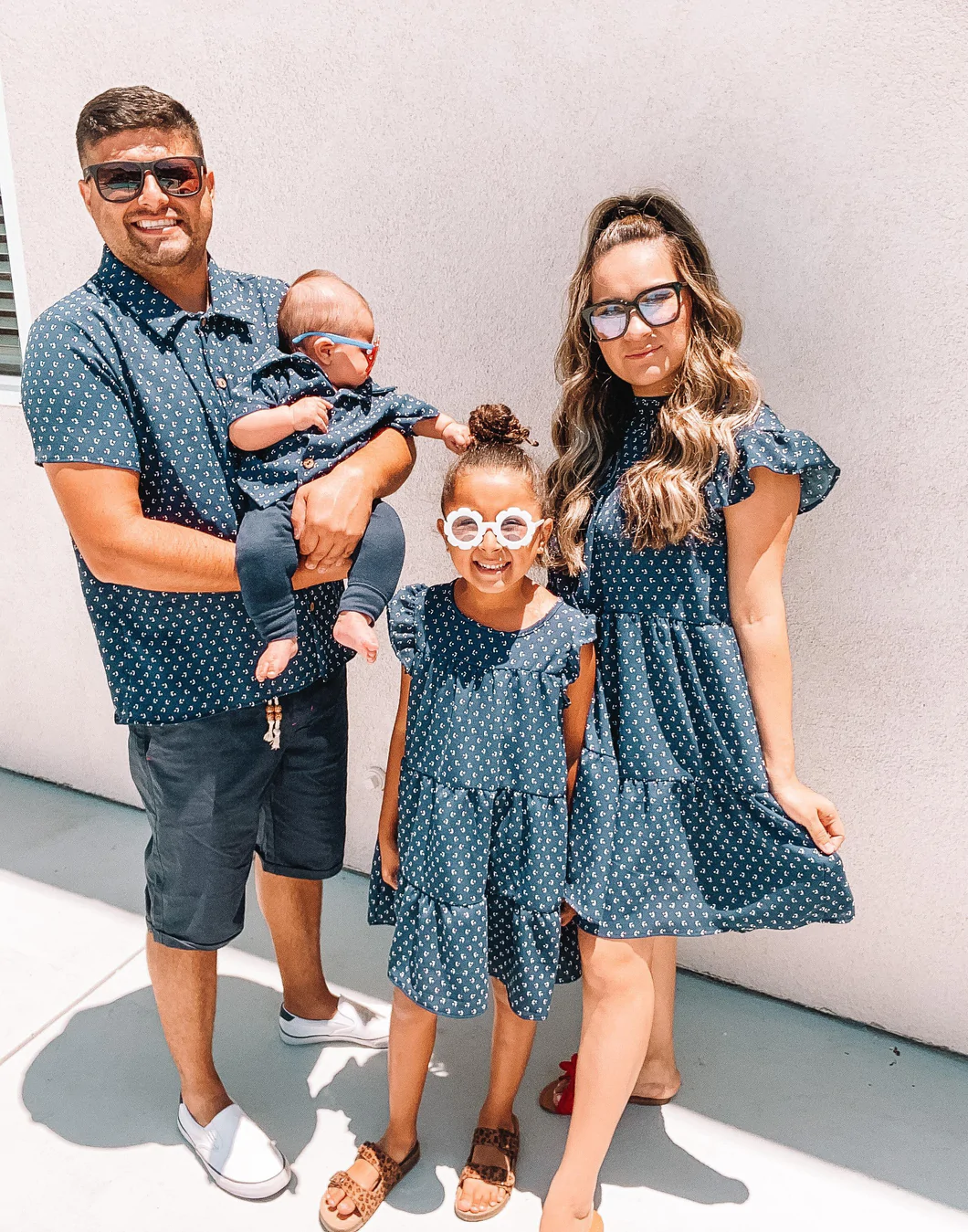 Happy family in matching polka dot shirts and dresses for the girls. The rest is freestyle.
Casual For The Beach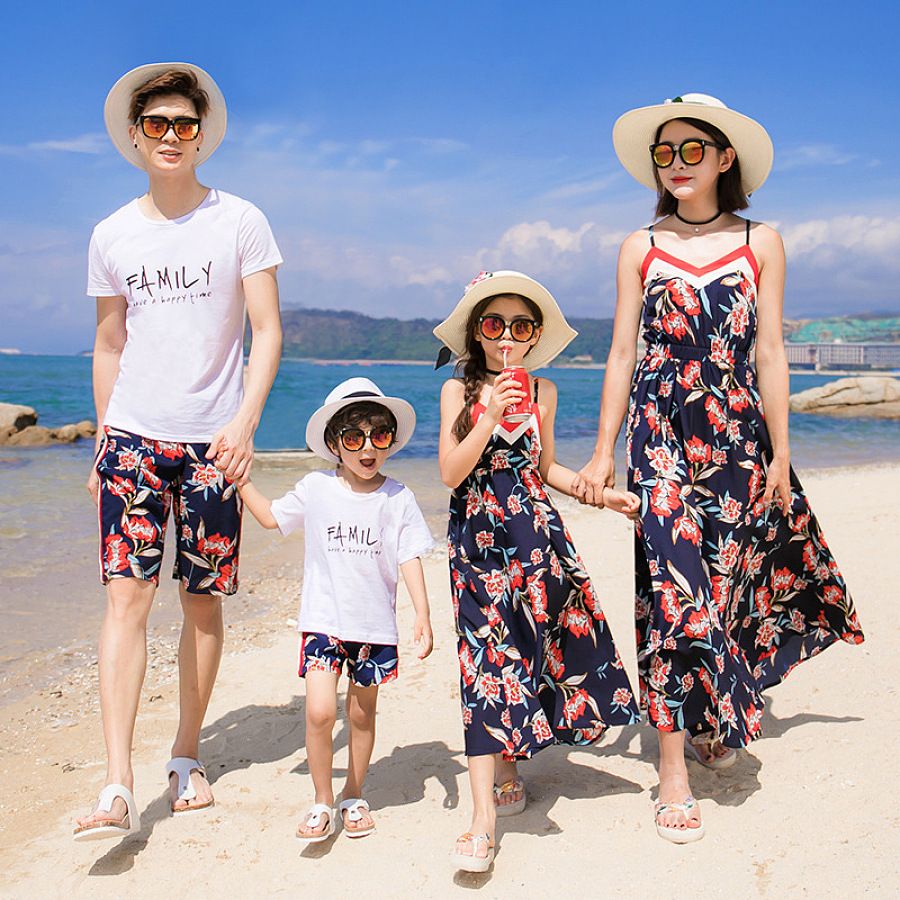 Hawaiian-style beach outfit with floral prints of the boys' shorts and girls' dresses, matching hats, and sunglasses. They look like a part of the same team.
A Fall Walk In The Woods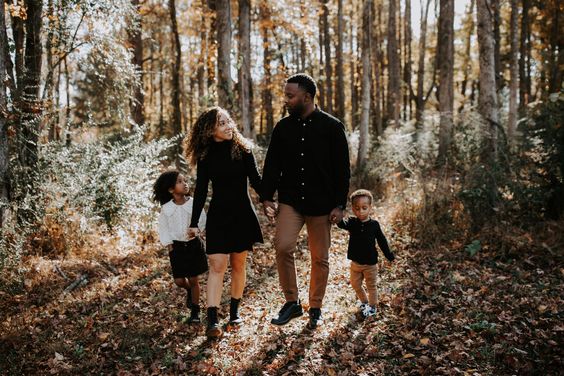 Black dress for mummy, white shirt and dark skirt for the daughter, and father and son in black top and light brown trousers. Matching colors amongst them and with the autumn environment.
Together For Christmas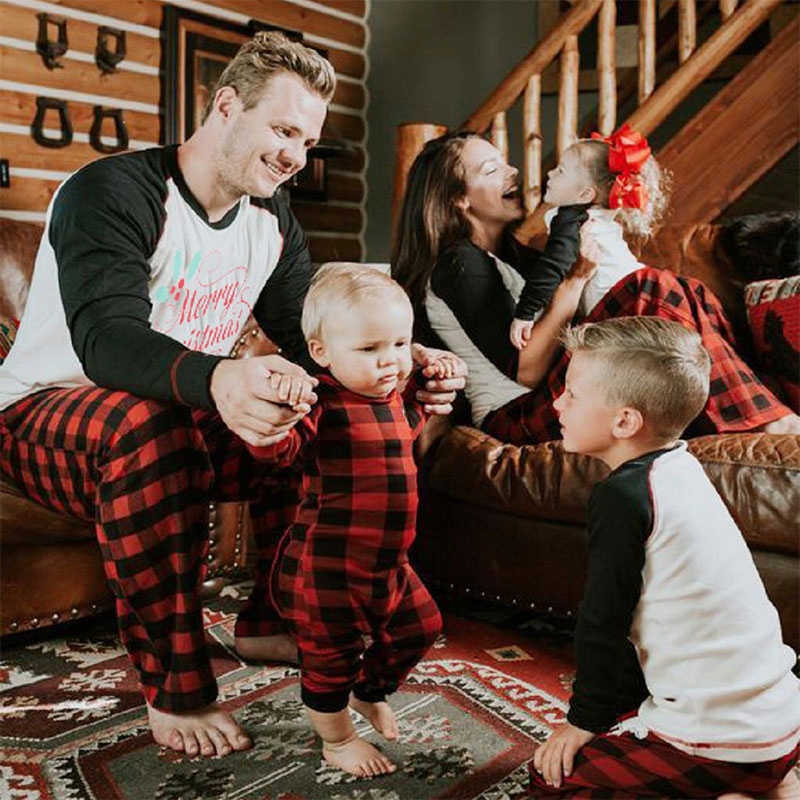 Stay cozy and warm in the family circle dressed in a Christmas outfit of plaid trousers – father and toddler boy, bodysuit – baby, skirt – mom and the toddler girl, with black and white blouses with Xmass wishes.
Pale Pink And Floral Print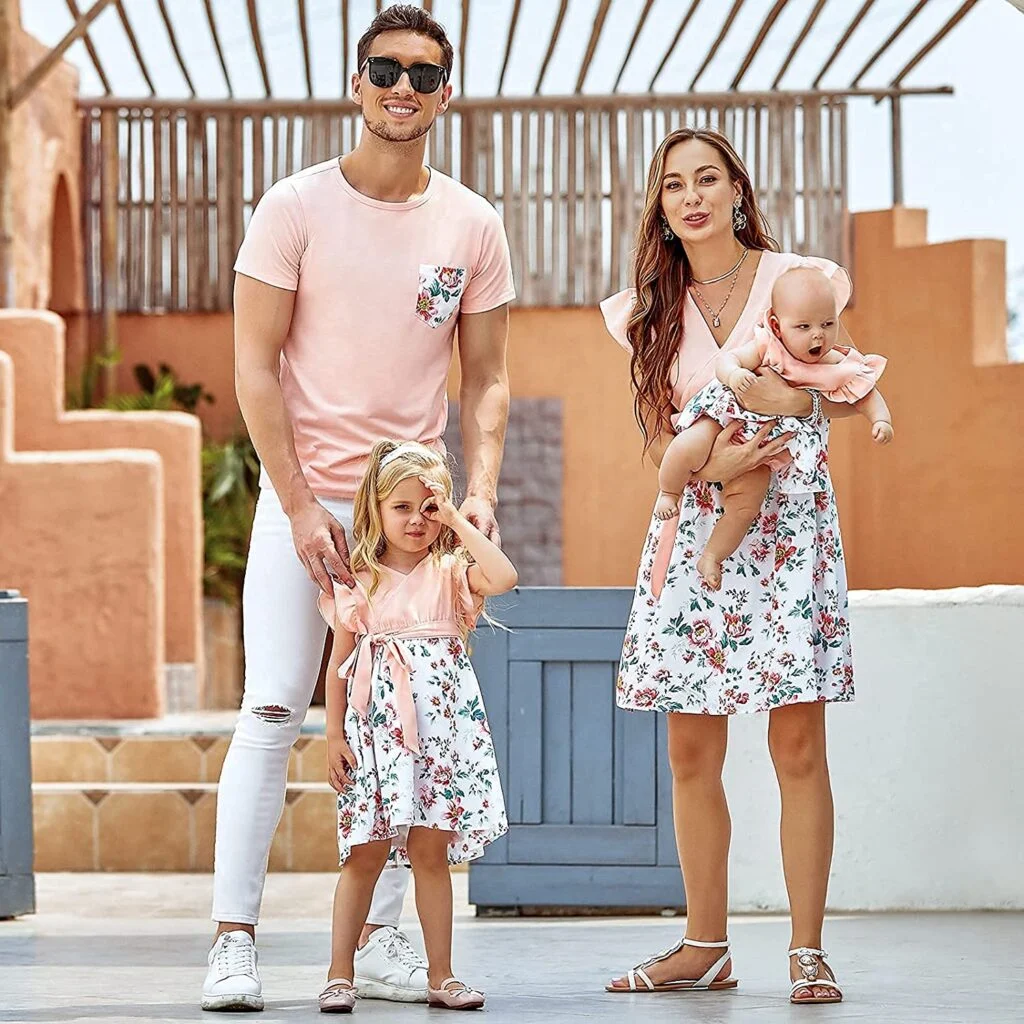 All the girls with floral skirts and the father in white jeans, while everyone wears a pale pink top. And they all look cute!
Enjoying Warm Days In Nature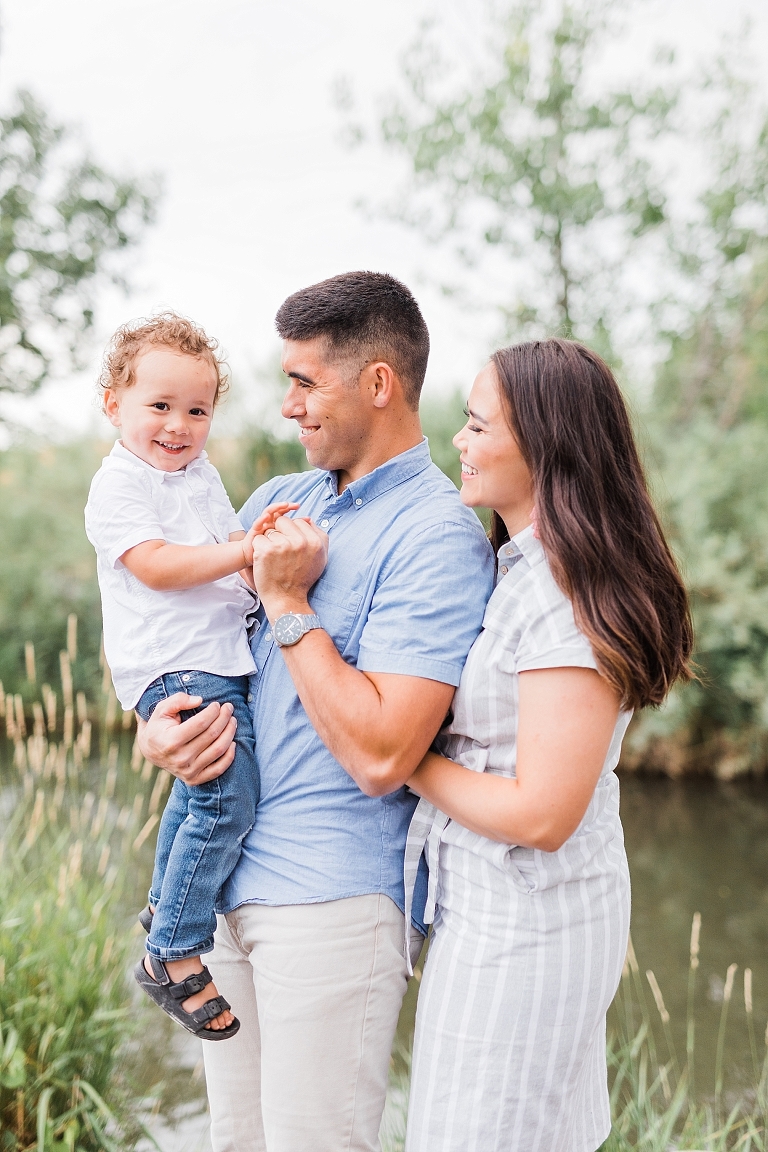 This family combined a beautiful looking matching style with light materials, combining different shades of pale blue and white.
Yellow, White, And Grey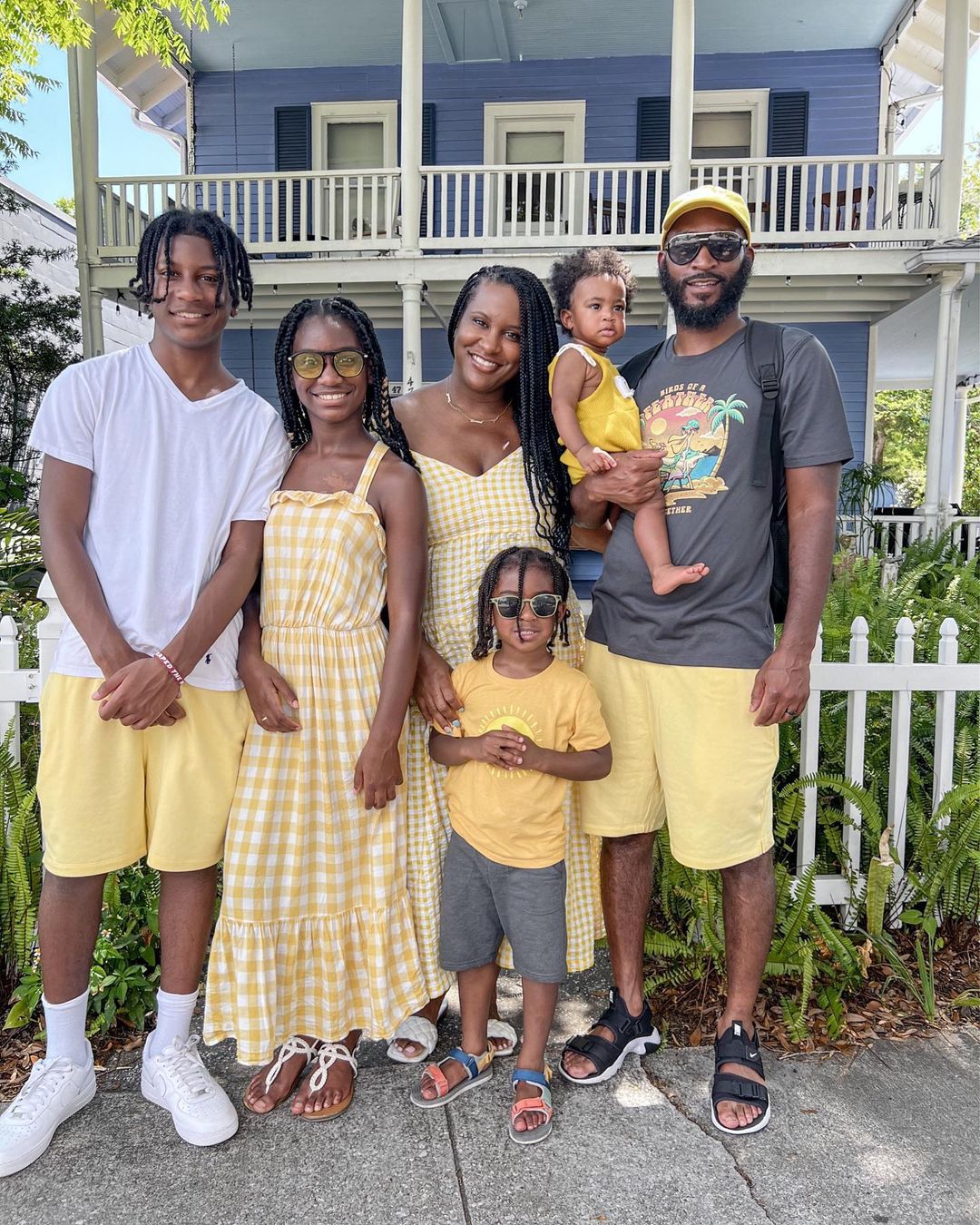 This family did put effort into the picture together. Notice how thoughtfully they combined the checkered yellow dresses of the mom and the daughter, yellow shorts and T-shirts of one of the children, and grey Tee and shorts. And the effort was worthy.
Cozy In Fall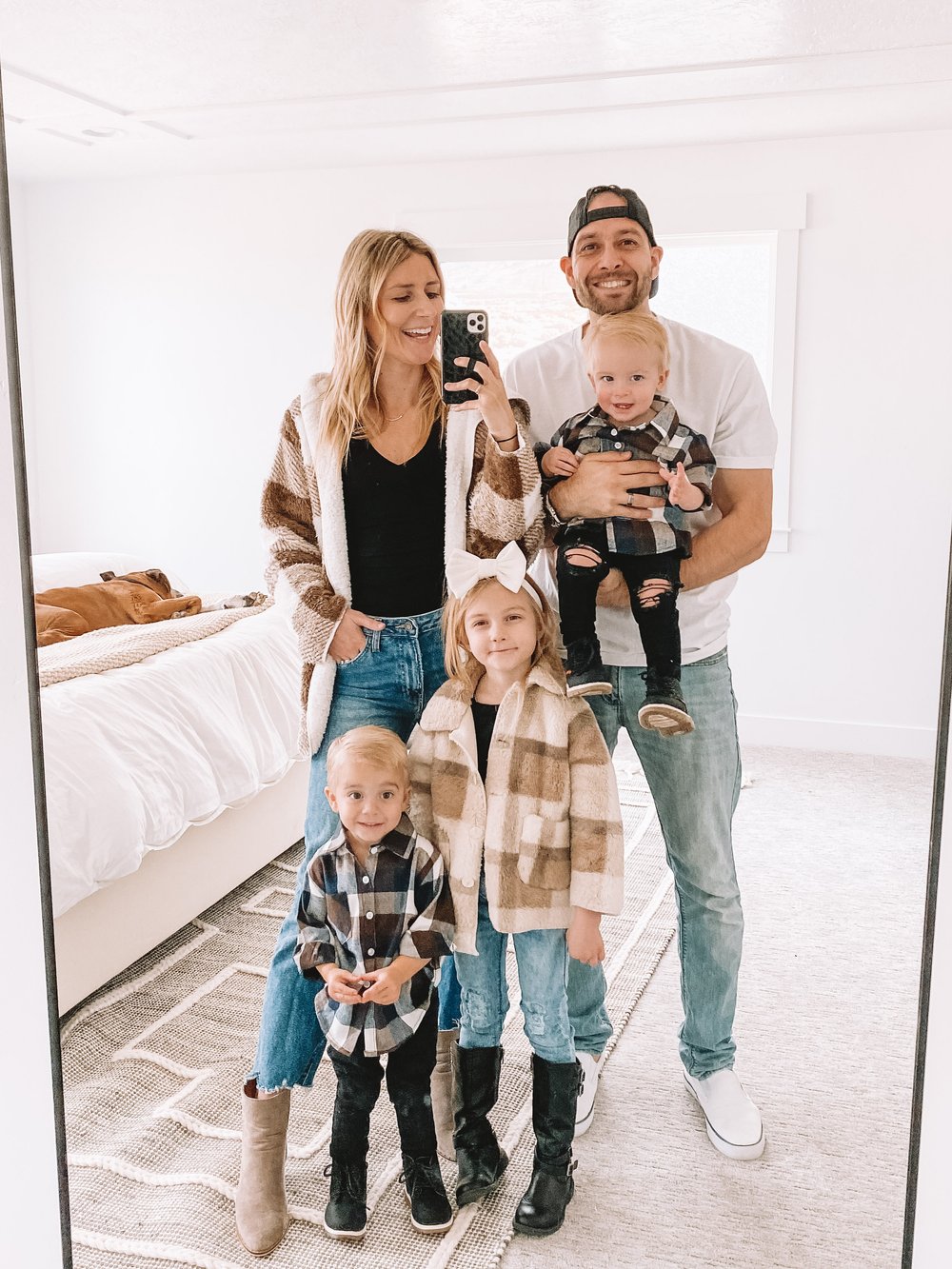 They look feeling comfortable in those plaid shirts, jackets, and jeans. Matching two twins, mother, and daughter.
Family Drippin'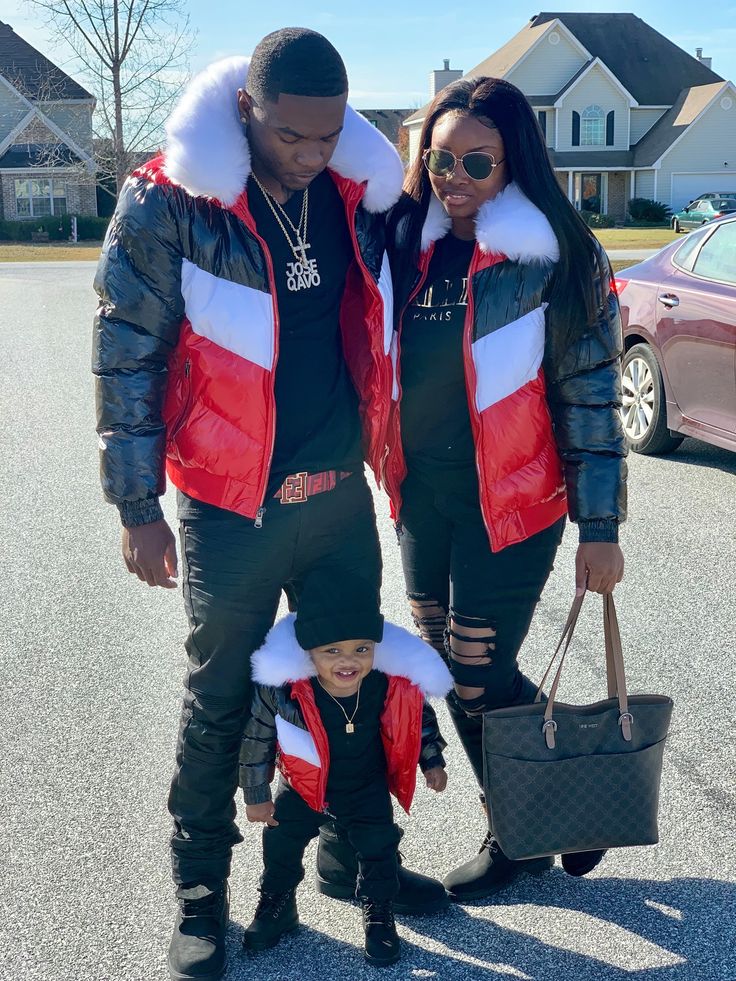 The whole family simply 'drips' in the same pumper jackets, black tops, pants, and ripped jeans. The accessories also add to the more elevated drip look.
A Warm Autumn Day With The Family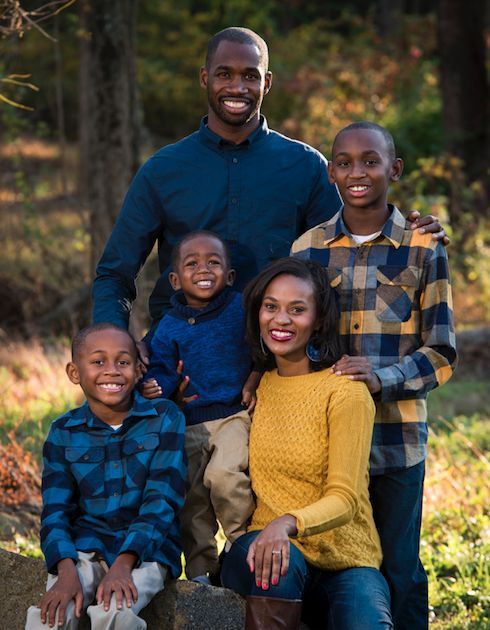 Done with good taste, the whole family looks happy in casual and cozy clothing. It simply radiates happiness together.
'Cool' Family A Day In Nature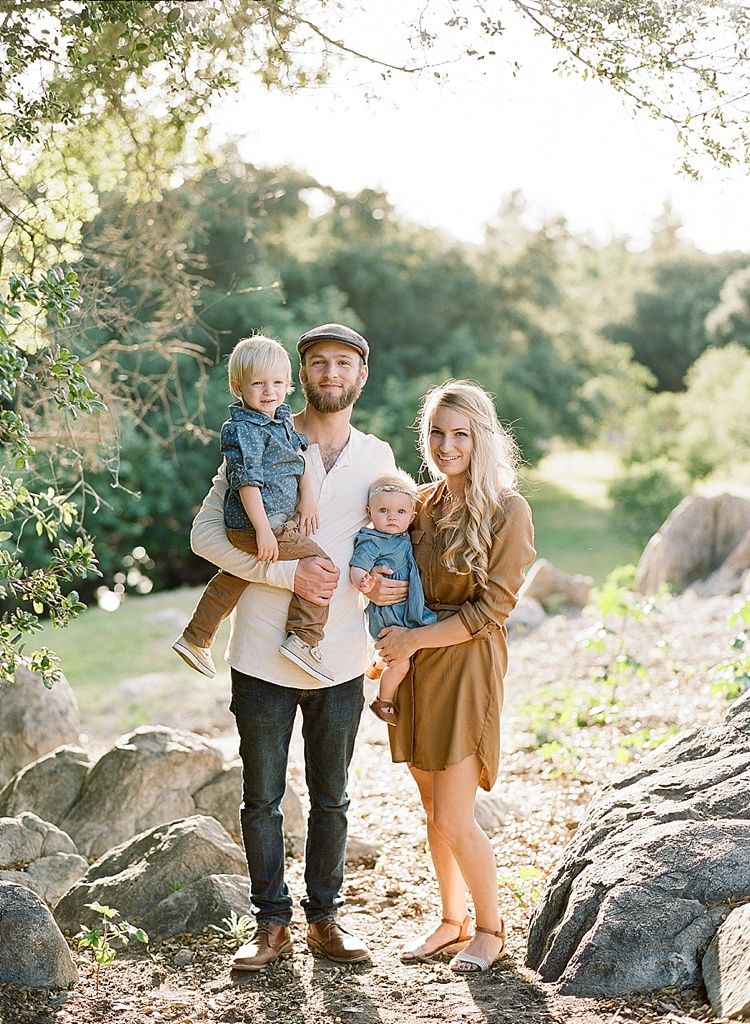 Each member is wearing different clothing but like a part of the same group. The whole family looks quite sophisticated for a picnic in nature.
Maroon And Pink In The Desert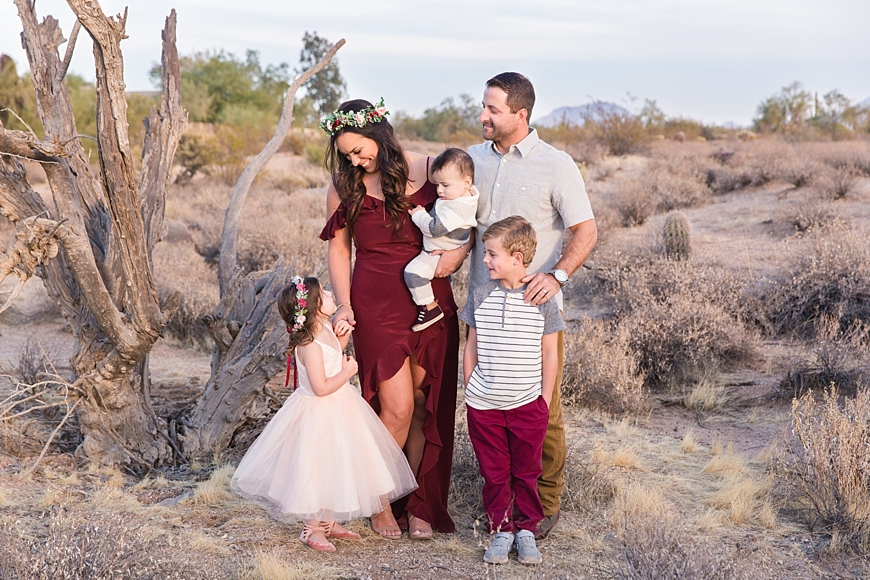 Well-coordinated family outfits for the photo session in the desert. Both girls look very sophisticated and stylish.
A Proud Father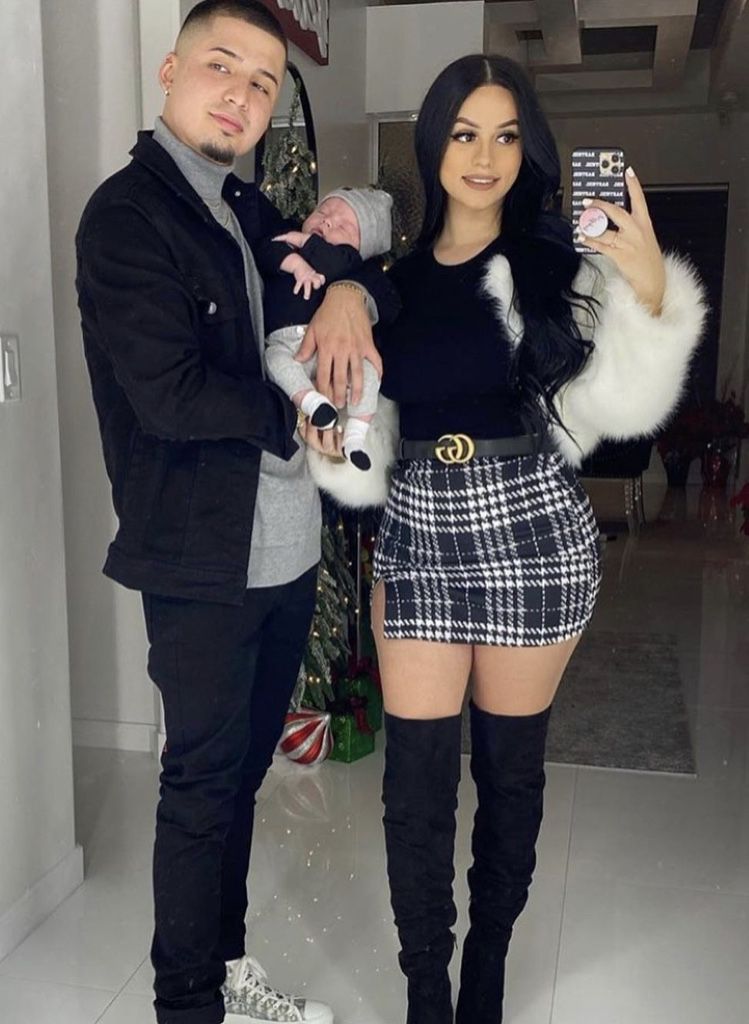 They did well taste matching black and grey: father's jeans and jacket and wife's top in black, father's turtleneck and baby beanie and pants in grey, wife's slit checkered mini.
Matching Boys And Matching Girls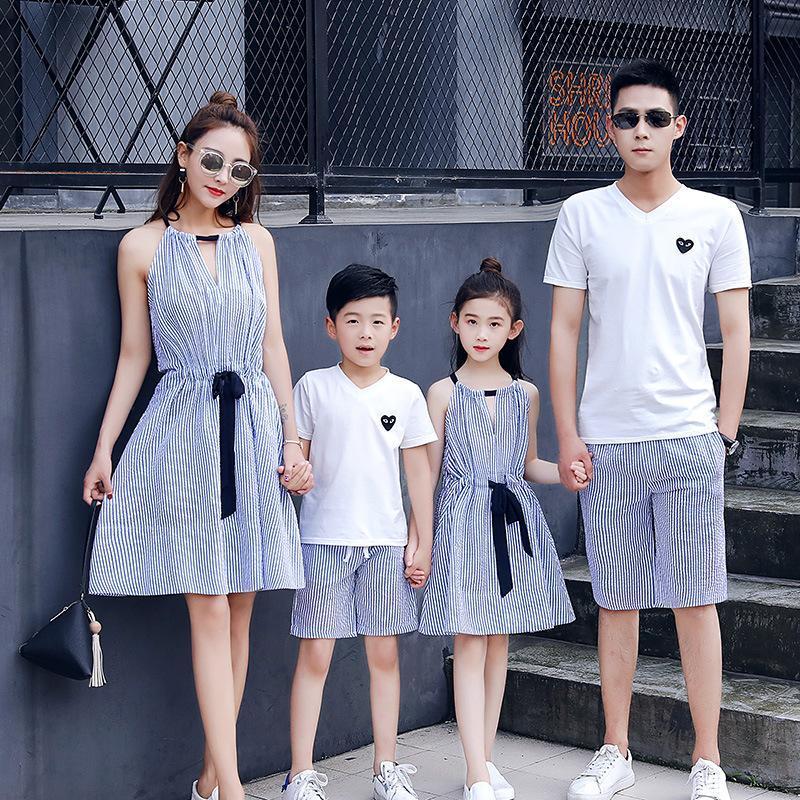 Same dresses for the girls and same shorts and Tees for the boys. Simple and casual look for a day wandering together.
Keep On Rockin'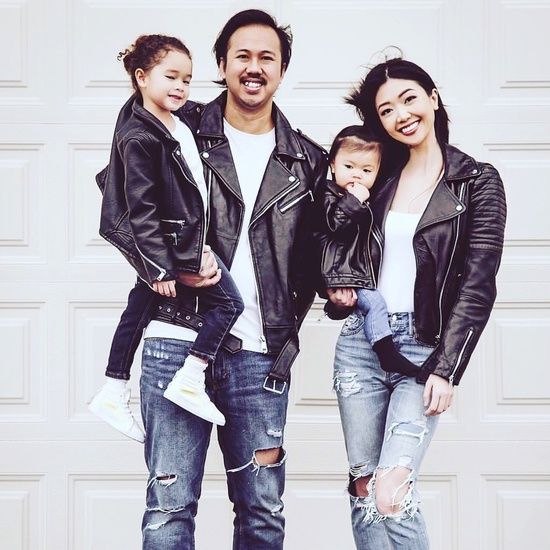 The whole family wears ripped jeans, white T-shirts, and leather jackets for rockers look. If you're born to be wild, never settle for less.
Stylish Family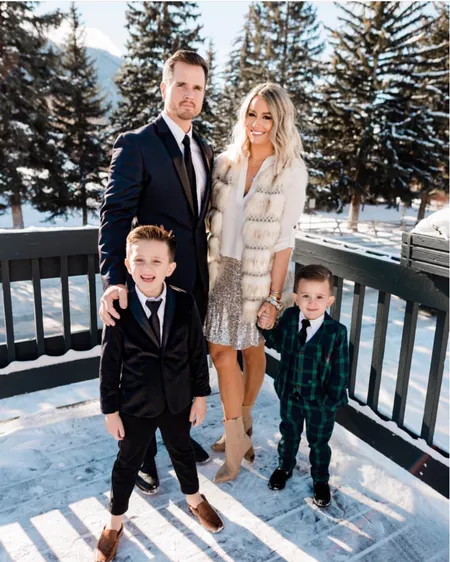 This family is ready for a celebration. The boys have elegant suits with ties, and the mother looks super beautiful sequin skirt, fur vest, and high heels.
Nice for Xmas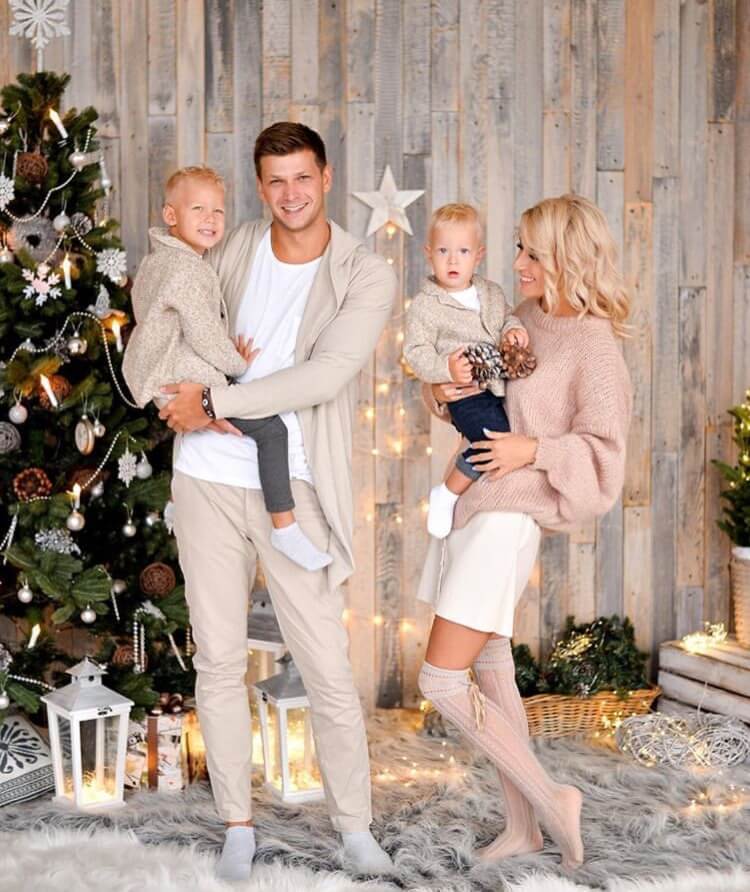 I adore people that dress well for special events. Even when staying at home in the family circle. This family looks cozy and elegant in its white and beige ensembles.
Matching In Different Outfits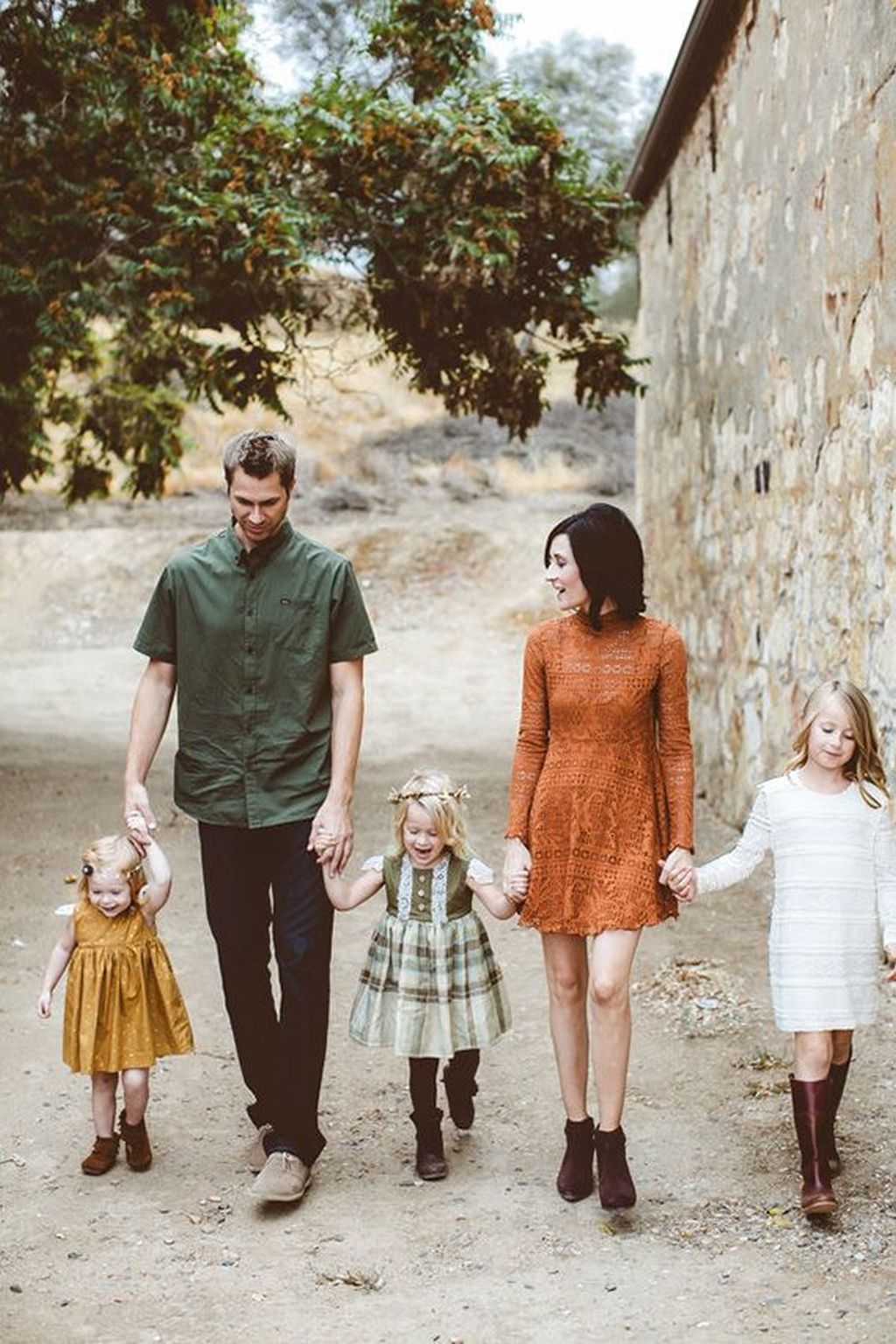 No need to wear the same ensembles for your family pics. Different, but with the same style, such as casual or formal, and colors that match together look much better. See this lovely family in the picture. Being comfortable and not pretending is a good tip.
Mom, Dad, And Their 'Minis'!
It's fun having your smaller version right beside you. The mother and the daughter in floral print dresses, and the father and sun in polka dot shirts and light brown pants.
We do match with the ones we love. Matching creates a cozy feeling of calmness and liking when we enjoy nice things in life together with those we love. You saw that matching loved ones is so simple, and the pleasure it brings is priceless. Families, who wear matching attire, have everyone's attention. It shows their coordination and is admirable how they communicate their love in such a subtle way. We hope you've enjoyed this article and found some great ideas. If so, share your experience doing family matching outfits.