Wearing matching outfits as a family can be a fun and unique way to express our bond and connection. Whether we're going on a trip, participating in a special event, or just spending quality time together, coordinating our attire adds an extra layer of unity and excitement to the experience. It's not just a quirky practice, but also a meaningful way to demonstrate our love and strengthen our relationships with our loved ones.
As trends like the South Korean couple looks become popular worldwide, more and more families, couples, and even groups of friends are embracing the idea of matching outfits. These coordinated ensembles not only highlight our closeness but also make for memorable photos and moments to share on social media. By dressing alike, we create a sense of belonging akin to the unity felt in sports teams or the military, empowering each individual while keeping everyone connected and in sync.
Tropical Printed Swimsuits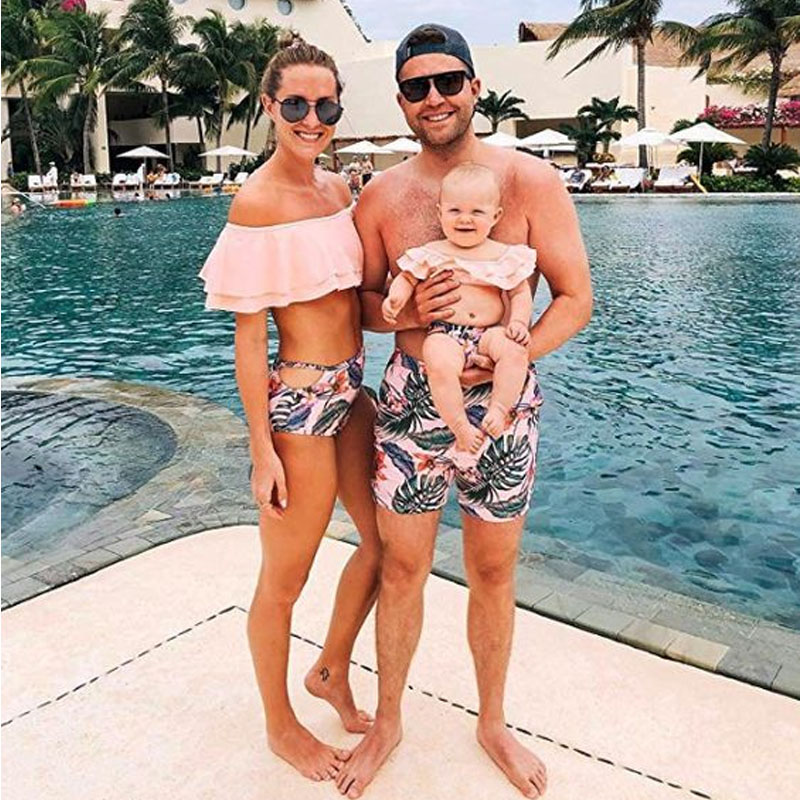 We understand the appeal of matching family outfits, and tropical printed swimsuits are a popular choice for families looking to make a splash. Let's explore some of the top options for coordinating these vibrant swimwear styles.
1. Matching One-Piece and Board Shorts
One option is for parents and kids to wear a matching one-piece swimsuit or board shorts with a similar tropical print.
This creates a unified look while providing individual comfort and style.
2. Color-Coordinated Tankinis and Trunks
Another possibility is to match the tropical print in various swimsuit styles like tankinis and trunks.
Families can select items in complementary colors for a cohesive and stylish look.
3. Tropical Print Rash Guards
For families that love water activities and require additional sun protection, we recommend matching tropical print rash guards.
They merge style and practicality in family outings.
4. Accessories
Don't forget the accessories to complete your look.
Matching flip-flops, sun hats, and beach bags can elevate your tropical print swimwear ensemble.
Families can mix and match these ideas to create tropical printed swimsuit sets that cater to individual preferences while keeping the entire family coordinated.
Striped Tees And Skirts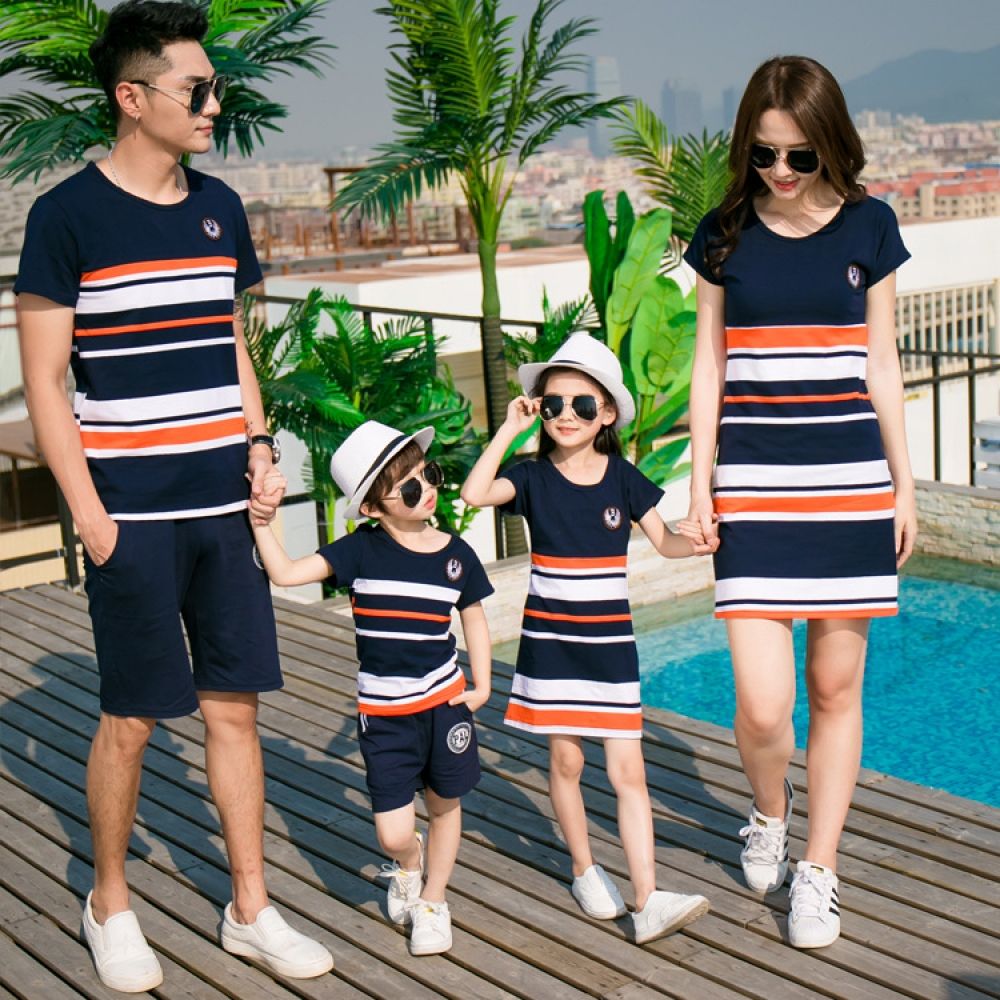 We often see matching family outfits with striped tees and skirts being a popular choice. Not only are these outfits versatile and comfortable, but they also create a cohesive and stylish look for the whole family. Striped patterns on tees and skirts can be matched with various colors, making it easier to find options that suit each family member's personal taste.
Here are some key points to consider for coordinating striped tees and skirts in your matching family outfits:
Fabrics: Opt for breathable and comfortable fabrics such as cotton or linen which are suitable for all ages.
Colors: Aim for coordinating color schemes like classic black and white stripes or even bolder combinations such as navy blue and red. This will ensure that the outfits look unified but still have a personal touch.
Skirt styles: For women and girls, there are various skirt styles to choose from, including A-line, pencil, and maxi skirts. Consider selecting styles that are flattering and appropriate for each member's age and body type.
Accessorizing: To complete the matching outfits, add complementary accessories like hats, belts, or scarves. This will help elevate the look and make it more unique.
By keeping these points in mind, it's easy to create a striking and unified look with striped tees and skirts for your family. Enjoy dressing up and showcasing your family's style!
Complex Patterns Matched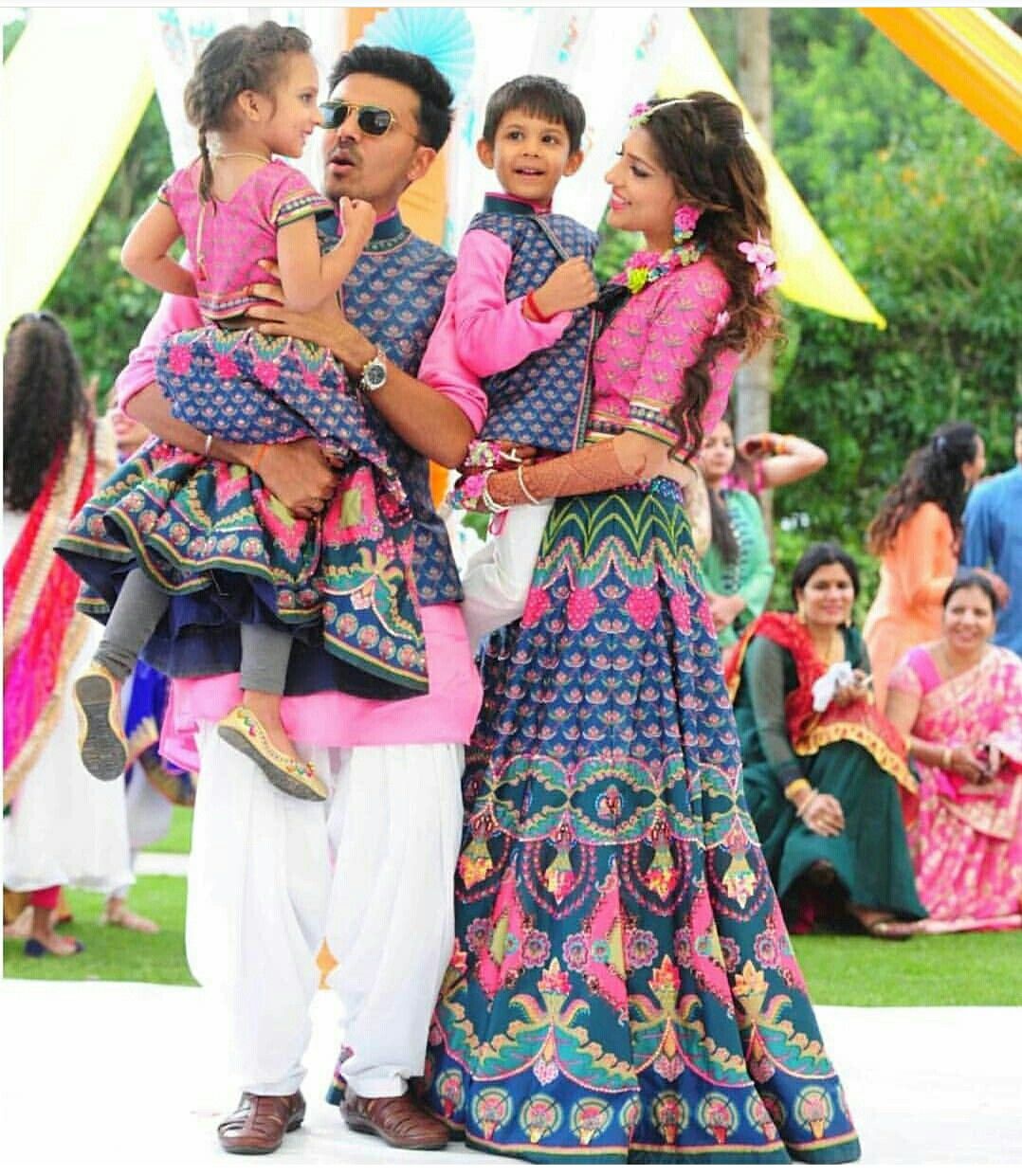 In our quest for matching family outfits, we have found that a variety of complex patterns can be successfully paired together to create stunning ensembles. We have explored different designs and fashion styles that perfectly complement each member of the family. Here are some noteworthy options:
Stripes and plaid: Combining stripes with plaid can create a visually appealing and cohesive look. Striped shirts for parents and plaid trousers or skirts for children strike a fine balance.

Example: Adults wear a black and white striped shirt with jeans, while children sport red and black plaid pants with a solid-colored top.

Floral and geometric designs: Merging floral patterns with geometric shapes presents a harmonious blend of softness and structure. By carefully selecting colors and sizes, the outfits can support each other.

Example: Parents wear a floral dress or shirt in shades of blue and green, while children wear a color-coordinated outfit featuring triangles or squares.

Animal prints and abstract patterns: Mixing animal prints with abstract designs adds a playful touch to matching outfits. In this setup, one family member can wear an animal print while the other shows off an abstract pattern that complements it.

Example: One parent dons a leopard print top, while the other sports a shirt with abstract green shapes, and the children wear solid colors that accentuate both patterns.
Finding the right balance among complex patterns requires careful consideration, as well as attention to the color palette and style. We hope these suggestions will inspire you to experiment with matching family outfits that truly capture your unique style and personalities.
Matching Shirts And Dresses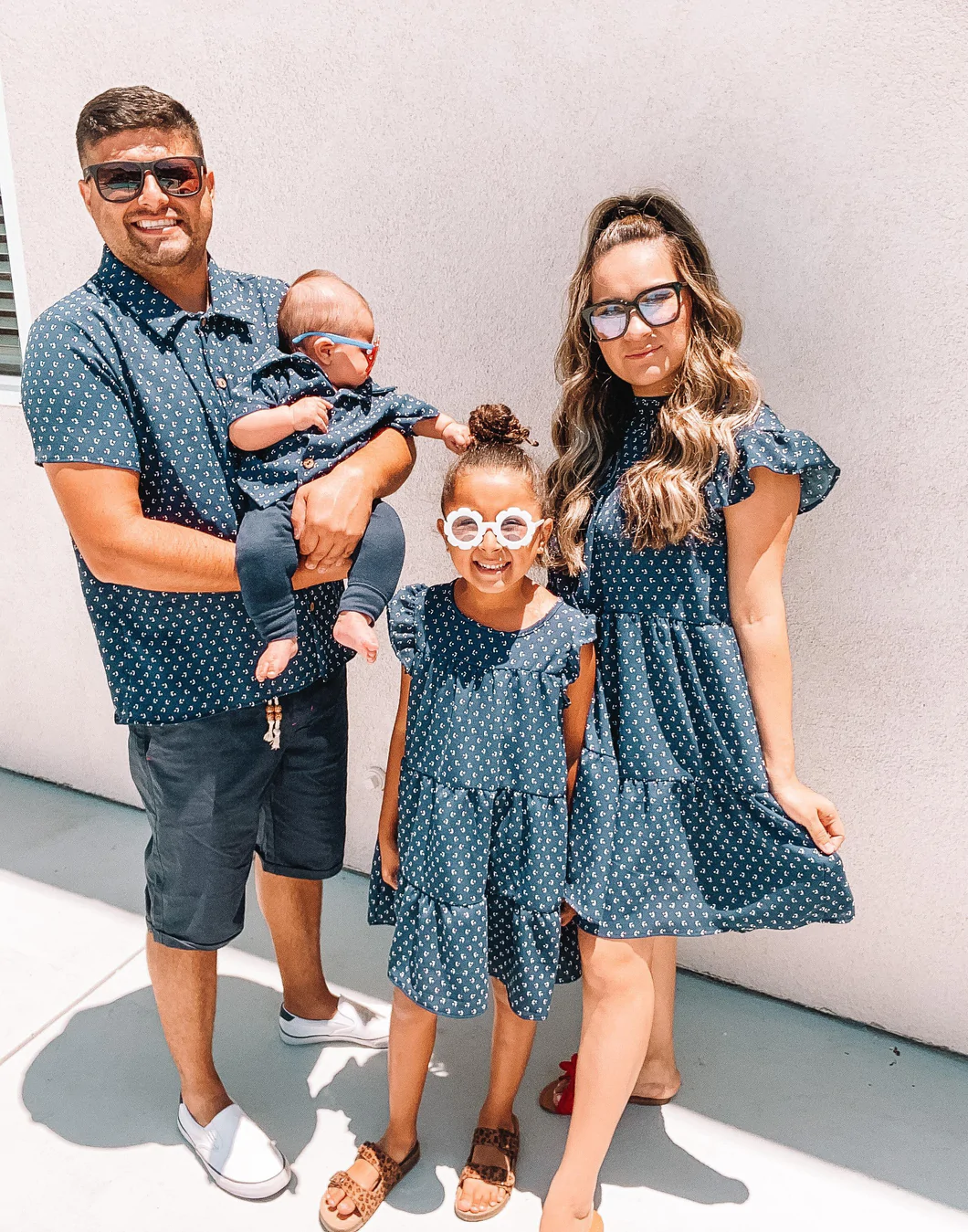 When it comes to creating a harmonious family ensemble, coordinating shirts and dresses is crucial. Achieving a cohesive look can be done in several ways:
Color Coordination: Choose a color palette that complements each family member's individual style. This can include matching solid colors or coordinating patterns like stripes, plaids, or florals.
Theme-Based Outfits: Pick a common theme for the family's outfits, such as nautical, holidays, or even superheroes. This adds a fun and personalized touch to your matching attire.
Consistent Material and Style: Opt for similar fabrics and styles to create a polished look. For example, if you select a linen shirt for one person, try to find linen dresses or tops for others.
Here are some matching outfit ideas for shirts and dresses:
Denim and white: A classic combo, pair denim shirts with white dresses or tops for a timeless and casual look.
Monochromatic: Choose different shades of a single color for both shirts and dresses, such as navy blue or gray, to create a harmonious monochromatic look.
Pattern Mixing: Combine different patterns, like polka dots and stripes, in the same color family for a lively and modern twist.
We know that selecting matching outfits can be a daunting task, but by considering color, theme, and style, your family can look well-coordinated and stylish in no time.
Casual For The Beach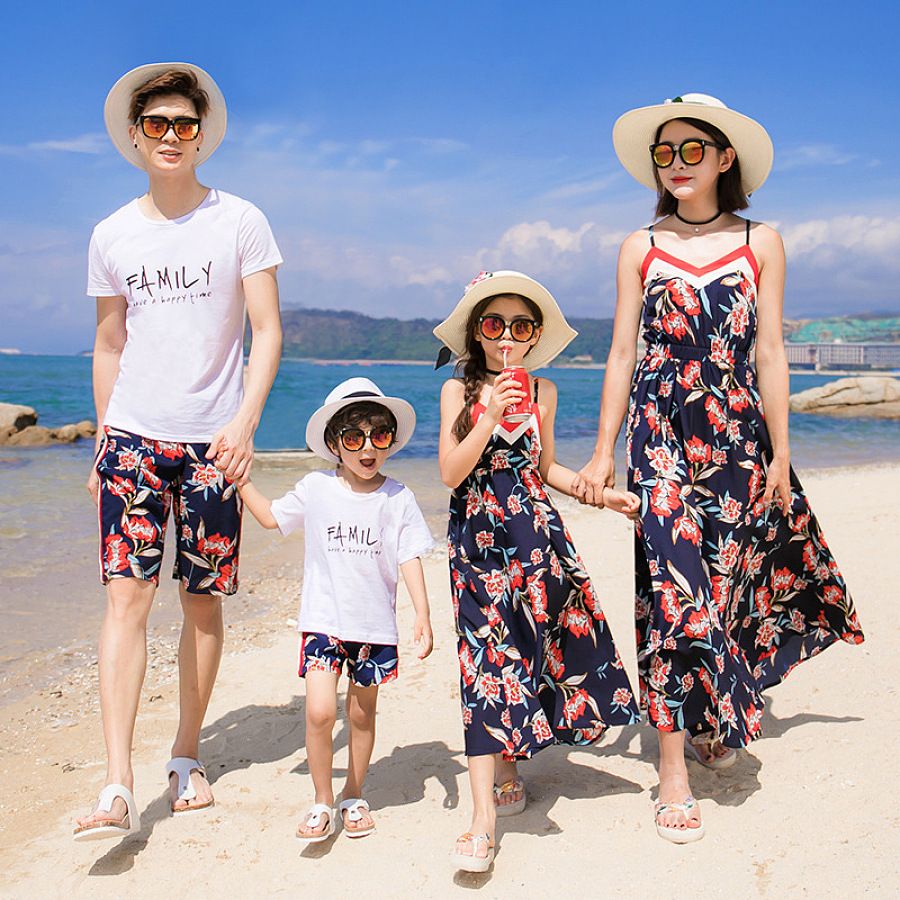 When it comes to matching family outfits, we know that comfort and style are crucial, particularly for a day at the beach. Here, we'll share some casual outfit ideas that will help your family feel fashionable and comfortable by the shore.
Family T-shirts: Why not choose matching T-shirts in a fun color or pattern that represents your family's unique style? Go for a classic nautical stripe or a tropical print to enhance the beach vibe.
Swimwear: If your family loves spending time in the water, matching swimsuits or swim trunks can be an excellent choice. Find a design that flatters everyone, or mix and match patterns within the same color family.
Cover-ups: Match with breezy cover-ups, such as coordinating kaftans and tunics, to keep everyone comfortable and protected from the sun. Cotton or linen fabrics will be light and quick-drying.
Accessories: Don't forget to accessorize! Matching beach hats, flip-flops, and sunglasses will pull the entire beachy look together.
Remember to keep the outfit choices functional and suitable for each family member's needs. A well-thought-out beach outfit can make your family's time at the shore both stylish and enjoyable.
A Fall Walk In The Woods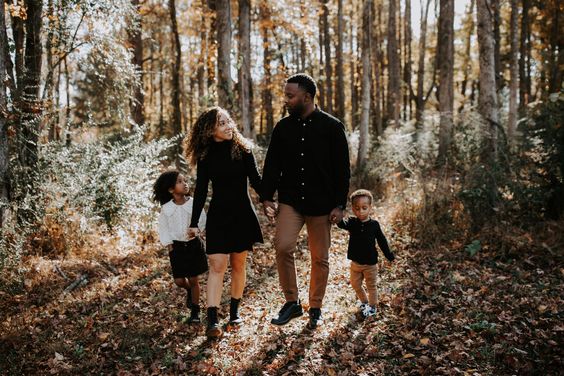 As we stroll through the woods with our family during this beautiful fall season, matching family outfits can make the experience even more memorable and enjoyable. Here are a few ideas for coordinating your family's attire on your next fall walk in the woods:
Plaid patterns: Opt for shirts and dresses with classic plaid designs in autumnal colors like red, orange, and brown. This will not only keep you in sync, but also embrace the spirit of the season.
Layering: Emphasize the essence of fall by incorporating layers into your outfits. We can wear knitted sweaters over button-up shirts, vests, or denim jackets. This allows us to mix and match, while staying warm and stylish.
Accessories: Don't forget the smaller details. Match your family's beanies, scarves, or mittens, which can add a pop of color and unity to your ensemble.
Footwear: For a cohesive look, wear similar or complementary styles of boots or sneakers. This way, we can effortlessly explore the beauty of nature while feeling connected as a family.
By coordinating our family outfits this fall, we can create lasting memories and strengthen our bond during our walks in the woods.
Together For Christmas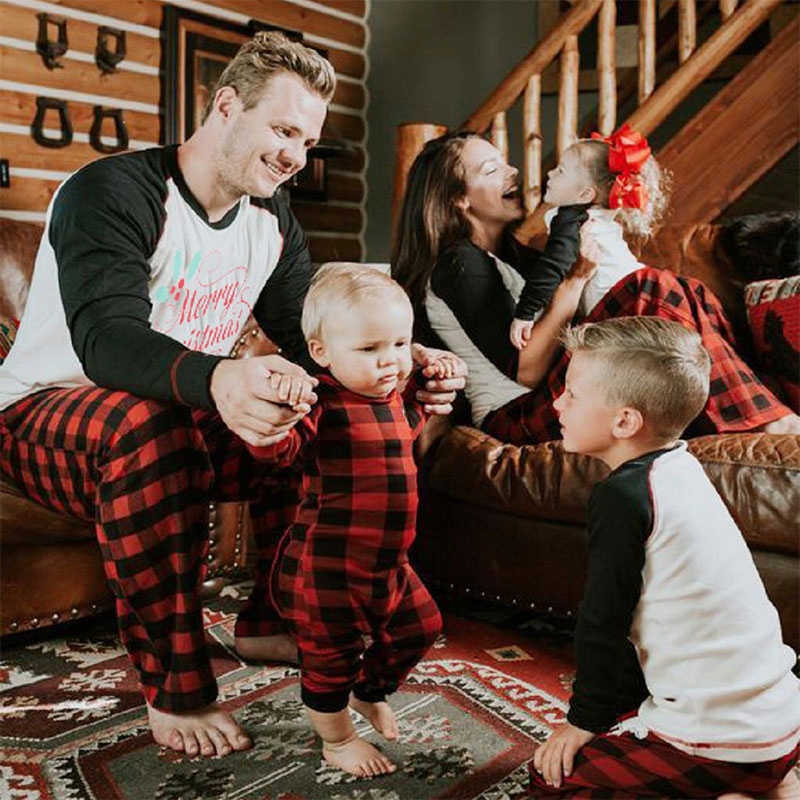 During the holiday season, we love bringing families together. One way to enhance the festive spirit is by wearing matching family outfits. Whether it's stylish pajamas or coordinated sweaters, dressing up in matching attire unifies the family and creates lasting memories.
Here are some ideas for matching outfits to consider this Christmas:
Christmas Pajamas: There is something special about wearing cozy and warm pajamas that bring families together. Many retailers offer pajama sets in various sizes to fit the whole family, including styles for pets.
Ugly Christmas Sweaters: Embrace the tradition of wearing quirky sweaters featuring festive patterns and colors. This fun activity not only adds an element of lightheartedness but also sparks conversations and laughter.
Customized T-Shirts: Design your own family t-shirts with unique graphics or slogans, such as "Santa's Favorite Crew" or "Team [Family Name]". These shirts can be worn throughout the holiday season and add a personal touch to your celebrations.
Holiday Accessories: Complete your matching outfits with accessories such as Santa hats, reindeer antlers, or matching socks. These cute additions enhance the festive spirit and make for great family photos.
Remember that the key to a successful holiday season is quality time spent together. Matching family outfits play a part in creating that sense of unity and warmth, fostering a memorable and joyful Christmas experience.
Pale Pink And Floral Print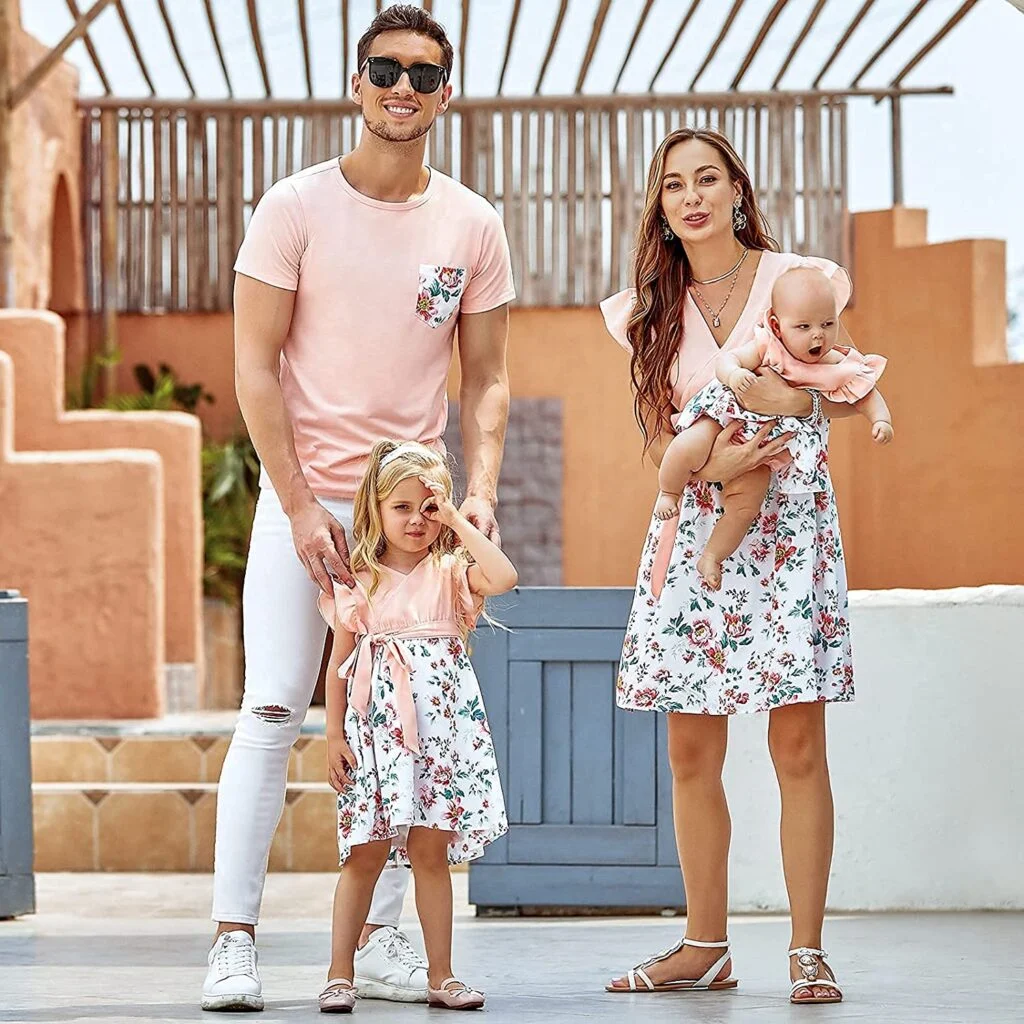 We understand that matching family outfits can create a cohesive and picture-perfect look. We recommend considering pale pink and floral prints as a versatile and charming choice for your family's wardrobe.
Pale pink: The soft and pleasing hue of pale pink works well for all family members, from toddlers to grandparents. It adds a touch of elegance and can be easily combined with other colors and patterns.
Floral print: Floral prints never go out of style. They can add a cheerful touch to your family's outfit, especially when the prints are based on a pale pink backdrop. This combination allows everyone to wear matching patterns and colors without being too overwhelming.
To put together the perfect "Pale Pink and Floral Print" family outfit, we suggest the following combinations:
| Family Member | Suggested Outfit |
| --- | --- |
| Mom | Pale pink floral dress or blouse with neutral-toned pants/skirt |
| Dad | Pale pink button-up shirt with casual pants or jeans |
| Children (boys) | Pale pink t-shirt with a subtle floral print and jeans |
| Children (girls) | Pale pink floral dress or top paired with shorts or leggings |
| Baby | Pale pink floral one-piece or bodysuit |
Remember, the goal of matching family outfits is to enhance your family's connection and showcase your unique style. By choosing a pale pink base color and incorporating floral prints into the mix, your family will look effortlessly coordinated and delightful.
Enjoying Warm Days In Nature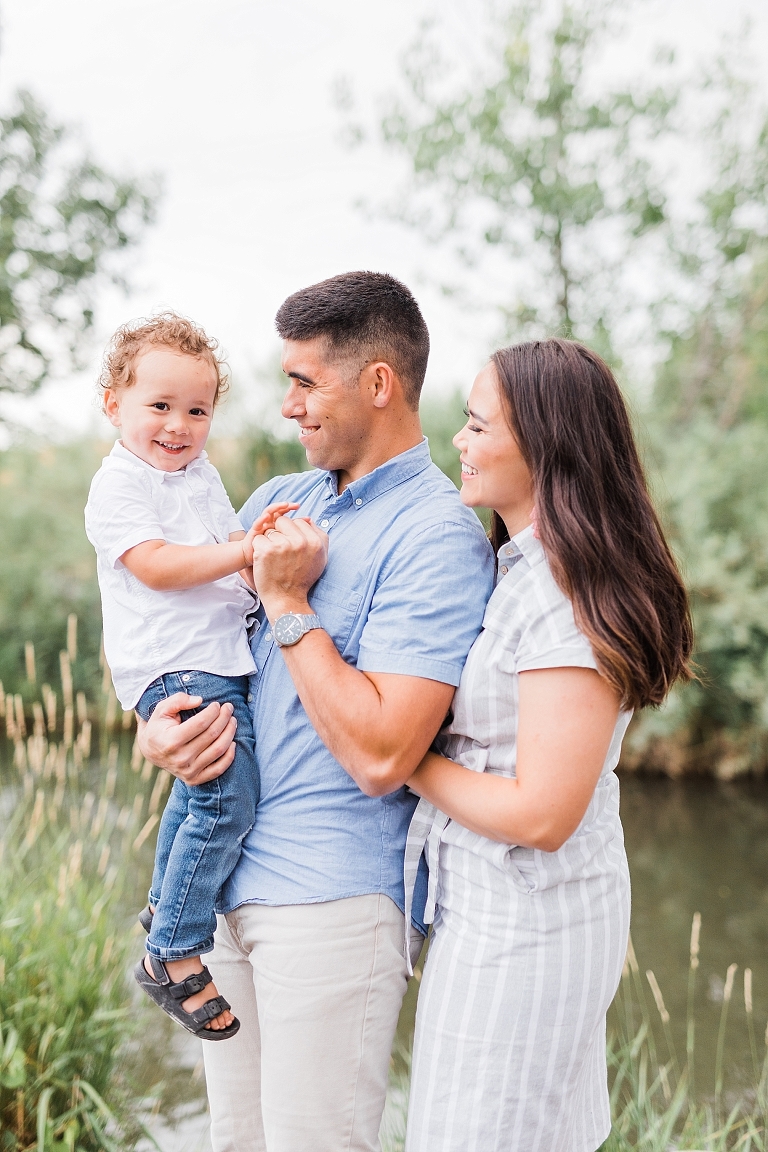 As we spend warm days outdoors with our family, it's an excellent opportunity for us to create lasting memories by wearing matching family outfits. We can find a wide variety of options to suit our personal styles and preferences. Some popular choices for matching outfits include:
Themed T-shirts: Comfortable and versatile, we can all wear themed T-shirts featuring our favorite characters, colors, or patterns.
Matching Swimwear: For beach or poolside outings, coordinating family swimwear ensures we make a splash together.
Coordinated Dresses and Shirts: Dresses for the ladies and complementary shirts for the gentlemen tie together our family's look.
Denim and Matching Tops: Everyone loves denim, so pair it with matching tops to create a unified appearance for our nature outings.
| Activity | Suggested Matching Outfits |
| --- | --- |
| Picnics | Themed T-shirts and shorts |
| Beach | Coordinating swimwear |
| Hikes | Matching tank tops/sports t-shirts and leggings/shorts |
| BBQs | Color-coordinated casual clothing |
Remember, incorporating matching family outfits into our warm days in nature not only adds an extra touch of fun but also strengthens our family bond as we create cherished memories together.
Yellow, White, And Grey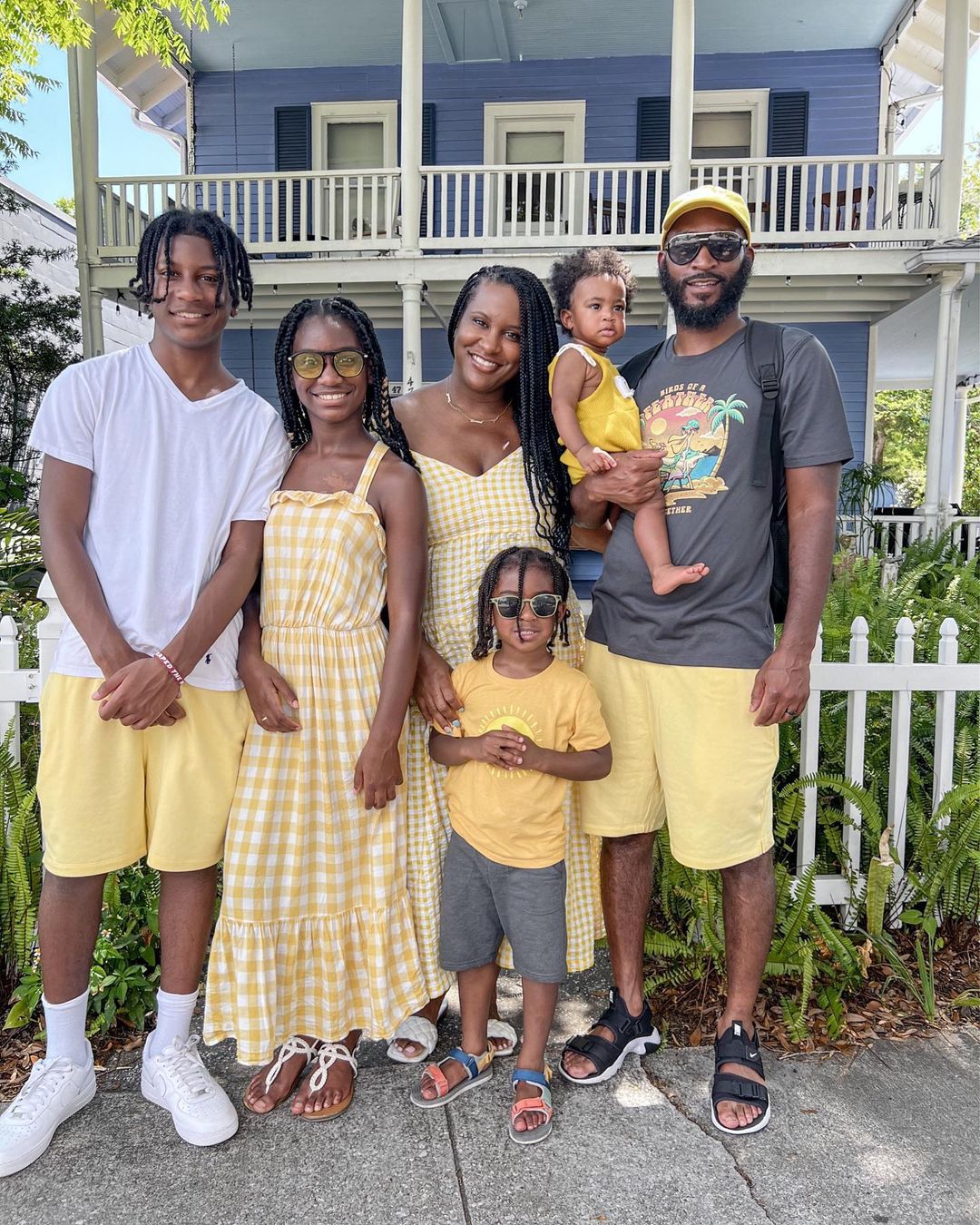 When it comes to matching family outfits, we can't go wrong with the versatile color combination of yellow, white, and grey. These colors not only complement each other well, but they also suit people of all ages and genders.
By sticking to these three core colors, our outfit options are practically endless:
Yellow: The primary color adds a playful and cheerful touch to the ensemble.

Dresses, shirts, or blouses for mom and daughters
Polo shirts or t-shirts for dad and sons
Accessories such as hairbands, ties, or scarves

White: A neutral and timeless color that serves as the ideal base.

Pants, skirts, or shorts for everyone in the family
Coordinating shoes like sneakers, sandals, or flats
Classic button-down or plain white shirts or blouses

Grey: Adding sophistication and versatility, grey works with both yellow and white.

Blazers or cardigans for a polished touch
Lightweight sweaters or hoodies for casual outings
Belts, bags, or caps to complete the look
A few tips to consider in styling these matching family outfits include:
Use a mix of patterns and solids across different clothing items
Try incorporating [colorblock] elements to add visual interest
Keep comfort and personal style in mind for every family member
Remember, the key to successful matching family outfits lies in coordinating the color palette and allowing each individual's personality to shine through. With yellow, white, and grey as our foundation, we can effortlessly create harmonious looks that make a lasting impression.
Cozy In Fall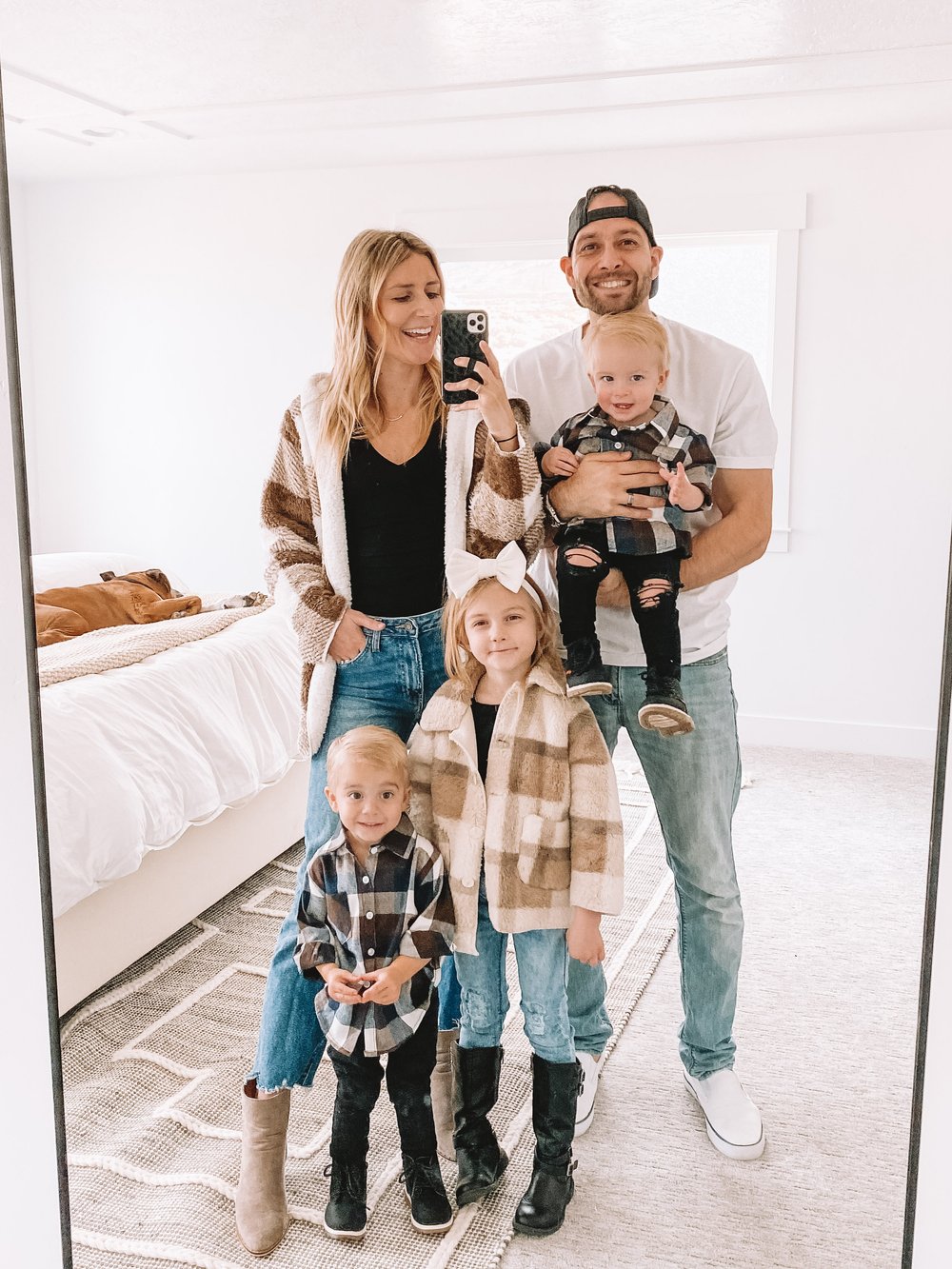 During the fall season, we all love to feel comfortable and warm while enjoying the stunning display of autumn leaves and crisp air outdoors. Matching family outfits can make these moments even more special and memorable. Here are some ideas to create the perfect fall family wardrobe:
Plaid Patterns: Plaid is a classic fall pattern that instantly adds warmth and style to your outfits. Coordinate plaid shirts or dresses for a casual and cozy autumnal look.
Layered Clothing: Fall weather can be unpredictable, so it's essential to dress in layers. Make sure everyone in the family has coordinated jackets, sweaters, and scarves to keep warm.
Denim: Denim is a versatile and timeless fabric, making it a great choice for matching family outfits. Try pairing denim jackets with jeans or skirts for a stylish and comfortable look.
Earth Tones: Incorporate earthy colors such as browns, oranges, and deep greens into your family's outfits to embody the essence of the fall season.
Here are some matching outfit ideas to get started:
| Family Member | Outfit Ideas |
| --- | --- |
| Mom | Plaid dress, tights, ankle boots |
| Dad | Plaid shirt, jeans, leather boots |
| Kids | Plaid shirts or dresses, leggings/jeans |
| Baby | Plaid onesie, cozy knit hat |
Remember, the key is to find harmony in your family's outfit choices without being overly uniform. Have fun exploring and creating your unique family style this fall!
Family Drippin'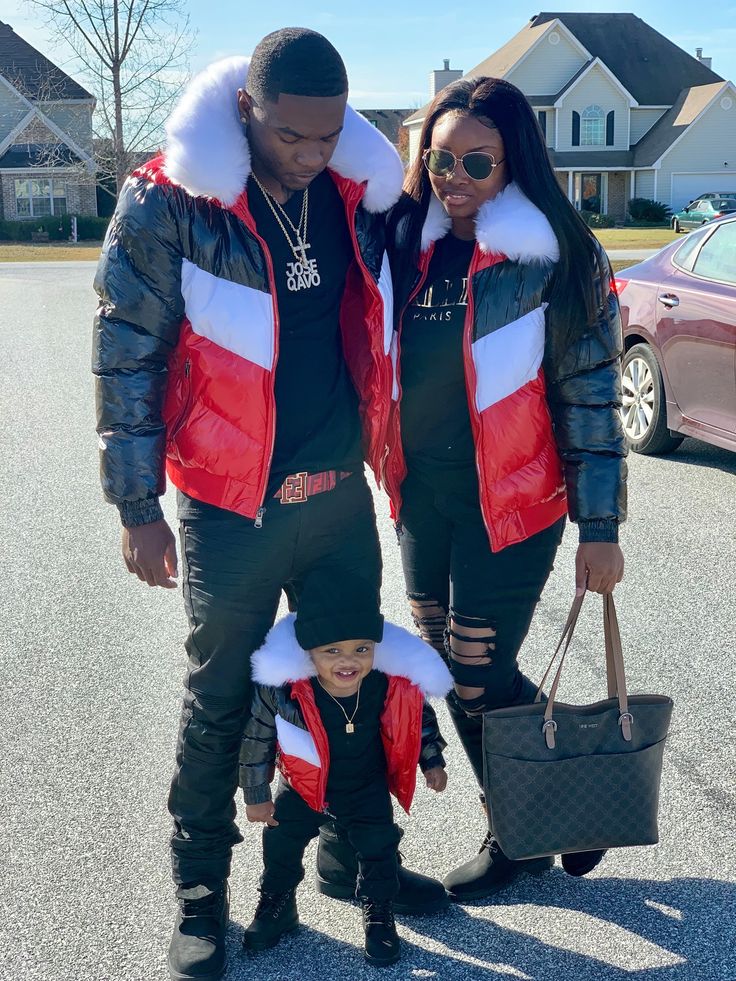 In today's fashion world, matching family outfits have become a trend that many of us enjoy indulging in. This fun and stylish way of dressing up brings families closer together while allowing them to express their unique sense of style. Let's take a quick look at some of the popular choices for coordinated clothing.
Themed outfits: In this category, we often find families dressing up in costumes or outfits inspired by their favorite movie, TV show, or book characters. This not only showcases the family's shared interests, but also makes for great photos and memories.
Color coordination: Choosing a color palette can be an easy and effective way to create matching family outfits. Simply select a few complementary shades, and have each family member dress in the chosen colors.
Pattern play: Whether it's stripes, polka dots, or florals, incorporating matching patterns into our wardrobe brings an element of fun and creativity to the mix.
When selecting matching family outfits, it's important to consider each family member's individual preferences and comfort levels. So, as we explore the world of coordinated fashion together, we're sure to create lasting memories and strengthen our family bond.
A Warm Autumn Day With The Family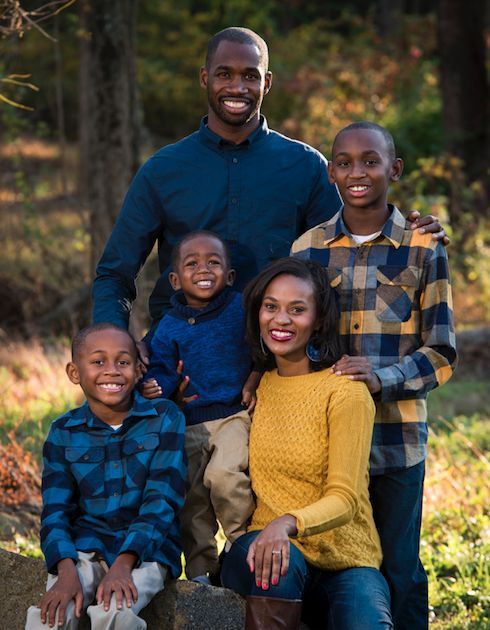 On a warm autumn day, spending time with the family can be even more delightful when we choose matching family outfits. There's something special about seeing everyone in coordinated attire, from the youngest to the oldest members. Here are some ideas that can help us put together a stylish and cohesive look:
Themed Colors: Select a color palette that reflects the fall season, such as warm oranges, deep reds, and earthy browns. We can choose different shades and patterns to add variety.
Layering Pieces: Lightweight jackets, cardigans, and vests are perfect for varying temperatures throughout the day. We can select matching pieces in similar styles or colors to keep everyone comfortable and coordinated.
Accessorize Together: Matching or complementary accessories like hats, scarves, and shoes can unify our family look. We can even select a unique family pattern that incorporates our chosen color palette.
By following these simple tips, we can create a memorable and fashionable experience, ensuring that our warm autumn day with the family brings smiles and cherished memories.
'Cool' Family A Day In Nature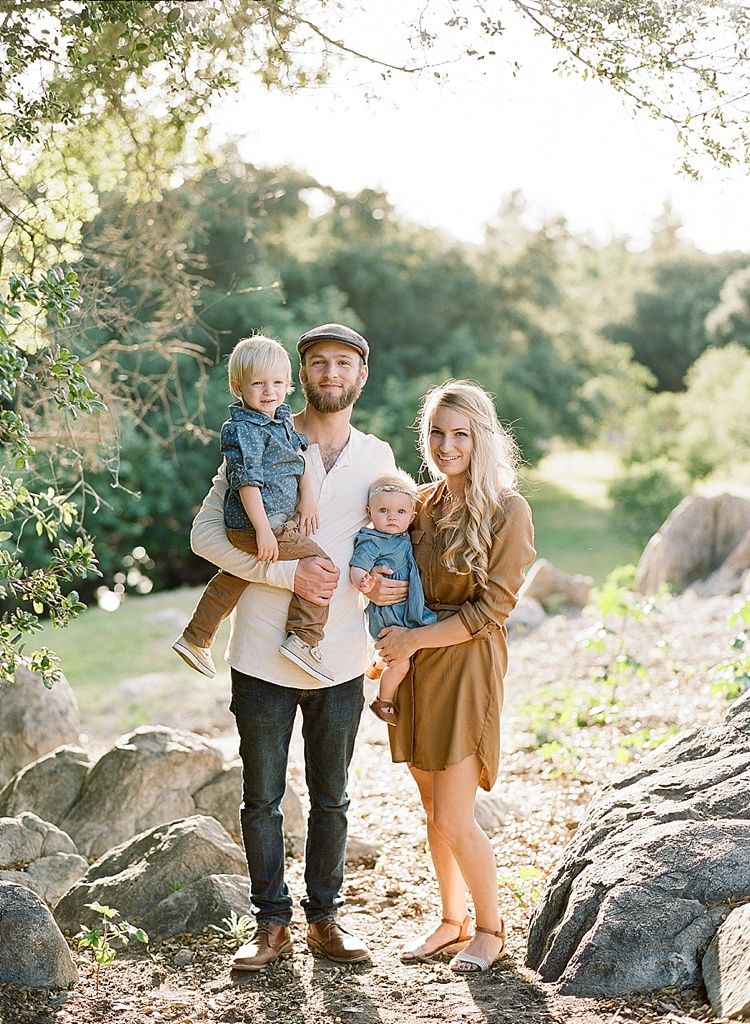 On a warm sunny day, when we decide to spend time in nature as a family, we can make the experience even more enjoyable by choosing matching family outfits. They not only make us feel connected but also create lasting memories while we explore the great outdoors together. Here are some ideas for matching family outfits for a day in nature:
Themed T-shirts: We can wear matching T-shirts with nature-inspired prints, such as animals, trees or flowers, to show our love for the environment.

Examples: Wildlife prints, floral patterns, family adventure slogans

Color Coordination: We can opt for outfits in the same color family to create a harmonious look when spending a day outdoors.


| Parent 1 | Parent 2 | Child 1 | Child 2 |
| --- | --- | --- | --- |
| Green | Green | Green | Green |
| Blue | Blue | Blue | Blue |

Layering for comfort: Since weather conditions can change during our nature adventure, we should dress in layers, making sure each family member is wearing similar types of garments.

Base layer: moisture-wicking material, such as a comfortable T-shirt or tank top
Insulating layer: lightweight pullover, hoodie, or fleece jacket
Outer layer: waterproof or windproof jacket
With these ideas in mind, our family will not only look stylish but also feel united as we spend quality time exploring the beauty of nature.
Maroon And Pink In The Desert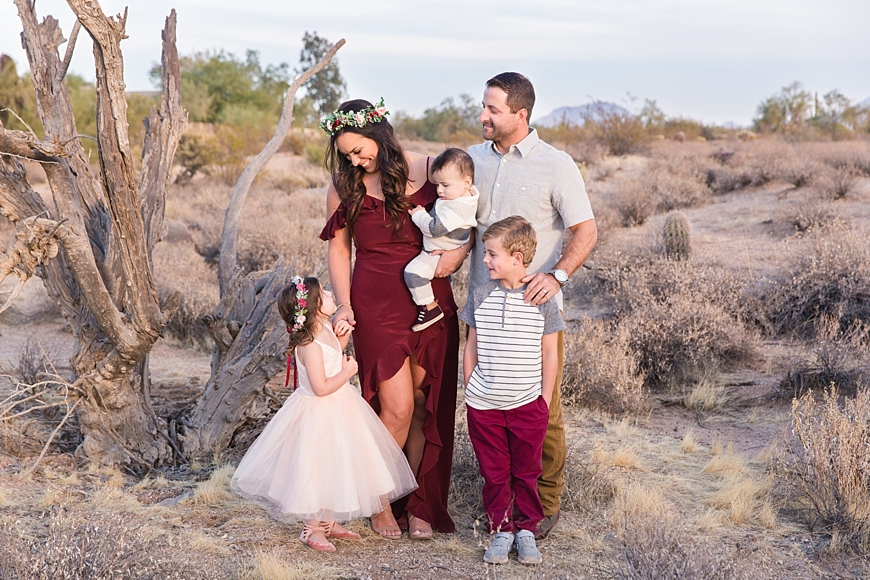 In our search for the perfect matching family outfits, we stumbled upon a delightful combination of maroon and pink clothing options that truly embrace the warm and colorful vibes of a desert landscape. Here are some ideas for coordinating outfits in these vibrant hues for every family member:
Mom and Dad: A maroon button-down shirt paired with khaki pants or a patterned skirt for a chic yet comfortable look. Complement the ensemble with pink accessories like scarves or hats.
Children: Dress the little ones in adorable maroon and pink striped shirts, paired with either denim or khaki shorts for a fun, playful appearance.
Babies: Ensure even the smallest members of the family join in the color coordination with maroon and pink onesies or rompers.
To complete the overall aesthetic, we suggest the following:
| Accessory | Suggested Color |
| --- | --- |
| Sandals or sneakers | Nude or beige |
| Sunglasses (children's sizes are available) | Any neutral tint |
| Wristwatches | Gold or silver |
| | |
With these matching maroon and pink outfits, your family will not only be in sync style-wise but also stand out among the crowds, making for a truly memorable and fashionable outing together.
A Proud Father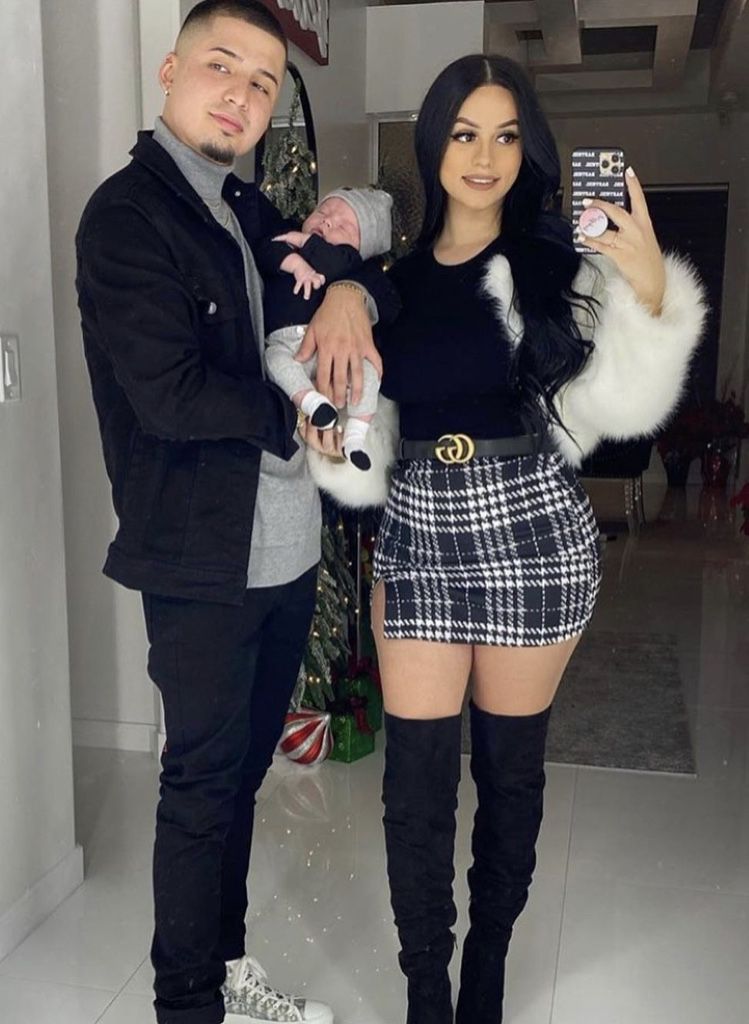 In today's world, fashion and style have become significant for individuals as well as families. One such trend gaining popularity is matching family outfits, allowing a sense of unity and pride. We believe it's important for families to express their love and bond through coordinated clothing.
Wearing matching family outfits during special occasions, such as holidays or family photos, creates lasting memories. It can bring smiles to faces and evoke the warmth that comes with being a part of a loving family.
As a proud father, coordinating outfits with your family showcases not only your dedication but also your active involvement in family life. Here are some matching outfit ideas to consider:
Themed Outfits: Choose a common theme, like a favorite movie, color, or pattern, and base your wardrobe around it. This allows individual expression while still tying the family together visually.
Accessory Matching: If you prefer a more subtle approach, consider a common accessory like identical hats, scarves, or socks. These elements can bring the family together without being overly flashy.
Monogrammed Clothing: Have your family's initials or a shared symbol featured on your clothing. This personal touch signifies unity and pride.
In conclusion, matching family outfits can enhance your family's bond and promote a shared sense of identity. As a proud father, embrace this trend and see your family come closer together.
Matching Boys And Matching Girls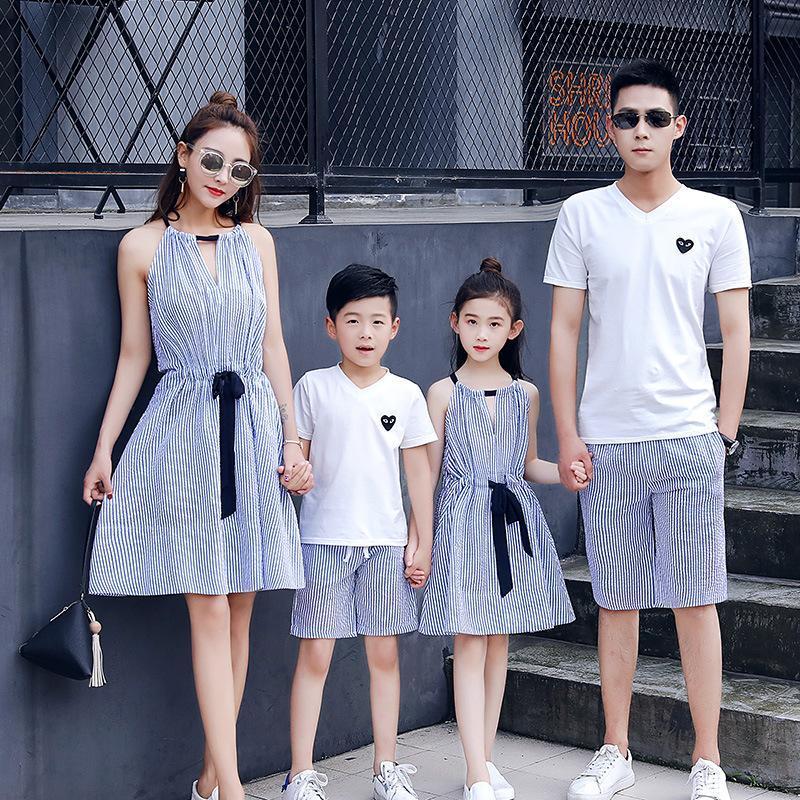 When it comes to matching family outfits, finding coordinating styles for boys and girls can help bring everyone together for special events or casual days. We understand that dressing kids can be a fun and creative way to express their individuality, but also involves ensuring a cohesive look within the family.
Pattern Choices: Select similar patterns, such as stripes, polka dots, or plaid, for kids of various genders. This will easily coordinate their outfits without being overly matchy.

Examples: Striped shirts, polka-dotted dresses, plaid shorts

Color Palette: Choose a complementary color palette for the entire family. It's essential to maintain consistency, possibly by finding clothing items of varying shades within the same color family.

Examples: Navy and light blue, red and pink, shades of green

Themed Outfits: Opting for a specific theme across each outfit will not only create a sense of unity but also ensure a cohesive appearance.

Examples: Nautical (sailor stripes, navy blue), tropical (floral prints, vibrant colors)

Pairs in Different Styles: Match siblings in age-appropriate styles while maintaining the overall theme. For example, have one child wear a jumpsuit and the other a dress, both in the same print.
No matter the occasion, matching family outfits can be a delightful way to celebrate togetherness, coordinate photos, and show off your family's unique style. By considering patterns, color palettes, themes, and variations in styles for boys and girls, we can create fun and unforgettable memories for the entire family.
Keep On Rockin'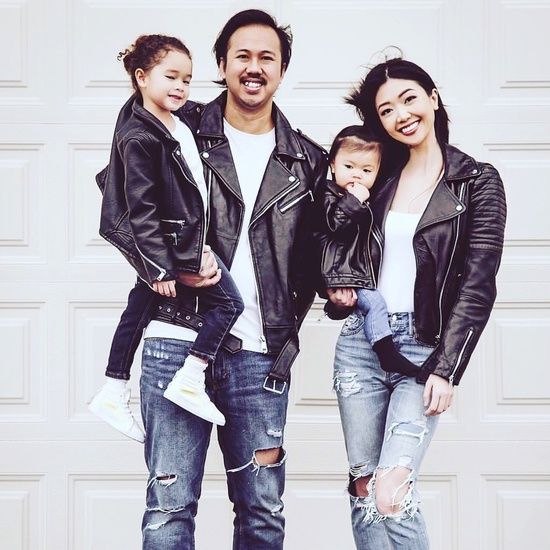 As we explore the world of matching family outfits, it's important to acknowledge the variety of styles and occasions for which these coordinated ensembles can be perfect. From casual everyday wear to special events, there are numerous opportunities for families to rock matching outfits.
Themed parties: Whether it's a holiday gathering or a birthday celebration, themed matching outfits are an excellent way to show family unity and have fun together.
Family photos: Coordinated outfits can bring a harmonious and visually appealing element to family portraits, creating memories that will last forever.
Vacations: Dressing in matching outfits during a family trip can not only make for great photos but also help keep track of everyone in a crowded tourist spot.
Sporting events: Show your support for a favorite team by decking out the whole family in matching team colors or jerseys.
Finding the right matching outfits for your family can be as easy as browsing through online stores or visiting local boutiques. Be sure to consider each family member's personal style and comfort when selecting the perfect coordinated pieces. With a little effort and creativity, your family will keep on rockin' in style, no matter the occasion.
Stylish Family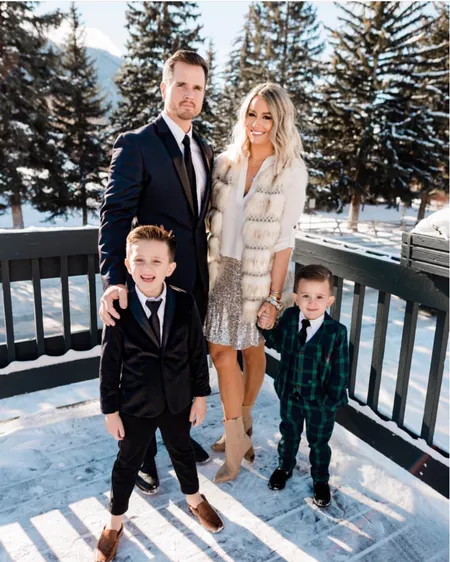 We believe that matching family outfits can be a delightful way to show a family's unity and love. Here are some ideas to consider when dressing up your family in coordinated outfits:
Themes: Choose a theme that your family enjoys, such as favorite colors, patterns, movie characters, or even a specific time in history.
Events: Take advantage of special occasions like holidays, birthdays, or family photoshoots to display your matching outfits.
Comfort: Ensure that the chosen outfits are comfortable for all family members, taking into account different ages, sizes, and personal preferences.
Variations: Mix and match different styles while maintaining a common color scheme or pattern to create a cohesive look.
Accessorize: Use accessories like hats, scarves, or jewelry to accentuate and personalize the coordinated outfits.
Remember to have fun and express your family's unique style while creating unforgettable memories together!
Nice for Xmas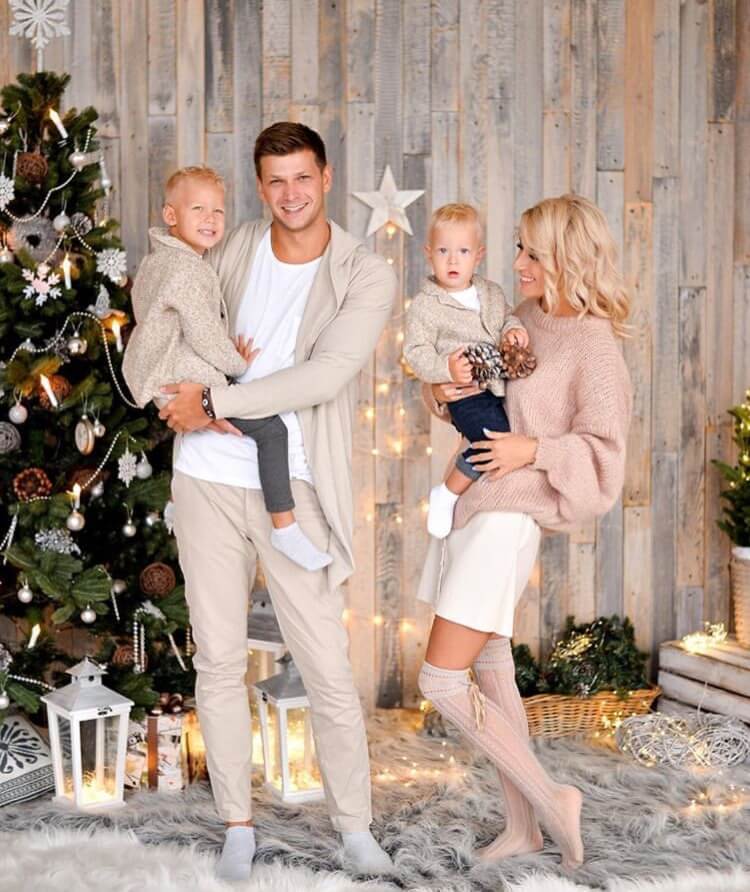 During the festive season, matching family outfits can add a touch of warmth and unity to our holiday celebrations. Here are some ideas to consider for creating that perfect Christmas look:
Themed Pajamas: Cozy up in holiday-themed matching pajamas for the entire family. Look for fun prints such as reindeer, elves, or snowflakes.
Classic Sweaters: Opt for classic Christmas sweaters with designs like snowmen and holiday trees, ensuring everyone has a comfortable and stylish option.
Color Coordination: Choose a color scheme, such as red and green, or white and gold, to make all our family members' outfits harmoniously coordinated.
Accessories: Add matching accessories, like festive hats, scarves, or socks, to complete the Christmas ensemble.
By incorporating these ideas into our holiday planning, we can create picture-perfect moments and memories that will last a lifetime.
Matching In Different Outfits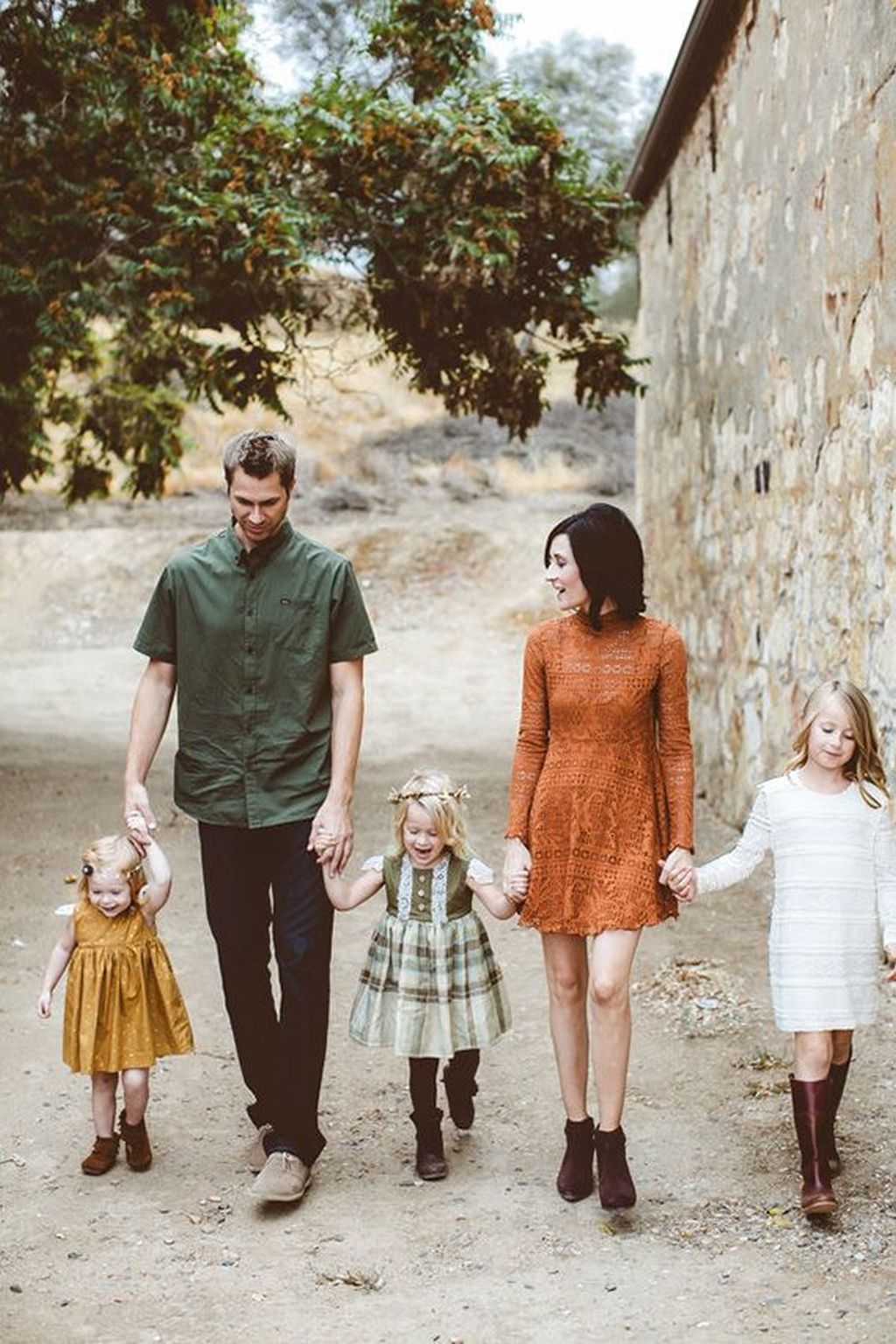 When choosing matching family outfits, it's essential to consider various factors to achieve a cohesive and stylish look. Here are some tips to help you create the perfect matching outfits for your family:
Color coordination: Opt for a common color palette that suits all family members. This can include different shades of the same color or complementary colors that blend well together.
Patterns and prints: Mixing patterns and prints can be a fun way to match outfits. For example, you can choose stripes, polka dots, or floral prints that incorporate your chosen color palette. However, be mindful not to overdo it and maintain a balance between simple and patterned clothing items.
Theme-inspired: Pick a theme that resonates with your family, such as nautical, holiday, or rustic, and select outfits that incorporate elements of the chosen theme.
Accessories: Don't forget to add matching accessories like hats, scarves, or jewelry to complete the look. Accessories can be an easy way to tie together different outfits and add a touch of personality.
Comfort and practicality: Ensure that all family members feel comfortable and confident in their matching outfits. Opt for clothing materials and styles that allow freedom of movement and suit the planned activity or event.
By following these tips and making thoughtful decisions, we can create beautifully coordinated matching family outfits that celebrate our unique personalities and connections.
Mom, Dad, And Their 'Minis'!
Matching family outfits have become increasingly popular, as they offer a fun and coordinated look for special occasions or just day-to-day life. We've seen this trend grow in popularity over the years, and it's not hard to understand why. Choosing matching outfits can be a delightful way to express our family's personality, creating lasting memories while capturing beautiful photos together.
When selecting the perfect ensembles, consider these tips:
Choose a theme or color scheme: Picking a consistent theme or color palette will help in bringing the whole family's outfits together. This can be anything from picking a specific pattern (like stripes or florals) or a cohesive color family.
Consider comfort: Keep everyone's comfort in mind while choosing the outfits. Opt for soft fabrics and clothing that fit well, so that each family member feels at ease in their attire.
Mix and match: Don't feel pressured to find identical clothing items for each family member. Mixing and matching within the chosen color palette or theme can create a visually interesting look while still capturing the essence of matching outfits.
Plan ahead: Start your search for the perfect matching outfits early to avoid last-minute stress, which allows you to have a wider selection to choose from.
Matching family outfits can be such a fun experience, creating a sense of unity and love between all family members. Remember to have fun with it, because that joy and laughter will certainly be captured in the photos and memories you create together.