The fashion trend known as ombre, which features a playful gradient of tones ranging from shadow to light, has been enormously popular in hair and fashion. Every fashionable woman is aware that paying great attention to every tiny detail when dressing from head to toe is essential. Your nails need to be done up as they contribute significantly to giving off a trendy impression. So why not forego your basic base coat in favor of gorgeous nails with a distinctive, imaginative twist.
Using diamonds is the best approach to make your nail art more elegant. One of the most popular nail art you will see this year is nail art using diamonds. For women who like to step up their standard manicures, diamond-encrusted nail art is quite alluring. Unless you're a royal, no one will add genuine diamonds to your nails, but they will add rhinestones, which will look just as expensive and function like diamonds.
With diamond nail art, there are many creative possibilities, and you can personalize your nails to suit your tastes. There are numerous methods to add rhinestones into your nail art to give your nails a beautiful finish. Some women want to be daring and layer on the gems and rhinestones to create 3D works of art sure to draw attention. Rhinestones can also be added to only the base of your nail for a more understated but no less lovely look. You can use a single base color or you can experiment with the ombre effect. Additionally, you might want to experiment with matte, glossy, or frosted nail polish to determine which suits you and your desired appearance the best.
See our selection of lovely diamond-focused nail art below to get inspired for the entire month by these bling-bling creations.
Pink Ombre Diamond & Glitter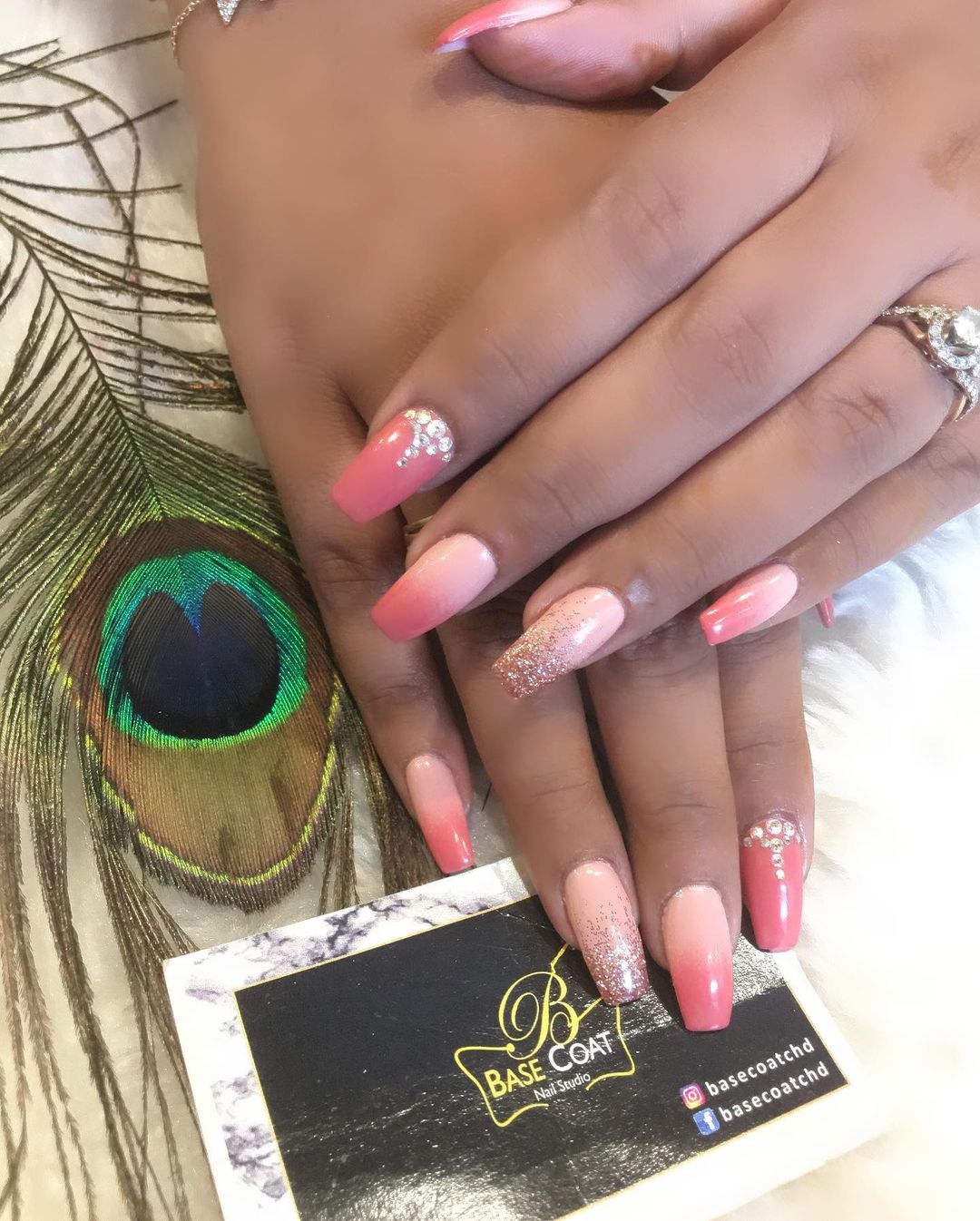 A pinkish-red and pale pink nude combination can be a great base to build on your perfect nails either for some special occasion or some casual days that will make you feel better. Adding a diamond will only add a spark to your style.
White Glitter Ombre Diamond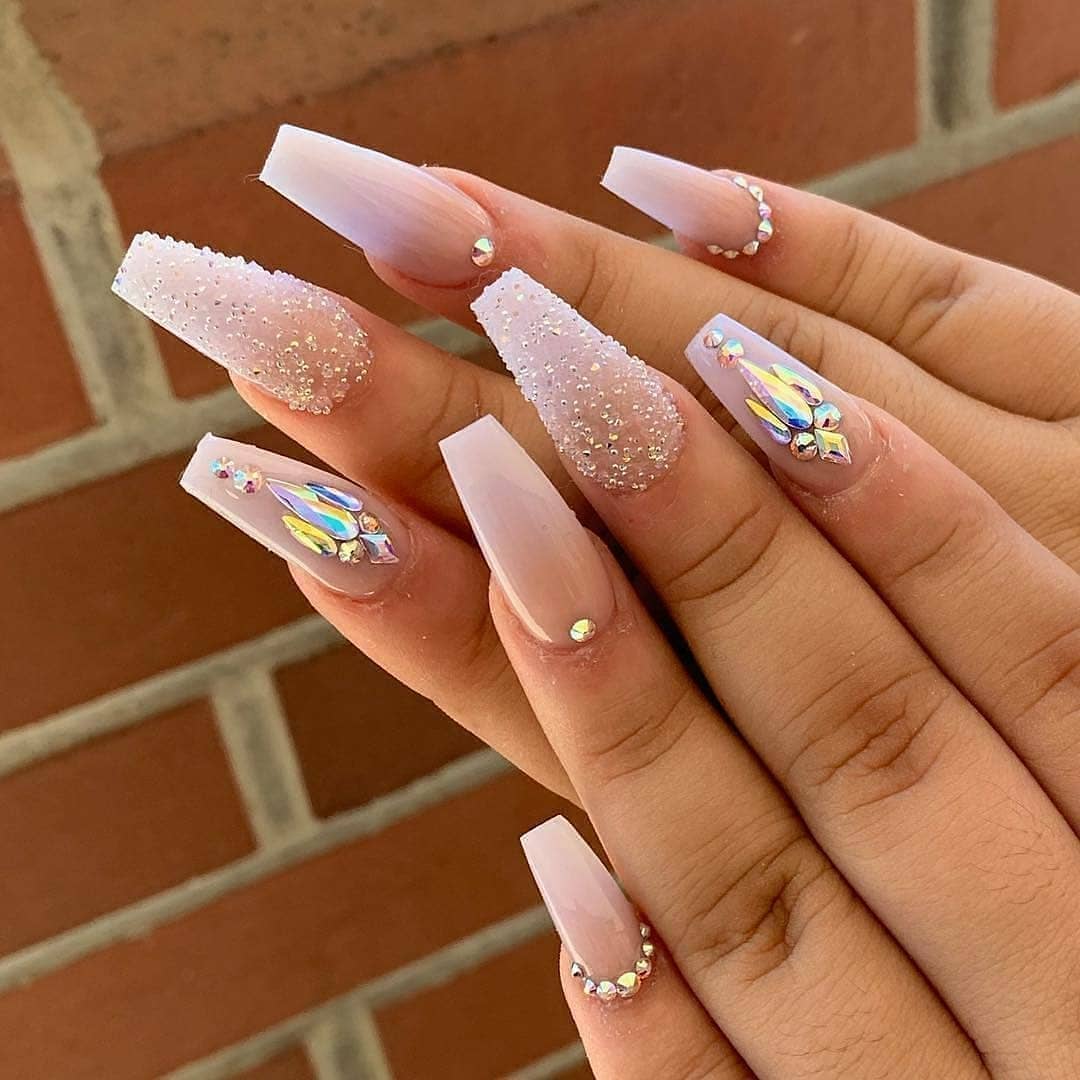 This style is perfect for special occasions where you want to look your best. Elegant white nails go with everything, and if you create an ombre style and add some diamonds (as much as you want), you will get the perfect look to combine with all your outfits.
Violet Ombre Diamond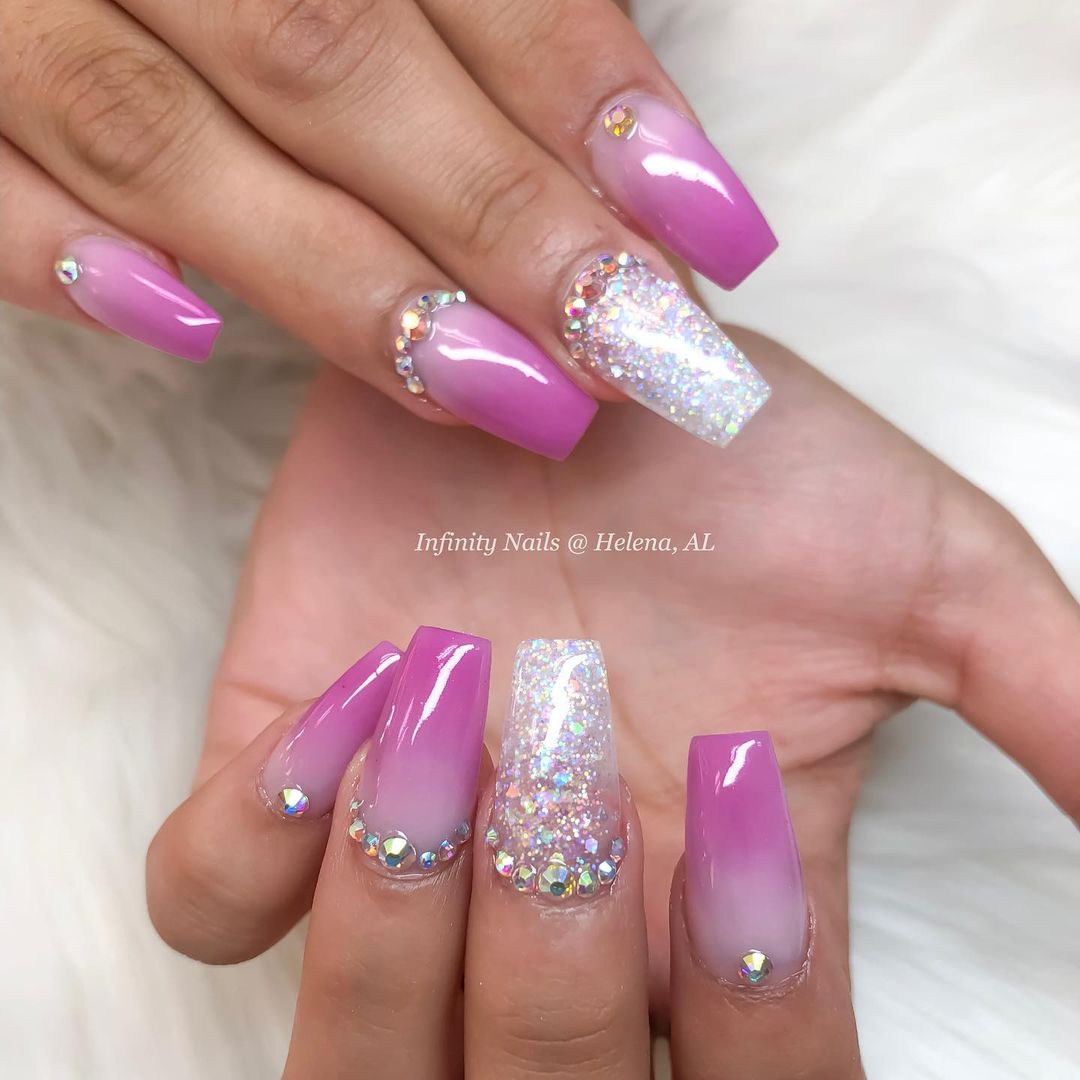 Violet is a spring color, so an ombre variant with white and some diamonds, adding some glitter is a beautiful combination for a spring special occasion. Combine sparkle and shimmer to get the perfect look.
White Ombre Flowers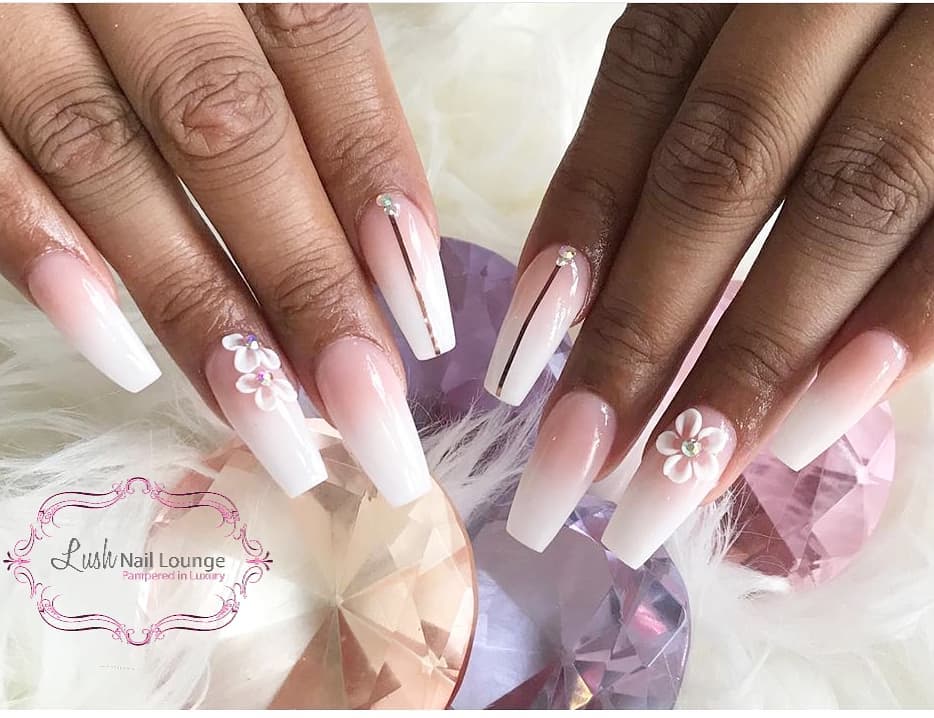 White ombre nails can be made even more beautiful by adding simple, yet elegant details. These nails in the photo are decorated with a simple gold stripe ending with a diamond, and beautiful flowers to add to the style and sparkle. They are simple, yet lovely.
Glowy Ombre Diamond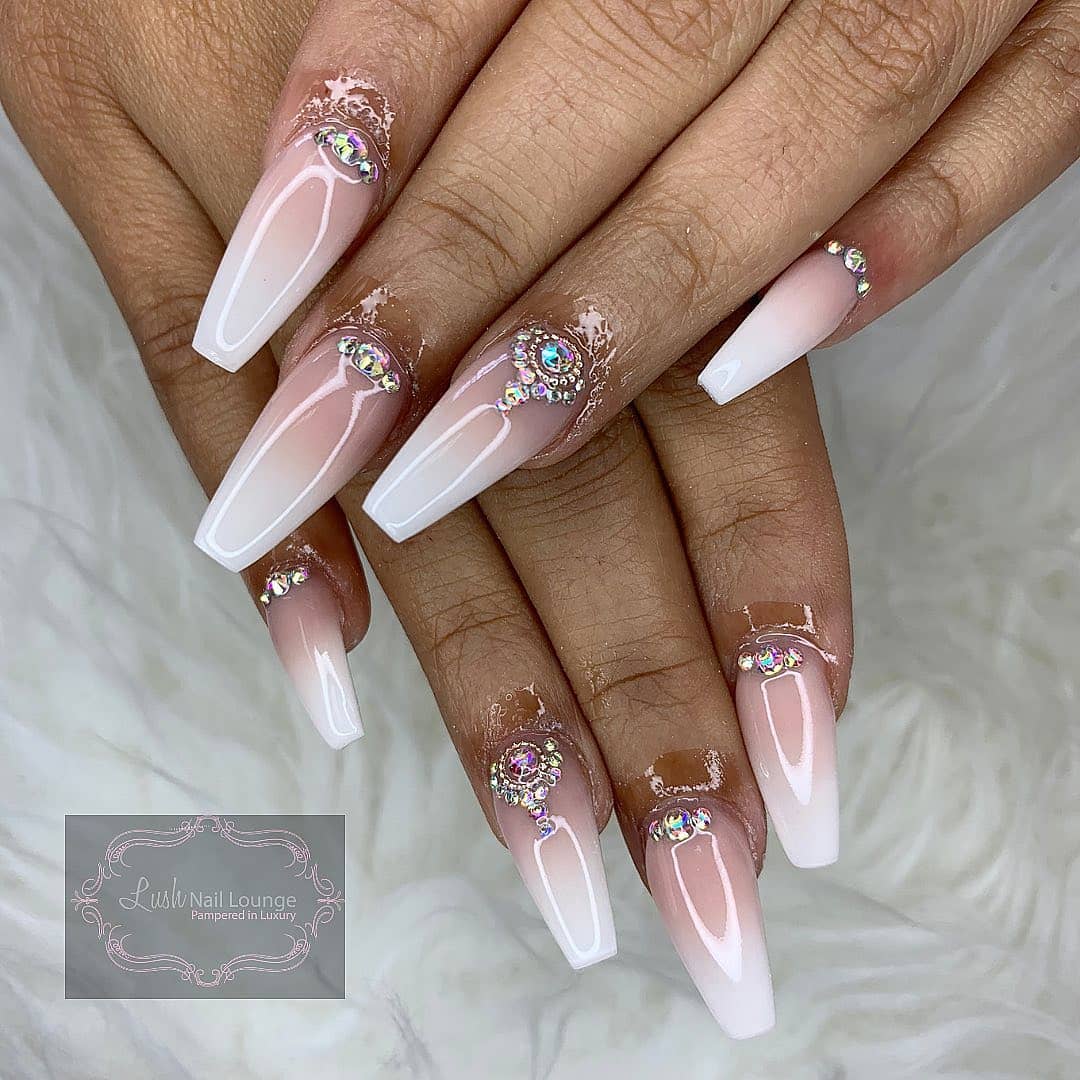 White doesn't need to be dull. If you want to avoid the milky white nails with diamonds, go with the glow as much as you can. Paint the nails white and nude ombre, and then add glowing transparent nail polish to make your nails shine. The diamonds will only add sparkle.
Nude And White Ombre Diamond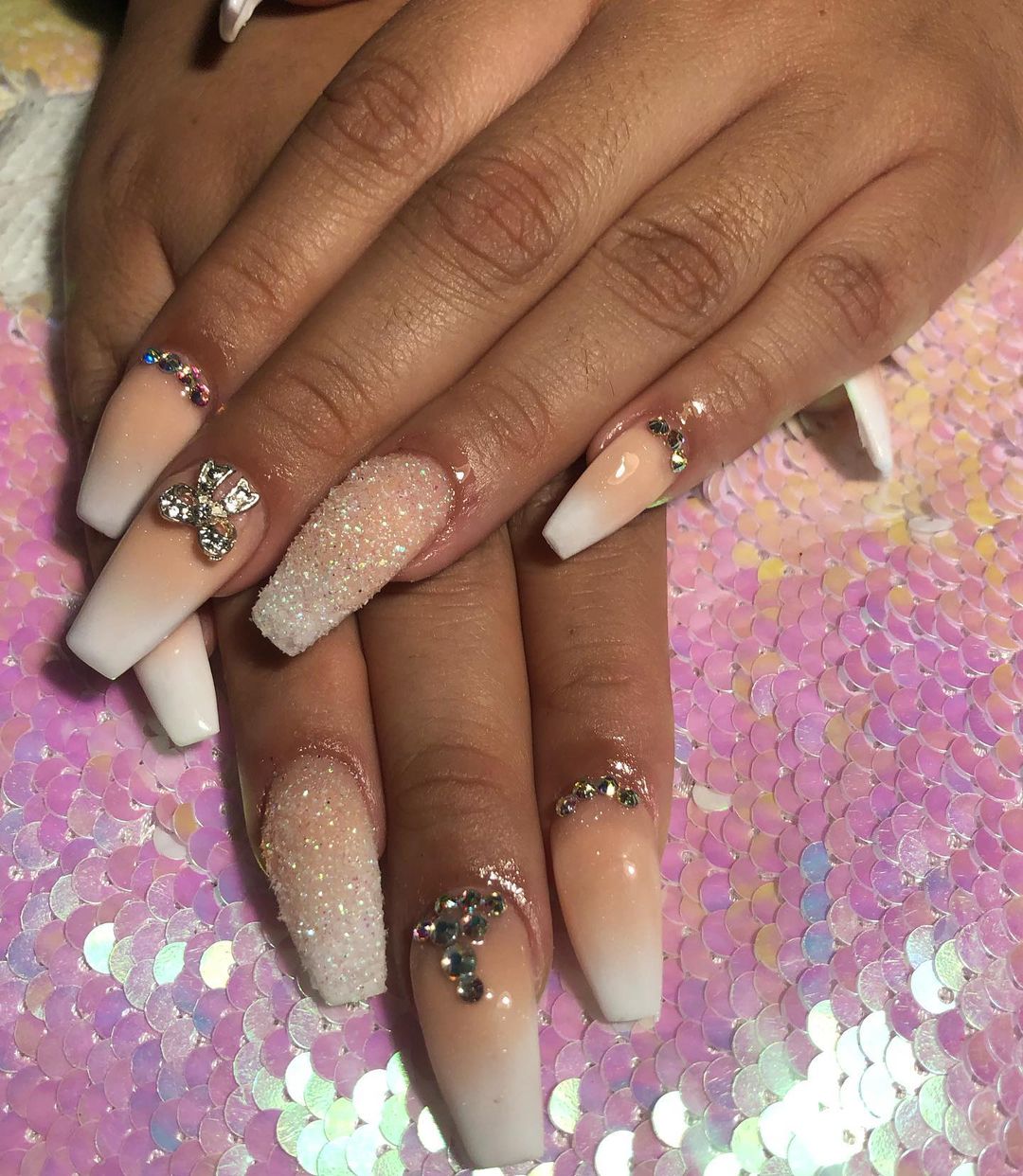 These nude-white-tips nails are perfect for modern brides. They are bridal, but add that bad-ass feeling to your outfit to make you feel sassy and chick. Putting a diamond to one whole nail will even add to the sassiness and stylishness.
Shiny Green Nude Ombre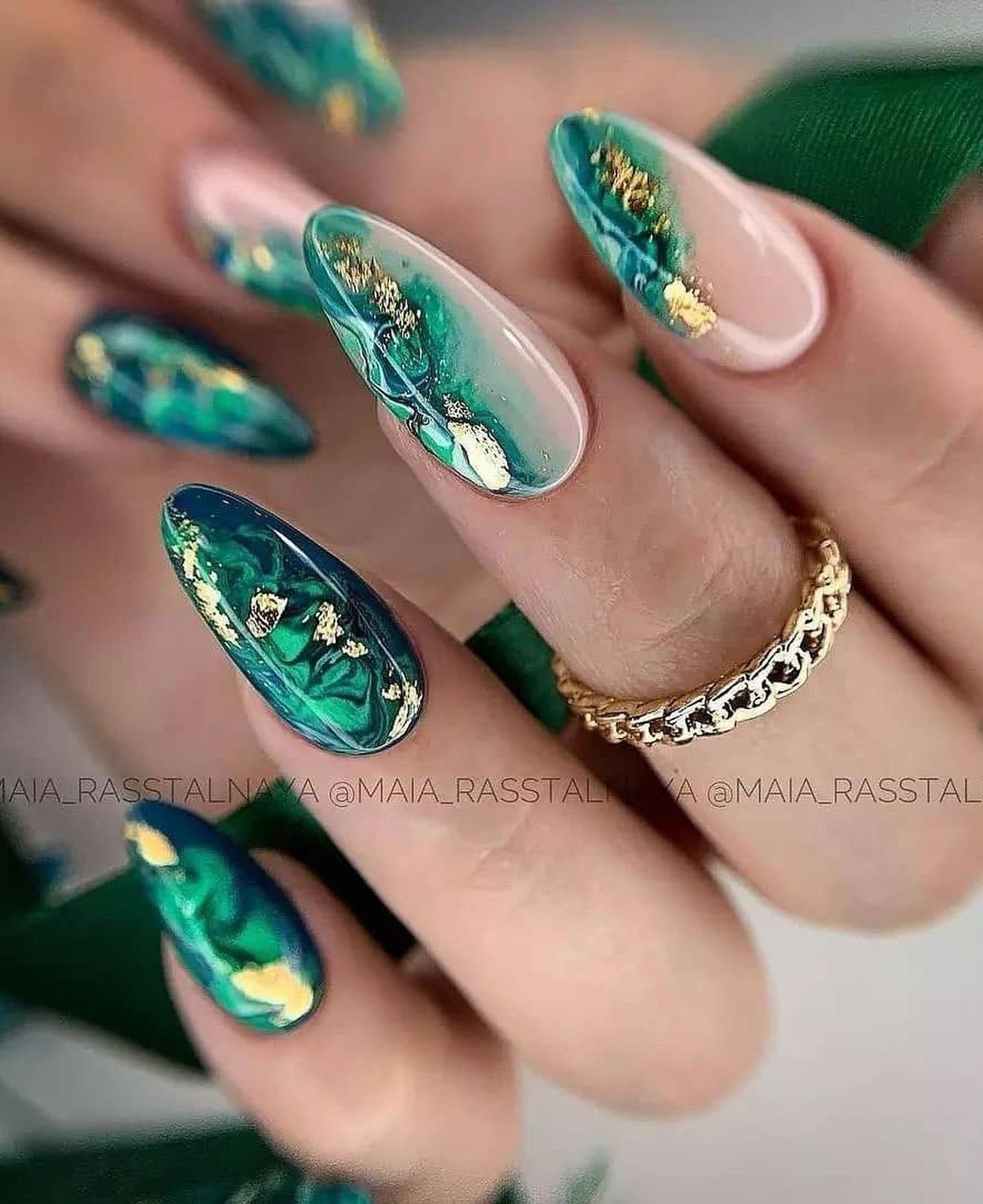 Let's go color. Dark color. Green is a perfect combination with several differently colored outfits, but adding some shiny gold will make them perfect for a night out or partying with friends. Wear them with jeans or a simple elegant dress. They are perfect for everything.
Black Green Glittery Ombre
The Black and green glitter ombre is a perfect combination for young and rebellious. And not so young, but rebellious women. They go perfectly with jeans and black attire, but adding a diamond gives the elegance that is required.
Unicorn Ombre Diamond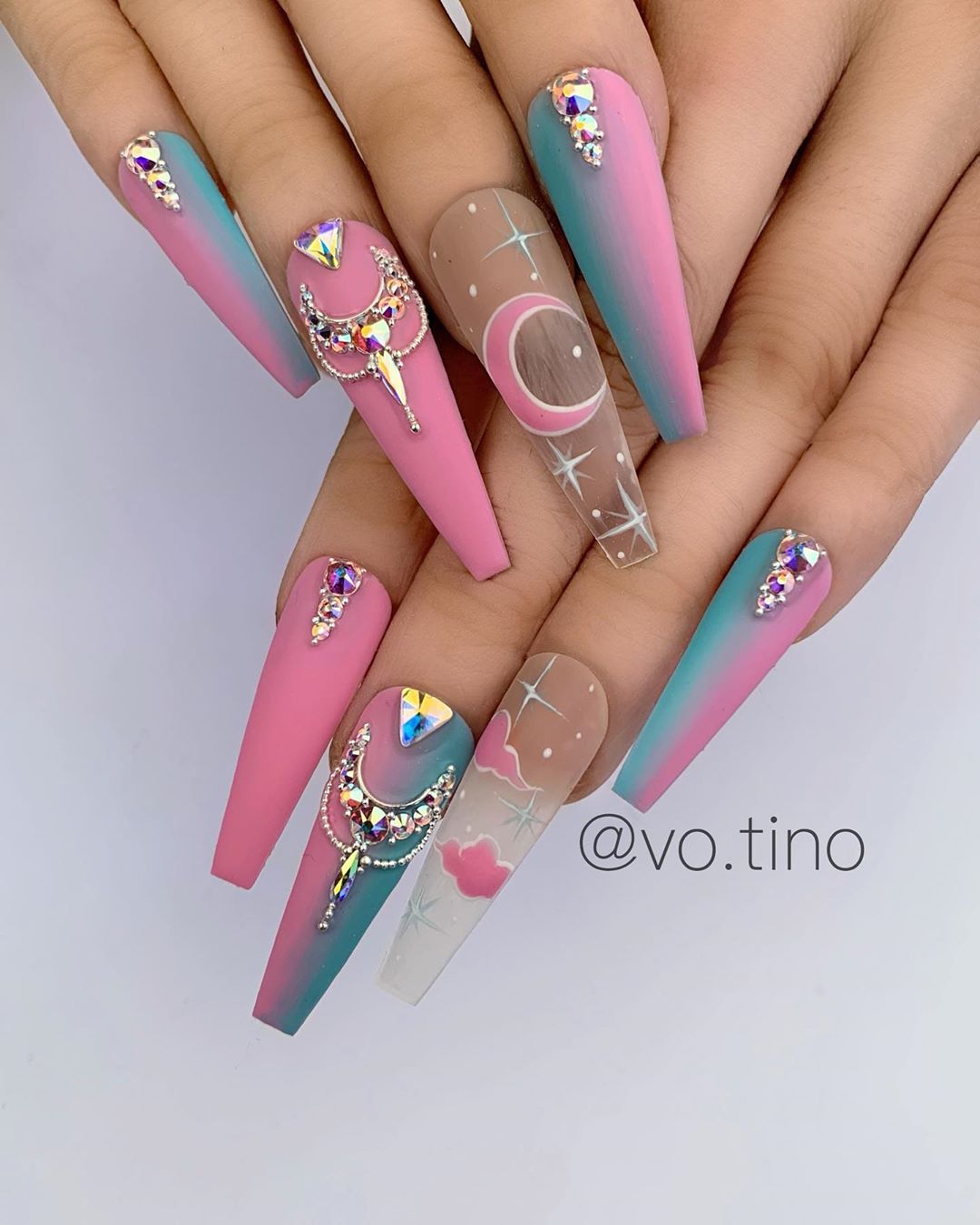 Some of you are obsessed with unicorns, so these nails resemble this mythological creature. The added diamond shapes only give a bigger resemblance to the unicorn or the image of it. They are perfect for children's parties, but also costume parties.
Rainbow Ombre Diamond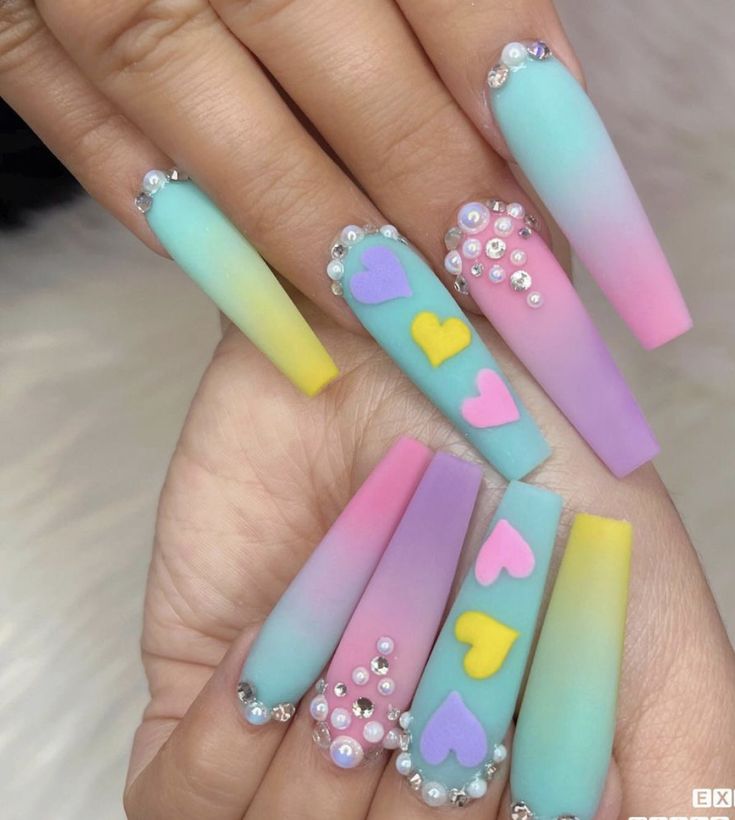 Rainbow, or a splash of colors. Why not? These nails are perfect for combining with all the colors in the rainbow. They are versatile, yet look so lovely when put in the right combination. The diamonds will only add a sparkle.
Sky Blue Ombre Glitter
Blue as the summer sky. White as the spring clouds. And then divided by a gold stripe. This is the perfect combination for the warm summer days to make you feel even fresher and more modern while on the beach or just walking around.
White Clouds Ombre Diamond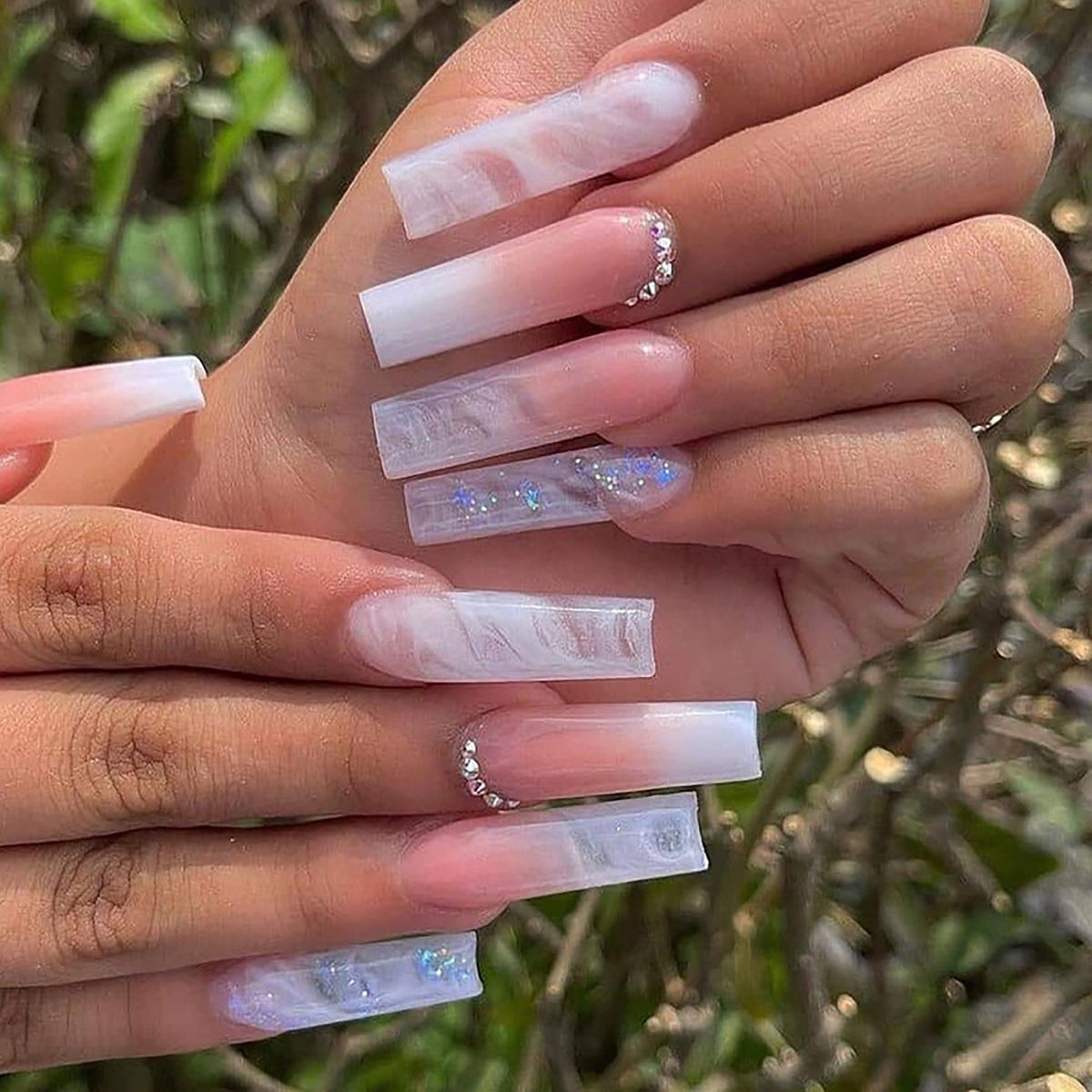 Spring clouds, and summer clouds, are thin, white, and usually just decorate the sky. The reflection of them on your nails will create a perfect modern twist to your outfit and style. You can combine them with every color, and the sparkles will add to their beauty.
Dark Ombre Diamond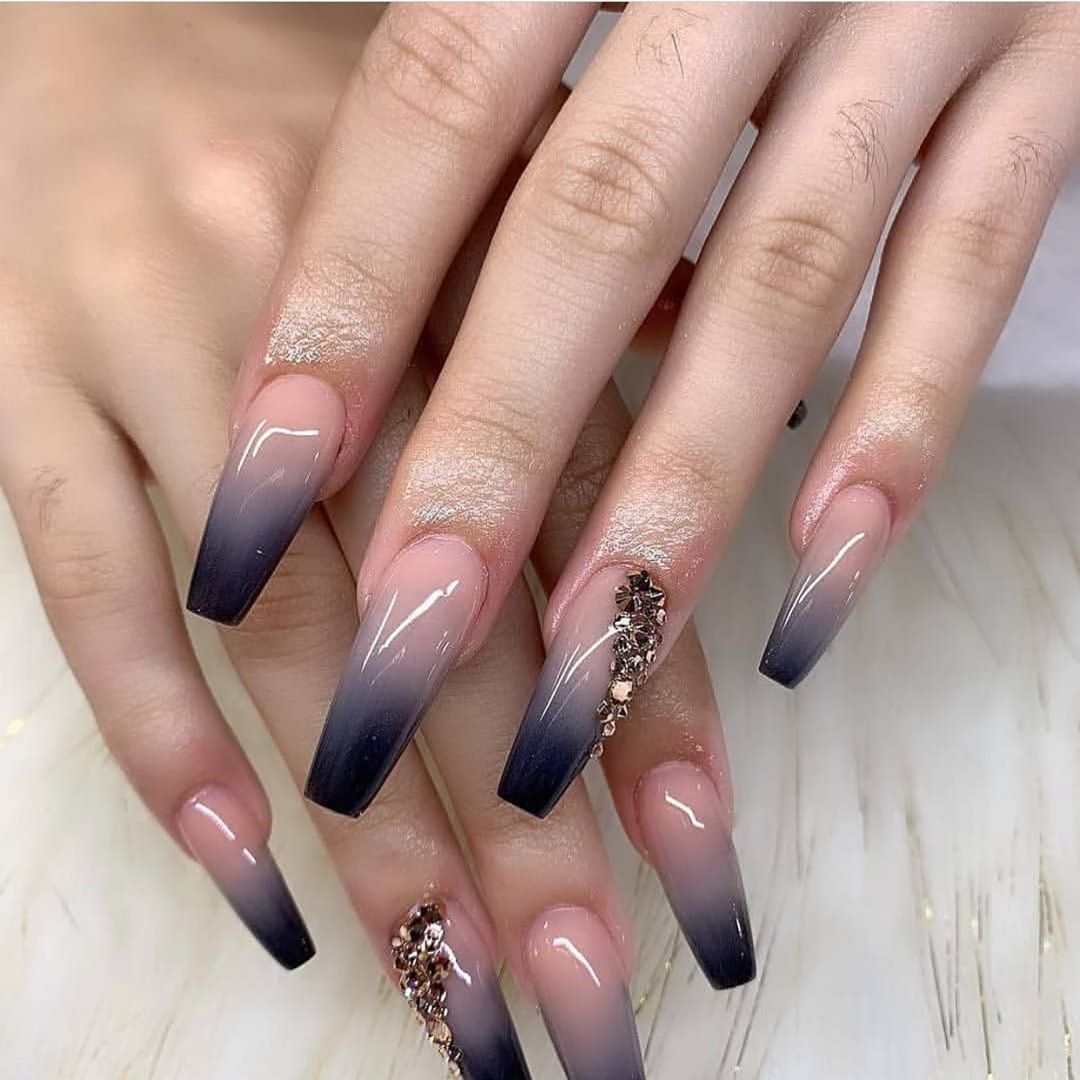 A bit darker parts of the nail can bring up the elegance of that little black dress you decided to wear for a special date night. Adding diamonds to the nails will increase the stylishness and give them some sparkle.
Sunrise Ombre Diamond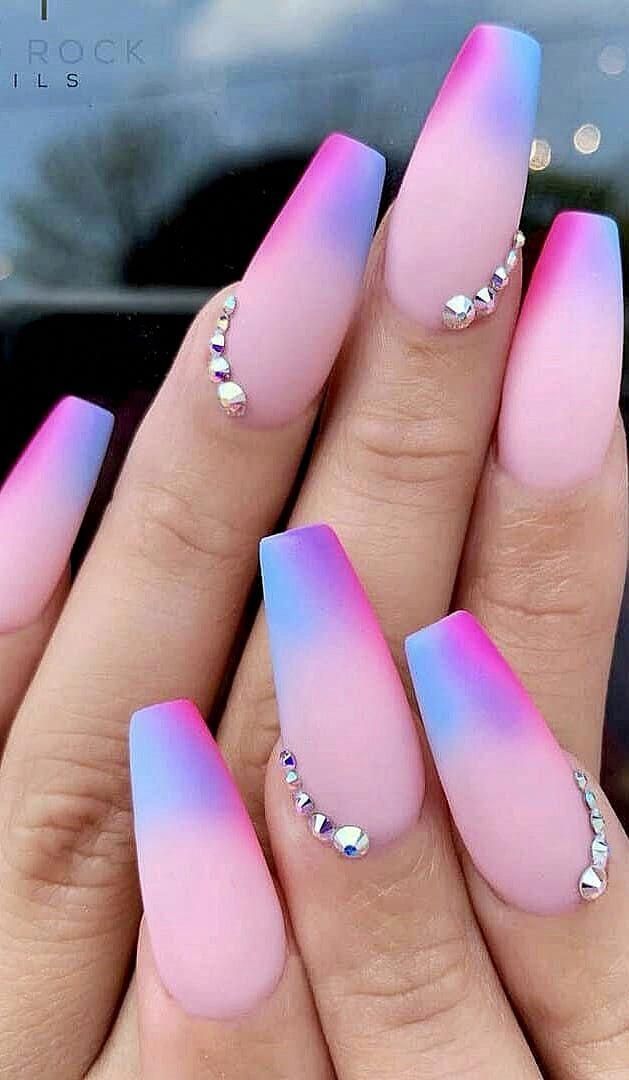 These nails resemble the beginning of the sunrise when the night fades and the day enlightens. The diamonds add to the resemblance to the stars that keep fading in the distance, and yet are visible and sparkly.
Bridal Ombre Diamond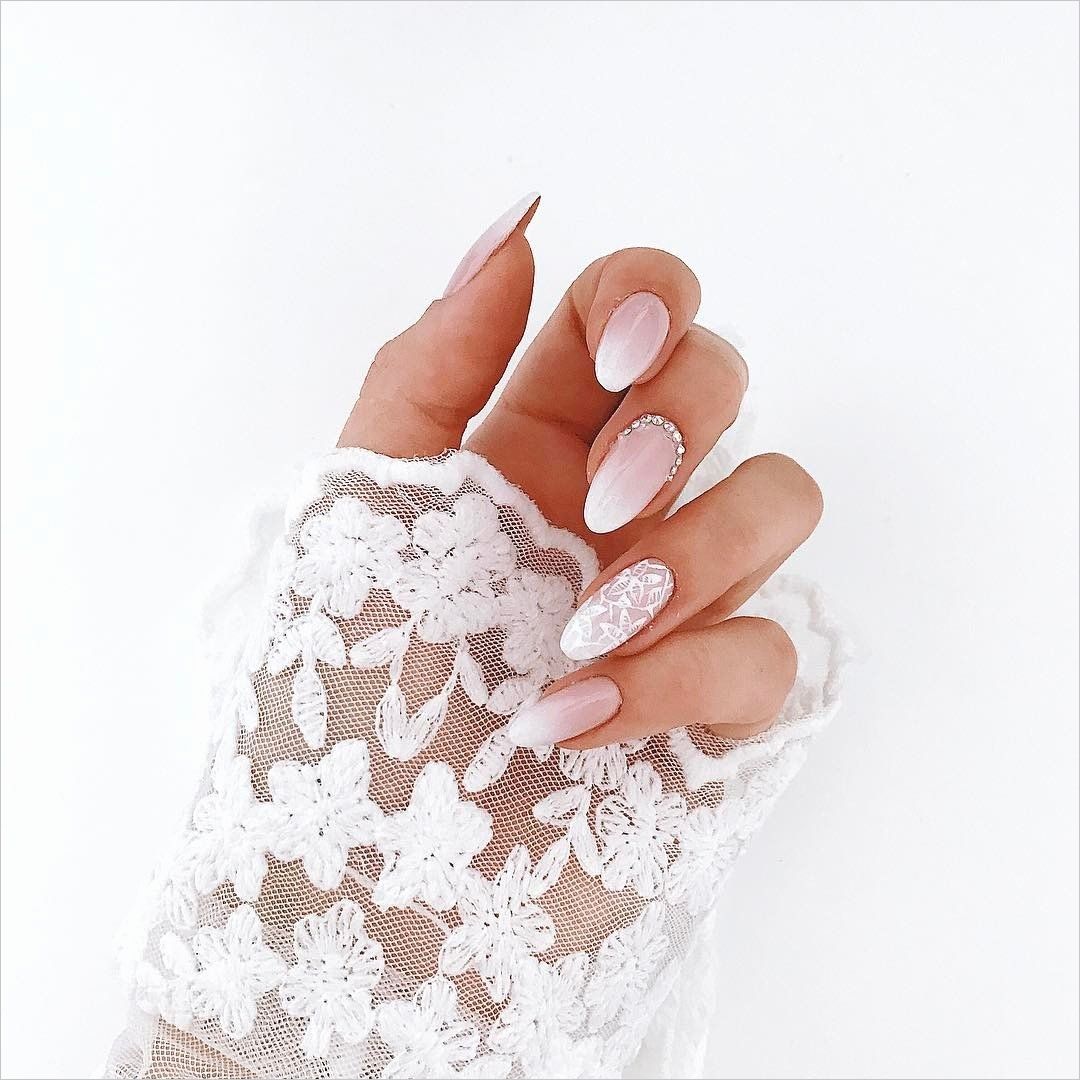 Brides are always special. These nails are special for brides as well. They are elegant, sparkly, and shiny all at once. The whiteness gives the impression of innocence and the sparkles give the necessary sass and style of a princess as any bride wants to feel.
Grey White Ombre Diamond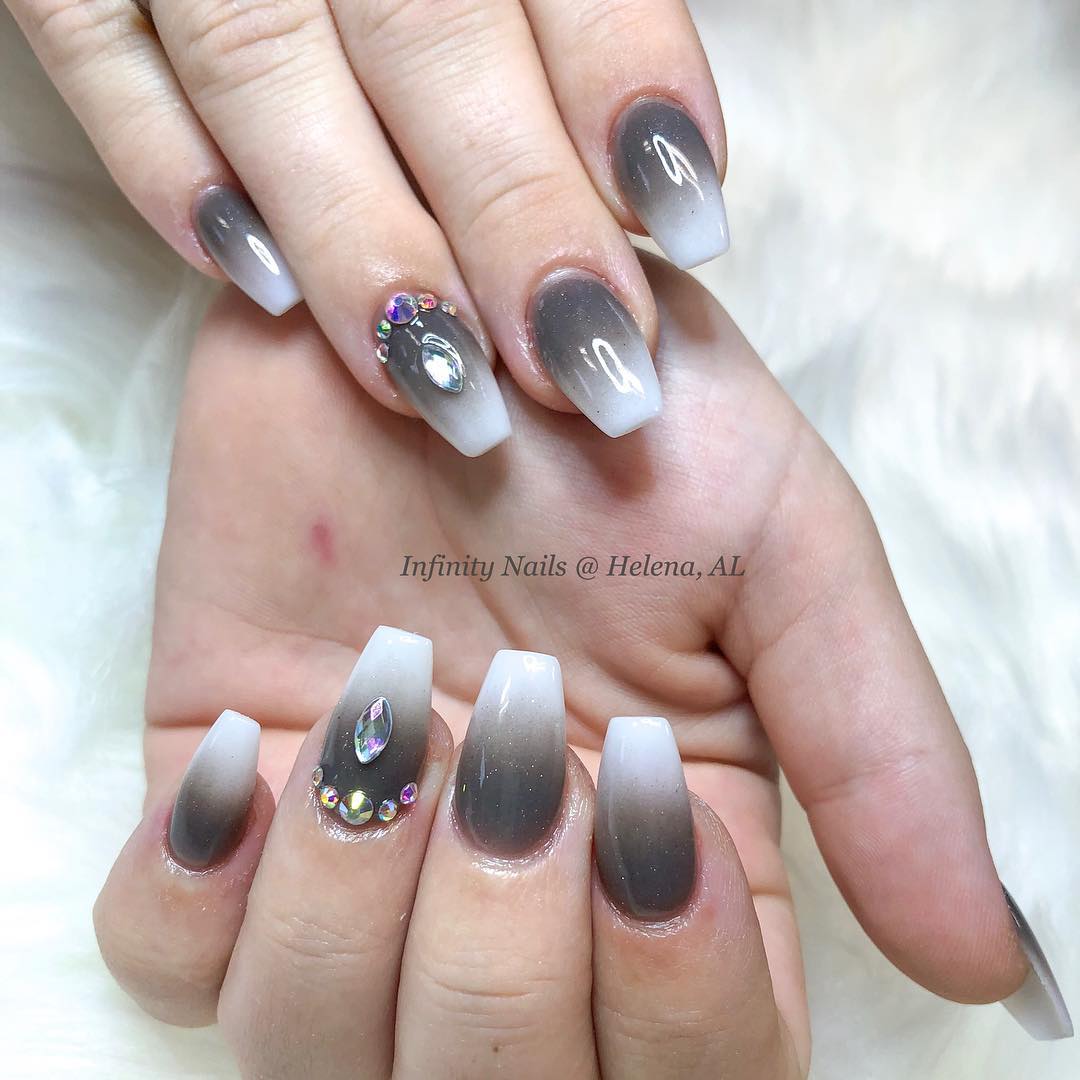 A combination of grey and white is great if you want to get away from that ordinary style you see around you. This combination is the perfect getaway for the perfect night out with your favorite people. And if you're not a glitter person, you can add this to any special event you might attend.
Pink Green Ombre Glitter Diamond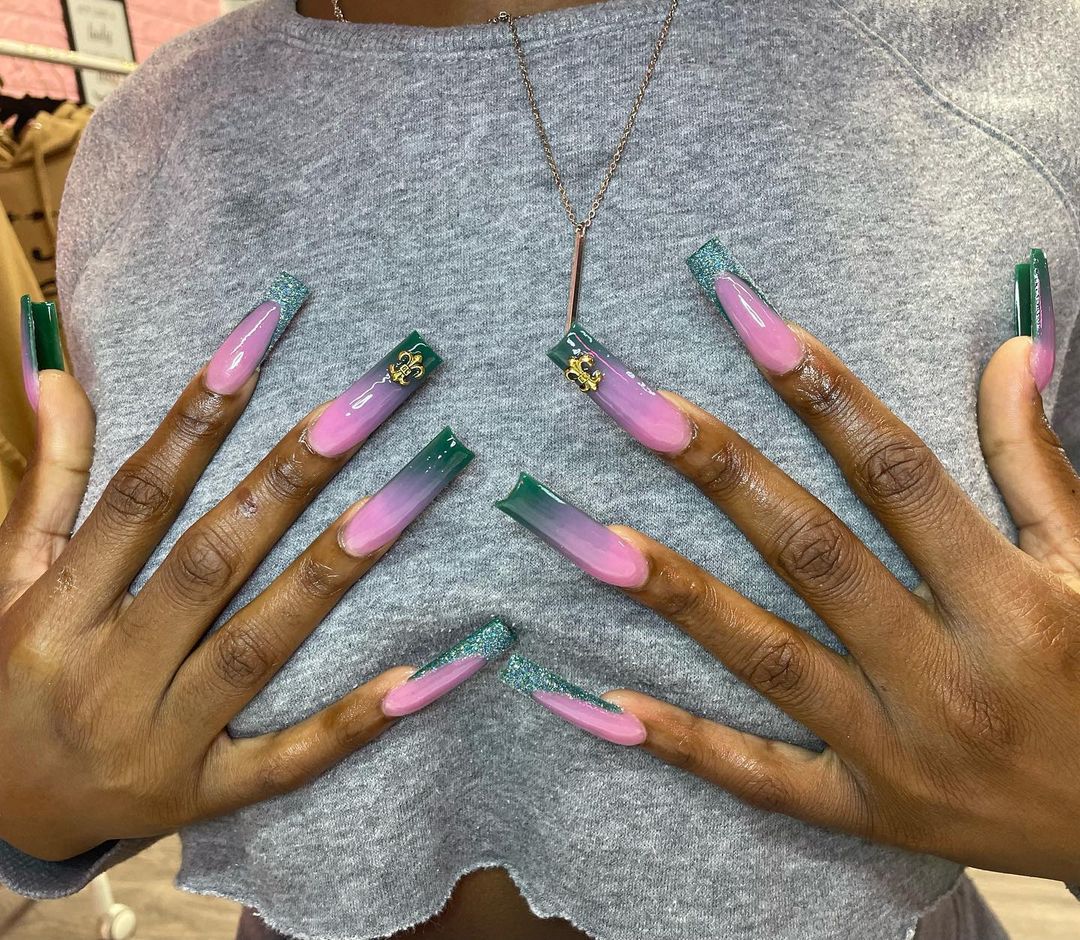 This is an interesting combination. Pink and green blend together to create the perfect style for the pool party you will attend during the weekend. They are elegant, sassy, and chick. The added royal-shaped diamonds are only a plus to the glitter the nails inspire.
Light Blue Ombre Pattern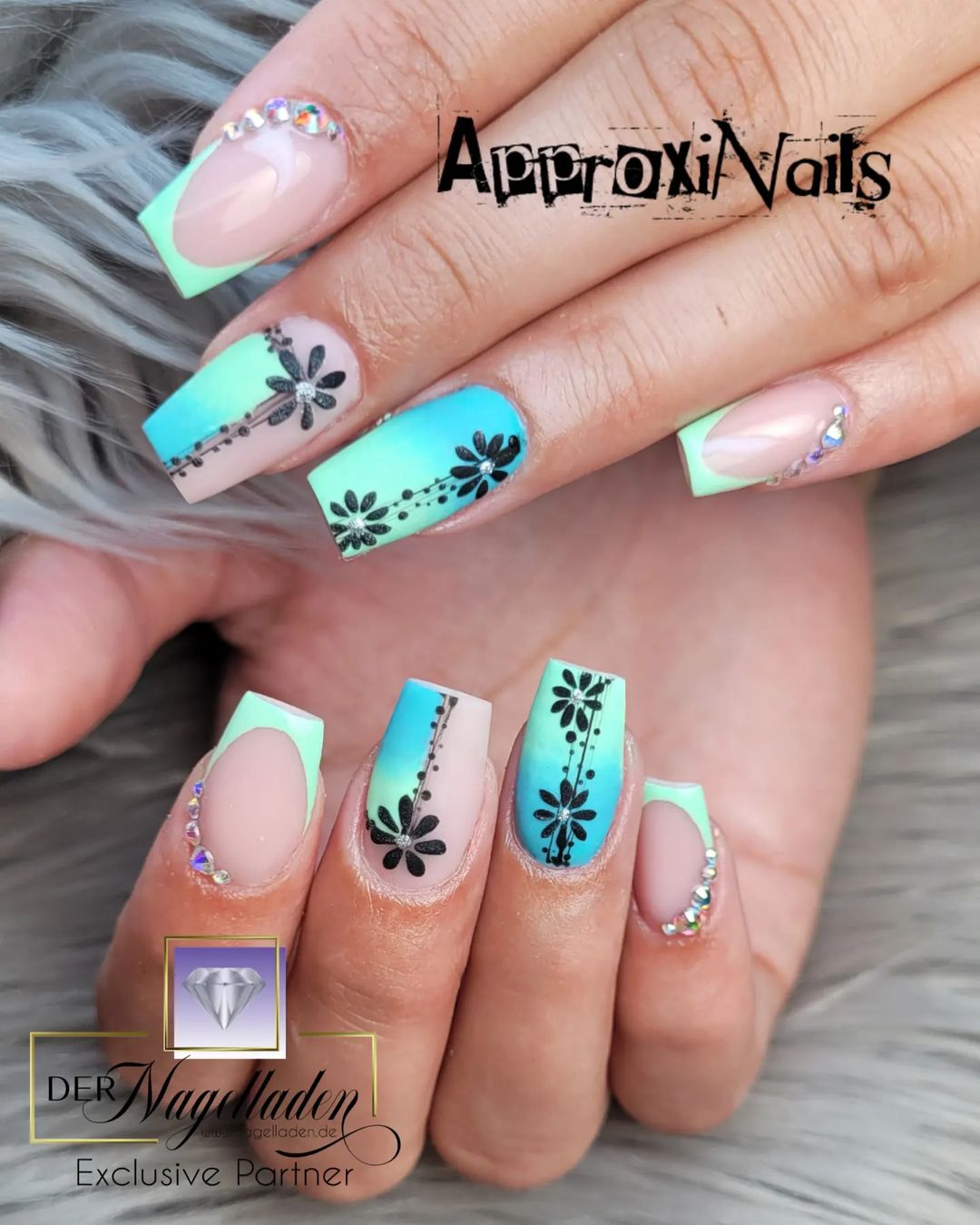 Light blue blended with milk-white and decorated with black flowers is outstanding. Adding a diamond to the little fingers is perfect to break the symbiosis of white, blue, and black. And the diamond in the flowers makes them bloom.
Orange Ombre Flower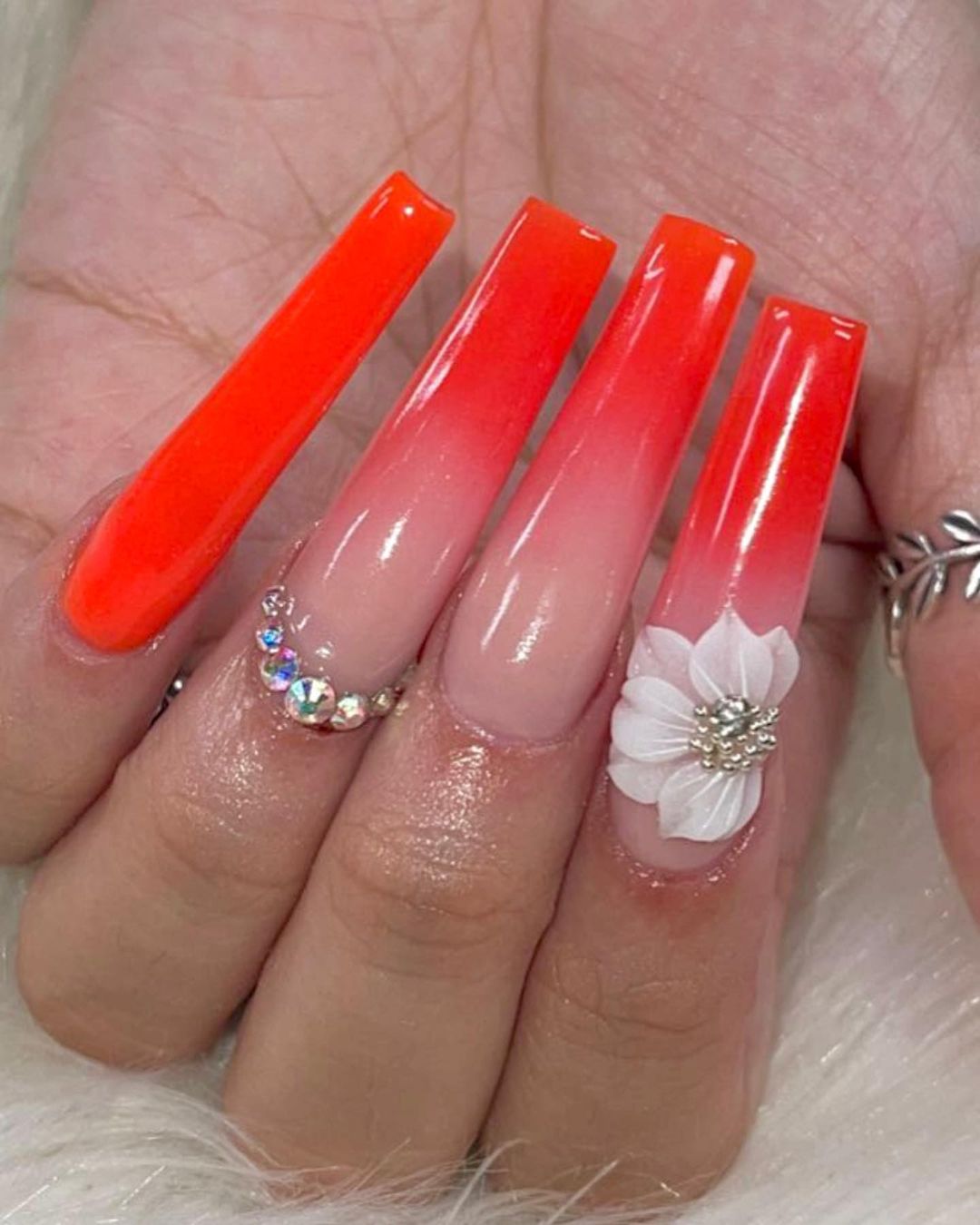 Orange is not a common color, but if you're bold and brave, it can be the perfect color to go with your next outfit. And if you want to be even more sassy and classy, choose the ombre version and add flowers and diamonds. It will make you shine.
Pale Pink Ombre Colorful Diamond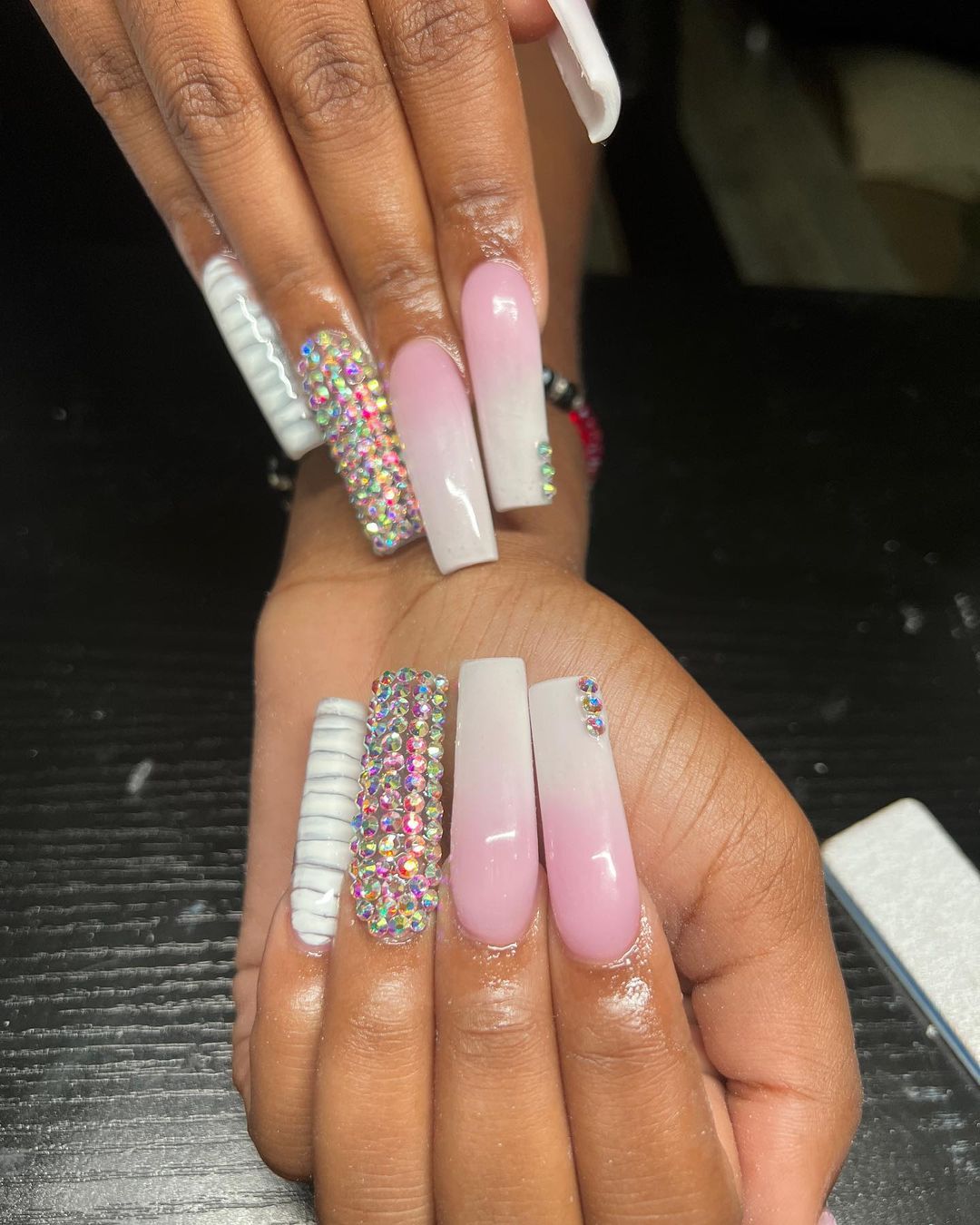 You can combine white with colors, different colors. Choose a white ombre with a pale pink combination, add some sparkling diamonds to the nail tips and cover one nail in colorful diamonds to make it chick and fun.
Beige White Ombre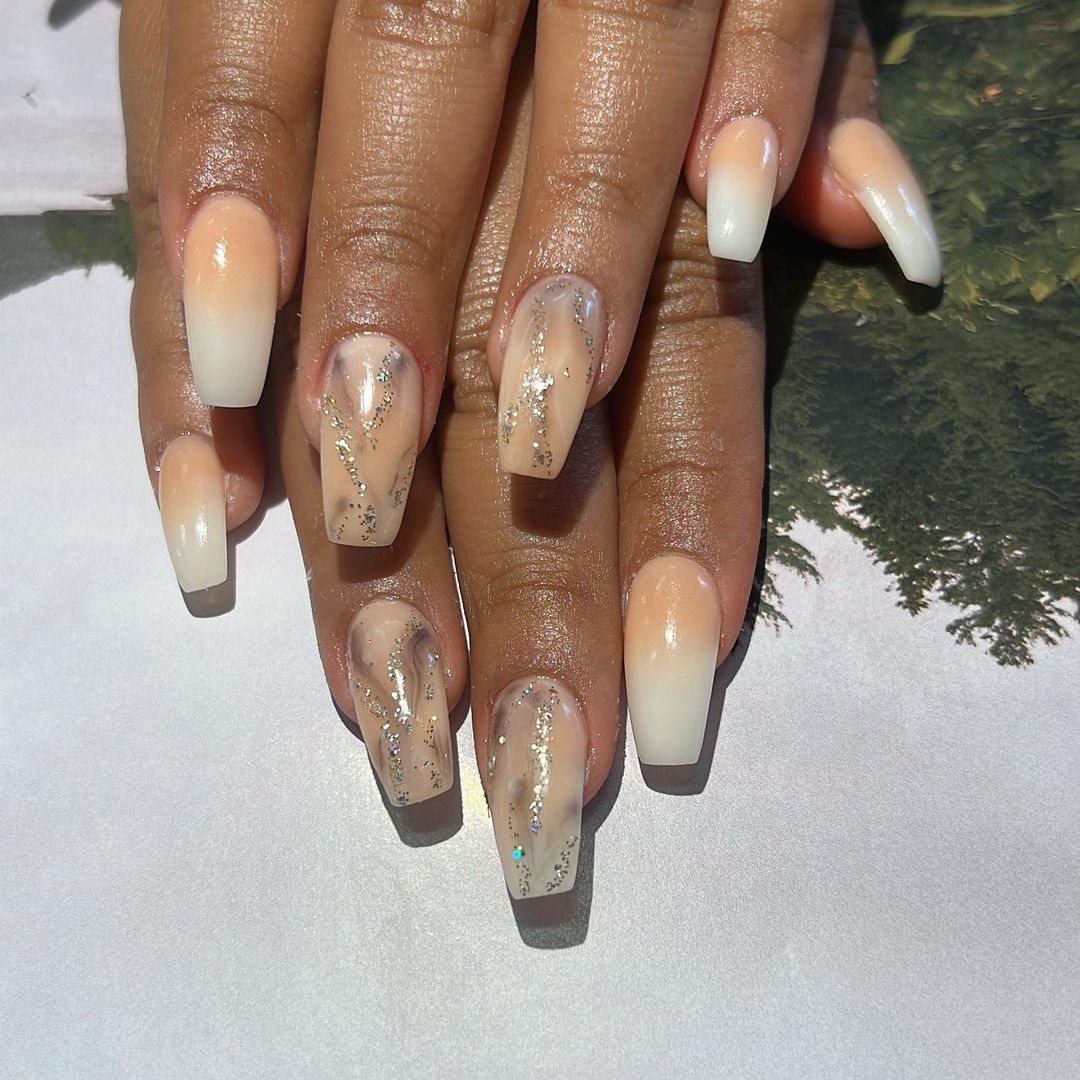 Beige and white ombre nails make the perfect wedding combination. So, if you are a godmother, maid of honor, or bridesmaid, dressed in any color, you can choose this combination to fit you with everything.
Purple Sparkling Ombre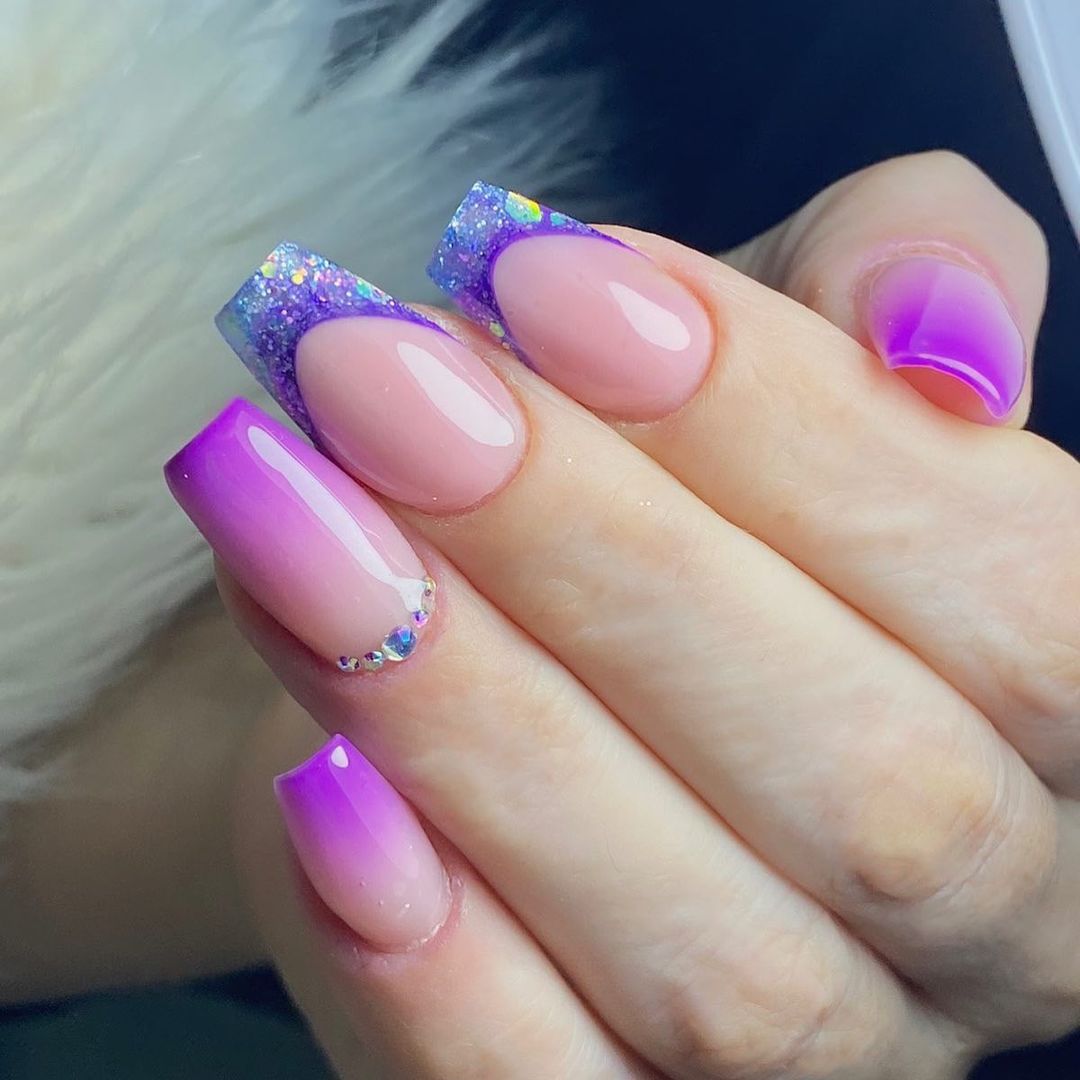 These gorgeous styled nails are perfect for your best birthday party. They are modern, stylish, elegant, and yet so posh that will make you feel special for your most important night of the year. Enjoy them and make the best out of them.
Orange Nude Ombre Diamond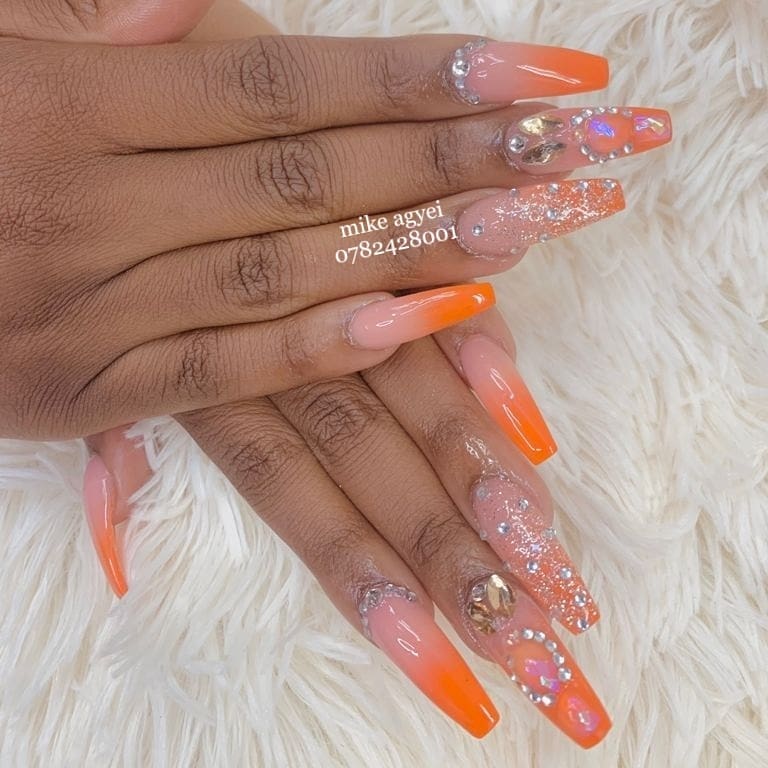 Another orange idea to make you feel special. If you wear yellow, adding orange nude ombre nails will create a feeling of sunset that you remember as the most beautiful thing ever seen. So, reflect it on your nails and decorate it with additional diamonds to make it even more special and sparkling.
Red Ombre Diamond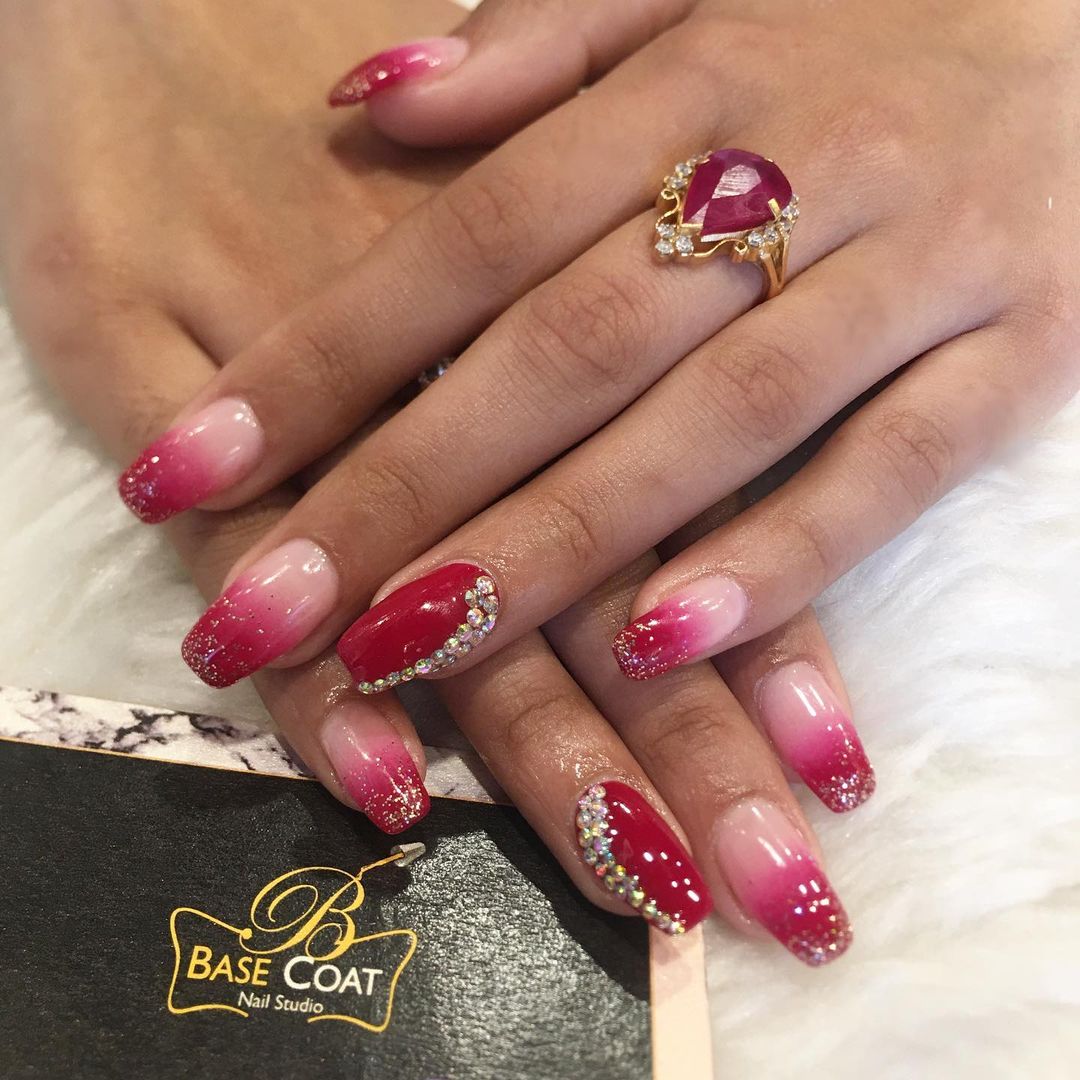 This is a royal style. The royal velvet red is perfect for an elegant dinner or business cocktail party you need to attend and shine. Add some gold or silver diamonds to make it sparkle even more. And enjoy it.
Nude White Diamond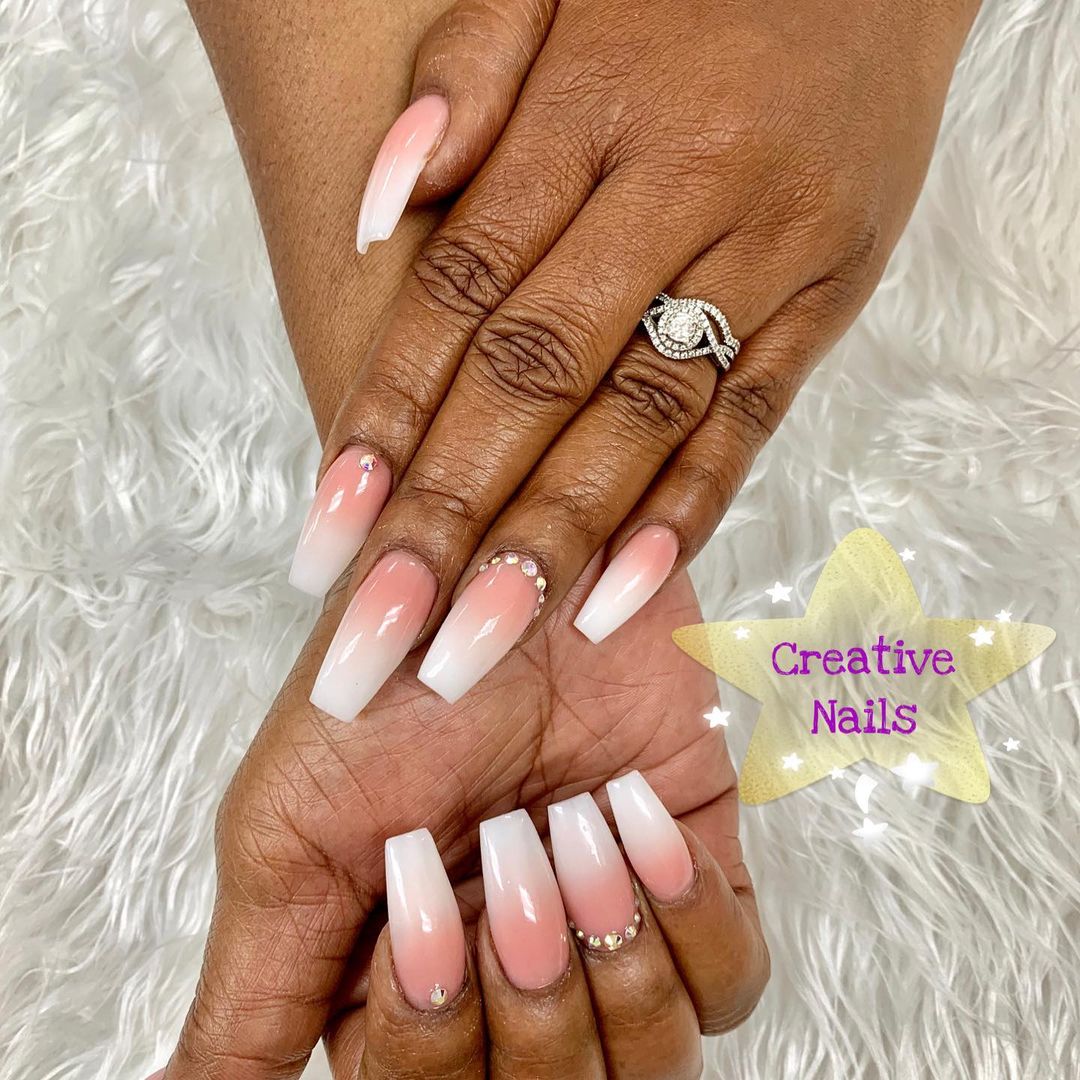 Nude ombre with white tips and some diamonds. So posh, so stylish, yet so simple. Just adding some diamonds to some nails can make a great difference and give you the image and style you imagined, maybe even more than that.
Glittery Sparkling Diamond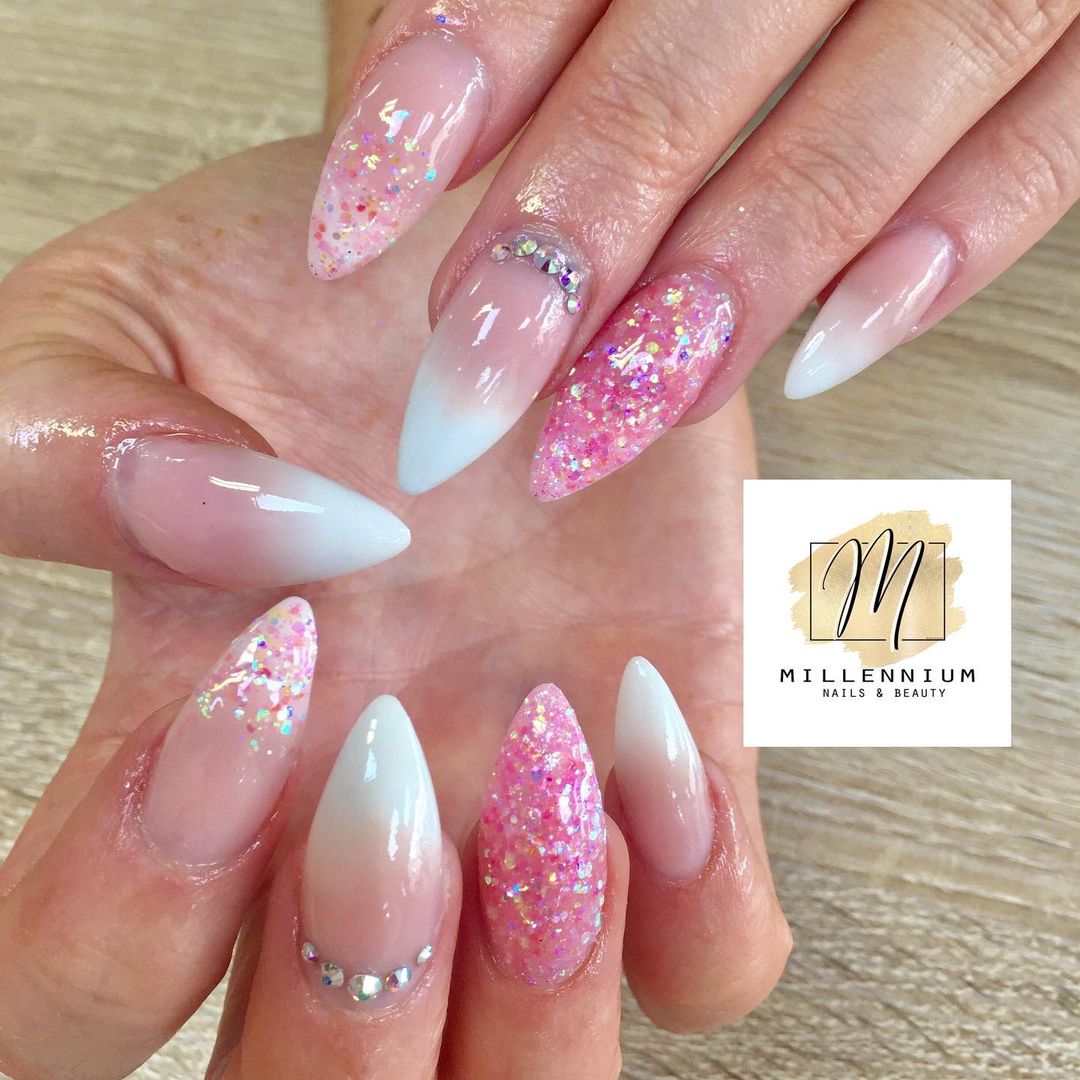 White can be also combined with purple sparkles to make your nails even more fun than they already are. White ombre with nude and baby pink sparkles, completed with several diamonds in different sizes will give you the best of the best styles you can imagine.
These were the ideas we chose for you. If you liked them or got inspired by them, share them with us in the comments below.