Honey is one of the most beneficial ingredients in your kitchen. Over the past years, honey has gained popularity as a premium DIY ingredient for skin care and hair care. Is honey good for your hair? Of course. The question remains on how to best use honey for hair.
From providing deep conditioning to boosting hair growth, honey can help in a number of ways. For starters, honey is a great emollient, helping nourish the scalp from within and stimulating the growth of healthy hair. Then, honey is rich in antioxidants, which help in hair conditioning, prevention of damaged hair, and more.
Let's wrap it up with the antibacterial and antiseptic qualities, and you have a product for the prevention and treatment of scalp infections.
Honey For Hair In A Nutshell
Honey is a moisturizer, strengthener, and antibacterial treatment for hair. Why should you use it? For starters, it can be used on any hair type. If you have dry hair or curly hair, you can benefit from the boost of moisture. And because it is anti-inflammatory, you can use it to soothe an inflamed scalp or dandruff problem.
Now, because it is so good, people often ask how often they can use it. The question is not is honey good for your hair? It is more about how often to use it and reap the benefits.
Well, generally speaking, it is safe to use it once per week as a hair care treatment. Honey works well with coconut oil and other carrier oils that will add moisture.
And it is safe. There are no known ingredients that negatively interfere with honey.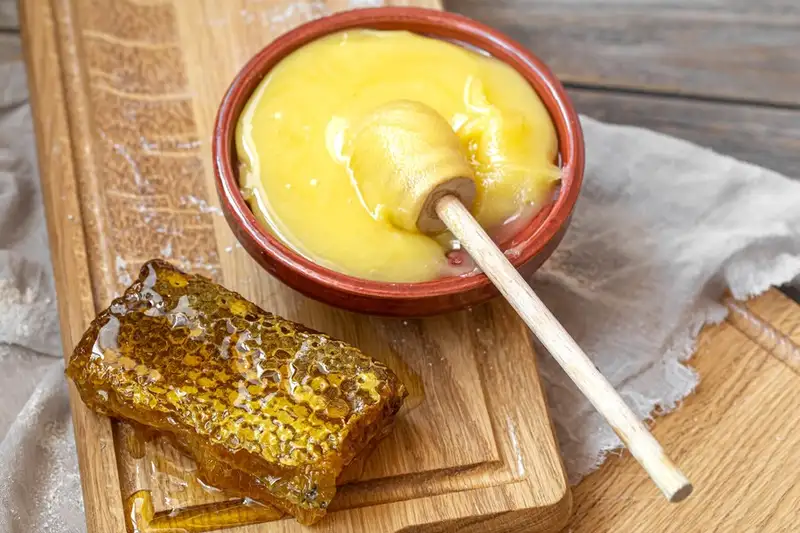 Benefits of Using Honey for Hair
Let's go over some of the biggest benefits of using honey. Time for a deeper explanation and discussion.
Hair Growth
Honey can promote the growth of epithelial skin cells. If you didn't know, your scalp is full of epithelial cells. They make up the hair follicle and are quite important in improving and speeding up hair growth.
Honey has often been used in skincare and hair care because of its ability to promote cell growth.
Hair Conditioning
Another reason to use honey is for hair conditioning. We know hair conditioning treatments and products restore moisture to your hair. And most products you can buy in the drugstore contain vitamins, minerals, and other ingredients.
But honey has moisturizing properties on its own. And honey also contains plenty of vitamins, amino acids, antioxidants, and minerals.
Hair Shine
Honey is a unique ingredient you can use for DIY hair care treatments. Why? Because it is both emollient and humectant. Emollients smooth the hair follicle and add shine to your dull hair. And humectants bond with water molecules, providing moisture to your dry hair strand.
Prevents Dandruff
We mentioned before that honey has antibacterial and anti-inflammatory properties. These can help prevent dandruff and treat dandruff. The skin and hair condition is caused by fungus or bacteria. And honey will help you soothe the inflamed scalp and reduce white flakes of dandruff.
Strengthen The Hair Follicle
Here is a fun fact you probably didn't know. Honey contains a small amount of protein. As such, it can help boost hair strength and hair structure. This will prevent hair breakage, one of the leading causes of hair loss and hair shedding.
Hair Lightening
Honey is a natural alternative to sugar. Why? Because it contains glucose. It also contains an enzyme called glucose oxidase. This enzyme breaks down the glucose, leaving behind hydrogen peroxide.
And what do we know about hydrogen peroxide? It is capable of bleaching melanin, the pigment responsible for your hair color.
Leaving honey on your hair for a prolonged period can be a natural alternative to bleaching. Of course, you will not get the same results. But it will help lighten your hair.
Honey For Natural Hair
A big part of natural hair care is making sure your real hair and scalp are clean and moisturized. A hair detox with honey can boost the health of your hair. It will nourish your hair with amino acids, vitamins, and minerals.
Healthy Scalp
Your scalp is probably full of dirt, oil, and product buildup. All of that debris behind can prevent you from enjoying a healthy scalp and healthy hair.
Add honey to scalp treatments to clean your scalp and prevent conditions like dermatitis and dandruff.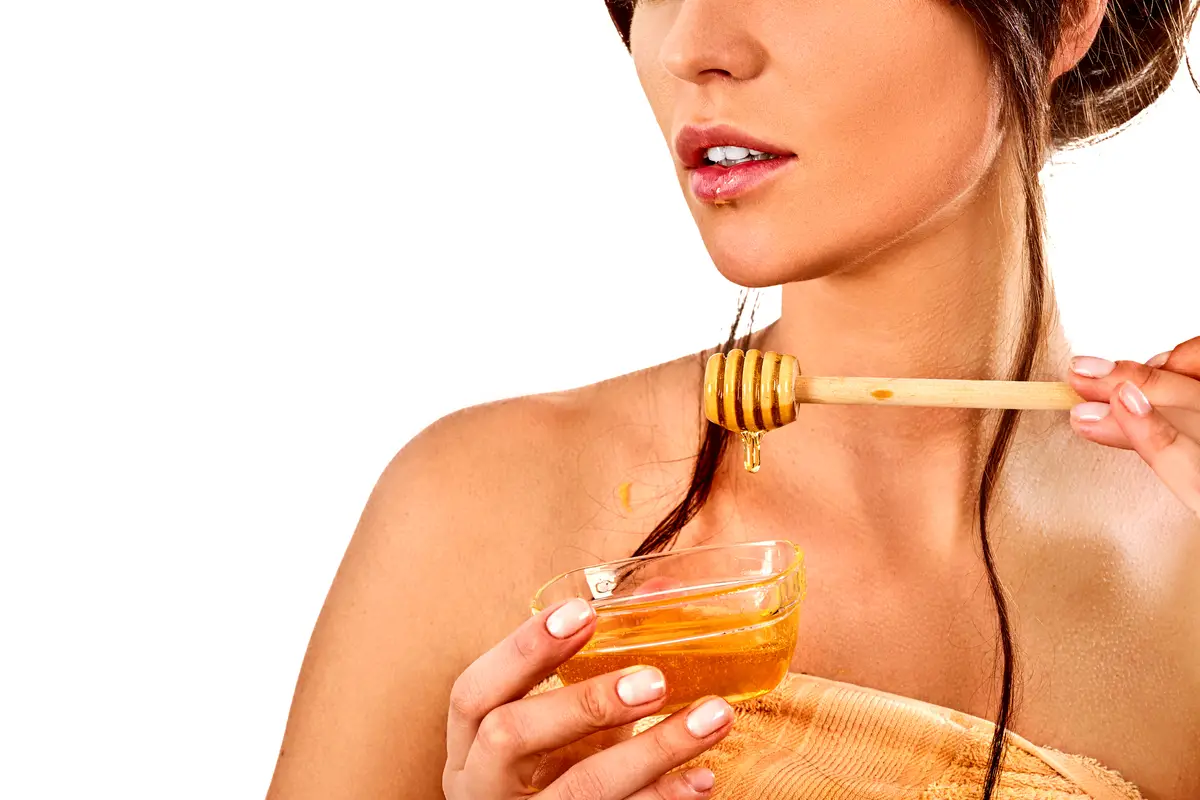 Is Honey Safe For Hair?
Now that we answered is honey good for your hair, let's talk about safety. Honey is completely natural and full of good nutrients that will keep your hair healthy. You should avoid it only if you are allergic to honey.
Now, there are some precautions. You should not put straight honey directly on your strands. For starters, it is super sticky. You might have challenges rinsing it out. Always mix honey with other ingredients before applying it to your hair.
Generally, honey can be used on any hair type. That includes color-treated hair and curly hair. Yet, some people benefit more. For example, women with dry hair will experience greater benefits as they improve shine and soften their hair.
Curly hair needs both moisture and protein, so using honey on your wavy hair is a win.
How To Use Honey For Hair?
We said you should not put any honey, even manuka honey directly on your hair. It is always best to combine with other ingredients and prepare a honey hair mask. Well, let's take a look at a couple of options for a DIY hair mask.
Honey And Water Scalp Treatment
The simplest way to use honey is to make a scalp treatment paste with honey and water. You need water to make honey less sticky.
Massage the solution into the scalp and through the ends of your hair. Leave it for just two to three minutes and then rinse and shampoo as usual.
Honey And Olive Oil
This homemade hair mask will help replenish moisture. You need only two ingredients. Same as with honey and water, olive oil is there to make the mask less sticky.
Mix everything in a bowl. That means 4 spoons of honey and 5 spoons of olive oil. If you have long hair, add more olive oil.
Divide your hair into four parts, and soak each part in the honey and olive oil mixture. Let the hair mask sit for 30 minutes, and then rinse with a mild shampoo. Your hair will become shinier and softer after a single use.
Coffee And Honey Hair Serum
This DIY honey treatment can replace your regular conditioner. Coffee is there to add strength to your hair. If you are a brunette, this serum will also add an extra hair color boost. After usage, your hair will be shiny and glossy for 48 hours.
Take 4 tablespoons of coffee and 2 tablespoons of honey. Add 3 tablespoons of warm water and mix everything. Apply the mask to wet hair or dry hair. Leave it for 20 minutes, and then wash it out with shampoo. That is all you need for beautiful healthy hair.
If you have dry hair or a dry scalp, add a tablespoon of olive oil to add more moisture.
Avocado And Honey
These two are a classic combination. Avocado brings all the antioxidants to the treatment, and honey provides moisture. What you have is a hair mask that will prevent hair damage, boost scalp health, and condition your hair from the roots to the tips.
Mash one ripe avocado and add half a cup of honey. Mix them together in a bowl and apply them evenly to your hair. Then, let the hair mask sit for 20 minutes, followed by rinsing with cold water and mild shampoo. Repeat the treatment once per week for optimal results.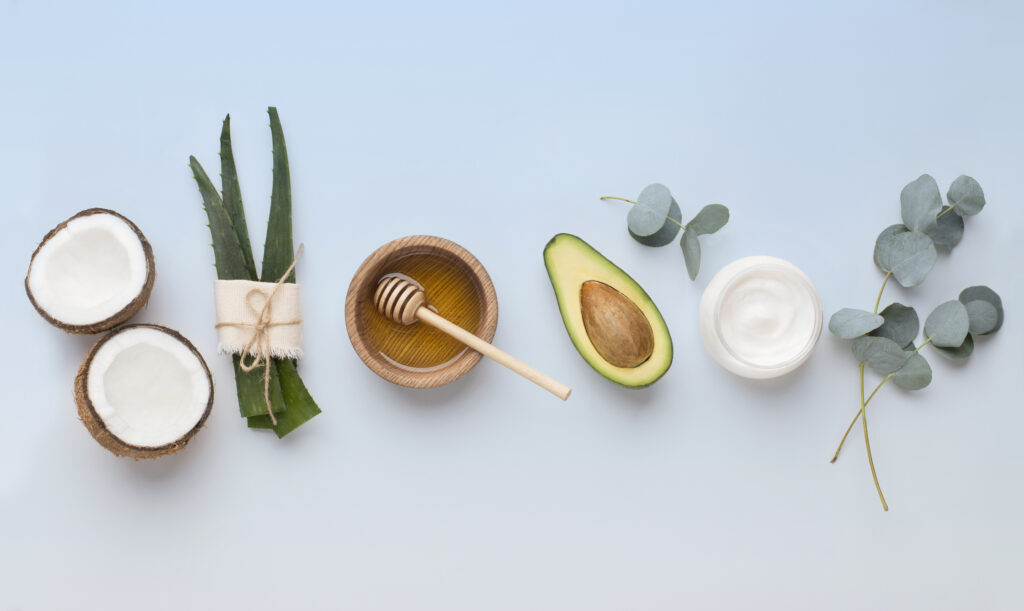 Yogurt And Honey Hair Mask
Two ingredients provide an effective remedy for hair fall and dandruff. Yogurt helps in fighting dandruff thanks to the citric acid, and honey strengthens your hair.
For this hair mask, you need 1 cup of yogurt and ½ cup of honey. Mix the two ingredients to get a smooth mixture and apply it evenly over your hair and scalp.
Leave the mixture to sit for 20 minutes and then wash with lukewarm water and mild shampoo.
Aloe Vera, Yogurt, And Honey
The next step to the honey and yogurt mixture is adding aloe vera. This will make the hair mask that much more potent.
For the DIY treatment, you need 2 tablespoons of aloe vera gel, 2 tablespoons of yogurt, 1 tablespoon of olive oil, and 1 tablespoon of honey.
Whisk everything together and apply to your scalp and hair. Leave it to work its magic for 15 to 20 minutes. If you want, you can leave it for a longer period. Wash with a gentle shampoo.
The mask is a great deep conditioning treatment that promotes hair growth.
Eggs, Lemon, And Honey Hair Mask
This combination of egg yolk, lemon, and honey is great for your dull hair or dry hair. You can also add some onion.
Chop onion into small pieces and extract its juice. Then, add a spoon of honey and stir. Continue adding a few drops of lemon juice and then finish off with one egg yolk. Whisk together, apply to the hair, and leave for 20 minutes.
Rinse with a mild shampoo and you will achieve the elusive dream of healthy hair.
Coconut Oil And Honey
You cannot go wrong with any honey mask. But this combination is among the best. Coconut oil is amazing in helping hair growth and providing nourishment. Packed with vitamins and minerals, coconut oil will improve hair quality and hair texture.
Mix equal parts of coconut oil and honey and massage the hair with the mix. Then, let it stay for 20 minutes before you rinse it with cold water and mild shampoo.
Mayonnaise And Honey
We finish off our list with an unconventional hair mask. Mayo is a simple, yet effective remedy and an excellent source of oils and fatty acids. Mayonnaise can help with healthy hair growth as well.
For this hair mask, you need 1 cup of mayonnaise, 1 ripe avocado, mashed, and 1 tablespoon of honey.
Start by mashing the avocado and then add mayo and honey to combine everything into a smooth paste. Apply the mask to your hair and leave it for 30 minutes. Wash off with lukewarm water and a mild shampoo.
There you have it. Is honey good for your hair? Of course! Just use one of the hair masks we suggested and enjoy its benefits.