White nail polish is just gorgeous. It is a simple, yet captivating color, and looks classy when matched with any outfit. But if you are tired of your familiarly bland all-white nails and want to spice things up, styling them up with a set of diamond embellishments is the way to go.
Diamond and rhinestone nail ornaments come in many different shapes, forms, and colors. They can be round, oval, emerald, or even heart-shaped. And talking about diamonds, you can't forget the signature marquis shape that collects every sun ray aimed at it and transforms it into a stunning splash of light.
Besides their shape, it is equally important to know what colors of diamond you should go for given you've decided to try them out. Working with white nail polish is easy since it can match almost any color in existence. But some color combinations unquestionably look better than others. Here are some ideas for diamond art on white nails to try out for this summer.
Black & Silver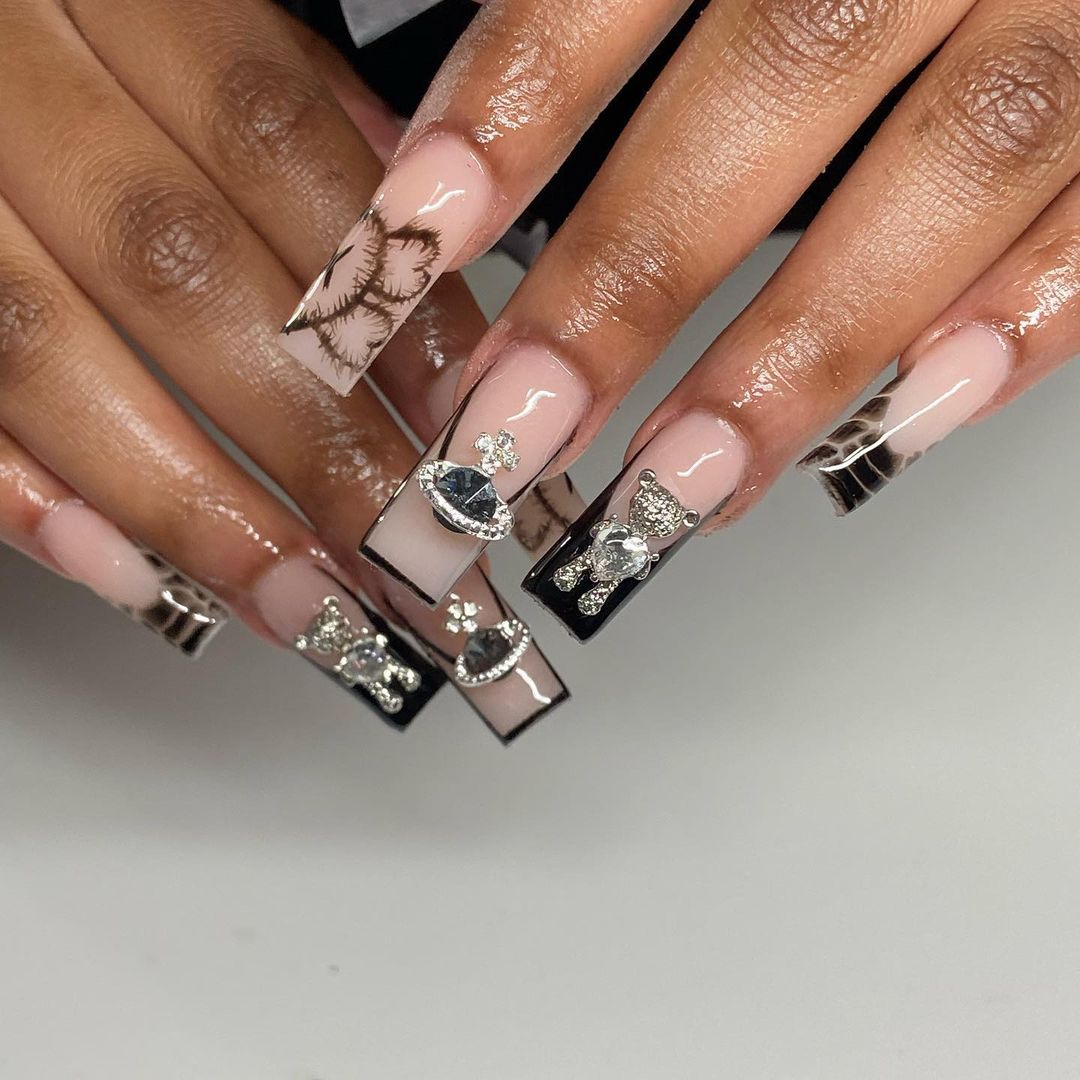 Black-themed nail aesthetics with silver diamonds are the best way to match a darker outfit. If you have a big night coming with an all-black outfit planned out, this should undoubtedly be your style of choice. You can go with any kind of silver diamonds and ornaments. You can choose big glaring ones that will certainly attract people's attention, or go for something more toned down instead.
Black & Green Glitter
Maybe you are feeling rather fancy lately and want to go for something light and shiny. And white shines more than a well-decorated green glitter to accent the smooth white nail polish? Unlike other combinations with black diamonds, this one is perfect for both high-classy and more casual nights. Whatever the occasion may be, black diamonds and gren glitter are an ageless combination for all tastes.
Red & Gold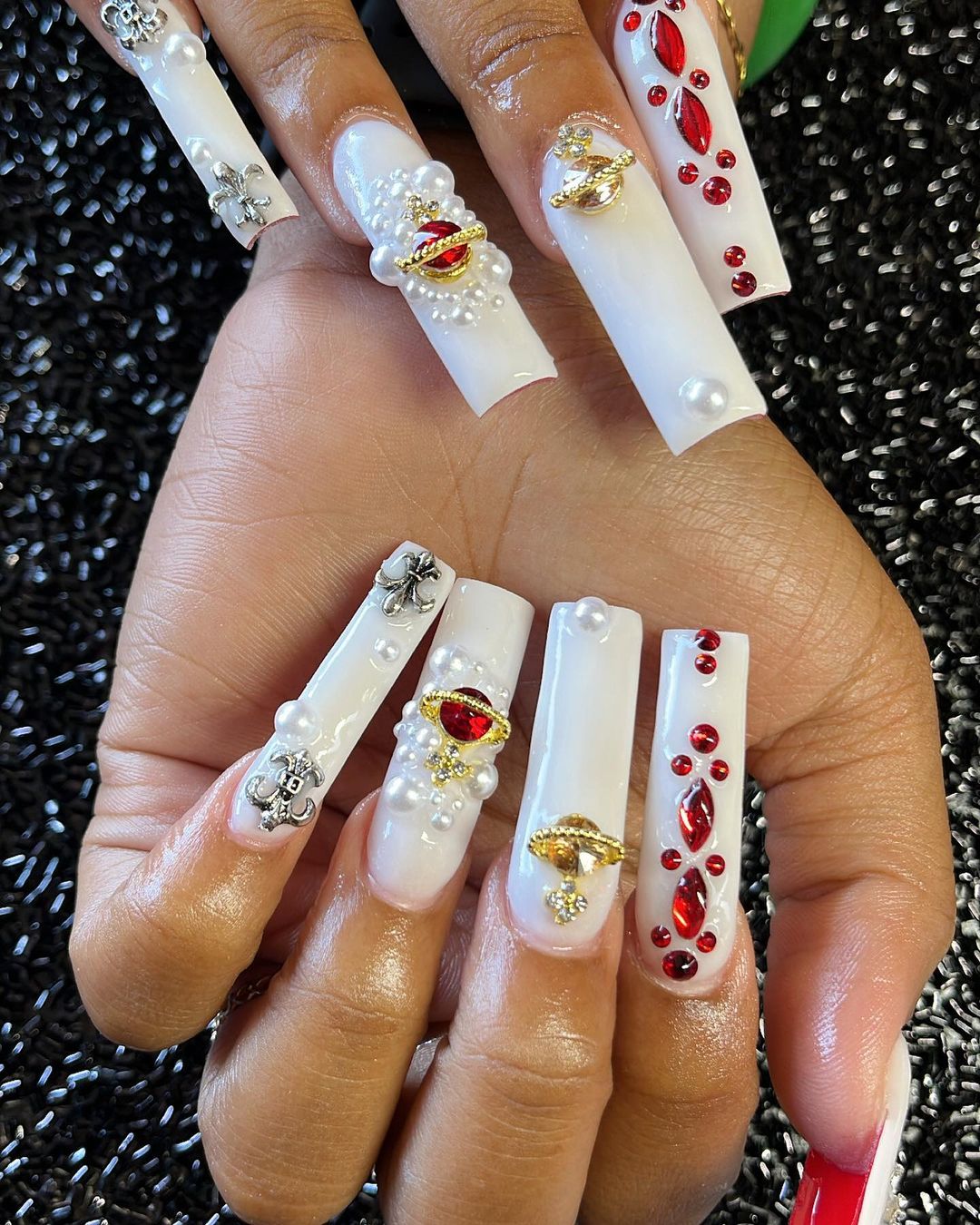 Art inspired by Oriental culture will always leave you awestruck. This design combines red and gold diamonds with a couple of minimalist pearl details to paint a beautiful canvas on the long white squoval nails. The combination works great with shorter nails too, where you can ditch the pearls for a simpler, moderate look.
Dark Emerald & Gold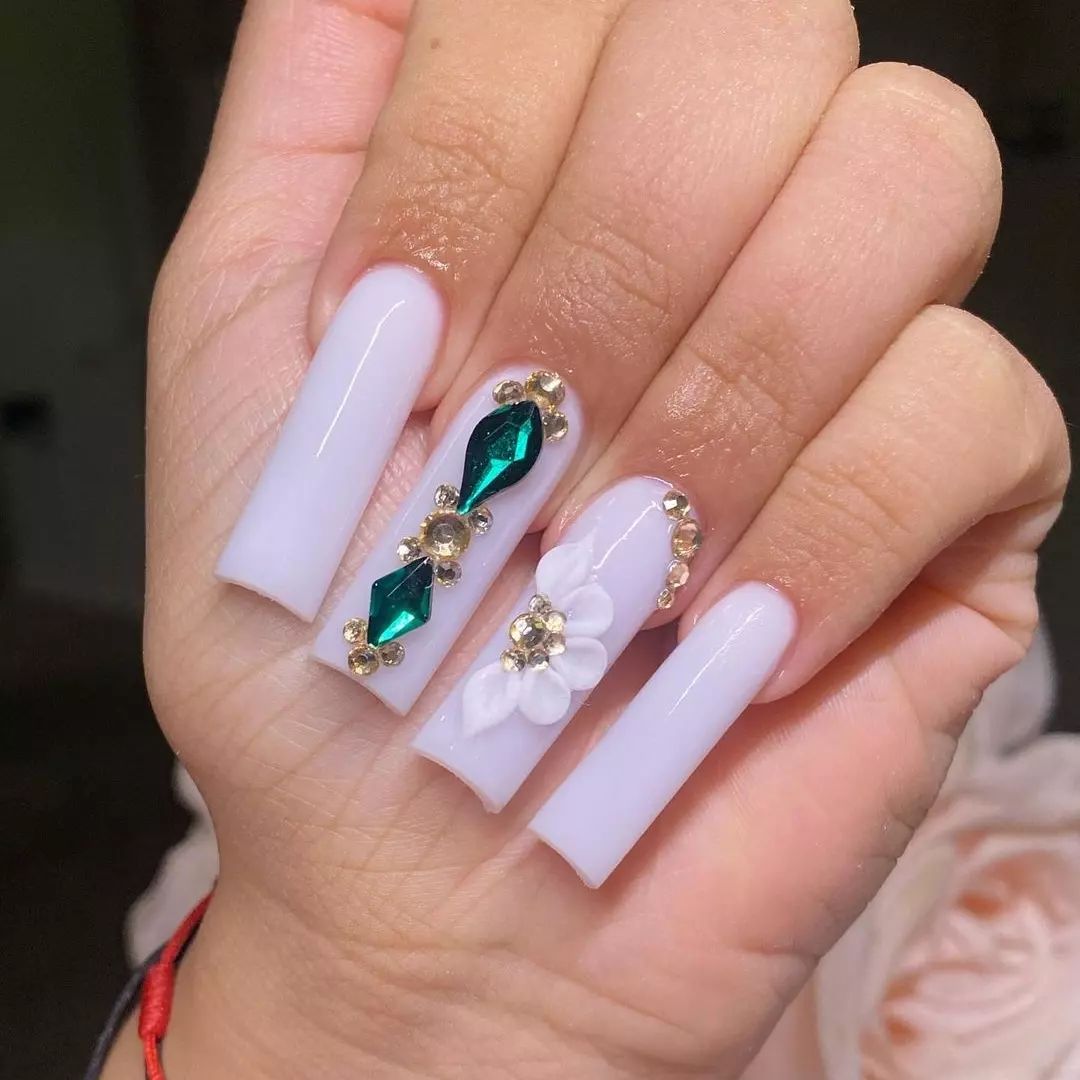 With diamonds, sometimes less means more. This is especially true with fine polished diamonds that effortlessly combine two of the most graceful colors you can find on a precious stone. All you need is just a couple of ornate nails with fine symmetry to pull out a stylish emerald look.
Light Blue With Silver Glitter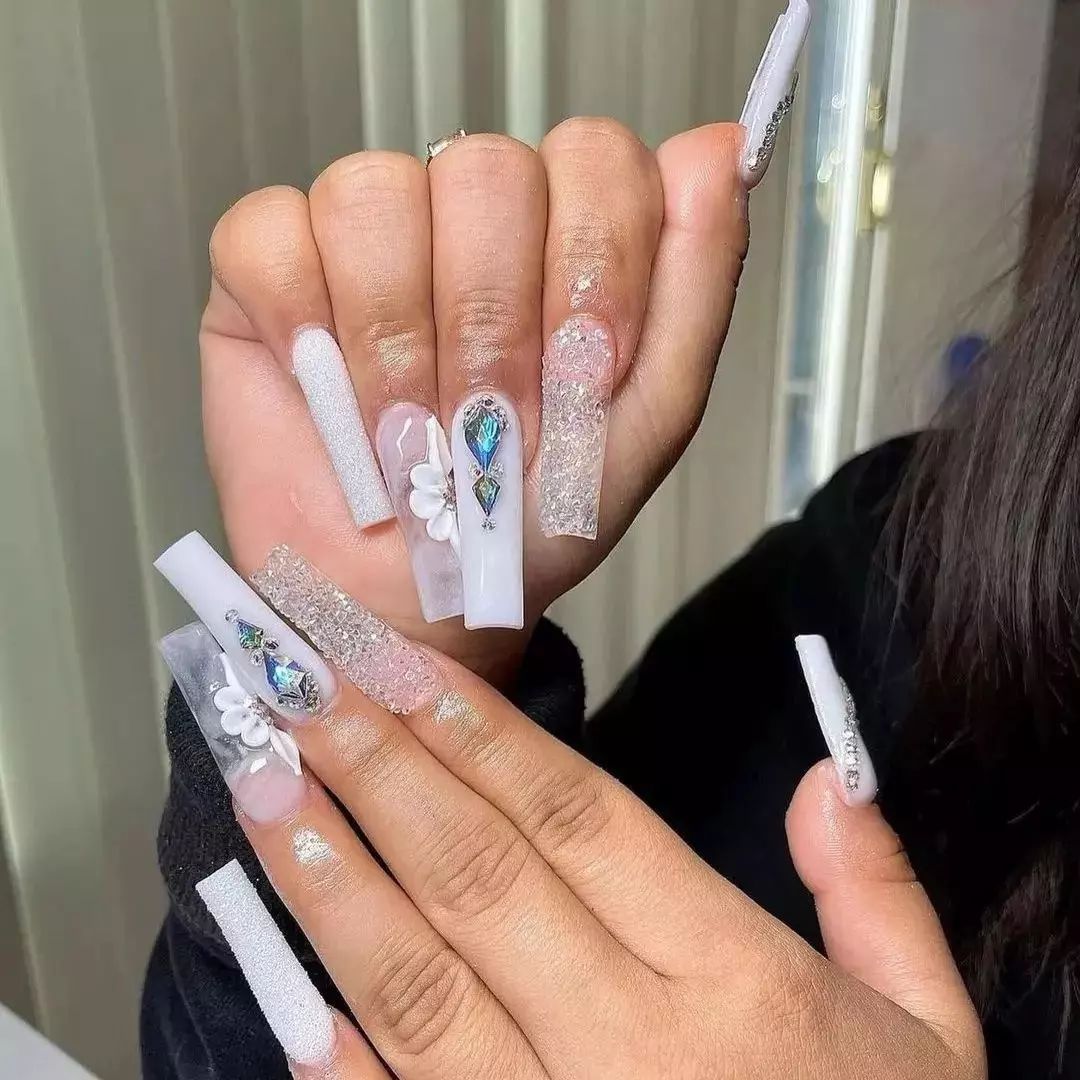 Combining diamonds with glitter is a tale as old as times. Light colors, such as this sky blue marquise, let your nails breathe while matching any silver glitter or floral designs in an instant.
Yellow Floral Design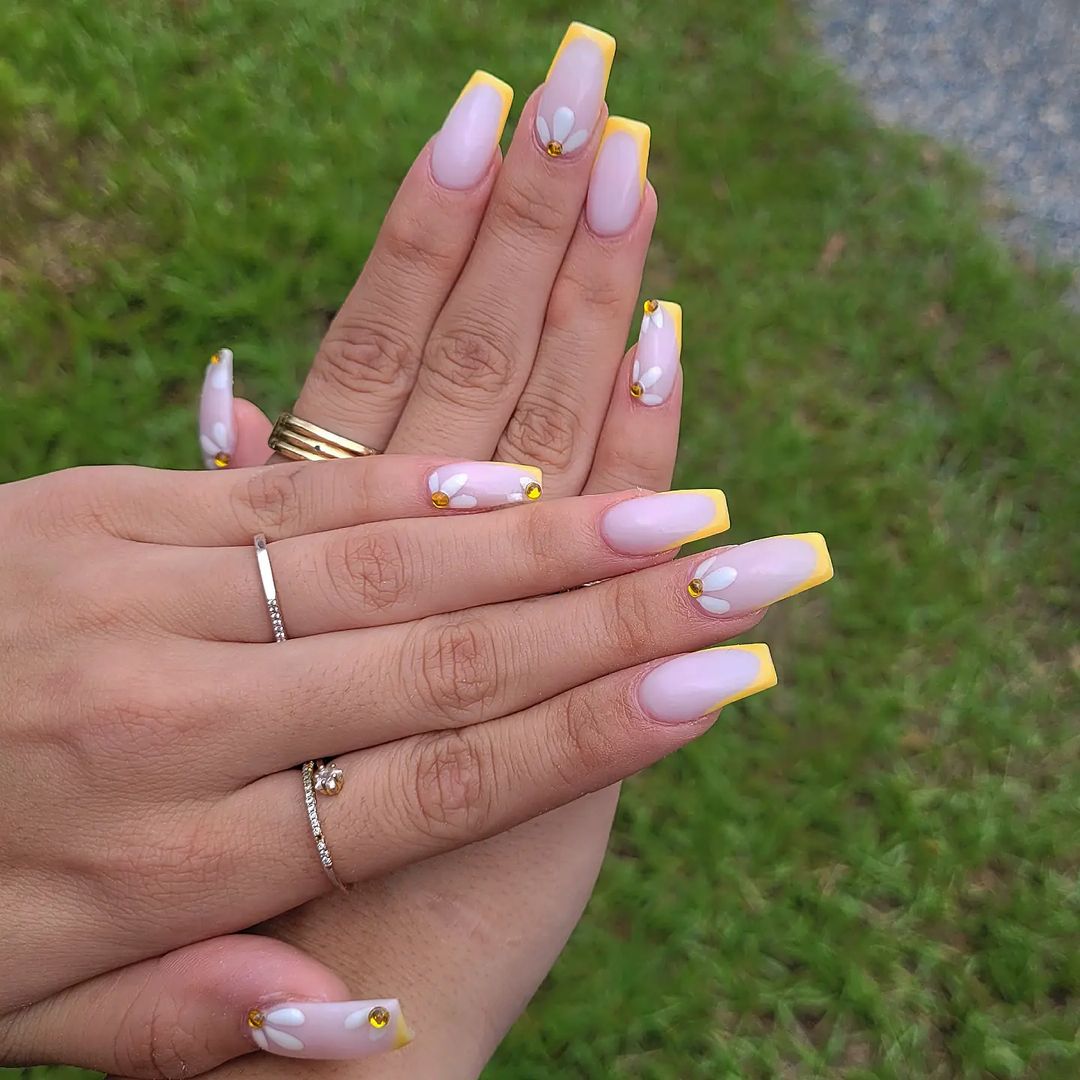 Feeling a bit experimental? There's no time like sunny days to try out this white-and-yellow nail art. Pair them with bright pearly yellow diamonds to accomplish that signature summer look. Or just decorate a simple pattern or bright yellow or goldish diamonds and let the sun tell the story instead.
Colorful Butterfly Embellishments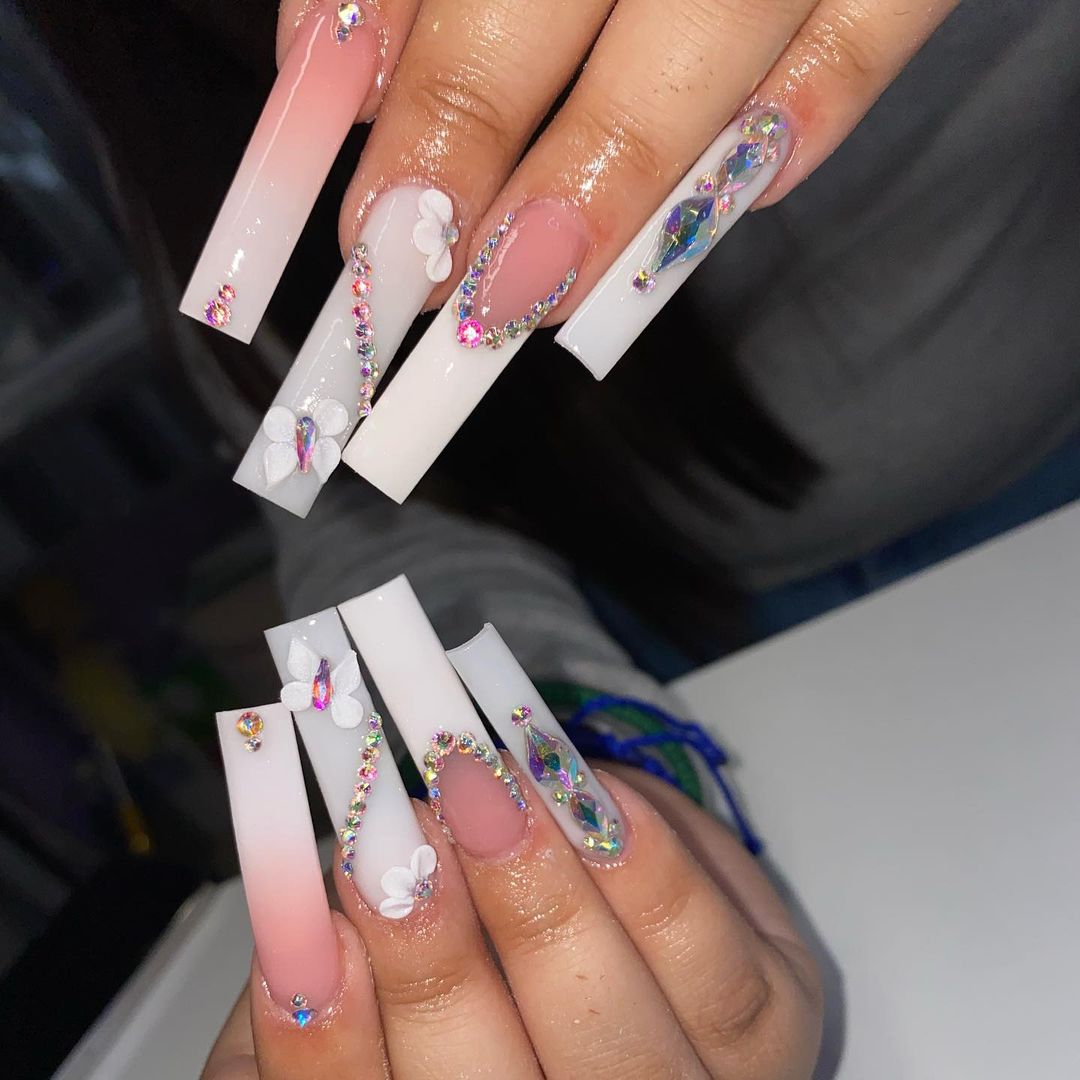 Is there a more delightful picture than a diamond-patterned rainbow with cute butterflies all around? This colorful combination will give your nails a breath of fresh air while filling your heart with joy every time you catch a glimpse of them.
Floral Art With Small Diamond Accents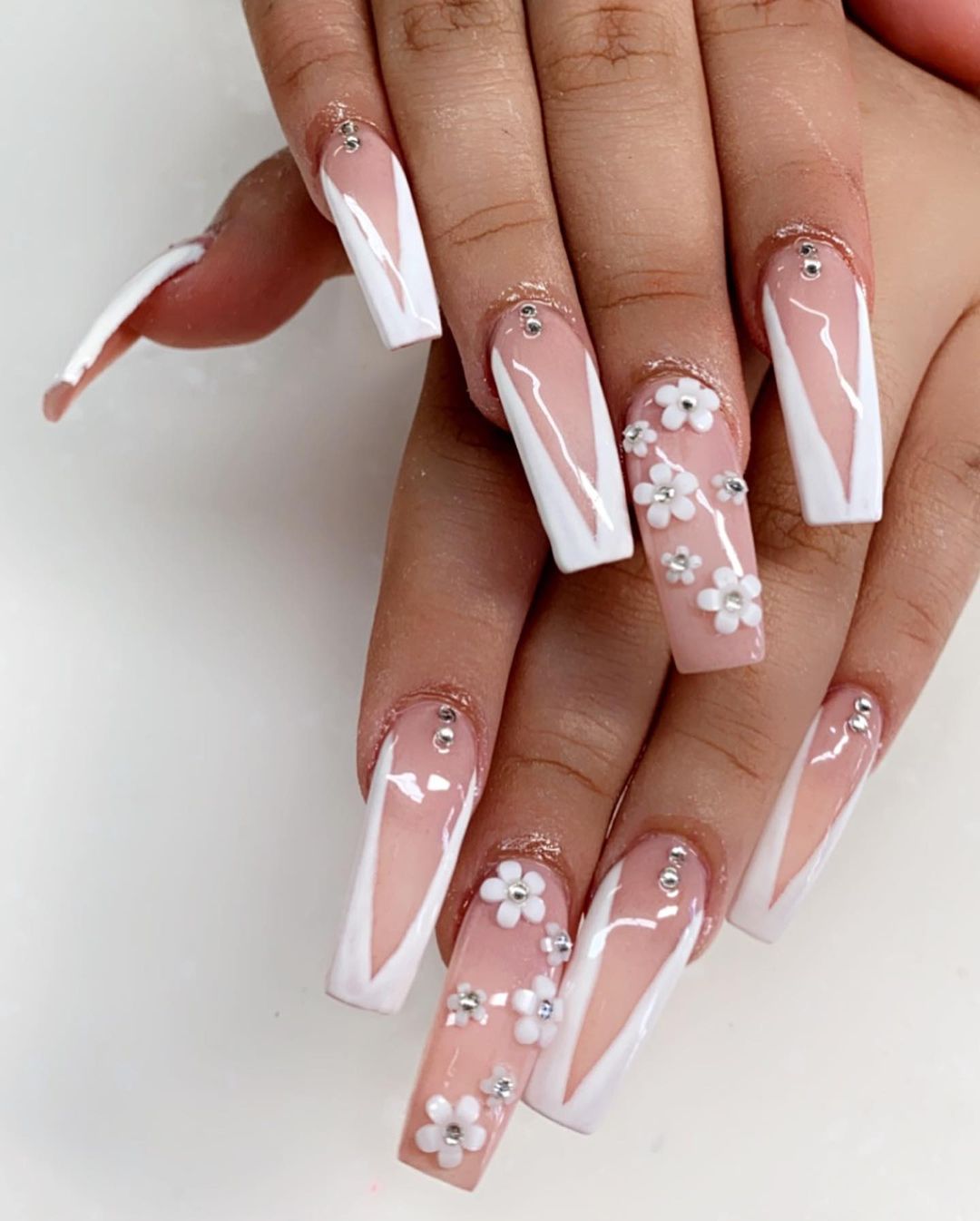 If rainbows and butterflies seem a bit too cluttered for your taste, a nice white floral art with minimal diamond accents here and there could go a long way. Pair this nail art with a light summer dress for the ultimate breezy feeling during the summer weekends.
Heart-Shaped Diamond Pattern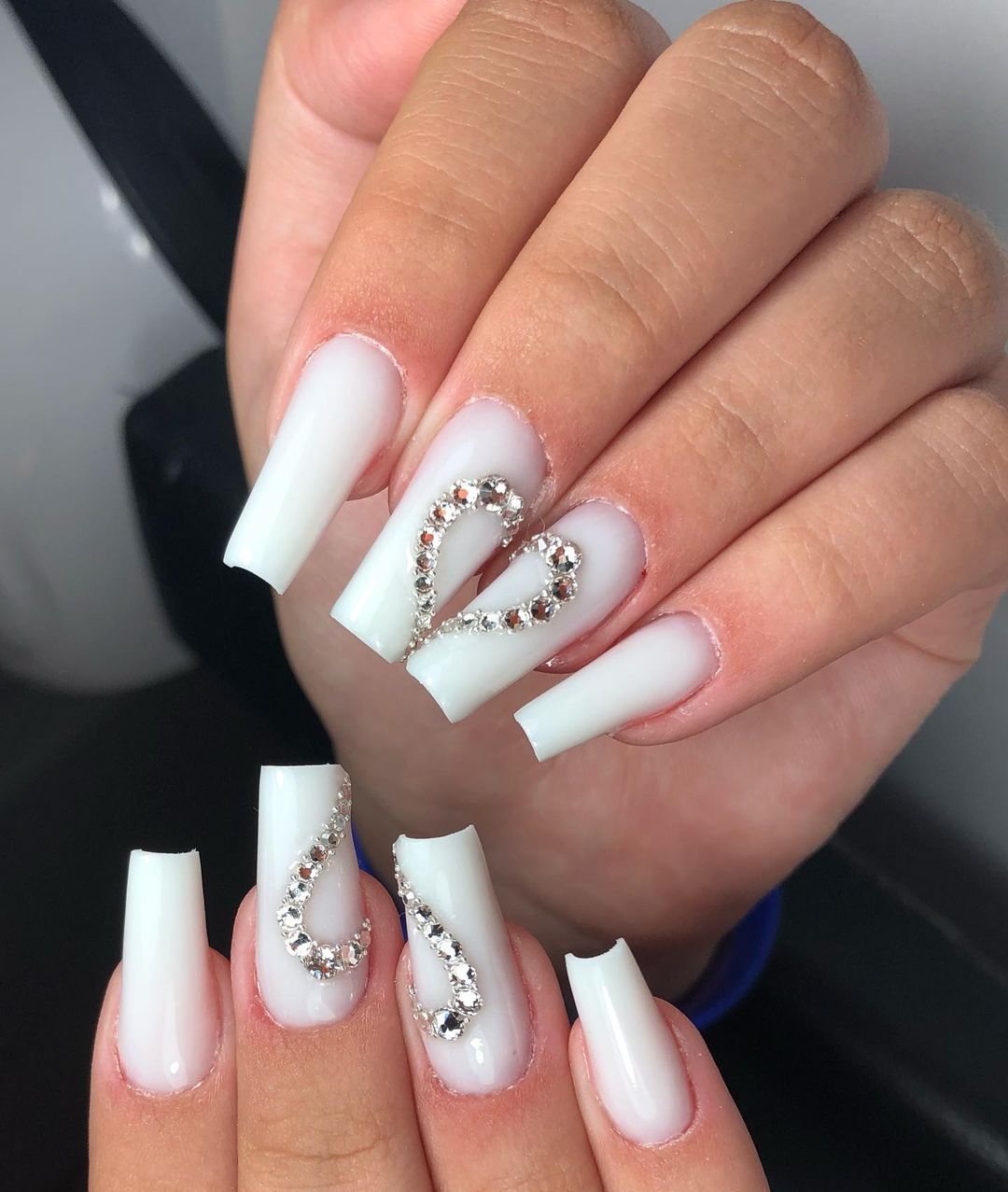 One of the all-time classic art designs you can accomplish with diamonds. Or with practically any type of ornament, for that matter. Small oval silver diamonds are our favorite to put on white nails, but you can go with more vibrant colors if you feel like it. Red-colored hearts are the standard, but you can also experiment with pink, blue, or garnet colors for that grimy look.
Pearls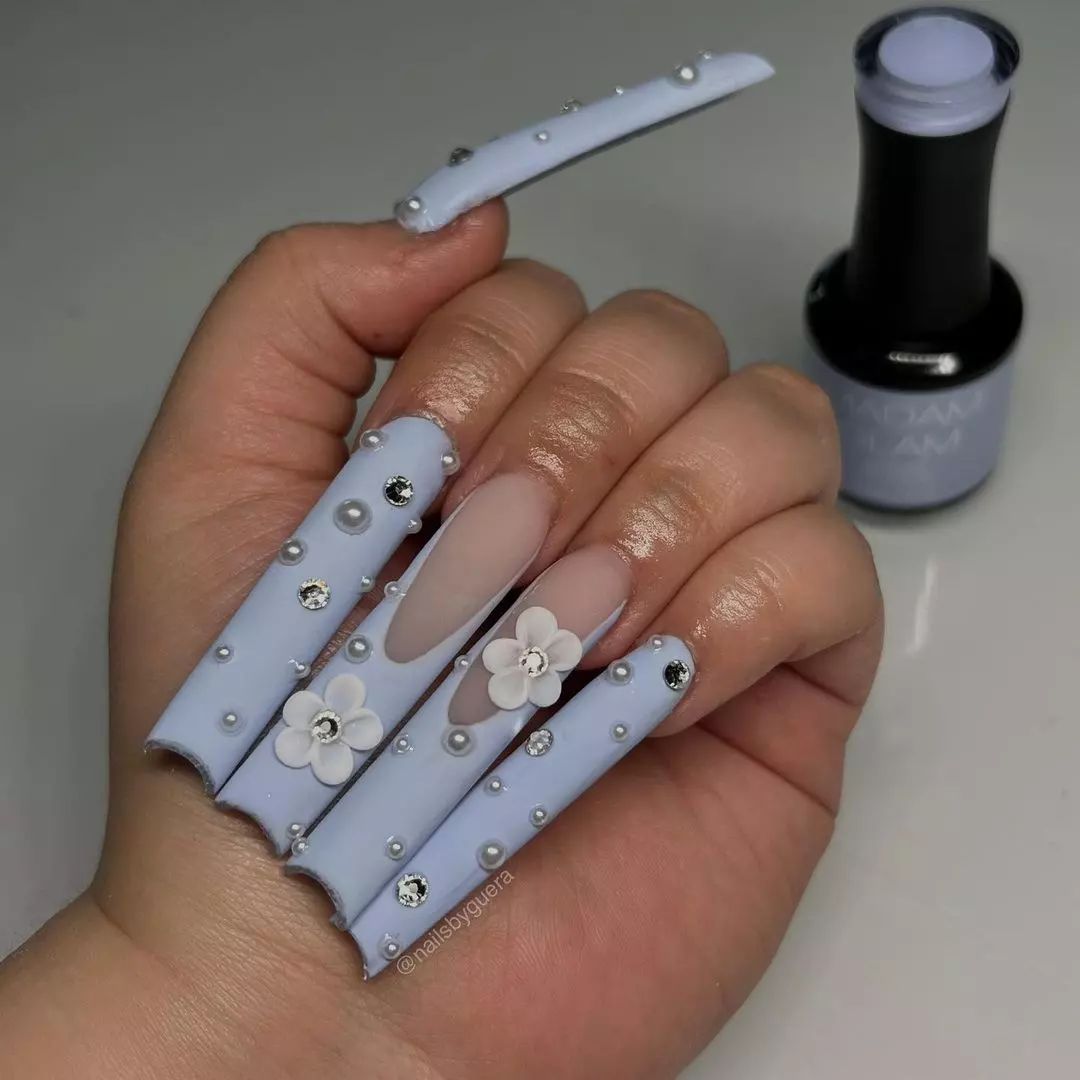 Sharp-edged diamonds, understandably, would not be a great fit for everyone. If you are looking for smoother ornaments that can match your white nail polish, pearls might seem more like your thing. After all, we are talking white acrylic nails, so anything silver is worth a shot.
Dotted Diamond Pattern
Long nails are a perfect canvas to make fine nail art. You can go with a colorful dotted design, a simpler silver approach, and even add some extra details like these small silver butterflies here and there. Polka dot patterns have for so long taken an unfair slack as being too dreary, but with some recent trends, they are finally getting their rightly deserved attention.
French Tip With Diamonds Edges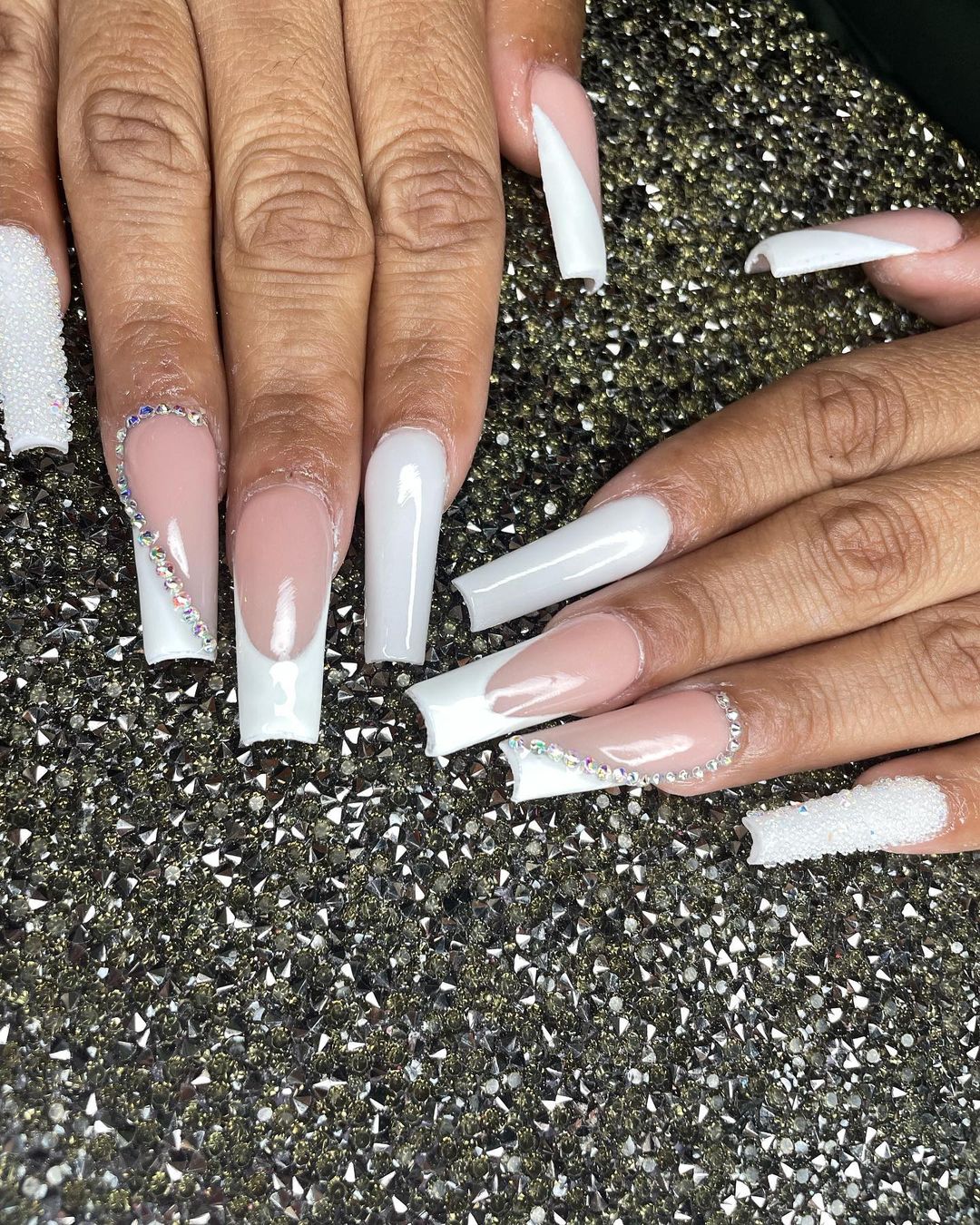 Edge diamonds have become a huge thing in the past few years. You can wear them with all types of nails, long or short, but our favorite are these standard-length white French tips with small vivid diamond dots along the edge of the ring finger.
Minimal Edge Diamonds Accent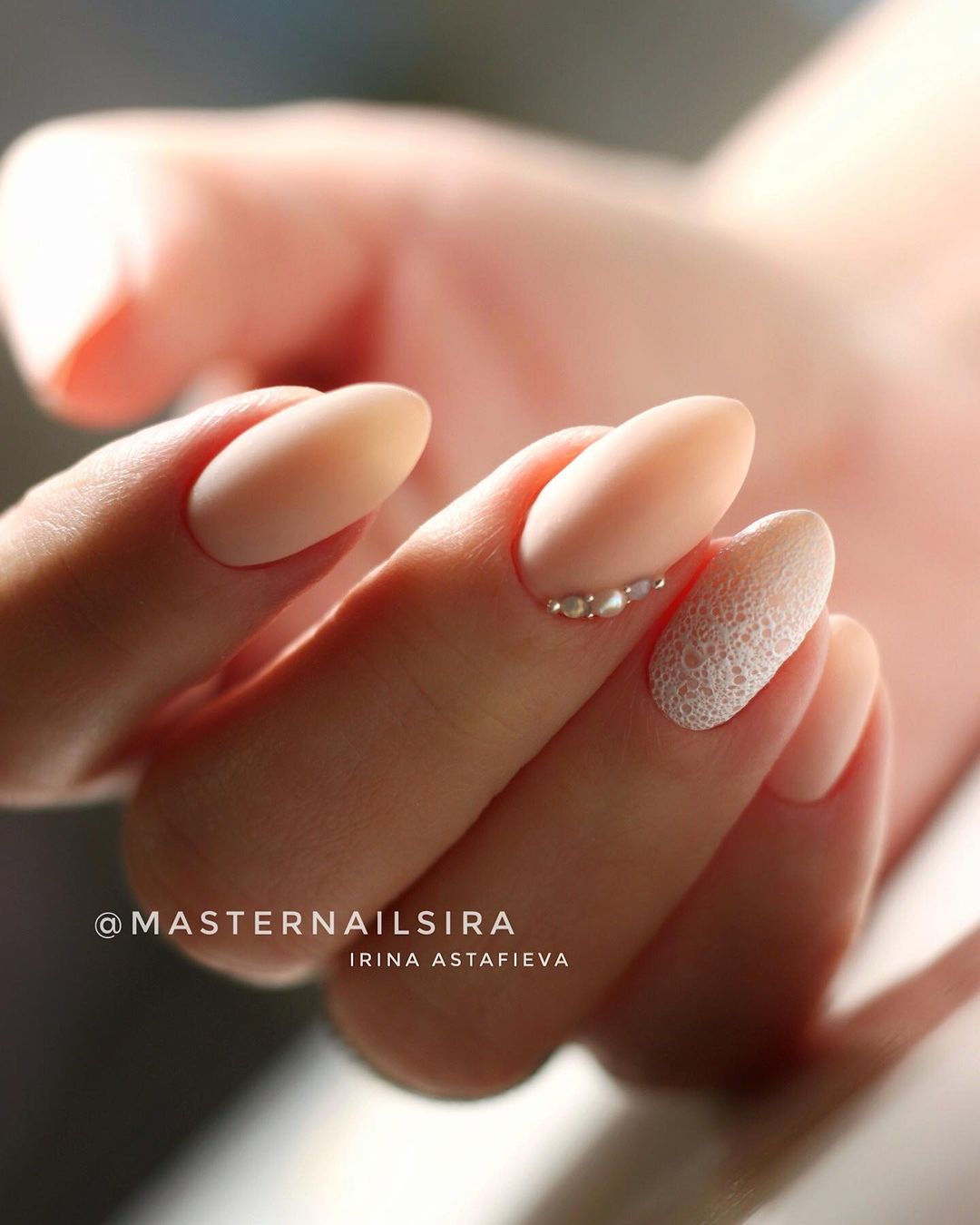 Another stylish approach to the diamonds-on-the-side design. These short-length white nails are a match made in heaven for a couple of minimalist silver diamond dots along one of the edges.
Colorless Diamonds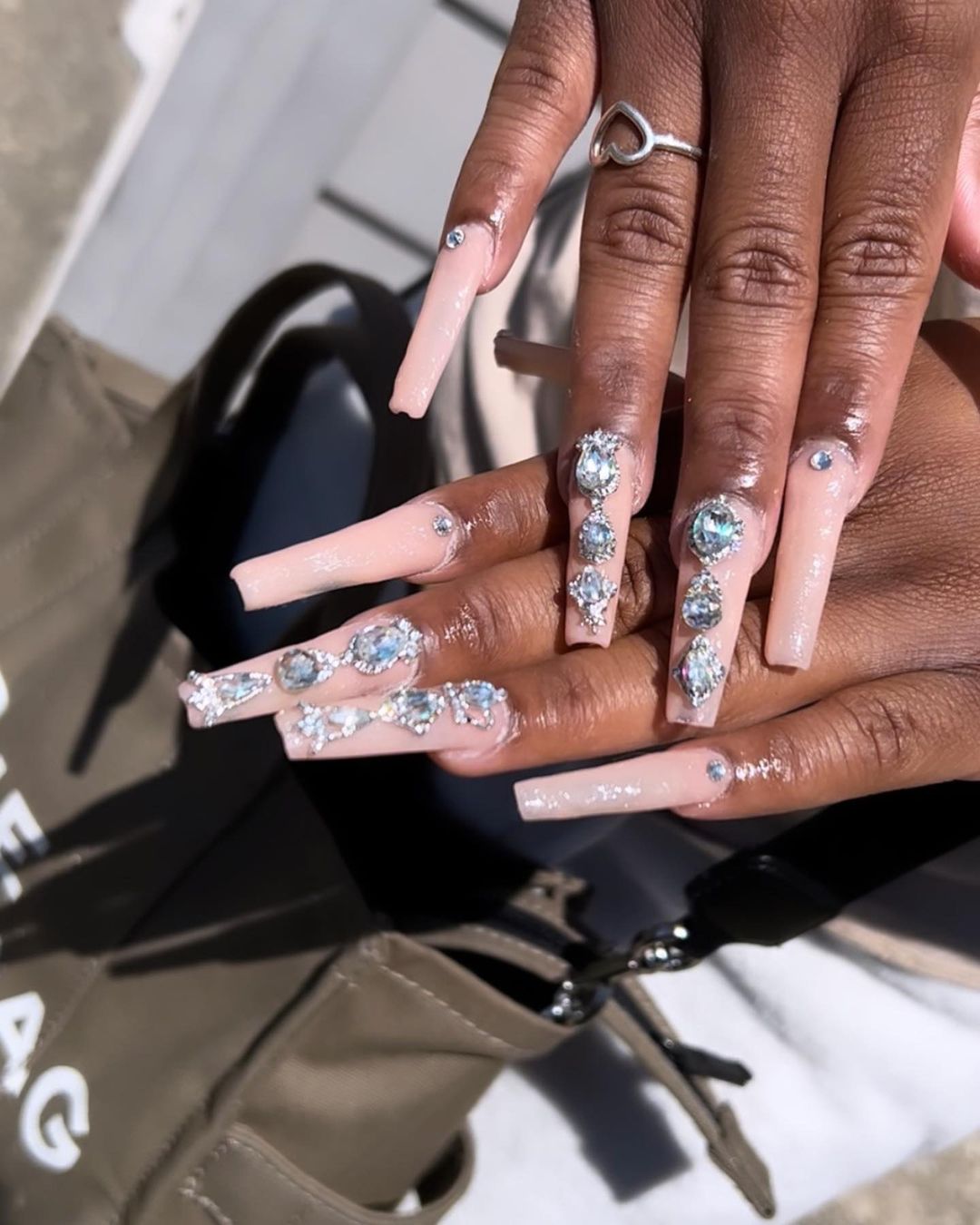 The thing about diamonds is, no matter what color they are their beauty is imminent. Even going full-on colorless on white nails will give you an alluring look thanks to their natural shine.
Square Nails & Colorful Diamond Pattern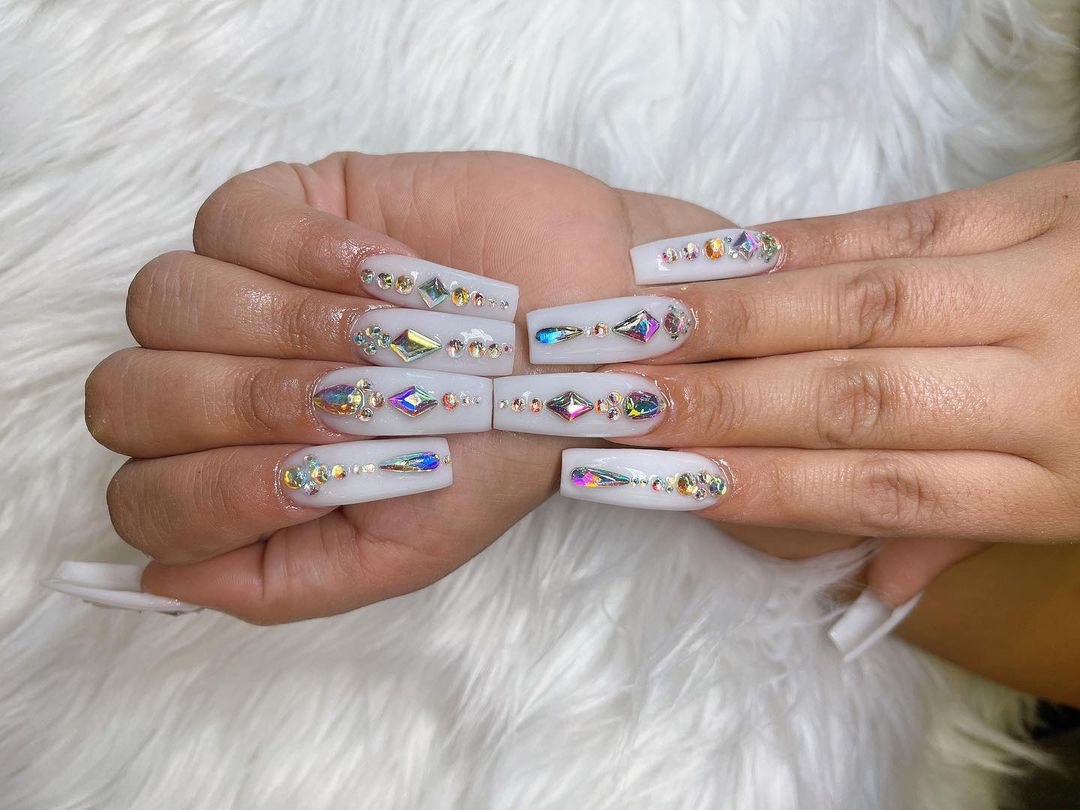 At the end of the day, why not keep it simple and decorate each finger equally with a beautiful diamond pattern in various colors. You can tie blueish and yellow lozenge diamonds in a chain and let them flow along the length of the nails, or dedicate a special shape or color for one or two diamonds for each finger.
It's worth remembering that you can never know if a design looks good on you until you try it on yourself. With so many nail trends and artists emerging each year, there was never a better time to try out something bold. Granted, it takes some courage to decorate your nails with something as bold as diamonds, but only the most courageous people can truly know what's truly great and what's not. After all, why shouldn't your fashion style be the most eye-catching one in the group?