If you want new ideas for what to wear, the past is always a good place to look. After all, so many fun styles and classic looks are waiting to be worn again. Especially the 1950s are a great time to talk about. Today, many of the most important pieces from the 1950s are back in style, so now is the perfect time to give your modern style a retro twist.
In the 1950s, women's fashion was a complicated mix of conservatism and glitz, with a girl-next-door freshness and seductive femininity. Women who had been poor during the Great Depression and World War II could now afford new styles and wore them all, from shorts and pants to elegant, long, flowing skirts. The look of the 1950s was based on the shape of an hourglass.
The 50s fashion was grown-up, with waists that were pulled in and hips and busts that stood out. Even though most of the big designers went for a mature, conservative look, a new casual style crept in. Women started wearing more pants, shorts, sportswear, and sundresses that showed off their shoulders. As the 1950s began, the initial backlash against the New Look's extravagance had died down, and the silhouette had become a staple of both day and evening wear for women. Dior himself kept making designs that followed the feminine line while also adding new features, like the structured collar. Even though the suburban way of life may seem shallow and limiting for women, it's important to remember that people had lived in fear of poverty for 20 years and had just come back from World War II.
The 50s style was greatly influenced by celebrities like Marilyn Monroe, Audrey Hepburn, Elizabeth Taylor, Lucille Ball, Elvis Presley, Marlon Brando, and more. A lot of people mistake the movie Grease and fictional characters like Danny Zuko for influencing 50s fashion. Yes, the leather jacket he wore was iconic. But Grease was released years later.
Here are 15 examples of those 50s outfits that completely changed the world's fashion.
Polka Dot Dress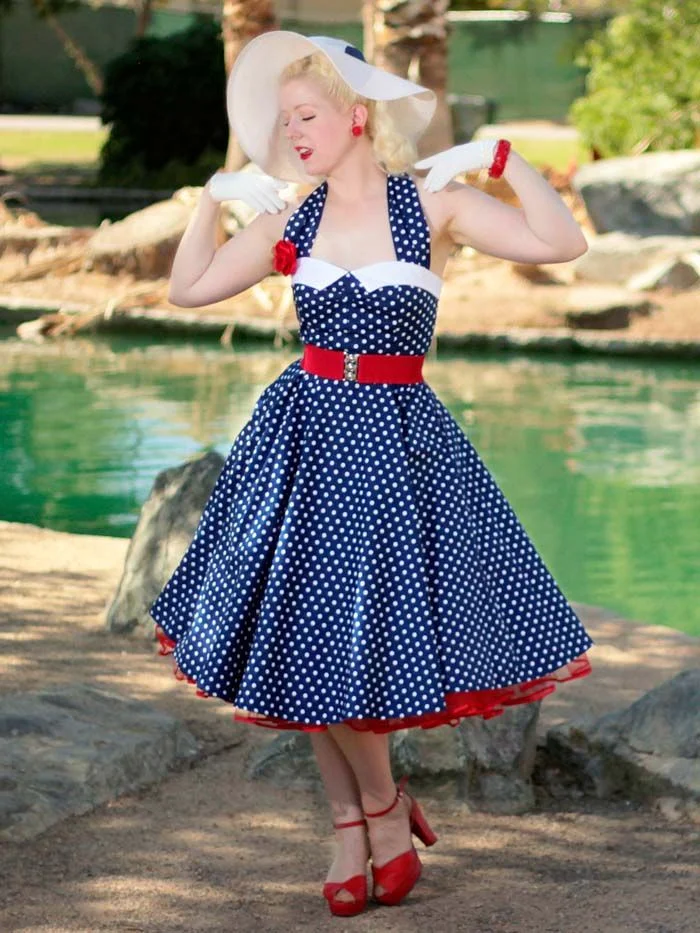 A fun and flirty polka-dot dress with white dots on a blue background, a fitted waist, and a flared skirt to make the hourglass shape of the time. They became very popular after Christian Dior put out a line of dresses with the spotted pattern.
New Look Dress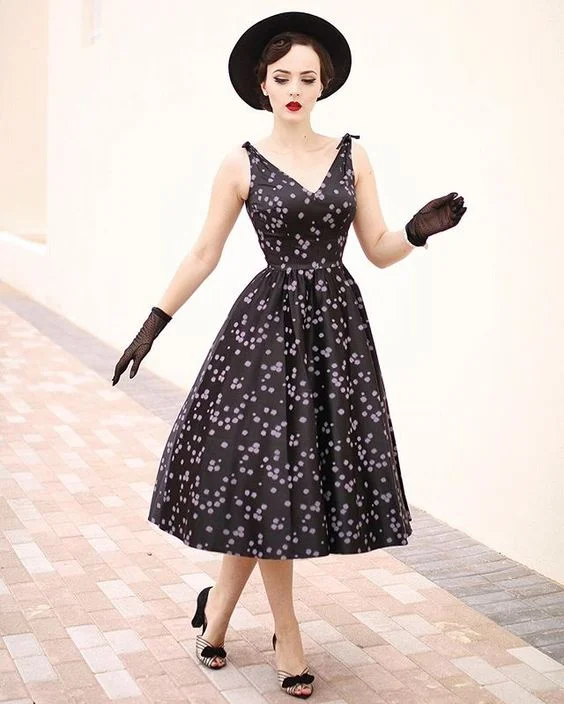 A New Look 50s style dress fits closely around a woman's chest and waist. Most belts are so tight around the waist that a corset or body shaper is needed for a good fit. The dress's skirt has a very wide A-line flare, which is made even more noticeable by the layer of tulle or crinoline added below. This dress made V shapes above and below her waist, which made it look like her whole body was in the shape of an hourglass. During the 50s, gloves were also huge part of the personal style.
Dress Coats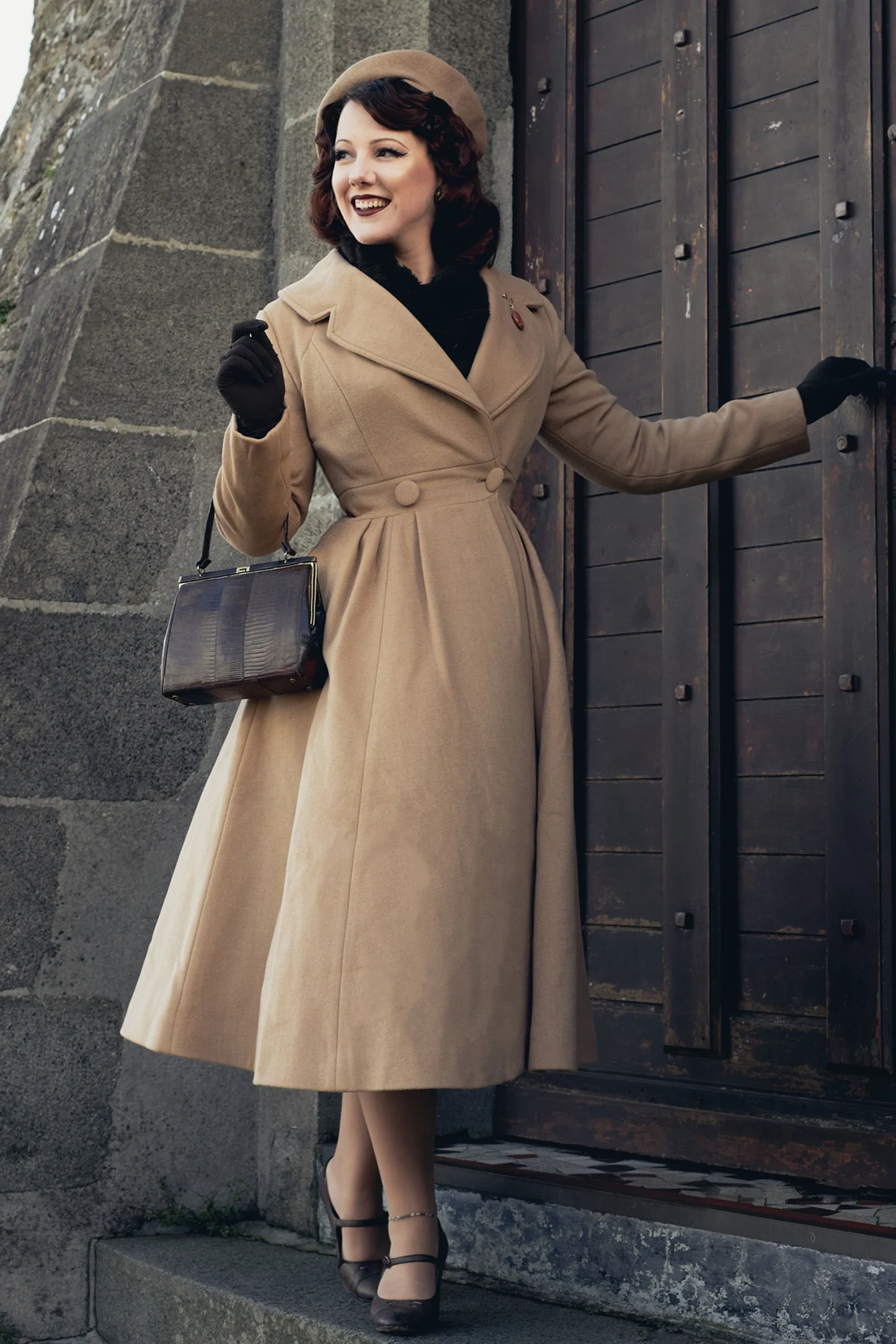 A nice coat to wear over a New Look dress in the evening. The dress coat was a special part of a woman's wardrobe because it buttoned and fit her body in a way that showed off the shape of her dress. It looked like she had another "dress" on top of the one she already had on.
Knit Sweater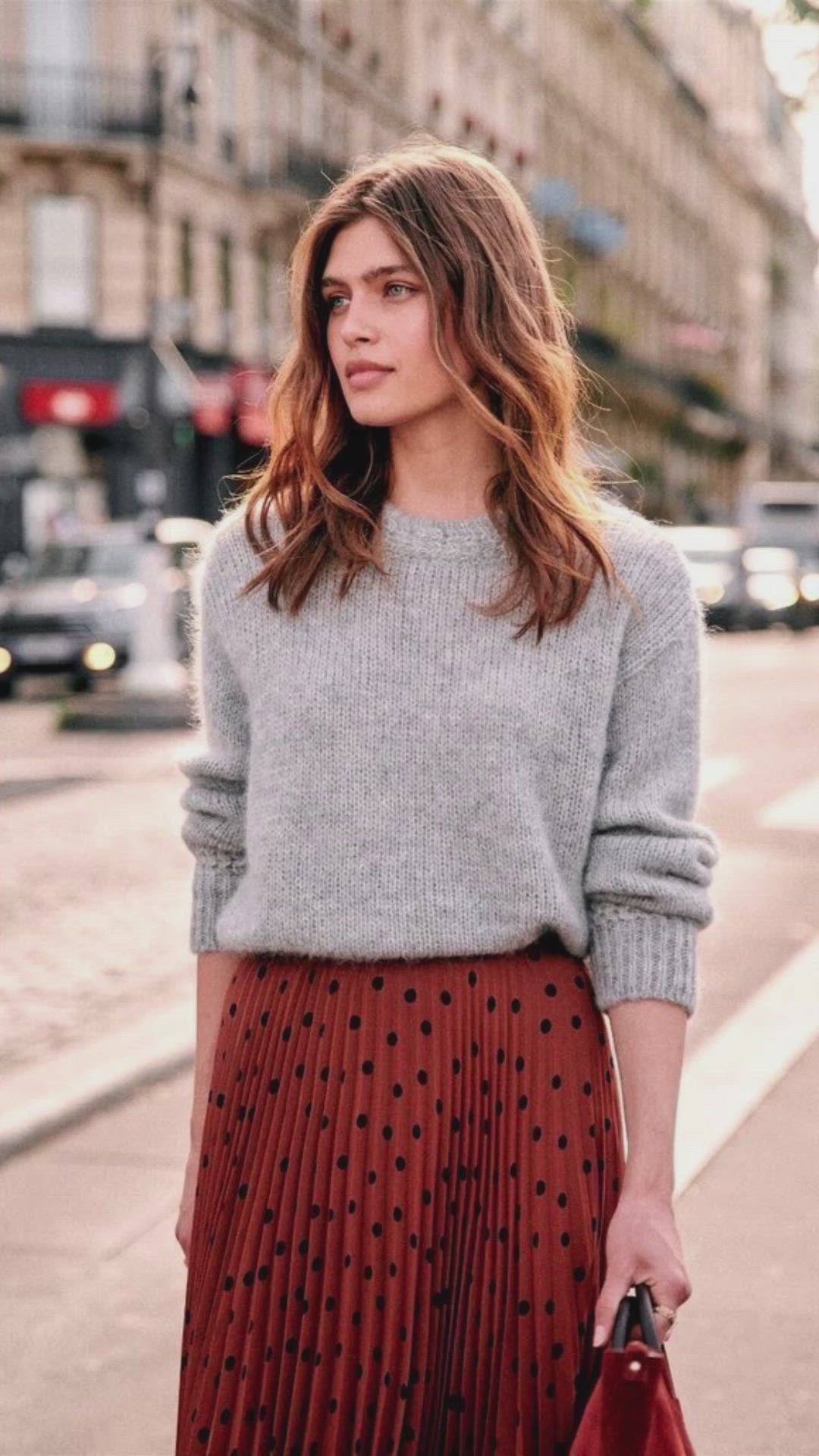 In the 1950s, young women often wore knit sweaters with their poodle, circle, or knee-length pencil skirts. This proves that the archetype is true. When Lana Turner wore the knit sweater in the 1930s movie They Won't Forget, it caused a big stir. It was a big deal because the knit fabric showed the curves of a woman's chest. It was a key piece of 1930s fashion. By the 1950s, rules had changed, and knit sweaters were no longer only worn by bad girls.
Circle Skirt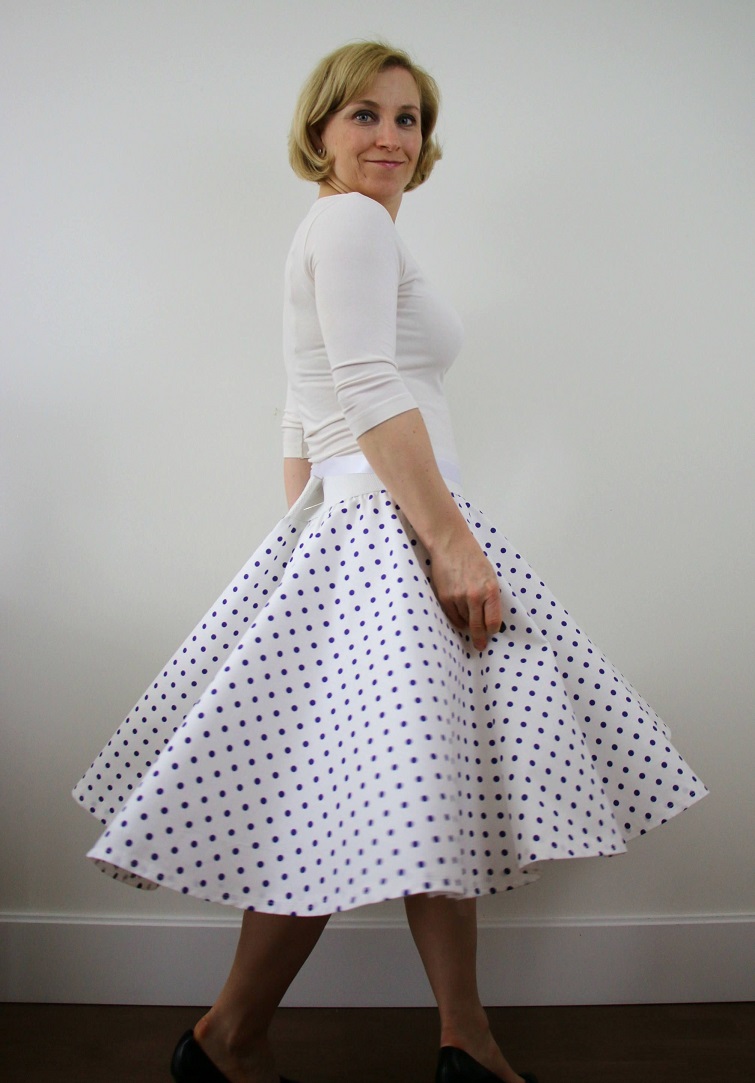 A circle skirt with a lot of volumes, made possible by an A-line flare and a layer of tulle or crinoline underneath. It was called a "circle skirt" because the edges of the hem were shaped like a circle. The circle skirt of the 50s outfits grew out of the hourglass shape of Christian Dior's "New Look" dress. Women wore knee-length pencil skirts, which became popular in the 1940s, but the cool girl of the 1950s wore a circle skirt with bric-a-brac, embellished trim, or a funky novelty print, like the circle skirt from Hinesite Vintage, which has a music theme.
Beachwear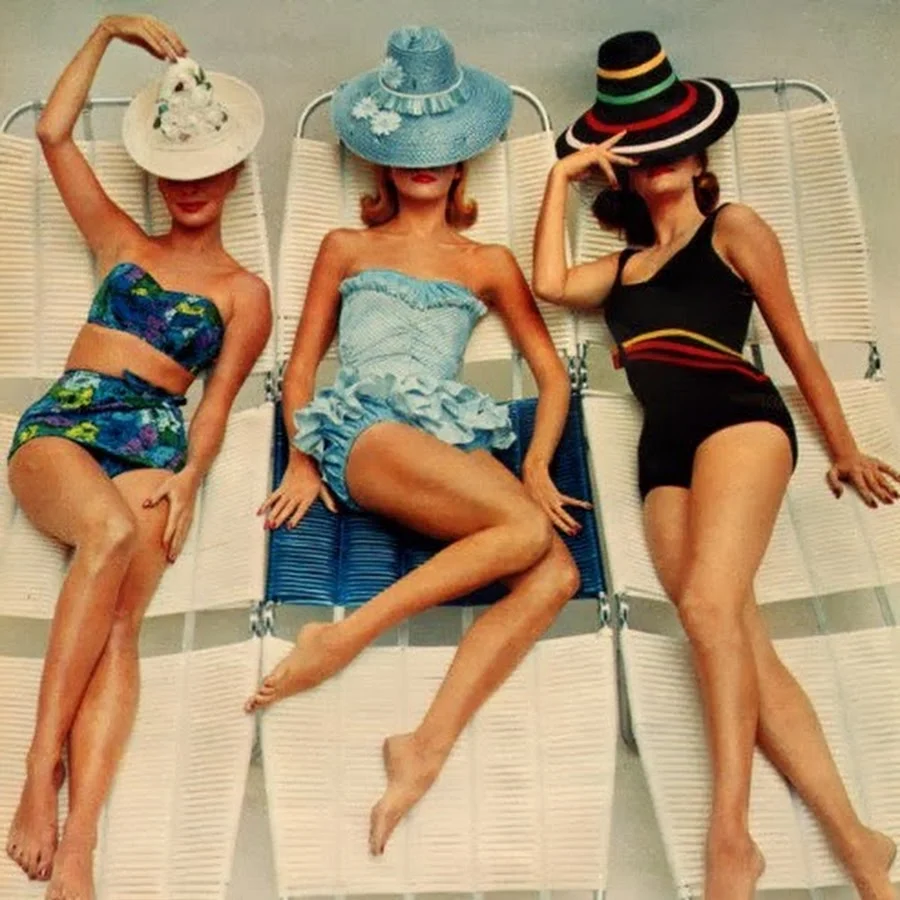 We show a lot more skin now than a woman would have been comfortable with in the 1950s. So, when a woman went to the beach, she wore cotton clothes with fun patterns and cuts that showed a lot of skin, because that was what the setting called for. Some beachwear and sportswear different styles from the 1950s are now worn by pin-up and rockabilly girls in the 21st century. This is because, by 2022 standards, these outfits can be worn anywhere today.
A-Line Midi Skirt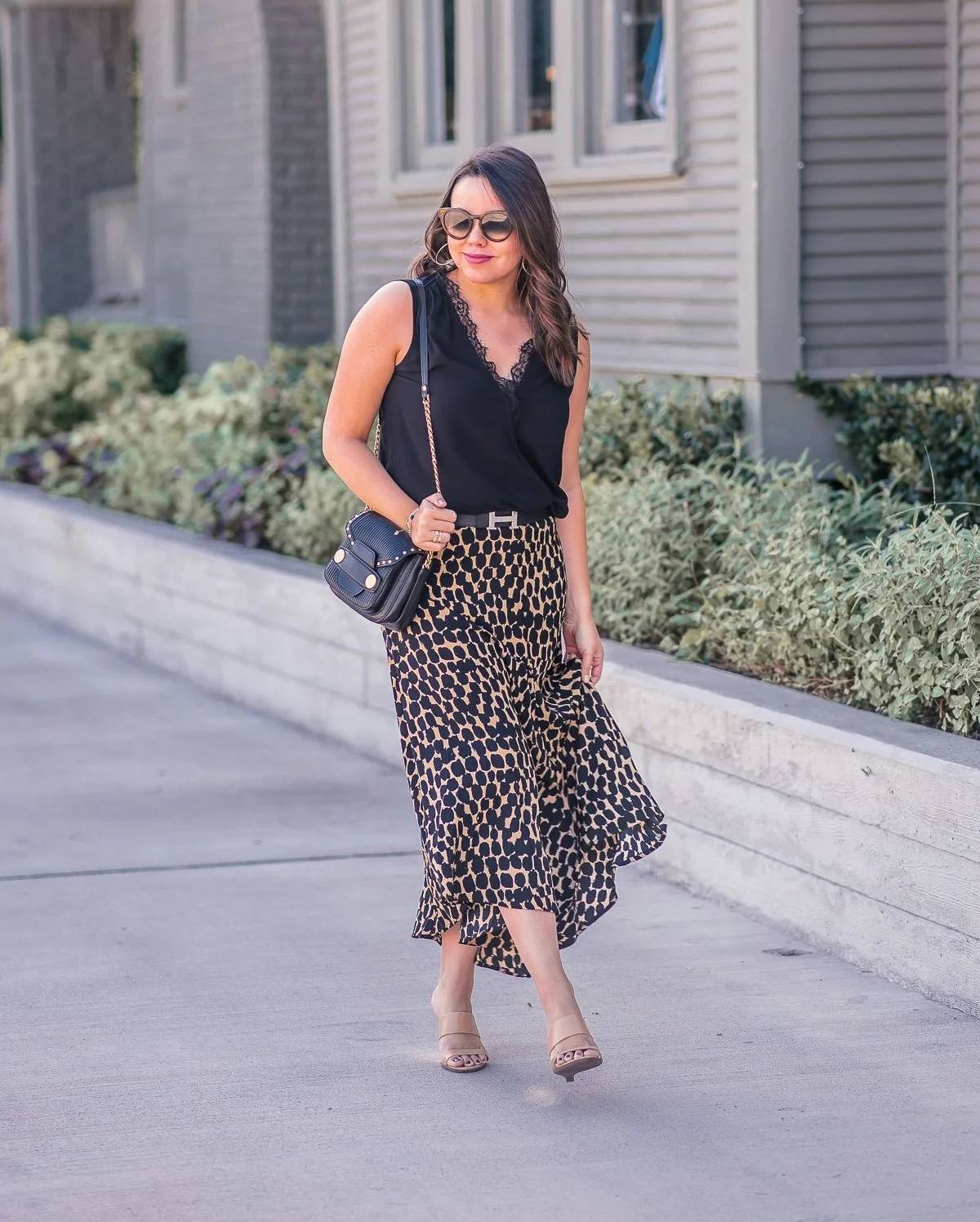 Think about summer in your local high school and loud music. In the 1950s, the A-line midi skirt was the uniform for fashionable girls, and we still wear it to work today. Here is a 50s costume idea you can try.
High-waisted Denim Shorts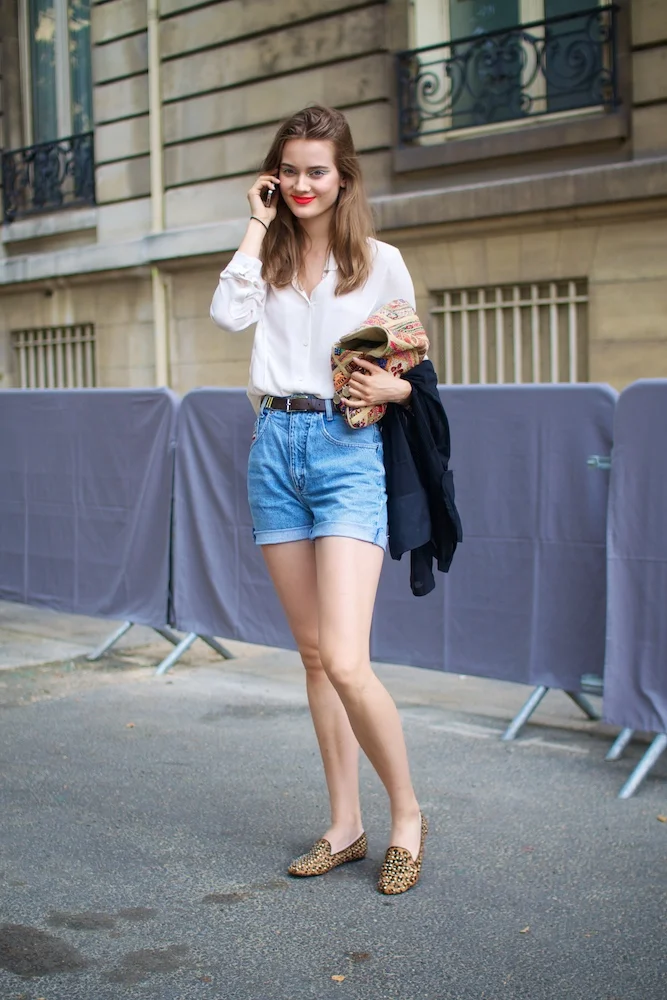 In the 1950s, high-waisted shorts were a must-have piece of resort wear. They were worn in Cannes and on honeymoons in Acapulco, and teens quickly made them their summer uniforms. With a cropped or tucked-in blouse like Norma Shearer, we'll be packing this look for the holidays this year.
Cropped Trousers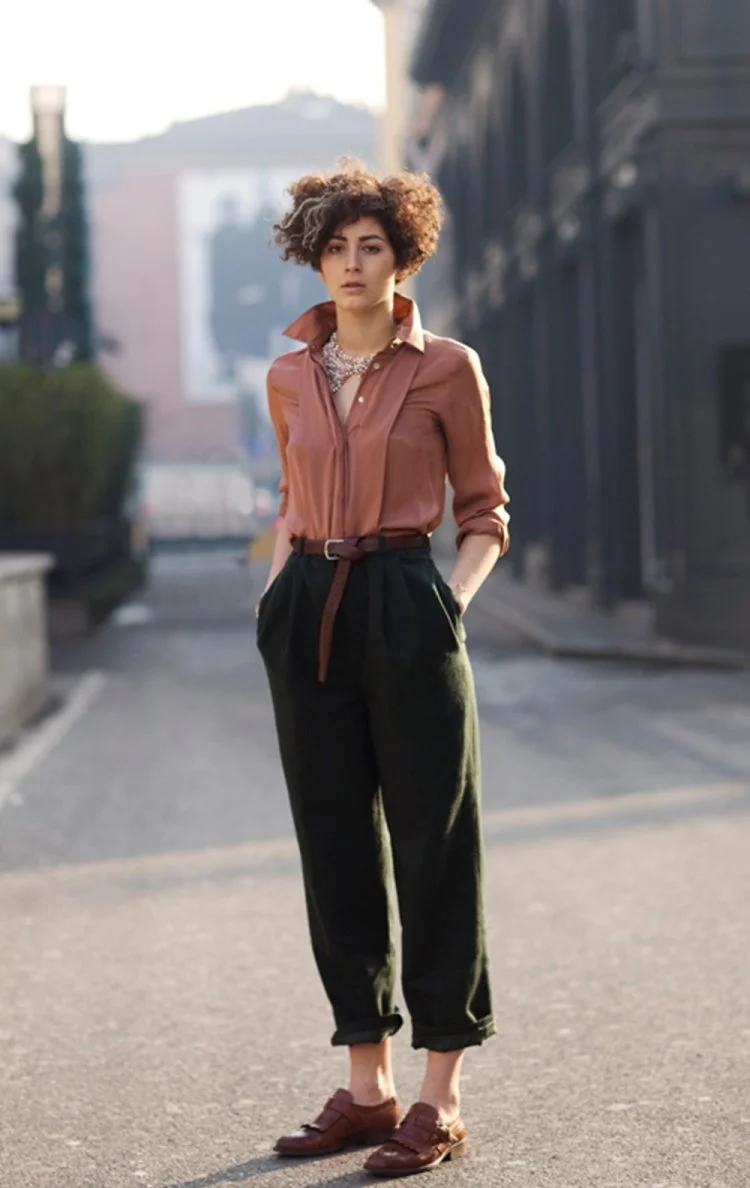 Audrey Hepburn may have made the little black dress (LBD) a classic, but she also became known for her cropped cigarette pants that were just above the ankle. Cropped pants are back in style, which doesn't surprise us since they are so stylish.
Sack Dress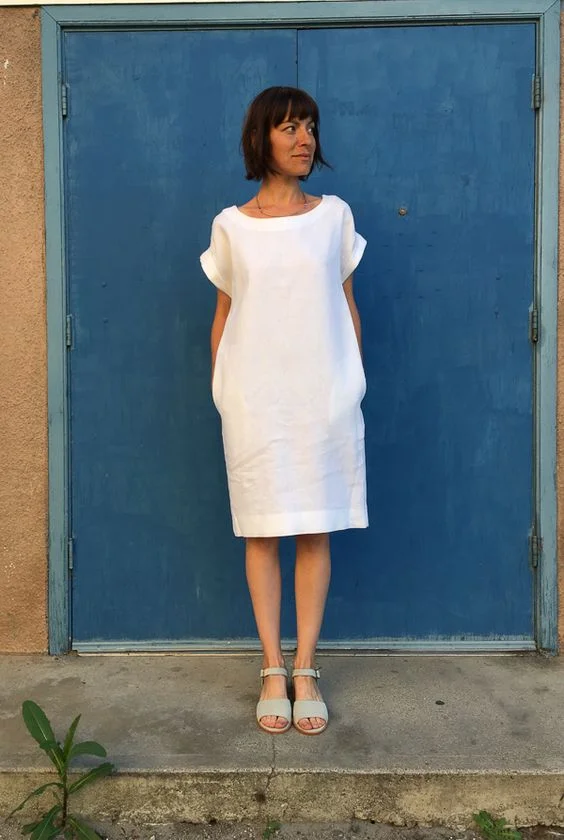 While Dior was all about the New Look dress, Givenchy and Balenciaga made sack dresses with looser cuts and shorter hems. So, Joan Collins wore a style that led to the shifts, minis, and jumper dresses we have in our closets today.
Pencil Skirt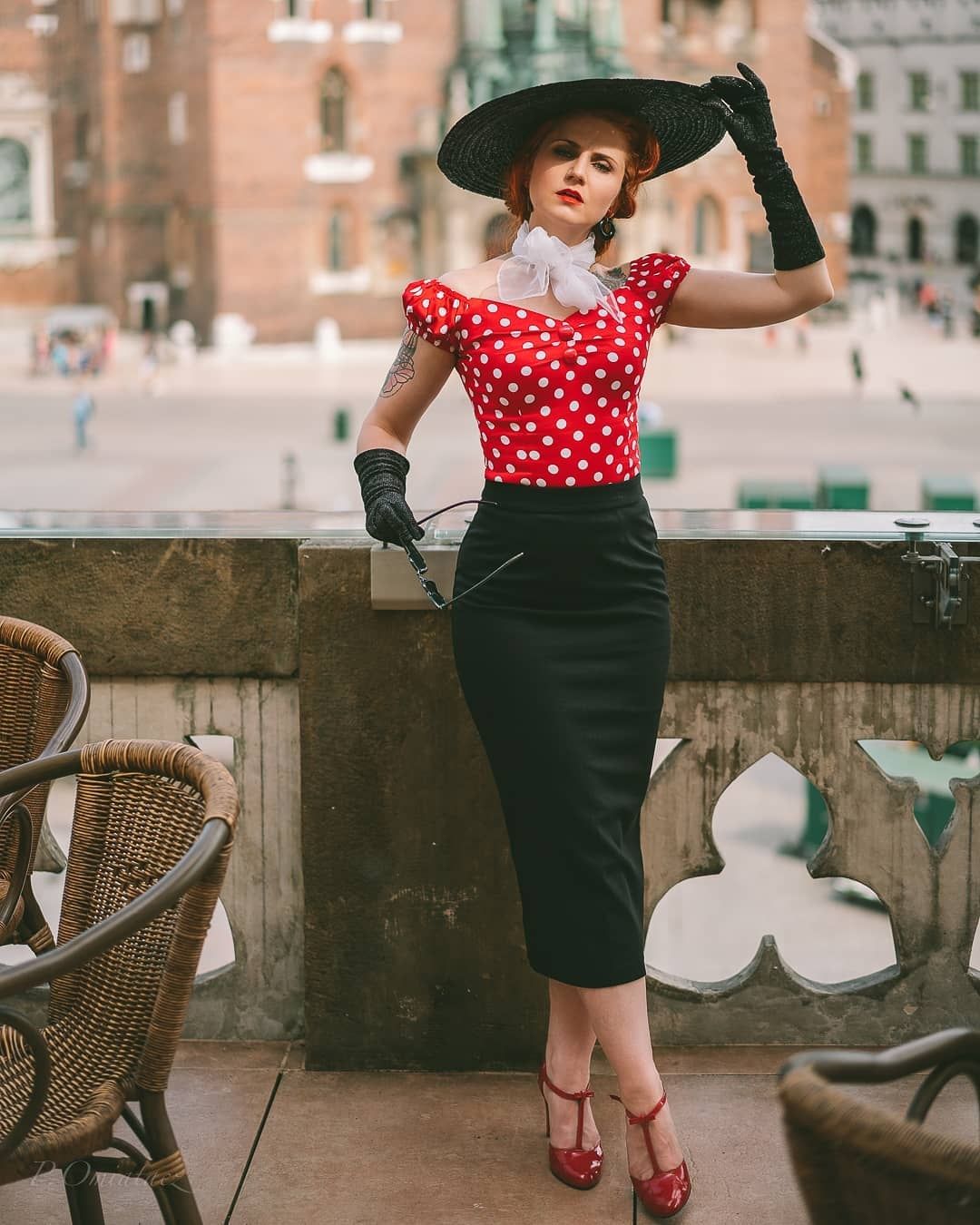 The real inventor of this piece of clothing is Marilyn Monroe. She was known for a lot of things, but no one can deny that she was the queen of pencil skirts. In a decade that was all about elegance and glitz, the pencil skirt became a sleeker, sexier, and more modern alternative to full skirts. This trend is still going strong, as pencil skirts were all over the S/S 18 runway, but no one can deny that she was the queen of pencil skirts. In a decade that was all about elegance and glitz, the pencil skirt became a sleeker, sexier, and more modern alternative to full skirts. This trend is still going strong, as pencil skirts were all over the S/S 18 runway. We just have many more different styles.
Chanel Suit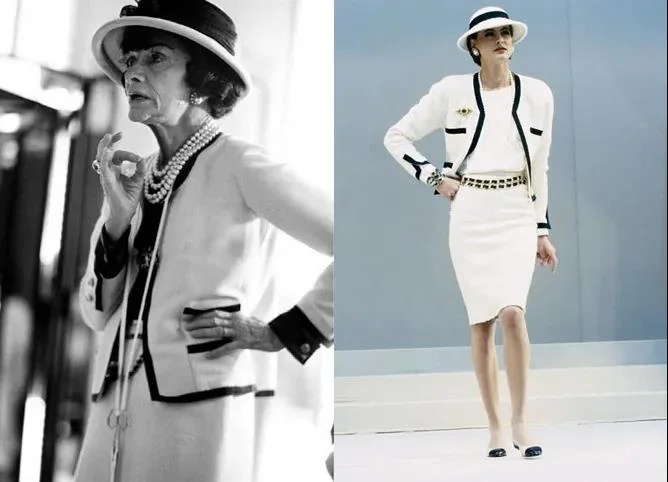 In 1959 Coco Chanel made the tweed suit with contrasting edges that is still popular today. During this time, this well-known fashion brand was at its best, making pieces that helped to solidify its brand image. Even now, the Chanel suit is still updated every season, so it's still timeless and in style.
Prom Party Dress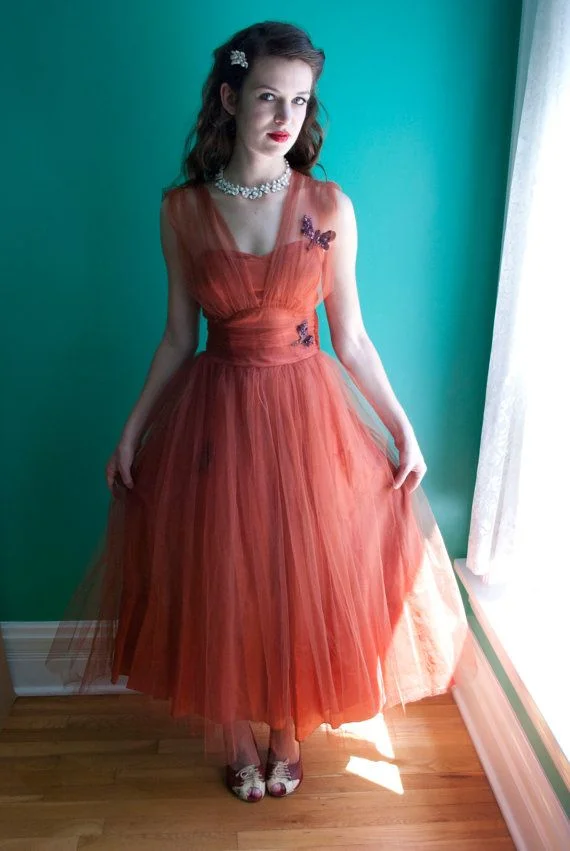 The shape of the 1950s prom dress is the most attractive for any woman. The circle skirt's width draws attention to your waist, which looks smaller because of the volume of the skirt. The dress's bodice hugs you in all the right places and makes your shoulders, neck, and face stand out. Girls in high school can wear these dresses to their actual proms, and sorority girls in college can wear them to their formals.
Pin-up Look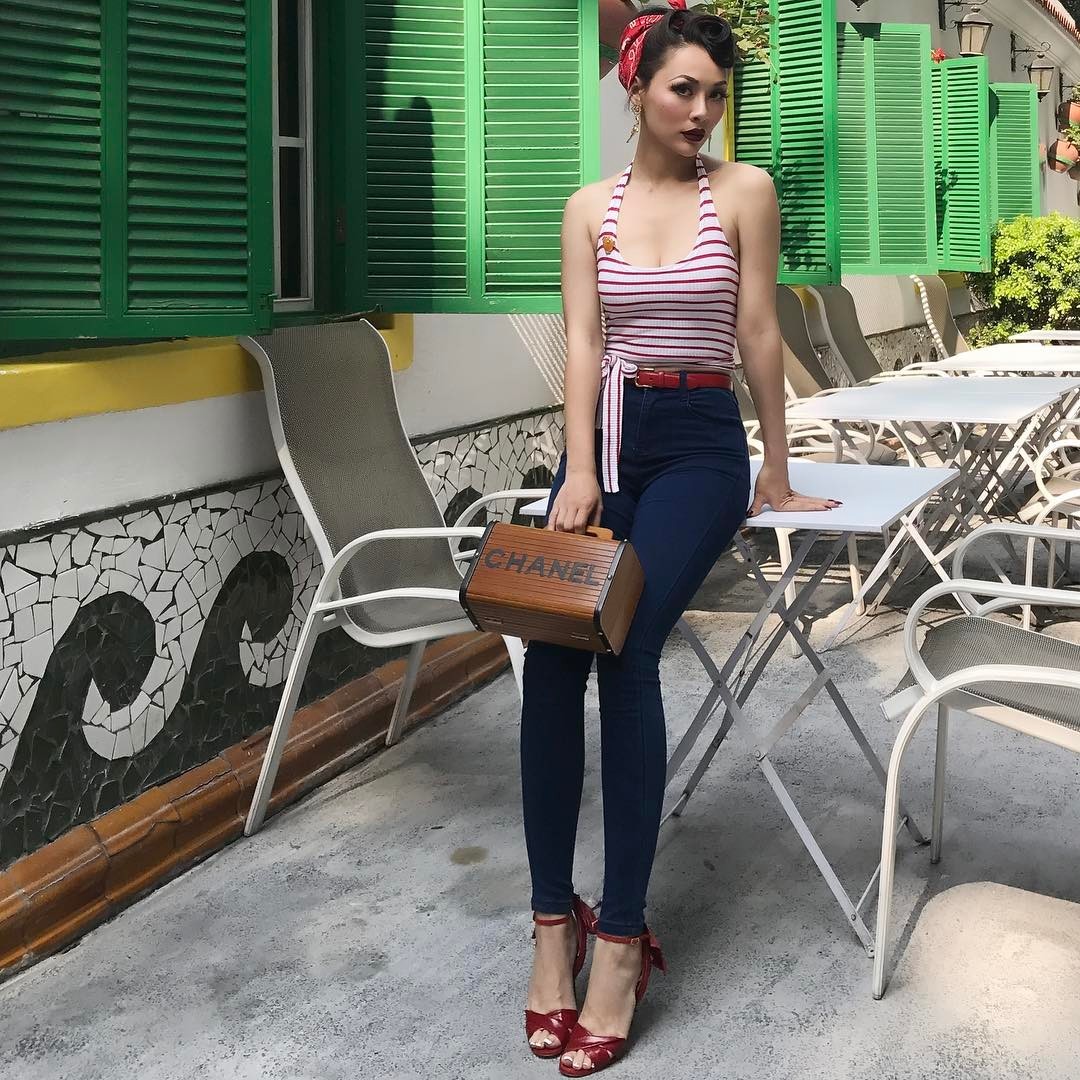 Pin-up style isn't about "letting it all hangout," which is an unfortunate stereotype of today's pin-up style. Rather, it is to look sweet and playful in a sensual way. It's a fun style that works best when you're also having a good time. Pin-up style can be added to your look with skinny capri pants called "stovepipes," a brightly colored sweater that fits well and is cropped to show some tummy, and a headscarf tied in a bow. Peep-toe heels with well-groomed toenails put the finishing touch on them. Modern fashion has embraced this look.
Rockabilly Street Style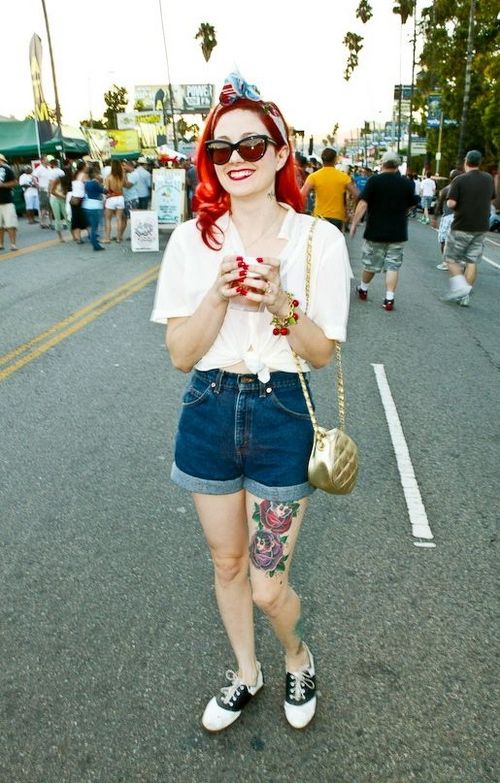 To sum up, what we know about Rockabilly fashion today, we can say that it is a mix of 1950s music and style with elements of rock, country, and punk. It manages to cover a wide range of topics,
which makes it a unique genre that is still popular today. The white t-shirt and cropped short jeans are a unique and recognizable look for the 1950s.
During the 1950s, fashion exploded in a lot of new directions, colors, and shapes. It was an important decade, and clothes from that time, like Pin-Up and Rockabilly, are back in style. Fashion in the 1950s was interesting, with a focus on clothes that showed off women's bodies. New shapes and patterns made it an exciting time, and many of the styles are still popular today.
Do you like this mid-20-century fashion? Let us know in the comments!