Many schools, like other organizations, have dress codes to follow, although not as strict as the students. Thus, as a teacher, you can add some personality to your outfit. Sometimes it can be challenging to pick out clothing that makes you look professional and at the same time approachable to your students. If the dress code lets you wear jeans, you're lucky. If not, you can choose some trendy pants and trousers that look professional but comfortable to wear all day long, because you need to function in your clothes. It will be a bonus if you can use some of that outfit for the night or the end of the day.
The first idea when imagining a teacher is a formal suit, hair scraped back, and glasses. Well, it doesn't have to be that way. You can still go elegant, casual, or follow the latest fashion trends according to your age. No matter what style do you follow, your appearance is crucial. How you are perceived much depends on your look. Wear your outfit confidently and intelligently to get the respect and attention you deserve from your students and colleagues. It would be good to be aware of the many choices to dress up and do make-up as a fascinating teacher. Also, you should take care of the accessories you wear.
Following some simple rules, and with several essential items, smart accessorizing, you can create outfits appropriate for the classroom and equally show off your personality. Feel free to abandon that pencil skirt and cardigan combination and experiment with some more unique options. For example, you don't have to wear the same color as your blazer and pants. Try something contrasting. Comfortable footwear is necessary to keep your legs in good condition in the long run. You can use bright accessories like a scarf or necklace. Take care not to show off more skin than necessary. Keep up to the dress code of the school. And don't forget to dress up for the formal events at school.
Here, we present some outfit ideas for teachers pursuing comfort, function, and style.
Black & White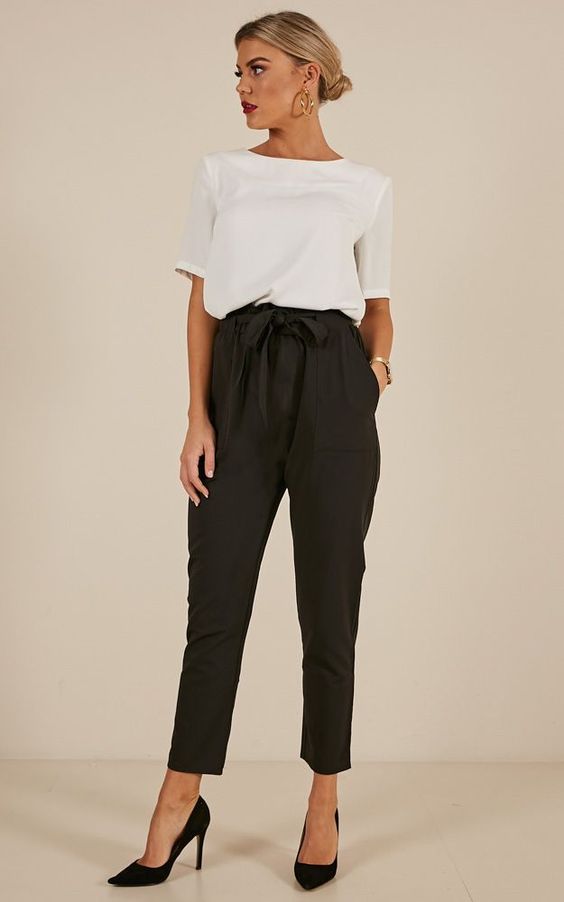 These black pencil pants feature a tie waist belt and a high waist finish, perfect for a day at school. You can wear it for an evening out as well as a bonus.
Striped Skirt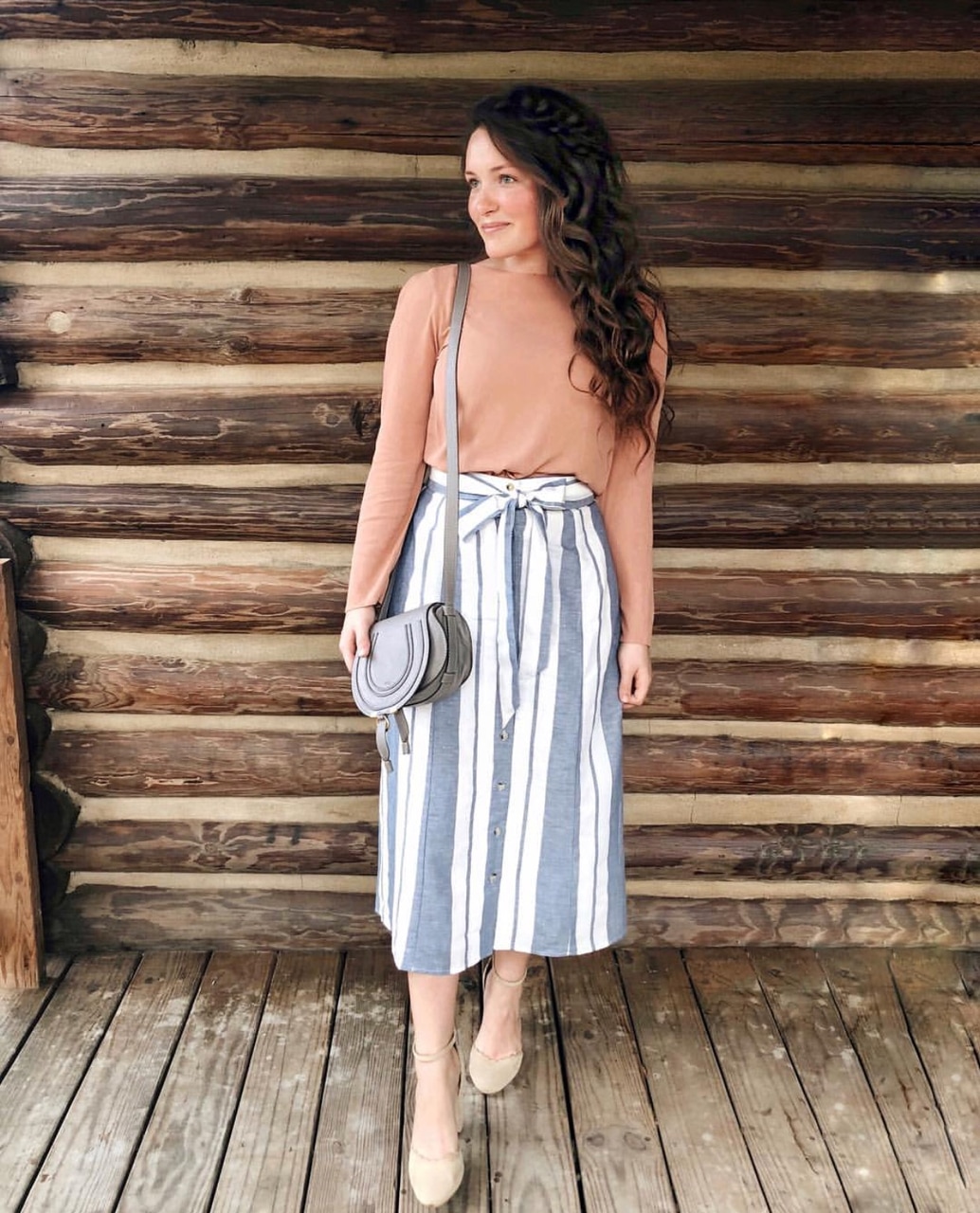 This outfit might not be for every day at school, but sometimes you can break the monotony: a striped skirt with a salmon top and heels.
An English Teacher Outlook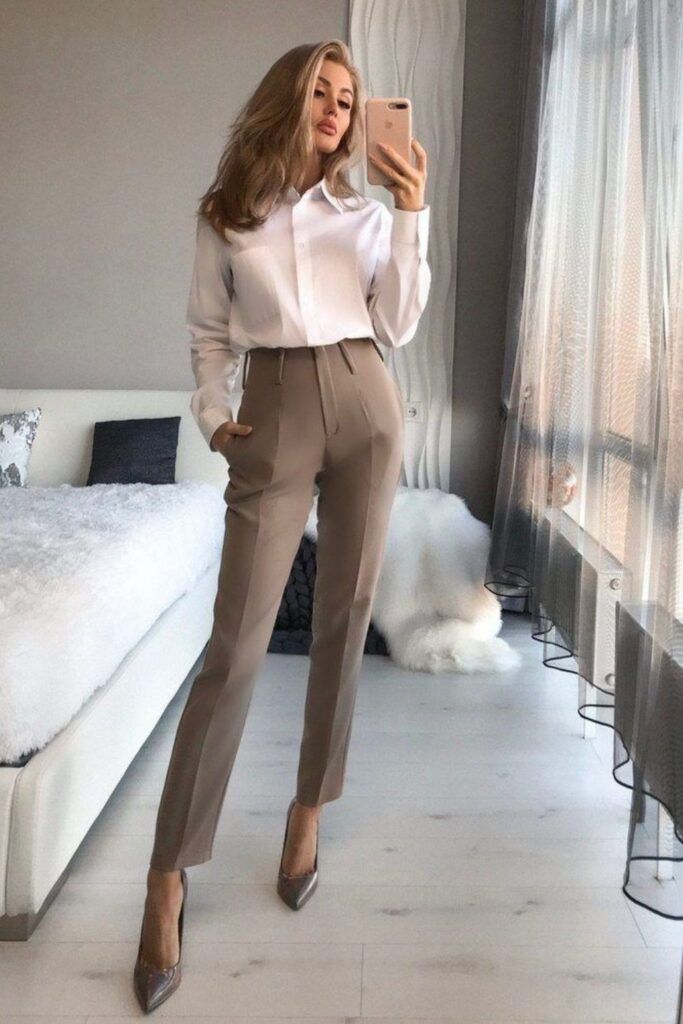 Elegant and up to the expectations of wearing skirts, pants, shirts, dresses, blouses, or sweaters. This is one excellent combination of high-waisted pants, shirts, and heels.
Dress And Denim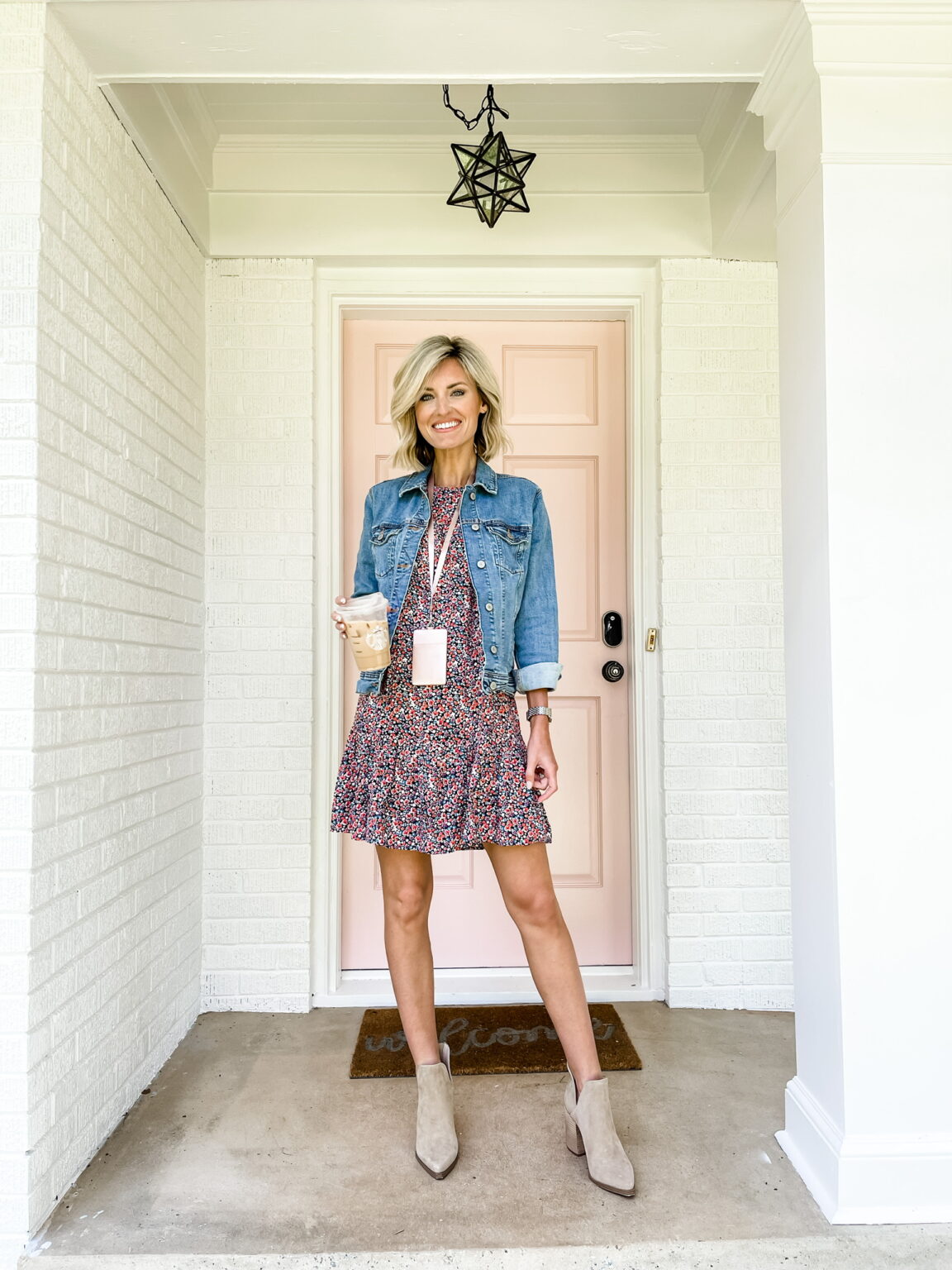 Pairing a floral printed dress with a denim jacket and some suede shoes will give you a casual look. You can change to knee-high boots and a warmer coat as the weather gets colder.
Casual Spring Outfit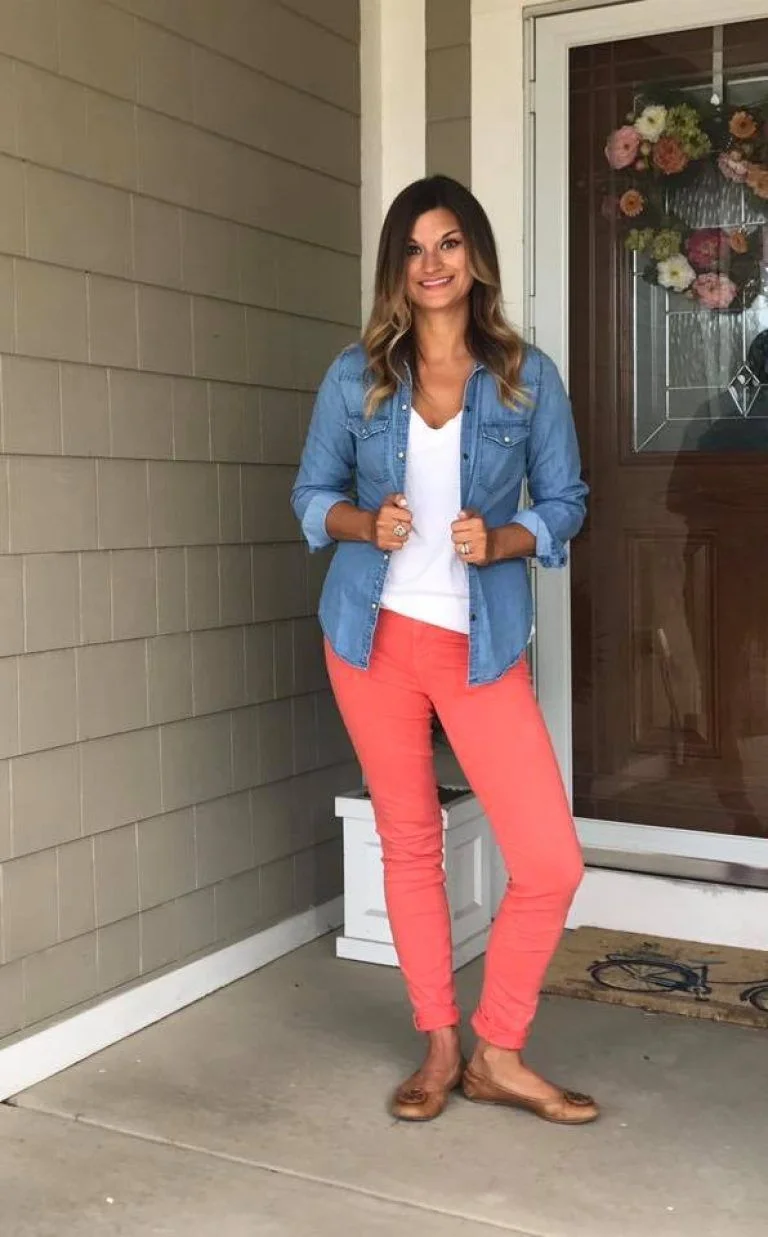 Light blue denim everyday shirt, a pair of pink regular size jeans, and flats in tone.
A Shirt Dress And A Sweater Blazer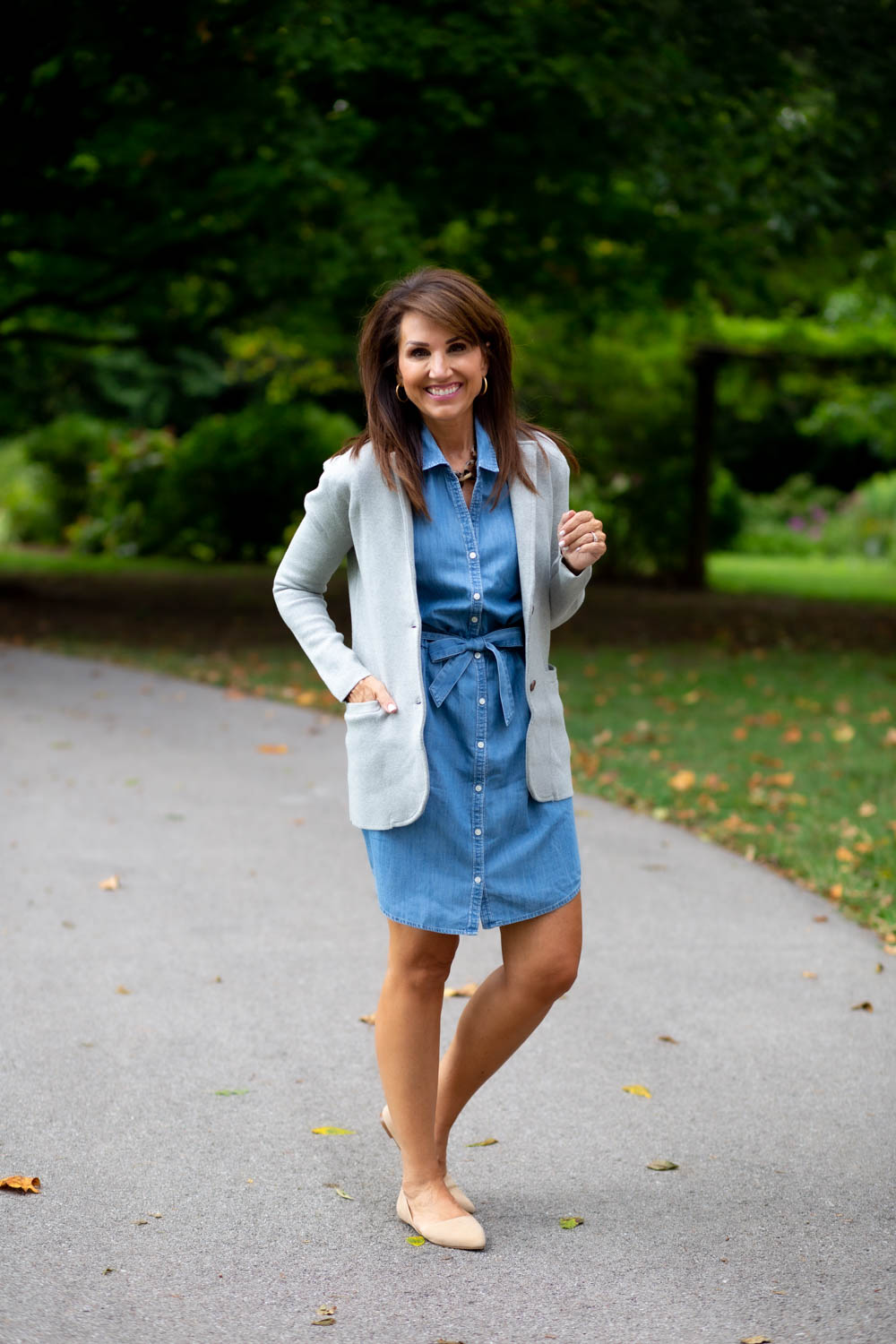 A shirt dress is a cute and comfortable school outfit. The sweater blazer will do the job if the weather gets chilly or cold due to air-conditioning.
Comfortable On Summer Days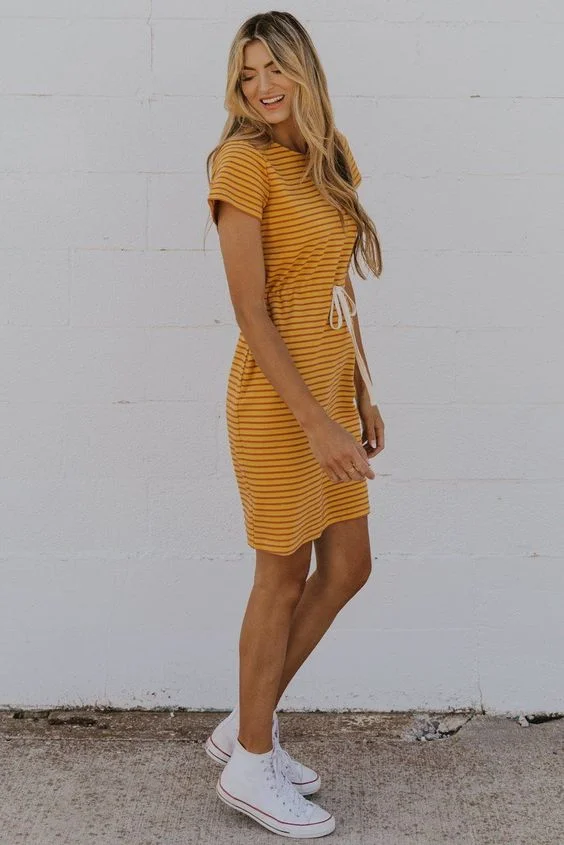 You can combine this tee shirt dress with a drawstring waist with any pair of comfortable shoes. Sneakers are ok as well.
Dress For Success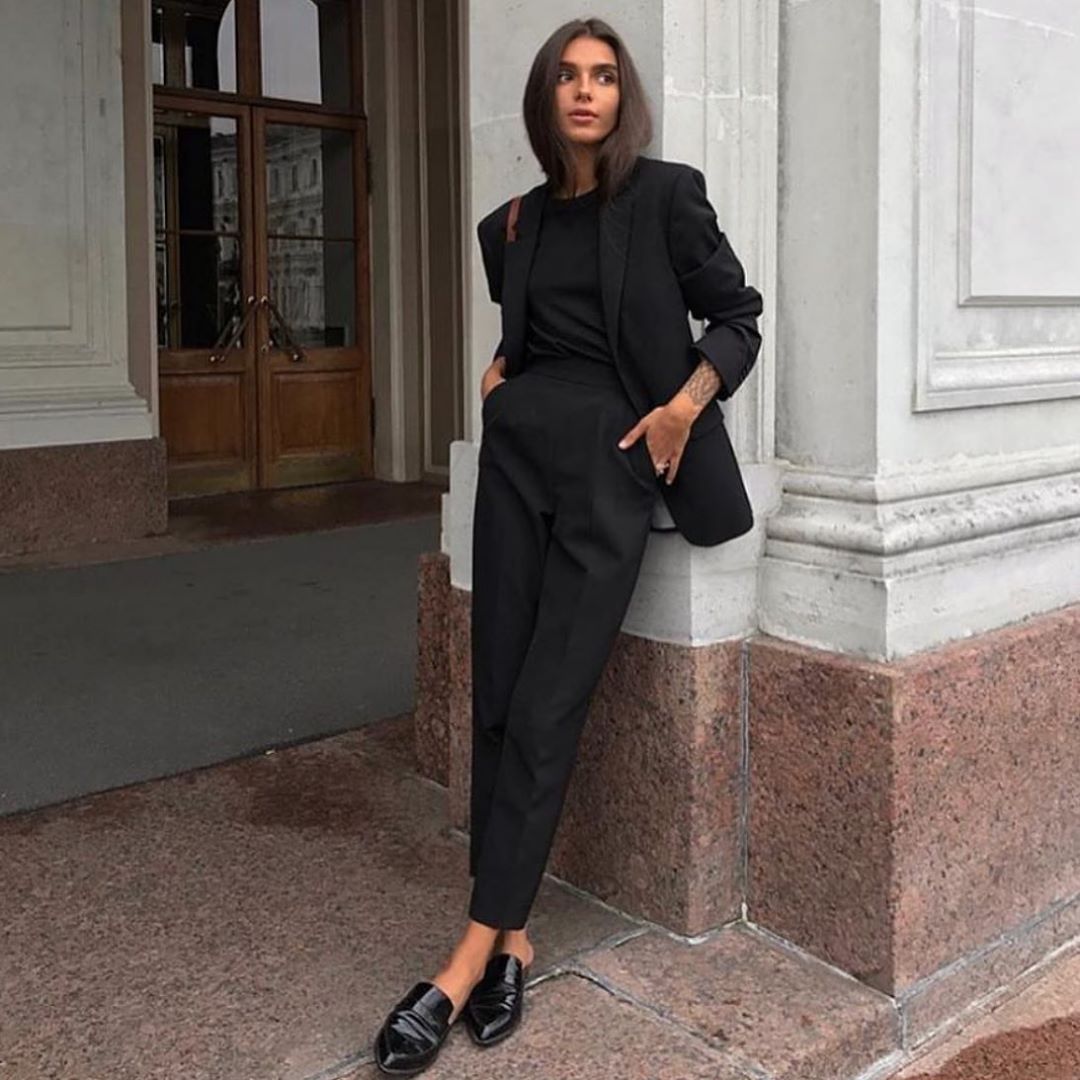 Black blazer, top, high-waisted pants, flat shoes… all black. You'll never go wrong with black, whether for a day at school, an interview, or a business meeting.
Cute And Comfortable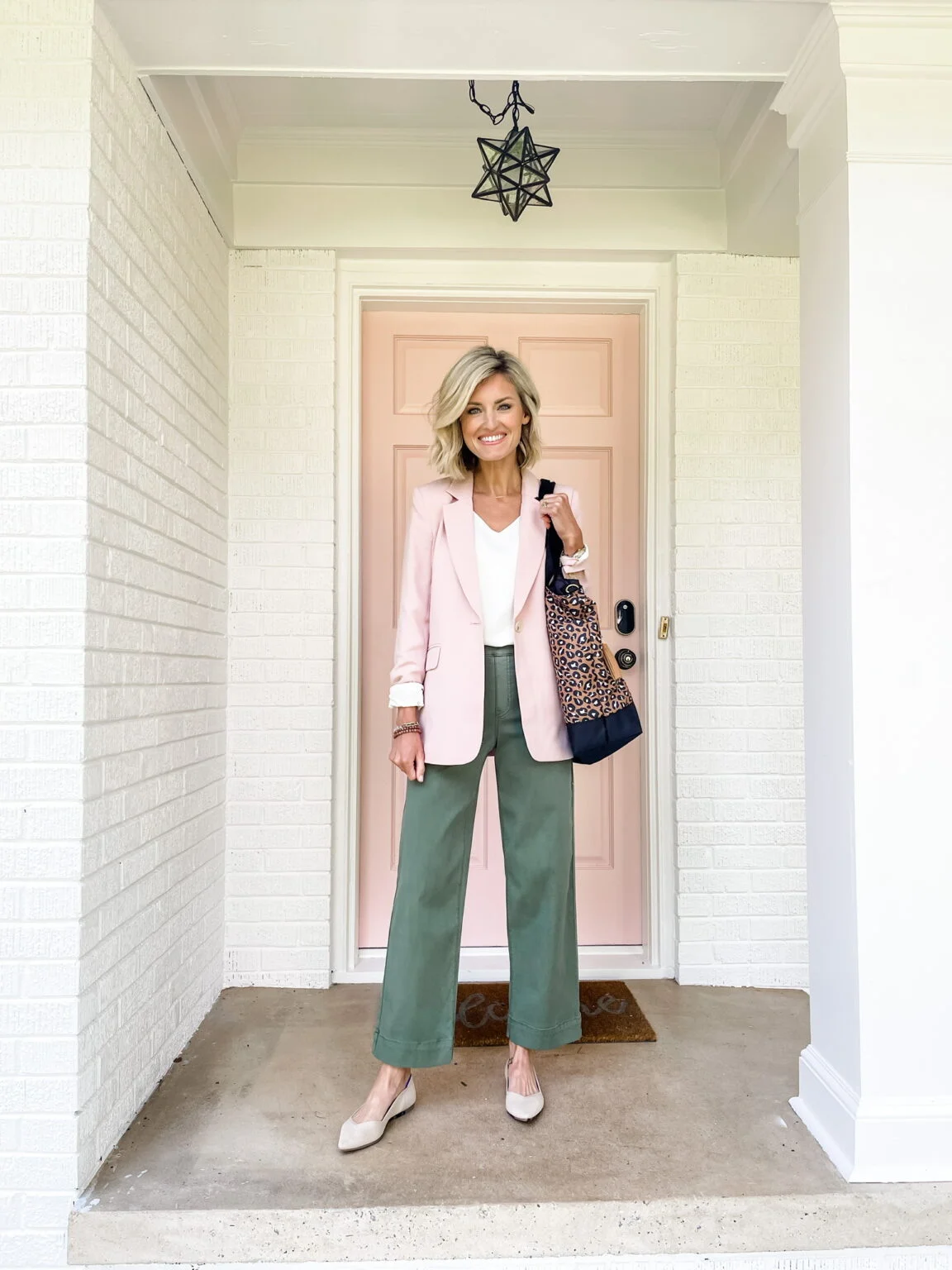 These Spanx pants are super pleasing. They stretch while holding their shape, and the white is not transparent. Adding a little color to a solid piece like a blazer is fun pairing it with a neutral top to keep a professional look. Round it out with flats and a bag.
For Online Classes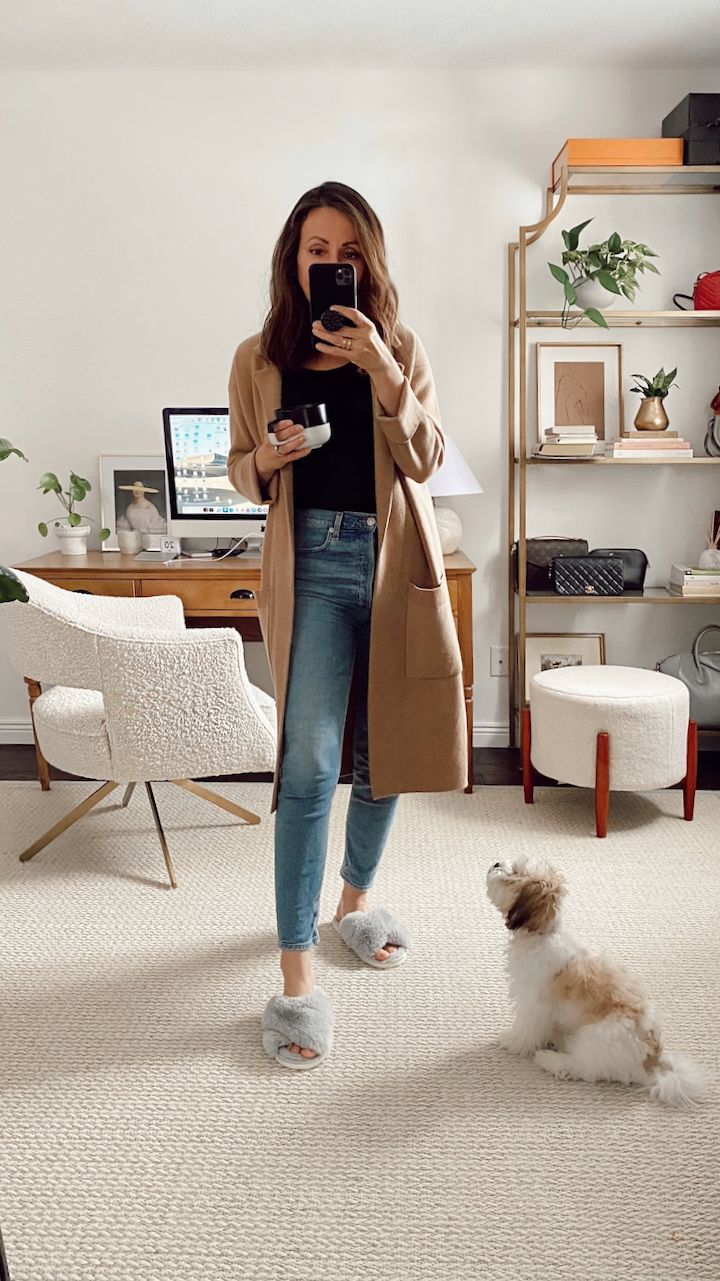 A combination of a long cardigan hitting below knees, jeans, tee, and slippers for online teaching comfort. Just change the slippers with shoes, and you've got a match for the school.
Think Spring, Think Green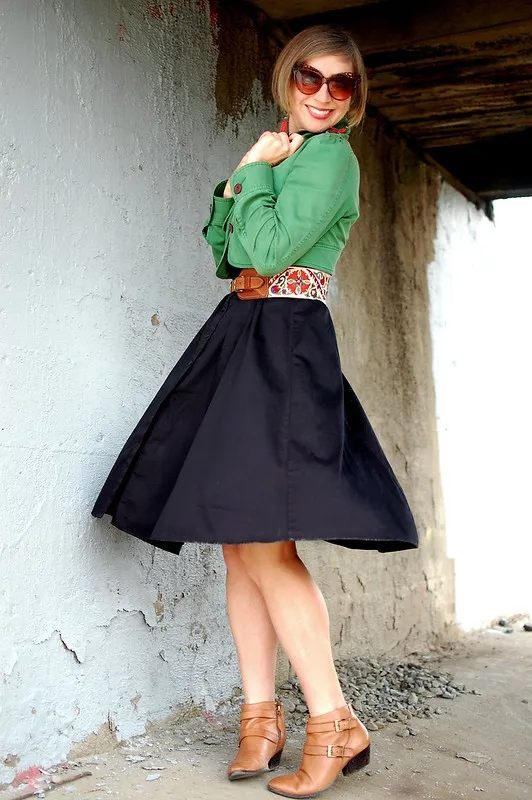 Spring is coming, new leaves and shoots, all green. See the combo of a cropped green trench jacket honoring spring, dress, boots, bag, sunglasses, belt. Everything is well aligned.
Teacher's Sweatshirt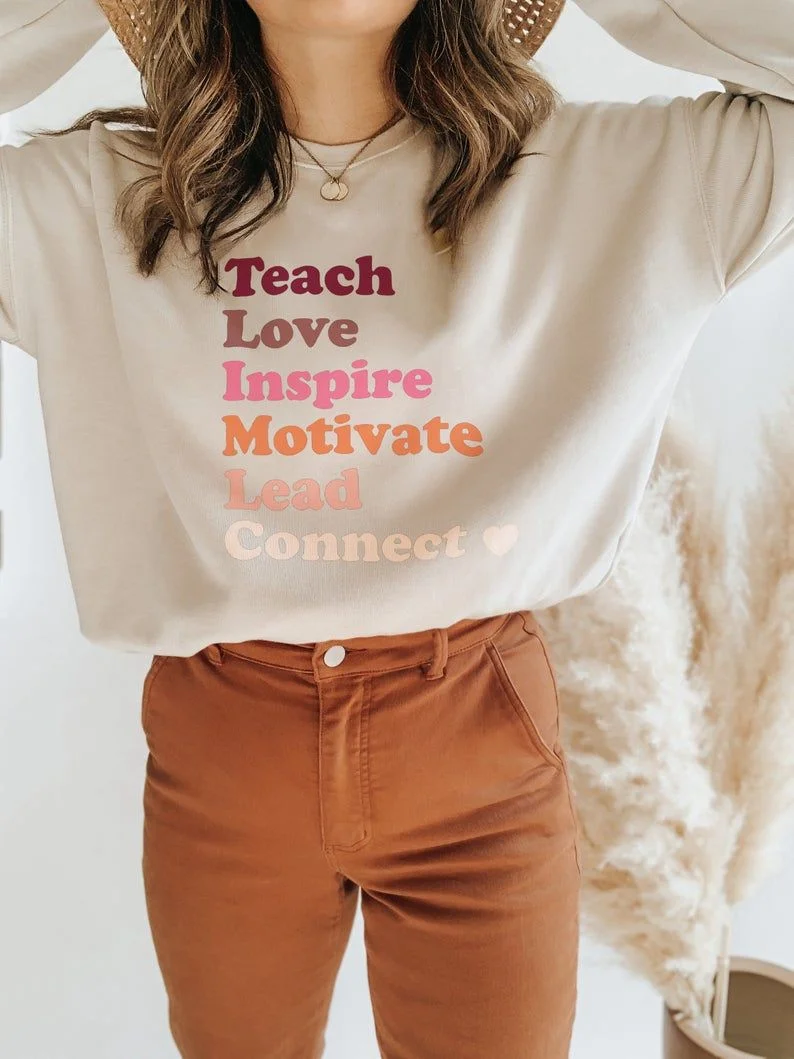 It says: Teach, love, inspire, motivate, lead, connect. Everything you need to do to teach. Pairs with jeans of any color. Comfortable and educational.
Sneakers And A Jacket Look Great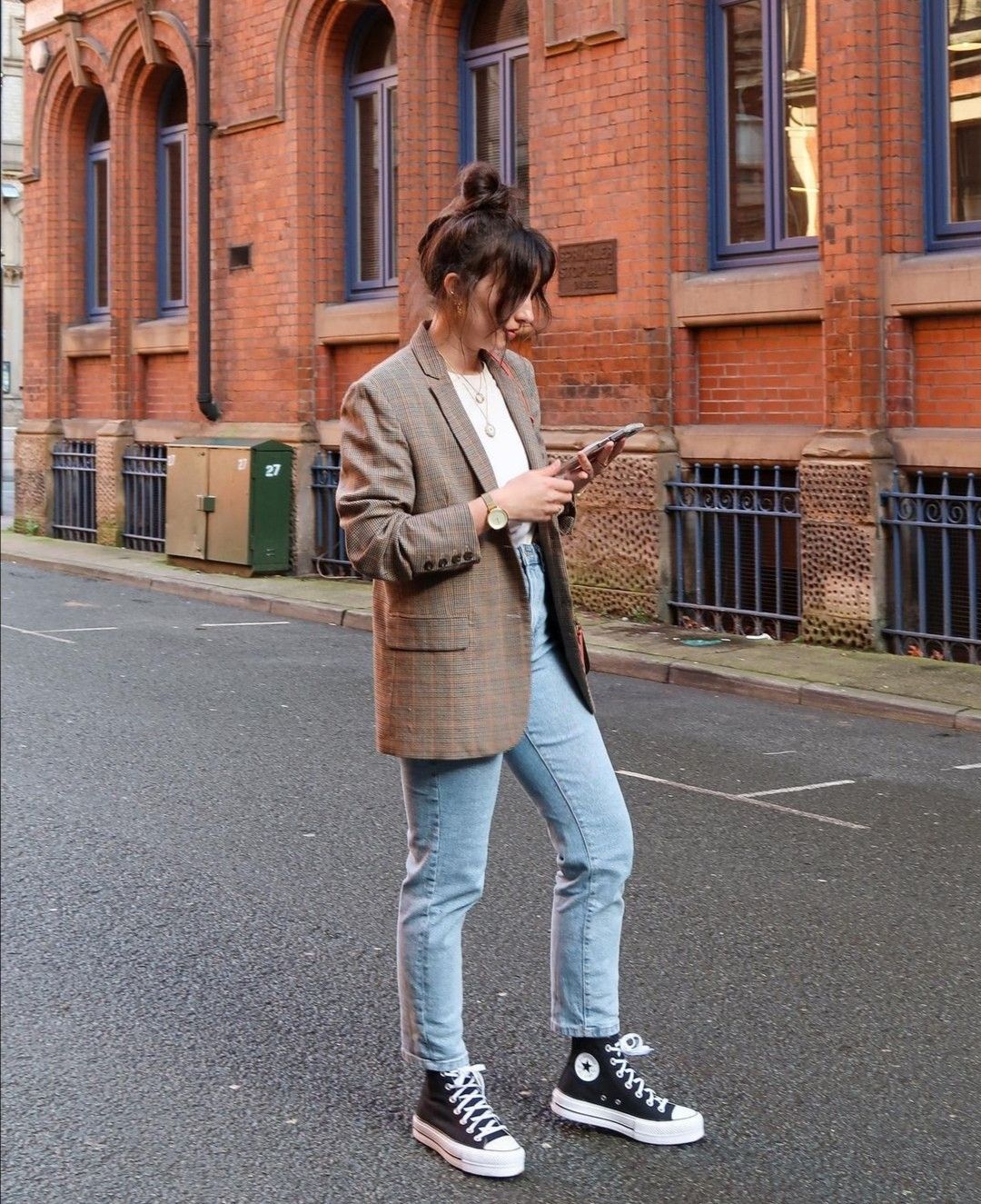 I'd bet on this one. Cozy and casual combination of a jacket, jeans, and Converse sneakers.
Jeans And Sweater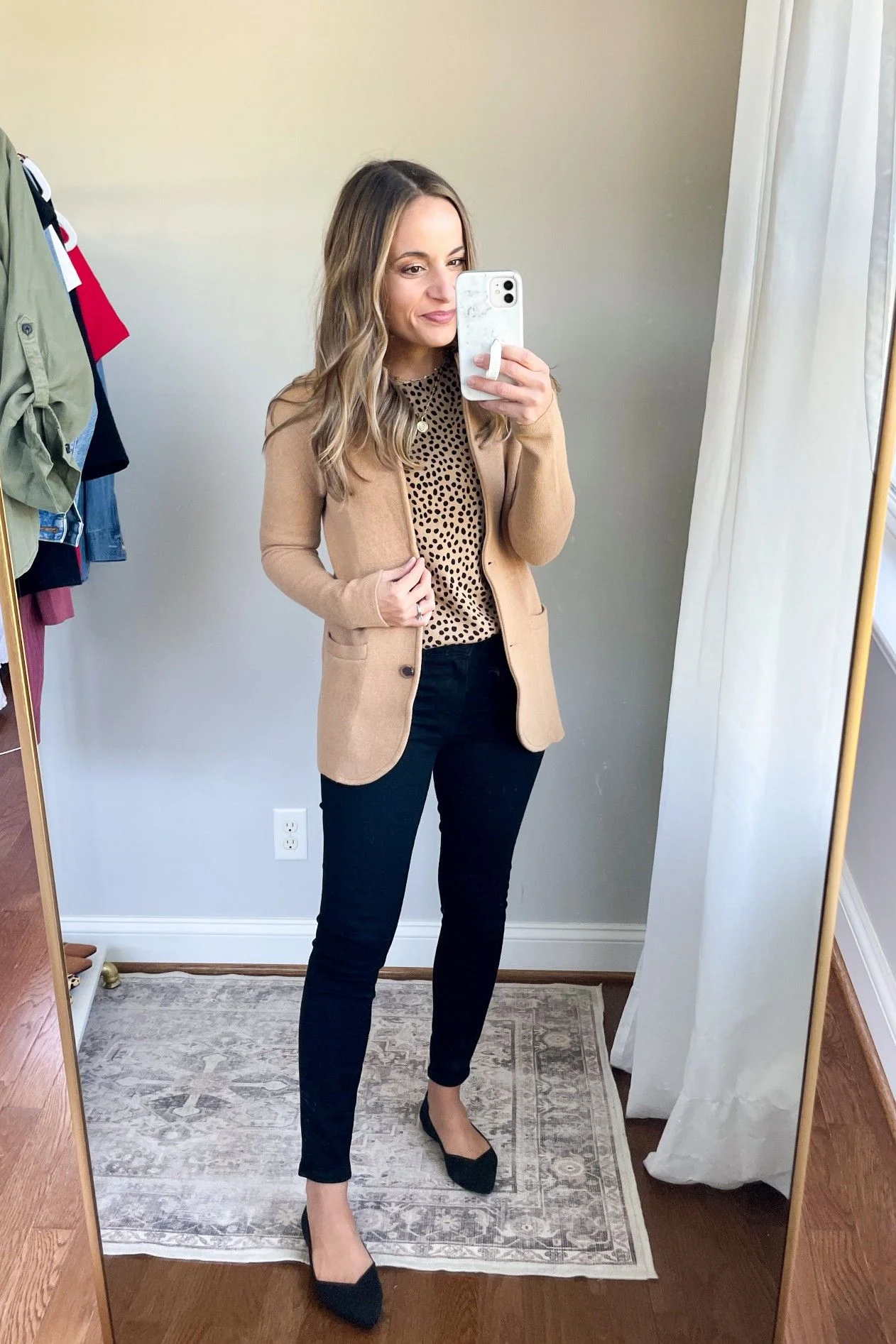 A pair of dark skinny jeans, a cheetah print sweater, a dressy tan sweater blazer, and flat shoes. A simple black cardigan would look as great as the blazer.
Make Plus-Size Great-Looking Again!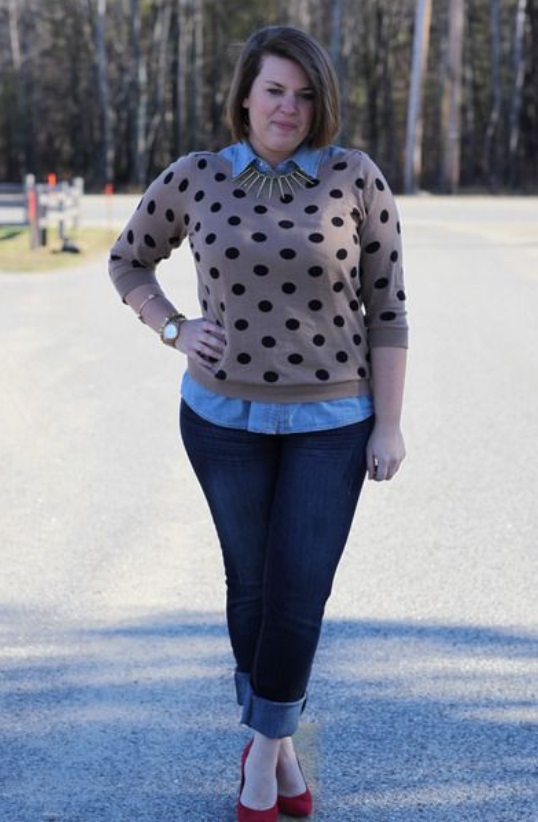 Curvy girl? No problem. There are combinations you can look nice, such as this simple outfit of a ¾ sleeves blouse, blue shirt, jeans, and red shoes. Looks cute, doesn't it?
Ready For A Full Scheduled Day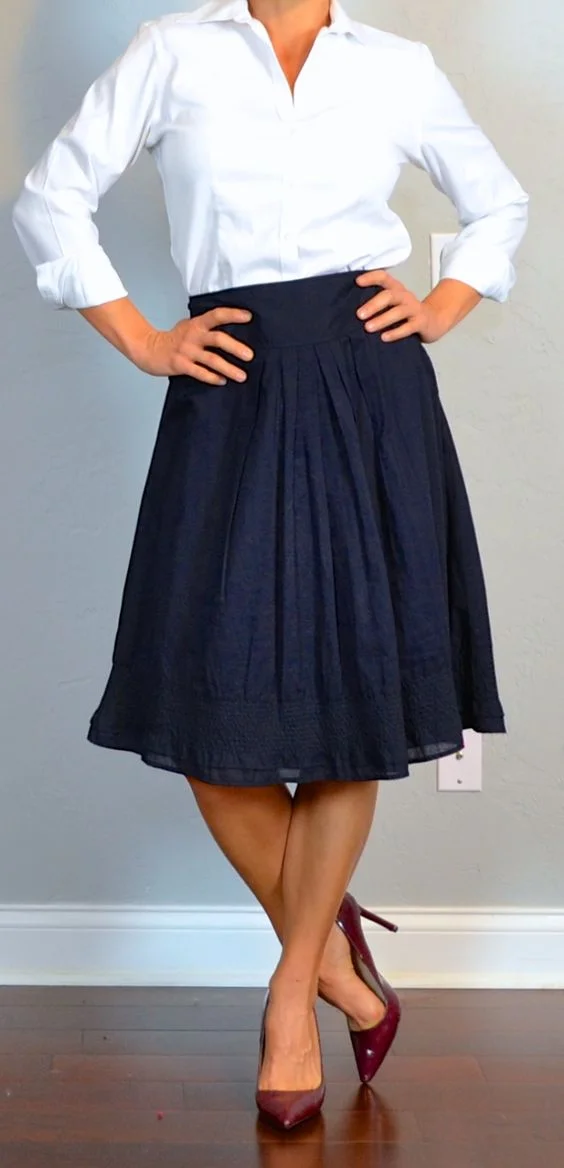 A pleated midi skirt is a versatile workwear piece. In pair with a white shirt, is a sure match. Add a blazer over the top of it, and you're ready for a busy day at school.
Back To School And More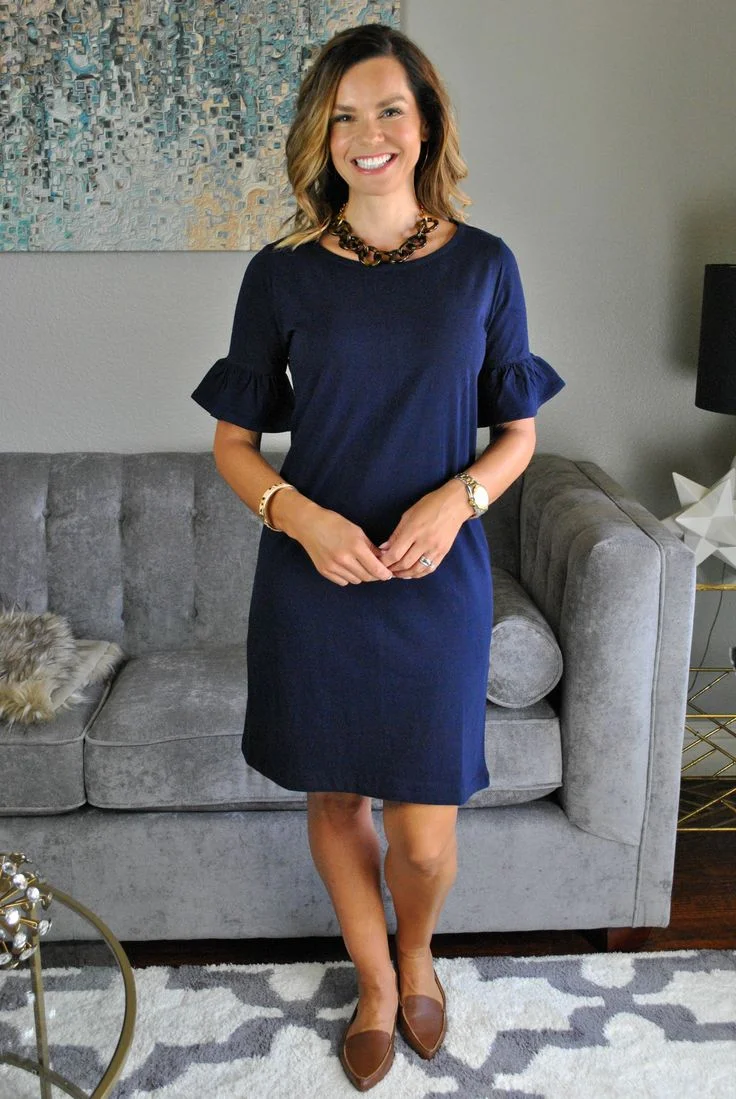 The ruffled sleeves on this dress are all the decoration it requires. Add a necklace and flats, and voila, you get a new outfit. You can have different colors of this for change. Busy to dress up? Put a chambray blazer on and change the necklace to appropriate, and you can continue the day out with friends.
Fall Teacher's Outfit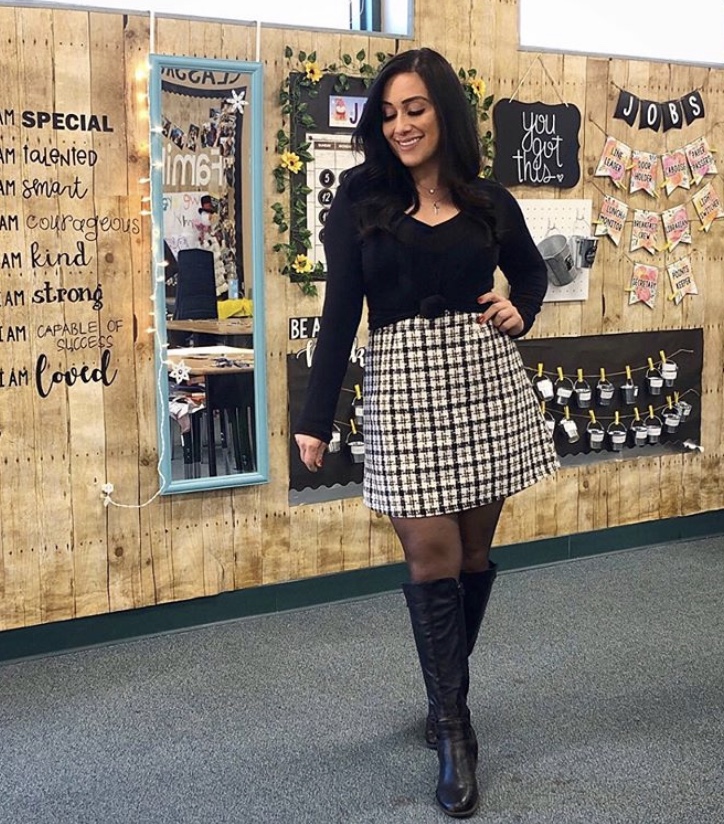 Plaid is for autumn. For a change, instead of flannel tops, mix things up and incorporate another plaid item, such as a plaid skirt with a solid blouse and a cute pair of boots.
Skirts, Sweater, And Sneakers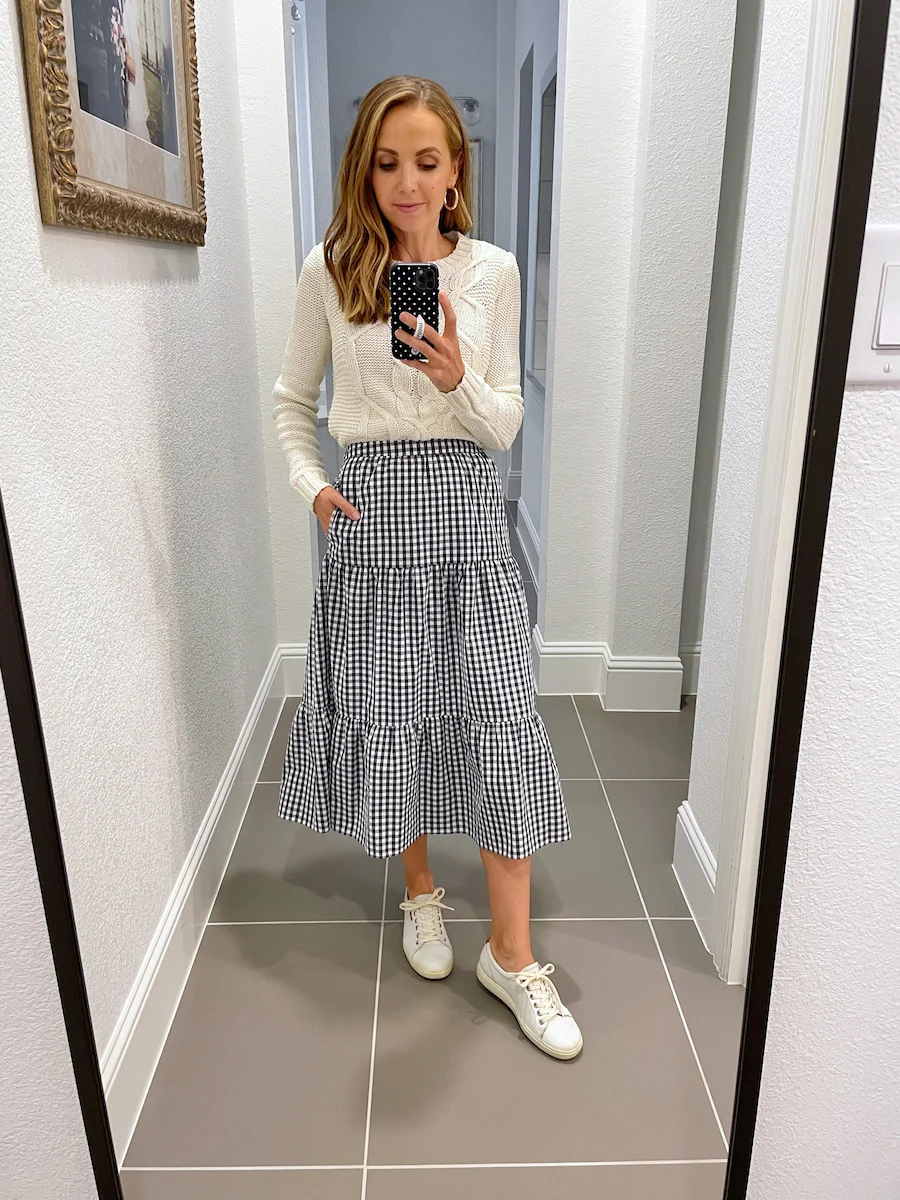 A midi skirt and sweater combination feels chic and effortless. Sneakers on the feet, just for comfort.
Spring Teacher Outfit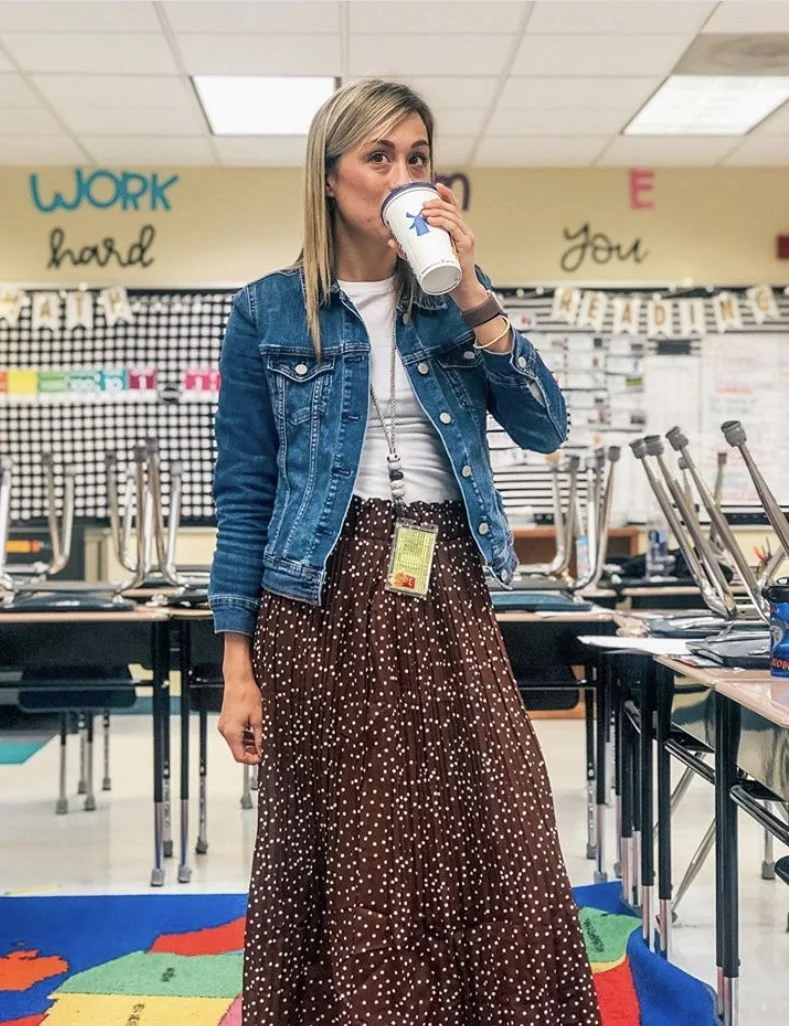 Incorporating the latest spring trends into your teacher outfits can be fun and rewarding. A light-colored denim jacket looks great with a skirt and tee. Its lightweight makes it perfect for nice weather.
Meeting Your Students' Parents?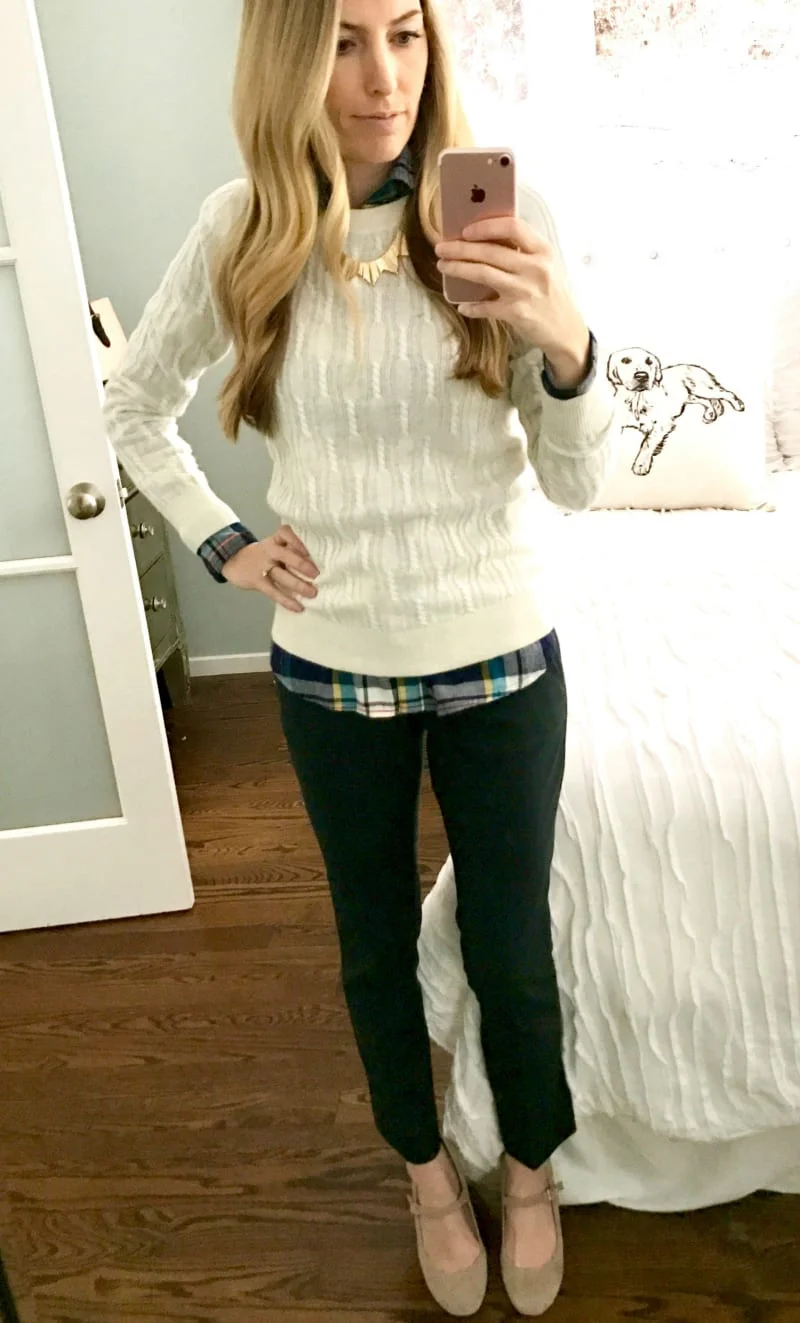 Button-up, sweater, trousers, and flats. Wearing comfortable trousers gives you confidence during all-day classes and meetings. These slim ankle pants are stretchy while staying form-fitting.
We showed some teacher outfit ideas for any season and different body types. Hope you enjoyed it and found some interesting combinations you'd use it. Feel free to use some of your ideas. Please share your feedback and your thoughts on the topic with us.