As teachers, we all strive to maintain a delicate balance between looking professional and approachable while adhering to the dress codes of our schools. The key is to find clothing that not only follows the guidelines but also allows us to demonstrate our unique personalities and styles. With a myriad of trendy pants and trousers to choose from, we can curate outfits that suit our needs, ensuring that we not only look the part but also feel comfortable throughout the school day.
Our appearances play a crucial role in how we are perceived by those around us. It's essential to wear outfits confidently and intelligently to gain respect and attention from both our students and colleagues. By following some simple rules and employing smart accessorizing, we can create ensembles that are both appropriate for the classroom and showcase our personal flair. Embrace the opportunity to explore beyond the standard uniform and incorporate innovative ideas, such as contrasting colors or statement accessories. Remember, as fashion-forward educators, we must also prioritize adhering to our schools' dress codes while keeping comfort at the forefront of our clothing choices.
White Elbow-length Sleeve Blouse And Black Torrid Tapered Pants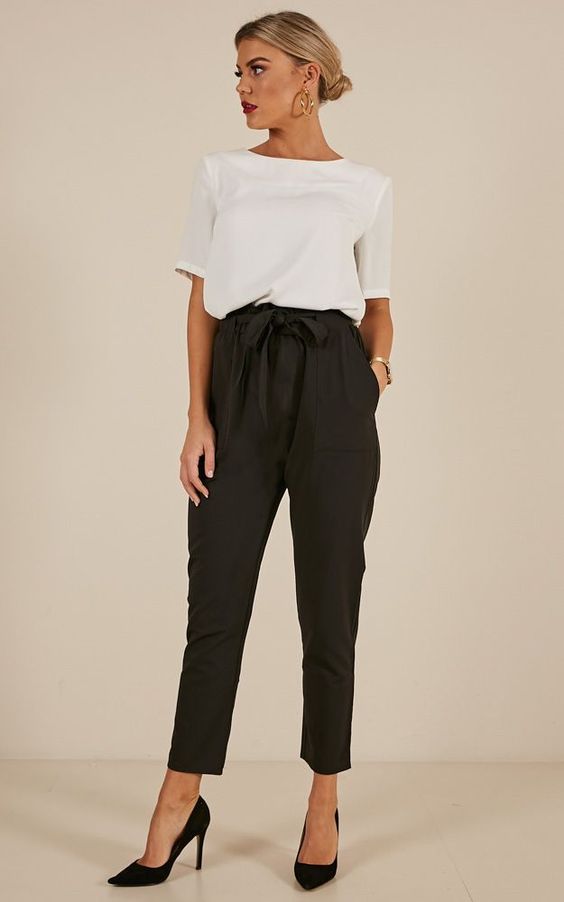 In this section, we present a stylish outfit perfect for a professional setting. Our ensemble includes:
White elbow-length sleeve blouse: Sophisticated and versatile
Black Torrid tapered pants: Slimming, comfortable, and easy to wear
Black blazer: Timeless and effortlessly chic
Black booties: Suitable for both day and night
With these pieces, achieve a polished and fashionable appearance that transitions seamlessly from the office to after-work events.
White And Blue Striped Button Skirt And Neutral Colored Blouse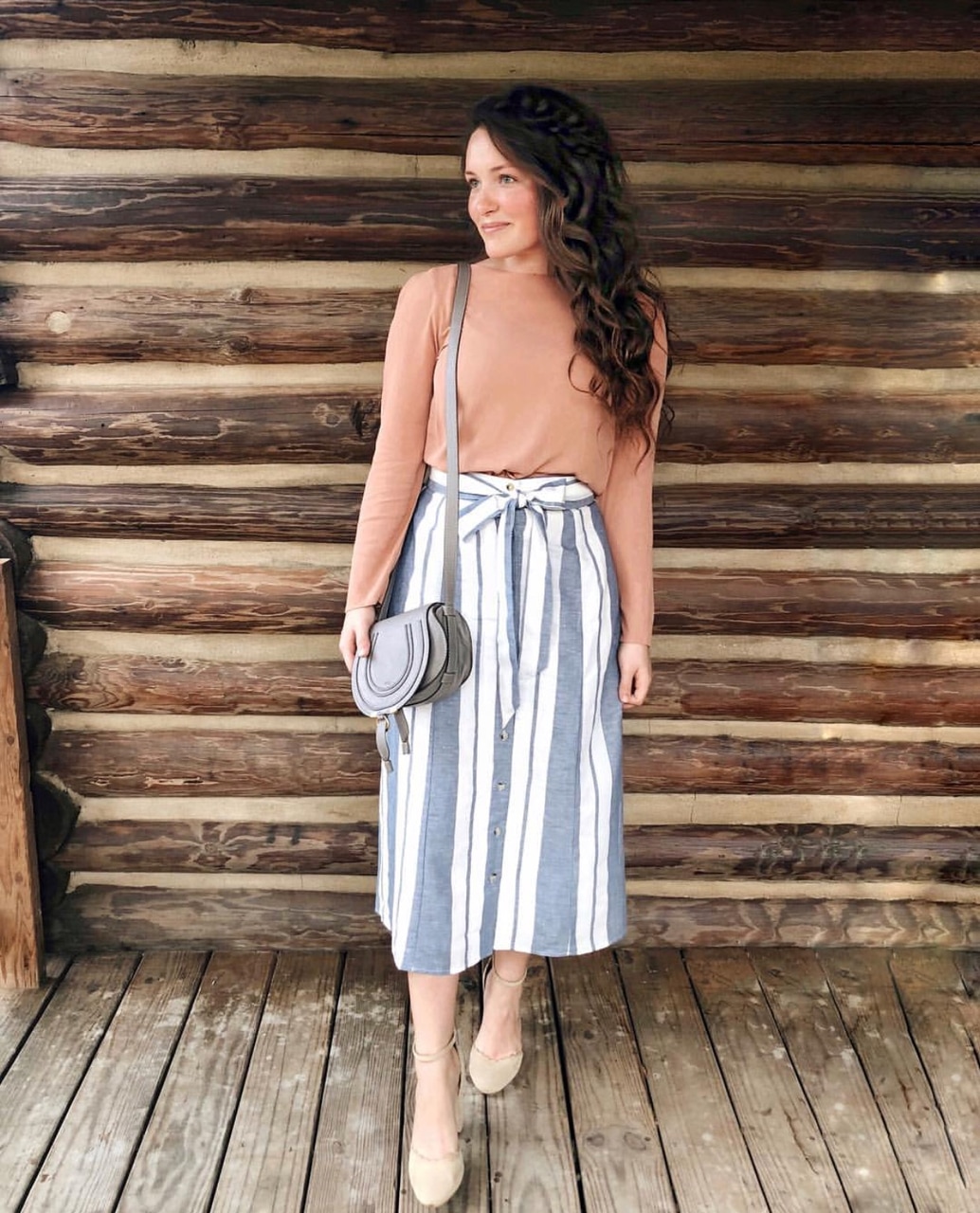 We recommend pairing a white and blue striped button skirt with a neutral colored blouse for a refreshing, stylish look. This combination is perfect for breaking the everyday monotony without being overly formal.
White Tucked In Shirt And Beighe Suit Pants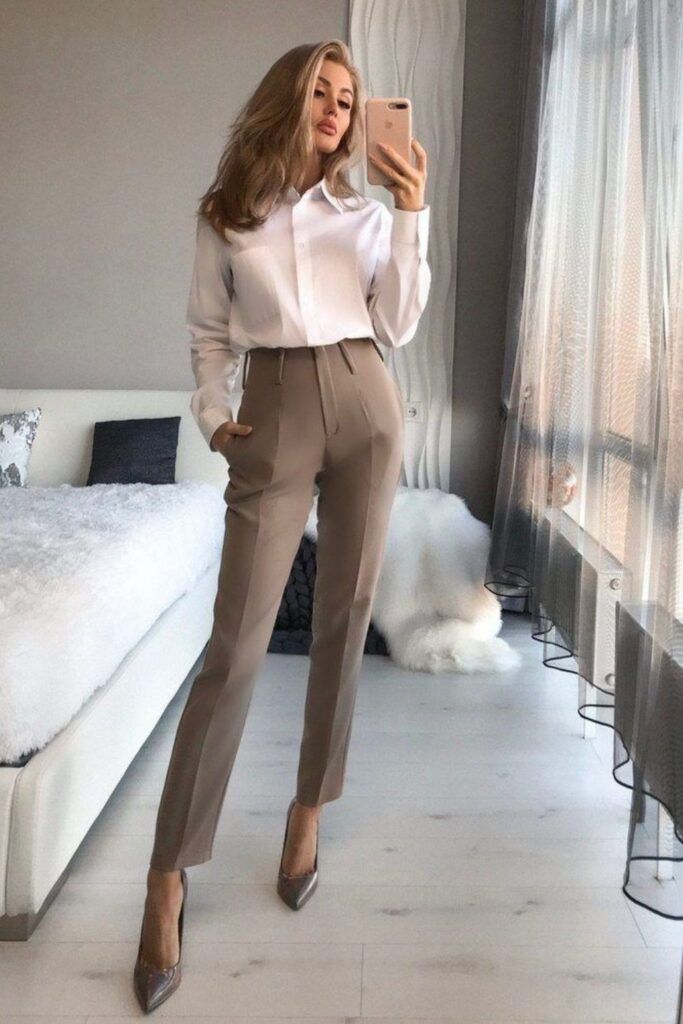 We recommend a tasteful combo of high-waisted beige suit pants and a white tucked-in shirt for work. With the right heels, this outfit conveys elegance and professionalism.
Floral Dress And Denim Jacket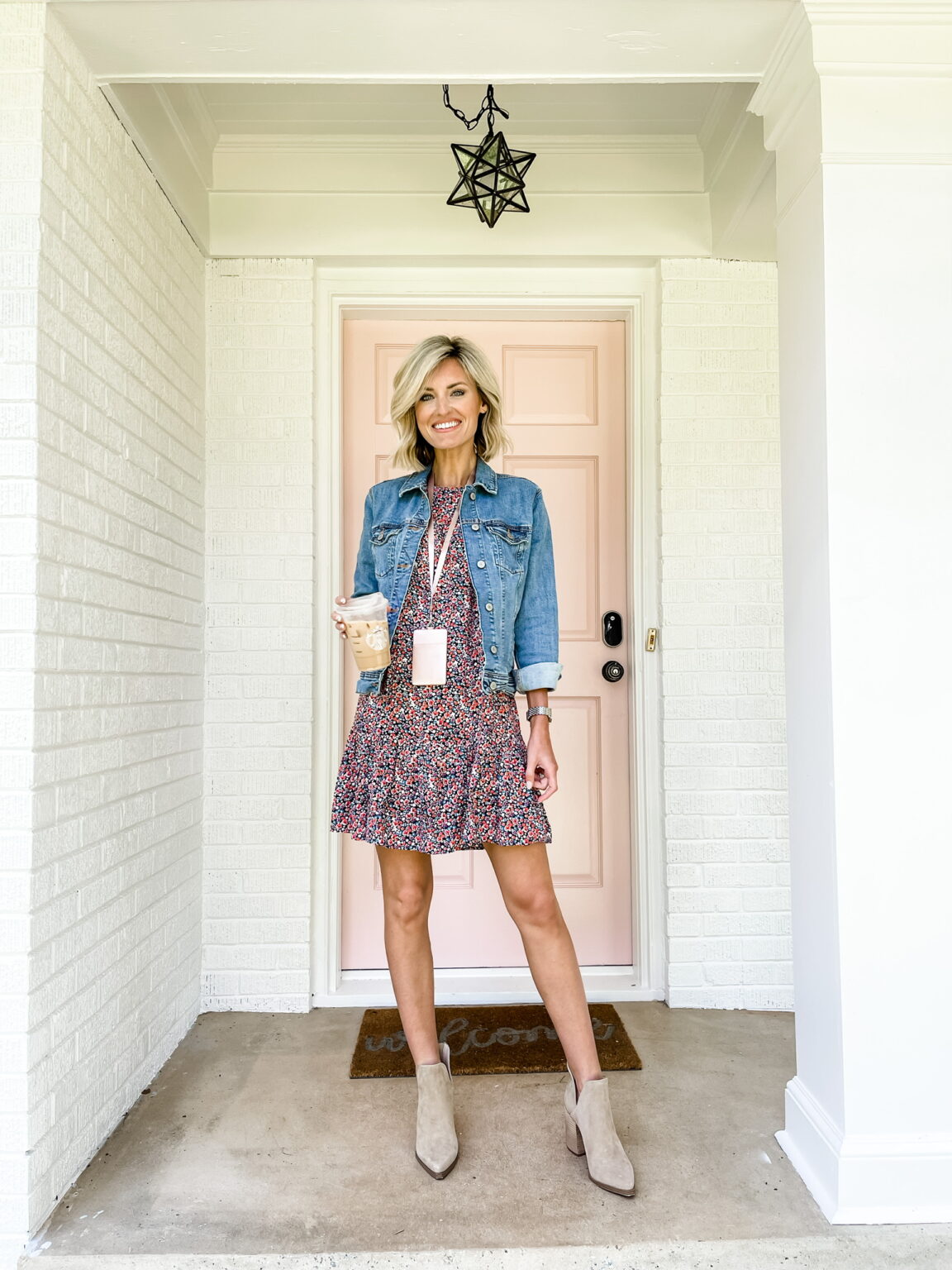 We recommend combining a floral dress with a denim jacket for a casual look. Enhance the outfit with suede shoes or switch to knee-high boots and a warmer coat for colder weather.
Denim Shirt, White Blouse And Coral Pink Pants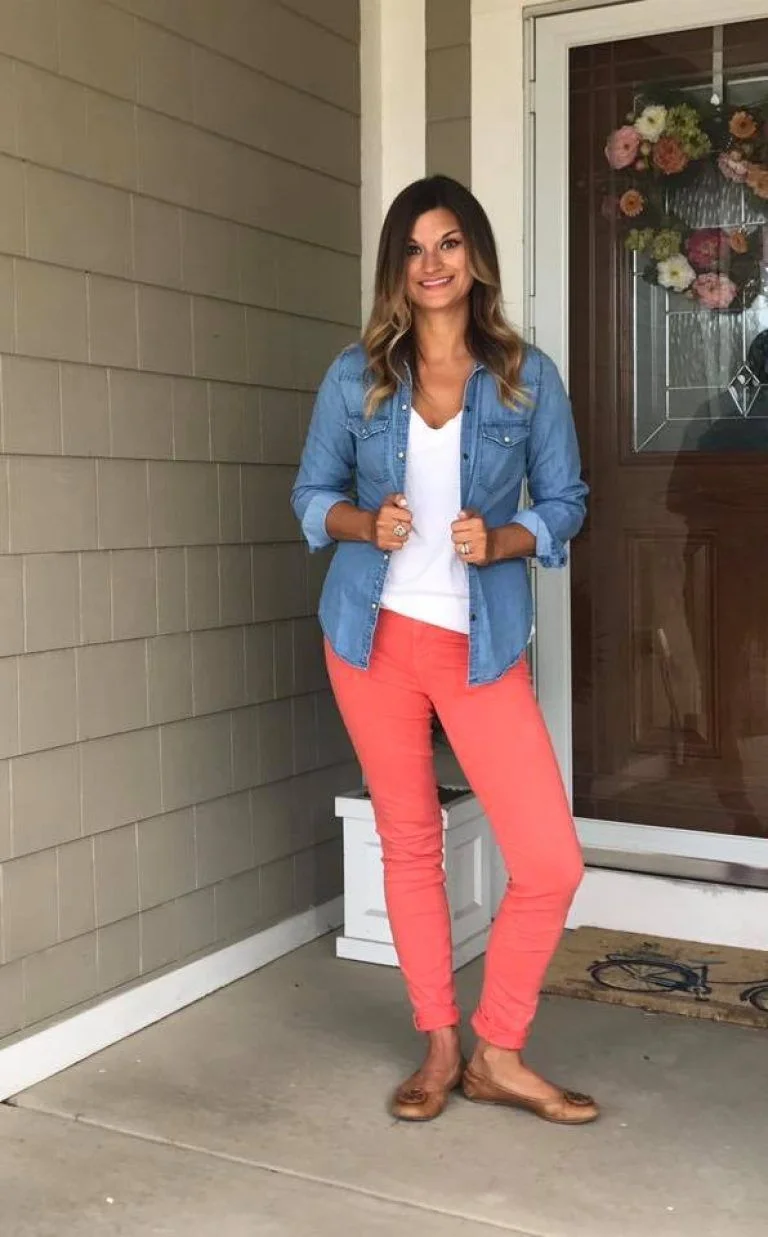 We suggest a light blue denim shirt, paired with coral pink jeans and complementary flats for a stylish ensemble.
A Shirt Dress And A Sweater Blazer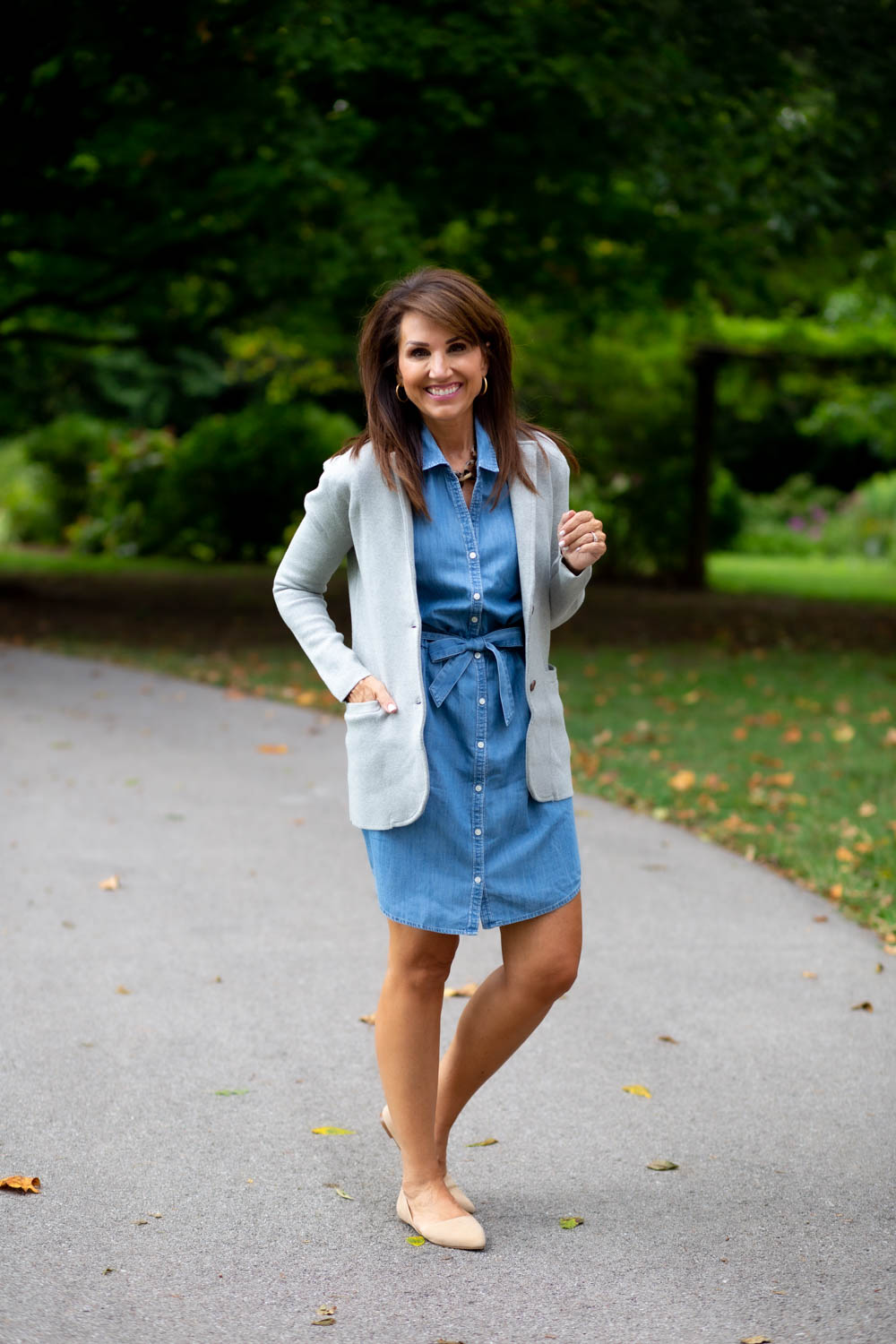 We recommend a shirt dress for a cute and comfortable school outfit. Include a sweater blazer to stay warm in chilly weather or cold air-conditioning.
Striped Tee Shirt Dress With Drawstring Waist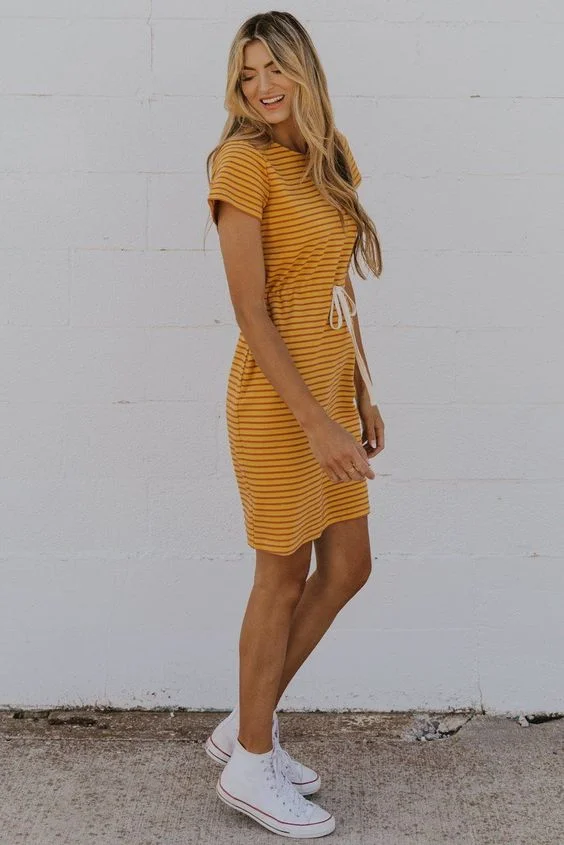 Our striped tee shirt dress features:
Drawstring waist
Dresses with pockets
Pairs well with comfortable shoes
Sneakers acceptable
Black Feminine Business Suit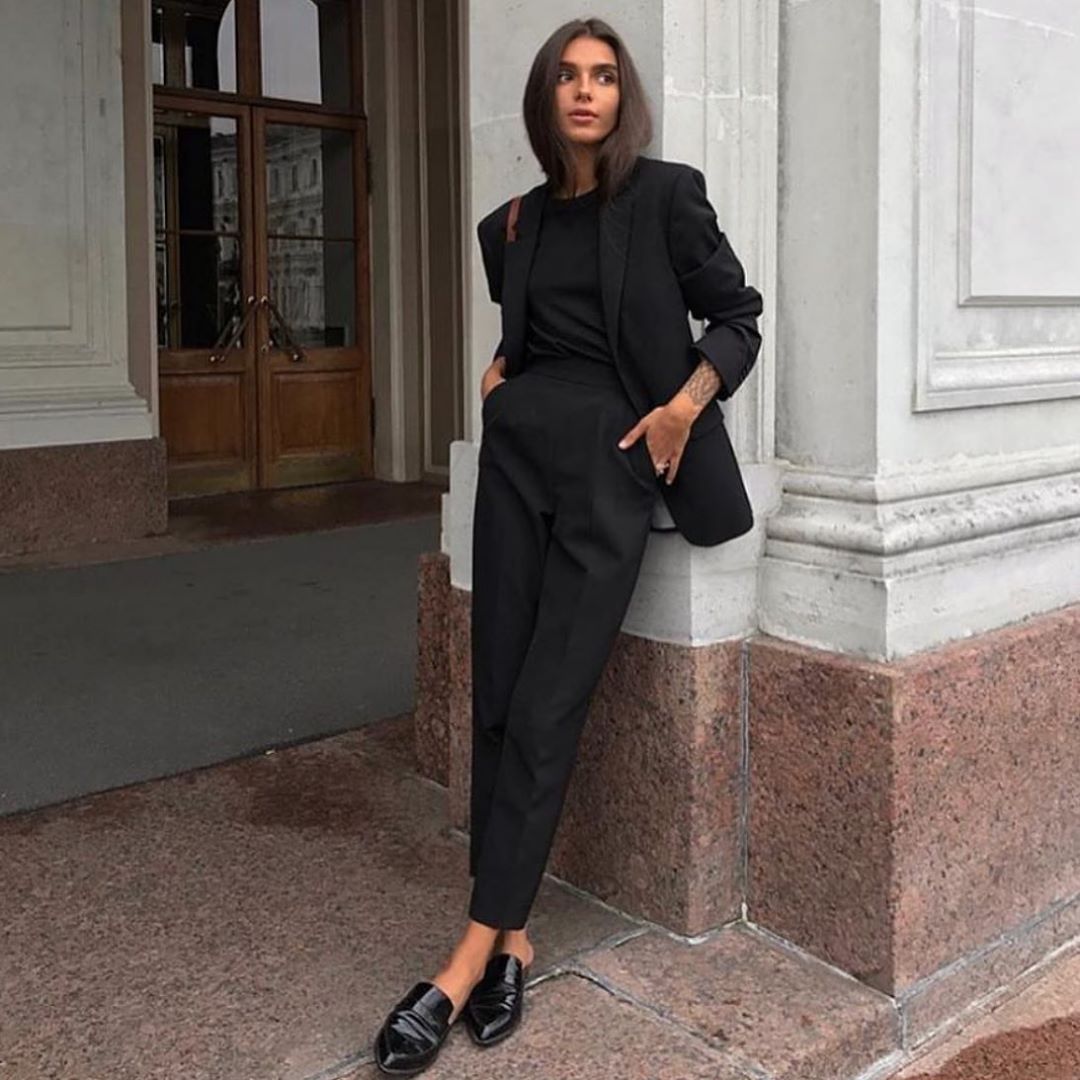 We recommend a black blazer paired with a matching top, high-waisted pants, and flat shoes for a polished look. This ensemble is perfect for school, interviews, or business meetings.
Green Wide-Legged Pants, White Blouse And Pink Blazer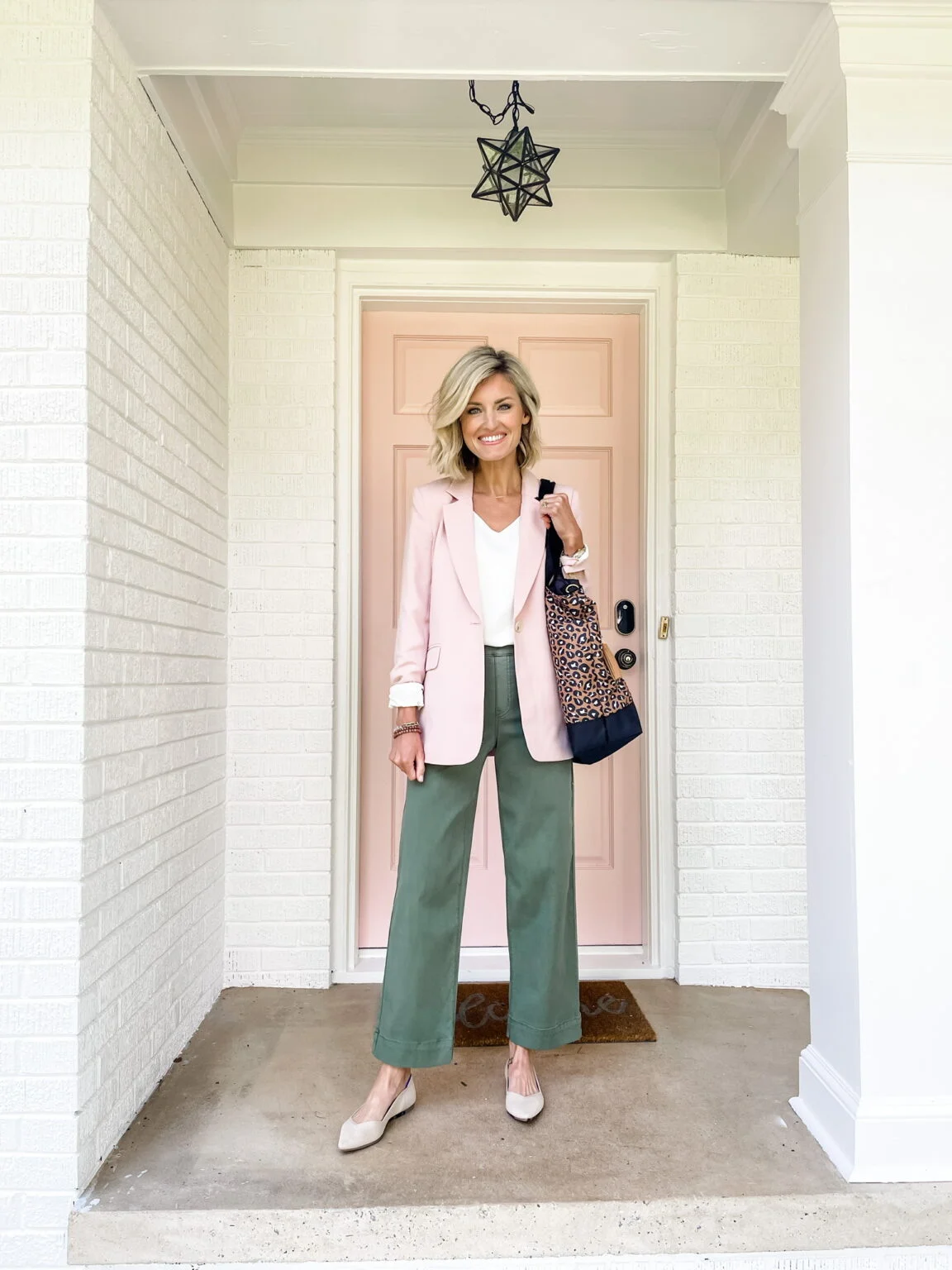 We recommend pairing colorful green Spanx pants with a crisp white blouse for a professional yet fun look. The pants' non-transparent, stretchy material holds its shape well. Add a pop of color with a pink blazer and finish the outfit with flats and a bag. This ensemble effortlessly balances color and professionalism.
Long Brown Cardigan, Jeans, And Black Tee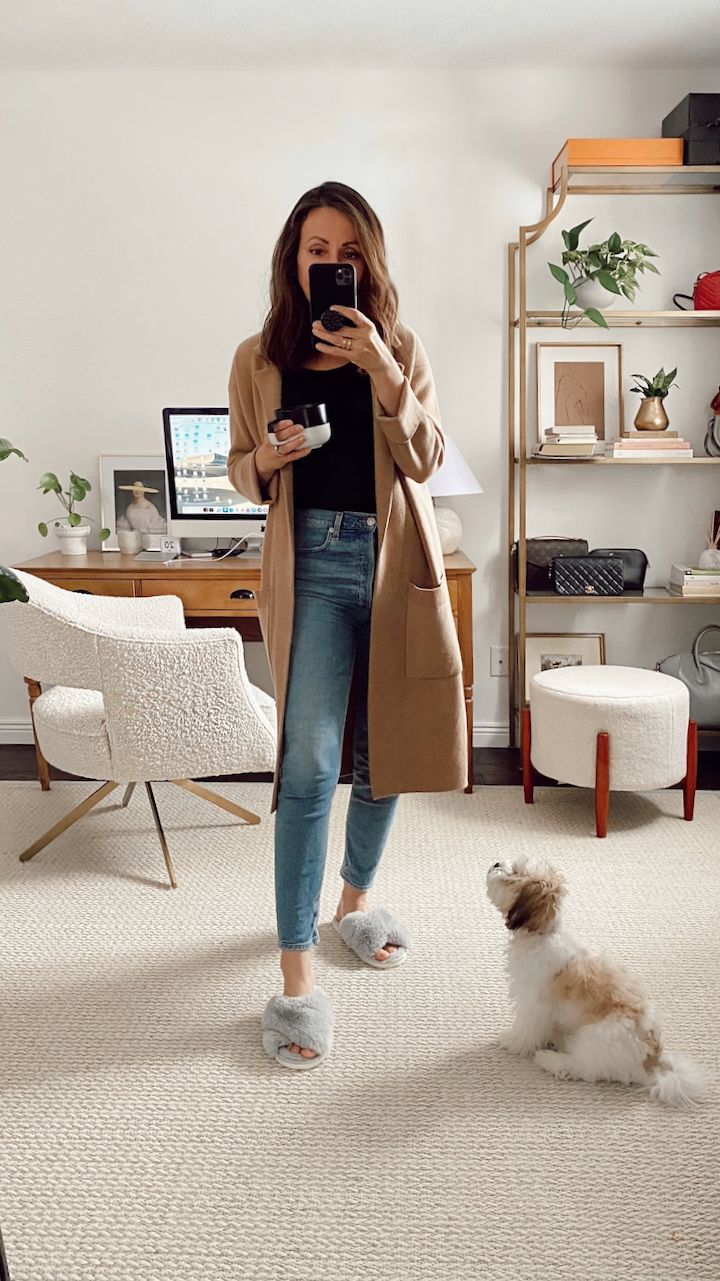 We recommend combining a long cardigan that reaches below the knees with jeans and a black tee for a comfortable teaching outfit. Simply switch from slippers to shoes, and we're ready for the classroom.
Green Cropped Jacket And Black Flowy Midi Skirt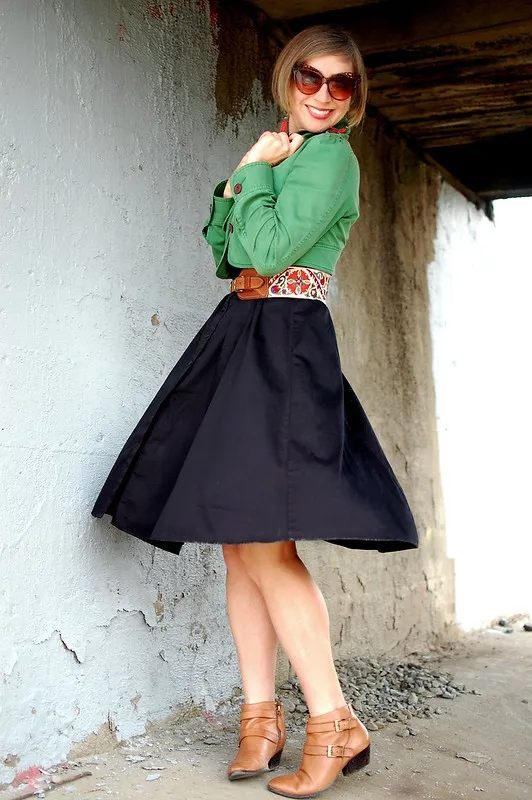 We adore this spring-ready outfit featuring a green cropped jacket and a black flowy midi skirt with ruffles. Paired with stylish boots, sunglasses, a belt, and a chic bag, this ensemble is effortlessly fashionable.
Teacher's Sweatshirt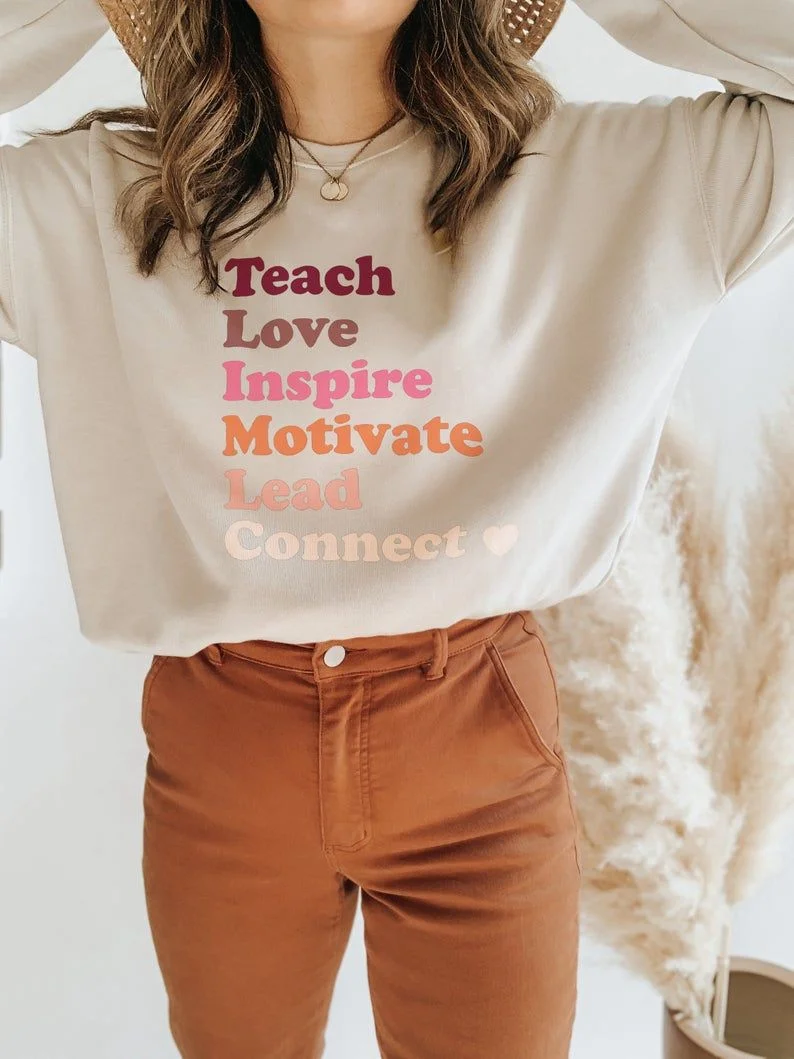 Our teacher's sweatshirt features the words: Teach, love, inspire, motivate, lead, connect. It pairs well with jeans of any color and offers both comfort and an educational message.
Sneakers, Jeans And Tweed Jacket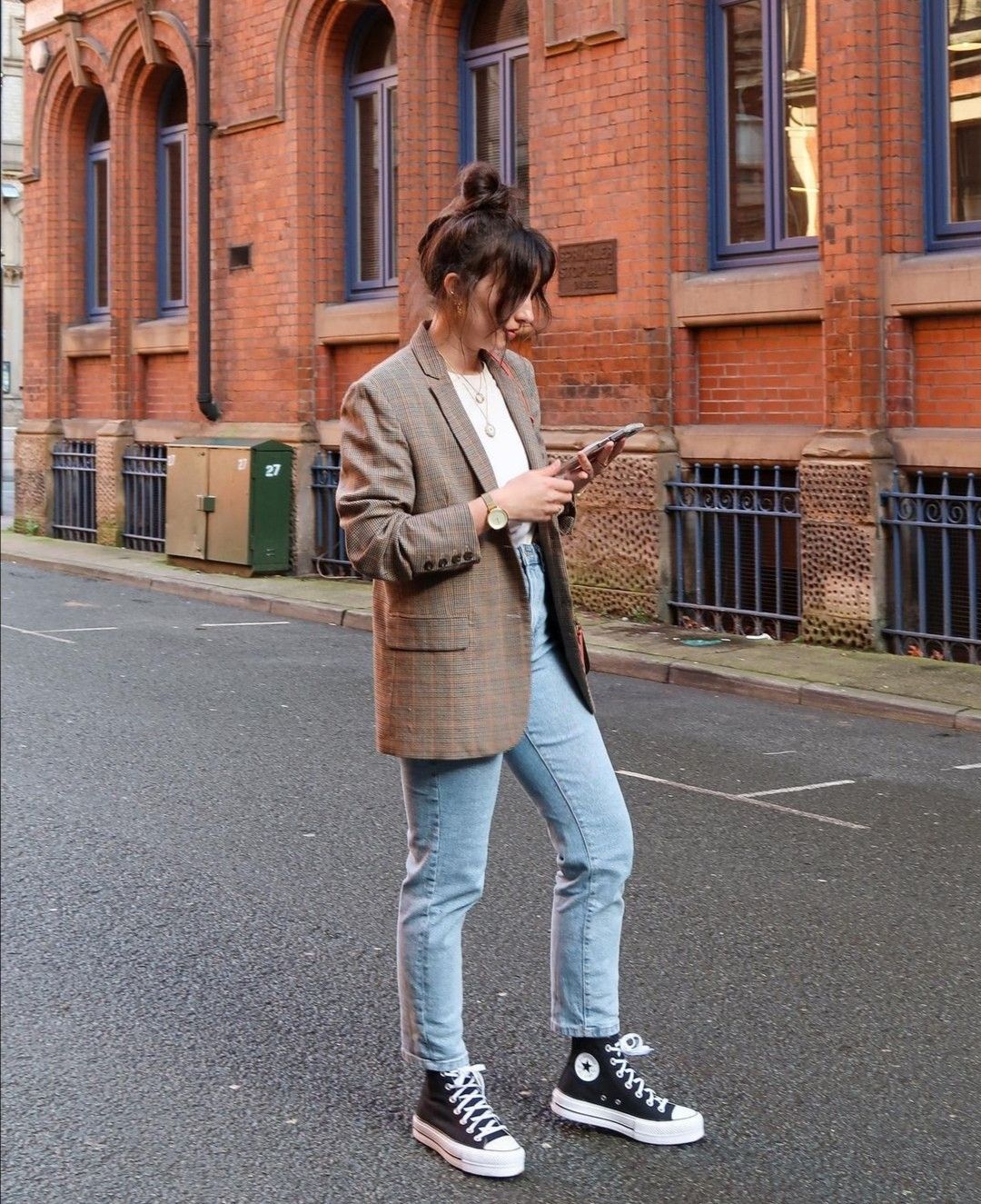 We recommend a cozy and casual outfit: sneakers, jeans, and a tweed shacket. Ideal for everyday wear and comfort.
Sweater Blazer, Animal Print Blouse And Dark Pants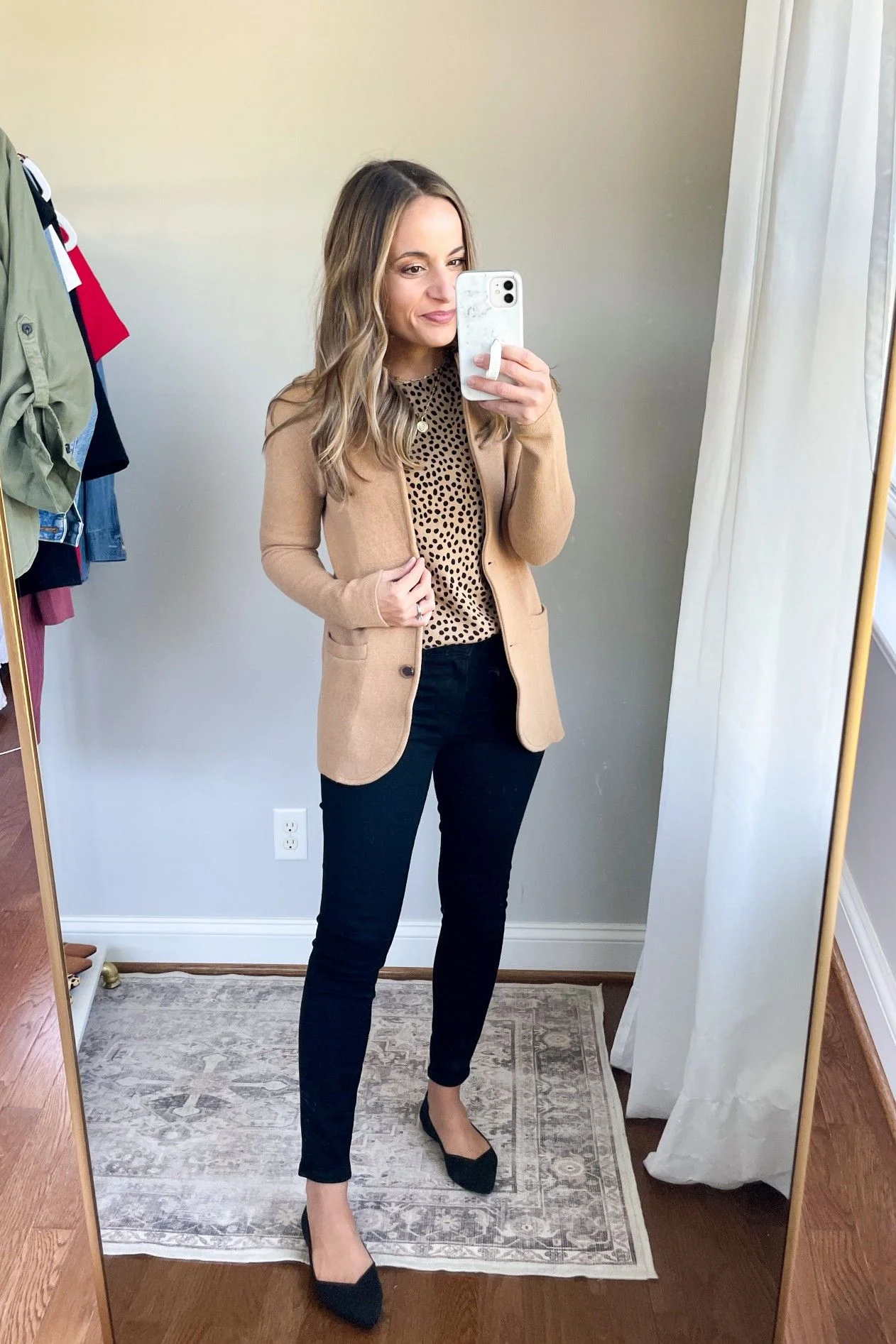 We recommend pairing dark skinny jeans with a cheetah print sweater, a stylish tan sweater blazer, and flat shoes. A simple black cardigan can also be a great alternative to the blazer.
Polka-dot Sweater Over Baby Blue Shirt And Jeans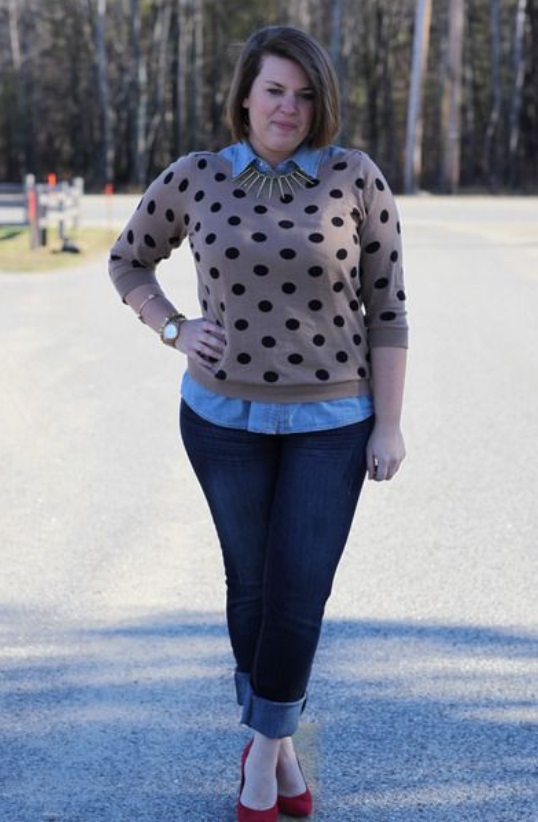 We recommend a curvy-friendly outfit – a simple ensemble featuring a ¾ sleeves polka-dot sweater over a baby blue shirt. Pair it with skinny jeans and red shoes for a stylish and confident look.
White Button-down Shirt And Dark Modest Midi Skirt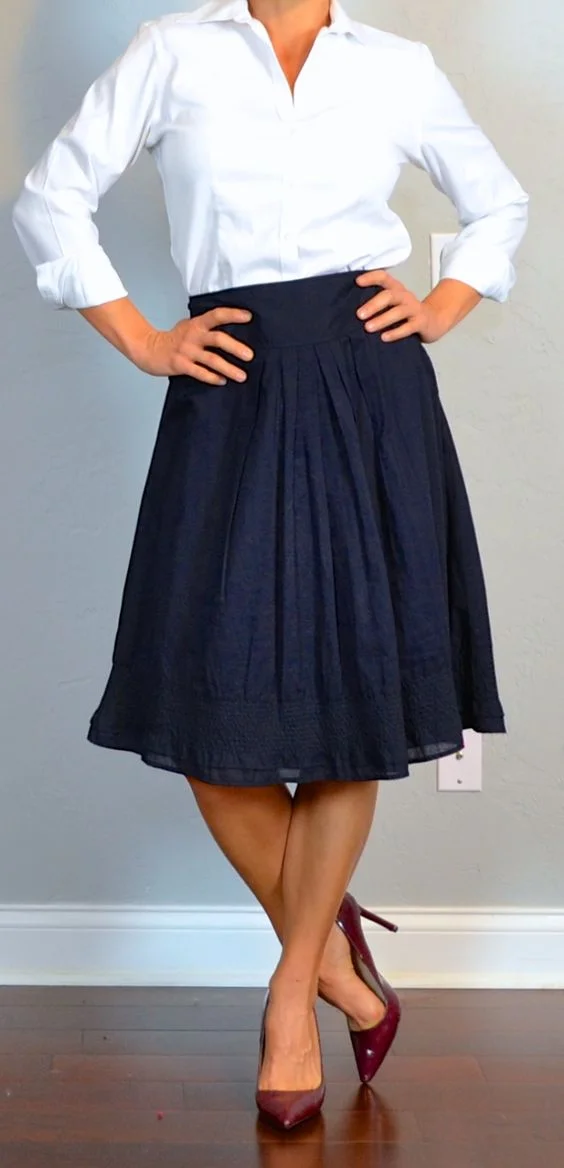 We believe a pleated midi skirt and white button-down shirt combination is versatile and stylish for workwear. To elevate the ensemble, add a blazer. This outfit is perfect for a busy day at school, and can even be complemented with tailored pants.
Modest Blue Dress WIth Ruffled Cuffs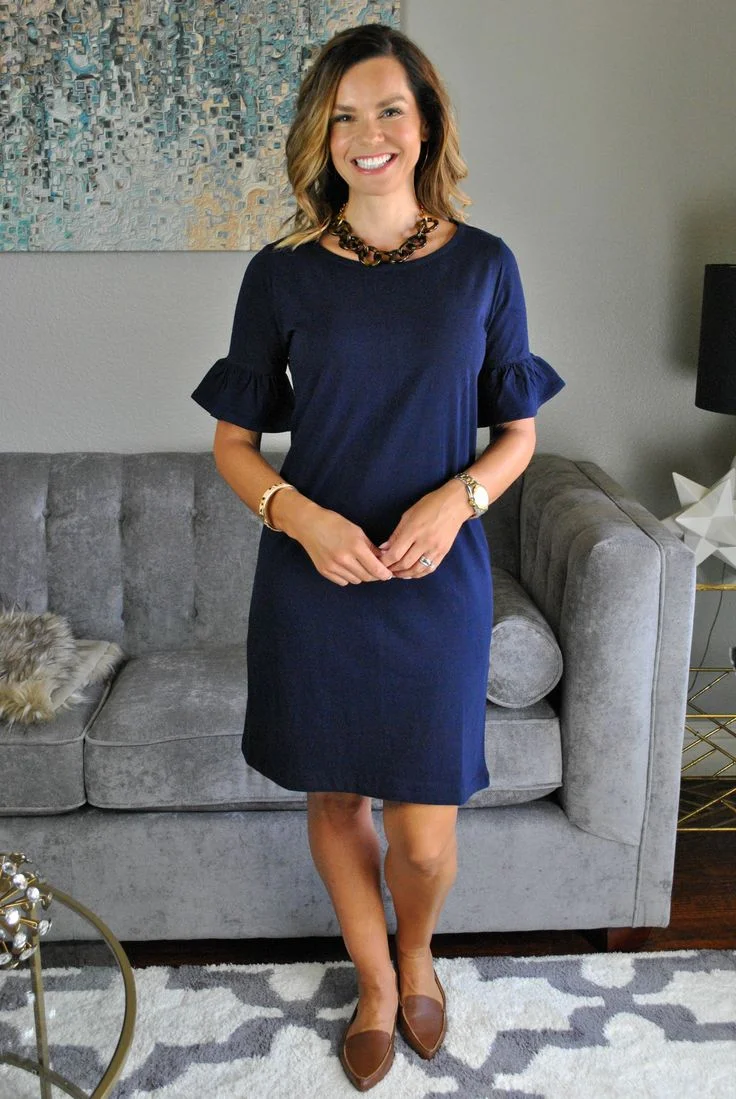 We recommend this linen dress with its eye-catching ruffled cuffs for a versatile and stylish look. Simply add a necklace and flats for a casual outing, or dress it up with a chambray blazer for an evening with friends. The modest design leaves room for personalization through color choice and accessory pairing.
Plaid Skirt, Solid-Color Blouse And Knee-high Boots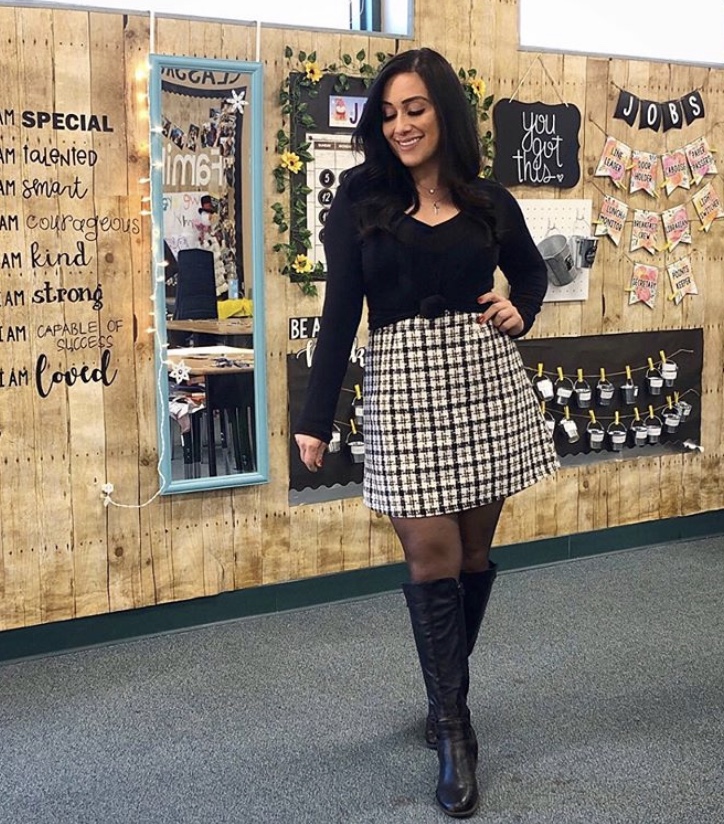 We recommend pairing a plaid skirt with a solid blouse and knee-high boots for a stylish autumn look. This combination offers a fresh take on the classic plaid trend.
Midi Skirt, Sweater, And Sneakers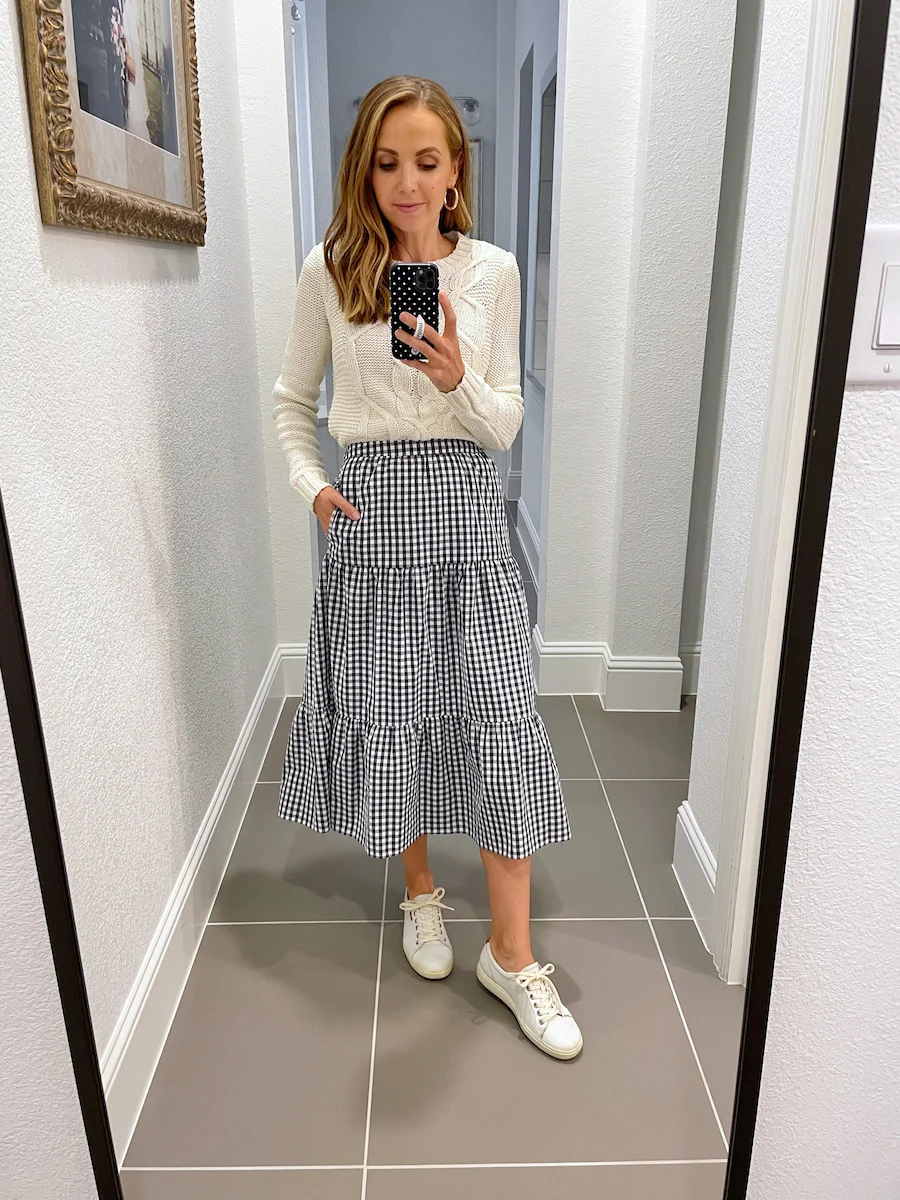 The midi skirt paired with a cozy sweater creates a chic, effortless look. Combine this outfit with sneakers for ultimate comfort.
polka Dotted Maxi Skirt With Blouse And Denim Jacket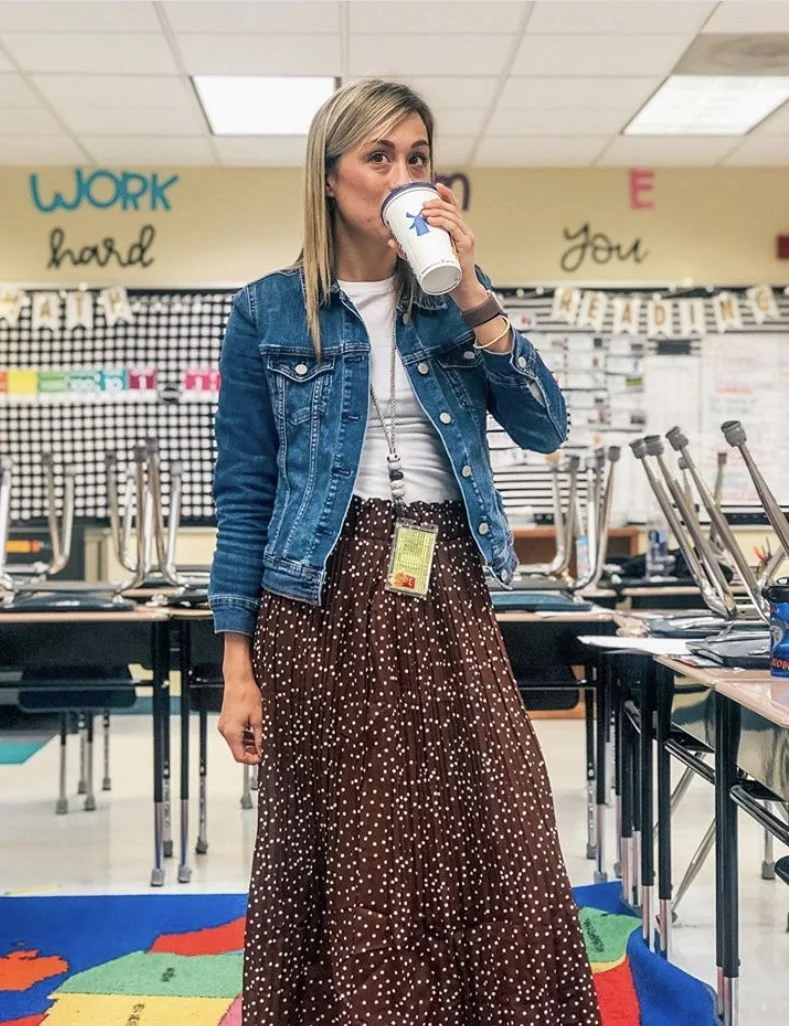 We recommend a polka dotted maxi skirt combined with a blouse and light-colored denim jacket. This outfit is perfect for spring, showcasing both style and comfort.
Button-up, Sweater, Trousers, And Flats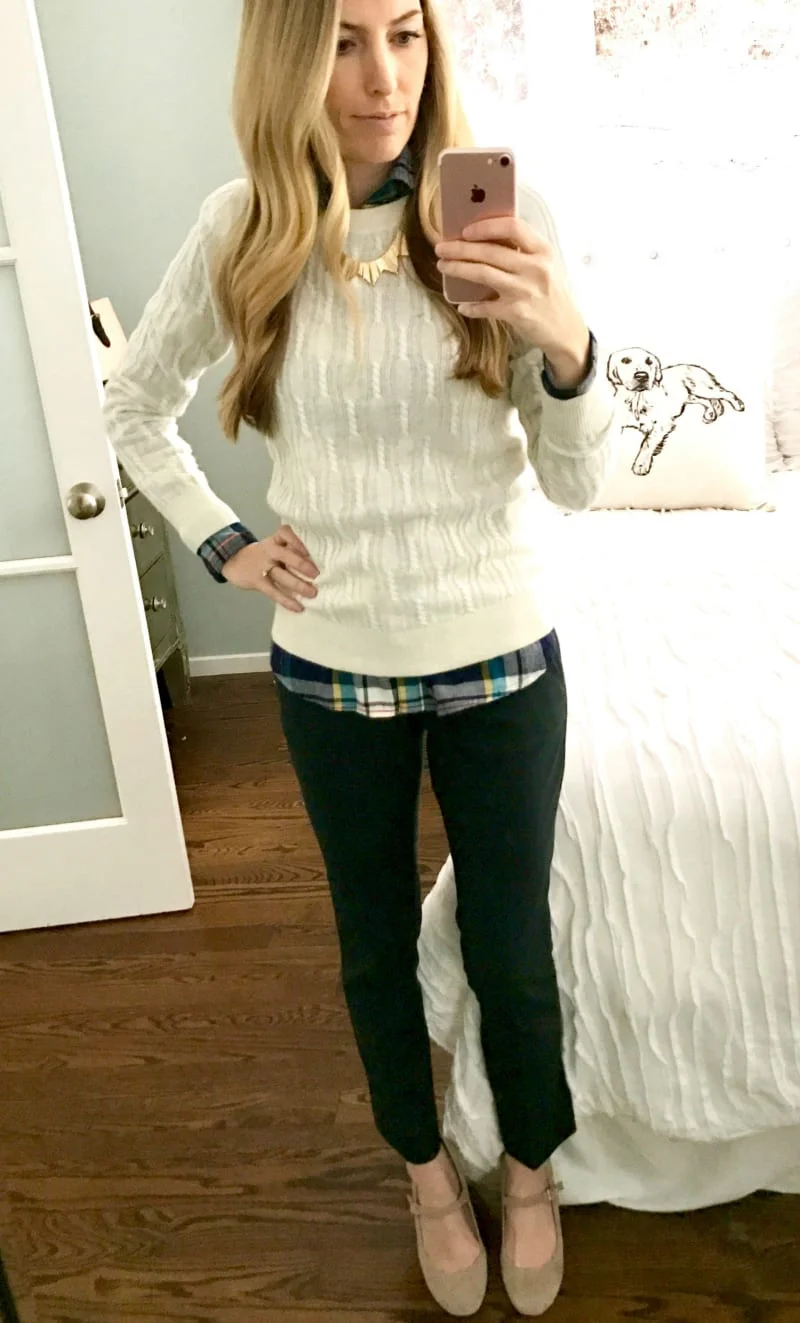 We recommend a button-up, sweater, trousers, and flats for a comfortable and professional look. Our favorite trousers are slim ankle pants that are stretchy yet form-fitting, ensuring confidence in all-day classes and meetings. Feel free to experiment with different combinations and share your thoughts with us.