When you think of famous and popular hair care brands, L'Oreal is often on top of that list. L'Oreal is a well-known hair care brand famous for its hair care products. But what is the effect of using these hair products? Is L'Oreal shampoo good for hair? Or is it bad for your hair?
The hair care company has strived to provide the best quality products to the market and make people's lives healthier.
But in the past few years, there have been mixed options on whether L'Oreal is actually good or bad for your hair. Some say it is good, others, not so much.
Because the company has been around for decades, it is safe to assume there are many happy clients. So, let's try and answer the question is L'Oreal shampoo good for hair?
Is L'Oreal Shampoo Good For Hair?
L'Oreal real is a popular choice for many people. Not many of them think and know whether the shampoo product is good or bad for their hair. Some have reported the shampoo makes their hair dry and brittle.
Generally speaking, L'Oreal is a good choice if you want to maintain healthy hair. But like any product, you should use it with caution.
Mostly, be careful if you have damaged hair or color-treated hair. The shampoo has been marketed as a hair product that will restore damaged hair and make it stronger, shinier, and healthier. While there hasn't been any scientific evidence to support the claims, the company has had many happy customers.
But the most important part is finding the right shampoo for your hair.
Is L'Oreal Bad For Your Hair?
As we said before, if you have colored hair, you have to be very careful. Many people have raised concerns and believe there needs to be more research into the ingredients of L'Oreal shampoos.
With that in mind, what is in the bottle? Using harmful chemicals is always a cause for concern. Are there any in the shampoo?
What Are The Ingredients In L'Oreal Shampoo?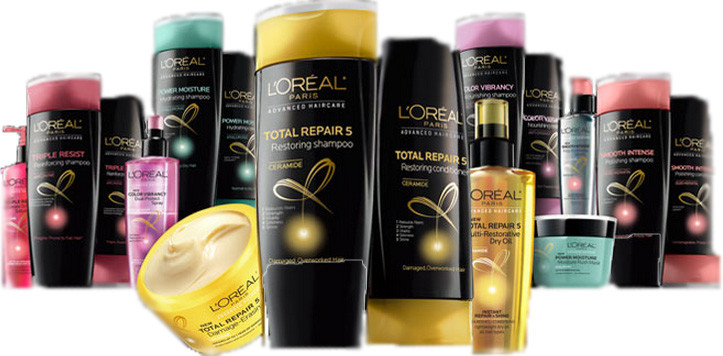 To make any product review, the first thing you need to do is look at the ingredients. L'Oreal hair colors might not be good for hair because they contain some dangerous chemicals. If you have been using company products for hair color, make sure they are safe for you first.
The company has ingredients that make it a unique product. They are listed on the back of the bottle.
But to give you an idea, here are some of the ingredients you will find on it: Aqua/water, sodium Laureth sulfate, coco-betaine, Laureth-5, carboxylic acid, cocamide mipa, dimethicone, sodium chloride, Polyquaternium-10, sodium benzoate, Laureth-2, salicylic acid, limonene, benzyl alcohol, sodium cocoate, hydroxycitronellal, arganiaSpinosa oil/arganiaSpinosa kernel oil, avocado oil, Gossypiumherbaceum oil/cottonseed oil, Vitis vinifera seed oil/grapeseed oil, sodium hydroxide, citric acid, perfume/fragrance.
The trick here is the perfume and fragrance part. As many of you probably know, this is a loophole in the US law that allows companies to use more than 4,000 chemicals and label them as chemicals. And they do not need to disclose the full list of chemicals used.
Is L'Oreal Shampoo Good For Hair Growth?
Yes, you can use this shampoo product for hair growth. But there are some disadvantages.
Generally, it is a good shampoo for hair growth. Why? Because it contains natural oils that get absorbed into the scalp, providing deep nourishment to your hair in order to promote healthy hair growth.
Is L'Oreal Safe?
There are many hair care products on the market nowadays. L'Oreal is generally safe. It is designed to cleanse, hydrate, and nourish your hair without stripping it or causing any damage.
But it is important how you use it. There are three steps to using L'Oreal shampoo correctly. The first step is to take a moderate amount of the shampoo and evenly spread it on your wet hair. Then, massage it gently for a minute and work up a lather. Rinse with water to get rid of soap residue in the end.
What Is The Best Loreal Shampoo For Your Hair Type?
When you want to know if L'Oreal shampoo is good for hair, it is important that you make a difference between different hair types. Finding the right shampoo for you is crucial for your hair care routine and hair care management. And the company has a wide range of products that help you find a solution for every hair problem.
Curly Hair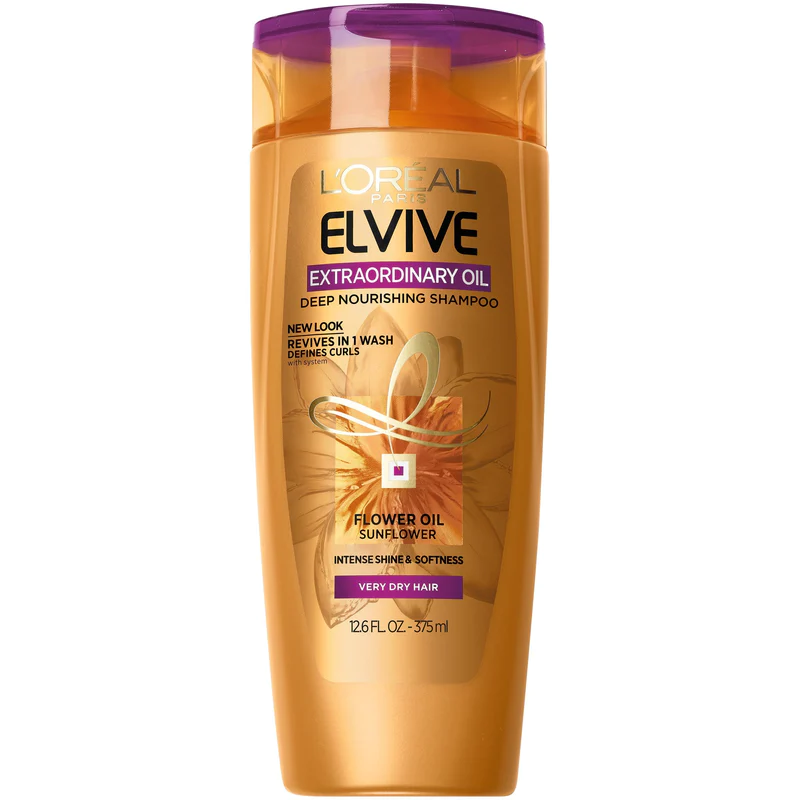 Curls and coils are amazing, yet, they need special maintenance to keep them in shape. You need to make sure you use a shampoo formulated for curly hair. L'Oreal Paris Elvive Extraordinary Oil Curls Shampoo works to replenish and redefine curls while eliminating dryness. Use it with the same name conditioner.
Start by applying shampoo to wet hair, gently massage it, and then rinse. Follow with the conditioner.
Dry Hair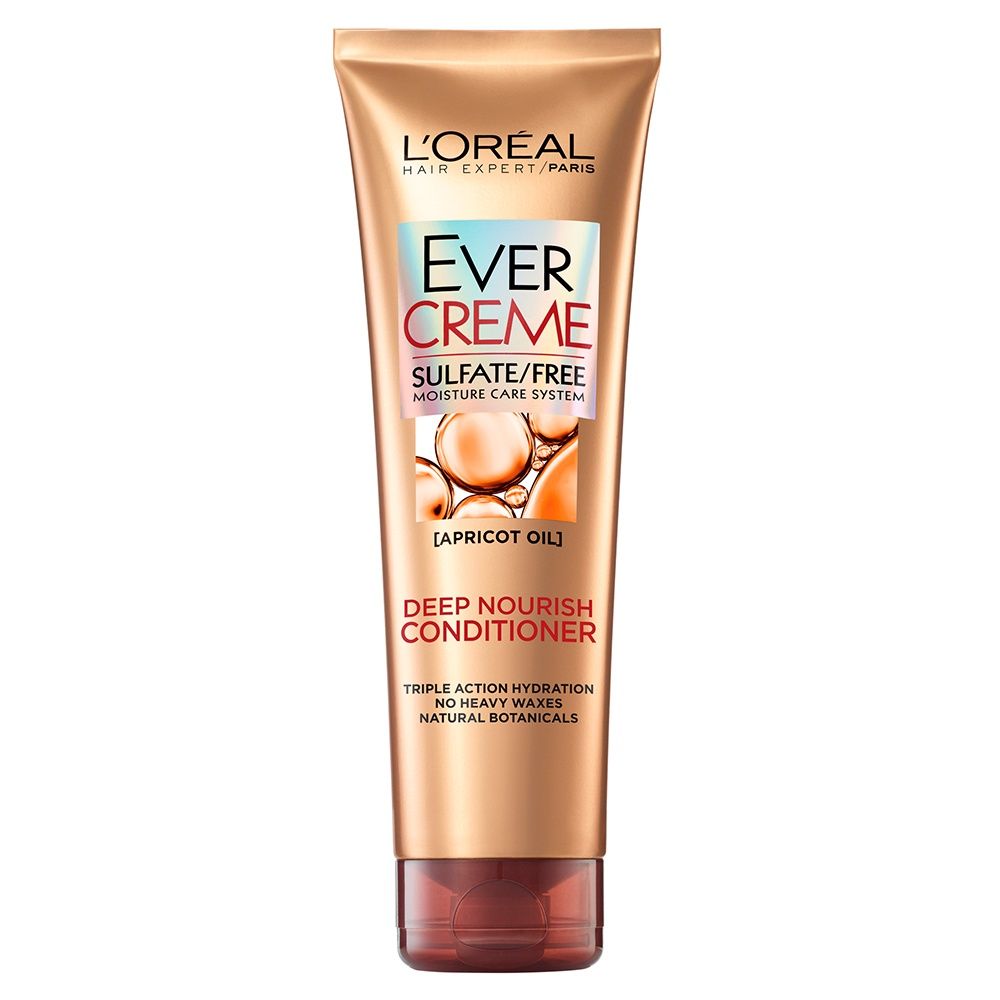 If you want to know whether you have dry hair or not, just look at your hair strands. Does your hair feel brittle and constantly fall flat? Well, then you need a shampoo to infuse nourishment and moisture into your hair. Use the Ever Creme Deep Nourish shampoo that will add essential nourishment to your hair strands.
The company has a conditioner in the same line. Use them together for the best results.
Oily Hair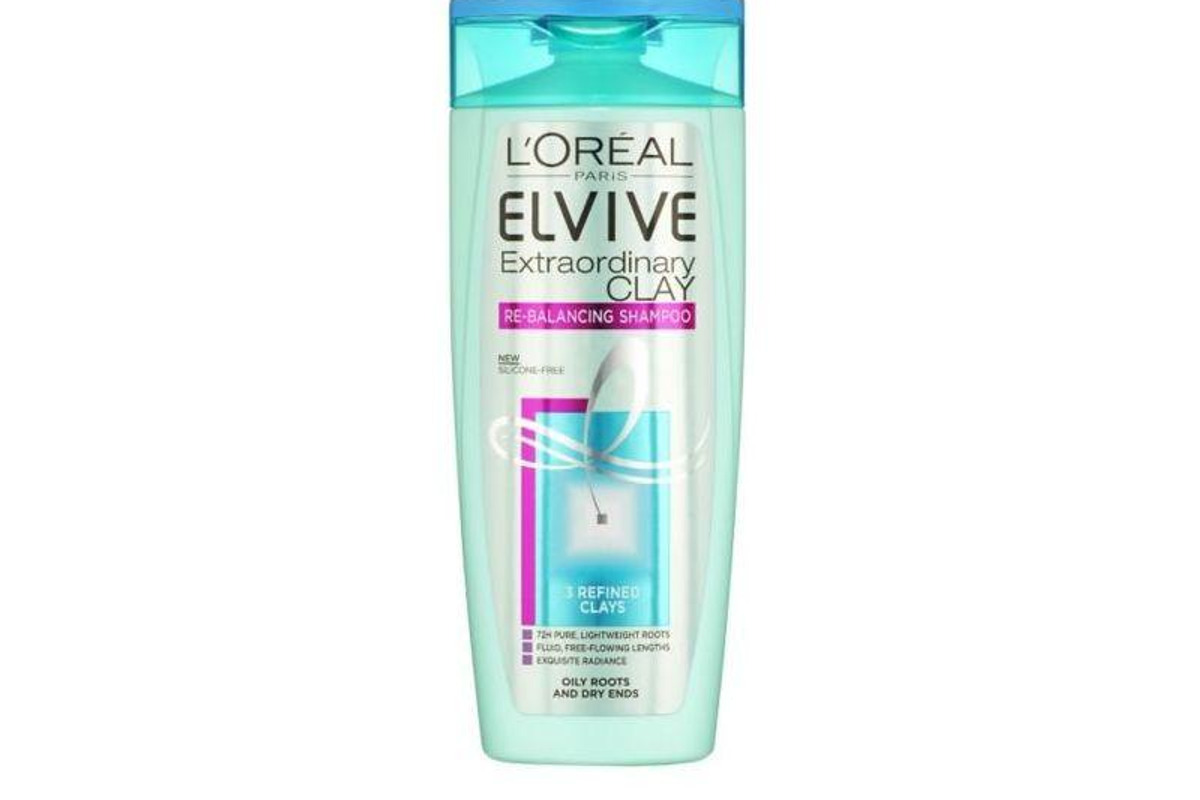 You wash your hair in the morning, yet it is greasy by lunchtime. Well, then you need a specific L'Oreal shampoo for oily hair. Without the proper shampoo, you can wash your hair again and again and create a never-ending vicious cycle.
What you need is L'Oreal Paris Elvive Extraordinary Clay Shampoo. It is formulated with three refined clays that will absorb excess oil from your roots. Again, there is a conditioner by the same name you can use alongside your shampoo.
Dandruff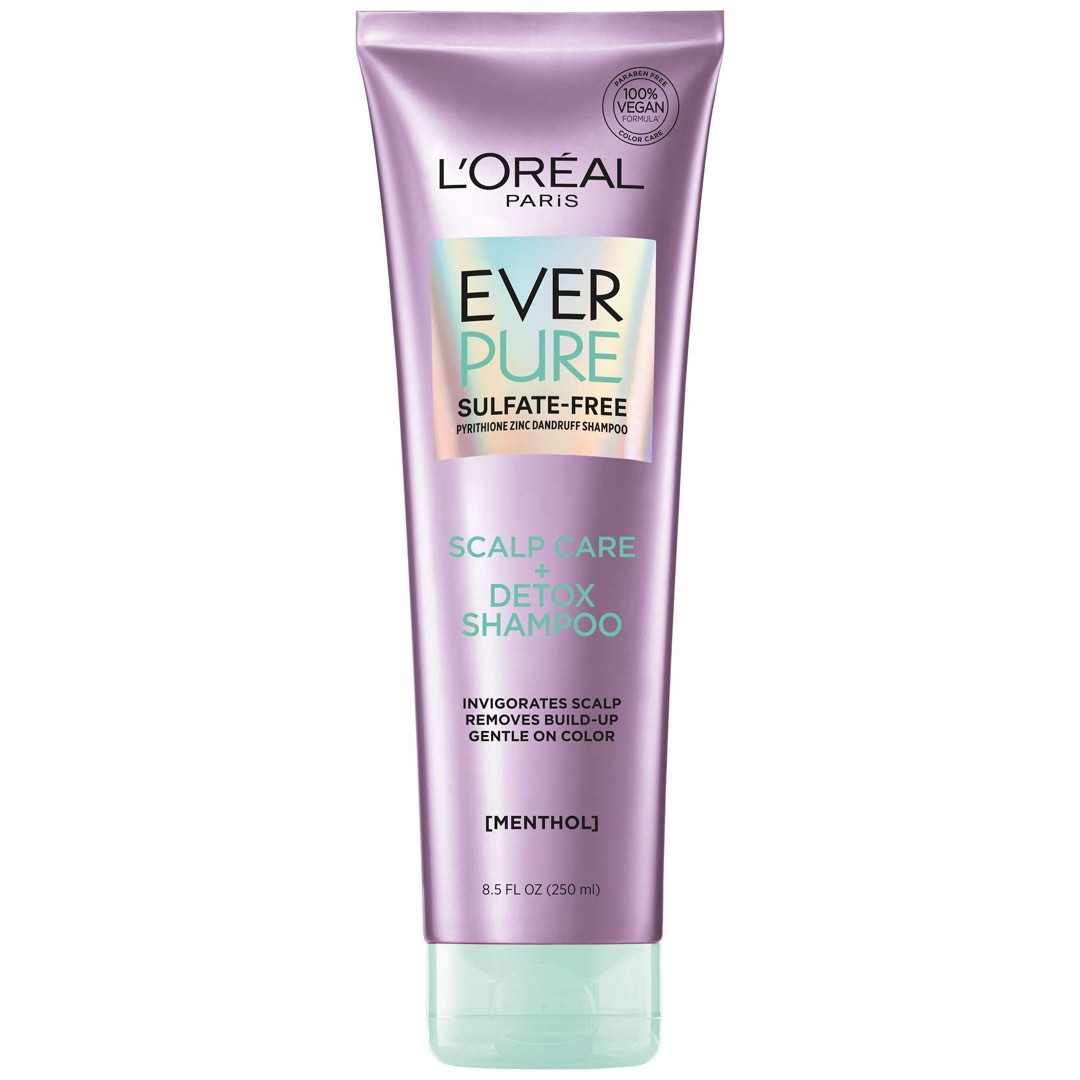 Let's be honest, dandruff is a serious issue. And if left untreated, it is not a pleasant sight. You do not want to draw attention to yourself and your scalp when you have flakes on your shoulders.
L'Oreal has a shampoo for it, the EverPure Sulfate Free Scalp Care + Detox Shampoo. This one is formulated with menthol and neem leaf extract. It is designed to cleanse the scalp of dirt, oil, and any other build-up without stripping the hair. Use it in conjunction with the conditioner and scrub of the same name.
Damaged Hair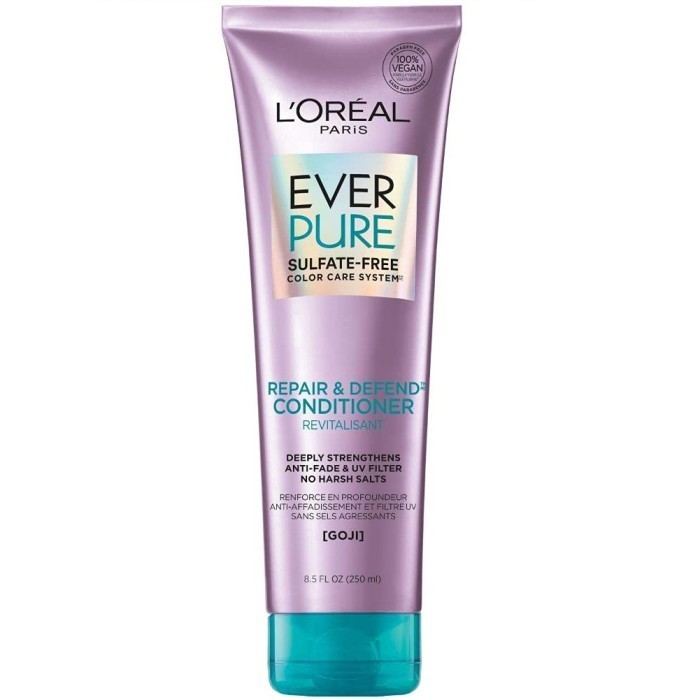 Once your hair is in damaged shape, it is up to you to improve your hair care routine. Show your hair strands the TLC they deserve. Use the EverPure Repair and Defend shampoo.
This shampoo is formulated with an exclusive antioxidant complex that will protect your strands and defend against future damage.
Thinning Hair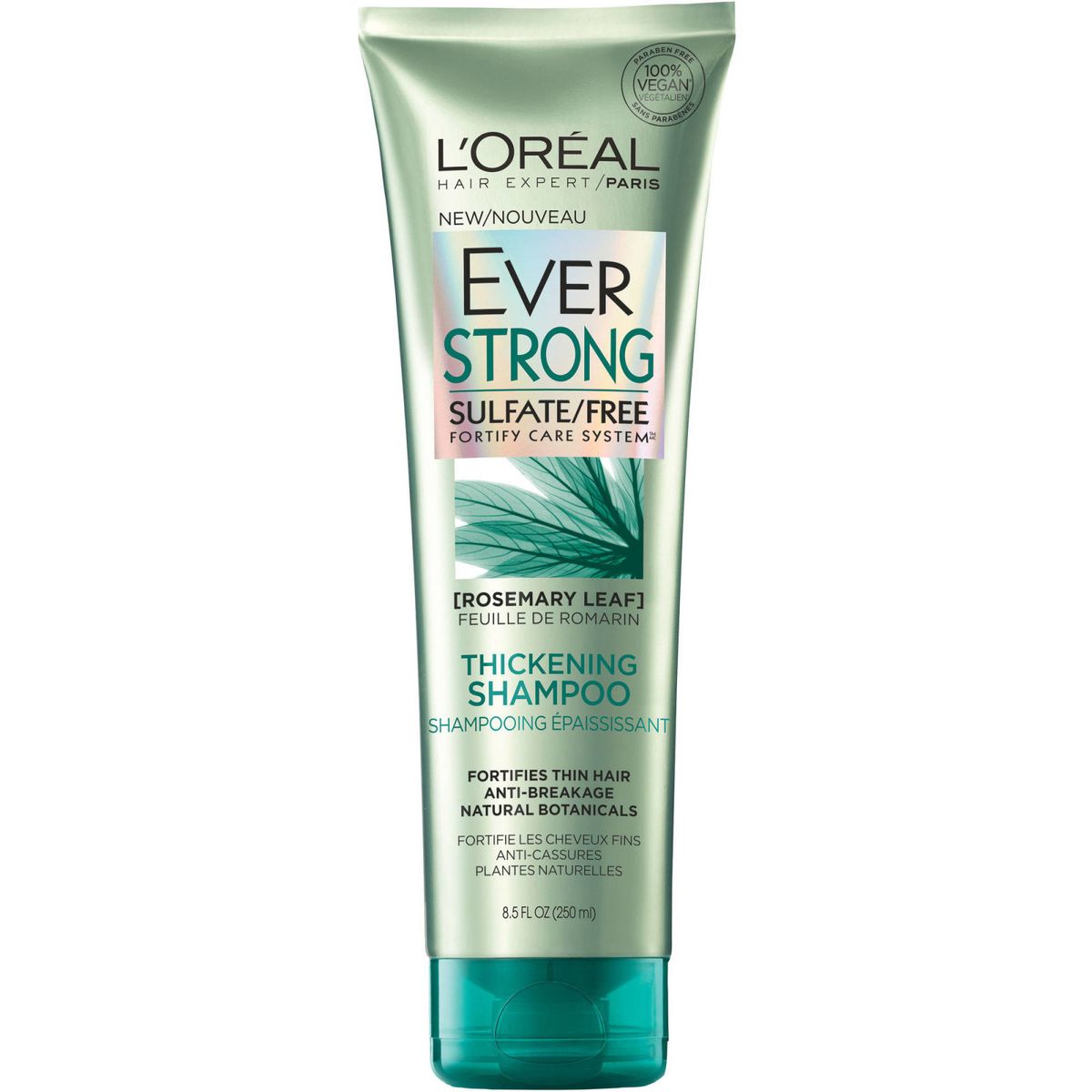 Women often struggle to strengthen their hair strands. If you deal with hair loss and shedding, you need a hair loss shampoo. Enter EverStrong Thickening Shampoo. Formulated with an amino acid complex, it will help weak and thin hair look thicker.
Colored Hair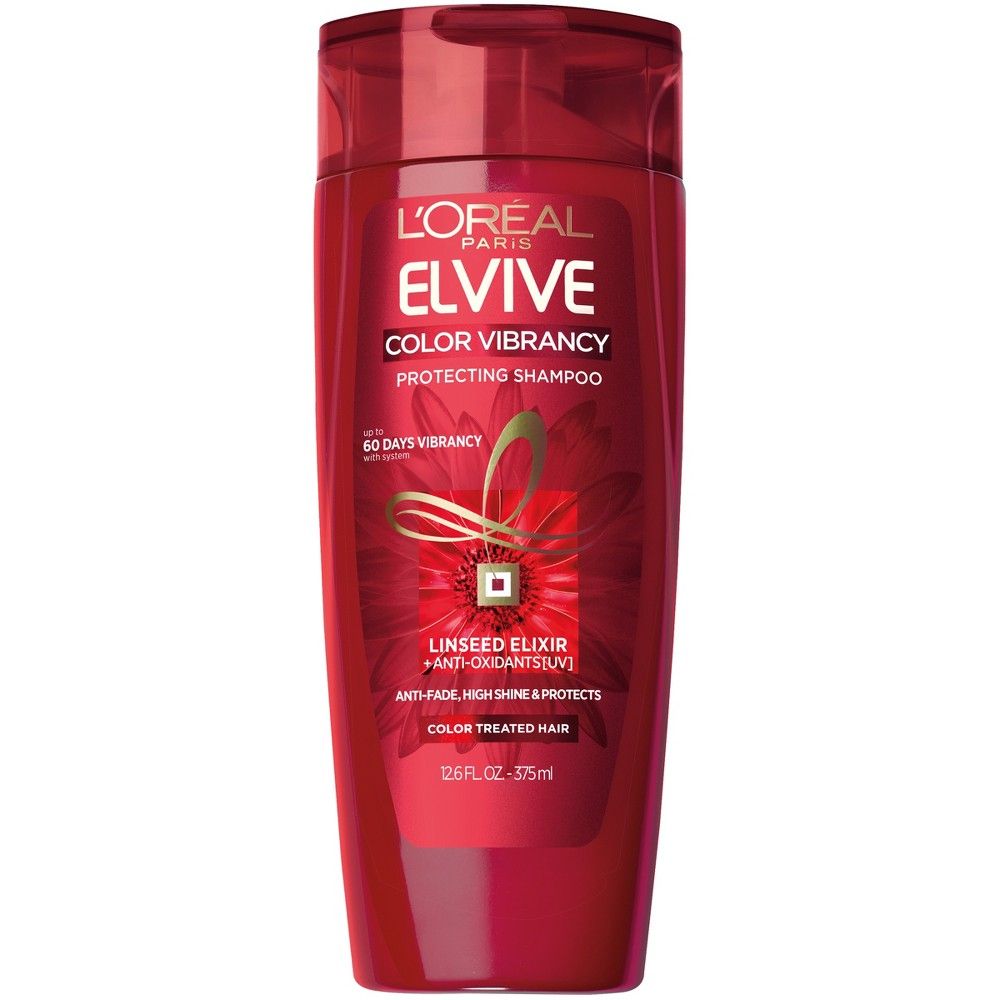 Let's finish off with a shampoo for color-treated hair. You definitely want to maintain the perfect dye job after spending hours at a salon, right? Well, colored hair needs special care. And a shampoo that is formulated for it.
L'Oreal Paris Elvive Color Vibrancy Protecting shampoo has an antioxidant plus UV filter that will protect your hair and preserve color. Complete your hair care routine with the protecting conditioner of the same name.