As the holiday season approaches, Thanksgiving provides a wonderful opportunity to showcase your favorite fall fashion, embracing cozy sweaters, stylish jumpsuits, and comfortable pants for family gatherings or Friendsgiving celebrations. Over-the-knee boots and layering of warm garments set the stage for indulging in pumpkin pie, mashed potatoes, and other delightful Thanksgiving dishes. The biggest question on everyone's mind: what will you wear to mark this special occasion?
Our collection of Thanksgiving outfits for women is designed to create a perfect blend of comfort, style, and festivity. Luxurious fabrics and fashionable ensembles are paired, offering a wide range of choices to suit any event during the holiday. Get inspired by our Thanksgiving outfit ideas, from chunky sweaters to elegant dresses, and make a bold statement by combining your chic knit with vinyl skinny jeans, block heels, and eye-catching gold jewelry. Add a touch of texture to your outfit with our selection of accessory ideas, ensuring you look and feel your best as you savor the food, vibes, and company this Thanksgiving.
Turtleneck Sweater Dress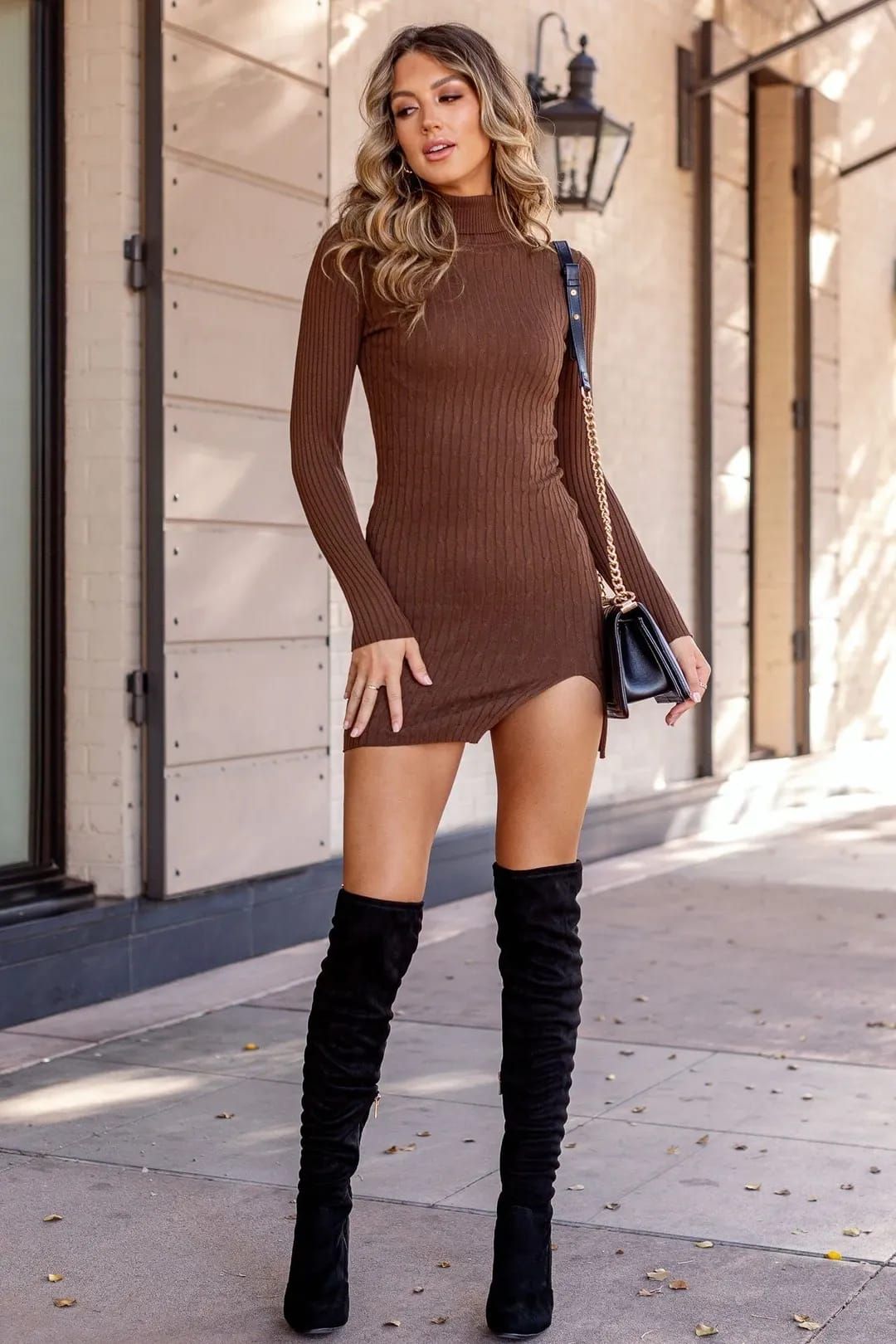 A turtleneck sweater dress is the perfect combination of comfort and style for Thanksgiving. This versatile piece can be dressed up or down, making it an ideal choice for holiday gatherings. Let's explore some of the benefits of a turtleneck sweater dress for a comfortable Thanksgiving outfit:
Cozy appeal: The soft material of turtleneck sweaters keeps us warm and comfortable in the colder months of November.
Effortlessly stylish: Sweater dresses are easy to style with over-the-knee or ankle boots, tights, and various accessories.
Versatile: A sweater set can be worn with a turtleneck sweater dress for added warmth, or a simple turtleneck can be paired with jeans or leggings for a more casual outfit.
Flattering silhouette: Sweater dresses, especially oversized styles, can suit different body shapes and sizes, providing a flattering option for everyone.
To sum up, incorporating a turtleneck sweater dress into our Thanksgiving wardrobe will not only keep us cozy but also ensure a chic, stylish look. Add accessories or pair it with other sweaters and leggings to create the perfect comfortable Thanksgiving outfit.
Plaid Wool Outfit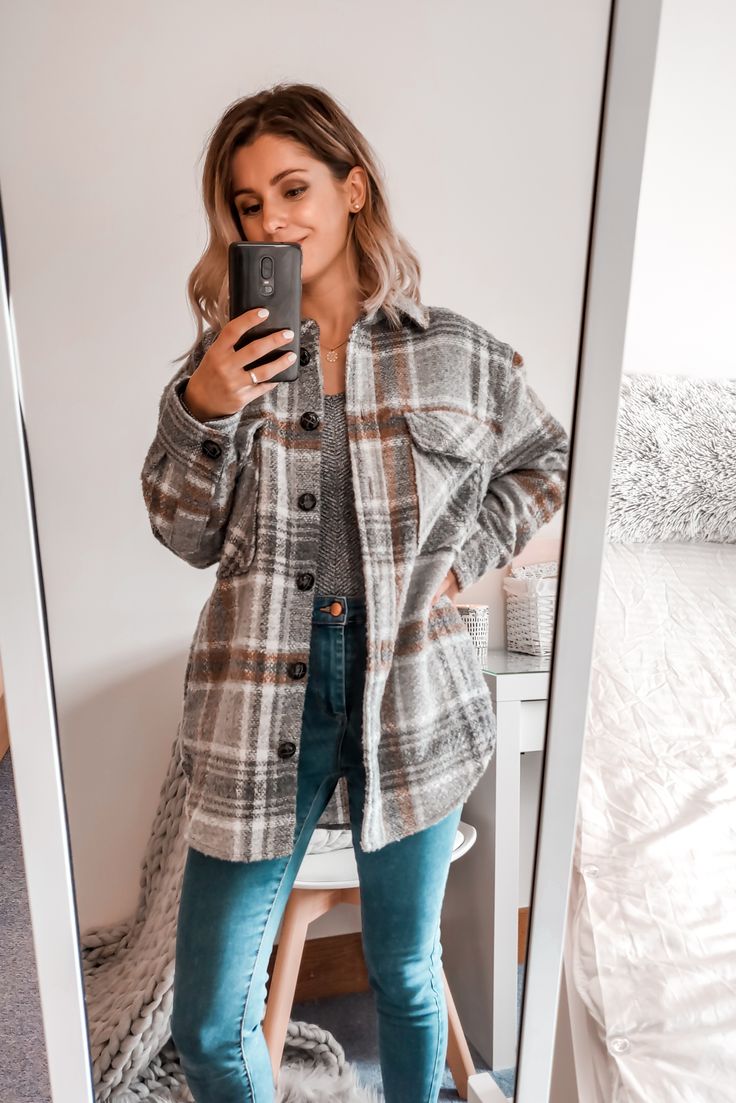 For a comfortable Thanksgiving outfit, we recommend a plaid wool outfit that combines style and warmth. Plaid pants are a versatile choice that can be easily paired with cozy sweaters or simple tops.
Plaid pants: Opt for a pair of soft, roomy plaid pants made of wool or a wool blend. This will provide both comfort and warmth during the festivities.
Sweater or top: Choose a sweater or top that complements the color scheme of your plaid pants. Neutral, solid colors often work best to highlight the pattern without being overbearing.
Accessories: Complete your look with simple accessories like a scarf, beanie, or statement jewelry. These small touches can elevate your comfortable outfit while still staying true to the Thanksgiving spirit.
Remember, the key to a great Thanksgiving outfit is finding the perfect balance between style and comfort. With a plaid wool outfit in place, we can confidently enjoy our holiday celebration, knowing we look and feel great.
Polka Dot Skirt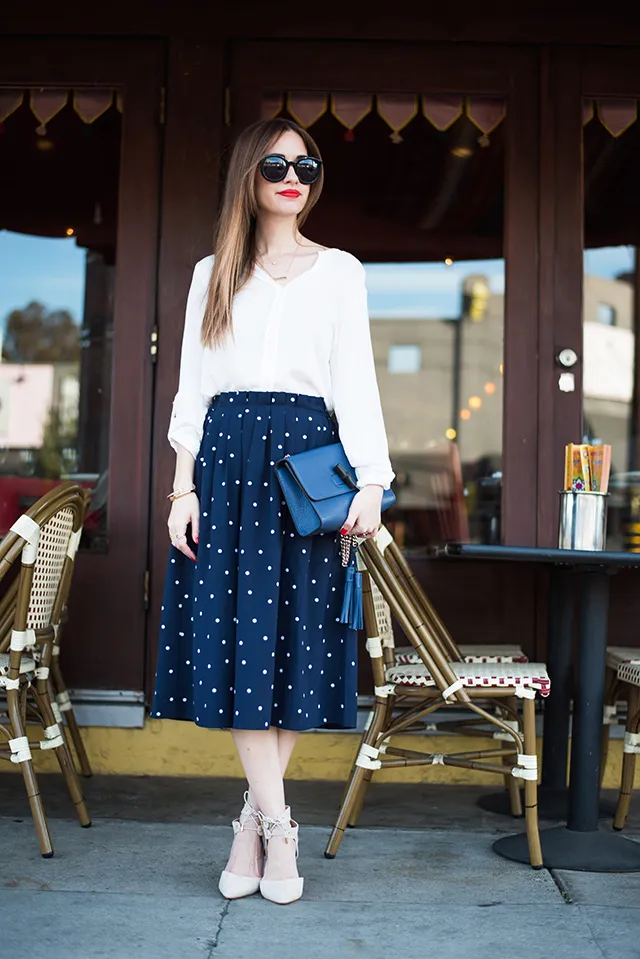 When it comes to comfortable Thanksgiving outfits, a polka dot skirt is a stylish option that pairs well with our favorite cozy sweaters and tights. Its pattern and design add a touch of playfulness to our ensemble. Here are some charming features of a polka-dot skirt for a comfortable Thanksgiving celebration:
Versatility: With various lengths and styles available, we can choose a skirt that suits our personal taste, whether it be a midi, maxi, or mini skirt.
Effortless pairing: Polka dot skirts can be easily matched with neutral or solid colors, allowing us to mix and match with different tops and accessories for a chic look.
Fabric choices: Selecting a skirt made from soft, breathable materials like cotton or viscose will ensure we remain comfortable throughout the day.
To complete our Thanksgiving outfit, we can add a cozy sweater or blouse, a pair of tights or leggings, and comfortable ankle boots or flats. With a polka dot skirt as the centerpiece, we'll be both festive and comfortable for our Thanksgiving gathering.
Leopard Print Skirt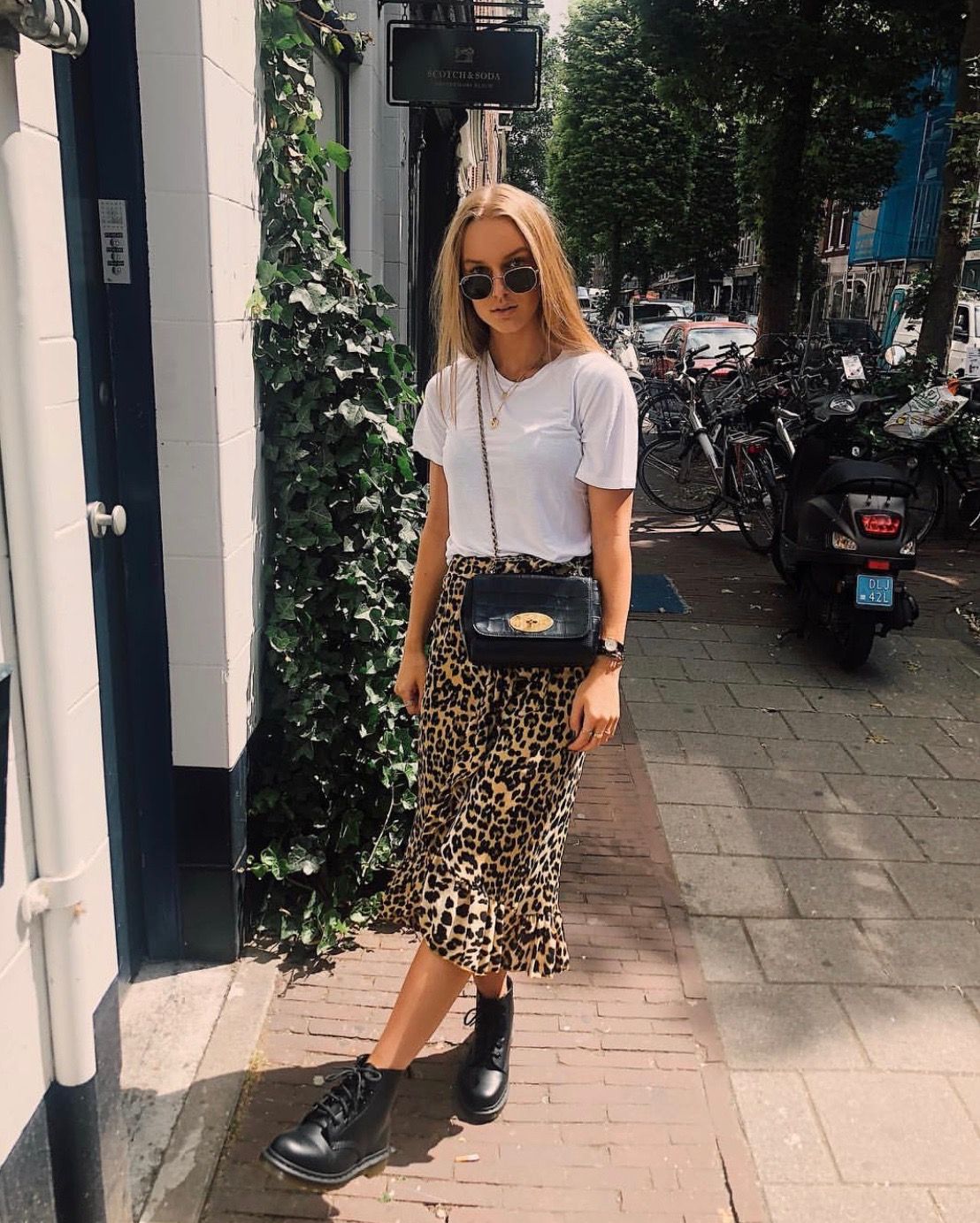 Thanksgiving is all about feeling cozy and comfortable while looking stylish. A leopard print skirt can be the perfect addition to our Thanksgiving outfits. Leopard print is a timeless pattern that provides an eye-catching statement without sacrificing comfort.
To make the most of this versatile piece, we have some suggestions for pairing a leopard print skirt with other wardrobe staples:
Sweaters: A soft, oversized sweater in neutral colors like beige or cream will allow the bold print to shine and keep us warm during the festivities.
Turtlenecks: For a more polished look, consider wearing a fitted turtleneck with the skirt. This combination works exceptionally well for more formal gatherings.
Denim jackets: Adding a denim jacket to our Thanksgiving outfit brings a touch of casual coolness. A cropped or regular-length jacket pairs well with the skirt.
Ankle boots: Complete our outfit with a pair of comfortable ankle boots in black, brown, or beige. These boots provide support for our feet and complement the chic style of the leopard print.
Remember, the key to being comfortable on Thanksgiving is combining fashionable items like a leopard print skirt with essential pieces that make us feel good and confident.
Bold Color Look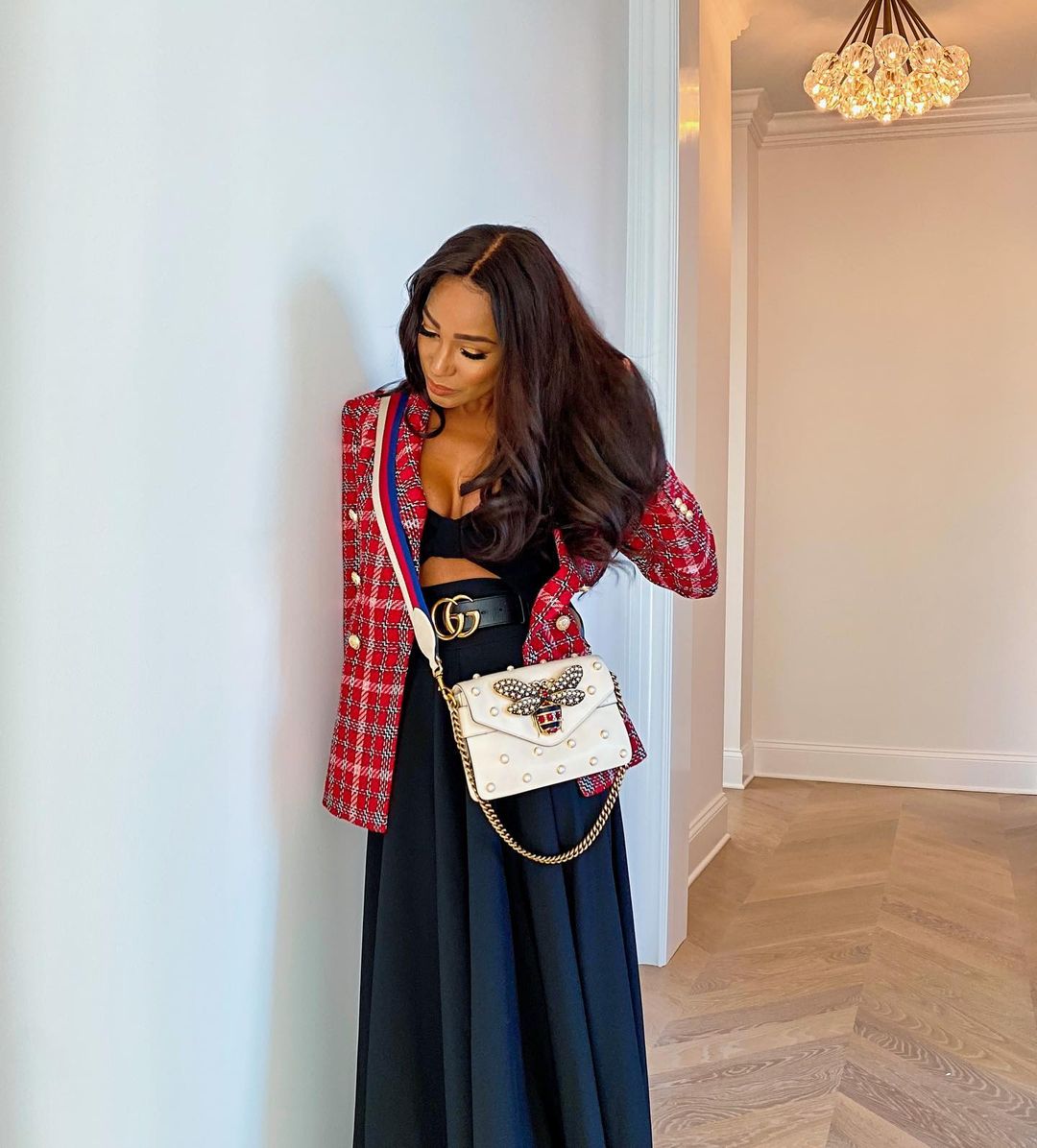 When it comes to comfortable Thanksgiving outfits, we can't forget the power of bold colors. Incorporating bright and vibrant shades into our outfit can make us feel more joyful and festive during the holiday celebration. Here are a few ideas on how to include bold colors in your Thanksgiving outfit:
Statement piece: Choose one bold-colored clothing item, such as a red sweater or a jewel-toned dress, to be the centerpiece of your outfit. Pair it with neutral or complementary colors to maintain a balanced look.
Colorful accessories: If you prefer a more subtle approach, opt for colorful accessories like scarves, belts, or statement jewelry to add a pop of color to your outfit. This allows you to include bold colors without committing to a head-to-toe look.
Patterned clothing: Don't be afraid to mix patterns and colors! A plaid shirt or a floral dress can incorporate bold colors in a fun and stylish way. Just make sure the patterns don't clash and that they blend well with the other pieces in your outfit.
Remember, the key to a comfortable Thanksgiving outfit is to choose clothing items that make you feel confident and allow you to move freely. Incorporating bold colors can elevate your look while keeping comfort at the forefront. So go ahead, embrace the bold color look for a memorable Thanksgiving gathering!
Overall Button-down Dress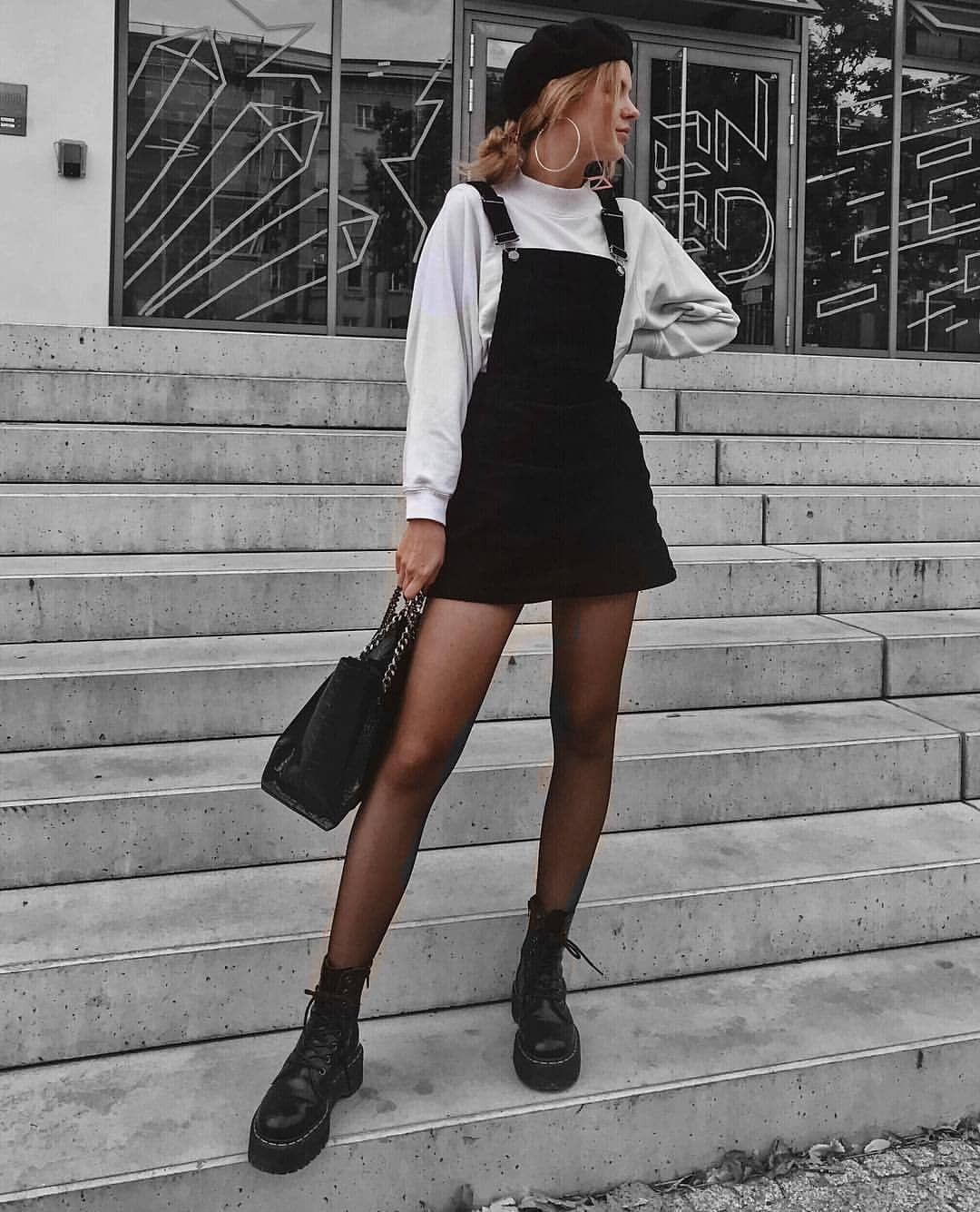 A midi dress is a fantastic option for a comfortable Thanksgiving outfit. As the name suggests, this type of dress has a length that falls somewhere between the knee and ankle, providing ample coverage while still looking stylish. A button-down dress, in particular, brings versatility and functionality to the table, allowing for customized fitting by adjusting the buttons.
We recommend selecting a midi button-down dress made with soft, breathable materials to ensure a relaxed yet fashionable experience during Thanksgiving festivities. Incorporate seasonal colors such as burgundy, navy, or rich earth tones for an added touch of festivity.
Here are a few benefits of choosing a midi button-down dress for your Thanksgiving ensemble:
Comfort: Easy movement and a relaxed fit are key for enjoying a day filled with food, family, and friends.
Versatility: The button-down feature allows for personalized fitting and individualized style.
Adaptability: Ideal for various body types and suitable for dressing up or down depending on the occasion.
Stylish: Stay fashionable even during social gatherings, creating a chic and sophisticated look.
Pairing your midi button-down dress with comfortable footwear, such as ankle boots or stylish flats, and adding accessories like a cozy scarf or statement necklace will create the perfect Thanksgiving outfit.
Wide-leg Pants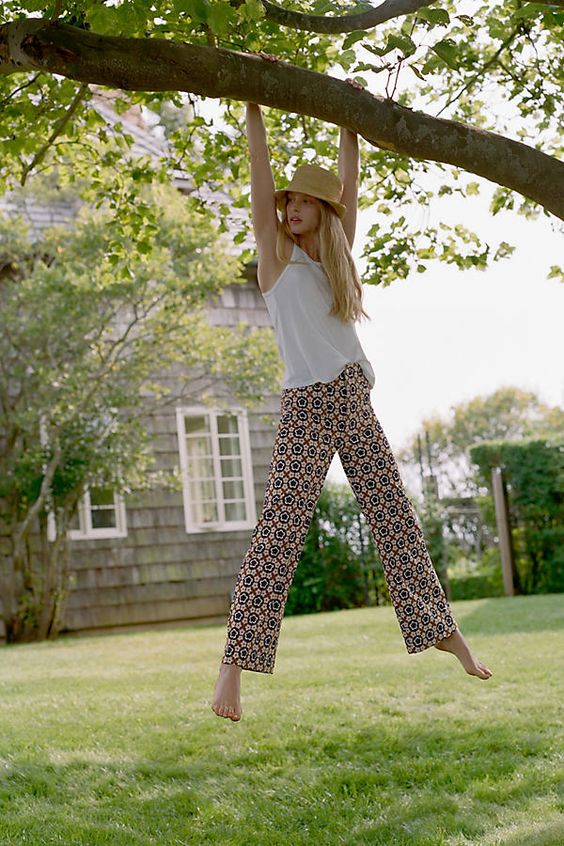 When it comes to comfortable Thanksgiving outfits, we can't ignore the stylish and cozy appeal of wide-leg pants. These pants provide ample room to move and enjoy our meal while looking chic and effortless. Pairing wide-leg pants with boots or booties can elevate the look and keep our feet warm during the fall season.
Here are some style tips for incorporating wide-leg pants and boots or booties into our Thanksgiving outfits:
Opt for a high-waisted wide-leg pant to create a flattering silhouette and add a touch of sophistication.
Coordinate the colors and materials of our boots or booties with our pants for a cohesive and polished look.
For a more casual vibe, choose ankle-length wide-leg pants that show off our booties.
Experiment with different fabrics, such as wool or corduroy wide-leg pants, for added texture and visual interest.
Balance the volume of wide-leg pants by tucking in a fitted top or wearing a cropped sweater to keep things proportional.
Incorporating wide-leg pants and boots or booties into our Thanksgiving outfits ensures that we'll look stylish and feel comfortable throughout the festivities.
Casual Comfortable Look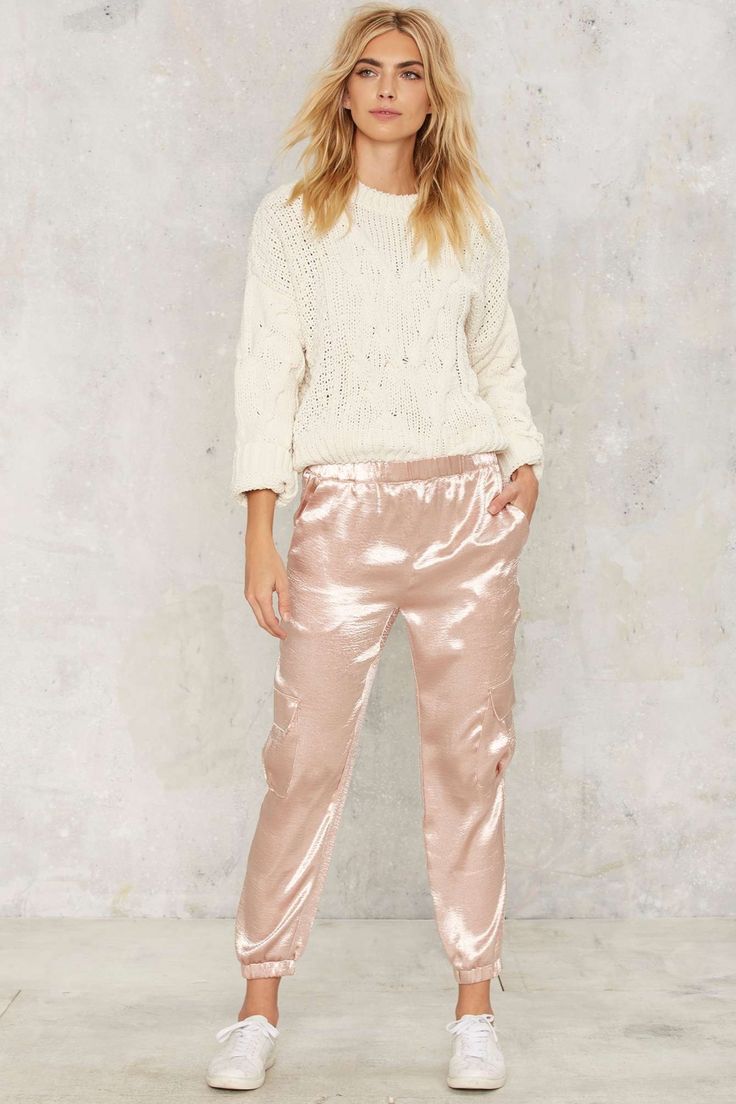 During Thanksgiving, it's essential to prioritize comfort while maintaining a casual and stylish appearance. We've curated a fashionable yet comfortable look that will allow you to enjoy the festivities without sacrificing your style.
Layered outfits: Wearing a cozy sweater or cardigan over a simple blouse or dress offers the warmth needed during the colder months. Mixing and matching textures, such as pairing a chunky knit with a smooth silk blouse, adds dimension and interest.
Stretchy bottoms: Opt for bottoms made from fabrics that offer a bit of stretch, like leggings, joggers, or stretchy denim. This will allow you to eat and move comfortably while still looking polished.
Neutral colors: Choosing a color palette comprised mainly of neutral tones, like beige, navy, or gray, creates a cohesive look that can easily be dressed up or down.
Comfortable footwear: Flat, cushioned shoes or boots are the key to staying comfortable during the event. Consider stylish yet functional options like loafers, ankle boots, or sneakers that are easy to slip on and off.
With these wardrobe tips in mind, we're confident that you'll be able to create a casual, comfortable look that's perfect for Thanksgiving gatherings.
Balloon Jeans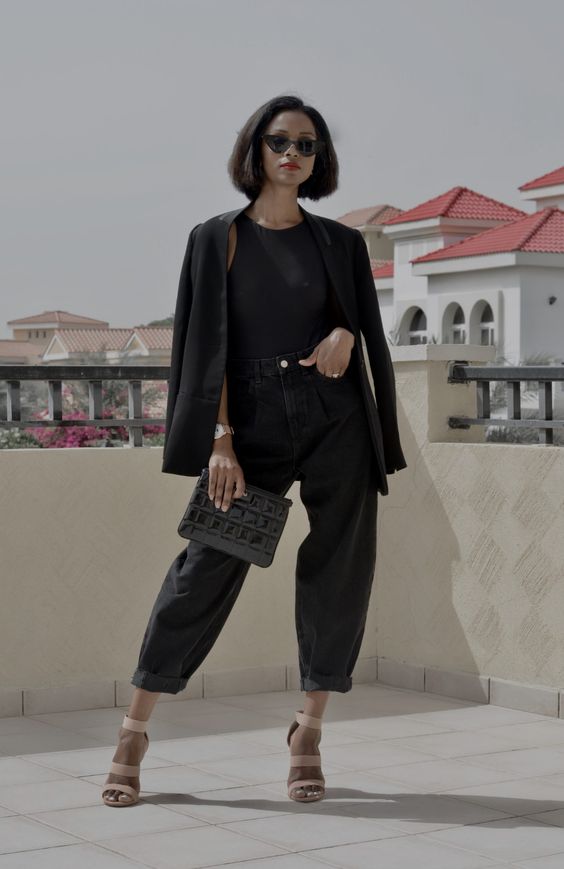 We all know that jeans are a fashion staple, and for a comfortable Thanksgiving outfit, we highly recommend balloon jeans. These jeans are designed with a roomy silhouette, making them perfect for a day filled with feasting and spending time with family. Their wide, tapered legs provide ample space for movement while still maintaining a stylish appearance.
Here are some key features of balloon jeans that make them a great choice for a comfortable Thanksgiving outfit:
Roomy fit: Balloon jeans are designed with extra space around the thighs and hips, allowing for a more relaxed fit and ultimate comfort on a day filled with food and festivities.
Elastic waistband: Many balloon jeans come equipped with an elastic waistband, ensuring a comfortable and customized fit that can accommodate a full belly after a large meal.
Style versatility: Balloon jeans can be easily dressed up or down, making them a versatile choice for Thanksgiving Day. Pair them with a cozy sweater and ankle boots for a casual look, or dress them up with a blouse and heeled booties for a more polished outfit.
Durable material: Jeans are known for their durability, so investing in a pair of balloon jeans means you'll have a comfortable outfit option for many Thanksgivings to come.
In conclusion, we believe that incorporating balloon jeans into your Thanksgiving wardrobe will provide you with a stylish and comfortable outfit that will leave you feeling at ease while enjoying the festivities.
Sleeveless Jumpsuit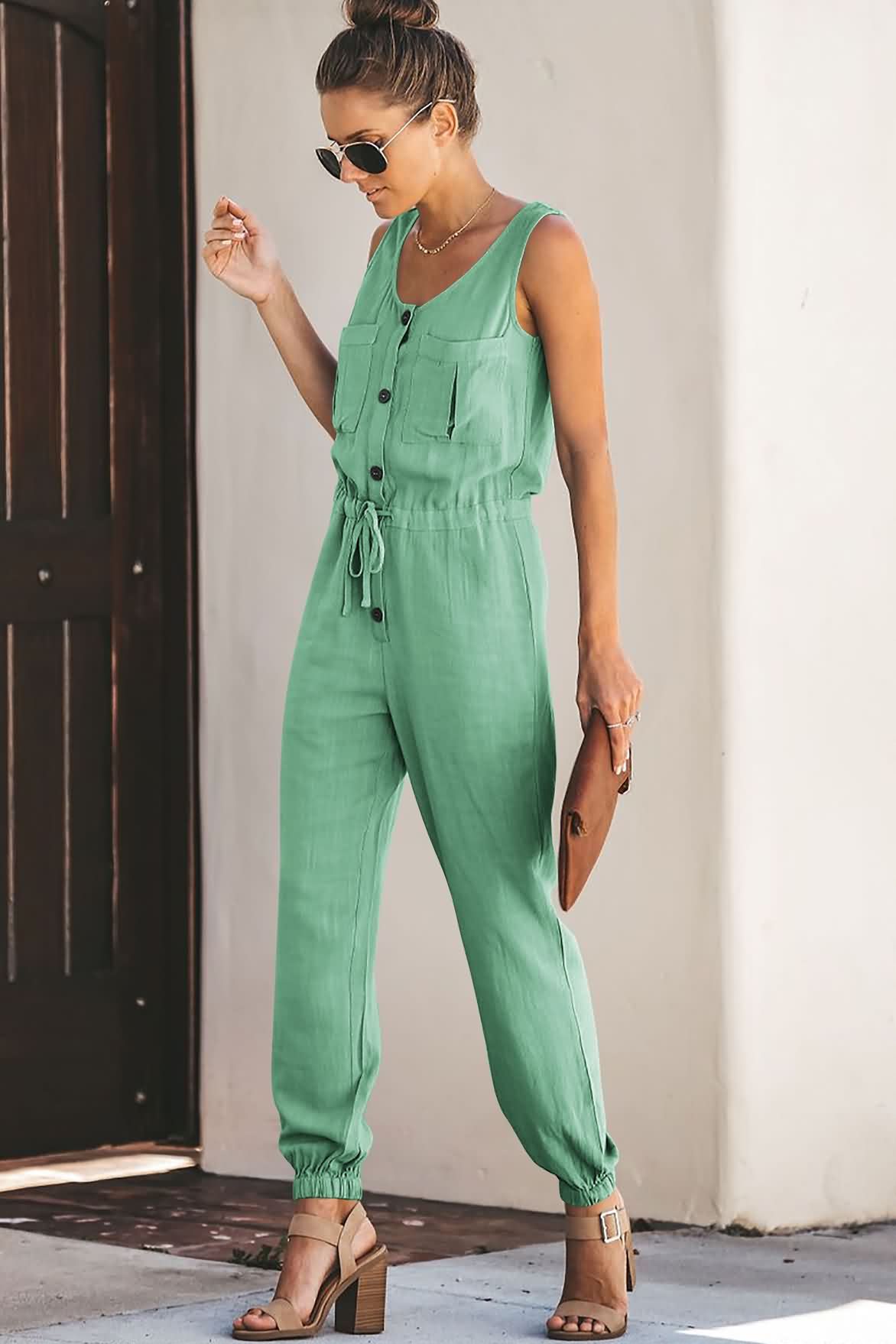 A sleeveless jumpsuit can be an excellent choice for a comfortable Thanksgiving outfit. It is versatile and stylish, allowing us to feel at ease while still looking put-together. We can choose from various materials such as stretchy jersey or soft cotton to ensure our comfort throughout the holiday festivities. Plus, accessorizing a jumpsuit is simple. Here are some tips for styling a sleeveless jumpsuit for Thanksgiving:
Layer it up: Depending on the weather, we can combine our jumpsuit with a cozy cardigan or a tailored blazer to stay warm and add dimension to the outfit.
Footwear: A pair of comfortable ballet flats or ankle boots can complement the look and provide support as we move around throughout the day.
Belt it: Adding a belt to our jumpsuit can add visual interest and provide a flattering silhouette, accentuating our waist.
Color: Opt for neutral colors or seasonal hues like burgundy, olive green, or mustard yellow to match the Thanksgiving theme.
Remember, the key is to balance style and comfort to enjoy our Thanksgiving gathering with ease.
Pajamas Set With Feathers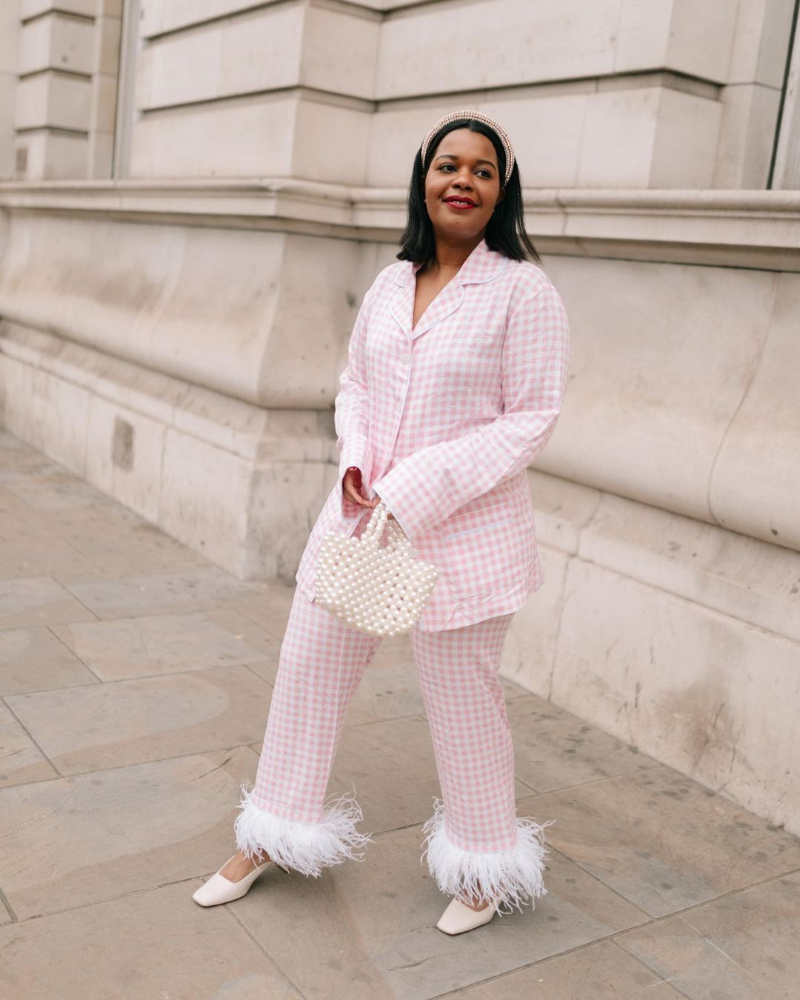 When considering comfortable Thanksgiving outfits, a stylish and cozy pajama set with feathers is an ideal choice. Pajama sets with feathers usually come with:
Soft and luxurious materials: Often made of satin, silk, or velvet, these pajama sets provide ultimate comfort and warmth on chilly Thanksgiving nights.
Feather trims: Adorned with delicate feathers on the sleeves and pant cuffs, they add a touch of glamour to your loungewear.
Vibrant colors and patterns: From deep jewel tones to playful prints, there's a variety of options to suit everyone's preference.
So, for a comfortable Thanksgiving outfit that combines style and coziness, consider treating yourself to a pajama set with feathers.
Festive And Fancy Outfit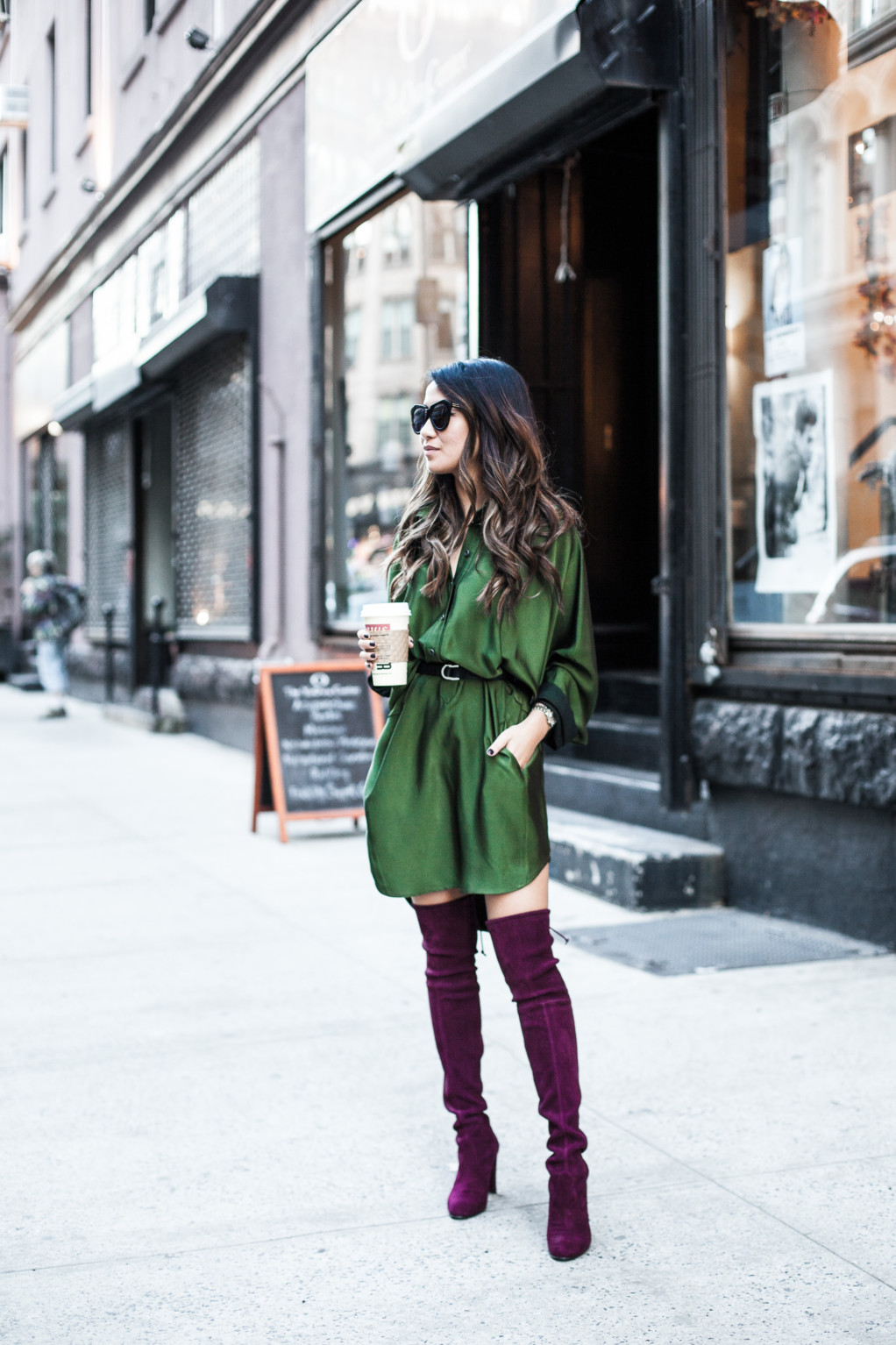 Festive And Fancy Outfit
During Thanksgiving, we often gather with family and friends to celebrate and share gratitude. It's essential to feel comfortable and stylish while enjoying the festivities. Here is a suggested outfit that strikes a balance between festive and fancy while keeping comfort in mind:
Top: A soft, cozy sweater or blouse in a warm autumn color like maroon, mustard, or burnt orange. Opt for something with a bit more structure like a blazer over a blouse if you prefer a dressier look.
Bottom: Stretchy yet polished pants, such as ponte knit leggings or slim-fit trousers, will provide comfort for all-day wear. A skirt or dress with a comfortable waistband and made from a soft, flowy fabric is another great option.
Shoes: Choose a pair of low-heeled or flat shoes that won't have you aching by the end of the day. Stylish loafers or ankle boots are perfect for this occasion.
Accessories: Add a touch of elegance with minimalist jewelry like a delicate necklace or dainty earrings. A lightweight scarf can also bring flair and additional warmth if needed.
Remember, the key to a comfortable Thanksgiving outfit is finding the right balance of cozy materials and stylish pieces that make you feel your best. By choosing clothing that incorporates elements of festivity and comfort, you'll be well-equipped to enjoy the holiday in style.
Teen Girl Outfit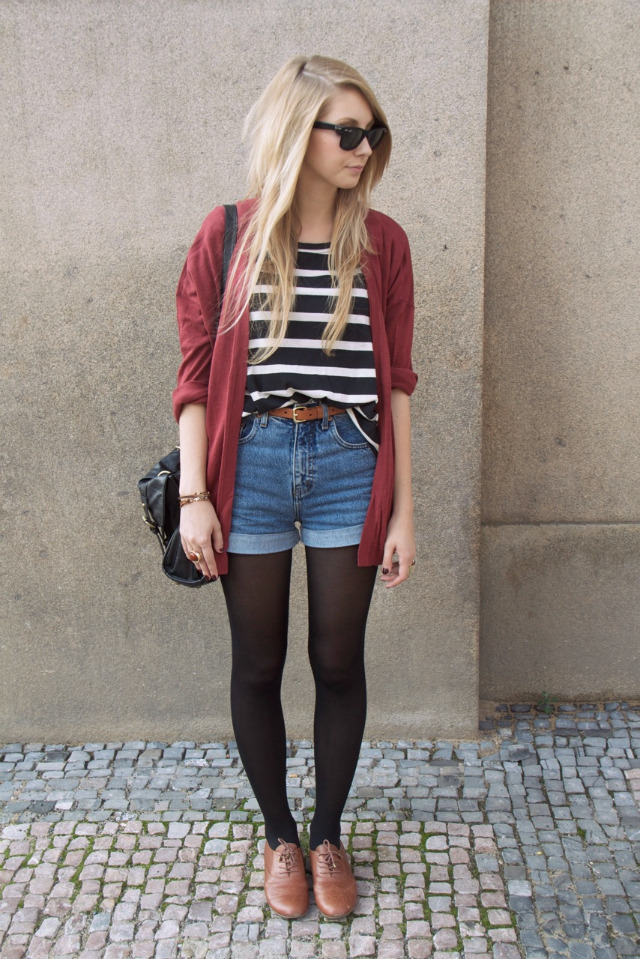 As we all know, Thanksgiving is a time for family gatherings, delicious food, and cozy vibes. To help you enjoy these special moments, we've curated a comfortable yet stylish outfit for teenage girls:
Top: A soft, oversized sweater in a neutral color like beige, gray, or muted pastels. This will keep you warm and comfortable throughout the day.

Example: Cable-knit sweater

Bottom: A pair of stretchy leggings or skinny jeans in a matching or complementary color. They are easy to move in, making you feel more at ease when sitting down for a long meal.

Example: High-waisted leggings

Footwear: Opt for suede ankle boots or a pair of comfortable sneakers that showcase your style while providing support and comfort for hours of mingling and dancing.
Accessories: Add a touch of elegance with layered necklaces, simple stud earrings, or a delicate bracelet. Keep it minimal to let your cozy outfit shine.
Remember to play around with colors and textures to create your unique take on a comfortable Thanksgiving outfit. Happy celebrating!
Black Bodycon Dress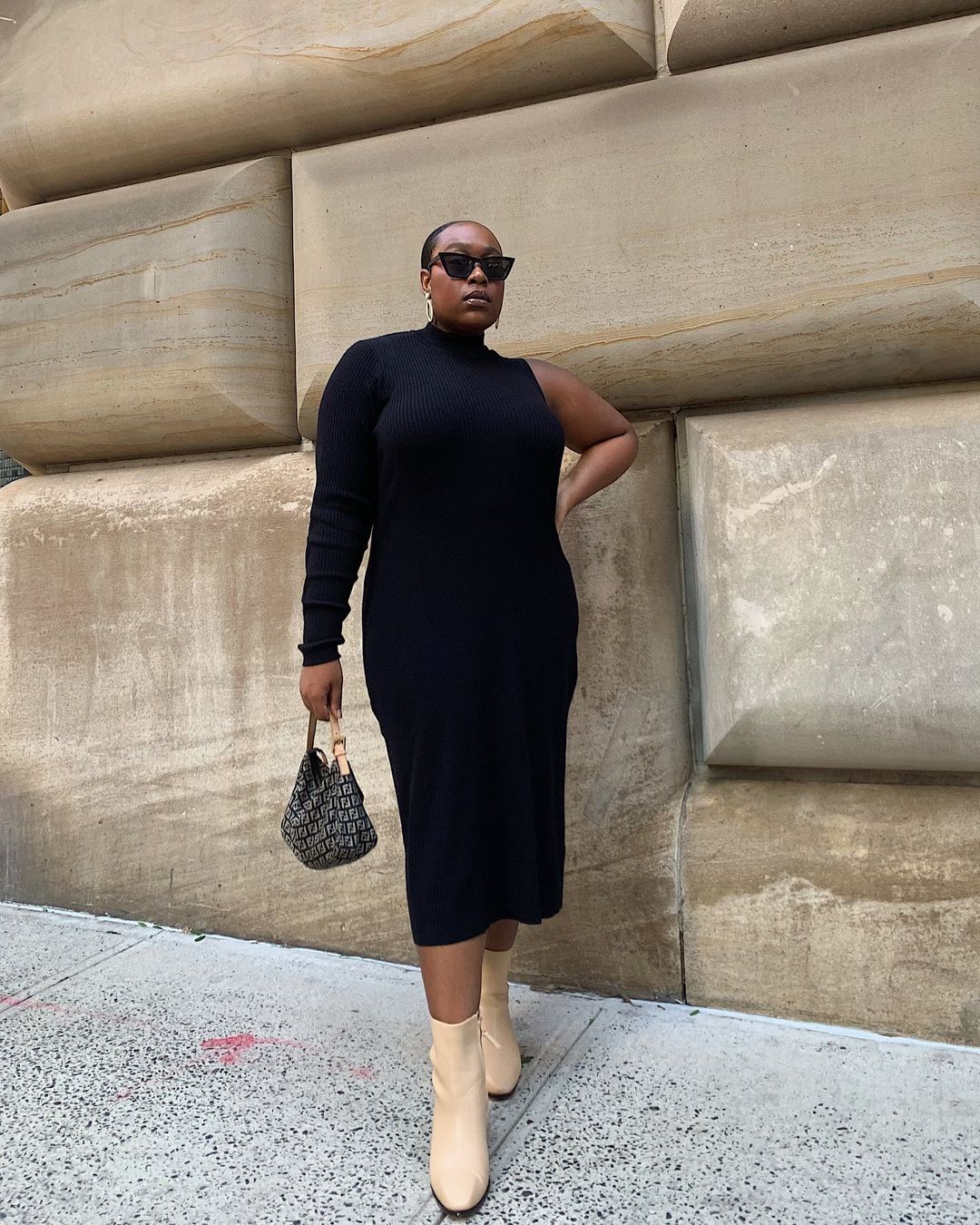 As part of our comfortable Thanksgiving outfits, we recommend a black bodycon dress. This versatile piece provides both style and comfort. Here are some key features of a black bodycon dress that make it a perfect choice for a Thanksgiving gathering:
Material: Opt for a dress made of soft, stretchable fabric like cotton, jersey, or spandex. This ensures comfort and freedom of movement while you enjoy your Thanksgiving feast.
Length: Choose a midi or knee-length dress for added elegance while still being comfortable and practical for socializing and dining.
Sleeves: Long sleeves, three-quarter sleeves, or even short sleeves can work well with a bodycon dress, depending on the climate and your personal preference.
Accessories: To complement your black bodycon dress, consider the following:

Jewelry: Subtle gold or silver pieces, such as a necklace or earrings
Footwear: Pair the dress with ankle boots or flats for a chic yet comfortable look
Layering: Add a cozy cardigan or an oversized scarf to stay warm and stylish during the cooler fall months
With these tips in mind, we believe a black bodycon dress can be effortlessly stylish and comfortable for your Thanksgiving celebration.
Knitted Dress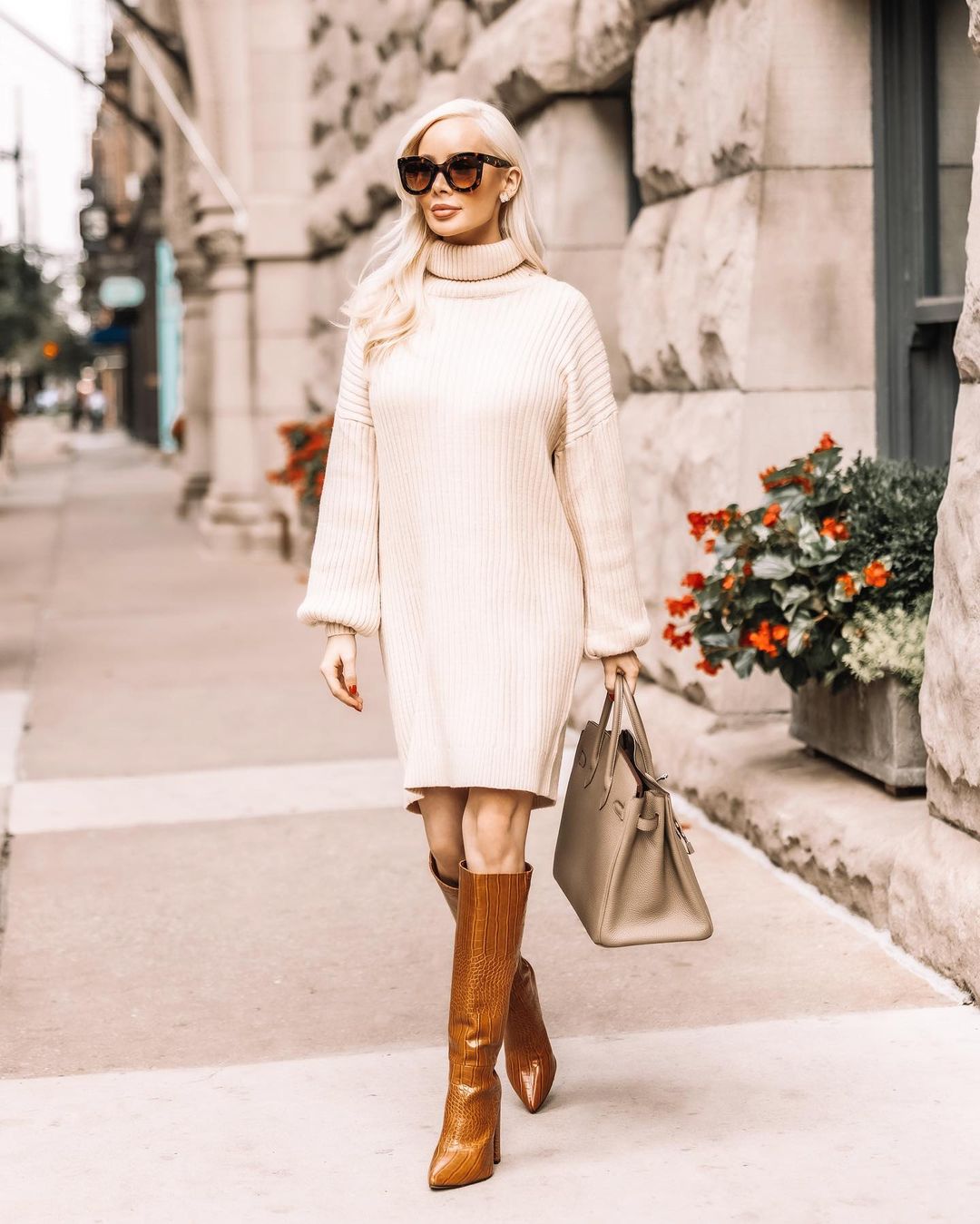 When it comes to comfortable Thanksgiving outfits, a knitted dress is an excellent choice. Not only does it provide warmth and comfort during the chilly autumn season, but it also adds a touch of elegance and style. We have a few recommendations for incorporating a knitted dress into your outfit:
Material: Opt for soft and cozy materials like cashmere and wool blends that ensure both comfort and warmth.
Fit: Choose a relaxed fit or an A-line dress which allows enough room for movement without being constricting.
Length: Mid-length or knee-length dresses work well for Thanksgiving gatherings, as they strike a balance between formality and comfort.
To complete the outfit, consider the following items:
Tights or leggings: Wearing tights or leggings underneath the dress ensures added warmth and allows for freedom of movement.
Boots or booties: Pair your knitted dress with ankle boots, knee-high boots, or booties for both style and function.
Accessories: Finish off the look with simple accessories such as scarves or statement jewelry that complements the dress.
In summary, a knitted dress makes for a fashionable and comfortable option for Thanksgiving celebrations. Combining it with proper footwear and accessories will help create a chic and cozy outfit for the occasion.
Oversized Blazer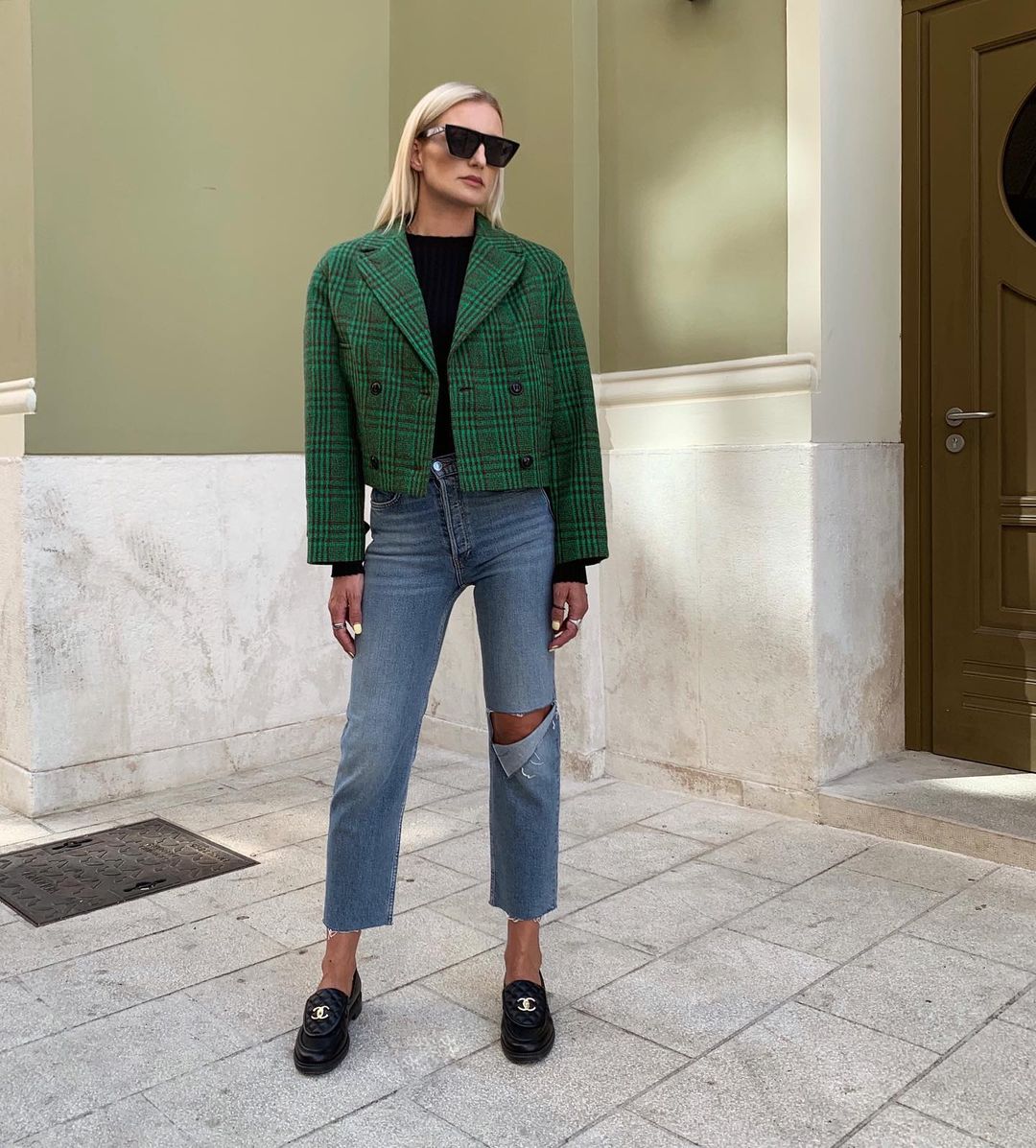 For a comfortable Thanksgiving outfit, we can wear oversized blazers. They're versatile and can be styled with various pieces to create a chic and cozy ensemble. We can pair them with straight-leg jeans or flowy dresses for a relaxed yet polished appearance. Their loose fit ensures we'll be at ease while enjoying our festive meal.
Pink Matching Set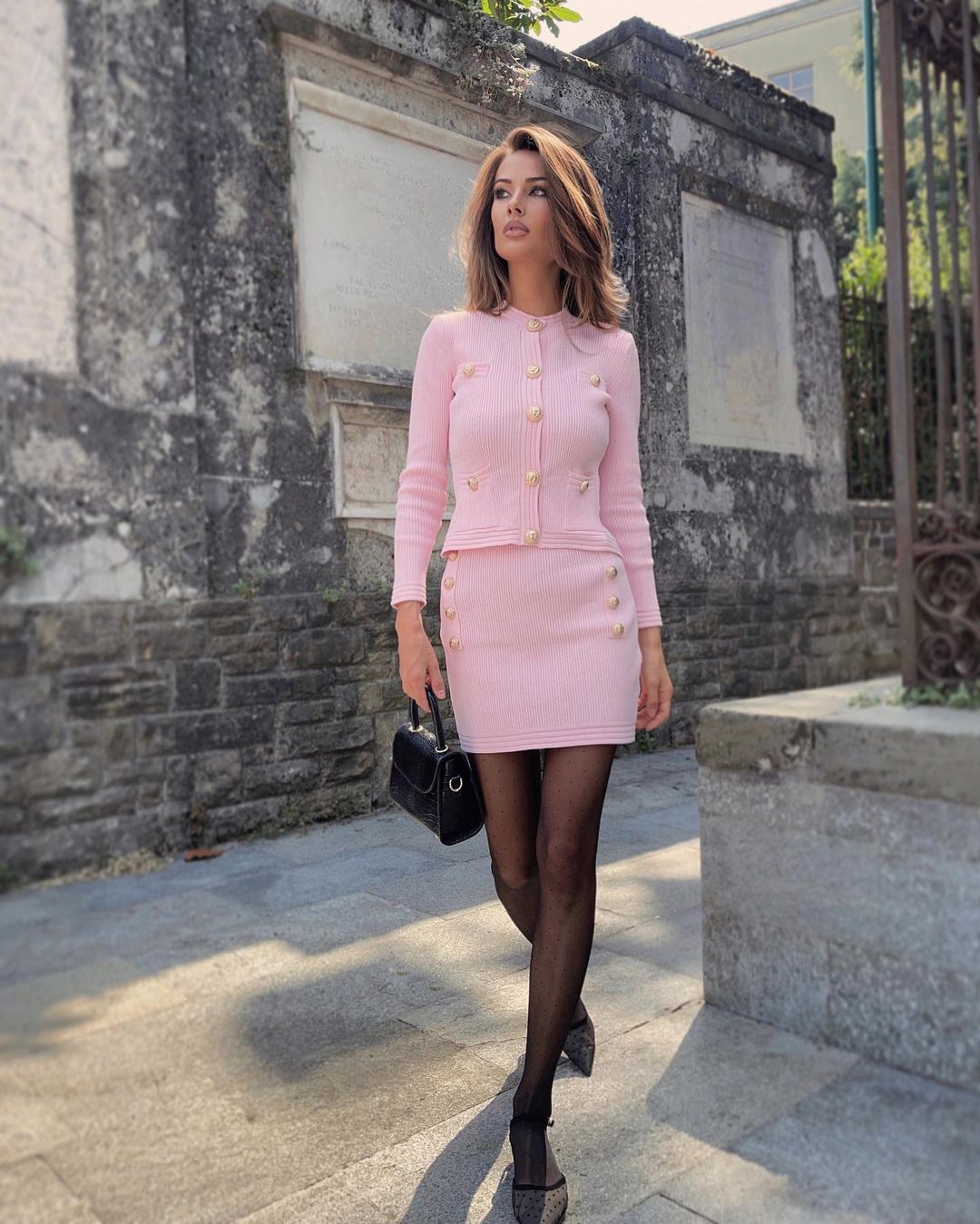 During Thanksgiving, a pink matching set can be a stylish and comfortable option for your outfit. We recommend selecting a cozy knit top and bottom to keep you warm and relaxed throughout the day. Below are some key points and suggestions for choosing the perfect set:
Material: Opt for soft, breathable fabrics, such as cotton or viscose to ensure ultimate comfort.
Fit: A slightly loose fit allows for unrestricted movement and easy layering. Pair it with leggings or tights if the weather is colder.
Design: A simple, minimalistic design with subtle patterns or textures looks elegant and sophisticated. But, if you prefer a pop of color, choose a more vibrant shade of pink.
Accessorizing: Complete the look with:

A statement necklace or earrings to add a touch of glamour
A neutral-toned cardigan, jacket, or blazer for added warmth
Comfortable flats, ankle boots, or sneakers to keep your feet happy during the celebrations
Remember, the key to a comfortable Thanksgiving outfit is finding the right balance between style and ease. A pink matching set can be the perfect choice to achieve this harmonious blend.