When it comes to musicals, not everyone finds them to be their cup of tea. Some even cringe at the sight of a couple of friends having a normal conversation and the next thing you know they break into a song and choreographed dance moves. For others, though, that's exactly what makes their day, and wish they could do the same. Whichever the taste, it's hard not to appreciate the heartwarming plot of the Mamma Mia movie and the timeless soundtrack.
For those of you who for some reason still haven't seen the legendary 2008 Mamma Mia movie or its 2018 sequel, the first part covers the story of the 20-year-old Sophie Sheridan (Amanda Seyfried) living on the dreamy island of Kalokairi, Greece (or Skopelos IRL) who's about to get married and is in search of her father whom she'd never met. After some research into her mother's diary (while singing the incredibly catchy number "Honey, Honey"), she realizes that she has three potential fathers who could walk her down the aisle.
So, the only logical thing for her to do is to invite all three of them to the wedding on her mother's behalf Donna (Meryl Streep) even though Donna doesn't want to see them again… Or, at least, one of them who broke her heart. In part 2 Donna's friends Tanya and Rosie tell Sophie the story of young Donna arriving and settling on the island 20 years prior, meeting the three gentlemen, and becoming pregnant after they are gone from her life, while Sophie expects her firstborn herself. Ok, that's enough spoilers for today.
Although it is based on an actual musical, the actors that we know and love have managed to execute such a unique performance that we have to admit that whenever we feel like listening to some ABBA, we can't help but go over to the movie and sing along with the cast for like a millionth time. All of this accompanied by the impeccable dance numbers and the unforgettable outfits is what easily makes the Mamma Mia musical franchise one of the best out there.
In this article, we will be looking at some of the outfits the cast of the Mamma Mia movies wore. If there is something this movie is abundant in, that's costumes and outfits, so we chose "only" 22 of the most memorable. Let's see which those are.
Young Donna And The Dynamos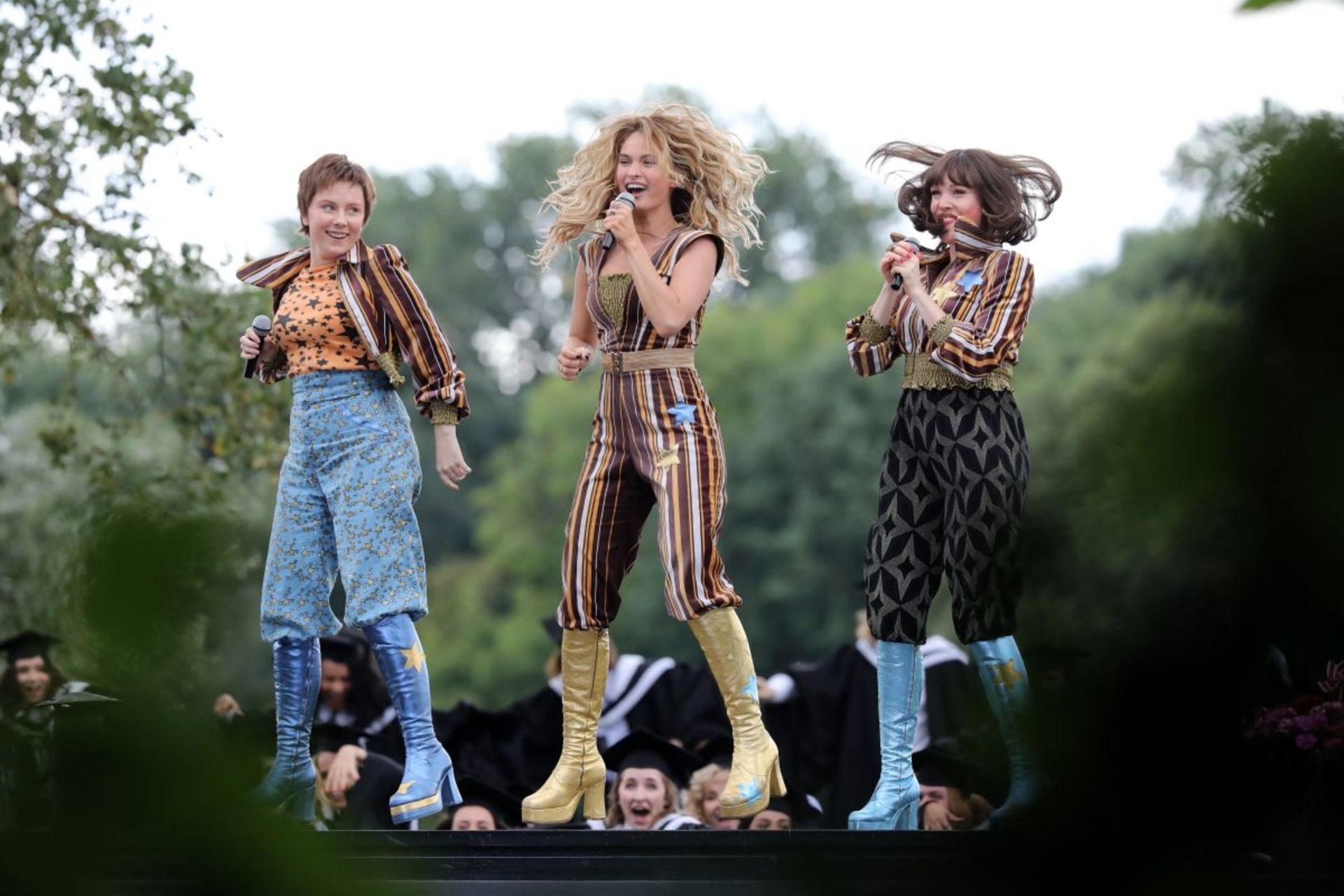 This is where we see the epic trio Donna and the Dynamos for the first time in the 2018 Mamma Mia sequel performing "When I Kissed the Teacher" number, with Lily James as the lead vocalist. While the rest of the group members wear their style of costumes and blue boots, Donna is wearing gold boots and a jumpsuit whose colors perfectly capture the theme of the late 70s.
The "Super Trouper" Costumes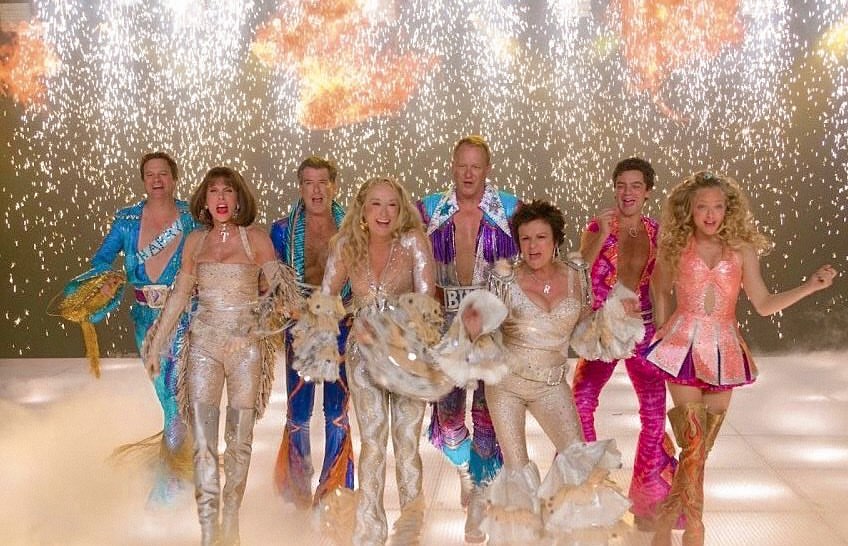 This is the 2008 Mamma Mia cast in all its glory performing the music and dance number "Super Trouper". While Sophie (Amanda Seyfried) is wearing a sparkling pink mini dress, Donna and the Dynamos trio is wearing matching light gold outfits, each with a unique touch – Donna's top has fringed long sleeves, Tanya's wearing high-knee boots, while Rosie's rocking metallic shoulder pads.
Young Donna "Waterloo" Outfit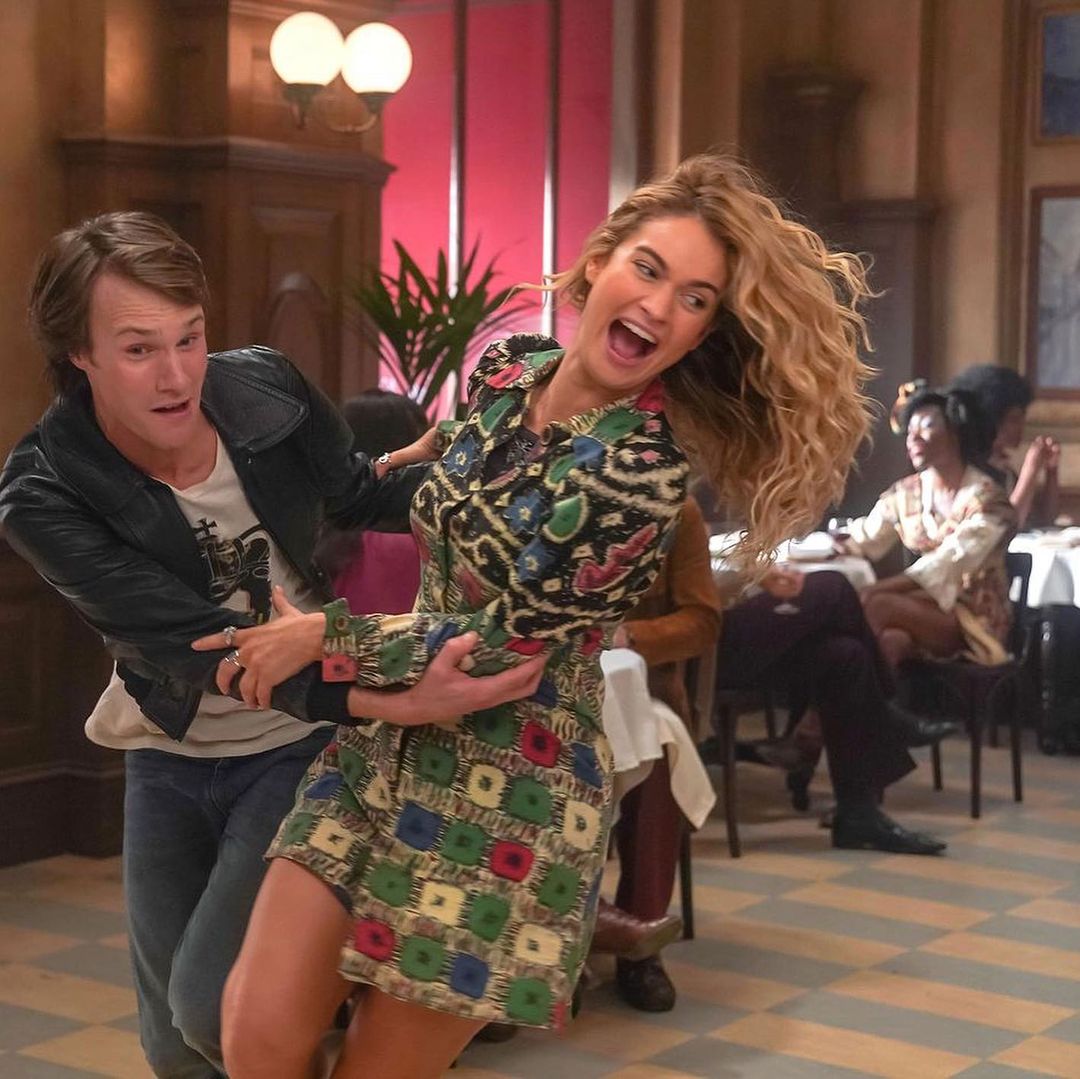 This is the colorful multipatterned dress Donna wore when she met Harry, played by Hugh Skinner in the 2018 sequel. Here the duo is performing ABBA's "Waterloo", because… when you catch feelings in Paris, you just have to.
Young Donna's Cover-up Shirt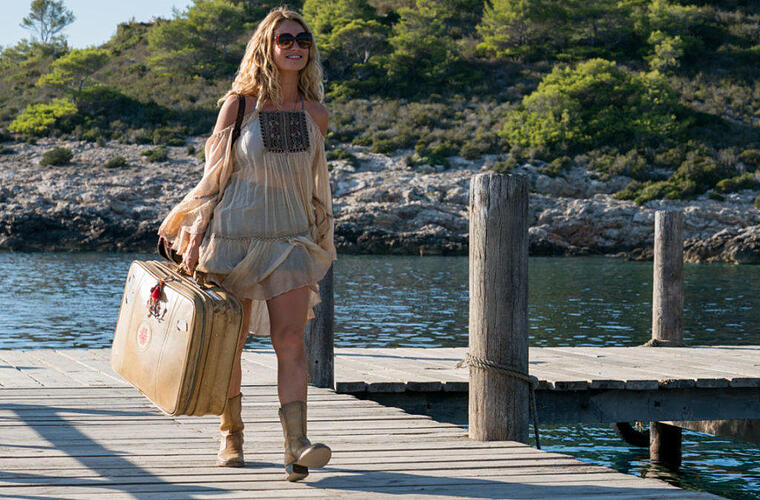 This incredibly cute boho maxi cover-up shirt is what Donna wears when she steps onto the Greek island of Kalokairi after meeting Bill (played by Josh Dylan) and later on when she discovers the abandoned house she plans to turn into a hotel, and ultimately when she sees Sam (Jeremy Irvine) for the first time and falls madly in love.
Young Donna's Orange Maxi Skirt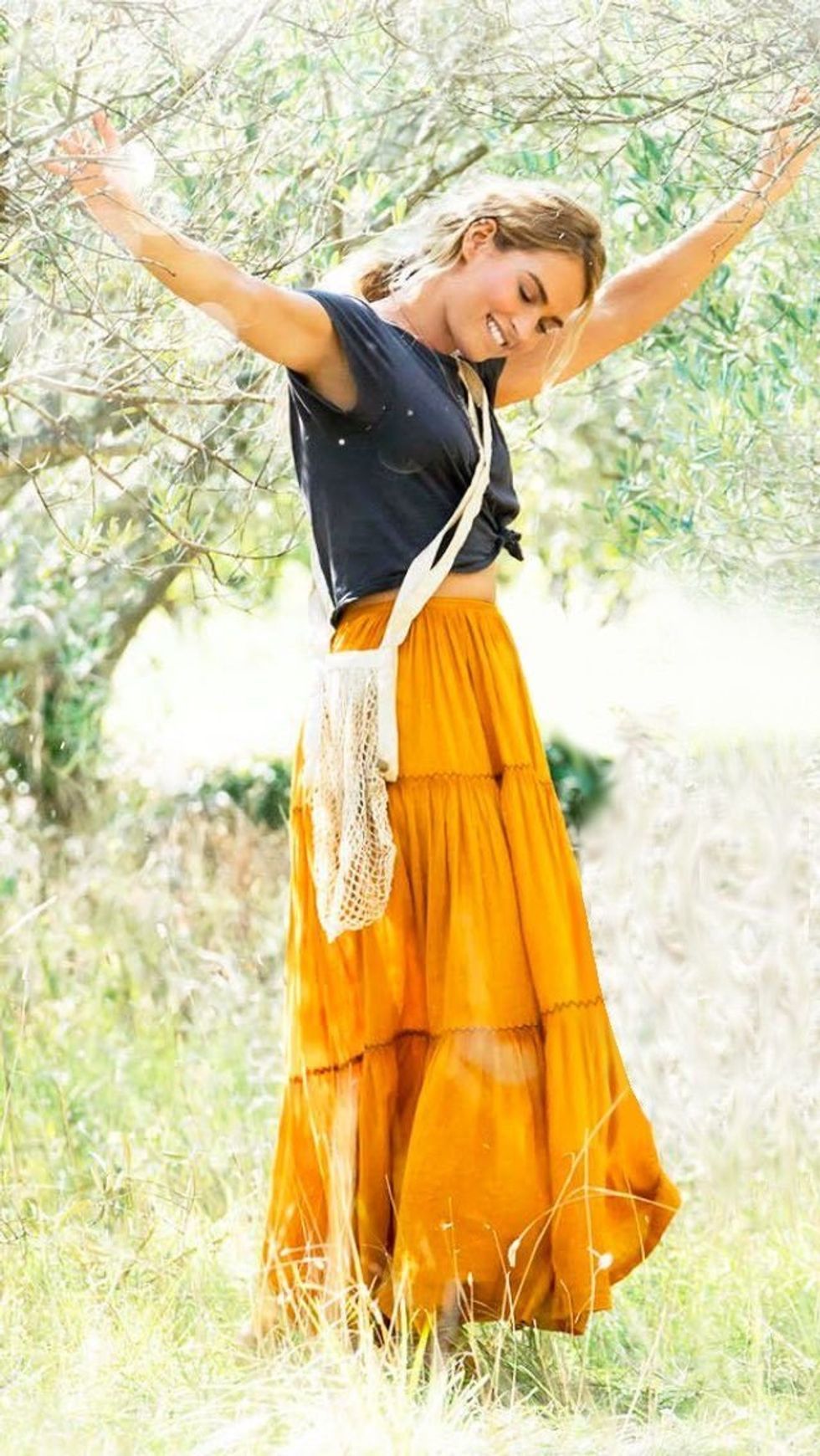 We may not know "the name of the game", but we do know we want this outfit so bad. Young Donna in love is singing and dancing barefoot in an ultramarine top and an orange maxi skirt while picking oranges and we couldn't be more obsessed with this whole concept.
Young Donna Swimwear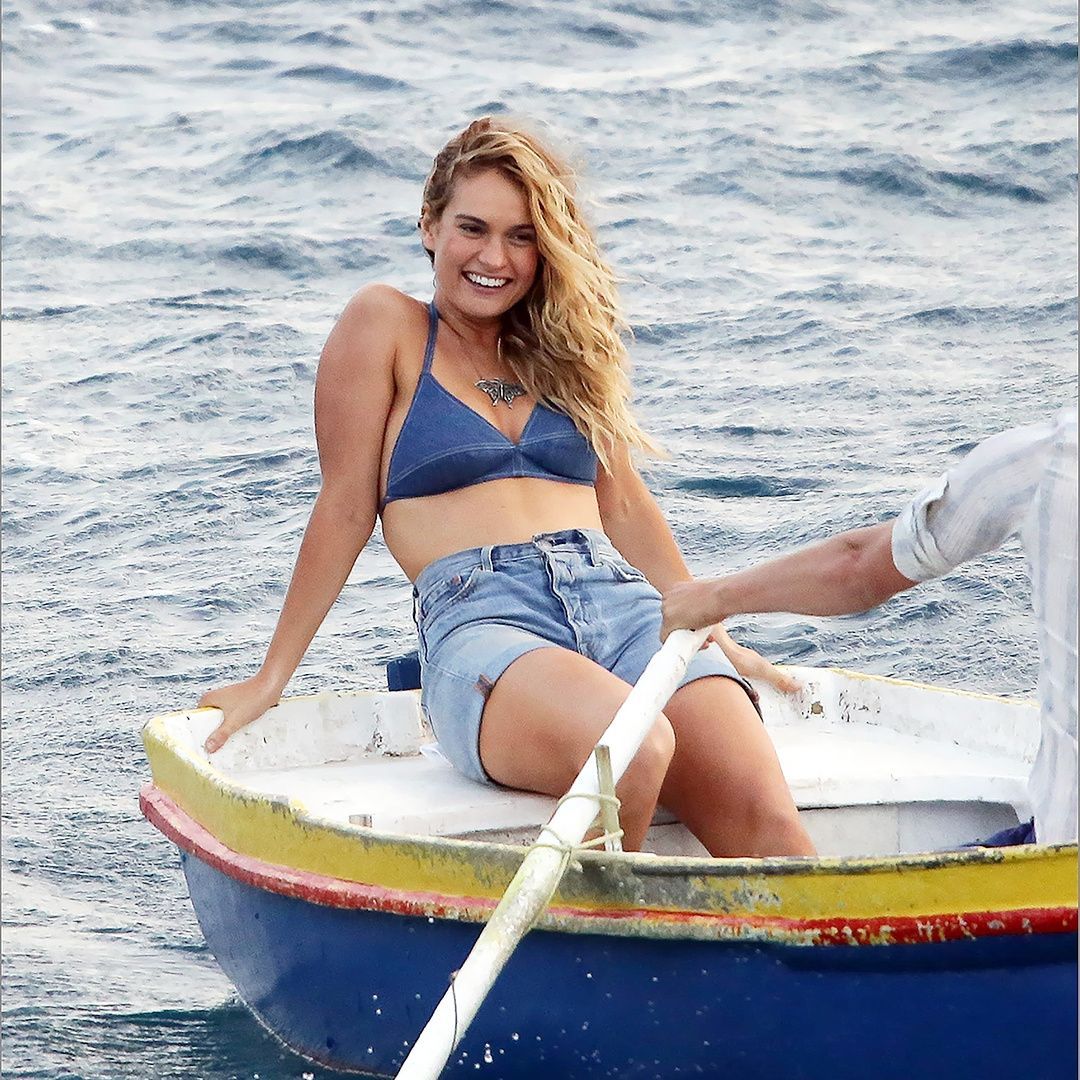 Donna here is wearing a simple swimming top with denim shorts and a butterfly necklace. The simplicity of this swimwear is exactly what makes this moment memorable. Although Sam thinks things are complicated because he's torn between his mapped-out life back home and staying on the island with Donna, she tells him that things will be much simpler if he decided to stay.
Young Donna's Denim Overalls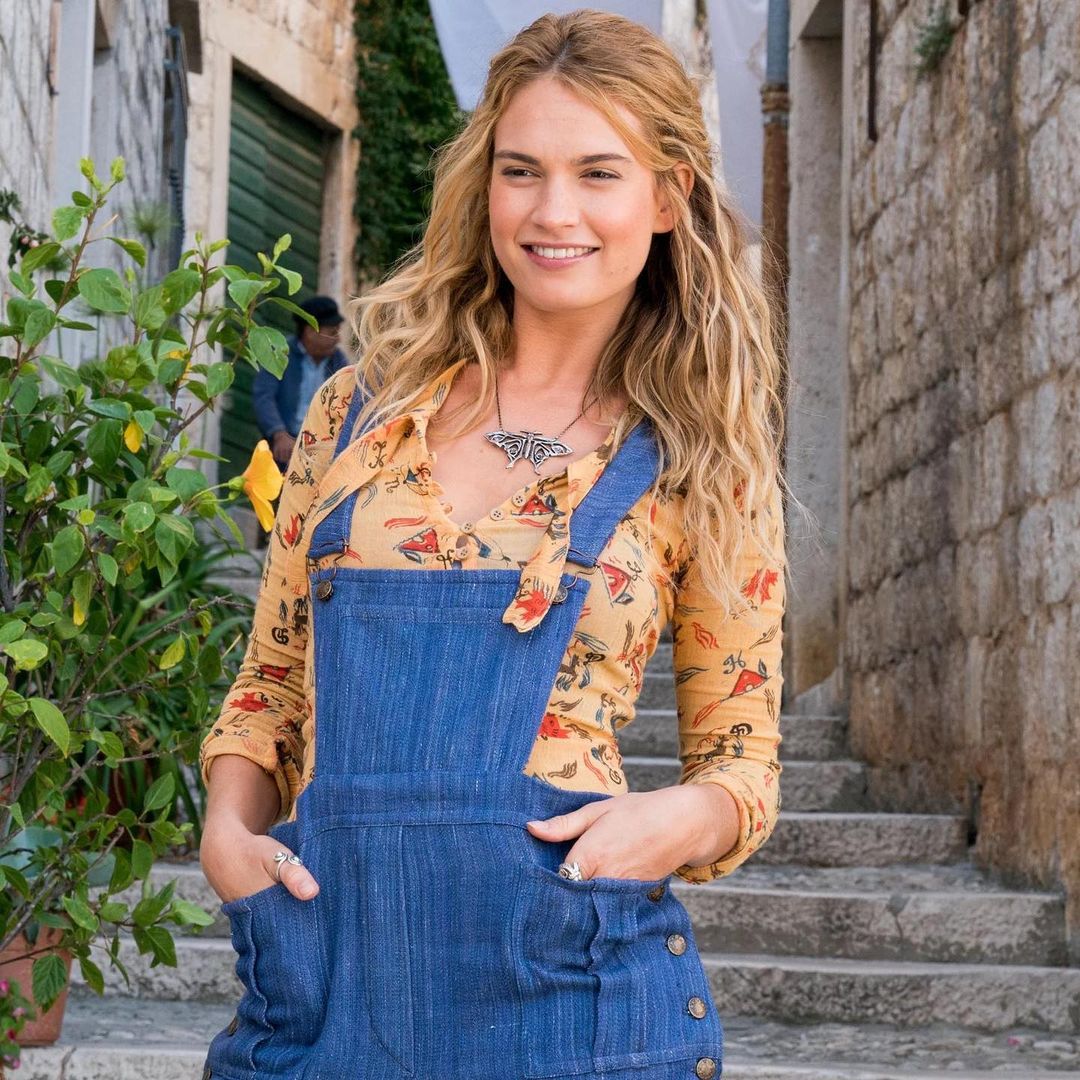 We finish off young Donna's outfits with denim overalls, similar to the ones we all first fell in love with watching the first movie. They perfectly capture not just the fashion of the late 70s and early 80s, but also the nature of Donna's free spirit.
The Iconic Donna Denim Overall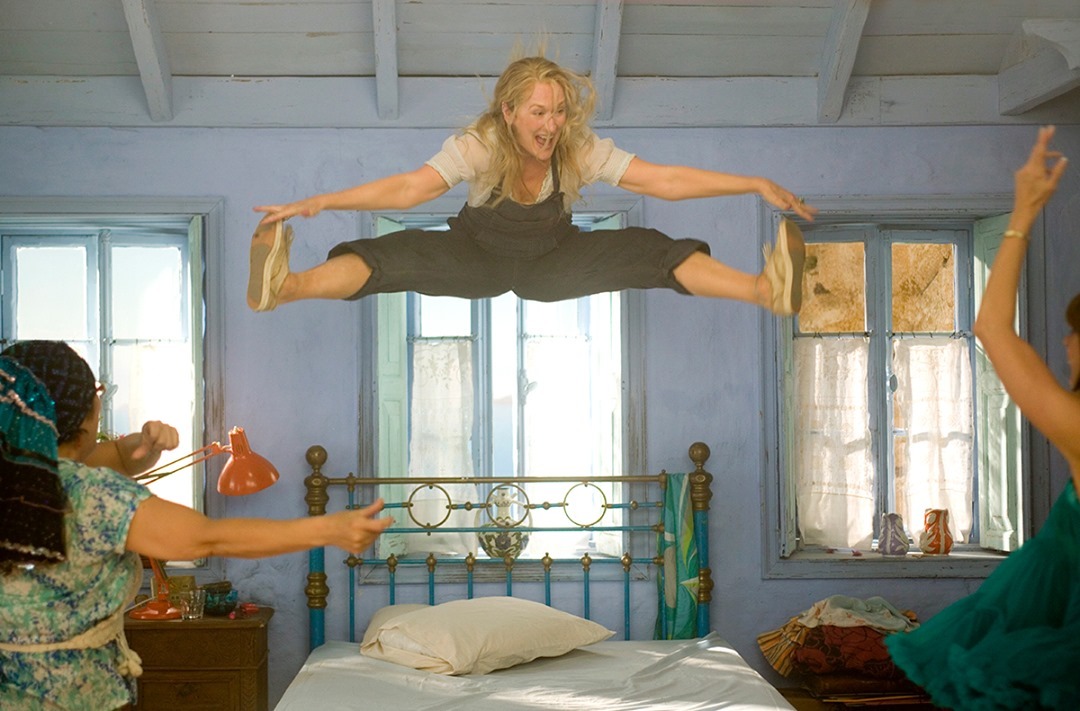 One cannot simply write about the 2008 Mamma Mia movie without giving a well-deserved tribute to the iconic denim overalls that Donna is wearing in this picture. Meryl Streep here is solid proof that you don't need to wear a fancy dress to be a true "Dancing Queen".
Donna Sheridan's blue dress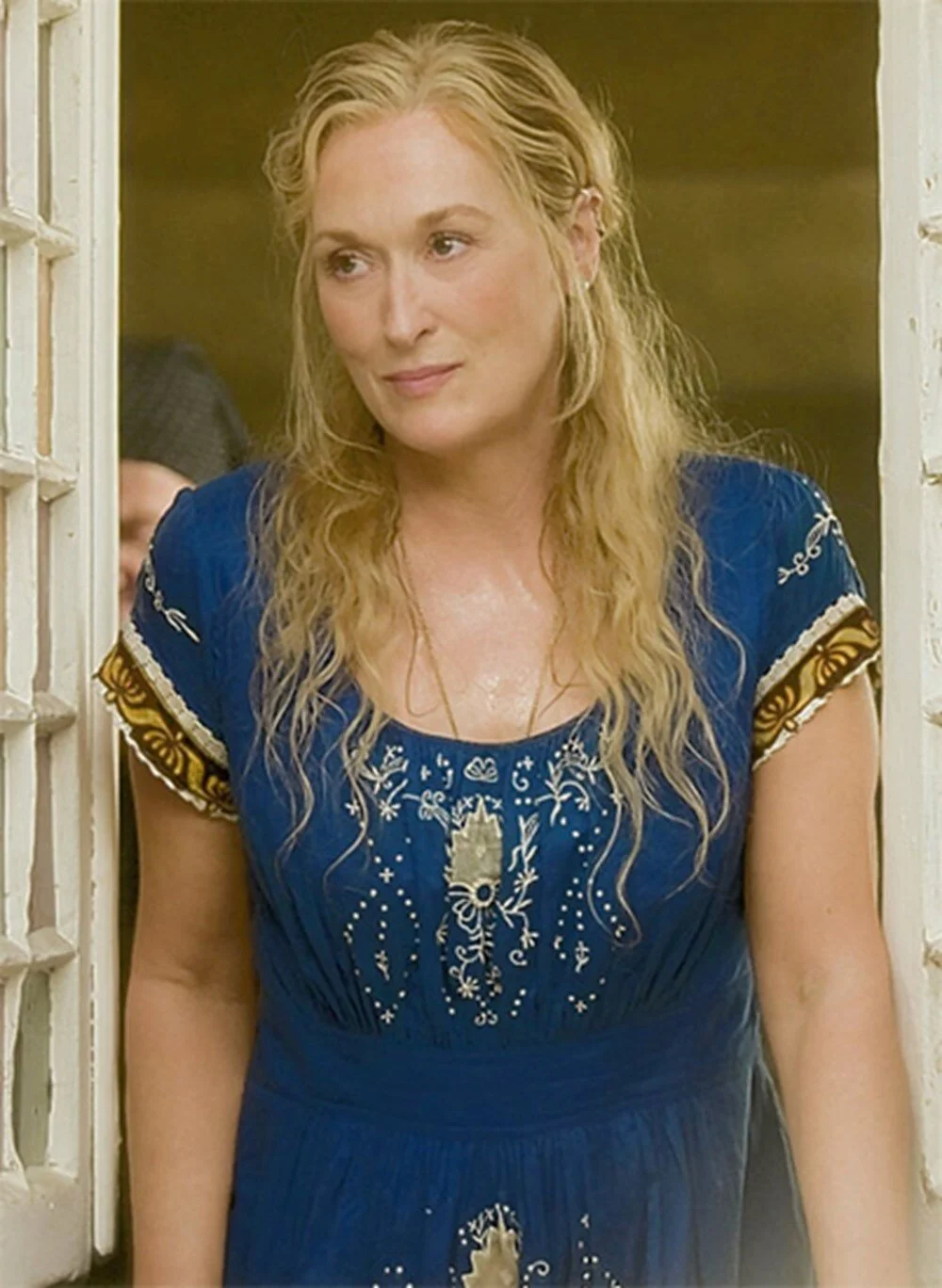 It's a known and undisputed fact that Meryl Streep looks good in everything, even if she breaks up a sweat trying to fix a hole in the ground. She wears this dress the day before her daughter's wedding while she sings ABBA's "SOS" with Sam (Pierce Brosnan).
Young Rosie's Multicolored Sweater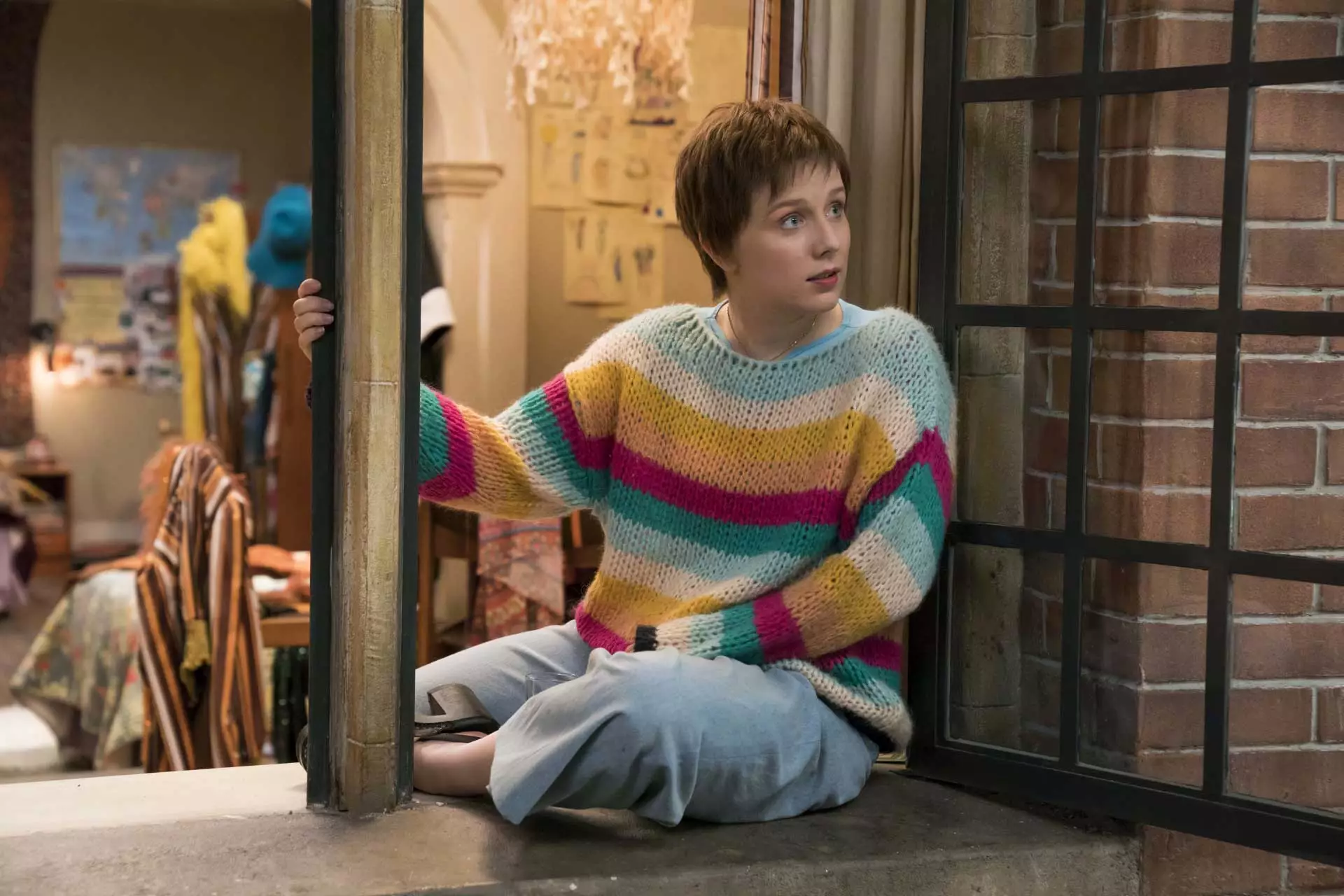 If this outfit doesn't capture Rosie's (Alexa Davies) wild and quirky spirit, I don't know what does. Hanging out at Donna's apartment just before she and Tanya send her off to Europe, she is wearing a cute colorful sweater and baggy jeans with a pair of clog sandals.
Young Rosie's performance costume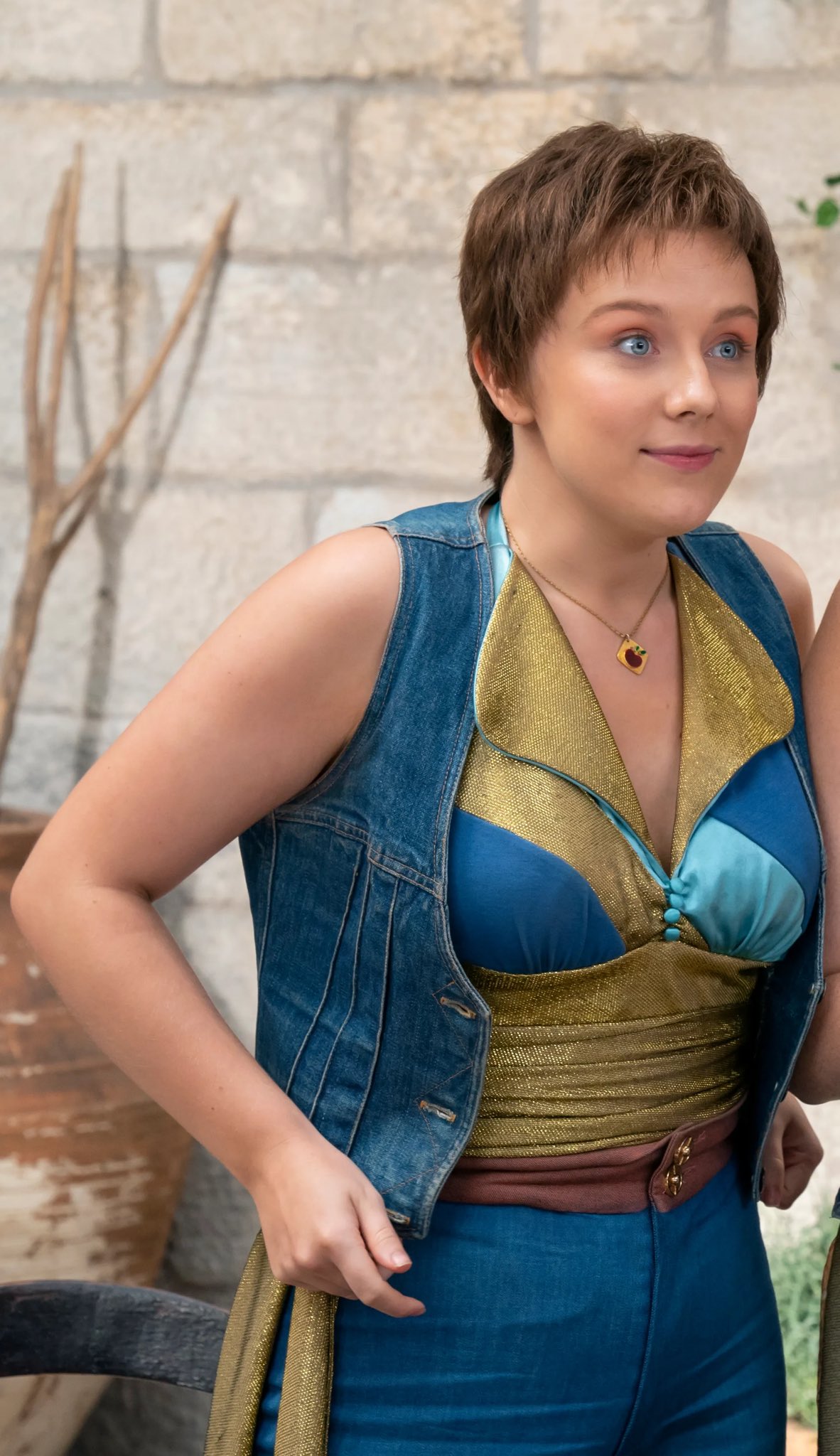 The costume young Rosie is wearing here is a part of the Donna and the Dynamos band costume for a performance at a cafe on the island. Wearing long wide-ankled jeans and a sparkling gold top with a simple denim vest, she dreamily gazes into young Bill Anderson with whom she can't help but wish for a future with him at first sight.
Rosie's multi-patterned Summer Shirt
Another memorable outfit from the sequel is this hypnotizing multi-patterned shirt that we're completely obsessing over. It's perfect for a summer night and is sure to brighten any mood you're in, even if you're disappointed by love like our Rosie (Julie Walters) here.
Young Tanya's Fancy Girls' Night In Outfit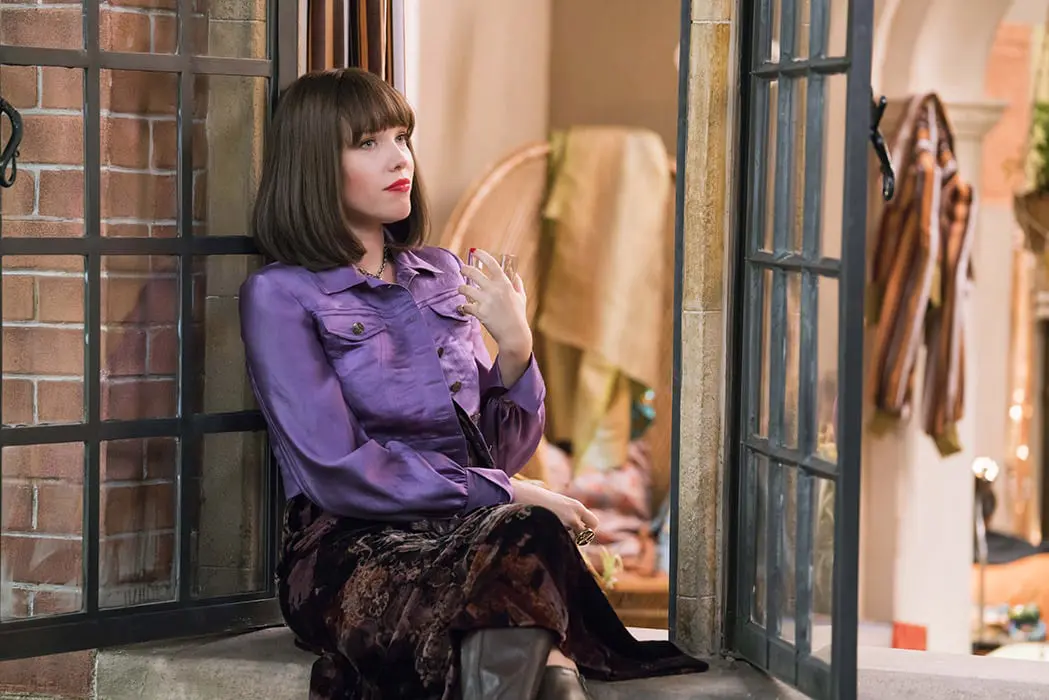 Now it's time for our queen of fashion, Tanya (played by Jessica Keenan Wynn). Her soulmate may be wine, but ours is this outfit of purple silk jacket, velvet skirt, and knee-high boots.
Tanya's Green Mini Dress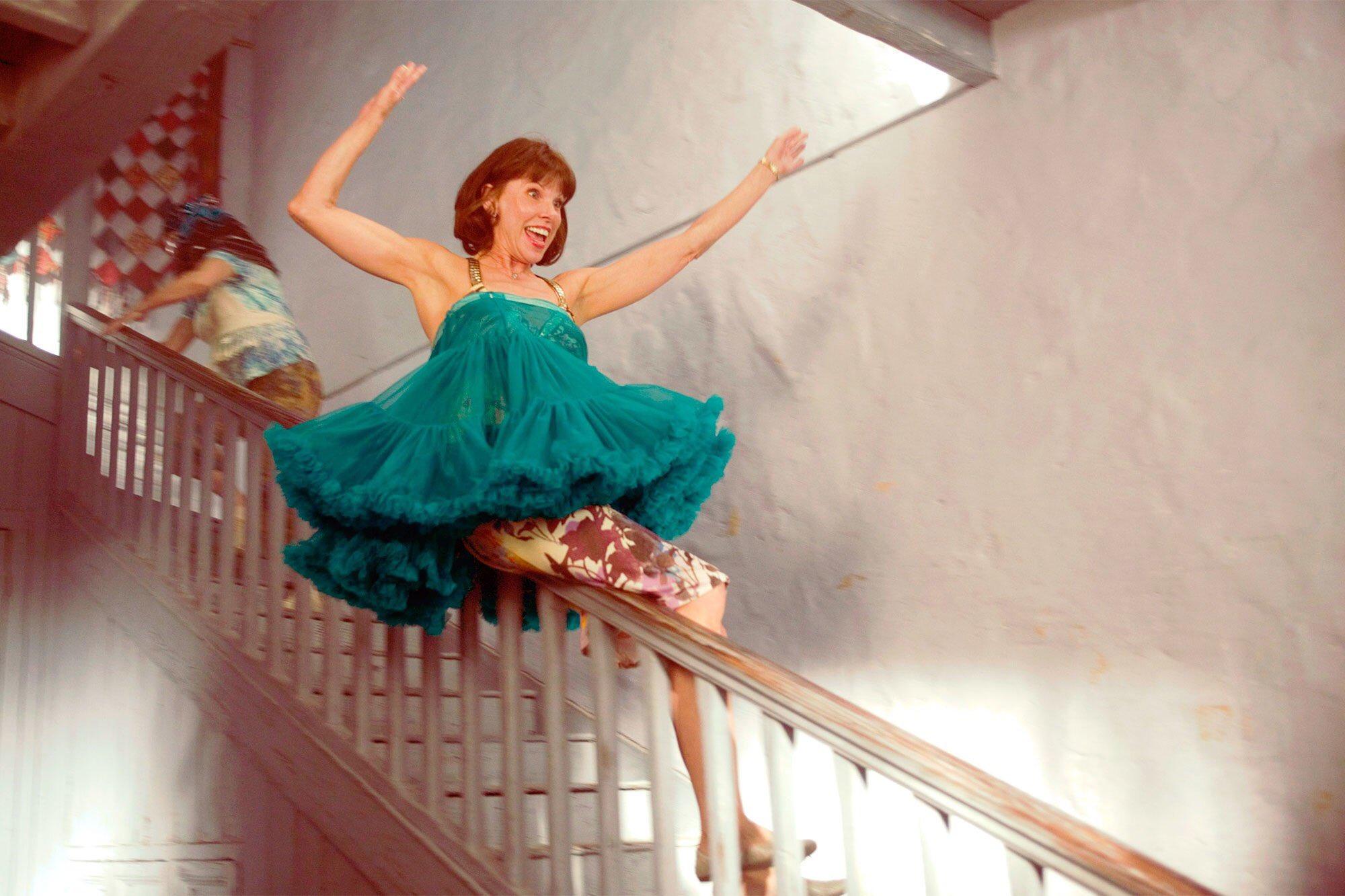 If you're wearing a green fringe dress and leggings like our dancing queen Tanya here (played by the equally royal Christine Baransky), you just have to slide down the stair railing.
Tanya's Blue And Brown Dress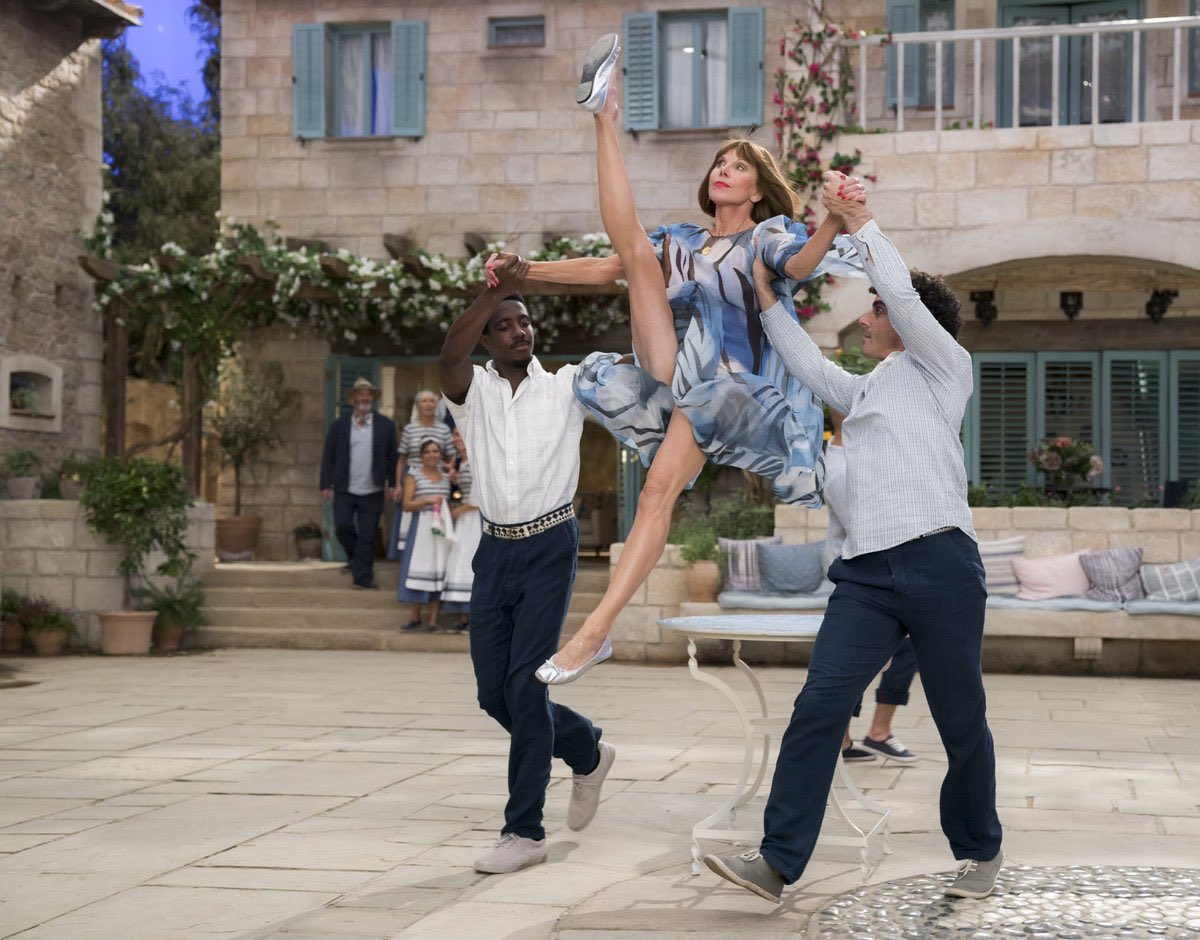 This woman may have a devilish smirk, but she definitely has "those angel eyes". She also looks like an angel, wearing this blue dress and white satin flats.
Tanya's White-and-Copper Outfit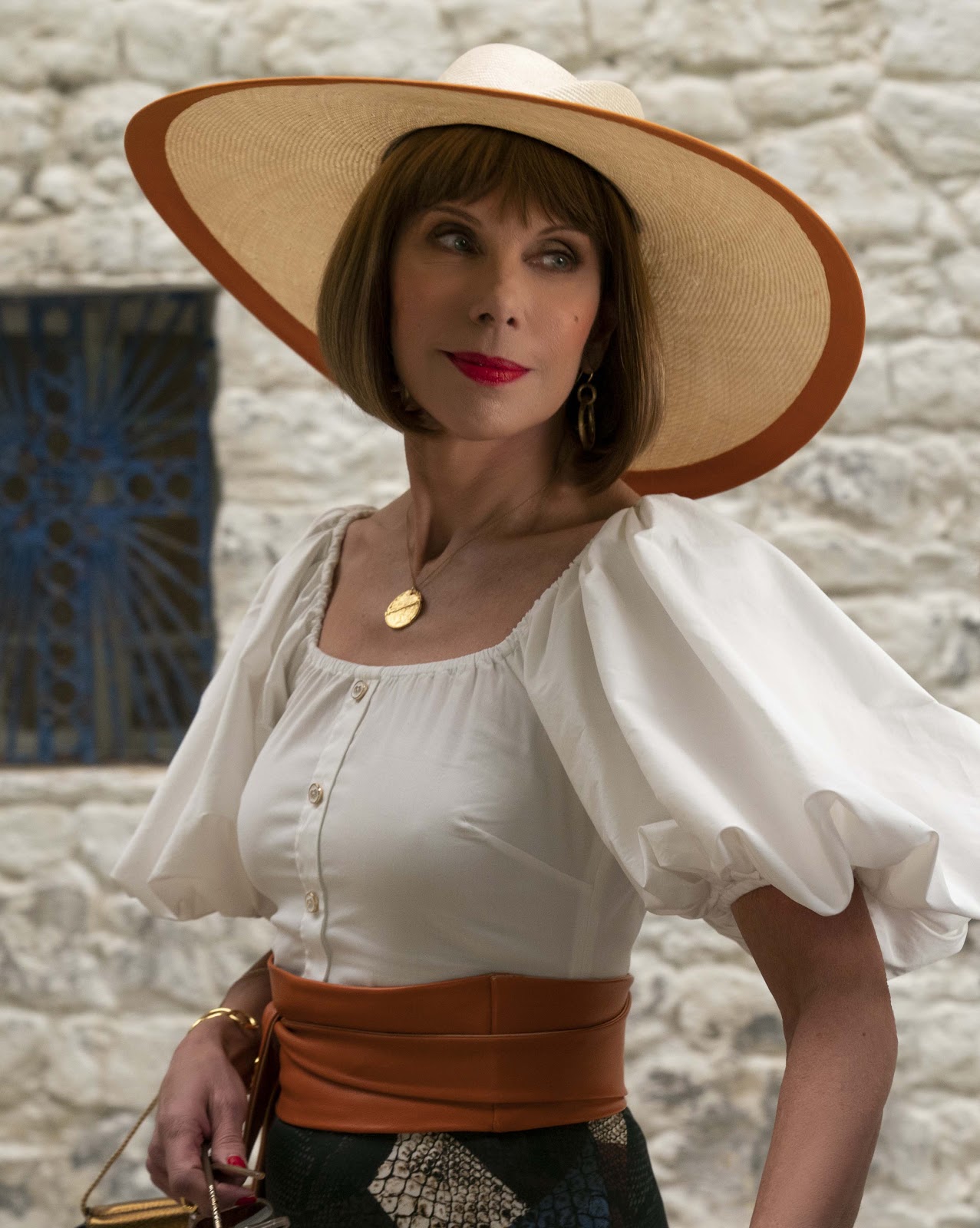 What makes this look memorable is the way it is combined to have both soft and bold tones, which is exactly what Tanya's personality is like. Even though her "snake" dress shows off her confidence, the white shirt also portrays her tender side for the people she loves.
Sophie's Shorts And White Top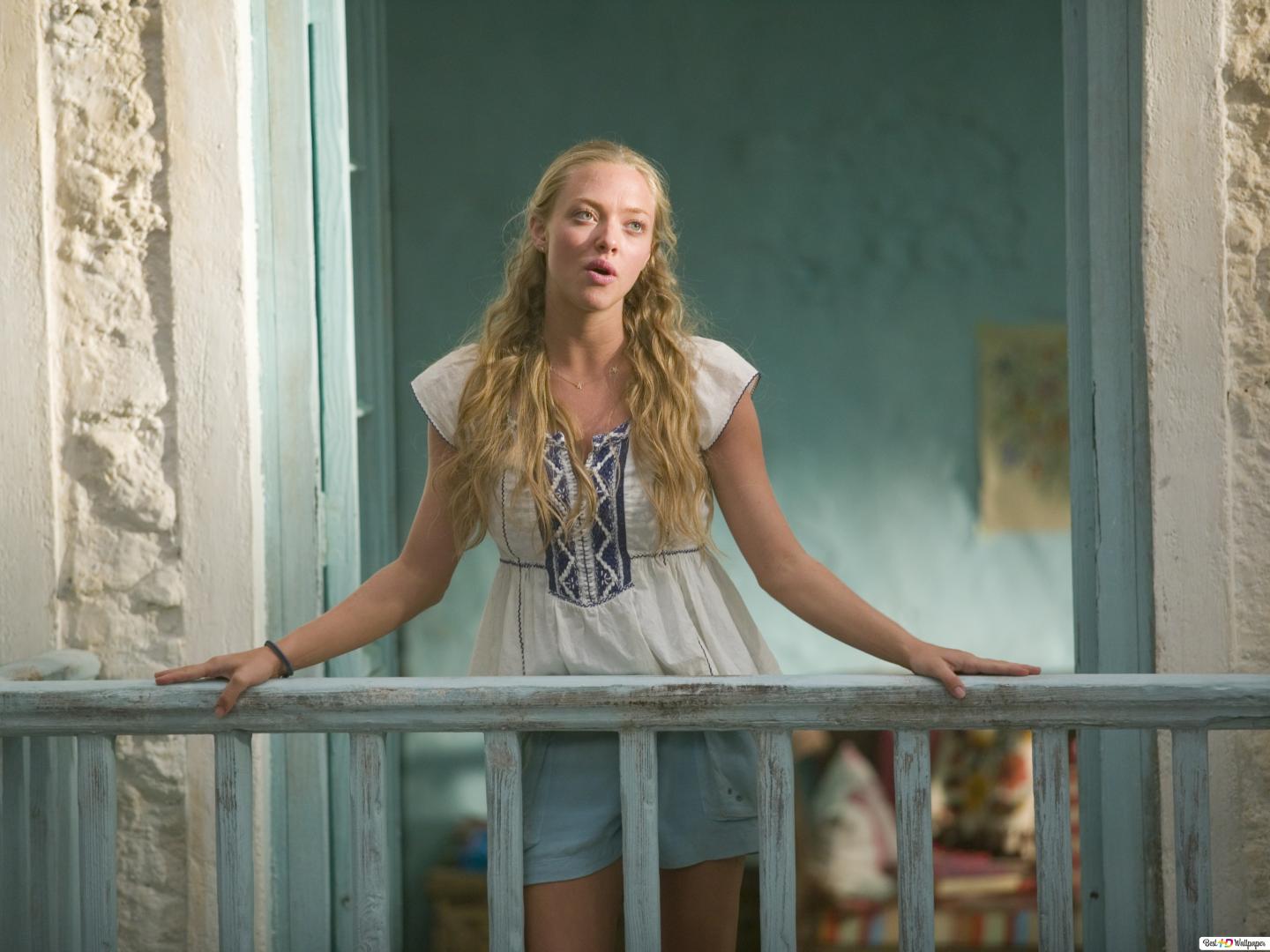 This is one of the first scenes of the 2008 movie where we see the 20-year-old Sophie waiting for her three dads to arrive on the island. This outfit is memorable because it perfectly captures the colors of Greece and life by the sea.
Sophie's Iconic Wedding Dress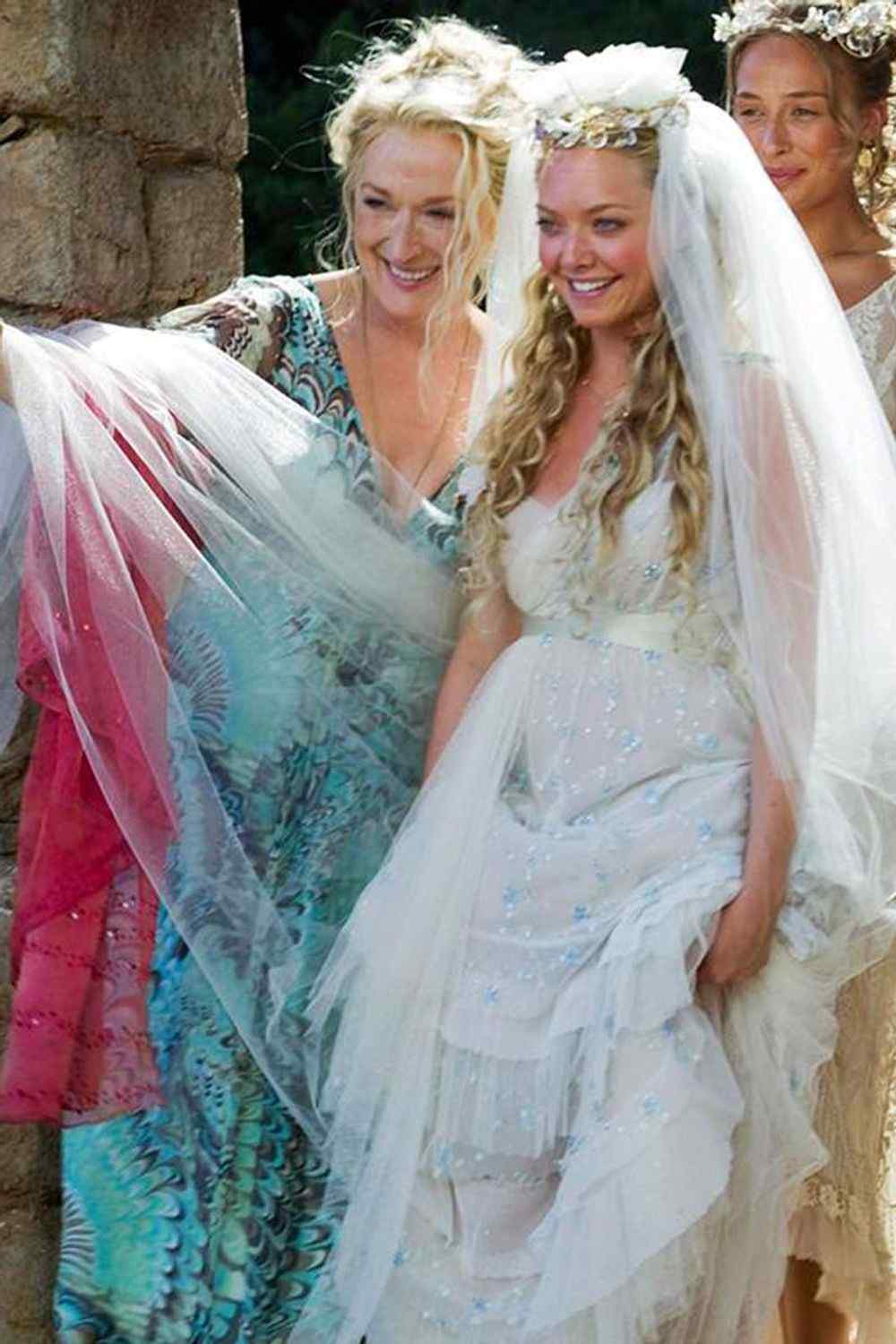 Of course, it wouldn't be a Mamma Mia outfit article without Sophie's iconic wedding dress. She may have not gone through with the wedding (oops, was that a spoiler?), but we did get to see her wearing a dashing smile on her face along with this breathtaking white-and-blue wedding dress.
Sophie's Over-top Scarf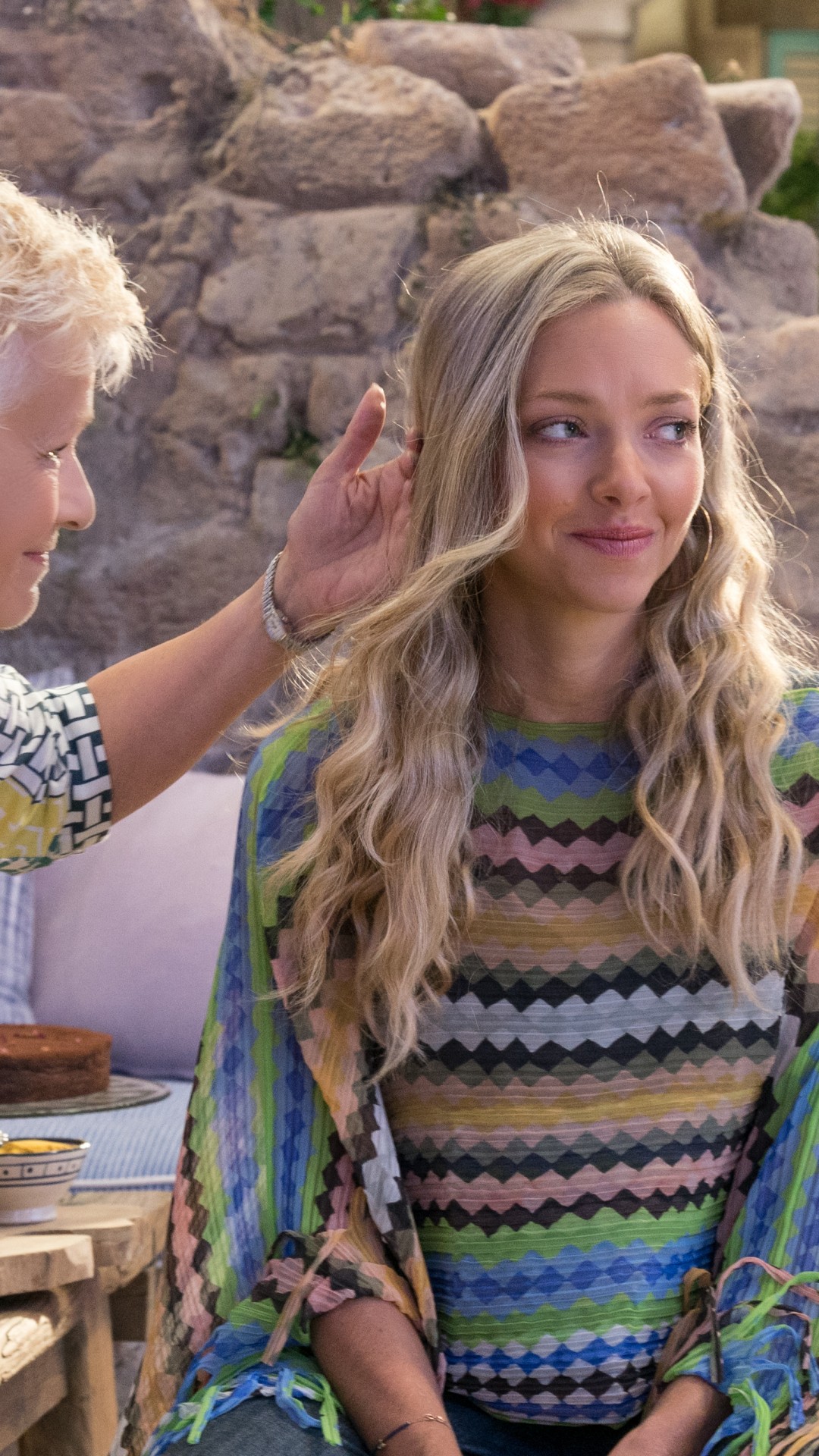 Here Sophie is wearing an over-top scarf that covers the front and the back. It's perfect for the summer because it works as a jacket, but is much lighter. And it's also versatile.
Ruby's White "Je suis arrivé" Outfit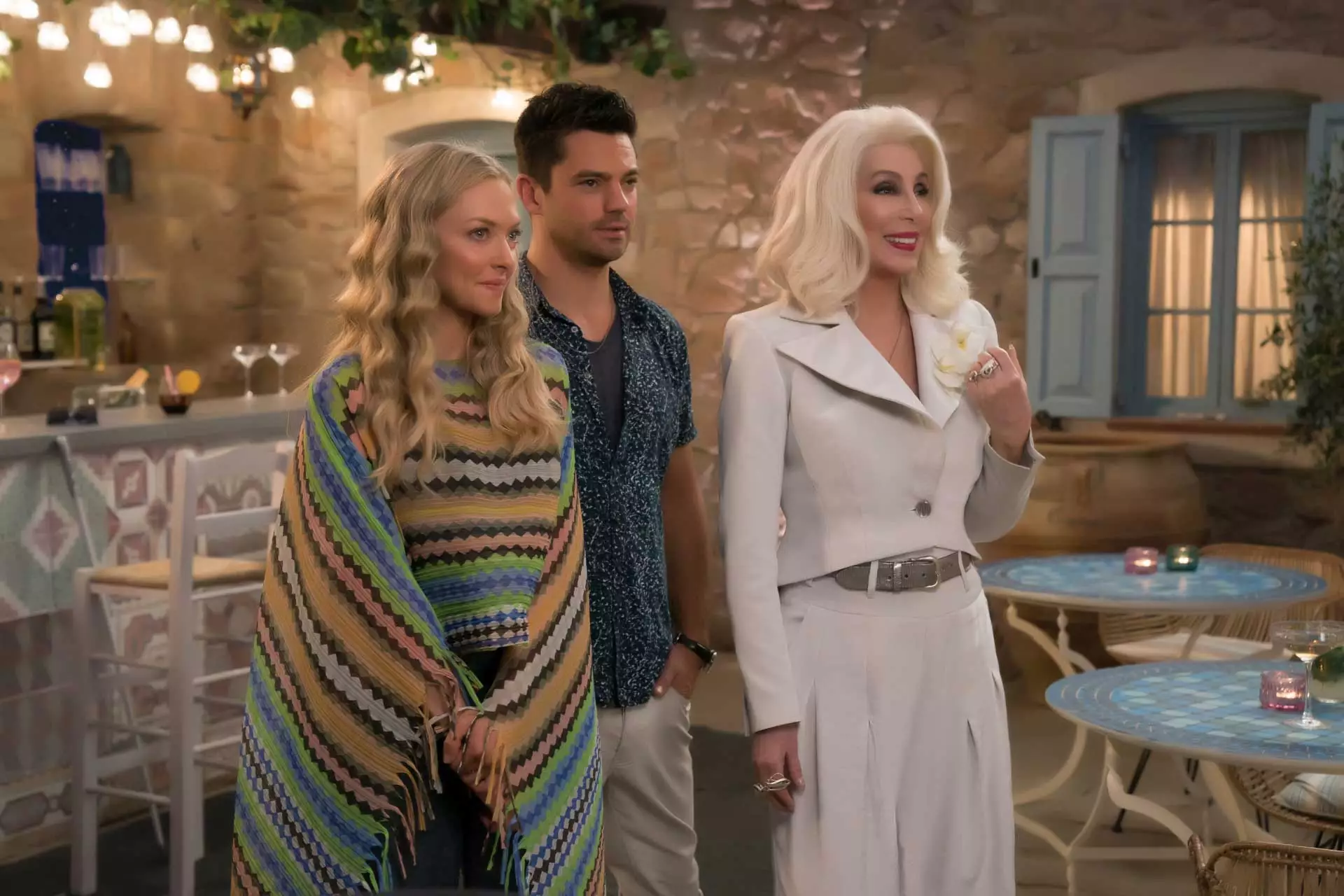 And finally, the uninvited guest who stole the show and our hearts. Ruby Sheridan (played by none other than the goddess Cher), Sophie's grandmother is wearing a beautiful white blazer and a pair of white high-waist elegant pants that scream "sassiness" and we're all for it!
Ruby's "Fernando" Outfit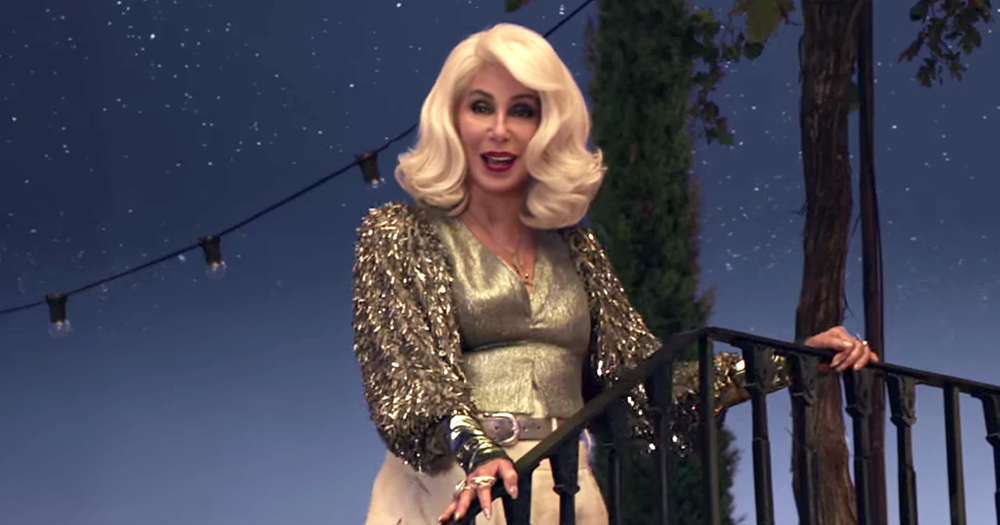 Ah, "Fernando"! Just so you know, this is a song you sing to someone you haven't seen since 1959 in Mexico. This is where Ruby and Signor Cienfuegos, or Fernando (played by Andy Garcia, of course), reunite after being lost to each other for, like, 60 years. And what better outfit for that occasion than this stunning wide-sleeved sparkling top? It will surely make him regret not seeking her out sooner.
This is it for today's article on Mamma Mia outfits. We hope we satisfied your nostalgic spirit for the movie with these outfits and the story and if you liked it, we would be more than happy to read your thoughts in the comment section below. Until next time!