When it comes to the world of musicals, the Mamma Mia movie franchise undoubtedly stands out as a beloved classic. With its heartwarming plot, picturesque setting in Greece, and a timeless soundtrack featuring ABBA hits, it's hard not to appreciate the magic of these films. From the 2008 original to 2018's Mamma Mia! Here We Go Again, the journey of Sophie Sheridan and her quest to find her father has captured the hearts of many.
One aspect that truly sets these movies apart is the incredible costumes worn by the cast. The vibrant and unforgettable outfits reflect the liveliness of the story and the essence of Greece. In this article, we'll explore some of the most memorable outfits from the Mamma Mia movies, showcasing the 22 top costumes that left a lasting impression on us all.
Young Donna And The Dynamos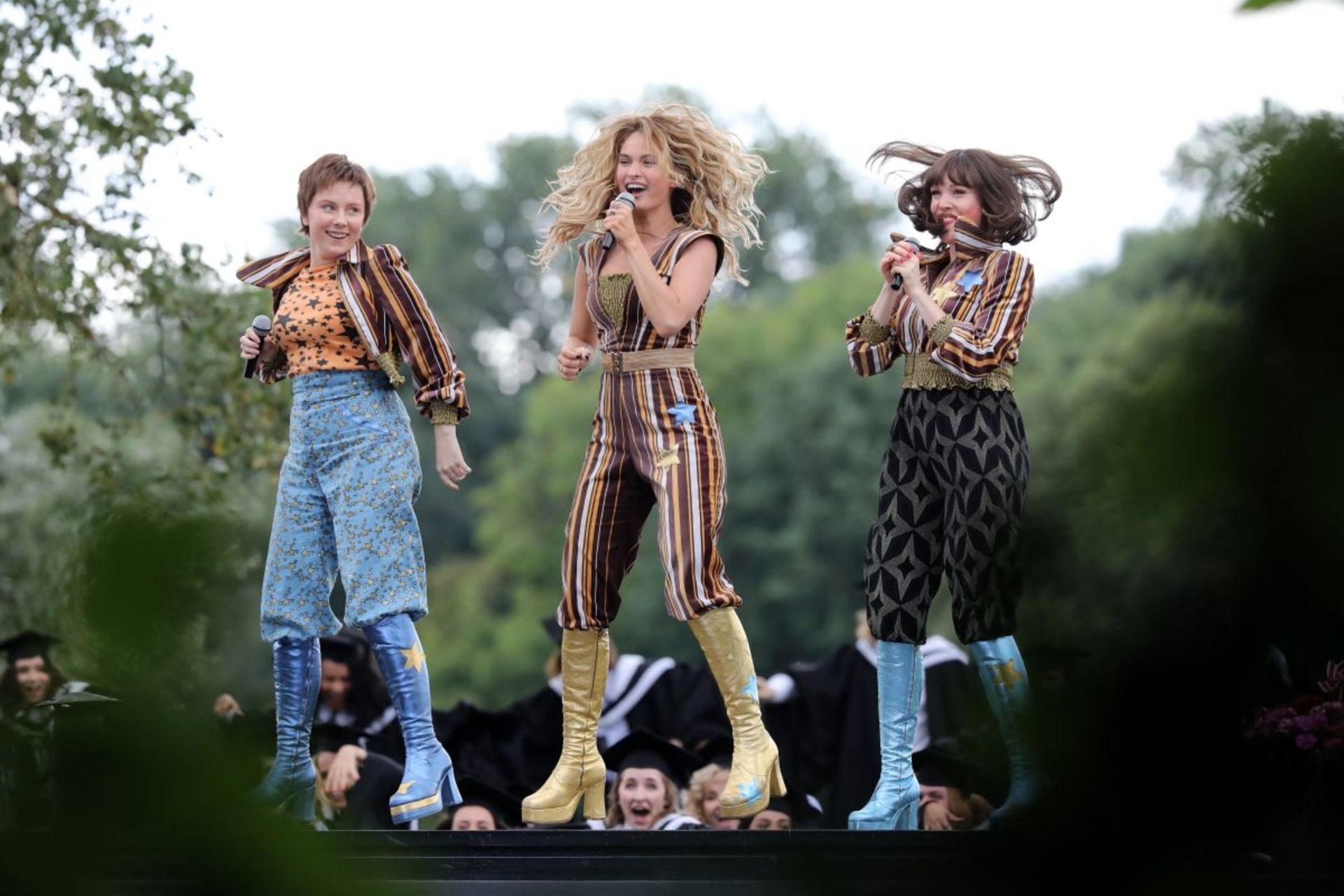 As fans of "Mamma Mia," we all remember the iconic group Donna and the Dynamos. This group, consisting of young Donna, Tanya, and Rosie, brought life to unforgettable tunes like "Dancing Queen" and inspired countless Halloween and themed party costumes. To help you recreate the authentic Young Donna and the Dynamos look, we've gathered the essential elements for their signature outfits:
Denim Overalls: Young Donna's classic blue denim overalls are a must-have for capturing the essence of her character.
Fringe and Flared Pants: Both Tanya and Rosie rocked stunningly beautiful fringe and flared pants in various scenes. Choose a pair that represents their energetic and carefree spirits.
Flowy Dresses: Perfect for twirling to "Dancing Queen," flowy dresses in bright colors and bold patterns encapsulate the Dynamos' fun and vibrant energy.
Platform Shoes: To complete the 70's inspired look, find a pair of platform shoes that give you the height and confidence to channel your inner Dancing Queen.
Chunky Jewelry: Adorn your outfits with chunky necklaces, bracelets, and earrings in gold or silver tones to give your ensemble an added touch of glamour.
Remember, the key to achieving an authentic Young Donna and the Dynamos look lies in the details. So, don't shy away from accessorizing and embracing the fun, free-spirited personas of these beloved characters. Whether you're dressing up for Halloween or simply want to relive the magic of "Mamma Mia," these outfits will undoubtedly make you the star of the show.
The "Super Trouper" Costumes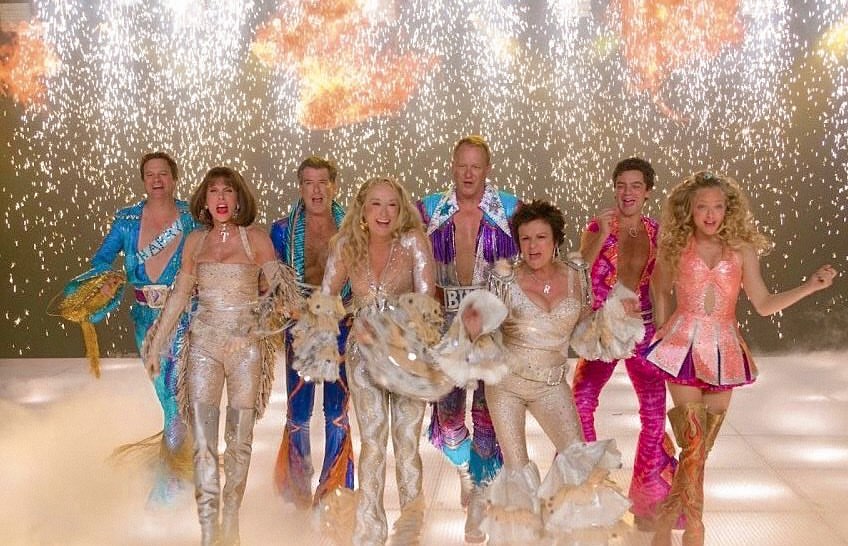 In our exploration of Mamma Mia outfits, we can't ignore the iconic "Super Trouper" costumes worn by ABBA. These dazzling outfits, known for their glittery bell bottoms and denim vests, serve as a major inspiration for the movie's wardrobe. Let's examine the key components that make these outfits so unique:
Bell bottoms: These retro flare-legged pants were a signature look of the disco era. In Mamma Mia, they pay perfect homage to ABBA's style while adding a fun, danceable twist.
Denim vests: An essential part of the "Super Trouper" costumes, denim vests add a touch of coolness and edge. They are often adorned with patches and pins, reflecting the characters' unique personalities.
By incorporating both bell bottoms and denim vests, the outfits in Mamma Mia capture the essence of ABBA's legendary "Super Trouper" attire.
Young Donna "Waterloo" Outfit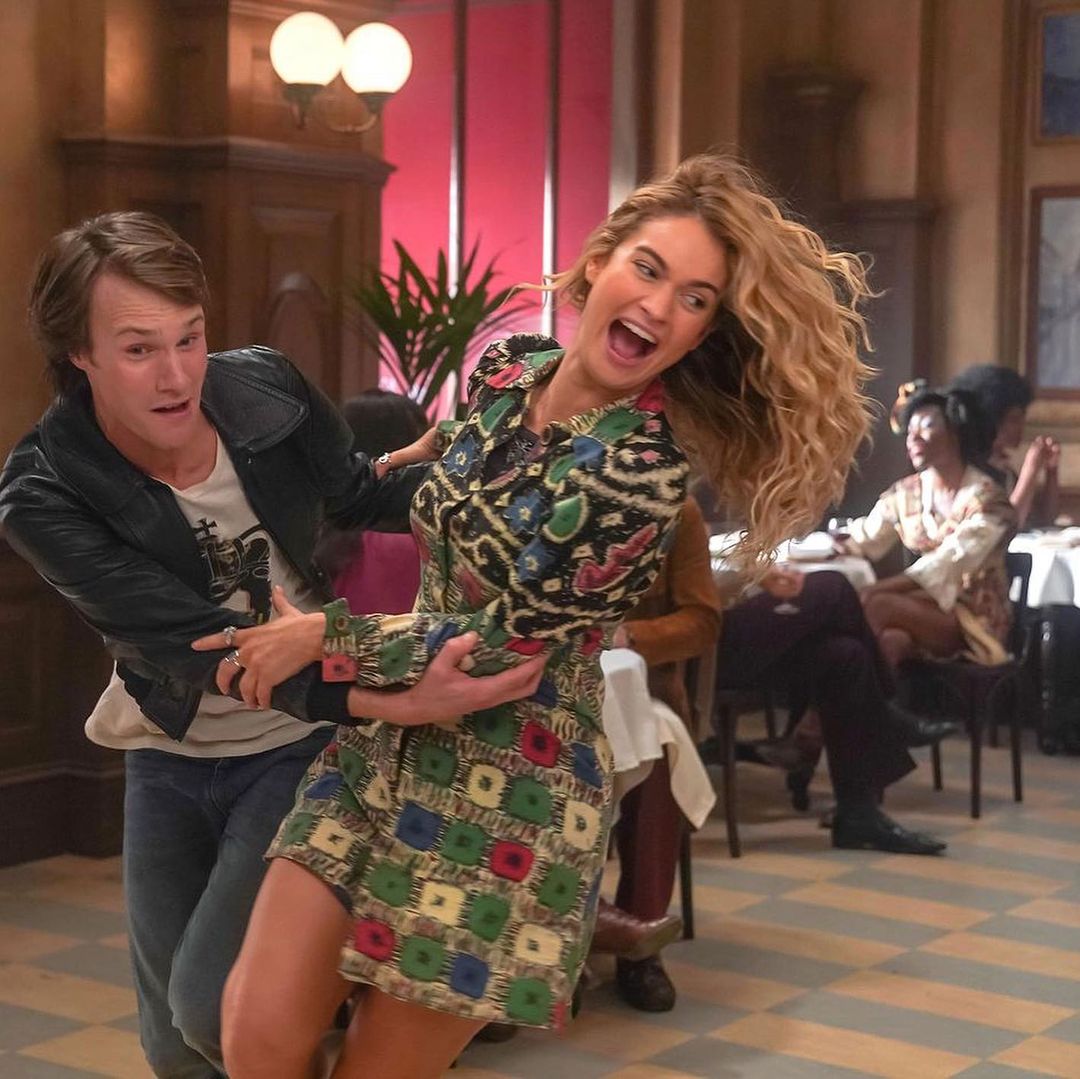 In "Mamma Mia!", the young Donna's memorable "Waterloo" outfit captures the essence of 1970s fashion trends. Let's take a closer look at its key elements:
Jumpsuit: The iconic blue jumpsuit she wears features a metallic finish, wide-leg pants, and a fitted waist, which were popular styles during the 70s disco era.
Platform shoes: Adding height and drama to the outfit, a pair of silver platform shoes perfectly complements the shiny jumpsuit.
Belt: A wide, silver belt cinching in at the waist creates definition and adds a touch of sparkle.
Layered necklace: To accessorize, Donna sports a layered silver necklace that matches the rest of the outfit's metallic theme.
Wavy hair: Finally, her voluminous, wavy hairstyle embodies the popular hair trends of the time.
This ensemble represents the fun and energetic spirit of the movie and pays homage to the ABBA-inspired soundtrack, including the song "Waterloo."
Young Donna's Cover-up Shirt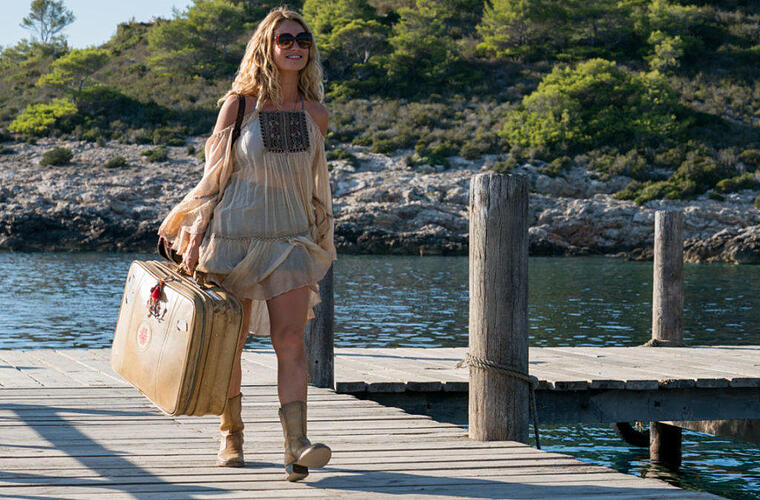 During the '70s, fashion was all about expressing oneself, and young Donna's cover-up shirt in "Mamma Mia" is no exception. This fall outfit not only reflects the free-spirited nature of the character but also embraces the eclectic style of the time.
We can take inspiration from young Donna's outfit by incorporating the following elements into our wardrobe:
Bold patterns: Her cover-up shirt features a lively and colorful pattern that instantly draws attention and adds personality to the look.
Loose fit: The oversized, flowing silhouette of the shirt offers a casual and comfortable vibe, perfect for a laid-back fall day.
Layering: Donna smartly layers her cover-up shirt over a simple tank top, making it easy to adjust for different temperatures during the fall season.
Accessorizing: To complete the look, Donna wears multiple necklaces and bracelets, adding to the bohemian and carefree style of her outfit.
By taking cues from young Donna's cover-up shirt, we can create a stunning fall outfit that pays homage to the fashionable era of the '70s while showcasing our own personal flair.
Young Donna's Orange Maxi Skirt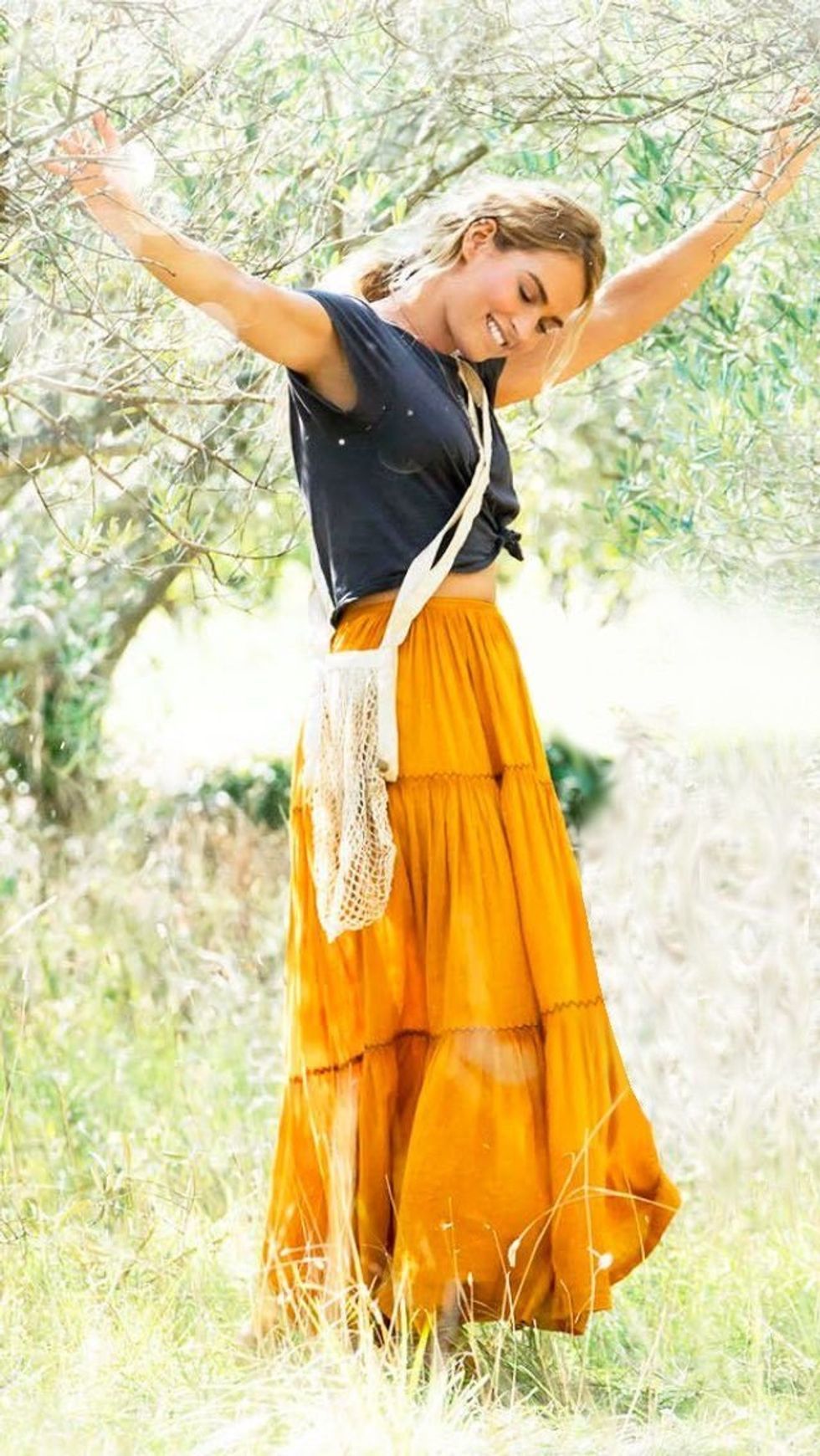 During our exploration of iconic "Mamma Mia!" outfits, we cannot ignore the vibrant orange maxi skirt sported by young Donna. This eye-catching piece features flares that add an element of movement and energy, perfect for the character's lively personality.
The orange color is bold and spirited, capturing the essence of Donna's adventurous spirit. As we know, maxi skirts provide a sense of elegance and sophistication, while also offering comfort and ease for dancing. This combination makes it a perfect choice for the character in several musical numbers.
To emulate this look, consider the following key elements:
A distinctive orange color that stands out and emulates Donna's vivaciousness
Long, flowy maxi cut designed for comfort and easy movement
Flares that create a sense of dynamism and flair
By incorporating these features, we can draw inspiration from the unforgettable costume design of "Mamma Mia!" and pay homage to the memorable character of young Donna.
Young Donna Swimwear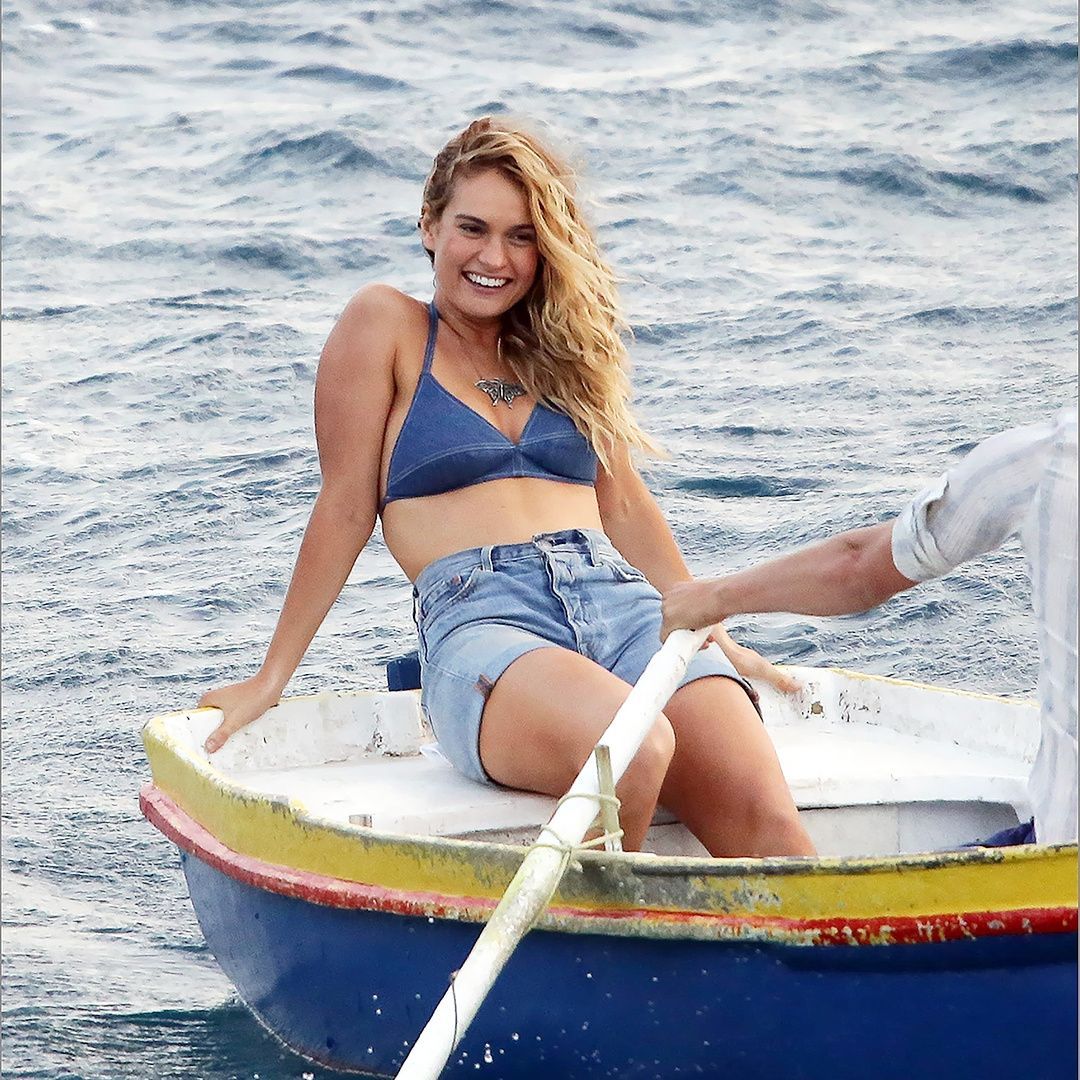 In our selection of "Mamma Mia" inspired outfits, we couldn't leave out the iconic Young Donna swimwear. A popular choice among fans is a high waisted bikini that perfectly captures the 70's vibes and Donna's carefree spirit. These bikinis are not only stylish but also comfortable and versatile, allowing you to channel your inner Donna Sheridan on the beach or by the pool.
Here are some key features of the Young Donna swimwear:
High waisted bottoms: This design offers a flattering fit and a trendy retro look.
Bold colors and patterns: From bright florals to eye-catching geometric prints, these bikinis embody the vibrant energy of the 70's.
Halter neck tops: A supportive and chic style that complements the high waisted bottoms.
Remember, when looking for the perfect Young Donna swimwear, prioritize comfort and your personal style preferences. Enjoy feeling fabulous in your "Mamma Mia" inspired outfit as you dance and sing your heart out under the sun!
Young Donna's Denim Overalls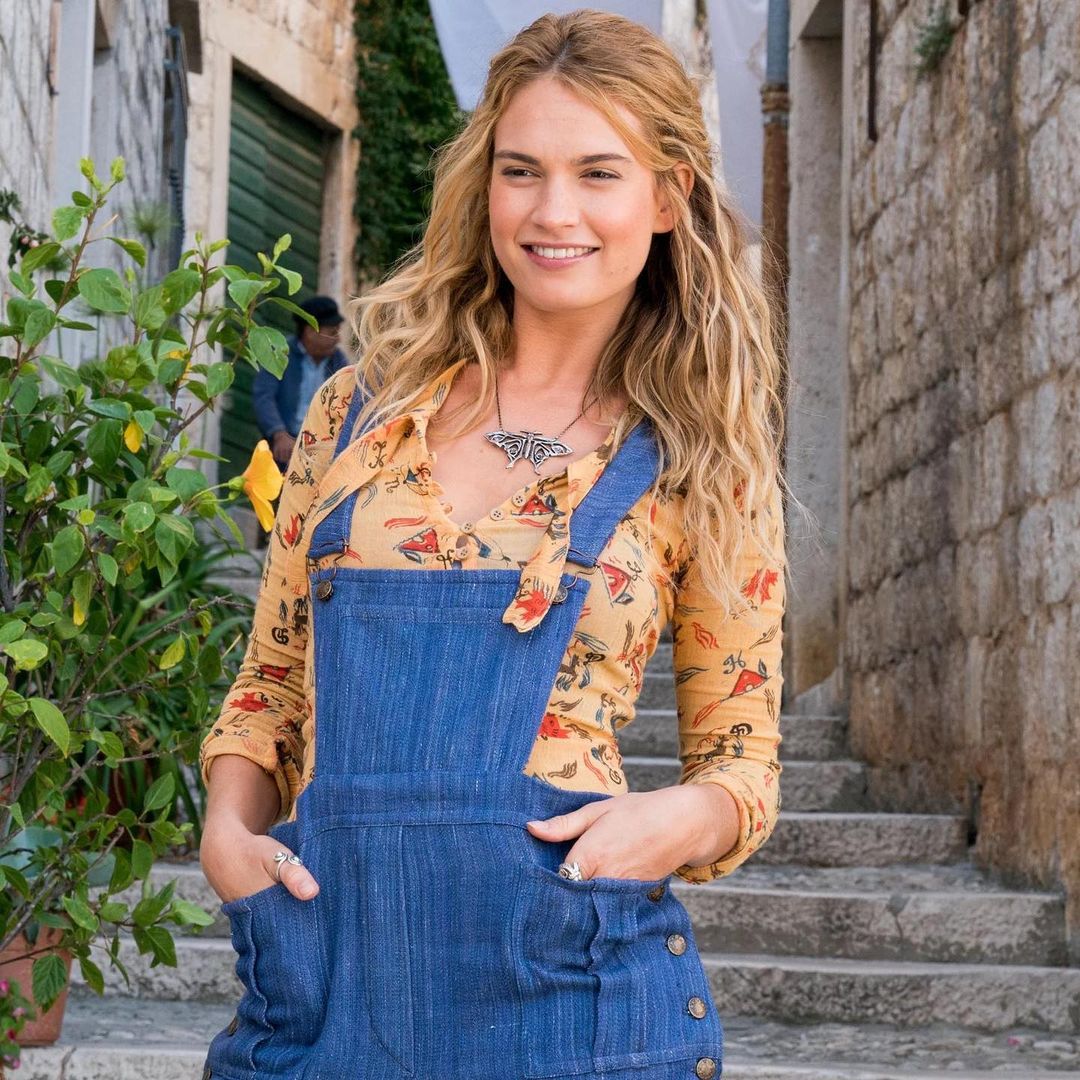 One iconic outfit from Mamma Mia is Young Donna's denim overalls. These overalls became popular in the movie, especially with younger fans. In this section, we will discuss the features of these overalls and how they contribute to the film's costume design.
The denim overalls worn by Young Donna in Mamma Mia have a vintage flair that fits the film's 1970s setting. They feature:
Faded-blue denim color: This hue brings out the nostalgic and carefree atmosphere of the era.
Wide-leg cut: This style was trendy during the 1970s and contributes to the overall look and feel of Young Donna's character.
Adjustable straps and metal buckles: These details add practicality and a touch of flair to the outfit.
Front and back pockets: Pockets offer functionality and enhance the casual, laid-back appearance of the overalls.
To complete the outfit, Young Donna wears a simple, white, off-the-shoulder blouse underneath her denim overalls, along with brown platform sandals. This combination adds a feminine touch to the otherwise tomboyish attire.
In Mamma Mia, Young Donna's denim overalls symbolize her free-spirited nature and adventurous lifestyle. As we watch her navigate through life, love, and friendship, her outfits, especially these overalls, contribute to the storytelling by visually portraying her character's personality.
Ultimately, Young Donna's denim overalls serve as a memorable and iconic fashion statement within the world of Mamma Mia, showcasing the unforgettable style of the film and leaving a lasting impression on fans and fashion enthusiasts alike.
The Iconic Donna Denim Overall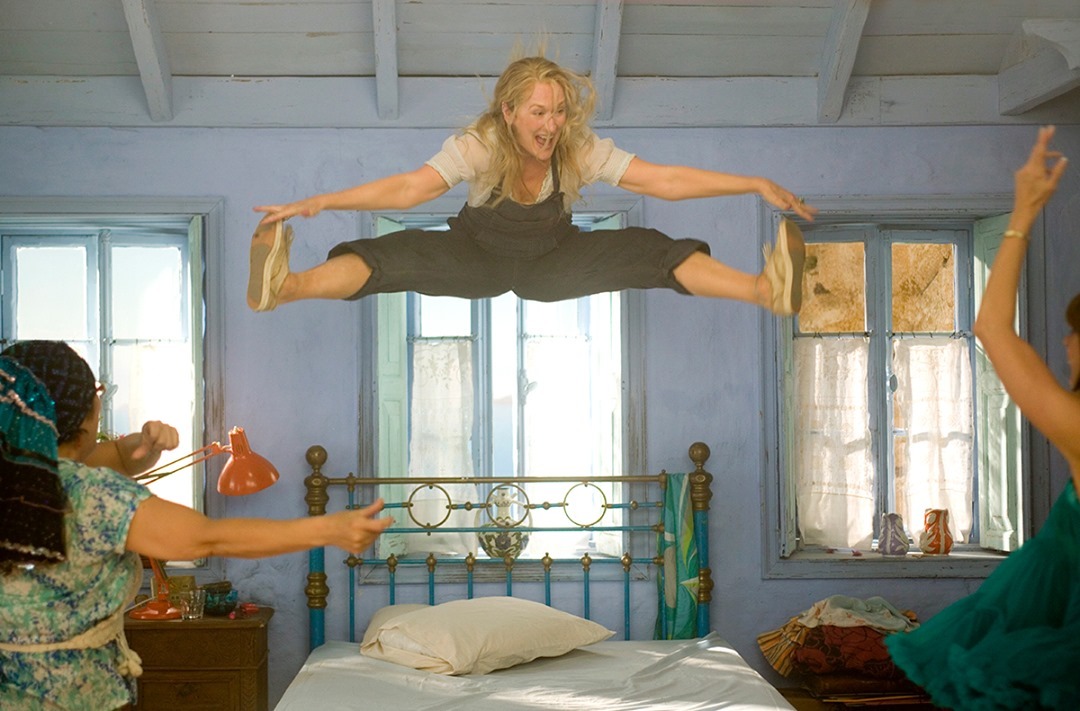 When it comes to Mamma Mia! outfits, one of the most memorable and notable is the Donna Denim Overall. As fans of the movie, we can all agree that this overall exudes a sense of fun, comfort, and style that truly captures the essence of Donna as a character.
In the film, we see young Donna, played by the talented Lily James, sport these classic denim overalls throughout various scenes. The overalls signify not just Donna's youthful, adventurous spirit, but also her bold sense of fashion and her love for simple, yet timeless looks.
Some key features of Donna's overalls that make them so iconic include:
The light-wash blue denim, giving them a vintage and versatile appearance.
The adjustable straps with metal buckles, which ensure a comfortable and snug fit.
The multiple pockets for functionality and convenience.
The Donna Denim Overall has left a lasting impression on fans of the movie and has become a go-to outfit for many who wish to emulate Donna's free-spirited fashion sense. We can see that the popularity of this outfit showcases the everlasting impact and appeal of such a simple, yet stylish garment.
Donna Sheridan's blue dress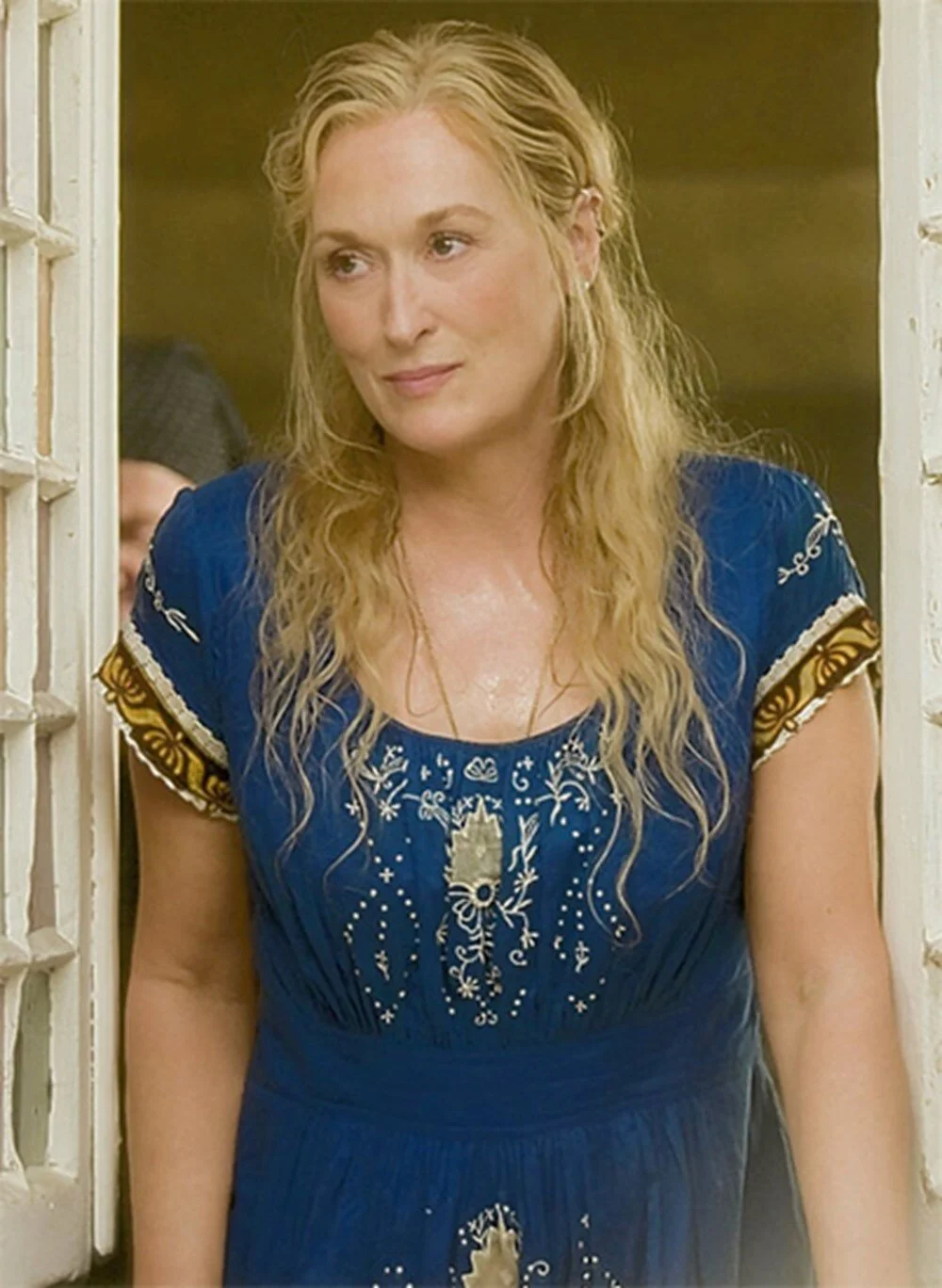 When it comes to iconic outfits from the movie Mamma Mia, Donna Sheridan's blue dress definitely stands out. Worn by Meryl Streep in her portrayal of Donna, this dress captures the vibrant and carefree spirit of the character. It has become an emblematic piece from the movie.
The blue dress features:
A beautiful indigo shade that complements the sunny Greek island setting
A flowing, bohemian-style design with layers of fabric
Off-the-shoulder sleeves that provide a sense of freedom and comfort
Over the years, fans have expressed their admiration for this iconic dress in various ways, such as replicating the outfit for Mamma Mia-themed parties or creating fan art showcasing Donna wearing the stylish ensemble. We admire the dedication and enthusiasm of fans, as well as the costume design team responsible for creating such a memorable piece of wardrobe.
Young Rosie's Multicolored Sweater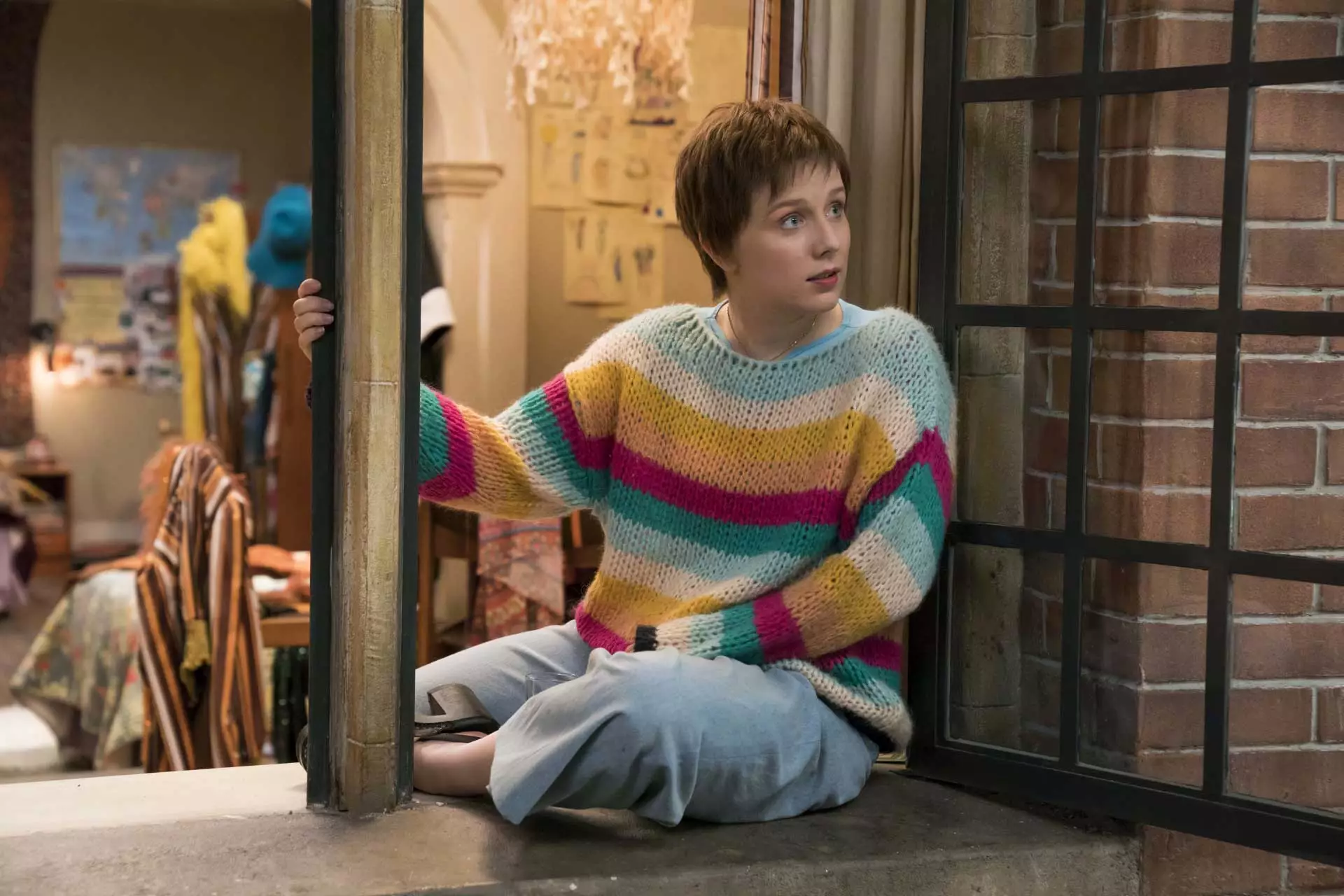 During the Mamma Mia film, one of the iconic outfits donned by young Rosie catches our attention. The multicolored sweater stands out as a stylish and memorable piece from the 70s era.
We believe this sweater adds a touch of retro nostalgia to young Rosie's character, invoking memories of the 70s fashion trends. Some key aspects of the sweater include:
Vibrant colors: The sweater features an assortment of colors, giving it a lively and cheerful vibe that represents Rosie's energetic personality.
Stripes: The multicolored stripes make the sweater even more eye-catching and highlight Rosie's fun-loving nature.
Layered: Styled with a denim shirt underneath, the layered look complements Rosie's spirited and adventurous character.
This young Rosie's multicolored sweater is a fantastic representation of the lively and vivacious 70s fashion, making it a standout piece in the film Mamma Mia.
Young Rosie's performance costume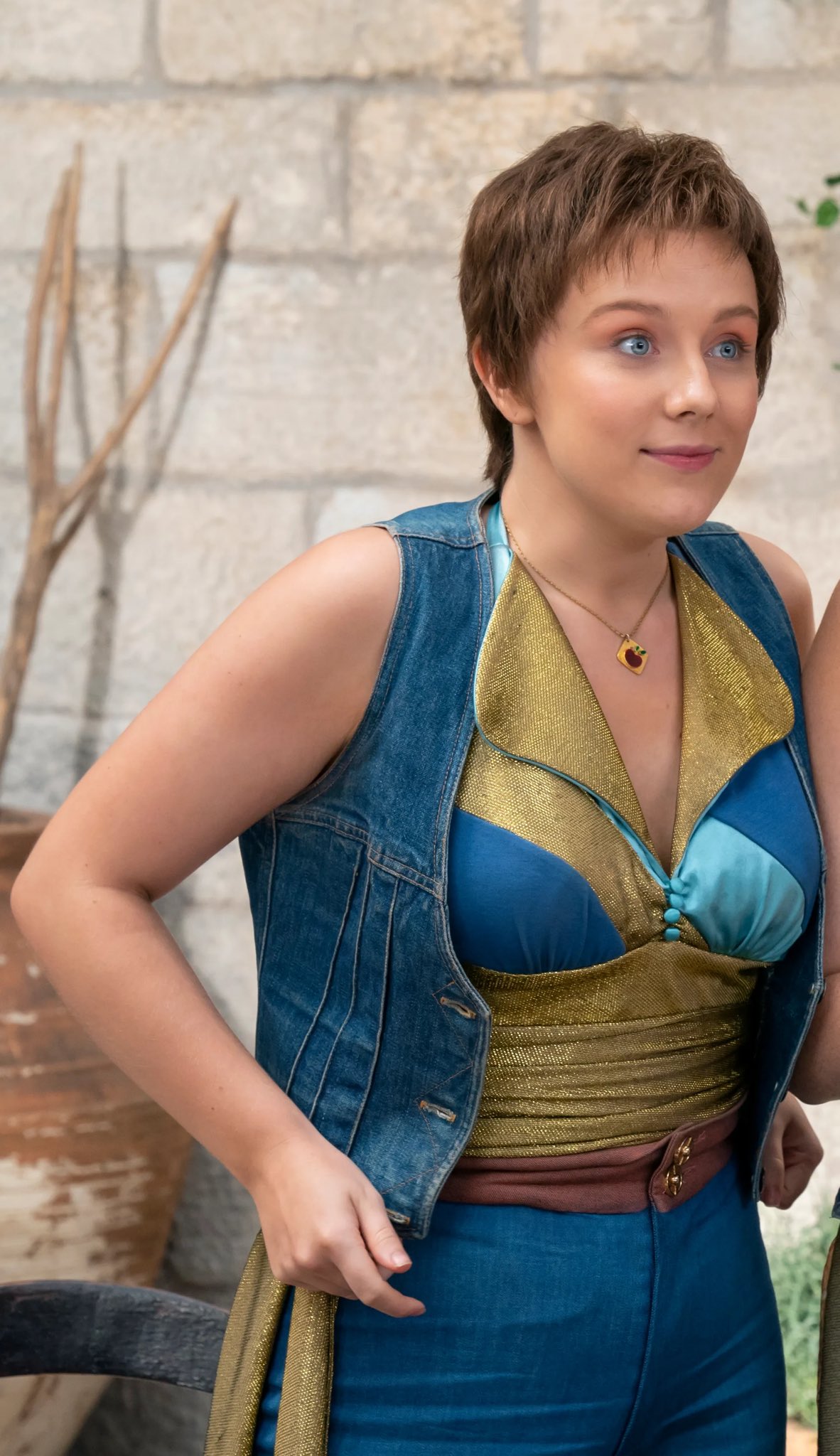 For our interpretation of young Rosie's performance costume from Mamma Mia, we focused on capturing the essence of the character's vibrant and energetic personality. Here's what we included in the outfit:
Top: A colorful, bohemian-inspired blouse with bold patterns to showcase young Rosie's outgoing persona.
Bottom: A pair of high-waisted flared jeans, reminiscent of the 1970s fashion.
Accessories: Layered necklaces and bangles to complement the bohemian vibe of the outfit.
Footwear: Platform shoes or boots, in keeping with the era and adding a touch of youthful edge.
Hairstyle: Loose, wavy hair with a headband to frame the face and maintain the carefree look.
By capturing these key elements, we believe our rendition of young Rosie's performance costume reflects her lively character and the iconic Mamma Mia style.
Rosie's multi-patterned Summer Shirt
We came across a fantastic piece from Mamma Mia outfits that surely caught our attention – Rosie's multi-patterned summer shirt. This vibrant and colorful shirt truly represents Rosie's vivacious spirit and sense of style.
The shirt features a mix of different patterns, such as floral, geometric, and abstract prints, showing off Rosie's versatile taste in fashion. Made with lightweight materials, the shirt is perfect for staying cool and relaxed during warm summer days.
Some noteworthy features of Rosie's multi-patterned summer shirt include:
Colorful patterns: The various prints on the shirt make it lively and eye-catching.
Comfort: The breathable and lightweight fabric ensures a comfortable fit ideal for summer.
Versatile: This shirt can be matched with various bottoms, such as skirts, shorts, or pants, for different occasions.
In conclusion, we believe Rosie's multi-patterned summer shirt is a perfect representation of her character in Mamma Mia – bold, bright and energetic.
Young Tanya's Fancy Girls' Night In Outfit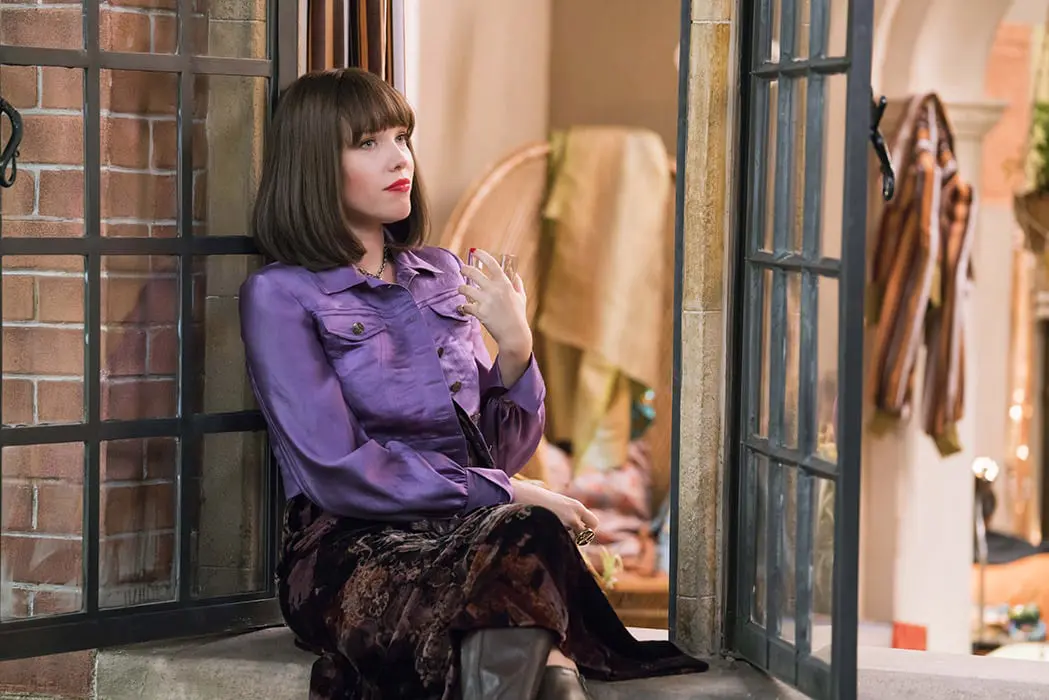 While re-watching Mamma Mia, we couldn't help but notice young Tanya's fabulous outfit during the girls' night in scene. It perfectly captures the essence of a fun, glamorous, and stylish evening with friends. Here are the key elements of her outfit that we can recreate for our own girls' night in:
Sparkly top: Tanya wears a stunning sequined top that adds a touch of glamour to the evening. Opt for a sparkly blouse or camisole in a bold color to make a statement.
Flared jeans: Tanya rocks a pair of dark-wash, flared jeans that give off a disco vibe and accentuate her long legs. You can achieve the same look with a pair of high-waisted flared jeans.
Platform heels: To complete the 70s-inspired look, Tanya wears a pair of platform heels. Choose a pair of comfortable heels or wedges to dance the night away.
Accessories: Finally, accessorize the outfit with statement jewelry pieces such as bold hoop earrings and layered necklaces for added sparkle.
Grab your closest friends, put on your favorite ABBA tunes, and recreate this glamorous outfit for an unforgettable girls' night in.
Tanya's Green Mini Dress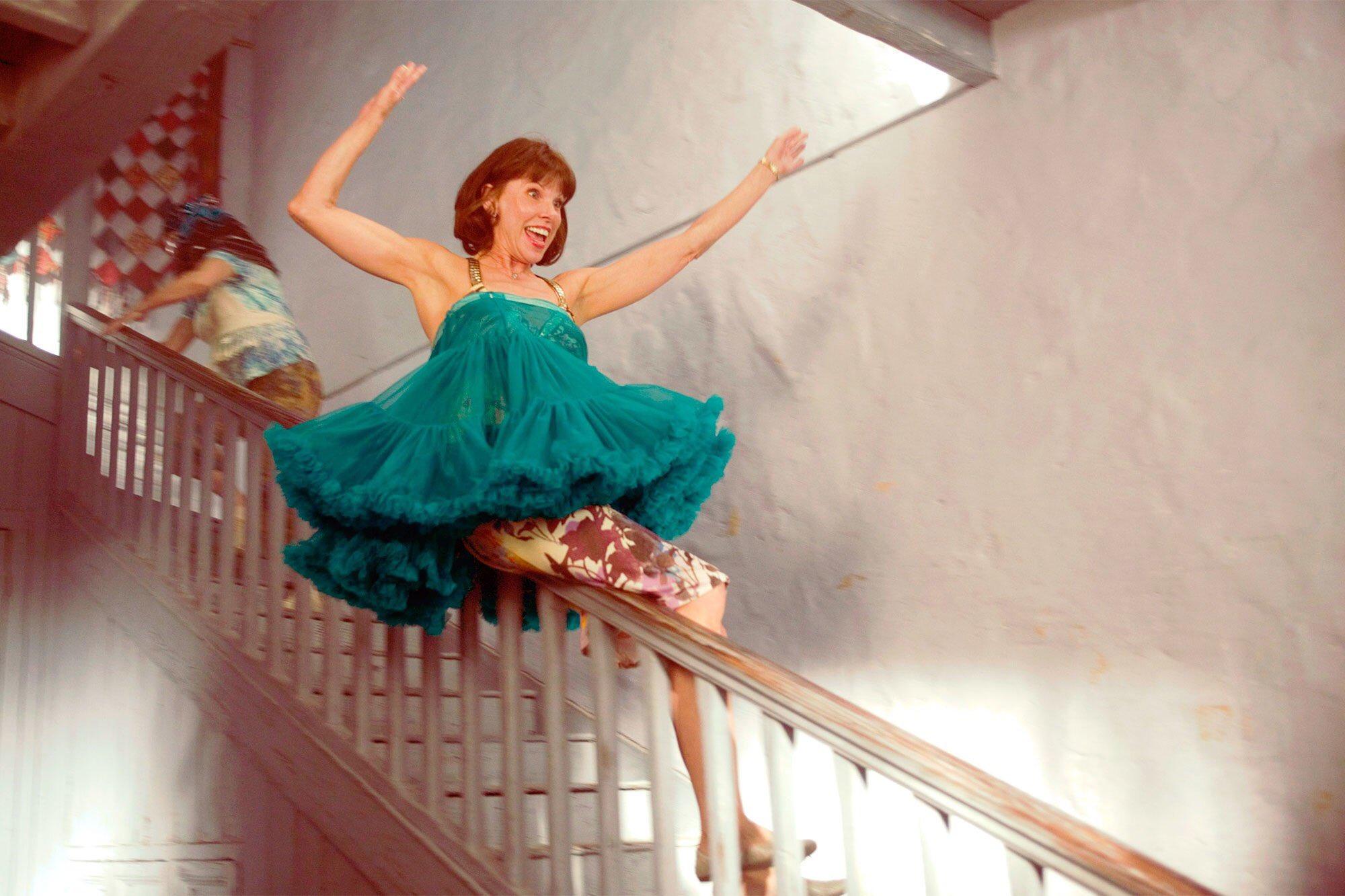 When it comes to memorable outfits from the film "Mamma Mia!", Tanya's green mini dress definitely stands out. Setting the tone for her glamorous yet playful wardrobe, this ensemble showcases her vivacious personality and style.
Design Features: The dress is short and figure-hugging, with a halter neckline and keyhole detail at the bust. The choice of a vibrant green color reflects Tanya's boldness.
Accessories: Tanya cleverly coordinates her accessories with the dress, opting for gold-tone hoop earrings and bangles to complement her outfit. A pair of matching green strappy heels completes the look.
Scene Stealer: This eye-catching ensemble makes its appearance during the lively number "Dancing Queen," as Tanya, Donna, and Rosie embrace their inner dancing queens while reminiscing about their past adventures.
With this iconic green mini dress, Tanya captivates the audience and cements her status as a stylish force in the "Mamma Mia!" world.
Tanya's Blue And Brown Dress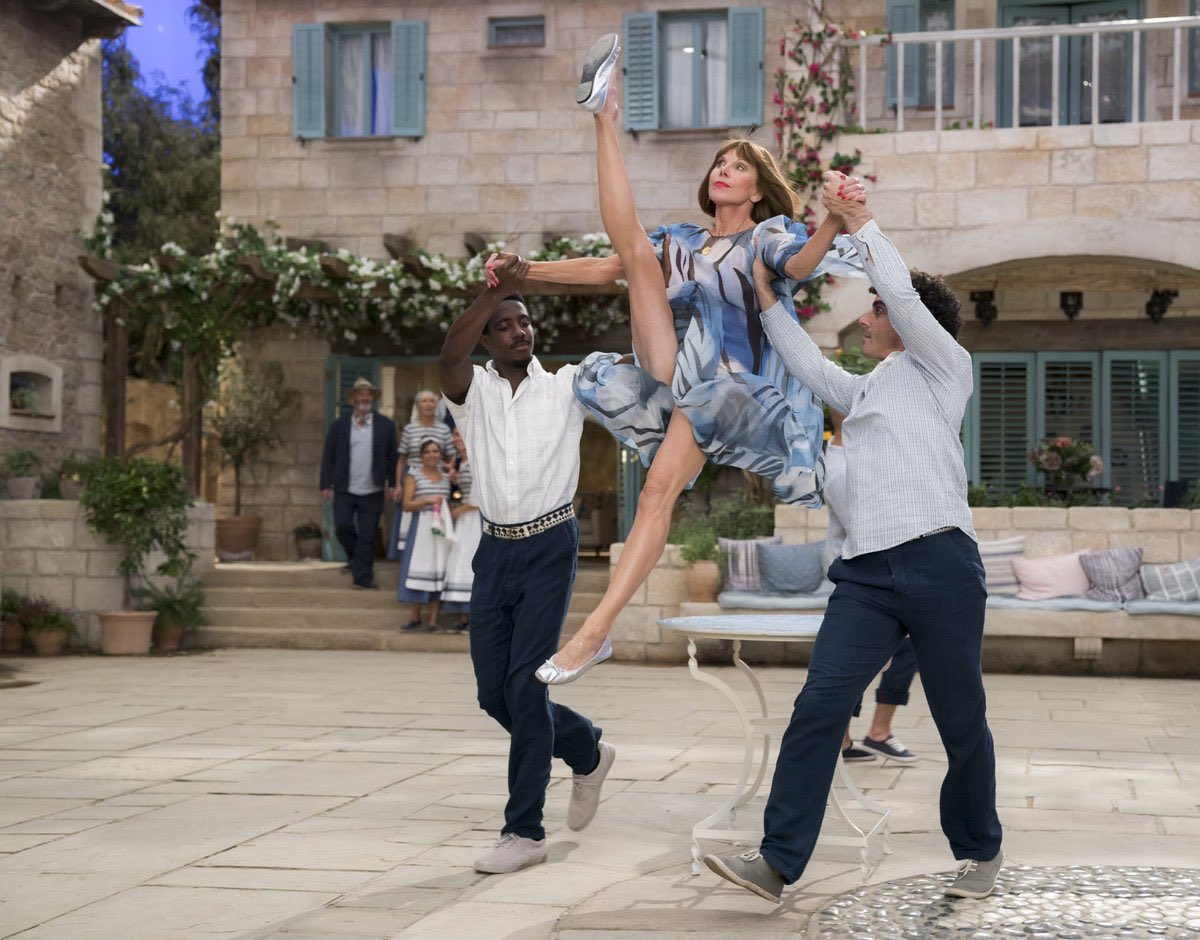 In our examination of the iconic outfits from the movie "Mamma Mia," we cannot forget to mention the stunning blue and brown dress worn by Tanya. This particular dress caught the attention of the viewers due to its unique color combination, design, and how well it was suited for the character.
The dress features a vibrant blue top with delicate brown straps, perfectly contrasting with the earthy brown skirt. The details on the skirt include a beautiful pattern that brings a boho-chic vibe to the outfit, reflecting Tanya's free-spirited nature. To emphasize Tanya's stylish personality even more, she wore this dress with a statement necklace and complementary accessories.
No doubt, this outfit has contributed to the overall allure of the "Mamma Mia" wardrobe and has inspired countless viewers to embrace their inner dancing queens. With its striking colors and timeless design, Tanya's blue and brown dress will always remain an iconic representation of the movie's fashion statements.
Tanya's White-and-Copper Outfit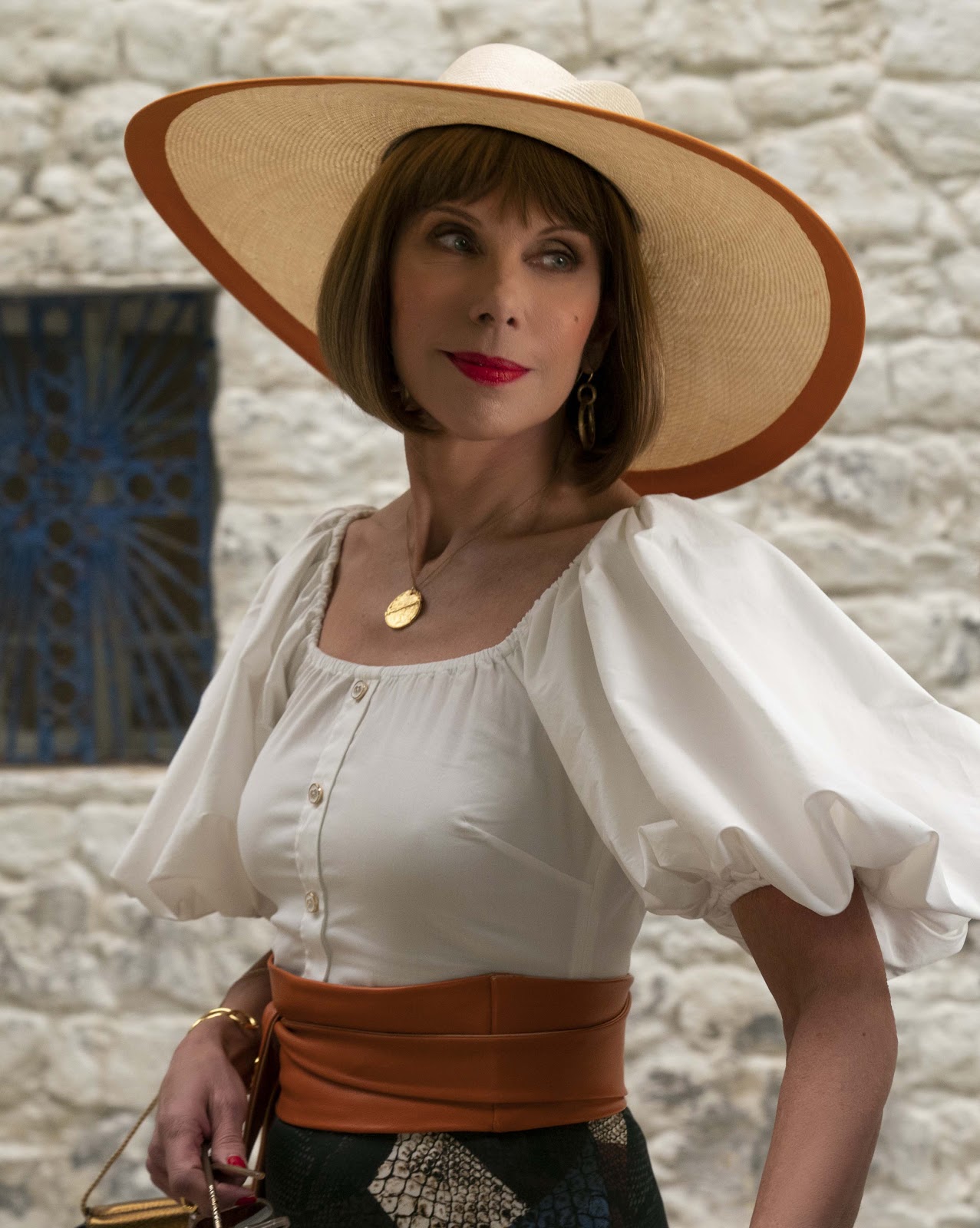 In the iconic movie "Mamma Mia!", Tanya's white-and-copper outfit truly stands out. This outfit showcases her bold and stylish personality. Let's explore the key components of this remarkable ensemble.
White Dress: The foundation of Tanya's outfit is a simple yet elegant white dress. It highlights her refined taste and serves as a perfect canvas for additional accessories.
Copper Belt: This eye-catching accessory adds a touch of metallic brilliance to Tanya's outfit. A wide copper belt cinches the dress at the waist, accentuating her figure and adding interest to the overall look.
Copper Jewelry: To further elevate the look, Tanya adds a bold, chunky copper necklace and matching bracelet. These statement pieces work harmoniously with her copper belt, accentuating the metallic theme.
Knee-High Boots: Completing Tanya's outfit are a pair of bold, knee-high boots. Made from the same copper material as her other accessories, these boots provide a cohesive look while adding a sense of edge and confidence.
With this blend of elegance and flair, Tanya's white-and-copper outfit is both memorable and fashionable. It perfectly captures her character's essence and adds an extra layer of charm to the overall Mamma Mia! wardrobe.
Sophie's Shorts And White Top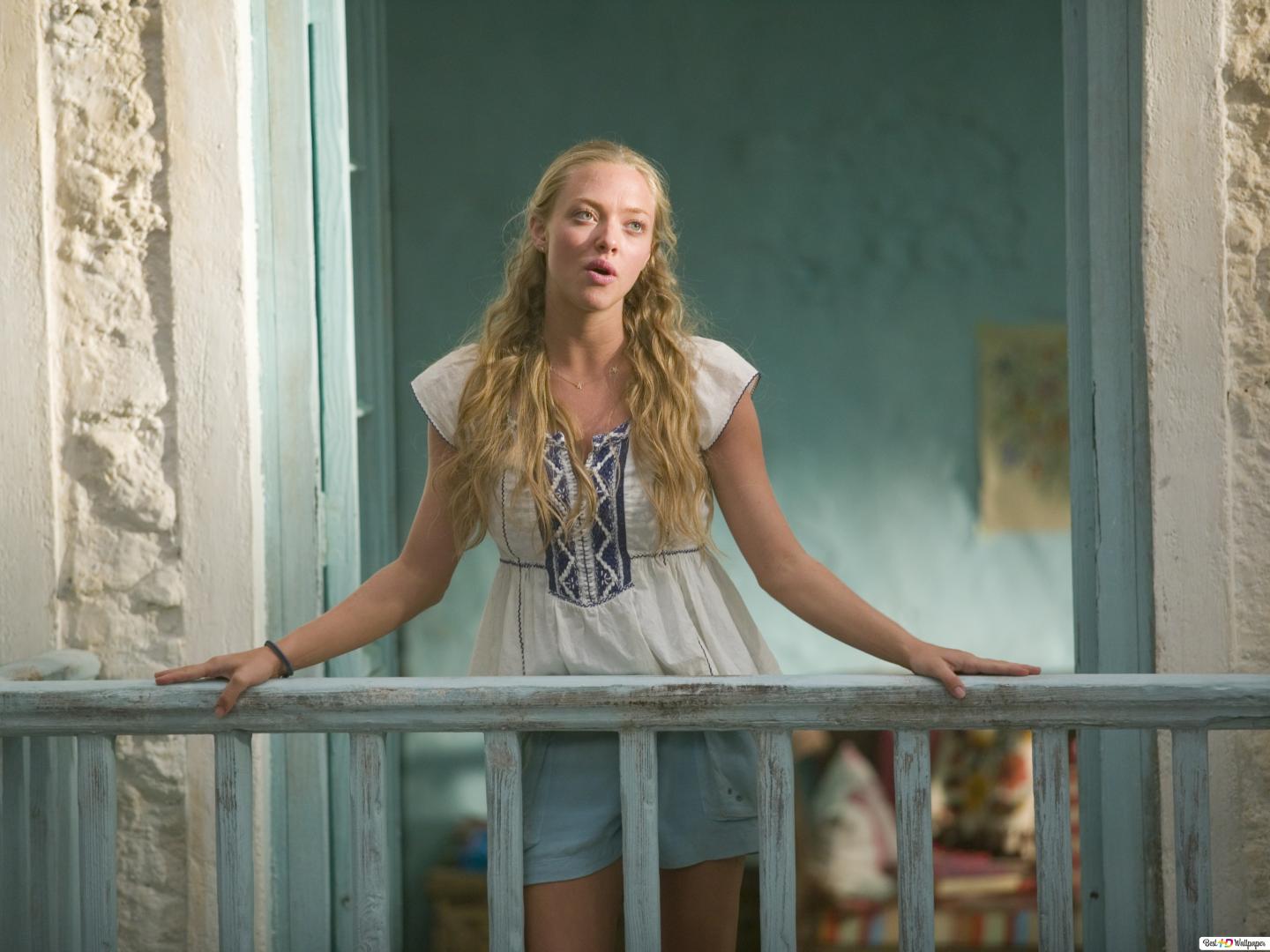 In the movie "Mamma Mia!", one of the most iconic outfits Sophie (played by Amanda Seyfried) wears is her shorts and white top ensemble. It's a casual yet stylish look that perfectly encapsulates the summery and carefree atmosphere of the film. Let us break down this outfit and discuss its key elements:
Shorts: Sophie's shorts are a light blue denim color, which nicely complements both her figure and the overall casual vibe of the outfit. They are a classic and timeless choice that can be easily incorporated into anyone's wardrobe.
White Top: The white top Sophie wears is an off-shoulder blouse that adds a touch of elegance and sophistication to the outfit. Its breezy and lightweight fabric makes it an ideal choice for a summer day on a beautiful Greek island, just like in the film.
Accessories: To complete the look, Sophie opts for minimal accessories, such as a small pendant on a thin chain and a simple bracelet. This allows the focus to remain on the effortless and chic nature of her outfit.
Overall, Sophie's shorts and white top outfit from "Mamma Mia!" perfectly captures the essence of a fun, casual, and stylish summer look that can be easily recreated with just a few essential pieces.
Sophie's Iconic Wedding Dress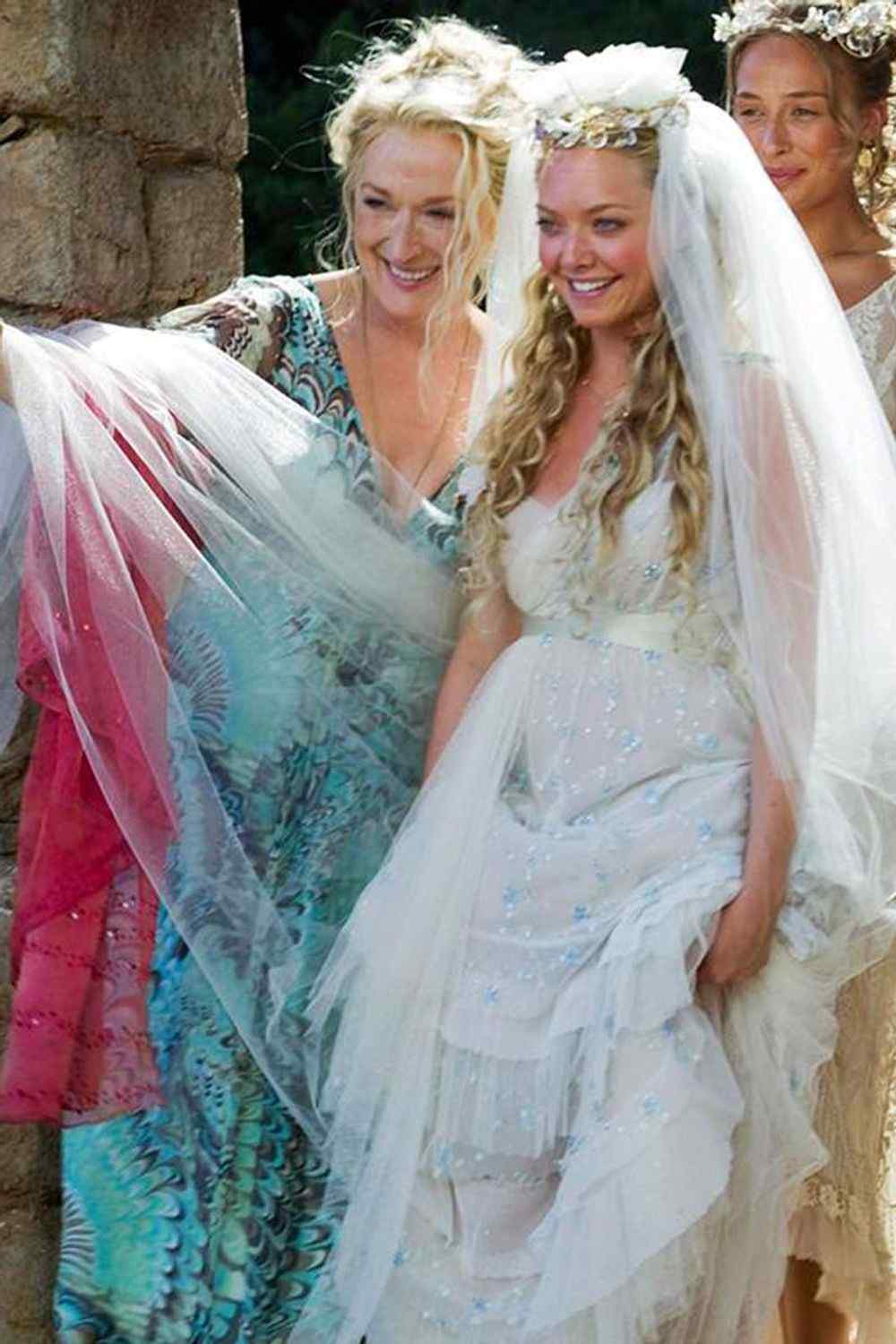 In our discussion about "Mamma Mia outfits," we cannot forget to mention Sophie's iconic wedding dress. This gown played a significant role in the movie and became a popular wedding dress style for fans.
The dress itself is beautiful, with delicate lace sleeves and a stunning V-neckline. The bodice is fitted, accentuating Sophie's figure, while the flowing skirt gives the gown a romantic, dreamy feel. Simplicity and elegance are the defining characteristics of this iconic dress.
Some key elements of Sophie's wedding dress include:
Lace sleeves: The delicate lace sleeves give the dress a timeless and classic look.
V-neckline: This neckline adds a touch of sophistication and grace to the gown.
Fitted bodice: The fitted bodice emphasizes Sophie's figure and highlights her waistline.
Flowing skirt: The skirt flows effortlessly towards the hem, adding romance and whimsy to the dress.
Not only did this dress become famous for its appearance in "Mamma Mia," but it also inspired many brides-to-be to opt for a similar style for their own weddings.
Sophie's Over-top Scarf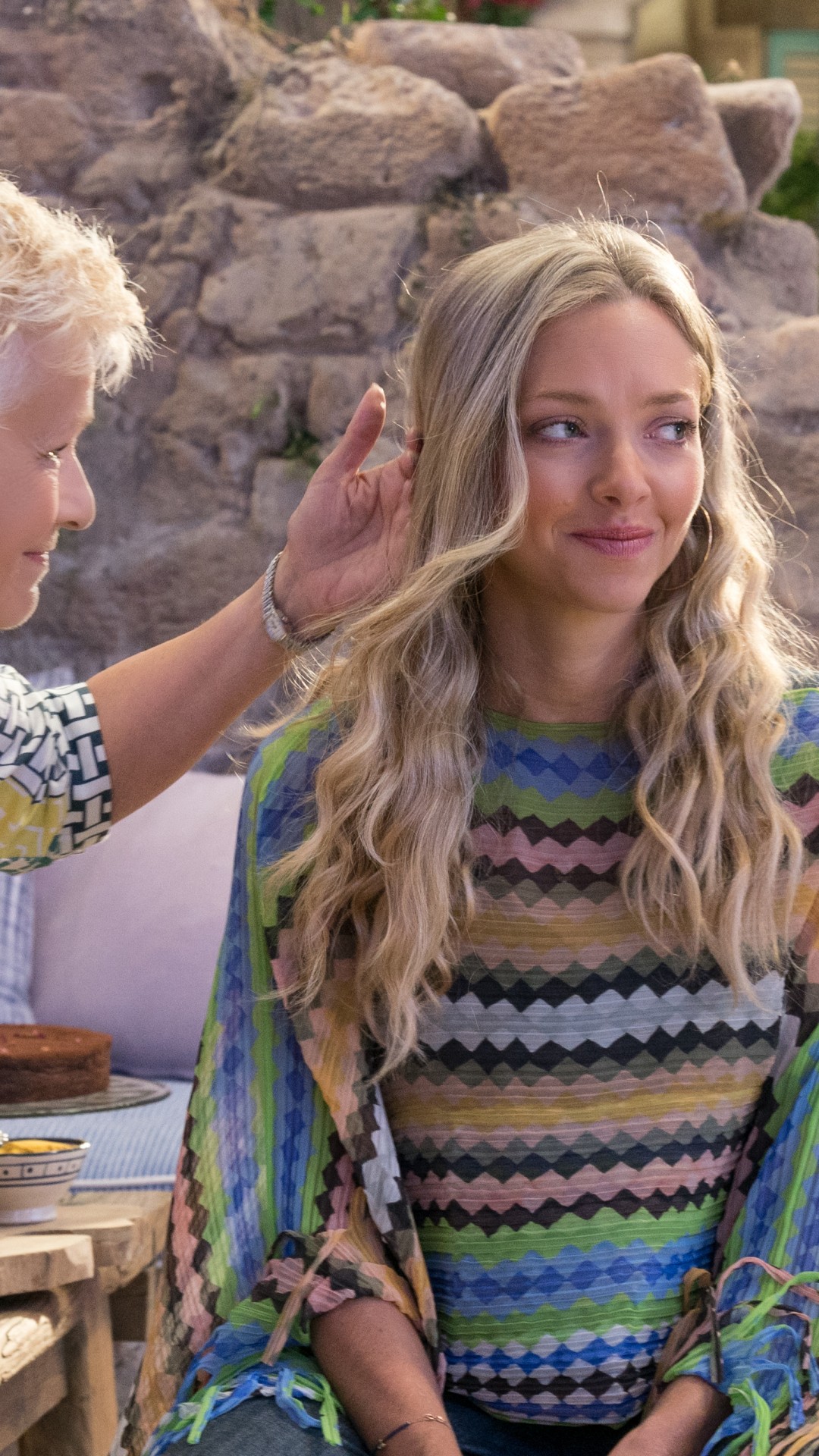 In Mamma Mia, we can't ignore the fabulous outfit choices that have contributed to the vibrant visual appeal of the movie. One memorable piece is Sophie's over-top scarf, which added a fashionable touch to her outfit.
During the course of the movie, Sophie pairs her scarf with various outfits, showcasing its versatility. Here's a breakdown of how this scarf enhanced her look:
Color coordination: The scarf's colors perfectly complemented her wardrobe, creating harmony in her style by sticking to a cohesive color palette.
Layering: Sophie used the scarf to effectively layer her outfit. This helped her achieve a sophisticated, dimensional look that added depth to her overall appearance.
Additionally, here are some key fashion takeaways inspired by Sophie's over-top scarf:
Accessorizing: Use statement pieces like over-top scarves to bring your outfit together and add a unique flair.
Experimentation: Don't be afraid to mix and match different clothing items, colors, and patterns. Get creative with your wardrobe!
Fit for the occasion: Dress for the setting and mood, like how Sophie wore her over-top scarf for her island-inspired surroundings.
Indeed, Sophie's over-top scarf is a notable element of Mamma Mia's costume design, which inspires us to play with exciting fashion choices.
Ruby's White "Je suis arrivé" Outfit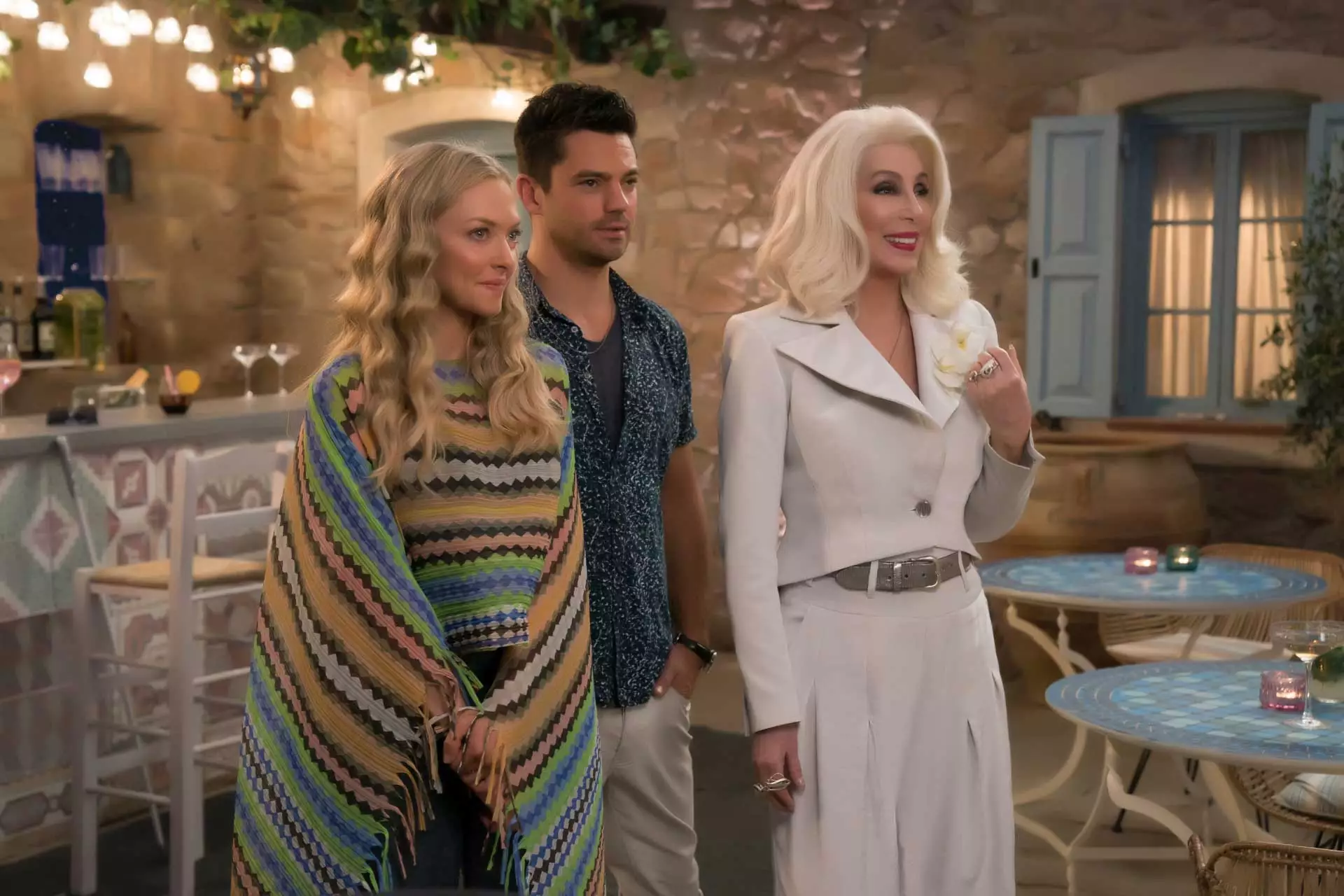 During the movie Mamma Mia! Here We Go Again, Ruby (Cher) makes a dramatic entrance wearing a stunning white outfit that truly announces her arrival. As fans of the movie, let us take a moment to appreciate and discuss this iconic look.
Dress: The outfit features an elegant white gown that perfectly compliments Ruby's figure. The dress has a fitted bodice with a sweetheart neckline and sheer lace sleeves, adding a touch of sophistication and glamour.
Accessories: To complete the look, Ruby dons a pair of dazzling chandelier earrings and a long white scarf that trails behind her as she walks. These accessories elevate the look and create a strong visual impact.
Shoes: Ruby's white heeled sandals match the dress impeccably and blend seamlessly with the overall ensemble.
Hair and makeup: Ruby's striking silver hair is styled in loose, flowing waves that frame her face beautifully. Her makeup is bold yet understated, with a focus on her eyes and a soft, neutral lip color.
This iconic "Je suis arrivé" outfit stays true to Ruby's larger-than-life persona and sets the stage for her character's impact on the story in Mamma Mia! Here We Go Again.
Ruby's "Fernando" Outfit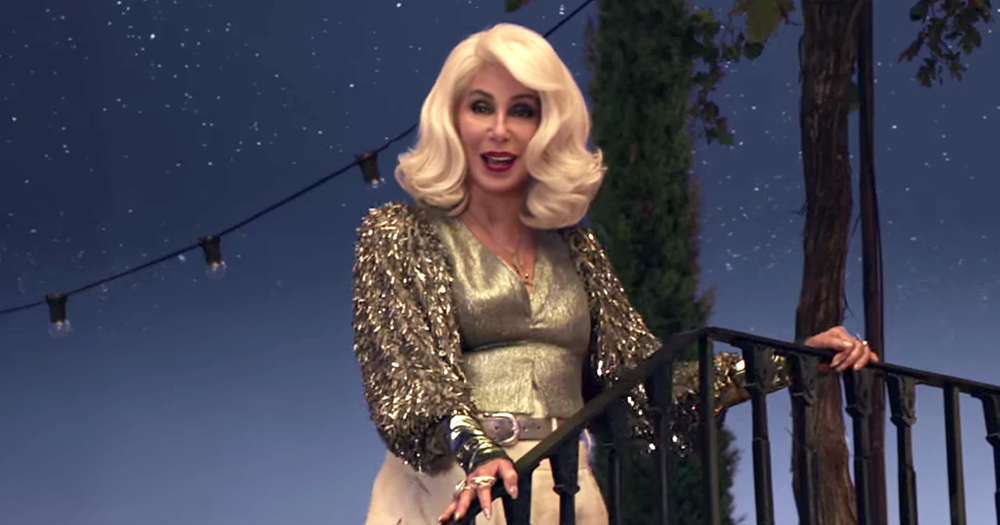 In the memorable scene where Ruby and Signor Cienfuegos, also known as Fernando, reunite after 60 years apart, Ruby's outfit truly shines. This dazzling wide-sleeved sparkling top captures the essence of their heartfelt reunion and evokes feelings of nostalgia for the music of Cher and "Fernando".
Ruby's choice of outfit speaks volumes about the importance of the moment as well as her desire to leave a lasting impression on Fernando. The sparkle in her outfit mirrors the sparkle in her eyes as they reconnect after so many years of separation. It is a testament to their enduring love story and the power of reconnecting through music and fashion.