Women love long nails. Acrylic, fake or natural nails it doesn't matter, we all take great pride in our long, well-groomed nails. Going to the nail salon for some of us is almost like going to therapy, only it is a lot cheaper and you get a pretty manicure from it as well. Of all the current nail shapes to choose from, coffin nails seem to hold the top spot, with celebrities, influencers, and regular Instagram users proudly showing their unique coffin nail designs. And you can't deny the appeal that coffin nails have.
Coffin nails are well suited for ladies with both wide and narrow nail beds, usually longer with tapering on the sides, ending in a filed down flat tip with sharper edges, delivering that coffin look they're named after. And given that signature coffin shape, most would think that true coffin nails must be long. But that is not the case. Coffin nails can be done on shorter nails as well.
Keep in mind, that short coffin nails will never be quite that short since you still need a certain length to get that tapering and flat top, but not as long as most acrylic or fake coffin nails we're used to seeing. The shorter length makes them more manageable, and certainly more durable than the classic coffin nails while still keeping that edgy coffin look, the perfect blend of style and functionality.
Given that shorter nails are not immediately noticeable, you have to make them truly pop with some eye-catching design, that will show off not only your cute nail design but complement your skin and finger shape as well. Here you can see amazing designs for short coffin nails ranging from classy to edgy designs for short coffin nails.
Beige And Brown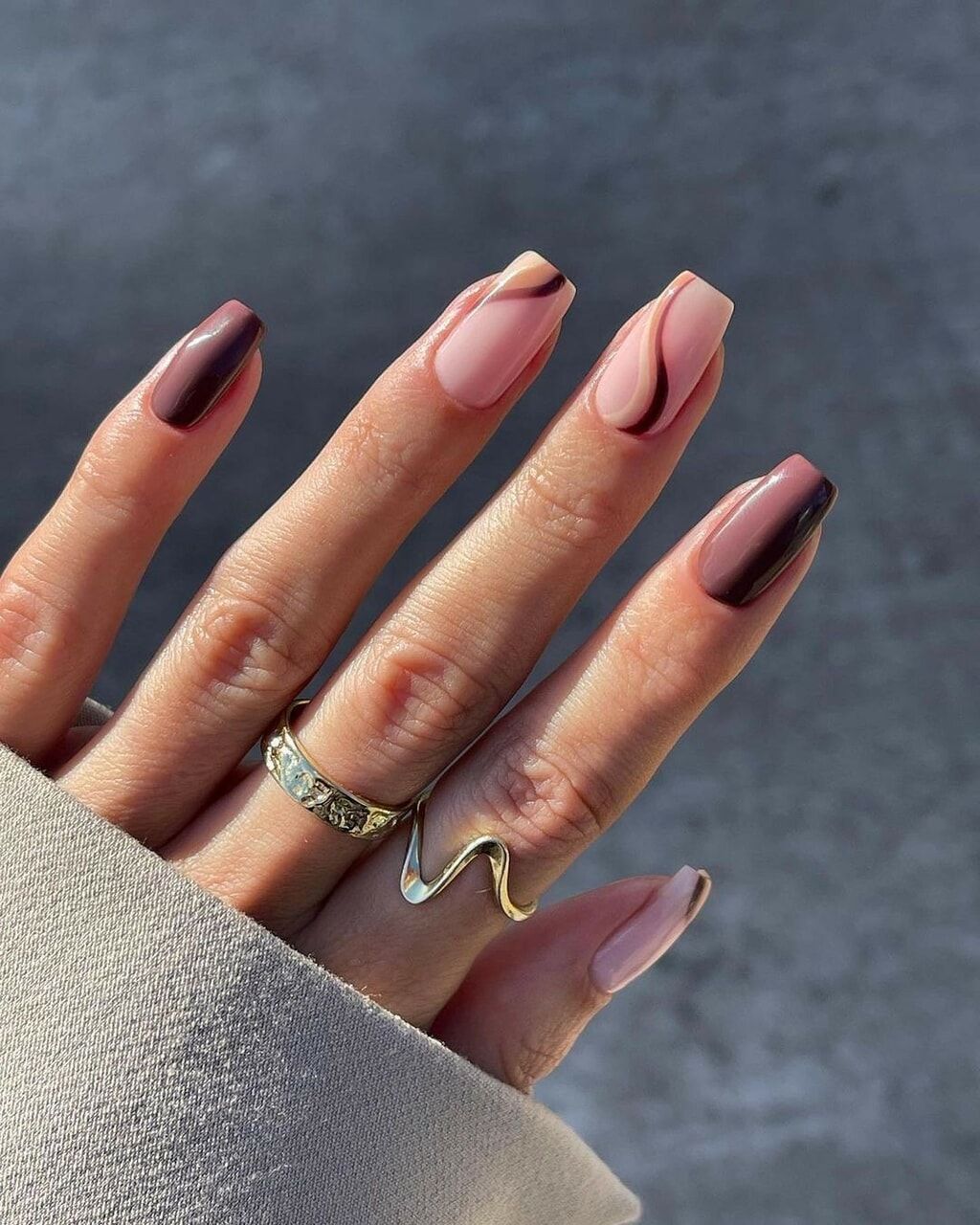 Beige and brown nails are subtle and classy, especially when used with nude or skin-toned nail polish. The great thing about this color manicure is that is suitable for the workplace and fun enough for an outing with friends.
Purple Sparkle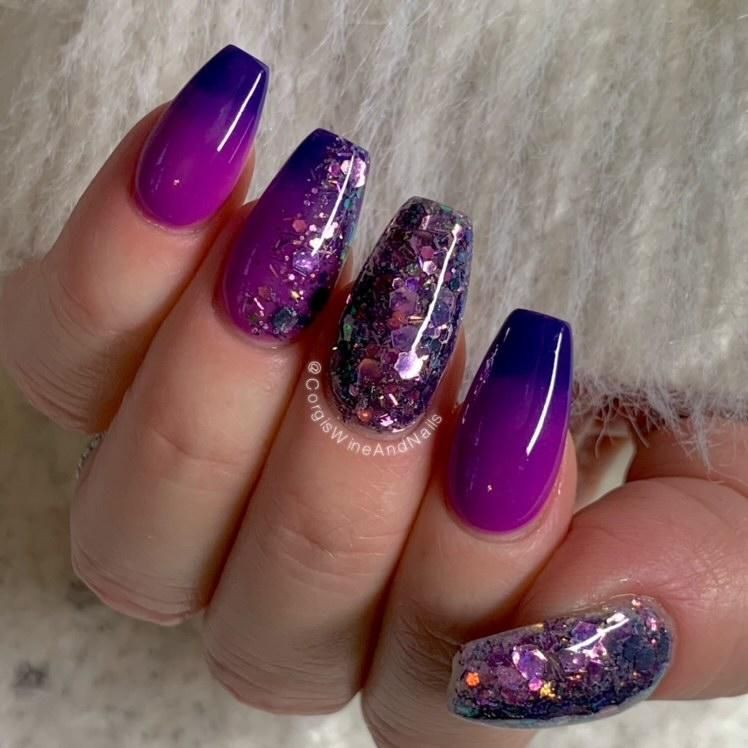 Purple nail polish is often associated with beauty and femininity, and this mani makes that obvious. The accent glitter on the nails trailing from one to the other, framed by the soft purple to pink ombre gives the feeling of a woman that goes with the flow but hides fireworks of surprises.
Yellow Summer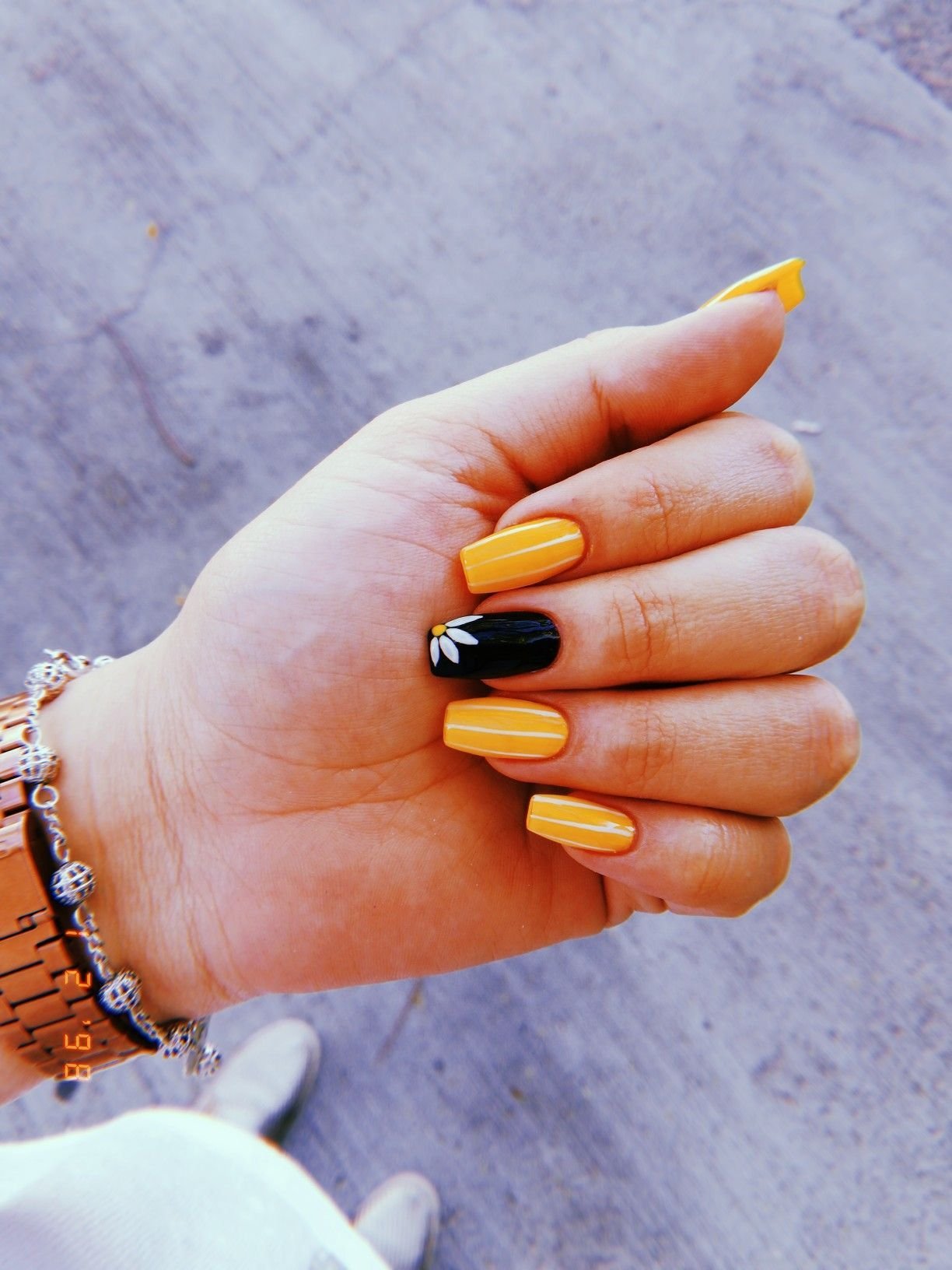 Warm and cheerful, yellow is undoubtedly the top color choice for that perfect summer mani. A bright yellow mani reminiscent of the sun, starkly contrasted by the stark black and white accent nail of a white flower perching at one of the edges of the coffin nail's tip in front of a black canvas.
Soft Purple and White Sparkle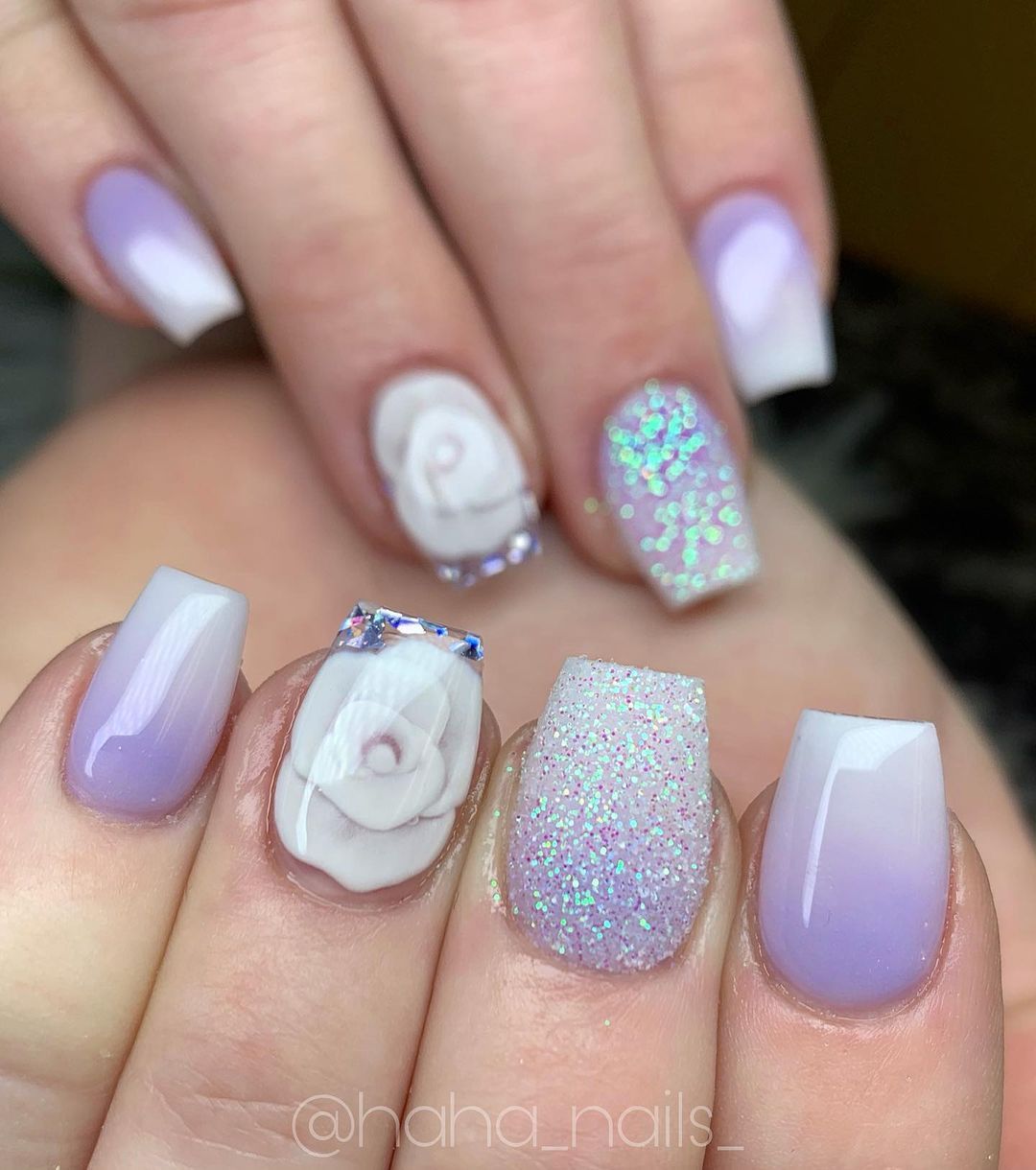 A gentle purple color helps soften the sharpness of the coffin nail edges. The embedded flower inside the acrylic nail gives dimension while the holographic sparkles add some texture and diversity.
Pink Summer Nails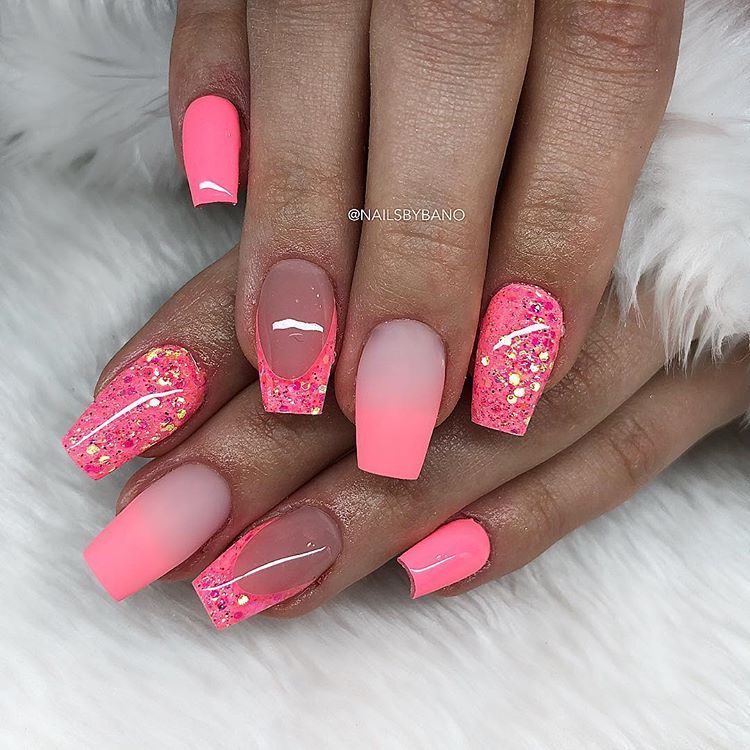 When you can't decide on what design to choose for your short coffin nails, you can go with all of them. It might sound like a mess, yet it when you see it it all comes together. The sparkly French mani goes with the sparkly solid, while the ombre matte is paired with glossy solid pinks.
Aquamarine With Holographic Yellow Butterflies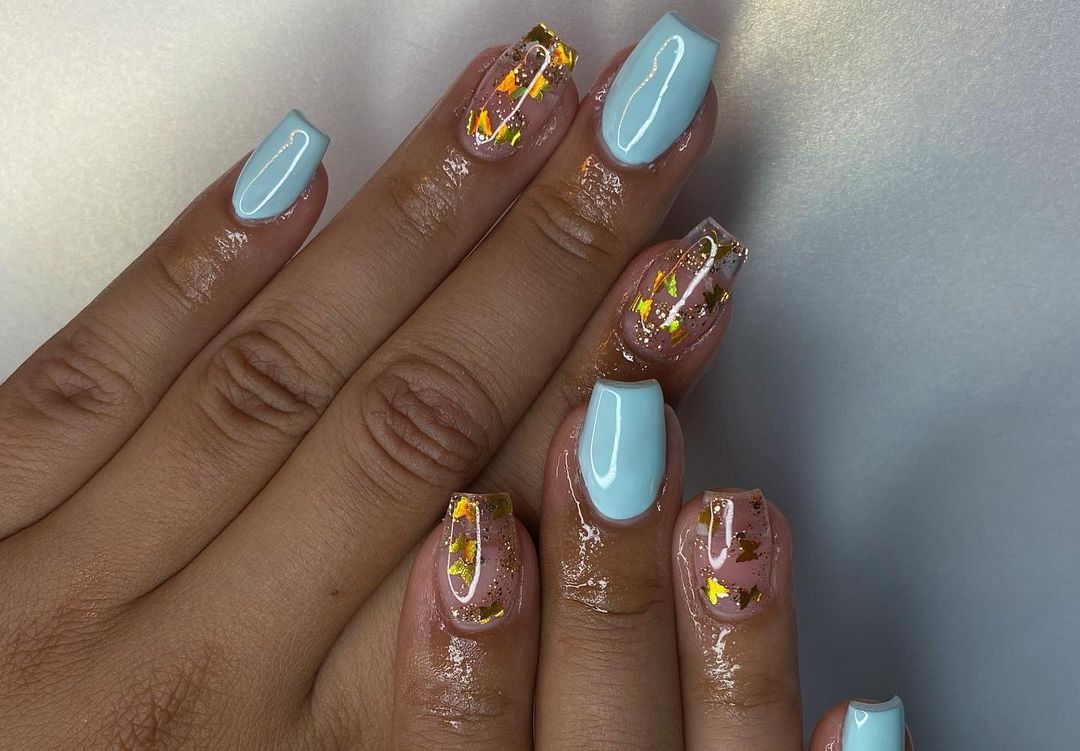 Combining cold and warm tones is always fun and creates amazing results. Sometimes the trick is to make the contrast less jarring. with the colors on the butterfly glitter changing between yellow, orange, and green, it helps to coordinate with the blueish aquamarine color more, giving it a touch of warmth.
80s Neon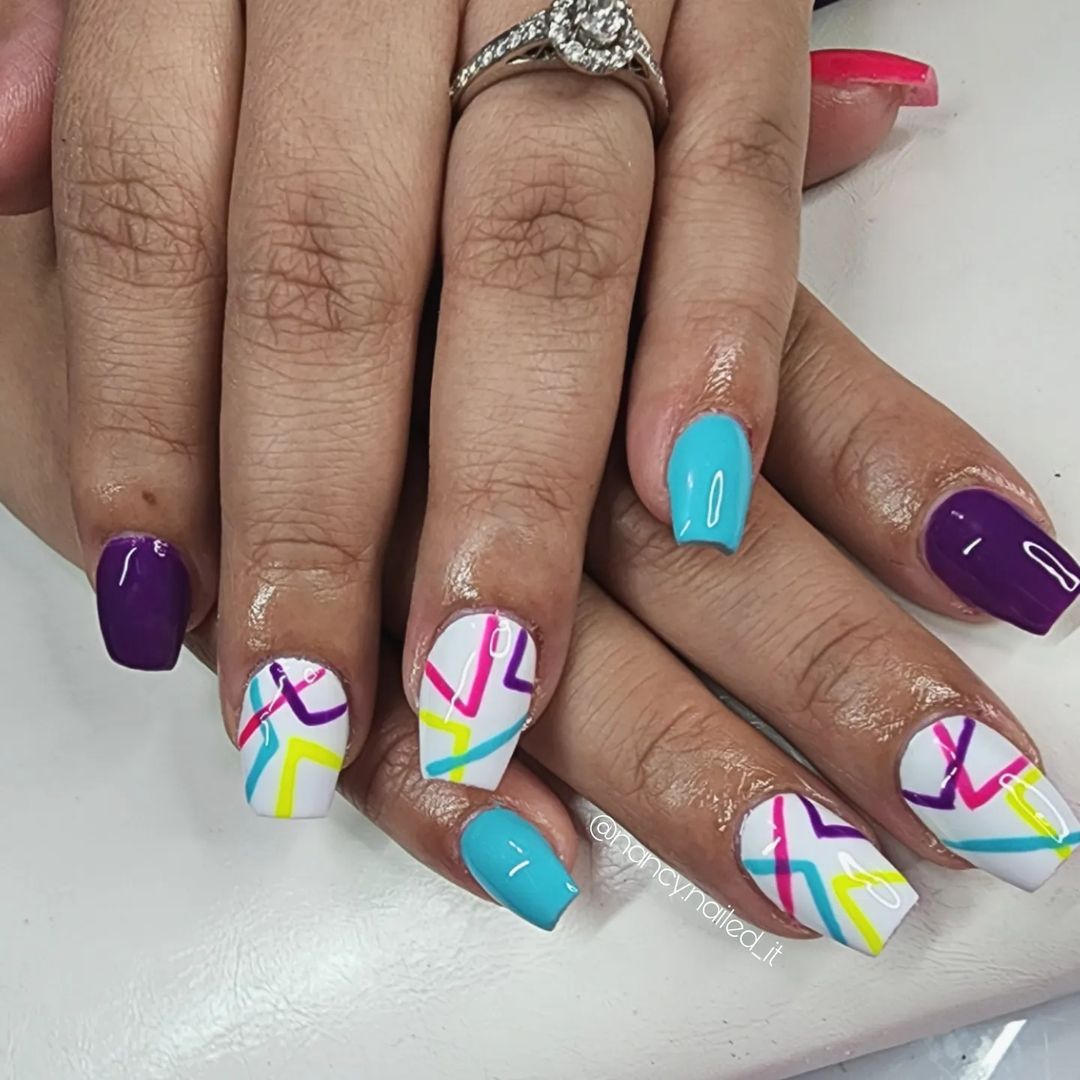 Are you nostalgic for the jarring neon style of the 80s and 90s, but refuse to change your wardrobe? Then do your nails and enjoy the nostalgia. White base to make the color pop, and lines of neon purple, pink, blue, and yellow to match the geometric neon shapes of the time.
Animal Print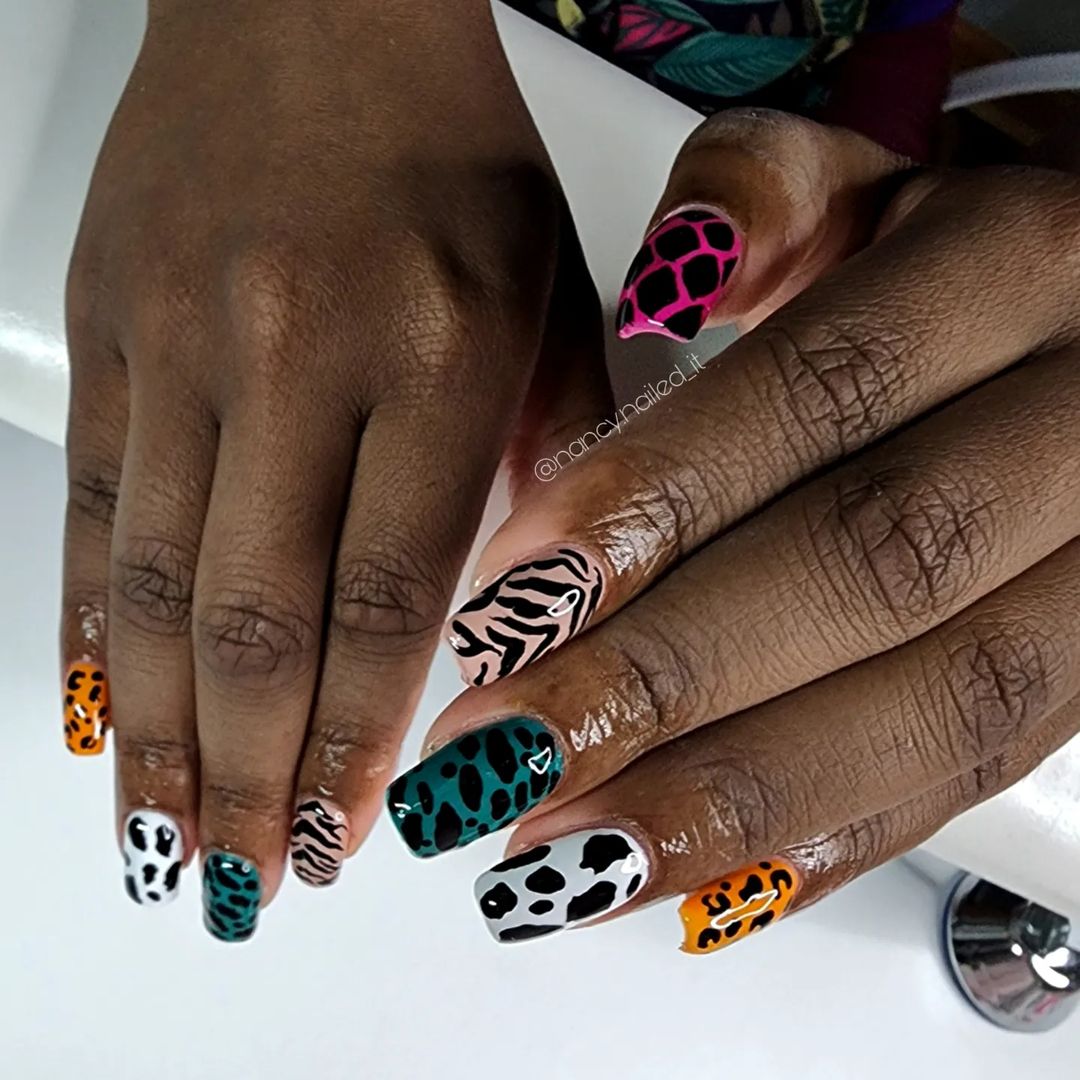 Speaking about a blast from the past, do you remember when animal prints were the top trend? In today's fashion it seems that nothing is too bold, but if you're still not ready to get into your cat suit, you can at least sport some nice animal print coffin nails,
Comic And Dot Art Inspired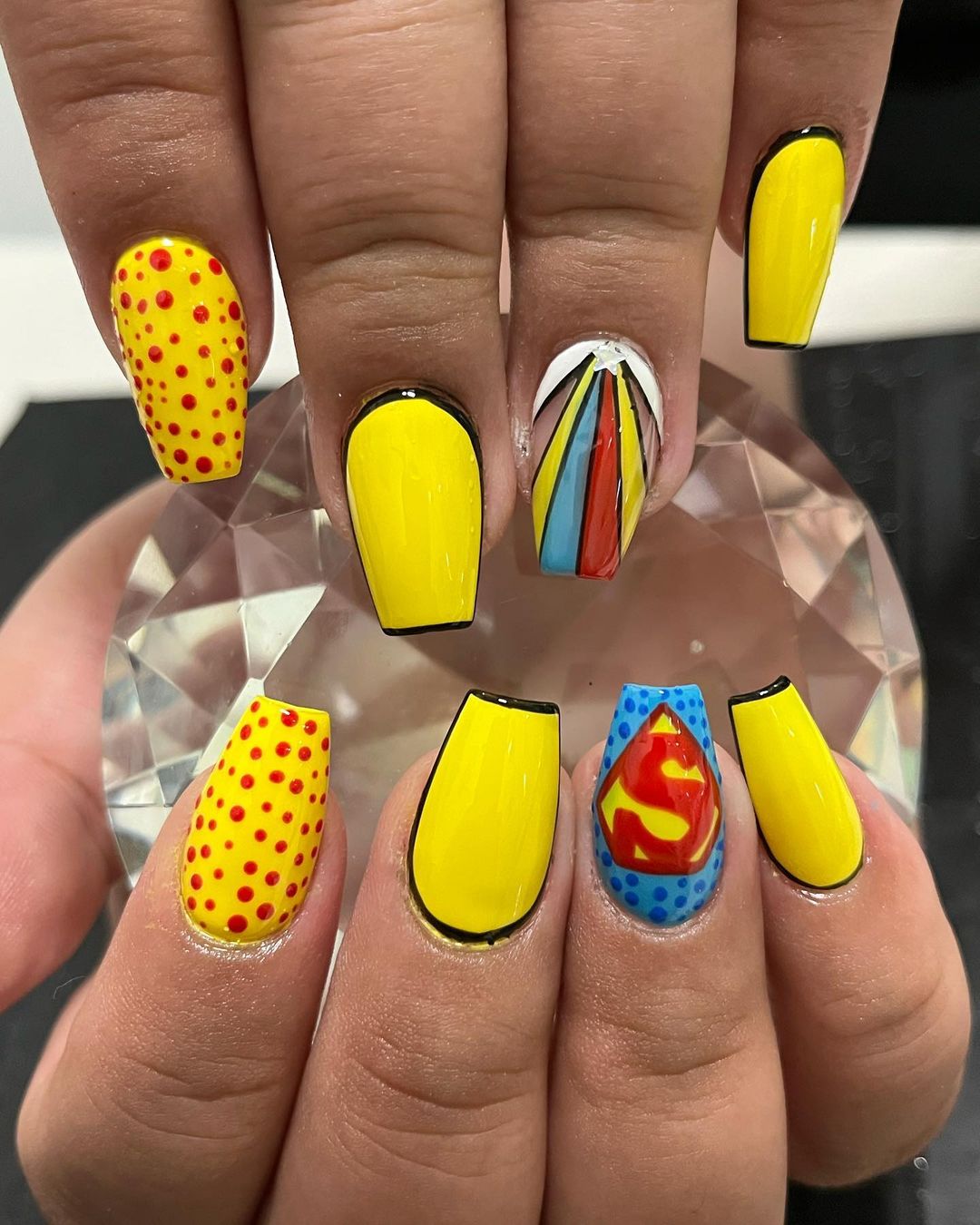 Don't be afraid to show off your love for comic books through your nails. Get those bright yellows with dots hovering along the Superman and Wonder Woman signs. Bring out the best thing that the 60s had to offer in one brilliant nail design.
Green And Black With Rips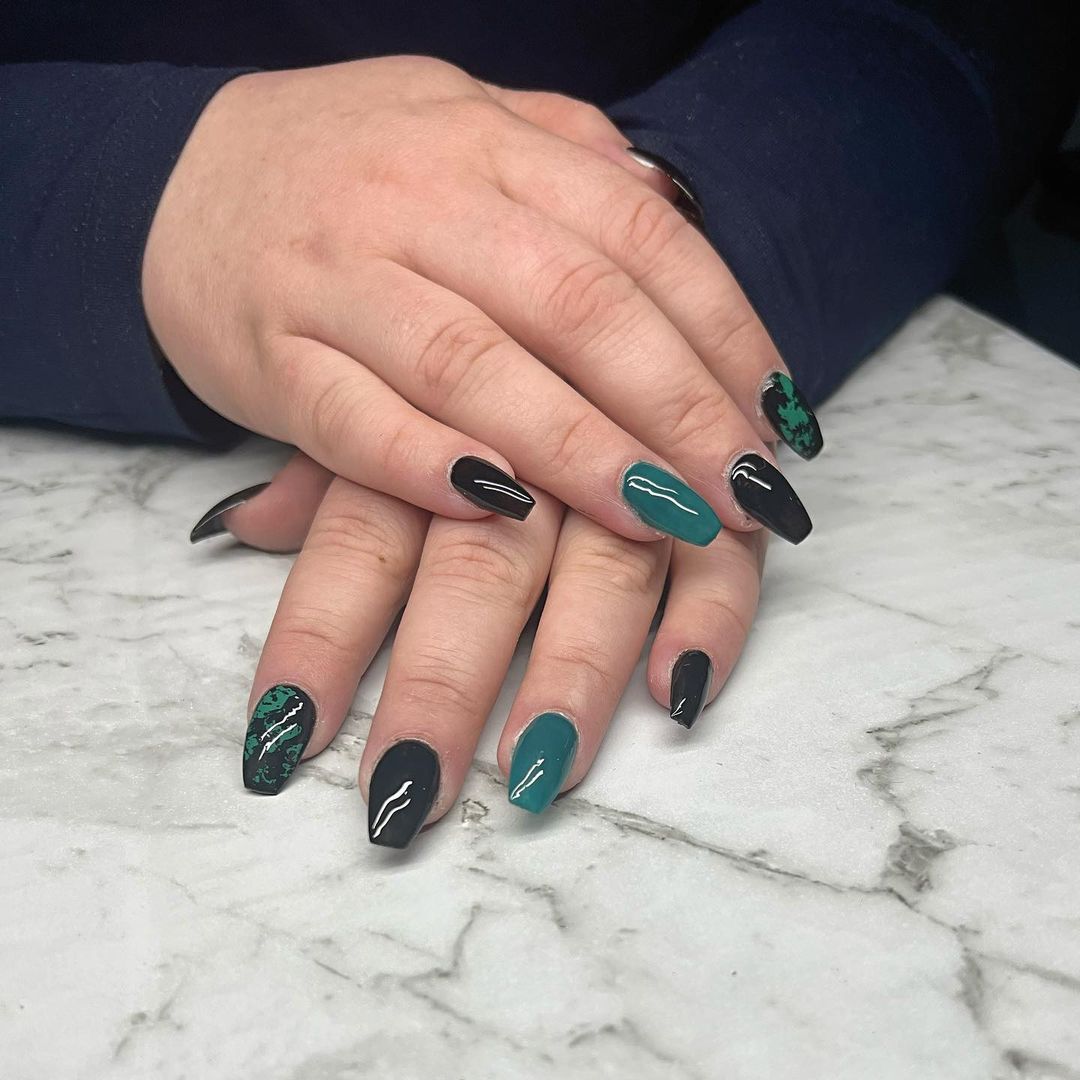 A black and green combo gives a very mysterious and adventurous vibe, not to mention that black always looks amazing on coffin nails. The ripped effect on the nail where the green shows through the black only enhances that notion.
Playful Crystal And Candy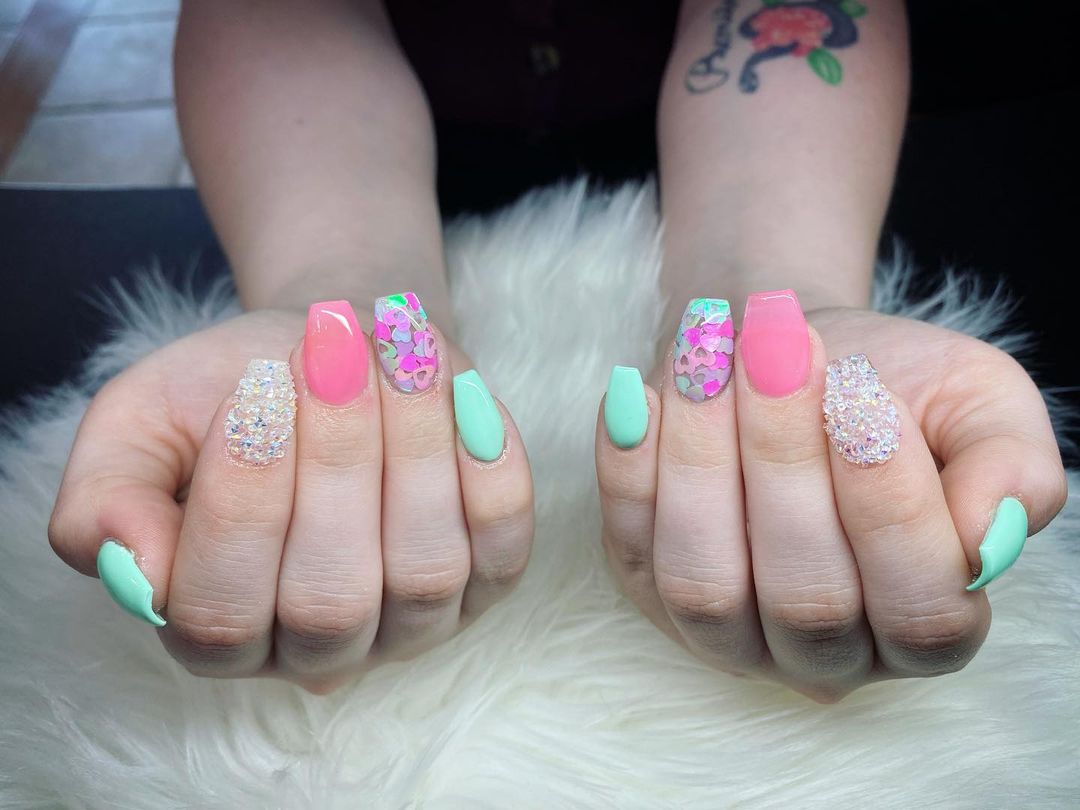 Pink, mint green and clear crystals, with heart-shaped glitters, this tasty combo of a coffin mani will show that you're ready for a sweet time.
Cherry Mani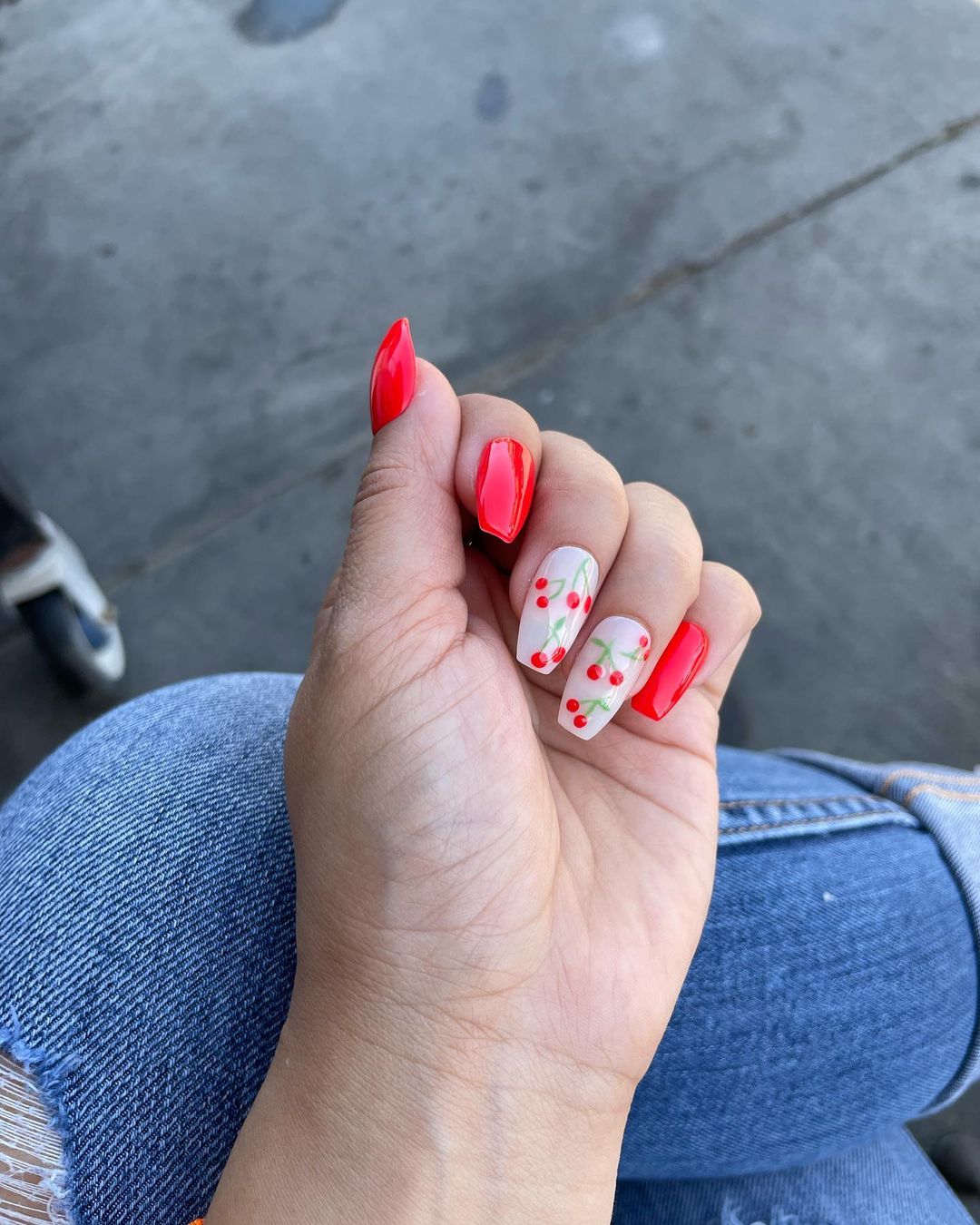 Cherries are always a top trend in spring and summer. How can they not be? They look so cute and adorable, yet sexy at the same time.
Up In Flames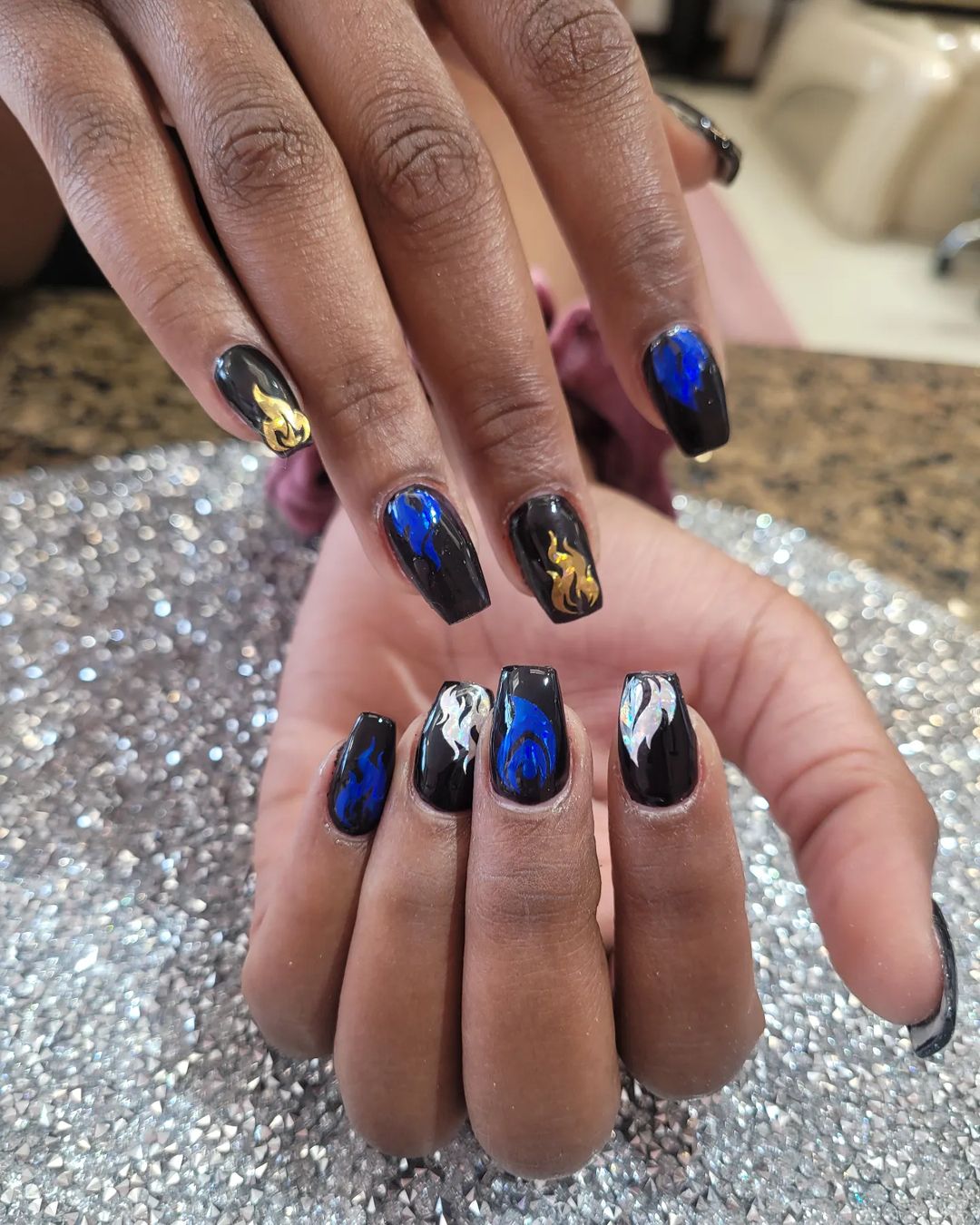 Black nail designs are not only for the alt, emo, goth, or other similar communities or as a cool addition to a scary Halloween costume. The black foundation nail makes it a perfect backdrop for any design that you want to make your design really pop. You must agree that these metallic flames are looking hot on that black backdrop.
Octagon Sequin Nails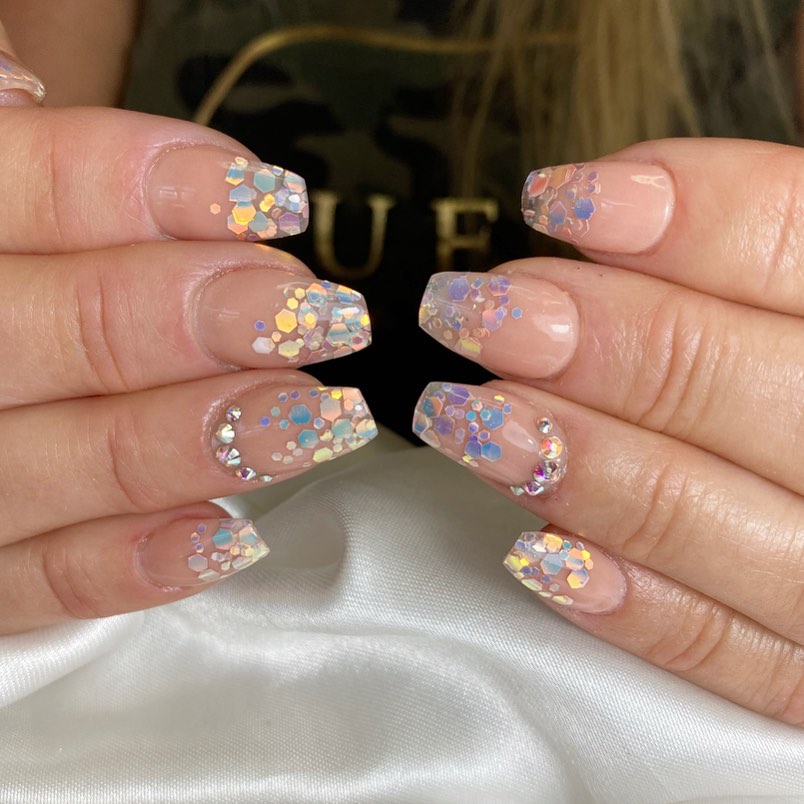 There something magical in holographic glitters and sequins that make them so popular. The fact that they can stand alone as a manicure without a colored nail polish makes them even better. The shattered crystal look of the tips is only enhanced by the small crystals at the base of the nail.
Three-way Color Blend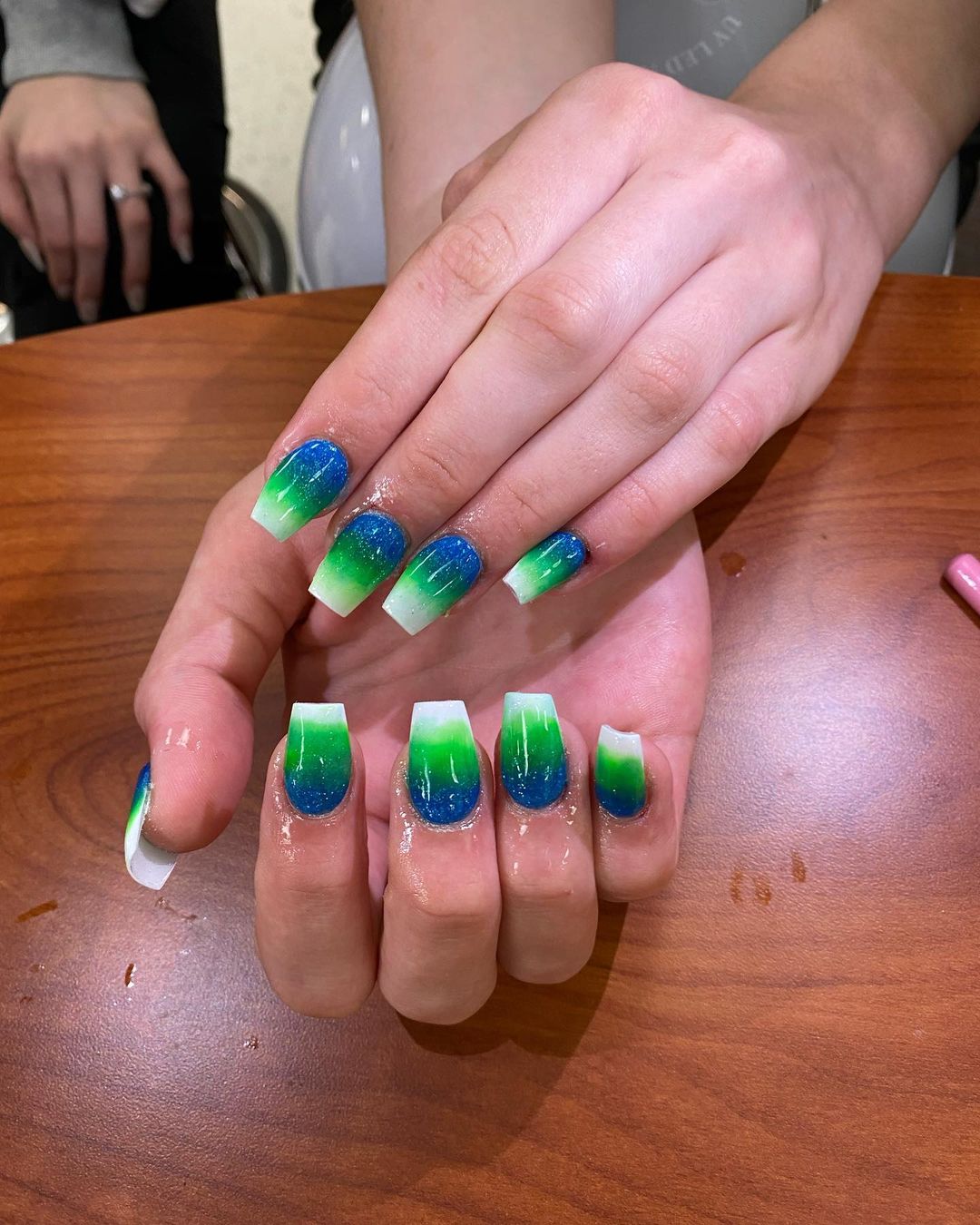 If you're tired of ombre nails, you might want to add another color to the mix. Try adding a color of the same color family in the blend and your classical ombre will be immediately revitalized.
Dark Swirly Rainbow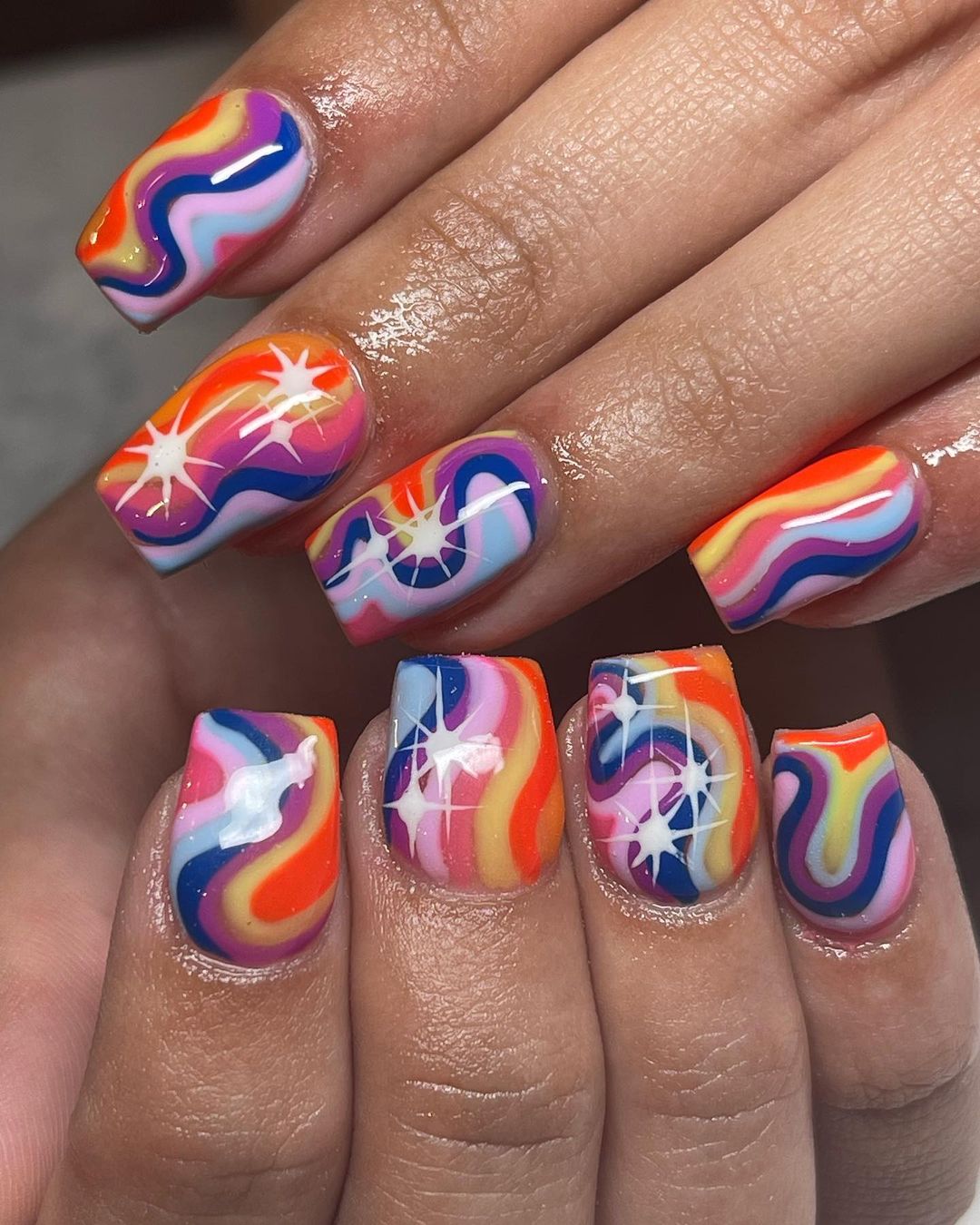 Rainbows used to be considered something loved only by little girls, but today most of the world associates the colors of the rainbow with the LGBTQ movement. If you're a part of it or want to support it in a slightly different way, try a darker version of the rainbow. We're all just different shades of the same color in the end.
Gray Gold And Black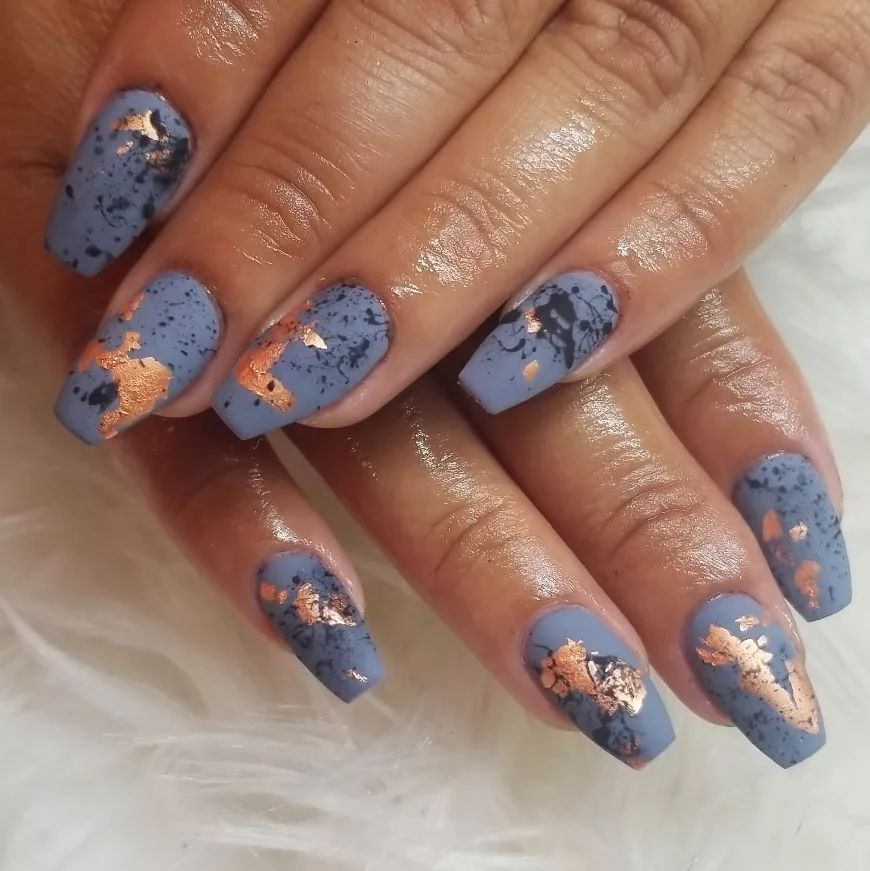 Sometimes you want to challenge yourself and try something that's out of the usual or you're not even sure what you want. Abstract design with just as rare color combo might result in unexpectedly artsy short coffin nails.
American Pineapple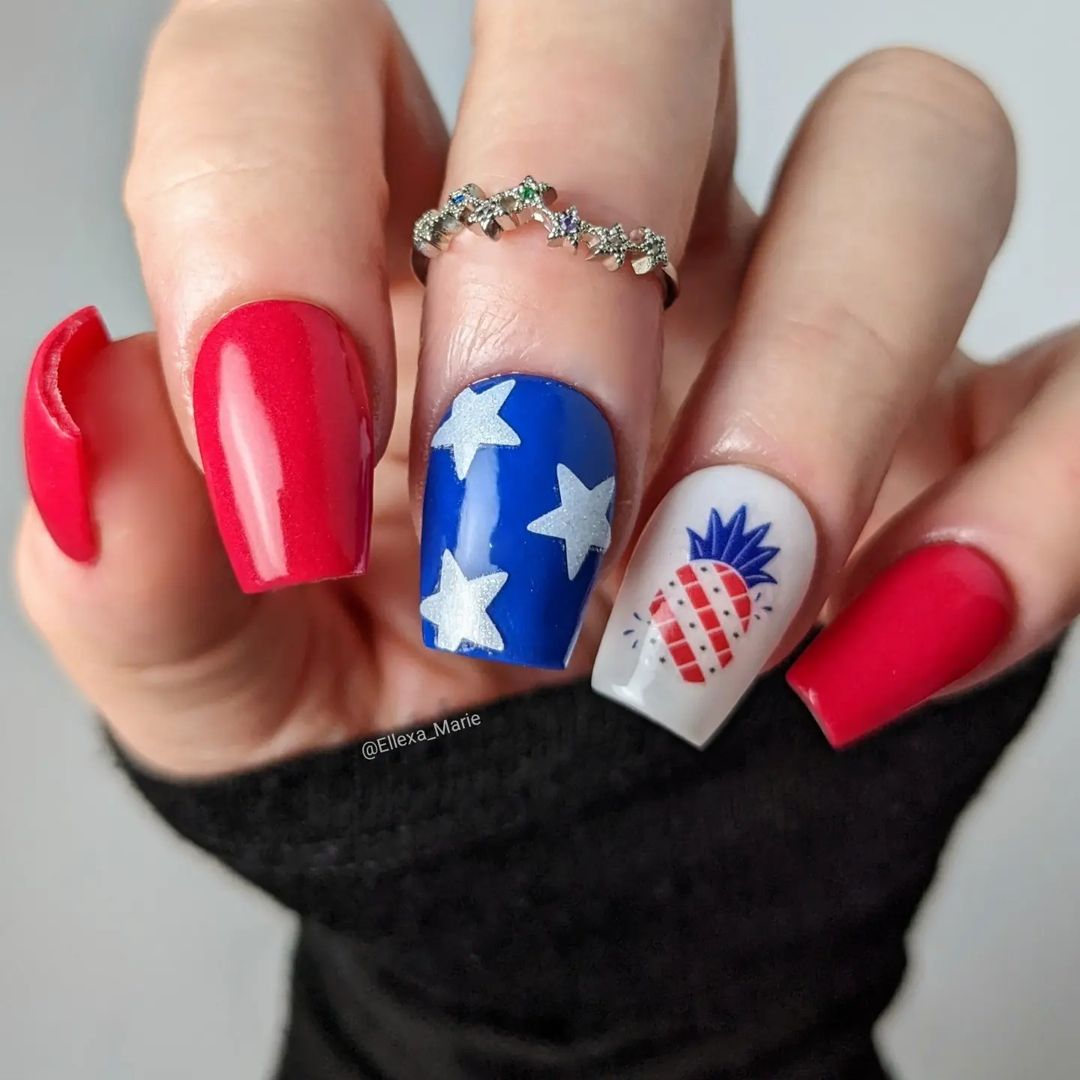 People outside of the US will recognize the red white and blue star-spangled banner and the bald eagle as American symbols. But what does the pineapple symbolize? Hospitality and friendship, and this design convey both.
Matte Green With Ember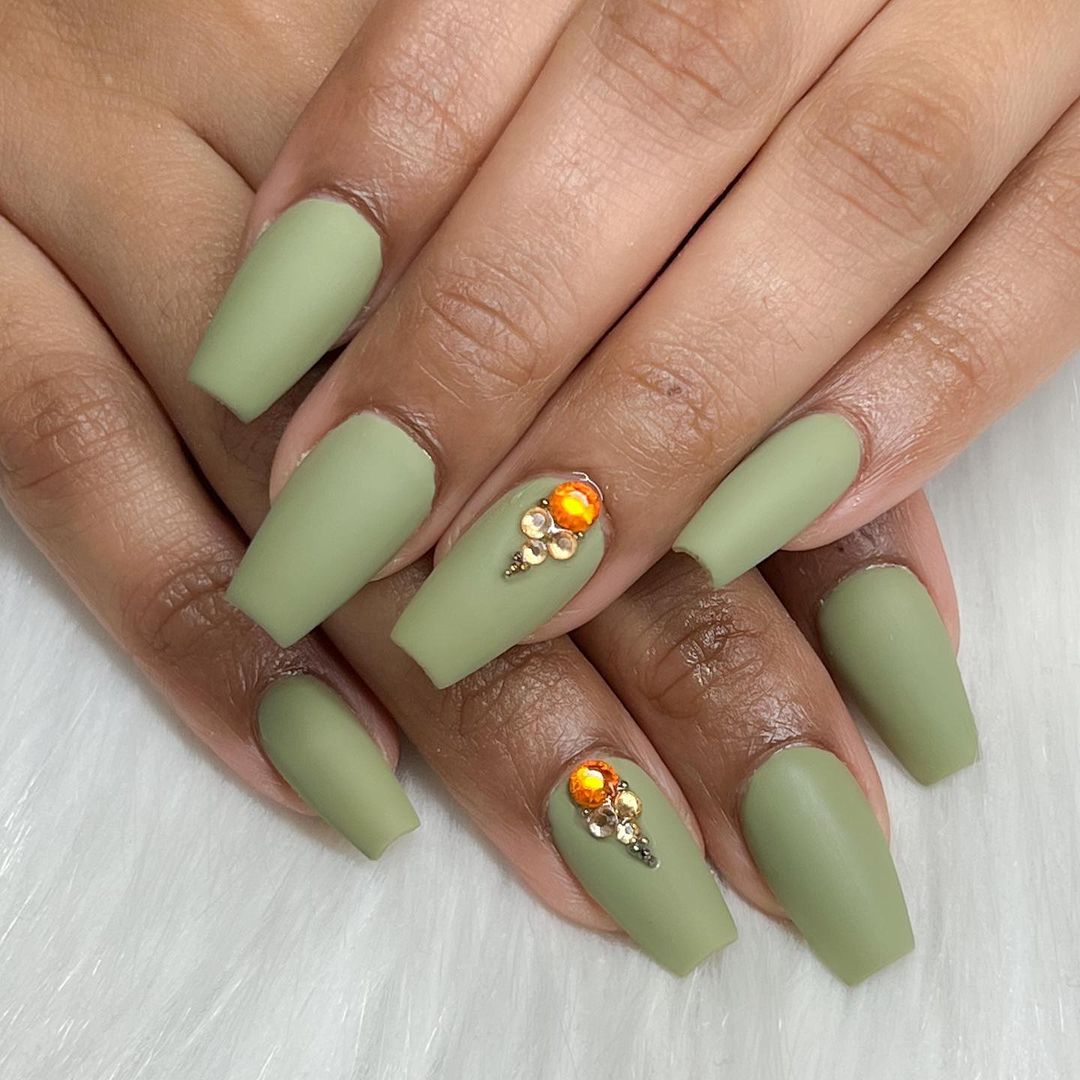 The calming gentle green might remind you of warmth and safety, but little do you realize, the ember that burns inside. If you believe that you are a warm carrying person with a hidden fire waiting to get out, maybe you should get this mani to help you get to that point.
That Surf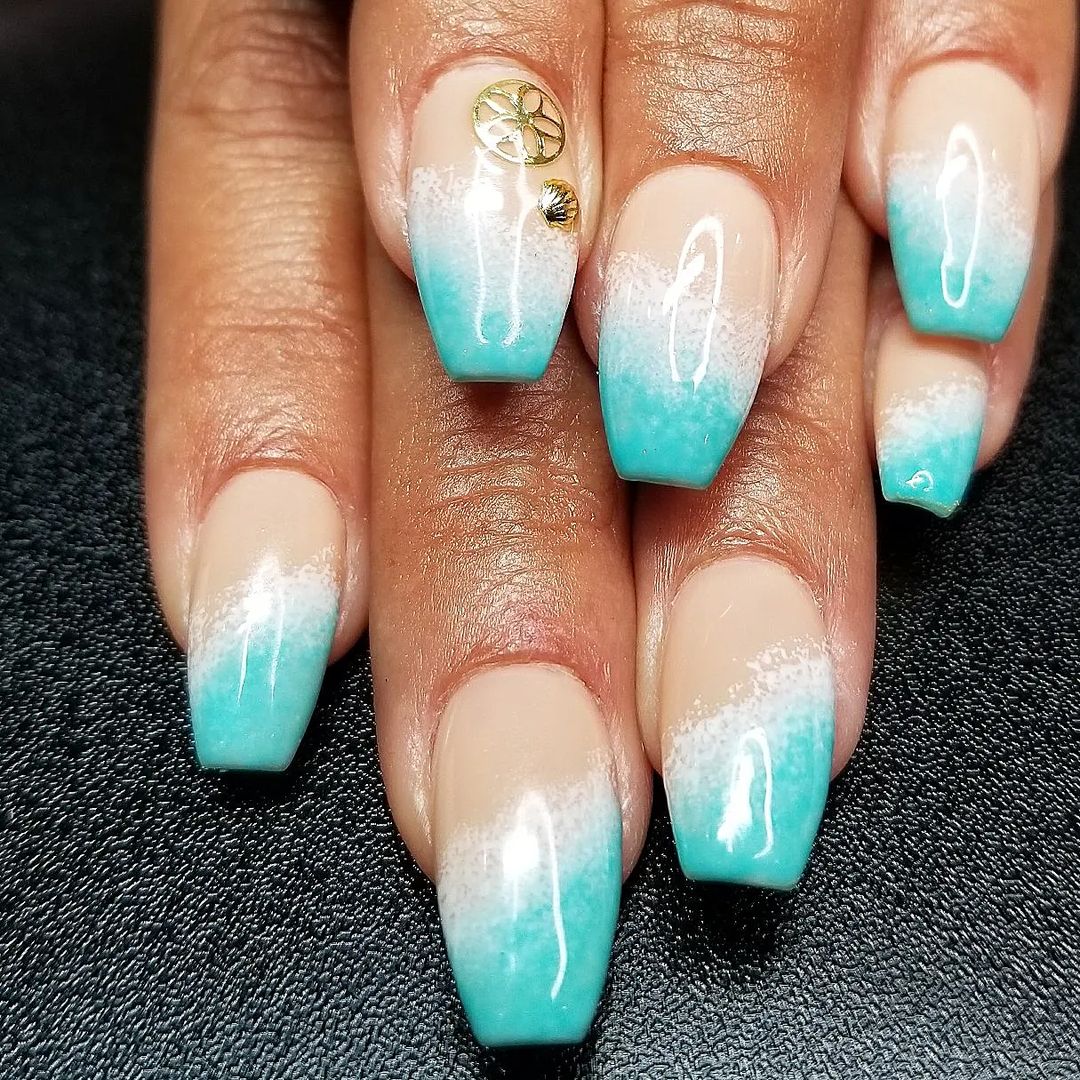 The best time of the year for most of us is the leisurely days sunbathing on the beach and watching the waves hit the shore. When unable to enjoy the beach all day long, at least we can carry a bit of it on our nails.
All healthy and well-cared-for nails look beautiful, no matter the shape. Choosing the shape of your nails is a personal choice and if you have semi-long nails but if you are still unsure whether short coffin nails would look good on you,  we hope this list helped. What nail design would you do for your coffin nails? Share your ideas and comments in the section below.