Do you know what the color on your nails says about you? It may be that pink emphasizes your femininity if you wear it anywhere on your body, but when you wear a pink nail polish it means that you are a person with a positive mindset.
Aside from the face, our hands are the most exposed and noticeable part of our body.  After all, we use our hands for everything, from taking care of our needs to doing chores or work at the workplace. Having a manicure in the appropriate nail color for certain environments must be something to be taken into consideration when choosing your nail designs.
Light pink or shades between pink and skin-color nude is one of the safest options if you work in a position where you have to be representable to others. Dark pink, is more suited for romantic and evening events, as a great substitute for red nails, and neon pink nails are definitely the best choice for a party. So, for everyday activities and semi-formal occasions you won't go wrong with lighter shades of pink, which are simple, yet elegant.
In addition, if you want to add some personality and sparkle to it, a few diamonds and other nail accessories are always welcome. The stronger the color and the diamonds are, the less professional the environment should be.
So, did you consider choosing a pink manicure for any particular occasion? Yes, it is possible! One color, many shades, and different diamonds combined properly give you lots of choices.
Naked Pink Out-of-the-ordinary Nails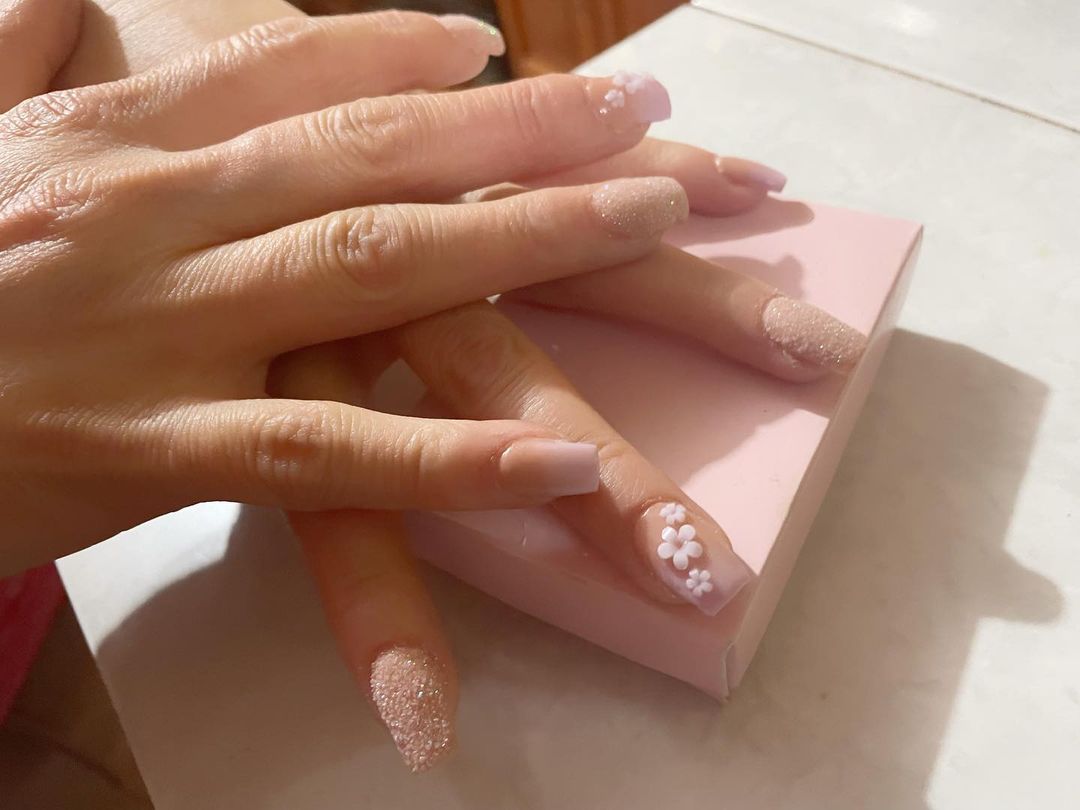 Naked pink nail polish looks great with any white decor, but putting a different one on a different nail can look extraordinary. White flowers, diamond dust, plain pink nails, tears like diamonds, and more mixed together are an excellent choice.
Purple-pink Glitter Nails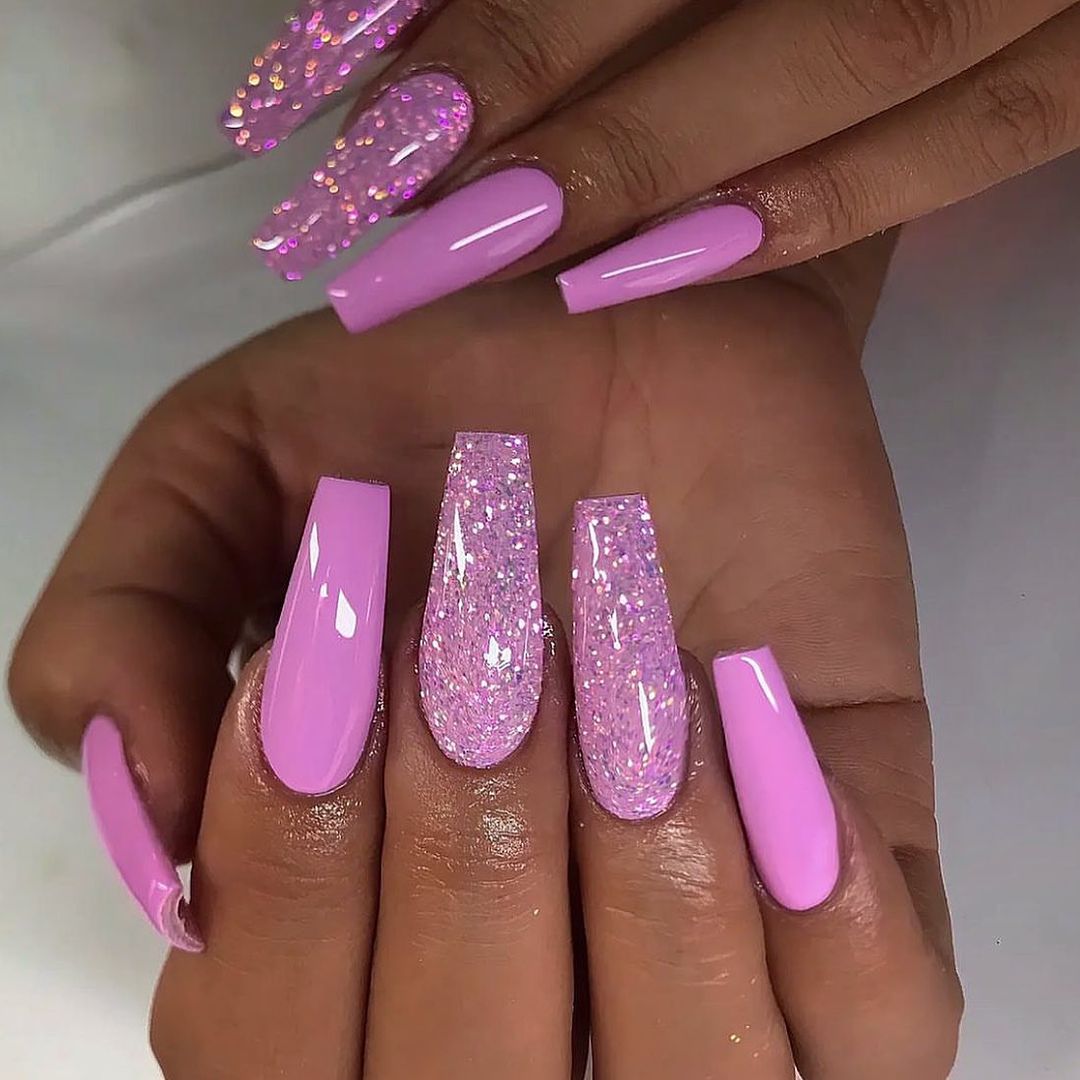 Sharp nails with a cut top are trendy, but they can be a great choice only for a party. You don't need diamonds on every nail as this purple pink is strong enough. Two nails covered in diamond glitter are enough to shine in the disco.
Funny Pink Nails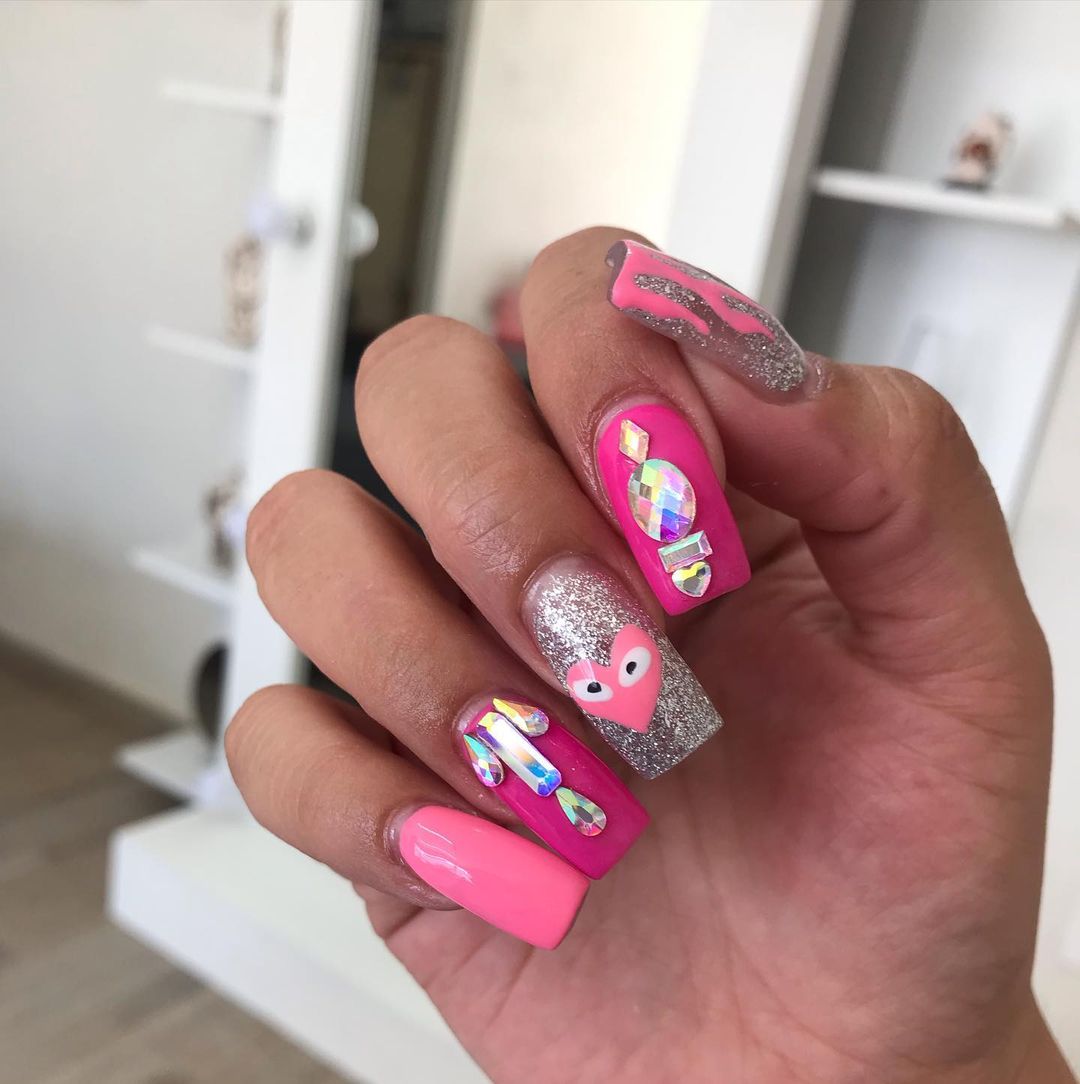 You can use diamonds on long nails in many ways. You can draw hearts, faces, and other shapes, and of course, it needs not be on every nail. It is up to your imagination and wishes what you like to see on them.
French Manicure-looking Pink Nails
French manicure never goes out of fashion and using colors and diamond glitters to make one is also trendy. Use a naked pink for the basis and silver diamond glitters for the top and you have a hit.
Ombre Pink Nails With Diamonds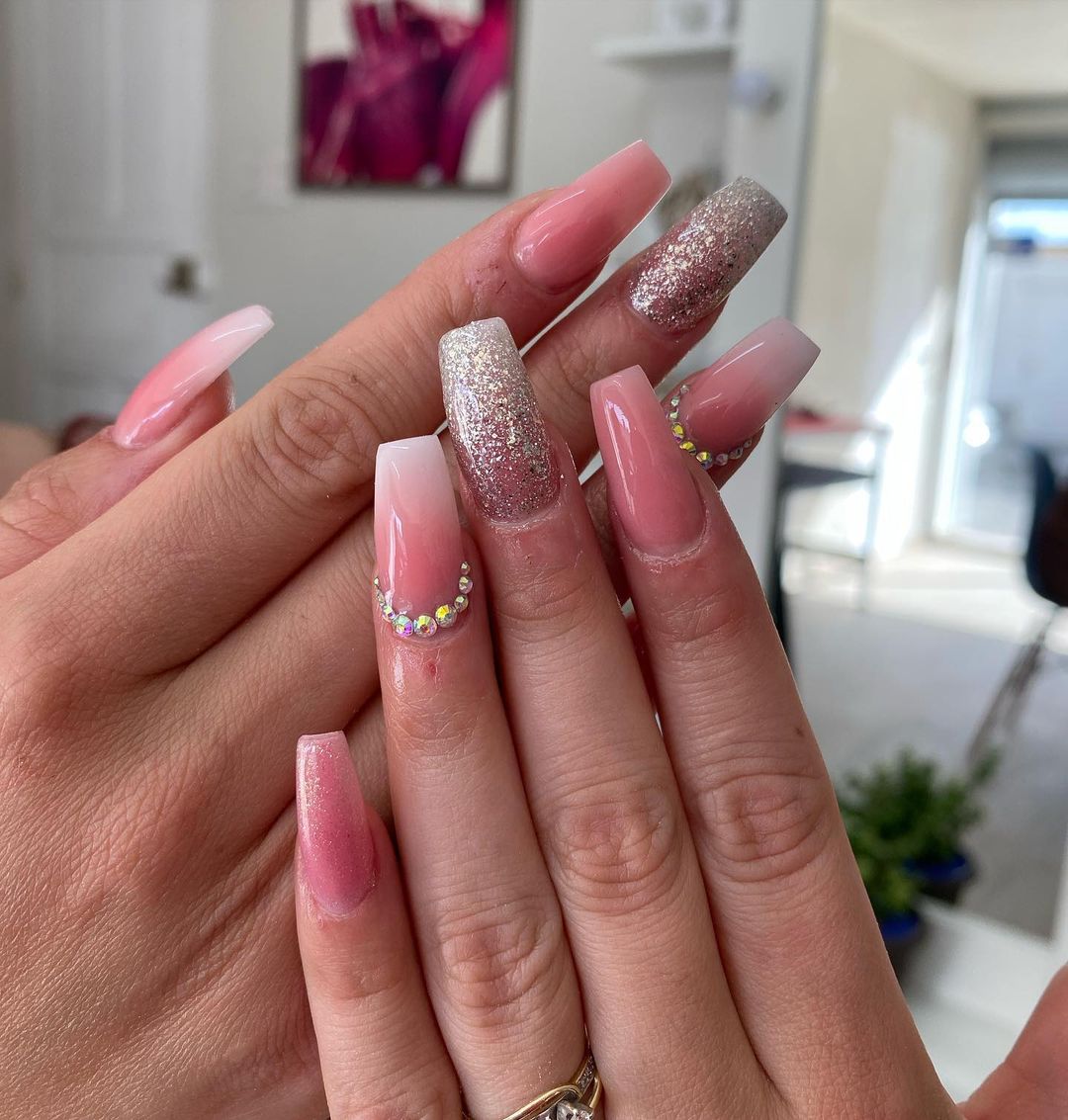 Pink ombre may not be always good looking on your hair and clothes, but it looks excellent on nails. You can add dusty diamonds on one nail and a few bigger diamonds on another one and that's it. Ombre is a story for itself.
Short Sharp Pink Nails With Diamonds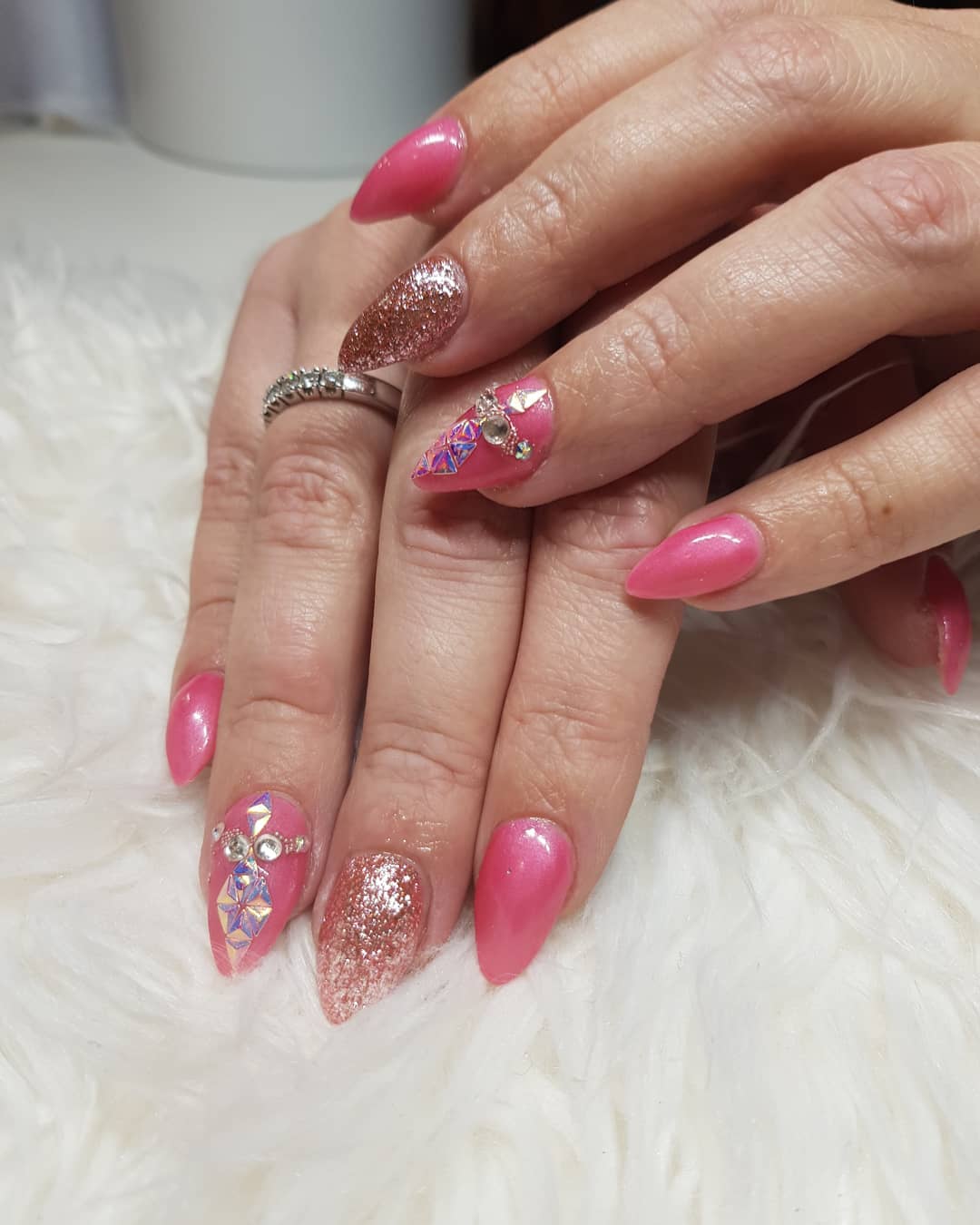 Sharp may be more casual if the nails are shorter. You can put more diamond glitter on them and they would still look more casual due to the length. Again, you can put diamonds only on one or two nails, which can be different.
Long Simple Diamond Nails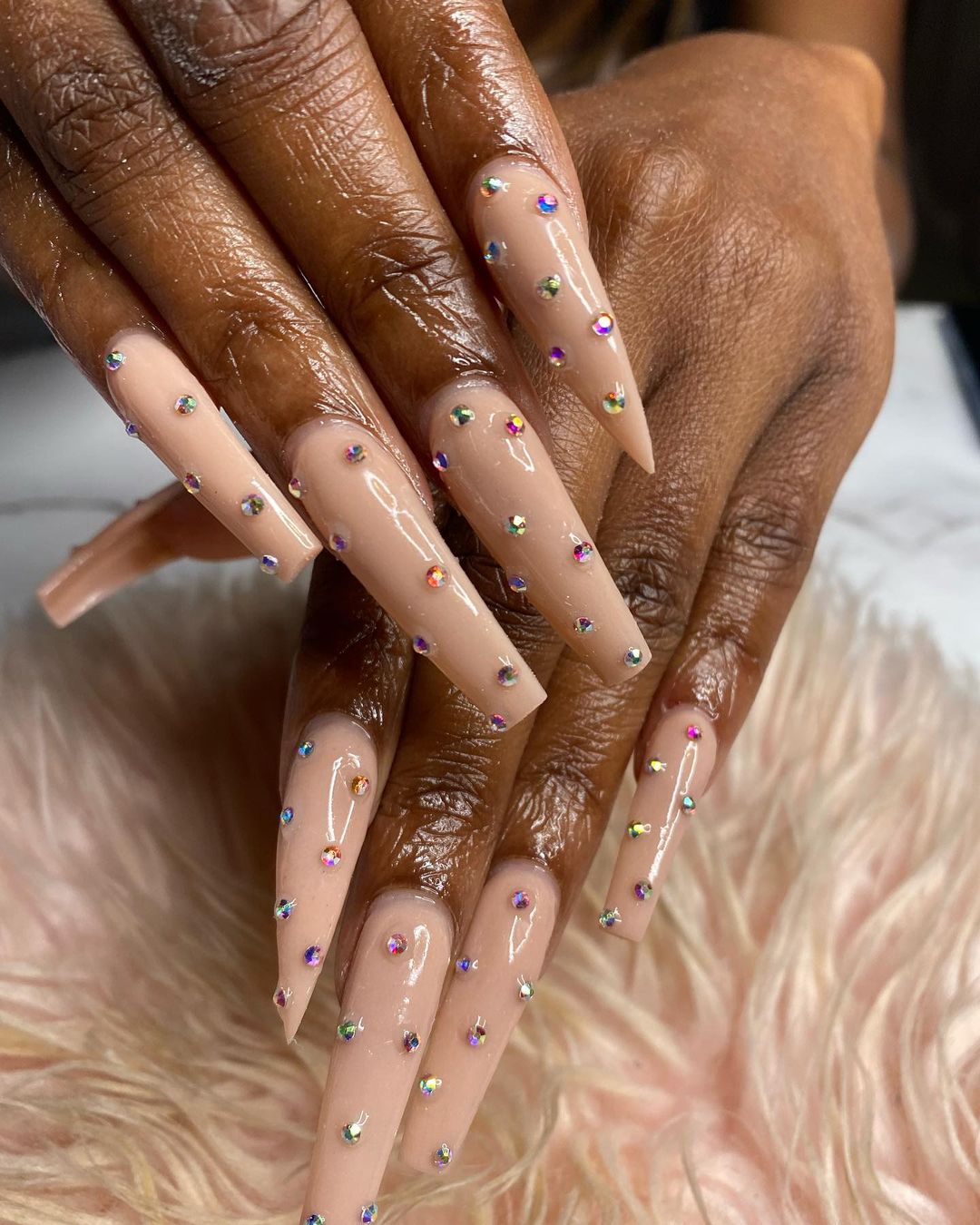 If you want to have long nails, but don't want them to look too complex and yet use diamonds, then this is the right choice for you. Choose a light color, pink which is almost beige, and put a few diamonds on each nail at the same distance.
The 'Too Much' Pink Nails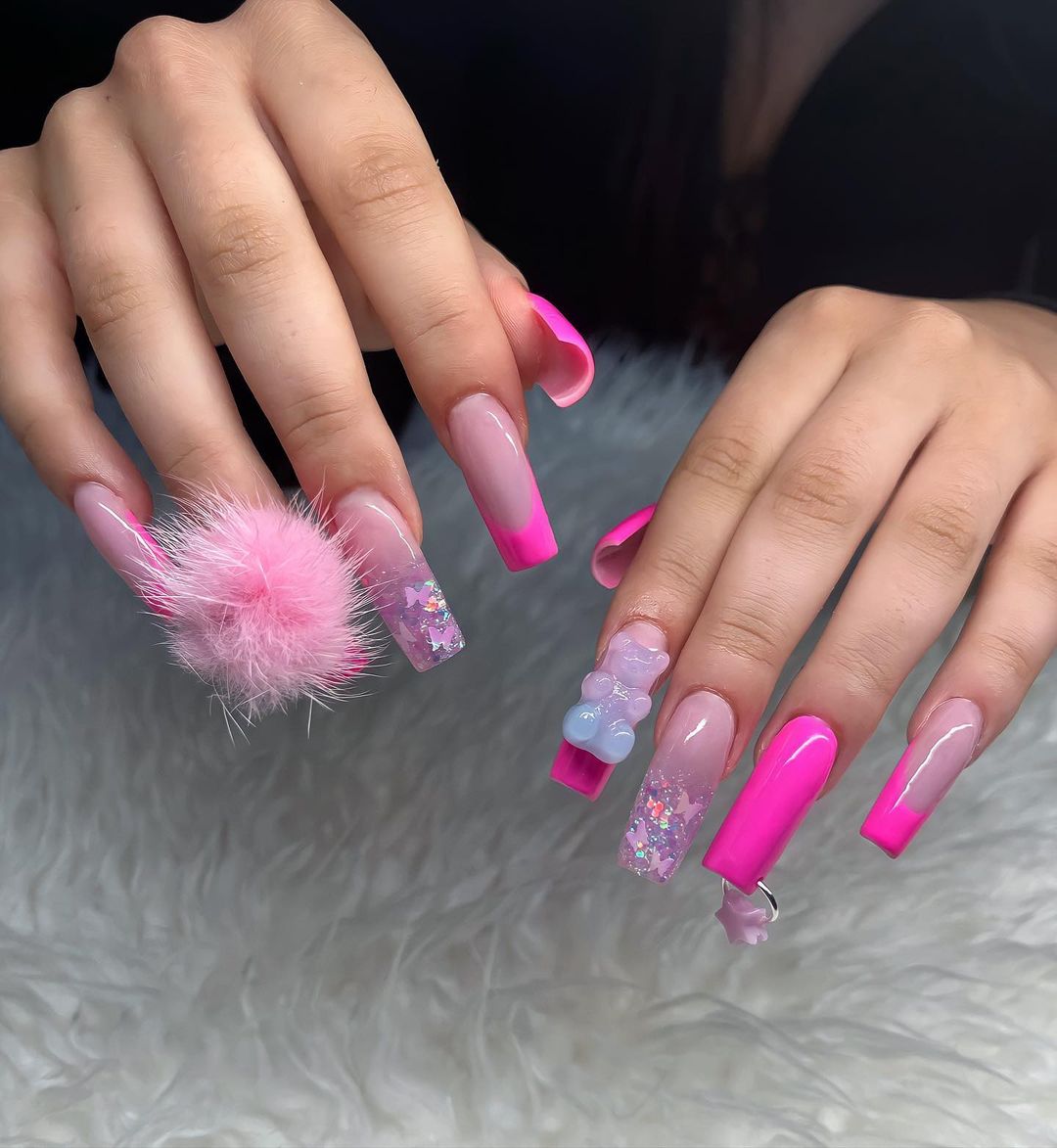 You can add different diamonds to your pink nails, but you can also use different colors for different nails. One may be made like a French manicure, another may be simply polished, on a third you may have a teddy bear-looking diamond, etc.
Strong Pink With Different Colored Diamonds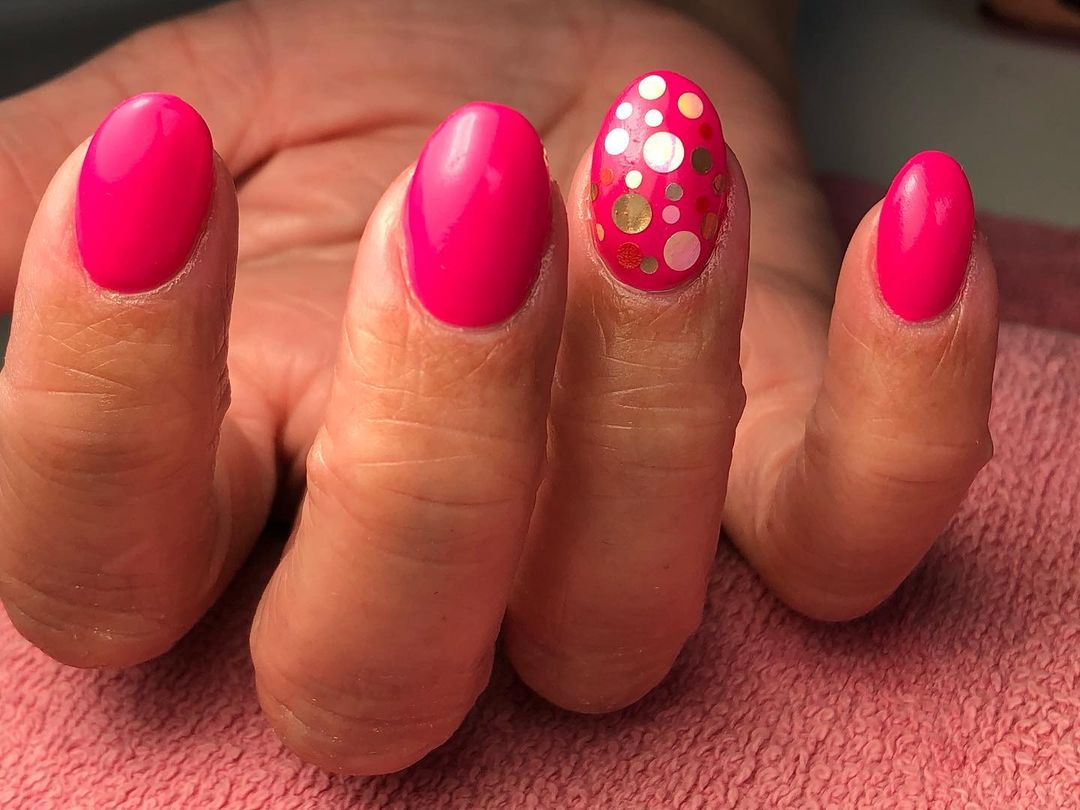 Shorter nails may look more powerful if you polish them in strong pink. Adding diamonds in different colors is a good option, but you can do it only on one nail to avoid the 'too much' effect in the end.
Weird Pink Diamond Nails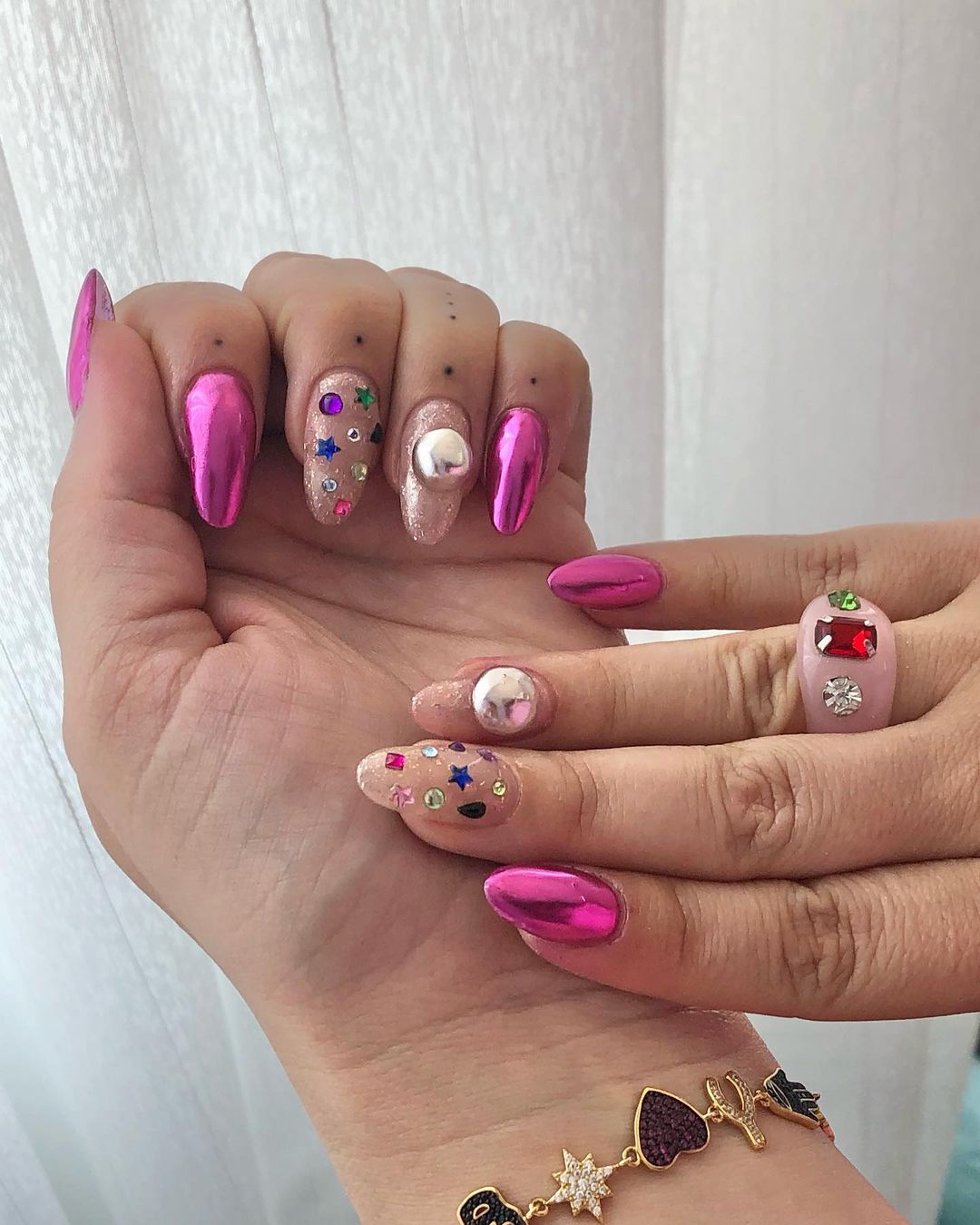 If you want to stand out from the crowd, these nails are definitely for you. Use metallic pink for some nails and lighter shades for others. Decorate two of the light pink ones with colored diamonds, while putting almost a nail-sized diamond ball on the other two.
When Stars Rest On Pink Nails
Diamonds of any shape and color can be a great choice for lighter pink nuances. Add 3D effects made with nail polish to the star-shaped diamonds and you are ready for any unofficial occasion.
Long Square Pink Nails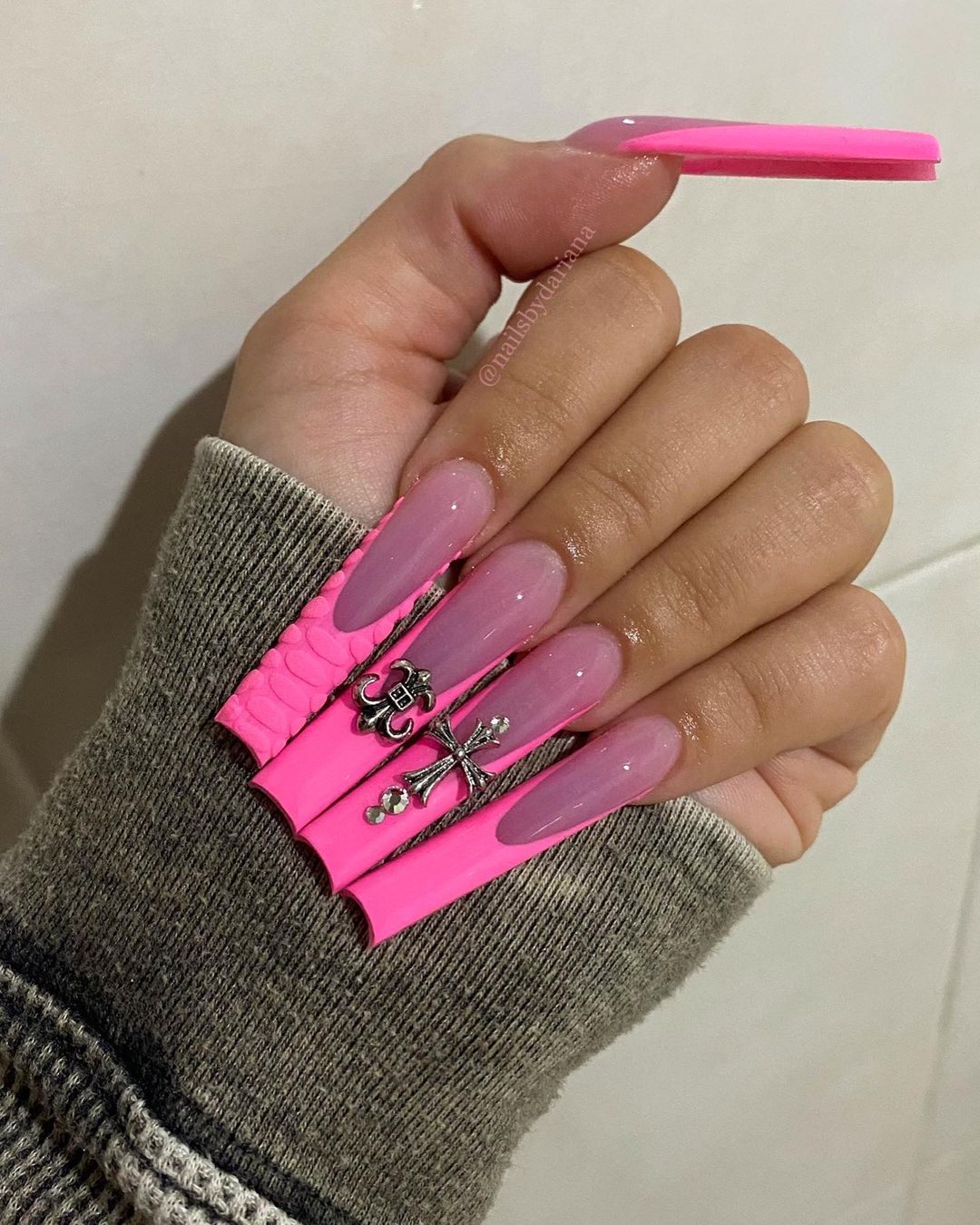 As you can also experiment with the shape, you can make the top of your nails flat, but still, stick to the French Manicure style. Just use pink and add the diamond or other jewel nail accessory or shape made of diamonds on one finger and that's it.
The Disco Ombre Pink Nail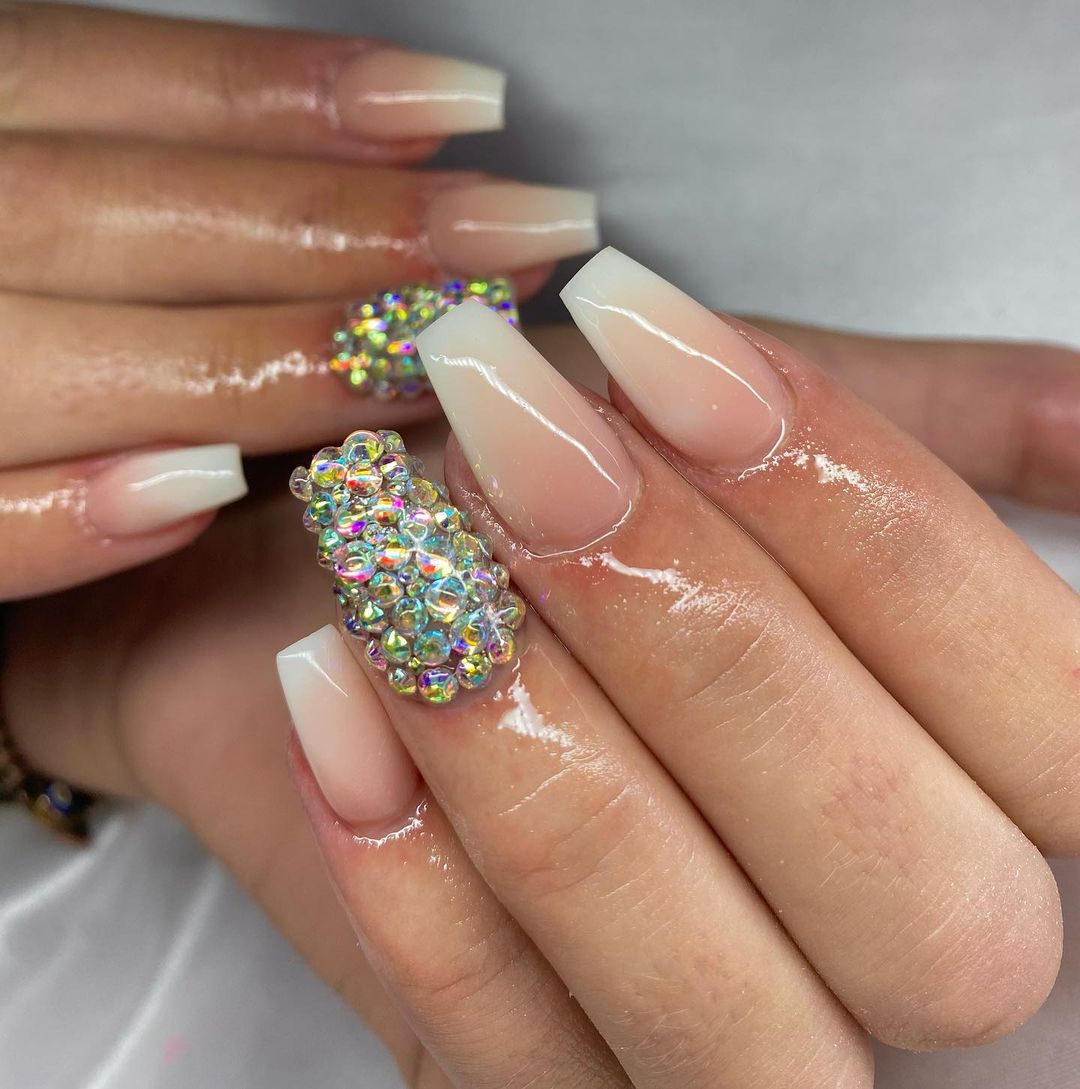 If you pick the right shade of pink ombre can look great. But if you fill a couple of nails with diamonds of the same shape and color you can get the ultimate disco outlook. The fact that not all nails are with diamonds adds class to the whole nail story.
The Princess Pink Diamond Nails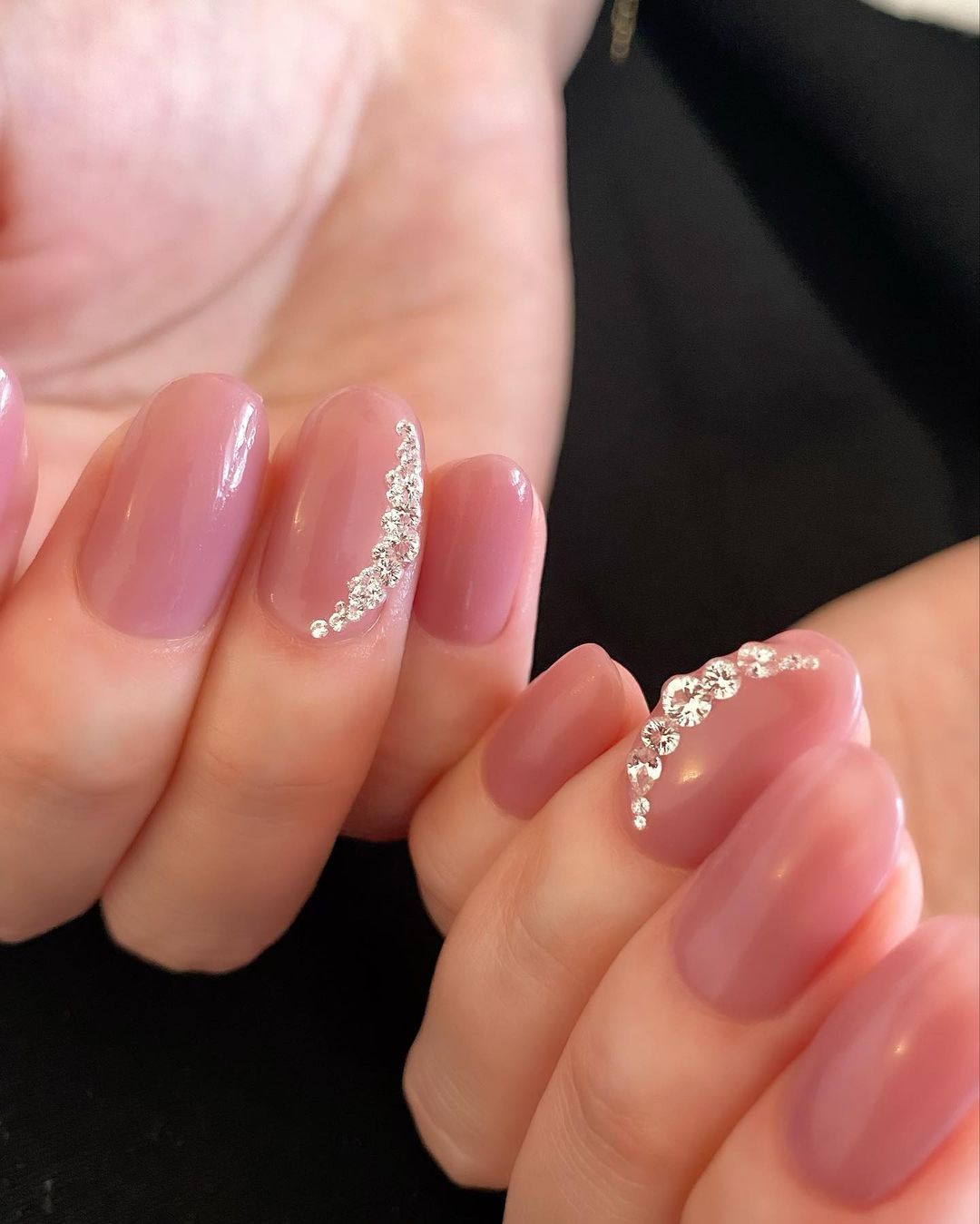 An almost naked pink on your nails can also make you more feminine and gentle. With some shiny diamonds in a semi-circle-like shape, you'll look like a princess. Of course, they should be shorter, or at least with some medium length.
The Creative Pink Nails With Diamonds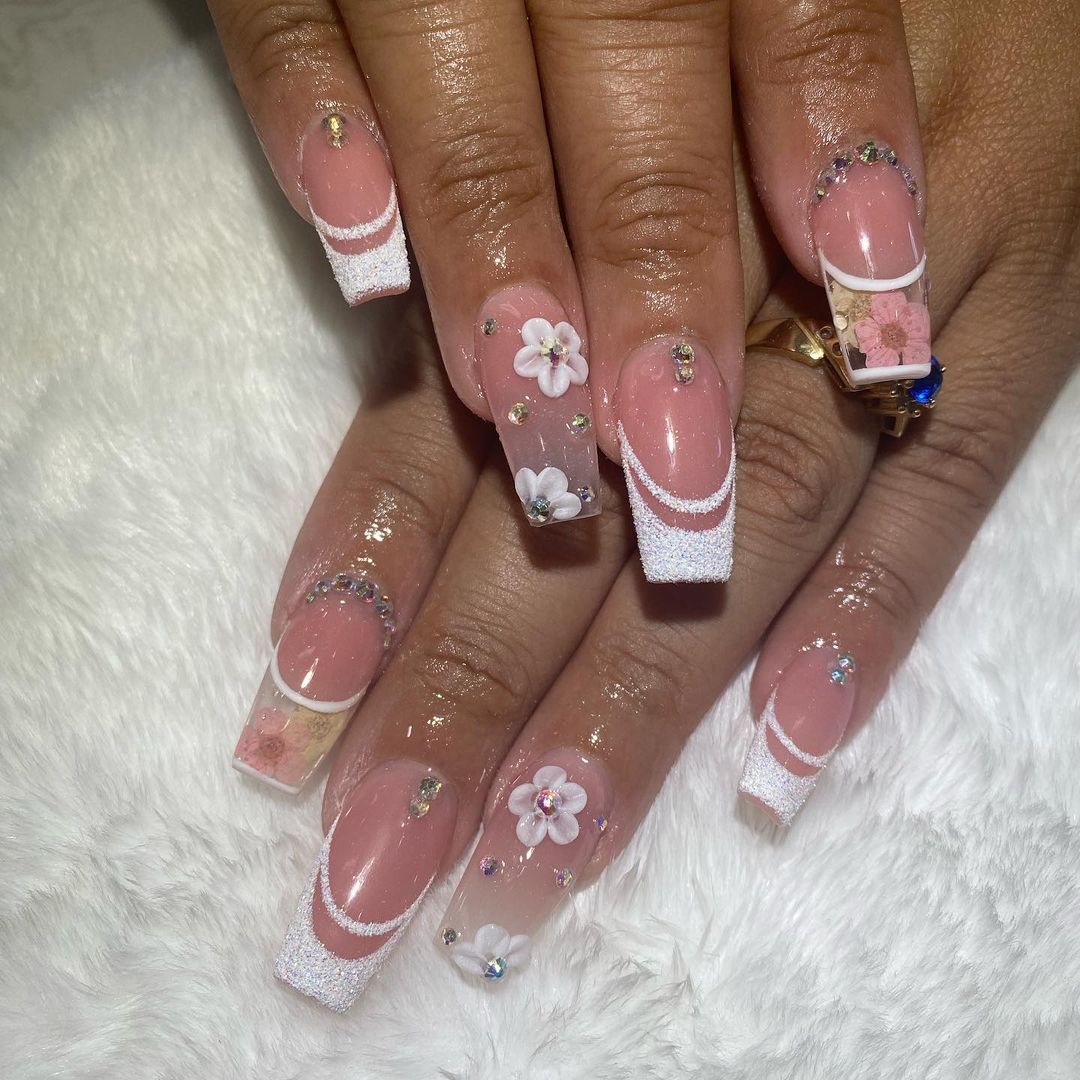 White dusty diamonds, silver diamonds, different pink shade, and more seems to be used to make these nails. Some nails even seem transparent, but they are pink. Somewhere you may find only a diamond and somewhere there is whole artwork.
The Different Pink Diamond Nails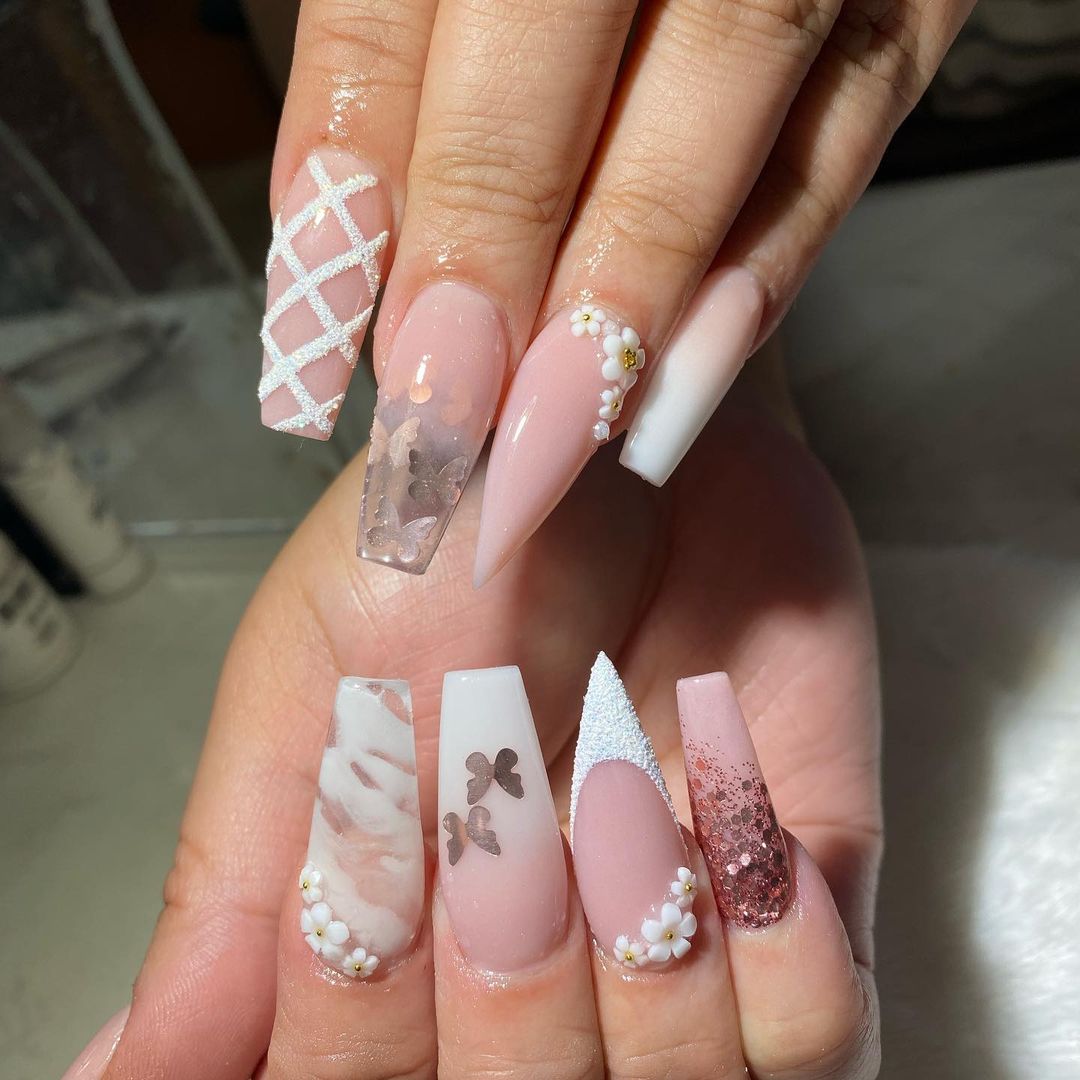 You can be out of the ordinary and make each nail different. One makes it sharp, while others are flat. Then make a different artwork by using flower diamonds, dust-like diamonds, pink diamonds, and much more to define each one.
So, did you find your nails? Maybe now your creativity is awakened so you can make completely different pink nails with diamonds than the ones you saw. If not, just pick some from the list.
And of course, don't forget to consider the events that are going to follow once you've done your nails. Diamonds are women's best friends, but if you place too many on your nails, they may not be appropriate for some environments, like for example, the office. What is your favorite way of doing pink nails? Share your thoughts and ideas in the comments.