The beautiful sights, new sounds, famous foods and fabulous fashions of Paris are calling — and how you answer the call is up to you. For most, though, the culture is so inspiring that you'll likely want to see an authentic side of it and even incorporate it into your life as much as possible while there. You want to answer the call as if you were MEANT to take it. This will mean indulging in the sights, including the language, exploring the food and embracing the fashion (from comfortable wedge sandals to casual-chic tops). That's where we can help.
The secret to the smart and sought-after Parisian look is creating an outfit or aesthetic that looks effortlessly well put together. To do this, consider our "Dos" below.
Dos
Do embrace flattering, fitted pieces. Not Spandex tight, and not sweatpants baggy — fitted clothing speaks to quality and consciousness.
Do anchor your looks with elevated pieces that boast quality and/or timeless fashion.
Do create a neutral outfit (with all black as an especially popular option) and accent only with color.
Do find a smaller, crossbody bag for daily use. People with large bags and backpacks are usually viewed as tourists and can easily become targets for thieves. Along with this, a lot of the busiest sidewalks are fairly narrow, and your big bag may be an obnoxious obstacle for others. As far as bags go, it's also a good idea to bring your favorite fabric shopping bag, as these tend to be preferred for grocery stores here.
Do dress modestly, even in the summertime. You can still wear shorts, for example, but aim for tailored shorts that are a little bit longer instead of skintight short shorts. If you do opt for your Spandex booty shorts or super plunging sundress, though, we suggest the addition of a simple scarf that you can easily unfold and use as a stylish shawl or convenient cover-up. The

sun shines down on Paris with some strength

, too, so consider a hat, sunglasses and sunscreen if you are visiting in the spring and summer months.
Do utilize layers, especially in the winter. Patterned scarves, leather gloves, classic peacoats and

cute boots

— both short and tall alike — are always crowd favorites when it comes to combating cold winds, and they can easily be added to any outfit when bought in neutral colors. When boasting interesting colors or textures, though, these pieces can elevate the whole ensemble and make an otherwise neutral outfit pop. Aside from outerwear, base-layer pieces like leggings and undershirts are invaluable when worn under an outfit. It's important to remember that these pieces generally aren't as accepted when worn alone, though.
Outfit 1: Pronounced Parisian Patterns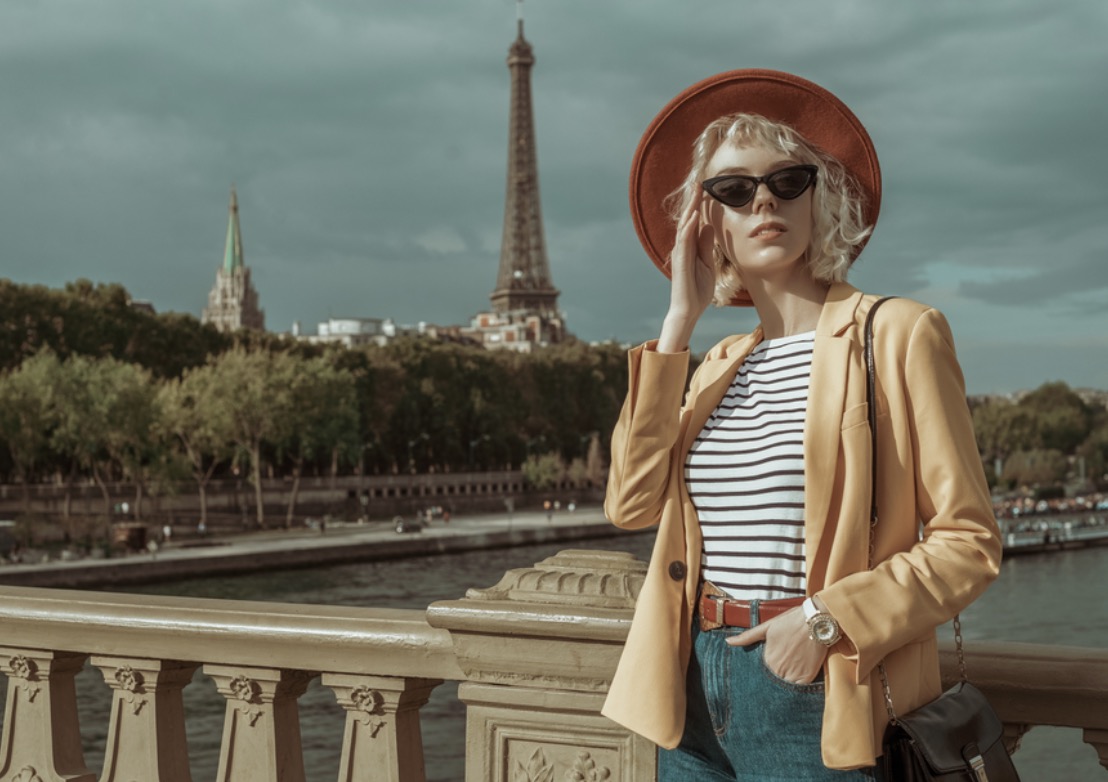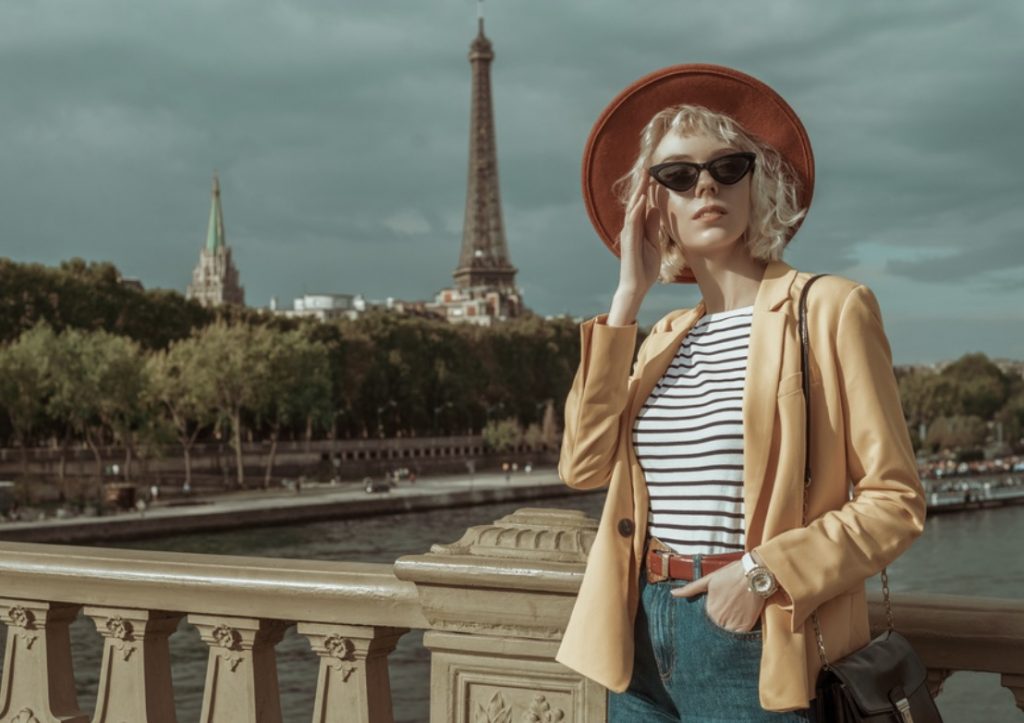 Other than the beret, no piece is as pronounced in its Parisian aesthetic (or as possible to pull off) as the striped long-sleeve shirt. And while there are endless ways to style the striped shirt, we love the idea of it with a pair of jeans (that you'll likely get good use out of and wear more than once while you're there) and a classic coat or blazer in any color if needed. From here, what will really make the look is the addition of a belt through the jeans and sunhat in any style that match each other well. You'll want a pair of cute boots in a shorter style to put this look over the edge fashion- and function-wise and, if possible, you'll want them to match your coat, or your belt and hat combo.
Outfit 2: An Embodiment of 'Effortlessly Well Put Together'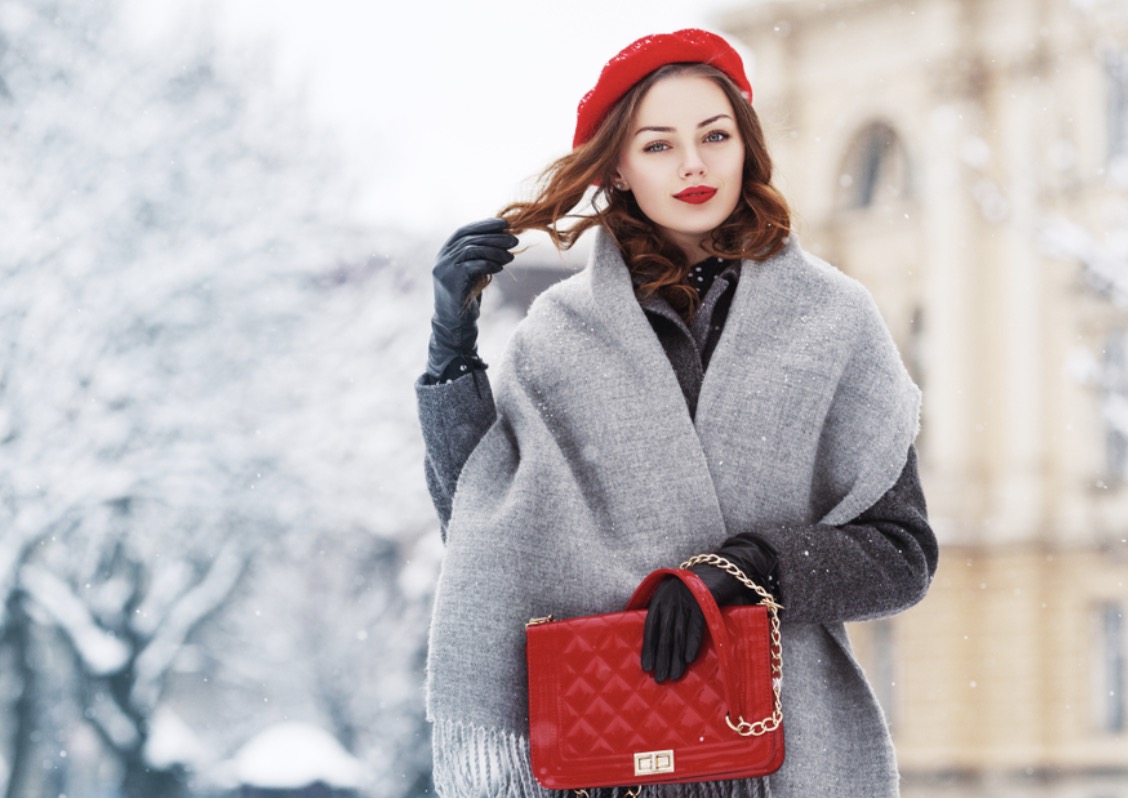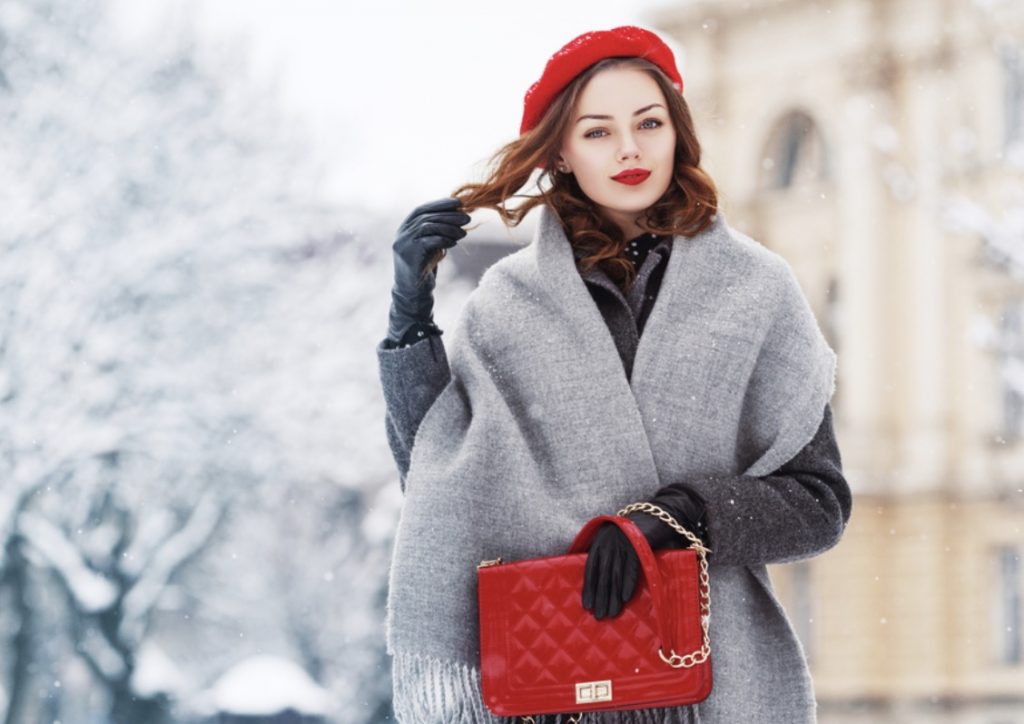 For a cold day, the look above embodies the "effortlessly well put together" goal. Neutral tones with excellent color and metallic accenting, fantastic layering and use of a blanket scarf, anchored with elevated pieces and embracing good fits no matter how much is piled on. While the bottom of this outfit isn't shown, we would suggest a timeless pencil skirt in a darker charcoal color like the base of the outfit we can see, black tights and a pair of lighter gray (to match the scarf) or red suede ankle boots with rounded toes and a sophisticated heel style.
Outfit 3: An Elegant Aesthetic for Any Location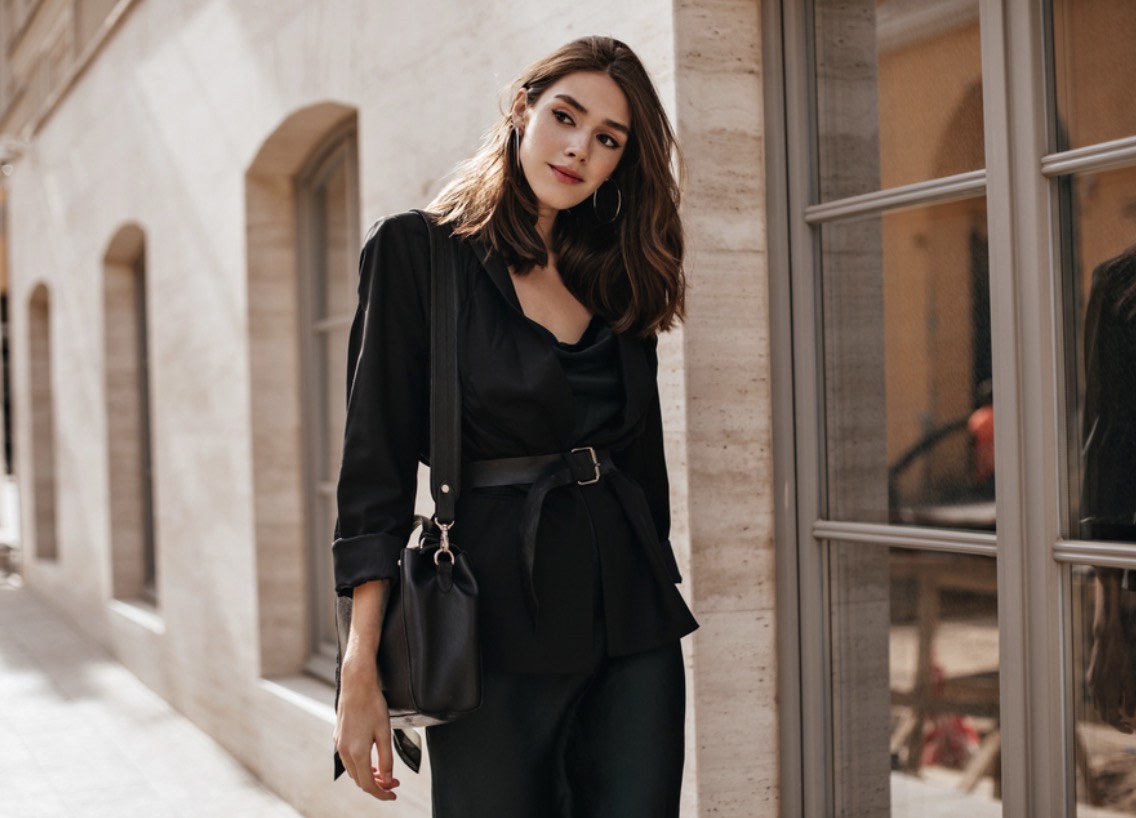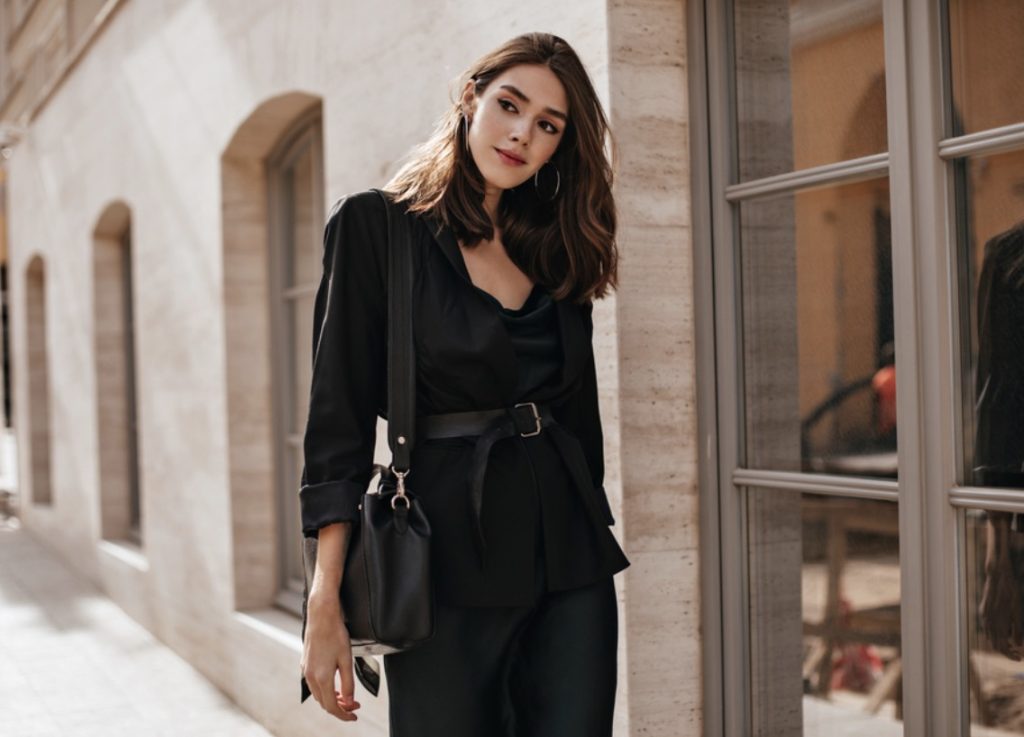 No cliche pieces here — just a sleek and stylish pure black ensemble that's expressing a fitting-for-France feeling through form and flow. Especially when it comes to avoiding super tight pieces and exposing too much skin, a sleek black outfit that's fitted nicely will flatter your figure as much as your elegance, and will make the perfect outfit for special events and evenings out. We suggest a simple little black dress that you feel confident in for this, as it's easy to slip into, easy to pack and easy to style, depending on the specifics of the activities or location. To amp the aesthetic up a notch or for colder weather, we would also suggest a cropped jacket with a simple silhouette and the addition of a matching belt to make the layering more interesting and appealing. From here, accessorizing through timeless metal details found on purses, belts, shoes and jewelry will create a simple yet striking aesthetic that's appreciated in every culture.
Don'ts
Don't rep athletic wear unless you're working out. Basketball shorts, bike shorts, real running shoes, sweatpants and leggings should all be reserved for the gym. Along with this, jerseys and obnoxious team logos should be left at home.
Don't expect to wear your jeans to fancier restaurants or events, even though you can generally get away with it at most North American establishments.
Don't feel the need to do heavy makeup or amazing hair. Of course, you can if that's what you like to do, but the elegant yet effortless aesthetic that's embraced here doesn't call for formal hair and makeup, so no worries if that's not your style.
Don't wear shoes that you aren't completely comfortable in. If there is any chance you'll be uncomfortable in a shoe, leave them at home. The pathways you'll walk in Paris are beautiful, but cobblestone is a hazard for heels if you're not seasoned, and open-toes are nothing but easy access for dust (and for your toes to get crushed on overly crowded sidewalks). Instead, make sure to find

cute women's travel shoes

that will actually keep up!
Making It Parisian AND Personal
Whatever special outfit or specific piece spoke to you, take it and put your own spin on it. This is the ideal way to incorporate the Parisian look into your own personal one, and the only way to turn it into a timeless classic for your closet.