OGX gained a lot of popularity in 2021 thanks to social media. It is one of the best examples in recent years of how social media can help you grow your brand. But is it all hype? Is OGX good for your hair? In the past year, nearly everyone bought an OGX shampoo.
If you haven't used the shampoo yet, and you want to find out if OGX is good for your hair, we have some answers.
What is OGX Shampoo?
The best way to answer the question is OGX good for your hair is to look at the brand and what is the best OGX shampoo. The hair care brand is among the most popular in the industry these days. What makes OGX brand specific and unique is the way they make hair care products.
Every OGX shampoo is specifically designed to cure a different hair problem. And they are made with natural ingredients.
They do not have any harsh chemicals that can damage your hair. For example, there are no sulfate or parabens in the formula. And the best part is, you can find an OGX shampoo for every hair type, no matter if you have 4C hair or anything else.
Yes, they have silicone in them, but that is not nearly as damaging as sulfates. One of the downsides is that they are not cruelty-free or vegan. If that is your thing, OGX might not be the best shampoo for you.
The brand uses exotic ingredients in the shampoo that delivers a gentle formula for any hair type.
A Deeper Look At The OGX Product Ingredients
There are some good ingredients, and then there are some not-so-good ingredients in the classic OGX formula. Let's start with the good ingredients.
Let's start with hydrolyzed milk protein. It is a nutrient-rich protein that will repair tiny holes in the hair shaft and increase your hair strand's ability to retain moisture. This protein will also add shine and smoothness to your damaged strands.
The next important ingredient is collagen. Primarily known for keeping your skin soft and wrinkle-free, collagen is also effective for your hair. In any hair care product, collagen promotes moisture retention and can help restore life to your brittle hair. With regular usage, it can repair split ends.
Let's finish off with orchid oil, an ingredient that will help control frizz and restore natural shine to your hair. This oil will fill in tiny cracks and imperfections along the surface of your hair cuticle.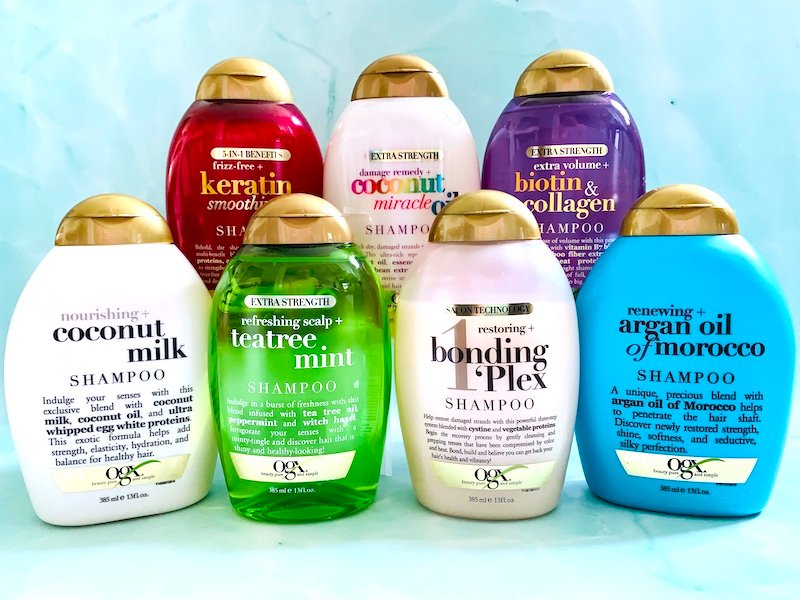 The Not-so-good Ingredients
We talked about the amazing ingredients in the OGX product formula, and now let's talk about some not-so-good ingredients.
First and foremost, these shampoos contain fragrance. The OGX products smell amazing and delightful, but there is a good reason for that. The shampoo contains artificial fragrances. They might be pleasant to your nose, but they might do some harm.
Another harmful ingredient is sodium C-14-16 olefin sulfonate, a cleaning agent found in some of the OGX shampoos. This ingredient, which is usually good, but falls into the "too much of a good thing is bad" can strip away your hair's natural moisture.
Is It Good For You?
So, is OGX good for your hair? Yes, OGX shampoo can be very good for your hair. It can make your hair silky, soft, and clean.
Most of these shampoos do not contain sulfate and can clean the buildup on the hair. After using this shampoo, your hair will be much more manageable.
Thanks to the moisturizing ingredients your dry hair and brittle hair will restore its natural shine and moisture. And if you are dealing with dandruff or dry scalp problems, you can also find an OGX product to solve it.
The big downside is the presence of silicone. If that is not a deal-breaker for you, and you can move past the silicone thing, you can easily find the perfect shampoo for you.
Here are some questions you need to consider:
How often do you wash your hair?
Is your hair damaged from chemicals, daily wear and tear, and/or environmental toxins?
How is your hair cuticle shaped?
Do you have straight hair, wavy hair, kinky hair, coily hair, or curly hair?
Does your hair require extra hydration?
Once you answer all these questions, you can easily find a suitable shampoo for your hair.
Is OGX Shampoo Safe?
Generally speaking, OGX shampoo is safe other than the presence of silicones in the formula. Lately, there was a whole movement against OGX shampoos.
That happened because of the addition of DMDM in it. There was a whole cancel OGX movement that went on Instagram and social media.
DMDM is a preservative that makes products last longer by releasing formaldehyde.
In September 2021, OGX apologized and vowed to stop using DMDM in their shampoo formula.
Can You Use It For Curly Hair?
As we said before, OGX shampoo contains silicones in the formula. That makes it not so suitable shampoo for curly hair.
These silicones can also continue to build up, and you can get rid of them by using a shampoo with sulfate. Generally speaking, do not use it for curly hair.
Does It Help With Hair Fall?
Here is the best part. OGX brand has a complete shampoo line made specifically to reduce hair fall. Now, it might not promote hair growth but will help with hair fall.
This best OGX shampoo contains keratin oil and Argan oil.
Does It Provide Volume?
OGX launched a product OGX biotin and collagen, a shampoo targeted at people with thin hair. This collagen shampoo can bring your dead strands back to life and make them thicker.
Just remember, you cannot get thick hair with a few washes with that shampoo. It is a condition that you have to spend more time and effort on solving.
Top 4 OGX Shampoo products
So, now that we answered whether is OGX good for your hair, let's talk about some of their best products. We have three amazing products that we would like to recommend.
OGX Active Beauty Green Tea Fitness Shampoo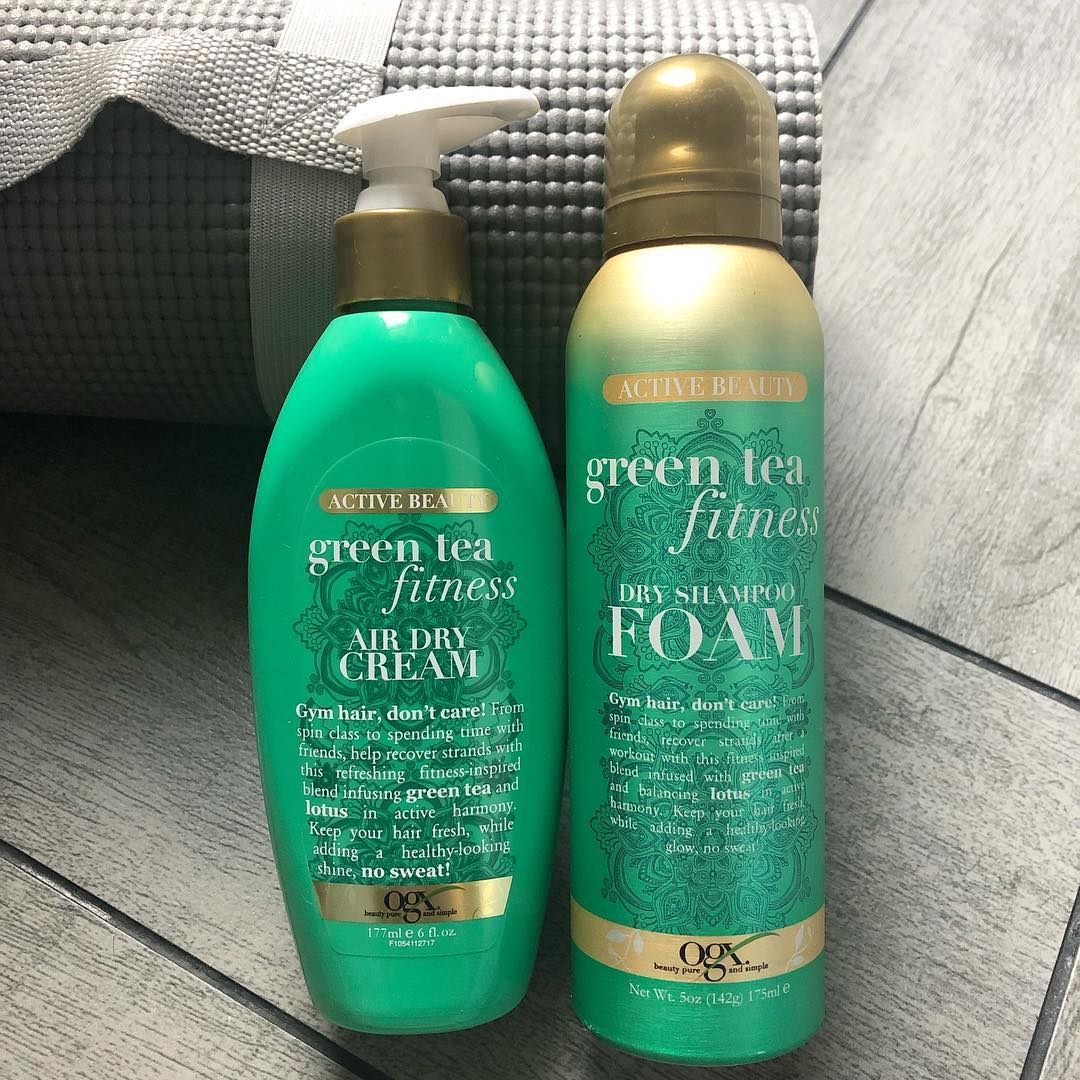 This is the best-smelling shampoo by the brand. Because an active life can take a toll on hair health, this shampoo will help. Get rid of all that sweat and grime with the OGX Active Beauty Green Tea Fitness Shampoo.
It is a mild shampoo that you can use frequently and will leave your hair looking and feeling fresh. And there are no sulfates in this shampoo. That means you can easily use it 3 to 4 times per week without worrying about stripping your hair of its natural oils.
This shampoo thoroughly cleanses oily and sweaty hair. The only downside is that it doesn't contain moisturizing ingredients and can dry out your hair. Add a deep conditioner to your hair care routine, and you are good.
OGX Renewing Argan Oil of Morocco Shampoo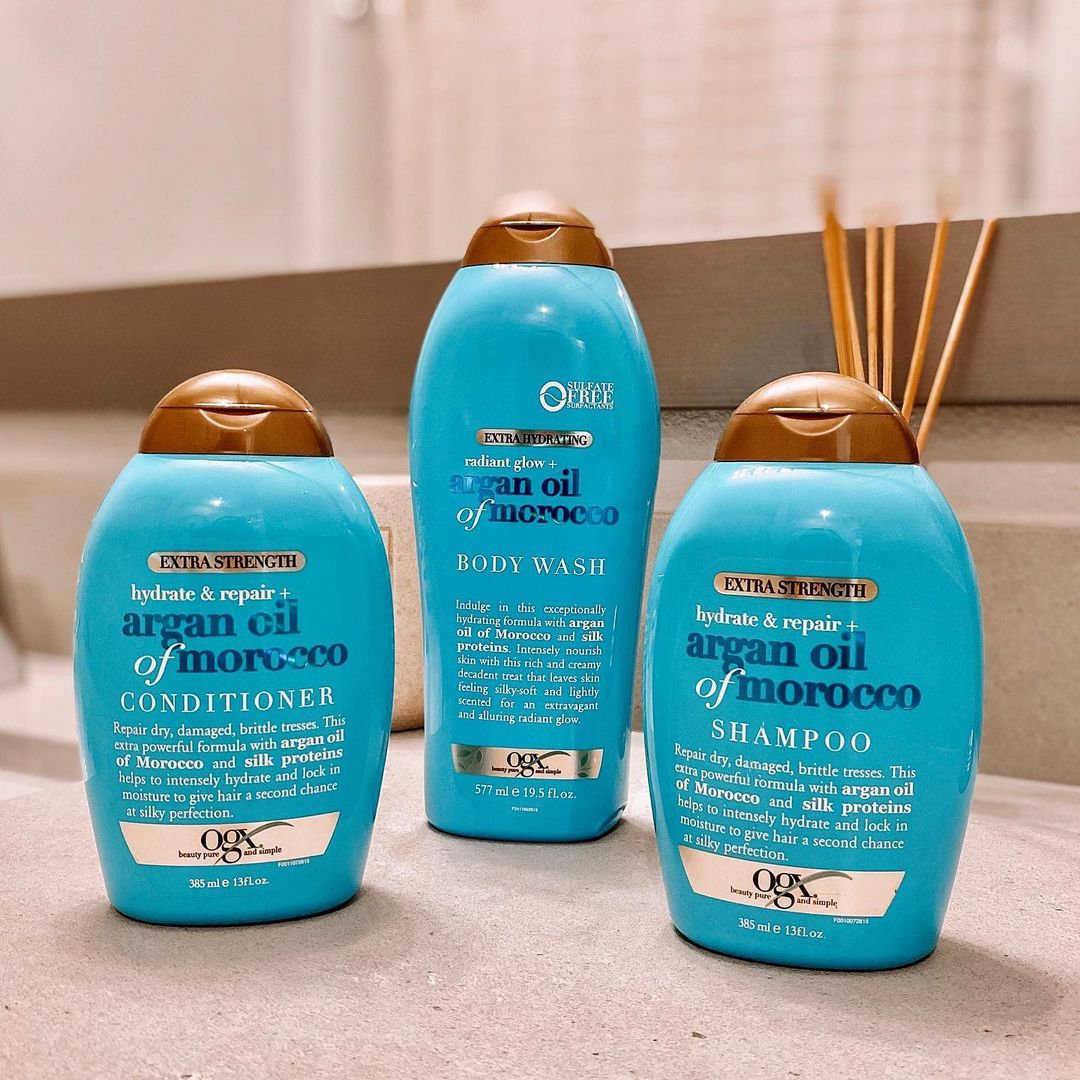 The OGX Renewing Argan Oil of Morocco Shampoo is best for dry hair. If your beauty routine includes frequent heat styling, bleaching, and other exposure, you need something for lifeless hair and dry hair.
The main active ingredient is Argan oil. It is packed with nourishing substances, like vitamins, minerals, and antioxidants. It will improve hair elasticity, repair damage, and strengthen your hair shaft.
The best part is this OGX nourishing hair care product will provide further protection from UV rays and heat. And it is suitable for color-treated hair.
OGX Purifying Charcoal Detox Shampoo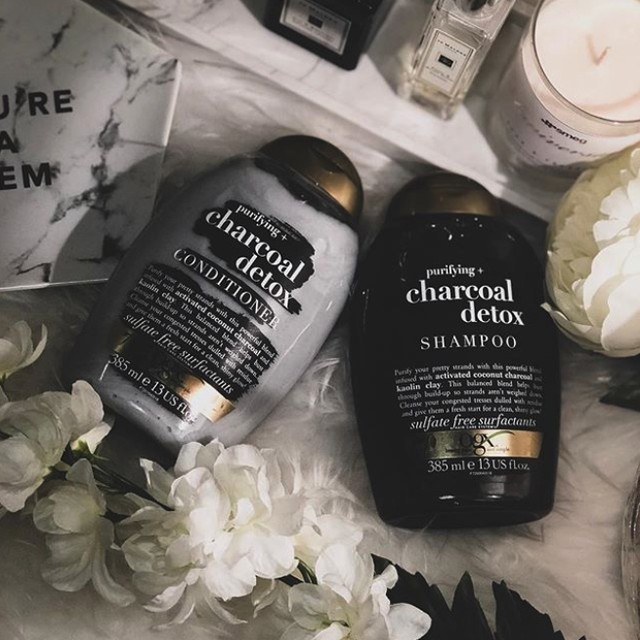 If you need a shampoo for oily hair, then OGX Purifying Charcoal Detox Shampoo is the way to go. It is a great product when you need something that deeply cleanses your hair. And it uses charcoal and kaolin clay to do it.
If your hair is getting too oily or too weighed down because of product buildup, try this charcoal shampoo.
And it can work great for those with a dry scalp as well. Do not use it more than 2-3 times per week. It will have a different effect. Be careful, because charcoal is a good cleanser, but it can leave your hair dry.
OGX Coconut Milk Shampoo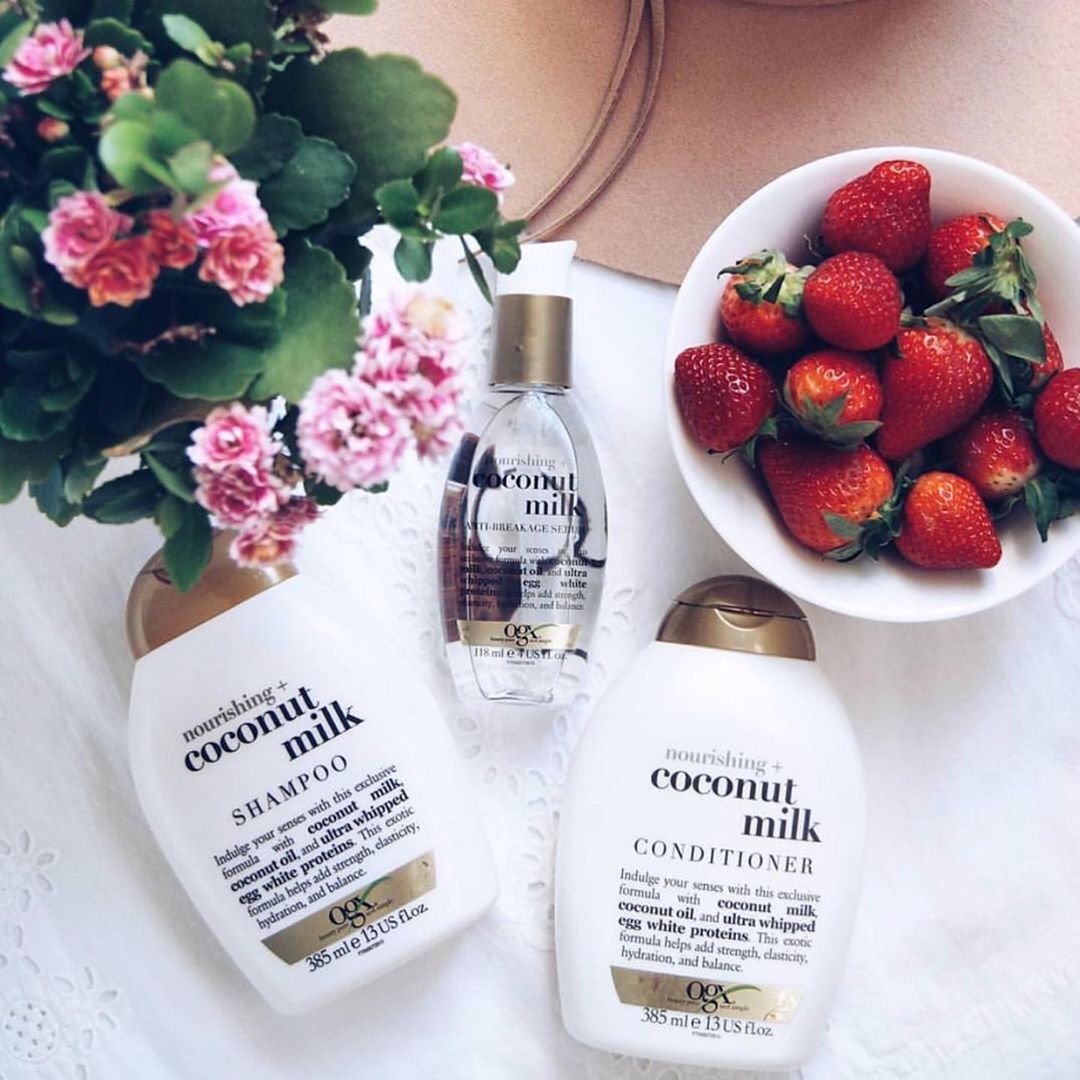 If you want a hair product that will soften, hydrate, and nourish your hair, then there are a few better than the OGC Coconut Milk Shampoo. Made with coconut oil, egg white protein, and coconut milk, this shampoo will strengthen hair strands and hydrate your hair.
And the best part is, you will feel like you are on a tropical island. Time to get that healthy hair you always wanted.