Olivia Rodrigo is a US singer, songwriter, and actress. Her debut single "Drivers License" broke records propelling her to mainstream fame. With the following songs: "Deja Vu" and "Good 4 U," she topped charts globally and won the Grammy Award three times. The Billboard named her Woman of the Year in 2022. Astonishing accomplishment for a teenage girl like her. As an actress, she mainly plays herself in musicals. Remarkable achievements, indeed.
What's more iconic than her musical success is her fashion style. Her stylist says she makes decisions about her clothing, so her look is quite effortless. Gravitating toward more vintage makes her look different than anyone else. While sometimes she wears designer pieces, you can spot her often in more affordable brands, like Zara.
Olivia Rodrigo outfits are versatile: ranging from street style, her usual pop-punk look, or Y2K-inspired fits, to tulle dresses, goth Barbie, and some stunning red carpet ensembles. Changing 'edgy girl' ensembles, Olivia perfected the effortlessly cool, punk-rock aesthetic. The relatively simple way to replicate her style is to mix graphic prints, black lace, silver chains, and Dr Martens. She shaped a style that perfectly represents the goth princess aesthetic.
In the past several years, the High School Musical star has been changing the world. She uses her platform to advocate for sustainable fashion.
Celebrities have much impact on defining the way fashion shapes up and Olivia Rodrigo is no different. Let us work out the her different attire to understand her style and draw ideas to recreate her look.
Jaw-Dropping Gown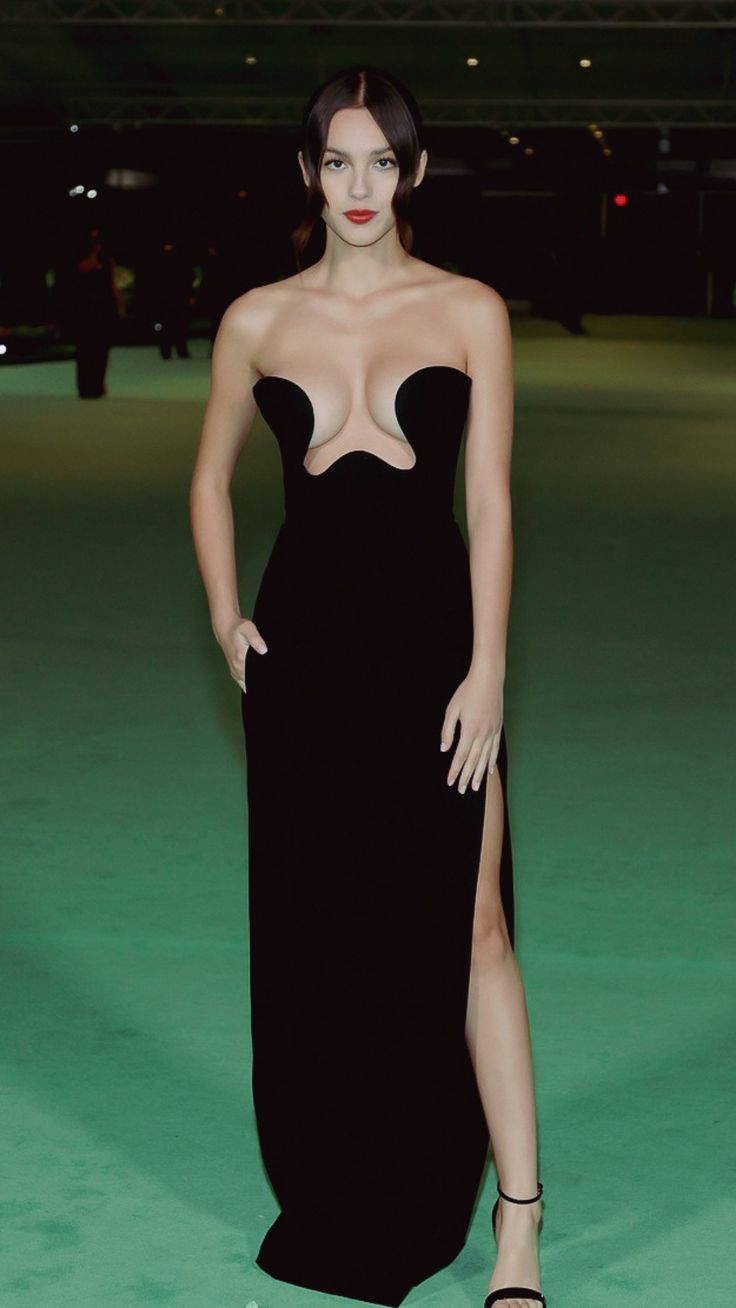 Olivia Rodrigo looks much different from her usual bright colors and playful looks in this daring dress with a plunging neckline barely covering her breasts to the Academy Museum of Motion Pictures opening Gala. She looks charming and ultra glamourous in the floor-length black gown designed by Saint Laurent. The dress is ultra-sexy with a thigh-high slit, elegant and practical, featuring the addition of pockets, and high heels completing the elegant look.
A Checkerboard Print Crochet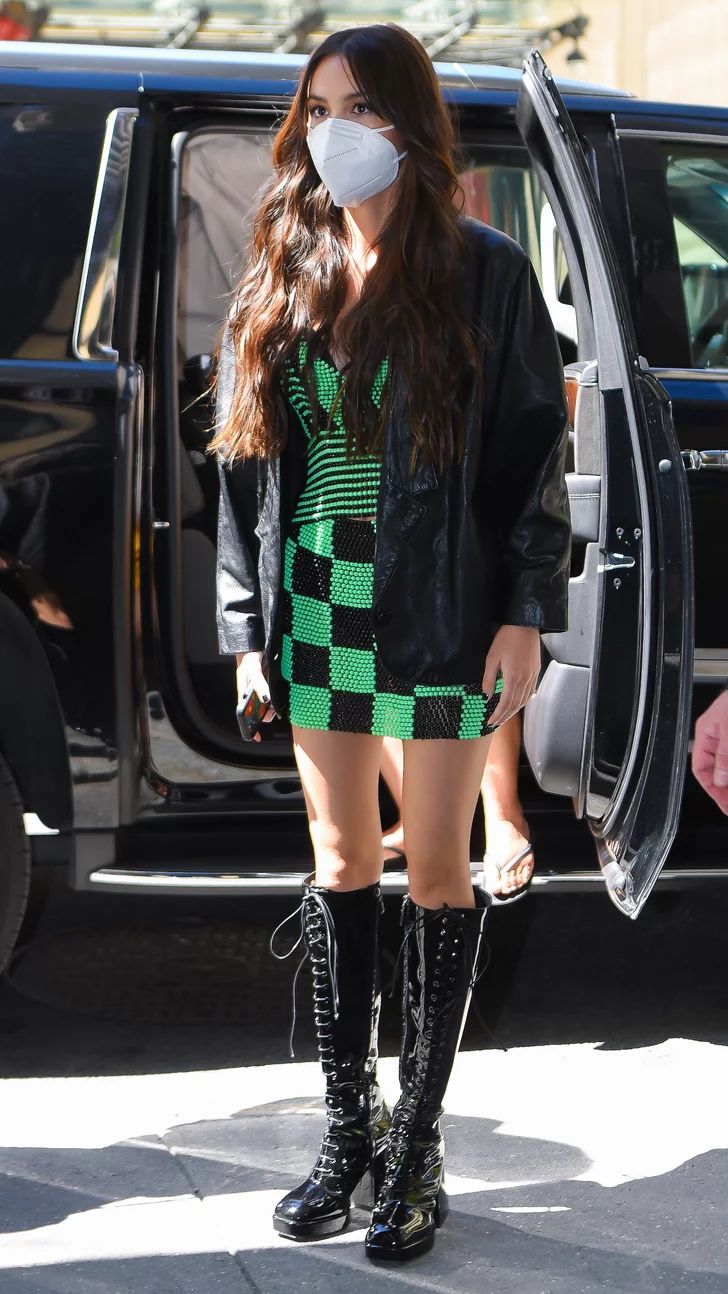 A checkerboard printed, neon green and black two-piece crochet, and an oversize leather jacket are simply adorable. She finishes with knee-high, lace-up boots.
Little Black Dress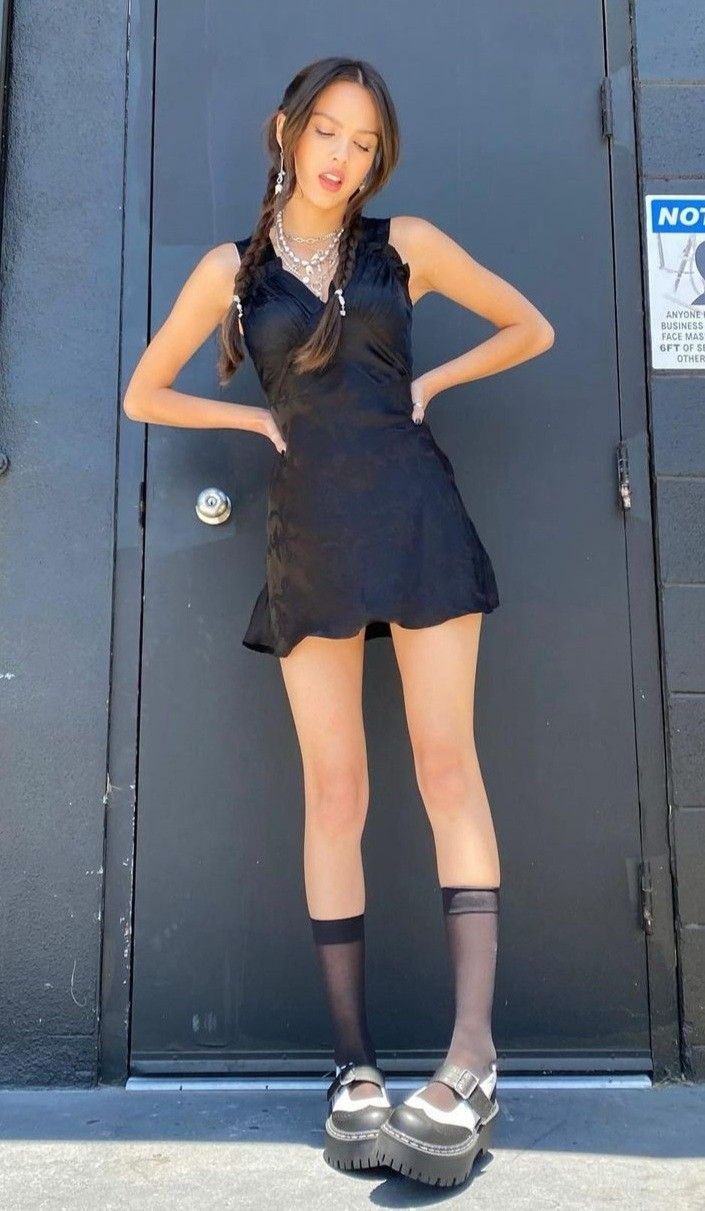 A simple black dress, platform shoes, mesh socks, and some jewelry. The edgy stylishness adds to the clothing. Accessorize with any Y2K-style mini bag, chunky necklaces, and black stockings to round the outlook. This is something we saw her in often during her High School Musical days.
'Preppy' Plaid Dress
Camisole neckline red plaid pattern mini dress and knee-high platform heels with cutout detailing on the front platform boots show Olivia's attributes. This is an effortless blend of the flare of Gen-Z and the grunge from the early '00s.
Red Angel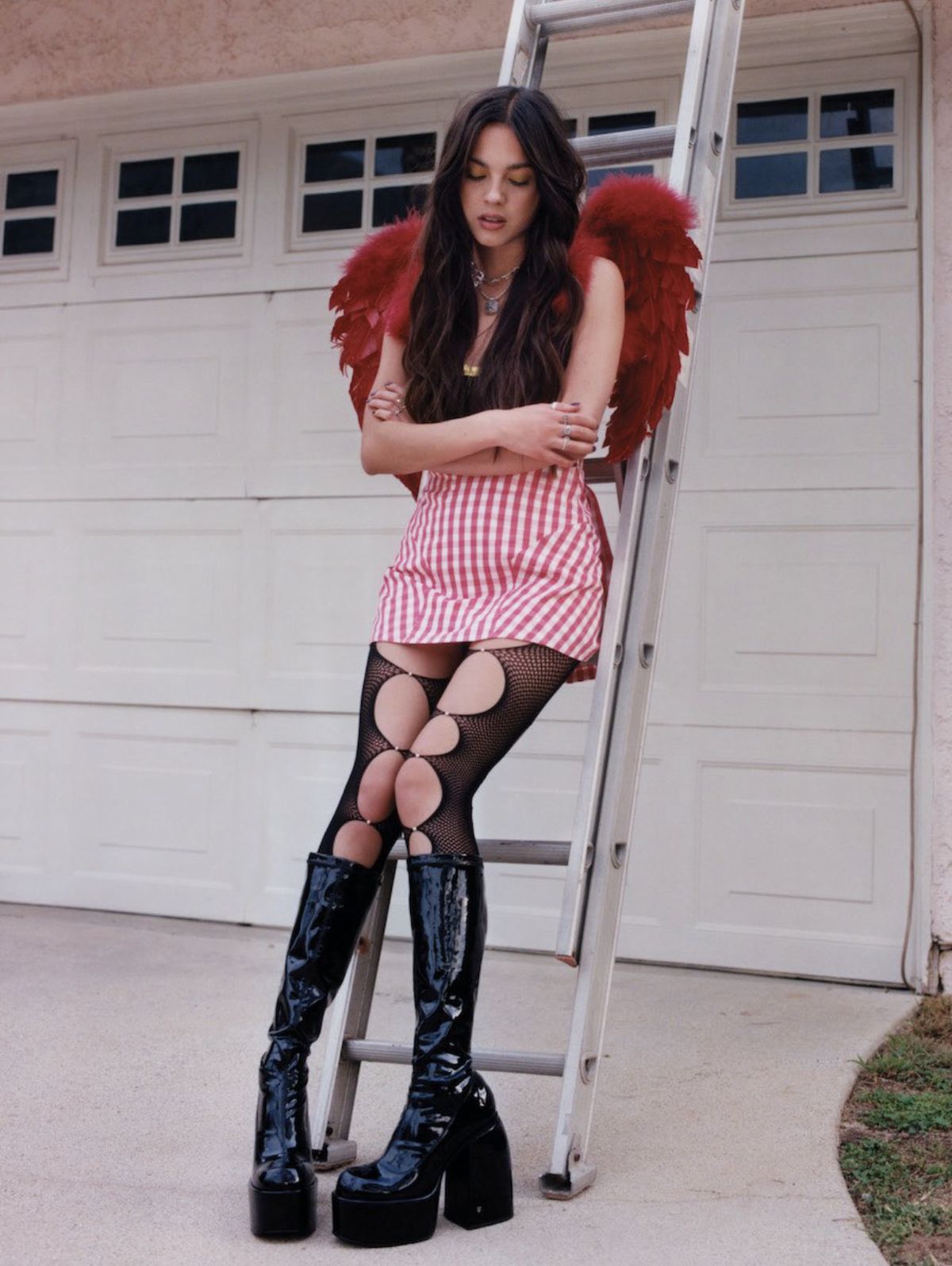 Olivia looks pretty in this sleeveless mini dress. The ripped stockings and platform boots add to her e-girl style outfit.
Black Midi Dress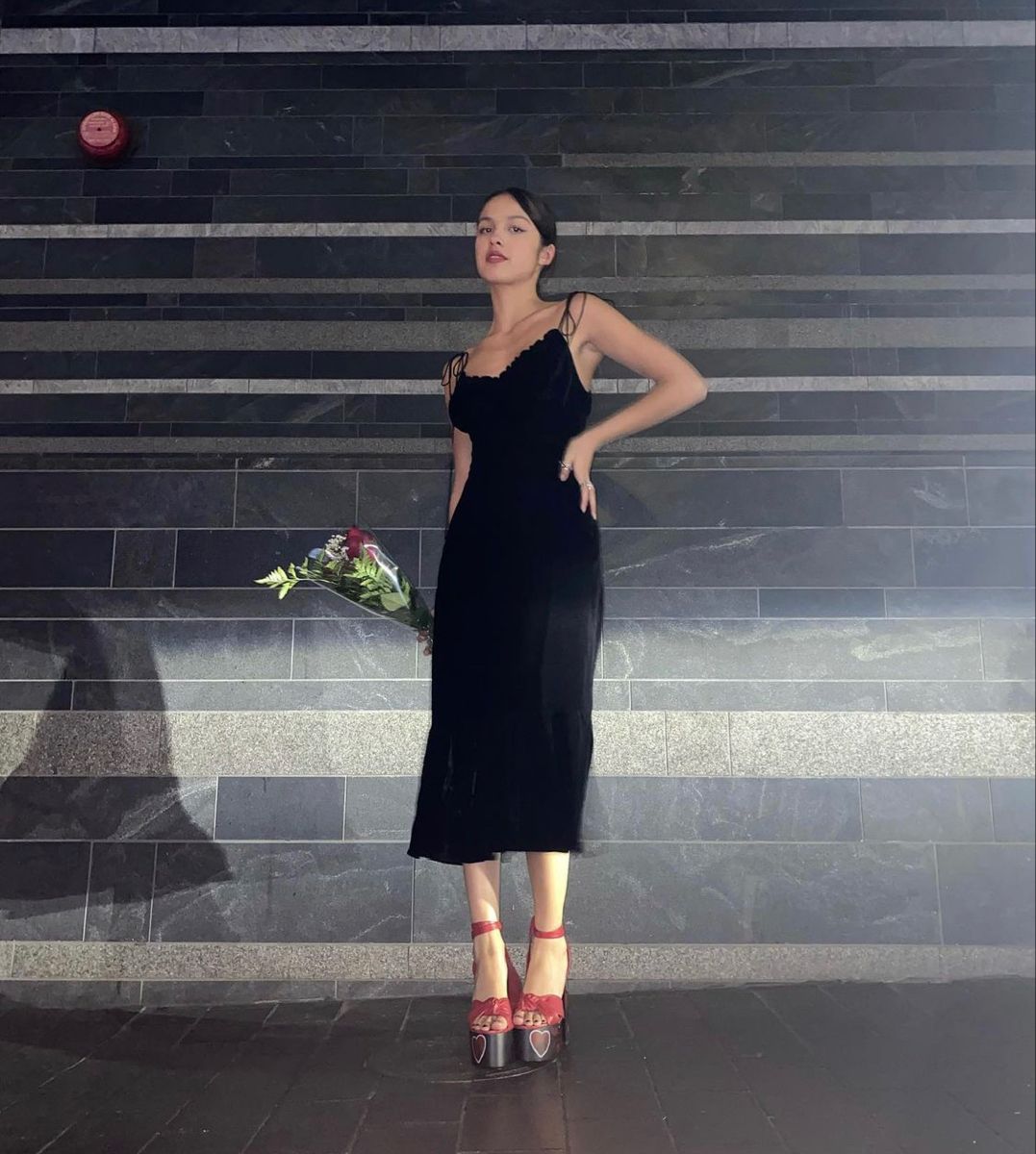 She looks like a top model in this midi dress with a cami neckline. Open-toe platforms are part of her style.
Effortlessly Casual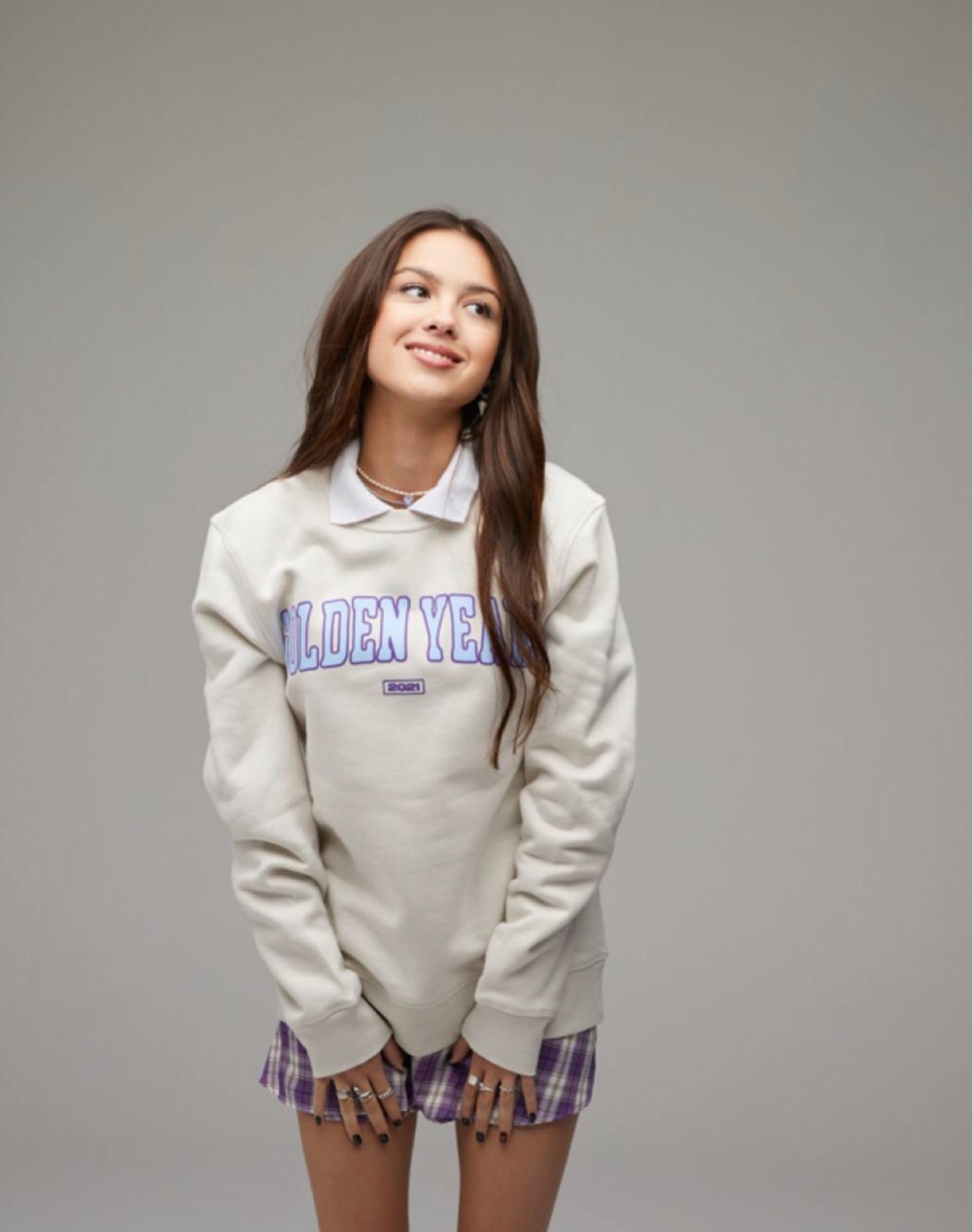 See this cute casual look with a 90s vibe. An oversized sweatshirt with letter prints, a top with a lapel collar, and a plaid pattern mini skirt match Olivia's youthful looks.
Lace Catsuit At The 2021 Gala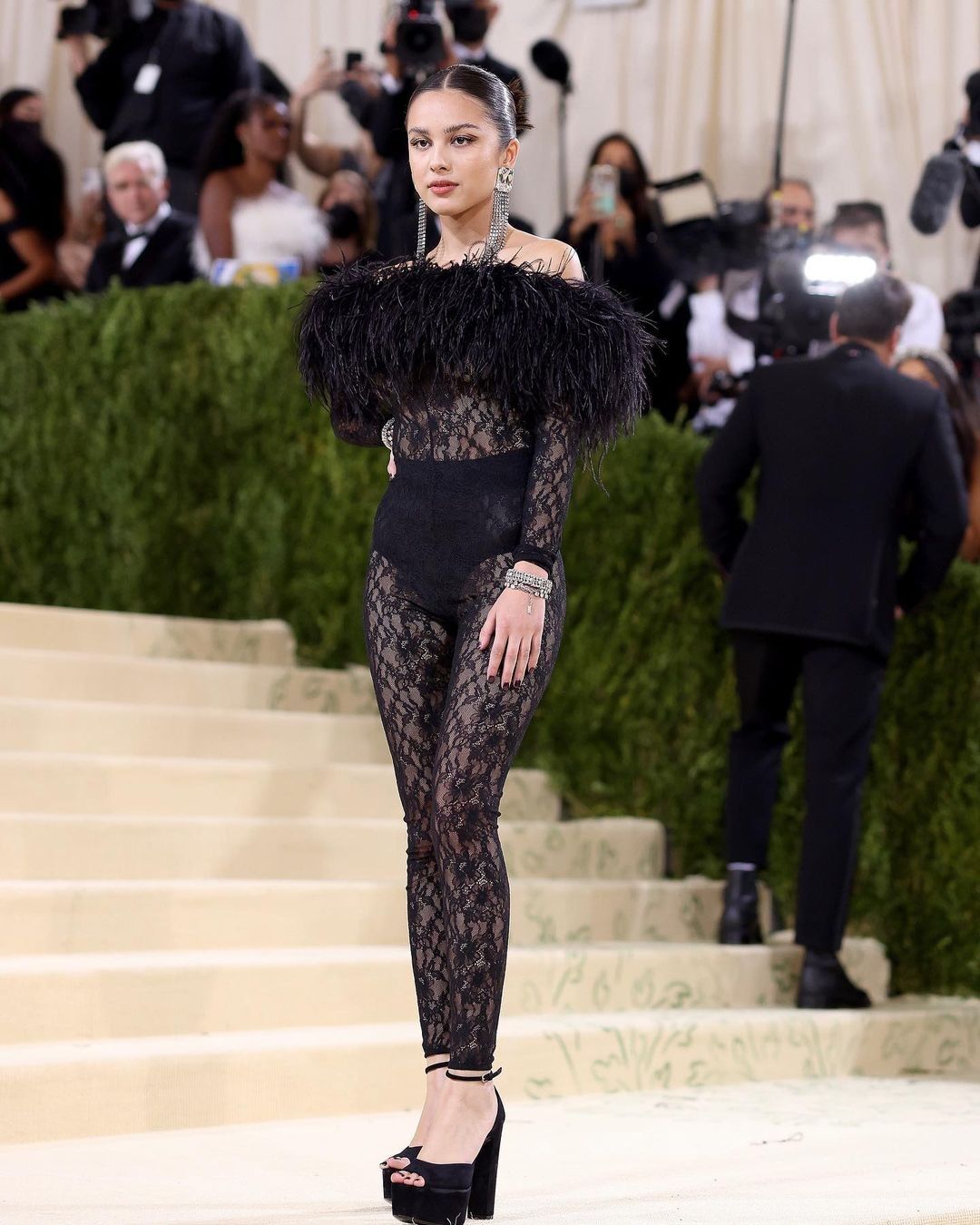 Another bold look of Rodrigo wearing this sheer black lace off-the-shoulder catsuit designed by Saint Laurent. This is a way how the designer managed to make punk rock feminine.
At American Music Awards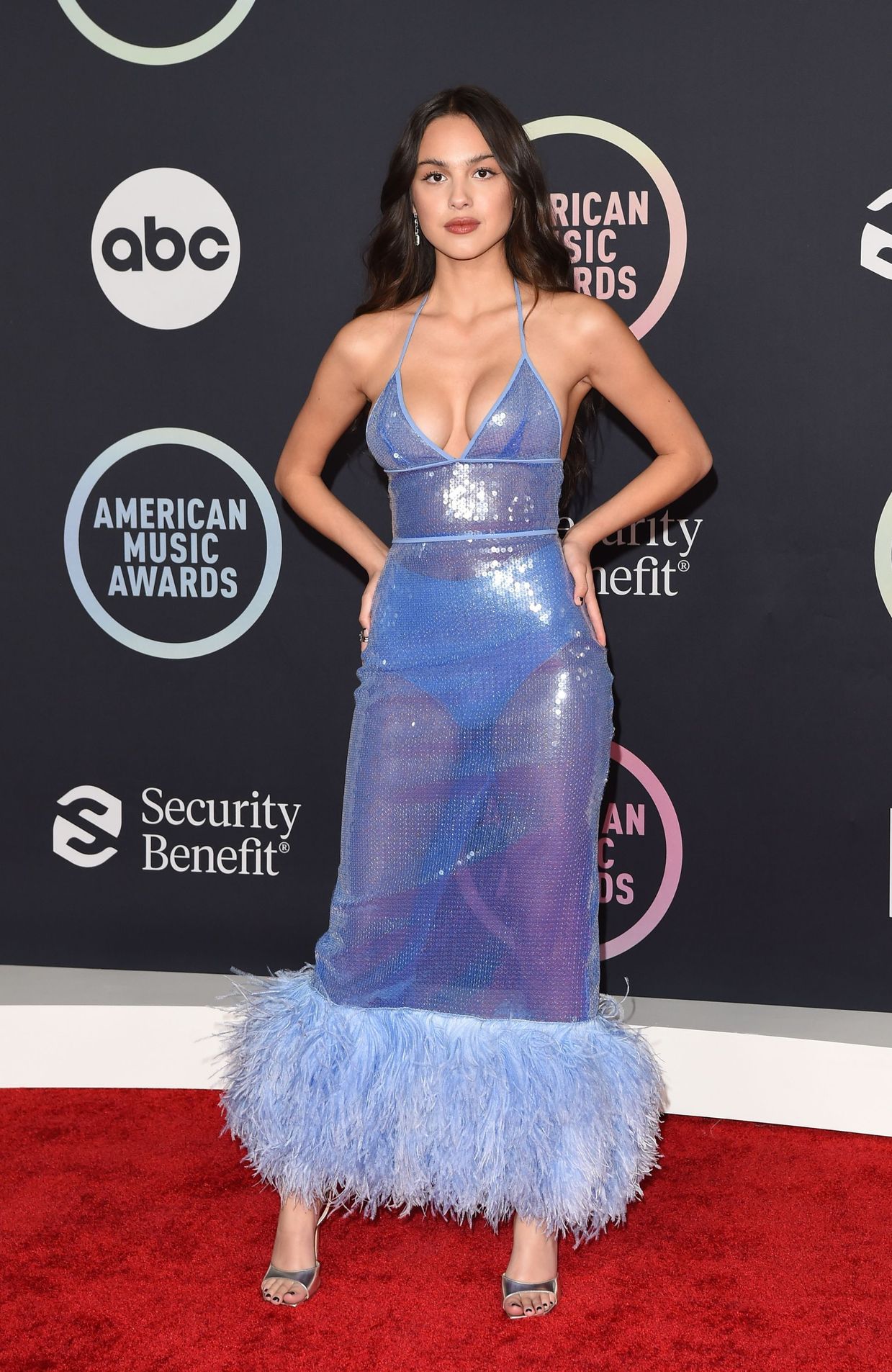 The star looks like a Disney princess in this sequined and feathered periwinkle dress at the 2021 American Music Awards. She looks stunning in this figure-hugging dress with some silver pumps.
Sweet & Sour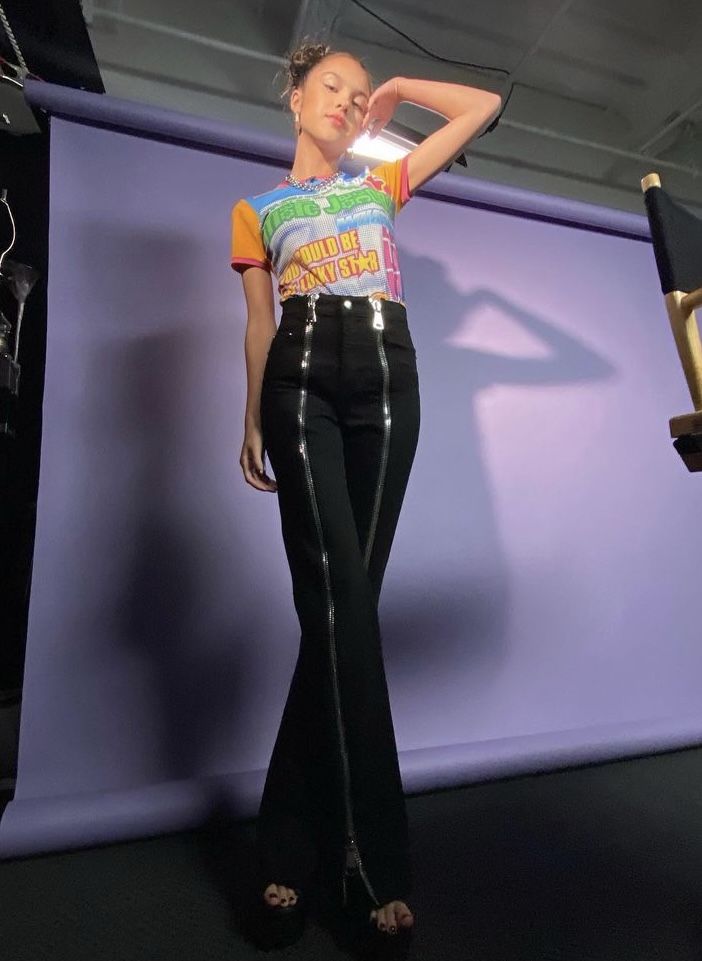 This outfit pairs a retro print baby tee by Marc Jacobs and jeans with zippers of all lengths. She wears it posing in front of the Sour purple backdrop. But she definitely looks pretty sweet.
A Black Beret And A Corset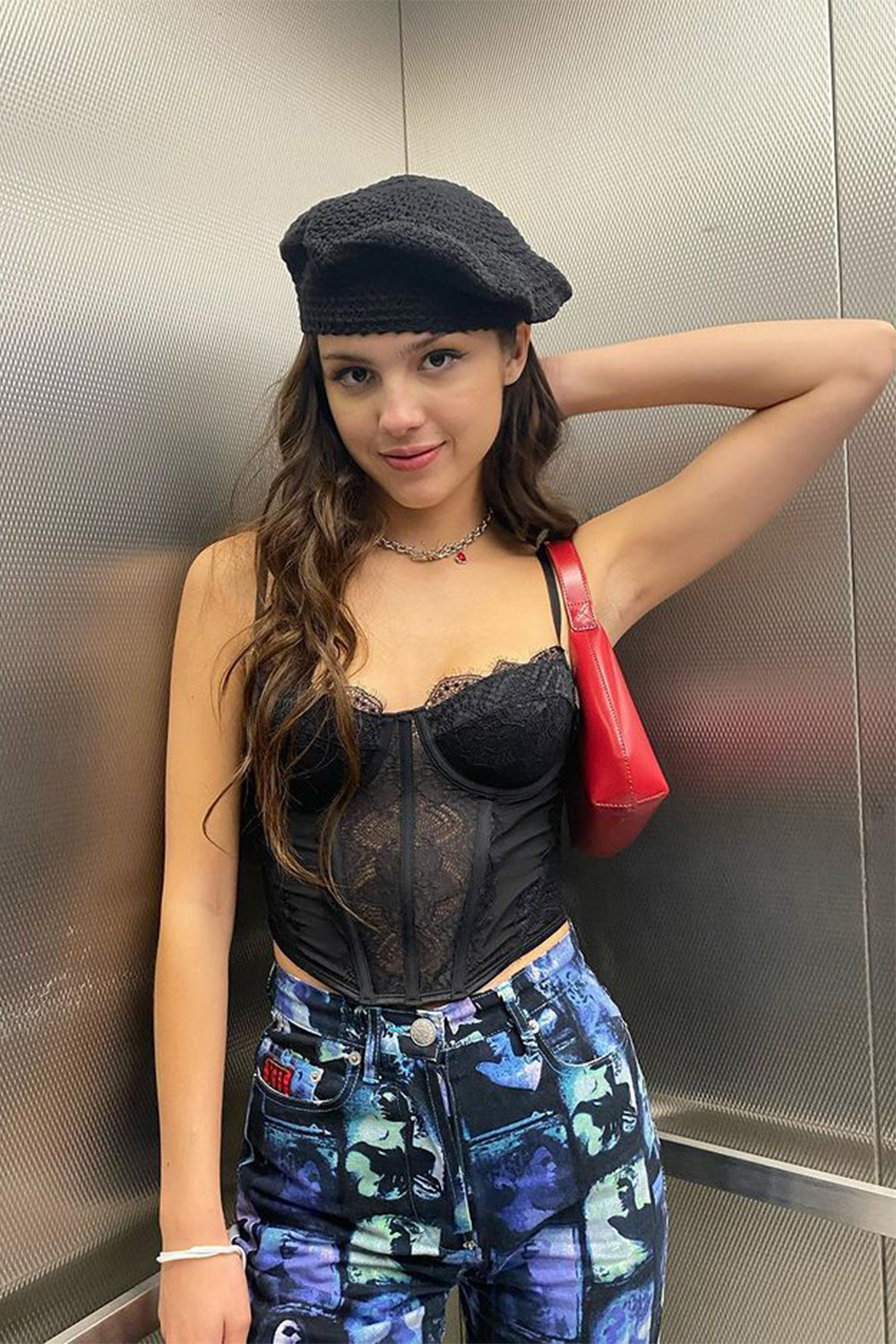 She wears a black crocheted beret with some graphic pants and a bustier corset. Letting her edgy side shine with vintage jeans, she drew inspiration for this outfit from the Sex and the City.
On The Red Carpet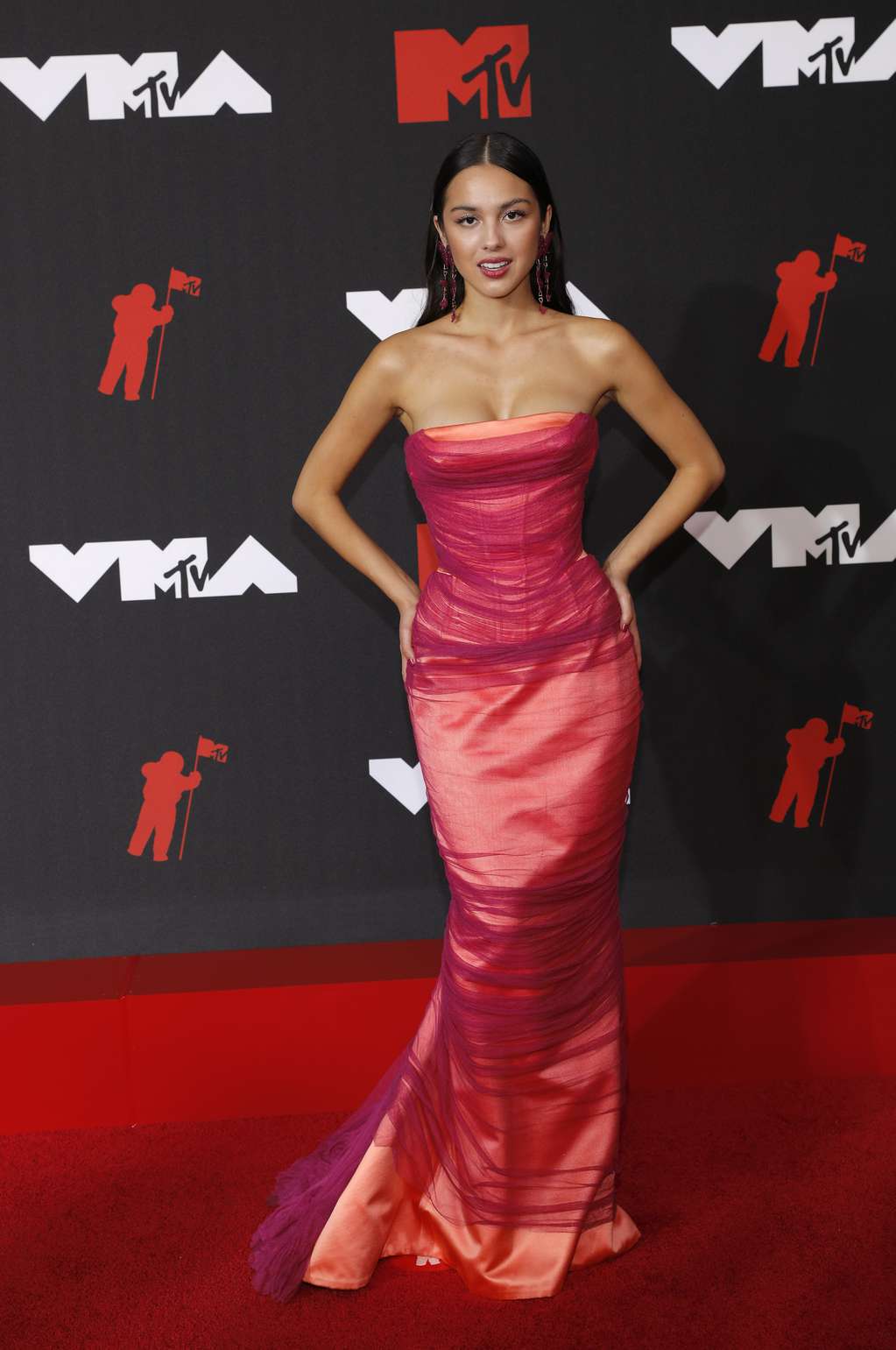 Olivia wears a stunning Atelier Versace dress and archive butterfly earrings.
'90s-inspired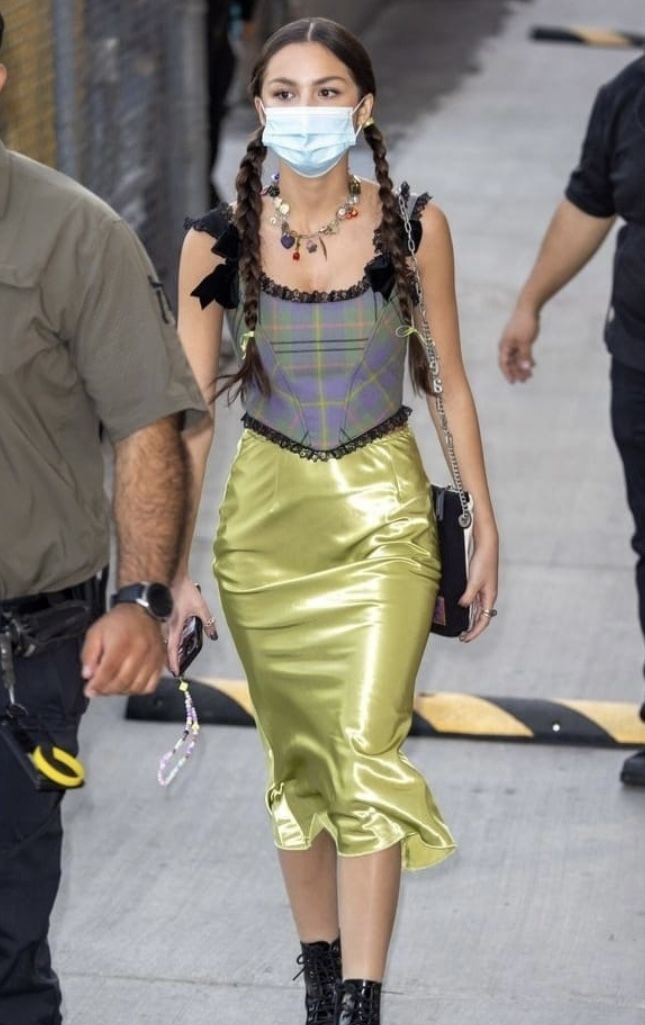 The star rocked a plaid corset, a green satin midi shirt, Doc Marten shoes, and a bag for a grunge ensemble inspired by the last decade of the XX century.
First Visit To London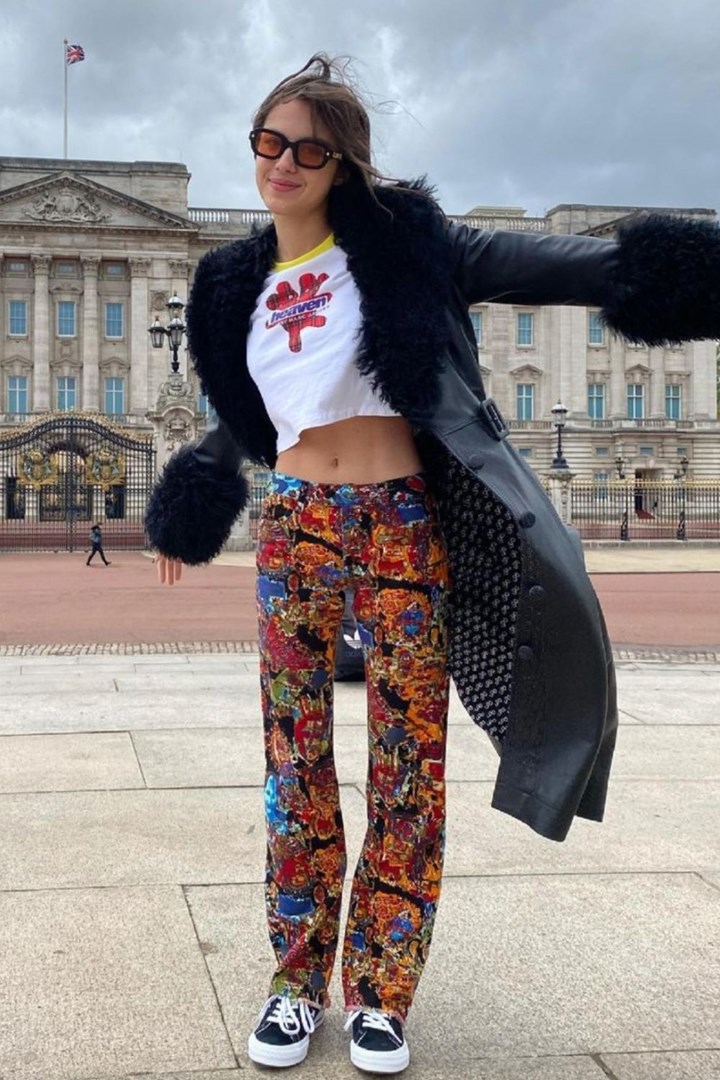 What can be more iconic than Marc Jacobs and Jean-Paul Gaultier's combination? She wore this outfit twice in a row to ensure a photo of it.
Youthful Vibes In A Sophisticated Look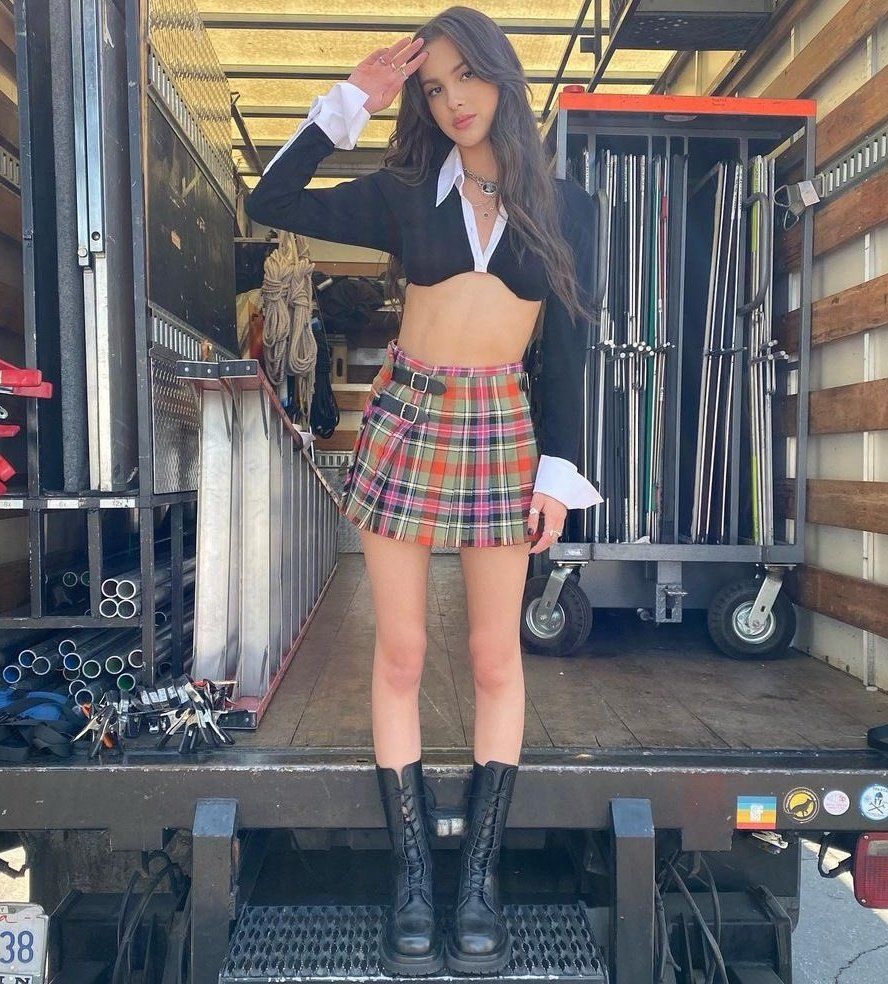 This girl knows how to add youthful vibes to her lush silhouette to achieve a highly sophisticated look. A plaid patterned miniskirt with belt fasteners and a midriff revealing a long-sleeved shirt with cuffing detail at the sleeves and the lapel. She looks effortlessly stylish in the black and white combo. The ankle boots with chunky soles are simply her style.
At the Billie Eilish's Party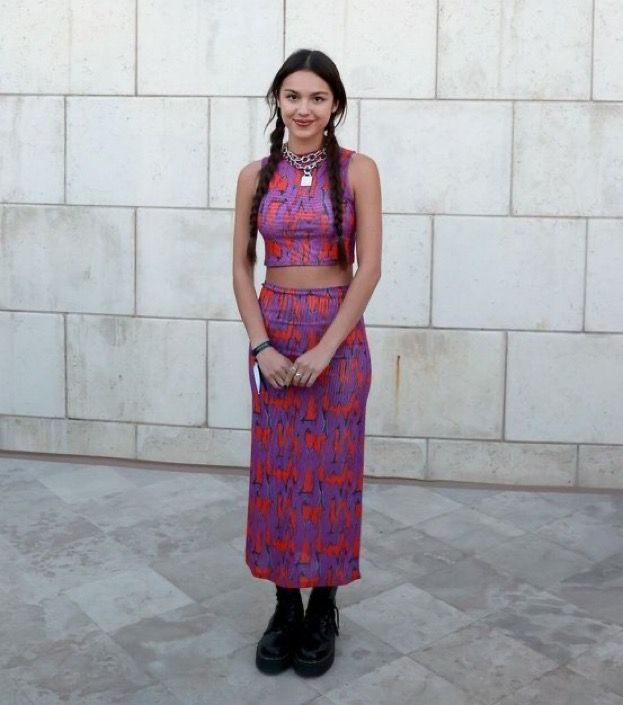 Olivia attended the launch party of the 'Happier Than Ever' album in a stunning two-piece paired with Dr Martens and much silver jewelry.
At Sour Celebration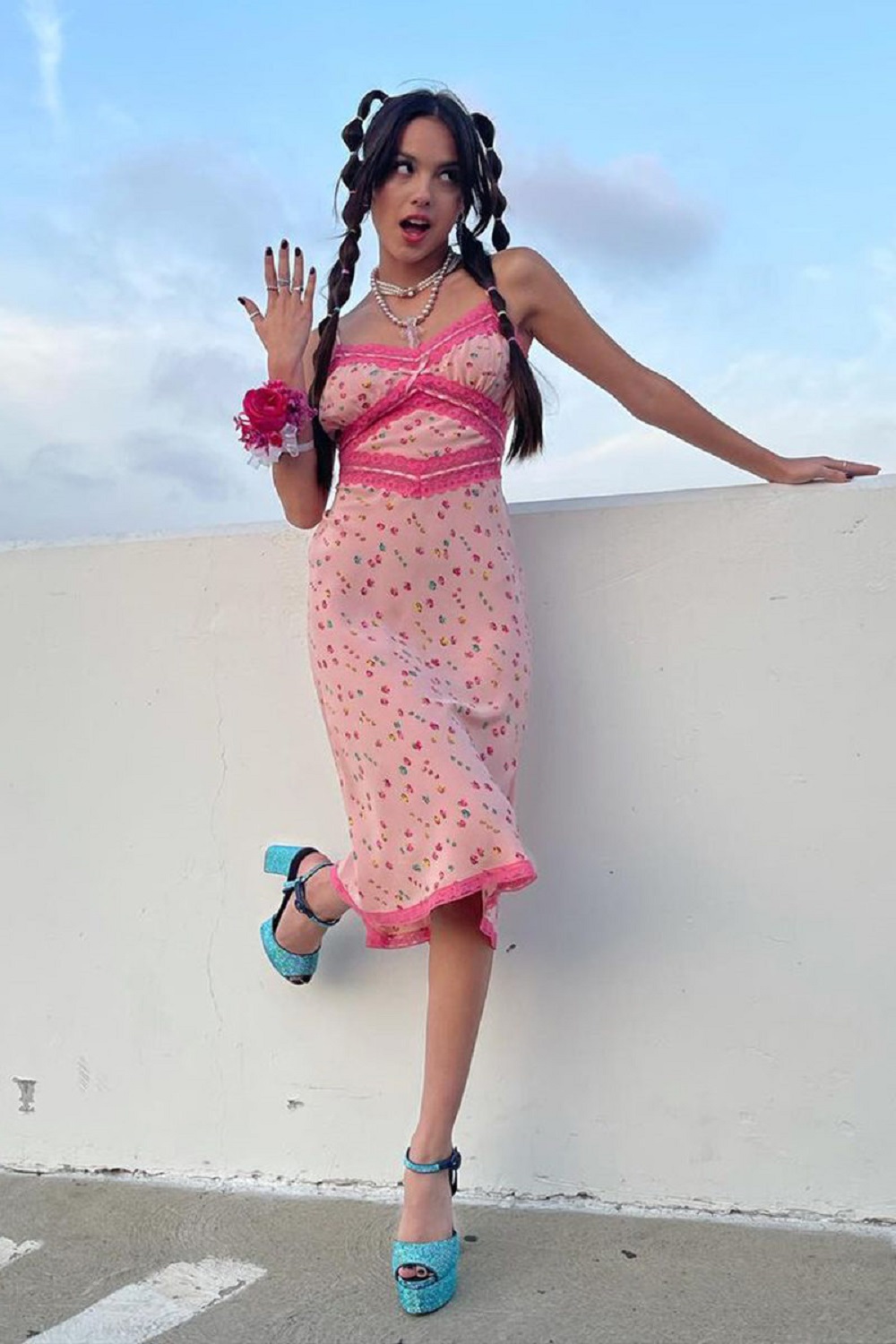 Olivia wore a vintage pink lace slip dress paired with glittery blue sandals, pearl necklaces, and bubble braids for her Sour concert celebration.
Betsey Johnson spoke about how Olivia wearing this dress opened up her opportunities for new clients.
Olivia chose Betsey Johnson and her dresses after the star's stylists, Chloe and Chenelle Delgadillo, reached out to borrow some archival styles. Over the years, the collaboration has grown to the point Betsey dressed her up for the Met Gala.
In Disneyland
Olivia wears a pop punk-inspired outfit and a Chanel flap bag for her visit to Disneyland. Up to a point!
Women In Music Event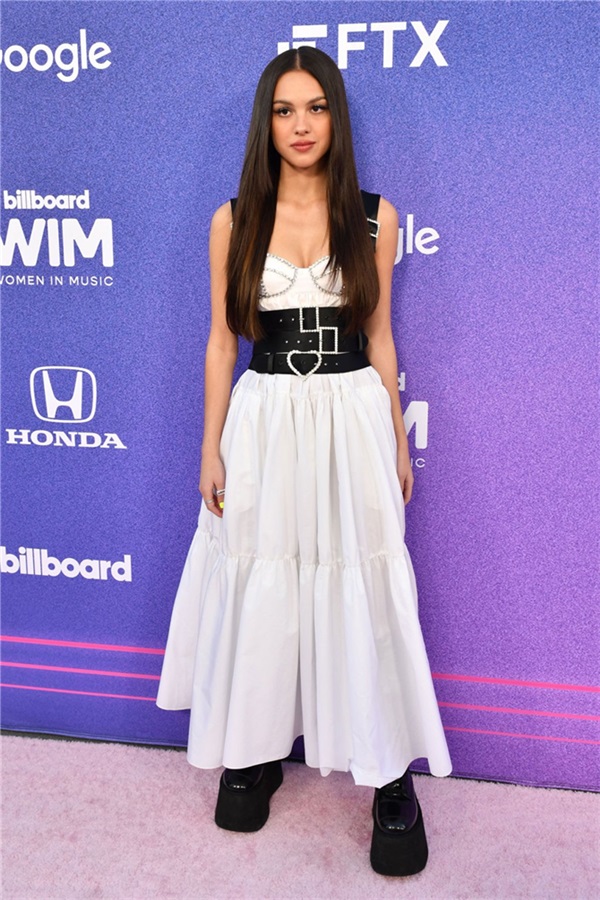 Olivia wore an Area maxi dress with big black boots as she was honored with women of the year. Although trendy, the whole look has some 90s energy due to the platform boots. It's a simple but fun and fresh dress, perfect for the occasion. The belt shoulder straps look like she has a backpack around the shoulders and multiple seatbelts around the waist. Yet, she looks cute and comfortable.
Extravagant Pink Dress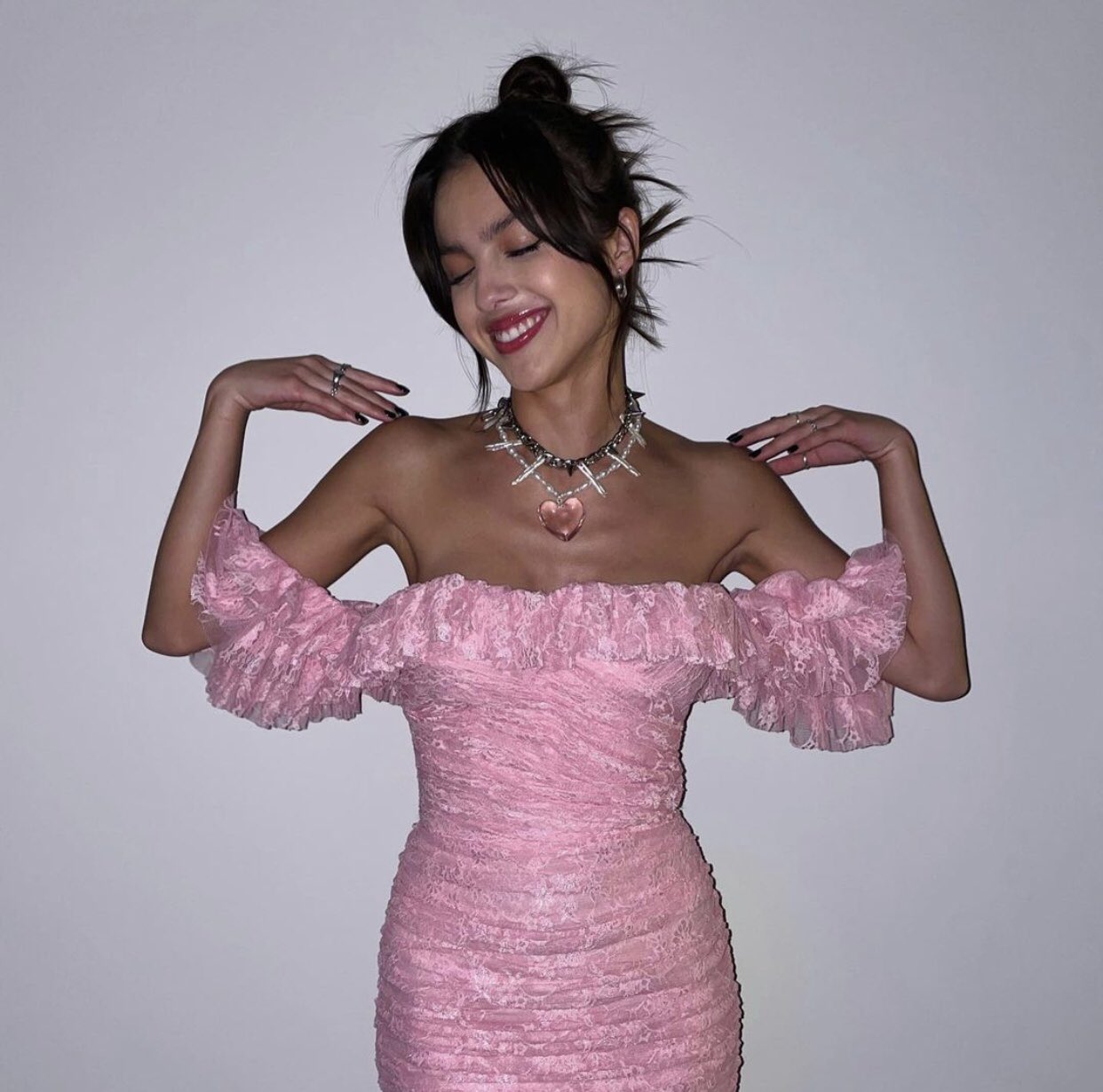 Olivia paired this extravagant pink gown with some spiky neck jewelry to counteract its sweet vibe.
At the White House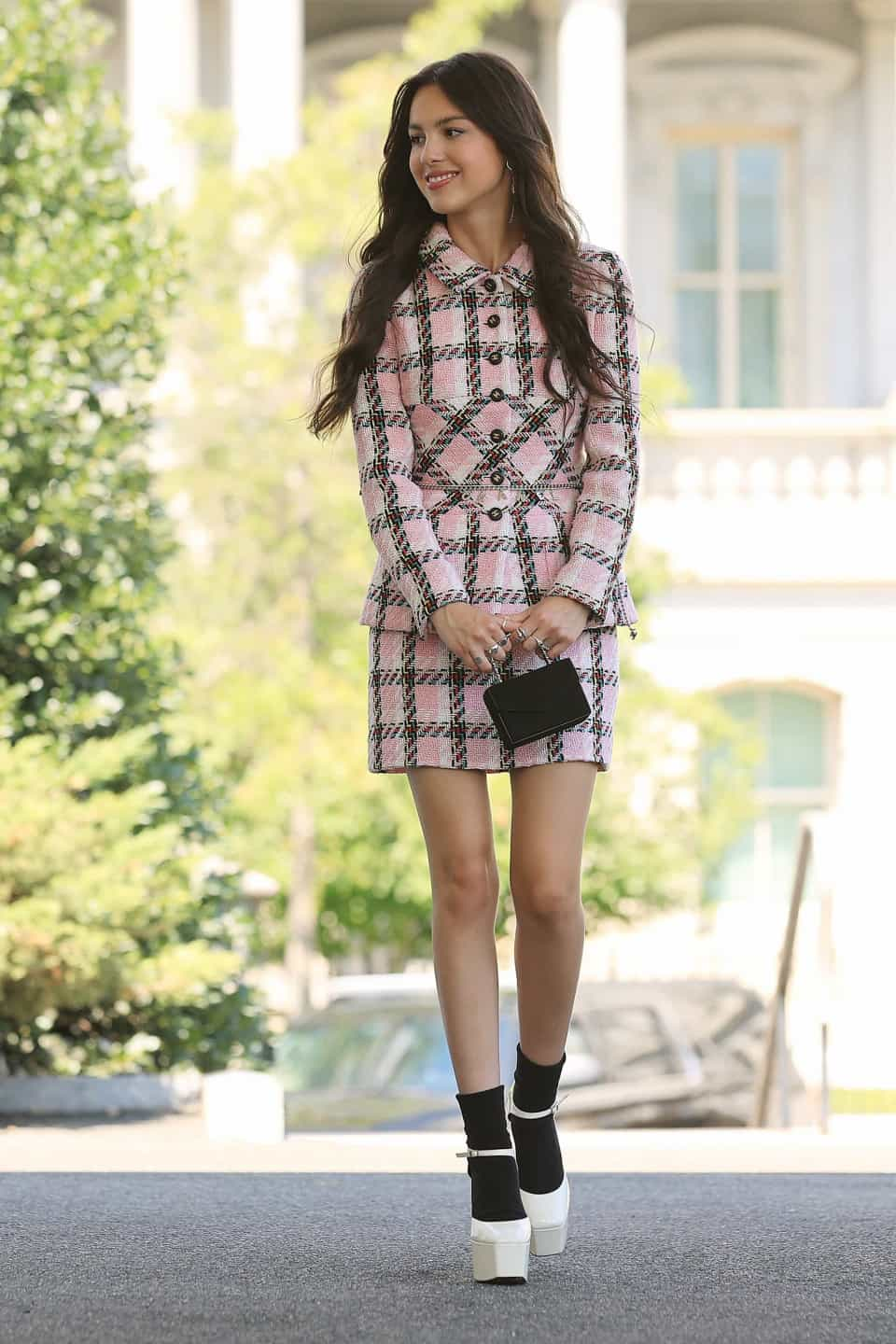 This outfit gleams with sophistication: a vintage Chanel two-piece tweed dress. She managed a smooth look with the baby pink ensemble by adding black socks and a pair of white platform heels, and a black mini purse. She wore this truly iconic look during her visit to the White House to spread awareness about the COVID vaccination.
A Cash Of Patterns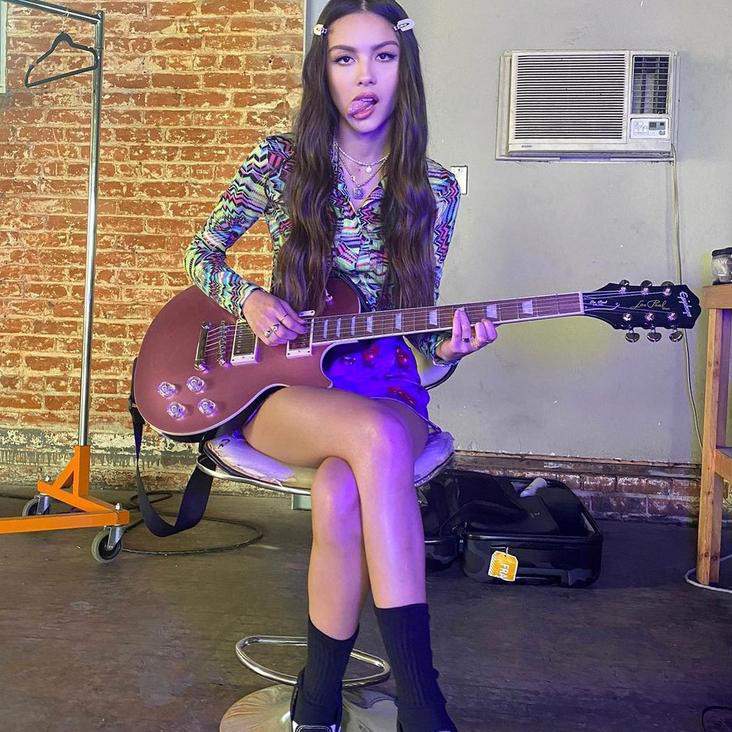 Pattern clashing can be a no for most. However, Olivia pulls it easy. A pair of Vans slip-on and matching socks, and that's it!
Olivia Rodrigo is becoming a fashion icon for sure, one of the top celebrities in the spotlight for fashion. Being young, beautiful, and popular is about everything a teen would like to be. We can say Olivia Rodrigo outfits are a true testament to her ability to bring liveliness in all her looks. What's your impression of her style? Share your thoughts in the comment section below!