Mexican traditional attire incorporates both indigenous and European features. Cotton, bark, and agave (which were known and used by native Mexican pre-Hispanic civilizations to produce their garments), as well as wool and silk, are the most popular threads across the country (introduced by the Spanish later). Mexican clothing used to be dyed with natural components found in native plants, but aniline dyes were introduced from Europe and quickly became the preferred dyeing method.
The effects of globalization on Mexican fashion have become more noticeable, and traditional dress from pre-colonial periods has all but vanished. Has it, however, truly happened? It has left an indelible mark on the world. The colour, technique, and artisan designs of the past are included in Mexico's contemporary clothing lines, which are designed by young people. The complicated combination of Mexican history and global trends from areas like Europe and the United States is what distinguishes Mexican fashion. We term Mexican fashion the blend of modern-globalized and traditional Mexican designs. The designs are global in scope, but they never lose sight of their origins.
Here are some ideas that are very 2021/2022 and I hope you like them.
Traditional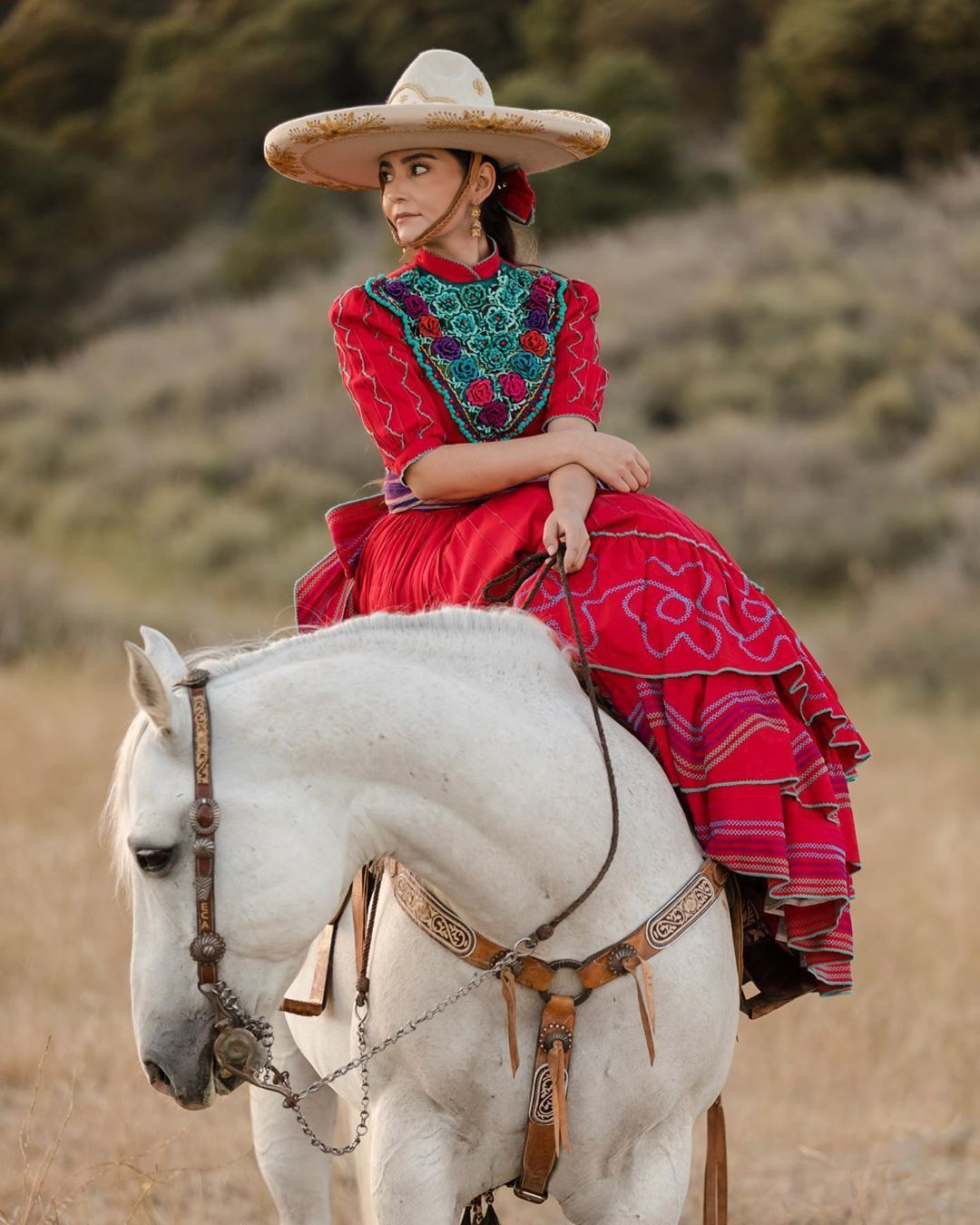 One of the most beautiful and popular costumes in Mexico is that worn by the Tehuana people, from the Isthmus of Tehuantepec region in Oaxaca. Their skirts and blouses are embroidered all over with colorful flowers. This is a true representation of the culture.
White Top and Short Skirt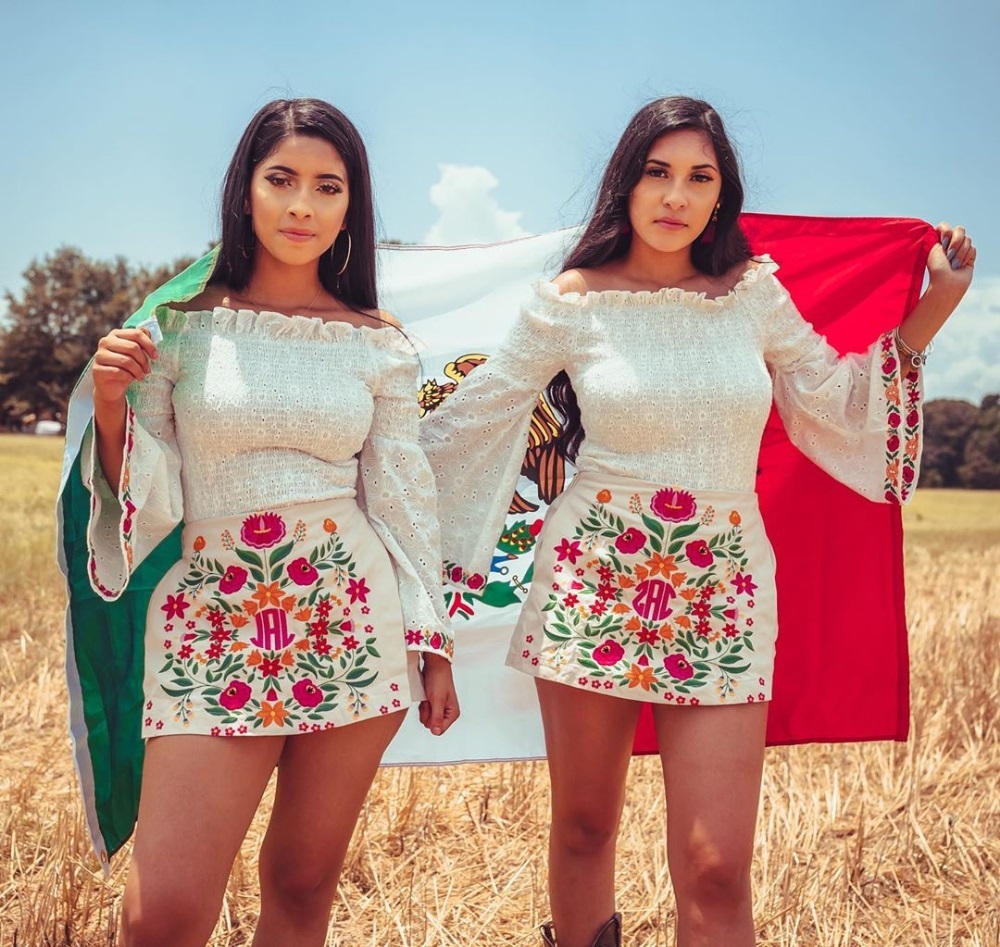 This is how the tradition goes on. Young people carry the traditional style through this embroidered white skirt with the red flowers that mark this tradition.
Summer Flower Dress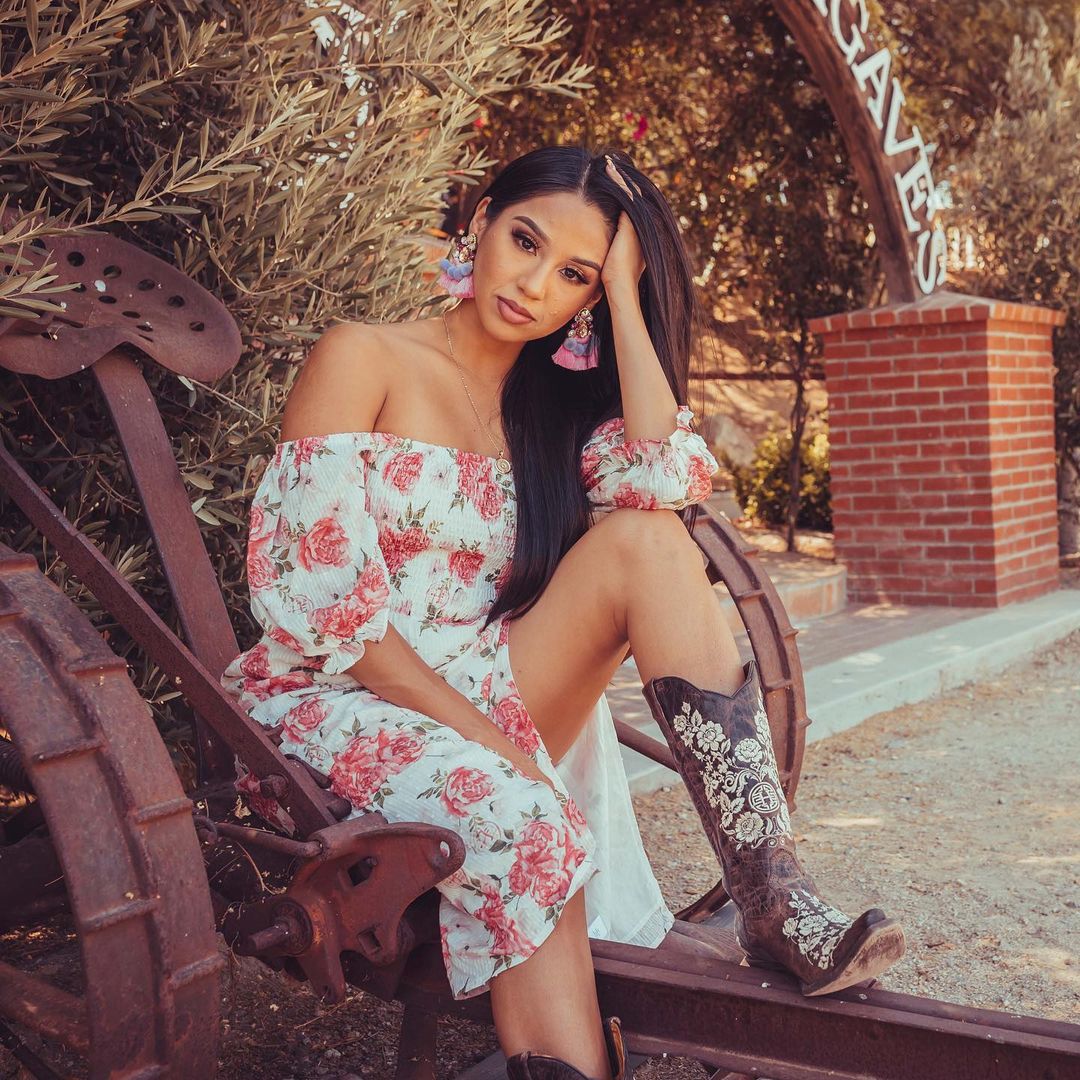 I would recommend this dress for a Quinceanera. The cowboy boots are a must. Lovely flower design and traditional earings as well. Sweet sixteen party young lady!
Traditional Top and Black Maxi Skirt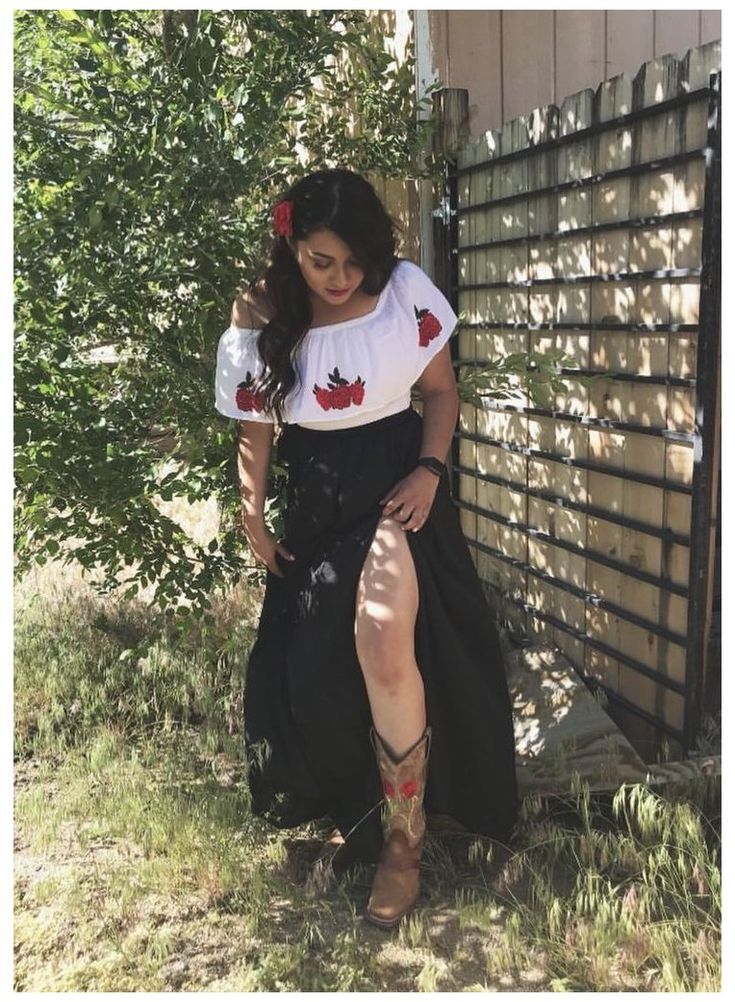 I love this everyday outfit inspiration. This white shirt with the red flowers is very traditional and appropriate with this long black skirt and a pair of cowboy boots. You can make a statement and look great on a sunny day.
White Shirt And Mexican Pants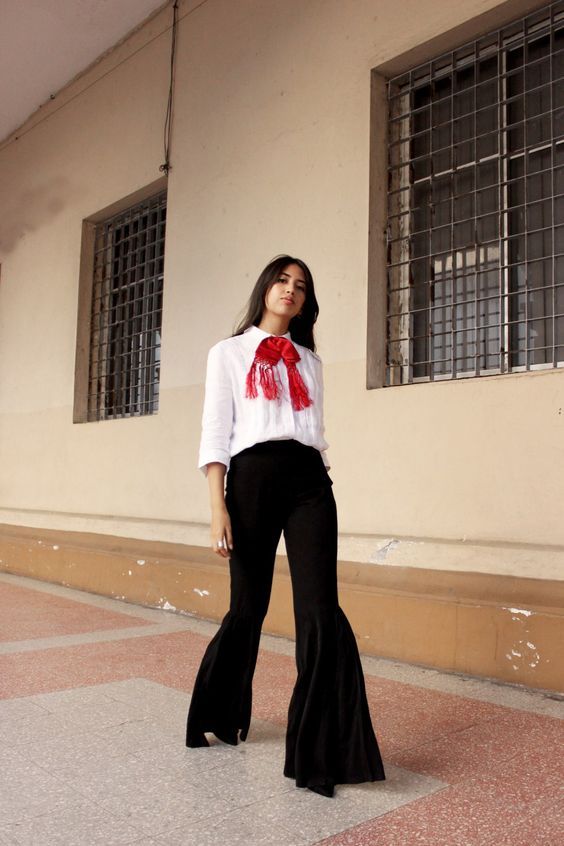 I love this outfit inspiration. The classical Mexican white shirt with the red bandana around the neck and the black wide pants are just what you need for a lunch with family or friends.
Modern Latina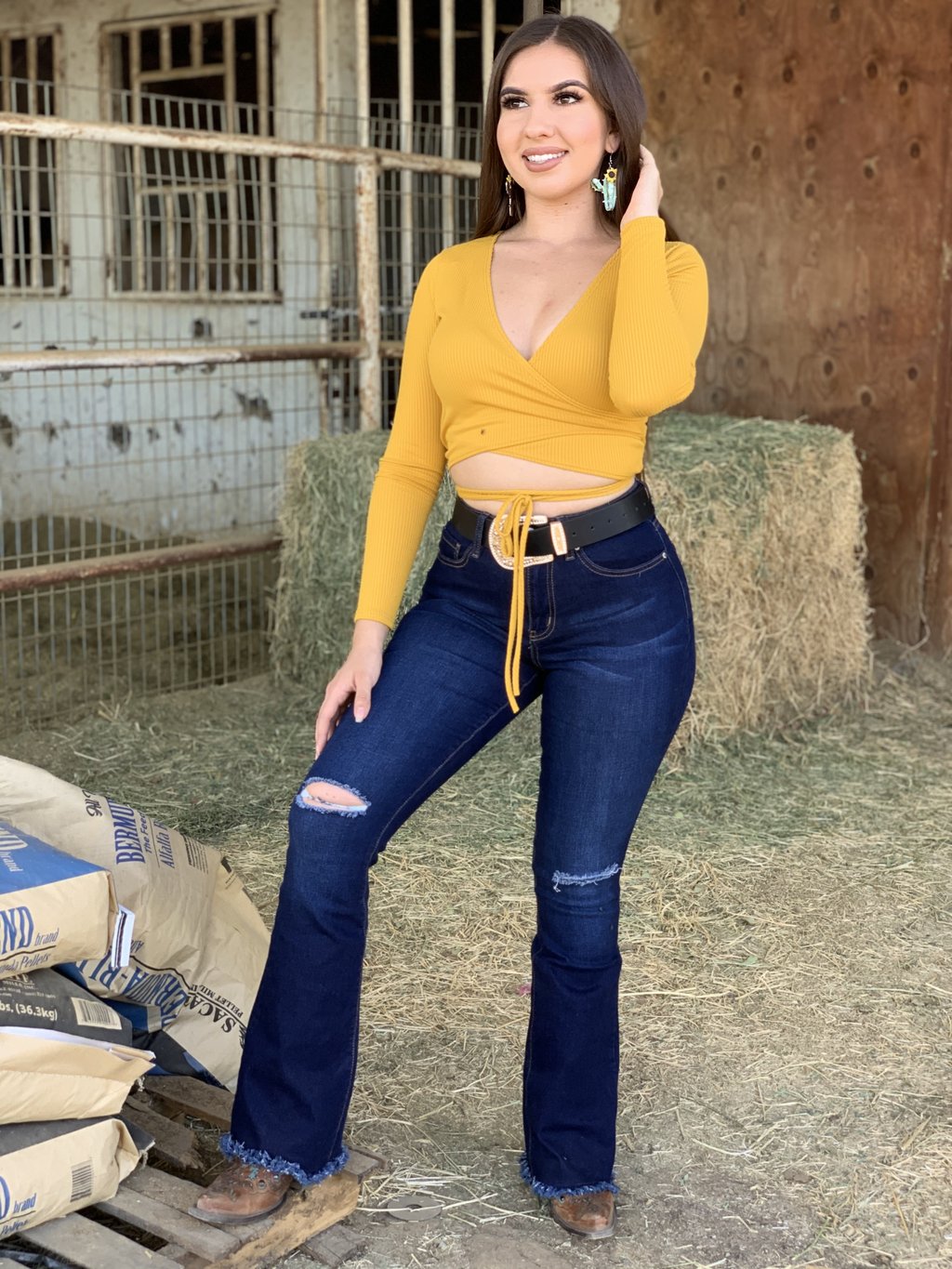 New generation Latinas wear the tradition really well. This may look simple but is a really powerful outfit. A pair of ripped jeans and a yellow front tie shirt, and of course the boots. Perfect everyday outfit.
Crochet Robe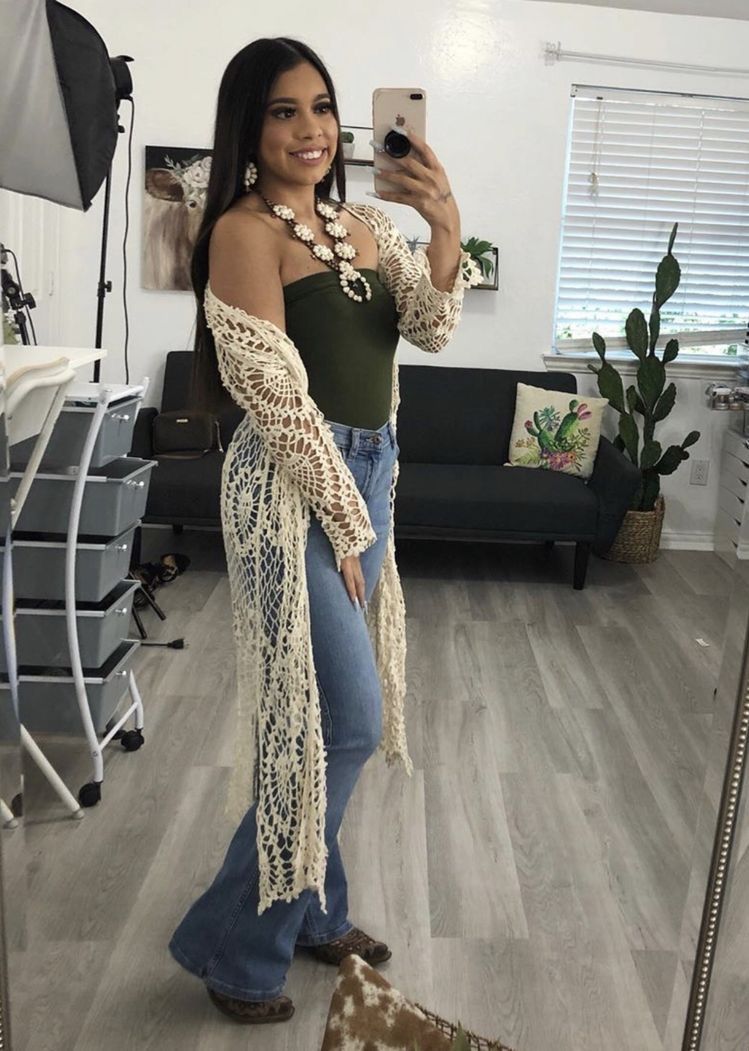 Do you need to pun on something on top of your everyday outfit and spice it up a little? Well, this crochet robe is just what you need. Your pair of jeans and the sleeveless top is not complete without this white crochet robe and a statement piece of jewellery.
Flowers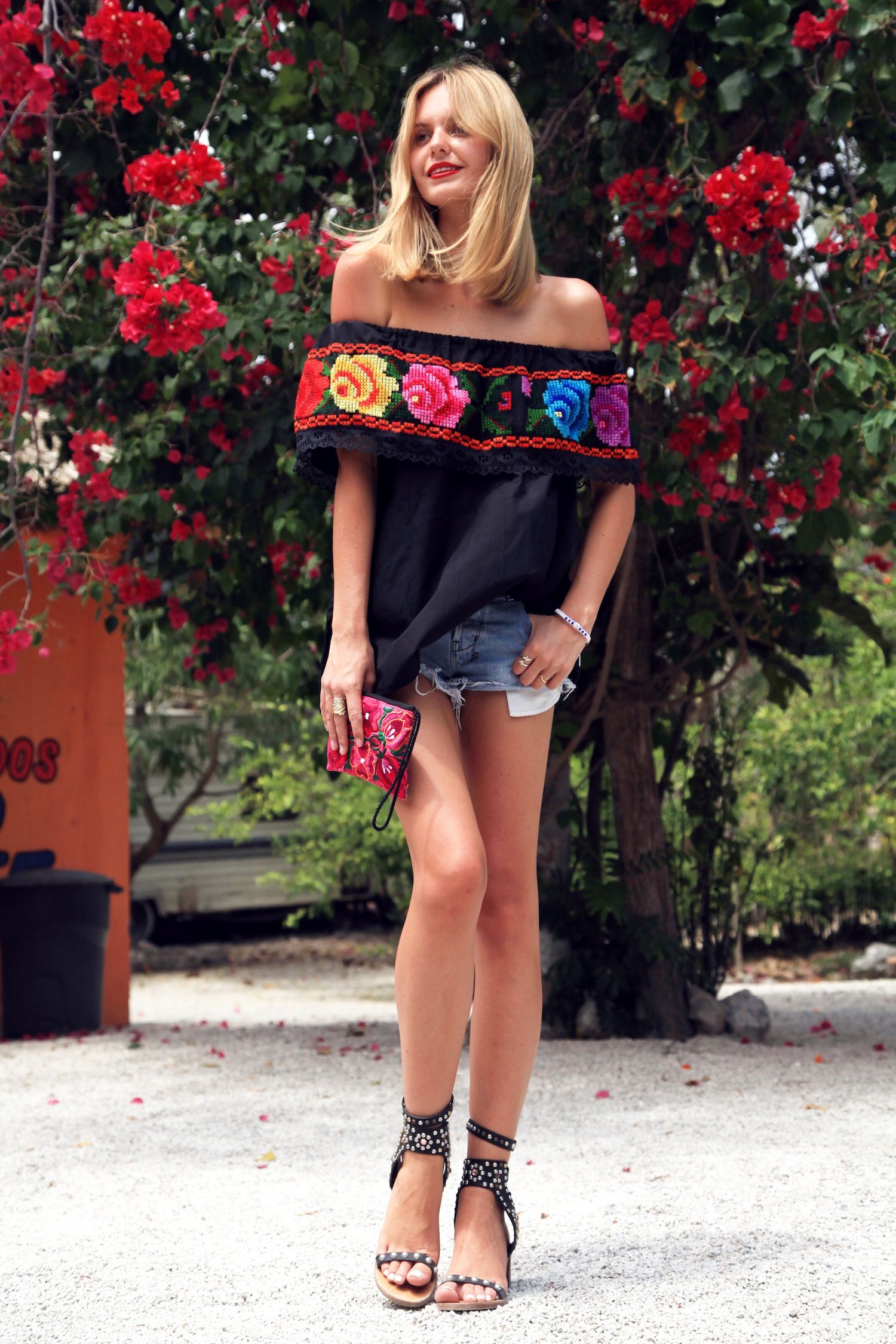 Short denim shorts can be worn with just about everything, but they go super well with this gorgeous black naked shoulder top embroidered with different colored flowers. All you need is a cute pair of sandals and you're ready to go.
Couture Candy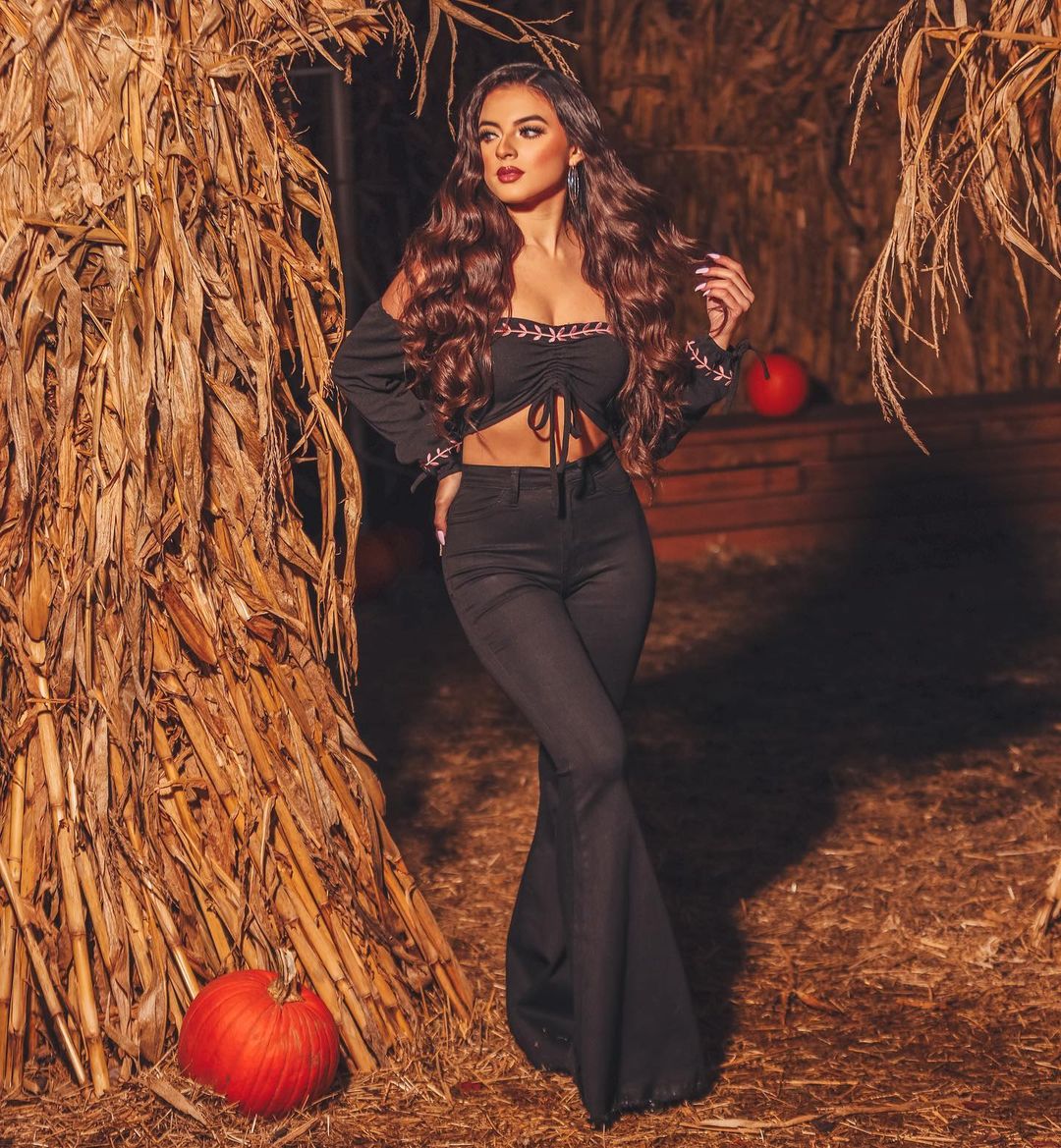 Another important and recognizable part of the cowgirl look is the flare pants or jeans. And how amazing looks this puffy bell sleeve self-tie crop top? I'm loving this outfit for a date night. This all-black look makes this outfit look even more attractive and sexy.
Plaid Shawl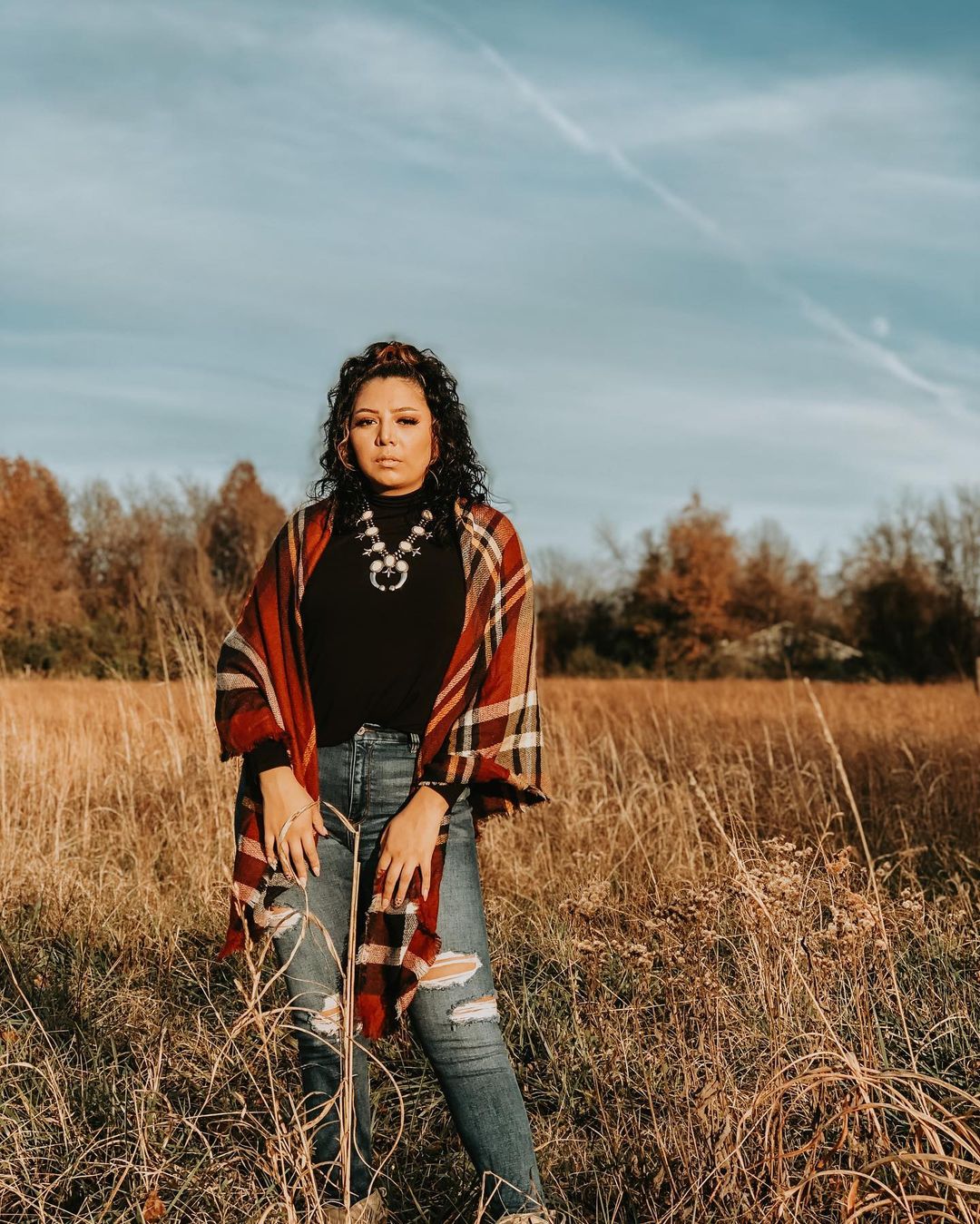 I know you like it, because this is an outfit we almost wear very often and the colors match the season, it's super modern and it looks good on every body type. A pair of ripped jeans, a black cotton turtle neck, and this lovely plaid shawl. You can always play with your accessorize and make it more your style.
Poncho Vibes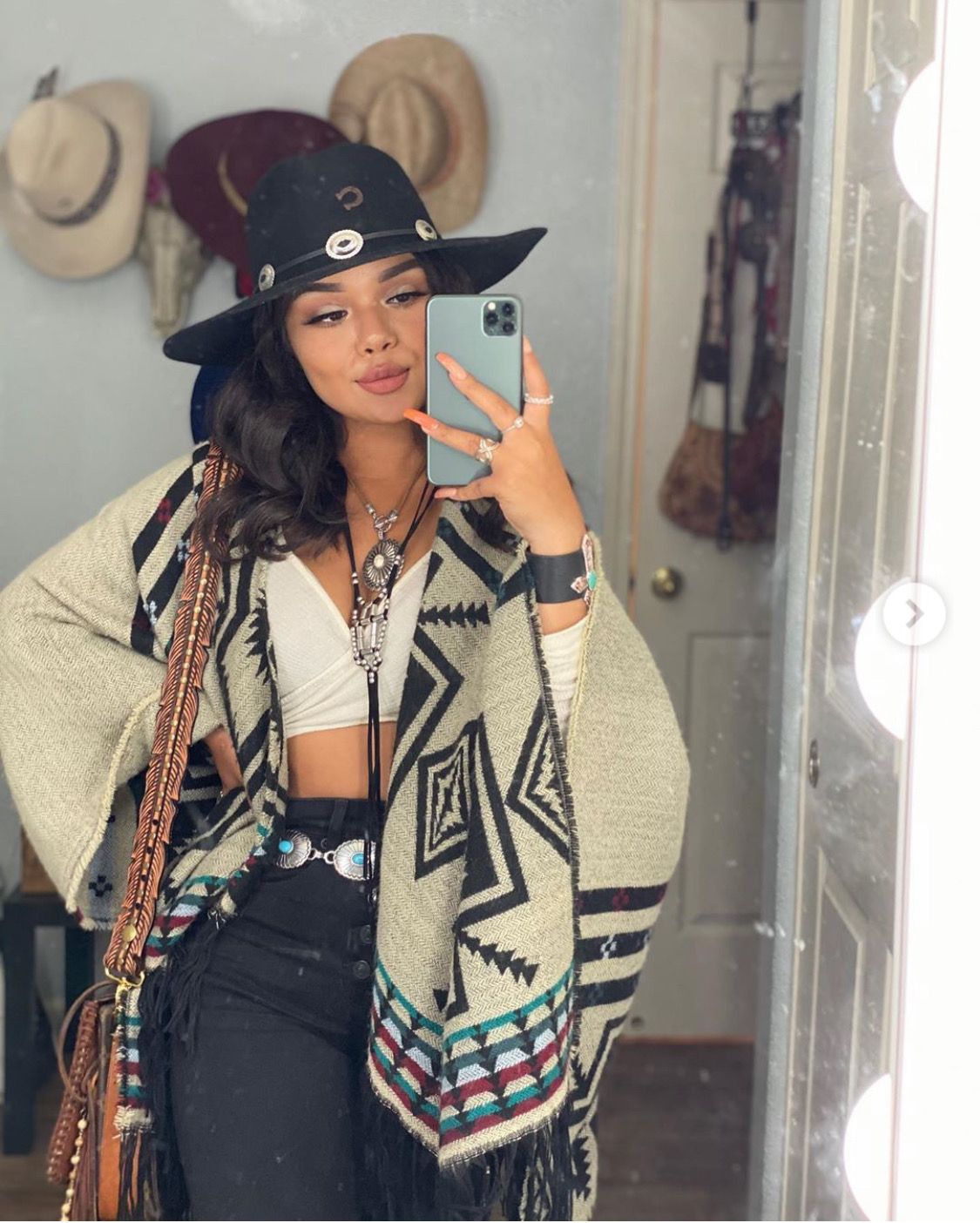 Now, this is the modern Mexican cowgirl outfit! Tradition into fashion, Black pants with a traditional belt, A white self-tie crop top, and the most famous piece of clothing, the poncho ladies! This whole styling looks so much better with the cowboy hat and that Latin swag.
Traditional Pattern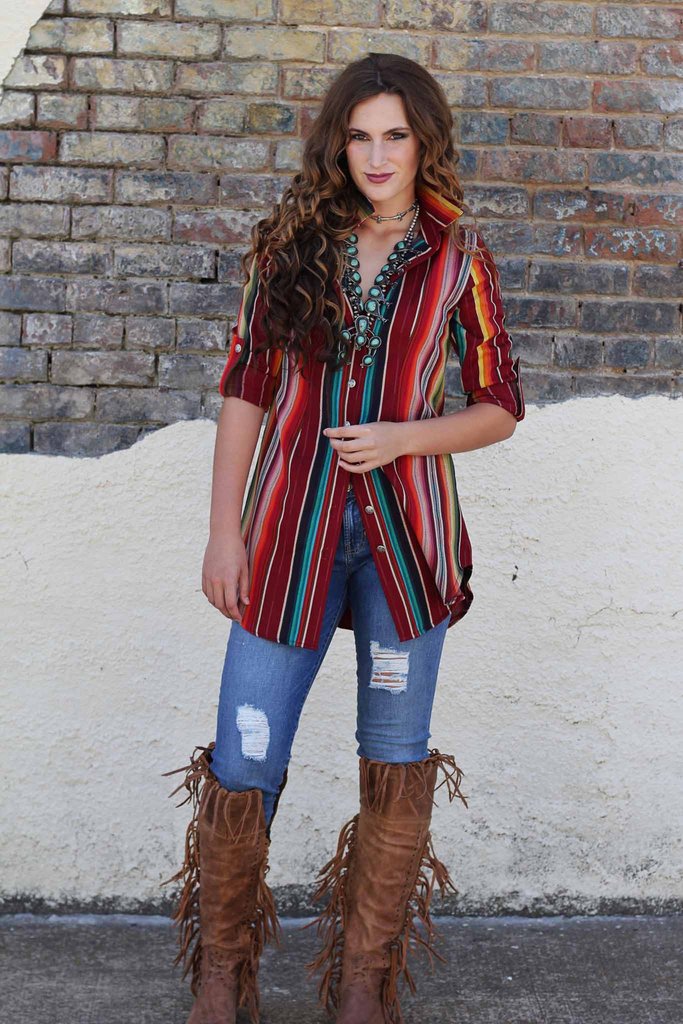 How fun does this outfit look? A very colorful shirt and a pair of jeans have never looked more fun. And these cowboy boots? Ah, loving it!
Colourful Magic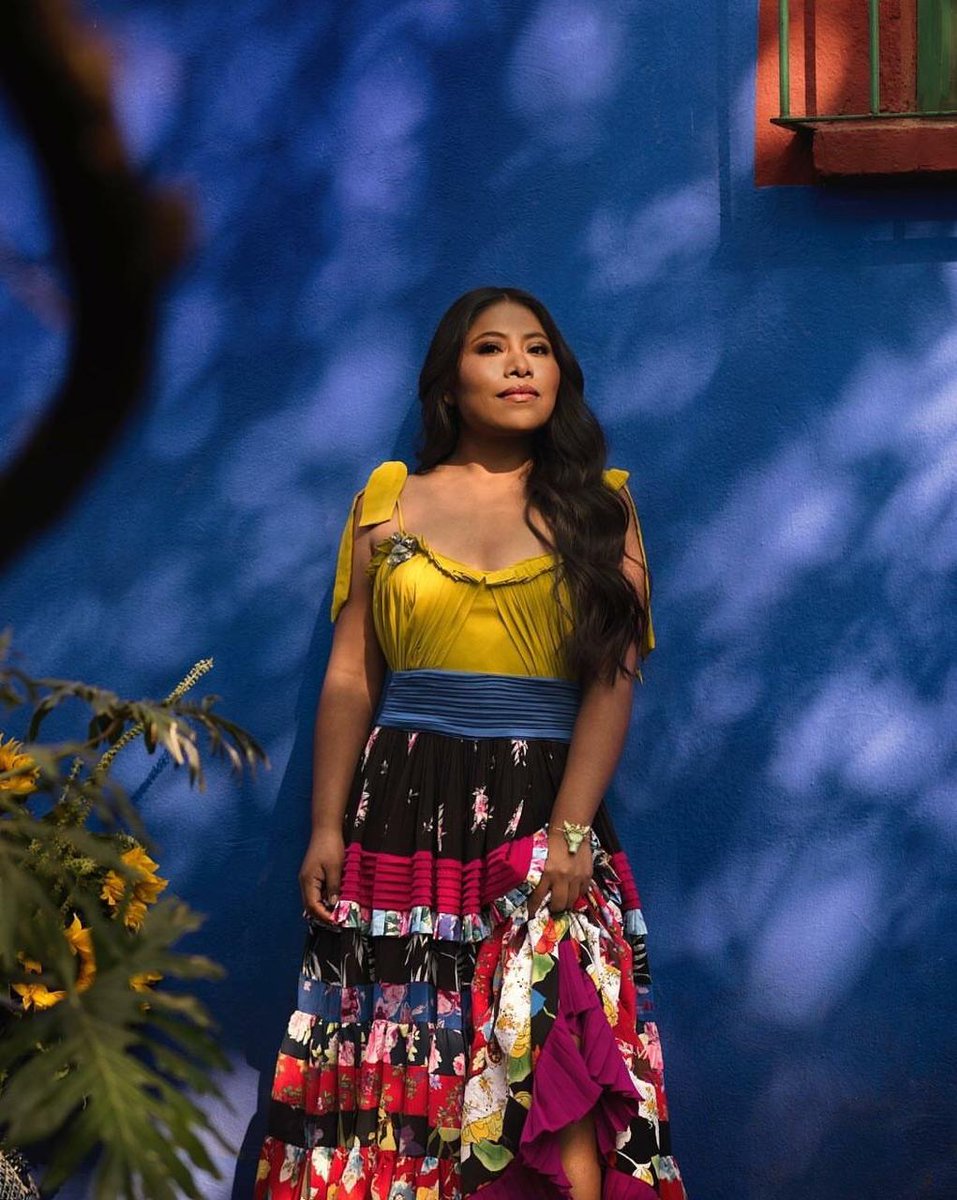 Huipiles are traditional Mexican women's garments that are usually white and colorfully embroidered with beautiful flowers, vines, and greenery. This is a very modern version of the traditional dress that will leave a mark whenever you go.
Cowgirl Jacket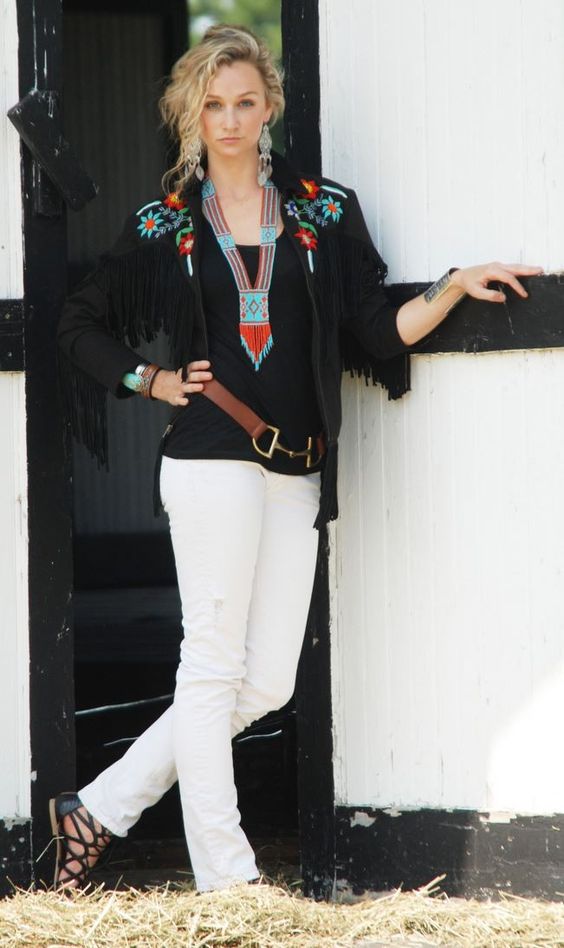 Let's change things up a little bit. This outfit includes a white pair of jeans and a simple black shirt enriched with traditional Mexican jewellery and a matching jacket. You'll be one modern cowgirl, that's for sure.
Puffy Sleave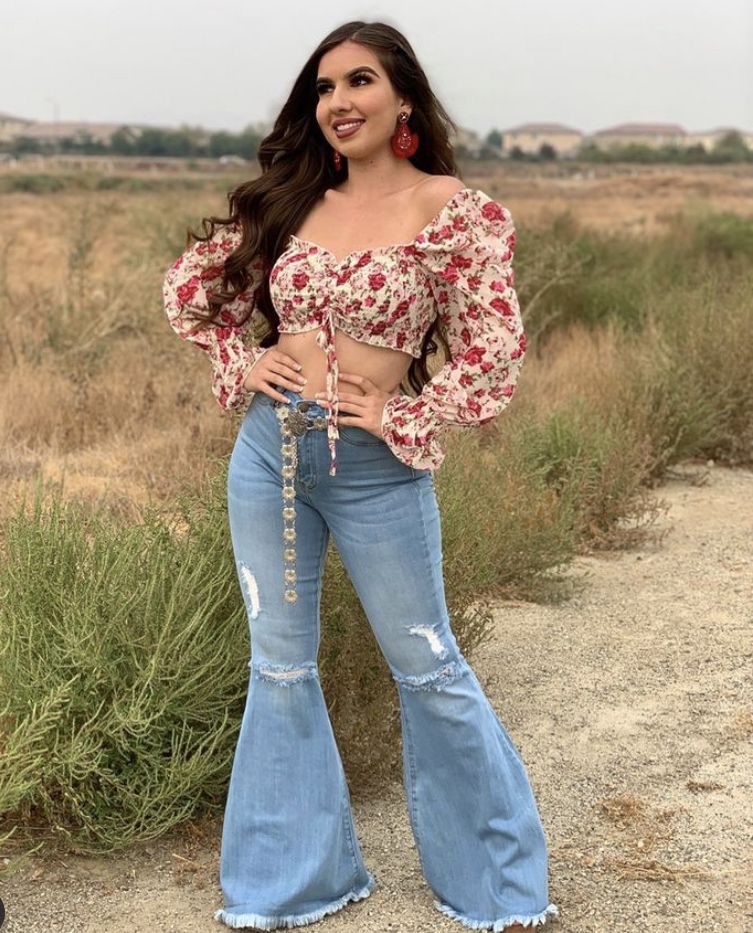 Romantic flowers for a romantic look. This Mexican cowgirl outfit inspiration includes a pair of flare jeans and a very cute naked shoulder self-tie crop top. So simple, yet so amazing.
Denim and Rich Colored Skirt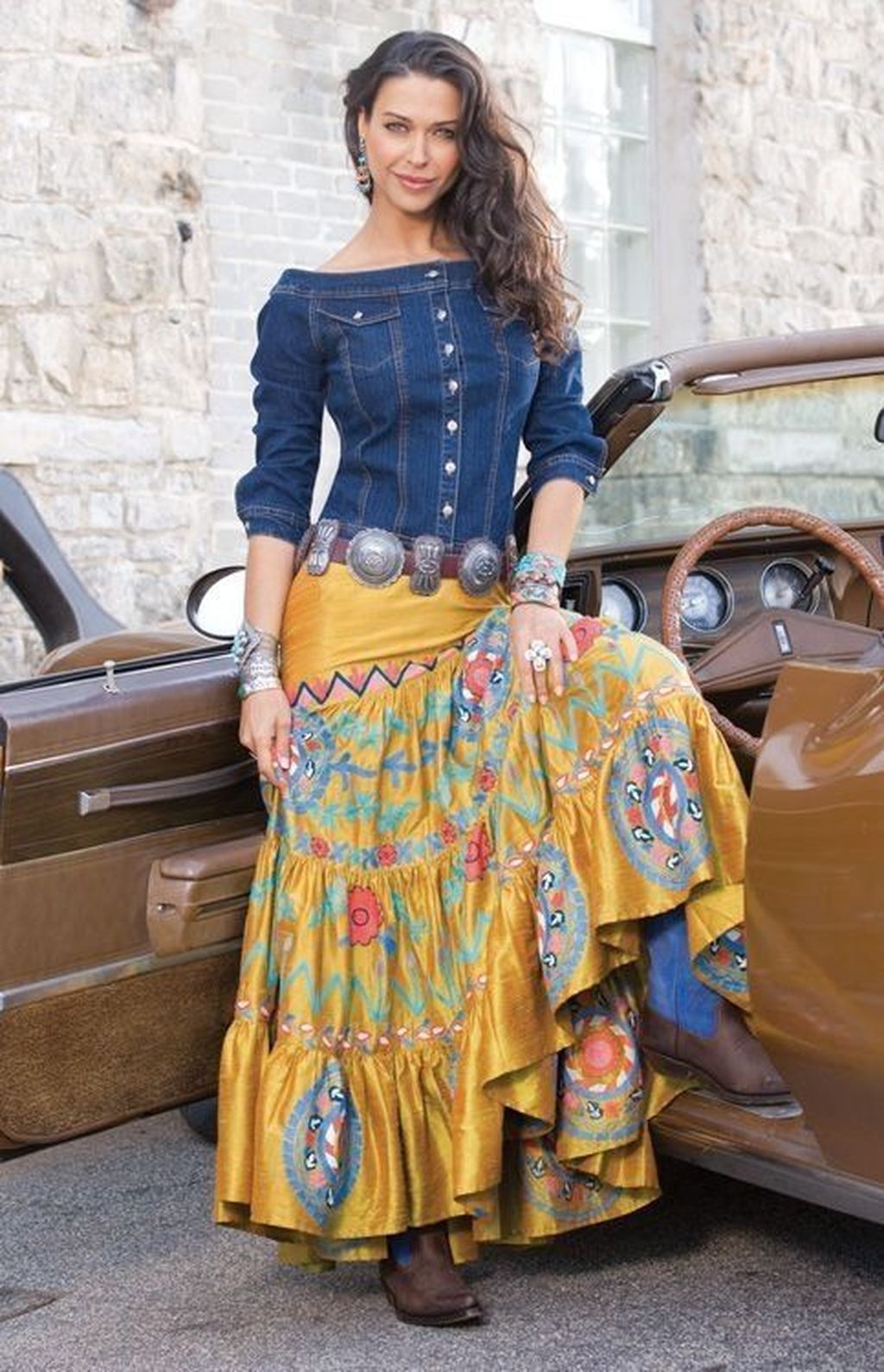 Is it a skirt? Is it a dress? It is something completely amazing! The denim top with the naked shoulders is so unique and interesting, but the skirt it's magical. The silky material, the unique designs, and the story it tells it's very eye-catching. The belt and the jewelry add so much more character to this outfit, but for me, it's the boots that complete it with the bright blue color on them.
These Boots Are Made For Waling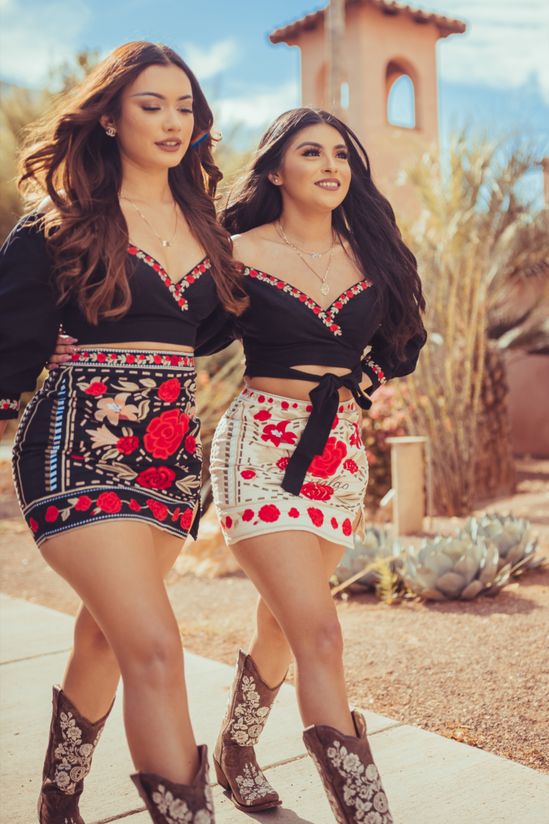 Why not wear a matching outfit with your best friend? This is a very up-to-date outfit inspiration and I'm loving the colors. Black self-tie crop with the red flowers on the top, and the mini-skirts with the traditional design look amazing for going out with your friend on a hot day. Not only you'll steal some glances, but you'll leave an impression as well. Have fun girls.
Vaquera style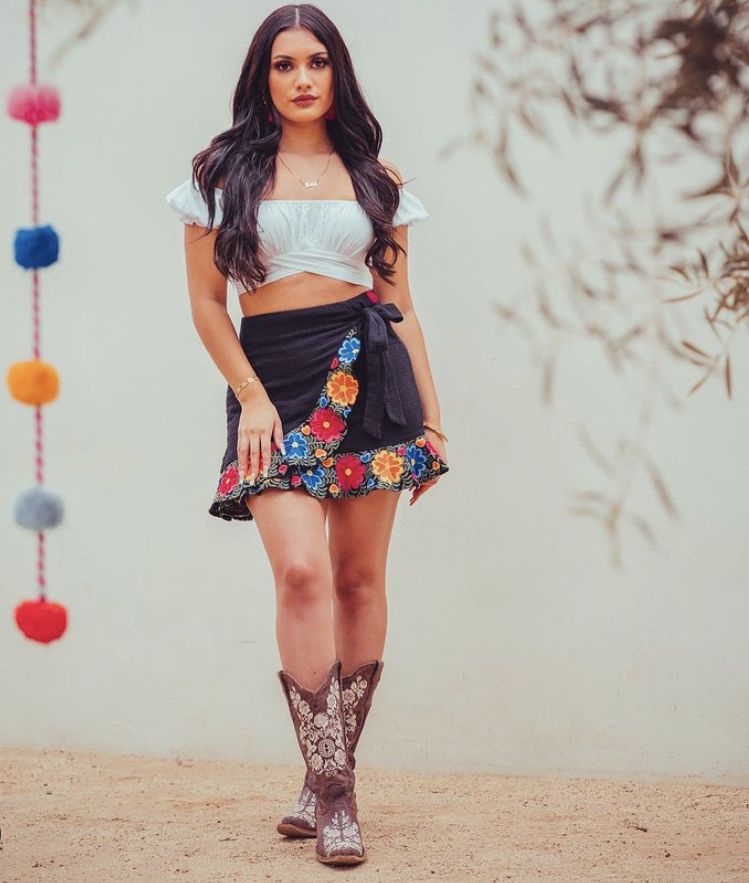 Sexy, sassy, and super powerful! Every woman wants to look beautiful and show off a side of herself through her clothing. This outfit says brave, strong, and independent woman, As a very traditional top, the variations of the self-tie crop top are part almost in every outfit. But the skirt is a story of its own. I love how the mini wrap skirt has traditional embroidered flowers. And let's not forget about the unique boots.
Girl Power
Every Latina brings the fire of her people and shows it through her clothes. A very recognizable style that I hope goes on for a long time. Modern ripped jeans and the naked shoulder top with the dropped sleeves. A variation of cowboy boots and traditional jewellery.
That's all there is to it, ladies. Wearing Mexican cowgirl clothing is a requirement for a woman who wants to make a fashion statement while also carrying on a long-standing tradition. As a result, you should surely create room in your closet for them. I hope I've motivated you to experiment with your style once more, or at the very least given you some ideas for what to dress and where to shop when you don't know what to wear.
Until next time, take care!