Whole Blends is one line of Garnier products. The other is Garnier Fructis. Today, we will talk specifically about Whole Blends, a brand that has been in development since 2010. What makes it amazing? Well, you get good quality shampoo for an affordable price. Is Whole Blends good for your hair?
Of course, depending on your type. If you use the right shampoo for your hair type, you can be satisfied with the results.
And speaking of price, Garnier Whole Blends shampoo and conditioner products sell for $6 to $10, while the hair masks are around $10 as well.
Isn't that affordable?
Explaining Garnier Whole Blends Line
The main selling point of Whole Blends is that the brand and line contain from-the-earth ingredients. Fans are loving it. And we are not talking about fruity fragrances. Whole Blends contains real fruits and natural oils.
The line is also paraben-free. While most skincare and hair care products contain parabens as a preservative, Whole Blends does not.
Whole Blends will offer all-around care for your hair. The shampoo formula is gentle and deeply nourishing. Add in there is a specific product for each hair care issue, and you have a winner.
There are six different formulas, three of which are easy to understand. These include color care for those with processed hair or colored hair, refreshing for scalp stimulation and dry hair, and nourishing for those with dry hair and damaged hair.
The other three formulas can be confusing since they are smoothing to tame and control, hydrating to soften, and repairing to heal and protect. You can say they do the same thing, just the wording is different.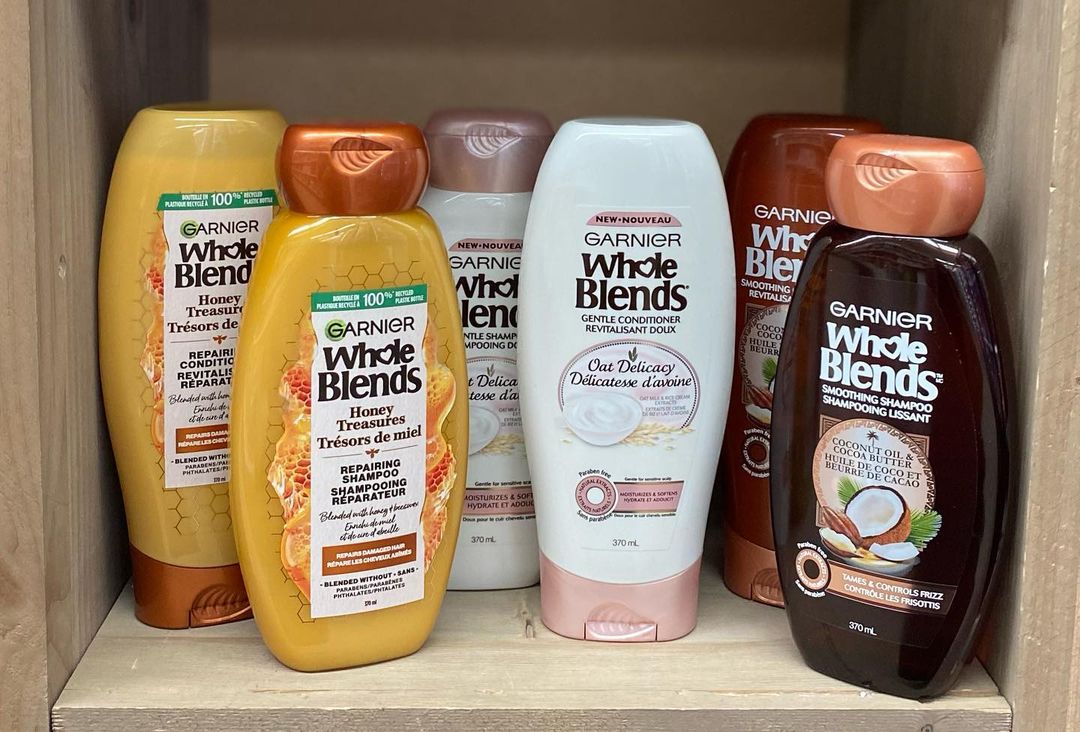 Pros of using Garnier Whole Blends:
Professional salon formulation, Garnier is the second-largest brand owned by L'Oreal
Brand renowned for salon hair care and treatments
Paraben-free, a direct response to consumer demand
Natural moisturizing factors and antioxidants in the formula
Garnier Whole Blends

uses naturally sourced and intense NMFs and antioxidant ingredients

Some of the ingredients found in Whole Blends

include coconut water, vanilla milk, Argan oil, royal jelly, propolis, cranberry extract, apple extract, coconut oil, cocoa butter, avocado oil, Shea butter, and more
Cons of using Whole Blends Products:
 There are a lot of fragrances in the product, added for scent purposes
Fragrances can be potentially harmful
Too many formulas to choose from, some might overlap
Overall, Garnier Whole Blends is worth the money. Combine the concentration levels of the extracts, the brand image and reputation of Garnier, and the direct comparison to expensive salon brands, and you have an affordable quality product.
So, is Whole Blends good for your hair? Of course, YES. Just make sure to choose the right product. More on that below.
Top 5 Garnier Whole Blends Products
We said before that every hair type is different. Even every hair, in the same hair type, can be different. So, it is vital that you choose the right product suitable for your hair needs.
With that in mind, we want to recommend you some Whole Blends products.
Garnier Whole Blends Repairing Shampoo Honey Treasures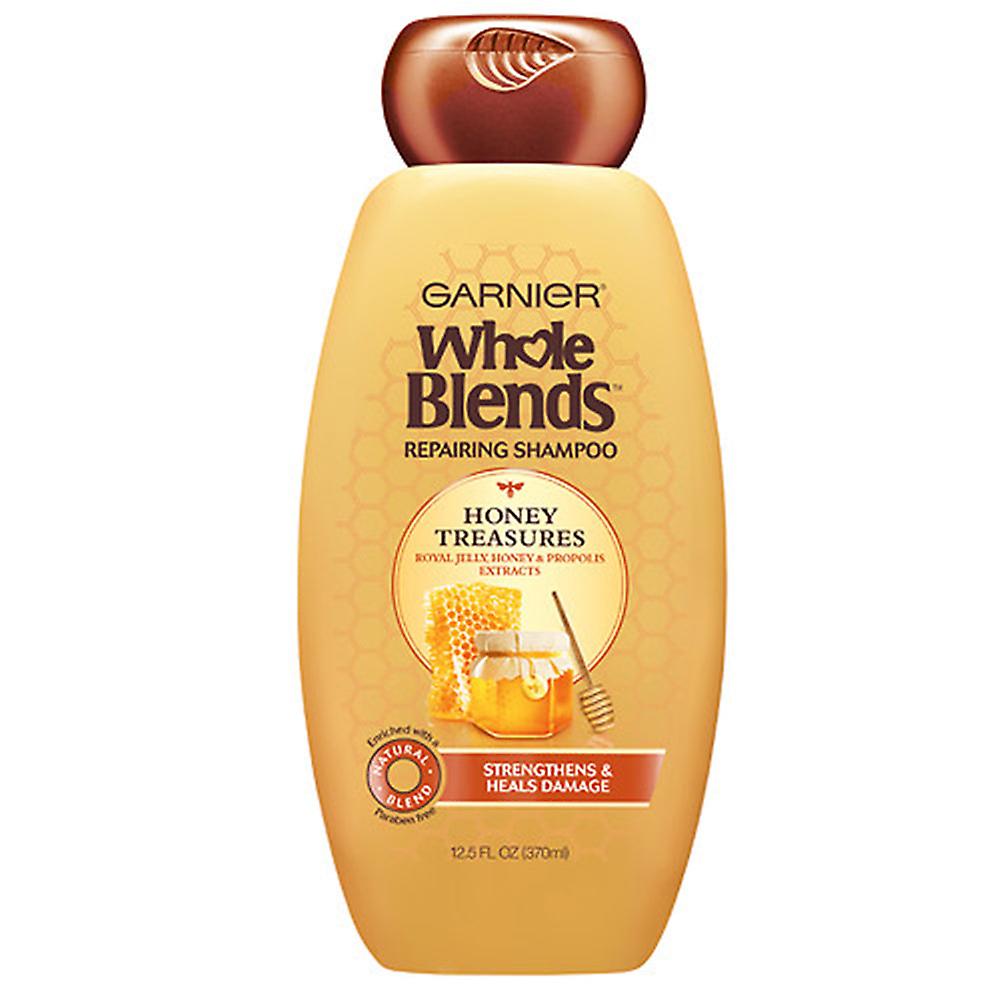 The Honey Treasures set is the go-to collection in the Whole Blends range. And it is understandable. Designed to treat damaged hair because of the benefits of honey, the Whole Blends Repairing Shampoo Honey Treasures can also help your hair in need of some loving.
We know honey is a humectant and will attract and retain moisture. The honey treasures shampoo will nourish your hair and it will feel softer after usage.
This shampoo product also contains royal jelly, a sibling of honey that will deliver healing properties to repair your hair.
The formula is thin and runny, but let's be honest, you do not need much to work up a lather.
Garnier Whole Blends Hydrating 2-in-1 Shampoo and Conditioner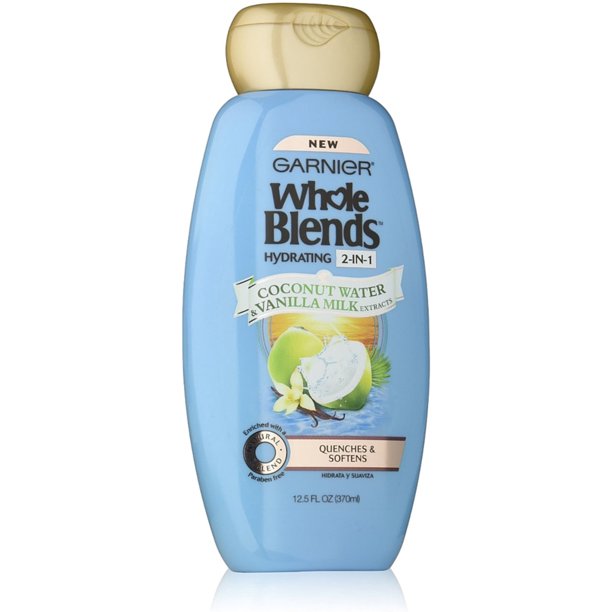 If you are in a rush and you do not have time to shampoo and then condition your hair, this hair care product is the one for you.
You will love this Whole Blends product if you are a fan of sweet and tropical scents. The formula contains a cocktail of Indian coconut water and Madagascan vanilla milk. All in all, it smells summery.
The 2-in-1 hydrating shampoo and conditioner is designed for softening dehydrated hair and dry hair. Now, you might be skeptical about a single product doing the job for two. But try it, and you will love the results. Your dry hair will feel soft and shiny.
Illuminating Oil Moroccan Argan and Camellia Oils Extract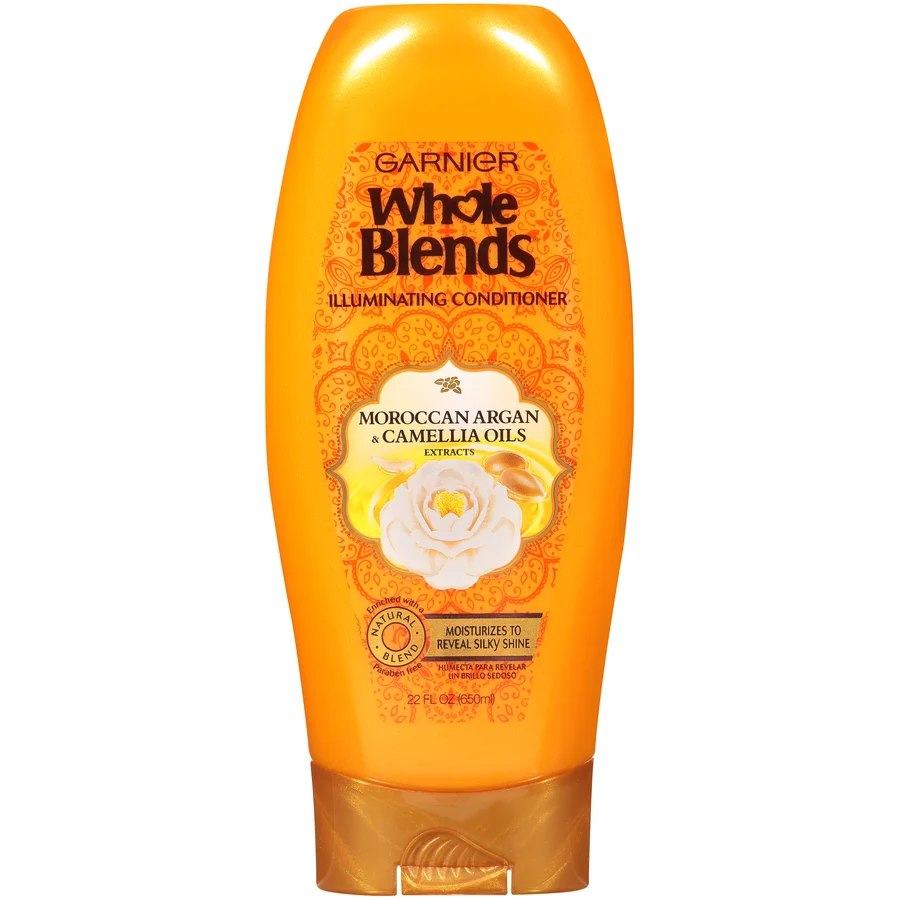 If you have hair that looks a bit dull and needs extra shine, go for this Argan Oil and Camellia oil extracts treatment. Formulated specifically for dull locks, the illuminating oil will add shine to your locks.
We know Argan oil is packed with omega-3 fatty acids and will tame frizzy hair. But it also contains antioxidants that can strengthen your hair and add some natural shine.
At the same time, Camellia oil will infuse the hair structure and replenish hydration. This ingredient will prevent the loss of proteins ensuring that the shine your hair gets lasts longer.
You need just a tiny drop into the palm of your hand. More of that will grease your hair. Remember, this is oil, not shampoo.
Color Care Mask With Argan Oil and Cranberry Extracts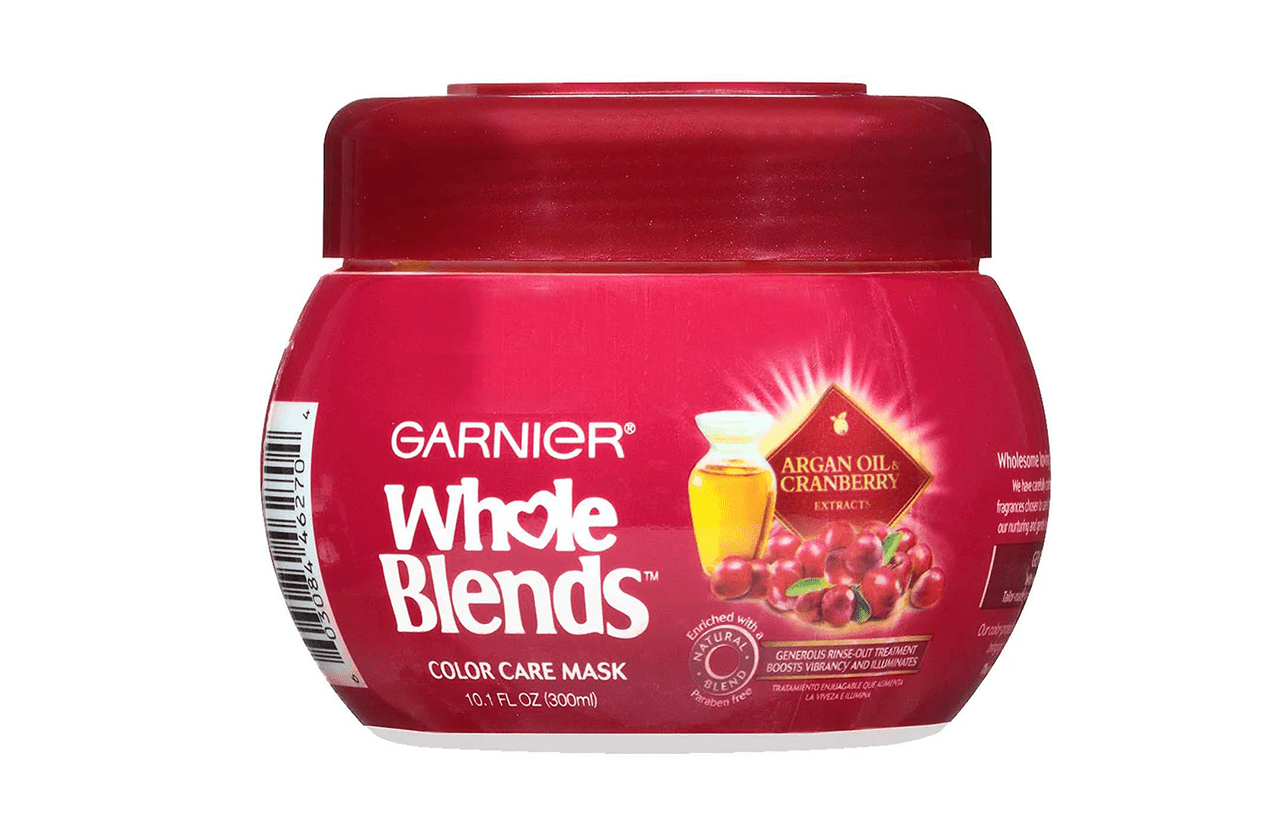 The question we asked, in the beginning, was simple, is Whole Blends good for your hair? Well, here is a hair care product that will work even on colored hair. Our hair needs a good hair mask every now and then. Even more, after coloring your hair.
Thanks to the Argan oil, this hair mask will add moisture to your color-treated hair. But the Cranberry extracts will do even more. Rich in Vitamin C, the extract will treat your damaged hair due to the hair color treatment.
This mask will improve your hair's overall health. We all want healthy hair, right?
Whole Blends Nourishing Repairing Daily Shampoo With Castor Oil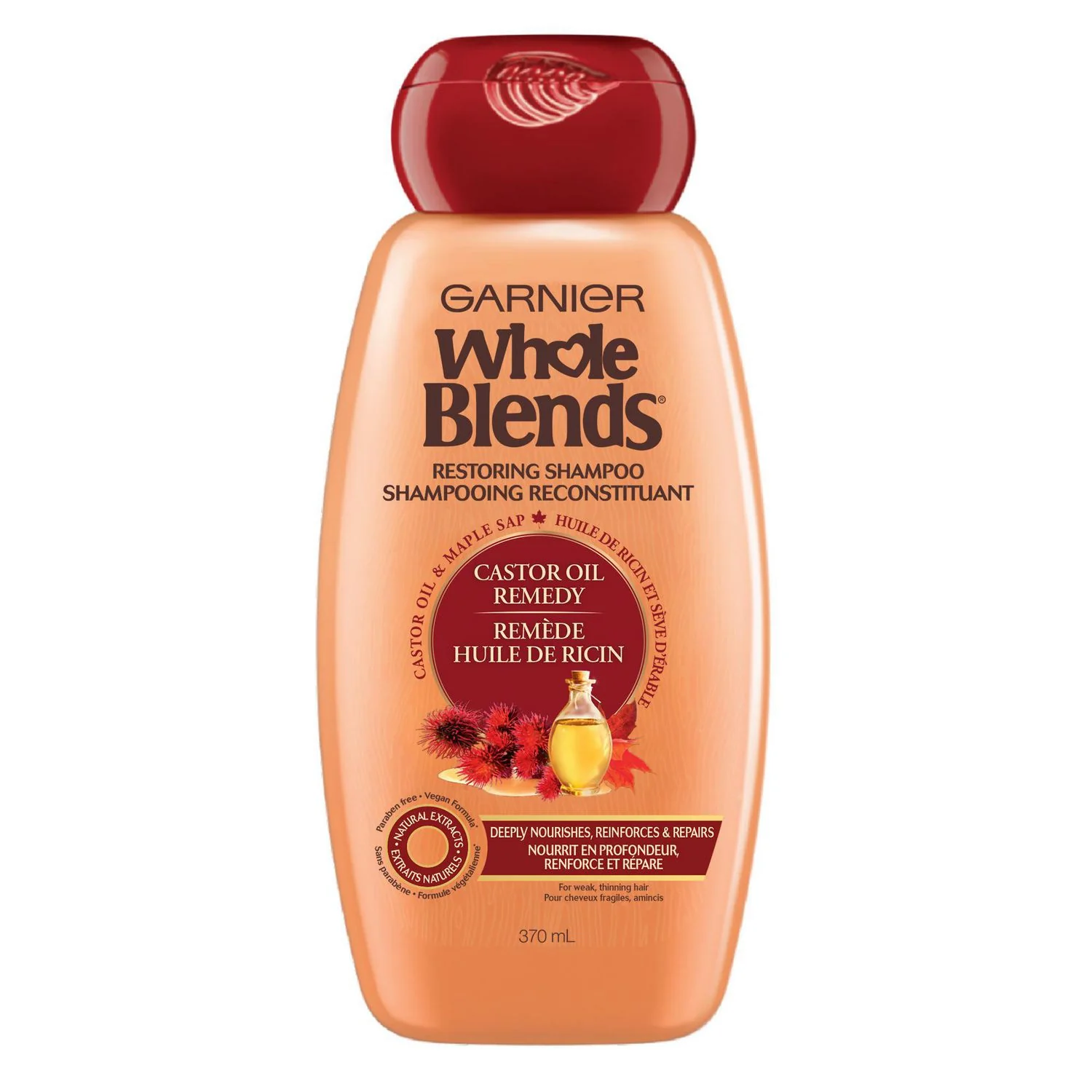 Let's finish off the list of best Whole Blends products with the daily shampoo with castor oil. Often, when you buy new shampoo, you are wondering if you can use it daily.
Well, here comes a shampoo specifically designed for daily hair care. It is lightweight. It will nourish, repair, and reinforce your hair.
Because it is vegan shampoo formula, fans of animals will love it even more. There are not even by-products derived from animals. And of course, it is paraben-free.