Tresemme is a hair care brand established in the United States in 1947. In the beginning, the company sold its products only to salons. This is why Tresemme is known as a salon brand. Yet, over the years, they made their way to drugstores as products became more popular. Is Tresemme good for your hair?
Well, it depends on your hair type. For different types of hair, the hair care brand has a wide variety of products.
It is worth noting that shampoo products often contain sulfates and salts, which are often criticized. They are included in Tresemme hair care products.
Why Is Tresemme Good For Your Hair?
Let's start with their motto. And that is, "for every woman's needs, TRESemme continues creating a new technology". New products are rooted deep down in their beliefs of salon care.
And in that spirit, they have different products for different hair type issues.
For example, if you have dry hair and frisky hair, the company recommends using Tresemme Smooth and Shine Shampoo. Specifically designed to tame wild tresses, the hair product leaves your hair soft and silky. It is rich in vitamin H and silk proteins that provide intense hydration. Add in Moroccan Argan oil, and you have a winner for soft and shiny hair.
One of the best-sellers of the company is the Keratin Smooth Shampoo. It contains a dual-action formula with keratin and Argan oil. This hair product will cut the frisk and smooth your hair. Because of its low sulfate levels, the shampoo is suited for natural hair and chemically treated hair.
For those who often use heat styling tools and products, Heat Tamer is a protective heat spray. It will prevent heat damage to your hair thanks to its formula with biotin, Vitamin B3, and Vitamin E. Think of it as a hair care product that will feed your hair.
Next is the shampoo product for curly hair. The formula is rich in protein that will help the hair follicle regain its strength. It will reduce hair loss and provide stronger hair and longer hair. A few washes are all you need to improve the condition of your naturally curly hair.
Beauty-Full Volume Shampoo is popular because of its reverse system that increases hair volume. After a wash, your hair will look great and voluminous for three straight days. It is suitable for all hair types.
Last is the shampoo for smooth hair and shiny hair. It offers easy cleansing solutions no matter what type of hair you have.
Why Might Tresemme Be Bad For Your Hair?
We talked about is Tresemme good for your hair and all the possible benefits and different shampoo formula products.
Now about the bad stuff. In 2020, a post went viral after a woman attributed her hair loss to the use of Tresemme Keratin Smooth Shampoo. Then, a class action was launched against Unilever for intentionally selling products with harmful ingredients. The investigation showed one of those ingredients was DMDM hydantoin.
It is a preservative used in cosmetic products that prevents the growth of bacteria and microorganisms in products. Classified as a formaldehyde releaser, it is harmful to the skin.
It is worth noting that Tresemme announced the company will reformulate all of the products without DMDM hydantoin. Yet, they did not proceed to recall the previous batches with the toxic ingredient.
The Harmful Ingredients In Tresemme Products
Let's take a deeper look at some of the products found in Tresemme shampoo formulas.
Sulfates
First and foremost, sulfates. There are some products that contain sulfates. The company also has a huge variety of sulfate-free and paraben-free products. Sulfates are bad for curly hair and hair prone to dryness. They cleanse the hair too well, removing all of your scalp's natural oils. And that can result in dry hair. Products with sulfates can damage your hair if used in the long run.
Salt
Next is salt, yes table salt. It is not a good ingredient for curly hair. You should avoid products with it for the same reason as sulfates. Salt can dry out your hair. We know curls need moisture, and any salt-containing hair care product will reduce moisture in your hair.
Non-Water Soluble Silicones
There are water-soluble and non-water-soluble silicones. The water-soluble ones are fine because they can be washed with water. But Tresemme hair care products often contain non-water soluble, which can build up in the hair and prevent moisture from being absorbed.
Drying Alcohols
We have to mention that not all alcohols are bad for your hair. For example, fatty alcohols provide moisture and pliability.
Yet, drying alcohols like benzyl alcohol dries out the hair on contact. And it is present in some Tresemme curly hair products.
Artificial Fragrances
This is the biggest red flag in the hair care industry. Companies can use more than 4,000 chemicals and label them as fragrances and perfumes without disclosing them. All products by Tresemme contain a synthetic fragrance.
Best Tresemme Products
We cannot answer the question of whether Tresemme is good for your hair. It depends on your hair type. What we can do is recommend five products that work specifically for a certain hair condition. In the same way, you cannot use the same medicine for every disease, you cannot use the same shampoo for every hair problem.
Here are some Tresemme products we love.
Tresemme Smooth and Shine Salon Silk Moisture Shampoo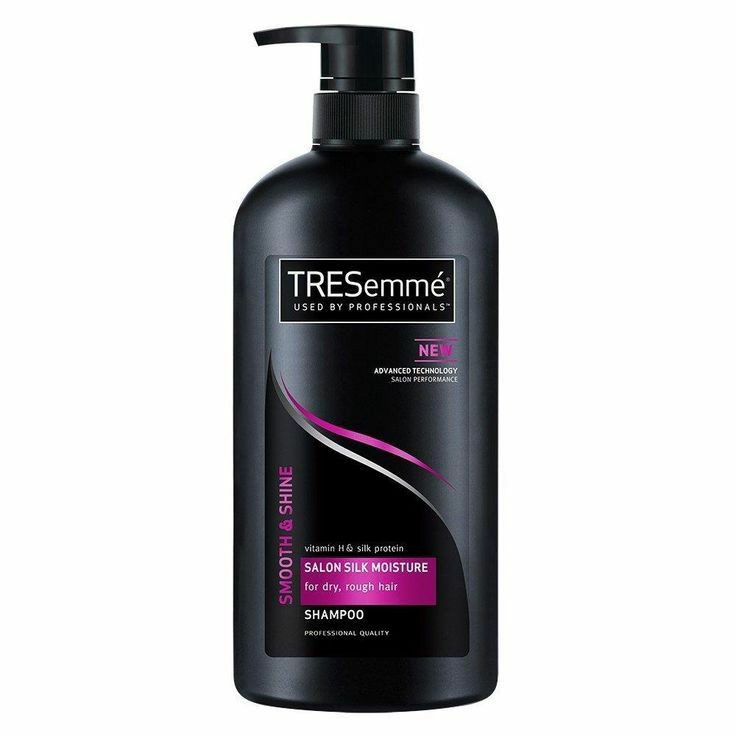 The Tresemme Smooth and Shine Salon Silk Moisture Shampoo is designed for those with dry hair and frizzy hair. Created for taming unruly and wild tresses, the shampoo contains silk proteins and vitamin H. It will leave your hair looking soft and silky.
But the best part is that the shampoo packs a decent amount of Moroccan Argan oil. This ingredient makes your hair ultra-soft and reduces frizz. Even if you live in an uncomfortably hot and humid climate, the shampoo will deliver amazing results.
It will make your hair soft instantly!
Tresemme Hair Fall Defense Shampoo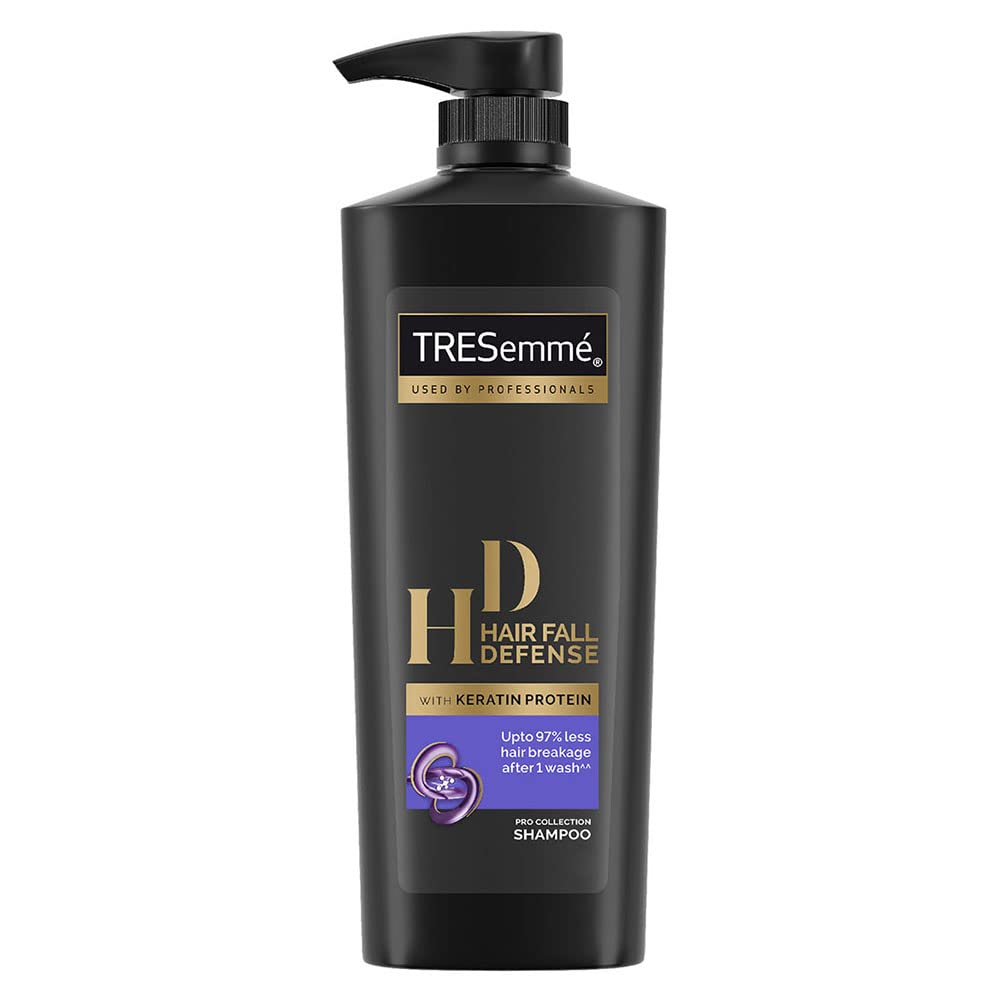 The next product on our list is Tresemme Hair Fall Defense Shampoo. Designed for severe hair fall and hair loss, it will restore strength to every hair strand.
Your hair needs protein to encourage healthy hair. And this formula will help in strengthening the hair follicle and reduce hair fall. Within a couple of washes, you will notice results.
Tresemme Expert Selection Keratin Smooth Shampoo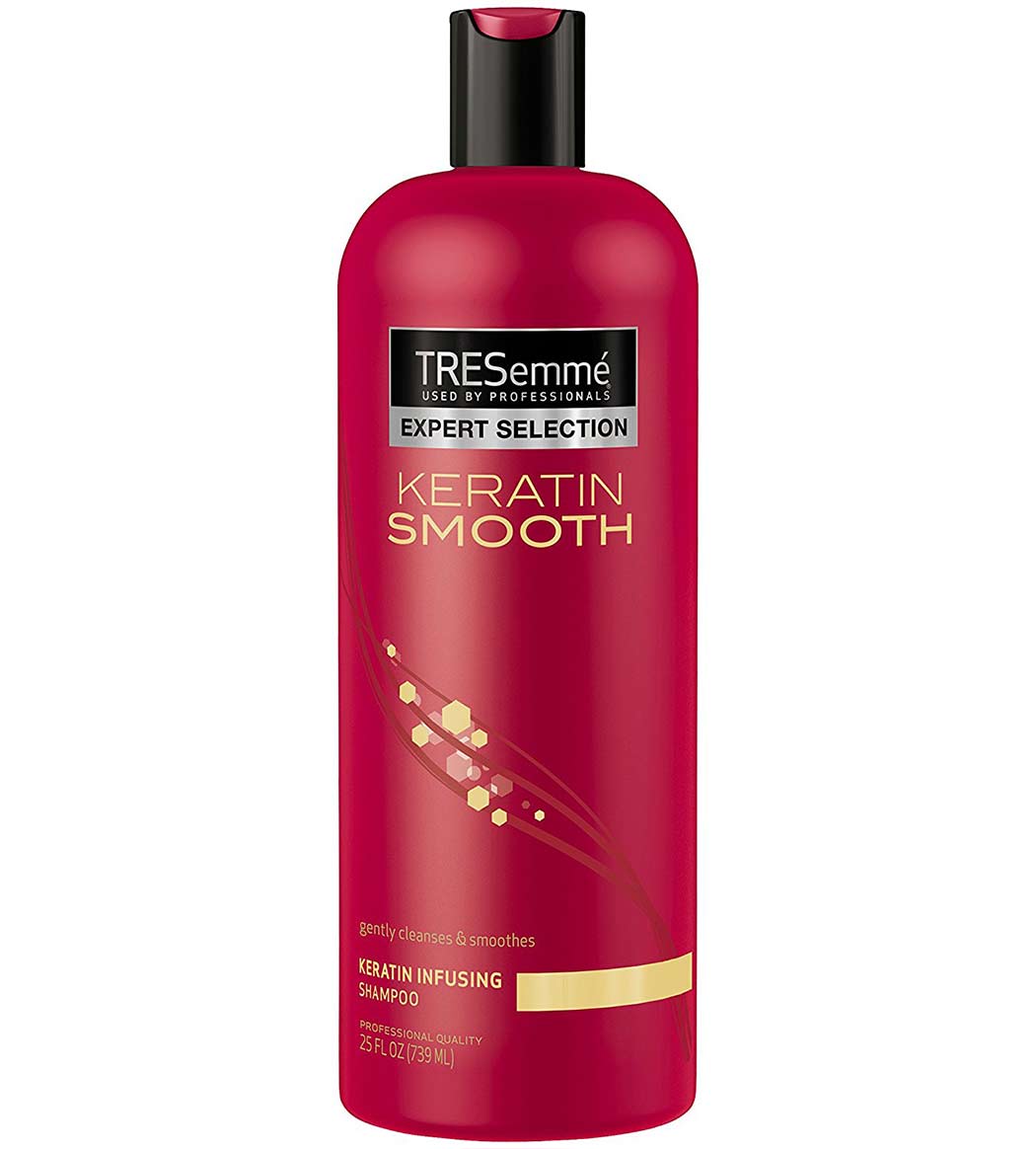 This is the shampoo that was part of the 2020 viral post. But the Tresemme Expert Selection Keratin Smooth Shampoo is your tool to achieve that dream of long, straight, and frizz-free hair.
You can use it to tame wild baby hairs and settle unmanageable tresses. The result is silky and smooth straight hair. How does it achieve that? Thanks to the main ingredient, Argan oil.
Tresemme Spa Rejuvenation Nourish and Revive Shampoo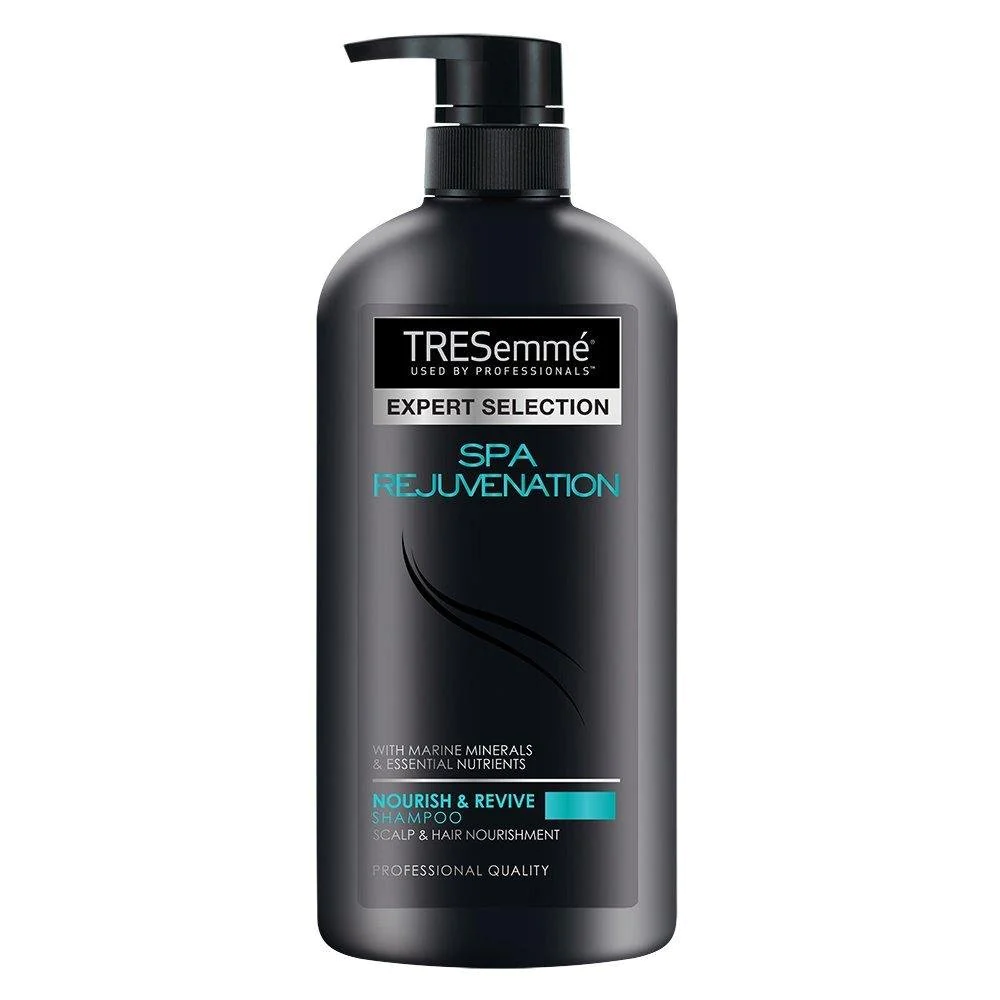 We said in the beginning that Tresemme started as a salon brand. Well, products like this one helped the company gain popularity. If you want a spa treatment, but cannot go to the salon, this shampoo will deliver the same experience.
Tresemme Spa Rejuvenation Nourish and Revive Shampoo pack luxurious ingredients like marine minerals, essential nutrients, and enough protein for your healthy hair.
You need only a small amount of product. Your hair will feel hydrated and fresh after usage. The shampoo can help with detangling wild tresses, controlling frizz, improving hair texture, and locking moisture into the hair follicle.
Tresemme Beauty-Full Volume Shampoo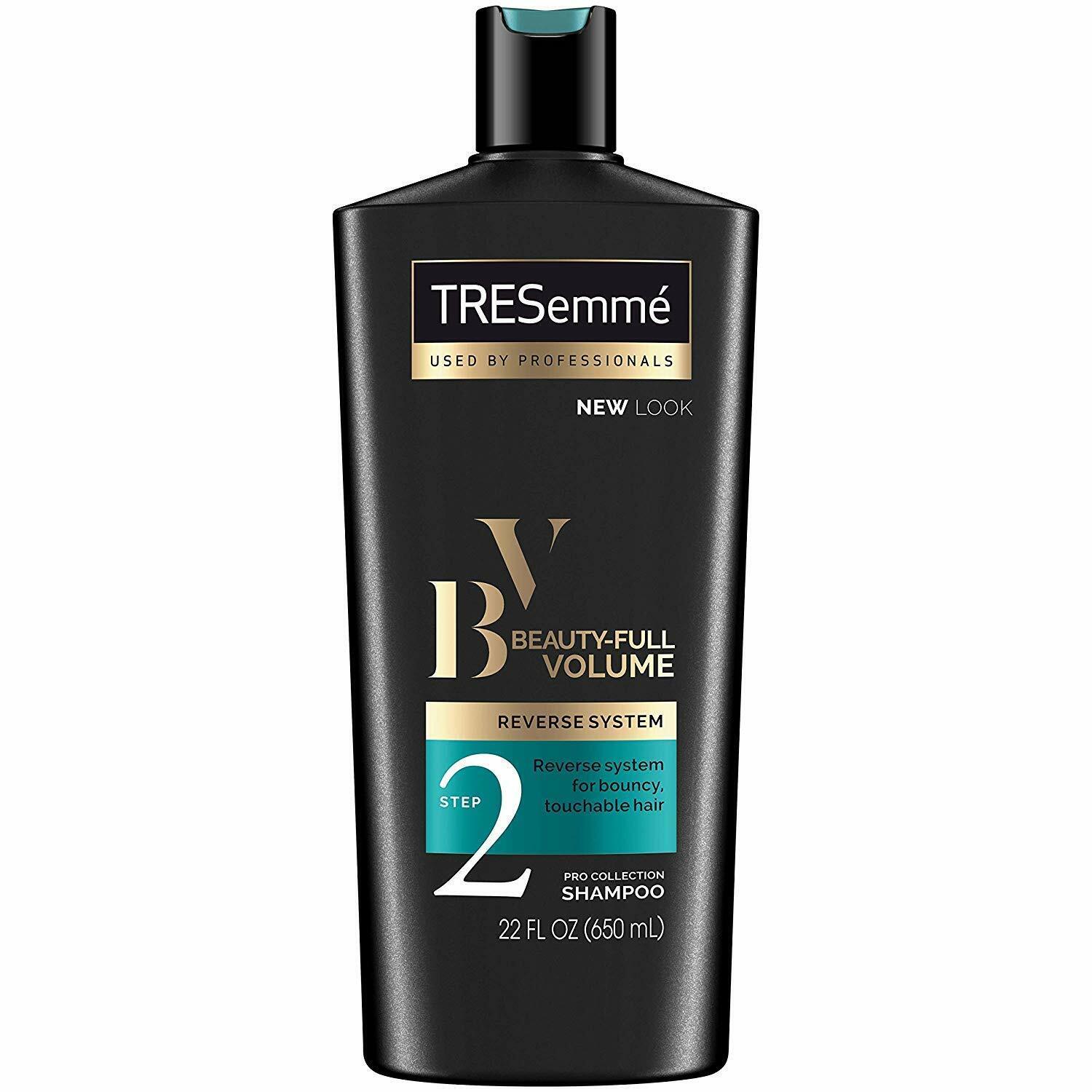 Let's finish with the Tresemme Beauty-Full Volume Shampoo, a shampoo formulated for fine hair types. It will boost the density of your hair and provide volume that will last for days.
Fun fact: for best results, you have to condition your hair first, and then shampoo it. The product changes the order of the hair care routine.
With its unique compounds in the formula, the shampoo enhances each hair strand, resulting in fuller volume.