Suave has been on the market for a long time. And for a long time, they marketed their shampoo products as made for women and men with straight hair. Yet, with the natural hair movement as of late, the company has ventured into the world of curly hair as well. The question is the following. Is Suave good for your hair?
The company has sulfate-free shampoo products that sound promising. Is it good for your naturally curly hair? Or natural straight hair?
The company has multiple shampoos on the market. We will talk about whether Suave is good for your hair, and what are some of the best products. Suave shampoo products are designed to cleanse your hair gently without stripping it of its natural oils.
What Is Suave Shampoo?
The company says that the best shampoo is designed to meet all of your hair needs. They have a wide range of shampoos that will revive and replenish your hair. After usage, your hair will look its best.
That is what the company says. But as always, you do not take it as set in stone. You have to ask if Suave is good for your hair.
Do you want to know what your locks need? What is in the shampoo? We have the answers, do not worry!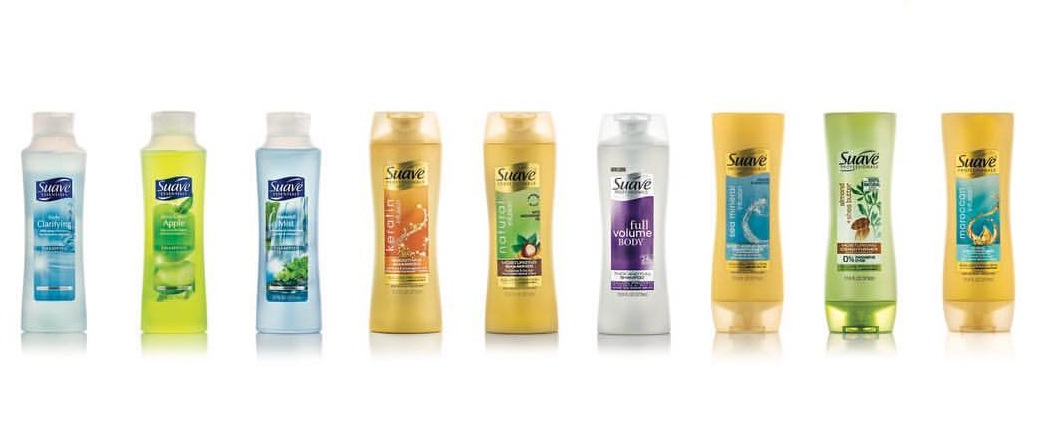 What Are The Ingredients?
There is no other way to know if a shampoo is good for you or not than by checking the ingredients on the label.
There are a couple of ingredients that appear in different Suave products. Here is a quick breakdown.
Coconut Oil
If you look at different Suave shampoo products, you will see coconut oil as a featured ingredient. This natural ingredient will do wonders for your naturally curly hair.
Among the many benefits of coconut oil, let's mention some. For starters, it reduces protein loss, protects your hair from breakage, encourages stronger hair follicles, protects your hair from sun damage, provides antimicrobial properties to fight off dandruff, strengthens the hair shaft, reduces hair loss, and seals in moisture.
Shea Butter
Another featured ingredient in Suave products is Shea butter. It is a fan favorite among people who love natural ingredients. Shea butter is full of nourishing vitamins and minerals, including linoleic acid, Vitamin E, and Vitamin A.
It promotes healthy hair and length retention. Smoothing your hair and reducing frizz are added bonuses. Their Shea butter shampoo is among the best on the market for damaged hair.
Cocamidopropylbetaine
Cocamidopropylbetaine is the second most important ingredient in the sulfate-free Suave shampoo. The surfactant can be found in many natural shampoos. Its purpose is to replace sulfates like sodium Laureth sulfate.
Cocamidopropylbetaine is an organic compound created by combing coconut oil with dimethylaminopropylamine. The result is a less harsh compound than many sulfates. And it still delivers a thick lather to your hair.
Users often report their hair feels more hydrated after using a shampoo with Cocamidopropylbetaine instead of one with sulfates.
Fragrance
This is where things get iffy. Companies in the US can put more than 4,000 chemicals under the label fragrance or perfume, without disclosing the exact ingredients.
This is why your shampoo will smell fantastic. But since fragrances are not spelled, they can be used to mask unpleasant odors from questionable ingredients.
Is Suave Shampoo Good For Your Hair?
Now the main question. Is this shampoo product good for you? Well, Suave has some of the best affordable shampoo products on the market. They are suitable for any hair type. Mainly, Suave shampoos are used for clarifying.
They clean your hair from dirt, debris, and product buildup. You can mix the shampoo with water and apply it to your scalp.
When choosing the right shampoo for your natural hair, we recommend opting for one that cleans your hair properly without causing damage.
Also, it is recommended that you do not use shampoos more than two or three times per week. Otherwise, they will strip your hair and scalp of natural oils.
Now, Suave shampoos are not for people who prefer 100% natural products. Yes, a Suave product will have some natural ingredients. But the products are not 100% natural. If you are Okay with venturing out and trying products that differ a bit from the natural path, give Suave a try.
While Suave is not 100% natural, it has some amazing moisturizing and sealing natural ingredients. Bear in mind that any given hair type can respond differently to different products.
Here are some advantages and disadvantages of Suave products.
Pros:
Affordable shampoo
Shampoo with a great scent
Contains beneficial ingredients
Contains natural ingredients
Available in a wide variety
Cons:
Not 100% natural
Some customers report dry hair after usage
Is Suave Good Or Bad For Curly Hair?
Ask any woman with curly hair and she will tell you outright. Wavy hair has specific needs that go beyond straight hair. You need much more moisture, and protective styling tools or shampoo that will protect your curls from drying out.
Most importantly, women with curls should avoid products with harsh, toxic ingredients that can damage their hair. These products can leave your hair dry.
Luckily, Suave makes sulfate-free shampoos that contain coconut oil, Shea butter, and Cocamidopropylbetaine. These can develop dandruff, reduce protein loss, and seal in moisture.
Suave also has products that nourish and protect your hair from outside factors. In any case, it is always a good idea to try out a product and make a test before making a commitment.
Remember, no hair is exactly the same. Women and men should be extra careful about the products they use.
Best Suave Products
Now that we talked about whether Suave is good for your hair, let's take a look at some of the best products the company has to offer. Their wide range of shampoo products has something for everyone. Here are our top choices.
Moisturizing Curl Conditioner With Coconut Oil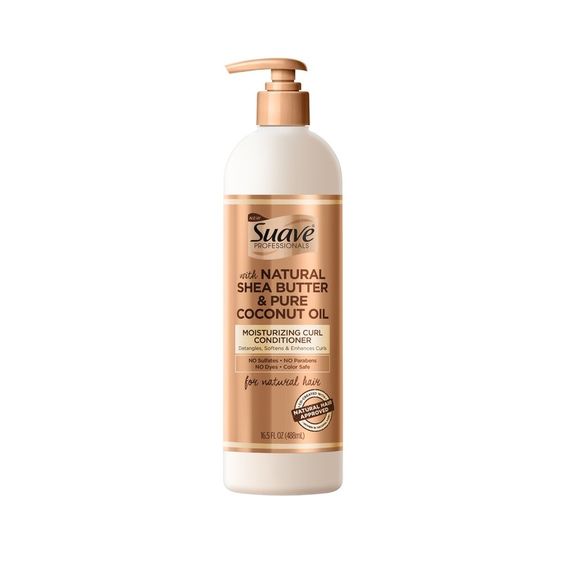 We talked before about how beneficial coconut oil is for your hair, right? Well, the company has a paraben-free and dye-free conditioner that will nourish and cherish your curls. It is amazing for women with coily hair or wavy hair.
Anti-Breakage Treatment With Castor Oil And Mango Butter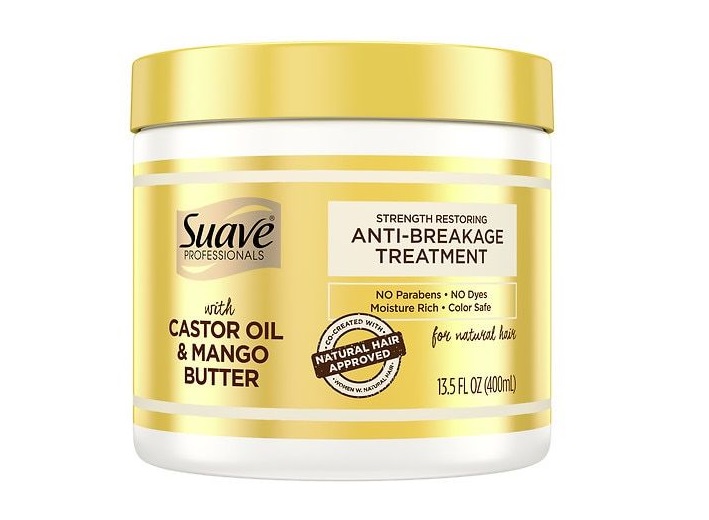 This is not a shampoo. It is a hair mask that will prevent hair breakage and treat it. If you have curly hair, use this hair mask to strengthen your curls.
Usually, women experience hair loss due to breakage. Well, not anymore. You can use this mask once per week and your hair will be in totally different condition.
Defining Gel With Castor Oil And Mango Butter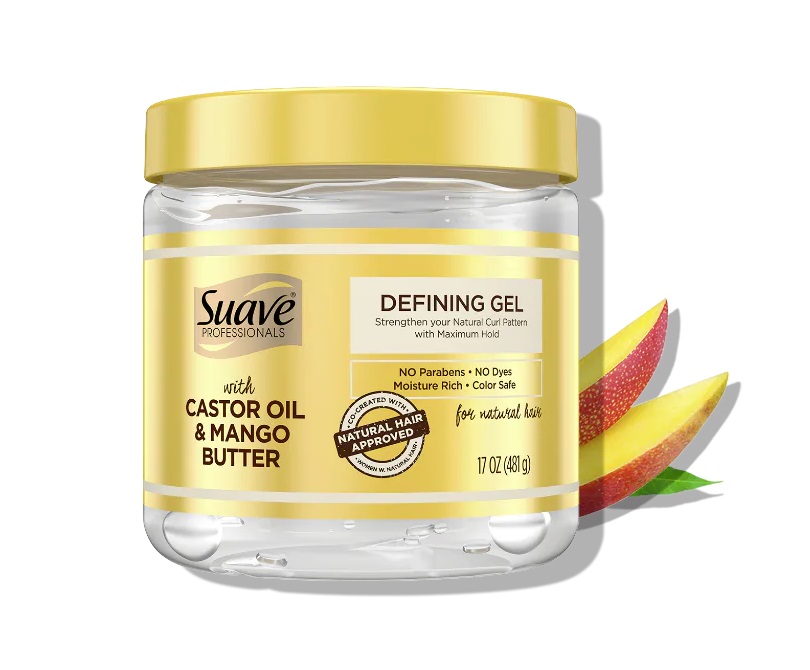 Another product with Castor oil and mango butter, this max hold gel will define your curls and keep the style in place. Bonus points for smelling great, right?
Suave Professionals Natural Shea Butter And Coconut Oil Shampoo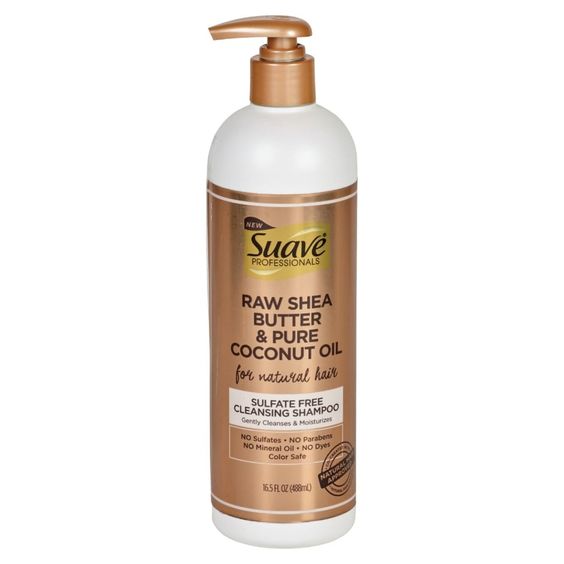 This might be the best Suave product out there. The moisturizing shampoo for curly hair will create a creamy lather that gently cleanses and removes buildup. At the same time, it infuses your hair with shine and deep moisture.
The curly hydrating shampoo has been formulated especially to protect your curls. Infused with natural Shea butter and natural coconut oil, it helps fight frizz, enhance shine, and reduce breakage.
And the best part is, there are no sulfates in this shampoo.
Nourish And Strengthen Leave-in Conditioner With Coconut oil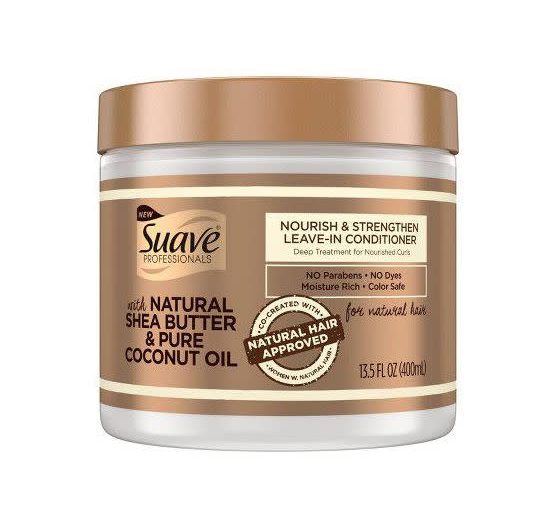 Let's finish off the list of best Suave products with a leave-in conditioner that will add lots of moisture to your hair. Designed to protect your beautiful healthy hair from damage, the nourishing conditioner should be part of your weekly routine.
You can also use it as a styling product that will add moisture to your hair.