Congratulations! You have a Boy! Soon, when he becomes a small boy, you might realize that boys' clothing assortment is usually less versatile when compared to girls' clothing. This doesn't mean fashion is a girl's monopoly. Boys can be fashionable as well. Another thing: when it comes to little boys, it gets harder to convince them to trade their own comfort for the look.
Keeping his outfit casual is as necessary for his comfort as the suitable fabric choice. Make him try them first. I learned the lesson the hard way. My son left many pieces of clothes never worn, not mainly due to how they looked, but the material they were made of. It might be a good idea to involve him trying his clothes. His involvement will be of benefit also to start dressing himself up. You can lay his clothing in the order he needs to dress: socks, pants, and T-shirt, then jacket, and shoes. Choosing clothes that are easy to get in and out of is also a good idea. Wearing elasticized pants, simple T-shirts, and tops with a front image to learn what is front and back will also help. The latter is what's most important for your toddler boy.
You also want him to look nice, so you can style your little kid's outfits according to seasons and occasions. Pick the light fabric, loose-fitted clothes for summer wear, while dark, checks, or woolen clothes for winter days. Have a versatile and essential attire for your toddler boy. We'll walk you through some of the outfit ideas for toddler boys in this article.
Cozy In A Hat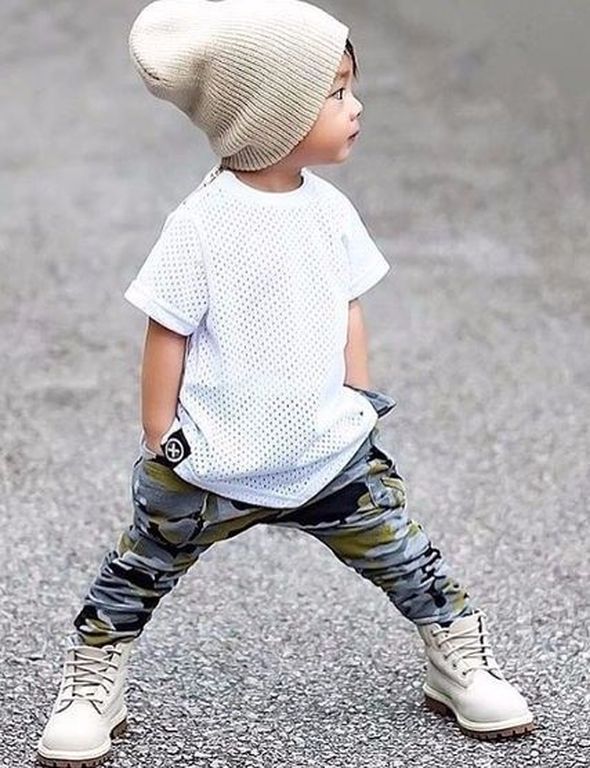 Cozy hat, camouflage pants, white short-sleeve T-shirt, and over the ankle shoes.
Camouflage Jacket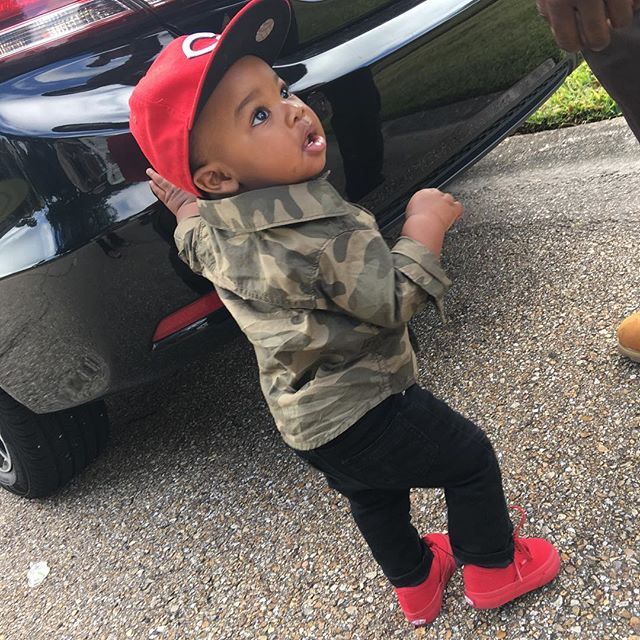 A camouflage jacket, black pants, hat, and shoes in tone.
Classy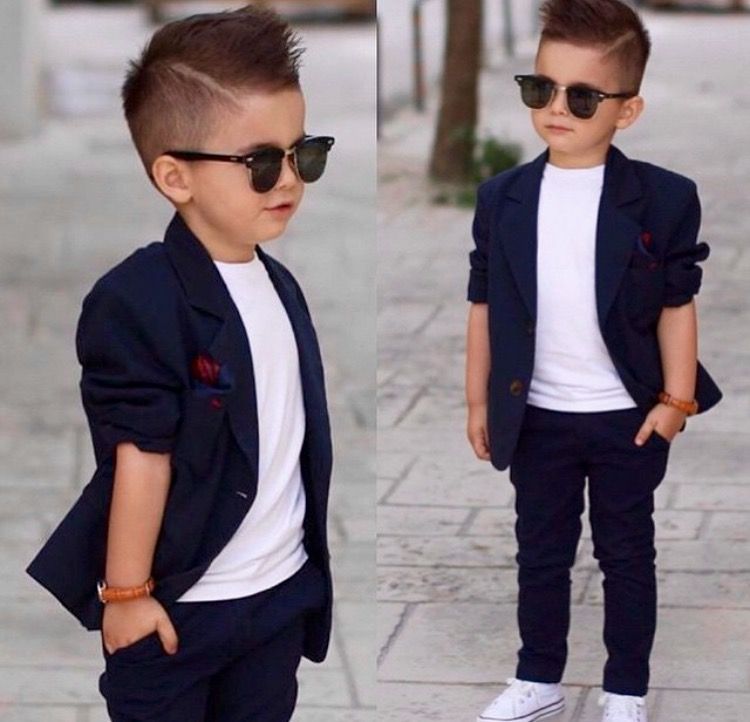 Dark blue jacket and pants, white T-shirt and sneakers. The cuffed long sleeves, the wristwatch, sunglasses, and the 'cool' haircut are extras in this cool and classy kid fashion combination.
Long-Sleeve Plaid Shirt + White Trousers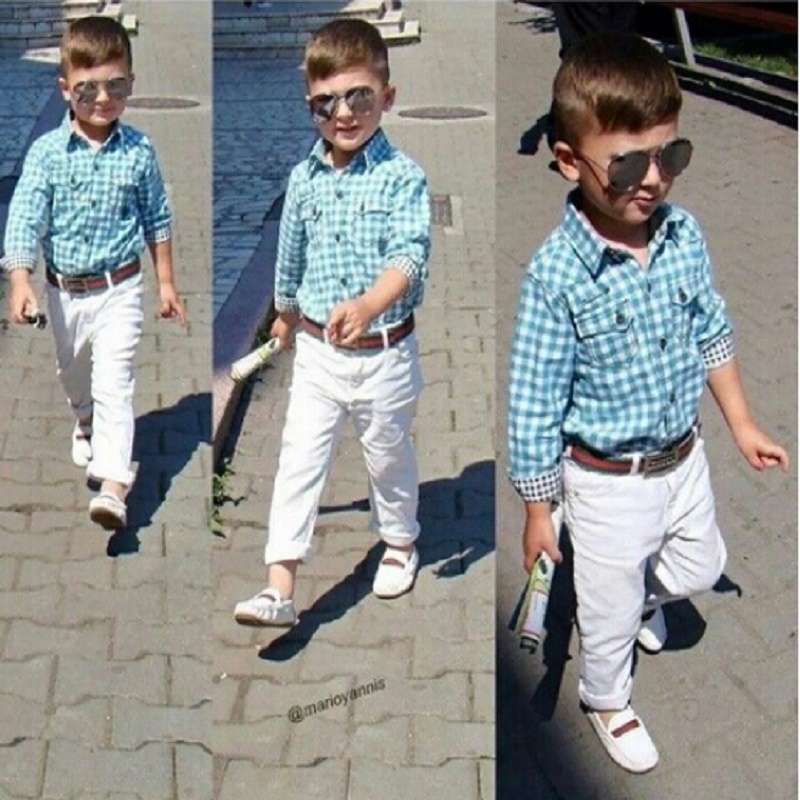 This kind of checked shirt is a must-have summer essential. Create a new style, light, and comfortable outfit for your kid for all occasions. Vary the colors from pink, blue to red check shirts. Boys love to carry this style from casual to a formal look even when they grow up. Combine the shirt with white trousers and shoes, and he is ready to go.
Suspender For A Super Cute Look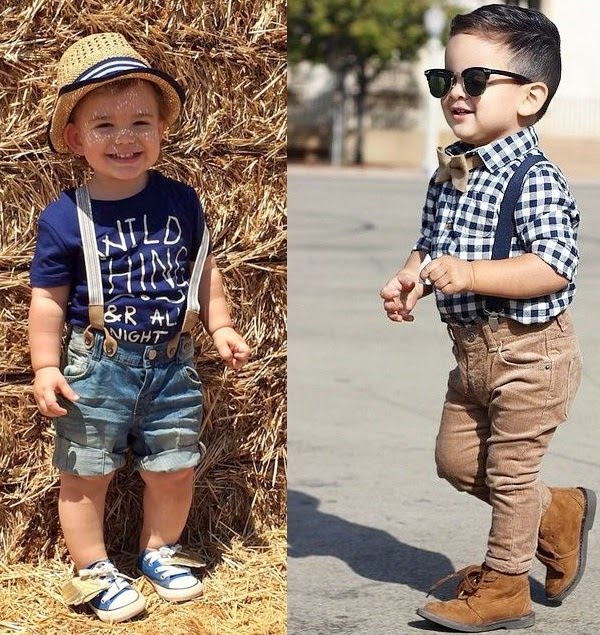 Put the suspender on jeans or shorts and match them with different patterns of t-shirts or shirts. A bow tie you can add for a party look.
A check shirt paired with denim and bow ties will give your kid a bossy look. The classy sunglasses match the brown velvet shoes, while the suspender applique gives some naughty look. It goes well paired with t-shirts and blue denim jeans. The hat and comfy shoes make this outfit ideal for going out, beach time, or playing out.
Keeping Him Warm And Stylish In Winter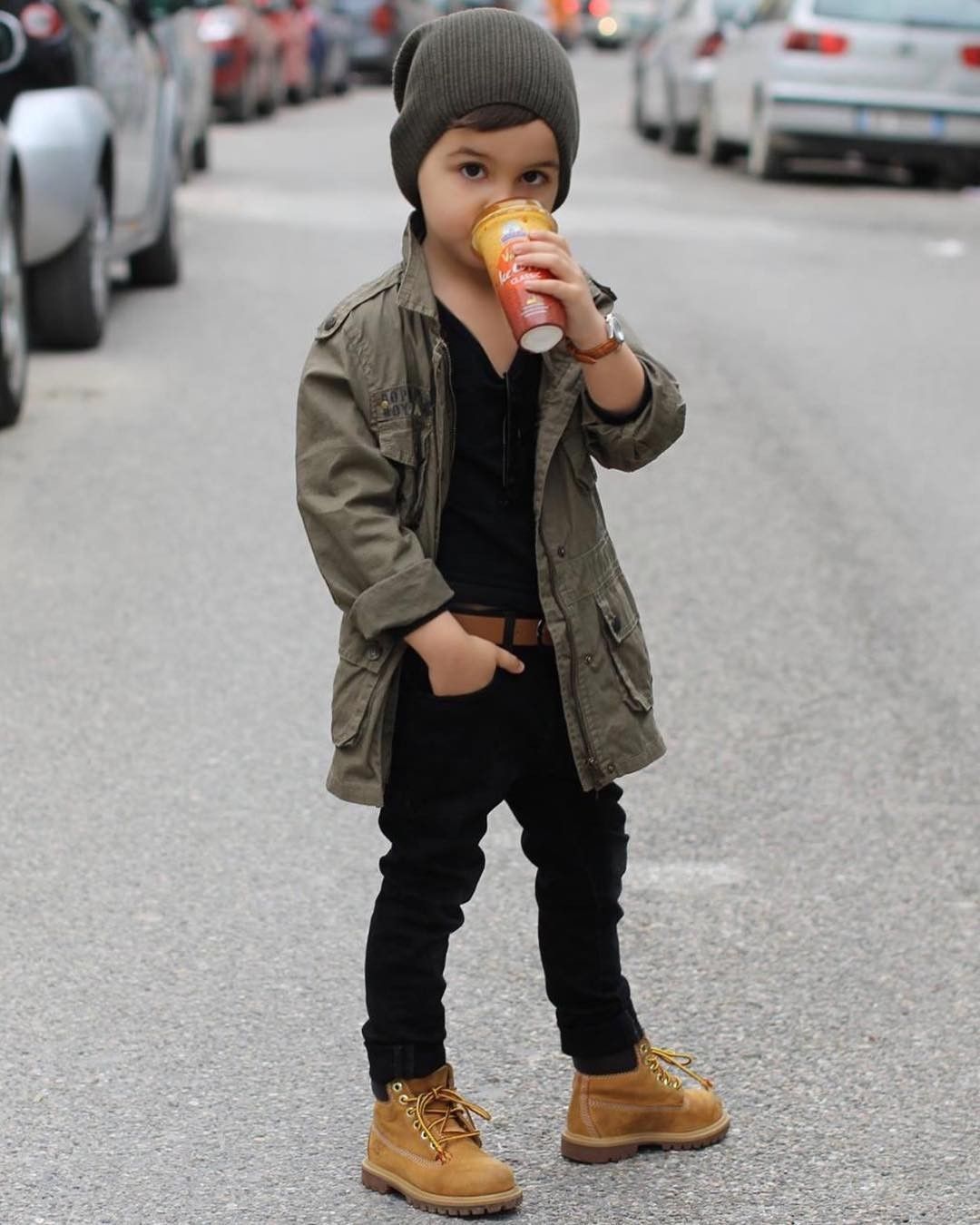 You can dress your toddler boy in some attractive kid's winter outfits to keep them warm and look stylish. There are some fashionable mix-and-match designs. Keep him warm by layering him up, not a single jacket. You can give your child a unique look with knitwear and quilted materials.
Blue and Yellow Match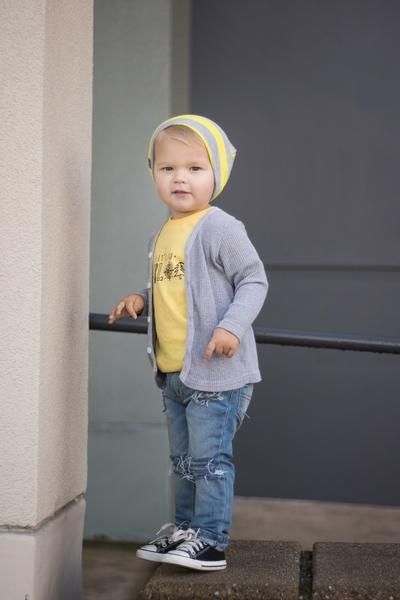 Light skinny jeans are an all-time favorite. They match almost every piece of clothing. This blue and yellow combination looks nice on this kid: blue jeans, a light blue cardigan, a yellow T-shirt, and a cap.
Navy Suspender & Orange Plaid Bow Tie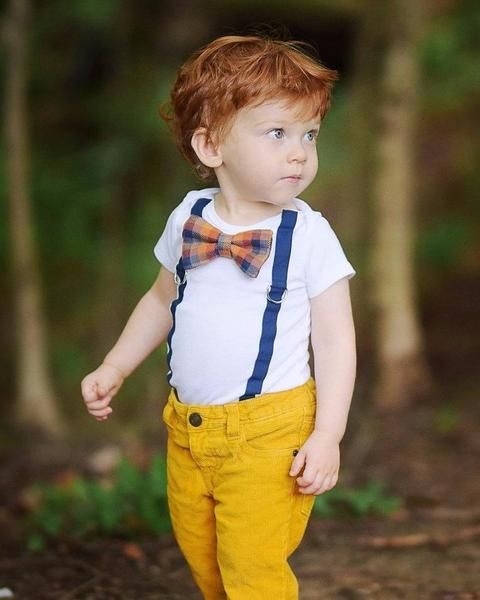 Your boy will get a dashing look in suspender with these yellow pants. The plaid bow tie adds to his party look.
Polo Shirt And Shorts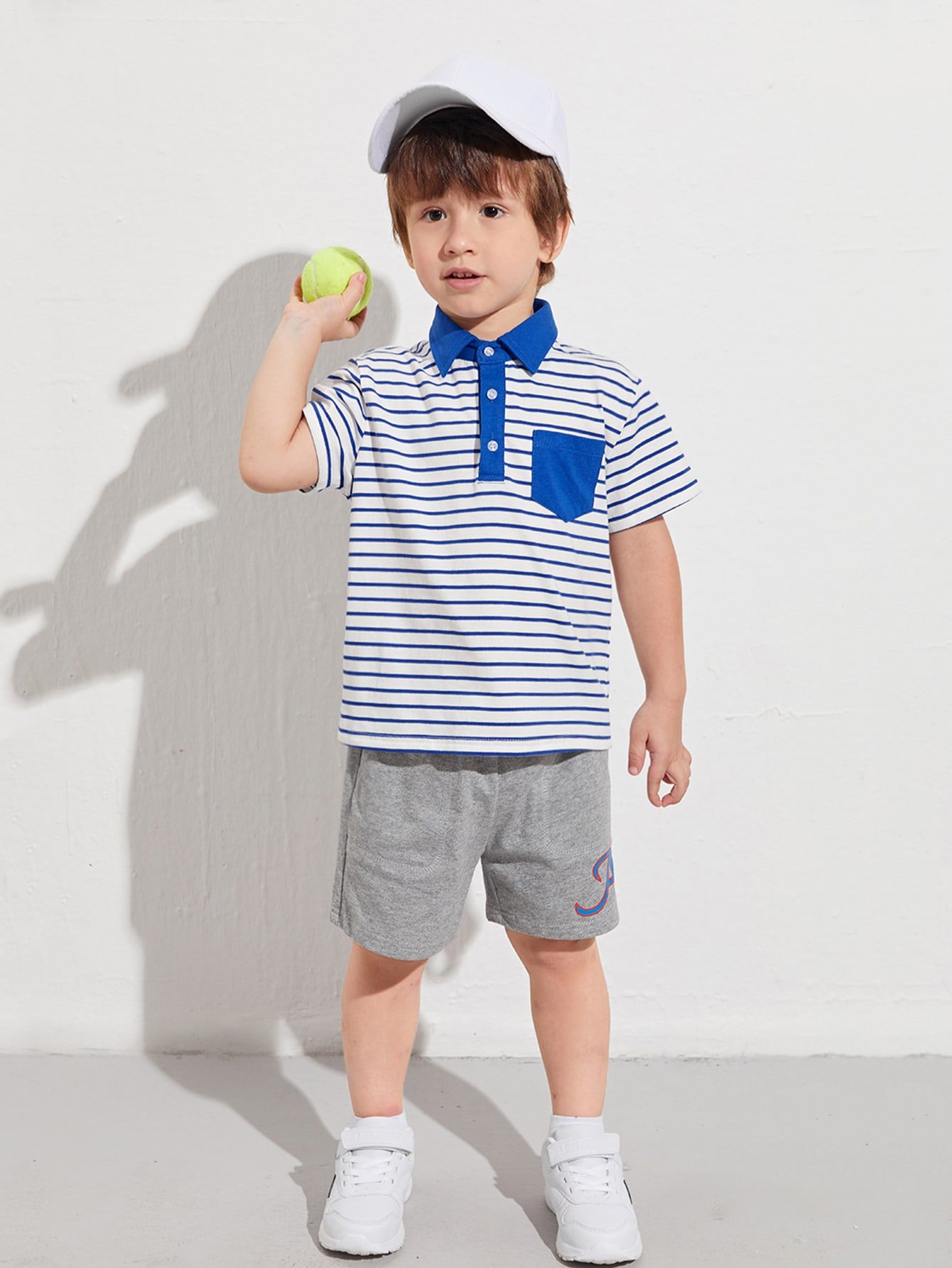 As an idea: a striped, short-sleeved polo shirt with a contrasting patched pocket, paired with shorts, white sneakers, and a hat. Both cozy and good-looking.
A Couture Boys Set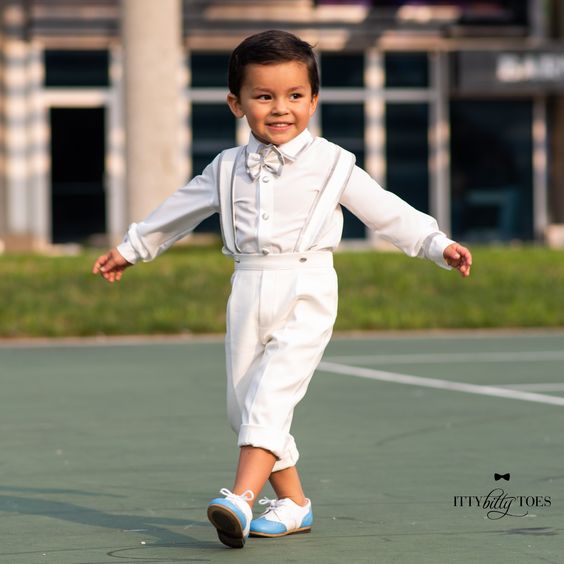 This one is quite a dressy outfit for boys. White suspender sets made of luxurious fabric, a button-down shirt with silver buttons, a pair of perfectly pleated pants, white or silver suspenders, and a matching bow tie. Your little man will be the best-dressed kid at the party! This outfit is perfect for a lasting impression.
For Spring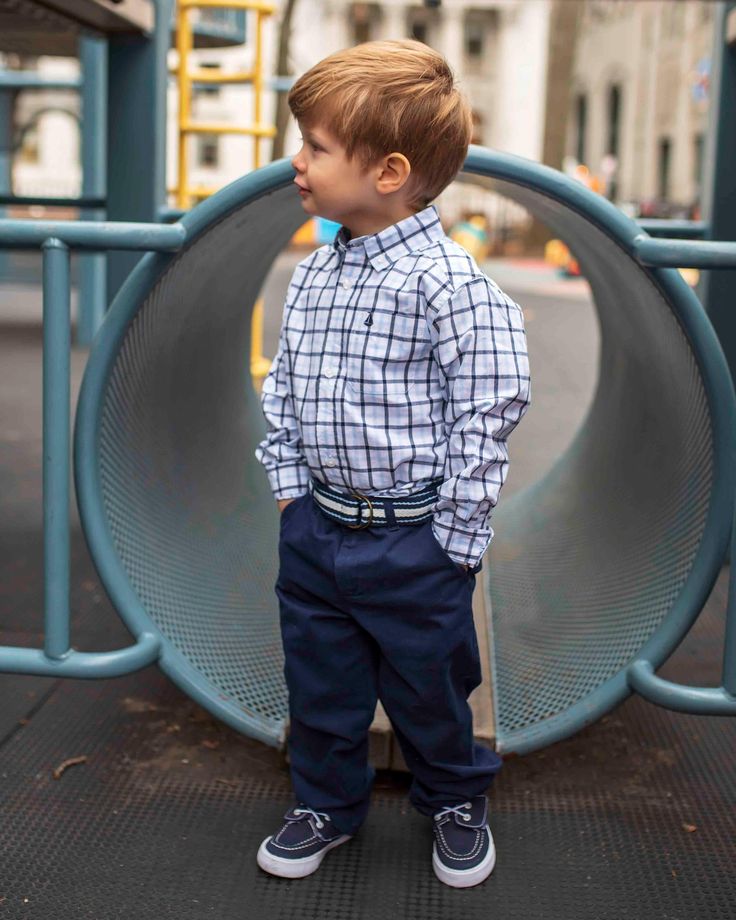 Make the spring a memorable one and you'll enjoy it later while watching the photos of your dressed-up kid. This colorful collection includes a plaid button-up shirt, belt, blue trousers, and a pair of comfortable shoes.
Fall Vibes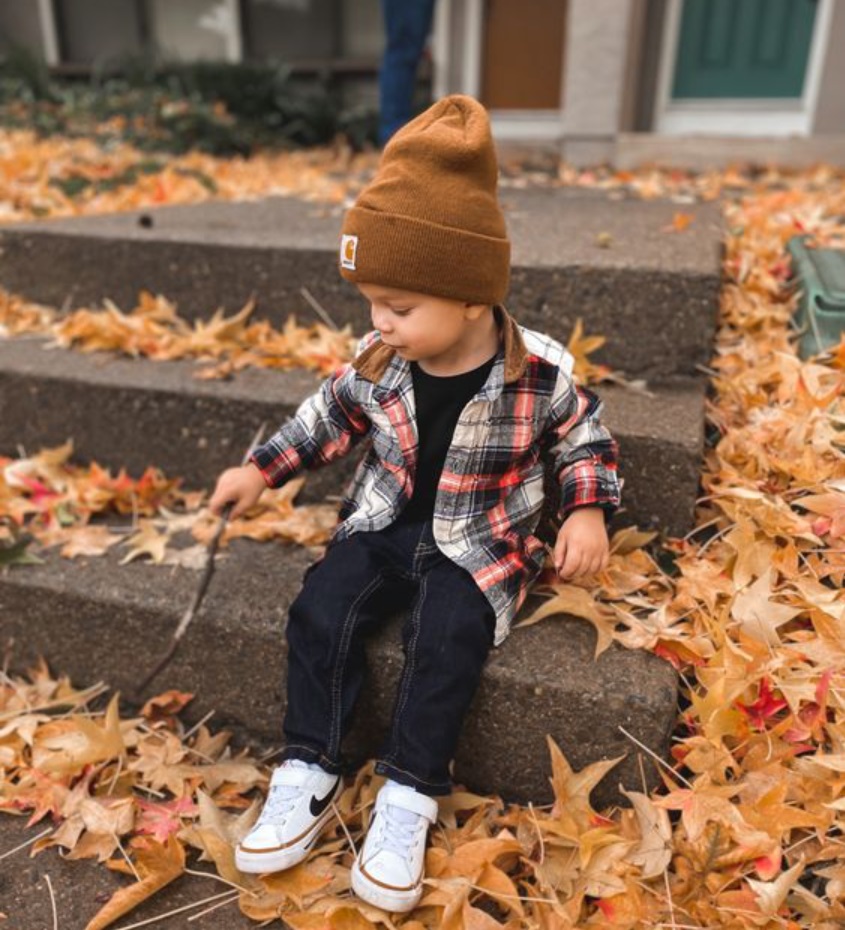 A cute flannel shirt with the tan corduroy collar; Levis' 511 Slim fit performance jeans; Nike court legacy casual shoes, and a knit cuffed beanie for a warm head, an outfit for chilly autumn days.
One Little Cowboy
A cowboy outfit for a cool boy. Cowboy hat and shoes, gingham yoke shirt, a belt with a big belt buckle, and jeans. Classic!
For Formal Occasions And Any Dressy Event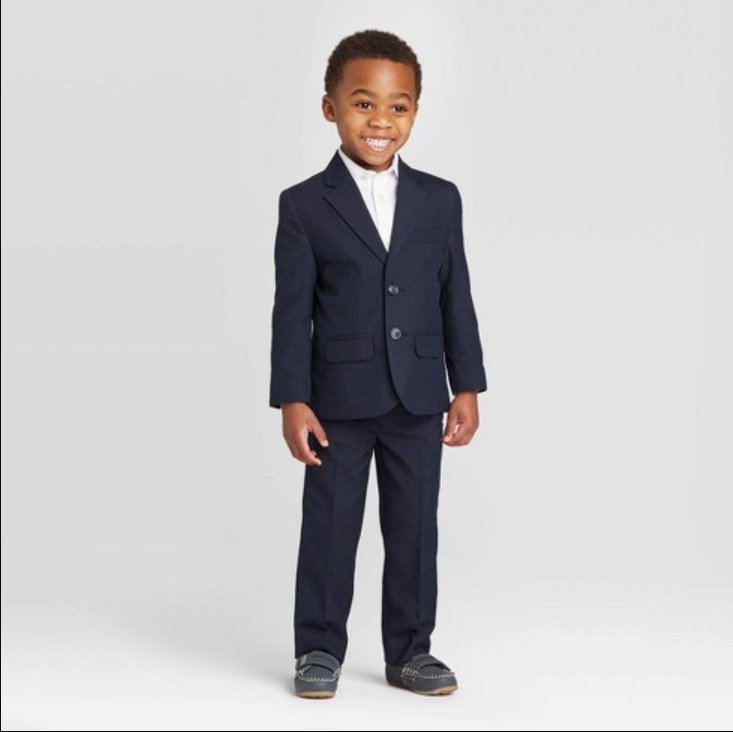 This two-button solid suit coat and matching pants are great for formal or special occasions when a dressy outfit is needed. They can be paired with a collared shirt and a bow or neckties. Your kid will feel comfortable in this set made from soft and lightweight fabric. This way, you can easily create a pulled-together ensemble for your kid.
Printed Tees And Shorts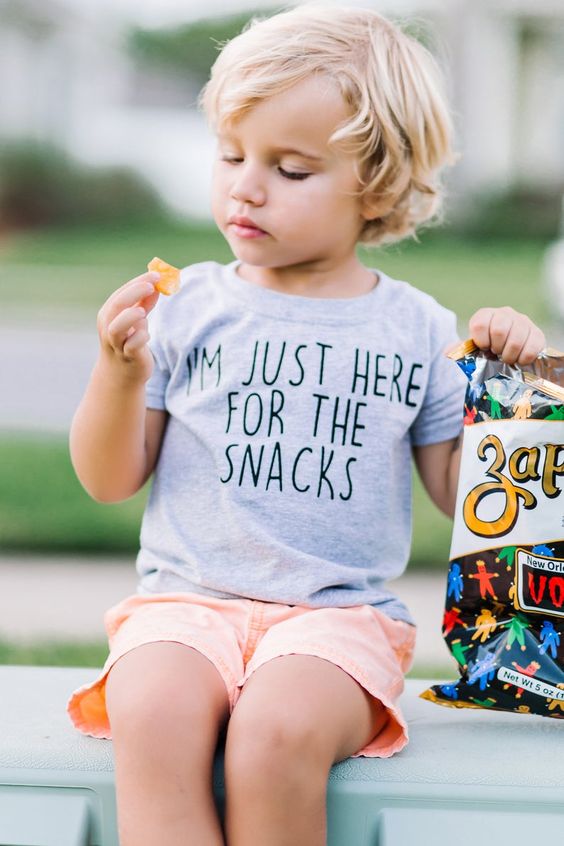 Here is a toddler boy style in printed tees with short pants. You can find different prints in boys wear clothing. They are incredibly adjustable and practical. For a nice play day, you can match with cotton shorts and a pair of sneakers or sports shoes. We're positive your boy will love this style.
Wool Winter Coat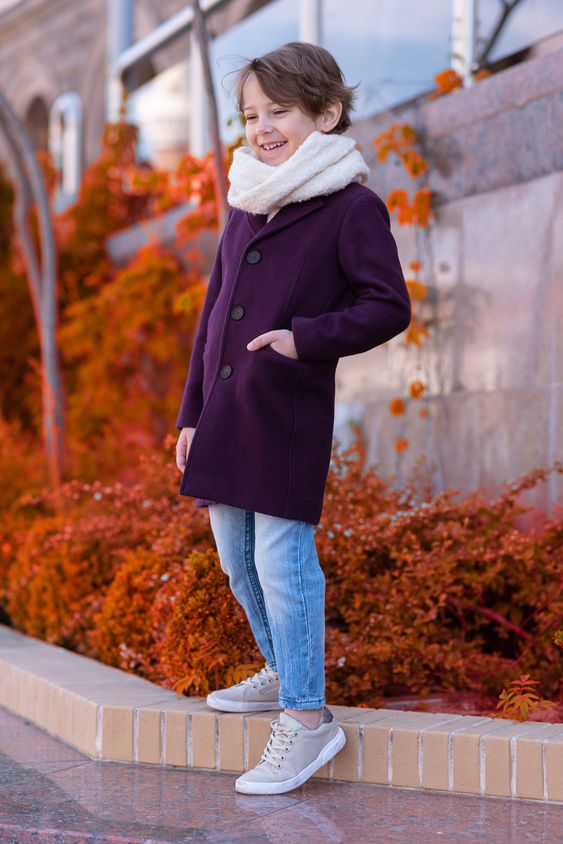 This classic plum winter wool blend long coats with a lapel, two front pockets fasten with three buttons at the front. Combined with his favorite jeans and sneakers, this toddler's outfit is suitable for a walk in the city and a formal event. The white scarf adds to the style and keeps your child warm.
A Sweatsuit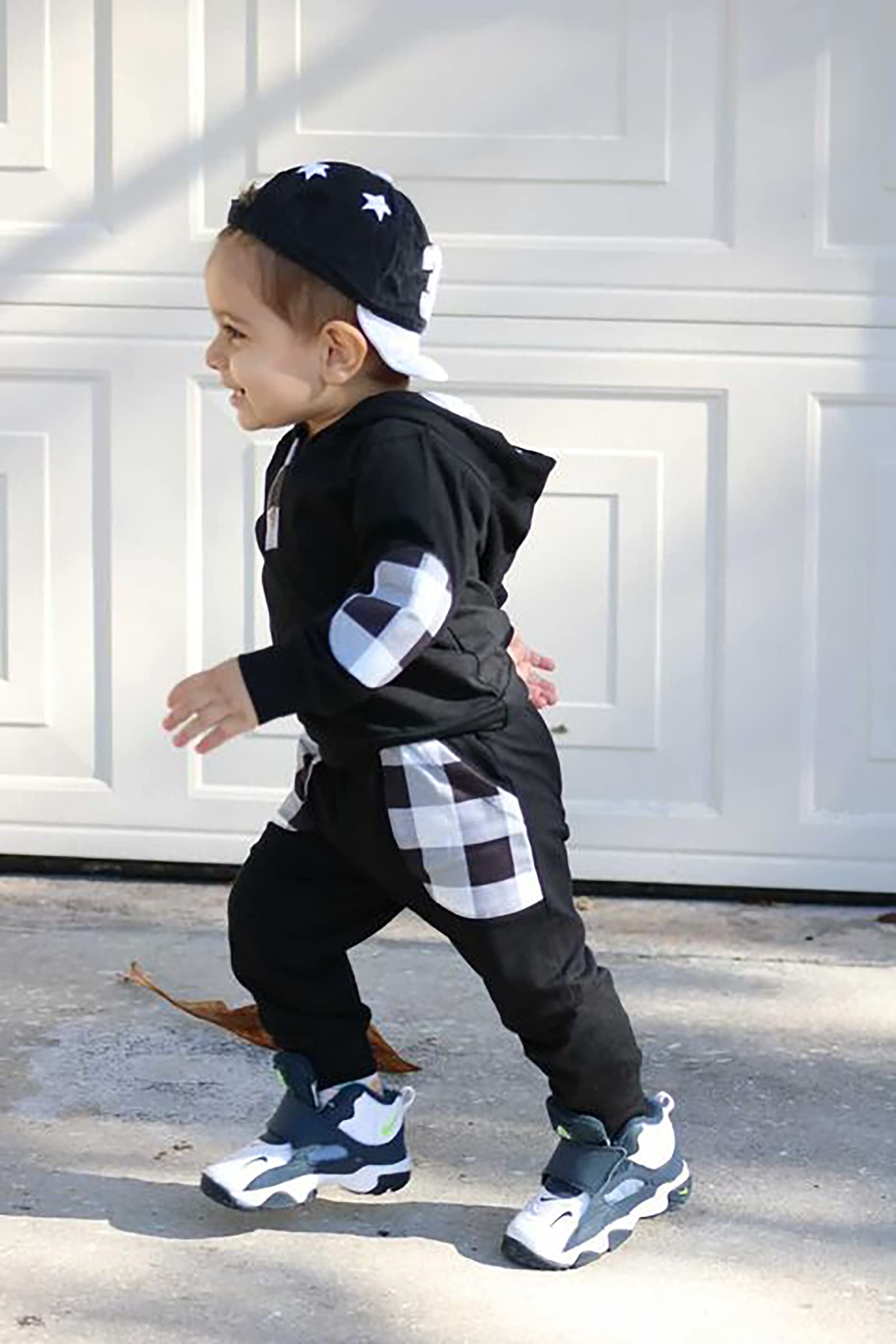 This plaid hoodie sweatshirt with long sleeves and a top pants set will keep your toddler warm, soft, and comfortable during winter while playing outside or at home. The stylish camouflage pattern looks loveable, especially with the 'Dady's boy' print on the top. The wide elastic waistband pants, neither too tight nor loose, pleasant to wear, will make your kid adore this set.
Time flies. It won't be long before you see your toddler boy, a grown man. When I look at photos with my son, I always recall the good memories and wonder how time passed so fast. Make your memories of your kid's childhood perfect. Dress him up. It will make him more responsible in the future for taking care of his outfit. We presented different styles for your toddler boy to consider and pull ideas. Feel free to share your opinion and ideas with us. Cheers!