We can say for sure you have seen Oribe products and Olaplex products on the shelves at your favorite beauty store or hair salon. Both brands are praised for creating luxury products with powerful ingredients. What is your choice on the Olaplex versus Oribe dilemma?
Which products are worth spending your money on? Well, today, we will try to compare the two hair care brands in three categories, better shampoo, better conditioner, and better hair oil.
What is Olaplex?
To better understand the Olaplex vs Oribe dilemma, we have to look at each brand separately first. Founded in 2014, Olaplex quickly rose to the status of a global sensation. Thanks to its remarkable hair repair capabilities, Olaplex became an international brand.
It is without a doubt the gold standard when it comes to damage-reversing hair care products. Its products have been used in salons by professional colorists to repair and prevent chemical breakage. You can say that Olaplex products are mostly designed for colored hair and color-treated hair. But they work for any other hair type.
The revolutionary brand paved the way for a new category of hair care products. Nowadays, it is known as bond-building, which is the process of protecting, strengthening, and rebuilding broken bonds in the hair during and after hair services.
The treatments are based on a patented active ingredient that finds and repairs bonds in your hair damaged by chemicals, thermal heat, or mechanical factors. The products range from shampoo, conditioner, bond-building treatment, styling oil, and more.
The Professional Stages Of Olaplex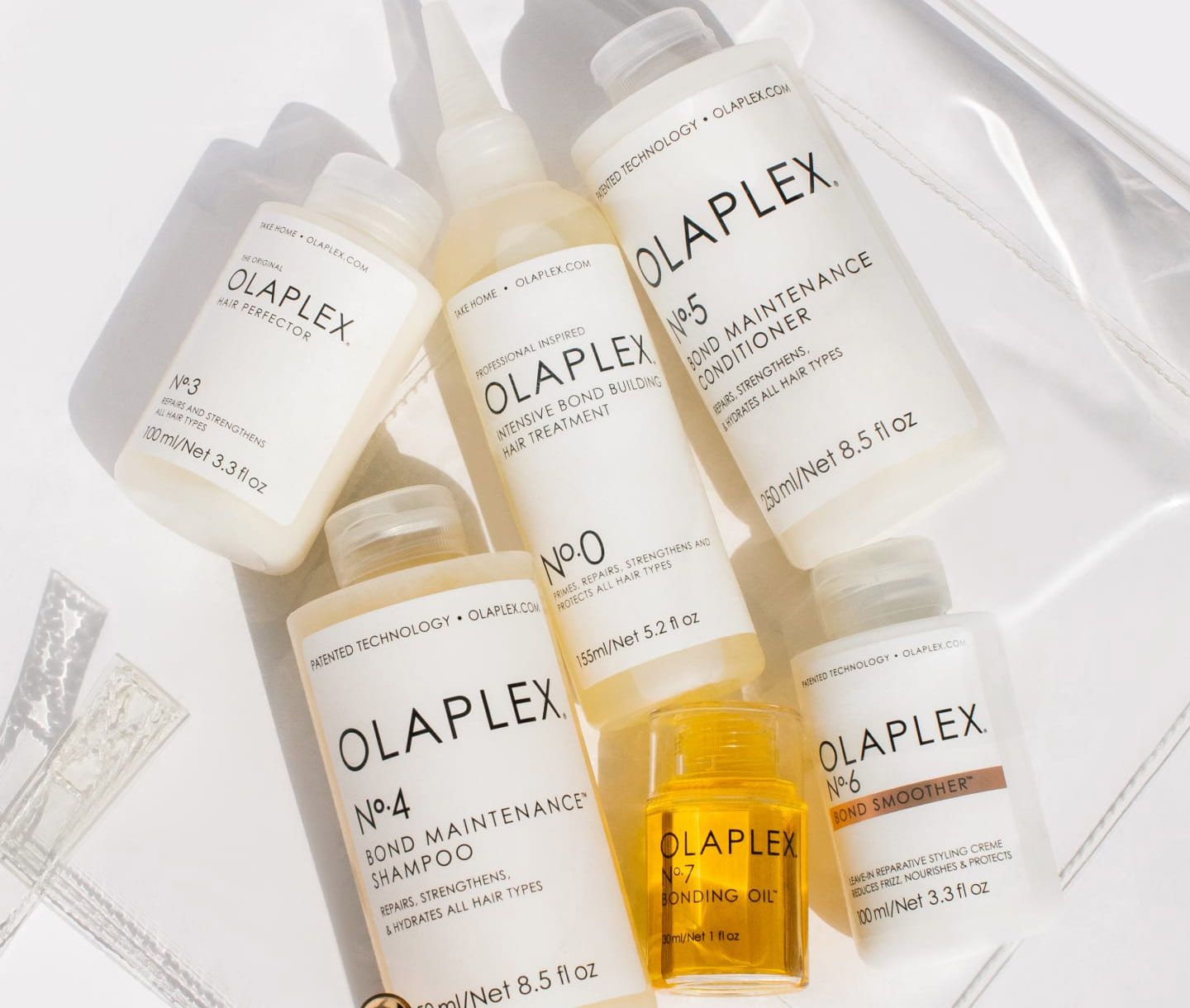 It is highly recommended that you get Olaplex treatment from a professional. Here is the whole process explained.
Olaplex 0 is applied to the hair 20 minutes before any process to protect the hair fiber
Olaplex 1

is the first step, added to the

bleaching mixture

. It provides elasticity to your hair and protects the hair cuticle

Olaplex 2

is applied after the

coloring process

. The goal is to repair the DNA of your hair core that was damaged during the coloring process. It has to stay for

20 minutes before rinsing
Olaplex 3

is the most important step for home use. You must apply it if you used Olaplex 1 and Olaplex 2. Apply it

once per week,

and you can leave it for

up to 120 minutes

. Then, rinse it with an

Olaplex shampoo

and

Olaplex conditioner
Olaplex 4

is a

maintenance shampoo

, while

Olaplex 5

is a

reinforcing conditioner
Olaplex 6 and 7

are leave-in treatments. The former is an

intensive leave-in treatment,

while the latter is a

leave-in repairing oil
So, is Olaplex worth it? Well, it depends on the scope and severity of your damaged hair. Colorists and salon professionals often recommend it for moderate to severely damaged hair. If that is the case, one or two treatments per month are enough.
Pros and Cons
Pros:
It repairs each hair strand from the inside out
Attacks damage from the cuticle and all the way to the core
Your hair is healthier from the inside
Its molecule is patented for repairing damage by reconnecting specific bonds in the hair structure
The line of single-ingredient products is free of silicone and oils
Olaplex does not contain sulfates, phthalates, hemp, parabens, or formaldehyde
It is a three-part system with each step containing the primary active ingredient, bis-aminopropyldiglycoldimaleate
Cons:
Complete hair care might be complex
The complete hair care treatment is relatively long
Products are much more expensive and most people cannot afford them for daily use
What is Oribe?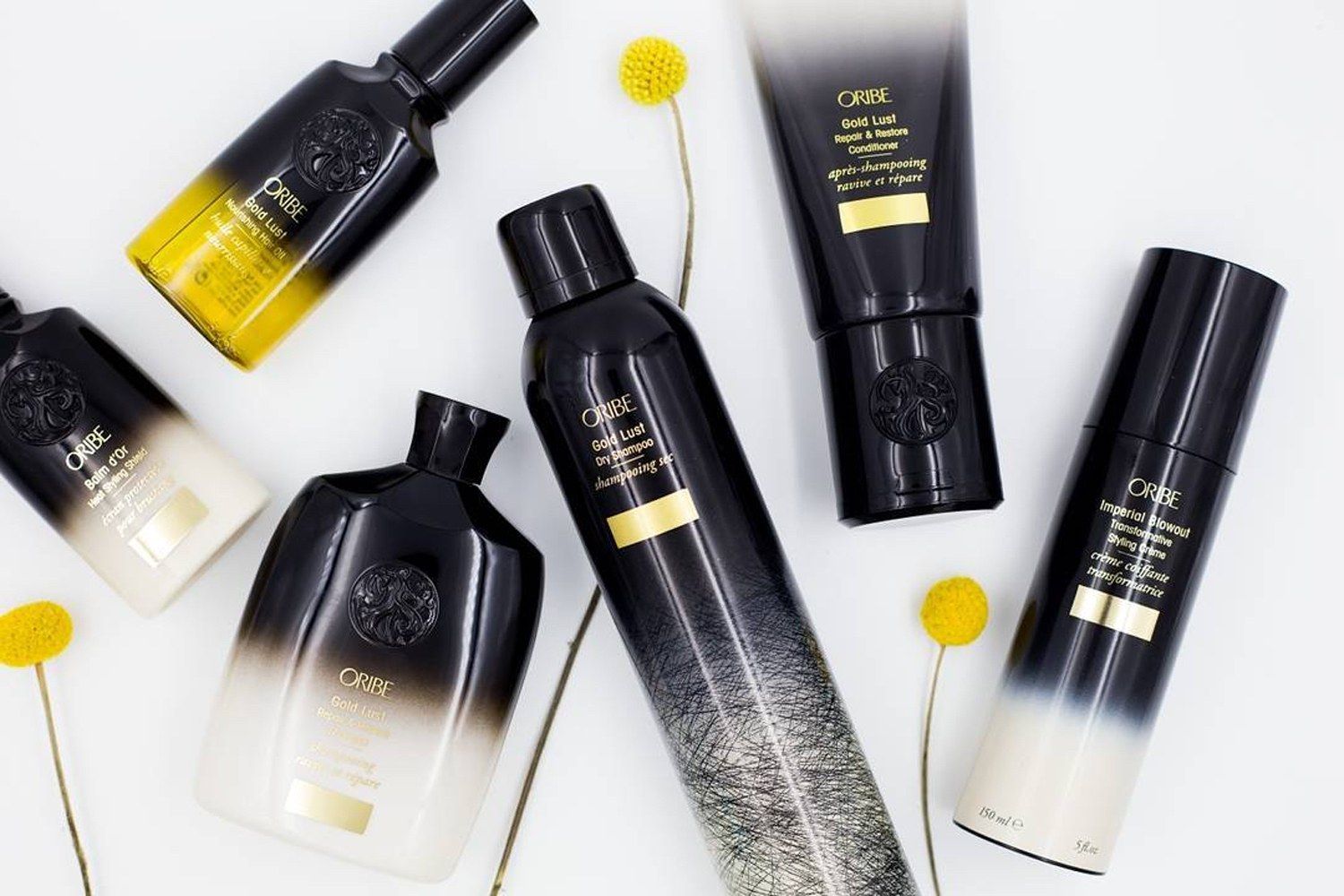 Now let's get to the second part of the Olaplex vs Oribe discussion. Oribe is a brand that offers luxurious hair care products. They are all dermatologist-tested. All of the Oribe products contain high-quality ingredients that work on all hair types.
No matter if you have troubles with dandruff, dry hair, damaged hair, colored hair, or you have curly hair, Oribe has a product for you. Some would say, using Oribe products is like stepping into a high-end spa. You get all the luxurious, relaxing, and pampering treatment you always dreamed of.
Oribe was founded in 2008 by the celebrity hairstylist, Oribe Canales. He partnered with Daniel Kaner and together, they founded the luxury hair care brand that sells different high-end shampoos, conditioners, treatments, sprays, and more.
Oribe also has a line of body care products and fragrances. It was the first brand to bring luxury hair care products to the market. When Oribe was founded in 2008, there was no middle ground. You either buy in salons or at mass retailers.
The founders say their goal was to create products for talented hairdressers, sophisticated salons, and product junkies alike.
Some of their popular products include Gold Lust Repair and Restore Shampoo, Oribe Signature Shampoo, Signature Conditioner, Shampoo for Beautiful Color, Conditioner for Beautiful Color, Gold Lust Nourishing Hair Oil, and more.
Pros and Cons
Pros:
Oribe ensures they have a product for every kind of hair concern you could think of
Oribe products come in sleek, architectural tubes and bottles that make them look elegant and expensive
Every product is packed with expensive and high-quality ingredients
Oribe shampoo does not over-dries the scalp, as the products contain scalp-caring ingredients as well
Cons:
More expensive than other hair care retailers
Shampoo Comparison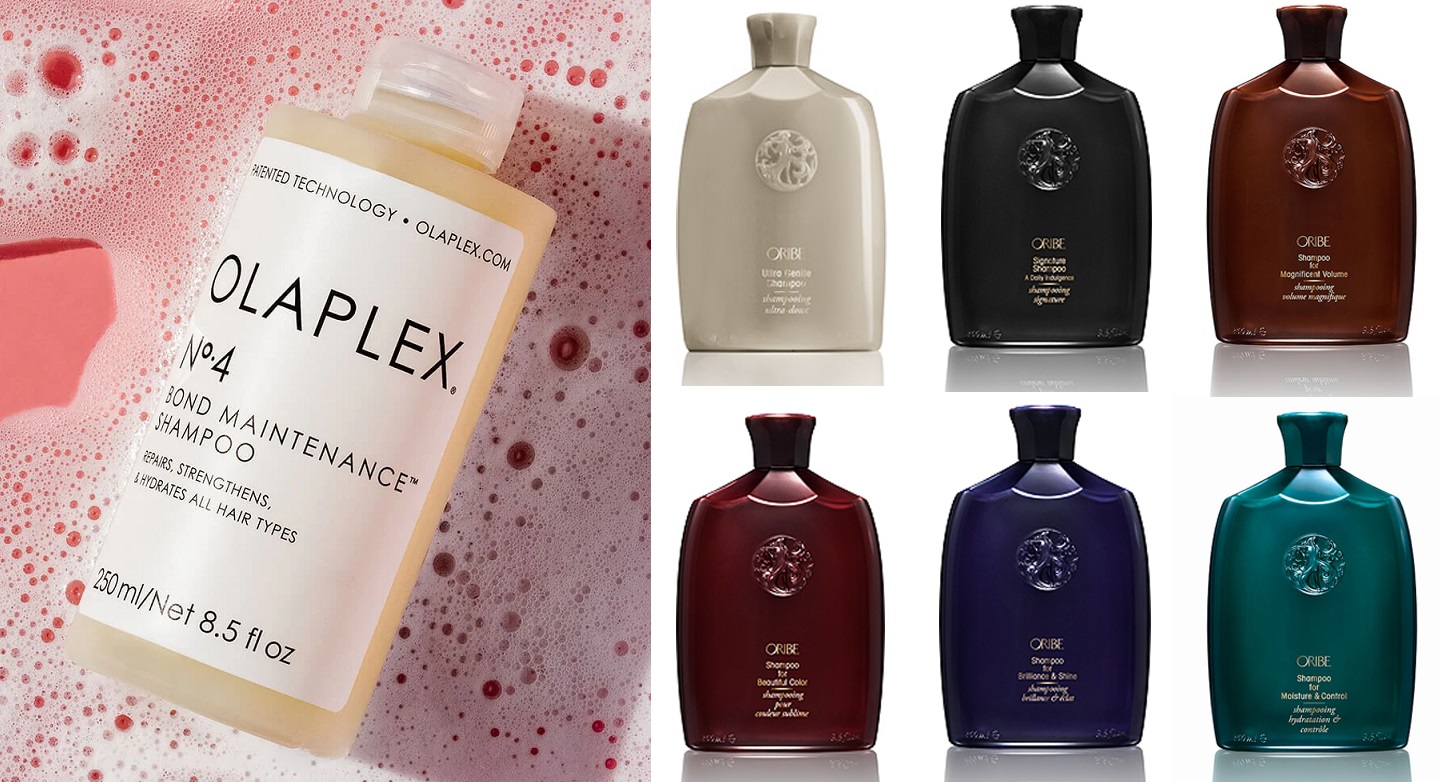 Now that we talked about their distinct unique brand, let's compare these two luxurious brands. Who has the better shampoo?
We have to say, both Olaplex shampoo and Oribe shampoo products are among the best on the market. Olaplex is a large brand, but they have only one shampoo available. And that is the No.4 Bond Maintenance shampoo.
Yes, the No.4 bond maintenance shampoo has a huge fan base. It is renowned for its ability to repair breakage, even among those who often use hair color.
Oribe, on the other hand, has a wider palette of shampoo products. They have a volumizing formula, dandruff formula, moisturizing formula, and reparative formula.
This versatility is why Oribe wins in this category. The versatility shows the brand is dedicated to serving a wide range of customer needs. And there are also mini versions of the shampoo, allowing you to try it before buying a large bottle.
Yes, the Olaplex formula is fantastic, but there is a limited range of shampoos.
Conditioner Comparison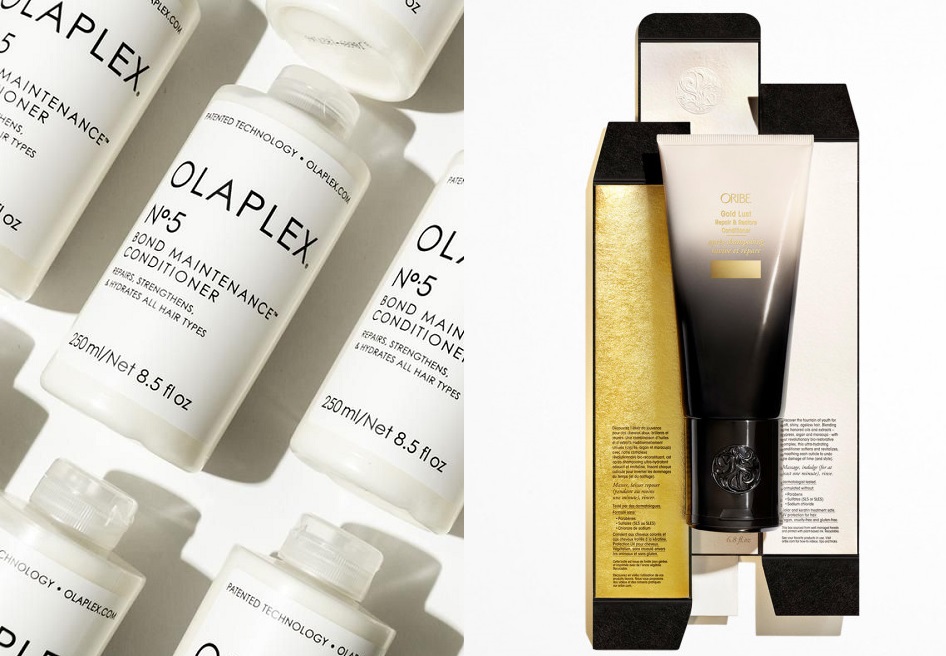 Conditioning is a critical step in your hair care routine. Washing your hair strips it off of moisture, so you need a product that will replace that moisture. This is where the conditioner helps.
Olaplex has only one signature conditioner, the No. 5 Bond maintenance conditioner. One can argue this is among the best conditioners on the market. It is the final step in the three-step hair repair signature Olaplex treatment. The Olaplex conditioner is loved by those with curly hair.
Oribe has several different conditioners you can choose from. Their most popular product in this line is the Oribe Gold Lust Repair and Restore conditioner. Made to moisturize hair and reverse the damage, it also acts as a heat and UV protectant.
This hair product contains a blend of oils, including cypress oil, maracuja oil, and Argan oil. All three restore strength to the hair and help you detangle it. Even though it is a rich formula, it is lightweight and non-sticky.
We have to admit though, that the Olaplex No. 5 seems like the better choice because of its impressive technology and cheaper price point.
Hair Oil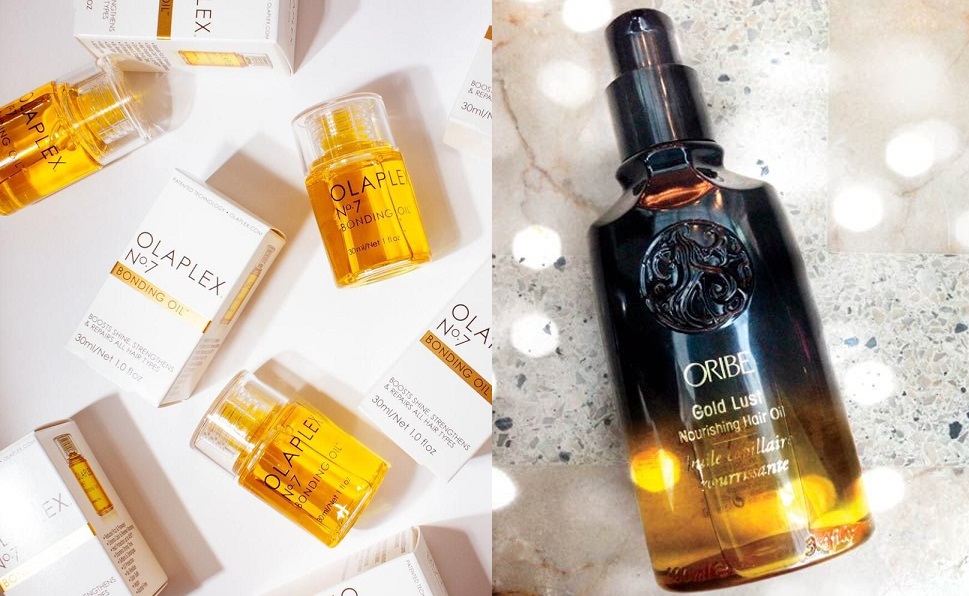 Oils play an important role in protecting your hair from regular wear and tear. We finish off our comparison with the hair oil treatment. Both companies have you covered here.
Olaplex No. 7 Bonding oil is among the most popular on the market due to its smoothing effect. New York Magazine praised it in 2021 as part of their hair care list. Packed with oils like moringa oil, sunflower oil, and corn seed oil, it provides intense hydration. It also contains the patented bonding molecule by Olaplex.
It is paraben-free, sulfate-free, and it was not tested on animals. Only a few drops will be enough to brush it through wet hair before styling.
Oribe can compete with its Gold Lust Nourishing hair oil, a product also praised by New York Magazine as one of the best oils for curly hair. Many praise it for being lightweight and non-greasy.
It uses the power of botanicals, with key ingredients like watermelon extract, argan oil, shea butter, and a blend of emollients.
Here, the Olaplex hair oil wins because it is cheaper, and contains the famous bond-building formula. But if you can splurge a bit, Oribe Gold Lust has a far more impressive ingredients list.