Linen clothes are back in fashion! Linen is a natural material, made from the stem of the flax plant. The material obtained from linen absorbs moisture very well, and that's why clothes made of this material cool down best during hot summer days.
Linen, the best summer natural material attracts street style trendsetters with its lightness and sheerness in the hot season. Women wear linen pants, dresses, shirts for business meetings on weekdays and then pack them in a suitcase, leaving out of town for the weekend.
Another cool thing about linen is that it can be easily incorporated into every style. It comes in very neutral colours like white, beige or light brown, making it easier for combining plus you'll feel extremely comfortable. Quality and comfort are always guaranteed with linen clothes.
If you haven't worn linen clothes before, this article will help you make the cutest linen outfits. It includes outfits that you can wear to work, to brunch, to the beach and everywhere you can imagine.
Wrap Linen Dress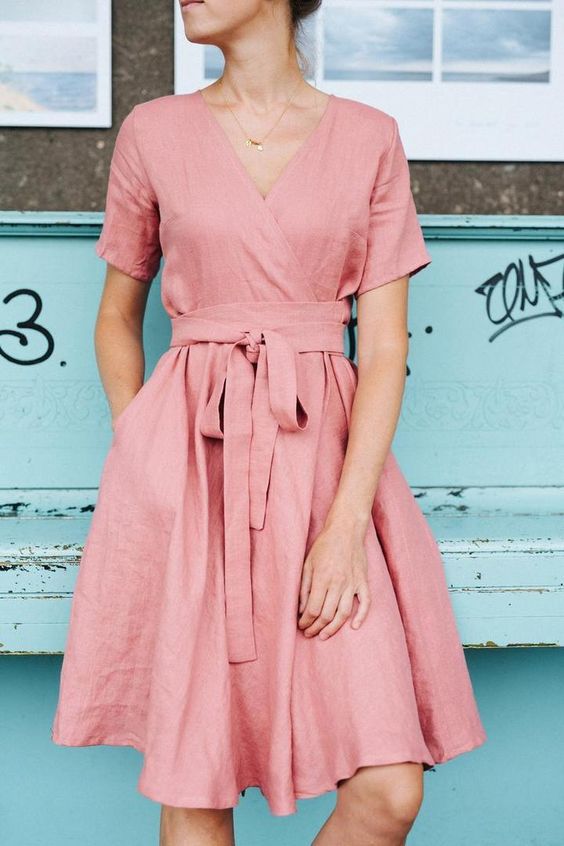 Yes, linen clothes are usually in white or beige, but this dress is a real example that linen clothes can also come in bright and cheerful colours! It's a wrap dress, the most comfortable dress ever invented. You can style this dress as an all-pink outfit or with shoes and accessories with bright summer colours.
Plaid Linen Pants And Linen Shirt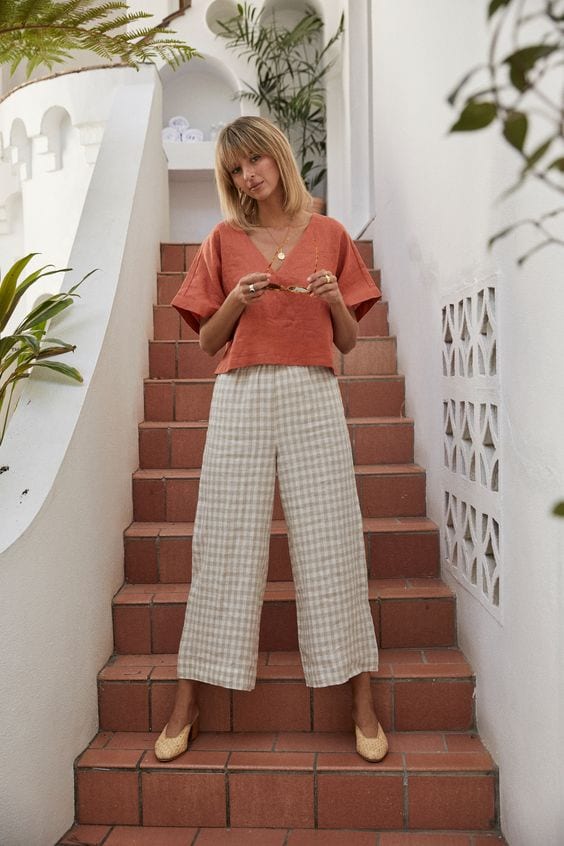 Plaid is an interesting pattern because it can be worn in many different ways. These plaid linen pants are perfect for those who want linen comfort. The peachy coloured V-neck shirt makes it a cute and elegant summer outfit, especially when combined with shoes that are also made of natural materials.
Linen Jumpsuit And Plain White T-Shirt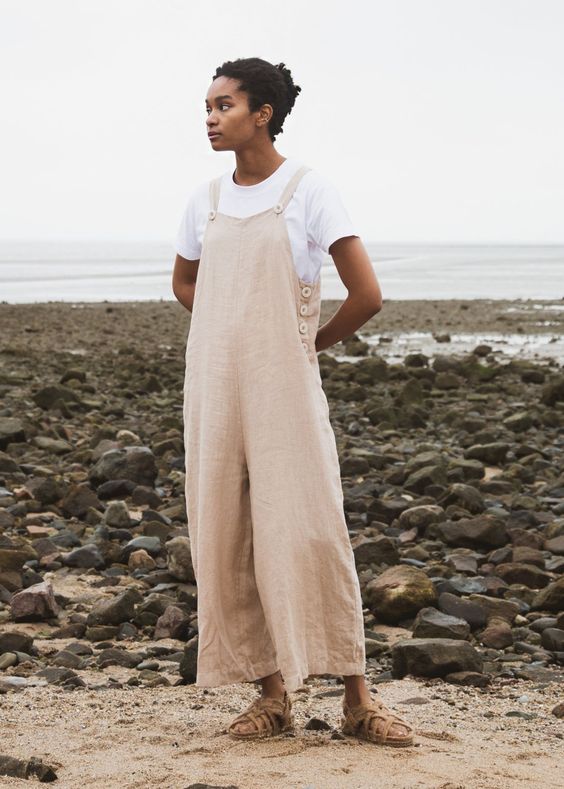 This nude sleeveless linen jumpsuit can be combined with a plain white T-shirt and you'll get a bright outfit, perfect for the hot summer days. Since it's a casual outfit, combine it with flat sandals. It's loose-fitting so pregnant women can wear it too.
Linen Skirt  And T-Shirt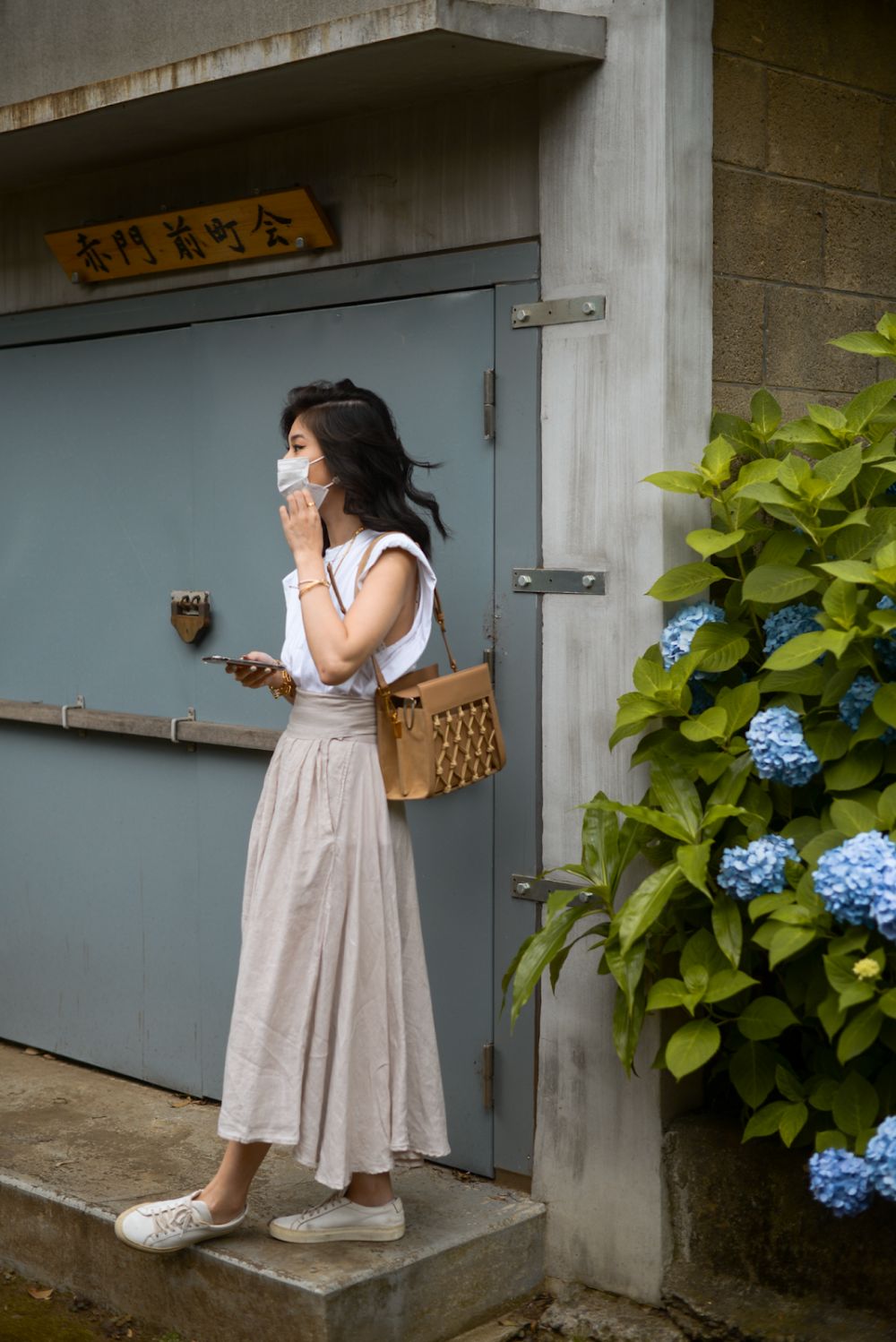 Here's a perfect summer brunch outfit again with neutral tones; a beige A-line linen skirt (Omg, super comfy!) and a plain white T-Shirt combined with white sneakers and a brown shoulder bag.
Smart Casual Linen Suit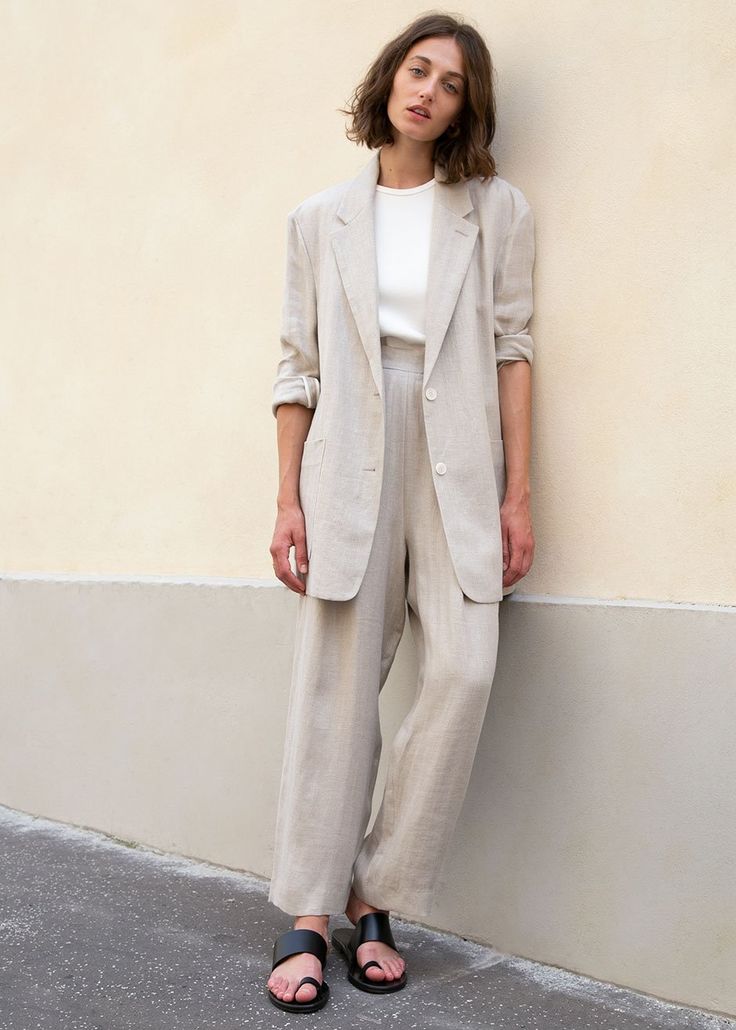 A linen suit is the most comfortable suit you'll ever wear. An outfit suitable for work, dinner or an important meeting. Smart casual means comfy yet neat and conventional. It's the most common dress code among working people, a linen suit might be the best smart casual outfit for summer.
Pink Linen Twin Set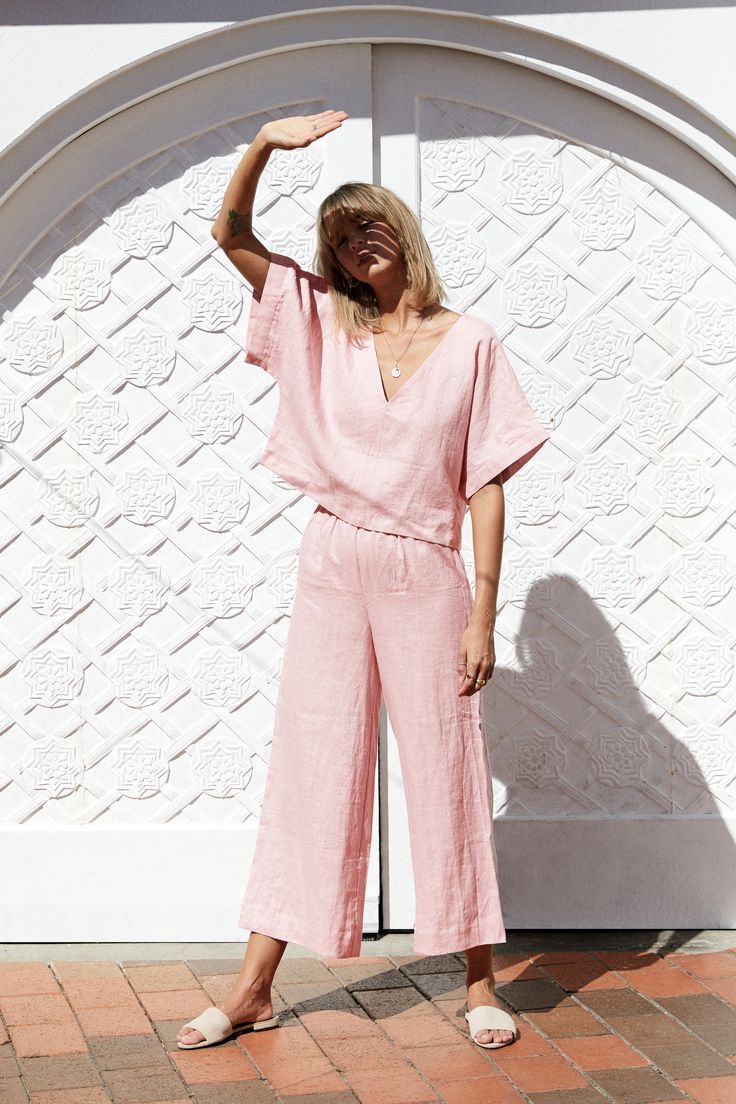 A pink linen twin set is just what you need for a flattering summer style. It's casual and a get-ready to a summer dinner.
Linen Skirt And Shirt Twin Set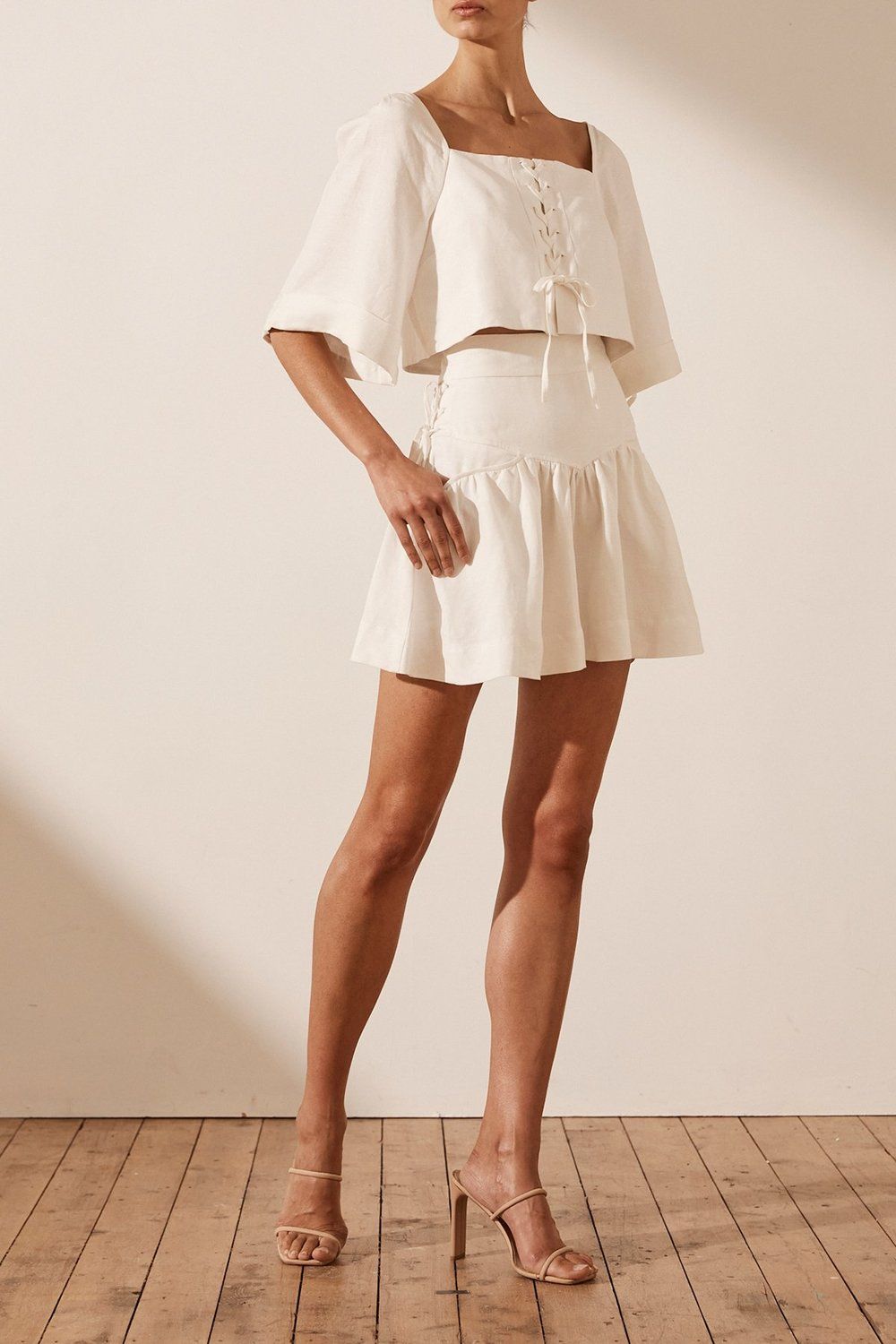 If you want something comfy and sexy for a night out, this twin set made of a shirt and a white skirt combined with heeled sandals will make you the most unique lady of the night. It perfectly shows off your fresh tan from the beach.
Green Linen Midi Dress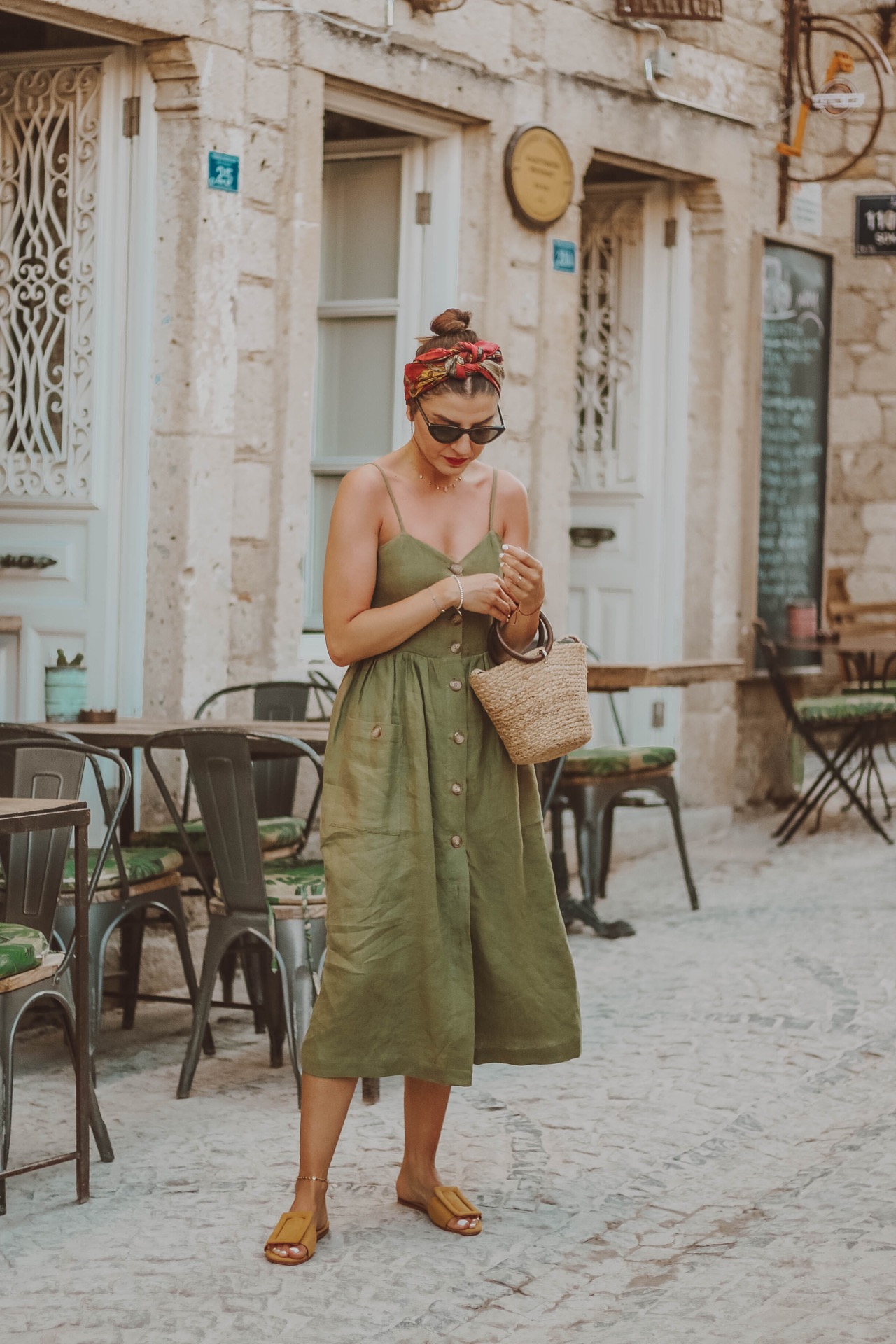 A green linen midi dress combined with a basket bag is a cute Mediterranean style outfit that you can wear literally everywhere. This summer dress is essential and the only dress you'll love to wear all summer.
Oversized Linen Outfit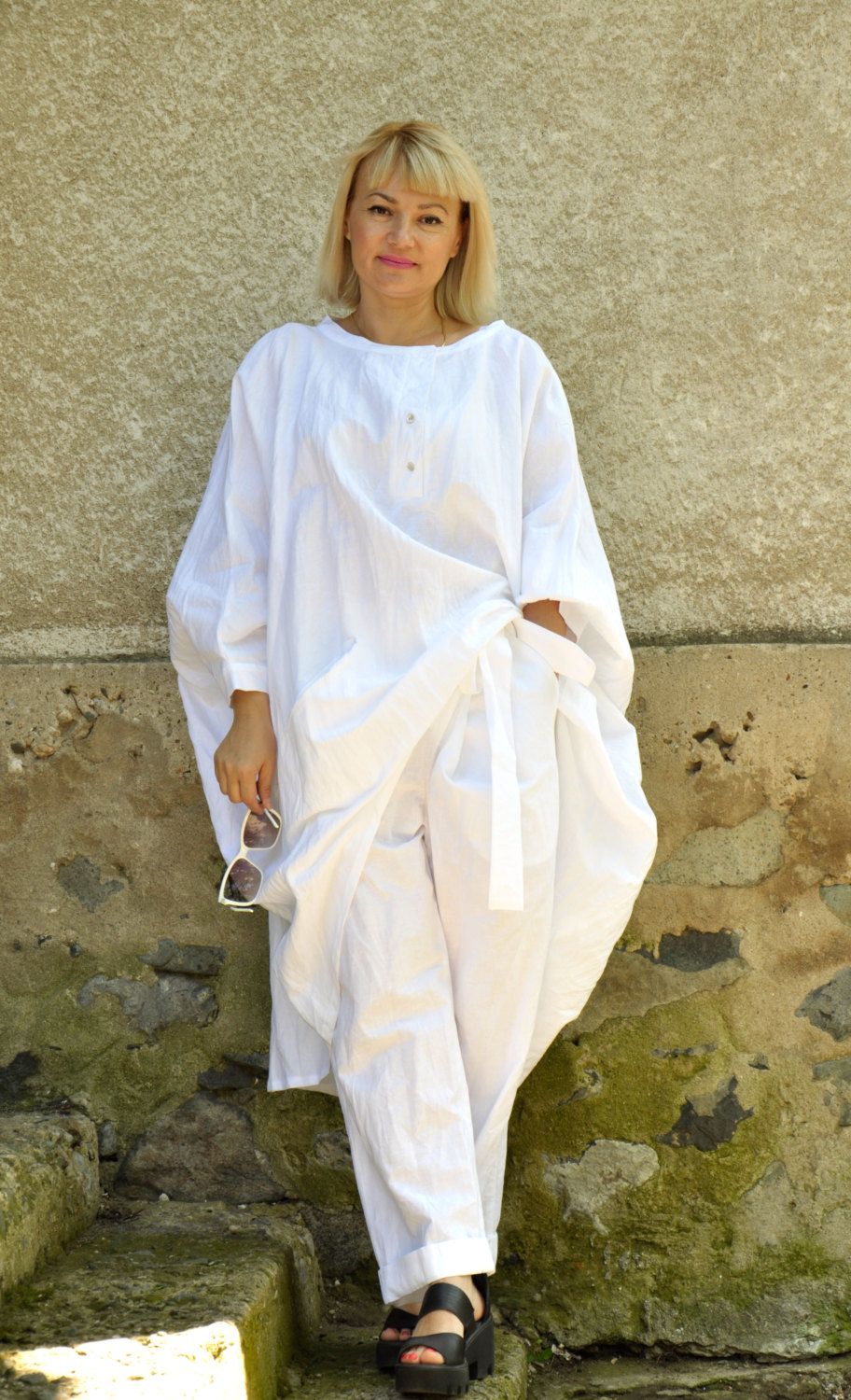 Linen is also greatly popular among more mature women. This white outfit is oversized but looks very fashionable and ladylike. Every woman of every age wants to feel ladylike and feminine and this will definitely bring up your style.
Linen Crop Top And Trousers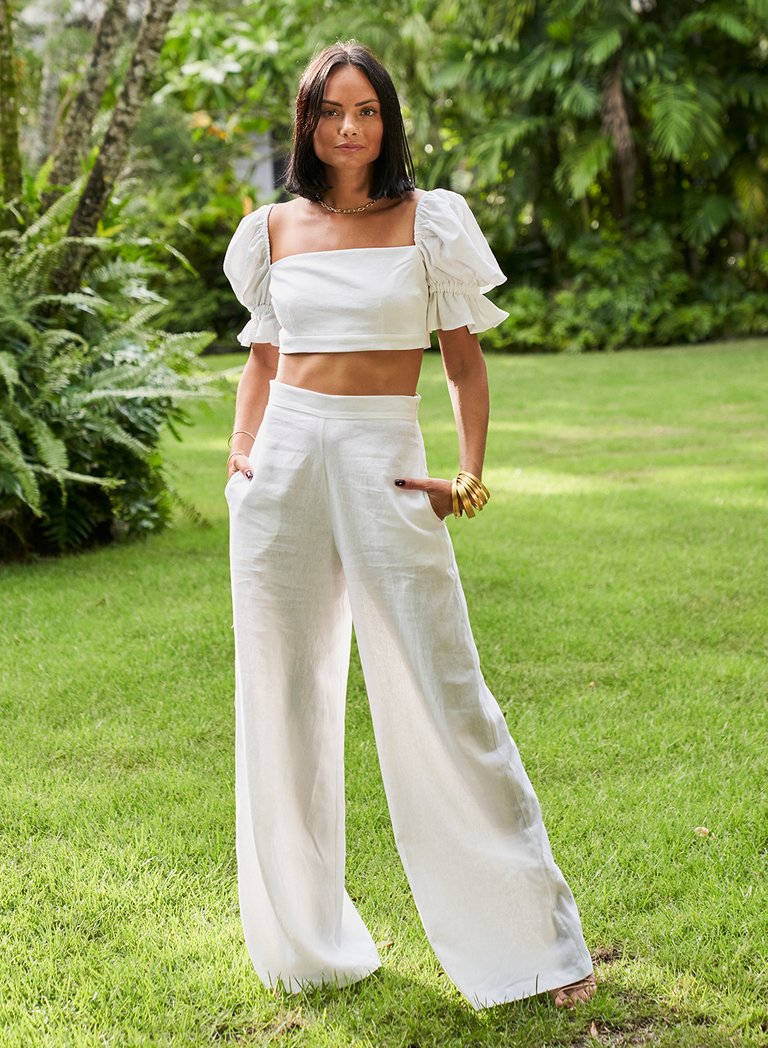 Puffed sleeves, squared neck tops are so trendy for the past several years, you just have to own this piece of clothing in your wardrobe. Especially if it's a linen one. Furthermore, we all know that crop tops go best with high-waisted bottoms, so these high-waisted linen pants are the best option for pairing with the flattering crop top.
Linen Shirt And Khaki Pants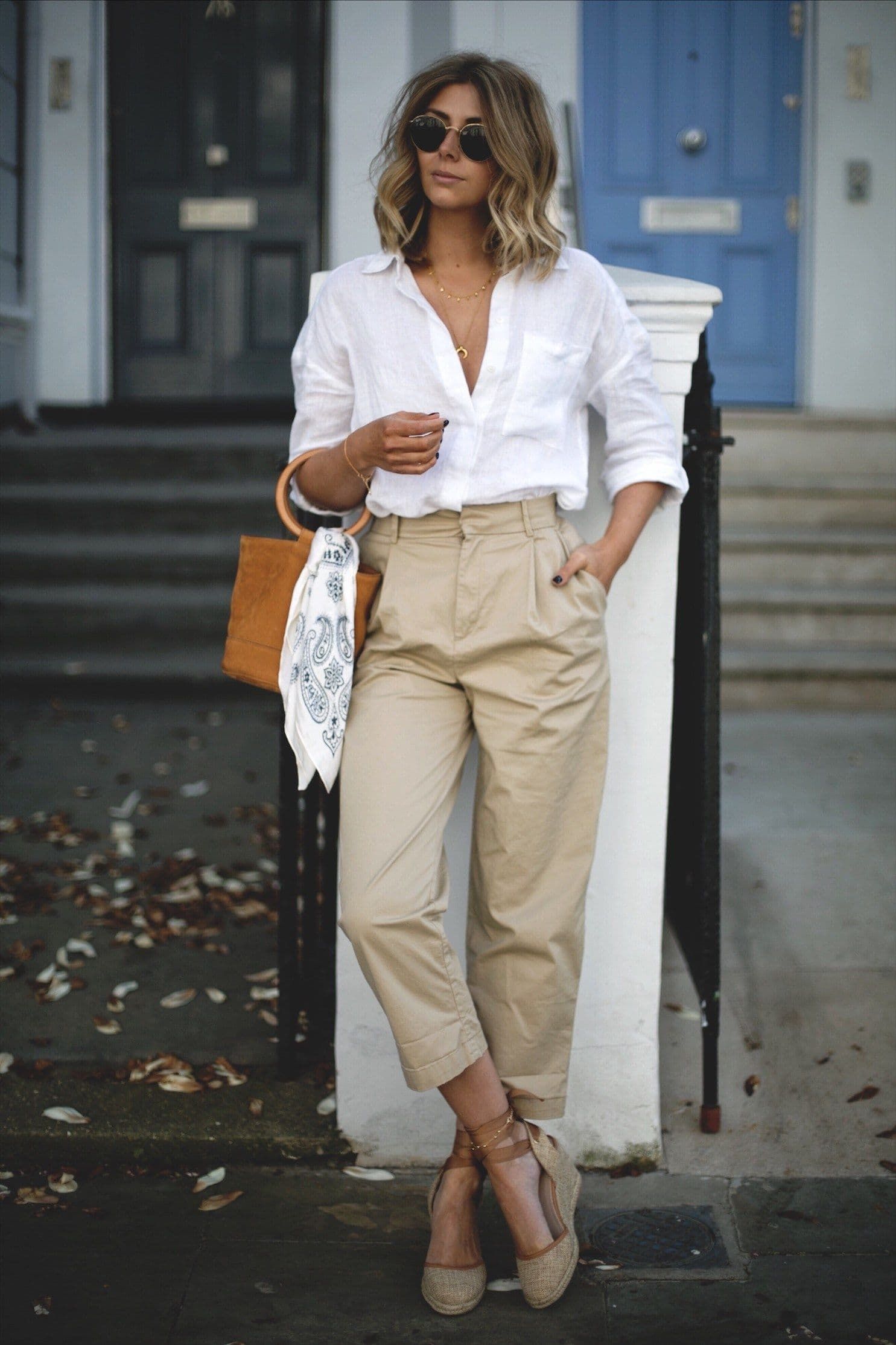 Here, I want to show you how you can combine a linen shirt with different materials, like these khaki pants, for example. Tuck in the shirt in the pants, choose a bag and shoes that are of earthly colours and you have a great daytime outfit perfect for women of any age.
Linen Maternity Dress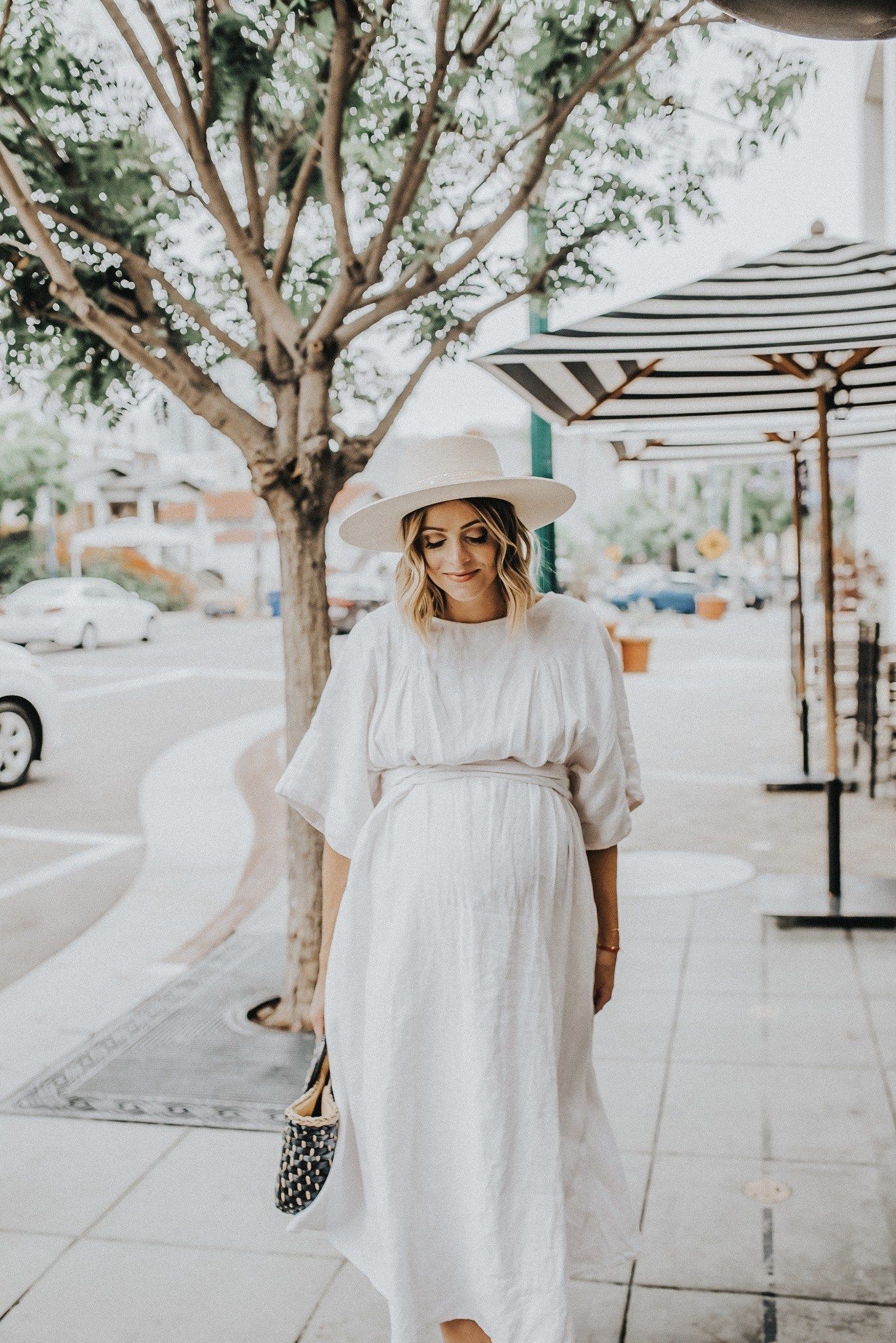 Linen is the best friend of women who аre expecting their dearest one during the summer days. Pregnancy can be a little exhausting when the temperature is high outside, so wearing linen can ease things up. Midi linen dresses are great if you need to go out during the daytime.
White Linen Shirt And Jeans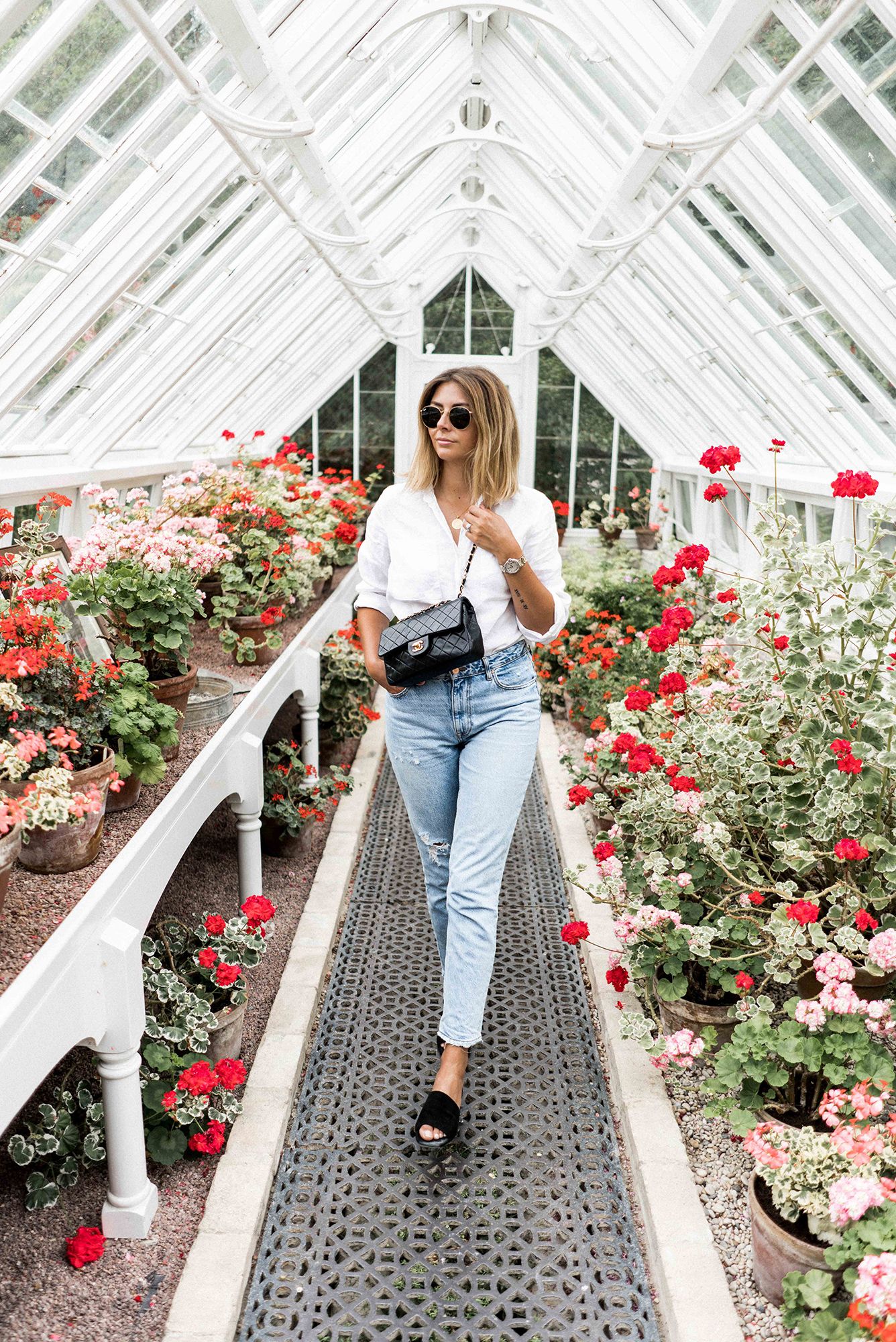 Yes, linen shirts go perfectly with jeans too. Opt for blue jeans for a casual summer day in the office. To elevate the look, style this outfit with a beige blazer.
Classy Linen Jumpsuit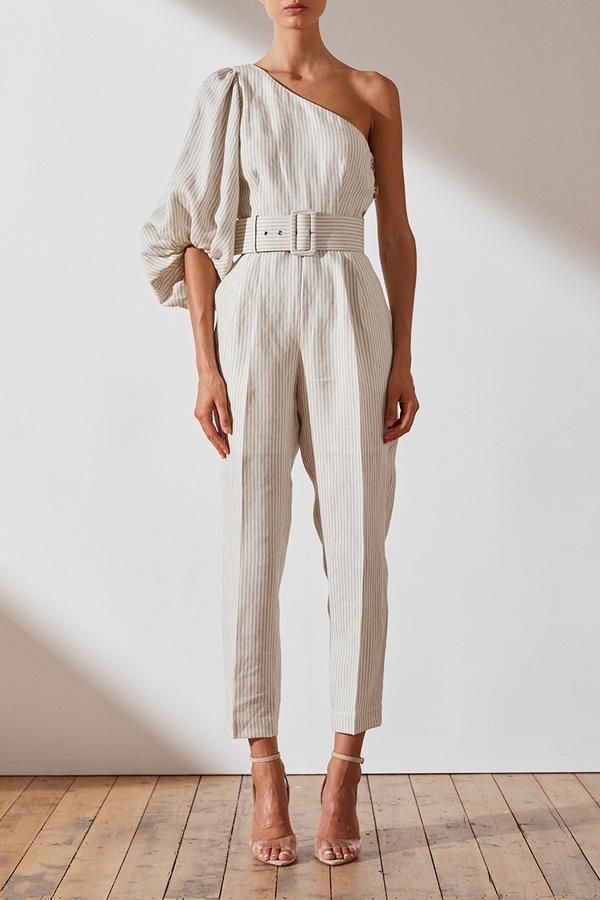 Linen can be classy too. This one-shoulder jumpsuit is a good reason why everyone should love a good jumpsuit. Pair it with heeled sandals and a flattering hairstyle but don't overdo the accessories and makeup.
Linen Pants And T-Shirt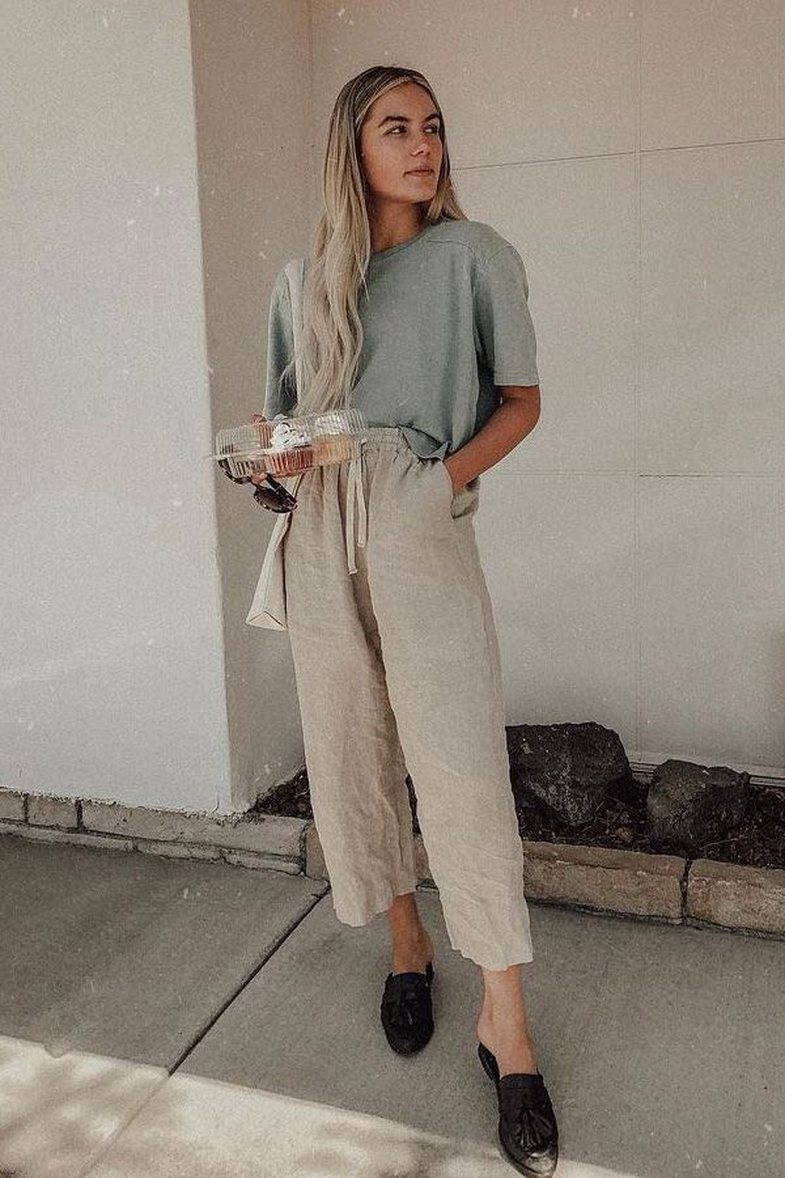 And the last outfit is a casual one and most perfect for young adults. Ankled linen pants combined with a t-shirt (or any type of blouse or shirt you want) is an outfit great for the starting month of the new school year, high school or college. You can wear this with sneakers but opt for loafers or ballet shoes.
Comfort and high quality are some of the many benefits of linen. I truly hope I've motivated you to get out right now and buy a linen piece of clothing, or even better, to try one of the 15 linen outfits above. They're all suitable for almost any woman of any size, age and with different styles.  One thing is for sure, linen is the perfect material for hot summer days and you can easily incorporate it within your own style.