Garnier has been around for decades. It is one of the most popular brands in the hair care industry, providing affordable hair care products. Now, some people have voiced their opinion about the quality of Garnier.
What you have to understand is that Garnier has a couple of lines of shampoos. One is Garnier Fructis, and another one is Garnier Whole Blends.
Today, we will try to answer the question is Garnier good for hair? Of course, the best way to do that is to look at the ingredients list.
Is Garnier Fructis Good For Your Hair?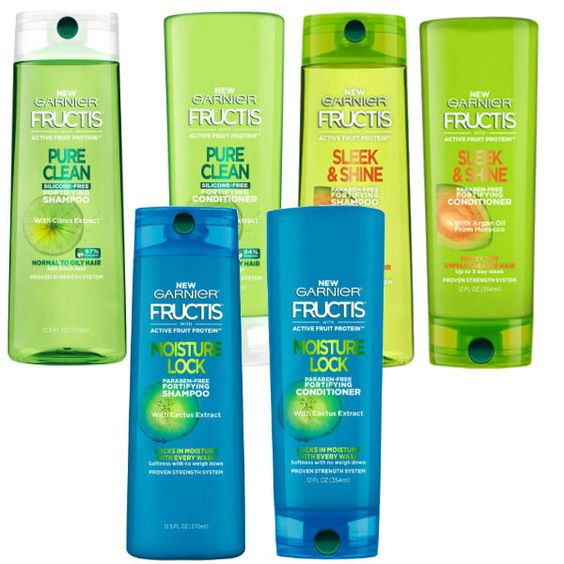 The packaging of Garnier Fructis is one of the most beautiful ones in the hair care world. Then you add the commercials, and Garnier sounds like a perfect brand.
But it is not true for all hair types. For example, if you have curls, coils, or kinks, Garnier Fructis might not be the best solution.
Now, judging by hair type, Garnier has some amazing products for straight hair, which is type 1, and wavy hair, type 2.
But for women with type 3 hair strand and type 4 hair strand, it might not be the best option. Why? Because the ingredients include drying alcohols, propylene gel, salt, parabens, mineral oil, PVP, synthetic fragrances, and more.
What Is In The Ingredients List?
Let's take a deeper look at the ingredients list of Garnier Fructis. Here are some things you definitely do not want near your hair.
Dry Alcohols
Garnier Fructis products often contain dry alcohols like benzyl alcohol and isopropyl alcohol. They should not come near a curly hair shampoo. These alcohols will draw moisture away from the hair, causing it to become brittle, dry, and prone to tangles.
Synthetic Fragrance
Another problem with Garnier shampoo products is that they contain synthetic fragrances. Yes, Garnier Fructis shampoo will smell fantastic, but that is due to the fragrances in the shampoo. It might make your hair smell amazing at first, but the damage will come later.
PVP
This is an ingredient that will leave an artificial film on your hair and hold it in a certain state. It can cause scalp irritation.
Mineral Oil
If you want to know some of the worst oils for curly hair, mineral oil is on top of that list. It isn't easy to wash away which can lead to product buildup. And over time, which will result in a clogged hair follicle. Mineral oil can also irritate the scalp.
Propylene Glycol
The problem here is that propylene glycol is considered safe by the FDA. Yet, it is not the best thing to put on your hair. It can cause hair dryness and scalp itching. You do not want dry hair, right?
Salt
We all know salt absorbs moisture. And if you have type 3 hair or type 4 hair, moisture is your biggest friend. So, you do not want someone getting in the way of your hair receiving moisture, right?
Parabens
You should try to avoid parabens whenever possible. Sadly, they are present in some Garnier Fructis shampoo and deep conditioner products.
What about Garnier Whole Blends?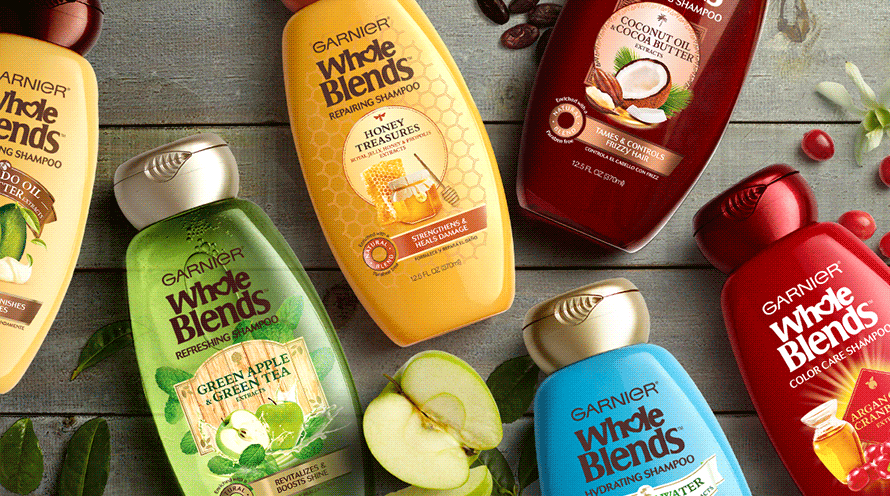 Garnier Whole Blends has been in development since 2010. The collection of products is much better than Fructis, as it comes with greater quality. And it is much cheaper and more affordable than some high-quality shampoos on the market.
Here are the pros and cons of Garnier Whole Blends.
Pros:
Professional salon formulation
Paraben-free
Natural moisturizing factors and antioxidants
Cons:
 There are fragrances in the formula
Some formulas are not easy to understand
What many people forget is that Garnier is the second-largest brand owned by L'Oreal. And we know L'Oreal is renowned for salon hair care and treatment. That gives Garnier access to some of the best formulators working in the industry.
Whole Blends is a direct response to consumer demand. This is why it is paraben-free. And unlike some salon brands, Garnier Whole Blends shampoo is affordable.
The most important benefit of Garnier Whole Blends is the amount of natural moisturizing factors and antioxidants in the formula. Instead of relying on heavy silicones and waxes, Garnier uses naturally sourced ingredients.
Some of them include vanilla milk, coconut water, apple extract, green tea, coconut oil, propolis, cocoa butter, Argan oil, Shea butter, avocado oil, cranberry extract, and more.
The big downside of Whole blends is the confusion of choice. There are six formulas you can choose from, three of which are easy to understand. Those are color care for women with processed hair, refreshing for those who need scalp stimulation and have dry scalp, and nourishing for women with dry hair and damaged hair.
But formulas like smoothing, hydrating, and repairing seem to do the same task, and could easily be made into one version.
How To Find The Best Garnier Shampoo?
Garnier has a line of hydrating shampoo products and volumizing shampoo products. Which one is the best for you?
The first step to finding the perfect Garnier shampoo for you is determining your hair type. What is your hair type? Do you have type 1 hair? Or type 2 hair? Remember, using a hydrating shampoo on fine hair and thin hair will weigh down your locks. So, do not choose something that is not right for you. And using a volumizing shampoo on curly hair will cause unruly strands.
Here are some ideas on how to choose the best shampoo bottle for you. Is Garnier good for hair? Of course, it is if you choose the right shampoo product for your hair.
A clarifying shampoo has a formula designed for removing buildup from your hair. That includes everything from product buildup to excess oil. This shampoo is made for oily hair and straight hair that needs a deep cleanse. Yet, it can be harsh on dry hair and curly hair as it can strip the strands of hydration.
A hydrating shampoo is ideal for hair that could use a bit more moisture. If you have coarse strands, hydrating formula will do for you. These formulas are often alcohol-free and will replenish your hair with moisture.
Smoothing shampoo is great if you want a good blowout. They will smooth or straighten hair and deliver frizz-free blow dry. Designed for women with naturally curly hair and wavy hair.
The color-safe shampoo is designed for those who color their hair. This Garnier shampoo formula is gentle on color. You can rest assured, that your hair color will not fade quickly.
Volumizing shampoo was designed for women with fine hair that want to make sure their hair looks fuller. It is a lightweight shampoo, but not as hydrating as other formulas.
Last, but not least, you can get a sulfate-free shampoo, one with cleansing agents.