Garnier Fructis has had a bad reputation lately. In the grand scheme of things, this shampoo is not a bad one. Honestly, it is a rather strong shampoo, high in detergent, and works great for short hair. The problem is there might be challenges using it for chemically treated hair and long hair. So, the question is the following. Is Fructis good for your hair?
It depends on your hair type. Yes, Garnier Fructis has had a bad reputation. But it is not necessarily bad shampoo.
Due to the highly polished marketing machine of expensive shampoo brands, hair consumers started to believe that OTC shampoo brands should provide a myriad of features. And that simply is not the case.
You cannot expect an affordable shampoo like Garnier Fructis to contain a wide palette of unique and quality nutrients, and be sulfate-free in the process.
Let's talk about the Garnier shampoo product.
What is Garnier Fructis?
In its basic sense, Garnier Fructis is a basic cleanser. The advantage the shampoo product has and offers consumers is that it comes without any bells and whistles. Yes, it contains some sulfates, but there is a way to neutralize those.
If you want to buy an affordable and cheap shampoo like Garnier Fructis, you can dilute the formula to solve the sulfates problems.
Mix a quarter of the shampoo in a clean quart-sized bottle filled with lukewarm water. Shake to form a suds. Dilution can minimize exposure to sulfates.
Now, if you dilute Garnier Fructis shampoo, get your wet hair super soaked in the shower, and then apply the foam to the top of the head, you are basically minimalizing the risk of concerning ingredients.
Yes, that requires a bit of effort on your side. But you get a cheap shampoo. Allow the foam to gently flow over the top of your wet strands and then pat softly into the surface. Quickly rinse and you get the best of the cleansing options without paying top bucks for a salon-quality shampoo brand.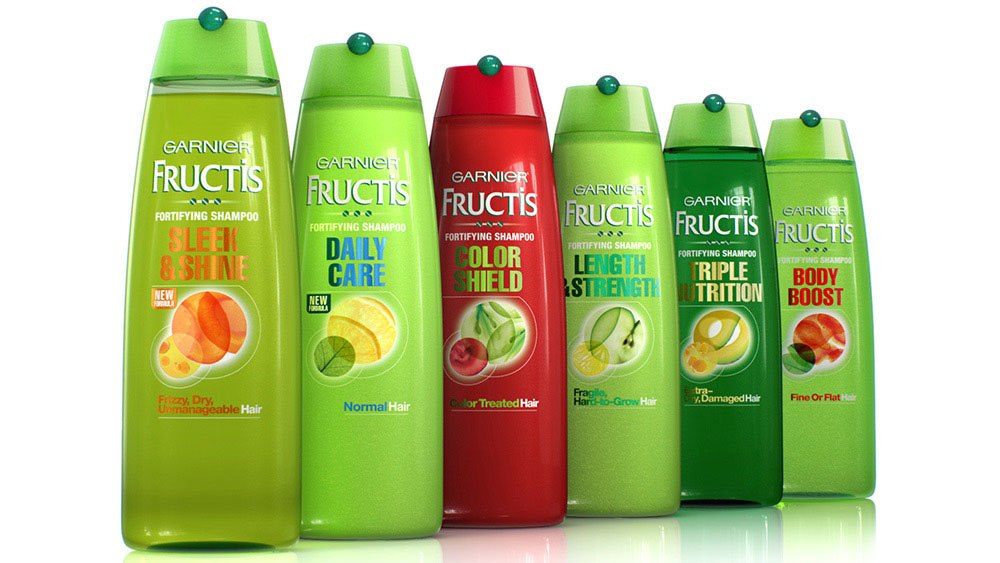 Why Fructis Might Be Bad For Your Hair?
The question is Fructis good for your hair has been popping up on social media and platforms in the past several years. Users are asking why it is bad. Well, as we said, it is not necessarily bad.
Why it might seem bad for your hair? Due to its low price, Garnier Fructis is more likely to contain sulfates like sodium laureth sulfate and ammonium lauryl sulfate. Those are inexpensive ingredients that give any shampoo a rich lather factor. This is what consumers have come to equate with cleansing.
Fructis doesn't offer sophisticated aromas, essential oils, nourishing oils, herbs, or superfoods. And it doesn't deposit and preserve color, or offer any special clarifiers, softeners, or detanglers.
But that is what you pay for. With a cheap shampoo, you get a basic formula, and nothing more
Yet, at the same time, Garnier Fructis can contain these shampoo ingredients:
Essential oils like lavender oil, lemon oil, and peppermint oil
Nourishing oils

like jojoba oil and coconut oil

Wheat and soy extracts

or silk amino acids

Coconut-derived alternatives

to sulfates
Which Garnier Fructis Product is best for your hair?
The most important part of finding a good shampoo for your hair is finding the specific formula that works. In that regard, it depends on whether you have dry hair, damaged hair, curly hair, wavy hair, straight hair, fine hair, or color-treated hair.
Here is a breakdown of which Fructis hair care products you should use.
Best Fructis For Dry And Damaged Hair
Having dry hair or damaged hair is a nightmare for any woman. Those dull strands will ruin your look instantly. If your damaged hair is due to the constant usage of heat tools, Garnier Fructis has a shampoo for you. Basically, your hair is trying to retain and get more moisture.
Garnier Fructis Triple Nutrition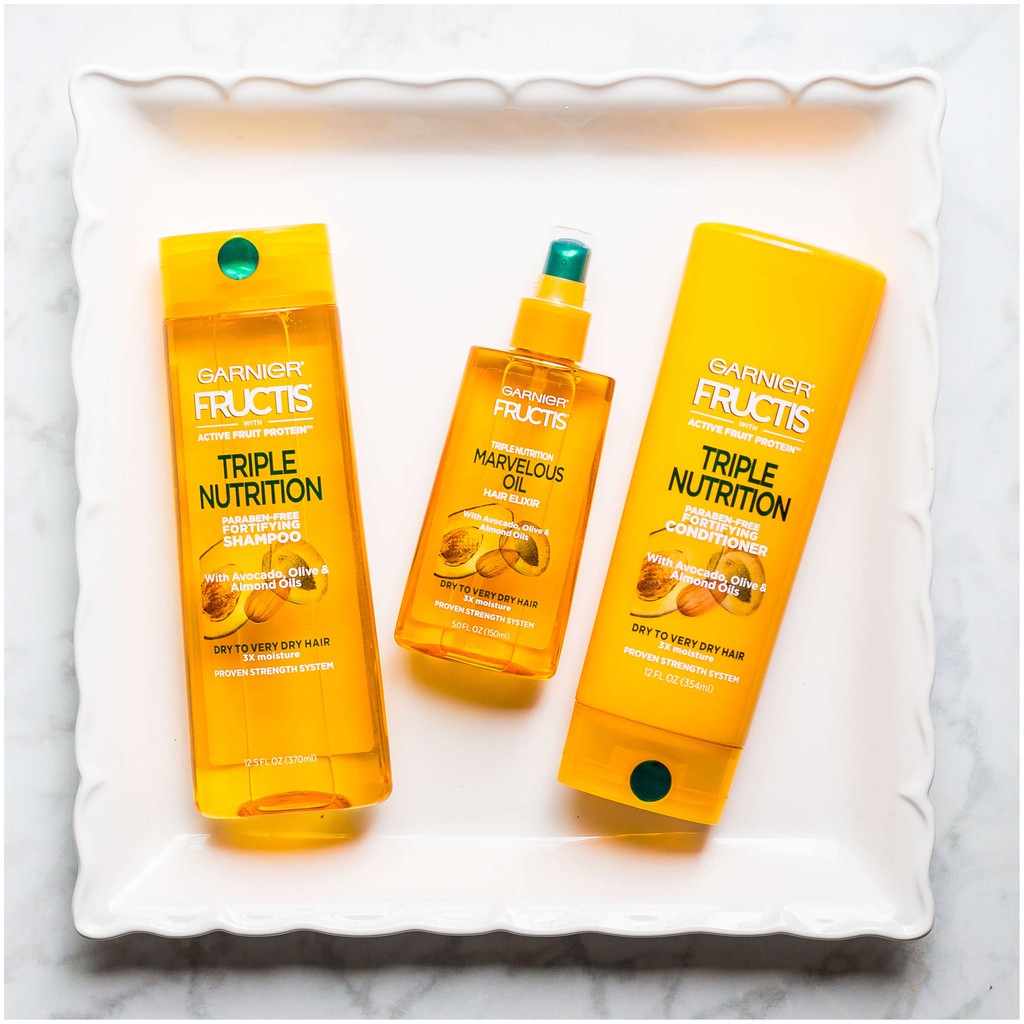 Fructis Triple Nutrition is the best shampoo for extremely dry hair. The hair care treatment comes with three products, a shampoo, conditioner, and oil.
This way, you can replace the natural shampoo and conditioner with Triple Nutrition. Start using it and you will instantly notice results.
As for the oil, it is applied from roots to ends after each wash. Use it as a leave-in conditioner.
Fructis Sleek And Shine Serum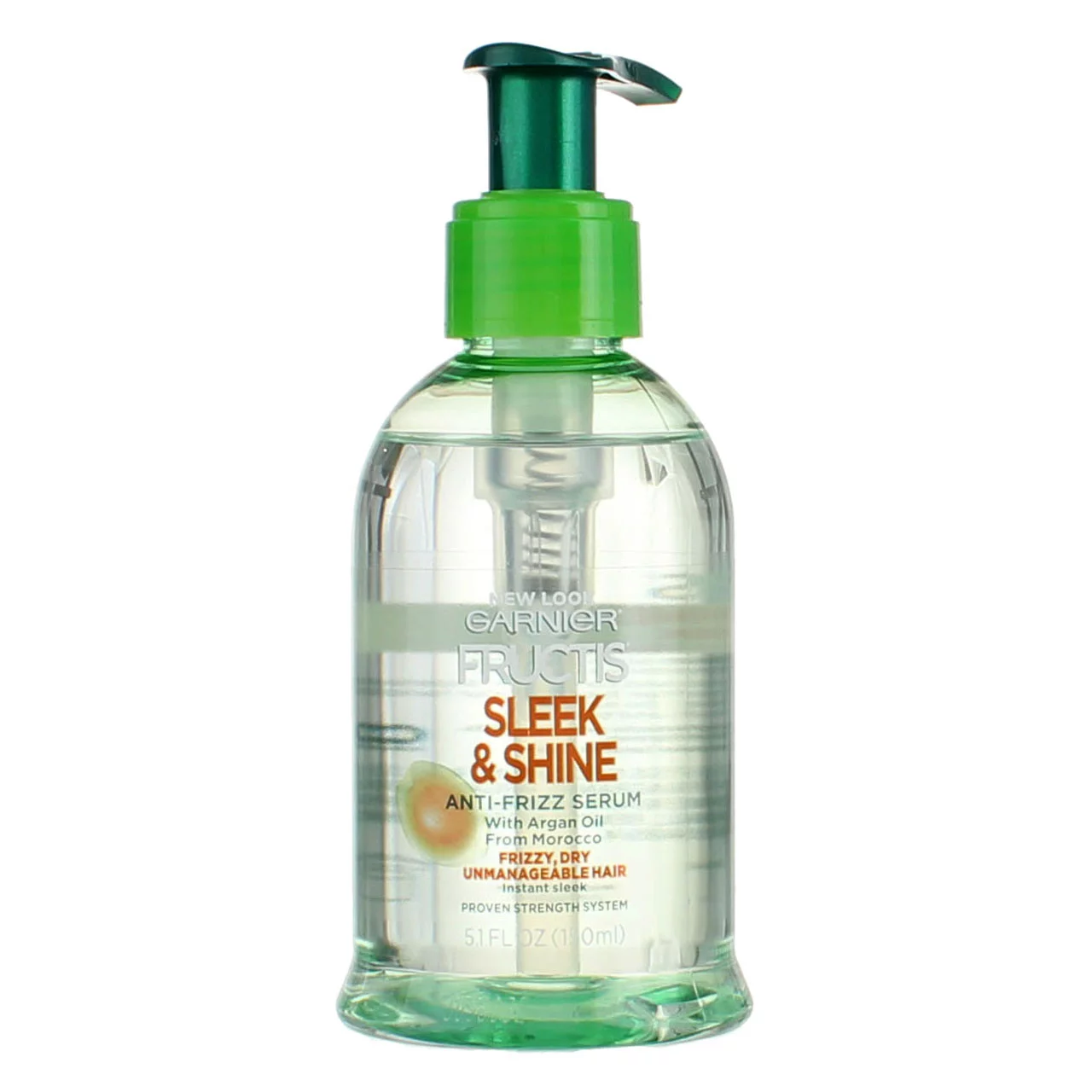 This leave-in serum can be used every day. You no longer have to worry about any serum being bad for your hair. Made with Moroccan argan oil, it will help you control the frizz of your damaged hair.
And if you want more hydration, combine it with the Garnier Fructis Sleek and Shine Shampoo and conditioner. These products will restore moisture to your hair in a few days.
Garnier Fructis Hair Food Banana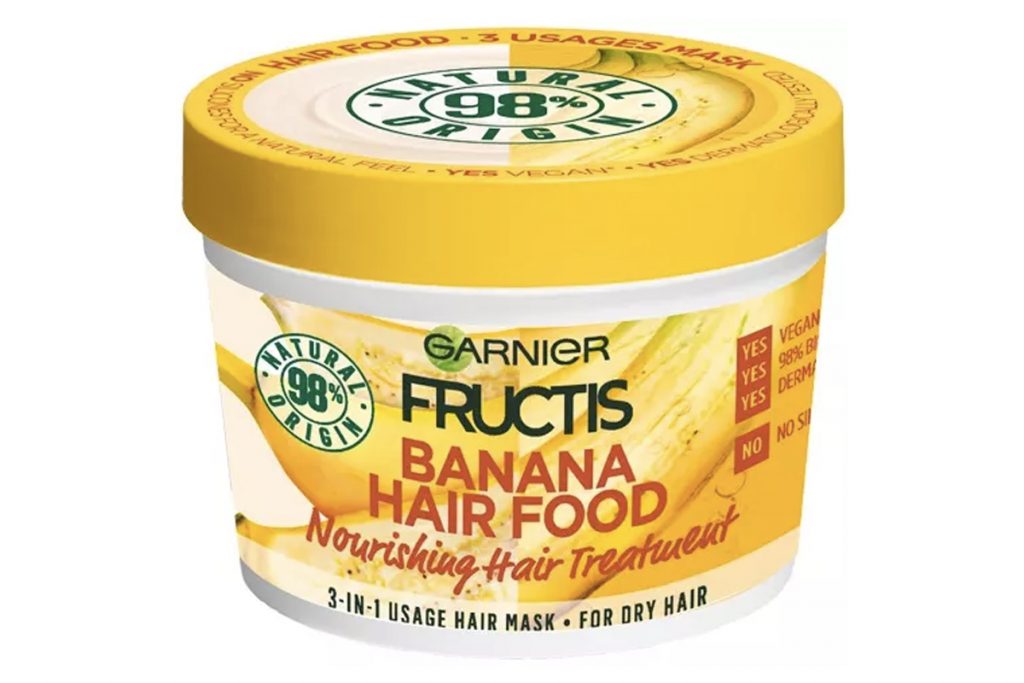 This versatile product can be used as either a conditioner, hair mask, or hair serum. It depends on what you need.
To use it as a serum, apply a small amount to wet hair or dry hair from roots to ends. To use it as a mask, apply it on wet hair, leave it for three to five minutes, and then rinse. And of course, if you want to use it as a conditioner, apply it to damp hair after shampooing to nourish your hair and detangle it. Then, rinse off.
Garnier Fructis For Curly Hair And Wavy Hair
Here is a fun fact. Only one-third of the world's population has naturally straight hair. The other two-thirds have wavy or coily hair. These shampoo products will bring definition and shine without weighing your hair down.
Garnier Fructis Curl Nourish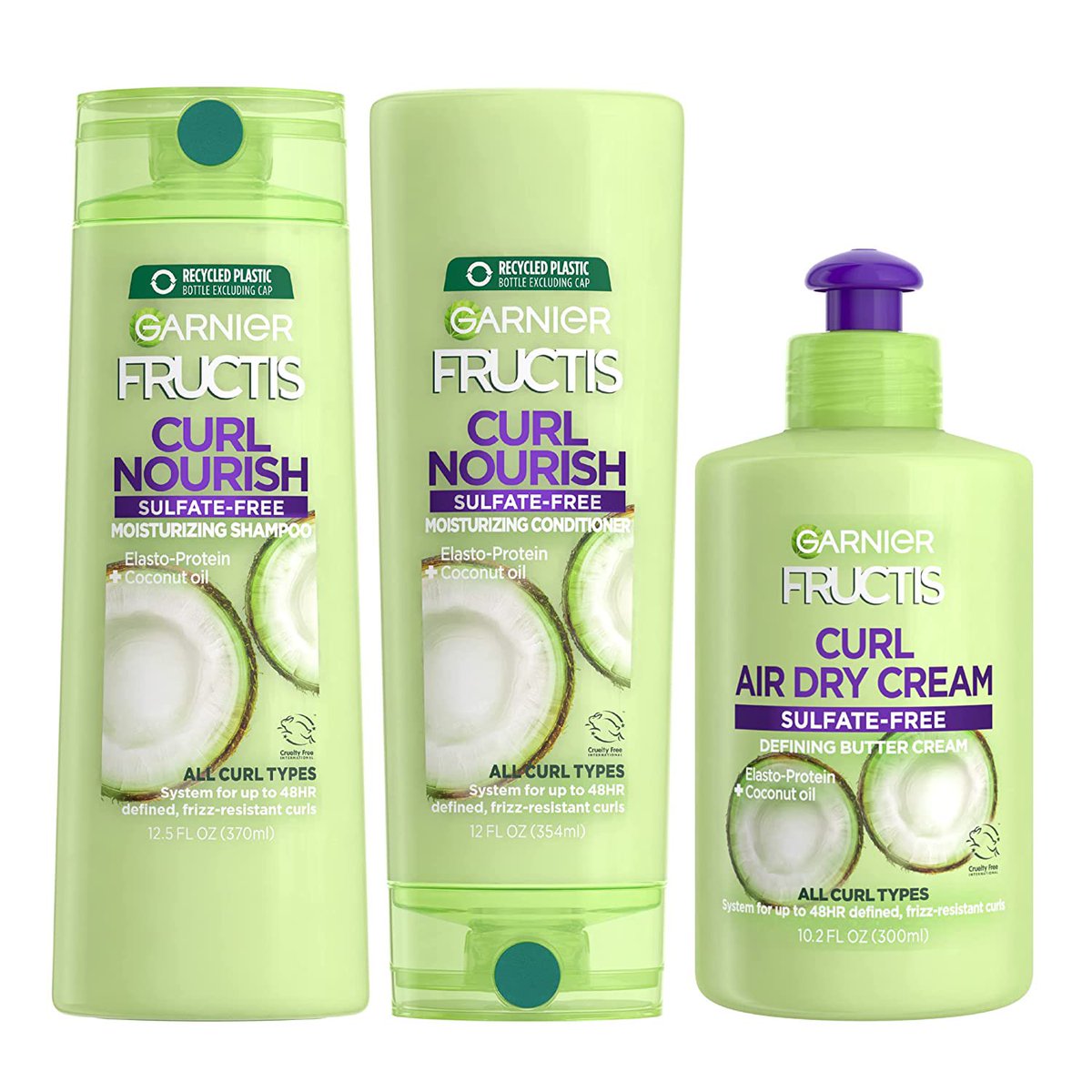 This is a complete kit that will give your curly hair a soft and light texture without any greasy effect. We know curly hair tends to dry out and needs constant hydration.
The Curl Nourish product is formulated with active fruit proteins, vitamin B3, vitamin B6, and strengthening conditioners.
It will control frizz for 48 hours while providing nutrients like jojoba oil and coconut oil. You can use it as a moisturizer, or anti-frizz serum.
As a moisturizer, apply it to damp hair from roots to ends after shampooing. To use it as a serum, apply it on dry hair from roots to ends.
Garnier Fructis For Color-treated Hair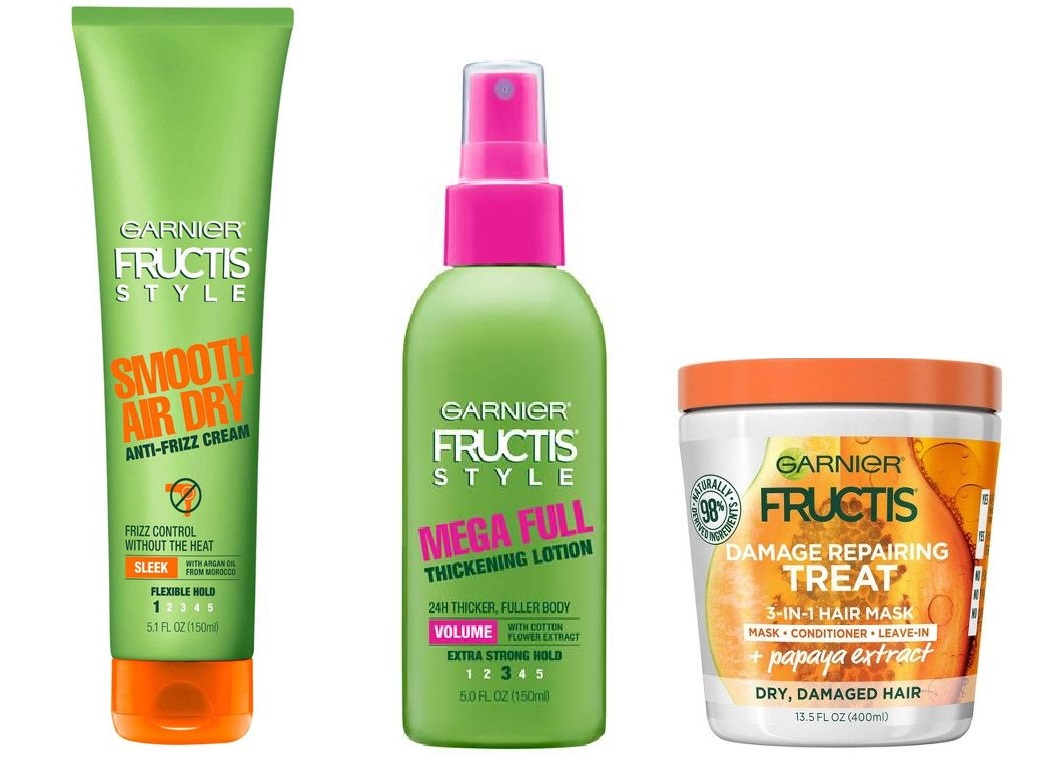 We said there are hair care products for fine hair, straight hair, and color-treated hair. These include Garnier Fructis Hair Care Smooth Air Dry, Fructis Mega Full, or Garnier Fructis Hair Care Damage Repairing Treat.
Is Garnier Fructis Safe?
Now, is this shampoo safe to use? Well, Garnier Fructis hair shampoo is a safe product for hair care. It does not contain any ingredients that can be particularly harmful. The question is whether it is good for your hair.
And that is a whole different point that the one discussed before. If you choose the right shampoo for you, even a cheap shampoo like Fructis can do the trick.
Does Garnier Fructis Have Sulfates And Parabens?
We have to say this, Garnier Fructis hair products do contain SLS or sodium lauryl sulfate, and SLES, sodium lauryl ether sulfate as active cleansers.
Fructis is not a sulfate-free shampoo. But that is considered not a big problem compared to pure SLS products.
The good news is that Fructis does not contain DMDM hydantoin. This preservative acts as an antimicrobial agent and is often used in cosmetics. While it is certified safe, it is a formaldehyde releaser and a potential carcinogen in large quantities.
Is Fructis Good For Hair Growth?
While there is no particular formula for hair growth, users and customers have noticed faster and better hair growth after using Garnier Fructis shampoo. They also report their hair is less dry after using the product.
Does it cause hair loss? Of course not. It does not cause your hair to fall. That is due to factors like weather, water, diet, stress, and many more.
Can You Use It Every Day?
Now that we discussed whether Fructis is good for your hair, naturally, you want to know how often you can use it.
The Fructis shampoo products are formulated with rich grapefruit and natural protein, which makes them safe and gentle for everyday usage.
But generally speaking, you get better results by washing your natural hair two or three times per week.