A classic story of a good girl who falls in love with a bad boy. At the start of the school year, she comes as an exchange student to the same high school with her summer love. The plot becomes complicated when they realize that. The movie 'Grease' is a beautiful story of the friendships, romances, and adventures of several groups of teenagers in the 1950s. Many things made it a cult one. It is an escape from the everyday world and an entrance into the singing and dancing world.
While music from the movie (such as "You're the One That I Want") hit the number one top charts in the USA and the UK, a complete fashion style came out of this motion picture. Everyone remembers the neat dress of Olivia Newton-John in cardigans and full skirts contrasting with the rebellious John Travolta, a greaser in leather jackets. Actually, the movie's name applies to members of the subculture, characteristic of greased-back hair, but also with distinct dressing styles. They wore loose work pants, dark slacks, dark blue jeans, over ankle-high black or brown leather boots, solid black or white T-shirts, ringer or sleeveless undershirts, or tank tops. The outerwear included denim or leather jackets. Female greaser outfits consisted of leather jackets, tightly cropped capris, and pedal pushers.
The design of the 'greasers' outfits in the movie is a story of its own: the designers started making realistic clothes, but when the director wanted colors, they went crazy, dominating of the pink and black, as colors of the Pink ladies with their hot pink jackets, and the T-birds with leather jackets, white tees, and jeans. This was to be masculine fashion in the fabulous '50s. The fashion style in the movie develops as the character grows. For example, Sandy starts out sweet and innocent, with full skirts and sweater sets, but then turns naughty girl chic. The Pink Ladies wore fitted pencil skirts, cropped pants, cat-eyed glasses, and pink jackets.
No other movie influenced pop culture like Grease. The leather jackets and skin-tight catsuits are synonyms for the main characters in the film. The Rydell High students' costumes became classics, with bomber jackets, biker fits, and poodle skirt-inspired trends constantly cycling through runways and red carpets. The costumes of Grease encapsulate typical small-town high school Americana, a classic-style image nostalgically imitated and re-purposed by designers and fashion icons ever since. We present some of the film's outfits and those inspired by it.
Bad Girl, Ultra Hot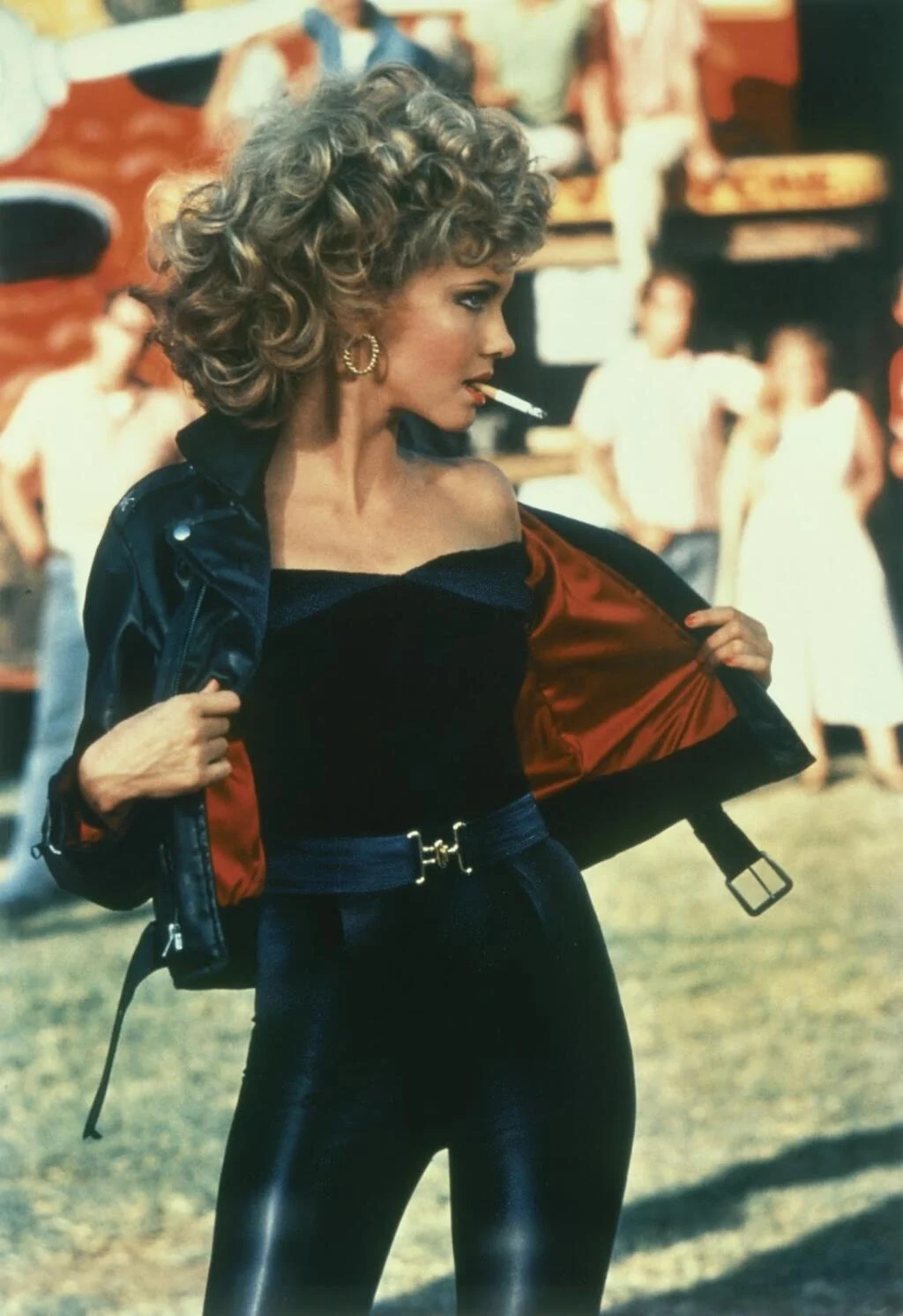 At the end of the movie, Olivia Newton-John shows up at the carnival in this ultra-hot girl outfit sings You're The One That I Want. All-black ensemble with a leather jacket. This style became extremely popular during the punk-rock phase in the 1980s. You can pair the leather jacket also with ripped jeans. The design overflowed with cool vibes. The leather jacket is a timeless piece of wardrobe and one of the most stylish fashion pieces you can wear today, thus worth investing in a good quality one.
Bad Boy Leather Jacket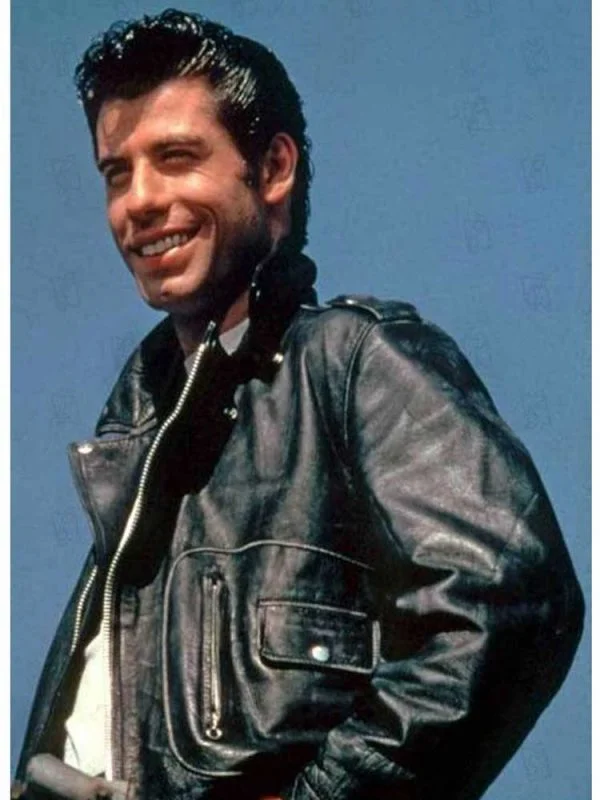 Grease T-Birds Black Leather Jacket with lapel collar and zipper front, white T-shirt, and jeans, is all you need for a 'cool bad' boy outlook.
Dance All Night Long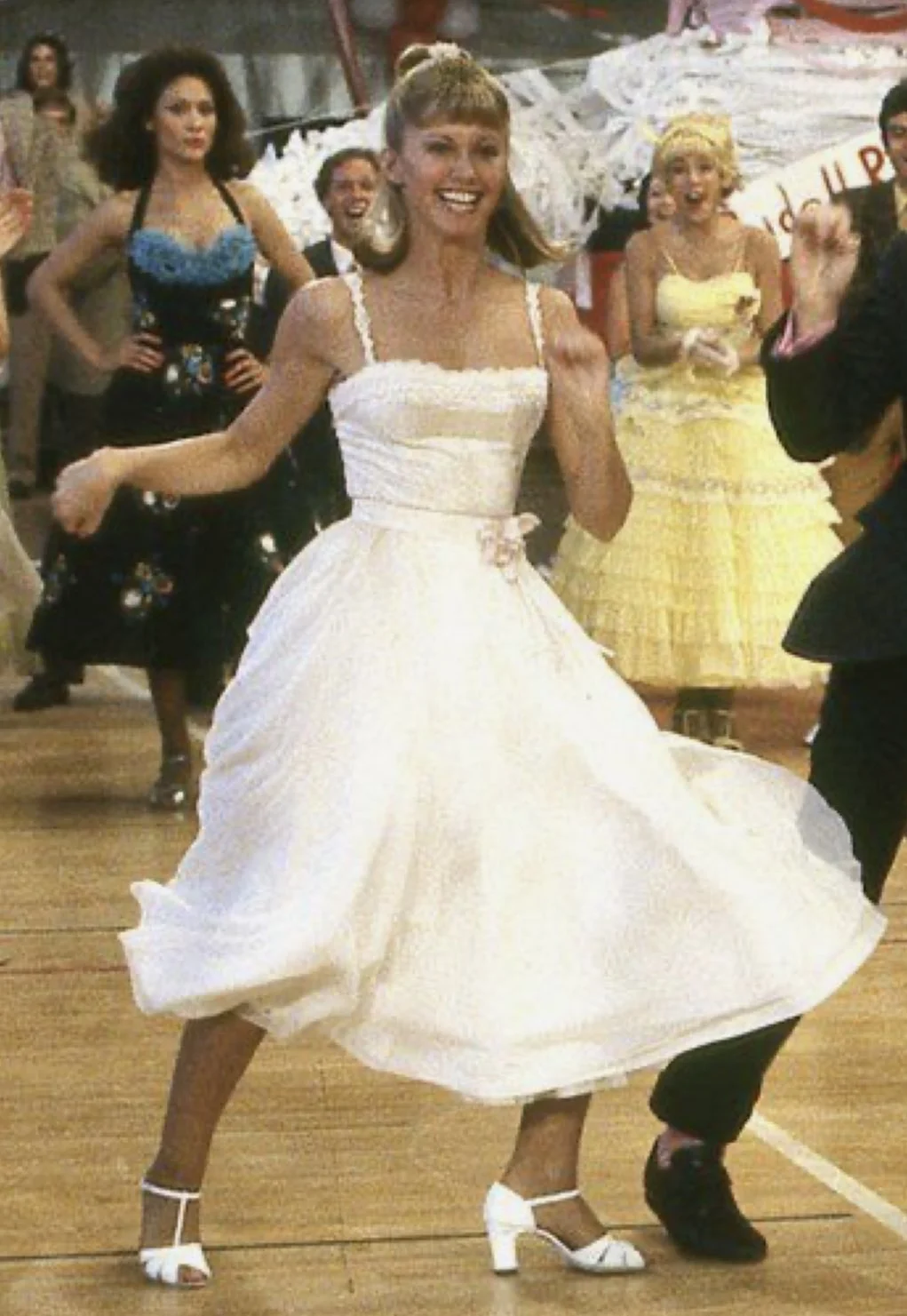 Olivia Newton-John, wore this yellowish dance dress featuring an a-line silhouette, with a flowing chiffon skirt and straps at the bodice while on the dance floor with John Travolta. It is a stunning dance dress, which could also be perfect for prom, Halloween events, or a themed party.
Pink Lady Jacket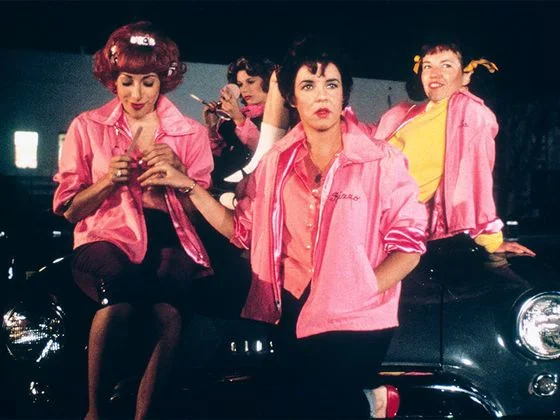 Looking for some smashing wardrobe to add on? You'll make people overflow you with compliments with this pink jacket made of quilted satin and viscose lining fabric. This 'Grease' outfit looks fashionable and exotic, making you feel comfortable and stylish at parties, clubs, gatherings, and outings. The jacket is shirt collar style, zippered closer, full-length sleeves, two outside and two inside pockets.
Grease Inspired Jumpsuit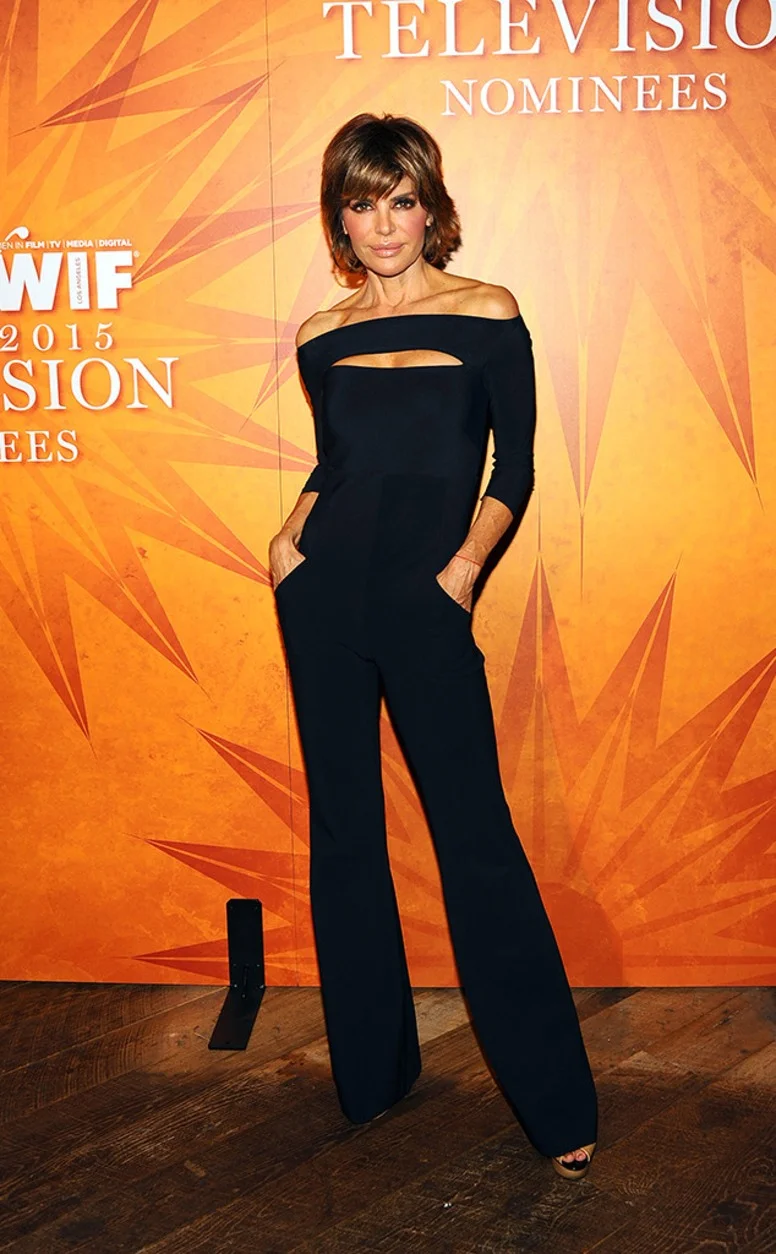 This 'Grease' inspired black, off-the-shoulder jumpsuit, with cutouts, 3/4-sleeve and wide-leg looks stylish and glamorous.
An Innocent Girl Style
A cardigan and an a-line dress in pastel colors look sweet and innocent on Sandy at the beginning of the movie. It might give you an idea for a new combination in a new unit of time.
Pink Lady Inspired Combo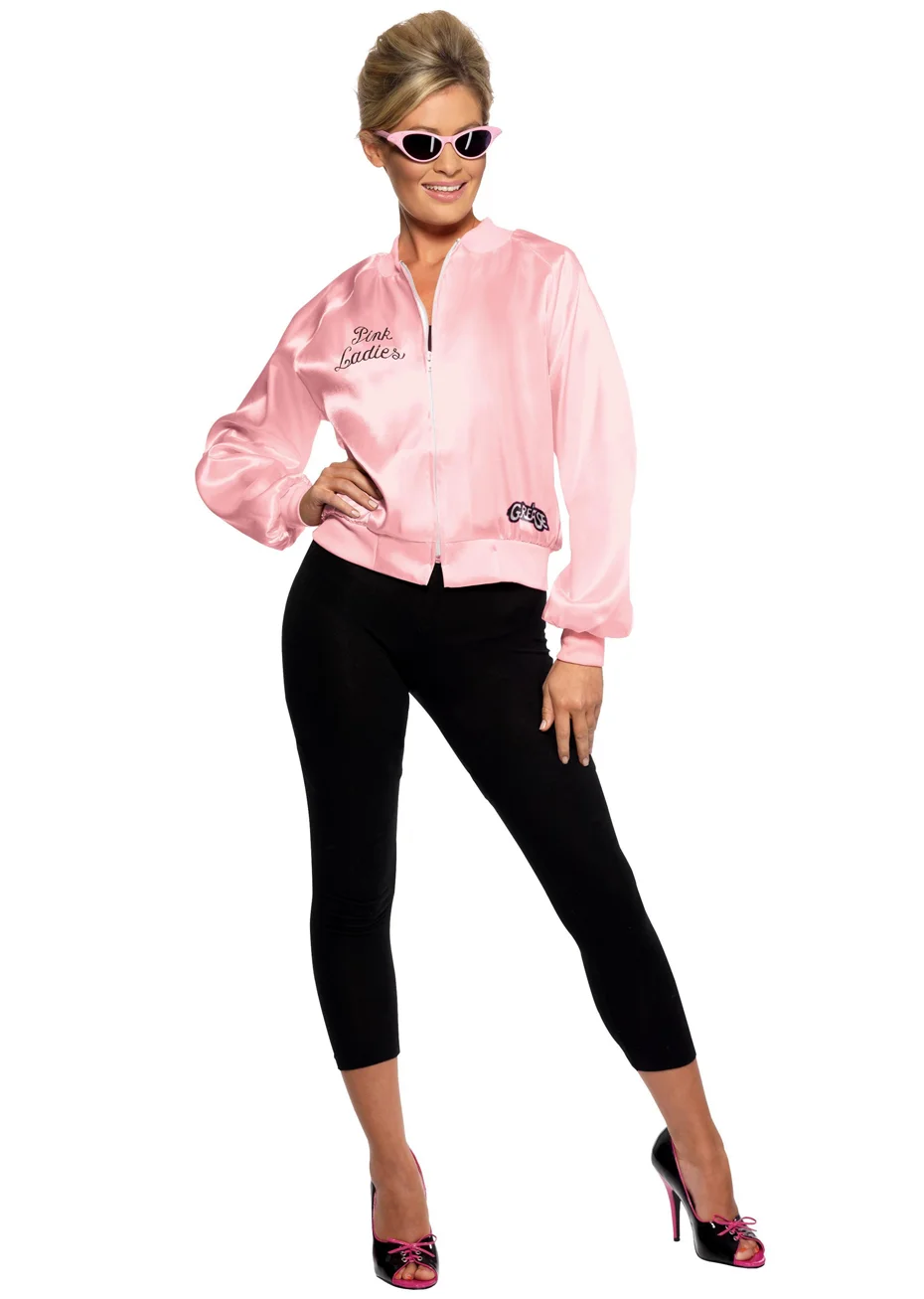 A pink jacket, 7/8 black leggings, and heels look sexy yet comfortable made from extra stretch material. The combination lengthens the legs and shows a sylph silhouette.
Girl In Pink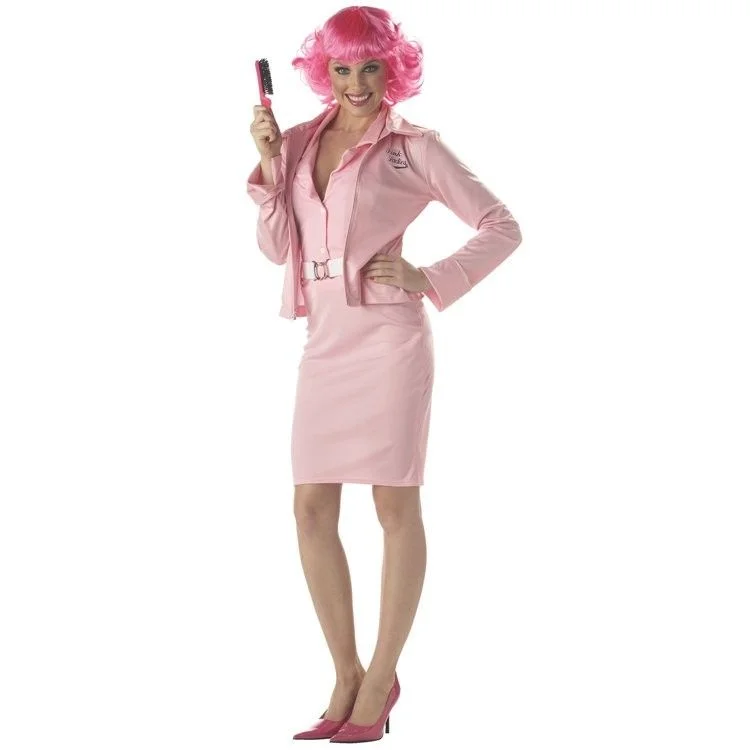 Modern chic blazer jacket in slate rose, a perfectly polished complement to the pink dress. The high heels match the whole style.
Fit And Flare Dress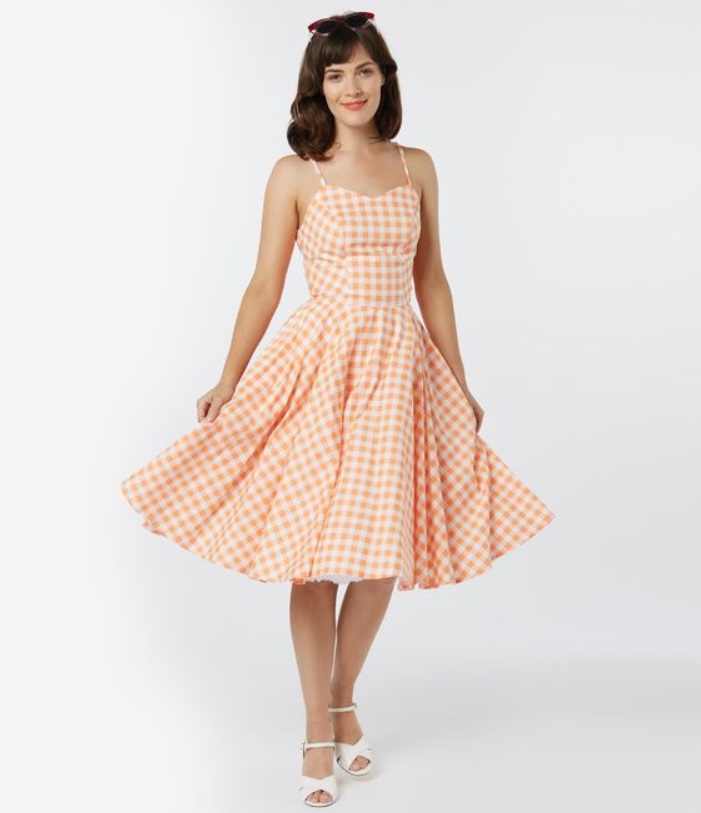 This innocent look of Sandy-inspired fit-and-flare dress has a moderate timeless vibe yet is still ultra-feminine and figure-flattering.
Short, Tight, And White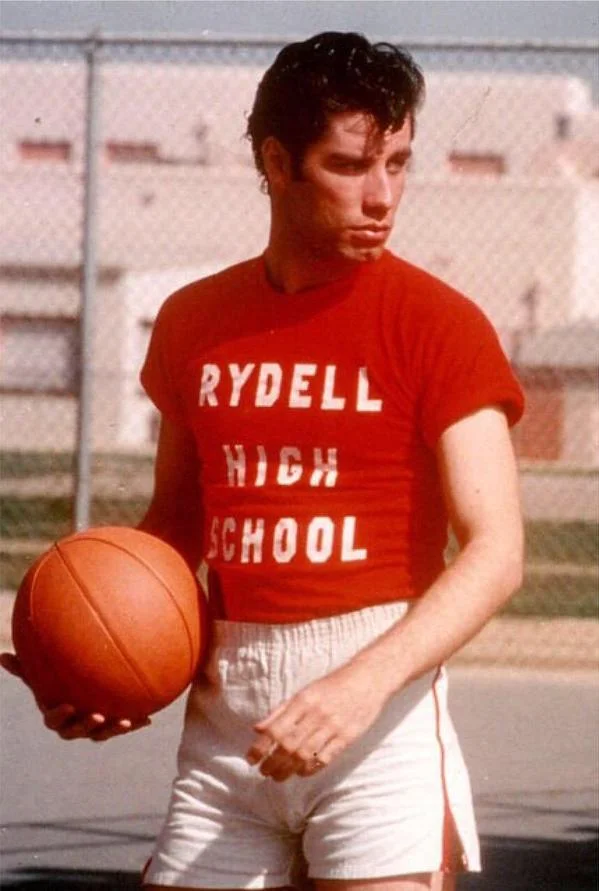 The tightest, whitest running shorts worn by John Travolta in the 1978 movie, are back with the teeny-tiny shorts look for men. In combination with the red T-shirt and sneakers, this gym kit looks great. Or we are just nostalgic for good old times reminding us of the babyish look of Danny trying to win Sandy's heart.
Is This Gucci?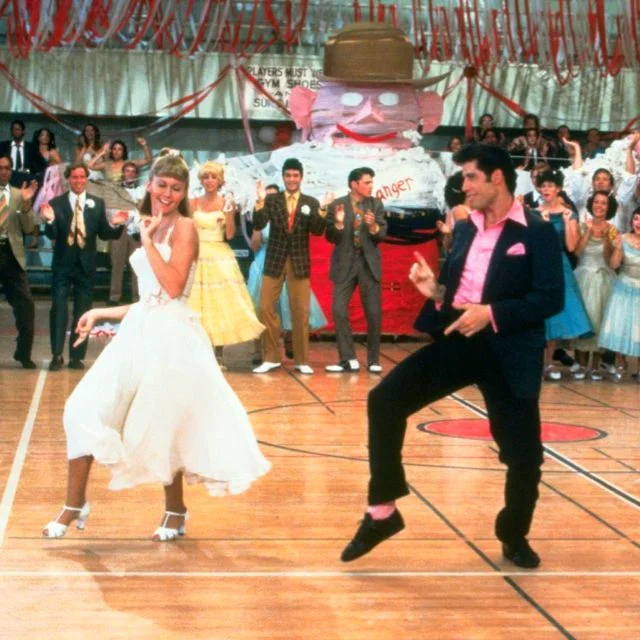 Gucci got inspired by the fashion of the 1950s. During this epic scene, Danny dancing the Cha Cha wears a fabulous dark suit and a salmon shirt, pretty similar to one of Gucci's newer collections.
Modern Inspired By 50's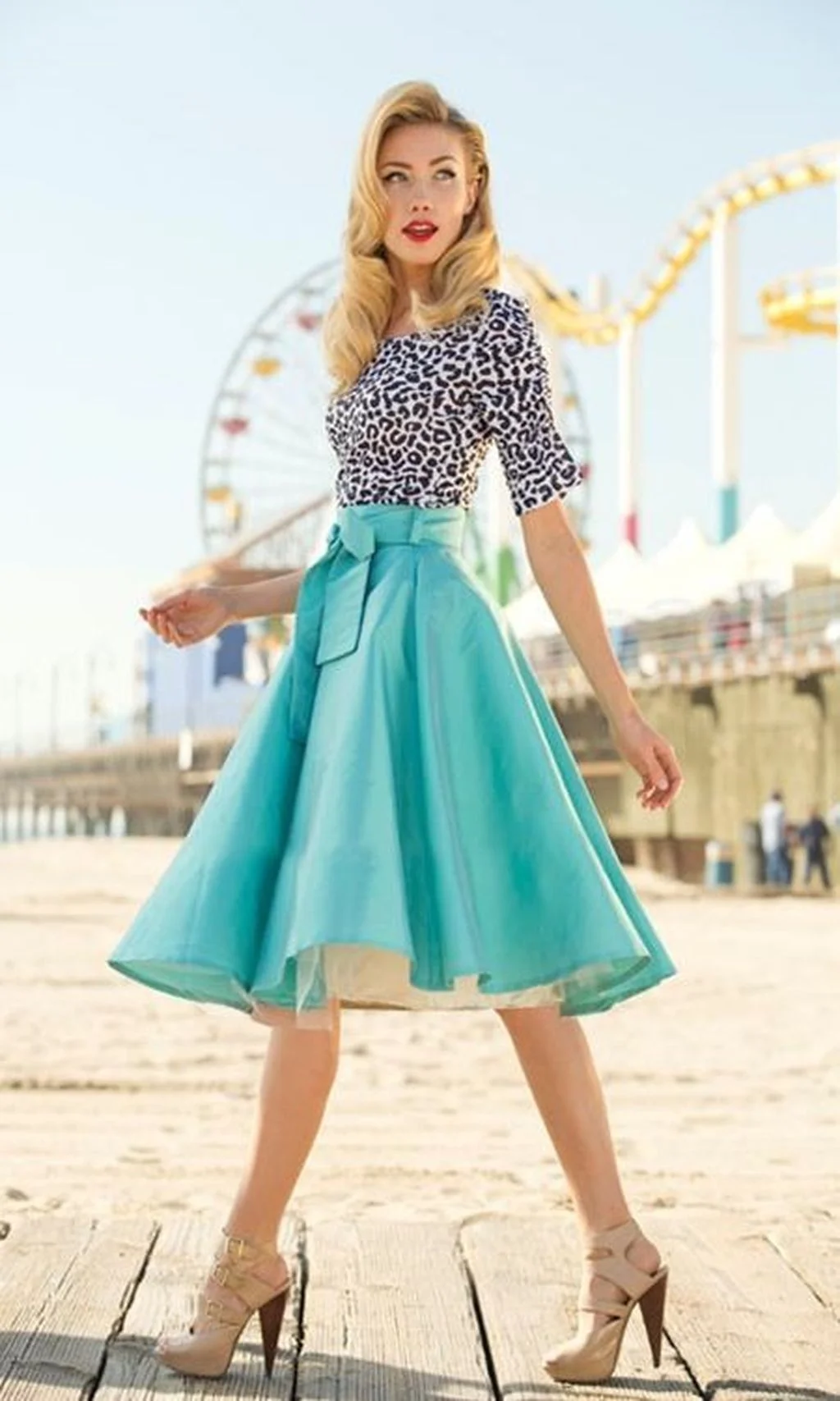 This combination of pleated midi skirts, short sleeve shirts, and high heels is inspired by 50s outfits. Some adjustments to their conservative innocent-girl-look of Sandy, and it turns chic.
Pink Dress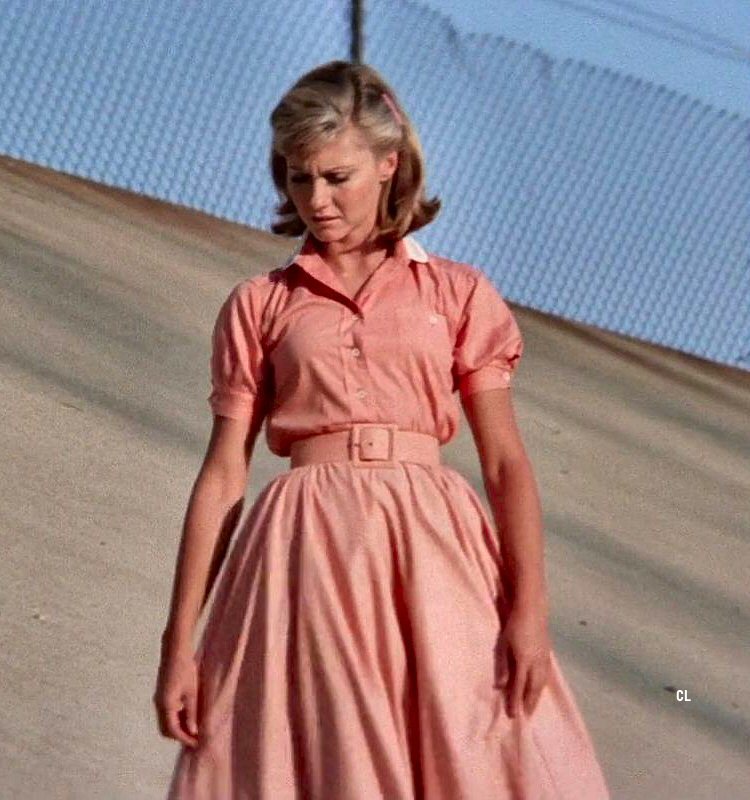 This pink dress of Sandy sells in a rockabilly retro fashion now. A pin-up girl style indeed.
Retro Chic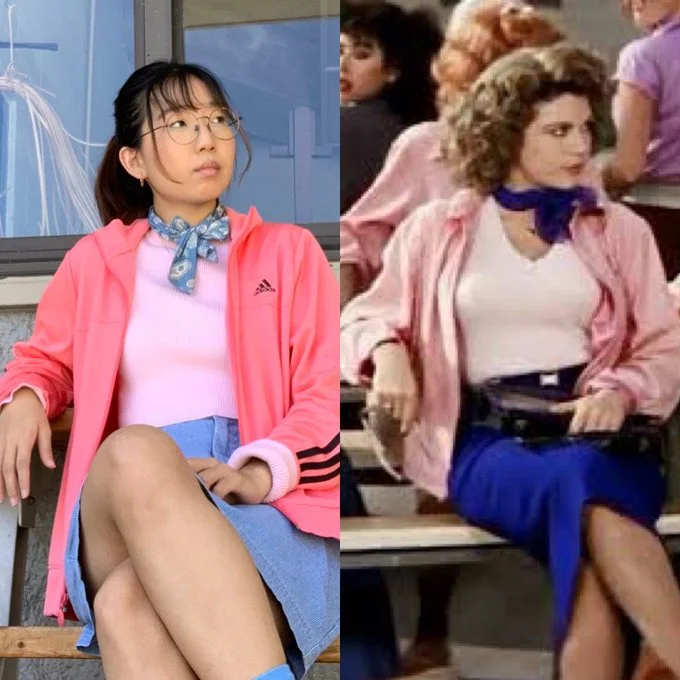 This is a neat combination of a pink jacket and paler hue blouse, with a blue midi skirt and scarf. Dress for a confident look.
Typical Greaser's Outfit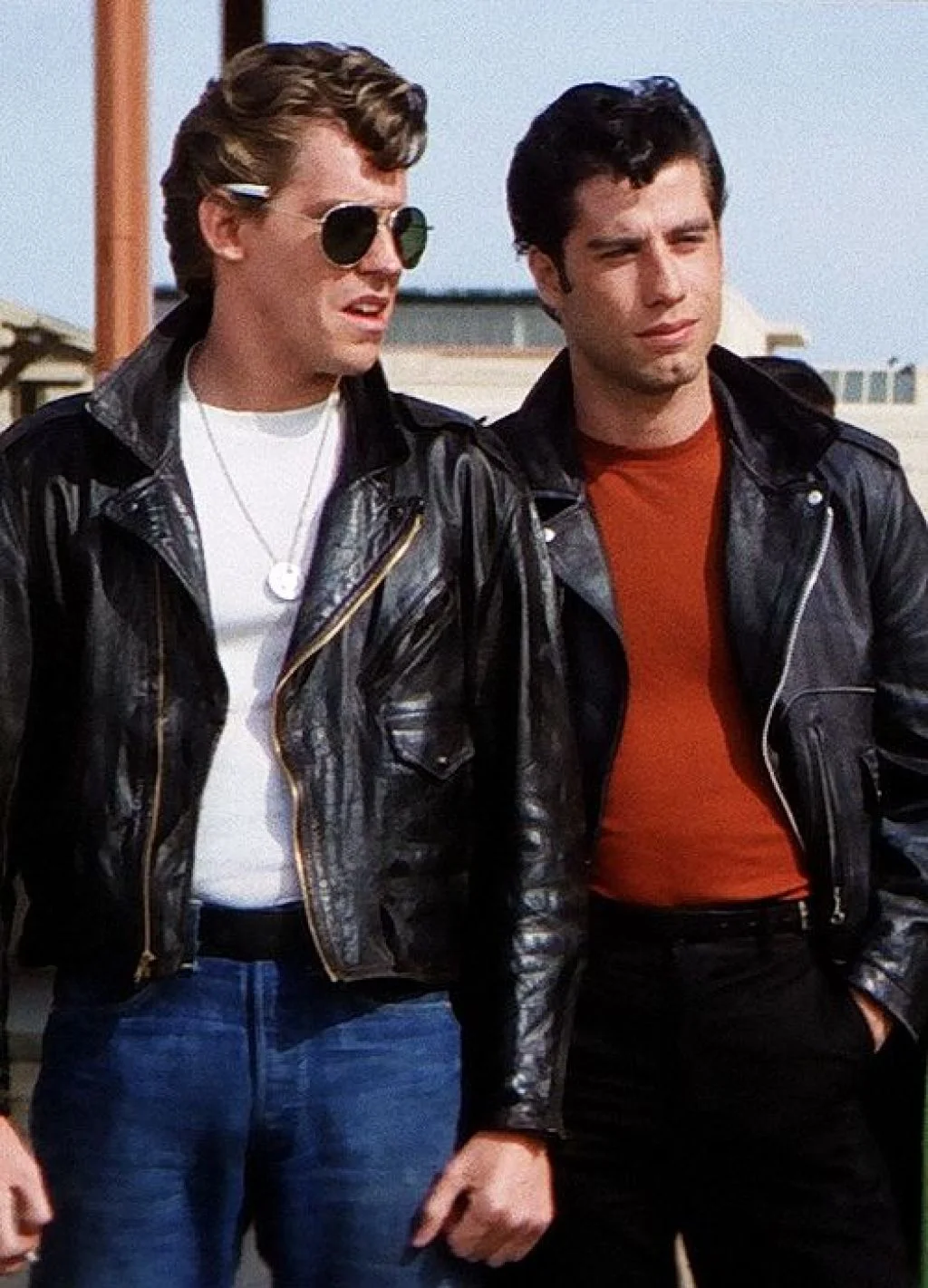 A pic of two T-birds palls with greased-back hair and typical greaser's dressing styles. They wear leather jackets to the waistline, dark slacks/blue jeans, and solid white and red T-shirts. The rockabilly hairstyle is a must.
Marty Looks Cool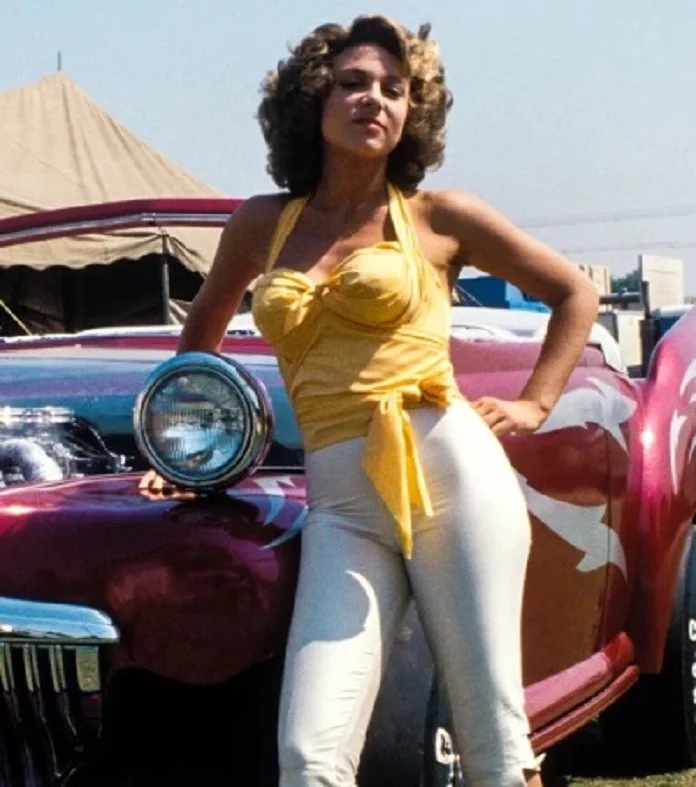 A yellow tie-strap cropped bustier top with white panties. Marty always knew how to show off in Grease.
Capri Pants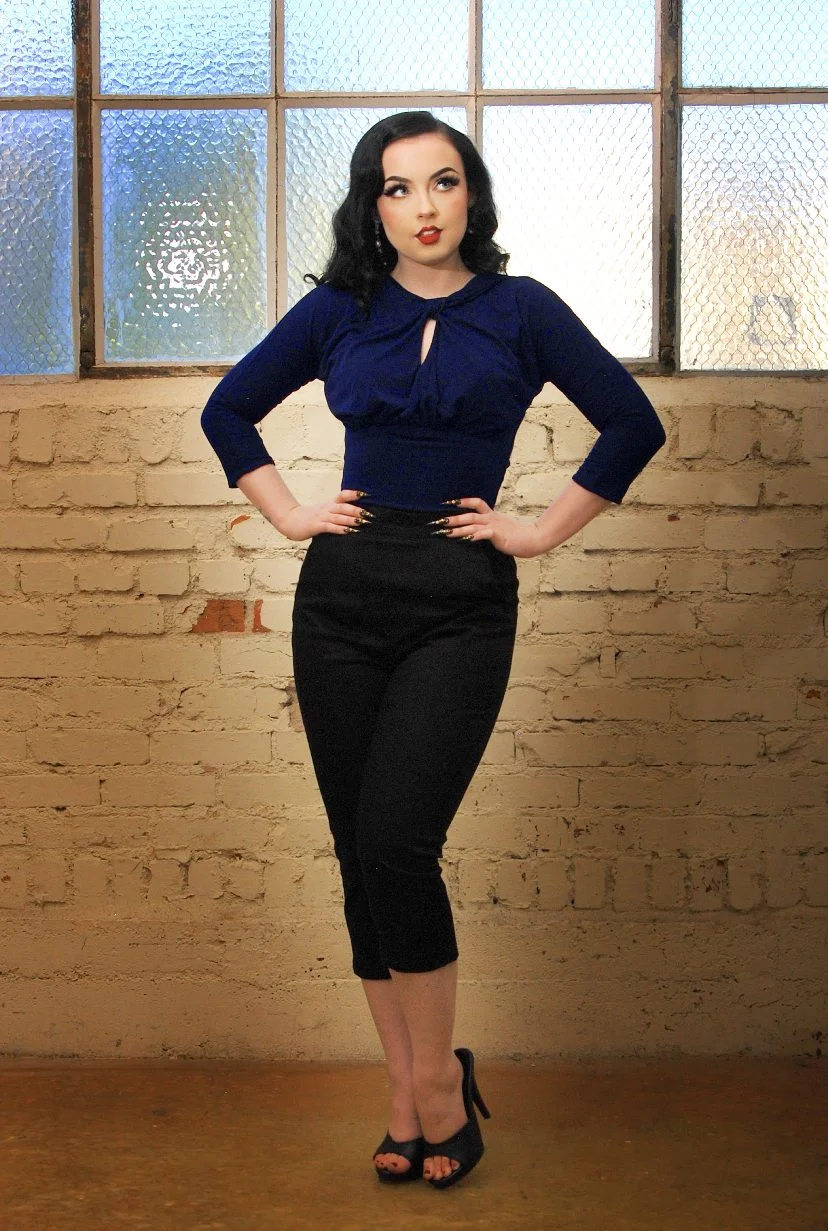 These perfectly matched blue top with tailored high waisted close-fitting tapered trousers for women made from twill, with side pockets, back zip, and cut a few inches past the knee. These Grease film-inspired capris will quickly become your favorite everyday piece, as they work for nearly any setting, be it work or play.
Whether T-birds or Pink Lady fans, from sportswear to chic suites, you have plenty of outfits to choose from and combine, whether for an everyday occasion or some themed party. Please share your opinion with us on do you like the Grease outfit from the 1950s. Will you try some of these pieces?