Putting cute clothes on newborn babies is one of the most fun things about being a parent. In between the sleepless nights, constant feeding, hundreds of diaper changes, and lots of crying, you get to play with your little bundle of joy and dress them in cute clothes. Whether you're making a baby registry, looking at a pile of shower gifts, or looking into the wide eyes of your days-old newborn you may have that nagging feeling that you're missing some infant wear essentials. And you might be. There's so much cute stuff out there that it's easy to miss the not-so-obvious but very important things.
When shopping for a baby's first outfit, the material is one of the most important things to look for. Babies' skin is soft and sensitive, so the fabric should also be soft. Your baby might be bothered by anything scratchy or rough. Many parents like to dress their babies in clothes made of natural fibers like cotton. Babies are still learning how to control their body temperature, so they often need to wear hats, socks or booties, and mittens to stay warm. If you like outfits that match, look for one that comes with these kinds of extras to keep your baby warm and cozy.
Becoming a parent for the first time can be both exciting and scary. As your due date gets closer, you might be wondering if you've bought the right baby clothes, if your diaper bag is big enough, and how many blankets your new baby might need. Don't worry, every parent-to-be gets nervous in the months before their baby is born. As long as the room is ready and you have all the baby clothes you'll need for the first few weeks, you'll be ready to start your parenting journey on the right foot. There are a lot of different kinds of baby clothes you need, from a "coming home" outfit to everyday basics. What's good? We've made a list of the newborn clothes that every new parent should have, along with a few cute options from some of the best baby clothing brands. Also, there are some helpful tips on how to dress a baby.
Putting together a wardrobe for a newborn can be hard, but it's also a lot of fun. Socks, hats, pajamas, bodysuits, and other small things are hard to keep track of. Here's a handy list of everything you'll need for the first six weeks and beyond to help you figure out what to choose. Depending on how big your baby is and how fast he or she grows, this wardrobe may be all you need from birth until your baby is 6 weeks old.
Baby Gown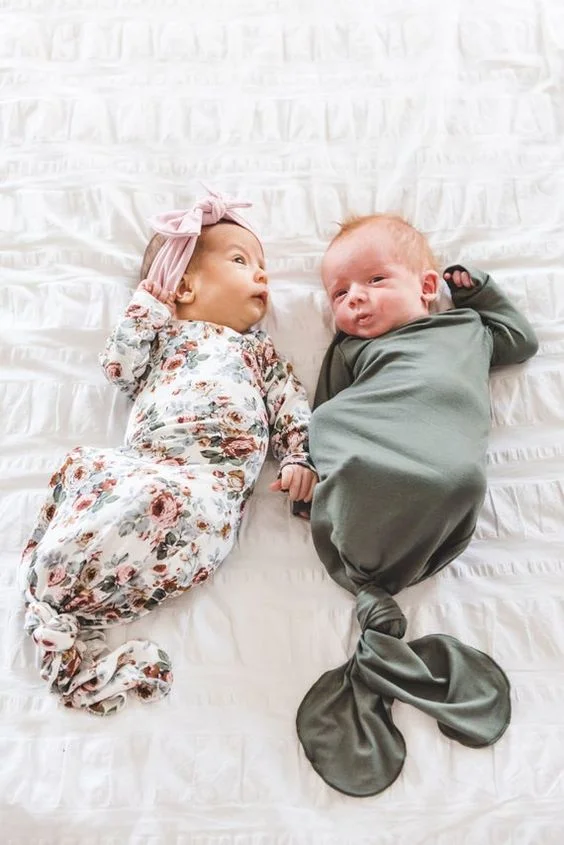 As a new mother, gowns are one of the cutest outfits for the baby stage. The diaper changing process is a breeze with them. In addition, I'm smitten by the dress' stunning hues and pattern!
Thermal Outfit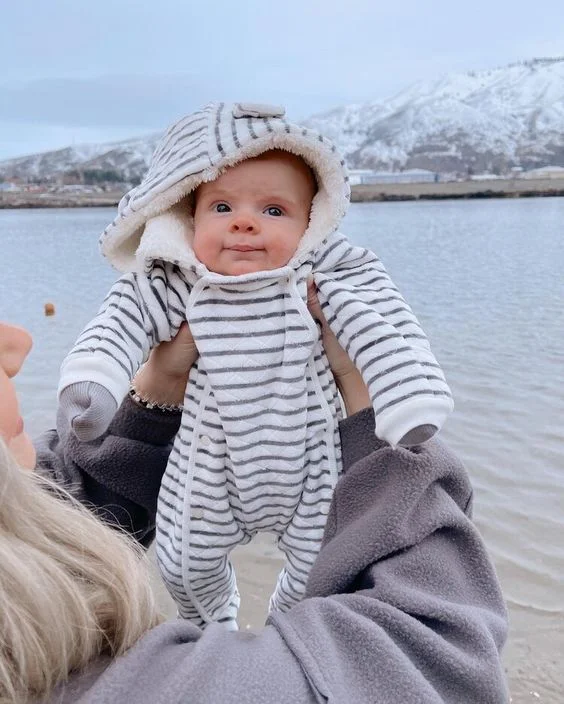 For both girls and boys, a thermal waffle set is both comfortable and fashionable. These adorable neutral options with a cozy onesie are also a favorite of ours.
Classically Sweet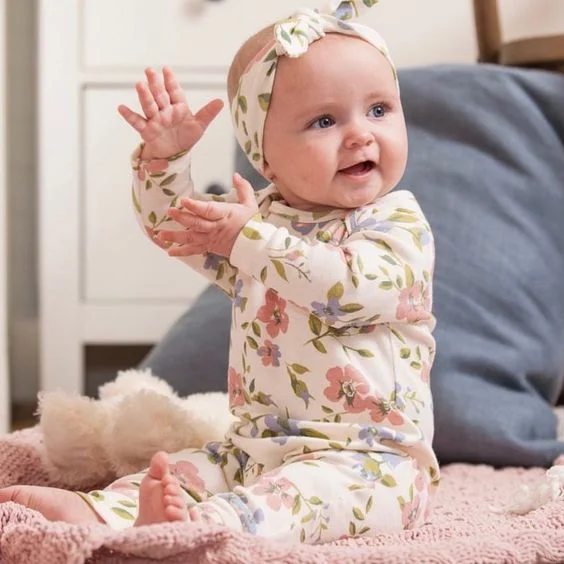 Designed for newborns to toddlers, this adorable baby girl outfit features a quaint floral print. With our super-soft 100% cotton rib material, she'll be dressed to impress in style and comfort. Parents love this sweet-footed set for their little princesses.
Three-piece Outfit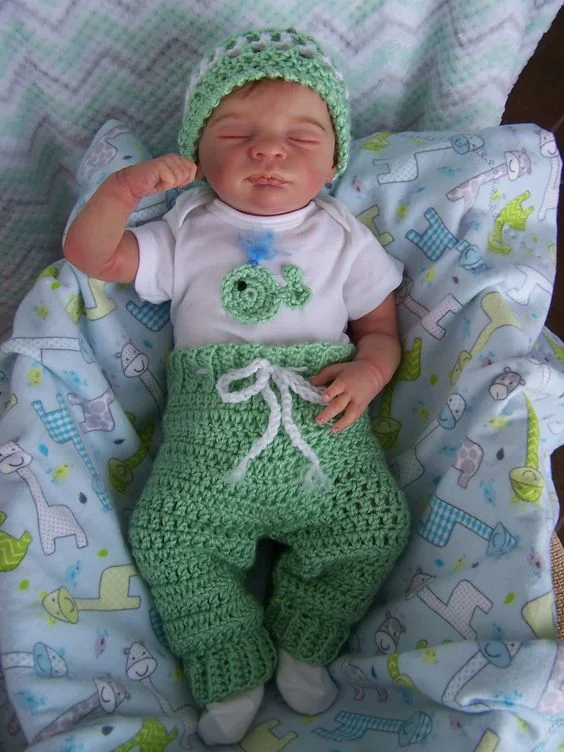 This three-piece outfit consists of a white t-shirt, a pair of knitted pants, and a cute green knitted hat. The outfit will make sure that your child shines even on the cloudiest days.
Polka-dot Onesie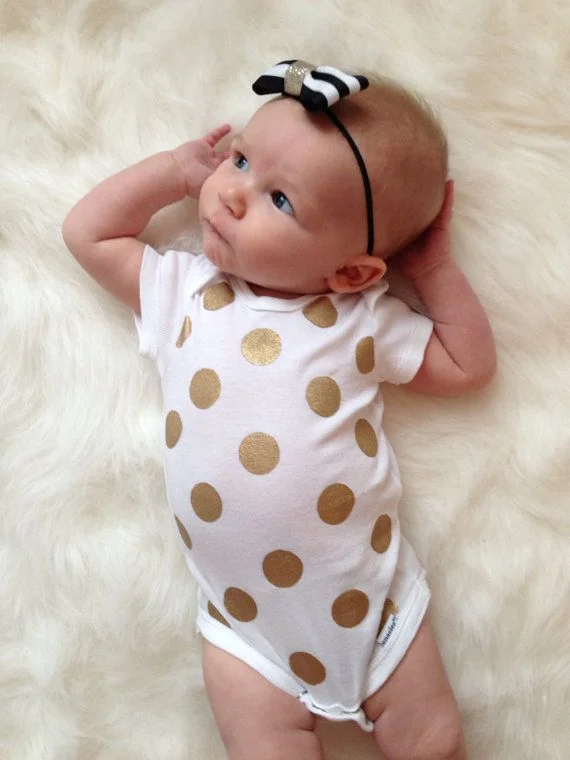 When she wears this polka dot onesie, everyone will be able to see that she is the cutest baby on the block. This cute piece is made of chambray, which means that it has big gold dots on a white background. After almost 100 reviews, it has a nearly perfect rating of 5 stars, so you can be sure that parents like it.
Cute Romper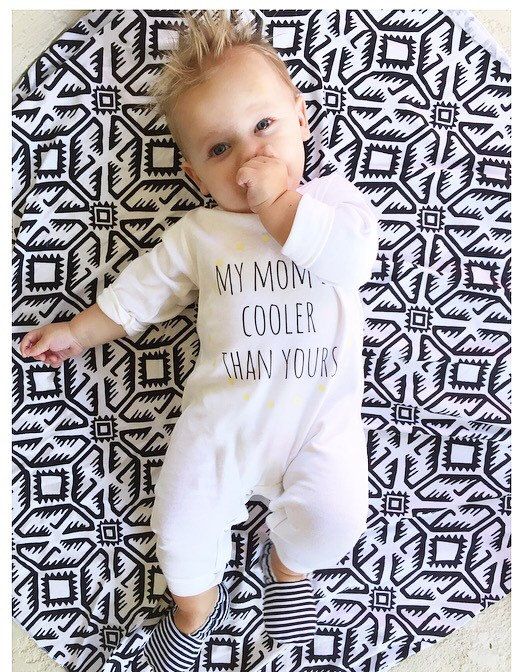 This cute little romper is perfect for any kind of weather. It has a white nautical theme, but the message in the middle is what makes it stand out. A simple white color makes us think of summer and makes us want to go outside and enjoy the sun.
Classic Dress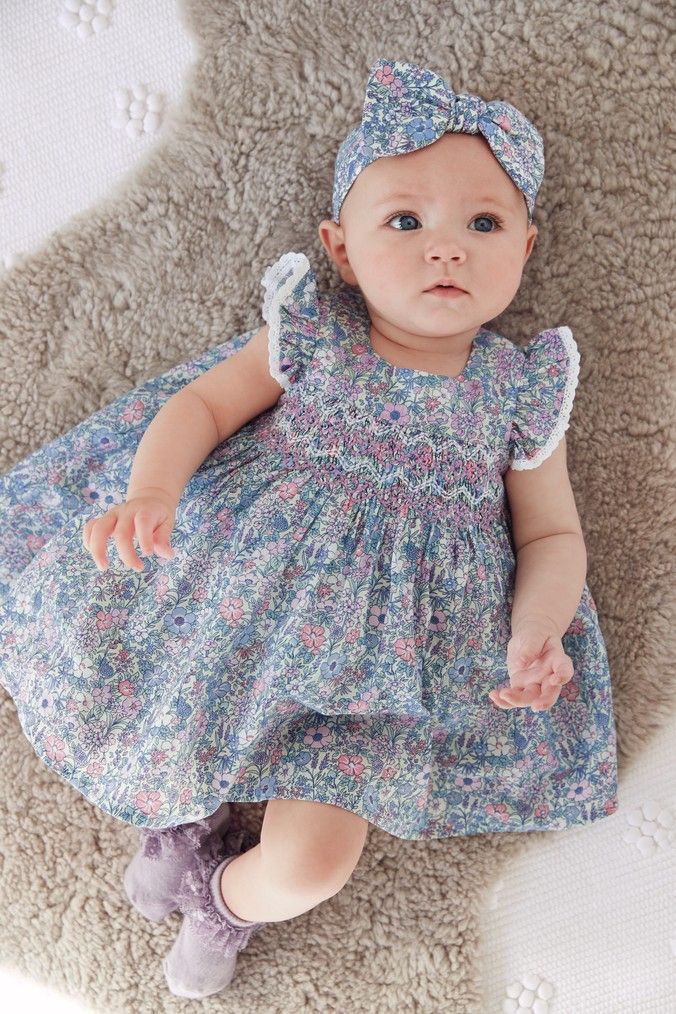 This floral dress looks like it was made with old-fashioned aprons in mind, and we like it. With its cotton fabric and pretty floral print, this dress would look cute with almost anything.
Red, White, And Blue Onesie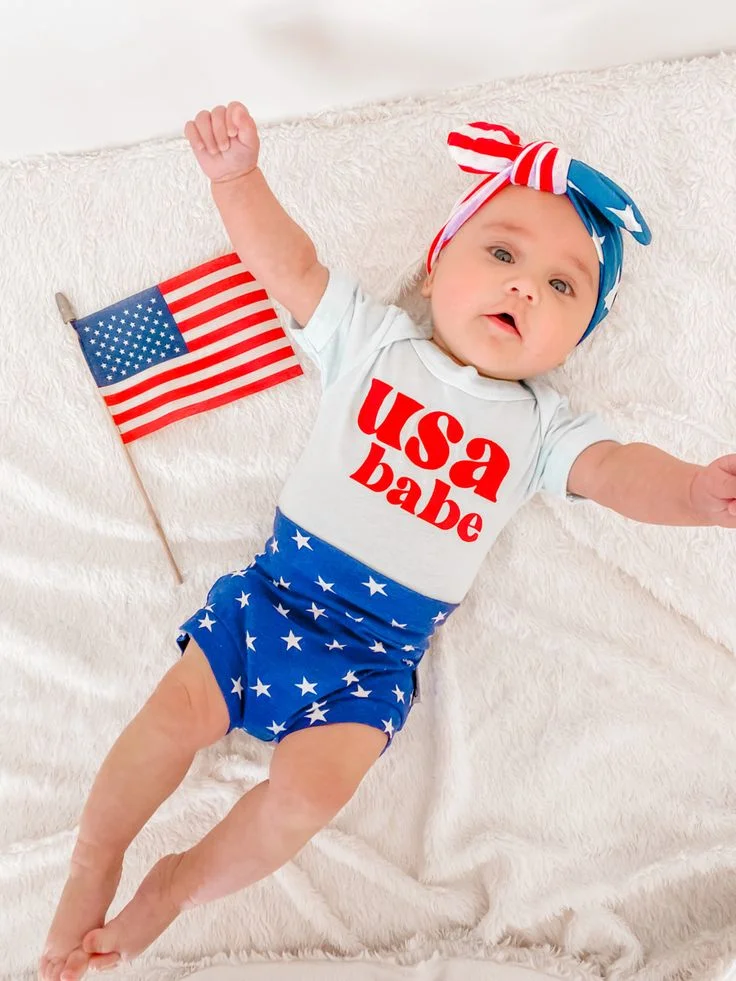 This patriotic onesie is perfect for the Fourth of July or any time during the summer. This sleeper can be obtained in sizes for the whole family, so you can all wear the same thing while watching fireworks on YouTube.
Christmas Outfit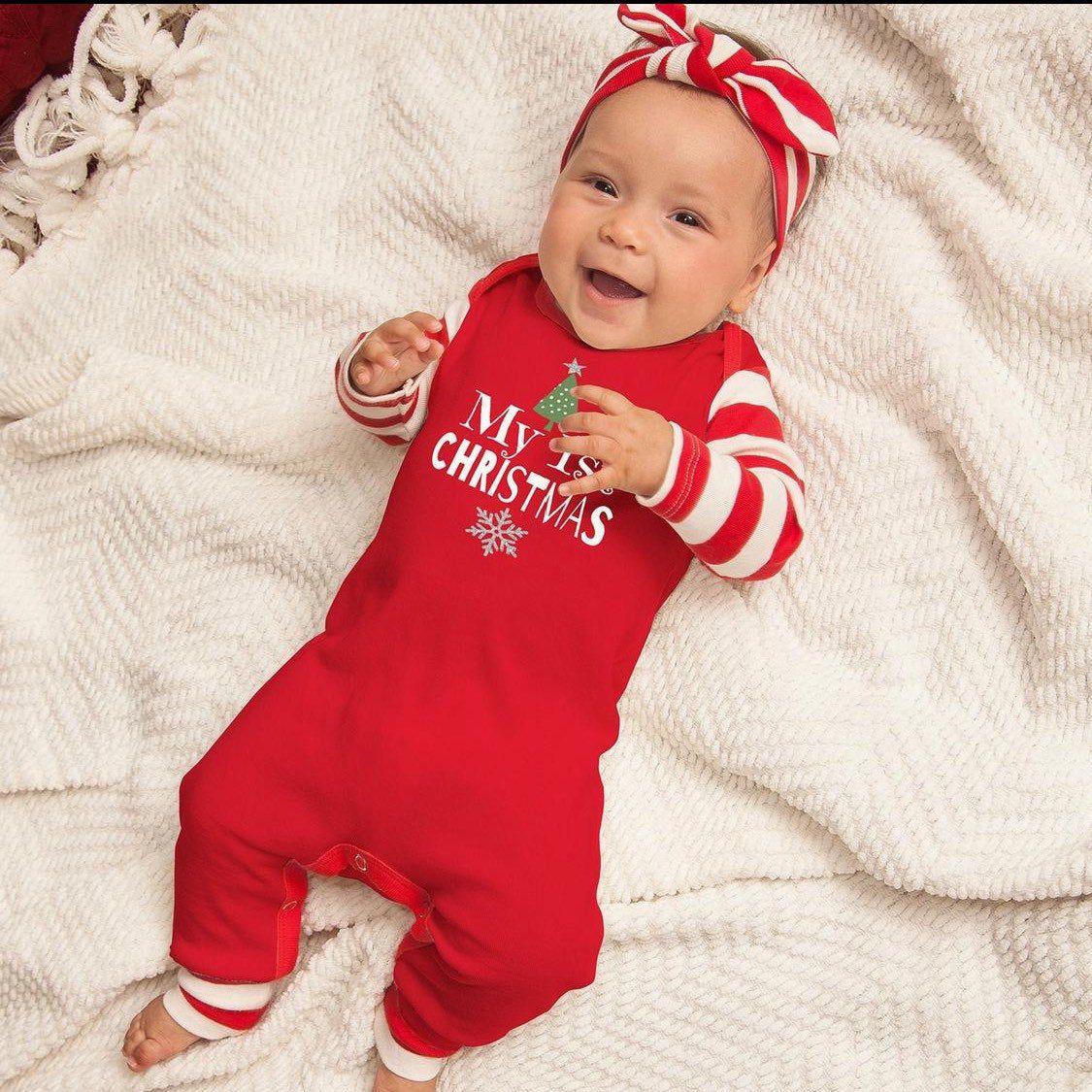 A perfect outfit for Christmas! This romper with a hairband and tights is a must-have for little girls to keep their legs warm and add a holiday touch. The glittery tulle and golden Christmas pattern will make the outfit look irresistible. A great idea for a Christmas present!
Beach Suit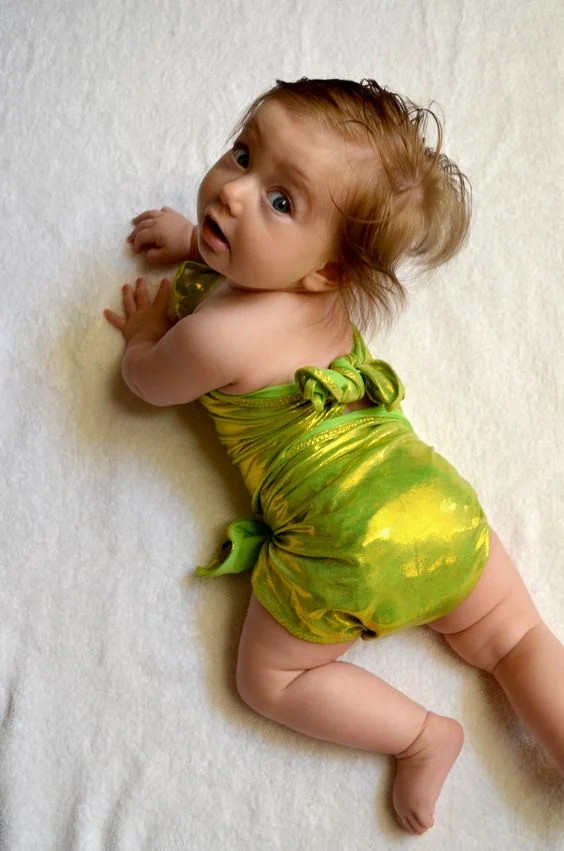 Summer isn't summer without a little swimming, and even if you're not going to the beach this year, you can still wear some of the best swimsuits of the season. This rash guard suit can help protect your child from the sun, especially if you pair it with a hat.
Rainbow Outfit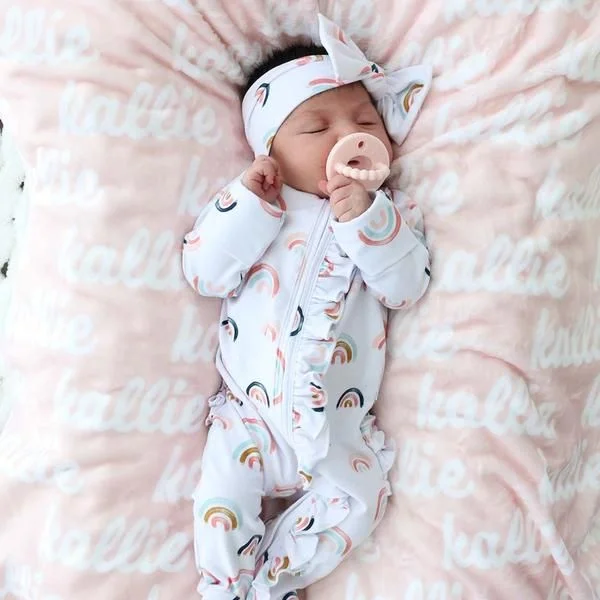 The rainbow at the end of a rainy day is the best part. And since your baby is the best part of every day, dress her in this cute white outfit with small rainbows to show that. And because the straps are adjustable, your baby can keep wearing this romper as she gets bigger and brighter.
Llama Outfit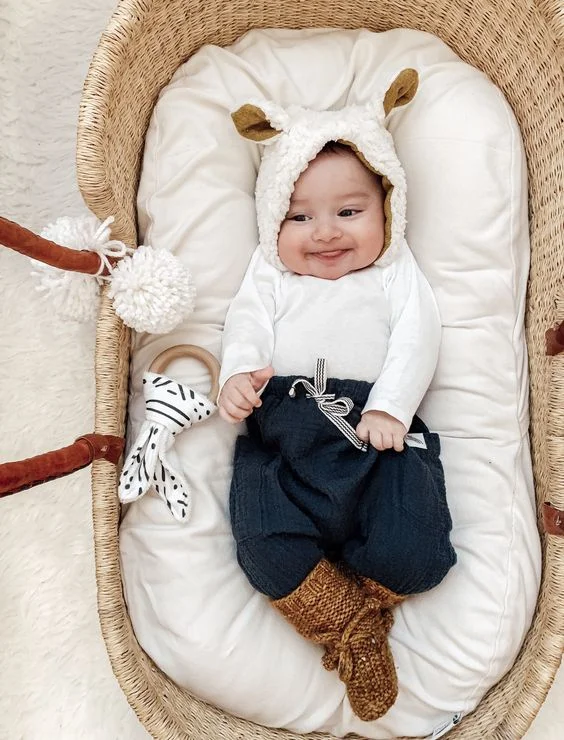 We would buy this llama outfit right away if it came in bigger sizes. It's bright, colorful, and happy, which is just what you want for winter baby clothing.
Stylish Set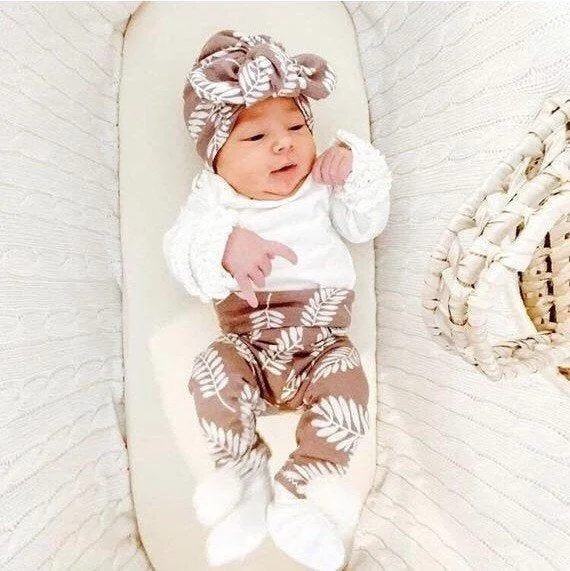 This super cute set of leggings and a turban is great for babies and toddlers. It looks great on your baby and would make a great gift for a lucky mom and baby.
Simple Clothes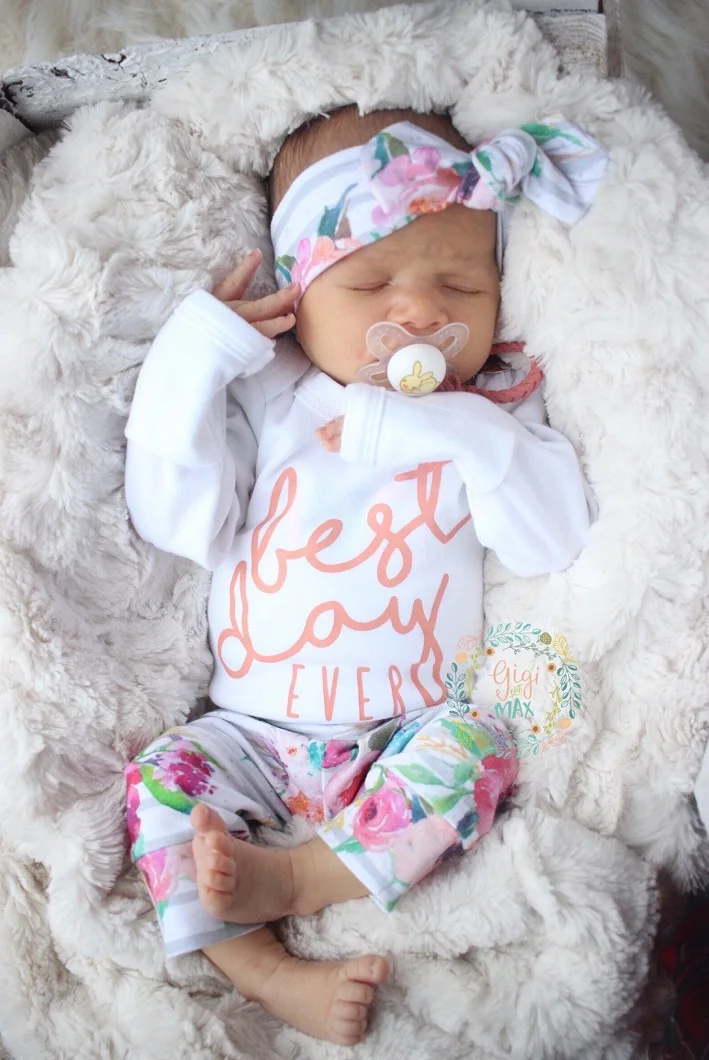 This outfit, which was made by hand, is perfect for any sweet baby on the way. The knit used to make the pants and headband is very soft and stretchy. The graphic that reads "best day ever" is professionally heat pressed onto the t-shirt.
Smart Baby Outfit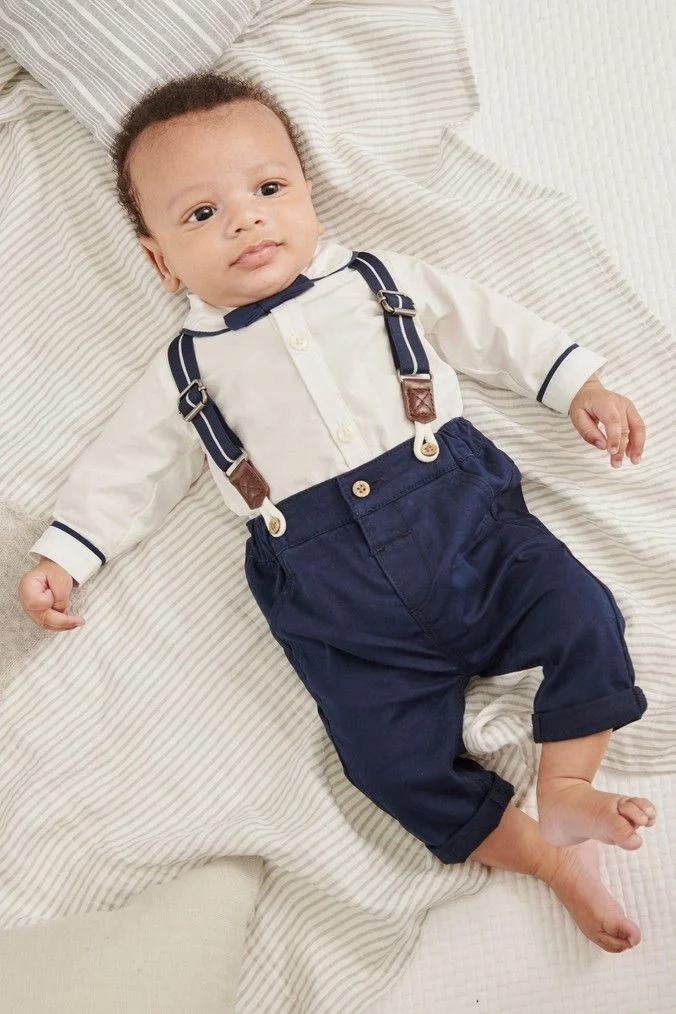 With fully lined cotton pants and a stretchy shirt for all-day comfort, and nickel-free poppers to keep skin from getting irritated, this set is a great choice. A great outfit for baptisms, birthdays, and other important events.
We'll leave you on your journey of choosing baby clothes with this advice: remember that babies often throw up or soil themselves, so you'll probably be doing several loads of laundry a week. So, look for newborn clothes that are easy to care for and can be washed and dried in a machine.
If you have a newborn baby, we hope you'll use some of our ideas, and we hope to hear about any ideas you might have in the comments below.