Dressing up newborns in adorable outfits is one of the most delightful aspects of parenthood. Amidst busy schedules filled with feedings, diaper changes, and sleepless nights, we find joy in selecting the perfect clothes for our little ones. However, with a vast array of options available, it's easy to overlook some essential infant wear. Fret not, as we have compiled a comprehensive list of newborn clothes every new parent should consider, along with trendy options from top baby clothing brands.
Choosing the right material for a baby's first outfit is crucial as their skin is soft and sensitive. Opting for natural fibers like cotton ensures their comfort, while hats, socks, booties, and mittens cater to their developing temperature control. As new parents, staying prepared with clothing essentials for everyday wear, special occasions, and "coming home" outfits can make the initial parenting journey smooth and joyful. With our recommendations and guidelines, you're all set to wrap your newborn in cozy and endearing clothes.
Baby Gown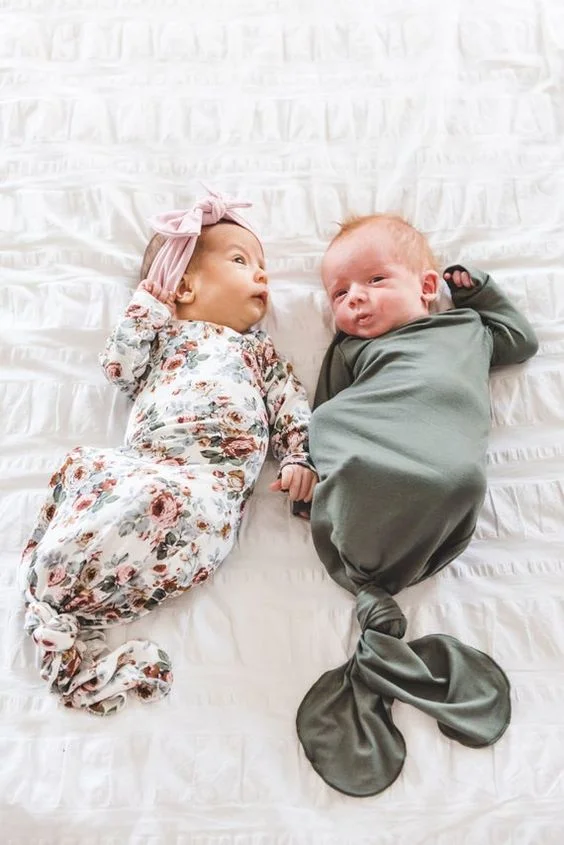 In our collection of newborn outfits, the baby gown is a versatile piece for both baby boys and girls. Including essentials such as socks, hats, and mittens, the baby gown provides warmth and convenience during the colder months. Our baby gowns come in various styles, colors, and materials that can be mixed and matched with other winter clothing items.
For babies' feet, we offer a range of soft and comfortable baby socks that will keep their toes warm. These baby socks come in different cute designs, suitable for baby girls or boys. Pairing these socks with baby winter clothes will make your little one look adorable while ensuring they stay warm and cozy.
To protect your newborn's head, our hats are designed to provide a snug fit. For both baby girl and baby boy snowsuit ensembles, we recommend incorporating hats that match the outfits for a complete winter look.
Finally, our collection includes baby mittens to keep your baby's hands warm. Choosing the right baby boy or baby girl mittens not only provides comfort and protection but also adds style to their winter outfits.
Thermal Outfit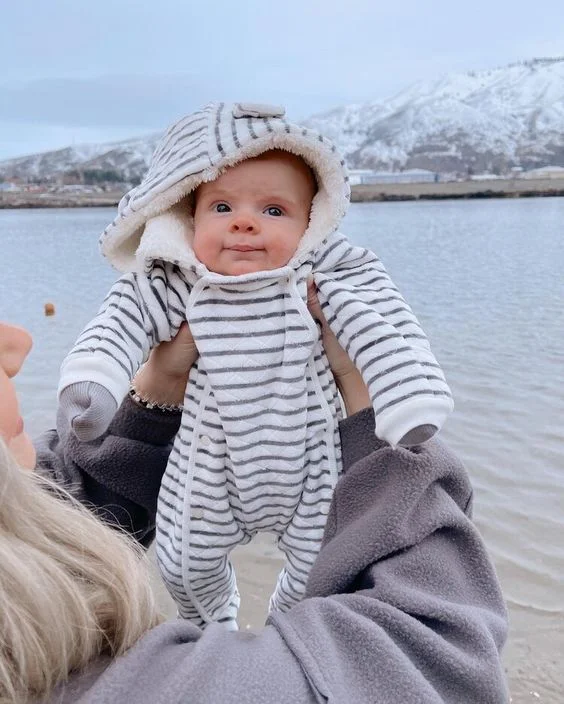 When it comes to choosing newborn outfits, we prioritize comfort, safety, and warmth. A thermal outfit is perfect for keeping a baby cozy during the colder months. Here's what we recommend for a complete thermal outfit:
Shoes: Soft, warm, and easy-to-wear shoes that provide good insulation from the cold are essential for a newborn's thermal outfit.
Tops: Long-sleeved tops, ideally made with organic cotton like GOTS-certified organic cotton, provide a soft and gentle layer of warmth for the newborn's upper body.
Leggings: Comfortable and stretchy leggings made of organic cotton keep a baby's legs warm while also allowing ease of movement.
Hoodies: A soft and warm hoodie is perfect for an additional layer of protection, ensuring a baby's head and ears are protected from the cold.
Sweaters: Sweaters made of soft and warm materials, like GOTS-certified organic cotton, provide an outer layer of warmth for the baby's body without irritating their delicate skin.
For baby boys specifically, a baby boy sweater is an essential part of a thermal outfit. Make sure it's made of high-quality, organic cotton for optimal warmth and comfort.
Remember, thermal outfits for newborns should be made from materials like organic cotton that are soft, breathable, and warm. Incorporating these elements into a baby's wardrobe will ensure they stay cozy and comfortable throughout the colder months.
Classically Sweet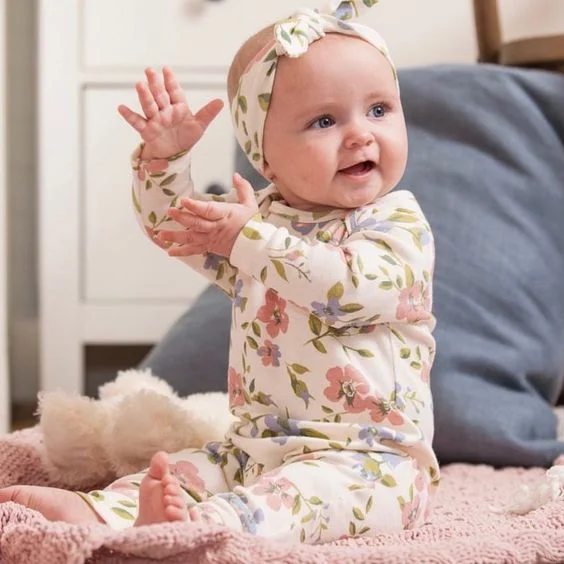 As experts in newborn outfits, we know that comfort and quality are of the utmost importance. One of the best materials for baby clothing is Peruvian Pima Cotton. This fabric is luxuriously soft, making it ideal for delicate baby skin.
We recommend dressing your baby girl in these classically sweet items made of Peruvian Pima Cotton:
Blankets: Wrap your baby in warmth and coziness with Pima cotton blankets. They are perfect for swaddling and keeping your little one comfortable during naps or strolls.
Baby girl pajamas: Our selection of adorable cotton pajamas ensures a good night's sleep for your little one. They come in a variety of charming designs and colors.
Cotton clothing: Stock up on essentials like bodysuits, socks, and hats made from high-quality cotton. They ensure breathability and keep your baby's sensitive skin safe from irritation.
In summary, choosing newborn outfits made from Peruvian Pima cotton will provide a comfortable and stylish wardrobe for your baby girl while prioritizing her delicate skin's well-being.
Three-piece Outfit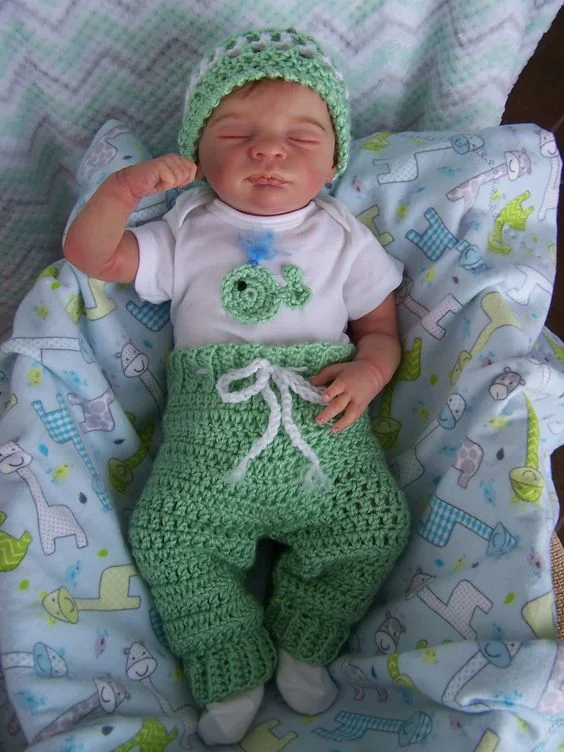 When dressing a newborn, a three-piece outfit is a versatile and practical choice. We can mix and match between pants, bottoms, and everyday clothing to create stylish and comfortable looks for our little ones.
Pants: Soft, stretchy pants are ideal for newborns, as they provide ease of movement and make diaper changes simple. Look for materials like cotton or fleece, which are gentle on delicate skin.
Bottoms: Onesies, bodysuits, and rompers make great bottoms for newborn outfits. These garments often come with snaps or zippers to facilitate dressing and diaper changes. Choose options that are easy to put on and take off for maximum convenience.
Everyday Clothing: Layering is key for newborn outfits, as temperatures can fluctuate throughout the day. We recommend using a combination of shirts, cardigans or sweaters, and jackets, all of which can be easily added or removed as needed. It's important to stick to breathable fabrics such as cotton to keep our babies comfortable.
By selecting a variety of pants, bottoms, and everyday clothing, we can create numerous charming three-piece outfits for our newborns. Remember to prioritize comfort and practicality while assembling these ensembles for our little ones.
Polka-dot Onesie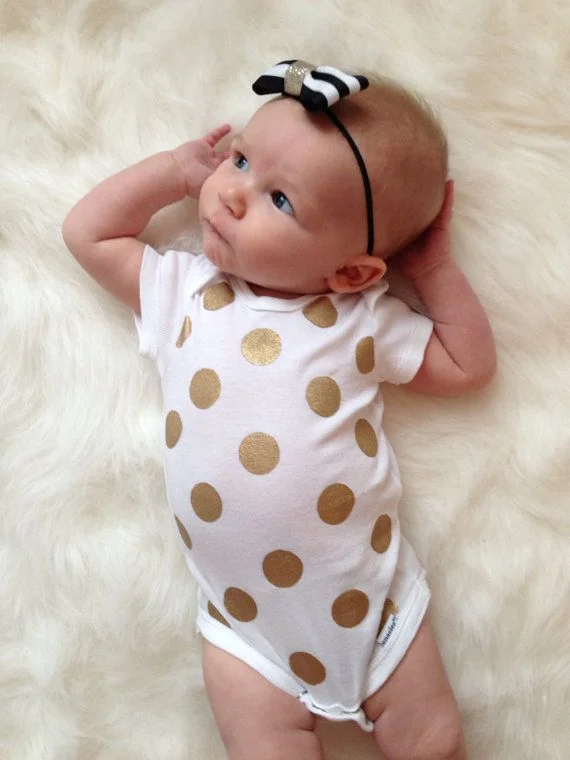 We know how important it is to dress our newborns in comfortable and adorable outfits. One of our favorite options for newborn baby boy onesies is the polka-dot onesie. These onesies are not only stylish but also practical, making them a great addition to any newborn's wardrobe.
The polka-dot onesie comes with several great features:
Bodysuits: These onesies are bodysuits, offering full coverage and support to keep our newborns comfortable.
Snaps: The polka-dot onesie is designed with snaps, allowing for easy diaper changes and dressing.
Sweet prints: The polka-dot pattern adds a delightful touch to these outfits, giving our babies a fun and playful appearance.
Dots: The dots featured in the design range in size and color to provide a variety in choices for parents.
The polka-dot onesie is a versatile outfit that can be worn for any occasion, whether it's a stroll in the park or a visit to grandma's house. With a confident, knowledgeable, and neutral tone, we encourage parents to consider adding this cute and functional piece to their newborn's collection.
Cute Romper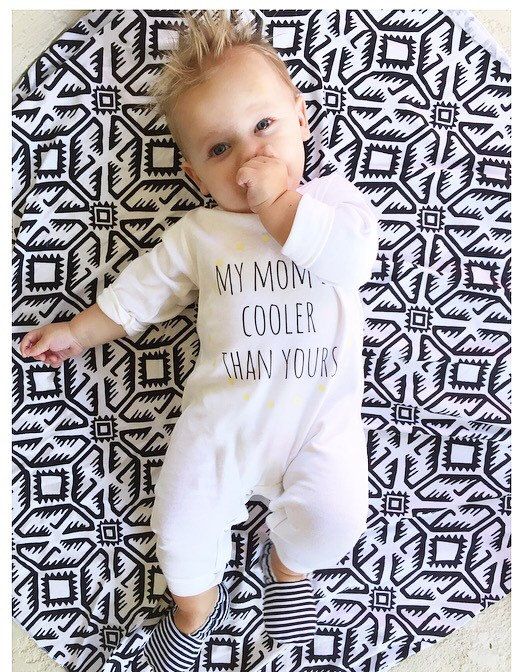 We understand the importance of selecting adorable and comfortable outfits for newborn babies. Rompers are an excellent choice for dressing up your little ones. Here are some popular types of rompers we recommend for your baby:
Baby boy overalls: These classic overalls look remarkably cute on newborn boys. They provide ample freedom of movement and can be paired with short-sleeve shirts or onesies for added versatility.
Baby bloomers: Cute and comfy, baby bloomers are perfect for wearing under dresses or paired with a simple top. They provide ample coverage, ensuring your little one stays comfortable throughout the day.
Short-sleeve baby romper: Ideal for warmer weather, short-sleeve baby rompers offer a touch of style while keeping your baby cool and comfortable. They come in various designs and colors, making them a perfect addition to your baby's wardrobe.
In conclusion, investing in high-quality rompers for your newborn ensures they feel stylish and cozy. Be it baby boy overalls, baby bloomers, or short-sleeve baby rompers, these options will keep your child's comfort and cuteness a top priority.
Classic Dress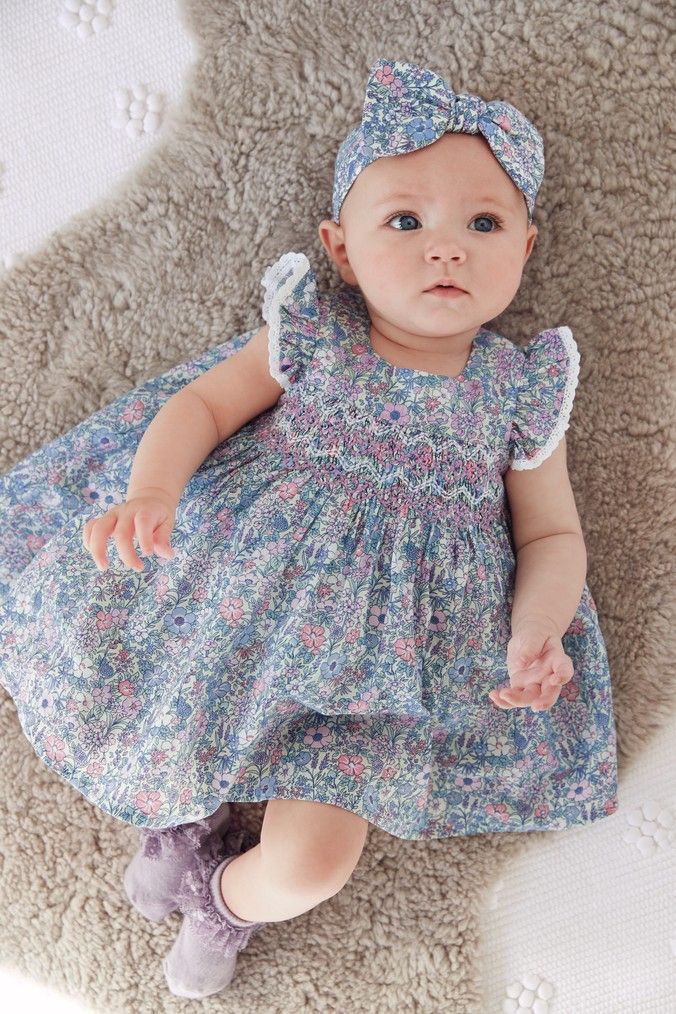 In our collection of newborn outfits, we offer a variety of classic dresses suitable for baby girls. These baby girl dresses are designed with comfort and style in mind, making them an excellent choice for any occasion. Our range of baby girl clothing includes:
Traditional smocked dresses: These timeless dresses feature intricate, hand-sewn smocking on soft, breathable fabric. The delicate detailing adds a touch of elegance to your baby girl's wardrobe.
A-line dresses: Perfect for baby girls of all shapes and sizes, A-line dresses gently flare out from the waist, allowing for easy movement and a comfortable fit.
Pinafore dresses: A pinafore is a sleeveless dress with a high waist and a flared skirt, typically worn over a blouse or bodysuit. These adorable dresses are versatile and can be layered with various baby girl clothes for a charming, classic look.
In addition to these classic dress styles, we ensure that our baby girl clothes are made with soft, high-quality materials, such as cotton, linen, and organic fabrications. This guarantees your baby girl's comfort and durability in her new wardrobe.
Remember to accessorize these classic dresses with matching shoes, socks, and hair accessories, creating the perfect ensemble for your newborn baby girl.
Red, White, And Blue Onesie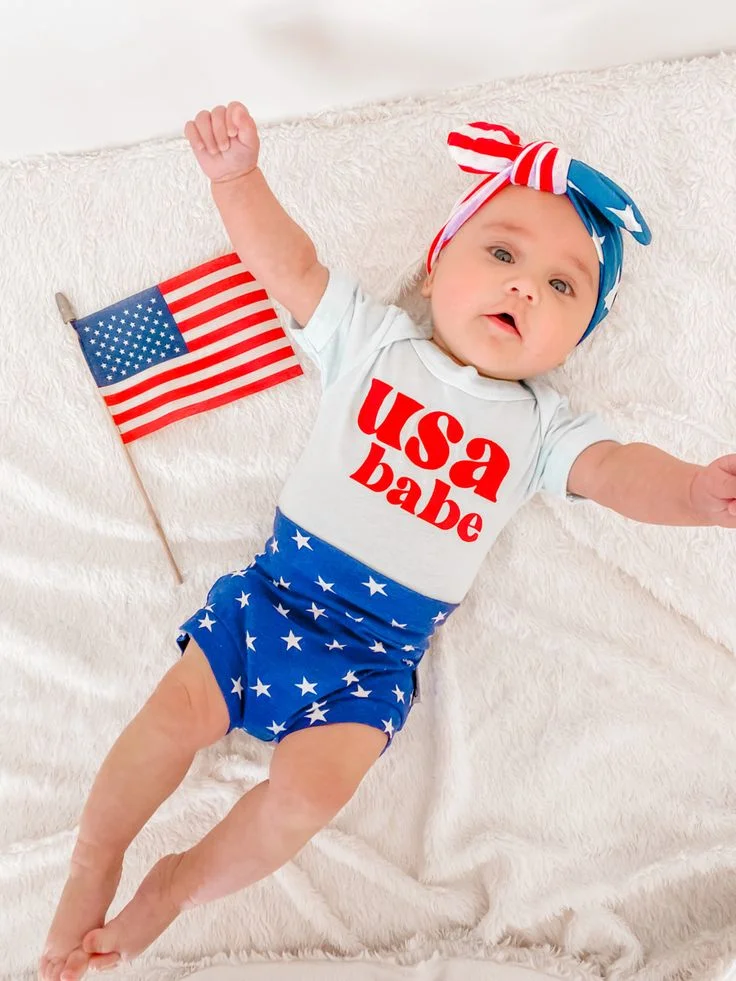 As we celebrate the 4th of July, let's dress our little ones in adorable newborn outfits that show our patriotic spirit. One option for baby boy swimwear could be a red, white, and blue onesie. This outfit will not only make your baby look stylish but also ensure comfort during the festivities.
Here are a few features to consider when choosing the perfect red, white, and blue onesie:
Material: Opt for a soft, breathable fabric like cotton to keep your baby comfortable and prevent skin irritation.
Design: Look for cute and patriotic patterns, such as stars and stripes or a combination of red, white, and blue colors.
Closure: Ensure that the onesie has easy-to-use fasteners, like snaps or zippers, to simplify diaper changes.
Size: Choose the right size for your baby, ensuring a snug yet comfortable fit.
With these tips in mind, we can find the perfect red, white, and blue onesie to celebrate the 4th of July with our precious newborns.
Christmas Outfit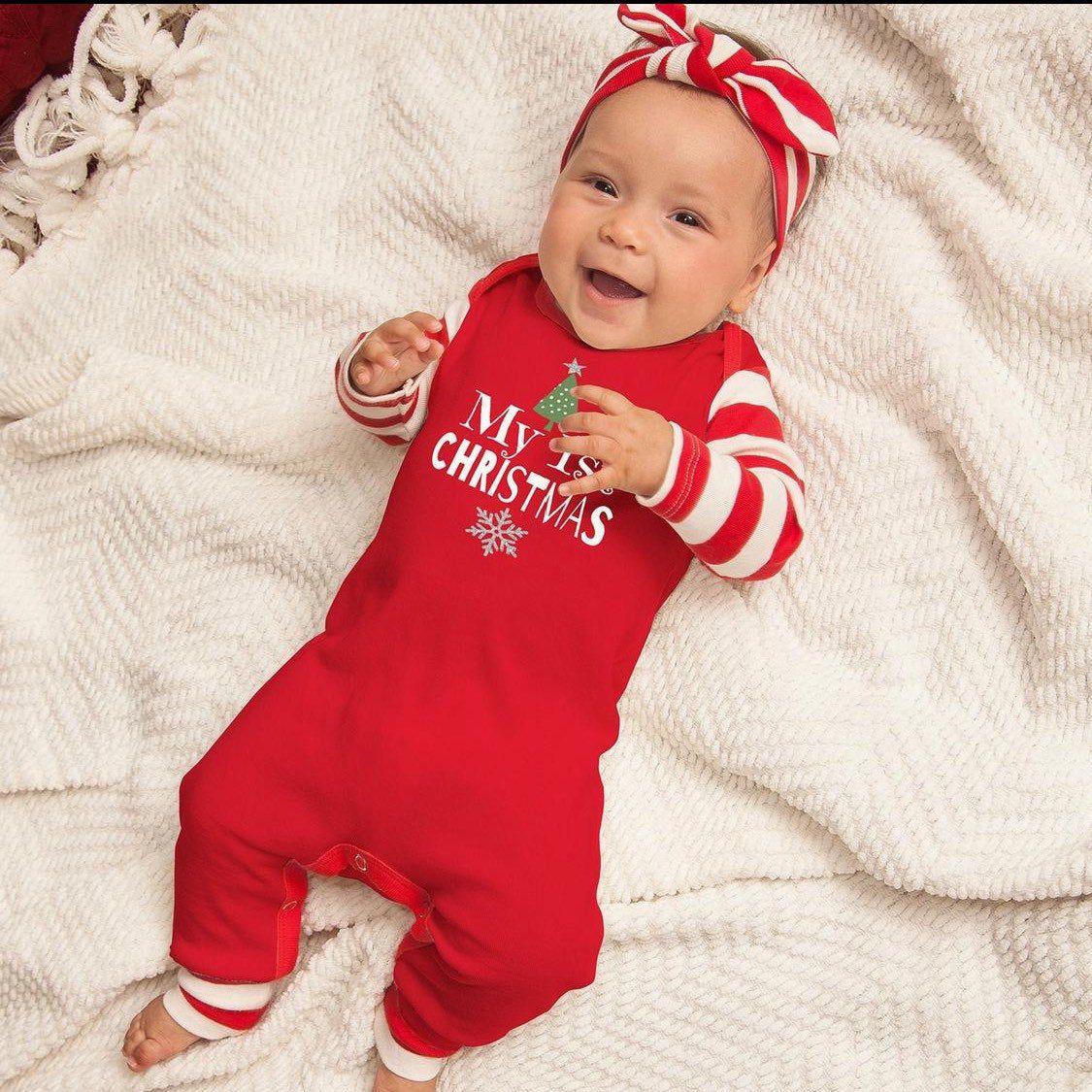 During the holiday season, it is always delightful to dress up our little ones in festive baby Christmas outfits. We understand how important it is to make these special moments memorable, while ensuring the comfort and safety of your newborn.
Here are some seasonal options to consider for your baby's Christmas outfit:
Holiday-themed onesies: Keep it simple yet adorable with a Christmas-themed onesie that features cute designs like reindeer, snowflakes, or Santa.
Velvet dresses: For baby girls, a soft velvet dress in red or green is both elegant and comfortable for holiday photos and gatherings. Add a matching headband or bow to complete the look.
Sweater and pants sets: Keep your baby cozy and warm with a festive sweater paired with comfortable pants in seasonal colors or patterns.
Christmas pajamas: Perfect for a cozy night in, these holiday-themed pajamas come in various styles, including footed sleepers and two-piece sets.
Remember to make sure that the chosen outfit is made from soft, breathable fabrics to keep your baby comfortable throughout the celebrations. It's also essential to double-check that there are no loose buttons or embellishments that could pose a choking hazard. By taking these precautions, we can ensure that our newborns are not only stylish but also safe and happy during their first Christmas celebration.
Beach Suit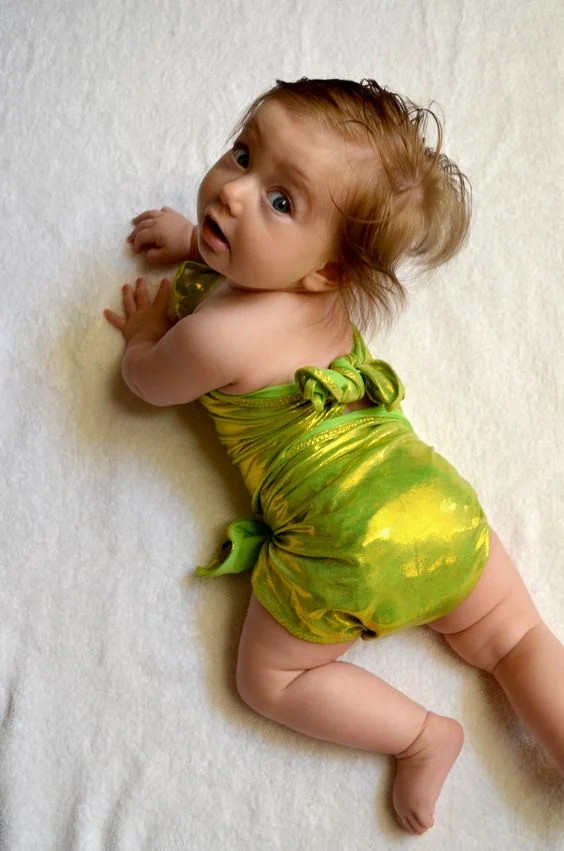 As we all know, it's essential to protect our baby's delicate skin from the sun while she's enjoying her time at the beach or pool. A baby girl swimsuit is the perfect outfit choice for this setting. Let us explore some gift ideas for newborn outfits appropriate for a beach day or poolside fun.
Baby Girl Swimsuit: When selecting a baby girl swimsuit, look for one made with UPF 50+ fabric, providing excellent sun protection. Choose swimsuits with ruffles, frills, or cute patterns that are both trendy and functional.
Baby Basket Gift: A thoughtful baby basket gift for a beach day should include essentials like:
Baby sunscreen
Swim diapers
Beach toys
A soft towel or blanket
A hat for sun protection
Creating a beach-themed baby basket gift can make for a unique and memorable addition to your baby shower gifts.
Additional Gift Ideas: A newborn beach outfit might not be complete without some cute accessories. To make it extra special, consider adding the following items to your gift list:
A sun hat with adjustable straps
Water shoes
UV-protective sunglasses
A pop-up tent for shade
A reusable swim diaper
A wet bag for carrying wet clothes
These items will not only enhance the baby girl swimsuit ensemble but will also make it more convenient for parents to dress and protect their little ones during a fun day in the sun.
Remember to prioritize sun protection and comfort when choosing newborn outfits for beach or poolside activities. A well-thought-out gift selection of baby shower gifts can bring joy to both parents and their baby girl on their first beach adventure.
Rainbow Outfit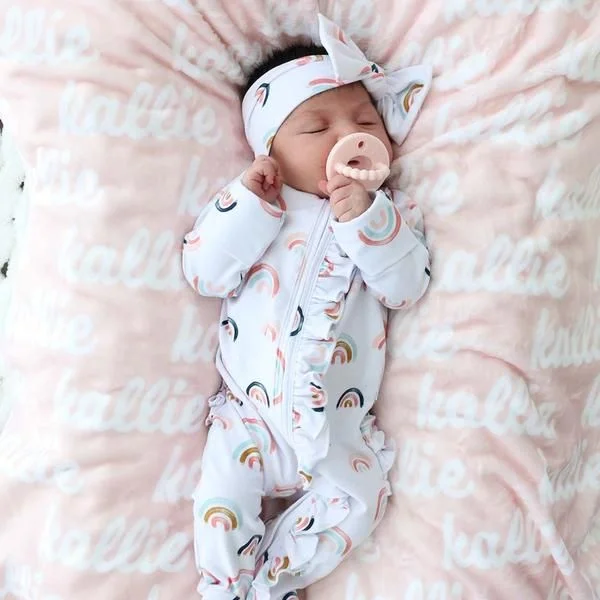 When it comes to newborn outfits, we believe that incorporating bright hues can add a touch of joy and vibrancy to their wardrobe. Rainbow outfits are not only visually appealing but also symbolize hope, happiness, and new beginnings.
Here are some adorable rainbow outfit ideas to dress up your little one:
Onesies: Colorful onesies featuring a rainbow pattern are a must-have in your baby's closet. They are comfortable, versatile, and provide easy access for diaper changes.
Cute Dresses: For your little girl, opt for a rainbow-themed dress paired with matching socks or leggings.
Sweaters and Cardigans: Keep your baby warm and stylish with rainbow-striped sweaters or cardigans, perfect for layering over onesies or dresses.
Blankets and Swaddles: Wrap your baby in a cozy rainbow blanket or swaddle for nap-time or a stroll outdoors.
Accessories: Add a finishing touch to your baby's rainbow outfit with colorful hats, headbands, socks, or booties.
Remember, dressing your newborn in a rainbow outfit can not only lift your spirits but also create beautiful memories as you photograph and share their early days with friends and family.
Llama Outfit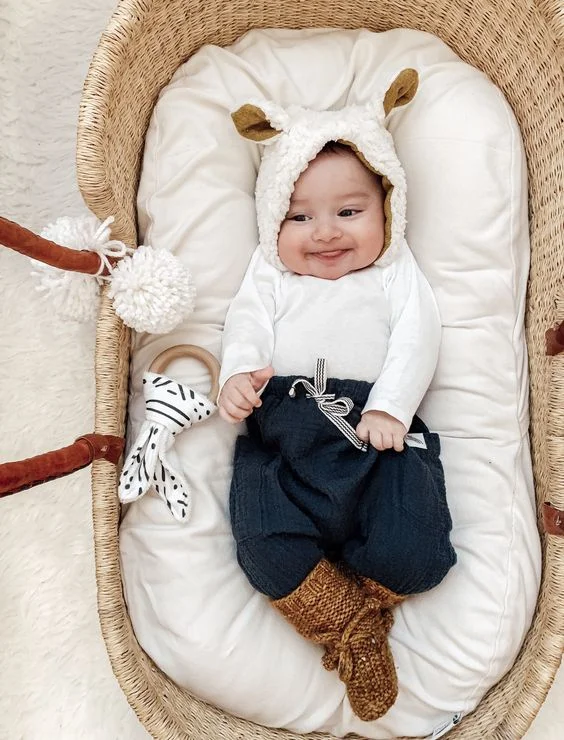 When it comes to newborn outfits, llama-themed baby girl onesies are an adorable and popular choice. We've seen a variety of colors, patterns, and styles that are perfect for little ones. Here are some key features of these cute outfits:
Material: Llama-themed onesies are typically made from soft, breathable fabrics like cotton or a cotton blend, ensuring comfort for the baby.
Design: These outfits often feature charming llama prints, sometimes accompanied by other elements like cacti, flowers, or mountains, which add to the appeal.
Sizes: Most llama outfits come in various sizes, suitable for newborns up to 24 months of age.
Ease of use: The onesies usually have snap closures or zippers, making it convenient for diaper changes.
Here's a table to showcase some popular llama-themed baby girl onesies along with their unique features:
| Onesie | Material | Sizes | Unique Features |
| --- | --- | --- | --- |
| Llama Love | 100% Cotton | Newborn-18 months | Pink, snap closure, tutu skirt attached |
| Llama & Cactus | Cotton blend | Newborn-24 months | Greenery, long sleeves, snap closure |
| Floral Llama | 100% cotton | Newborn-18 months | Vibrant colors, short sleeves, snap closure |
In conclusion, llama-themed baby girl onesies can be a delightful addition to your newborn's wardrobe, offering both style and comfort.
Stylish Set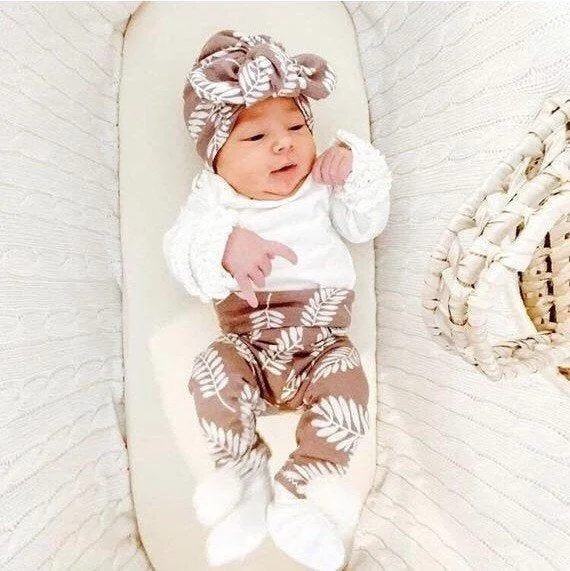 When it comes to dressing up our little ones in newborn outfits, we know that comfort and style are both important. That's why we have searched for the best baby clothing brands, and we are glad to present you a stylish set that includes items from Hanna Andersson.
Hanna Andersson is known for their exquisite designs and high-quality materials, which ensures that our precious girls and boys are not only looking their best but also feeling comfortable all day long.
Some highlights of the Stylish Set for newborns include:
Soft organic cotton clothing: They ensure your baby's delicate skin is protected and comfortable.
Adorable patterns and prints: From floral designs to cute animal prints, these clothes make your baby look even more adorable.
Ease of use: The baby clothing features snap buttons or stretchy materials, making it easy to change diapers and dress up your little one.
Our Stylish Set from Hanna Andersson consists of several garments that cater to every need and occasion:
| Item | Description |
| --- | --- |
| Onesies | Ideal for daily wear, with snap buttons for easy changing |
| Sleepers | Ensures a good night's sleep, with a cozy and soft feel |
| Outfits sets | Matching tops and bottoms, perfect for special occasions or daily wear |
| Accessories | Hats, headbands, and socks to complete the look |
With our carefully curated Stylish Set from Hanna Andersson, you can have confidence that your newborn is dressed in the best baby clothing with quality and style in mind.
Simple Clothes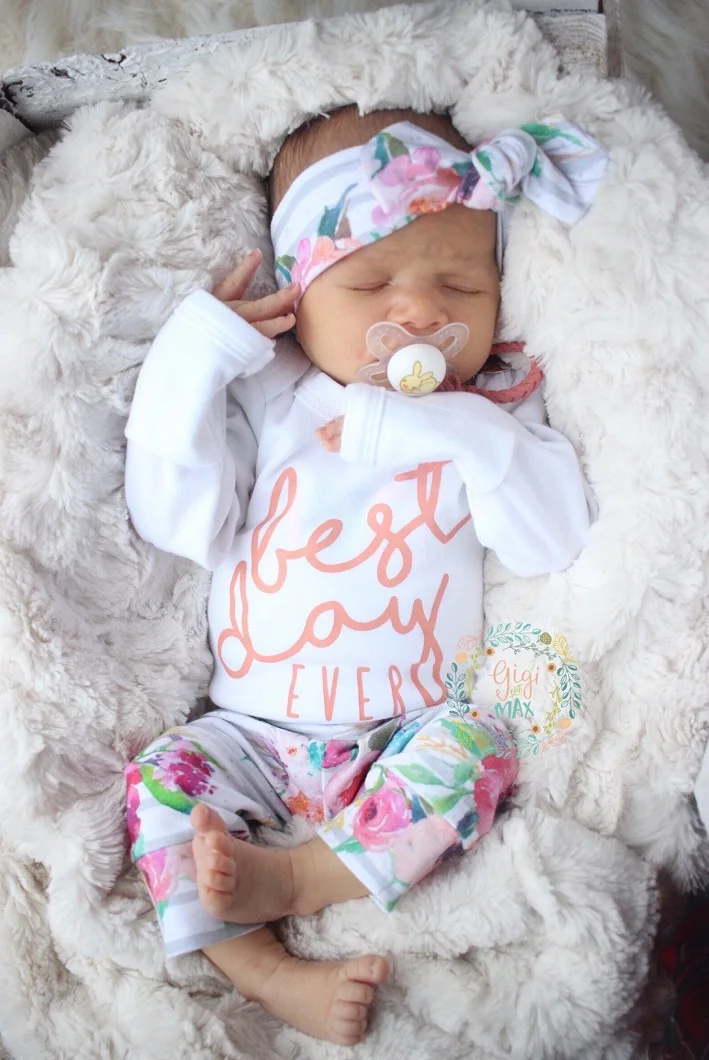 When it comes to newborn outfits, we believe that simple clothes are key. Babies grow quickly, and investing in easy-to-wear, comfortable, and practical clothing allows for both convenience and cost-effectiveness. Let's discuss some essential items and accessories in the realm of baby clothes.
Baby Clothes: We suggest selecting soft, breathable fabrics such as cotton or bamboo to ensure the child's comfort. Consider items like onesies, sleepers, and bodysuits, as these are easy for diaper changes and provide ample room for the baby's growth.
Accessories: Though it may be tempting to fill a little one's wardrobe with all sorts of cute accessories, practicality should be a priority. Opt for essentials such as hats for sun protection, mittens to prevent scratching, and socks to keep feet warm. Don't forget to choose a few swaddle blankets to keep the baby secure and cozy during sleep.
Gender-Neutral Clothing: An excellent option for newborn outfits is to choose gender-neutral clothing. These items offer versatility, as they're suitable for any baby, regardless of gender. By selecting neutral colors and patterns, outfits can be easily mixed and matched, creating a sustainable and economical wardrobe for any newborn.
Smart Baby Outfit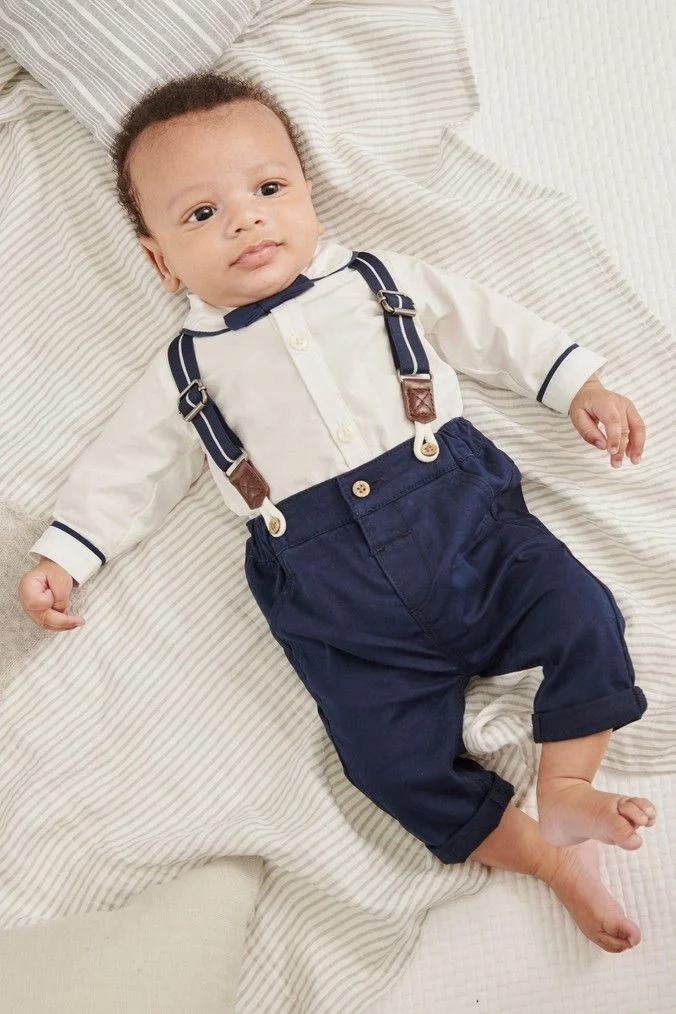 We all know that dressing a newborn baby in comfortable and functional outfits is essential. With this in mind, we've put together a smart baby outfit that includes baby pajamas, matching bibs, and footed sleepers, designed to provide ultimate comfort and style for your little one. Here are some key features of our smart baby outfit:
Baby pajamas: Our baby pajamas are made from soft, breathable materials that ensure a good night's sleep for your newborn. The easy snaps and stretchy fabric make it a breeze to dress and change your little one, even in the middle of the night. Plus, coordinating patterns and colors bring a touch of fashion to your baby's sleepwear.
Matching bibs: Mealtime can be a messy affair, and our matching bibs provide a practical and stylish solution. These bibs are made from absorbent materials and are adjustable to fit your baby as they grow. The fun coordinating patterns and prints add an extra touch of cuteness.
Footed sleepers: To keep your baby's feet warm and snug, footed sleepers are a must. Our sleepers provide full coverage for your baby's delicate limbs, ensuring that their skin is protected and cozy.
To recap, our smart baby outfit is ideal for newborns, offering a comfortable yet fashionable selection of essentials, including baby pajamas, matching bibs, and footed sleepers – all designed to make you and your baby feel and look great.