We should all celebrate the skin tone we are born with. You should never think that fair skin is a measure of beauty.
It is not.
However, having a clear and healthy complexion is a desire for many people. And thanks to the best skin whitening cream treatments out there, that is no longer just a dream, but also a possible reality.
One of the main reasons we use these skin lightening creams is because we want to prevent and reverse the damage done by environmental pollutants.
The increasing pollution, the harmful rays of the sun, and other factors can cause our skin to become dull, dry, and blemished. And of course, shades darker.
The good news is that there are many products out there that can help brighten the tone of your skin.
All of the creams work on a pigment called melanin, which for those of you that do not know, is a pigment found in the skin, hair, and iris of the eyes.
The main function of the melanin is to provide tanning of our skin.
These creams affect melanin, and reduce its intensity resulting in fairer complexion by the day.
Due to the increase in pollution outdoors, and the ever-increasing heat, these types of creams have become more of a necessity.
With that in mind, here are our top ten options for best skin lightening cream.
OUR #1 CHOICE
Treat acute hyperpigmentation
Can tone out every single part of your body
Great for oily and combination skin
Moisturizes and revitalizes your skin
OUR #1 CHOICE
Treat acute hyperpigmentation
Can tone out every single part of your body
Great for oily and combination skin
Moisturizes and revitalizes your skin
The Best Skin Lightening Cream ( 2021 Review )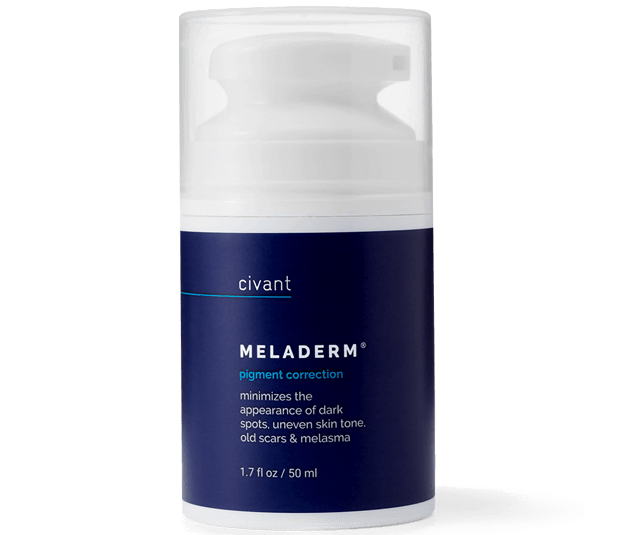 Anyone who has tried Meladerm will tell you, this is a product that works.
The cream provides everything it promises.
The only downside is that Meladerm is not suitable for all skin types. You cannot use it on dry skin.
Meladerm is very potent at what it does.
Made of natural products, all the ingredients can lighten dark spots. Unlike rivals, Meladerm doesn't rely on hydroquinone for skin lightening.
It contains ingredients like bearberry extract, Gigawhite, Alpha Arbutin, lactic acid, lemon juice extract, licorice extract, and vitamin C.
Skin lightening took over the skincare industry. And Meladerm is among the best in the business.
#2 Anlome Whitening Cream, Dark Spot Corrector and Skin Bleaching Cream
Combines skin whitening and brightening ingredients of 4-Butyl Resorcinol, Niacinamide, and more.
The cream can lighten and whiten any spot, be it in a sensitive area or not. Gives your skin a beautiful translucency.
The cream works by penetrating the basal layer and removing stubborn spots. It can improve dull and yellowish skin complexion.
The cream is gentle enough so that you can use on intimate parts.
Apply after a facial cleansing routine. Make sure to massage it well into the skin.
As a bonus, the cream will also nourish your skin.
#3 Intimate Whitening Cream
Formulated in the USA, the cream is suitable for all skin types.
At the same time, it is safe and delicate for use in intimate areas.
Underarms, vagina, anal area, scrotum, you can use it in all these places.
It helps you resolve dark spots and discoloration of the skin.
Use it to solve uneven skin tone, excessive pigmentation, and brown spots.
It contains plant-based ingredients like Mulberry and Licorice extracts.
Olive oil and hyaluronic acid provide moisture for your skin.
#4 ACTIVSCIENCE Whitening Cream - Powerful Skin Lightening Cream for Face & Body
A brand you can trust. Made with clinically researched ingredients.
They all work to deliver skin lightening properties. You can use it to treat hyperpigmentation, sun spots, liver spots, or even melasma.
Make sure to test it first. Gradually build up usage until you can apply daily.
Recommended usage is two times per day to affected areas.
Massage the cream to penetrate the skin and encourage the production of collagen.
The result is clear and radiant complexion. The cream is highly potent and effective, but also gentle at the same time.
Ingredients include antioxidants, essential fatty acids, deionized water and more.
#5 Whitening Cream - Advanced Skin Bleaching Cream
The cream helps you improve your skin in many ways.
For starters, the cream targets discoloration and blotchiness. But it also helps with dry skin.
You can use it on sensitive areas. Great for acne scars and sunspots on your face.
Apply to get clear and fresh skin.
There are no parabens in the formula. The cream is also cruelty-free.
It contains ingredients like sunflower oil, aloe vera, and licorice extract. Proudly made in the USA with high-quality ingredients.
Do you want a healthy glow of your skin? Get in the action.
#6 Skin Lightening Cream - Luminate- 100% Natural Skin Bleaching
The skin helps you achieve clear skin and even tone.
Luminate contains natural ingredients like kojic acid, Arbutin, and Niacinamide.
They all block the production of melanin. As a result, lighter cells form on the surface, lightening your complexion in the process.
Made with plant-based ingredients. It helps reduce the appearance of freckles, spots, and pigmentation. And of course, it evens out your tone. Restore a youthful glow.
Clinical tests showed skin lightening in 95% of users.
The cream can also improve conditions like melasma, hyperpigmentation, and acne scars.
#7 Divine Derriere Intimate Skin Lightening Gel
This fan-favorite skin brightening product is popular in the adult entertainment industry.
Commonly actors use it for their anus, vagina, scrotum, and underarms. But it works on all parts of the body.
Use it to look great and feel confident. No more embarrassing intimate appointments.
The skin lightening cream can help you achieve lighter skin in the comfort of your home.
Engineered with natural and plant-based ingredients. This cream helps with discoloration in sensitive areas. Ingredients include kojic acid, lactic acid, alpha hydroxyl acid, licorice extract and more.
What makes it so special is the low price. Adult film industry actors and exotic dancers achieve great results. Time to try it as well.
#8 Collagen Skin Whitening Cream
Designed to lighten and brighten your skin. The result is fair and flawless complexion.
Restores and increases the luminance and vibrancy of your skin.
You also get anti-aging properties. The cream will tighten and firm your skin.
The main active ingredient in the cream is collagen.
Most creams encourage the production of collagen. This one contains it in its original shape and form.
Improves elasticity and makes your skin resistant to wrinkles and fine lines.
The soft and creamy texture feels luxurious on the skin. And it is ultra-hydrating.
#9 Intilight Skin Lightening Cream
Developed and tried by dermatologists, Inlight combines hydroquinone with natural ingredients.
Each unit delivers the highest standard to customers. Natural ingredients include jojoba seed oil, squalane, apricot kernel oil, hyaluronic acid, and more.
The company meets the strict FDA standards for skin lightening creams.
The cream goes through a rigorous testing period before it gets to shelves.
InLight swears by their hyperpigmentation treatment. It helps balance skin discoloration in every part of your body.
Safe to use as an underarm whitening cream, but also acne scar removal. You can even use it as an anal bleaching tool.
#10 Dark Spot Corrector Cream for Face and Sensitive Skin
This cream will help you whiten the skin, but also provide anti-aging effects.
Combines natural ingredients and a scientific approach to skin treatment. As a result, you get a professional-grade skin whitening cream.
Use it to achieve pure white texture, correct dark spots, fade acne scars, and brighten your skin.
The main ingredient is Alpha Arbutin, a more potent and safer form of hydroquinone. The formula also contains aloe vera, licorice extract, Mulberry extract, hydrolyzed oat protein, and other anti-aging ingredients.
The company sources ingredients in the USA. The company promises a risk-free guarantee.
What are some common skin lightening ingredients?
When you are looking for a good skin lightening or skin whitening cream, you need to look at the label. Look at the ingredients list. Some ingredients help, and some do not.
We will also get into the controversy of hydroquinone. But the five main ingredients to look at are arbutin, vitamin C, retinol, Kojic Acid, and hydroquinone.
Let's start with hydroquinone. Some five to ten years ago, this was the gold standard for whitening. But not anymore.
There is too much controversy surrounding it nowadays. Still, hydroquinone is one of the most common ingredients in skin lightening products.
Until recently, hydroquinone was the safest ingredient. Yet, new research suggests it is dangerous. You should try and avoid it at all cost.
The ingredient can irritate sensitive skin. The result is redness, dryness, and itching. In 2006, the FDA announced it can cause cancer. So, look for some other ingredients.
For example, bearberry extract is a completely natural skin lightening ingredient.
It contains arbutin, one of the best natural brighteners. Arbutin is a similar ingredient to hydroquinone, but completely natural.
This ingredient does everything hydroquinone does. That includes inhibiting melanin, helping with hyperpigmentation, and acne scars. But it is all-natural.
Licorice extract is another ingredient that has natural skin lightening properties. You can use it to treat hyperpigmentation and sun damage. Perfect for people with sensitive skin. Licorice calms down redness and itching.
Kojic acid is the most effective ingredient for treating melasma. Made from fermented mushrooms, kojic acid inhibits the production of melanin.
Citrus extracts are a great source of vitamin C. The vitamin can help with free radicals in the body. At the same time, vitamin C rejuvenates the skin from the inside. That is why lemon juice is one of the best natural lightening ingredients.
Glycolic acid is the most active of the AHA group. We use it to exfoliates and moisturize skin. But the ingredient also helps with skin discoloration and reduces fine lines.
Another AHA is lactic acid. It can assist other ingredients in skin lightening by allowing them to penetrate deeper into the skin.
Surprising ingredients that help with skin lightening
Besides the standard and common ingredients, look for bonus ingredients. These can make your cream more effective.
For example, aloe vera soothes the skin. It also helps reduce redness.
Honey works as a moisturizer, giving your skin a radiant and youthful look.
Oranges have bleaching properties. But they also make your skin elastic and soft.
Last, but not least, yogurt makes your skin feel soft and smooth.
Is skin whitening permanent?
If you use skin whitening creams, the process is not permanent. The reality is that no treatment is permanent.
Yes, there are some long-lasting procedures. But they cost a lot more money.
For example, laser skin whitening is a far more advanced and quicker technique. But laser treatment costs a lot, and you need to repeat it once every few months.
With skin whitening cream, the results will be slower. But they come without the risk of side effects. And without a tool on your wallet. They are the most easily accessible way to whiten your skin.
Be wary of skin whitening injections. They work by inhibiting the enzyme involved in the production of melanin. Yet, they can harm your skin.
How to make skin whitening more effective?
Let's finish with a couple of tips for how to make skin whitening more effective. Yes, the creams on this list are great. And they all help. But why not give them a little push?
Here are some tips for increasing efficiency.
Drink a glass of cold milk before going to bed
Drink a glass of warm water and 1 teaspoon of lemon juice every morning
Wash your face with fine gram flour and water
Always moisturize your skin before going to bed to replenish and repair the skin
Apply skin whitening facials during the weekend
Drink plenty of water through the day to keep your skin moisturized
Wash your face when you come back home from outside to wash away dirt and sweat
Use a face scrub once per week to remove dead skin cells