Models reality check
1. Do they look good off the runway?
case 1: Sasha Pivovarova
You know her as the PRADA girl and she is the fashion world's eye candy for editorials and runways.

Sasha is definitely one of my favourite models, even my friends who don't know fashion adore her. I was a bit disappointed by her red carpet appearance in the Costume Institute Gala. The hair looks messy and she's makeup-less. The golden Emanuel Ungaro dress does not compliment her pale skin and her shoes!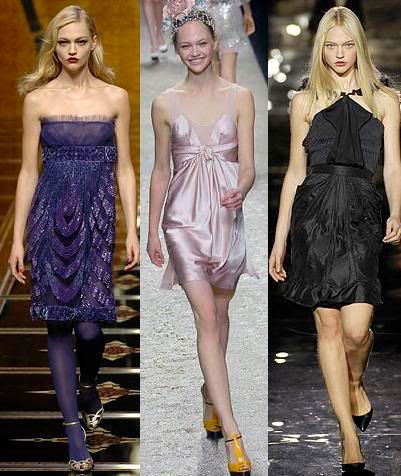 She could have gotten these looks for the red carpet: red lips, glamourous dresses, straight hair or just a cute smile!
By the way,you can check out Sasha accepting the 'Most Stylish Model' honour in the China Fashion Awards ceremony.
case 2: Lily Donaldson and Daria Werbowy
Both of them are considered as the new generation of supermodels with their endless amount of bookings…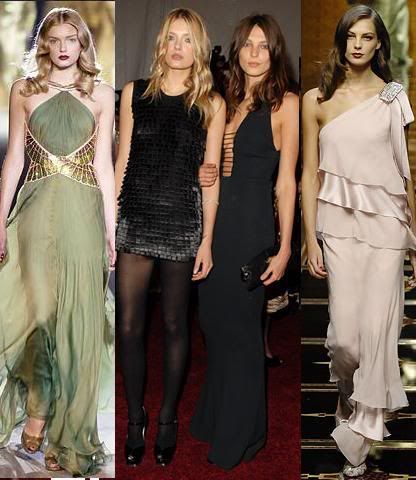 but their red carpet looks remind me of vampires. Actually, they are really gorgeous on the runway.
2. How freakingly statuesque are they?

This is renown supermodel Erin O'Connor who, despite her not-so-young age, is still walking many Haute Couture runways.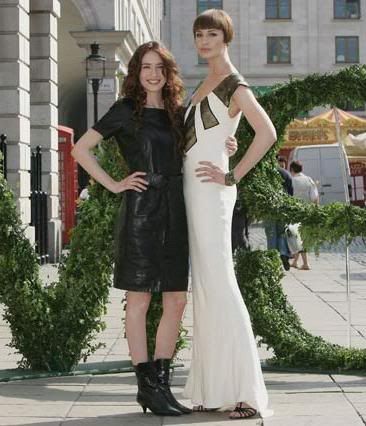 the girl in black is Liz Jagger, Mick Jagger's model daughter, and she is 5'9 (175cm) tall. Erin O'Connor effortlessly towers over her with her 6'0 (182.5cm) height.
3. Why do most of them end up aspiring to be actresses?
Lily Cole, the brainy british supermodel is acting in this up-coming film named 'St Trinians' as a school girl and Gemma Ward will be one of the masked strangers targeting a couple in the film 'Strangers'.
Apparently, models will gradually realize that this 'career' does not last long and is unstable. Acting is a good choice given that they know how to flirt with the camera and they are already rather exposed to the media. Other models who made it to the movie screens are Amber Valetta, Shalom Harlow, Gisele Bundchen… Hollywood usually welcomes them because they mostly look good enough to be a movie star.
photos: style.com, hellomagazine.com, vogue.com


YOU MAY LIKE