Valentino retires
UPDATE: Alessandra Facchinetti will be the new head designer of Valentino, who announced his retirement a few days ago. Facchinetti famously took Tom Ford's spot as head of womenswear at Gucci in 2005, only to resign two seasons later following "a disagreement with management". "I am honoured to be part of this new project," said Facchinetti. "Mr Valentino has always been a point of reference for me, an icon for his sense of style and elegance. My admiration and respect for him is endless. I will dedicate myself to this new project with great passion and enthusiasm, treasuring everything that has been done thus far, and be ready to present my first collection in March 2008."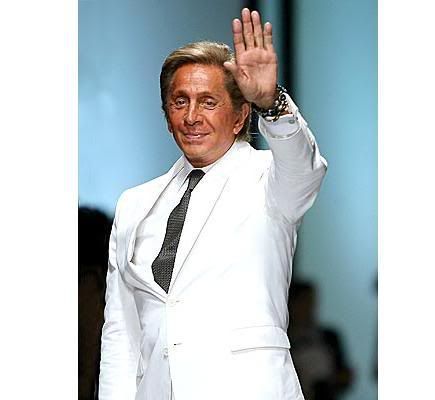 "It was a moment that will be impossible to repeat."
And there you go, after months of speculation, Valentino is retiring, at age 74. He will exit after just one more ready-to-wear and one Couture collection, marking the end of a fashion era.
Sometimes, maybe, we just have to bear with it. There have been many great fashion designers stepping down to give their over-worked minds a good rest. They deserved it don't they? We have to be thankful for his years of sheer brilliance giving women the most desired perfect quality luxurious feminine designs. It's sad, but we all should be happy for him and wish all the best for his successor.
On the other hand, you have to realize how some young talents are making their rounds in the fashion circuit. Think Olivier Theysken of Nina Ricci and the boys of Proenza Schouler. They are definitely going to be legendary. They are the consolation for the fashion world when everybody have to face the fact that the more prominent ageing designers are going to become history. After Valentino announced his retirement, I was in great fear that Karl Lagerfeld ( he's 70+) is going to do the same in the next few years. Can you sense that despair?
photo: people.com
thanks
YOU MAY LIKE