Killer shoes
I thought Marc Jacob's misplaced heels are one of the quirkiest around but Balenciaga's shoes impress me even harder. I would say Nicolas Ghesquiere's shoe creations are always bizarre but interesting. They are not glamourous like the Jimmy Choos & Louboutins but celebrities love wearing them, especially the Olsens. It seems like for every new collection, someone will surely wear them.

Beyonce famously wore a pair of the golden metallic leggings from the spring/summer 07 collection to perform earlier this year. Showing her love for the label again, she donned a pair of those lego heels while performing during the AMAs recently. It's quite rare to see a glamour girl like Beyonce wearing something so kiddy… but she rocked it! The jacket totally matched the heels.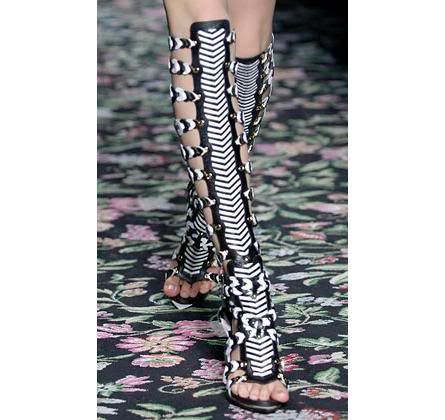 After all that I've said, I do wonder who is going to wear the woven boots from the SS08 collection.
YOU MAY LIKE