High heels with no heel
I thought the Marc Jacobs' inverted heel creation would be the last time we are going to see ridiculously unstable high heels for good. Then again, designers are always searching for attention by churning out controversial items right? British Designer Antonio Beradi made a pair of sky-high heels that look like this: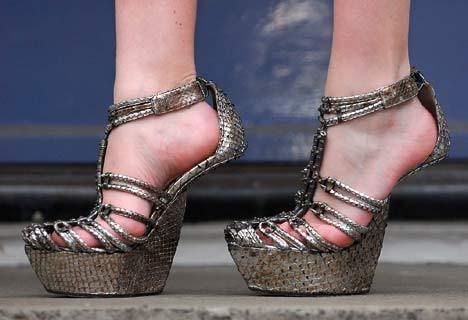 It's 5 1/2 inches off the ground, if you're wondering.
This pair of heels could have cost a whooping £1,800 but it's not stopping any shoppers from going crazy over it. Reports have it that 'Gwyneth Paltrow and Uma Thurman had already invested in a black patent version costing more than £1,100, shortly after they were unveiled', and apparently, there is a five-week waiting list at Browns. And of course, Victoria Beckham has already purchased a pair in snakeskin.

Vogue Italia December 07 cover and editorial.
If I were to ever invest in this, it's going to cost more than £1,800 because I haven't count in my insurance policy. Pass me my flats please!
source: dailymail.co.uk, special thanks: Natalie
YOU MAY LIKE