W's triple threat
Can you say, must-buy of the month?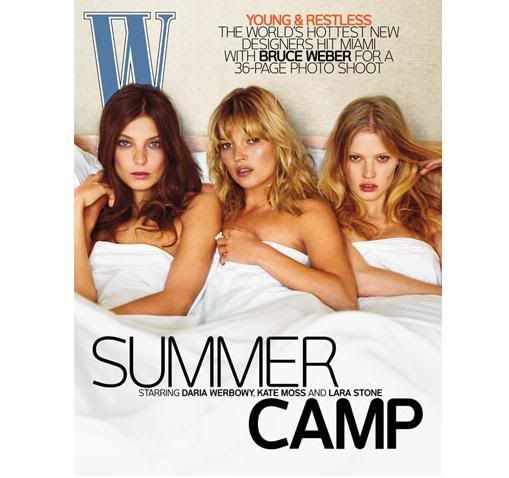 Daria Werbowy, Kate Moss, Lara Stone, photographed by Bruce Weber
In this July issue of W is a 36 page editorial involving the cover models and Sasha Pivovarova, Rachel Zimmermann, Alexander Wang (!!!), Rodarte, Gareth Pugh, Danielle Scutt and Christophe Decarnin of Balmain. All the up-and-comings of fashion and the veterans of modelling.
I am a little annoyed sad that Sasha didn't make the cover. Maybe she is little too fierce for a casual summer look, but I love her shots the most in the editorial. I would like to post some others but apparently, Lara Stone is flashing her boobies again, six shots in this editorial.
Rock.The.Trend. is a PG-rated blog right?
And now I am coming to think of how fast the Dutch model has risen to the supermodel status. How many times has she been working with super veteran models when she herself has only just started out in Fall 06′,Spring 07′? First it's the Louis Vuitton nurses that opened the Spring 08′ show, she was among the throng of supers (think Stephanie Seymour, Naomi Campbell, Rianne Ten Haken…). Then it comes to sharing covers and campaigns with Kate Moss and MariaCarla, and have I mentioned that she will be making an appearance in the upcoming Pirelli calendar?
images: fakingfashion
YOU MAY LIKE