My internship at a fashion magazine
Due to a personal project, I had to shorten my Harper's BAZAAR internship down to two months from the original three. I know it is too short to gain serious experience but it has been an eye-opener for me, considering that this is my first 'job' and that I had never stepped into the fashion industry before.
I am pretty satisfied with my involvement and my role. No coffee runs or cleaning-ups. Mostly what I have to do is running errands (loads of moving around in a cab), tidying their stuff, preparing for a photoshoot and occasionally, I wrote for them. I was also given the chance to meet many different people in the industry. I got to say it is very rewarding interacting with them.
Through all these, I saw that eveything is very fast paced and I need to be very alert all the time. Sometimes I have to figure out problems on my own but from that I know how to pull through difficult situations, think quick and handle matters properly now. What keeps every moment interesting is that no one will know what is going to happen next. When something goes slightly wrong or a new idea pops up— the plan changes faster than you know it.
All I can say is that, after this stint at BAZAAR, my respect and admiration for people of fashion have grown much more than I used to. I remembered once when my fellow intern asked the stylist after wrapping up a very hectic photoshoot— "so what drives you to keep going?", she replied "I just love all things fashion". Their passion is crazy.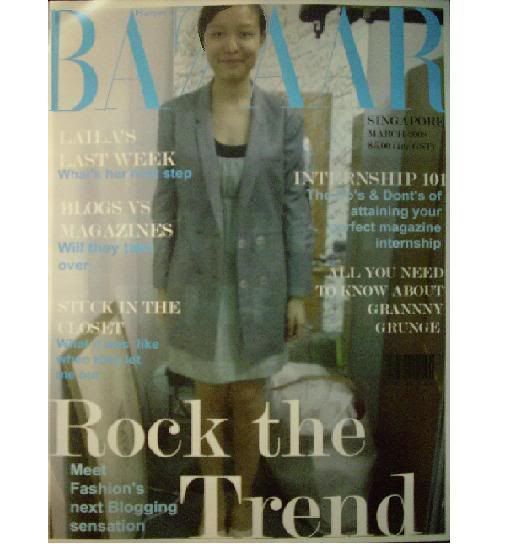 Doing a Lauren Conrad— me, in an Alexander Wang jacket and my own 3.1 Phillip Lim dress (yes I support asian designers from New York).
Cover by Cheryl Chan
Lastly, I would like to thank Harper's BAZAAR Singapore, Alli Sim, Windy Aulia and my fellow interns— rock on people.
YOU MAY LIKE