Passing the baton
Christopher Kane for Versace ?
"I am working with young designers and yes, I am looking for The One to take over the Versace brand." Donatella Versace announced. "Christopher is my favourite designer… he and Tammy remind me so much of me and Gianni – brother and sister, working together."
(read the rest here)
You know what, Christopher is definitely one of the best new rising talents in the fashion world right now and I'm just excited that somebody who does this…
…is going to take over at Versace. Can he do sexy? Let's think of his neon minis in SS07′.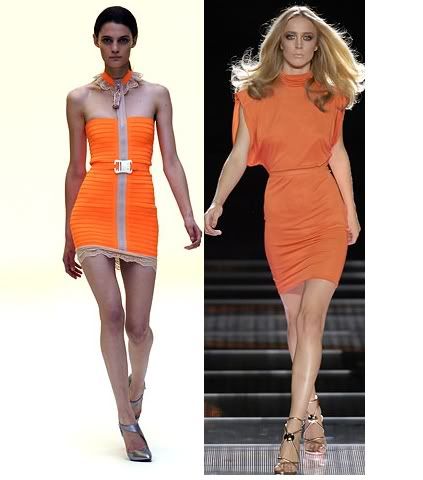 Christopher Kane SS07                 Versace SS08
Alessandra Facchinetti for Valentino
"We believe that we have chosen a design team able to give strong creative content and that Alessandra Facchinetti is the designer who can interpret and continue the legacy of Valentino's core values at the best," said Stefano Sassi, Valentino Fashion Group's ceo.
(read the rest of the article here)

Gucci SS05, Alessandra Facchinetti on the runway after the show (inset)
If you go and check out her work for Gucci in the 05′ season, you may think that she might be a more suitable heir for Versace than Valentino. Serious.
Thakoon Panichgul for Hogan
Della Valle, owner of Hogan said that he was thrilled to have "one of the most exciting American design talents" on board. "I feel confident he will endorse this project with the great energy of the Hogan brand"
Ok this is like a minor news compared to the likes of VERSACE and VALENTINO but I'm happy for the fact that luxury labels like Tod's and Hogan are hiring asian designers like Derek Lam and now Thakoon respectively. Rock on.
(all quotes from vogue dailies, photos from vogue.com)
YOU MAY LIKE